There are many fantastic and festive reasons to visit Vienna in December. This is a guide to some amazing things to do in Vienna in winter!
Are you planning your trip to Vienna last minute?
If youʻre booking your trip to Vienna last minute, we have you covered. Below are some of the top tours, hotels, and more!
🇦🇹 Top tickets and tours in Vienna:
🛌 Top hotels in Vienna:
Steigenberger Hotel Herrenhof (by Hofburg – a luxurious experience!)
Pension Neuer Markt (mid-range by Kärntnerstraße)
Wombat's CITY Hostels (budget in the city center)
🚗 Looking to travel around Vienna independently? Click here to check Austria rental car rates!
Many people shun visiting European cities during the colder months, but I think there is something particularly magical about Vienna during December and the winter months.
If you have any additional suggestions, please leave them in the comments!
Reasons to Visit Vienna in December
I have been to Vienna quite a few times over the years. And no matter whether I am spending 3 days in Vienna (or more), I have realized that I have mostly spent time in Vienna in winter. It is rarely in the summer when most visitors flock to the city.
But, who says Vienna in December is a bust?!
I had my fair share of fun there and highly recommend a visit during the holiday season.
It is the perfect destination in Europe for a honeymoon or a solo trip. Vienna has so much to offer.
Thanks to its extensive public transport network that is affordably priced, you can zip around the city quickly and easily without having to get too cold and you can see pretty much all of the main sites within a couple of days.
You can purchase a Vienna City Card which allows you to use all transport for free within the city for a given period as well as discounts to some of the top attractions.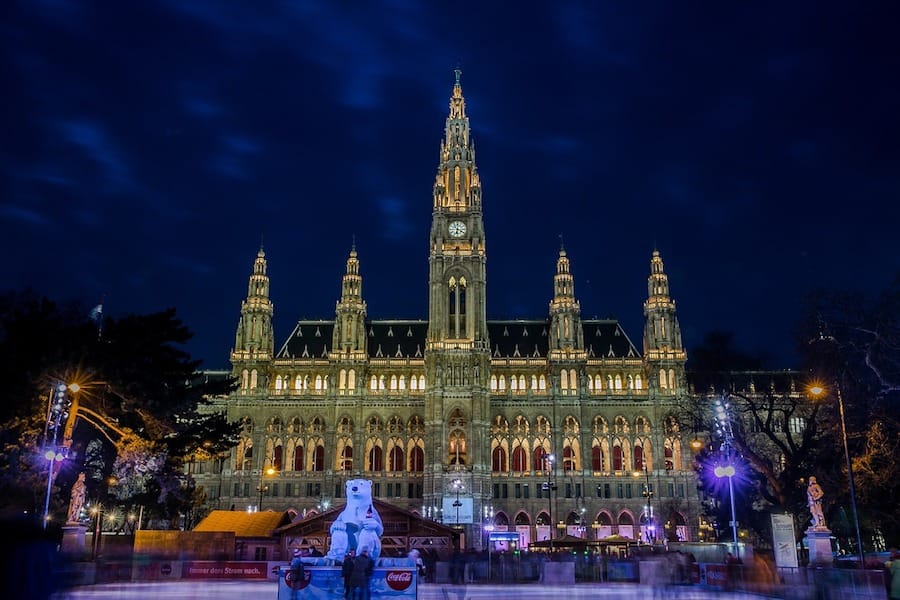 Another great advantage of Vienna is its proximity to the Austrian Alps and neighboring countries like Slovakia and Germany, allowing for awesome day trips to see and experience something new.
Vienna has beautiful palaces, spacious green parks (which are hopefully white this time of year), and some of Europe's most renowned Christmas Markets.
This guide to winter in Vienna is not conclusive and you can find a plethora of things to do in the Austrian capital during December… but this is a pretty good start!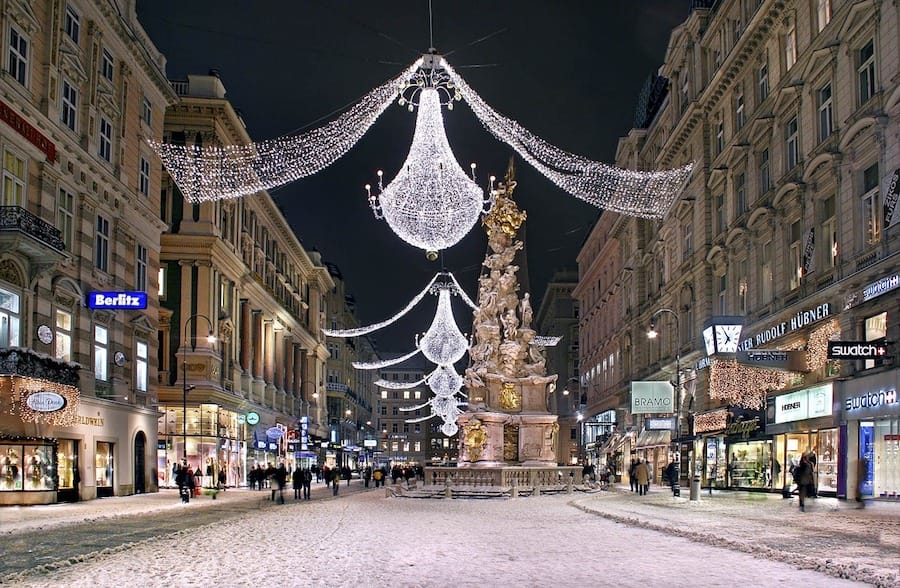 Best Things to Do in Vienna in Winter
1. Explore The Christmas Markets
Christmas Markets are a staple across much of Europe and the most famous ones tend to be in Austria and Germany.
The Vienna Christmas Markets are a spectacular sight, glowing orange in the winter darkness with the smells of Glühwein and delicious treats wafting in the air.
There are plenty of markets spread across the city and they run from late November up until just before Christmas.
Take the time to hop around all of the markets as each has its own charm and characteristics. The most famous and traditional one is in front of the city hall.
Alternatively, in the Museum Quarter, you can check out a more contemporary version with live DJs playing.
While walking through the markets, you can pick up wonderful handmade goods and trinkets that make the perfect Christmas presents or simply enjoy the food and drinks available.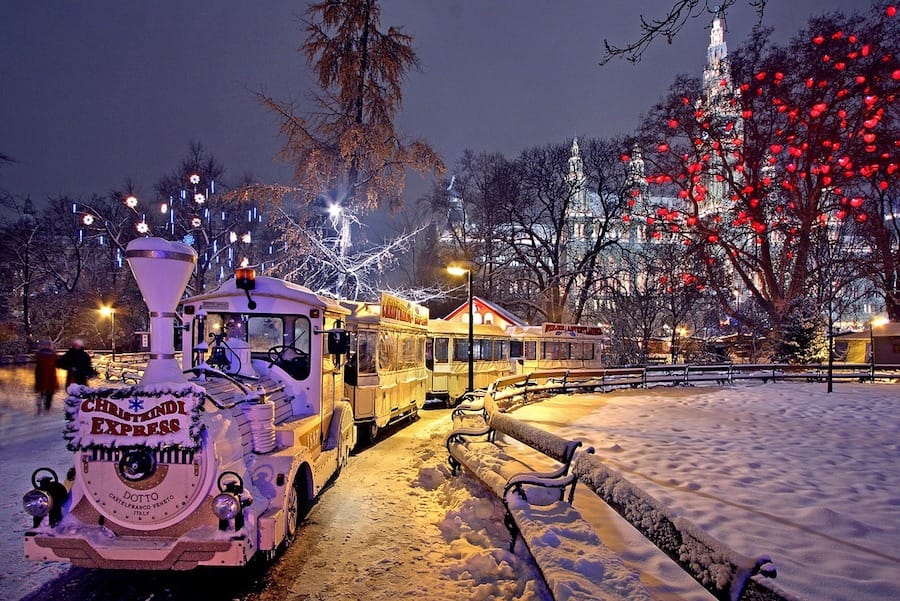 I recommend trying the gebrannte Mandel, almonds crusted in sugar, and the drink Feuerzangenbowle, a version of Glühwein with added rum and sugar that has been set on fire and dripped into the cauldron of the heated spiced wine.
There is often a little show around making this with the stands often turning off their lights so you can see the flames drip down into the wine.
2. A Night at The Vienna Opera
Vienna is home to one of the world's best opera houses, the Wien Staatsoper.
The opera house opened in 1869 as part of a planned expansion of Vienna.
Built-in a Neo-Renaissance style, the building is grand and majestic with ornate details decorating the facade.
The building took nine years to complete and neither of the architects saw the finished product since both died prior to its completion.
The opera season in Vienna runs throughout the winter and is one of the best ways to escape the cold nights.
Fitting in well over 2000 people with a mixture of seated and standing options, you will see some of the world's premier performances in an elegant and beautiful auditorium.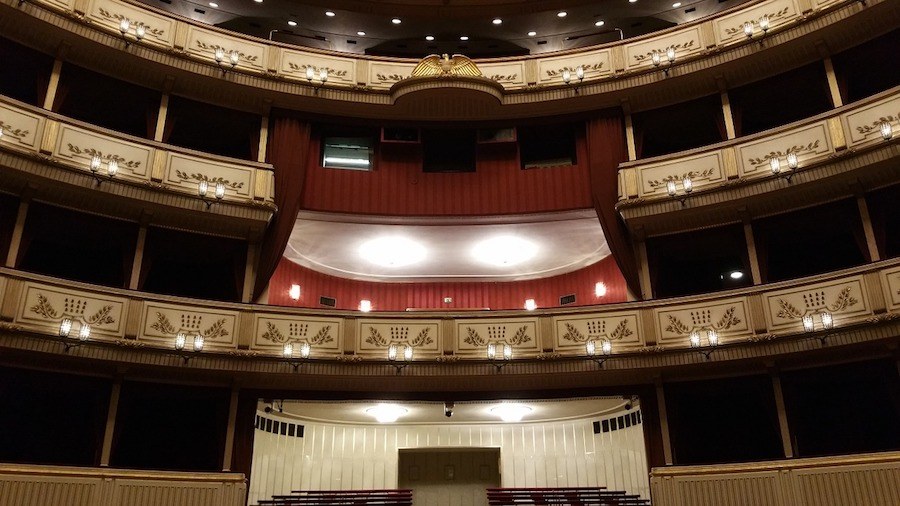 It is important to note that to enter you will need to follow a formal dress code that is available on their website.
Tickets can be hard to come by and you will need to be lucky as tickets go on sale to the general public two months before the scheduled performance.
You can find the Vienna Opera House at Opernring 2 in Vienna.
3. Warm Up With a Coffee
Vienna has a great cafe scene with plenty of little places dotting the streets serving a range of hot drinks and delicious pastries.
The often opulent cafes have a rich tradition of inspiring some of Vienna's most famous and greatest artists with musicians and poets taking time to relax with a coffee while trying to think of their next masterpiece.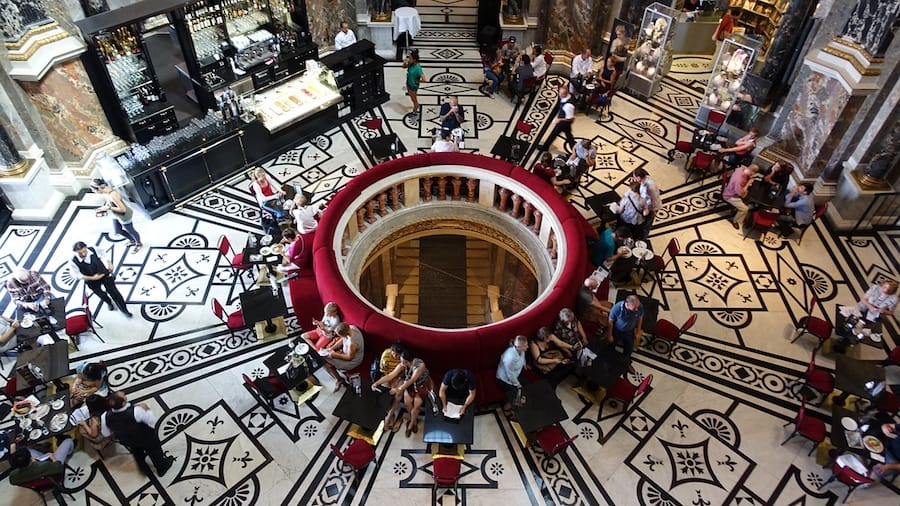 The older cafes tend to be a bit grander and tied to their history-making for a more uptight atmosphere.
However, to counter this, there are plenty of great little cozy coffee shops where you can relax and warm up or simply take a break from drinking Glühwein.
For those who are looking to hunt down specialty coffee, there are plenty of cool places around the city like Kaffemik, a minimalist coffee shop close to the center of the city.
4. Dance The Night Away
Vienna has a long-standing relationship with the world of ballroom dancing, dating back over 400 years.
The ball season runs over the winter period and is a fun and different way of spending an evening in Austria's capital city.
Steeped in tradition, the events are incredibly formal and you will need to be dressed to the nines in order to participate.
One of the most famous balls to attend in December is the Silvester Ball, which is hosted on New Year's Eve.
If you are unable to obtain tickets to one of the more famous balls, there are plenty of smaller ones available throughout the city, where you can show off your Viennese Waltz in its ancestral home.
5. Eat A Hearty Meal
Food in Austria is much like that of its neighbor Germany, based on the staples of pork, cabbage, and potatoes. The large, hearty meals are a great way to warm up in winter and soak up the alcohol from a lot of Glühwien.
There are plenty of dishes to try in Vienna- from Wiener Schnitzel, a breaded and fried escalope of veal or pork served with a form of fried potatoes, to Käsespatzel, a cheesy noodlesque dish.
The dishes tend to be served in hefty portions, which feel like they could feed a family of five, but somehow tend to go down easily.
You will find yourself finishing off what feels like a side of a pig in no time!
While walking around the wintery streets, take advantage of vendors selling roasted chestnuts, a delightful winter snack available on pretty much every street corner.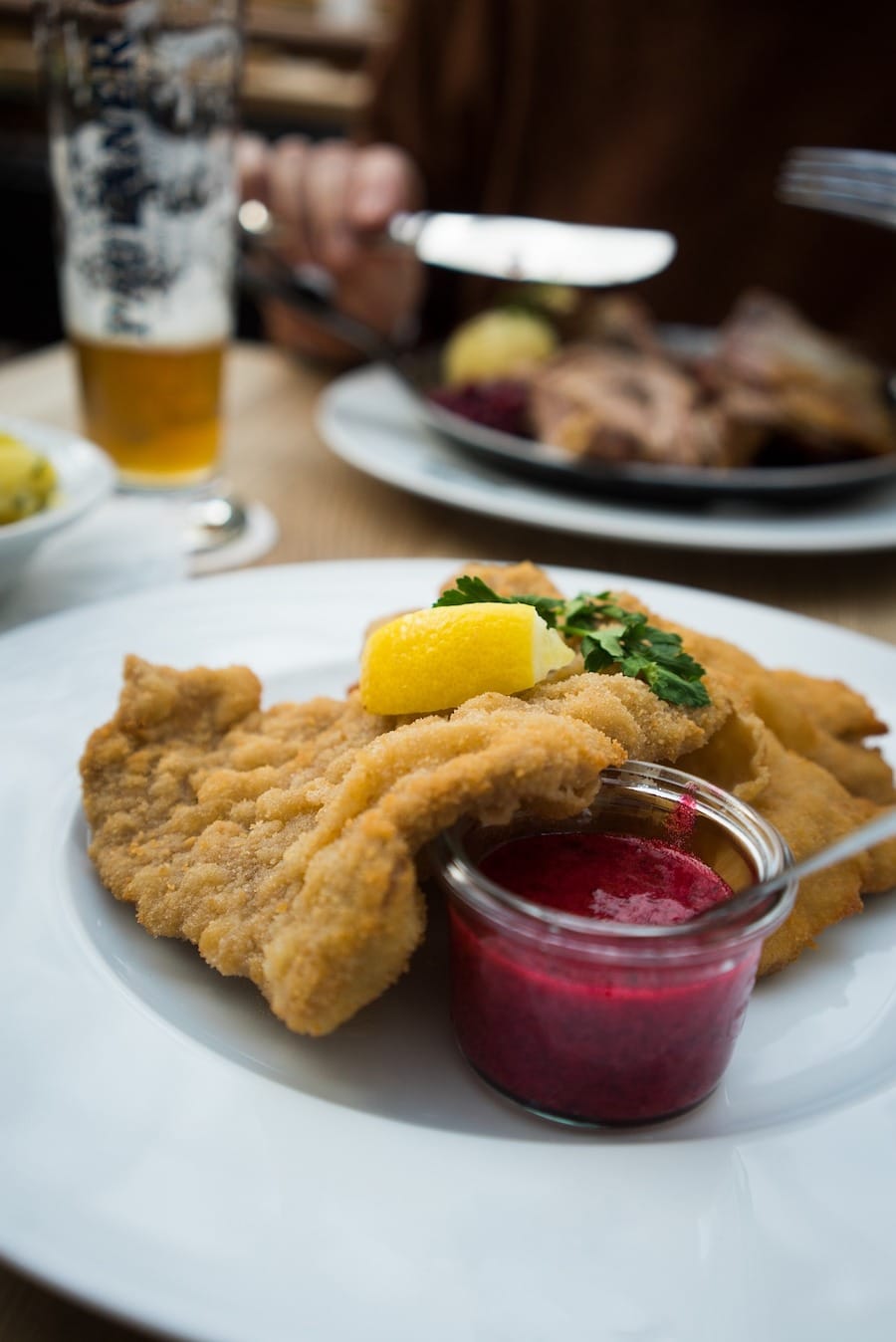 Sweet-wise, there is no Austrian winter dish more well-known than Apfelstrudel, similar to an apple pie.
This dessert is perfectly paired with a hot coffee and can be found in pretty much every place serving food or drinks.
6. Discover The World of Chocolate
Vienna's Chocolate Museum is a great place to spend a few hours learning all about the world of chocolate while escaping the winter chill.
Discover the long history of chocolate and its uses throughout the world, along with how it is produced on a commercial scale.
As you wander around the museum, you will have the opportunity to try a range of freshly made chocolates and see giant chocolate sculptures.
In addition to visiting the museum, you can take part in a chocolate workshop where you can craft your own 300g chocolate bar, a perfect gift, or a late-night snack.
The museum is open daily, although hours can occasionally vary, so it is best to check their website before visiting. It can be found at Im Wiener Prater, Riesenradplatz 5 in Vienna.
7. Hit the Slopes near Vienna
Take a day trip out of Vienna to the Austrian Alps where you can cruise down the slopes (or fall down them if you're like me).
The Alps are reachable within an hour by car or 2 hours by public transport and although the resorts in this part of the Alps are not large, they make for the perfect day trip.
A great option is Stuhleck Resort which is a short distance from Vienna and promises snow all winter with the use of snow machines.
The resort has 10 lifts, varying from a chair to t-bar styles, as well as a dedicated tubing lift.
Open from 8.30-16.00 every day during winter, it is the ideal option for getting in some winter sports while you're vacationing in Vienna.
There is also the option to take part in some night skiing on one of the floodlit slopes.
There are rental shops in the area where you can rent all the equipment you need to enjoy the slopes.
Alternatively, you can drive further into the Alps for larger resorts with more slopes and lifts.
8. Take a Ride on the Ferris Wheel
In the center of Vienna, you will find a giant Ferris Wheel that has been in operation for over 100 years and was, for a while, the world's tallest Ferris wheel.
Providing amazing views over the city, the wheel takes you up 67m over the Vienna skyline.
The ride is especially magical in December when you can see the glowing lights and smoke rising from the busy Christmas markets below.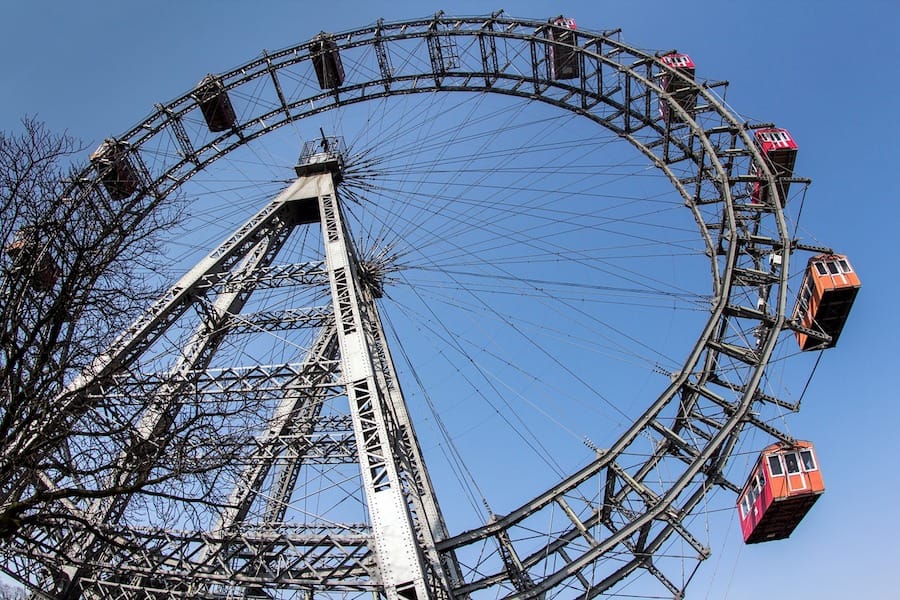 The average ride lasts for around 12-15 minutes because the wheel stops to let people on and off… you know, as Ferris wheels do.
It is best to purchase a ticket online before going so you can avoid having to queue up to purchase a ticket in the cold.
Click here to buy your 'Skip the Line' ticket online for the Ferris wheel
9. Visit the Imperial Butterfly House
The Imperial Butterfly House, or Schmetterlinghaus in German, is a wonderful place to take a short break from the traditional sights of Vienna and immerse yourself in another world.
Housed in a beautiful Art Nouveau building on the edge of Burggarten Park, the Butterfly House showcases over 400 different types of butterflies.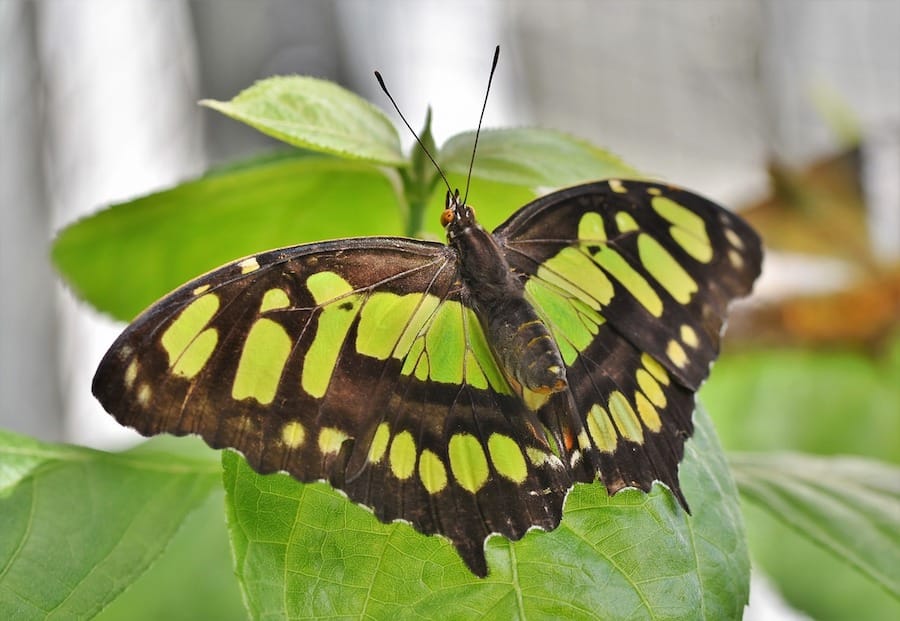 They are free to flutter around the building and explore the tropical world that has been created for them.
The attraction is relatively small and quick to see but it provides a nice contrast to the wintery conditions outside.
Along with the colorful array of butterflies, there is a wonderful collection of tropical plants to enjoy. You can find the Imperial Butterfly House at Hofburg in Vienna.
10. Marvel At Austrian Palaces
The UNESCO city of Vienna has plenty of impressive and beautiful buildings that are each magical in their own, unique way. And all are essential for your Vienna itinerary!
Two of the most stunning buildings are the Belvedere and Schönbrunn palaces. Both are spectacular and have well-kept gardens.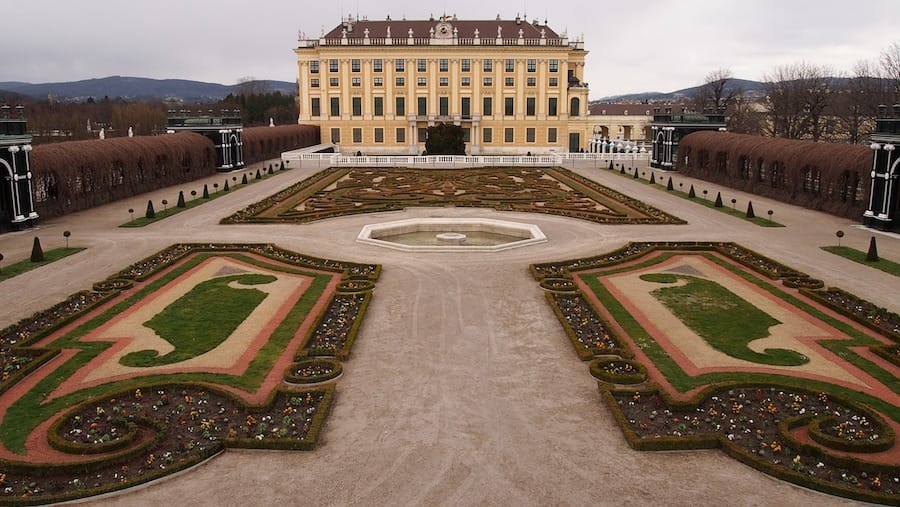 In winter, the palaces look like they belong in a fairy tale with the gardens and surrounding areas blanketed in a blanket of pure white snow.
Belvedere Palace is located centrally within Vienna and has a more modest garden attached. The green roof provides a brilliant contrast to the layer of snow that surrounds it throughout most of the winter.
Belvedere Palace entrance tickets can be purchased here
Schönnbrunn Palace is towards the outskirts of the city and has a large and impressive garden with plenty of extra structures and monuments. Tickets to visit the palaces and their gardens can be purchased online prior to your visit.
Schönnbrunn Palace 'Skip the Line' tickets can be purchased here
11. Take a Day Trip to Bratislava
Just an hour away from the Austrian capital is the city of Slovakia, Bratislava.
With plenty of regular bus connections, a visit to Slovakia's capital is a must. A relatively small city, it is easy to find many things to do in Bratislava within the constraints of a winter day trip.
Despite its small size, the city packs a punch with a gorgeous Old Town that rivals that of many larger European cities.
The winding streets are lined with cool little shops, bars, and restaurants. You can even sign up for a Bratislava food tour when there.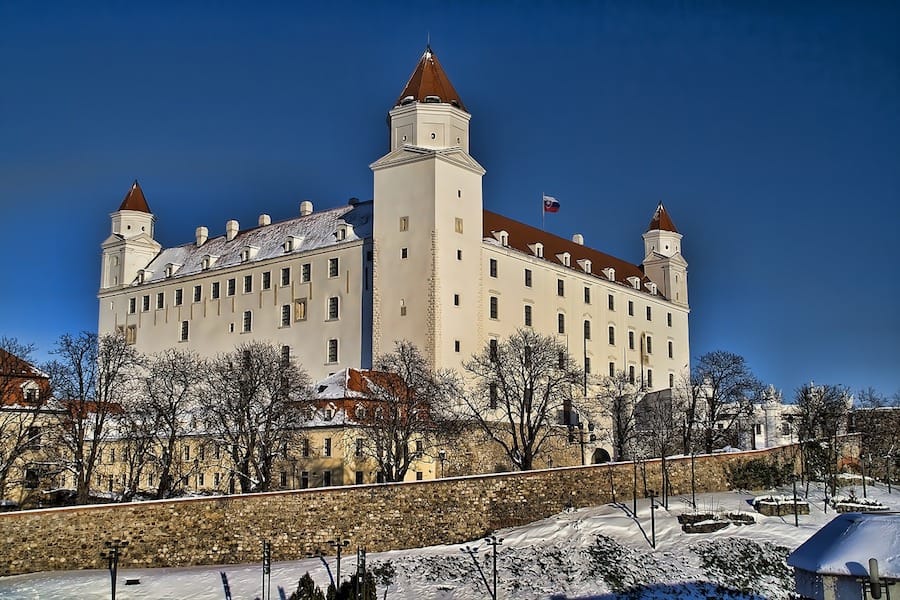 After spending years under Communist rule, the city is also teeming with interesting modernist architecture and is home to the building that was voted the world's ugliest (the Radio and Television Slovakia building).
The castle on top of the hill is picturesque and provides great views over the city from its high walls.
On weekends in December, you can visit Bratislava with a guided tour from Vienna. Check rates and availability here.
12. Take a Tram Tour of Vienna
If the weather outside is frightful and making you second guess your decision to go out and sightsee, you can always hop on the Ringstrasse tram tour which takes you past many of the best sites in Vienna.
Lasting around 25 minutes, you will trundle past many of the famous buildings such as the State Opera and the Art Museum.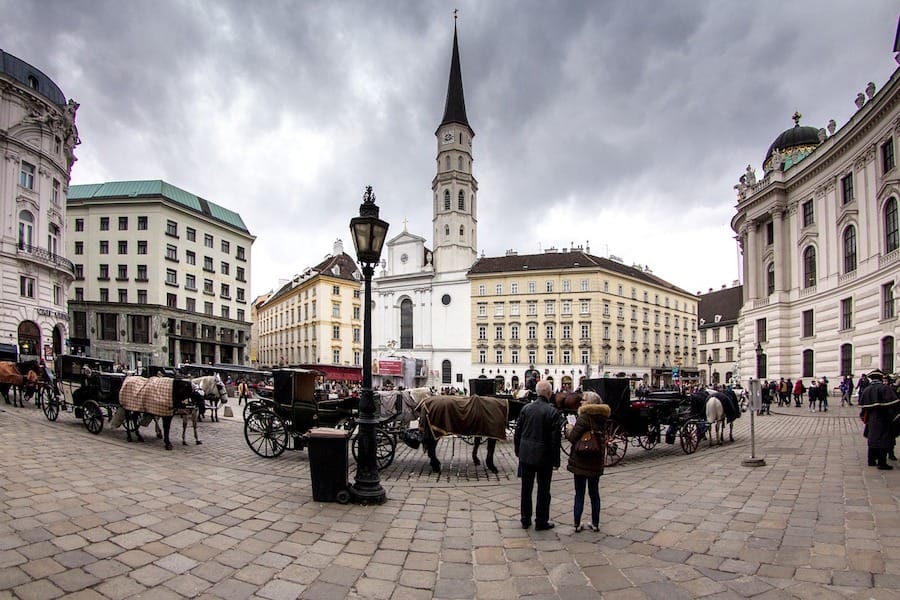 You will receive a guided tour via a headset that is available in eight different languages.
Every evening, there is a special historical tram that runs through the city on an hour-long tour, where a live guide will talk you through everything you are seeing along with the history of the city.
This option is only available in English.
13. Visit St Stephen's Cathedral
In the heart of Vienna is St Stephen's Cathedral, a glorious Romanesque/Gothic cathedral built in the 12th century.
With its multi-colored roof, the cathedral is one of the most recognizable buildings in the Vienna skyline.
Visiting the cathedral and seat of the Austria Catholic Church can be split into four parts- the main Cathedral, the catacombs, and the two separate spires.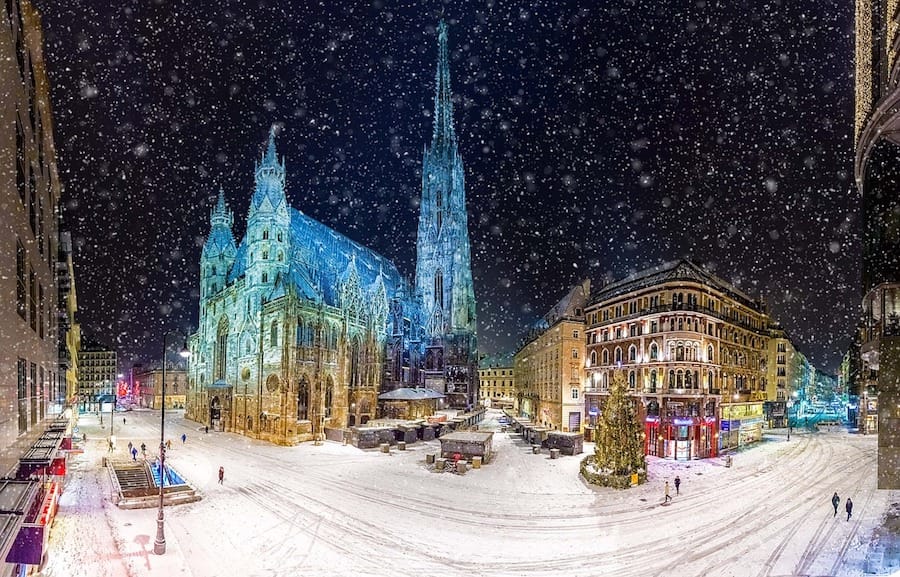 The inside of the main cathedral is ornate and imposing with a mix of styles crammed into the building, from a gothic-style pulpit to baroque style alters.
The catacombs provide an interesting insight into the burial rituals of past empires and the maze of tunnels is an insightful place to explore and learn all about who is buried under there and see a collection of ancient bones.
The catacombs can only be done on a guided tour and entered via the inside of the cathedral.
The two towers provide a great overview of the city and a chance to see the beautiful roofs from above.
The Cathedral is open daily, although each part has varying opening hours to allow for worship time, so it is important to check the website prior to your visit.
You can purchase tickets online, with the option to buy individual tickets or an all-inclusive ticket.
14. Chow down at Veggiezz
Trips to this region of the world can be difficult if you are a vegetarian or even more so vegan, with many places serving up a plateful of meat or veggie dishes with cheese baked on top.
However, Vienna is seemingly trying to buck that trend with a great little chain of locally owned vegan restaurants called Veggiezz.
At Veggiezz, you will find an extensive menu that serves only the best and most delicious vegan-friendly dishes.
With vegan twists on traditional dishes such as bratwurst, there is something for everyone there.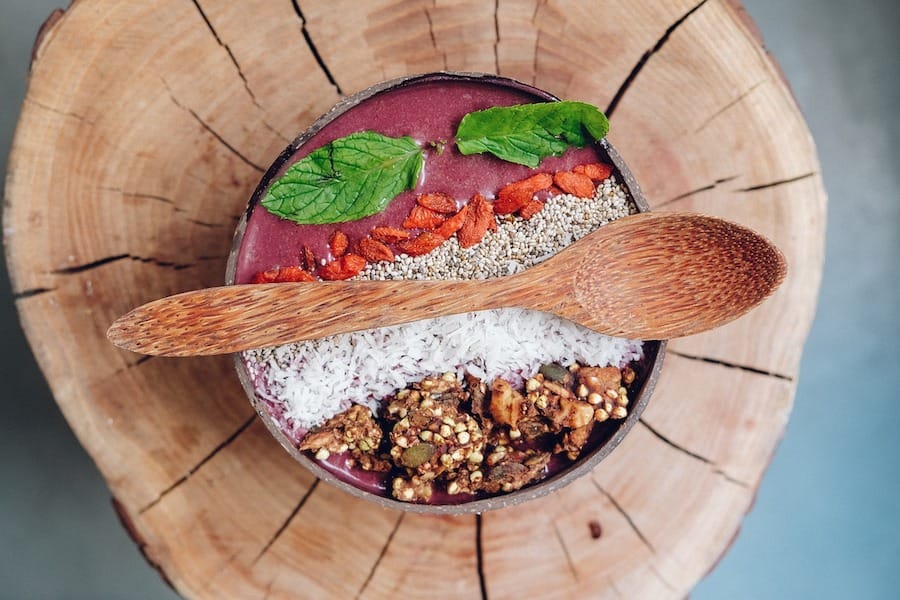 Even the staunchest non-vegan is likely to find something they will enjoy from a superfood bowl to a fresh salad.
The dining experience in the restaurants is casual and homey making it a comfortable environment with the dishes themselves being very affordable. You can find a city center Veggiezz at Salzgries 9 in Vienna.
15. Bar Hop Around Vienna
There is often no better way to get to know the local life of a city than through its many drinking establishments.
Spend an evening sheltering from the cold in different bars throughout the city, where friendly locals will teach you about local drinking customs and the best drinks in the bar.
It is common for small bars to offer special shots or beers that are specific to that locality and can be very fun to try.
If you are wanting to meet some fellow drinkers, a great option is to join an organized pub crawl where you will be guided to the best spots for drinking and dancing by a knowledgeable local.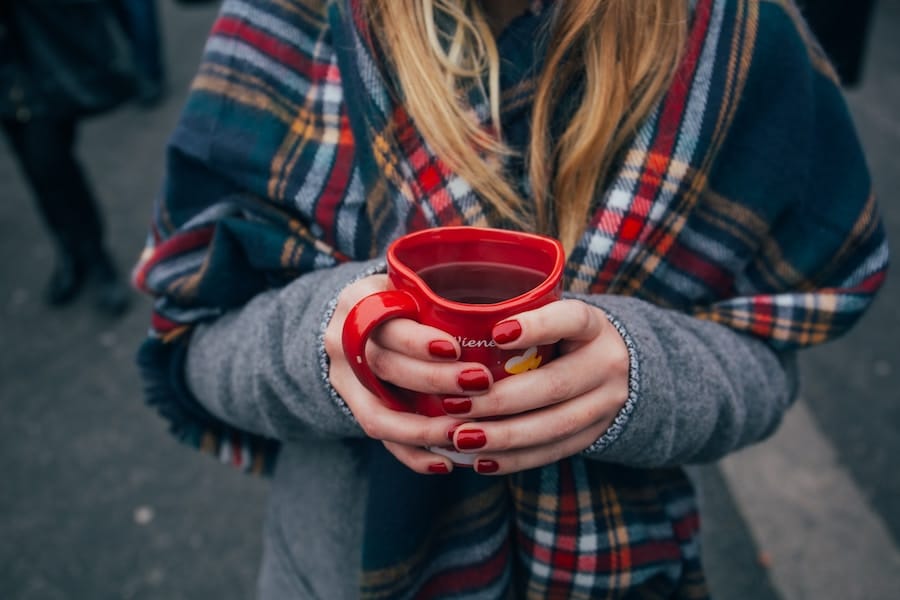 Lasting around 4 hours, the bar crawl will take you to 5 different locations throughout the city with some drinks included in the price.
Click here for rates and availability of the pub crawl around Vienna
16. Listen to Some of The Classics
Vienna is world-famous for its classical music scene as Austria is the birthplace of many great composers.
During the Vienna Christmas period, many of these age-old, classic pieces of music are performed throughout the city in some of the city's most famous buildings with the musicians dressed up in period outfits.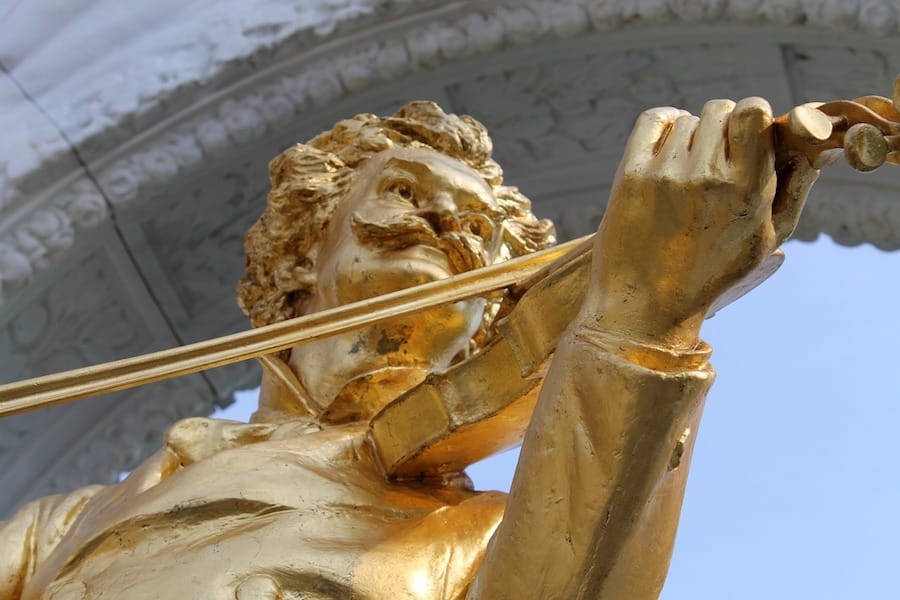 Most venues will have daily concerts, although some in churches are restricted to the advent weekends. Many concerts take place in between the Christmas and NYE period.
Even though the concerts take place during the holidays, the music tends to be more focused on works of art by Mozart and Strauss rather than Christmas classics like Wham's – Last Christmas. I may or may not prefer the latter.
Click here for rates and availability for a ticket to a winter concert
17. Hunt Down Vienna's Amazing Street Art
Like with most cities these days, street art has become increasingly popular with fantastic murals adorned on the city's walls.
This offers a stark contrast to the rest of Vienna as it is a pretty grandiose city. Many of the world's most famous street artists have come to Vienna and left their mark on the side of a building or passageway.
As you wander the streets of the city, keep an eye out for giant murals that adorn the sides of multi-story houses and look lower down for more street-level works of art.
Across the 23 districts, there is plenty to see and the bright paints will provide a nice pop in the grey of winter.

18. Warm Up With Pho
Pho has become a popular dish worldwide. Hailing from Vietnam, this beef-based broth with noodles is both fresh and filling has become a firm favorite in Vienna.
There are plenty of little shops offering up generous bowls of the soup, where you pile in your fresh herbs and scoff it down. It also celebrates Vienna as an international city.
It is the perfect way to warm yourself up on a cold winter's day and it is not too filling that you won't want to indulge yourself in the goodies at the Christmas Markets.
It's hard to recommend the best Pho in Vienna so I advise checking out on google the closest one with a 4 star or more rating close to you and enjoying a bowl there.

19. Drink Local Craft Beer
Like a lot of other places in the world, Austria has embraced the world of craft beer with local breweries popping up all over the place.
Vienna is home to a great little scene with plenty of brewery's awesome, small-batch beers.
One of the best breweries on the scene is Beaver Brewing Company a brewery that offers a wide selection of standard styles and experimental beers.
The brewery and taproom have a great selection of beers that rotate often, with a style available for all tastes. To complement their awesome beer, they serve up traditional American food, such as barbecue that has been smoked on the premises and epic burgers.
You can also email the brewery and book a tour and tasting session to get the full experience of this well-established craft brewery.
20. Go to Therme Wien Spa
Therme Wien Spa is the ideal place to relax and escape the crowds of the busy Austrian Capital. Spread over 75,000 square meters, the complex boasts plenty of pools, saunas, and fitness areas.
The sleek and modern building is built around a sulfurous natural spring, which is known for its healing properties.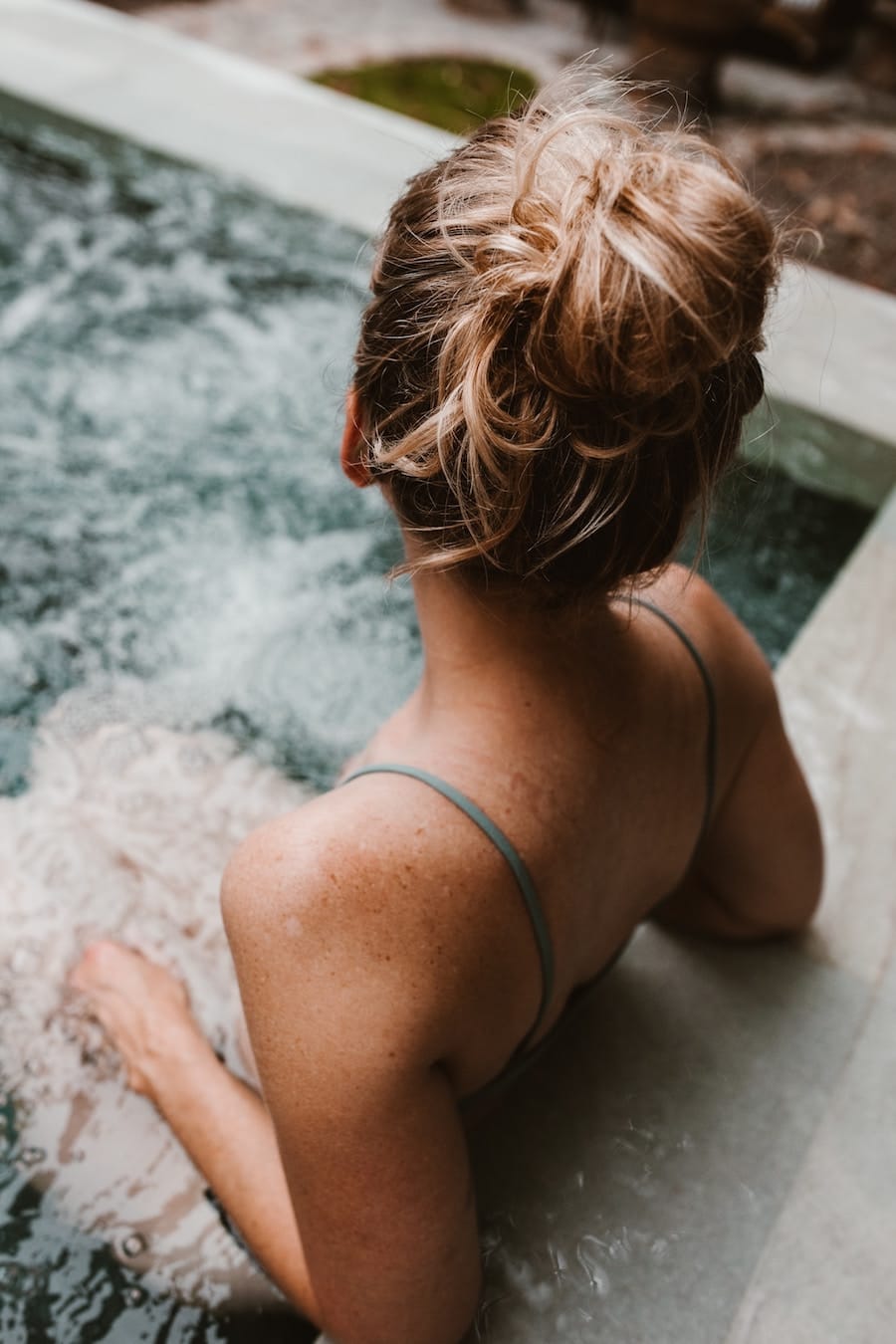 During your time at the spa, you can enjoy various heated pools as well as different types of saunas, each aimed at providing a different health benefit.
For those traveling with children, there are plenty of activities for them including water slides and rubber ring rides. There is also an entertainment program for children so you can relax and take full advantage of the sauna.
To reach the spa via public transport, use the underground train system, taking the U1 to Oberlas. The spa is open daily until 10 pm at night. It can be found at Kurbadstraße 14 in Vienna.
21. Celebrate New Year's in Vienna
One of the best and most exciting things to do in Vienna in December is to experience New Year's Eve and the craziness that comes with it.
Vienna has it all- from the more traditional festivities such as balls and classical concerts to partying in bars and pubs with locals followed by setting off fireworks in the street (because everyone in this part of Europe becomes a delinquent during NYE).
The parties will go on until the early hours and fireworks can be heard for 48 hours solid pretty much. It is truly magical to celebrate the coming of a new year in this winter wonderland.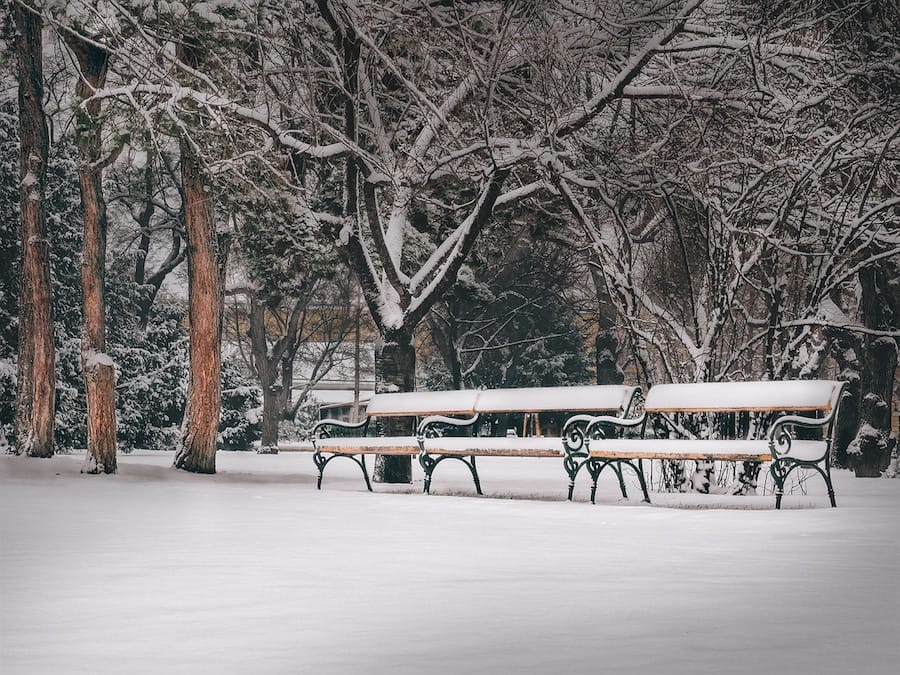 Where to Stay in Vienna
Vienna offers a variety of accommodation options for those visiting.
The picturesque capital city has a plethora of options in the city center and ones that are easy to access from the airport. Here are some of our top accommodation picks in Vienna:
Steigenberger Hotel Herrenhof (Splurge): If you're craving a five-star experience at one of Vienna's best hotels, look no further than Steigenberger Hotel Herrenhof.
This luxury hotel offers incredible amenities in addition to its centralized location.
Click here to check rates and availability.
Pension Neuer Markt (Mid-range): Next to Kärntnerstraße Shopping Street and St. Stephen's Cathedral is this mid-range hotel that offers some of the most comfortable accommodation in the city.
The rooms are vintage and a throwback and it is a really cool experience.
Click here for rates and availability.
Wombat's CITY Hostels Vienna (Budget): If you have traveled throughout Europe a bit, you may have already heard of Wombat's hostels. These hostels have a cool interior and welcoming service.
hey even give you a free drink at the reception.
Click here for rates and availability.
There are many reasons to visit Vienna in December or in the winter months.
While it is a blast during all times of the year, there is just something truly magical about Austria in winter. Please drop your suggestions in the comments if you have any!
More Austria Travel Guides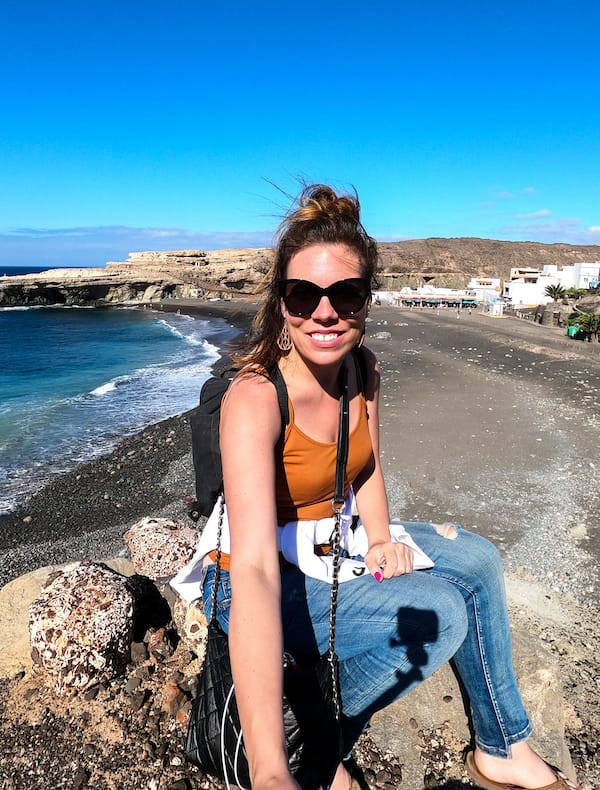 Megan is a travel blogger and writer with a background in digital marketing. Originally from Richmond, VA, she now splits her time between Frankfurt, Germany and Arctic Finland after also living in Norway, Armenia, and Kazakhstan. She has a passion for winter travel, as well as the Nordic countries, but you can also find her eating her way through Italy, perusing perfume stores in Paris, or taking road trips through the USA. Megan has written for or been featured by National Geographic, Forbes, Lonely Planet, the New York Times, and more. She co-authored Fodor's Travel 'Essential Norway' and has visited 45 US states and 100+ countries.