Are you looking for the best things to do in Rovaniemi in winter? This guide has you covered!
Are you planning your trip to Rovaniemi last minute?
If youʻre booking your trip to Lapland last minute, we have you covered. Below are some of the top tours, hotels, and more!
🇫🇮 Top Activities and Tours in Rovaniemi:
🛌 Top Hotels and Lodging in Rovaniemi:
Arctic TreeHouse Hotel (famous place by Santa Claus Village)
Hostel Koti (a budget option w/ private rooms)
Apukka Resort (glass igloos in a remote location)
Arctic Light Hotel (top-rated in Rovaniemi)
🚗 Looking to travel around Lapland independently? Click here to check Finland rental car rates!
I have spent winter in Lapland and various parts of Finland and have had the pleasure of visiting Rovaniemi twice – and I am always planning another escape to the Arctic!
This guide covers the best winter activities in Rovaniemi as well as things to do for the not-so-adventurous traveler!
I have also listed a variety of places to eat to give you options (and I have enjoyed all of the places myself)!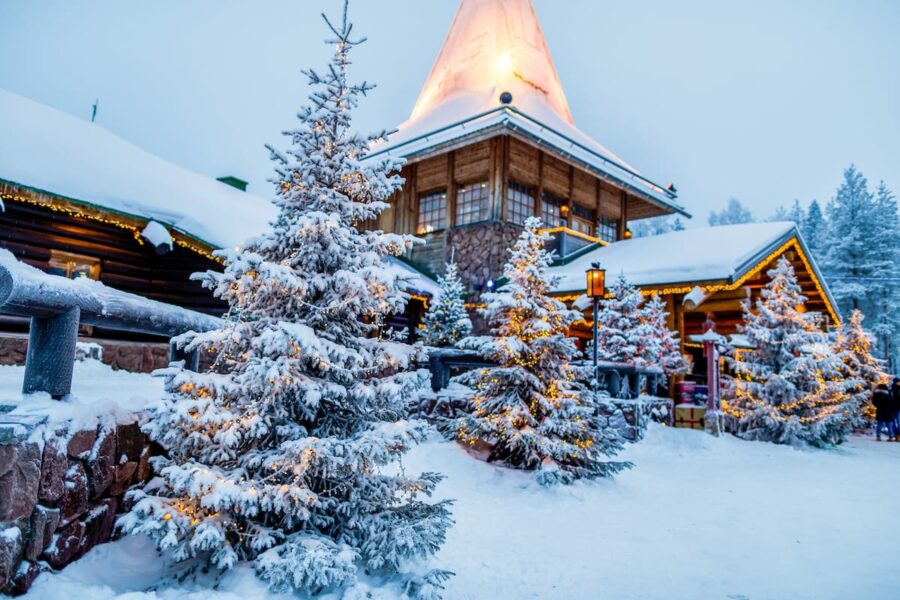 Before diving into what to do in Rovaniemi in winter, I will quickly cover some useful information about the weather, snowfall, and more. I will end the guide with some of my quick tips for the trip!
If we miss anything you are curious about for a winter trip to Rovaniemi, let us know in the comments! Thanks!
When is it Winter in Rovaniemi?
If you plan on visiting Rovaniemi in winter, the season starts more or less in December and goes through March.
These months are the darkest, coldest, and snowiest. Fortunately, the Santa Claus village makes it feel kind of Christmas-y all year round, even during the middle of the summer!
Average Winter Temperatures in Rovaniemi
Because I feel like the actual winter starts in November and goes through March, you can see the average temperatures for all months below:
Rovaniemi in November: highs of 0C; lows of -6C
Rovaniemi in December: highs of -4C; lows of -11C
Rovaniemi in January: highs of -8C; lows of -16C
Rovaniemi in February: highs of -6C; lows of -14C
Rovaniemi in March: highs of 0C; lows of -10C
Again, these are just averages and winter can start earlier or later!
Snowfall in Rovaniemi
Snow is on the ground in Rovaniemi for around half the year! I visited Rovaniemi during autumn and I actually saw snow on October 8 one year! Granted, it was just flurries, but it was kind of exciting.
The snowiest months are January and February… so if you are looking for a snowy, white wonderland, those two months are your best bet.
Daylight Hours in Rovaniemi
A question that a lot of people have asked me in the past is what kind of daylight hours you have during the winter months in Rovaniemi. To be honest, not much!
But, what not many know is that Rovaniemi is not technically in the Arctic Circle (this is 8km north and at the Santa Claus Village!) so the sun does actually rise/set. But, barely!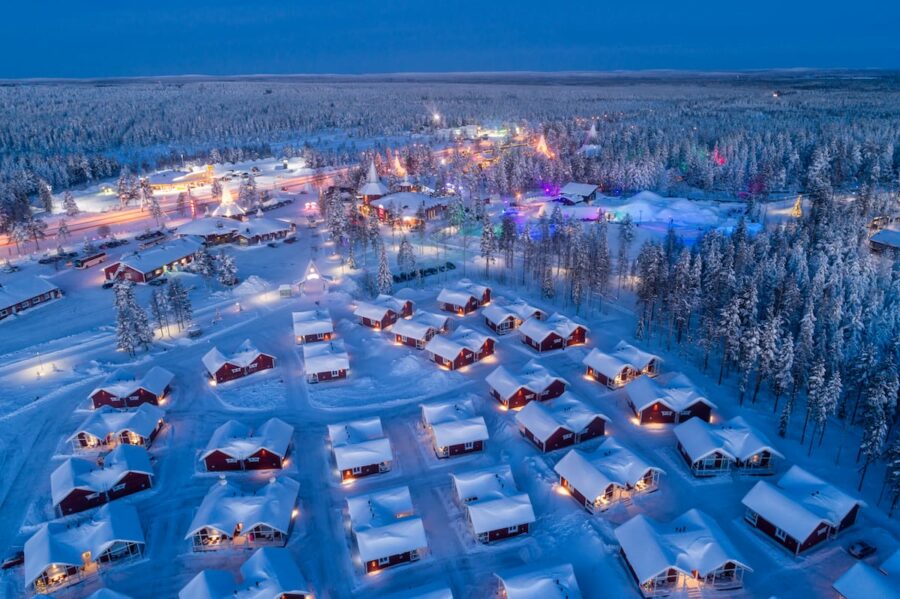 The winter solstice is December 21/22 (the shortest day of the year) and that will also be the darkest day of the year.
On December 22, 2023, the sunrise will be at 1108 and the sunset will be at 1322. So, you get a nice 2 hours and 14 minutes of daylight.
But, it doesnʻt really work like that. Just because the sun does come up doesnʻt mean it is all that light.
It wonʻt move much over the horizon and it will still be quite dark and it could look more like a colorful sunrise/sunset than anything else.
Just be prepared! Welcome to Northern Finland!
Northern Lights in Rovaniemi
One of the main reasons that tourists flock to Lapland is to see the northern lights!
Rovaniemi is an exceptional place to view the northern lights but many people donʻt realize that the best months to see them are not during the darkest winter days.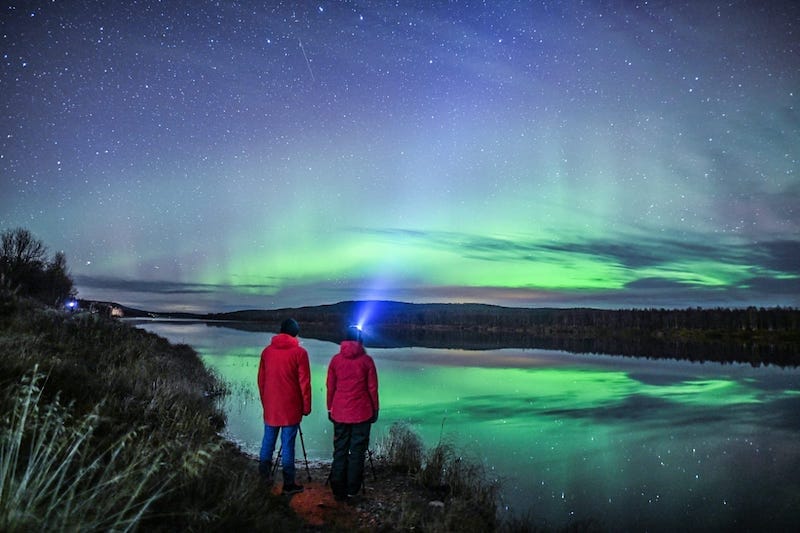 The best months to see the northern lights tend to be around the shoulder season.
March and October/September are fantastic months to see the lights… but donʻt worry, there is a probable chance you will see them during the winter months too.
How to Get to Rovaniemi
Rovaniemi is getting easier and easier to reach! You can drive (although not advisable during winter!), take a train, or fly. The best way to get there is to fly, however.
Rovaniemi Airport is serviced by airlines from all over Europe (and many winter season routes open up) and you can get there on an easy flight from Helsinki.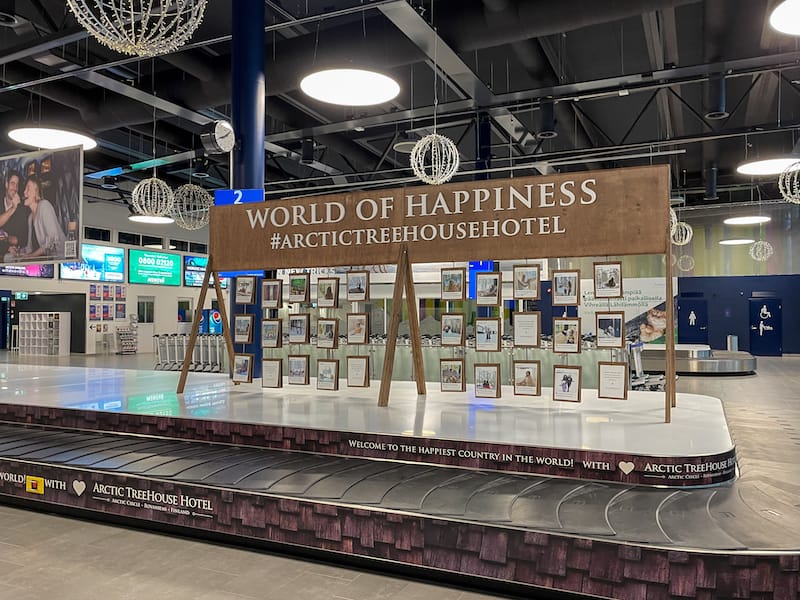 The following airlines currently fly to Rovaniemi Airport: EasyJet, Ryanair, Air France, Eurowings, Finnair, Norwegian, Turkish Airlines, and KLM.
The airport is about 8 kilometers outside of the city, and getting from one place to another is easy.
If youʻre opting for the train, it runs daily… even during the winter months. Click here to check out train connections to Rovaniemi.
Best Things to Do in Rovaniemi in Winter
1. See the Northern Lights in Rovaniemi
On my last trip to Rovaniemi, I decided to book a tour that didn't throw 'Lappish BBQ' into its 'name' to see what would happen.
I was seriously blown away at how much better the tour was than any others I had been on (which were 3 in Rovaniemi).
This tour was with Wild about Lapland and the tour advertised itself as more of a small-group photography tour than an aurora hunt with a BBQ.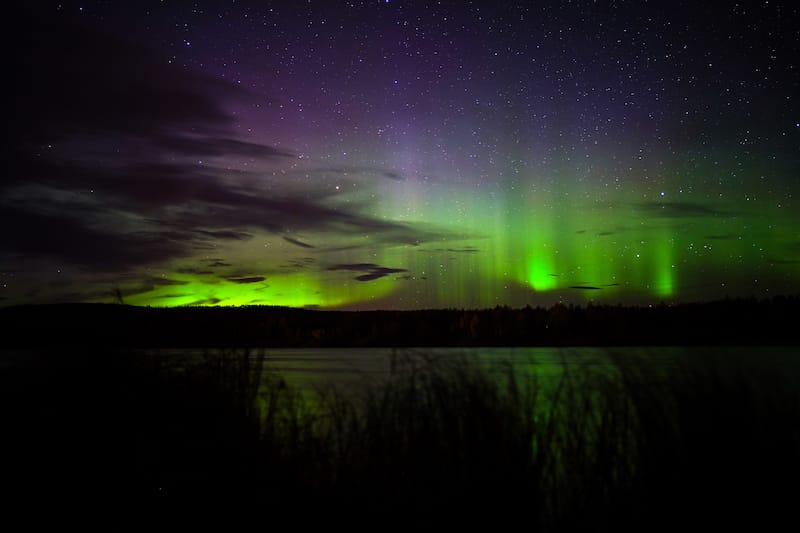 My guide was super knowledgeable and literally taught me everything I ever wanted to know about the northern lights. He even goes to seminars and workshops in his downtime which is super impressive (his passion for the job comes across).
Nevertheless, I learned so much about photographing the northern lights and he takes really great pictures of those on the tour in front of them.
🌟 GOOD TO KNOW: The tour will drive you to multiple places to search for the lights! So, if you don't see them at the first stop, be patient and hope that you will see them at one of the later stops.
And, while no guide can predict if the northern lights will be visible (please remember this), Wild About Lapland offers the best chance to see them with guides that have as much knowledge as Gabor had.
This tour is slightly more money than the Lappish BBQ ones (but is the same as I paid in other places in Iceland and Norway, etc) but the value is SO worth it.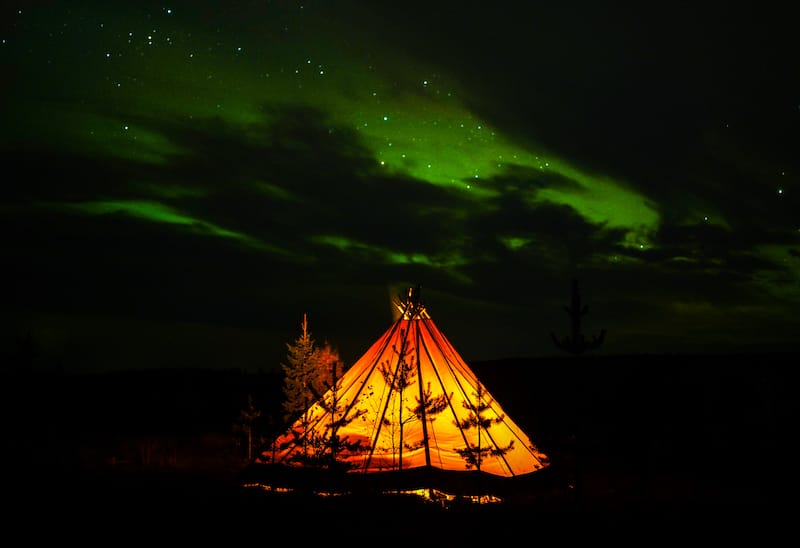 And… you do get a Lappish BBQ (with premium quality sausages or vegan/veggie ones if you request). But, you get to do it in a private lavvu tent not huddled around a fire with multiple tour groups at the same stop.
>> Click here to book your northern lights tour
2. Visit Santa Claus Village
Feeling like spending Christmas in Rovaniemi without actually arriving at the end of December? No worries- you can actually visit Santa Claus Village year-round and it will teleport you right to the festive holidays!
Santa Claus Village opened in 1985 and is a large complex filled with various attractions, places to eat, and lodging facilities.
It is also a place where you can send letters from Santa to young kids (or adults!) all over the world as it has a little post office inside.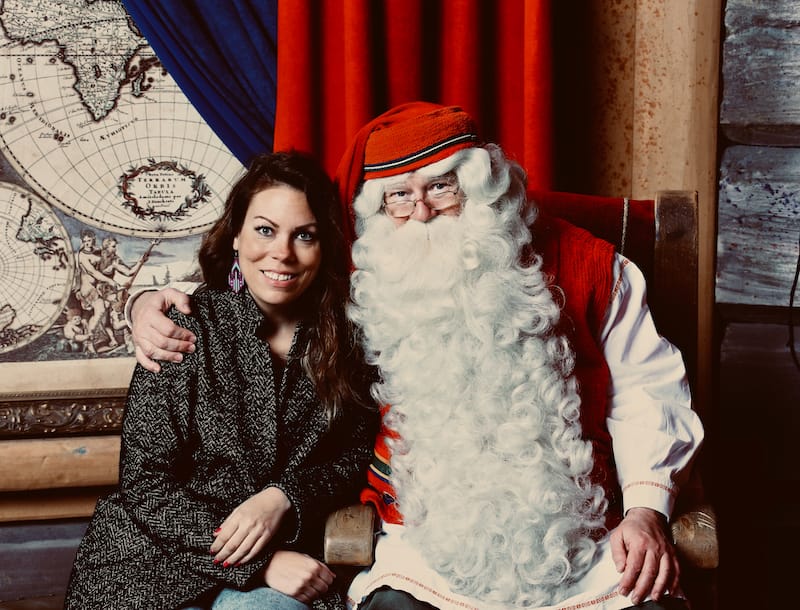 While the experience is a bit gimmicky, it is worth venturing to for a bit if you are in Rovaniemi. Getting there is fairly easy by taxi (will be around €23-28 one-way), public bus (Bus 8 goes there hourly for about €3.60), or tour.
When you arrive, you can visit Santa and get your photo taken with him. It is free to visit, but it costs money to get your photo taken with him.
💥 INSIDER TIP: Okay, so it might be touristy, but there is a place in the village (Pukinpolku 3) called Santa's Salmon Place that is absolutely delicious! I had some glogi (mulled wine) and salmon and was super impressed. It is a small place, so you might not be able to get a spot – but if you do, enjoy!
Once youʻve visited, you can peruse the gift shop or head to other places around the complex. There is also a reindeer farm out back where you can feed and pet them.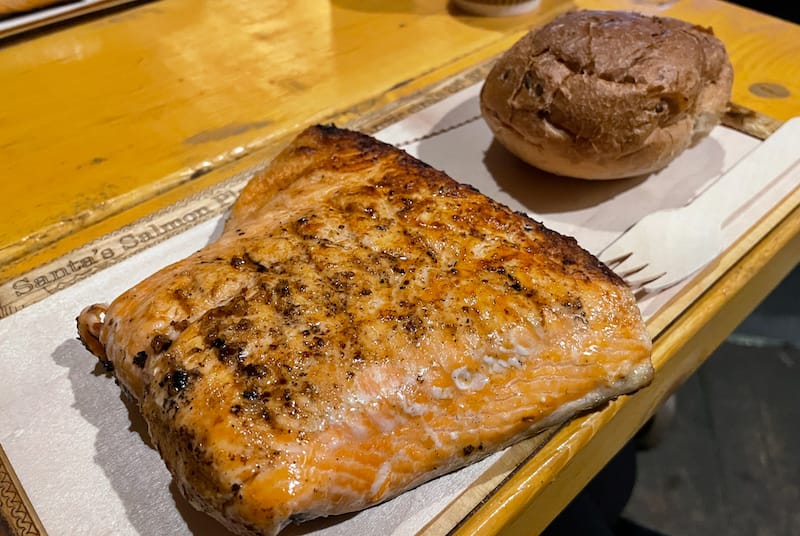 This is a very easy place to visit independently, but it is also a good idea to book a tour if you donʻt want to navigate the facilities yourself or worry about transportation from downtown Rovaniemi.
>> Click here to check Santa Claus Village rates and availability
3. Go Dog Sledding in Rovaniemi
A popular Lapland winter activity is dog sledding, and there are plenty of places in Rovaniemi (and nearby) to go on a husky adventure!
When you arrive at Apukka Resort, you will be introduced to the huskies and hear stories about dog sledding and the dogs before taking to the sleds!
You will have a chance to be the musher of your own sled as you wind through the wintry Finnish forests before heading back and getting a chance to meet them and take some photos.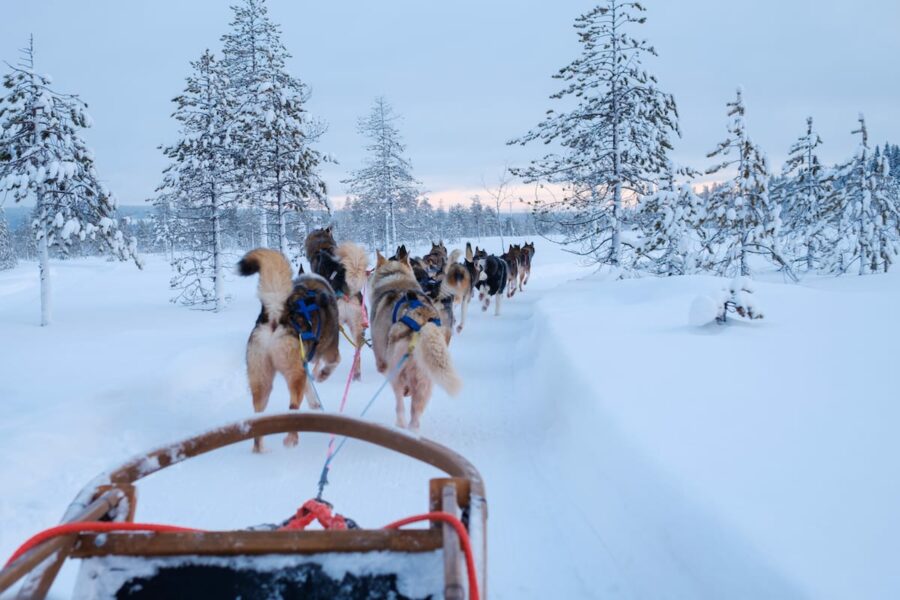 The journey is around 5-10 kilometers in length, and you will end the tour with a hot drink. The tour includes winter gear and car transfers from Rovaniemi to the facility.
I think dog sledding in Rovaniemi is one of the best things to do in Lapland in winter!
>> Click here for dog sledding rates and availability
4. Have Dinner at Gustav Kitchen & Bar
If someone asked me what my favorite restaurant in Rovaniemi was, I would confidently say Gustav Kitchen & Bar.
The restaurant is a cross between fine dining and the laid-back vibe that Finland is known for. But the food is phenomenal and some of the best I have ever had on my travels.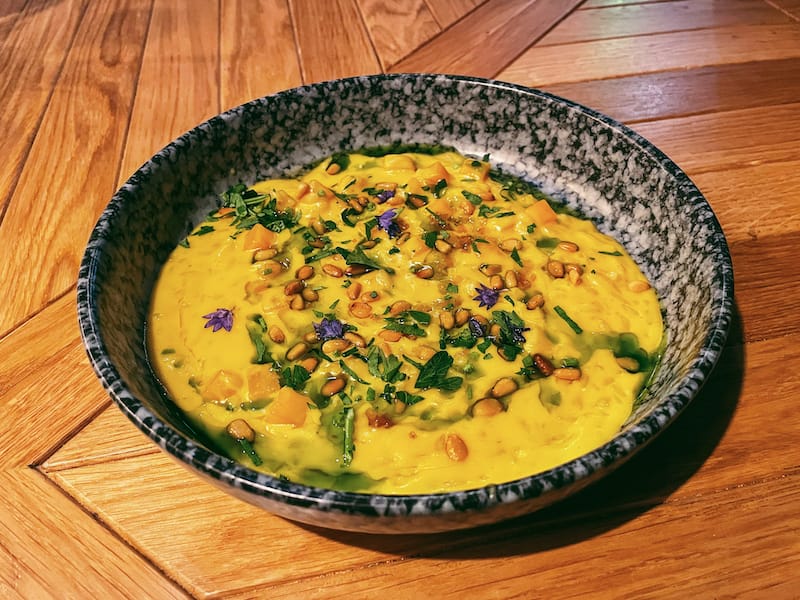 The Rovaniemi restaurant has a bar area and a kitchen area and I booked so last minute that I had to sit in the bar area… but that didnʻt matter.
The customer service was exceptional, the food was incredible, and everything about it just left me craving another trip. Sadly, I went there on my last day in Rovaniemi on my second trip, so I am waiting to get back for another experience.
💥 INSIDER TIP: This place is insanely popular, so I wouldnʻt walk in to book during the high season. I would book a table as soon as you know the dates for your trip just to be sure you get in!
The menu changes, but the one thing that does not change is the Knut bread, which was named after Gustavʻs grandfather. The sourdough was exceptional, and the butter was to die for.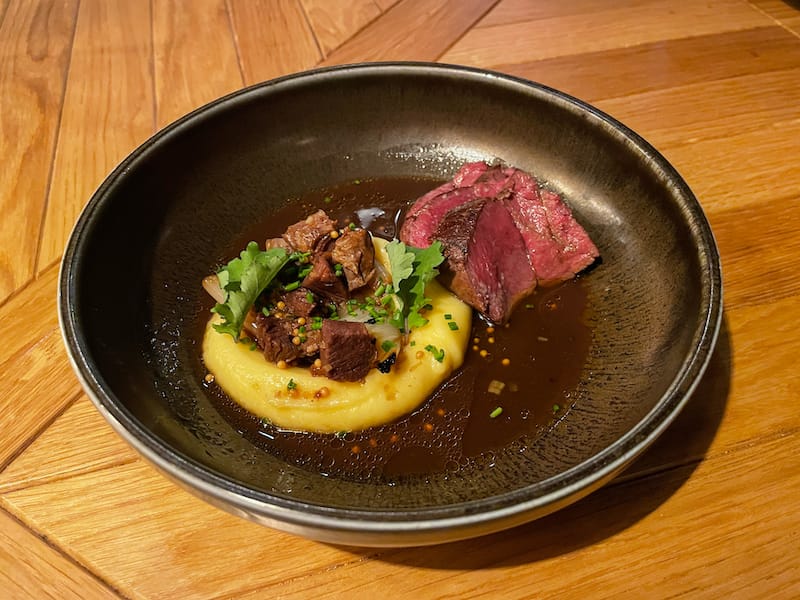 You will need to book a table in advance (via their website or by stopping in) and please note that Gustavʻs is closed on Sundays and Mondays.
Opening hours:
Tuesday – Friday: 11 am – 11 pm
Saturday: 2 pm – 12 am
Address: Koskikatu 12, 96200 Rovaniemi
5. Marvel at the Frozen Waterfalls of Korouoma
If youʻre looking for a cool winter day trip from Rovaniemi, look no further than visiting Korouomaʻs frozen waterfalls!
This tour will guide you to the Posio forest about 160 kilometers from Rovaniemi and the place turns into a fairytale during the winter months!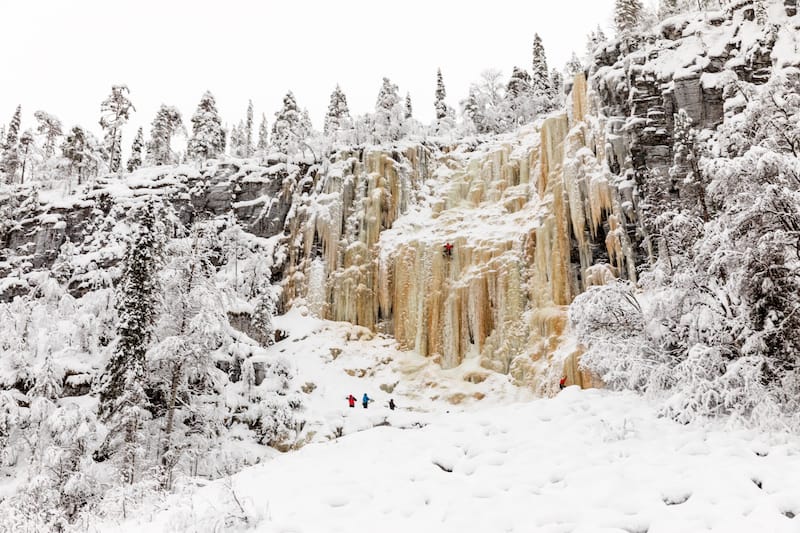 You will have a chance to take to the snowy hiking trails before reaching the frozen waterfalls. Korouoma, a 1-million-year-old valley, has about 14 frozen waterfalls that you can see on this winter tour. It is also renowned for being the best destination in Finland for ice climbing!
The tour includes pickup/dropoff at hotels in Rovaniemi as well as some winter overalls and boots. A campfire lunch is included.
>> Click here for Korouoma day trip rates and availability
6. Indulge in a Waffle at Cafe & Bar 21
Another one of my favorite places to eat in Rovaniemi is Cafe & Bar 21 (which just so happens to have the same owners as Gustav and Yuca, so it is no surprise that I was impressed by this place)!
Cafe & Bar 21 has delicious coffee but it was their waffles that left me impressed! On my first trip, I had a reindeer but now the menu contains different options.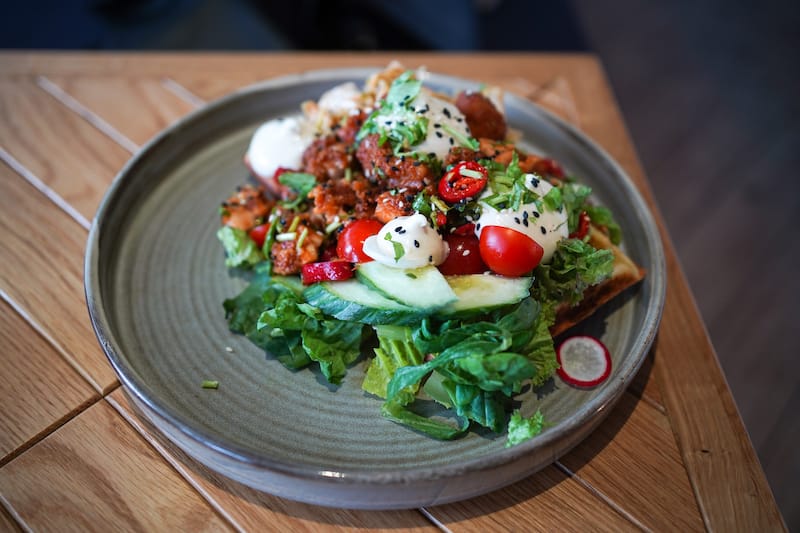 I had multiple meals there on my most recent trip – including this spicy chicken in the photo above! I also had their salads, gelato, and more. It was all fantastic!
They are open every day and offer a popular brunch on Saturdays (it will be busy!). Coffee is free with your food!
Opening hours:
Mon – Thu: 11 am – 9 pm
Friday: 11 am – 10 pm
Saturday: 12 pm – 10 pm
Sunday: 12 pm – 6 pm
Address: Rovakatu 21, 96200 Rovaniemi
7. Experience Ice Floating in Rovaniemi
A unique experience I had in Rovaniemi was when I went ice floating! I went with Safartica, and they took me out to an area where you put on a thick, waterproof suit and let us head out into the frigid waters to float.
If I am going to be honest, I loved the experience but ended up having a little bit of claustrophobia, so my experience ended a bit prematurely, but I had a blast while I was out there doing it until that set in!
The trip lasts for 3 hours and you need to be at least 120cm / 3ʻ9″ to be able to do it. Hot drinks are included!
>> Click here for ice floating rates and availability
8. Go Ice Fishing in Rovaniemi
I have gone ice fishing in Finland on two different occasions and enjoyed it both times! On this winter excursion from Rovaniemi, you will learn to ice fish like the Finns and you will even get a chance to cook what you catch!
The tour is affordable, pickup is included, and it is a great opportunity to do something in nature without a lot of adrenaline.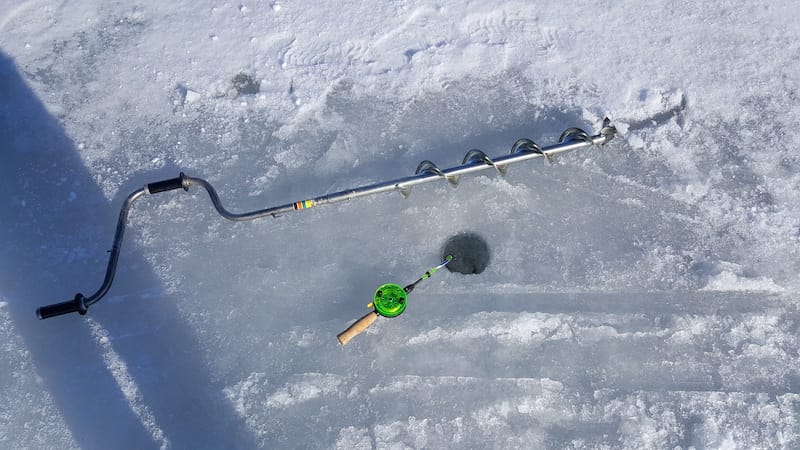 You will take a 5-10 minute walk through the forest to the lake, where you will learn a new skill! The guide will also inform you about how Finns fish during the winter months and teach you how to drill the hole yourself.
This tour operates in all weather conditions – so bundle up!
>> Click here for ice fishing rates and availability
9. Have Breakfast (or Lunch) at Cafe Koti
On my first trip to Rovaniemi, I had a chance to stay at Hostel Cafe Koti and it was an unforgettable experience.
It is more than just a hostel (I had a rather luxurious private room there!)… it has some of the tastiest small bites in the city!
The cozy cafe is very bright which is welcoming during the dark, winter months. I love their breakfast and lunch options because it is light, affordable, and delicious.
Opening hours:
Mon – Fri 7.00 am – 5 pm
Saturday 8.00 am – 3 pm
Sunday 8.00 am – 12.00 pm
Address: Valtakatu 21, 96200 Rovaniemi
10. Go Snowshoeing through the Arctic Forest
If anyone asks me what my favorite winter activity is, I would always say snowshoeing! I even own my own pair of snowshoes.
And, one of the best tours from Rovaniemi in winter is this 3-hour hiking and snowshoeing tour through the Arctic Circle Wilderness Area!
I have actually been to this forest during the autumn months (ʻruskaʻ as the Finns call it) but havenʻt had a chance to explore it during the winter.
I can't even imagine how incredibly beautiful it would be… especially by snowshoe!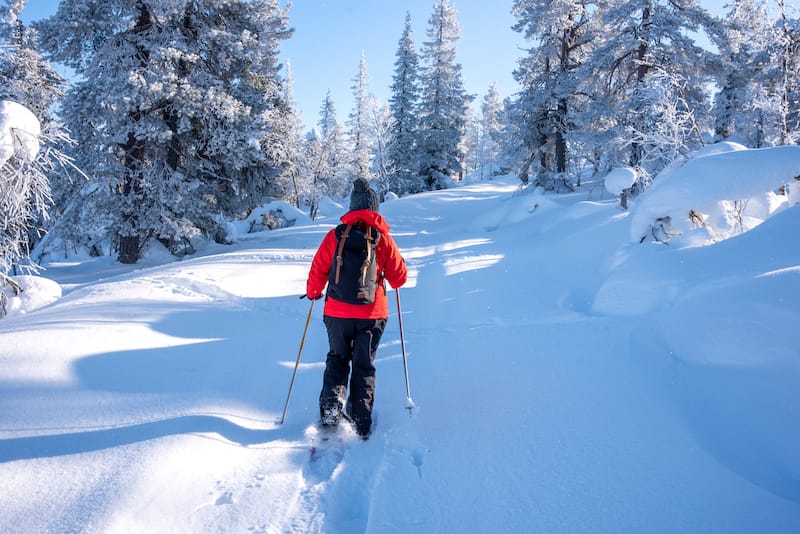 Once you pass through frozen rapids and nature trails for a bit, you will meet back at an area for a campfire BBQ. Snowshoes are included, and so is lunch.
The lunch will be pork sausage (vegans and vegetarians can request an alternative in advance), marshmallows, and blueberry tea.
>> Click here for snowshoeing rates and availability
11. Eat at Finlandʻs Best Mexican Restaurant
The most renowned Mexican restaurant in Finland is actually in Rovaniemi and is owned by the geniuses behind Gustav and Cafe & Bar 21 (both mentioned in this guide)!
Saying that it is hard to find tasty Mexican food in Europe is an understatement, but I can say that it is definitely not impossible and Yuca is one of the best places I have had the stuff outside of mega-cities in Europe.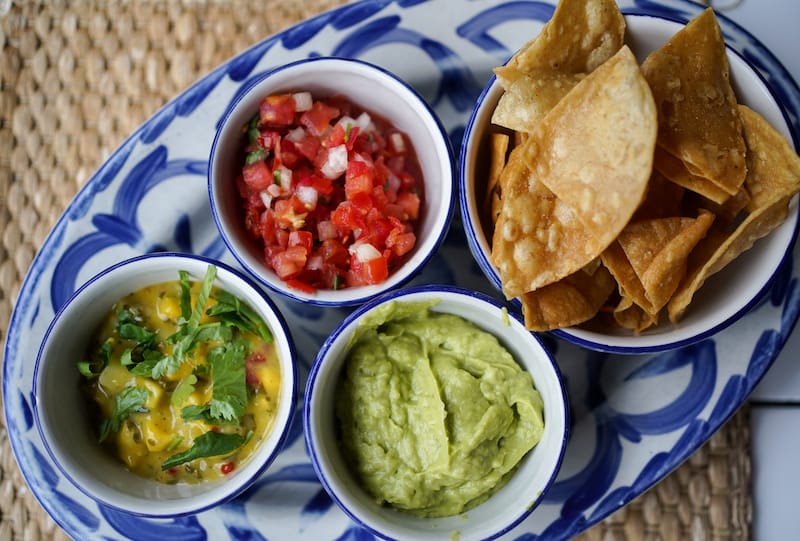 Taqueria Yuca specializes in homemade tacos and some other Mexican dishes, and the (insanely delicious) creations are the masterpieces of Fernando and Fernanda, a chef and bartender from Tulum. They relocated to Rovaniemi, and the rest is history.
They have 6 types of tacos on the menu and I fell in love with the pork original.
But, what really blew me away were their salsas and guacamole. I went there three times for just that (portions were too large to order more). I got their mango salsa, pico de gallo, and guacamole. Everything was a 10/10.
They are also famous for their cocktails so be sure to try their ʻFernandaʻ with tequila, passion fruit, chili, and lime!
Yuca is closed on Sundays.
Opening hours:
Mon -Thu 11 am – 9 pm
Friday 11 am – 10 pm
Saturday 2 pm – 10 pm
Address: Rovakatu 21, 96200 Rovaniemi
12. Visit a Snow Hotel in Rovaniemi
If youʻre heading to Rovaniemi and not into active tourism, then a visit to the Arctic Snow Hotel is a must!
This 2.5-hour tour takes travelers to check out detailed ice sculptures, have a drink at an ice bar, and learn how you can use a sauna despite the place being made of ice and snow!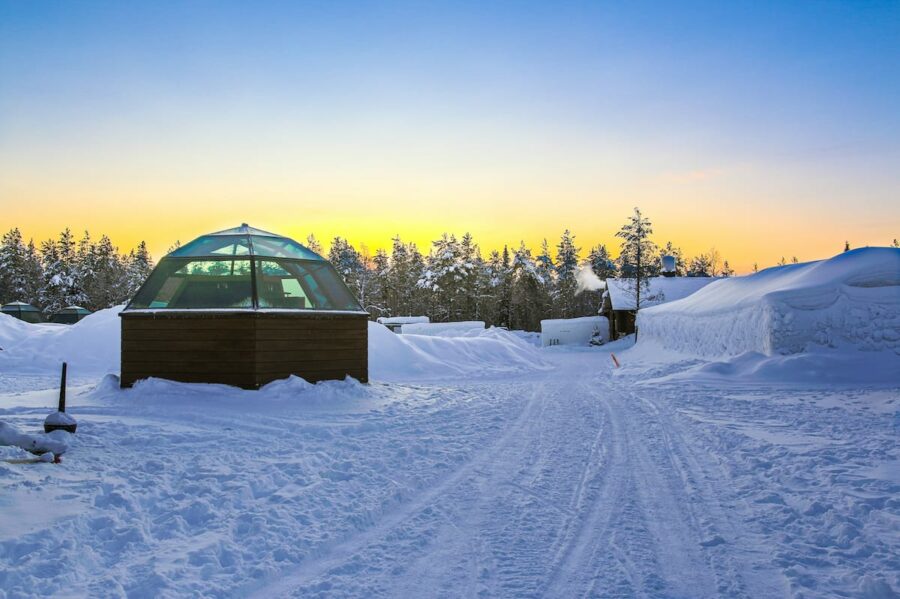 The transfer to the snow hotel is included, and you will get a tour of the entire place before having hot berry juice and some biscuits.
You can order a shot from the Ice Bar for an additional charge. This tour is wheelchair accessible.
>> Click here for the snow hotel tour rates and availability
13. Check Out the Artikum Museum
I have to admit that I am not much of a museum-goer, but I found my trip to the Artikum Museum in Rovaniemi very insightful and worthwhile.
The place doubles as a science center and has its own cafe inside. It has two different exhibits inside permanently, as well as some temporary ones.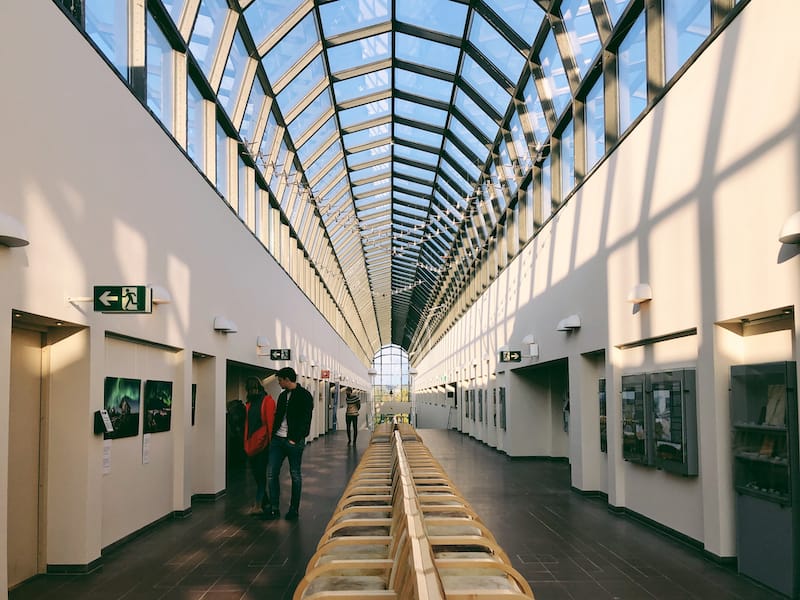 When I was visiting, there was a climate change exhibition by famous photographers from around the globe. The museum has been open since 1992. Tickets are €18 for adults.
Artikum is closed on Mondays all year except in December when it is open 7 days a week (except Christmas Eve).
Address: Pohjoisranta 4, 96200 Rovaniemi
14. Go on a Rovaniemi Snowmobile Safari
One of the coolest things to do in Rovaniemi during winter is snowmobiling! And, the landscapes are seriously perfect for doing this!
This adventure picks up people in Rovaniemi and transports them out to the Finnish forests where they will have a chance to hop on the snowmobiles after a safety briefing and get dressed in insulated gear.
It lasts 2 hours and you will get to enjoy biscuits and hot drinks afterward!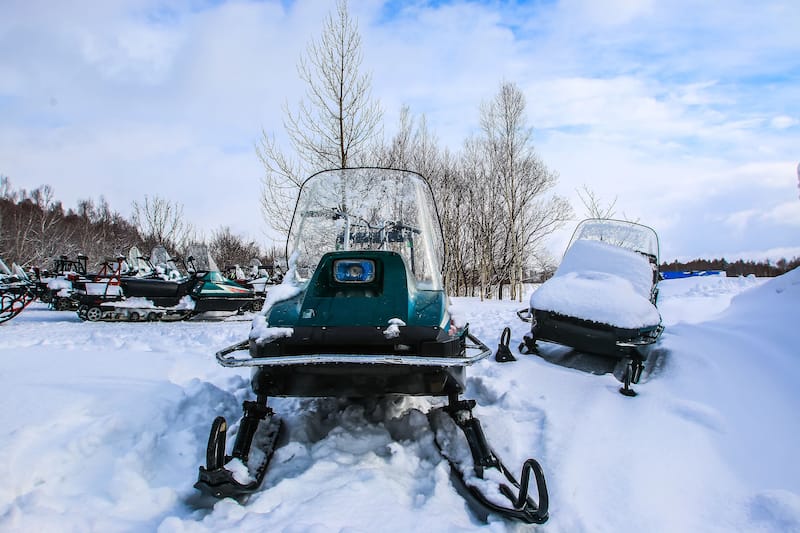 Please note that a driverʻs license is required for this activity and kids younger than 14 will go on a sled with guides instead of on the back of a snowmobile.
>> Click here for snowmobiling rates and availability
15. Have Dinner at Ravintola Roka Street Bistro
Another fantastic place I had dinner at one night was the Roka Street Bistro in the city center of Rovaniemi.
Open 7 days a week, the restaurant has an intimate setting that only fits 25 patrons at a time.
They use high-quality ingredients and the dishes were absolutely hearty and delicious.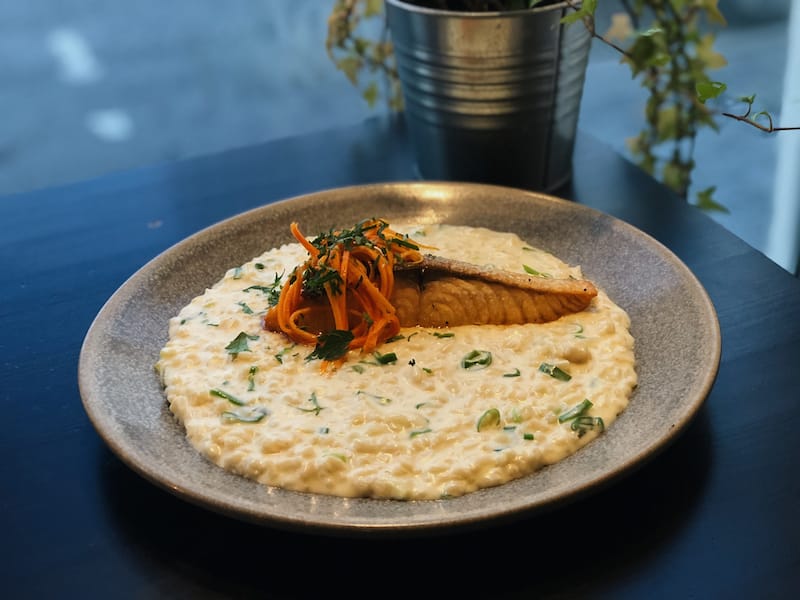 I had their roasted salmon and ginger lemon risotto (which is still on the menu!) and I have nothing but raving reviews of it!
On my latest trip, I headed back for lunch and had their reindeer sandwich that came with pickles, lingonberries, and fries. It was delicious! This truly is one of the best Rovaniemi restaurants!
Opening hours:
Mon – Fri 11 am – 10 pm
Saturday 12 pm – 10 pm
Sunday 12 pm – 9 pm
Address: Ainonkatu 3LH2, 96200 Rovaniemi
16. Visit the Korundi House of Culture
I visited the Korundi House of Culture on my first trip to Rovaniemi and enjoyed a tour of the art and creative space in the city.
This is where you find the Lapland Chamber Orchestra and the Rovaniemi Art Museum, among many other things! They also have a kitchen and cafe on site offering up a variety of different dishes.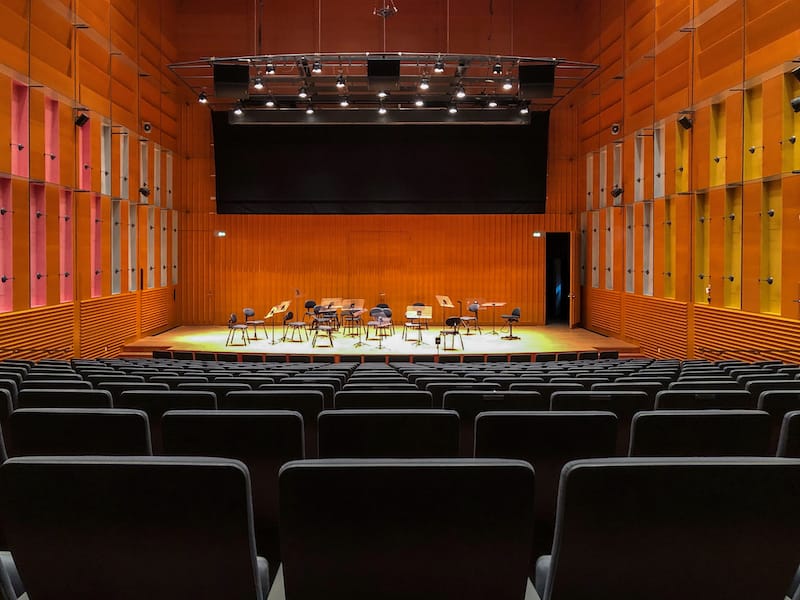 Be sure to check out their website and see what is happening when youʻre there and it might make for a great, chilled-out activity!
Opening hours: Tue-Sun 11 am – 6 pm
Address: Lapinkävijäntie 4, 96100 Rovaniemi
17. Warm Up with a Snow Sauna Experience
I donʻt think Finns would forgive me if I failed to mention some type of sauna experience in this guide.
While pretty much every hotel in the area will have its own sauna, if youʻre looking for something that is more of an ʻexperienceʻ, try out this snow sauna experience that includes dinner! It is a great romantic thing to do in Rovaniemi for couples!
Youʻll have a chance to check out ice sculptures as well as try out a traditional Finnish sauna.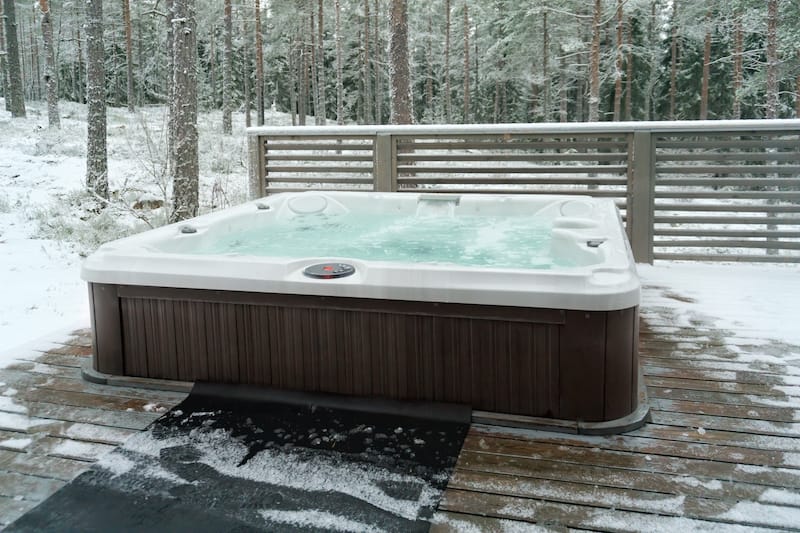 After, you can wine and dine at a Lappish-style restaurant before heading back to your accommodation. The trip includes pickup/dropoff as well as dinner.
Alcoholic drinks are not included. Be sure to bring swimwear, warm clothing, and a change of clothing!
>> Click here for snow/sauna rates and availability
18. Have Local Craft Beer at Lapin Panimo
If youʻre a beer lover, one brewery you will find ubiquitously around Lapland is Lapin Panimo (or Lapland Brewery). They just so happen to be located in Rovaniemi and you can tour their facilities and enjoy a drink at their pub!
The beer is unfiltered and made with the freshest Lappish water. Around since 2016, a tour of the brewery costs €20/pp, and the tours run regularly every Friday evening from 1600-1800.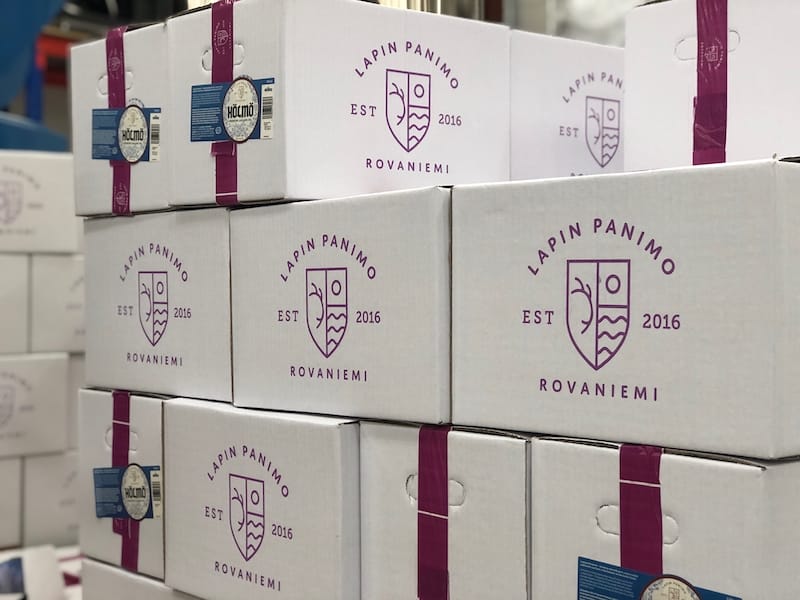 You can book an individual tour (minimum 4 people) at a different hour for €25/pp. Check out their website for info.
Please note that the brewery is not in the city center and will require transportation to and from.
It is around €12-15 Euros one-way but there is a group taxi from Hotel Santa Claus each Friday that is only €3/pp). Bus 14 also goes there.
Opening hours:
Mon – Thu 9 am – 6 pm
Friday 9 am – 9 pm
Saturday 12 pm – 8 pm
Address: Teollisuustie 14 B, 96320 Rovaniemi
19. Try the Flavors of Lapland at Restaurant Nili
If you are looking for a meal that incorporates many Lappish ingredients, look no further than Restaurant Nili in Rovaniemi.
They offer a ʻsurprise menuʻ which is a four-course menu of some of their favorite dishes made with regional ingredients and it is a must for anyone looking to test out some of these delicious Lappish ingredients.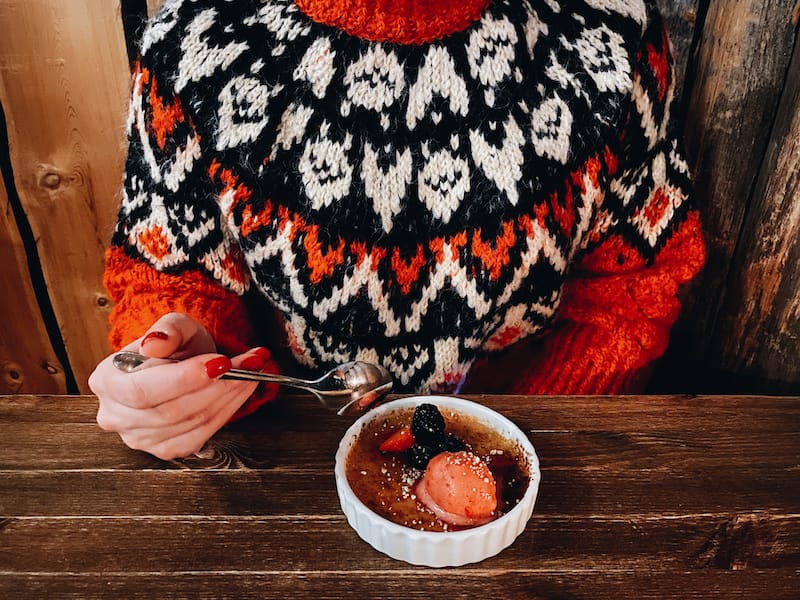 Do make sure you book ahead as they fill up quickly. I booked through their Facebook page but you can also book through their website.
Opening hours: Tue – Sat 5 pm – 10 pm
Address: Valtakatu 20, 96200 Rovaniemi
20. Grab a Cinnamon Bun and Coffee at Coffee House
One place that I truly love in the heart of Rovaniemi is the Coffee House. It is in the most touristy area of the city, but I went there daily on my last trip to work each day for a few hours.
And, by the end of that week, I found myself there without my computer simply for their cinnamon buns (and a cup of coffee).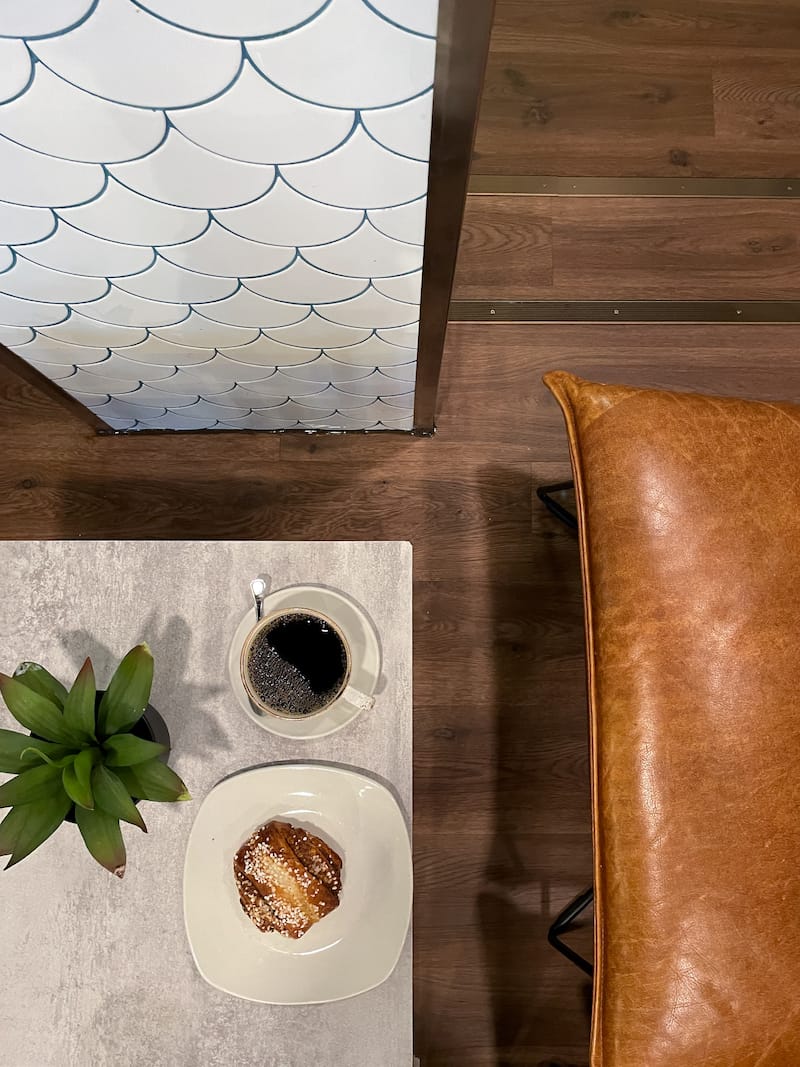 Finns drink more coffee than any other nation, and their black coffee is simply divine.
Some of my tours left from the area, as well, so it was a good excuse to pop in and grab something sweet.
Please note that this is a chain (but far better than any Starbucks I have ever had).
Also, there is an Espresso House right across the square that has great coffee and cinnamon buns too (it is also a chain).
Opening hours:
Mon – Fri 8 am – 8 pm
Sat 10 am – 8 pm
Sun 11 am – 8 pm
Address: Maakuntakatu 30, 96200 Rovaniemi
21. Go on an Icebreaker Cruise
If you are looking for a unique winter activity in Rovaniemi, you can join a tour to the Bothnian Sea in Lapland to go out on an icebreaker ship!
This is easily one of the most popular activities in Lapland and lasts 10-11 hours.
You will get to sail through icy waters and watch the ship break up the ice as it cruises along.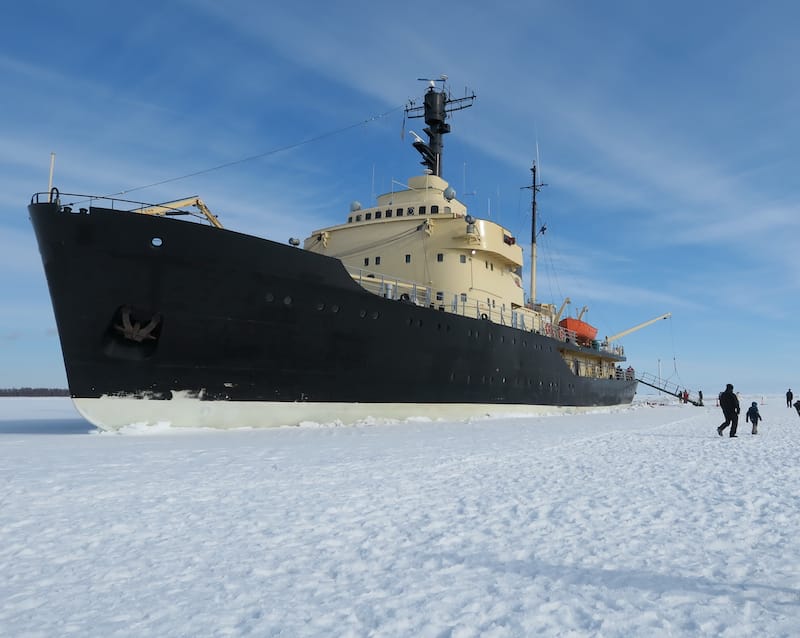 Youʻll have a full tour of the ship and then have a chance to swim in the icy waters with a survival suit on (donʻt worry… it floats!). You will also get to have a local lunch in Kukkolaforsen fishing village (in Sweden).
This tour will pick you up and drive through Sweden where it will depart from Axelsvik. Be sure to bring your passport!
>> Click here for icebreaker cruise rates and availability
22. Indulge in a Burger at Kauppayhtio
If youʻre on a budget or just want to taste something a little different, head to Kauppayhtio for a burger!
This restaurant was chill and filled with locals when I was there! Around since 2006, their menu has pizza, burgers, and several other comfort foods!
The pizza is baked in a wood-fired oven and they even offer takeaway if you want to stay in your hotel and eat!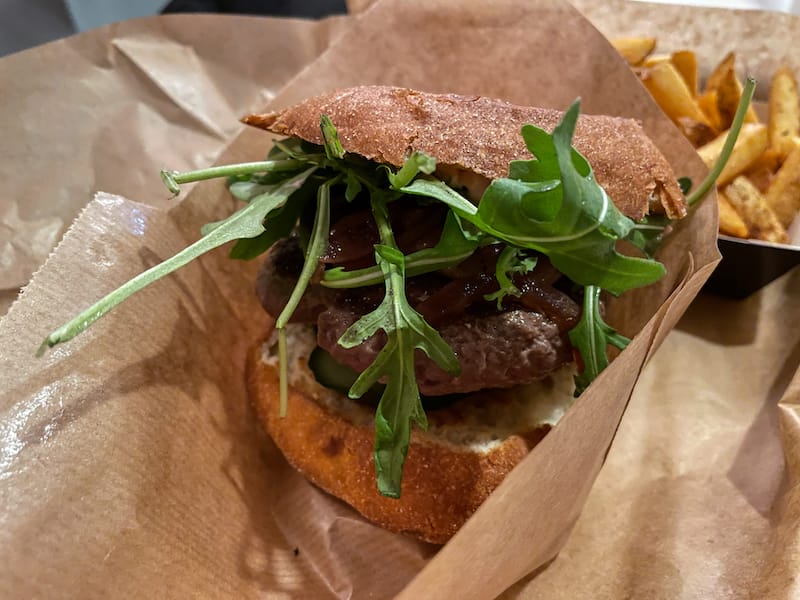 I had their reindeer burger which consisted of a reindeer patty, thyme, mushrooms, lingonberry mayo, pickled cucumbers, ruccola, and a red onion jam.
It was one of the more expensive burgers but it was filling and incredibly delicious. All beef is local and they have plenty of veggie options on the menu.
Address: Valtakatu 24, 96200 Rovaniemi
Winter in Rovaniemi – Quick Tips
While I covered the top things to do in Rovaniemi in winter above, there are still some basic tips I want to summarize or write below.
If you have any questions, feel free to reach out!
Rovaniemi is walkable but Santa Claus Village is 8km outside of the city! When you book accommodation, make sure you check a map to see where it is located.
Finns speak Finnish (and some speak Swedish)… but they all speak English, and speak it exceptionally well. You wonʻt need to master Finnish before going there, but a simple ʻKiitos!ʻ (thank you) goes a long way.
If you need to buy winter gear last minute, you can head to one of the shopping centers in Rovaniemi (Rinteenkulma or Revontuli) and grab it! You will find a Stadium or Intersport in them which have plenty of Arctic gear.
Unlike other places in the Nordics, you will likely find that many places are open on Sundays in Rovaniemi for a short number of hours. This does NOT include restaurants.
American debit/credit cards often have an issue in Finland and will state ʻPin Lockedʻ on the machine. If this happens, usually the cashier will know to click through and you will need to sign the receipt. If they seem puzzled, just let them know to click through for a signature.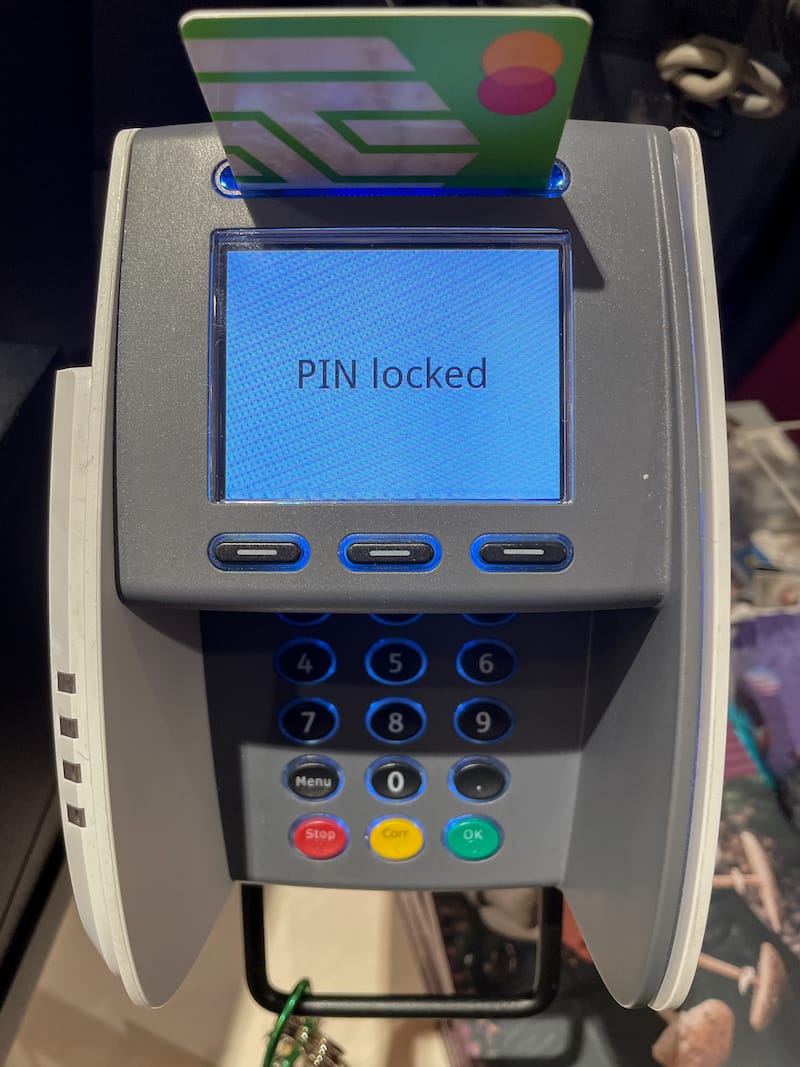 Tipping your guides after a tour is very much appreciated if you enjoyed it. While they do get paid a salary there, it is not as great as you think and they do work for tips. I would give a 10% tip (at a minimum).
Rovaniemi Northern lights tours can run late into the night… so be prepared!
Almost everywhere has vegan or vegetarian options, but if you are on a tour, let the company know ahead of time so they can accommodate. Many of these ʻBBQsʻ are with pork sausages. If you do not eat pork, be sure to let them know that, as well!
If you are at a cafe and planning to order multiple coffees, a refill is usually not full-price if you get a black coffee. Just go to the cashier with your empty glass and let them know you want a refill.
What to Pack for Winter in Lapland
I really should write up an entire winter packing list for Rovaniemi one of these days.
But, here are some things that I think are essential to bring in winter (take mind, these are pretty obvious things to pack!):
Long parka: I have several but really love my Helly Hansen Svalbard one and it comes in men/women.
Wool: I love Kari Traa but any will do!
Snowboots: I always wore Sorels but have switched up my game to wearing my waterproof Danner hikers with thick wool socks (out of sheer laziness)
Headlamp: helps with taking northern lights photos!
Mittens: I prefer mittens over gloves as they keep you warmer.
Wool socks: I use ones I bought in Iceland but any will do.
Tripod and a remote: for northern lights photos… these days iPhones take quite nice northern lights pictures if you are not a serious photographer.
Swimsuit (if you plan on visiting a sauna)
Any medications you may need
Where to Stay in Rovaniemi
I have stayed at a variety of places in Rovaniemi despite only two trips.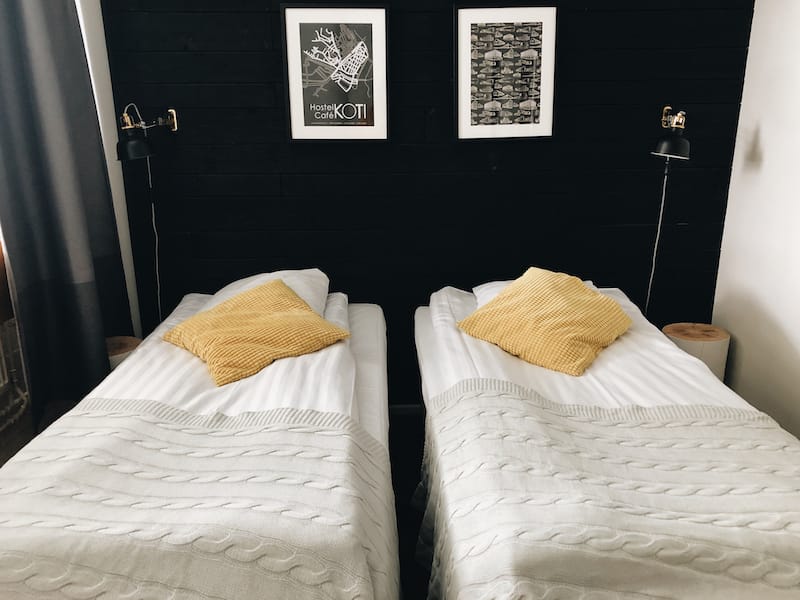 These are some of my top recommendations of the places I have stayed and the places I vow to stay at one of these days!
Did we miss any of the best things to do in Rovaniemi in winter on this guide? Let us know your winter in Rovaniemi tips in the comments. Thanks!
More Lapland Winter Guides
Pin this Winter Trip to Rovaniemi Guide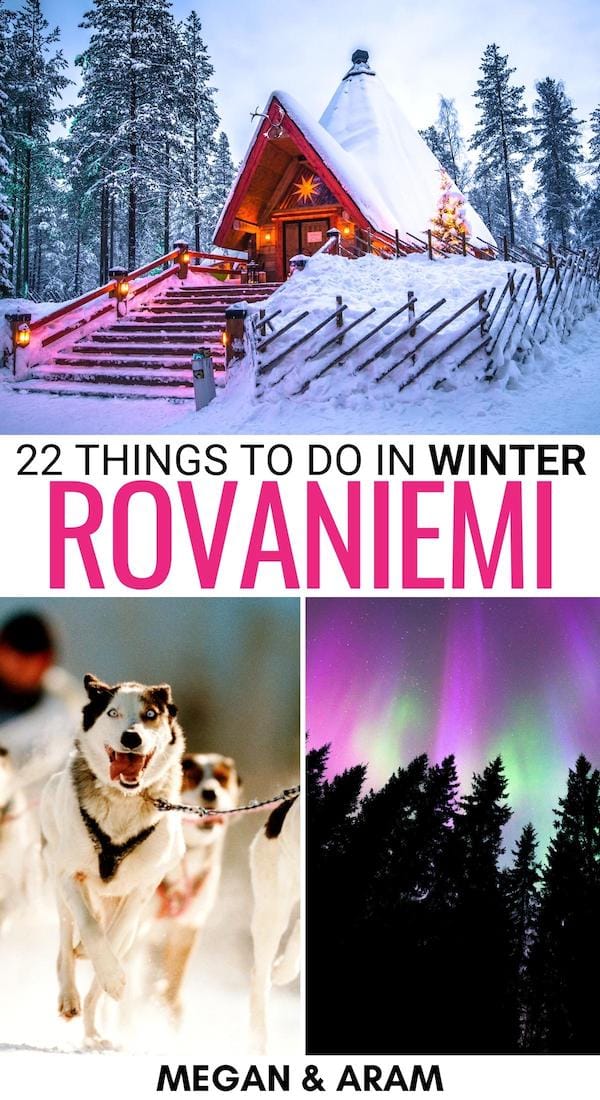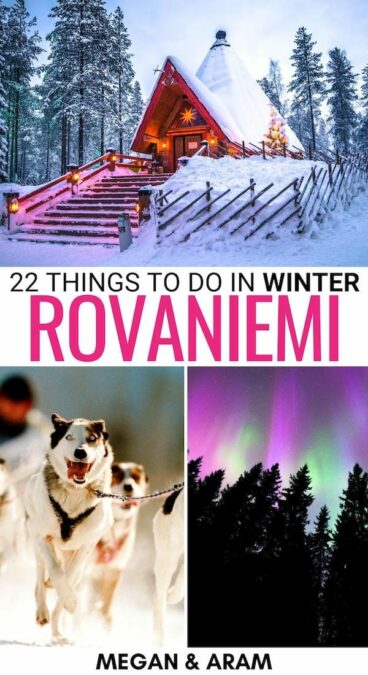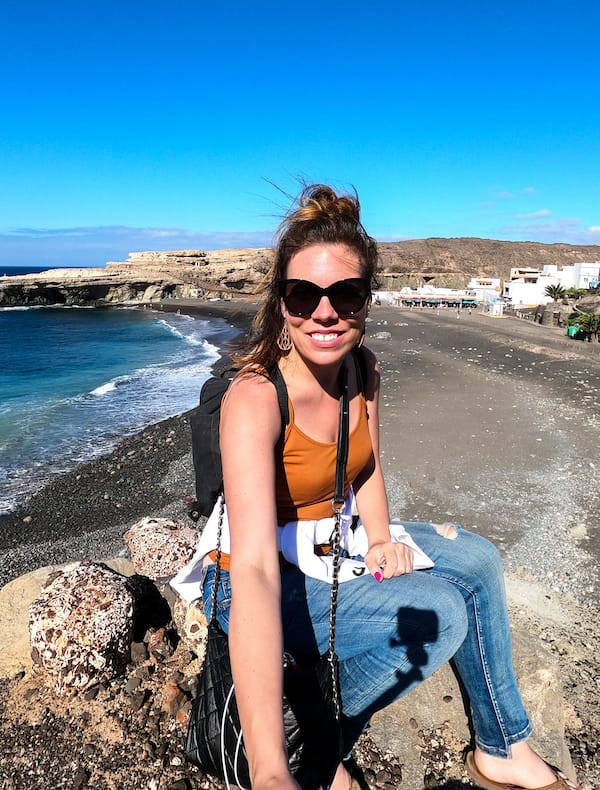 Megan is a travel blogger and writer with a background in digital marketing. Originally from Richmond, VA, she now splits her time between Frankfurt, Germany and Arctic Finland after also living in Norway, Armenia, and Kazakhstan. She has a passion for winter travel, as well as the Nordic countries, but you can also find her eating her way through Italy, perusing perfume stores in Paris, or taking road trips through the USA. Megan has written for or been featured by National Geographic, Forbes, Lonely Planet, the New York Times, and more. She co-authored Fodor's Travel 'Essential Norway' and has visited 45 US states and 100+ countries.