Are you planning to go dog sledding in Rovaniemi on your Lapland trip? Keep reading if so!
Are you planning your trip to Rovaniemi last minute?
If youʻre booking your trip to Lapland last minute, we have you covered. Below are some of the top tours, hotels, and more!
🇫🇮 Top Activities and Tours in Rovaniemi:
🛌 Top Hotels and Lodging in Rovaniemi:
🚗 Looking to travel around Lapland independently? Click here to check Finland rental car rates!
This guide gives you all the details about what to expect from husky tours in Rovaniemi, including tips, what to wear, and the best-rated tours for a safari.
Did we not answer any of your Rovaniemi dog sledding questions? Let us know in the comments!
Dog Sledding in Rovaniemi
Dog sledding has been a way of life in the Arctic for millennia, and the noise of an excited pack of huskies pierces the quiet of the Arctic forests and tundra.
Each of the dogs is a finely tuned snow specialist able to run for miles and is incredibly loyal to their musher and fellow teammates.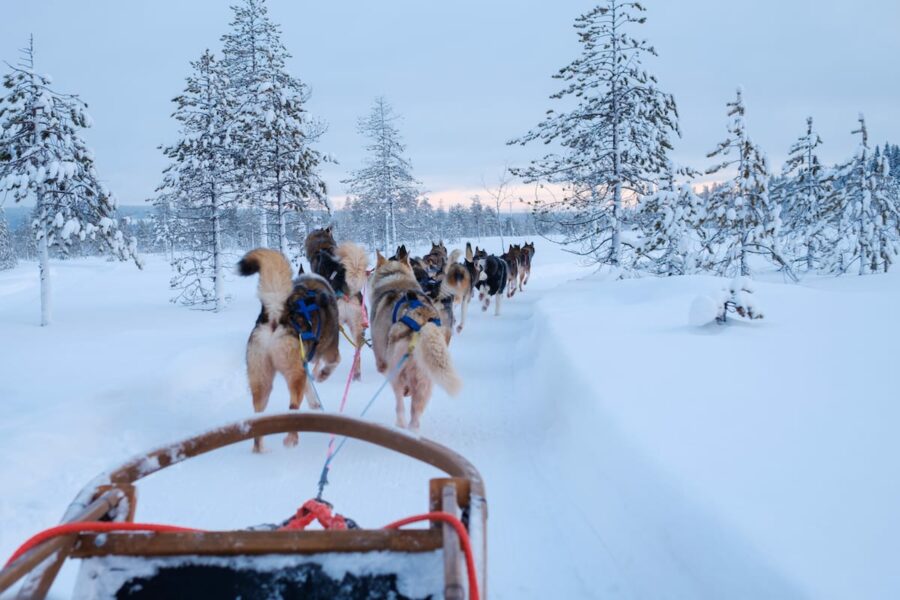 While today's dog sledding in Lapland is more of a recreational activity than a way of life, it is still, in my opinion, one of the most exhilarating activities in Rovaniemi.
What To Bring on a Rovaniemi Husky Tour
There are a few items that I suggest bringing and wearing during your dog sledding experience in Rovaniemi. These are things that either I am thankful I brought with me to Lapland, or wish I had toted along.
Sorel Snow Boots: There is nothing worse than getting cold feet and toes, it can even be downright dangerous. I find that Sorel makes some of the best snow boots and they are brilliant at keeping your feet nice and toasty even on the coldest Arctic day. Click here for women's Sorel boots and click here for men's Sorel boots.
Mittens: I highly recommend packing a pair of mittens over traditional gloves, as mittens are far better at keeping your hands warmer than gloves. Click here to see my recommended mittens for women and for men.
Parka Jacket: A decent parka jacket is a must when visiting the Arctic as they are designed for the harsh cold of the high north.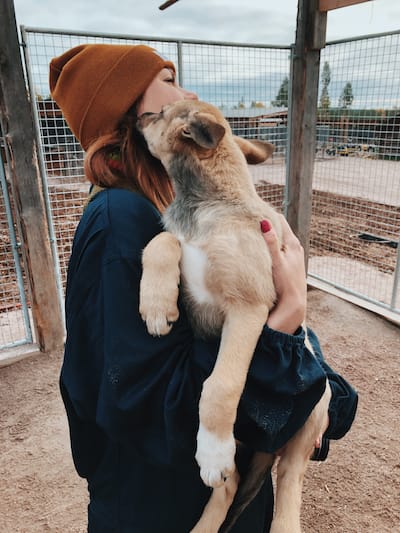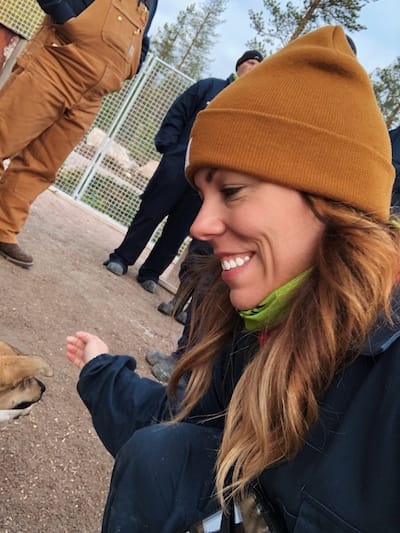 I personally have an amazing Helly Hansen parka jacket that I have worn multiple times in the Arctic, it is very durable and warm, as well as being comfortable to wear.
Click here for my Helly Hansen Svalbard parka and click here for the men's version.
GoPro Hero 8: GoPros are the perfect way to capture your husky adventure, and the GoPro Hero 8's stabilization feature means you are able to shoot far better footage than ever before.
The added advantage of using a GoPro is that you will not have to take your phone out and use its camera, as the cold tends to deplete phone batteries very quickly. Click here to shop for a GoPro Hero 8 action camera.
Tips for a Husky Ride in Rovaniemi
I have been dog sledding in Norway and Rovaniemi and absolutely loved my experiences both times.
There was something magical about being in the wilds with a team of dogs that connected me to the ancient traditions of the area, unlike any other Arctic adventure.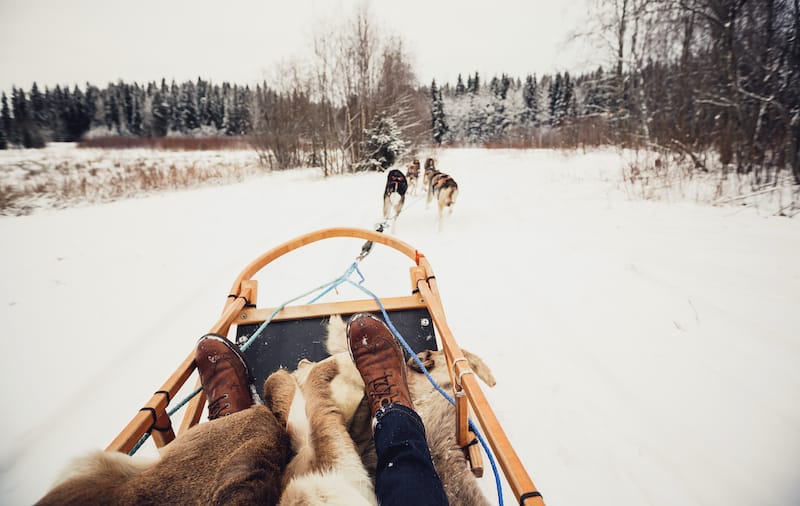 I'll be entirely honest that prior to my first husky experience, I wasn't sure I would enjoy especially as the previous night I had experienced what felt like a very unethical animal experience at a reindeer ranch.
Thankfully, dog sledding was completely different and being greeted by the sound of thousands of excited pups really lifted my spirits and excitement levels to match them.
This Rovaniemi husky safari guide will take you through everything you need to know about dog sledding in Rovaniemi. I have included some first-time tips and some of the best husky tours in Rovaniemi below, as well.
Is Dog Sledding Ethical?
I found that the huskies in Rovaniemi were very well looked after and none of them looked to be mistreated or to be going hungry.
While the dogs definitely live a working dog lifestyle, they really love what they are doing and are happiest while pulling a sled. I'll never forget their quizzical little looks whenever we would have to stop as if they were trying to say encourage running more.
While the dogs pull the sleds on the flat landscapes and down the slopes, when it comes to hills, you will need to put the effort in to help the dogs pull the sled up the hill, and it really makes you feel like you are part of the husky team.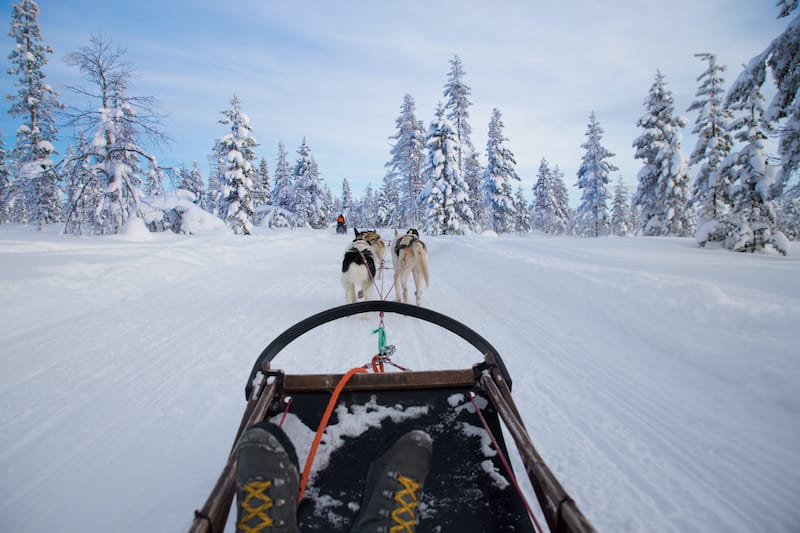 Best Time to Go Dog Sledding in Lapland
Dog sledding requires a decent level of snow, so the best season to go is during the winter when the snow is the thickest.
The first snow generally comes to Rovaniemi and Lapland in October and the ground remains fairly well covered from that point until spring.
During the summer months, the husky farms remain open to visitors and offer different kinds of activities as they welcome the newest arrival of puppies.
In the summers, the huskies still need plenty of exercise, so there are often various excursions that can be taken with the dogs that are not sledding. This lasts into autumn and when the actual season begins.
Can I Be In Charge Of the Sled?
Yes, if you choose a self-drive tour, you and a partner will be in control of the entire team of pups. Mushers, passengers, and the dogs all need to work together to ensure you stay on course and moving.
Driving the sled is no easy feat and for a beginner, it can be challenging. If you are on a self-drive tour, you will have the opportunity to switch who is the passenger and who is the driver at various points around the course.
How Difficult Is Dog Sledding
While dog sledding, in my opinion, isn't particularly difficult, there are some things that need to be considered prior to taking part and choosing the style of tour you wish to go on.
When choosing a self-driving tour, you will need to be in charge of the sled for a period of time and this will involve a degree of physical fitness. While the dogs know the route by heart, you will need to remain concentrated the whole route as you will have to make adjustments to the sled as you go along.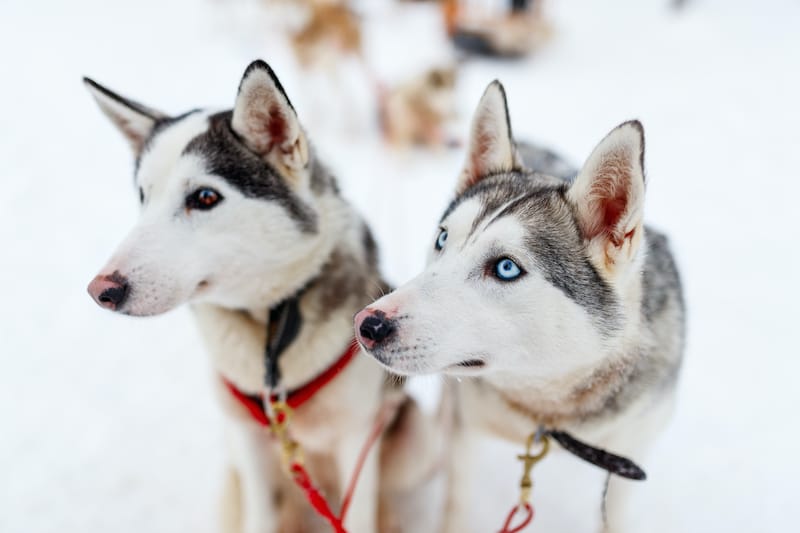 When the sled reaches the small upward slopes along the route, mushers will need to step off the back of the sled and help push it up the hill.
This can be a challenge as the frigid air makes physical exertion harder on the lungs and some level of fitness is required.
During self-drive tours, the passenger will need to operate the hand brake and help keep the sled steady.
On guided tours where you are simply the passenger, dog sledding is incredibly easy and a very enjoyable way to view the passing countryside.
Are Husky Safaris Cold?
Yes! You will be out in the open with snow all around you. If you are sitting on the sled, it can get very cold if you do not have sufficient layers.
Most tour operators will provide you with additional, warm clothing before you start your adventure. If you are taking the role of the musher, while it is still bitingly cold, the additional movement will keep your body warm.
Unlike taking a tour to see the northern lights in Rovaniemi, you will be in a more active state so it won't likely be as bad.
Can Kids Go Dog Sledding?
Yes, although they will need to be accompanied by an adult. I recommend only taking younger children on a guided tour, with an expert musher controlling the sled. Husky tours are not recommended for pregnant women though.
The plentiful options for dog sledding and other tours in Rovaniemi make this city one of the best places to visit in Finland in winter.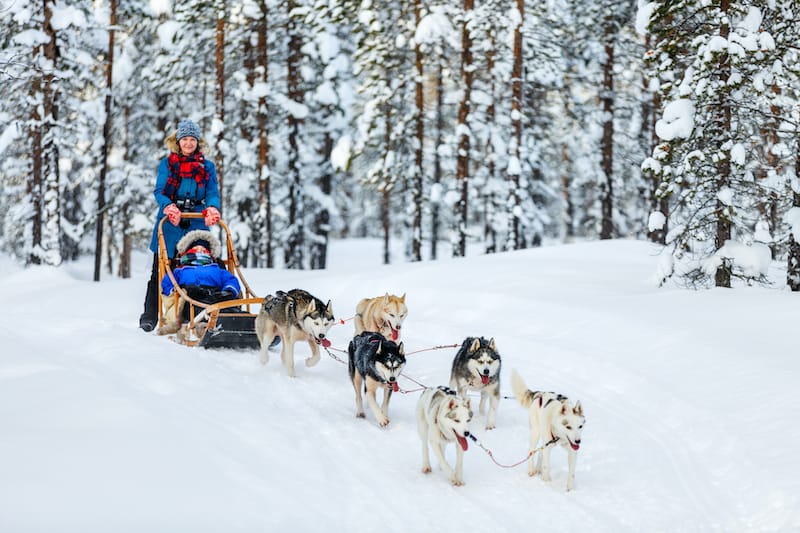 Do I Need A License To Go Dog Sledding?
No. On self-drive tours, you will be given all the instructions you need. The dogs know the route off by heart and don't need a lot of instruction.
What's The Difference Between Guided and Self-Drive Husky Tours?
The difference between guided and self-drive tours is that on a guided tour, you will sit on the sled and an experienced musher will take the reigns and control the team of dogs.
A self-drive tour is one where you and a partner will be in complete control of the sled and dogs and will follow the course around with a guide on their own sled.
Do I Need To Book A Tour To Go Dog Sledding?
Yes. Dog sledding can only be done via specific companies. I highly recommend booking a tour well in advance of your arrival to avoid disappointment, as it is one of the most popular activities in Rovaniemi and places are known to sell out fast.
I have curated a list of Rovaniemi husky tours, for both guided and self-drive experiences.
Best Husky Tours in Rovaniemi in Winter
Husky Safari on a Snowy Trail
Duration: 3 hours
Type: Self-Drive
=> Book It Here
Enjoy a 6-mile adventure through the Arctic wilderness on this fantastic self-drive husky tour in Rovaniemi. You will arrive at the husky farm where your expert guides will teach you how to control the sled and interact with the dogs.
In your teams, you will head out onto the trail, where you can enjoy the magic of husky sledding combined with the beauty of the scenery. After completing the trail, you can thank your team with some cuddles and pats before heading to warm up around a fire with hot drinks and snacks.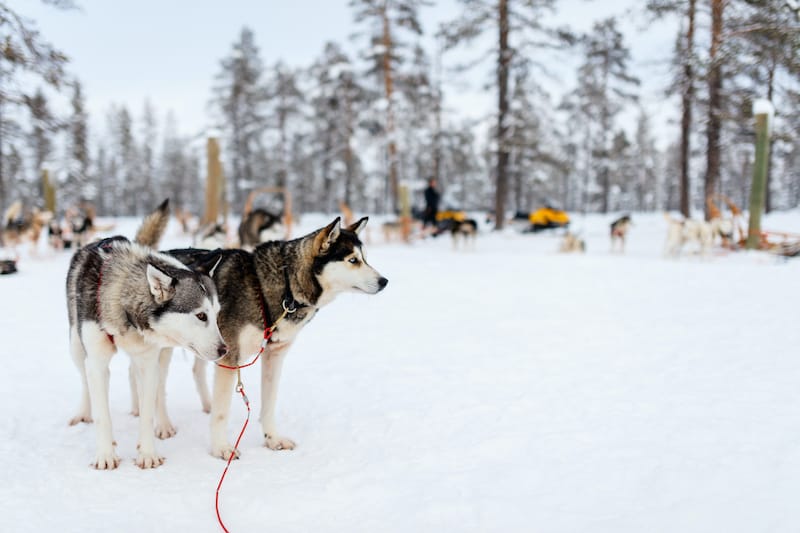 The tour includes hotel pick up and drop off from locations around Rovaniemi. The tour operator will provide additional winter clothes for the tour to help keep you as warm and safe as possible. Hot drinks and snacks at the end of the tour are also included in the price.
>> Click here for tour rates and availability
Arctic Circle Long Trail Husky Adventure
Duration: 2 hours
Type: Self-Drive
=> Book It Here
Explore the forests and plains of the Arctic Circle on this wonderful Rovaniemi husky tour. After arriving at the farm, you will be introduced to the excitable dogs who are all vying for your attention.
Take time to pat them and pose for a few selfies with the photogenic pups before learning all about how to ride a husky sled.
Once you have learned the ropes, you will set off on a 1-hour self-drive route that will cover between 4 and 6 miles in distance. While you take turns in controlling the sled, use the relaxing passenger time to enjoy the beautiful Lapland scenery.
The tour includes hotel pick up and drop off from places in and around Rovaniemi. The tour company will also provide winter clothes for the experience as well as hot drinks to warm up at the end.
>> Click here for tour rates and availability
3-Hour Snowmobile Safari to a Husky Camp
Duration: 3 hours
Type: Guided
=> Book It Here
Enjoy two thrill-seeking activities in the Arctic wilderness on this snowmobile safari and husky tour. The day will start off with a snowmobile tour where you will race through the forests, stopping occasionally to appreciate the serene beauty of the Arctic.
After snowmobiling, you will go to a Rovaniemi husky farm and learn all about the dogs and their lives in the Arctic, before heading out on a short dog sled ride. On the dog sled ride, you will get to chill out and enjoy the views while the expert musher guides the huskies along the route.
This tour includes hotel pick up and drop off from around Rovaniemi. To drive a snowmobile, you will need a fully valid driving license, otherwise, you will need to be a passenger. You will also be provided with warm winter clothes and warm drinks.
>> Click here for tour rates and availability
2km Husky Ride and Local Farm Visit
Duration: 2 hours
Type: Guided
=> Book It Here
Start your tour off by learning all about the huskies and how they live in the Arctic over warm drinks and biscuits. After gaining a greater understanding of the dogs, it's time to set off on a husky ride, where you will enjoy a 2km guided trail.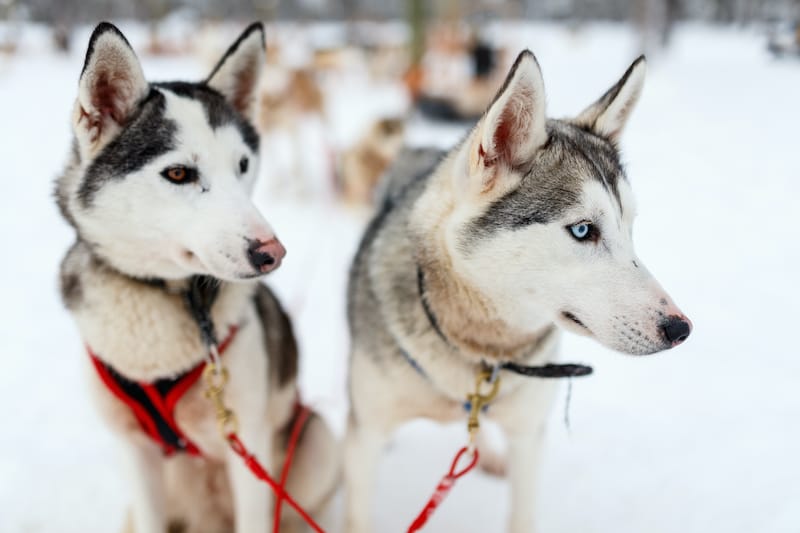 Sit back and relax under warm blankets as the team shows you some of the area's most stunning views. After returning to the husky farm, you will get to spend some free time with the huskies.
The tour includes hotel pick-up and drop-off from central Rovaniemi. You will need to wear warm winter clothes for the trip as the ride can get rather cold, even under blankets.
>> Click here for tour rates and availability
Snowmobile Safari, Reindeer, and Husky Farm
Duration: 5 hours
Type: Guided
=> Book It Here
This tour includes three of the most popular activities in the Arctic- snowmobiling, seeing Reindeer, and dog sledding in Rovaniemi.
The tour starts off with snowmobiling where you will get to grips with the machine, before speeding off to the reindeer ranch taking in the stunning vistas as you go. Once at the reindeer farm, you will get to interact with the reindeer by patting and feeding them.
It is also possible to go on a reindeer sleigh ride, however, this is something that I personally find unethical as, unlike the dogs, the reindeer do not seem to enjoy it.
From the reindeer ranch, you will continue to a husky farm where you will get to greet dogs and enjoy a short guided husky ride.
The tour includes hotel pick up and drop off from Rovaniemi. Winter clothes are available for rental from the tour operator. At the various stops, you will be able to enjoy warm drinks and snacks, but a full meal is not included in the tour price. In order to operate a snowmobile, you will need to hold a full valid driving license.
>> Click here for tour rates and availability
Best Husky Tours in Rovaniemi in Autumn
Husky Cart Excursion from Rovaniemi
Duration: 3.5 hours
Type: Guided or Self-drive
=> Book It Here
When there is no snow on the ground, the huskies need to keep up with being active and continue to be used to pulling sleds.
This tour is an autumn tour where you can head out with the huskies on an improvised sled with wheels as the dogs get ready for their busy winter.
During the 2.5 mile route, you will have the option to either sit back and relax or try your hand at mushing as the dogs race through the track.
After the sled ride, you will get to spend time with the animals and play with them on the farm before heading back to Rovaniemi.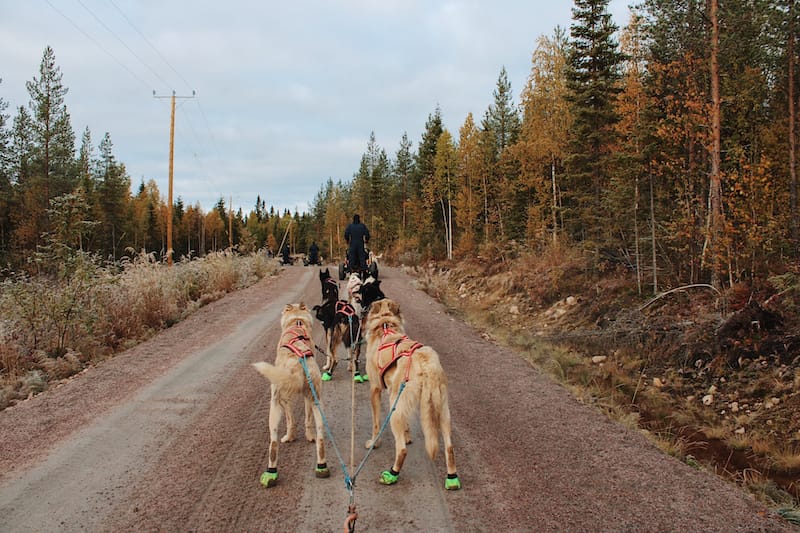 The dog carting will only take back if the temperature is below 10 degrees as pulling a cart in higher temperatures is not healthy for the dogs. The tour includes hotel pick up and drop off from Rovaniemi. Wear clothes that you do not mind getting dirty as the carts can kick up dirt and the dogs may have muddy paws.
>> Click here for tour rates and availability
Where to Stay in Rovaniemi
If you're seeking the best places to stay in Rovaniemi for your trip, we have some fantastic recommendations below, including the Arctic TreeHouse Hotel.
These options are great for any budget and they are all located in the city center or Santa Claus Village which is where the tours all pick up from.
Should You Go on a Husky Safari in Rovaniemi?
I think that dog sledding in Rovaniemi is one of the best activities in the Arctic.
We hope that this guide to the best husky tours in Rovaniemi helps you choose the right tour and that our tips help you prepare for your upcoming Arctic adventure!
More Lapland Winter Guides
Pin This Rovaniemi Husky Ride Guide!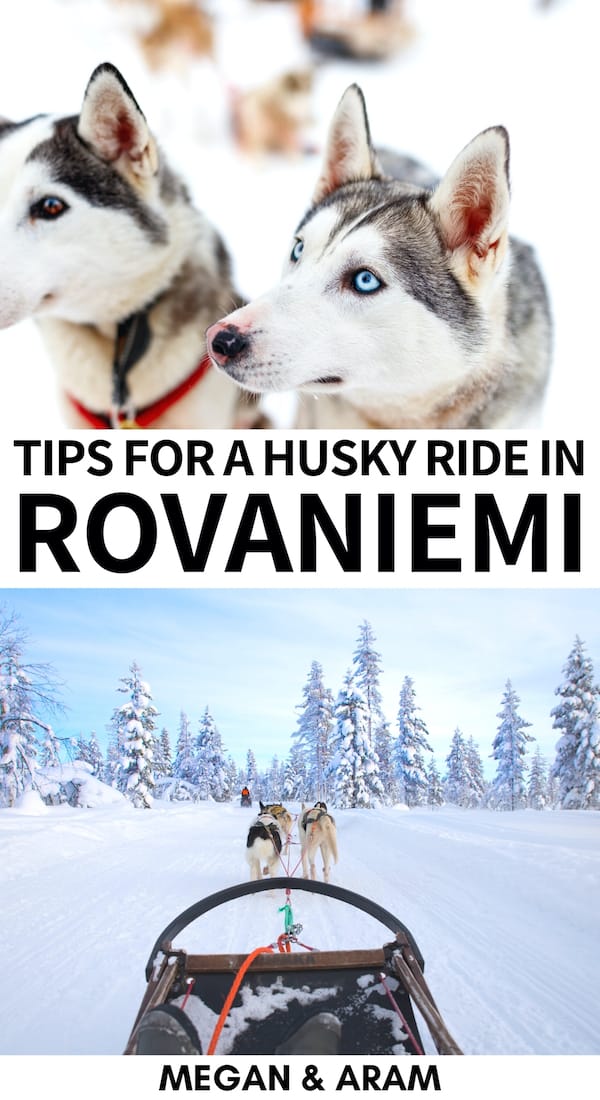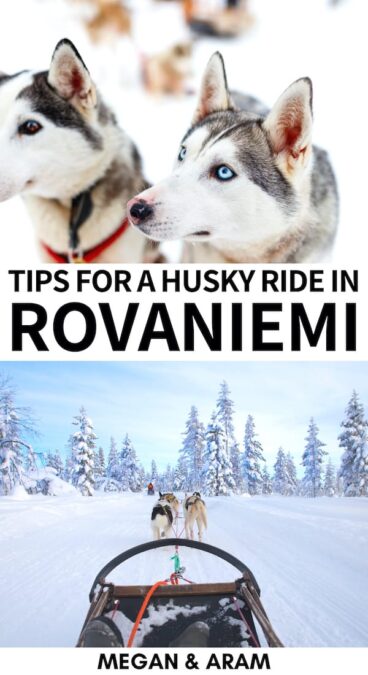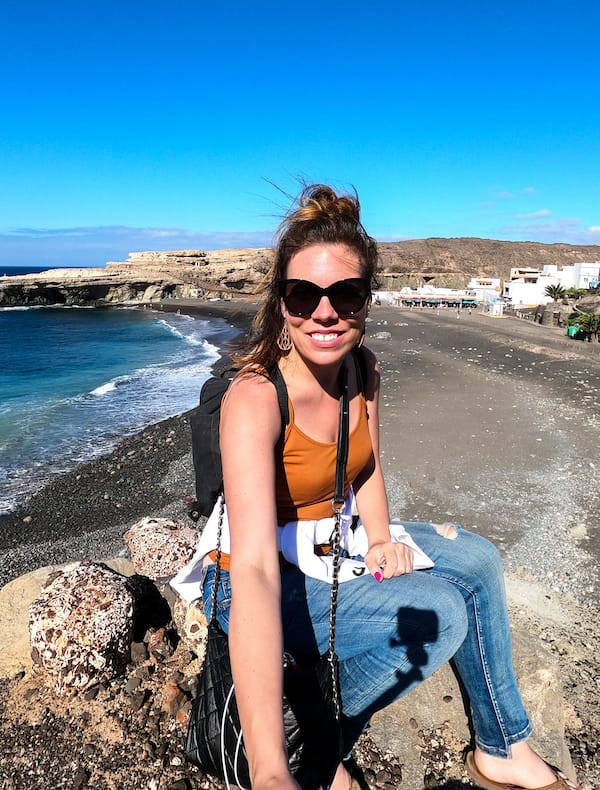 Megan is a travel blogger and writer with a background in digital marketing. Originally from Richmond, VA, she now splits her time between Frankfurt, Germany and Arctic Finland after also living in Norway, Armenia, and Kazakhstan. She has a passion for winter travel, as well as the Nordic countries, but you can also find her eating her way through Italy, perusing perfume stores in Paris, or taking road trips through the USA. Megan has written for or been featured by National Geographic, Forbes, Lonely Planet, the New York Times, and more. She co-authored Fodor's Travel 'Essential Norway' and has visited 45 US states and 100+ countries.