Are you looking for the best things to do in Stockholm? This guide covers the main Stockholm attractions (and beyond)!
If you're visiting Stockholm, it is best to plan in advance to ensure you make the most of your time!
This guide lets you in on the top Stockholm landmarks, places to visit, museums, and more!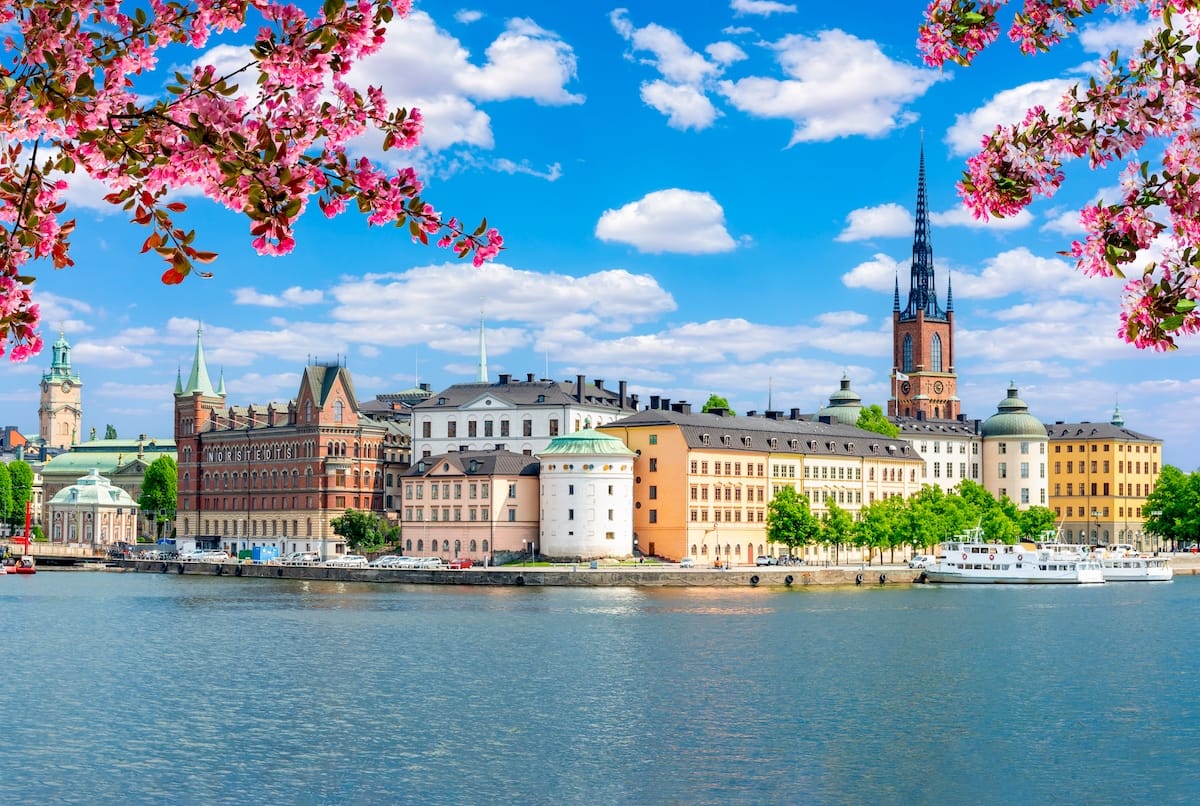 Did we miss any of the best places to visit in Stockholm? Let us know in the comments!
Best Stockholm Tours (to Maximize Your Time!)
If you're looking for something more organized when in Stockholm and the surrounding area, here are some awesome Stockholm tours you should check out.
These tours will help you maximize your time, which is especially important if you only have a short amount of time in the city! We listed a variety so that you can pick which one is most suitable for you (and many include multiple places!):
Best Things to Do in Stockholm
1. Walk around the Old Town (Gamla Stan)
Featuring Stadsholmen island and the islets of Riddarholmen, Helgeandsholmen, and Strömsborg, Old Town (Gamla Stan), established in the 13th century, is the oldest part of the city.
And the best way to explore this famous place in Sweden its ancient churches, medieval squares, and winding cobblestone streets is to walk through this historic area.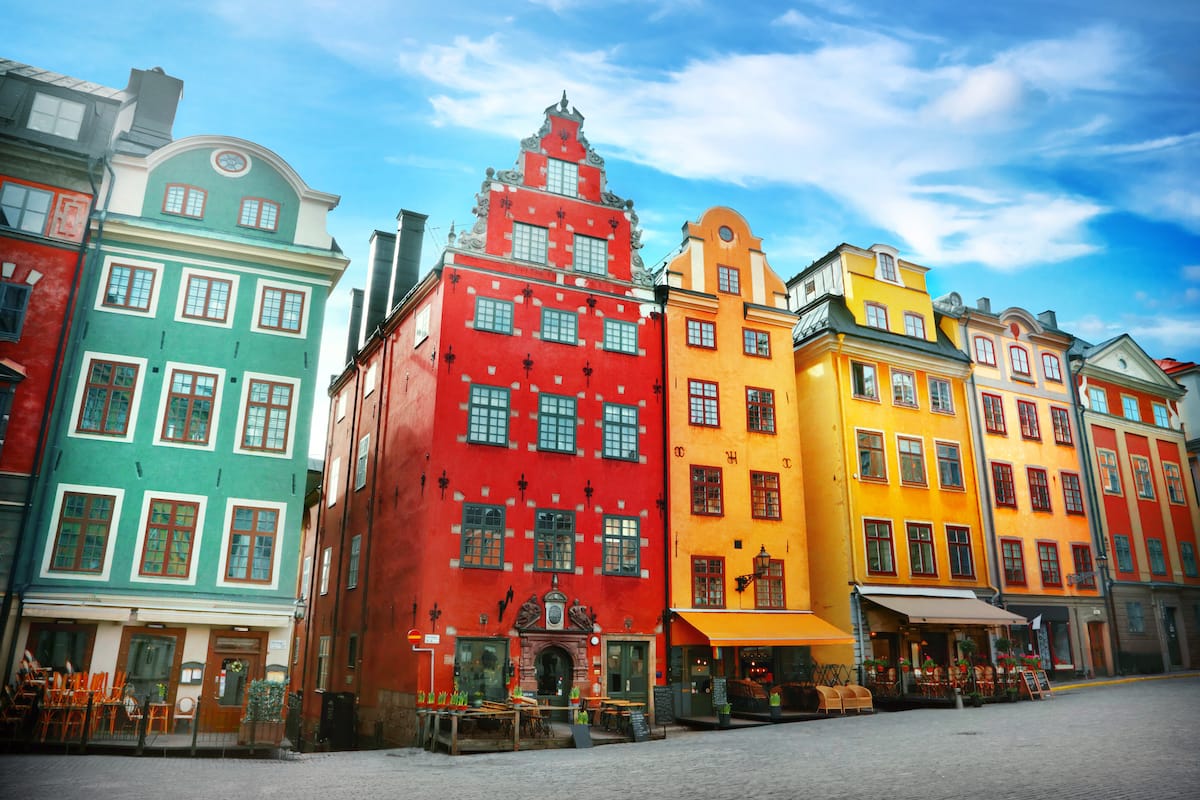 Stortorget Square is the main square where you can sit and enjoy the people-watching. Here you can witness the baroque-style Royal Palace (Kungliga Slottet) and The Royal Chapel (Storkyrkan).
Squeeze through the Alley of Marten Trotzig, browse Nobel Prize Museum or the Post Museum, and visit The House of Nobility (Riddarhuset).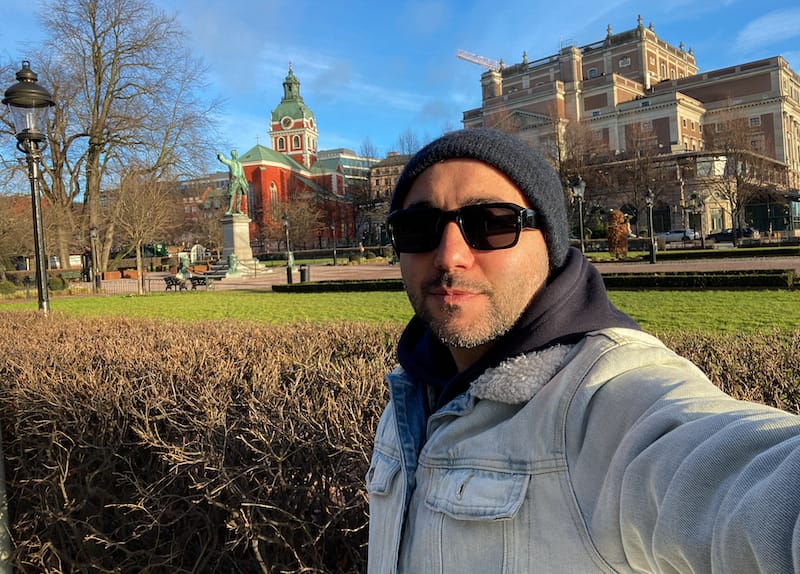 If you're visiting in summer, don't miss seeing the changing of the guards and horse parade that take place daily outside the Royal Palace.
Before leaving, pop into Den Gyldene Freden, dating back to 1722, to taste traditional Swedish fare.
>> Click here to book Stockholm Old Town tour
2. Be a Dancing Queen at ABBA The Museum
Whether you are an ABBA fan or not, you shouldn't miss visiting ABBA The Museum nestled on the island of Djurgården.
Here you can witness the band's stage clothes, concert footage, interviews, and many other artifacts showcased in a contemporary and interactive setting.
All those exhibits will make you learn about the band members' early lives and how they met, and get close to the band's old pianos, guitars, microphones, etc.
You can use state-of-the-art technology to try on visual costumes, record your own performance with the digital band, remix some of their best-loved tunes, and undoubtedly answer the red phone as ABBA members will be calling.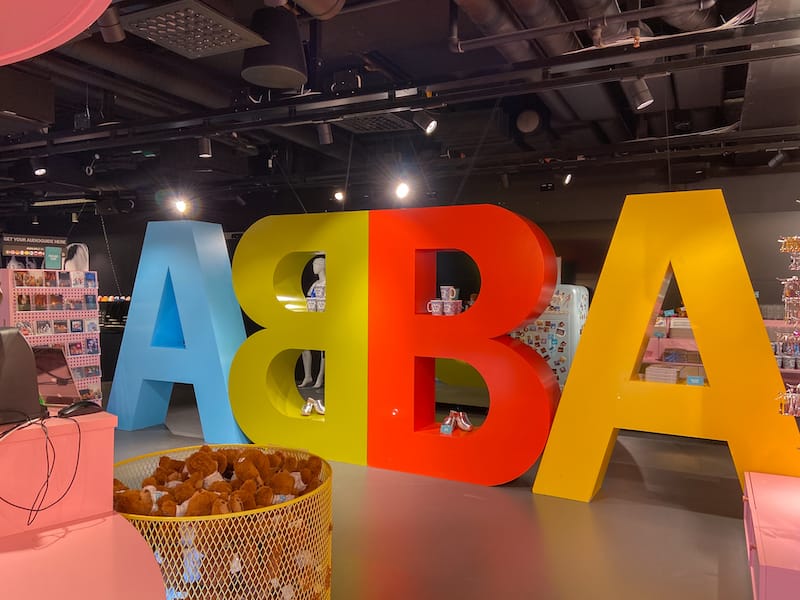 Before leaving, check out the ABBA The Museum Shop, where you can buy books, fashion items, gift cards, accessories, and other memorabilia related to ABBA.
The immersive "Waterloo" exhibit is a must for you to step back to 1974 and relive the band's winning performance at the Eurovision Song Contest.
Address: Djurgårdsvägen 68, 115 21 Stockholm
>> Click here to check tour rates and availability
3. Take an Archipelago Sightseeing Cruise of Stockholm
Those who want to explore the waterways of Stockholm and experience the unspoiled nature of the city's archipelago in a short period of time should definitely add this City Archipelago Sightseeing Cruise with Guide to their bucket list.
Hop aboard M/S Östanå I, built in 1906, or S/S Stockholm, built in 1931, to immerse in a journey with beautiful sights.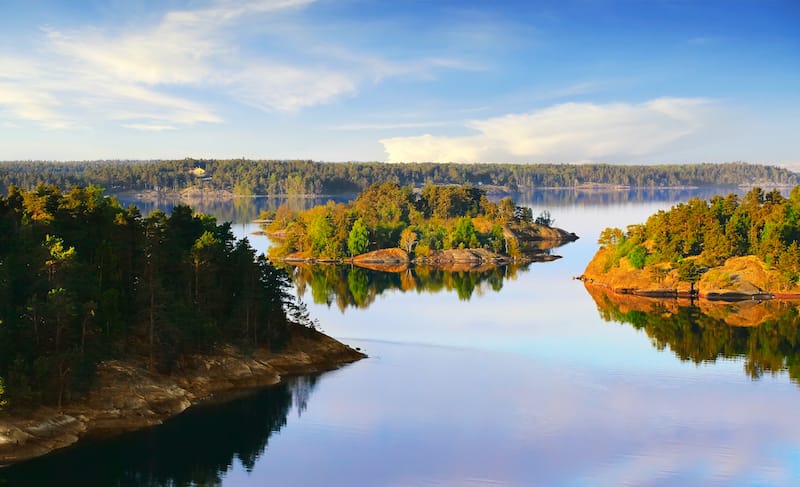 This round-trip city cruise will take you along the coast of the second-largest archipelago in the Baltic Sea while your friendly guide points out the stunning natural sites, shares fascinating stories, and makes you learn about the history of those sights.
From the onboard cafeteria, you can buy hot and cold drinks, sandwiches, salads, pies, and many other food and refreshments.
>> Click here to check tour rates and availability
4. Photograph the Royal Palace
Getting lost in one of the largest palaces in Europe is one of the top things to do in Stockholm.
The Royal Palace, featuring 600 rooms, is the official residence of His Majesty the King of Sweden.
Get a glimpse into the real life of Scandinavian royalty by touring the Royal Apartments, step inside the Reception Rooms to marvel at splendid interiors dating back to the 18th and 19th centuries, and visit the Armoury, Ordenssalarna (Halls of the Orders of Chivalry) and Rikssalen (the Hall of State).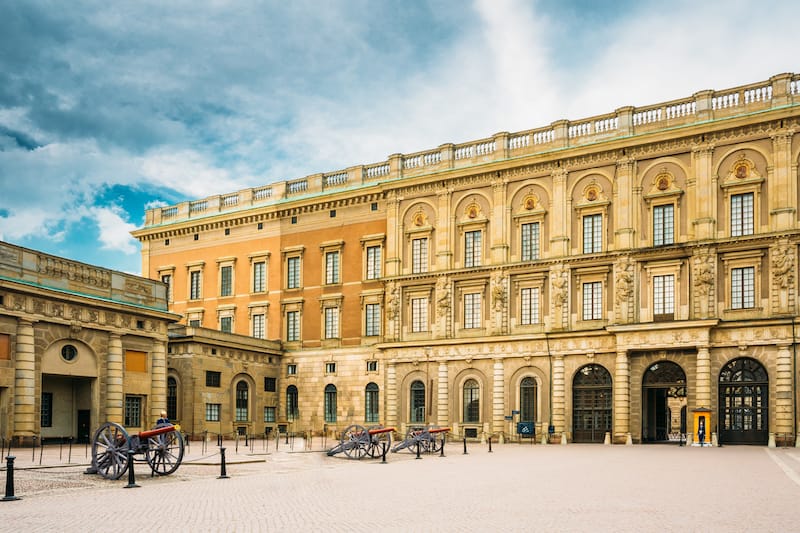 There are three museums inside the Palace, which are Gustav III's Museum of Antiquities, renowned for its collection of 17th-century Greek and Roman sculptures, the Tre Kronor Museum, and the Treasury.
Make sure to catch the changing of the guard (the Royal Guards Ceremony) in the palace's outer courtyard, which starts at 12:15pm each day (1:15pm on Sundays).
The Royal Palace is open to the public year-round.
Address: Kungliga slottet, 107 70 Stockholm
5. Stop by Drottningholms Palace
Channel your inner history buff at Drottningholms Palace, which is Sweden's best-preserved royal palace, built in the 17th century.
This is one of Stockholm's three World Heritage Sites constructed according to a French prototype. You can get here by boat, which is available from March through October.
Even though this is the private residence of the Swedish royal family since 1981, you can still tour the grounds of the palace year-round, except for the southern wing where they live.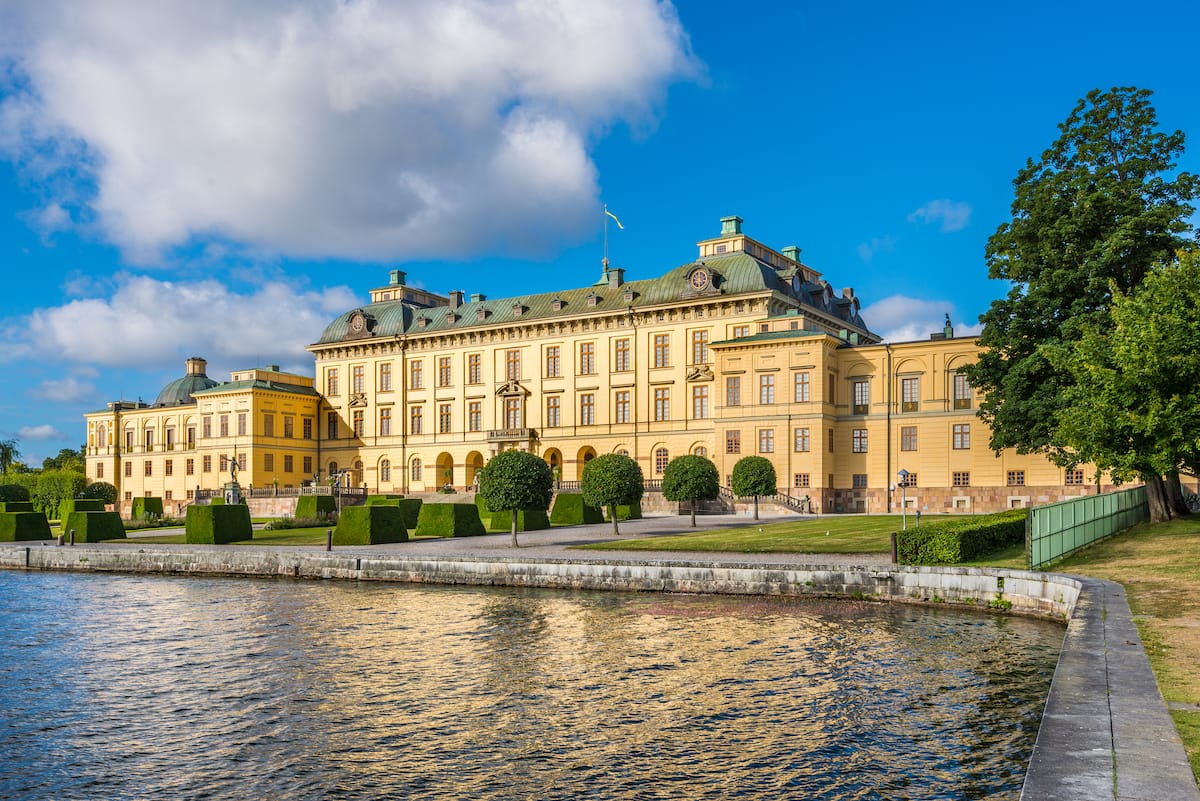 Browse the Reception Halls packed with gold and fancy items, check out a unique 18th-century Palace Theater still used as a theater with its original stage machinery, wow at the exotic Chinese Pavilion built in an oriental-infused Rococo style, and immerse in tranquility at perfectly manicured gardens inspired by Versailles.
The Royal Chapel, Evert Lundquist's Studio, the Palace Library, and the Carl X Gustav Gallery are all popular attractions.
Address: Drottningholms Slott Slottsstallet 11, 178 93 Drottningholm
6. Go on a Stockholm Kayaking Tour
For an unforgettable Stockholm winter experience or summer activity, try winter kayaking around the Stockholm Archipelago with this Archipelago Kayaking tour.
You'll begin your adventures at Skärgårdens Kanotcenter where your friendly guide will familiarize you with the basic paddling and safety techniques.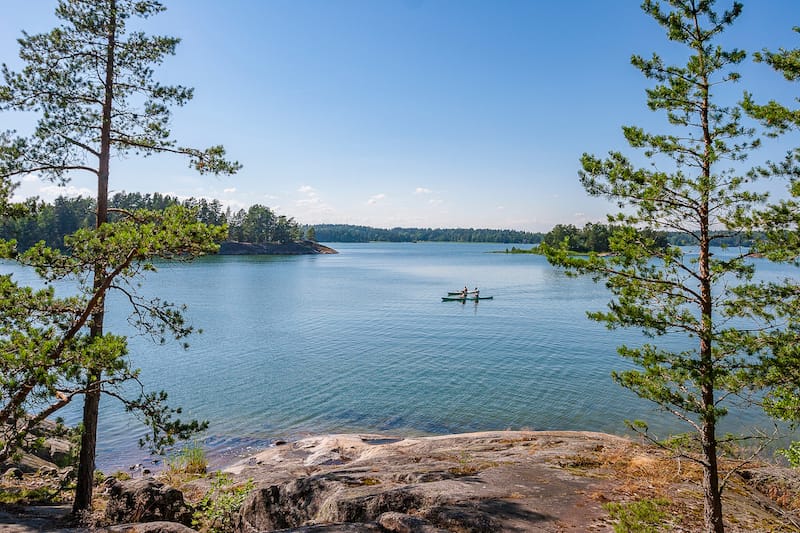 After that, you can hop into your sea kayak to paddle through the magnificent landscapes of Vaxholm and admire typical Swedish architecture.
Along the way, you'll listen to local stories about the area once home to Vikings over 1,000 years ago, see the famous fortress used to defend Stockholm and traditional fishing cottages in the harbor, and wow at one of Stockholm's largest nature reserves.
Then you'll get back to the starting point to warm up over a cup of coffee.
>> Click here to check tour rates and availability
7. Indulge on a Nordic Food Walk
The Nordic Food Walk is your best option to indulge your taste buds with traditional Swedish food while visiting historic areas.
You will start your tour from Östermalmshallen, the old market hall of Stockholm, where you'll get samples of local cheeses and meats.
Then you'll embark on 4-hour adventures to explore the most modern areas of the city and sample classical treats with a modern twist.
Enjoy your lunch at Stockholm's food market, then top it off with sweets at a local chocolate store.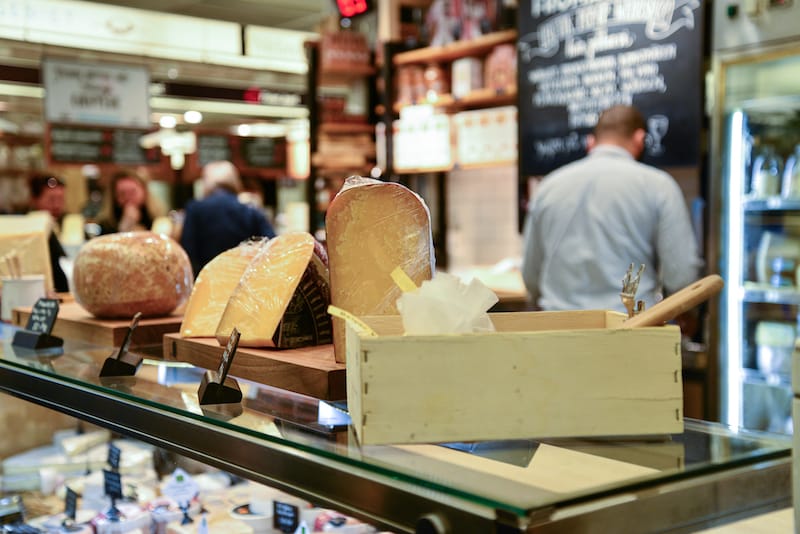 Stop by Hötorgshallen for a quick tasting as well as learn about the historical importance of this food market.
You'll also visit Gamla Stan (Old Town) to admire some of Stockholm's original houses, then pop into a tiny factory that makes polkagris (the most traditional Swedish candies).
Round off your tour in a romantic courtyard, where you can sip coffee and pair it with the best cinnamon rolls in town.
>> Click here to check tour rates and availability
8. Take a Full-day Viking Tour with a Fika Break
Every fan of Viking culture should join this Full Day Viking tour with a fika break.
You'll see the best of "runriket," a famous trail of Viking sites, explore the message on famous Jarlabanke Runestones and get a glimpse of what life was like in Viking times.
Nestled by a scenic lake, you'll see Arkils Tingstad, which is an old assembly location where the Vikings gathered together and had meetings.
Keep your eyes peeled for some original medieval churches, like Vallentuna church, dating back to the 12th century.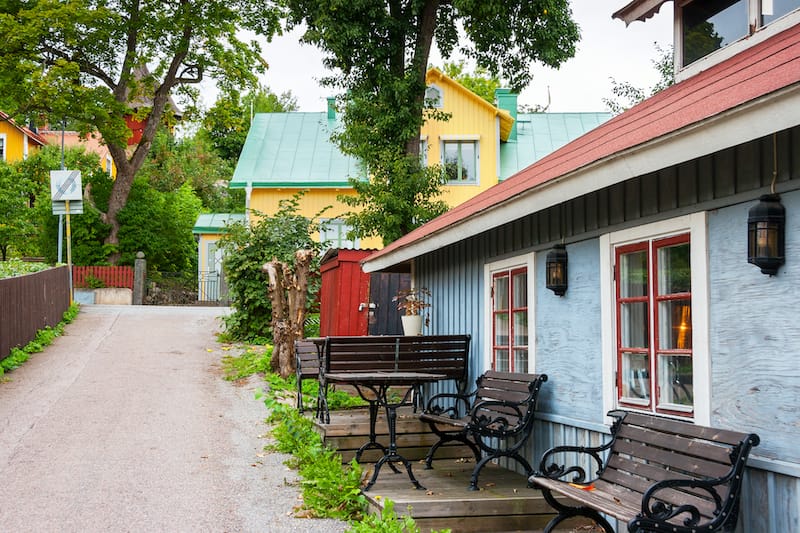 In an old Granby farm, you'll stop to experience a Swedish "fika," a traditional Swedish coffee break with pastry, then explore the ruins of an old Viking settlement.
Visiting Sigtuna, the former capital of Sweden, seeing the ruins of St Olof church and the burial mounds of Old Uppsala (the spiritual center for the Vikings), and taking part in a guided tour of Uppsala cathedral are some of the highlights of this Viking Tour.
>> Click here to check tour rates and availability
9. Get Caffeinated at Drop Coffee
Get your caffeine fix at Drop Coffee, a popular work spot and hangout for many locals.
This is an award-winning coffee roaster run by true coffee aficionados that will feed your senses with its delectable menu of exceptional coffees, like Las Delicias, Kamwangi AA, Hunkute, or Limochillo Washed.
Come in for filter coffee (hot and cold), espresso-based drinks, or hand-brewed coffee before hitting the town.
Their award-winning baristas use high-quality locally-roasted beans combined with superior equipment and unique methods to provide you with the best coffee so you can experience what real coffee tastes like in Stockholm.
Monday through Friday, you can order homemade soups, tasty fika, refreshing drinks, and sandwiches. Here you can also buy coffee brewing equipment and coffee beans for home.
Address: Wollmar Yxkullsgatan 10, 118 50 Stockholm
10. Enjoy Panoramic Views on the Monteliusvagen Path
Those who are after experiencing a vista or two can take a relaxing stroll and admire the unbeatable views from the Monteliusvägen.
This cobblestone-lined pathway perched atop the cliffs of Södermalm may be one of the most scenic spots to get your best shots of the Stockholm City Hall, Lake Mälaren, Riddarholmen, and Gamla Stan.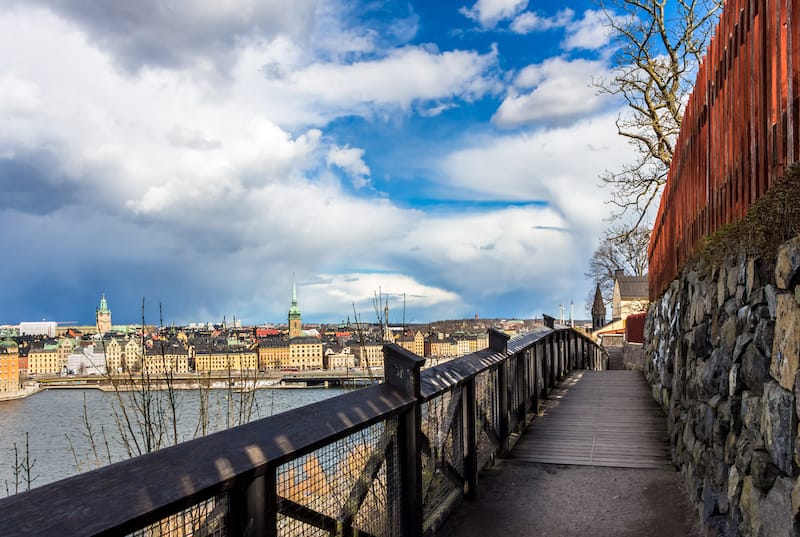 This 500-meter path is lined with charming houses and cafes on one side, so you can stop by and grab a cold drink in summer or warm up with "fika" in winter.
There are a few benches and tables where you can sit or simply enjoy picnicking. For one-of-a-kind scenery, make sure to visit during sunset or sunrise hours.
11. Walk around the Skansen Open-Air Museum
Skansen Open Air Museum, often called "Sweden in miniature," is the oldest open-air museum in the world.
Nestled on the island Djurgården at the edge of Stockholm, this hilltop museum is home to Skansen Aquarium, Baltic Sea Science Center, and Stockholm Zoo, packed with moose, lynxes, wolves, bears, seals, and many other creatures native to Scandinavia.
Here you can get a glimpse of the traditional ways of life in Sweden before the Industrial Age.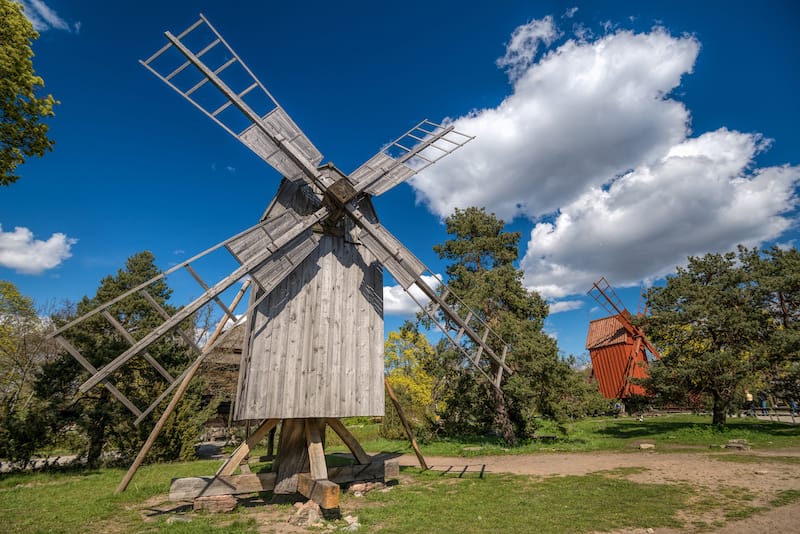 Witness around 150 traditional houses and whole villages, check out the glass-blower cottage and a Sami camp from the Arctic Circle and visit the bakery serving coffee and delicious pastries, Seglora timber church, a machine shop, botanical gardens, and Hazelius' mansion.
Skansen is open year-round and features a wide range of events throughout the year, such as the summer Singalong evenings Allsång på Skansen, the big midsummer party, Walpurgis Night, Lucia, the Christmas market, and the annual New Year's Eve party.
Address: Djurgårdsslätten 49-51, 115 21 Stockholm
12. Have Breakfast at Cafe Pascal
There's no place like Cafe Pascal for enjoying a great breakfast. This is a local specialty coffee establishment that won the prestigious Gulddraken award for best café in Stockholm in 2019.
The diverse menu features not only great coffee but also a wide selection of salads, sandwiches, omelets, chia pudding, yogurt bowls, croissants, cinnamon buns, smoothies, and more.
This cozy cafe offers a stylishly rustic space with contemporary low-hanging lights, exposed brick walls, and marble tables so you can savor Sunday breakfast in style.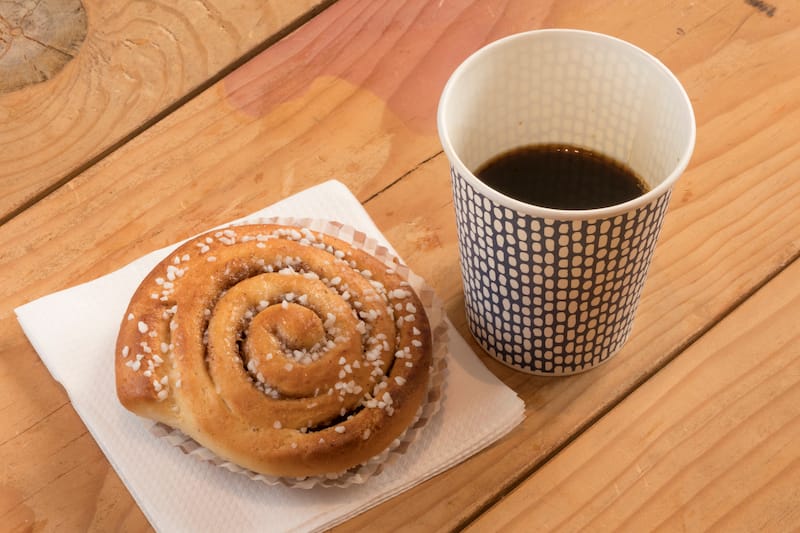 Stop by to indulge in a complete coffee experience in their cozy atmosphere, or order your grab-and-go cup of deliciousness if you are in a rush.
Visit with a friend or two in the morning to pair your coffee or tea with traditional Swedish sweet buns, and Turkish yogurt bowls with homemade nut granola, tarts, and doughnuts before it gets busy.
Address: Norrtullsgatan 4, 113 29 Stockholm
13. Go Back in Time at the Swedish History Museum
History buffs will be in heaven exploring Swedish history from prehistoric times to the present day at the Swedish History Museum.
It houses 10 million objects from 10,000 years of human history.
Immerse in the Viking World by witnessing 2,500 original objects, learn about a horrifying medieval battle between the farmers of Gotland and the well-trained soldiers of the Danish army at the Medieval Massacre, and take a visual walk through the history of art from the 12th to the 16th century, to admire Medieval European art.
The Golden Room will stir you up with 52 kilos of gold and over 200 kilos of silver. 3,000 gold objects include old collars from the migration period, reliquaries decorated with gemstones from the Middle Ages, silver pendants from the Viking period, and more.
Baroque Hall, Medieval Tones, and Medieval Life are other must-see exhibitions.
Address: Narvavägen 13-17, 114 84 Stockholm
14. Relax at Royal National City Park
A few steps away from the city of Stockholm, you can immerse yourself in tranquility at Royal National City Park.
Stretching from Djurgården and the island Fjäderholmarna in the south to Sörentorp and Ulriksdal in the north, this is the world's first National City Park packed with museums, an amusement park, sports facilities, period buildings, theaters and entertainment, castles, inns and hotels, hills with centuries-old oak trees, lakes, streams, secluded swimming spots, marshes, and beaches.
You can get here by public transport such as bus, the Stockholm Metro, or boat.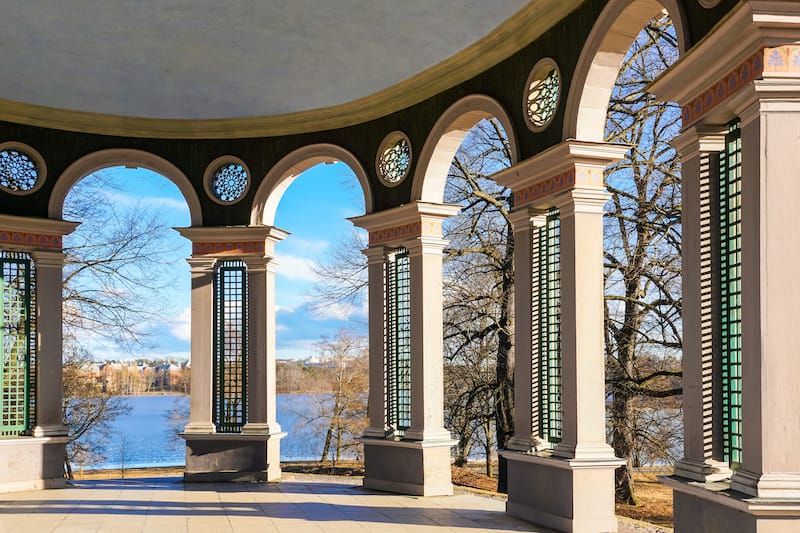 In this 27 square-kilometer green oasis, you can stroll in ancient forests, enjoy nature, see beautiful buildings, swim off rocks, visit museums, take a bicycle ride through historical landscapes, and embark on adventures.
As the park is home to a wide variety of species, keep your eyes peeled for moose, foxes, hares, deers, horses, sheep, unique birds, butterflies, and insects.
15. Discover the Nordic Museum
Step back in time at the Nordic Museum, which is Sweden's largest museum of cultural history.
Dive deep into the very origins of Swedish history and discover what life was like in the Nordics for the past 500 years through various exhibitions on fashion and textiles, folk art, jewelry, ceramics, furniture and interiors, photography, trends, and traditions.
Check out the Paris of the North exhibition to travel back to the golden age of haute couture and experience the salons of NK's French Couture Atelier.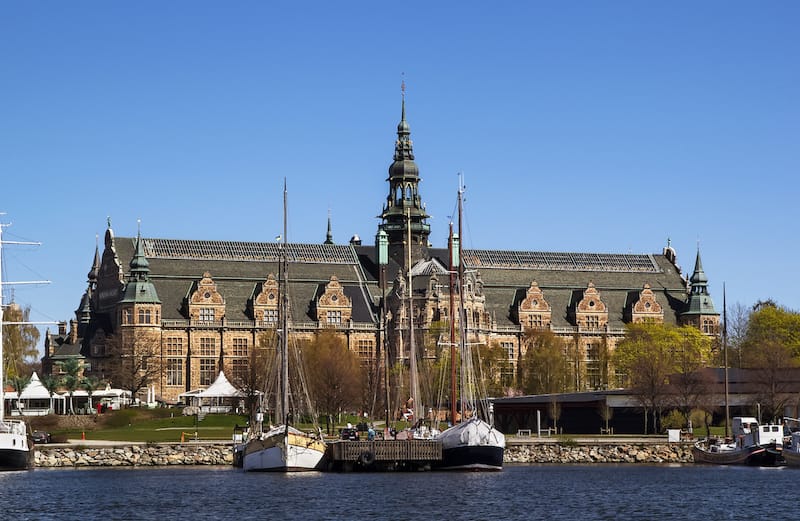 If you're visiting with the family, get insights about life in the northernmost places on the planet at the Arctic exhibition built up inside a gigantic ice crack, solve the mystery with Time Detectives and travel back to the 1890s in the Children's Playhouse.
When hungry, head to Lusknäppen Café to grab a light lunch or visit the restaurant to enjoy traditional dishes and top off with delicious pastries from their own bakery.
Address: Djurgårdsvägen 6-16, 115 93 Stockholm
16. Have a (Frozen!) Drink at the ICEBAR
ICEBAR Stockholm by ICEHOTEL, centrally located inside Hotel C Stockholm, offers an exciting way to enjoy your favorite cocktail in a below-freezing setting all year round.
Here everything from walls and furniture to glasses and hand-carved sculptures are made out of ice from the Torne River.
The bar has a constant temperature of -5°C (23°F) and can fit up to 60 people. The theme is changed every year to offer you a new feeling of adventure every time you visit.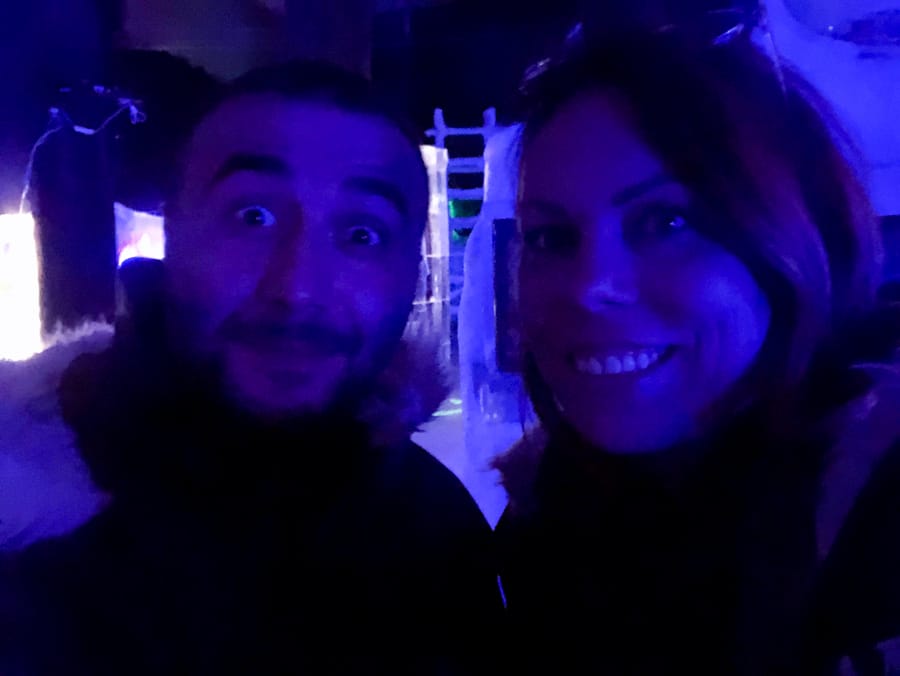 The drinks menu offers cocktails made with flavored Absolut vodkas and fruit juices, as well as several non-alcoholic drinks for kids.
Sipping their delicious cocktails from an ice glass promises one of a kind experience.
As you arrive, you will pay a cover charge and get a silver cape topped with a fake fur-trimmed hood and a pair of gloves to keep yourself warm.
A ticket gets you a 45-minute visit and a beverage to experience a slice of northern Sweden's polar magic.
Address: Vasaplan 4, 111 20 Stockholm
17. Explore the Medieval Museum
If you want to delve beneath the surface of the everyday life of medieval Stockholmers, the Medieval Museum makes for an ideal stop on your tour around Stockholm.
Nestled just a short distance from the Royal Palace, this attraction was built on an actual excavation site.
Back in the 1970s, it was planned to build a garage underground next to the Parliament building, but the excavation discovered the remains of the original medieval center of Stockholm.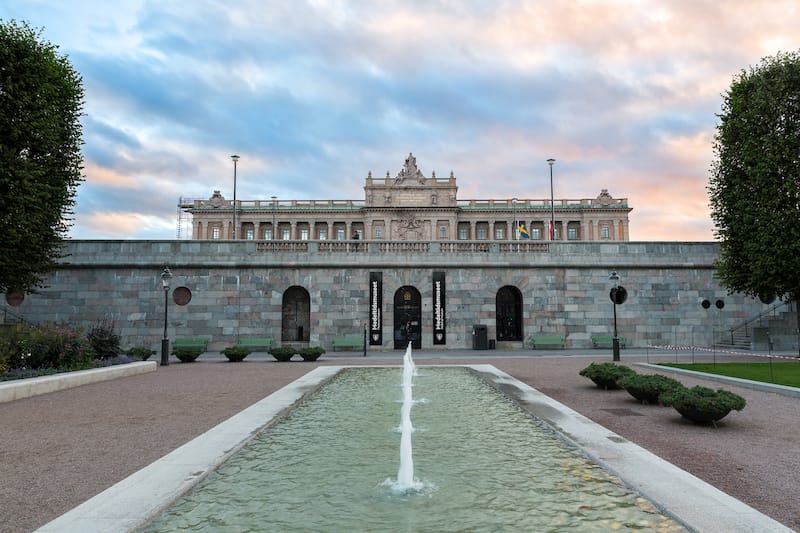 Highlights of the museum are Stockholm's city wall dating back to 1520, which is preserved as a fixed 55 meters long ancient remnant, a medieval graveyard, a warship, life-sized replicas of medieval buildings, like a market square, a church, a cloister, homes, and shops, etc.
Here you can learn how animals were kept in the narrow streets, see a mannequin of a woman who died of the plague and dress up in armor.
The Museum is open Tuesday through Sunday, and admission is free.
Address: Strömparterren 3, 111 30 Stockholm
18. Embark on a Snowshoe Hike
Adventure lovers shouldn't miss joining Winter Snowshoe Full-Day Hike to experience a real winter wonderland on snowshoes just moments from the city center.
A minivan will get you to the best snow-covered landscape where you can meet your guide and fellow travelers and make new friends from around the globe.
After getting acquainted with safety instructions on how to walk on snow and ice, you'll head for hiking through a snow-filled forest and over frozen lakes and learning about Swedish wildlife and the ecosystems along the way.
Fuel for adventures with a warming lunch by a campfire to continue your 8-hour journey and take in more stunning scenery.
Snow-covered trees, deer tracks in the snow, and frozen lakes will certainly add extra magic to your winter experience.
>> Click here to check tour rates and availability
19. Admire the Stockholm City Hall
The City Hall (Stadshuset), dating back to 1923, is one of Stockholm's most iconic landmarks nestled on the eastern side of Kungsholmen island.
Featuring Nordic National Romantic style architecture and a solid red-brick façade, it is famous for its grand ceremonial halls and unique pieces of art.
It houses offices for over 300 employees, including the City Council, and hosts political and cultural events.
The prestigious annual Nobel Banquet is held in the Blue Hall every year on the 10th of December.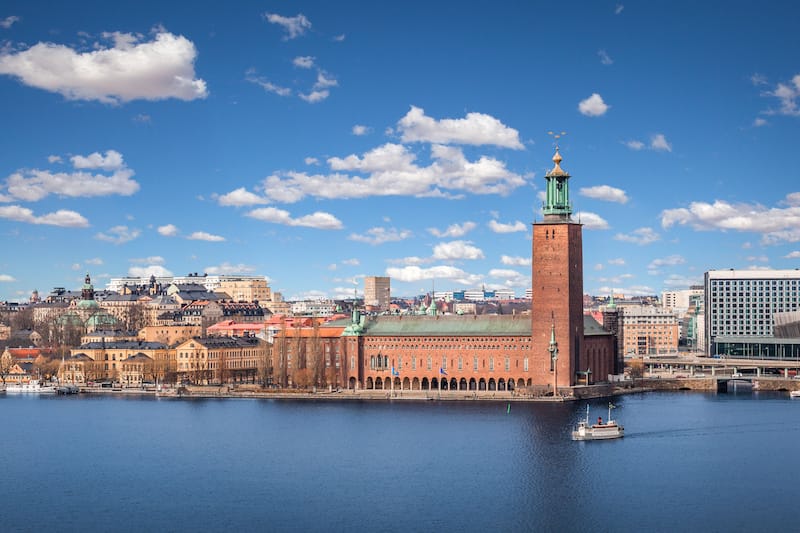 Following the dinner, there is a formal ball in Gyllene Salen (The Golden Hall), which is adorned with no less than 18 million gold mosaic tiles.
Please note that you can only visit the City Hall on guided tours. The highlight of this building is the 106-meter-high tower, which offers mesmerizing views over the city.
Climbing to the top of the tower, you can reach the Three Crowns, the Swedish national symbol.
Address: Hantverkargatan 1, 111 52 Stockholm
20. Check Out the Underrated Fotografiska Museum
The impressive Fotografiska museum is a magnet for the curious in contemporary photography.
Housed in a historic industrial building at the harbor of the island Södermalm, this 2,500 square meters museum spread over two floors offers you around 20-25 exhibitions displaying photographic masterpieces by national and international photographers and photo artists per year.
A few of the big names highlighted here are Sebastião Salgado, Nick Brandt, Mattias Klum, and Annie Leibovitz.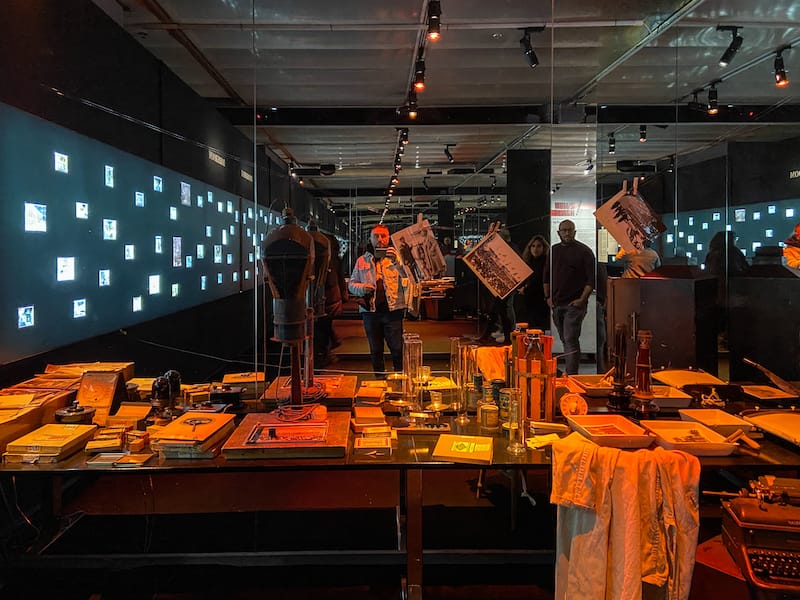 It also offers lectures, classes, and workshops for photographers of all levels. On-site, you can find a restaurant and a café that will treat you to stunning panoramic views of Stockholm.
The museum is open from 10am-11pm daily with admission tickets ranging from SEK 165 to 255 for adults depending on the time and day of your visit.
Before leaving, browse the gallery to buy prints of works by international photographers and check out the museum shop to buy a photo book for your loved ones.
Address: Stadsgårdshamnen 22, 116 45 Stockholm
21. Take an Ice Skating Tour in Winter
Stockholm is renowned for its natural beauty, especially in winter, when thousands of lakes create an ideal skating environment.
This 8-hour Ice Skating Tour allows you to explore magic ice on lakes and enjoy ice skating surrounded by breathtaking natural scenery.
A minivan will get you to your destination, where you'll get acquainted with safety instructions, practice as a group and as individuals and finally be ready to skate.
At the end of the tour, you'll develop confidence and skills from professional skaters, which will make you feel like you've done it many times before.
Along the way, you'll make a stop to enjoy some lunch, then make your way back to the meeting point.
>> Click here to check tour rates and availability
22. Peruse the Nobel Museum
Have you ever been curious about the mind-blowing ideas behind the Nobel Prizes?
If so then head to the Nobel Museum, which is housed in a beautiful 13th-century mansion in the heart of Stockholm, the Old Town (Gamla Stan).
It is no ordinary museum but rather an educational hub for natural sciences and culture.
Short films, original artifacts, and computers allow you to explore the work and the ideas of more than 900 creative minds and experience the changes of the 20th century through the Nobel Prize and the Nobel Prize laureates.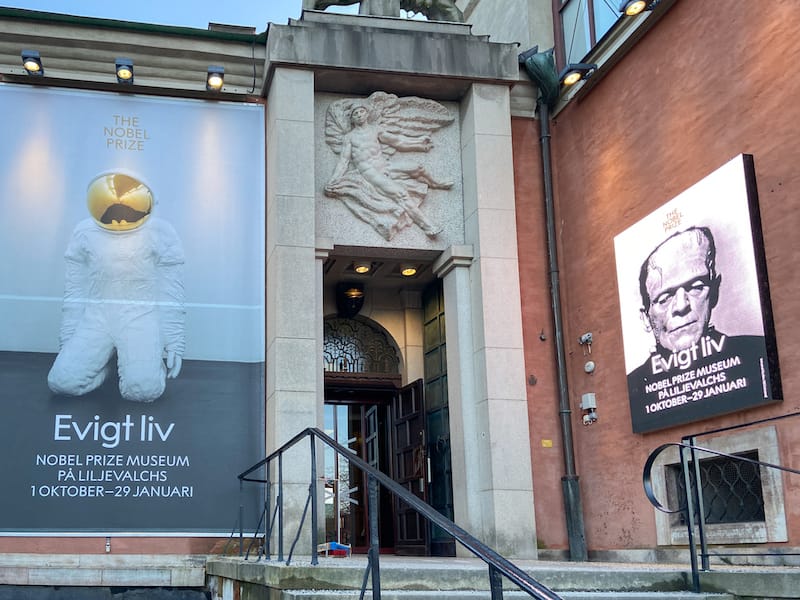 Learn about the discoveries of some Nobel Prize laureates in the exhibition "From ideas to Nobel Prizes" and check out the museum's permanent exhibition "Cultures of Creativity" to get inspired by creative ideas that changed the world.
Don't miss enjoying an exciting Friday night here through on-stage programs like literary conversations, science talks, and inspiring concerts, and taste their Friday menu at Bistro Nobel.
Address: Stortorget 2, 103 16 Stockholm
23. Spend an Evening at the Stampen Jazz Bar
If you're in search of the best bars to experience the Scandinavians' take on the American music genre, then look no further than Stampen jazz bar.
It is the world-famous jazz and rhythm & blues bar nestled in Gamla Stan.
Housed in a historical building of a former church and a pawn shop since 1968, the bar specializes in "American roots music," including jazz, R&B, soul, and modern blues.
This is a gathering place for young and old, which is spread over two floors with two fully-stocked bars and two stages offering daily live music and a friendly atmosphere six days a week, all year round.
Inside you can see ​​antique prams, old musical instruments, and other leftover pawn items hanging from the ceiling, which really adds to the charm.
Don't miss​​ free-entry Stampen Big Time Blues Jam on Saturdays from 2pm-7pm to enjoy blues like an old-school blues fan.
Address: Stora Gråmunkegränd 7, 111 27 Stockholm
24. Marvel at the Historic Storkyrken
Storkyrkan, nestled next to the Royal Palace in Gamla Stan, is the oldest church in the city.
Also known as Stockholm Cathedral, it was built in 1264 and donated by the imperial administrator Birger Jarl, who was the founder of the city of Stockholm.
It has had its present shape and size since 1480 but received its current baroque appearance in the middle of the 17th century.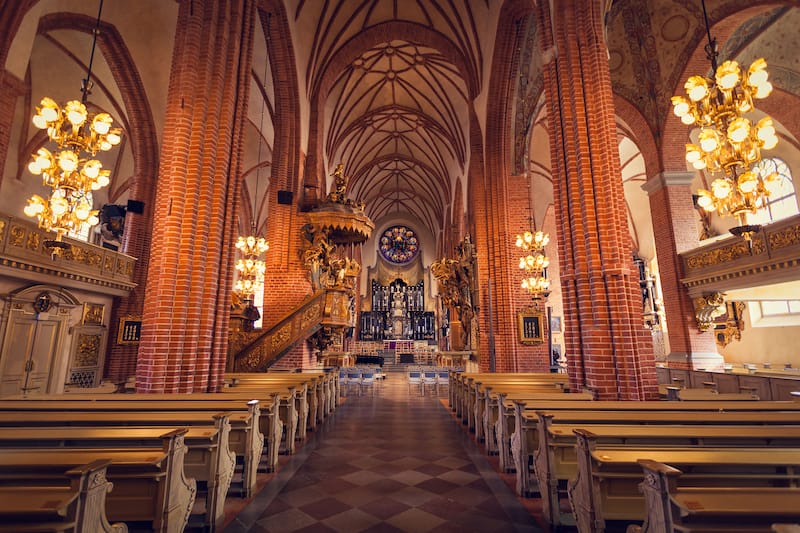 The highlights of the church are the Silver Altar, the Globe of Candles, the Last Judgment, the seven-branched candlestick, the Royal Pews, the Pulpit, the wooden sculpture of Saint George and the Dragon created in 1489, the legendary Vädersoltavlan showing a spectacular parhelia phenomenon dating back to 1535, and Lena Lervik's recent sculpture "Joseph and Mary."
Over the centuries, the church has witnessed many royal events, including coronations, christenings, royal weddings, and funerals.
Address: Trångsund 1, 111 29 Stockholm
25. See the Vasa Museum
Vasa Museum is one of the most visited museums in all of Scandinavia, home to the world's only preserved 17th-century salvaged ship of King Gustavus Adolphus.
This 69-meter-long 64-gun warship decorated with hundreds of original carved sculptures sank on its maiden voyage in the middle of Stockholm harbor in 1628 and was salvaged 333 years later in 1961 on the sea bed.
Over the last half-century, the ship was restored, but more than 95 percent of the ship is intact, showcasing its original glory.
The three masts on the roof of the museum show the height of the ship's original masts.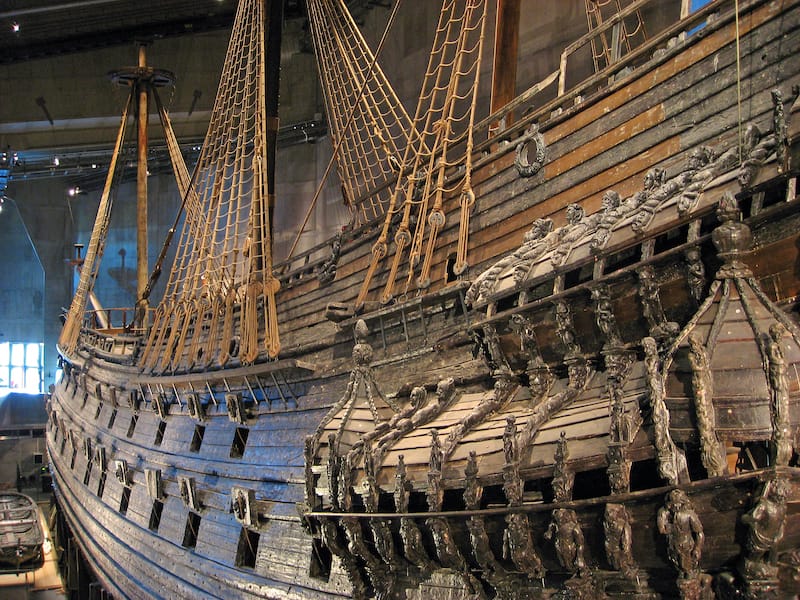 In this seven floors museum, you can relive Sweden's seafaring past through ten different exhibitions, witness artifacts salvaged from the harbor floor, watch a multilingual movie about the ship's resurrection, and take part in 25-minute free guided tours.
On-site you can also find a well-stocked shop and a restaurant to enjoy lunch and fika.
Address: Galärvarvsvägen 14, 115 21 Stockholm
26. Eat at Meatballs for the People
Are you keen to indulge your taste buds with classic Swedish meatballs? If so, then head over to Meatballs for the People on Södermalm, which is the city's first "meatball boutique."
Here you can taste at least 12 kinds of meatballs from many different animals like elk, beef, reindeer, wild bear, and salmon, just to name a few.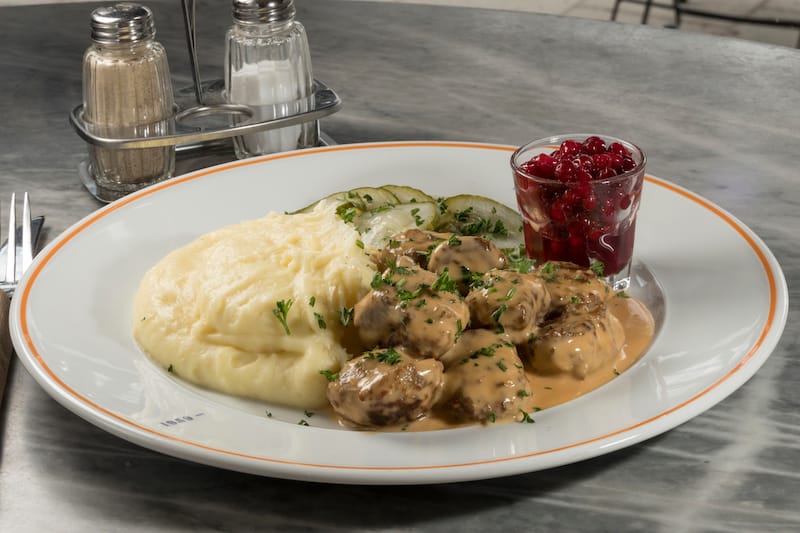 All the meatballs are handmade from organic and locally sourced produce. And if meat is not your thing, why not try delicious salads, soups, and vegetarian or even vegan meatballs.
All of the dishes are available for takeaway. You can also spice things up with a cold beer, wine, or signature cocktails, like Gin tonic à la Meatballs, Mezcal Margarita à la meatballs, or Alvaro's Lime & Love.
Address: Nytorgsgatan 30, 116 40 Stockholm
27. Rejuvenate at the Sickla Sauna
Your Stockholm trip won't be complete without unwinding in a typical Nordic sauna.
Sickla Sauna allows you to immerse in Sweden's best-floating sauna experience amidst scenic nature.
Every visitor will get a Sickla Sauna set which includes a large luxurious towel made of organic Supima Egyptian combed cotton, a genuine Finnish linen sit towel for the sauna, a linen sauna pillow, and an insulated bottle filled with fresh cold Swedish water.
The sauna boat floating on the lake has extraordinary windows throughout so you can take in breathtaking views of the peaceful lake, colorful fall leaves of the nearby forest, and fiery sunsets while sitting on a warm bench of the steamy sauna.
Then you can step outside and take a dip in the freezing lake. In addition, they offer stand-up paddleboards and a raft which is perfect for swimming, sunbathing, cruises, and floating meals.
Address: Nackanäsbron 4, 131 33 Nacka
28. See the Art in the Stockholm Subway
Explore the world's longest art exhibit at the Stockholm Subway System, which features 100 stations, 90 of which are decorated with a variety of jaw-dropping murals.
Since 1957 artists have turned this 110 kilometers long subway system into a work of art.
Those stations have been embellished with some sort of art installation, including beautiful statues, paintings, murals, and ceramic tiles on their platform, walls, or waiting hall.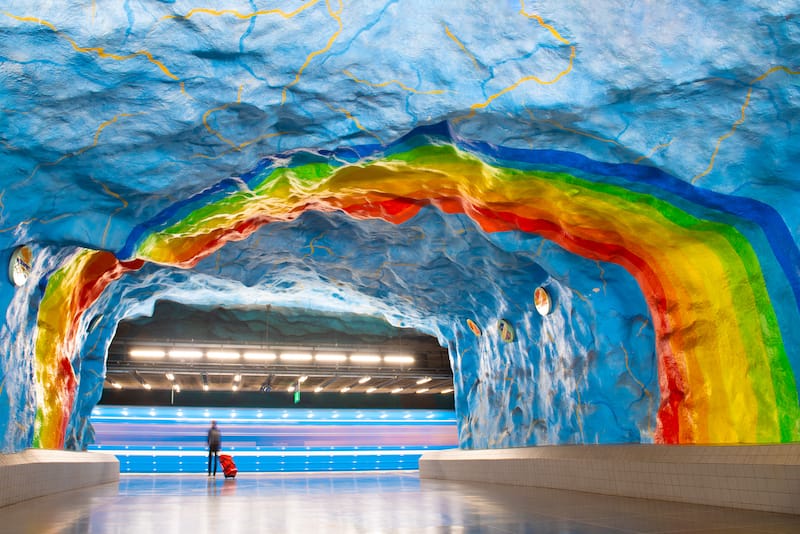 The first station to get artwork-ed up was T-Centralen Station which features calm vibes with its blue-painted patterns of vines traveling up the ceiling above you.
Stadion Station stands out with its rainbow archway, while Rådhuset gives off eerie sensations with its deep red and orange colors and makes you feel like you're deep within the earth.
Kungsträdgården Station, Odenplan, ​​Solna Centrum Station, and Tensta Station are other stunning stations to appreciate Stockholm metro art.
29. ​​Enjoy a Meal at Restaurang Kryp In
After a full day exploring the city, it's time to enjoy a hearty homemade meal in Restaurang Kryp In.
This little neighborhood restaurant on Timmermansgatan offers a regularly changing menu and serves traditional Swedish dishes with a modern twist.
Beetroot tartare, roasted celeriac soup, and orange seared red deer will certainly whet your appetite for the restaurant's main dishes like reindeer roast beef, portobello and sweet potato puré, Swedish meatballs, Krypin's fish and shellfish casserole and more.
Make sure to leave a little bit of space to top everything off with heavenly desserts, such as Coconut panna cotta, Coffee brownie, Chocolate mousse, and Vanilla ice cream.
If you're not here for a full meal, you can just grab a bite and have a glass of wine in the bar.
Professional staff, a rustic and cozy atmosphere, and delicious meals will make you return here every time you visit Stockholm.
Address: Prästgatan 17, 111 29 Stockholm
30. Shop and Drink Coffee in the SoFo Neighborhood
Stockholm's SOFO neighborhood in the area south of Folkungagatan is the city's trendiest hotspot, packed with organic cafés, cool shops, laid-back pottery studios, art galleries, and a plethora of bearded hipsters.
To get here, you simply need to jump on the subway's green line, hop off at Medborgarplatsen, and head south.
Start your visit from Nytorget, a square lined with 18th-century houses offering a bustling social scene.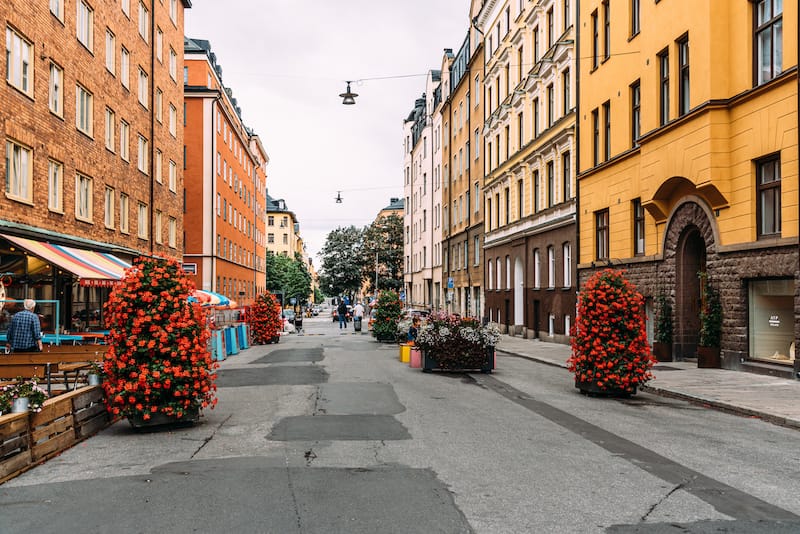 Soak up the atmosphere over a cup of coffee at Café String, savor classic Swedish meatballs at Meatballs for the People, step inside Katarina Kyrka, and check out Stockholm's Spårvägs Museum.
Dance until the wee hours at Underbara Bar, enjoy the live music at Mosebacke, watch Stockholmers do their thing at Vita Bergen, and browse Centrum för Fotografi to appreciate the best of both Swedish and international photography.
31. Take Your Family to the Paradox Museum
Paradox Museum, located by the Hotorget metro station, is another must-visit family-friendly museum that houses the world's largest collection of paradox-based exhibits.
Here you can trick your mind with 70 installations, objects, and rooms, which will make you immerse in mind-twisting and eye-tricking experiences.
Learn about the exciting science behind all those paradoxes and take mind-blowing pictures that will make your friends question everything.
Revolving walls, tilted and upside rooms, a piano composing personalized melodies, and reality-defying optical illusions will certainly challenge your brain and trick your eyes.
Bet you won't be able to walk straight in the paradox tunnel, which affects your perception of gravity direction.
If you're visiting with the kids, make sure to visit the room where children grow past their tiny parents.
Address: Sergelgatan 20, 111 57 Stockholm
32. Relax at One of Stockholm's Beaches
As soon as summer hits, you'll find many locals soaking up the sun at one of the many Swedish beaches.
Smedsuddsbadet is one of Stockholm's finest bathing areas located in the southern part of Kungsholmen.
It features the obligatory korvkiosk, ice-cream stand, and public toilet and allows grilling.
Those who are eager to have a picnic on the cliffs or are after an adrenaline swimming experience can head to Fredhällsbadet.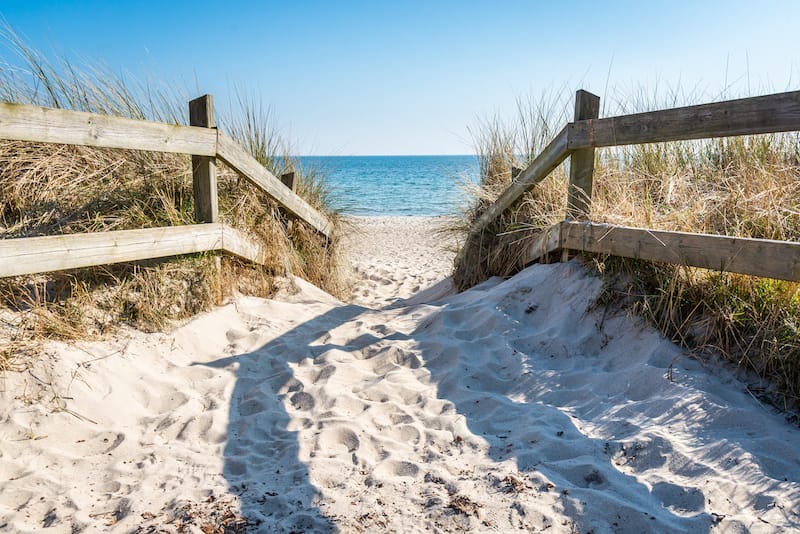 Try the climbing wall or relax on the beach at Tanto Strandbad and jump in the water from the diving tower or dip your toes from the jetty at Flatenbadet.
If you want to swim outdoors but not necessarily in nature, then check out Eriksdalsbadet, which features four outdoor swimming pools, lawn areas, and a sauna.
Maltesholmsbadet, Brunnsviksbadet, and Lilla Essingen are great options if you are visiting with the whole family so that everyone can enjoy it in their own way.
33. Check Out the Modern Art Museum
The last one on this list is a real heaven for art lovers who can experience one of Europe's foremost collections of contemporary art.
Located on the island of Skeppsholmen in central Stockholm, the Modern Art Museum was first opened in 1958 and was rebuilt by the Spanish architect Rafael Moneo in 1998.
The impressive collection includes around 130,000 different works of art from the twentieth century to today, including sculpture, paintings, photography, and film.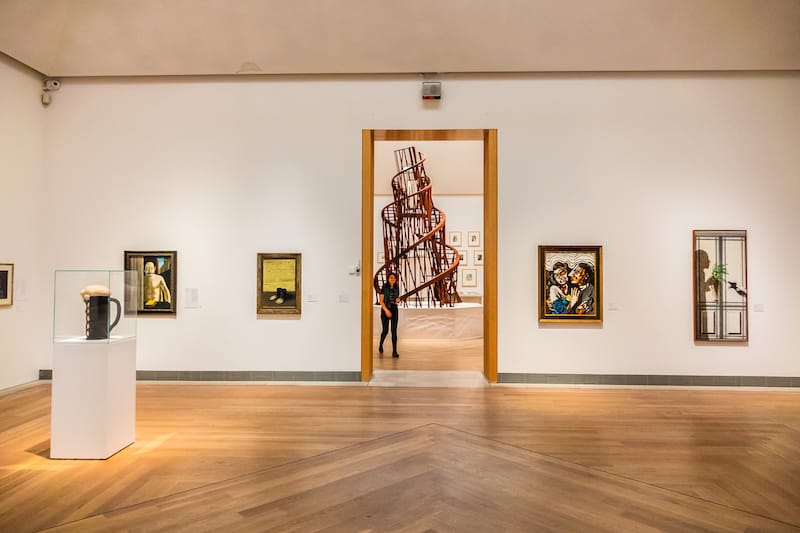 Oppenheim, Picasso, Matisse, Derkert, and Dali are a few of the iconic artists whose works are showcased here.
Make sure to keep an eye out for Robert Rauschenberg's Monogram, Donald Judd's magnificent wall sculptures made of galvanized steel, a sculpture of a goat with a tire around its waist, and Hilma af Klint's mystic paintings.
On-site, there is a lovely café where you can taste delicious sandwiches, burgers, and bowls while admiring views of Djurgården.
Address: Exercisplan 4, 111 49 Stockholm
Where to Stay in Stockholm
If you are looking for the best places to stay in Stockholm, here are some of our top picks!
Lydmar Hotel (Luxury)
Castle House Inn (Mid-range)
Hotel Bema (Budget)
Did we miss any of the best things to do in Stockholm? Let us know what is on your Stockholm bucket list below!
More Sweden Travel Guides
Pin this Stockholm Things to Do Guide