Many people traveling to Tromsø have a few things in mind for their holiday: northern lights and dog sledding. This is a guide to dog sledding in Tromsø… it will include what to expect, tips for your Tromsø husky safari, and the best husky tours available (for all seasons!)
Dog Sledding in Tromsø: What to Expect, Tips, and Tours
No trip to the Arctic would be complete without dog sledding.
While this can be a bit controversial and I have had some issues with other animal activities in the Arctic, dog sledding is something I went into not wanting to do because I thought it would be unethical but is something I quickly realized was enjoyable and actually fun for the dogs.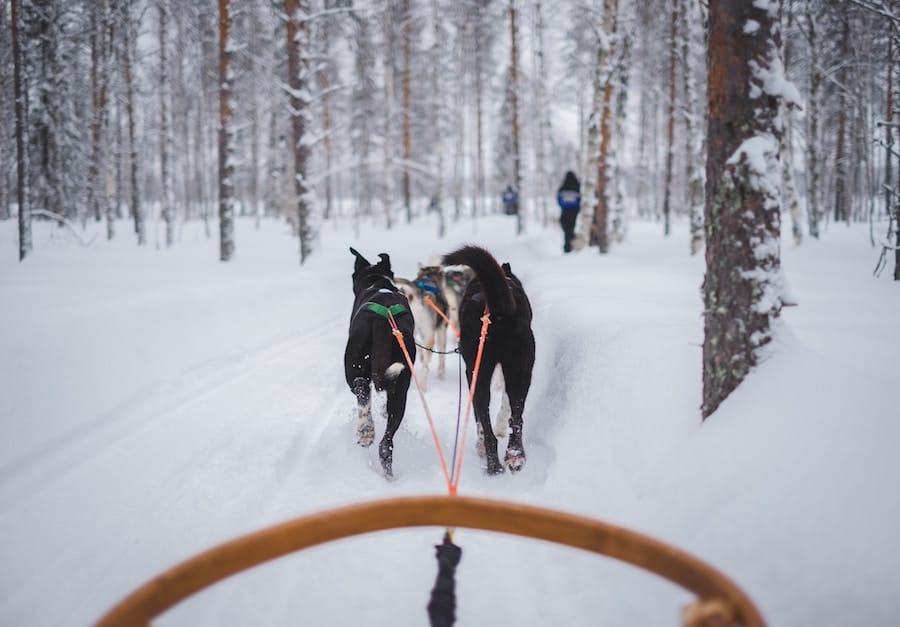 Dog sledding has been a way of life for many in the Arctic throughout history, with indigenous people employing our furry companions to help traverse the wintry landscapes of the north for 9,000 years.
The special bred dogs have been fine-tuned over the years to become the ultimate runners, able to move quickly through the deep snow and follow migration routes that have been used for centuries under the watchful eyes of their handlers.
While there are many dog breeds used in husky sledding, when you are dog sledding in Tromsø, you will typically find the Alaskan Husky pulling your sled.
Although roads have now been built in Northern Norway, you will see many Sami (the indigenous people of Northern Norway and the Nordics) using dogs to herd their reindeer south each season.
However, as tourism has grown in the Arctic, dog sledding businesses have popped up to provide tourists this unique and enjoyable experience.

What to Pack for Dog Sledding in Tromsø
I am listing these suggestions based on the things I did bring with me and thought were a good idea in addition to the things I failed to bring along that I wish I had not forgotten at home or at my hotel.
You can also read my guide about what to pack for Norway in winter if you want to know more!
Is Dog Sledding Ethical?
This is a tough question and I understand why many think it isn't. Is horseback riding ethical? It really depends on the person. For example, I found my whale watching tour in Tromsø to be a bit unethical the way it was run.
I also found the reindeer sleigh experience to be a bit unethical and I don't recommend that part of the Sami experiences, personally. But dog sledding in Tromsø? I had to find out for myself to see how I felt afterward.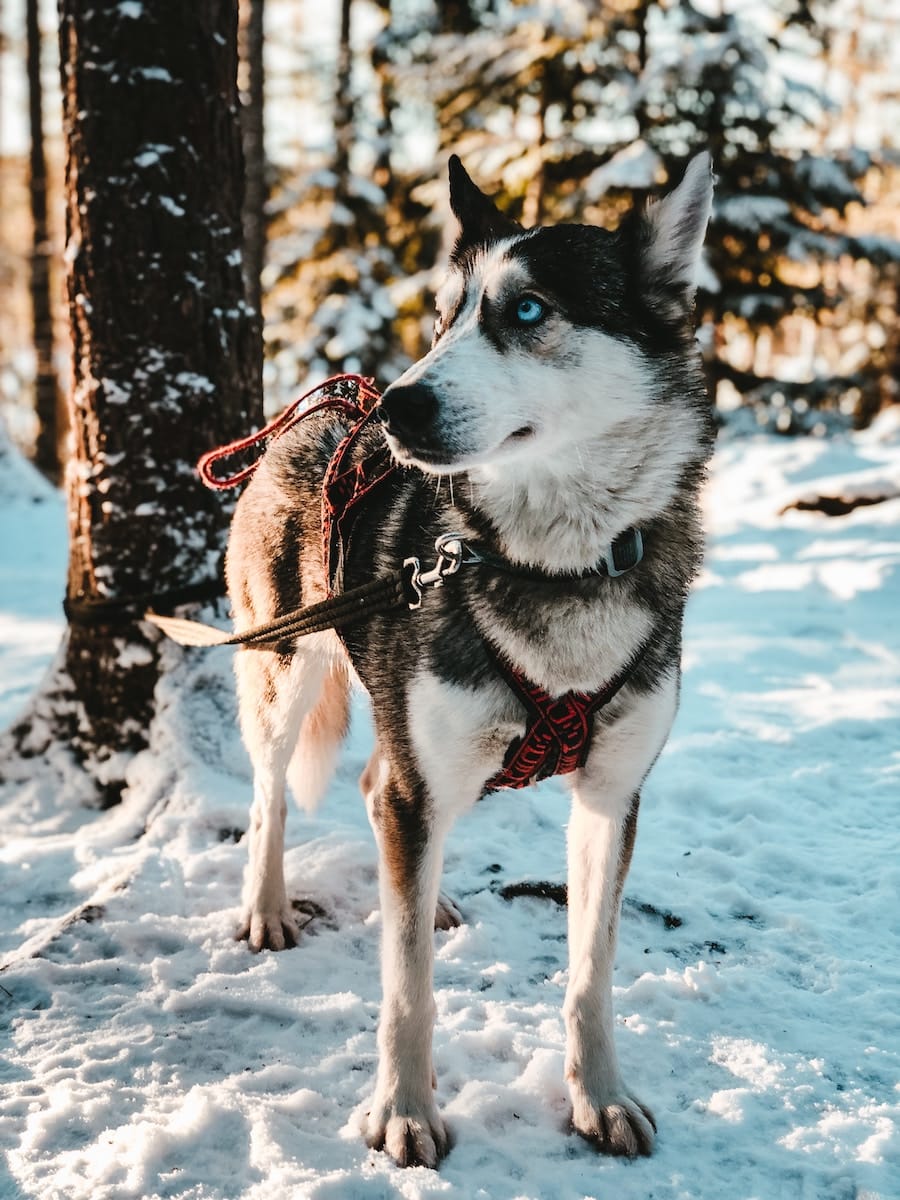 What I found in Tromsø specifically was that the dogs were well taken care of and the Norwegian people had high standards for their treatment of these worker pups.
The dogs were SO excited to see us and were eager to get running. They were barking loudly, tails wagging back and forth, and they all looked like I did on Christmas Eve growing up.
This put me at ease and the entire journey was exactly this way.
The dogs all had names that matched their personalities, individual homes, and name tags on those homes. You could tell the owners took special care of each and every one of them.
Temperatures and Weather When Dog Sledding in Tromsø
One thing that people don't realize is that the temperatures in Tromsø will hardly reflect what you will experience on these tours as they are inland or in the countryside a bit. The temperatures are much colder.
When I did my Tromsø husky tour, it was -20C (or -4F). It was COLD. I had a huge parka on and they gave us some additional clothing but it was not the most enjoyable experience when it came to the weather.
By the end of the journey, my feet were frozen and I had to sit by the fire in the lavvo just to come back to temperature.
To be honest, I had been extremely sick prior to this with the flu, so I probably shouldn't have participated anyway. But, I am glad I opted to do so anyway… it was a blast.

General Condition and Health for a Dog Sledding Tour
Do you need to be in shape to go dog sledding in Norway? Um… kind of, yes. I am in horrific shape and opted for a self-guided dog sledding tour in Tromsø. Not a great idea.
I had just gotten over the flu and my lungs were weak and not functioning well. If you're not in great shape, take a tour with an expert musher. If you are in shape, do a self-guided tour. Simple as that.
Is Driving a Dog Sled Hard?
If you opt for a self-guided dog sledding tour, you will have to navigate yourself and your sled. It is a bit challenging if you've never done it and are in lousy shape.
But, if you're in good shape, you will pick it up quickly and have no issue with the process. Guided dog sledding tours are a great alternative if you're not sure your stamina can keep up.
Can Kids Go Dog Sledding in Norway?
Yes, they can, but they will likely need to be accompanied by an adult or an expert musher. It is best to sign up for a 'guided' dog sledding tour in Tromsø rather than a self-guided one.
Can You Go Dog Sledding in Summer?
No. But you can take one of the other tours I have mentioned below that are offered in the off-season (summer) and during the shoulder seasons.
These tours allow you to meet the pups and do other activities, such as hiking, with them to keep them in top shape for the winter season.

My Experience on a Husky Safari in Tromsø
We arrived at the husky farm in the middle of the afternoon and it was still pretty dang dark as it is the Arctic and the sun doesn't actually rise.
Once you arrive, you are given a tutorial and instructions on how to actually go dog sledding. They teach you how to move and how to stop the sled with an anchor.
Once we picked up the anchor and gave the command, my team of pups started to pull the sled once I gave them the go-ahead.
The dog at the rear was named Luke and I think he had a crush on me as he kept stopping to stare and say hi to me (don't worry, Luke, feeling was mutual).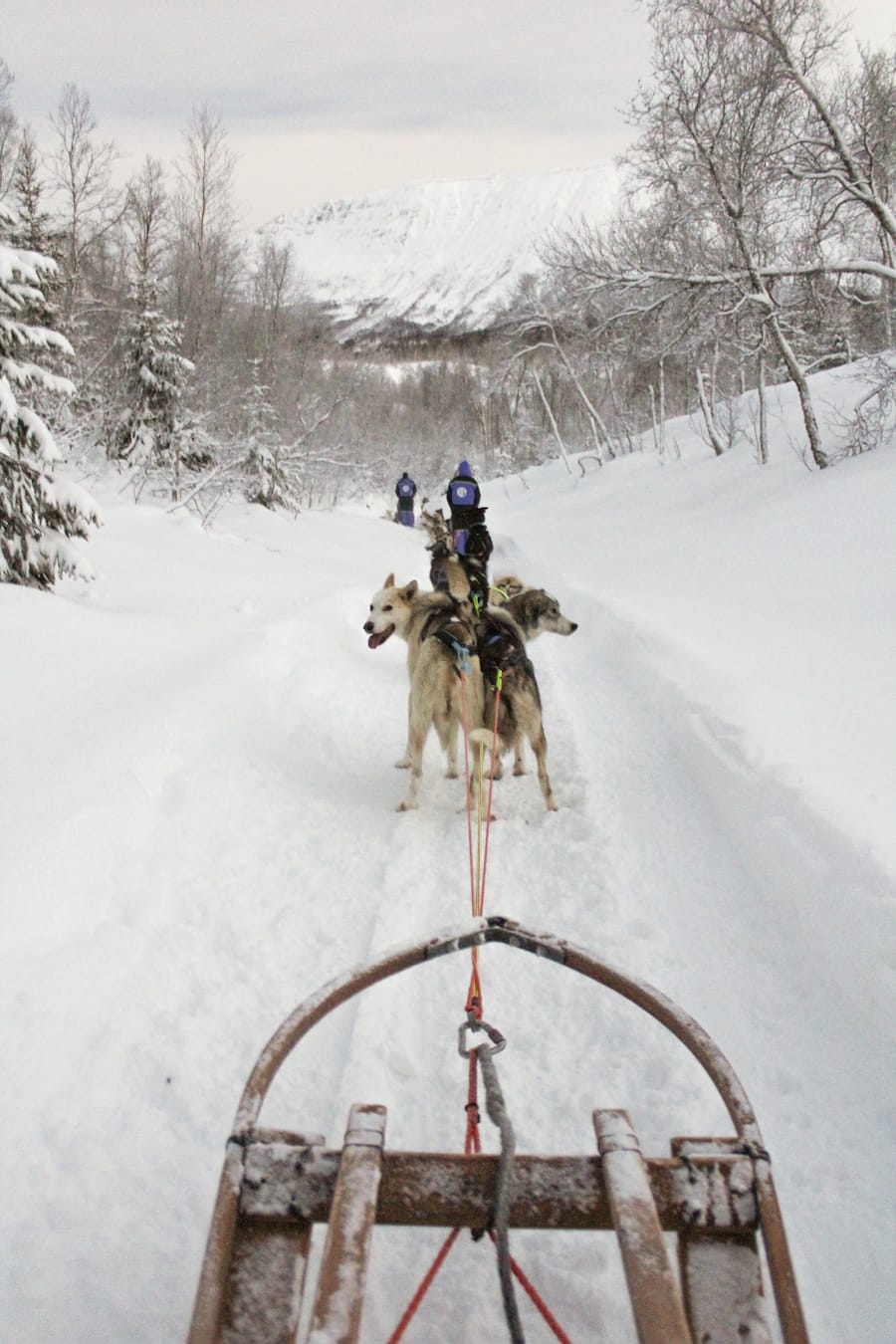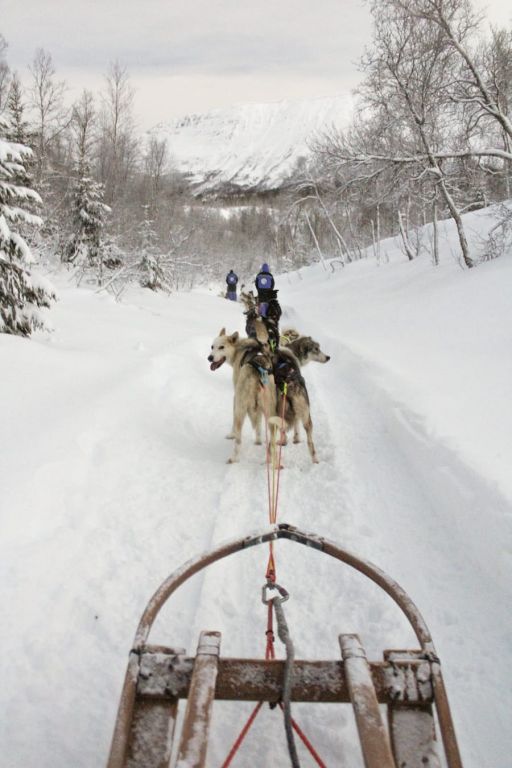 As an owner of a dog that lives a life of leisure and hasn't worked a day in his life, I could tell these little guys were having an amazing time and couldn't be happier in their line of work.
Their strength and appearance also showed that they were well taken care of when they were not pulling the sleds.
There are several companies in Tromsø and Northern Norway offering different tours and experiences. I have put together a compilation of the best dog sledding in Tromsø… from half-day excursions to week-long adventures.
I also put something in for those visiting Tromsø in the summer and warmer months.
I made sure all companies put ethics first, just like I did with my whale watching guide.
Is Dog Sledding in Tromsø Worth It?
I definitely recommend the experience. In fact, it was the Tromsø activity I was dreading the most and ended up being the one I loved the most in the end. I was concerned about animal welfare and the ethics behind it.
After meeting the dogs and seeing how well they were treated, I opted to go for it and do the sledding. It was a fantastic and extremely memorable experience.

Do You Need Travel Insurance for Norway?
Yes, yes, yes. Especially if you're going out husky sledding in Tromsø! I was in horrific shape when I went and I thought I would pass out at points because I chose a self-guided tour.
I should have done one with an expert musher. But, I was happy to have travel insurance! I recommend SafetyWing to fellow travelers as they specialize in affordable rates, great coverage, and are reliable.
In fact, the brand is Norwegian… so if anyone knows coverage in Norway, it's them.
Combo and Shorter Husky Sledding Tours in Tromsø
Guided Husky Sledding with Lunch
Sit back and relax on this 4-hour Tromsø husky excursion where a professional musher (dog sled driver) will guide you through the mountains with his team of Alaskan huskies.
The trip will start with an hour-long sled ride through some of the most beautiful Arctic scenery you can imagine.
After the sled ride, you will be taken around the camp to learn all about the dogs, and how they are raised and trained along with the history of dog sledding.
This is followed by the possibility to cuddle husky puppies and enjoy a delicious traditional reindeer stew around a campfire.
This tour is perfect for those who may not have the physical strength for doing a self-guided husky tour (I raise my hand as I was so out of shape!) as you will not be in control of the sled.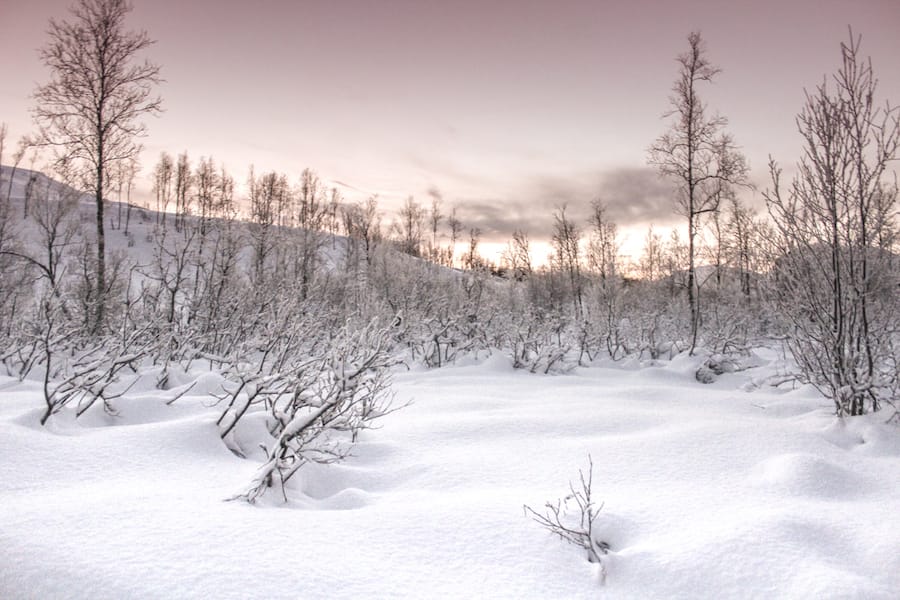 Make sure you wrap up warm although they will provide some extras if you forgot to wear appropriate clothing.
The price includes all parts of the tour but you will need to meet the tour at a designated point within Tromso.
Husky Sledding & Ice Domes Visit Combo Tour
If you are looking to maximize your time in Tromsø, then taking a combo tour might be the perfect option for you. This tour offers you the chance to enjoy several of the most famous activities in the Arctic.
After meeting the group, you will drive out of Tromsø to the magical Ice Domes hotel, one of the famous ice hotels in Norway. From there, you will either head to the ice hotel first or enjoy dog sledding first, depending on the time of year.
The dog sledding part of the tour, is a self guided experience where you will be in pairs and take turns controlling the dogs and sled as you glide through the frozen landscapes.
Prior to the dog sledding, expert mushers will explain how to control the dogs and operate the sled. The dogs run the routes daily and know the route instinctively so you will not get lost. The dog sledding will be paired with a light lunch.
The other part of the tour includes feeding the on-site reindeer and touring the Ice Domes Hotel where you enjoy a short film at the Ice Cinema and visit the Ice Bar.
The tour includes all activities, however, you will need to pay for alcoholic drinks in the Ice Bar (although no alcohol should be consumed before dog sledding).
As the dog sledding tour is self-guided, this is not advisable for people with mobility issues or pregnant women.
Husky Sled Ride under the Northern Lights
The Arctic holds many magical wonders, but none quite as great as experiencing the full-blown beauty of the northern lights in Tromsø.
On this tour, you will head out to a husky camp with over 300 excitable and cute dogs where an expert musher will take you out in the Arctic wilderness with a team of dogs to try and see an impressive display of the lights.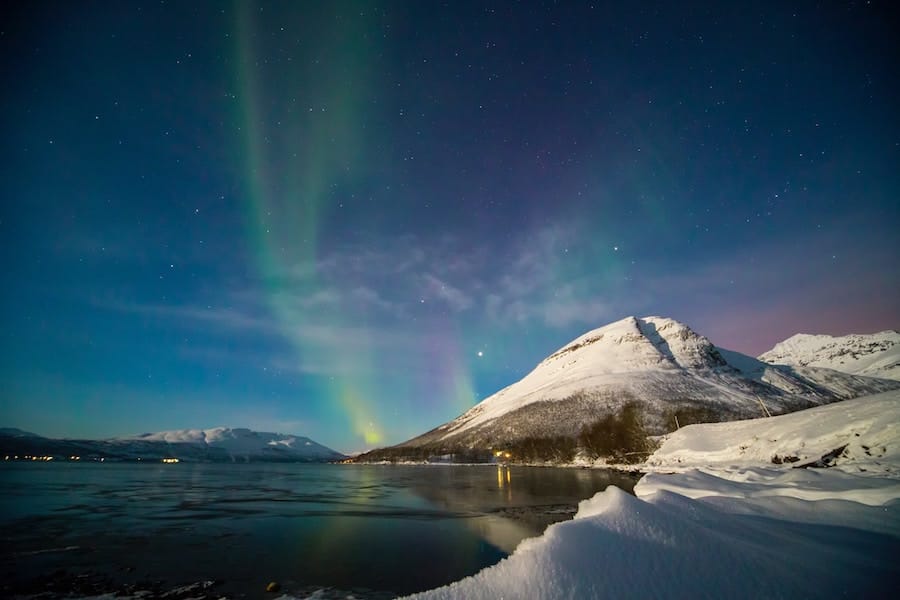 As the camps are located out in the countryside far away from the disruptive city lights, there is a good chance that if the lights come out to play, you will get to see them.
This is a guided experience, so you will not need to control the sled yourself… you can just sit back and watch the night sky. After your sled ride, you will head back to the camp and learn all about the dogs themselves while cuddling and playing with them.
Finally, your evening will end in a cozy tent enjoying stockfish around a fire as you warm up from the cold, Arctic night. As this is a guided tour, it is suitable for pretty much everyone as the physical side is limited.
The price of the tour includes all elements, including transport to and from Tromsø.
Husky Dog Sledding Self-Drive Adventure
Enjoy the thrill of commanding your own husky team on this half-day husky adventure.
After departing from Tromsø, you will head a wonderful, albeit small husky camp where you will be greeted by 130 overzealous huskies who are all rearing to go.
Once kitted up in extra warm clothing, you will join your instructor to learn how to handle the sled and a team of dogs. It is important to listen at this point as there are detailed instructions for both the driver and passenger with each team member playing their own important part.
Once you feel comfortable enough to venture out with the dogs, you will be matched up with a team of dogs and set off on to the course following an expert guide.
The course is set out over various terrains, giving you an all-round experience of what you might encounter if you were embarking on a real husky adventure.
Throughout the tour, there will be several opportunities to switch between passenger and musher positions so you can enjoy the full experience of Tromsø dog sledding.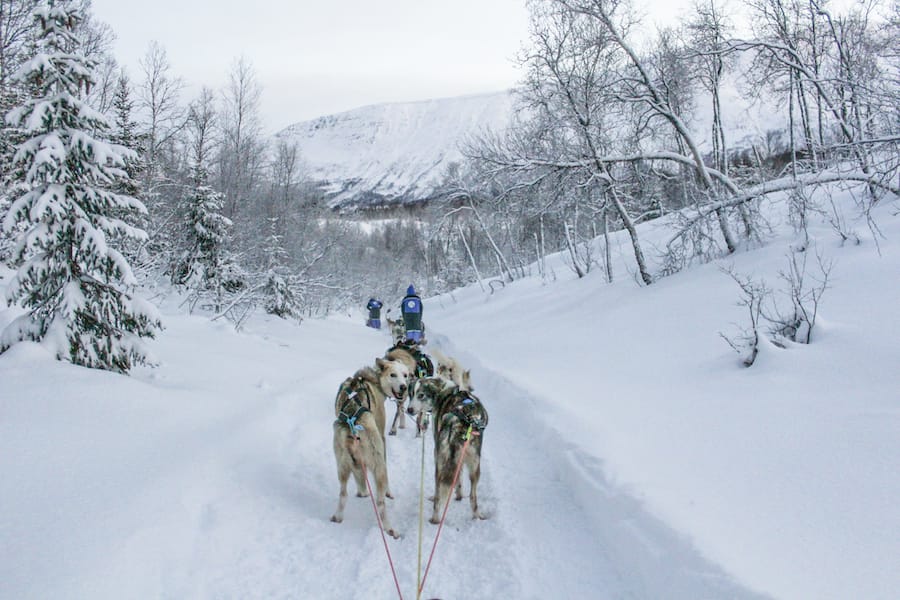 Once your trip ends, you will be given some time to thank your team of dogs and then head to a traditional Sami Lavvo for some hot drinks and cake.
As this is a self-guided tour, you will need to have a relatively good level of fitness as you will need to help the huskies pull the sled uphill and also get it moving when the snow is a little deeper.
The four-hour excursion includes everything within its price.
Longer Tromsø Husky Sledding Tours
Husky Adventure 1-Day
Spend a day exploring the Arctic wilderness with your own team of huskies. Your day will start off with an explanation about how to control the sled and your team of excited dogs.
Once you feel comfortable with the instructions, you will be introduced to your team of pups.
From there, you will set off on an epic one-day adventure with your guides through the wild landscapes of the far north with the chance to encounter animals along the way as you dive into the uninhabited winter wonderland.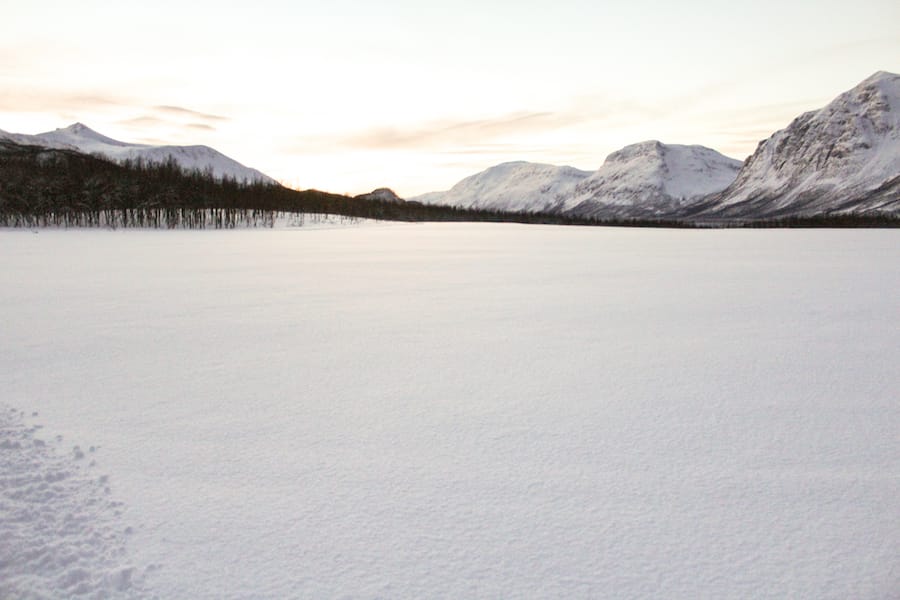 During the tour, you will be able to see parts of the Arctic that are only accessible with dog sled during the winter months as the snow lies thick on the ground.
After your 6-hour adventure, you will head back to camp where you will enjoy a warm meal and some traditional chocolate cake around the fireplace, the perfect way to relax after a day out in the Arctic wilderness.
This tour is a fully immersive Tromsø tour, and although you do not need previous experience, a good level of fitness is a must as you will be out in the wild for a large portion of the day.
Tromsø Epic 5-day Husky Adventure
Embark on the most amazing Arctic adventure available with this week-long dog sledding adventure.
After being picked up in Tromsø, you will be taken to the camp where you will take a day of training to learn how to control the sled and your team of rowdy dogs, along with the various other skills and knowledge you will need to survive out in the frigid Arctic.
The day following, you will set off on the most awesome adventure you could ever imagine with your trusted guides and a team of skilled dogs.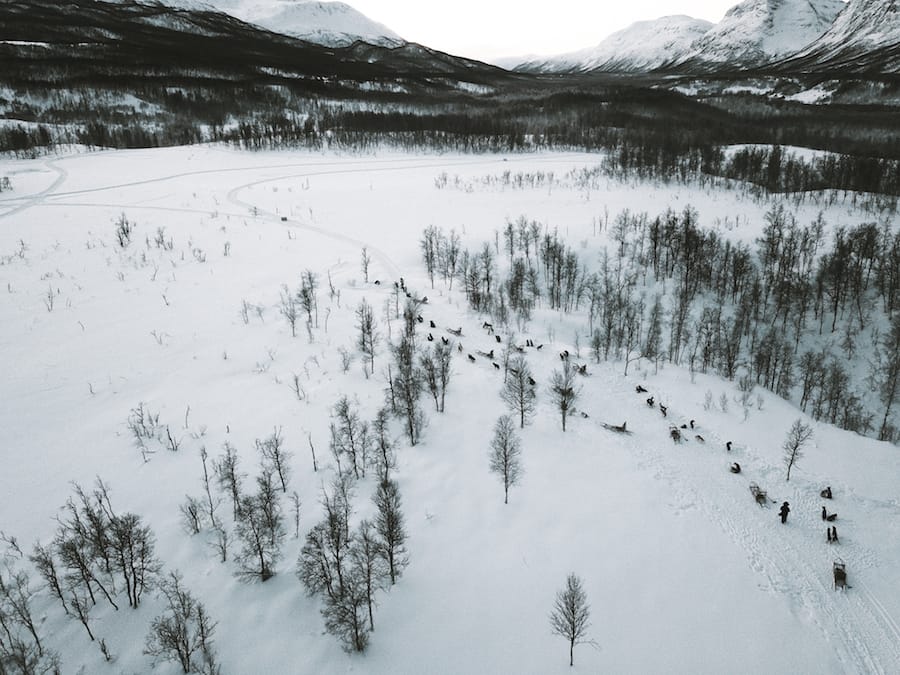 Each night, you will take care of your dogs, ensuring you form a strong bond of trust and respect with these mighty animals.
After taking care of the dogs, you will set up camp and sleep in tents designed for the Arctic. During the day, you will traverse the dramatic Scandinavian landscape crossing the borders of Norway, Sweden, and Finland.
Along the way you will stop at frozen lakes to try a spot of ice fishing, hopefully catching your dinner. Once you have completed this almighty adventure, you will return to the husky camp, where you can optionally choose to spend the night in a traditional Sami lavvo.
This tour is not for the light-hearted and will require a certain level of endurance and the ability to forge a strong bond with your team of huskies.
You will spend days disconnected from society in the most amazing place on Earth and will return with a whole new respect and outlook on life.
Routes and trails will change depending on snow coverage and weather patterns. You will spend the whole time with expert guides who will care for your safety and help you along the way.
Tromsø Summer Husky Experiences
During the summer months and when the sun never sets, the Arctic is released from its icy grip.
During this time, there are no true dog sledding experiences, but the Huskies are still in the area and willing to play and have fun. In the summer months, the husky camps spend the ice-free days training the latest arrivals in the world of dog sledding and keeping the older dogs fit and healthy for the upcoming Tromsø winter.
Here are a few summer husky experience you can enjoy:
Visit to a Husky Home
Enjoy a half-day visit to a husky home where you will be introduced to over 300 of these beautiful dogs.
During the excursion, you will be taught all about dog sledding in Tromsø and how the dogs are cared for throughout the year. As you wander around the area, you can cuddle and pet as many of the dogs as you want to (which, for me, is every single one).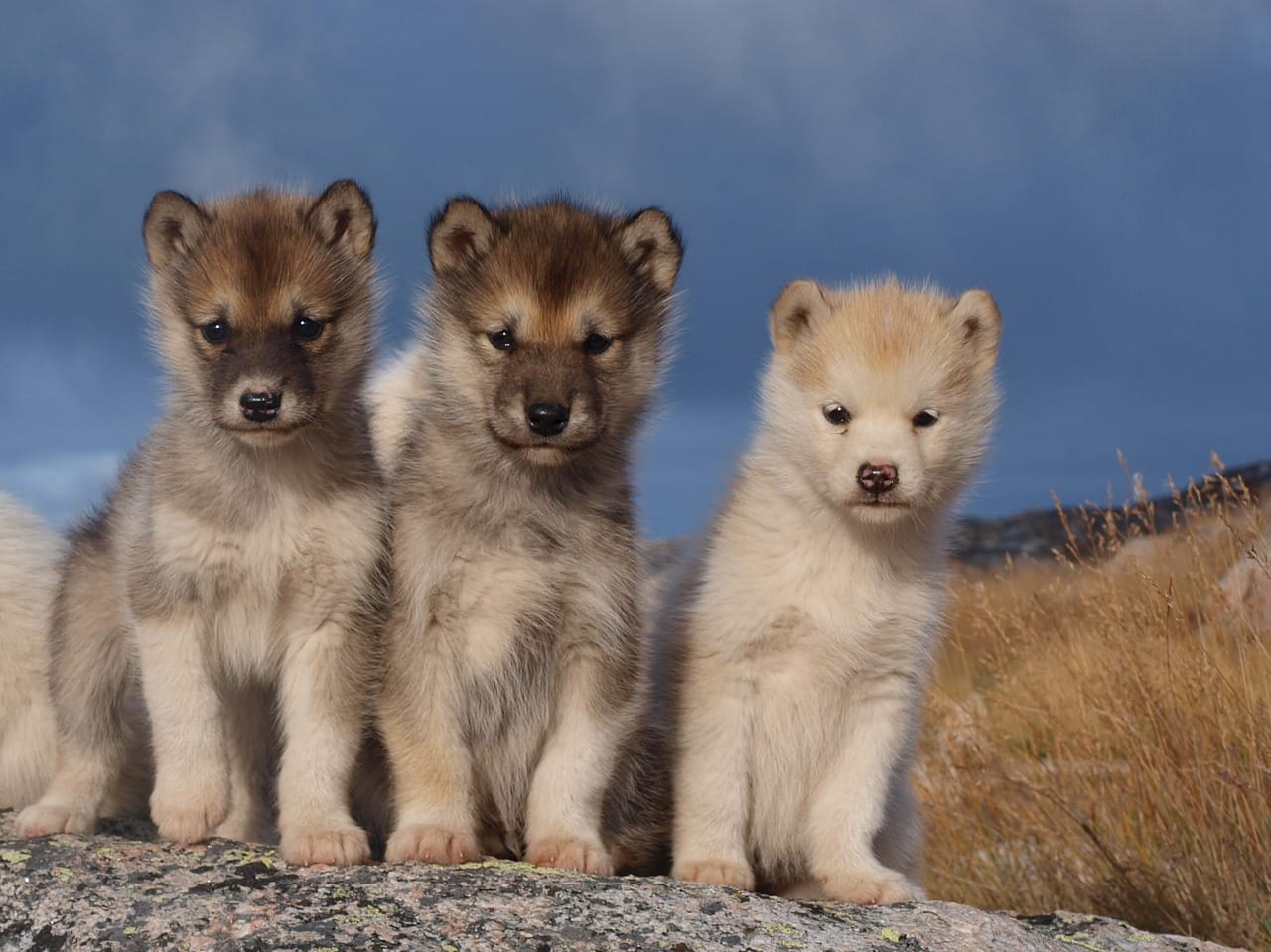 Huskies, by nature, are very friendly and love human interaction. After greeting the adult dogs, you will be introduced to the next generation of racers and sled pullers where you will get time to play with and cuddle these extra cute little puppies.
You will then watch a film about the world's longest dog sledding race, which the owner of the center has raced in.
Nordic Husky Hike
During the summer months, the Arctic landscape drastically changes and with the snow gone you can see a different side and beauty to the rugged landscape.
There is no better way to enjoy this scenery than being out and about in it with some excited dogs.
On this Tromsø husky tour, you will head out with an experienced guide on a hike through the wilderness where you will see some of Norway's most amazing fjords and mountains.
Throughout the hike, you will be joined by several huskies who will be raring to get out and about in nature.
The high energy dogs need plenty of exercise and fun to keep them stimulated during the summer months when they are no longer able to pull a sled around.
After the hike, you will head back to the husky center to cuddle some of the new puppies and enjoy a traditional Norwegian lunch in a Sami Lavvo.
Puppy Training at the Husky Home
Is there anything better in this world than puppies? Rhetorical question as we know there isn't. On this amazing excursion, you will be able to take part in training the next generation of sled dogs.
These little pups who have been born to race and hopefully be champions which require a lot of training and need to learn to work as a team if they are going to be successful.
With a guide, you will take the puppies on a hike in the mystical Arctic countryside. Along the way, you will play games with the puppies which will help their development.
Once you have completed the hike, you will have an opportunity to cuddle and play with the little pups. The 4.5-hour excursion also includes lunch at the husky center.

Other Tromsø Tours You Might Like
There are actually so many great tours in Tromsø during the winter.
One of the greatest things about the city is that there is something for every type of traveler… whether they arrive solo, in a family, or as part of a couple.
These are a couple of recommended tours in Tromsø we think you would like if you're keen on booking a Tromsø husky safari:
Where to Stay in Tromsø
There are many different places to stay in Tromsø for those traveling there, but I genuinely think that most of the accommodation there is pretty much the same, in my opinion.
If you get a chain hotel or something in the city center, it will look like most of the other accommodation available there. I have stayed at a variety of places there and here are my favorite two hotels in Tromsø:
Radisson Blu Hotel Tromsø: Perhaps the best thing about this Radisson Blu in Tromsø is that it is the meeting point for so many of the tours that leave from the city. Staying there makes it extremely convenient to enjoy that last bit of sleep before waking up for a morning tour. Click here to check rates and availability for Radisson Blu Hotel Tromsø.
Thon Hotel Tromsø: I like staying in Thon Hotels because they have a great breakfast. The one in Tromsø is no exception. The rooms are comfortable and nice and the halls are pretty quiet. The lobby area has an extensive window desk where you can work and chill out for a bit. The hotel is in the city center. Click here to check rates and availability for Thon Hotel Tromsø.
There are so many great dog sledding in Tromsø tours available that I hope this guide helps you choose the one that is best fit for you and your group. God tur!
YOU MIGHT ALSO LIKE: