Getting from Milan to Turin by train is actually a pretty easy process and it will take you to one of the most beautiful cities in Italy.
Are you planning your trip to Milan or Turin last minute?
If youʻre booking your trip to Milan or Turin last minute, we have you covered. Below are some of the top tours, hotels, and more!
🇮🇹 Top Experiences and Tours in Milan and Turin:
🛌 Top Hotels in Turin:
Principi di Piemonte (Lux)
La casa dell' artista (Mid)
Baby Hotel (Budget)
🚗 Looking for the best way to get around Northern Italy? Click here to check rental car rates for Italy!
The Italian train system is surprisingly really simple to use (which is a newer phenomenon) and the trains in Italy are not usually that delayed and run on time.
This is a guide on how to get to Turin from Milan cheaply via train.
How to Cheaply Get from Milan to Turin by Train
Turin has been one of the cities I have been desperate to visit in Italy for many years.
There is something about it igniting my curiosity more than many other cities in Northern Italy and I am glad I finally got to check it out.
On this trip to Milan, I decided that I would go for it and take the train to Turin and finally see this city.
Getting to Turin is easy and it is one of the perfect day tours from Milan because there are plenty of train options and it is extremely affordable.
This is a guide all about getting from trains from Milan to Turin.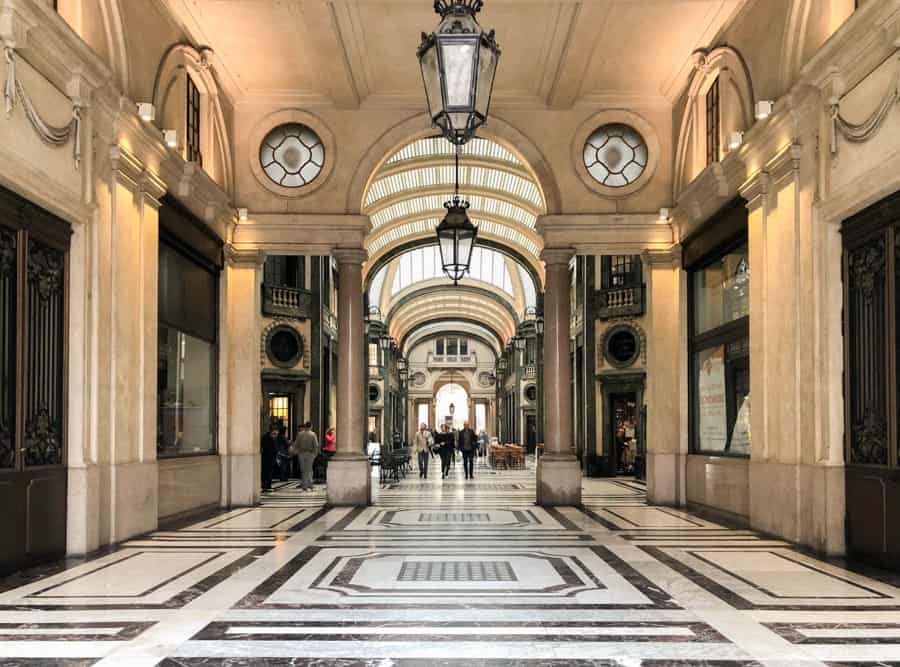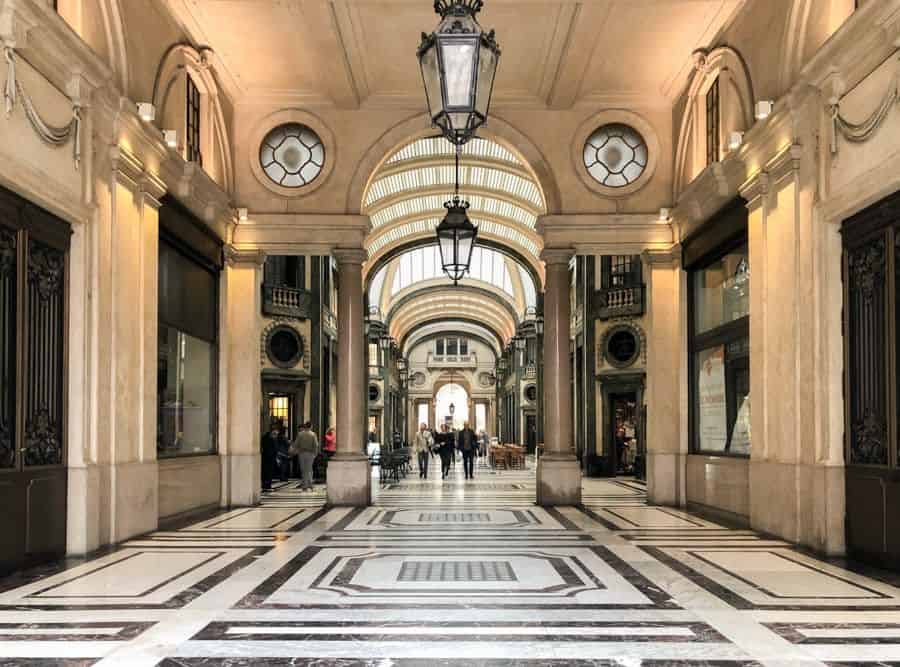 About Milan Central Station (Milano Centrale)
If you are staying in Milan, you will need to head to the central station in Milan, Milano Centrale, which is serviced by multiple trams, buses, and the Milan metro lines M2 and M3.
The station itself is multi-layered and can be confusing as hell, so plan adequate time to get lost (or to go shopping).
The trains depart from the upper level and you will need to have an actual ticket to reach the area where they depart from.
To be honest, the Milan Railway Station is stunning from an architectural perspective but the station is really crowded and often feels a little unsafe.
So needing a ticket to pass through where the trains depart from is quite refreshing, in my opinion.
Milano Centrale is is handicap accessible and there are so many great shops inside of it on the lower levels where you can waste time and money before you hop on board a train to Turin from Milan.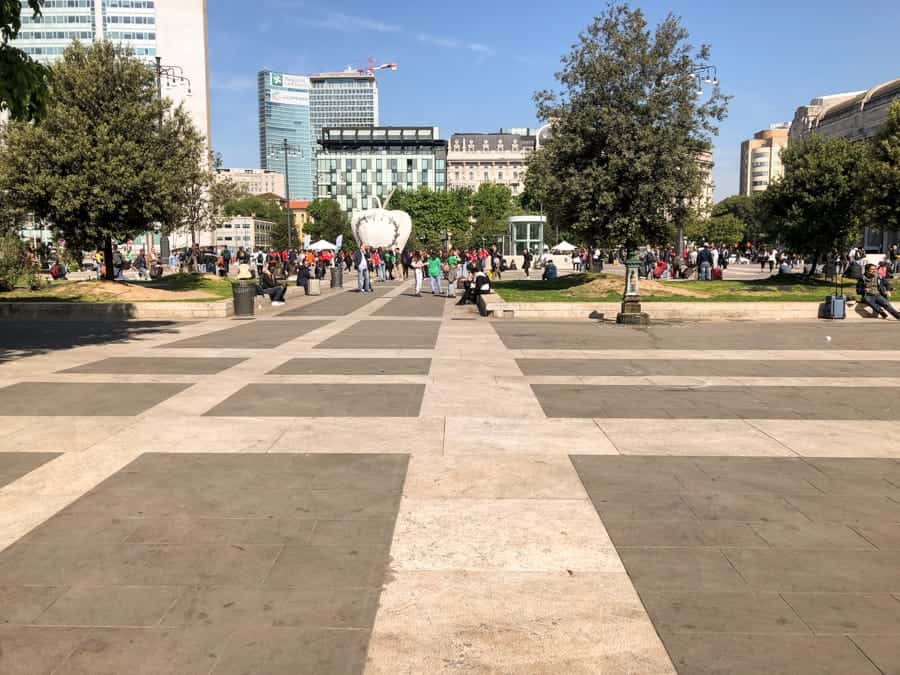 Is there Luggage Storage at Milan Central Station?
Yes, there is luggage storage at Milan Central Station and it is located on the lowest level of the station and is open every day from 6am to 11pm.
It is not your standard lock affair you find in most stations but you will be serviced by actual people who will take the luggage into a storage area.
The prices, in my opinion, are a little steep but worth it if you have nowhere to store your luggage and you are only planning to visit Turin for the day.
The Milano Centrale luggage storage pricing is as follows:
0-5 hours (inclusive of 5th hour)

– €6 base price

6-12 hours (inclusive of 12th hour)

– base price + 1€ per hour

13th hour +

– base price + 6-12 hours price + 0.50€ per hour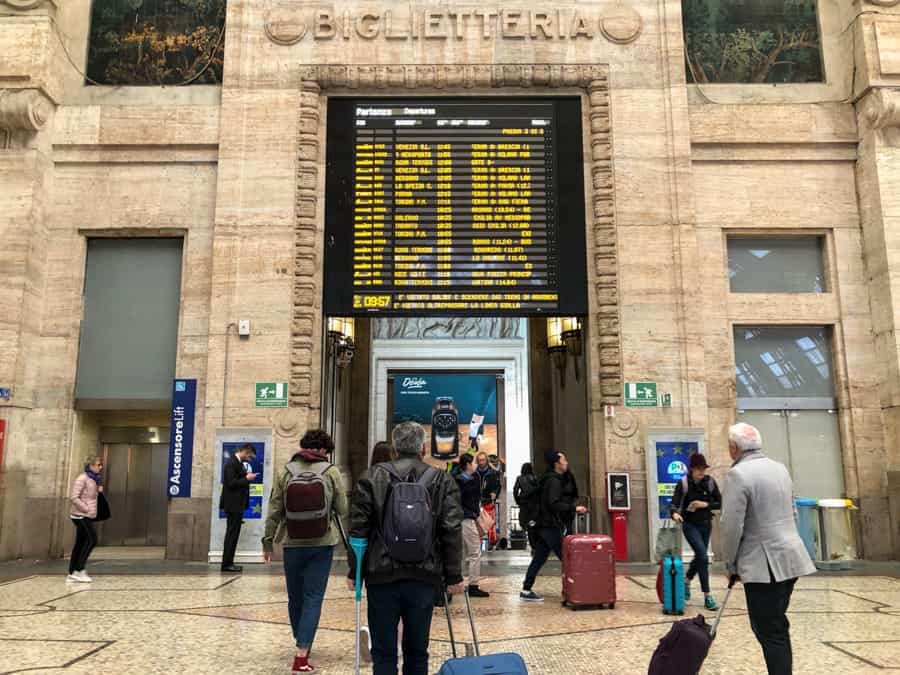 Is There Food at the Milan Train Station?
There are more food options in Milan station than you can shake a stick at- from major fast-food chains to bistros and cafes, you will find all kinds of options in the station.
Around the station, there are also plenty of options for food and drink.
Buying a Train Ticket to Turin
There are three ways of purchasing your tickets: from a machine, at a counter, or via the TrenItalia website. I found people generally speak fairly good English and ordering from the counter seemed to be no problem.
I, however, opted to purchase my ticket from a machine as I found it much easier.
You will need to select the correct machine for purchasing the ticket as there are three options of machines and various train operators: TrenItalia, TrenNord, and Italia. TrenItalia is the correct machine to use.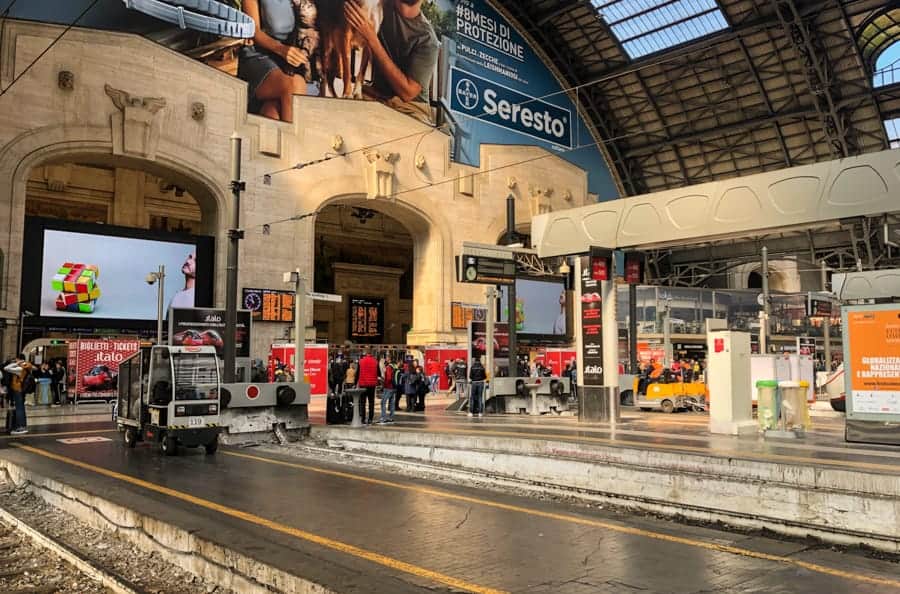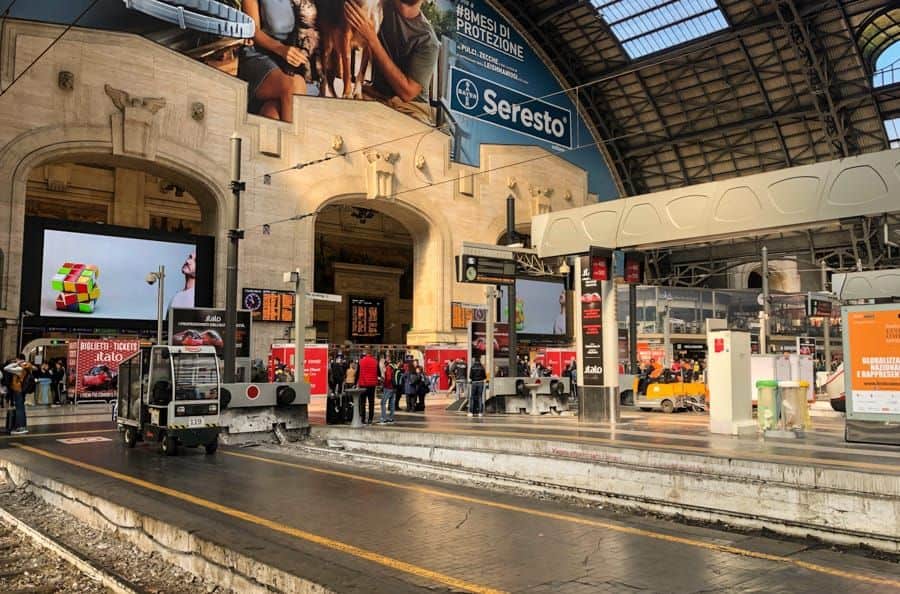 The machines are available in multiple languages and you can easily switch between the languages at the start of the process.
When you are at the machine, you will need to do the following:
Select Turin as your destination.

You will need to know which Turin station you want to get off at because there are two main stations:

Torino Porta Susa

and

Torino Porta Nuova

. Both are actually geographically close to each other, but Torino Porta Nuova is closer to all the main sites.

View the time options.

Prices only vary between the type of train you wish to take. You will need to select which hour you would like to depart and it will then display a range of options.

Choose the exact train you wish to go on.

This is where the prices vary depending on which train you wish to take. I went for the cheapest option.

Pay for your ticket to Turin.

The machines accept credit card (with contactless functionality) and cash. I paid for my trip with a card because it was easier.

The machine will

print out your tickets

for you and you are done with this process.

Look on the train schedule board to see which gate and platform you will be going from.

Milan's station has "gates" which you need to present a valid ticket to pass through. From there, you will reach the actual train platforms. The gate will be announced way before the platform so you can always go through the gate and avoid the crowds while waiting for the platform number.

Validate your ticket.

You can do this by the platforms on this machine:
How Much is a Ticket to Turin from Milan?
There are two ticket prices to Turin from Milan and these fares are dependent on which train you take.
Trenitalia offers a slower option that takes an hour and 52 minutes costs €12.45 and runs hourly. This was the option that I took.
Alternatively, if you are on a time crunch, you can pay €36 and take the speedy Frecciarossa train that takes around an hour and departs a few times an hour.
Both trains offer upgradeable tickets but personally, the journey is short I don't see the point in paying that much extra.
You should be able to buy tickets the day of traveling and there is no need to buy a day in advance. However, do be cognizant of limited supply from train companies if major events are happening in Turin (or Milan).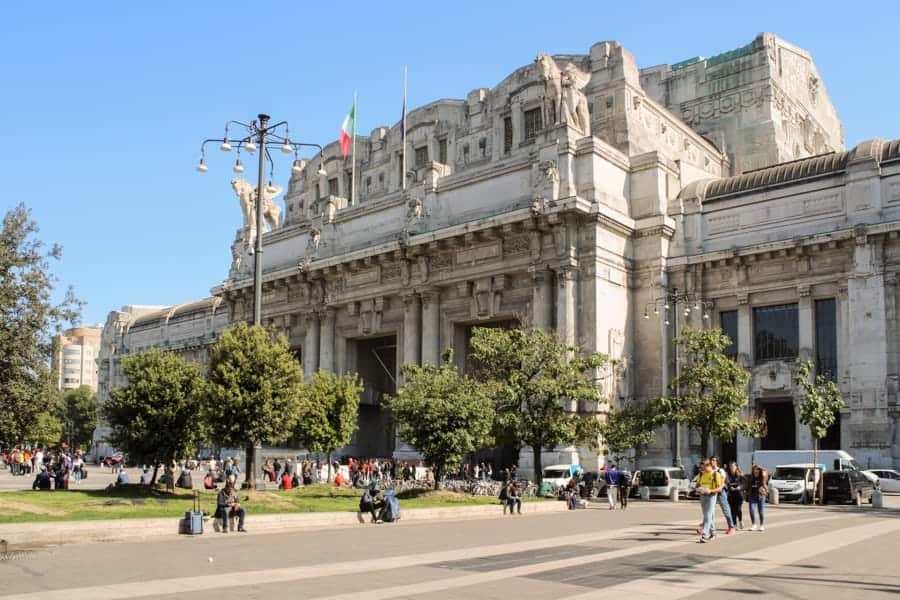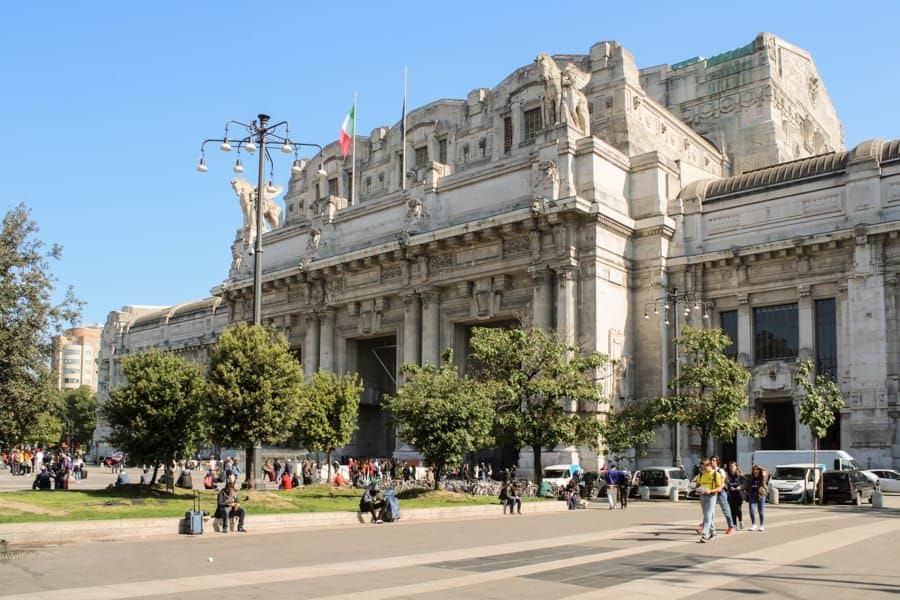 How to Take the Train to Turin
I kind of love Milan's system of having different gates for sections of platforms because it means that although your platform may not have been announced, you can go and stand roughly where it will come into.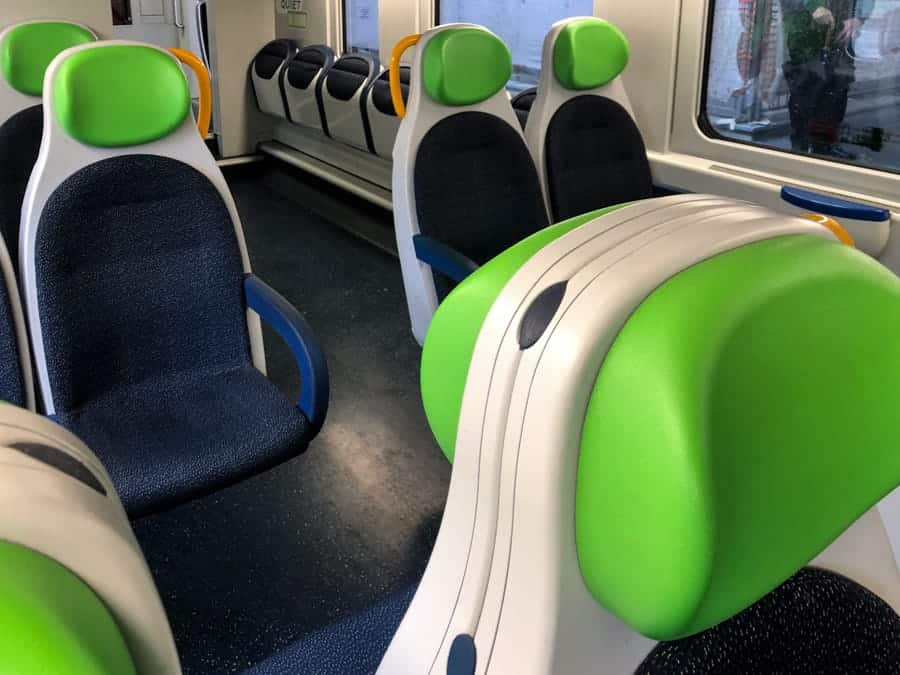 Once, you have presented your ticket at the entrance of the gate, you will be allowed into a calmer area where there are fewer people and you can relax a little.
Keep an eye out for your platform being announced on the screens once you are through the gate, however.
You will need to validate your ticket before getting on the train and this can be done at the beginning of the platform.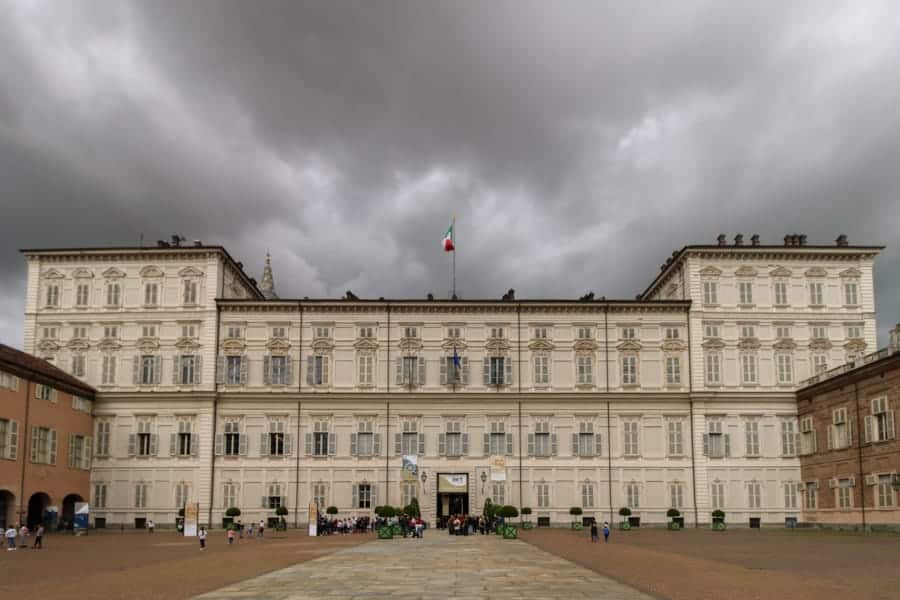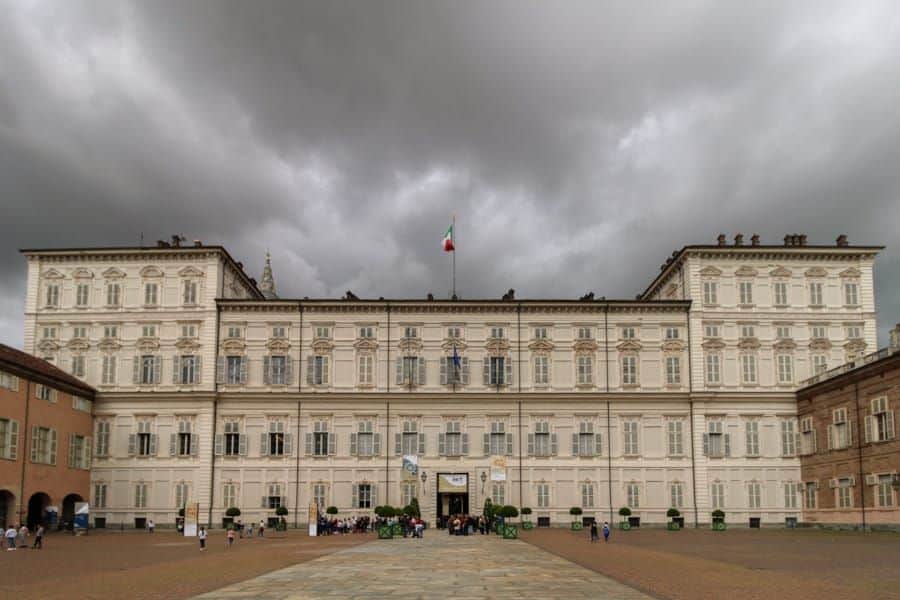 The Train Journey to Turin
I opted for the cheap trains and not the high-speed trains and the travel time was just under two hours and is pretty chilled out, the trains were not too busy and the seats are comfortable.
The landscape out of the window was pretty uninspiring and not much to get too excited about, so do take a book or have some charge on your phone to play some games to make your journey time a bit more exciting and tolerable.
Turin Train Station(s)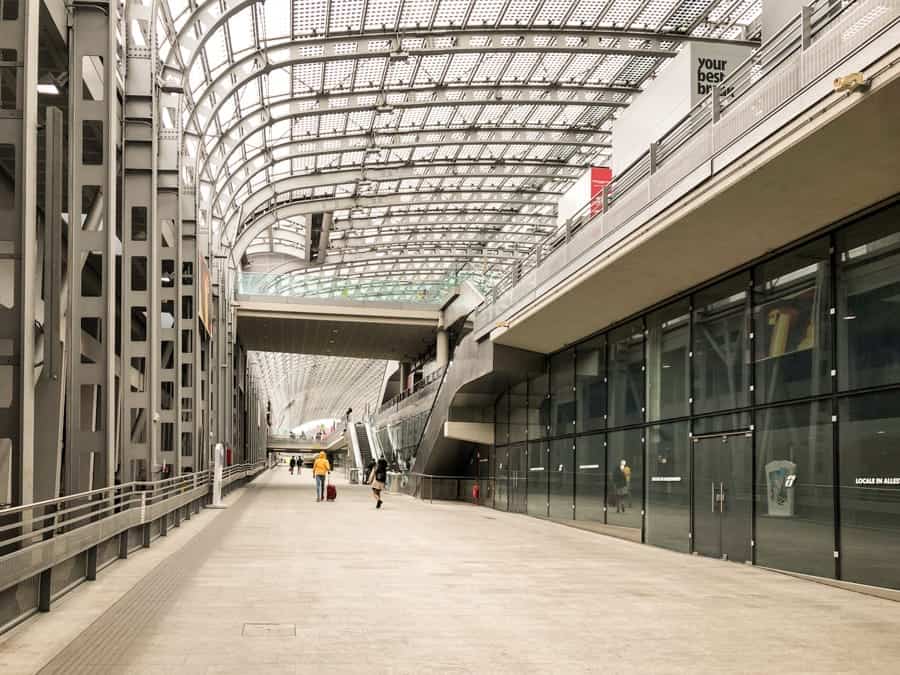 Is there Luggage Storage at Turin Station?
Yes, there is luggage storage at Torino Porta Nuova station. If you get off at Torino Porta Susa, there are no luggage facilities.
The luggage facility at Porta Nova is located on the ground floor by Platform 1 and is open every day from 8am-8pm and prices vary on how long you leave your bags there for.
Torino luggage storage prices are as follows:
0-5 hours (inclusive of 5th hour)

– €6 base price

6-12 hours (inclusive of 12th hour)

– base price + 1€ per hour

13th hour +

– base price + 6-12 hours price + 0.50€ per hour
Is there Food at Turin Station?
Yes, at Torino Porta Nuova station there are plenty of places to eat and grab a snack or drink.
There are also plenty of shops so you are able to buy pretty much anything you need while you are there.
At Torino Porta Susa, however, there is literally just one sparsely stocked snack place so I advise buying anything you need before getting there.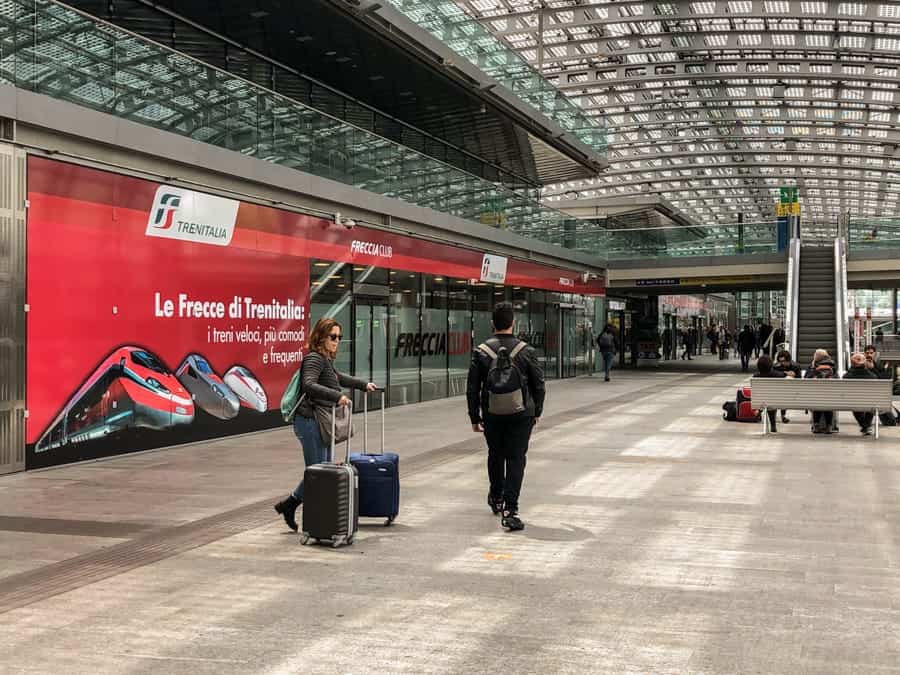 Returning from Turin to Milan
I returned to Milan from Turin via Torino Porta Susa as it was right next to my hotel.
However, the process is pretty much the same to get back as it is to get here just in reverse apart from you won't have the gates as you do at Milan Centrale in either of the Torino ones.
Be sure to validate your ticket before getting on the train!
Where to Stay in Milan
When I was in Milan, I stayed at Al Naviglio 81. I really liked the place and it was located in a hip area by the canal that had a lot of bars and restaurants yet was extremely quiet in the evenings.
I can highly suggest this place to anyone who is visiting Milan.
–> For current rates and availability click here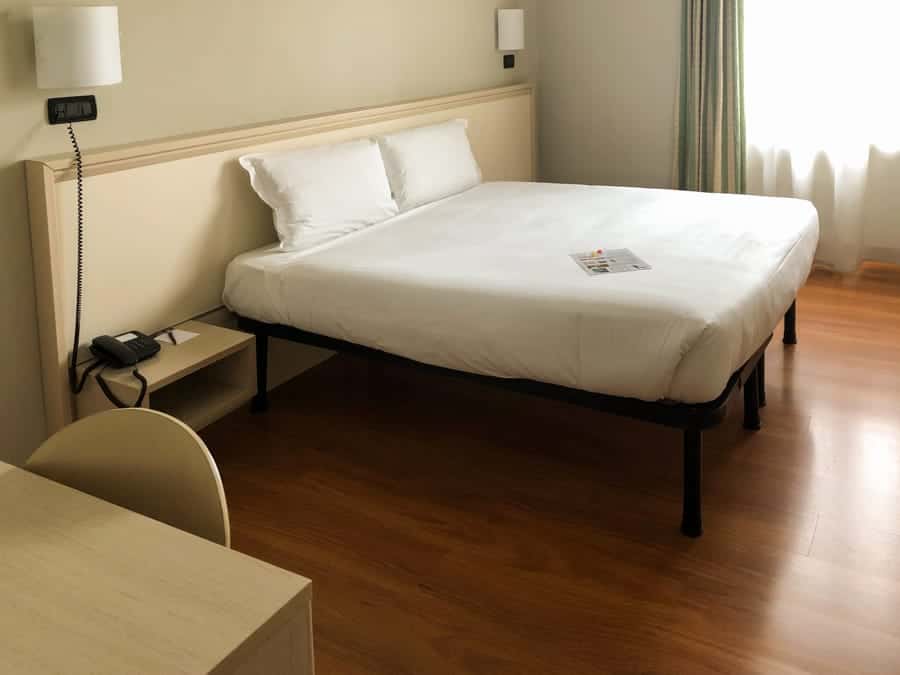 Where in Stay in Turin
In Turin, I stayed at the Best Quality Hotel Dock Milano which was a 3-star hotel located right beside the Torino Porta Susa train station.
The breakfast was nice (which is a rarity in Italy, let's be honest) and the rooms were incredible and even had a desk so I could work.
–> For current rates and availability click here Don't Forget An Adapter for Italy!
Many of the trains in Italy have places where you can charge phones and devices but you will be severely out of luck if you don't bring an actual Italian adapter.
That's right, Italy uses a three-prong plug instead of the one found across the rest of Europe.
If you have one that has two prongs that are extremely skinny, you can still use it.
But if you're trying to charge your MacBook with the thicker prongs, forget about it.
⇒ Click here to buy an adapter for Italy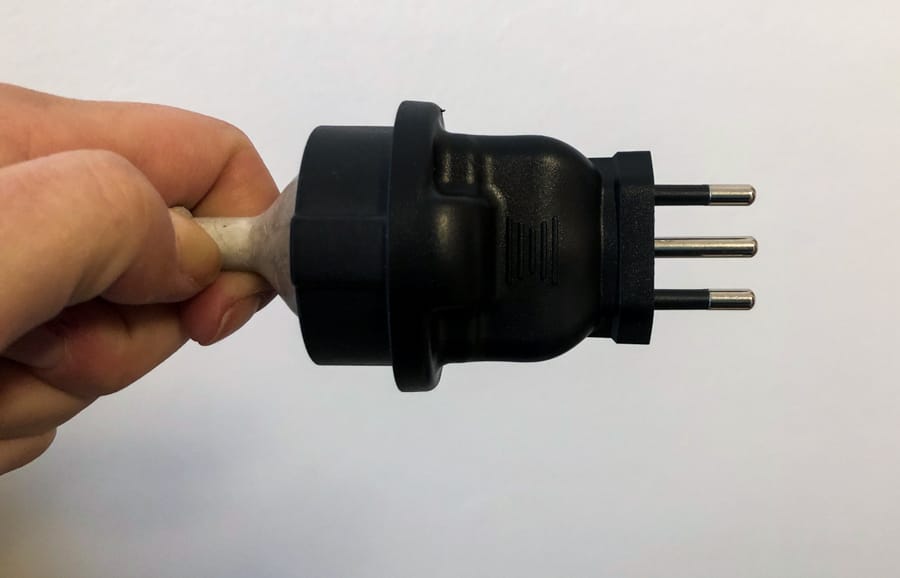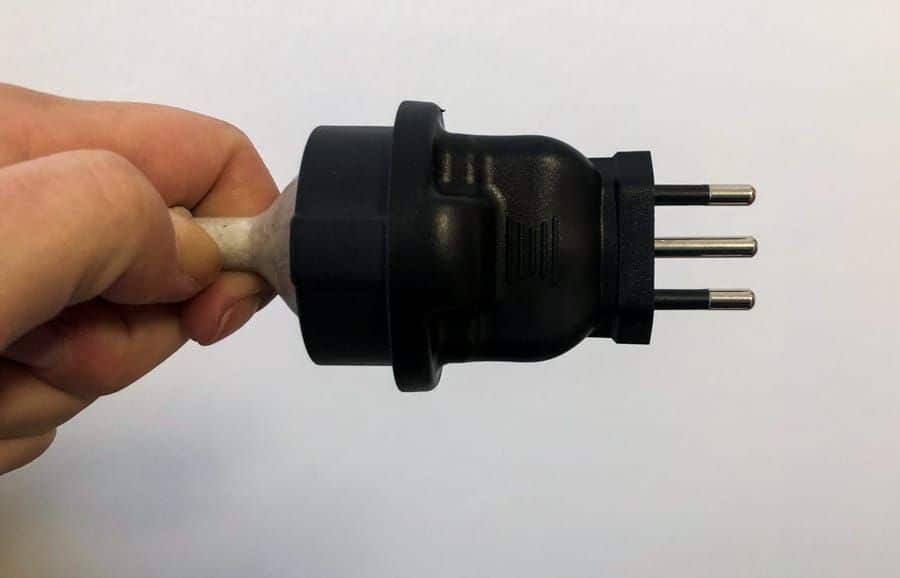 Final Thoughts on Traveling From Milan to Turin
Getting the train is honestly so easy and I highly recommend it… even if you plan on just going for the day.
Many of Turin's main sites are so close to each other that you will be able to fully enjoy the city and grab some great food while there.
Did we miss any important information on getting from Milan to Turin? Let us know in the comments!