Tallinn is often cited to be the most beautiful city in the Baltics and for a lot of reasons! While a trip to Tallinn in winter may be a bit cold, it is absolutely worthwhile.
This is a guide to things to do in Tallinn during the winter. If you have suggestions of what to do in Tallinn, Estonia during the colder, darker months, please let us know in the comments.
Things to do in Tallinn in Winter
One of the places I have been to over and over is Tallinn, Estonia. The remarkable, medieval city has one of the best-preserved Old Towns anywhere in Europe and charm just exudes from the place.
Interestingly enough, I have never actually been to Tallinn during the summer. I have only explored Tallinn in winter and autumn. It really is an essential place to put on every Estonia itinerary.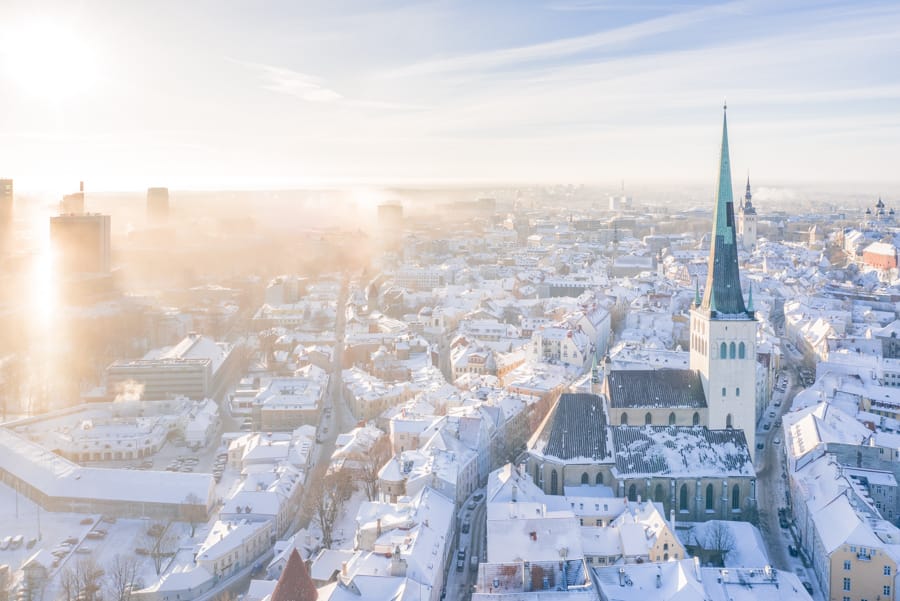 My many trips to Tallinn have left me knowing the city extremely well and all that it has to offer.
While this guide will be more of an overview for first-time visitors, feel free to drop me an email or leave a comment if you're looking for added insight.
Tallinn is cold in winter… but it is absolutely able to be visited and you will have the chance to take advantage of the many great bars, restaurants, and cafes there.
This is a guide to things to do in Tallinn in winter. Not conclusive of all there is to do, but it should be a good starting point!

What to Pack for Tallinn
Tallinn in winter can be a bit tricky with packing because the appearance of the city kind of gives the illusion that it is not as cold as it truly is.
We will have an Estonia packing list coming out soon, but for now, these are a couple of things we recommend taking to Tallinn in winter:
⇒ Snow boots: Whether you like it or not, Tallinn is snow during the winter. And cold! I always travel there with my Sorel snow boots during the winter months. Not only do they keep my feet extremely warm, but they are also lightweight compared to other snow boots and easy to walk around in. Click here to shop my Sorel snow boots.
⇒ Heavy Winter Parka: Another thing you will be happy you toted along to Tallinn is a thick, winter parka. The cold is brutal there as the capital city sits right along the Baltic Sea and the wind and frigid temperatures are anything but endearing. I love my Helly Hansen Svalbard Parka that I have used even in the Arctic Circle. Click here to shop my Helly Hansen parka.
⇒ Stylish beanie: You will need to keep your head warm at all times since like 70-80% of heat escapes from the head. I have a collection of Scandinavian and Nordic beanies that I wear when I travel and I always take one or two to Tallinn when I visit in winter. I really love my mustard color one from Libertine-Libertine (Danish) or my blue one from Samsøe & Samsøe (also Danish).
⇒ Lonely Planet Estonia, Latvia, & Lithuania: While I would love for you to read my blog before you go to Estonia to plan your trip, I really think it is helpful for you to have a guidebook handy when you're on the ground in a location. I recommend this Baltics travel guidebook from Lonely Planet. It covers all three of the Baltic states and has interesting information to pair with all the practical information it provides. Click here to purchase Lonely Planet Estonia, Latvia, & Lithuania.

Best Tallinn Winter Tours
Winter in Tallinn is absolutely amazing and one of the best places to visit during this cold, dark time of year. One of the best ways to see the city and all of its winter and Christmas offerings is by organized tour.
The following tours are ones we recommend adding to your Tallinn winter itinerary:
How to Get to Tallinn
There are several ways to end up in Tallinn. You can take the Tallink Megastar ferry from Helsinki (I like its name as it is pretty much like my own name).
You can fly in from several other cities in Europe via airBaltic or the many other airlines that service the Estonian capital city. Or you can arrive overland from a lot of other places in the Baltics.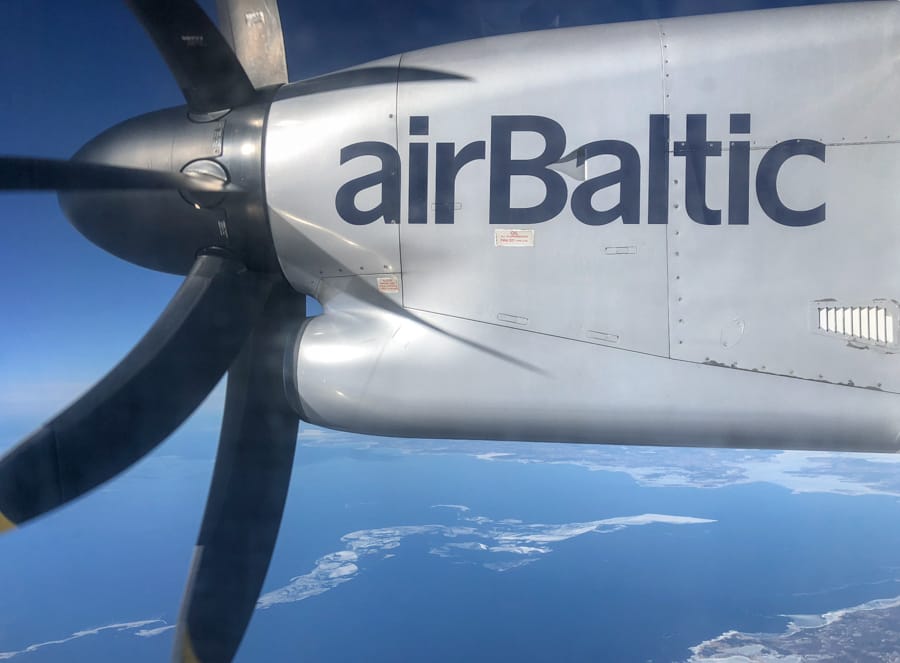 What to Do in Tallinn During Winter
Check Out the Tallinn Christmas Market
Founded in 1997 and taking place from the end of November until the first week of January is the Tallinn Christmas Market.
As if the Estonian capital couldn't get any more charming, it adds a Christmas Market to its UNESCO Old Town.
The market gets over 200,000 visitors annually and it is known for selling mulled wine, souvenirs, and a lot of delicious, hot food.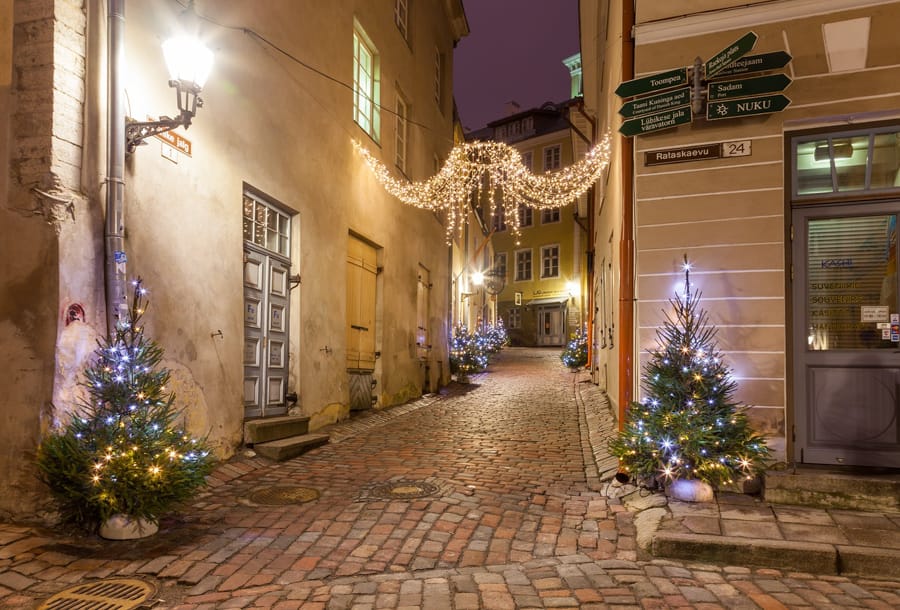 Tallinn really shines during the winter months (okay… despite sunlight being an anomaly) and the city has such a cool pulse to it.
One of the best things to do in Tallinn in winter is to head there during the Christmas Market so that you can see a whole new life brought to the Old Town.
Click here for more information on how to experience the Tallinn Christmas Market
Catch a View Over Tallinn from Kohtuotsa
One of the essential things to do in Tallinn is to get a view over the city from the Kohtuotsa platform.
This viewing area offers a vantage point over the city's gorgeous spires and orange roofs and it is one of the best and most photogenic places to capture a snapshot from.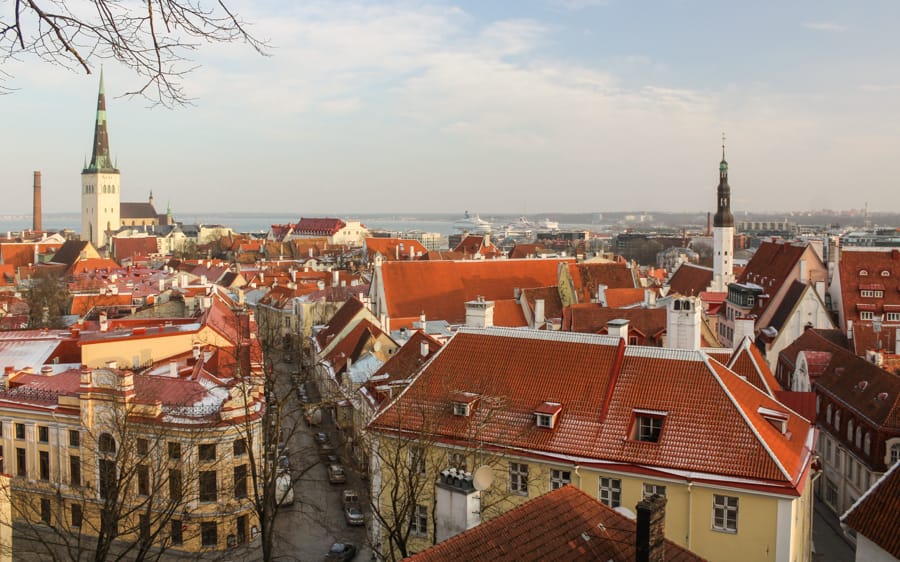 I have been here a few times and I really don't think photos do it justice. It truly is spectacular.
If you're into Instagram, this is the perfect place to grab that enviable Tallinn shot. You can find the platform at Kohtu 12 in Tallinn.
Take a Day Trip to Jägala Waterfall
Estonia's landscape is rather flat and there are no mountains popping up all over the place (which means… there are just no real mountains).
But, you can still get cool nature once you head out of Tallinn and one of those places is at Jägala Waterfall, the highest natural waterfall in Estonia.
With a height of 8 meters, a day trip from Tallinn to Jägala will give you a chance to see life outside of the Estonian capital city.
The wide waterfall actually is gorgeous in winter as it will have icicles form in and around it, leaving it glistening in the winter sun.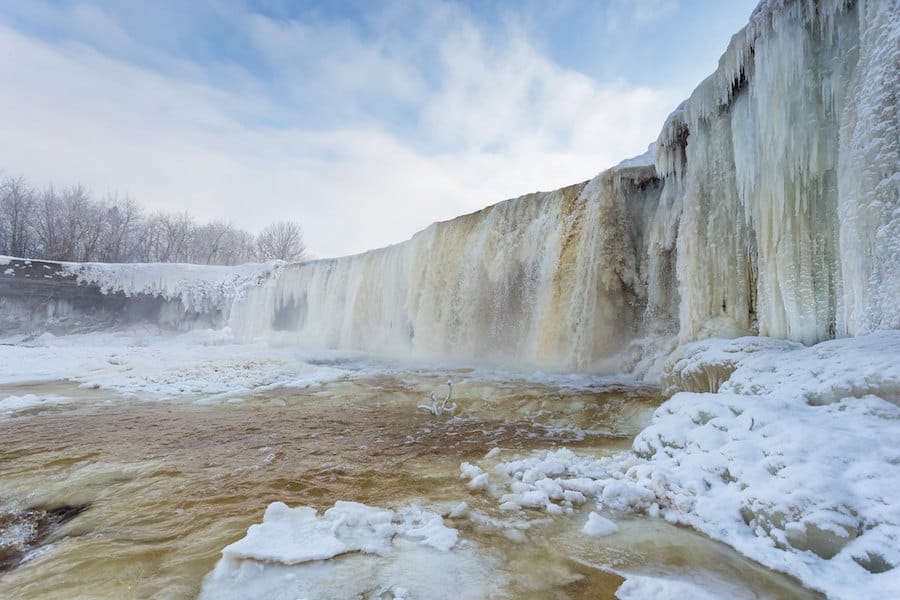 If you're keen to check out Jägala Waterfall, there is an organized tour that goes to the falls and Harju County.
It is a five-hour-long tour and gets extremely great reviews and recommendations from other travelers who have done it before.
Click here to check out a tour to Jägala Waterfall
Indulge on Estonian Pancakes
There are very few things more satisfying than eating your body weight in pancakes. Estonian pancakes are absolutely delicious and something I highly recommend trying if you head to Tallinn in winter.
Don't forget to get them with a side or topping of local, Estonian jam. It will blow your mind!
The best place in Tallinn to get Estonian pancakes is at Kompressor. Kompressor can be found at Rataskaevu 3 in Tallinn.
Wander Around the Balti Jaam Market
One of my favorite places in Tallinn is Balti Jaam Marketing. This market, located close to the main station and quite close to the Old Town has pretty much everything inside of it.
You can find antique shops, second-hand clothing stores, coffee shops, souvenirs, craft beer, and more. There are also some stalls where you can find local, gourmet goods.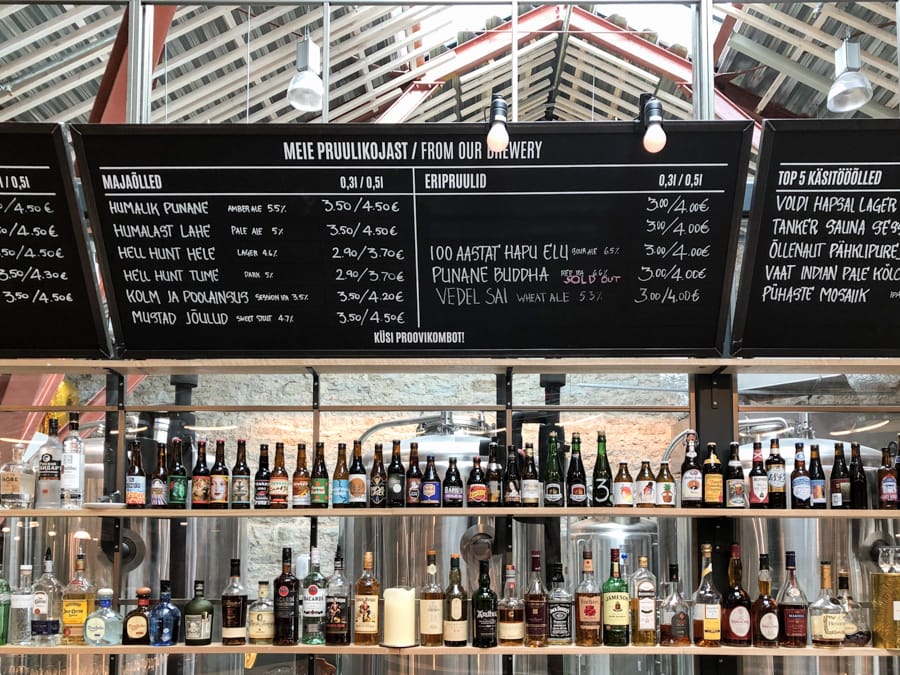 I recommend heading to the top of Balti Jaam and grabbing a delicious Tallinn craft beer at Humalakoda brewpub. They have a large tap selection and their beers are superb.
You can find the Balti Jaam Market between the Baltic Railway Station and Telliskivi Creative City.
Visit Uisuplats Ice Rink
Every winter, a pop-up ice rink is unveiled in the center of Tallinn's Old Town.
Located on Harju Street next to the St. Nicholas Church, this skating rink operates from December until March and is one of the best places to visit in Tallinn in winter.
There are chances to go ice skating there or you can just wander by and check out the many events that are hosted there like hockey matches and more.
Nothing is quite as wintry and festive as an ice skating rink in the middle of a beautiful city like Tallinn.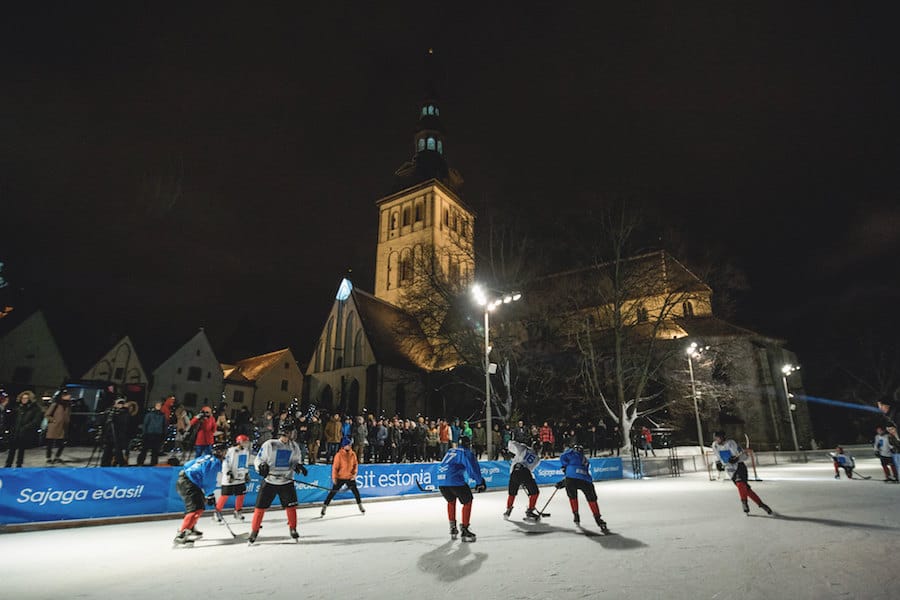 Get Cozy Inside of a Tallinn Cafe
Tallinn has an excellent cafe scene and no one knows more about the Tallinn coffee shops than I do (considering I wrote an entire guide to it).
The coffee in Tallinn is exceptional and you can find third-wave coffee shops all throughout the city. In the Old Town, I really loved August Cafe as the decor was quirky and cool and their Chemex was outstanding.
But, I really loved Røst Bakery in Rotermann, a newer development of Tallinn. Their cinnamon buns and flat white were exceptional! Located close by is also Kokomo Coffee Roasters, another outstanding cafe.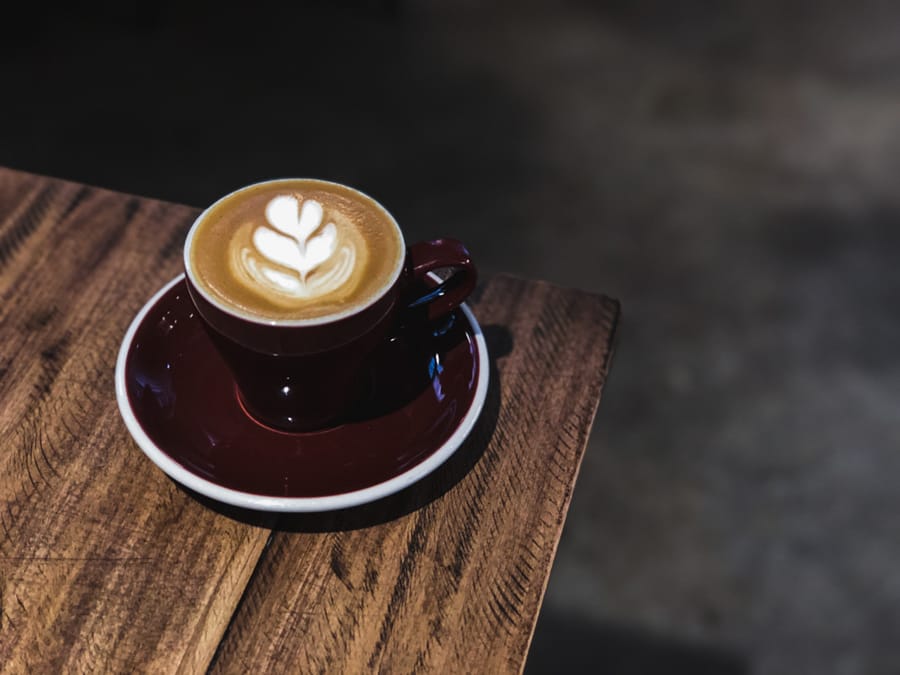 Tallinn can be brutally cold in the winter months and there is nothing cozier and more relaxing than finding a really amazing cafe to take refuge from the weather for an hour or two.
Visit the Alexander Nevsky Cathedral
Tallinn has so many beautiful churches inside of its Old Town, but one of the most renowned and picturesque is definitely the Orthodox Alexander Nevsky Cathedral.
It was built by Mikhail Preobrazhensky in a Russian Revival style during the late 1800s when Estonia was part of the Russian Empire.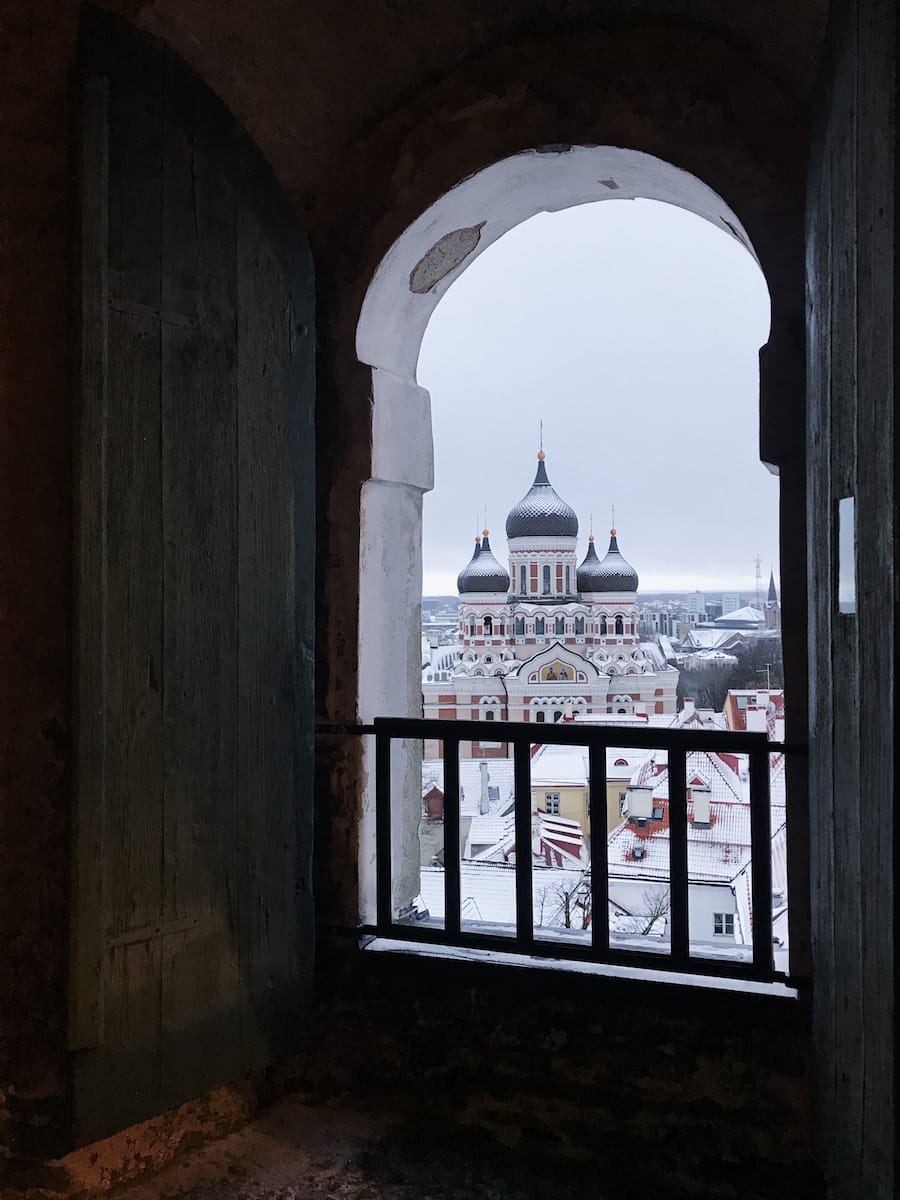 The church stands out amongst the rest today as it is, in fact, still an Orthodox Church. It is photogenic from its foot to wherever else you can catch a glimpse of it.
It has been one of the main sights in Tallinn since its opening in 1900.
Check out the Estonian Maritime Museum
Estonia's capital is no stranger to interesting and educational museums. One of the best things to do in Tallinn in winter is to step inside and explore some of them! One of the better museums, in my opinion, is the Estonian Maritime Museum.
The main mission of the museum is to showcase the country's love and respect for the sea and Estonia's Maritime history.
It was founded in 1935 by a former military captain and the funding came about on his initiative. It moved around often but finally found a permanent home in 1981 inside of the 500-year-old Fat Margaret Tower.
You can find the Estonian Maritime Museum at Pikk 70 in Tallinn.
See the Famous Tallinn Tower Hall
In the middle of the Old Town's main square, Raekoja plats, sits one of the most famous sites in all of Estonia- the Tallinn Tower Hall.
This 64-meter high, medieval tower was built from 1402-1404 and has a 115-step spiral staircase to a 34-meter high viewing tower.
This is an area of the city that you will definitely peruse through when visiting Tallinn in winter… or summer. There are activities here and many restaurants in the area.
This is also where the Tallinn Christmas Market is held.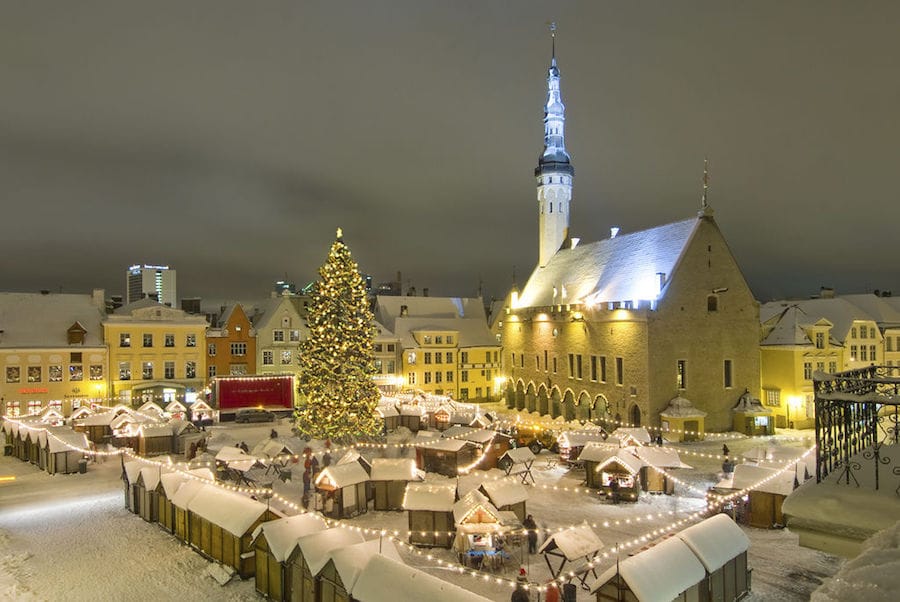 One of the coolest things about the Tallinn Tower Hall is that it had an Old Thomas weathervane atop it that had been around since 1530 and it was functioning until 1944.
A new model was placed on top in 1996 and it symbolizes the important history and life of this tower hall.
Try Traditional Estonian Christmas Food
Estonian food is a mixture of that of the Baltics and that of the Nordics and it is hearty and absolutely delicious.
Their traditional Christmas food usually contains Tallinn blood sausages, pork, potatoes, vegetables, lingonberry jam, pickled pumpkin, sauerkraut, jellied meats, and Estonian black bread.
You can find a lot of these servings at various restaurants all over Tallinn during the winter but one that is repeatedly mentioned and noted for having some of the best traditional Estonian food is Olde Hansa right in the heart of the Old Town.
While I tend to go for more modern Estonian fare when I am in Tallinn, this is definitely the place to get a traditional Christmas meal.
Click here to read more about Estonian Christmas food
Take a Day Trip to Helsinki
Okay, I know, I know… why is this on here?
Well, if you're coming from afar and don't get a lot of vacation time (ahem… my fellow Americans), we know you want to see as much as possible, even if that means adding another country and city to your arsenal.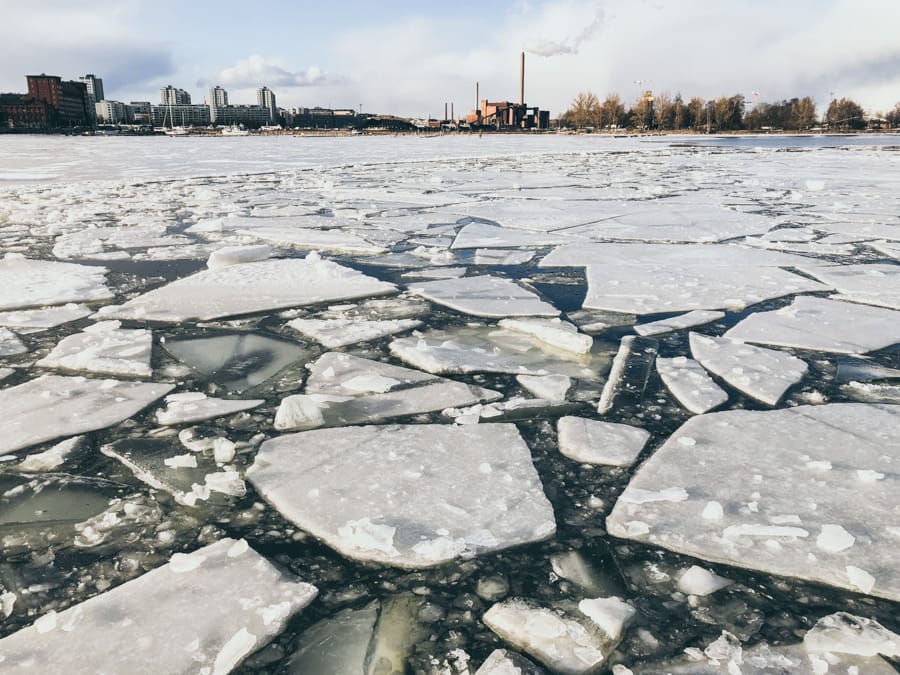 I have taken day trips to Helsinki and Tallinn from one or the other before and it is so easy to do and the two cities actually help market each other and encourage these day trips as it is a huge boost for tourism for both.
I recommend booking a ticket on the Tallink Megastar (because it is like Megan Starr minus a couple of letters).
I have worked with them on a couple of occasions and been in different classes on the ship and it is such an enjoyable experience.
Helsinki is a brilliant city and Helsinki in winter is even cooler (trust me, most of my Helsinki trips have been in winter for some reason).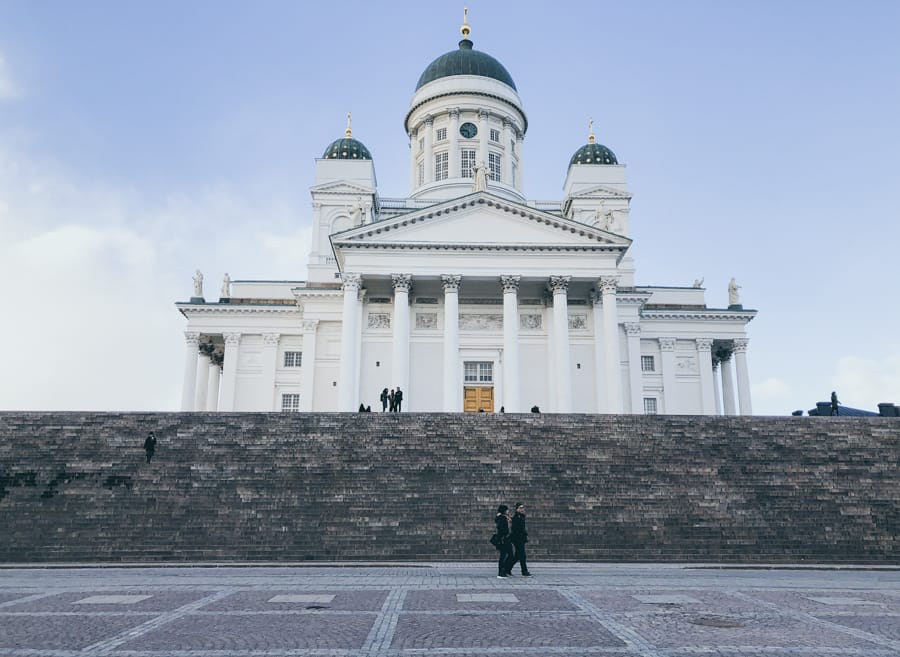 You can visit Suomenlinna, check out the famous Cathedral, or even pop into one of the charming cafes littering the Finnish capital's streets.
If you decide to stay overnight or for a few days, you can visit Lahti or somewhere up in the Lakeland region to get a taste of the gorgeous forests.
You can also take a day trip to Nuuksio National Park, one of my favorite winter experiences in Finland.
Relax in a Sauna
The Baltics and Nordics are renowned for their sauna culture and there is no better place to experience this than in Tallinn during winter.
There are several saunas throughout the Estonian city but I recommend heading to Kalma Saun (Kalma Sauna) for an experience in one of the oldest and best in Tallinn.
Kalma Sauna has been open since 1928 and is situated in the historic Kalamaja neighborhood, an area of Tallinn known for its stunning and well-preserved wooden houses.
I have really started to learn a lot about saunas in recent years as I have had several trips to Finland… but I am claustrophobic and struggle to go inside sometimes. One day, one day…
Walk Around Kalamaja and See the Wooden Houses
One of the coolest districts in Tallinn is Kalamaja, a word that translates to 'fish house'. It is located close to the Old Town and traces back to the 14th century.
During the 1870s, everything changed when Tallinn became connected to St. Petersburg by the railroad. These wooden houses were built in order to accommodate factory workers, shops, and goods because the railway's birth gave the city more industry.
Today, you can walk around and find hip cafes, shops, restaurants, and bars in Kalamaja and it is one of the most chill places in the city.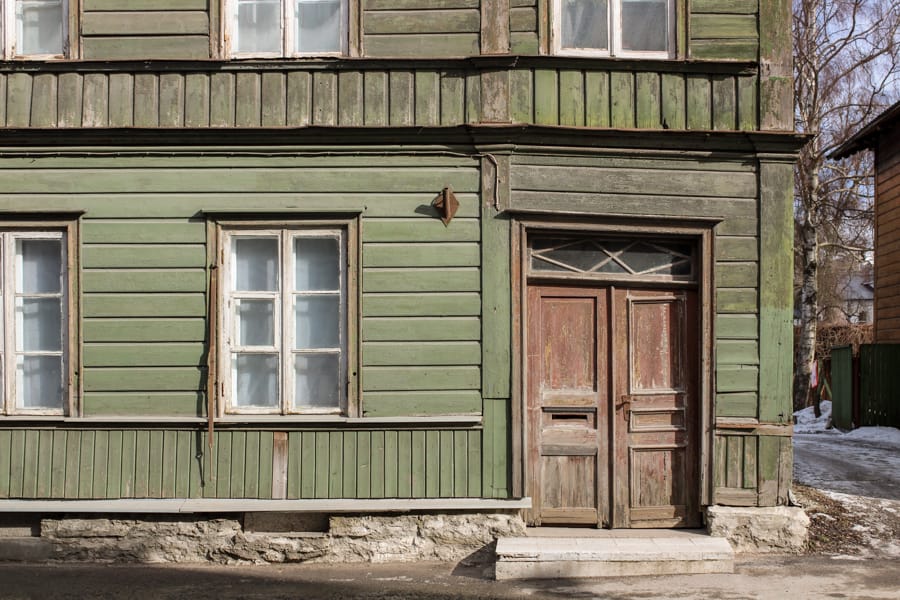 See Tallinn's Most Populated District, Lasnamäe
Lasnamäe is the most populated area of Tallinn, and to be honest, foreigners don't go there. It has a crappy reputation amongst locals and is mostly filled with Russian-speaking Russians.
I have read about many accounts of people living here and how life is and I really don't know much more from a local's standpoint.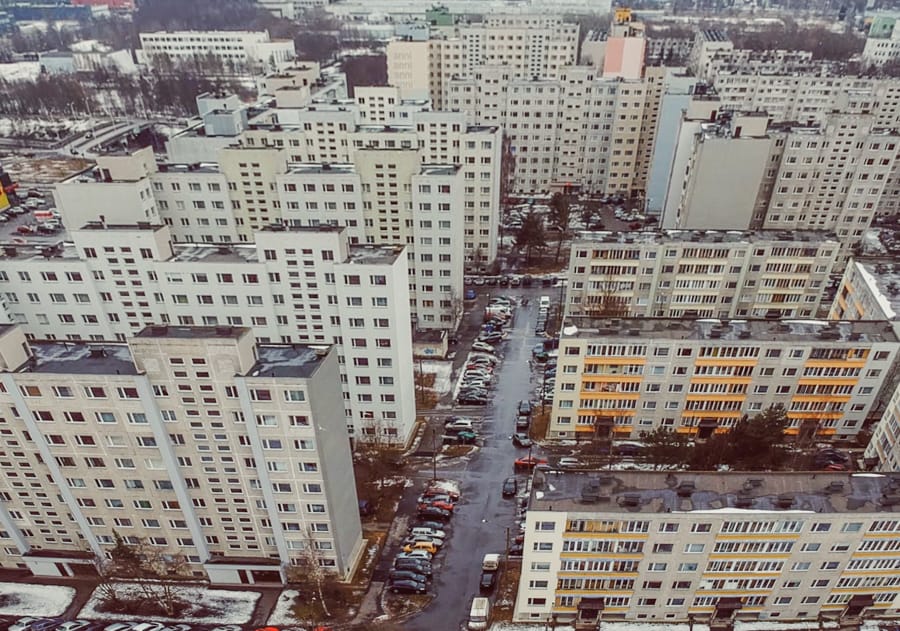 I ventured out there during the winter because I wanted to check out the architecture. Okay, to be fair, I really wanted to drone the buildings. I also wanted to learn more about this kind of forgotten-about area of the city.
Getting out there via public transportation was pretty easy once I asked around and I ended up dropped off in some industrial area.
I walked a bit and eventually found the main area where shops and sports centers and housing were located.
I had lunch at a cafe that doubled as an Indian restaurant (was pretty good, actually) and walked through the grocery store that was filled with Russian beer, magazines, and goods.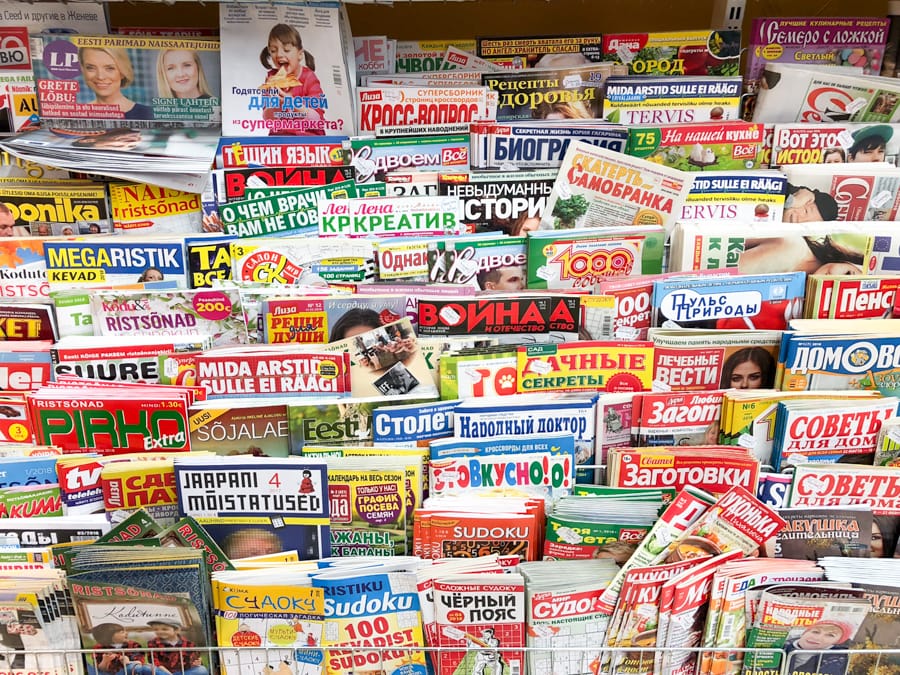 I had pizza at a restaurant in the city and watched K-pop music videos on TV with the workers. I eventually was able to get a taxi to take me back to Tallinn.
With that being said, the day was uneventful… but at the same time, pretty rad. I got to see a different part of Tallinn. No one really ventures out to this area and it seems to be a misunderstood and shunned neighborhood.
I found it unique and just another layer of Estonia that exists.
Down a Few Craft Beers
One of my favorite things about Tallinn is the sheer amount of amazing beer that exists there.
You can try many different Estonian beers all throughout the city from Taptap (my favorite!) to Uba ja Humal, a bar located on the water that has a killer bottle shop and also specialty coffee.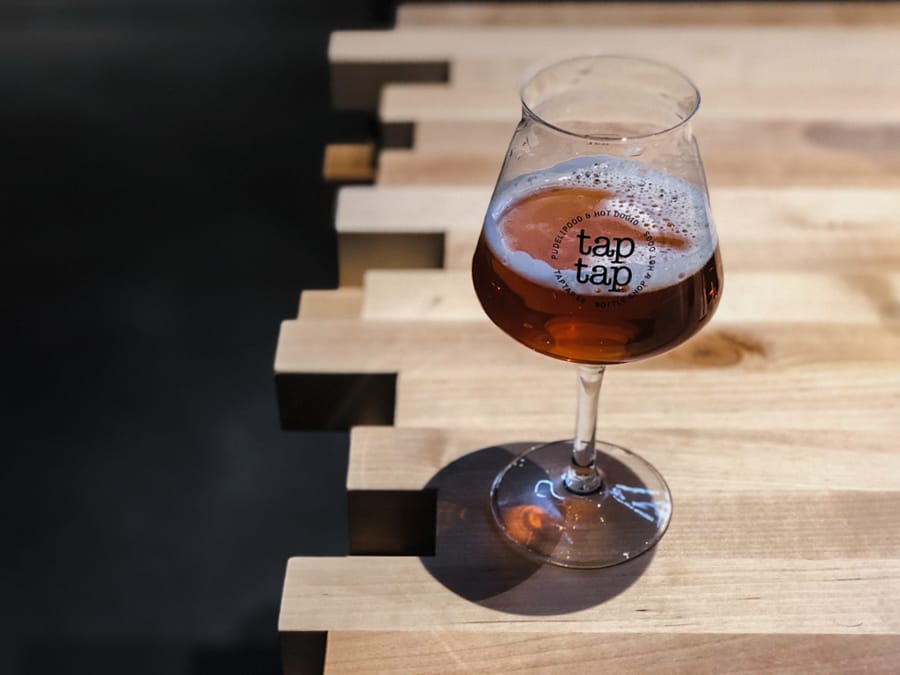 There are some great breweries in Tallinn that deserve recognition such as Lehe and Tanker.
I, personally, stay away from Pohjala, however, as the owner or person handling their social media is a shitty and pompous person (for lack of a better word).
Nevertheless, Estonians produce some great craft beer and you can't leave Tallinn without getting your hands on a few of them!
Escape the Cold Inside of Leib Restoran
Leib is easily my favorite place to grab a nice meal in Tallinn. They serve modernized Estonian cuisine with a lot of emphasis on local and seasonal ingredients.
I have eaten the most amazing sunchokes there as well as tasty duck.
Everything I have tasted at Leib has been prepared with excellent precision and detail and you can tell that this place really gets it and caters to the customers.
You can find Leib at Uus 31 in Tallinn.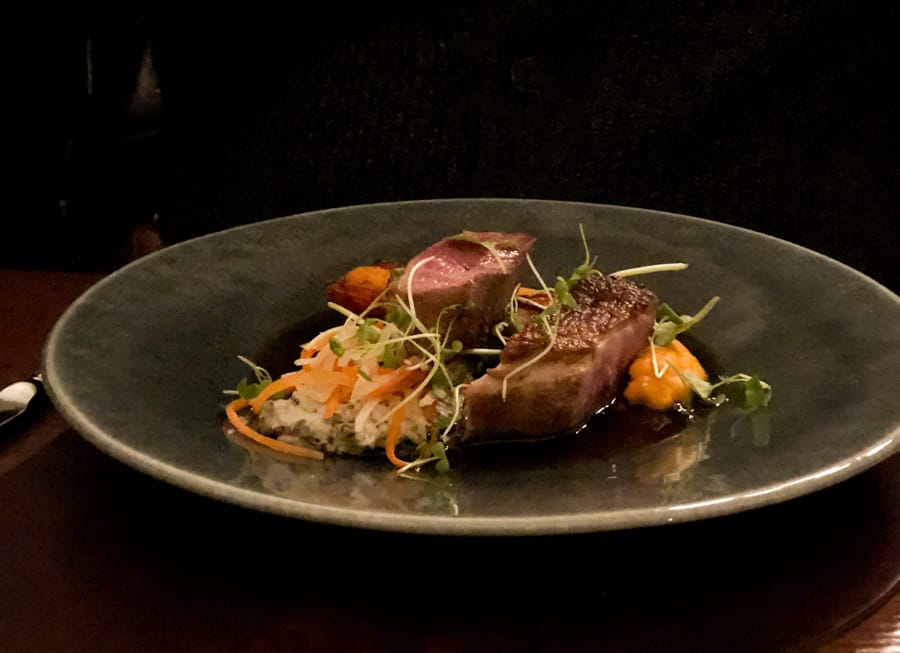 Where to Stay in Tallinn
As cliche as it sounds, I love staying in Tallinn's city center during the winter. It isn't too loud and there is something magical about the cobblestone streets and small alleyways.
But, others may opt for something a bit different. Here are our top Tallinn accommodation picks:
Great Apartment in the Heart of Tallinn (Splurge): The modern aesthetic of this apartment will offer a unique experience as it is nestled in the historic and medieval Old Town of the city.
The location is so convenient it hurts! This is our top choice of a place to stay in Tallinn- but book soon as it goes quickly. Click here to see rates and availability.
Celena Foorum 6 (Mid-range): This Tallinn apartment gets exceptional reviews and is located a short distance from the city center and port area.
I love this area because there are wonderful cafes that are easy to pop into on a cold day. The price is affordable and the location is pretty good so it is definitely a top place to stay in Tallinn. Click here to see rates and availability.
Old Town Hostel Alur (Budget): If you're looking for a high-rated hostel in the Old Town, Hostel Alur is a great pick.
Its central location and cozy atmosphere make it a top pick for budget travelers visiting the Estonian capital. Click here to see rates and availability.
There are so many reasons to visit Tallinn in winter and I hope this gives you a pretty good idea that despite the cold, there are many great things to do both indoors and outdoors.
If you have additional suggestions, please drop them in the comments. I will likely be back in Tallinn again this year with Aram, so I'm all ears!
More Estonia Travel Guides