Are you looking for the best day trips from Milan to finalize that Northern Italy itinerary? We've got you covered!
Are you planning your trip to/from Milan last minute?
If youʻre booking your trip to/from Milan last minute, we have you covered. Below are some of the top tours, hotels, and more!
🇮🇹 Top Experiences and Tours from Milan:
🛌 Top Hotels in Milan:
casaBase (budget-friendly option!)
Naviglio81 (mid-range – I stayed here!)
Armani Hotel Milano (luxury option)
🚗 Looking for the best way to get around Milan? Click here to check rental car rates for Italy!
These Milan day trips will give you an idea of all the wonderful places you can head off to near Milan!
While there are many amazing things to do in Milan, if you have extra time, one of the best things to do is to escape the city for a different one!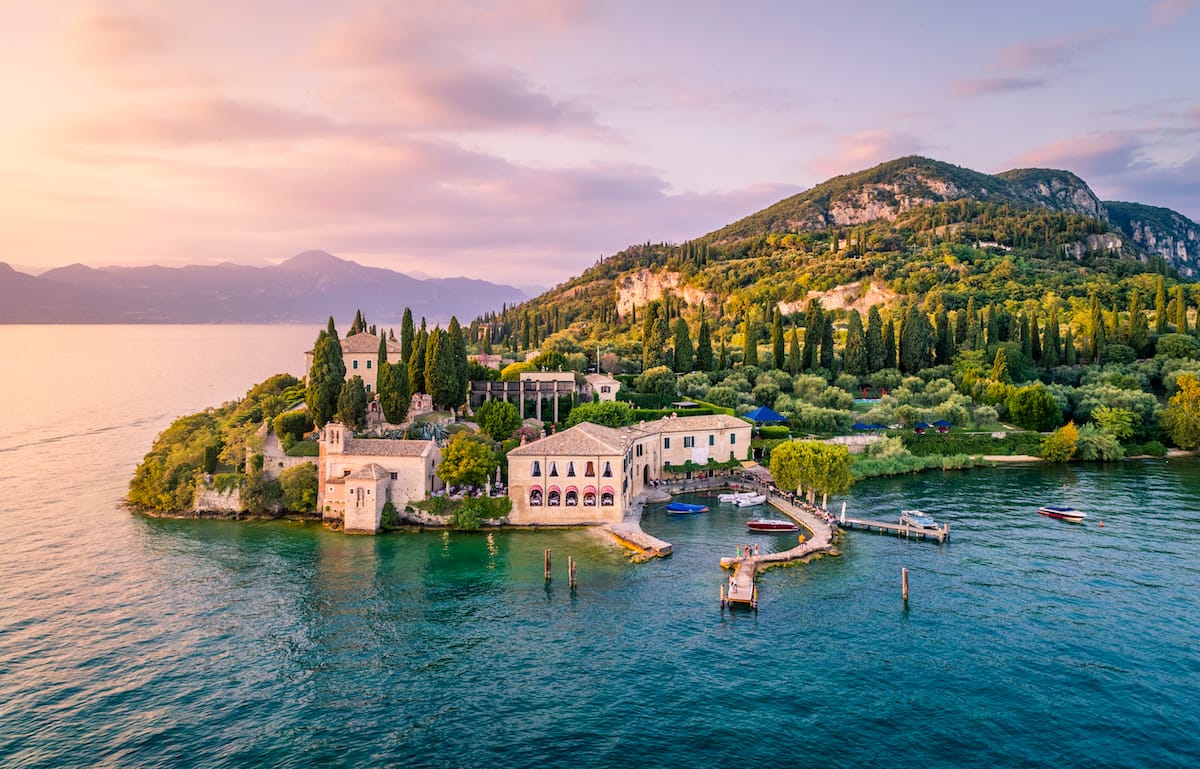 Some of them are quick trips that you can take a train to while others are best done by tour (to maximize your day!).
Did we miss any of the best places to visit near Milan?
Let us know your favorite trips in the comments!
Best Day Trips from Milan
1. Lake Como
Location: Lombardy
Milan to Lake Como fastest train time: 40 minutes
Milan to Lake Como driving distance: 1 hour, 46 minutes (84 kilometers)
➡️ LAKE COMO DAY TOUR
Lake Como is one of the most popular (if not THE most popular!) day trips from Milan.
You can either head to Lake Como from Milan independently or go there by organized tour!
We will explain a bit further down how to take a tour there but for now – here are some of the top sights around Lake Como that make this such an epic excursion from Milan!
First things first – a visit to Villa del Balbianello is a must! This enchanting villa situated on a picturesque promontory provides stunning views of the lake.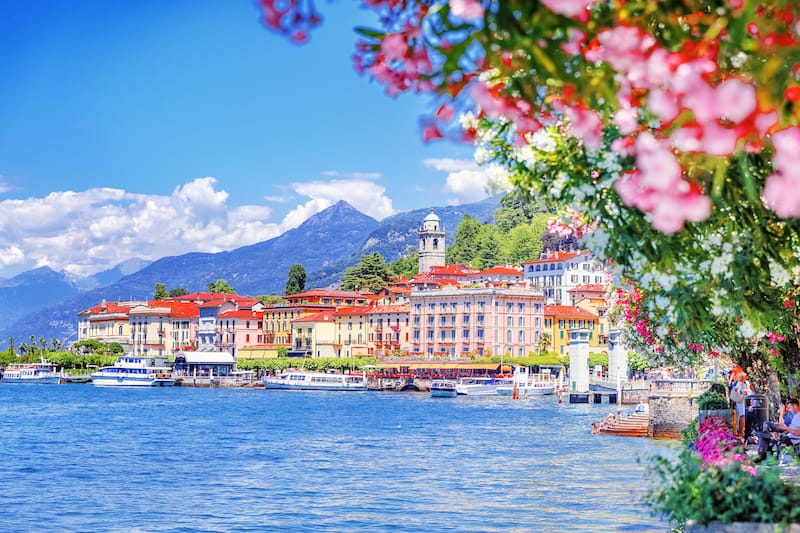 The villa's construction dates back to the 18th century when it was built as a summer residence for Cardinal Angelo Maria Durini… and today, it is a Lake Como icon.
Another amazing thing to do in Lake Como in winter or in summer is to cruise along the serene waters and marvel at the charming towns and villages that dot the shoreline.
Stop at Bellagio, known as the "Pearl of the Lake," with its narrow streets, vibrant flowers, and breathtaking vistas.
Explore Varenna's romantic atmosphere or discover the charming streets of Menaggio.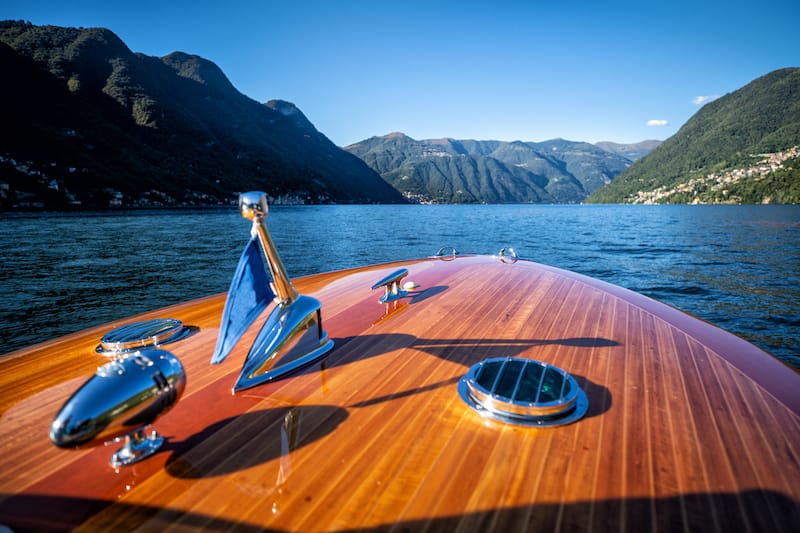 A boat tour allows you to appreciate the lake's allure from a unique perspective regardless of the time of year.
Other popular things to do are to take a ride on the Funicular to Brunate and to see the Villa Carlotta (a historic villa in Tremezzo).
You can do most of this with an organized tour from Milan and it is the ideal way to see it all with ease and with experts! I highly recommend this tour!
>> Click here to check Lake Como day tour rates
2. Lugano
Location: Ticino, Switzerland
Milan to Lugano fastest train time: 1 hour, 15 minutes
Milan to Lugano driving distance: 1 hour, 25 minutes (79 kilometers)
➡️ LUGANO & LAKE COMO DAY TOUR
It is totally possible to hop over to Switzerland for a day from Milan and while it is a bit of a long day trip, it is totally worth it.
Lugano is a city in Switzerland's Ticino region and it is known for its delicious wine and Italian-speaking residents!
I did a day trip to Lugano from Varese which is somewhat close to Milan, but you can do the same from Milan.
However, you will find so much to do in Lugano that you will want to go back and spend longer than just a day there!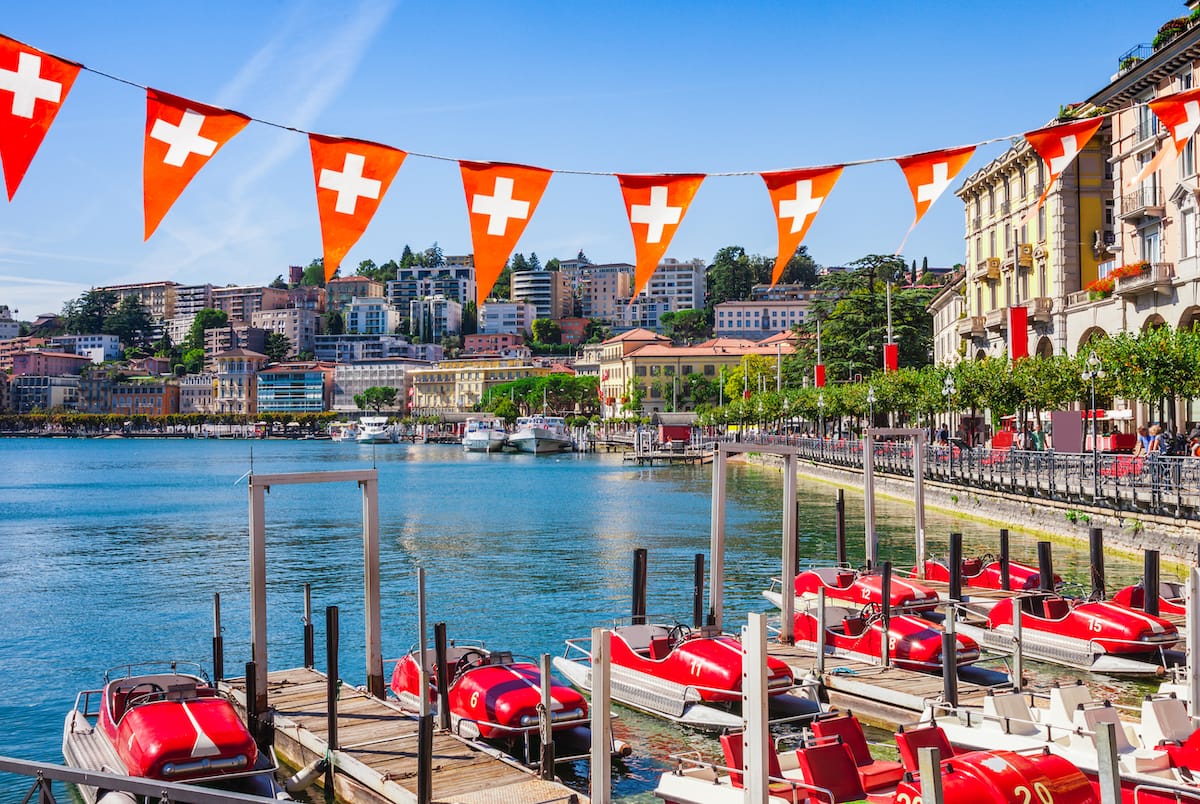 One of the most popular things to do in Lugano is to explore the Citta Vecchia, or Old Town. You'll find vibrant cafes, picturesque squares, and plenty of historic buildings.
The Old Town is situated on Lake Lugano, which is another popular spot in the city! You can kayak or paddleboard on the serene Swiss lake. Or take a boat ride!
Be sure to take the funicular (or hike) to Monte San Salvatore. It gives the best panoramic views over the city and there are plenty of hiking trails up there for the active traveler.
Along the shores of the lake, you will find Parco Ciani, a beautifully landscaped park that offers colorful flowers and benches that will allow you to take in the lake's views in a relaxed setting.
There are also many historical buildings in the park, such as Villa Ciani!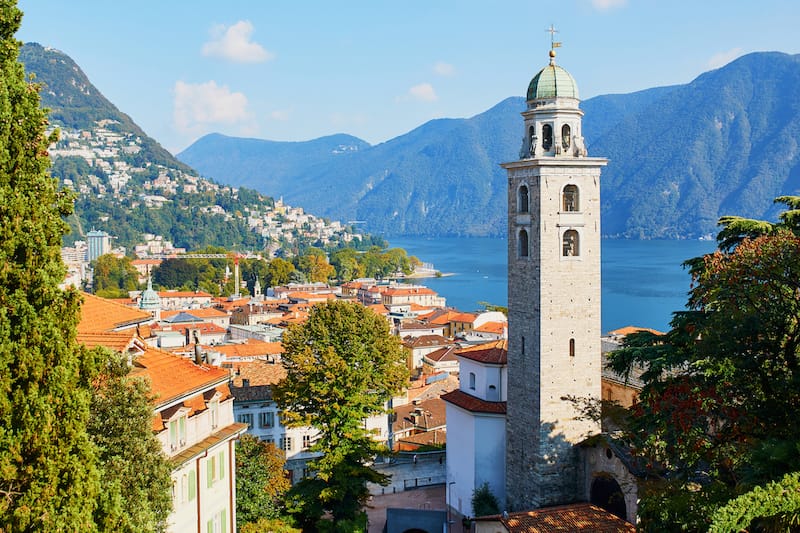 If you head to Lugano on a rainy day as I did, stop into the Hermann Hesse Museum, a museum dedicated to the German-Swiss author who resided in Lugano.
You can see exhibits about his life as well as many manuscripts from him!
Lugano was such a cool place and is a must for any Switzerland itinerary. And naturally, it is a fantastic day trip from Milan!
If you're looking to hit up Lugano on a day tour from Milan that is organized and will maximize your time, the tour below heads that way, along with a stop in Lake Como!
>> Click here to check Lugano and Lake Como day tour rates
3. Lake Garda
Location: Lombardy, Veneto, Trentino-Alto Adige
Milan to Lake Garda fastest train time: 57 minutes to Peschiera del Garda
Milan to Lake Garda driving distance: 2 hours, 5 minutes (131 kilometers)
➡️ LAKE GARDA & VERONA DAY TOUR
Northern Italy has so many striking lakes and Lake Garda is one of the most famous and is the largest lake in the country!
Visiting the famous lake is, therefore, one of Milan's best day trips and one I recommend for those looking for a day in nature (and filled with activities).
You'll find plenty of things to see and do around Lake Garda but it is best to start by exploring Sirmione!
The picturesque town is known for its narrow streets, the Medieval Scaliger Castle, and the thermal baths of the Terme di Sirmione. You can also see the Roman ruins of Grotto di Catullo, and the ancient villa complex.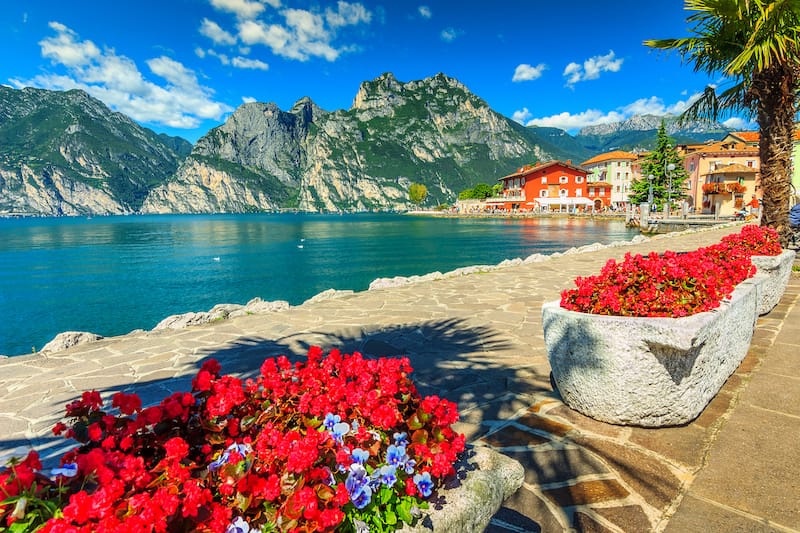 Next, take a boat tour! There are plenty of gorgeous villas along the lake that you can see from the water and it is an affordable activity that is great for couples or small groups.
If you are heading to Lake Garda with kids, you can go to Gardaland, instead. It is one of Italy's most famous amusement parks and has water rides and roller coasters.
Limone sul Garda is a town that is nestled between the lake and the mountains.
The Italy small town offers plenty of things to do but don't leave without trying something infused with lemon – it is what Limone sul Garda is known for (hence the name)!
Active travelers will enjoy Monte Baldo and Parco dell'Alto Garda Bresciano – two areas that are popular hiking destinations near Lake Garda.
>> Click here to check Lake Garda and Verona day tour rates
4. Genoa
Location: Liguria
Milan to Genoa fastest train time: 1 hour, 27 minutes
Milan to Genoa driving distance: 2 hours, 15 minutes (147 kilometers)
➡️ GENOA & PORTOFINO DAY TOUR
Genoa is one of the best Milan day trips and while I think it is better done as a weekend getaway, you can see plenty in a day to make the trip worthwhile!
You can also take a tour there which will show you the very best highlights of the coastal city!
You can start your day by exploring the historic center of the city (Centro Storico).
This part of the city is a UNESCO World Heritage Site and contains well-preserved architecture from Medieval times, the Genoa Cathedral (Cattedrale di San Lorenzo), and the Piazza de Ferrari (the heart of the city).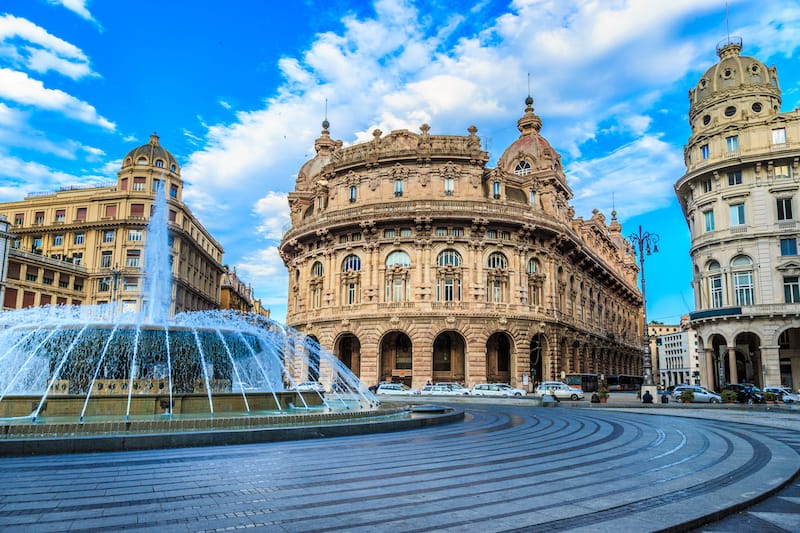 Another historic place to pop by is the Old Port (Porto Antico). This area has been revitalized and you can find the Biosphere designed by Renzo Piano there.
It has some of the best views over the Italian city! The neighborhood also is home to the Galata Maritime Museum, which showcases Genoa's rich maritime history.
Genovese cuisine is delightful and it is a must to indulge in it when there! Be sure to enjoy some pesto all Genovese and focaccia as well as some locally-caught seafood.
You can learn more about the products of the region at the Mercato Orientale (and you can even try some delicious, fried seafood there).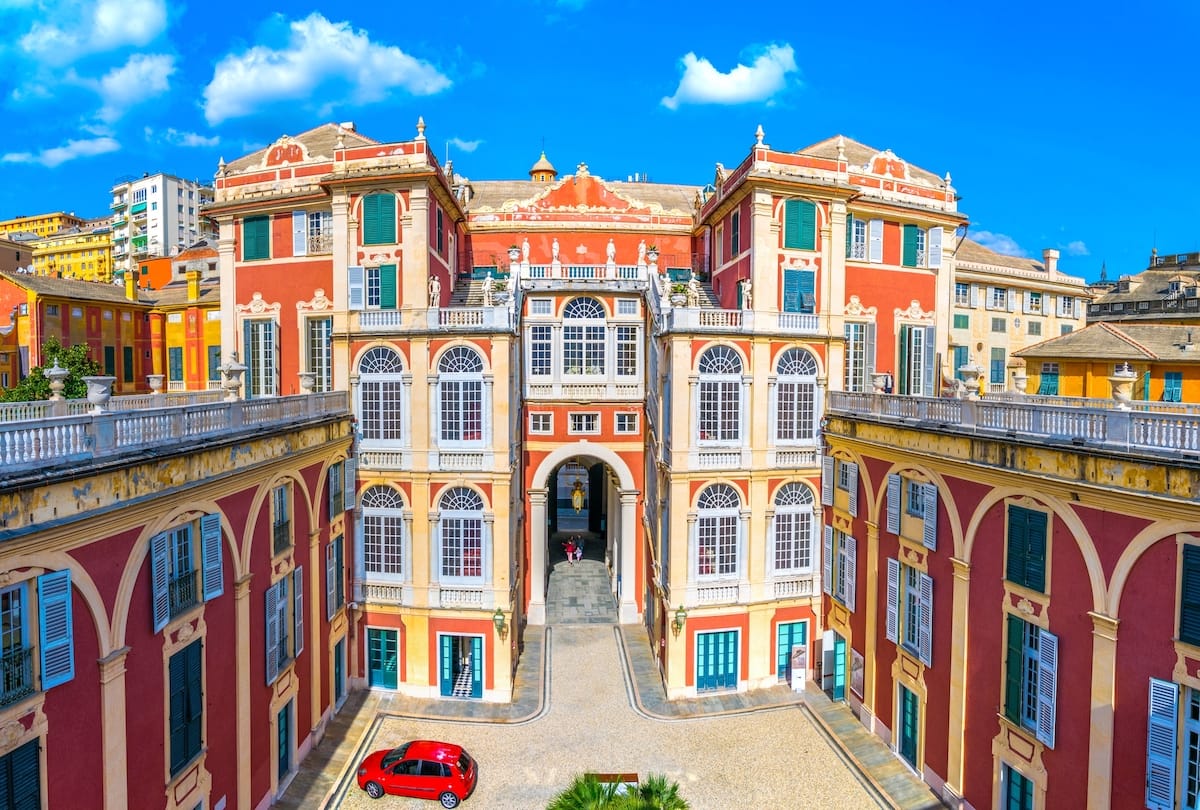 Before wrapping up your Genoa day trip from Milan, check out the palaces of the Rolli (Palazzo dei Rolli) system in the city.
You'll find famous ones like Palazzo Reale, Palazzo Spinola, and Palazzo Rosso – all are worth visiting if you have the chance!
It is far easier to see Genoa on an organized day trip from Milan as it will make better use of your time.
>> Click here for Genoa day trip rates and availability
5. Varese
Location: Lombardy
Milan to Varese fastest train time: 49 minutes
Milan to Varese driving distance: 1 hour, 6 minutes (59 kilometers)
If you're looking for an off-the-path destination that is a worthwhile day trip from Milan, Varese is one of my absolute favorites.
I actually stayed overnight a few nights in the town so I got to explore it deeper than a day trip, but it is totally day trip worthy!
The main reason people flock to Varese is to see the UNESCO World Heritage Site called Sacro Monte di Varese.
This pilgrimage site contains over 14 chapels that are adorned with ornate frescoes that depict Christ and the Virgin Mary. It is a little trek outside the city but is pretty easy with a car (or public transport if you plan ahead).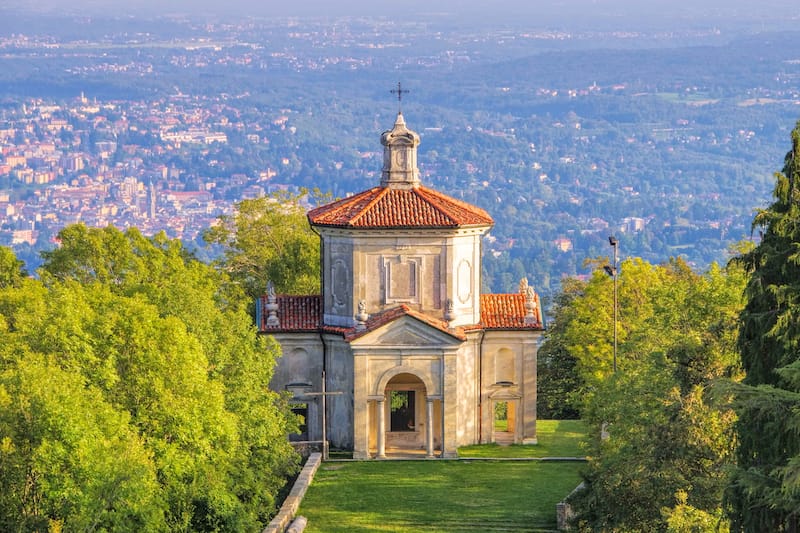 Another famous place worth visiting in Varese is Villa Panza. The 18th-century villa is now a contemporary art collection and you can stroll around the rooms and garden to check it all out.
The historic center of Varese has plenty of squares, cafes, and things to do.
The Basilica di San Vittore is a Romanesque church and Piazza Monte Grappa is a famous square lined with cafes and shops.
It is a great spot to fuel up before spending time around Lake Varese, one of the most iconic features of the city.
Active travelers and hiking enthusiasts can spend the day at Monte Campo dei Fiori – a mountain overlooking Varese.
It gives panoramic views of the city, Lake Varese, and the Alps that surround the region.
6. Lake Maggiore
Location: Lombardy, Piedmont
Milan to Lake Maggiore fastest train time: 58 minutes to Stresa
Milan to Lake Maggiore driving distance: 1 hour, 47 minutes (88 kilometers)
Since I can't get enough of the lakes of Northern Italy, I have put another on here. Lake Maggiore is another famous place that makes for a great day trip from Milan and you will find plenty of things to do there for any type of traveler!
One of the main reasons travelers flock to Lake Maggiore is to visit the Borromean Islands – this group of islands in the lake are renowned for their diversity and three of the most popular to visit are Isola Bella (home to a grand palace and gardens), Isola Madre (has a botanical garden with peacocks), and Isola dei Pescatori (a fishing village).
Another place worth visiting along the lake is the Hermitage of Santa Caterina del Sasso. It is perched on a cliff overlooking the lake situated near Leggiuno.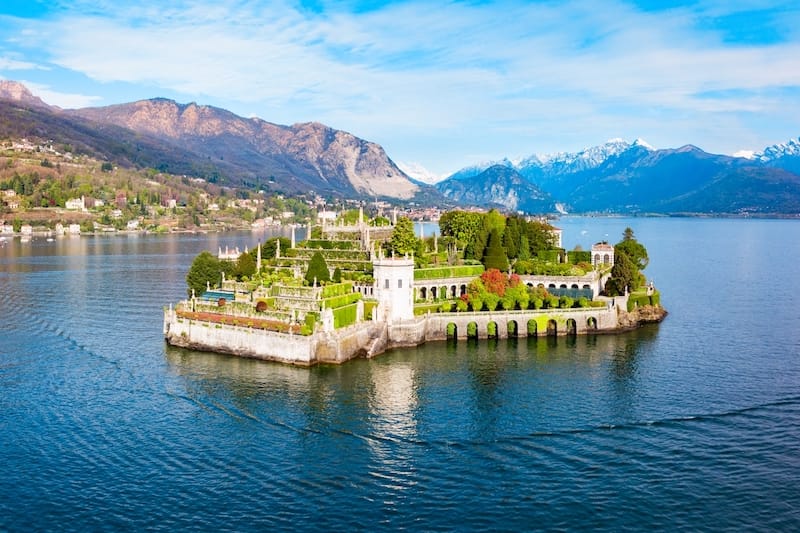 The site dates back to the 12th century and is home to a monastery and is a must-visit when at Lake Maggiore!
Some other worthwhile stops in the region are the Gardens of Villa Taranto and Stresa and the Lakefront Promenade (lots of cafes and it is the starting point for boat tours to the Borromean Islands!).
You should also plan to take the scenic train journey on the Centovalli Railway. It guides you through the Hundred Valleys where you can see tons of waterfalls and charming villages.
While this is better for a weekend trip to Lake Maggiore, it is still feasible if you plan ahead! The train ride connects Domodossola and Locarno in Switzerland.
>> Click here to book a tour of the Borromean Islands
7. Turin
Location: Piedmont
Milan to Turin fastest train time: 40 minutes
Milan to Turin driving distance: 2 hours, 6 minutes (145 kilometers)
Turin is one of the most underrated cities in Italy, in my opinion. It is an easy day trip from Milan (especially by train!) and a fairly cheap one at that.
The city is striking against the Alps in the backdrop and you'll find a lot to do there even if you wind up visiting on a rainy day!
You can start your trip from Milan to Turin by visiting the Royal Residences. The Palazzo Reale (Royal Palace of Turin) is a grand palace that served as a residence for the Savoy Dynasty.
Nearby, you will also find the Palazzo Madama, which now is repurposed as the home of the Turin City Museum of Ancient Art.
The Piazza Castello serves as the central square in Turin and you will find a lot of cafes and restaurants in close vicinity – but the most iconic sights here are the aforementioned palazzos!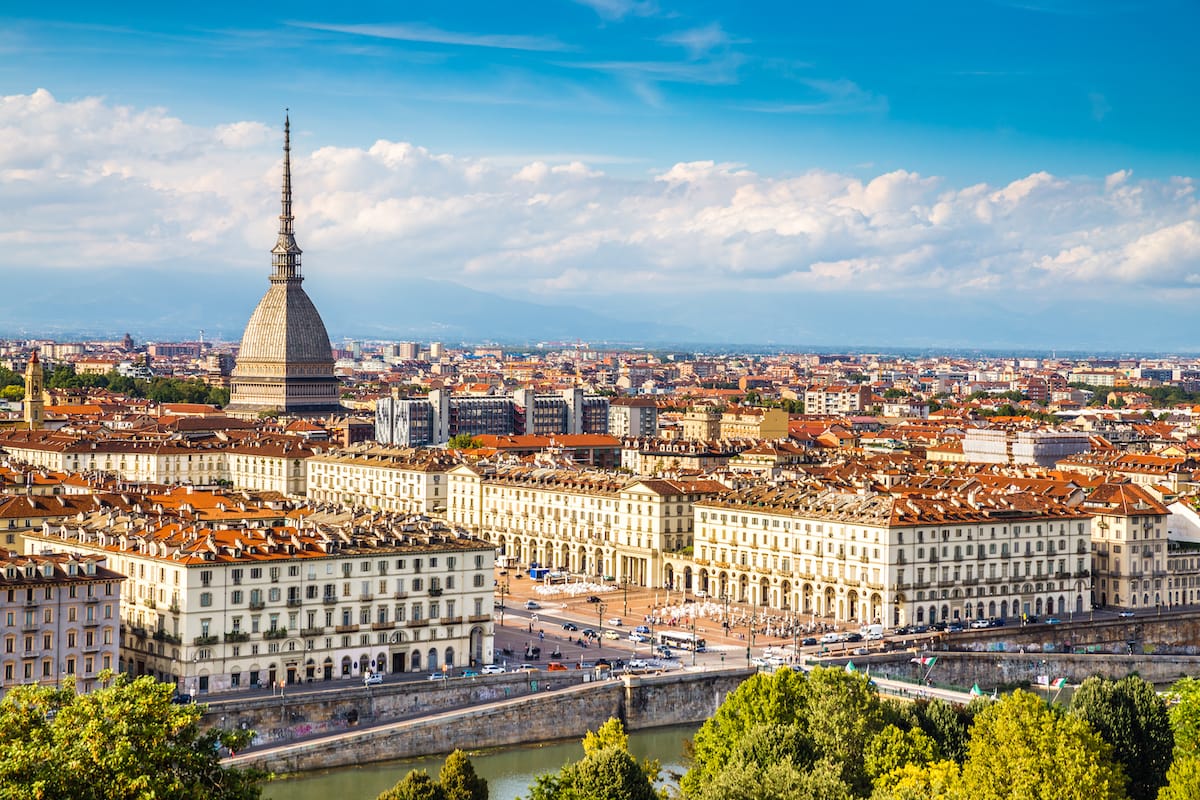 This is where the Palazzo Madama and Palazzo Reale are located.
After strolling around, pop into the Egyptian Museum! This is one of the largest collections of Egyptian artifacts outside of Egypt and it has mummies, statues, and other Ancient Egyptian artifacts.
This was one of my favorite places to visit in the city and was perfect for the incessant rain I endured during spring when I was in Turin!
Another place to visit is the Mole Antonelliana, a Turin landmark that houses the National Museum of Cinema. It has an observation deck that gives epic views over the city. Be sure to eat (and eat A LOT) when you're in the city!
You can grab some local chocolates and pastries at Caffe San Carlo and Caffe Al Bicerin.
Also, don't forget to try bagna cauda, a local dish that contains a hot dip made with garlic, olive oil, and anchovies that is served with fresh veggies.
8. Verona
Location: Veneto
Milan to Verona fastest train time: 1 hour, 10 minutes
Milan to Verona driving distance: 2 hours, 12 minutes (159 kilometers)
➡️ LAKE GARDA & VERONA DAY TOUR
Verona is easily one of the best day trips from Milan (and also Venice!) and it is iconic for so many reasons, but especially its association with Romeo and Juliet.
You can visit the city on your own, or you can join a day tour that also hits up Lake Garda!
Once you arrive in Verona, head first to the Arena di Verona (make sure you purchase the Verona Card first – for the best access to all sights)!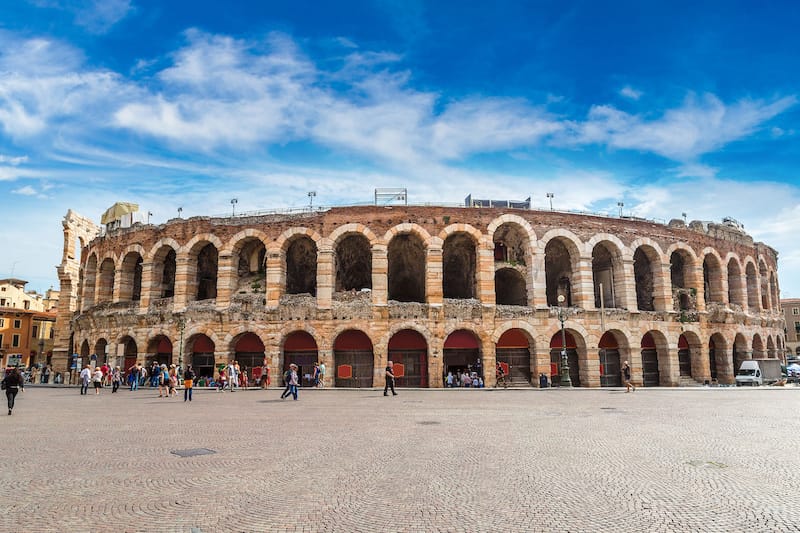 This well-preserved Roman Amphitheater dates back to the 1st century and you can even attend an opera performance (or concert) there during the summer months!
Alternatively, you can take a guided tour to admire the structure.
Another place you'll want to check out is the Piazza della Erbe, the bustling market square in Verona. You can see Medieval buildings as well as plenty of cafes, souvenir shops, and more.
Not too far away is the Basilica di San Zeno Maggiore. This religious site is built in a Romanesque style and has bronze doors and a gorgeous interior with frescoes and a crypt.
To get jaw-dropping views over Verona, climb up to Castel San Pietro after crossing the Ponte Pietra, an ancient Roman bridge in Verona.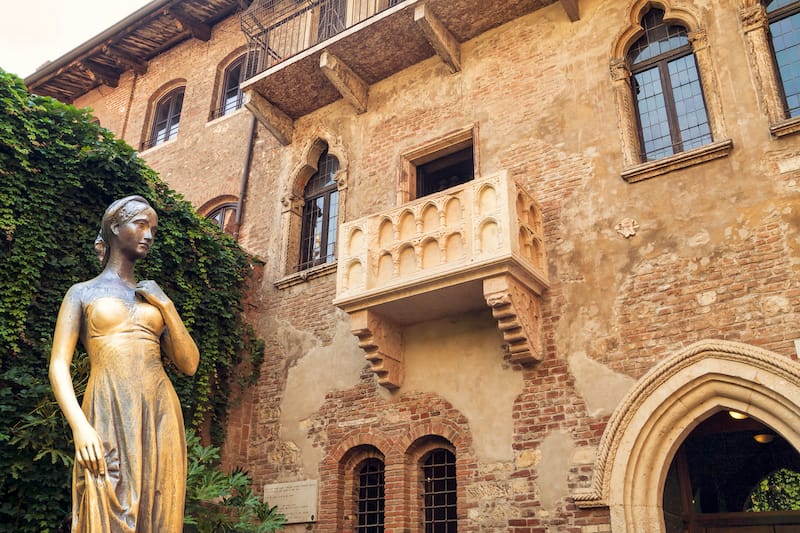 It is an iconic place to watch the sunset and take photos!
And, of course, no trip to Verona is complete without visiting Juliet's House (Casa di Giulietta).
This is believed to be the house from Shakespeare's famous work and you can see the balcony and leave a note in the courtyard walls when there.
>> Click here for Verona and Lake Garda day tour rates
9. Bergamo
Location: Lombardy
Milan to Bergamo fastest train time: 40 minutes
Milan to Bergamo driving distance: 1 hour, 6 minutes (57 kilometers)
One of Italy's best-kept secrets is the city of Bergamo.
While it gets some tourism, it definitely is so underrated and worth visiting! Both Aram and I have visited on multiple occasions and we have so much love for the place!
Getting to Bergamo from Milan is easily done by train or bus from the central station in Milan. Once you arrive, head straight for the Citta Alta (Upper Town).
You can reach this area by taking the funicular from the Lower Town (Citta Bassa). Once in the Upper Town, you will be transplanted back in time!
This historic part of town is surrounded by ancient Venetian walls that you'll enter through the Porta San Giacomo gate.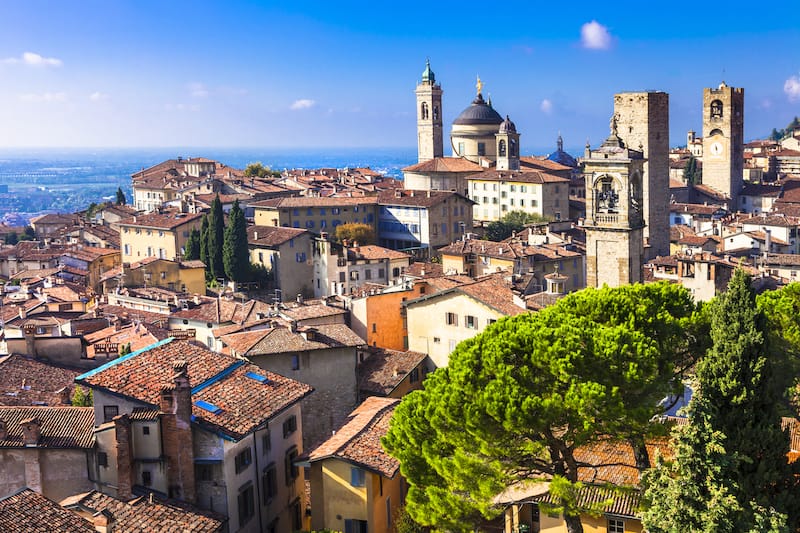 Explore the Piazza Vecchia (main square) with its beautiful Palazzo della Ragione and the Torre Civica (bell tower).
You'll also see the statue of Bartolomeo Colleoni, a famous mercenary captain, here. Stroll along the main street, Via Colleoni, to check out the best restaurants, shops, and cafes.
Another popular thing to do is to visit the Accademia Carrara, an art gallery that has a large collection of Italian Renaissance and Baroque masterpieces. You can see the works of Botticelli, Raphael, and Canaletto here.
Bergamo is famous for its polenta, so be sure to grab some while exploring the city!
10. Parma
Location: Emilia-Romagna
Milan to Parma fastest train time: 47 minutes
Milan to Parma driving distance: 1 hour, 50 minutes (127 kilometers)
Parma is famous for one very delicious thing (that I will discuss here, don't worry!) but there is plenty more that makes it a worthwhile day trip from Milan!
When you arrive in Parma, be sure to make your way to the Parma Cathedral, or Duomo di Parma).
This masterpiece of Romanesque and Gothic architecture has ornate frescoes, sculptures, and the well-known dome that was painted by Correggio.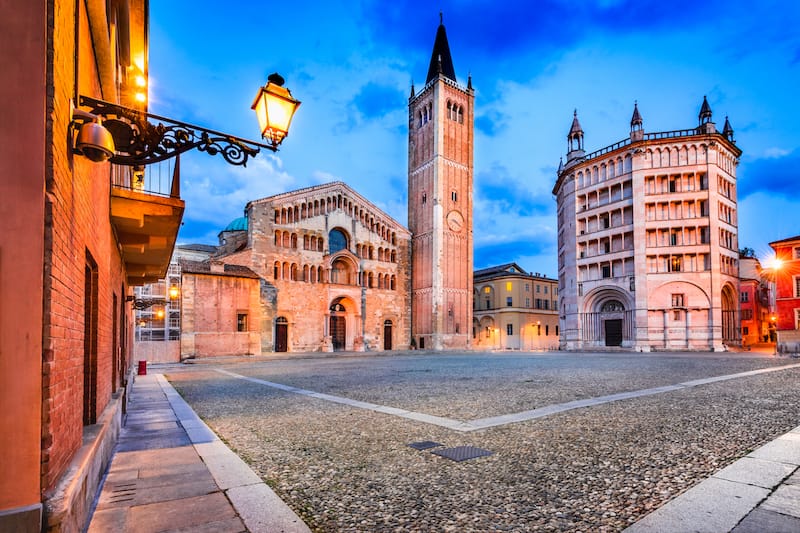 Next, check out the Palazzo della Pilotta, a large complex that is home to several important cultural institutions like the National Gallery (Galleria Nazionale), Farnese Theatre, and the Palatine Library (Biblioteca Palatina).
Two other places worth checking out are the Camera di San Paolo and the Teatro Regio. The Camera di San Paolo is a hidden gem in the city and is a small chapel adorned with frescoes by Antonio Allegri.
The Teatro Regio is Parma's opera house and you can watch a performance, or simply take a guided tour to admire its beauty.
While the sights of Parma are striking, there is nothing as striking as the taste of the local food on your palate!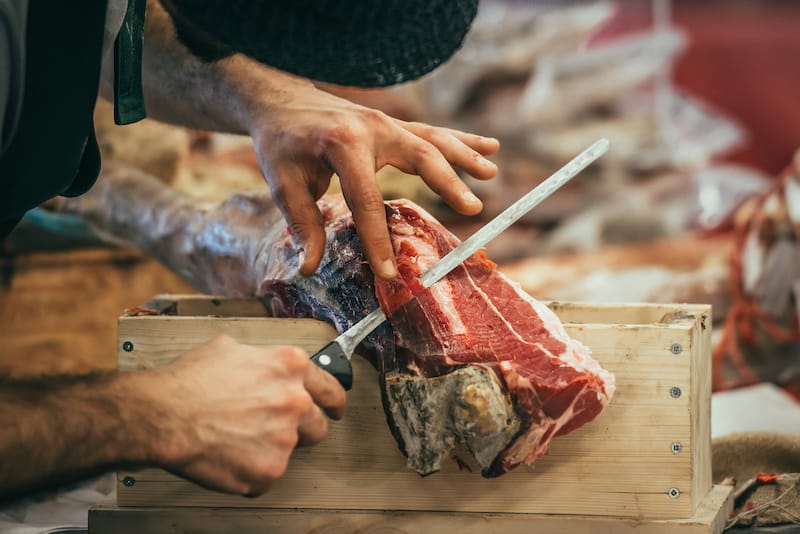 Parma is a gastronomic powerhouse! Some of the most famous things to come from Parma are Prosciutto di Parma, Parmigiano-Reggiano cheese, and traditional balsamic vinegar.
You can even dedicate your day to taking a tour that will explore the production (and consumption!) of these three famed ingredients!
The region's famous pasta dish is tortelli d'erbetta (filled with ricotta and herbs), so be sure to give that a try too!
11. Brescia
Location: Lombardy
Milan to Brescia fastest train time: 36 minutes
Milan to Brescia driving distance: 1 hour, 23 minutes (91 kilometers)
Brescia is a city in the Lombardy region that has plenty of offer visitors and it is definitely one of the top places to visit near Milan!
Once you arrive in Brescia, you will want to explore the Brescia Castle (Castello di Brescia).
This fortress sits on a hill overlooking the city and you can easily walk around the castle's walls, towers, and courtyards.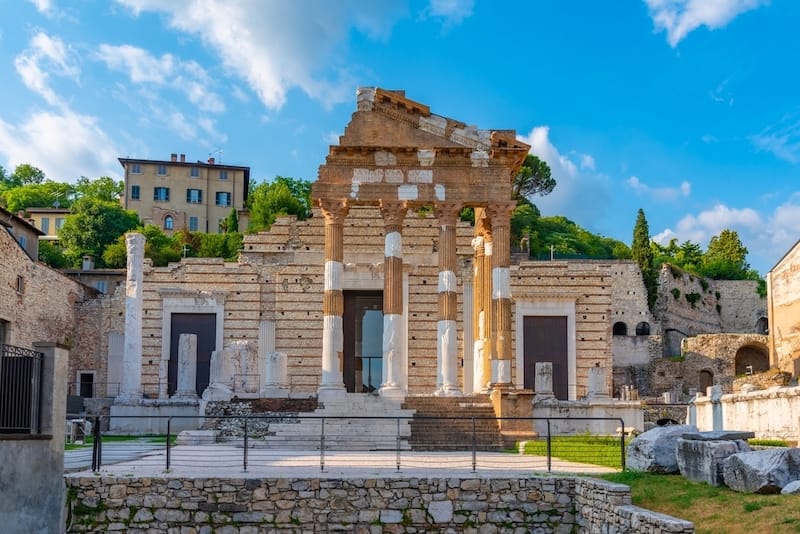 Inside the castle is the Museum of Weapons, which houses an extensive collection of Medieval arms and armor!
Next, check out the Duomo Vecchio, or the Brescia Cathedral. It is an example of Romanesque and Gothic architecture and is worth stopping by.
The Piazza della Loggia is the main square in town and you can see the famous town hall (Loggia Palace) and the Clock Tower before chilling out in one of the cafes that are located in the square.
The Santa Giulia Museum is housed in the former Monastery of Santa Giulia and is a UNESCO World Heritage Site.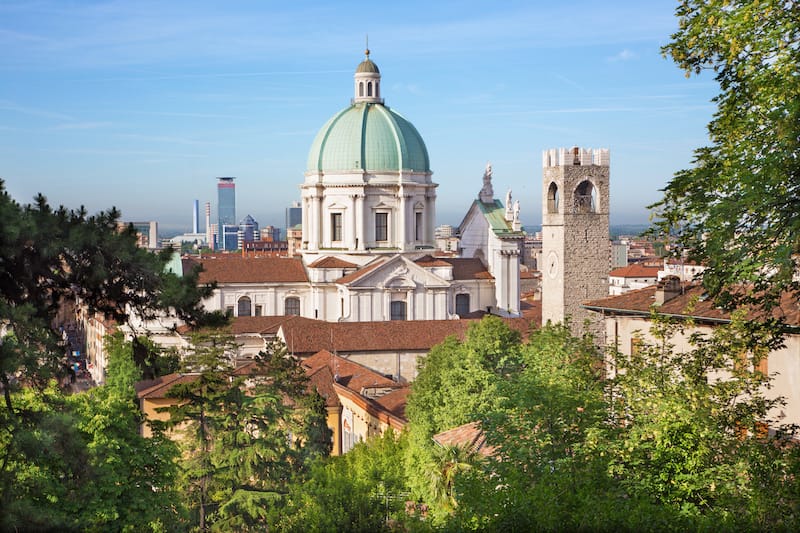 You can view a large collection of art and archaeological exhibits that span from prehistoric times to the Renaissance era here.
Once you've explored everything above ground, head underground and step into the past!
The Brescia Underground will transplant you into a place where you can explore the city's ancient Roman ruins via a series of subterranean tunnels and chambers.
This was once part of a Roman forum and market and you can see well-preserved mosaics, ancient building ruins, and artifacts that offer a glimpse into Brescia's past!
12. Venice
Location: Veneto
Milan to Venice fastest train time: 2 hours, 12 minutes
Milan to Venice driving distance: 3 hours, 12 minutes (269 kilometers)
➡️ VENICE DAY TOUR
In just two and a half hours by train from Milan, you could be in the beautiful city of Venice! While it's best explored in a few days, if you only have one day available, it's certainly worth the day trip!
You can get a good feel for the city in just a day by hitting its fantastic highlights. Our tip is to take a tour there from Milan as it will maximize your day!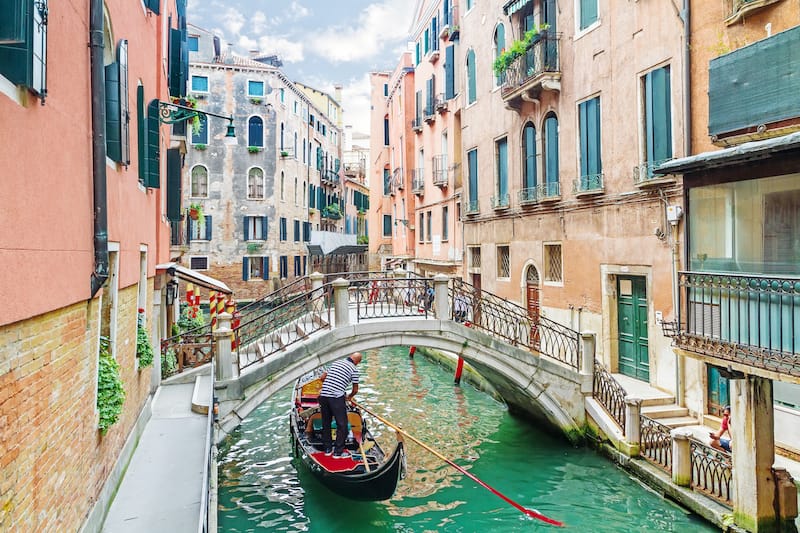 You can stroll through St. Mark's Square, sip a coffee at the famous Caffe Florian, visit the Basilica, marvel at the treasures at the Doge's Palace, crisscross the Grand Canal and get great views from the bridges, and see some of the famous bridges like the Rialto and the Bridge of Sighs.
Take the boat bus and visit one of the little outlying islands such as colorful Burano, peaceful Torcello, or famous Murano, where you can visit glass-blowing workshops and pick up some beautiful souvenirs.
If you're able to splurge, book a private gondola ride through the lovely canals of Venice…it's an experience you'll never forget!
>> Click here to check Venice day tour rates
13. Florence
Location: Tuscany
Milan to Florence fastest train time: 1 hour, 37 minutes
Milan to Florence driving distance: 3 hours, 45 minutes (315 kilometers)
Hop on the train and you can be in gorgeous Florence in under two hours! The driving distance makes it much longer, as you can see above!
The capital of Tuscany has so much to explore! Head to the Accademia Gallery to see the jaw-dropping David statue by Michelangelo.
If you want to spend even more time soaking in Florence's amazing art scene, visit the famous Uffizi Gallery, where you can marvel at masterpieces by celebrated artists, including Michelangelo, Botticelli, and Caravaggio.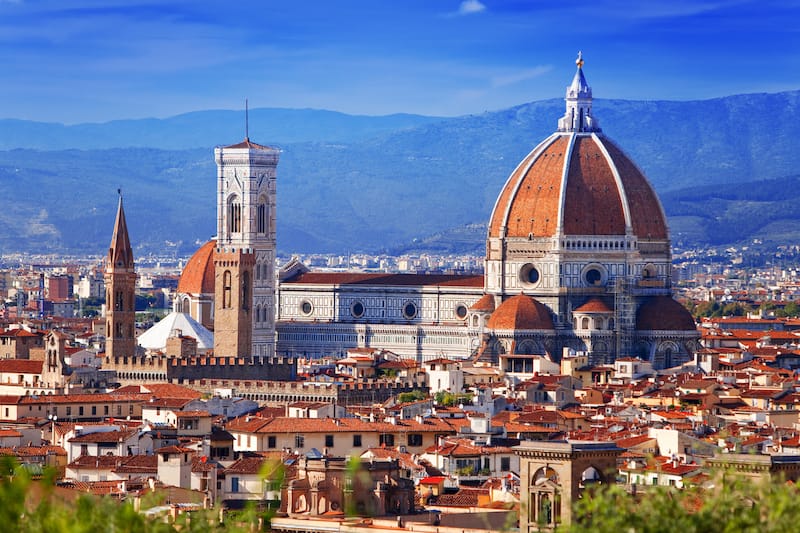 Florence's iconic cathedral, the Santa Maria del Fiore, is a must-visit.
You can also climb Duomo's bell tower or dome for magnificent views over the city.
Take some time to wander through the small streets of the city, along the Arno River, or through markets like Mercato di San Lorenzo or Mercato Centrale, where you can pick up some tasty treats and souvenirs.
The Piazza della Signoria, the plaza in front of the Palazzo Vecchio, is a great spot to take a coffee break or sip a glass of Tuscan wine and people-watch.
Where to Stay in Milan
There are many amazing places to stay in Milan and here are a few of our favorites!
Did we miss any of the best day trips from Milan?
Let us know your favorite Milan day trips in the comments! Thanks!
More Milan Travel Guides
Pin this Milan Day Trips Guide