There are many reasons to visit Lisbon and one of the best reasons is that the city makes a good base for other places nearby! These are the best day trips from Lisbon, Portugal.
Are you planning your trip to/from Lisbon last minute?
If youʻre booking your trip to/from Lisbon last minute, we have you covered. Below are some of the top tours, hotels, and more!
Top Experiences and Tours in/from Lisbon:
Top Hotels in Lisbon:
Browns Avenue Hotel (Lux)
Hotel Gat Rossio (Budget)
Lisbon is definitely one of the most beautiful cities in Portugal, but when the temperatures start to rise, sometimes all you really need is an escape.
And rather than choosing a trip between Lisbon and Porto, choose one city (such as Lisbon) and take advantage of its day trips!
Exploring Lisbon is amazing, but it can also be a little overwhelming, especially if you are craving a little bit of nature. But the best thing about Portugal is that whatever you crave is always just a short trip away.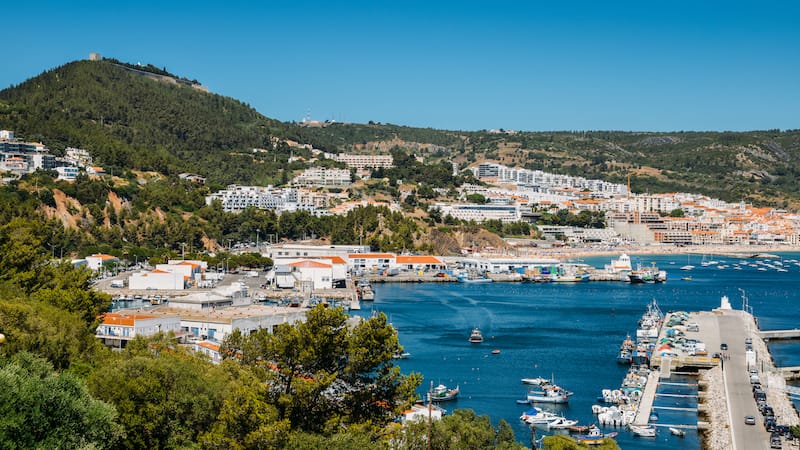 So if you are looking to taste wine at a local vineyard, SUP through turquoise blue waters, or go surfing, then we've got you covered!
Here are five day trips from Lisbon that you can take when you are looking for a Lisbon city escape.
Best Day Trips from Lisbon
Costa Da Caparica
Distance from Lisbon: 16.2km / 10mi (19 minutes)
Located just 20 minutes from Lisbon is the small Portuguese town of Costa da Caparica. Costa is specifically known as a surf spot and has the perfect waves for any type of surfer, from beginner all the way to expert.
If riding the waves is not your thing, then another big draw of Costa is the beach bars. Forget the ones that are located in downtown Costa, instead head to the outskirts.
First, we have Sao Joao de Caparica where you will find beach bars like Pé Nu and Classic Beach Bar. If you pass Costa and head South you'll find even more beach bars like Praia da Princesa, Praia Irmao, Waikiki, Tartaruga Bar, and many more. Each bar has its own vibe and menu so make sure that you check it out before you go.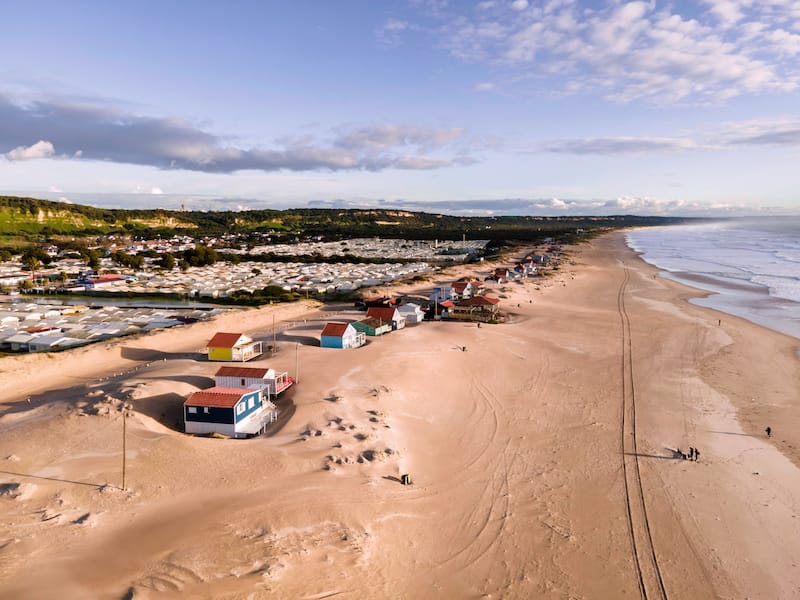 Many of these beach bars have lounge areas with umbrellas on the sand that you can rent for a full day or half-day. Prices can range from €20 to €50, depending on the beach bar – this doesn't include food or drink.
So if you are looking to lounge around, listen to music and drink cocktails on the beach all day then this is the place to be!
It is recommended that you take UBER to get to Costa da Caparica or any of these beach bars as public transportation can be a little bit tricky.
If you do plan on heading to Costa, then take the ferry from Lisbon to Trafaria, a small fishing town located across the river from Lisbon. Then take a bus or walk to Costa da Caparica.
Azeitão
Distance from Lisbon: 34.2km / 21.3mi (37 minutes)
Do you love wine? If you answered yes, then Azeitao is the town for you. Located in Serra da Arrábida Natural Park, the area of ​​Azeitão is made up of several characteristic villages, including Vila Fresca and Vila Nogueira.
Most people come to Azeitão for one of two things: cheese or wine.
The first thing you will notice when approaching the town is the landscape of the vineyards and the old properties connected to them. Azeitão was formerly a summer residence for aristocrats, who built many houses in the area.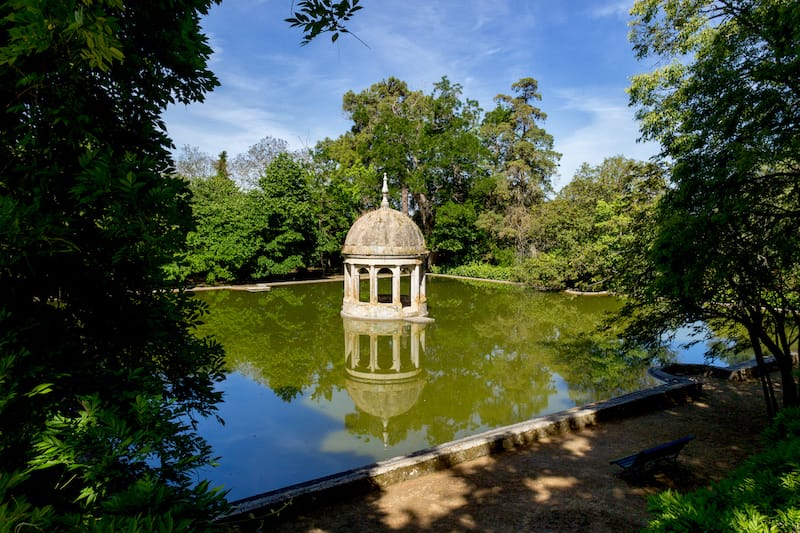 Over time, some of them were transformed into wine estates, such as José Maria da Fonseca and Quinta da Bacalhôa. The region is famous for producing Muscat wine, a sweet fortified drink often paired with dessert. It is also famous for Its award-winning creamy cheese.
In Azeitão make sure to visit one of the wineries within the region, which have tours. Also visit the Wine Corner by José Maria da Fonseca, which is located in the center of town.
If you don't have time to head over to Azetao, then you can buy a lot of these wines in Lisbon, here are the best wine shops in Lisbon that you should be checking out.
Sesimbra
Distance from Lisbon: 39km / 24.2mi (41 minutes)
Before going to the center of Sesimbra, make a quick stop next to the castle, located 230 meters (754 feet) above the village. The castle has no entrance fee, so you can take your time to walk around and enjoy the panoramic views of the coast below.
Once you're done, head on down to Sesimbra.
There are two things that you can do in Sesimbra. If you are looking for an adventure then there are so many different tours that you can go on, like kayak tours or dolphin watching.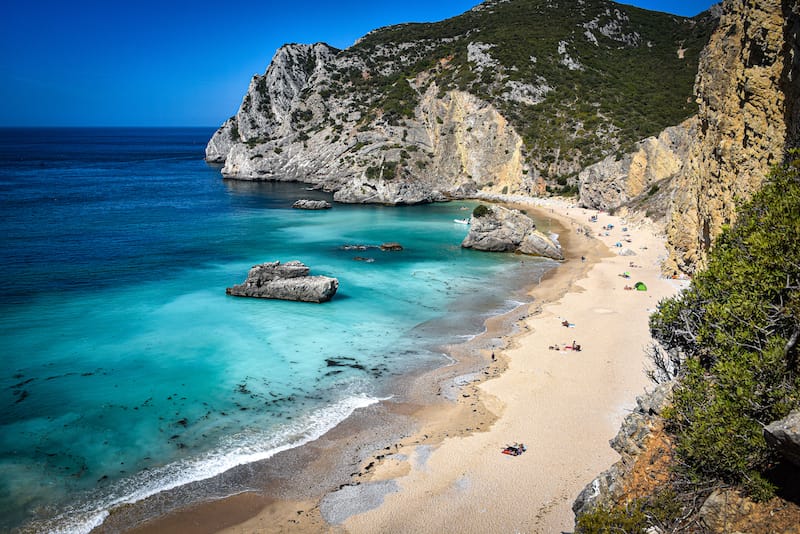 If you are a scuba diver, then there are a number of scuba schools that are located in Sesimbra as well as companies that can take you freediving or coasteering.
Once you are done with your adventure, there are also a ton of local restaurants that serve fresh fish around the area. Make sure you bring cash though as many of these establishments don't accept cards.
If you are more of a beach and wine type of person, then head on over to downtown Sesimbra where you can lounge on the beach all day long. If you are feeling hungry there are a number of restaurants that line the Sesimbra boardwalk.
Arrabida
Distance from Lisbon: 40.7km / 25.3mi (38 minutes)
Serra da Arrábida is one of the most stunning natural parks in Portugal. The best way to explore the park is to take a walk or ride a bike through the hills.
There are many walking paths in Arrábida. If you want a short walk, you can start at Portinho da Arrábida, a white sand beach at the foot of the mountain, and then continue along the sand to Praia do Creiro.
From there, you can take a pedestrian path through the forest towards Praia dos Coelhos and enjoy the secluded environment. For a privileged view of the beaches, make sure to stop by the Portinho da Arrábida viewpoint as well.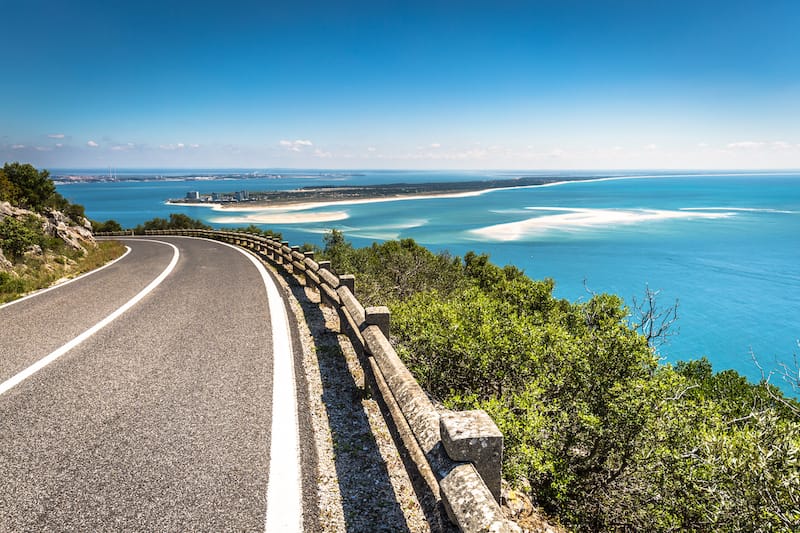 Information: During the summer (from June to September), and due to the number of people visiting these because the road between Figueirinha beach and Creiro beach is often closed.
If you do want to go to Portinho da Arrábida, you will also need to leave your car at the entrance and walk down to the beach. There are little cars that can bring you back up, but you will have to pay.
If you are interested in Kayaking or SUP, then there are two separate companies that work out of Portinho da Arrábida. Rentals are around €40 for two hours and also include a snack and a trip back to your car.
For lunch make sure that you make a reservation at O Farol for seafood, a glass of wine, and a beautiful view.
Cascais
Distance from Lisbon: 30.8km / 19.1mi (32 minutes)
One of the more famous day trips from Lisbon is to the city of Cascais. Out of all of the locations mentioned in this article, Cascais is probably the easiest place to get to if you don't have a car.
There is a direct train that goes from Lisbon all the way to Cascais and it is really one of the best weekend breaks in Portugal!
Cascais is a city that has it all from delicious restaurants, fabulous cocktails, gorgeous beaches, and relaxing spas – you'll probably not want to leave. If you are looking for something a little extra, then Cascais is the place for you.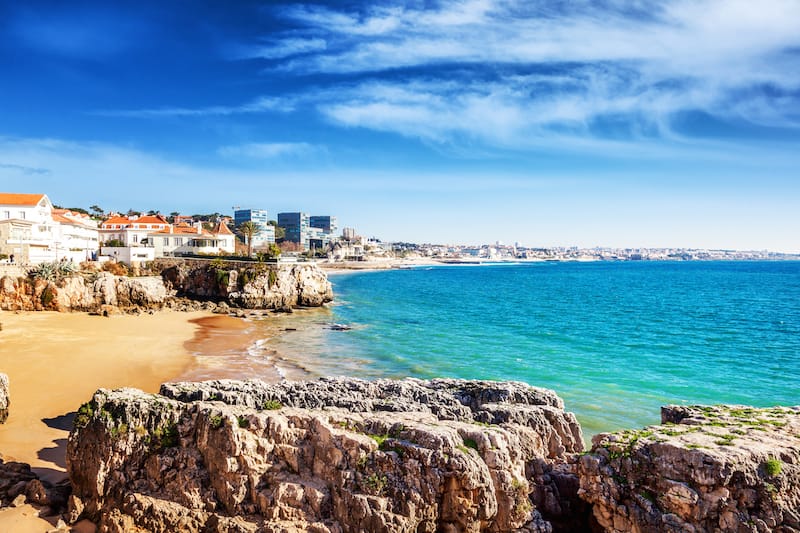 Not only does it have a ton of luxury experiences, but it is also home to Fortaleza do Guincho, a Michelin star restaurant, which is also a hotel.
And if you didn't already know, the Palacio Estoril Hotel was featured in the 1969 production of the James Bond movie On Her Majesty's Secret Service.
Not only was the hotel featured in the movie, but many of the actors also stayed at the Palacio. Today you can take a look yourself and even order a 007 Martini from the Bar Estoril.
Sintra
Distance from Lisbon: 28.4km / 17.6mi (27 minutes)
Located on the foothills of the beautiful Sintra Mountains not far from Lisbon but right near the ocean is Sintra. This Lisbon day trip used to be a royal sanctuary with Medieval castles and structures that still remain today.
Sintra is a mixture of pristine nature surrounded by the Serra de Sintra hills, colorful villas, and historical sites such as Moorish castle ruins.
Sintra is also known for being a UNESCO World Heritage Site where it is possible to see pastel-hued manors that are dotted all the way to the Atlantic Ocean.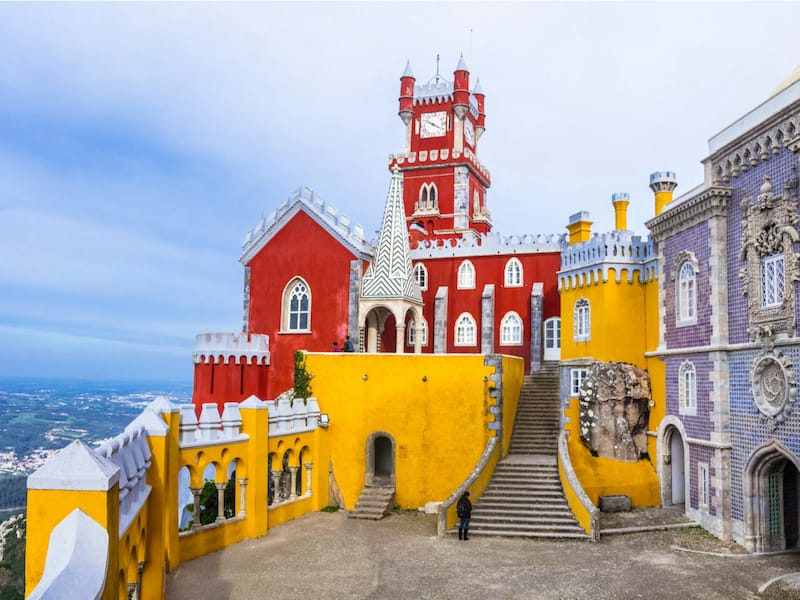 Another well-known place in the city is Parque de Pena, a 19th-century green space where it is possible to walk amongst plants and trees collected from all corners of the globe.
Visitors should not miss out on the renowned and fascinating Monserrate Palace which is a luxury castle donned with thousands of artworks on its walls.
For history lovers, Sintra is also a worthwhile place to visit because of the Initiation Well's underground tower, the Quinta da Regaleira UNESCO World Heritage Site, Vale dos Lagos e Pateira Lake, and more.
The city is the perfect day trip from Lisbon because it really is so walkable and you can see many of these sights in a short amount of time before relaxing in a local cafe for a coffee with views.
Évora
Distance from Lisbon: 133.2km / 83mi (1 hour, 23 minutes)
Known as the capital of the Alentejo region in south-central Portugal, Evora is named after the UNESCO World Heritage Site Roman Temple of Évora which is an ancient site also known as the Temple of Diana.
Evora is known for being home to one of the oldest and most important historical monuments in the region – a 12th-century, the Gothic-style Cathedral of Évora. It is situated at the highest point of the city.
The Portuguese city is also known for being home to the fascinating Medieval Chapel of Bones near the Church of St. Francis. When visiting the Evora sight, it is possible to witness its walls that are decorated with human bones and skulls.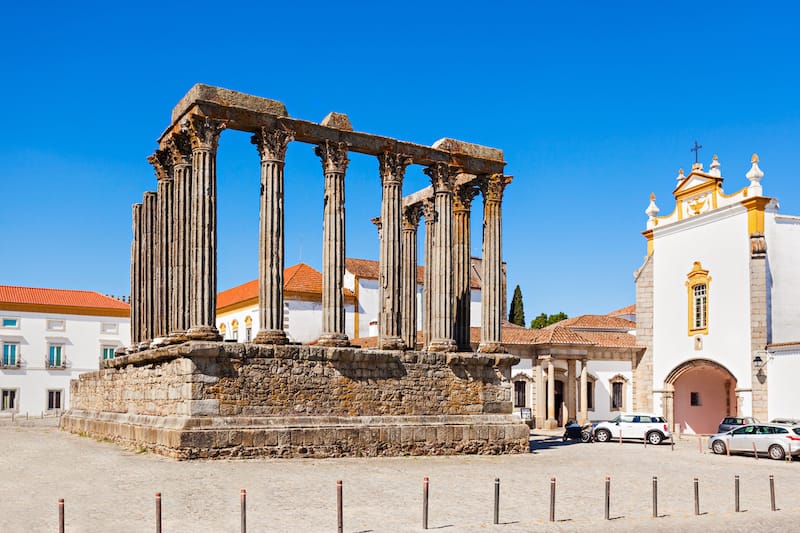 For museum and history lovers, Evora gives you a chance to visit the Museum Frei Manuel do Cenáculo where it is possible to see Roman artifacts and a fine art collection from the 18th century.
You can also check out the Clock Museum – Pole Évora where there is an exhibit of old clocks.
If you want to see where the former kings and queens were living in Évora (because it was once a royal city), then be sure to visit the 13th-century Royal Palace of Évora which is located right in the heart of the city and is also called the Palace of King Manuel I.
Barreiro
Distance from Lisbon: 40.1km / 24.9mi (37 minutes)
Barreiro is located next to Lisbon on the other side of the Tagus River in the Setúbal District. The city has a fabulous view of the capital from one side of places like Avenida da Praia and Alburrica. It is definitely one of the best day trips from London for a quick escape!
Small towns like Barreiro are gems for travelers who love to walk around and enjoy local cafes and old charming buildings, take historic trams, and visit captivating sights and museums.
If you're into museums or visiting on a rainy day, Barreiro has many diverse museums like the Reservas Museológicas Visitáveis where is possible to learn the history of the city in paintings such as the image of Our Lady of Rosary on the tile panel of the 18th-century building.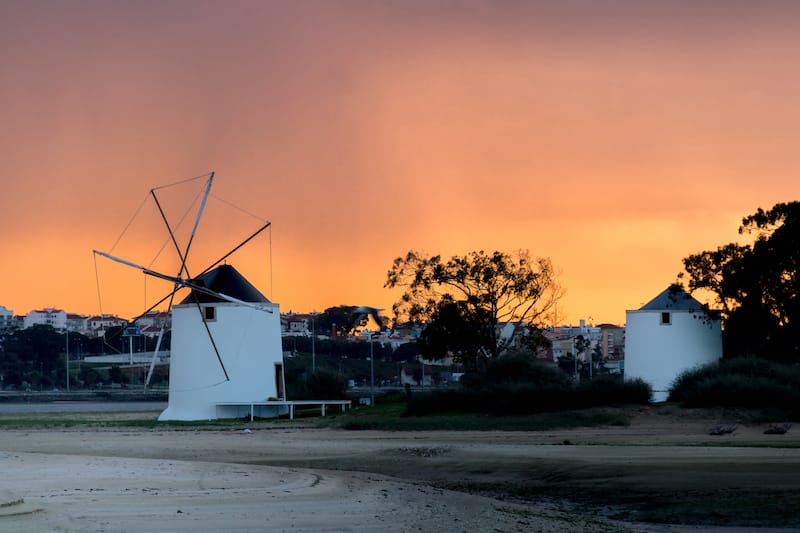 In addition, you can visit museums such as the Museu do Fuzileiro which is a military museum with several historical war artifacts. Don't miss Casa Museu Alfredo da Silva, a museum dedicated to a 19th-century Portuguese industrialist! You will have a chance to see his luxury belongings, home, and other memorabilia.
If you're a food lover, the city has many great places to dine but be sure to add Manuela Borges traditional restaurant to your itinerary if you're looking to indulge in local dishes and wine.
Other things to do in Barreiro are to view the old windmills, bridges, and other monuments around town.
Óbidos
Distance from Lisbon: 81.2km / 50.5mi (1 hour, 5 minutes)
Located in the Leiria District, Óbidos is a very small Medieval town with a population of less than 3500 and it is one of the best places to visit near Lisbon.
Óbidos is a great Lisbon day trip location and it is known for being the home of the Ginjinha de Obidos, a sour cherry liquor. It is essential that you try it when you visit the town!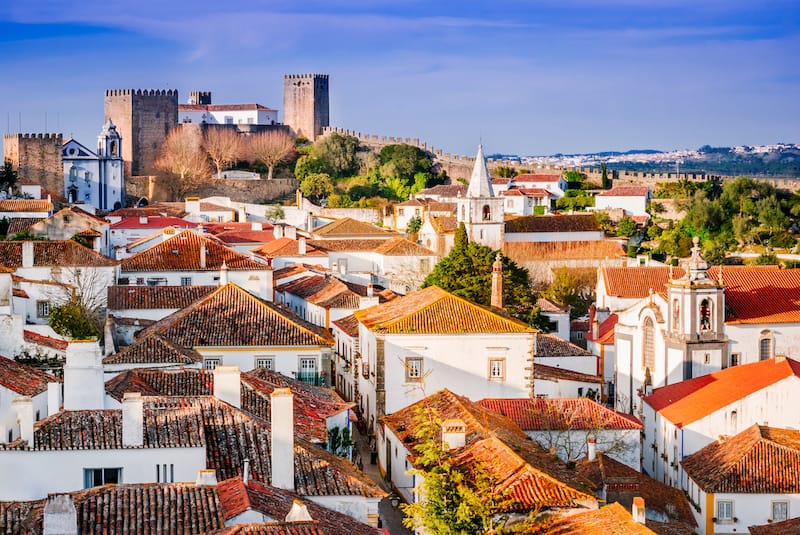 Óbidos is also known for having an amazing area called the Silver Coast. At the coast, you will find travelers from all over relaxing at the Foz do Arelho lagoon beaches.
It is also known for being home to colorful and idyllic whitewashed cottages painted blue or yellow locate in the Rua Direita along cobblestone streets. Some of them were built in the 12-century!
One of the most exciting festivals that take place close to Obidos Castle is the annual Chocolate Festival. Other famous events are the Christmas Village and the Opera Festival.
Nazare
Distance from Lisbon: 121.7km / 75.6mi (1 hour, 21 minutes)
Located in the Leiria District of Portugal is the large town of Nazare. The Portuguese destination is primarily known for having some of the biggest waves… in the WORLD.
As a result of the Nazare North Canyon, this place has produced some of the largest and tallest waves the world has ever seen and it used to be (and somewhat still is even though restrictions have been placed) a thrilling surf spot for adrenaline junkies.
However, there is a lot to do in Nazare aside from witnessing mammoth waves! It also has some of the best beaches in Portugal and is a resort area.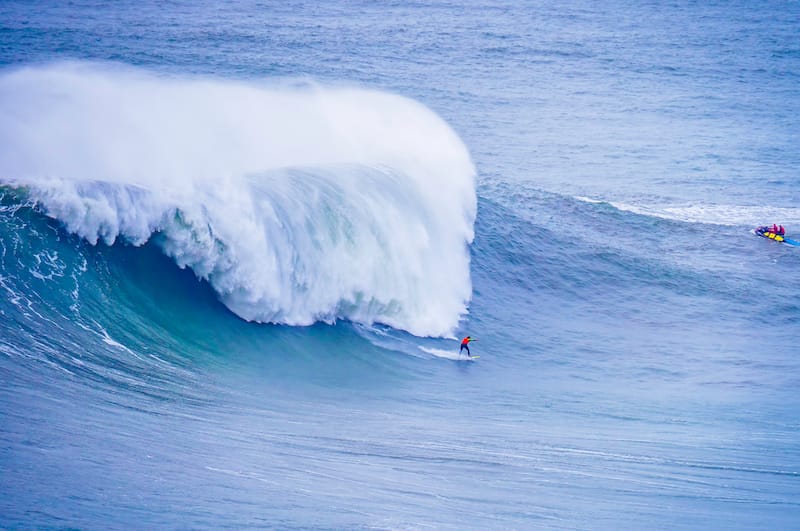 There are three primary neighborhoods in the town – Sitio (an old village on top of a cliff), Pederneira (another clifftop old town), and Praia (an area nestled on the Atlantic). There is a funicular connecting Praia and Sitio.
A can't-miss spot in the city is the Sanctuary of Our Lady of Nazare church. It is a beautiful baroque building that has some of the most mind-blowing tiles on its inside.
There are also plenty of museums in Nazare, such as the Doctor Joaquim Monso Folk and Archaeological Museum, the Fisherman House-Museum, and the Nazare Bullring.
One of the most iconic attractions in Nazare is the lighthouse at the Fort of Sao Miguel Arcanjo, which is often seen in photos with gigantic waves behind it!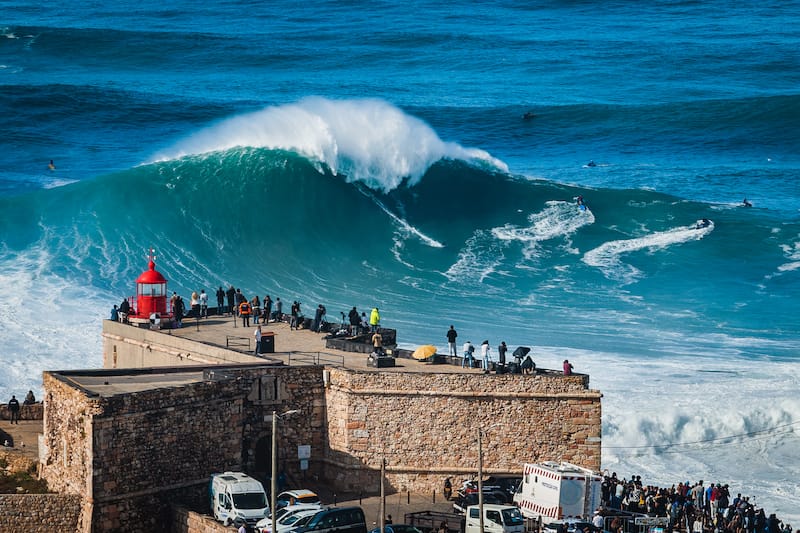 Let's be clear, these are not the only day trips that you can take from Lisbon, in fact, this isn't even scratching the service. Portugal is a beautiful country filled to the brim with experiences for any type of individual, and everything is so close.
Even a trip to Porto from Lisbon is only a 2.5-hour drive away! So have you been to any of the places listed above?
Please let us know which day trips from Lisbon we failed to mention in the comments. Thanks!
Author Bio: Yvonne Ivanescu is the founder of Now in Portugal, a travel and lifestyle website that focuses on highlighting the beauty and uniqueness of Portugal.
She believes that there is so much more to Portugal than Lisbon, Porto, and the Algarve and she is determined to explore every inch of this beautiful country. Follow along on her journey on Instagram or on the Now in Portugal website.

More Portugal Travel Guides
Pin this Lisbon Day Trips Guide