There are several important things to know before you visit Bergen, Norway. This guide contains many of them from my time living there and visiting there over the years!
Are you planning your trip to Bergen last minute?
If youʻre booking your trip to Bergen last minute, we have you covered. Below are some of the top tours, hotels, and more!
🇳🇴 Top Activities and Tours in Bergen:
🛌 Top Hotels in Bergen:
🚗 Visiting Bergen independently? Be sure to book your Norway rental car ahead of time to ensure availability!
The guide will contain all the useful tips and recommendations I have for traveling to Bergen, the gateway to the fjords! These Bergen travel tips will be for year-round travel (unless otherwise specified).
Did we miss anything you think is useful to know before visiting Bergen? Let us know your thoughts in the comments! Thanks.
Bergen Travel Tips – Overview
I spent an entire year of my life living in Bergen (and three more years living in Oslo).
I got to know the city as well as anyone who had spent that much time there… but I have also traveled there several times and have gotten to know the city as a tourist, too!
This guide is a mix of all of the things I think are good to know before traveling to Bergen, Norway.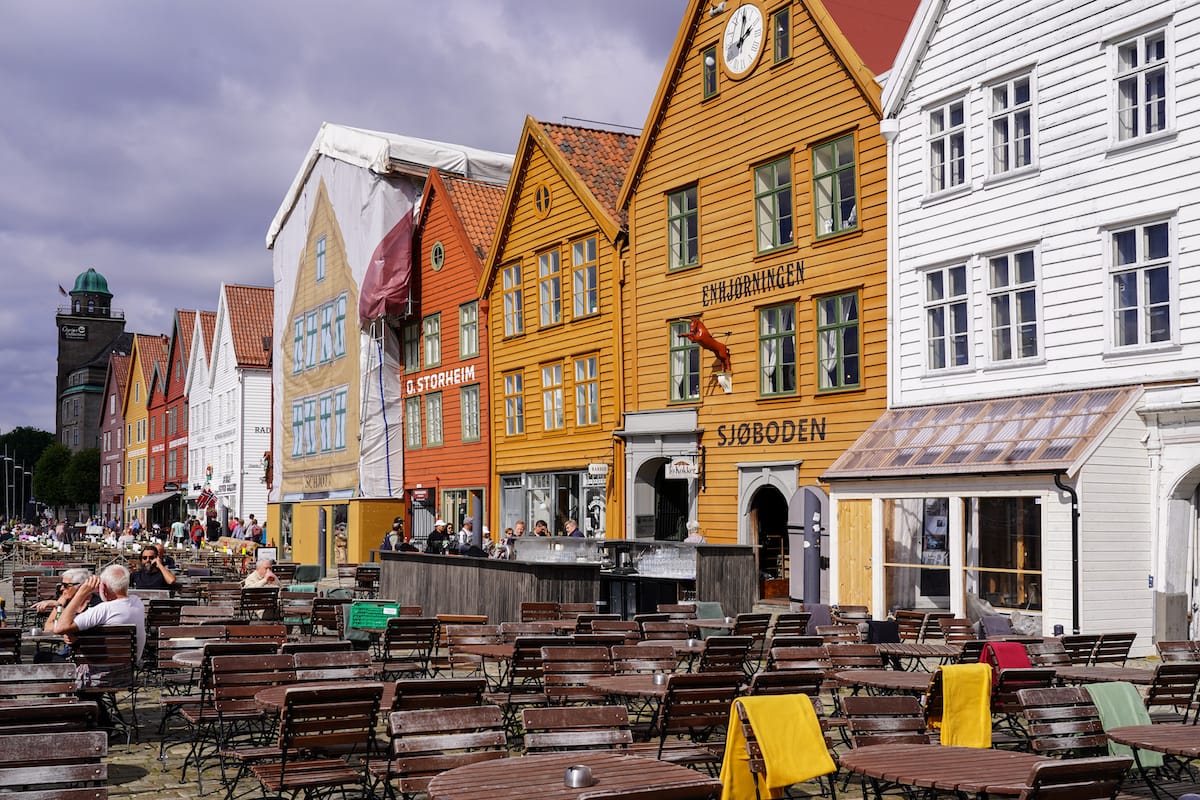 My most recent visit was in September 2022, so everything should be extremely up-to-date from that trip and from knowledge gained over the years. Norway is a safe, mind-blowing place!
This post will contain practical information for your Bergen trip (like how to get to the city in the first place!), but will also include random observations from my time there as a resident and as a traveler.
Getting to and Around Bergen
How to Get to Bergen
Before visiting Bergen, you need to figure out how to get there! Nowadays, the western Norwegian city is well-connected with the rest of Europe, making it easier than ever to fly there.
If you're coming from Oslo, you will need to fly, drive, or hop a train from Oslo to Bergen. This train is often ranked as one of the most beautiful train journeys in the world… and I can confirm that it is!
If you have the time, try to book a day trip on the train and not the overnighter. You can find timetables and tickets here.
If you're coming from out of the country, you will likely fly in. The Bergen Airport (also known as Bergen Flesland) goes by the airport code 'BGO' and is serviced by the following airlines: Air France, airBaltic, Finnair, Icelandair, KLM, Lufthansa, Edelweiss Air, Iberia, Vueling, Norwegian, SAS, Wizz Air, and Widerøe.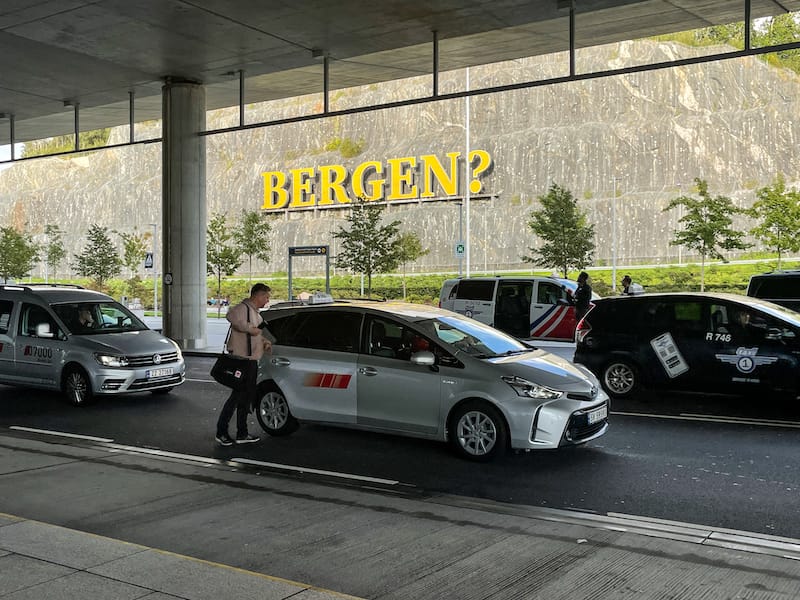 Bergen also has many charter airlines as well as seasonal routes (including a route with United Airlines from Newark).
The airport underwent a facelift in recent years and is outstanding.
Another way to reach Bergen is by the Hurtigruten. This is often a starting point for many travelers that sail up the coast on the world's most famous ship journey!
How to Get from Bergen Airport to the City
We have an entire guide dedicated to getting from Bergen Airport to the city, but I can assure you it is extremely easy.
You can reach it by rental car, airport transfer, taxi, Flybussen, or the Bybanen (light rail). I always take the Bybanen.
As of fall 2022, the Bybanen costs 40 NOK from the airport to the city (about $4). It is a 45-minute journey and you take it from right outside of the airport to the last stop called 'Byparken'.
This is the stop closest to the harbor. If you're getting off at the train station, head to the stop right before Byparken called 'Nonneseter'.
Getting Around Bergen
Bergen is extremely walkable and you won't really need to hop a bus or the Bybanen anywhere if you're sticking to the main 'tourist drag' of the city.
However, if you are, you can reach other destinations by bus or the Bybanen.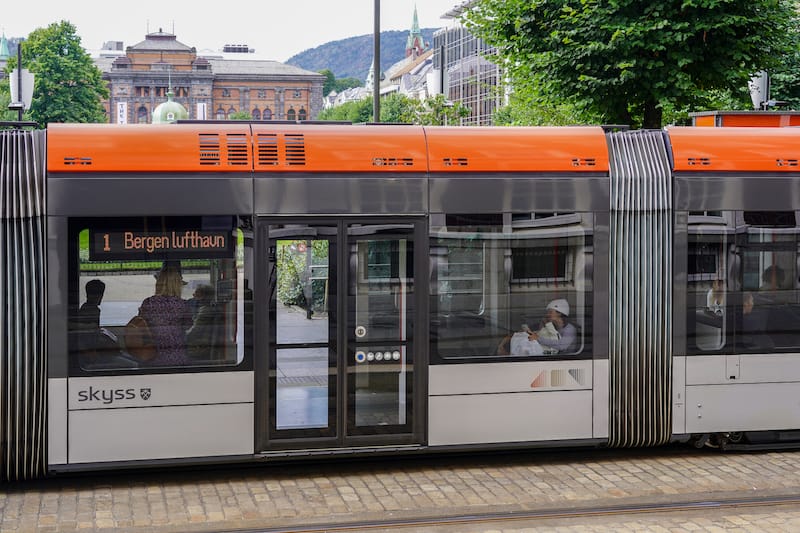 To look up timetables and information, you can visit the Skyss website (there is an English option when you look at the dropdown menu).
Driving in Bergen
One day I should publish an entire guide to driving in Norway, but for now, here are a few tips for driving in and around Bergen:
Headlights must always be on when driving. No exceptions. This is for all of Norway, not just Bergen.
The roads can be curvy outside of the cities and a bit narrow. If you're on a one-lane road, you can use the side pockets to scoot over for traffic coming in the opposite direction.
Speaking of curvy roads… this is the first area I ever experienced carsickness! The city of Bergen won't be so bad, but anything outside of it can be very nauseating if you're not used to winding roads.
Everyone wears a seatbelt. And the driver must be completely sober. There is no tolerance for it.
Go slow! The speed limits in Norway are rather low, especially in Western Norway. Just take to some of those roads and you'll understand why!
If you're heading outside of the city, you will likely hit tolls and ferries. Take care of ferry payments here. Tolls will be done through AutoPASS and you'll be invoiced. Your rental car agency will help explain this a bit more!
You must have winter tires on your car from November 1 until around Easter. If you're renting a car, the rental agency should take care of this.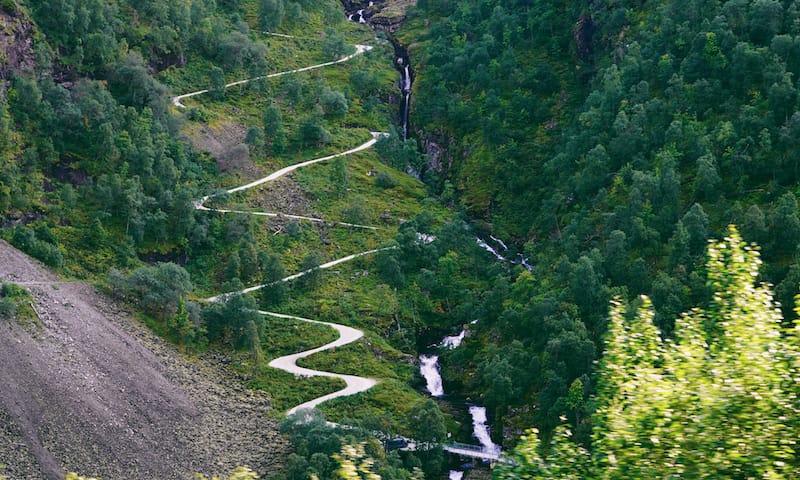 Parking in Bergen
Oh… here comes the fun part! Parking in Bergen is no fun. Almost all parking lots are privatized, and very little public parking is available to travelers.
You can chat with your hotel ahead of time to ask about the nearest parking lot/garage or you can check out a map to see what it says.
Needless to say, the closer to the harbor you get, the more expensive the parking fee. Expect to pay around 250 NOK per day near the harbor (can range from 200-280 NOK depending on the lot). This is around $25.
Truth be told, the fees seem pretty on par with what I have paid in the US, if not cheaper.
Food, Drinks, and Shopping in Bergen
Cash is NOT King in Norway
Unlike where I am currently living (Germany), cards are king in Norway. I never even take out cash when I am traveling in Norway.
While Germany is improving when it comes to using credit cards, Norway has always been good since I first moved here a decade ago!
You can use cards to buy tickets on the bus, at every kiosk, in taxis, etc. In fact, you will likely see plenty of places with a sign saying they don't even take cash. Apple Pay is also ubiquitously used in Norway.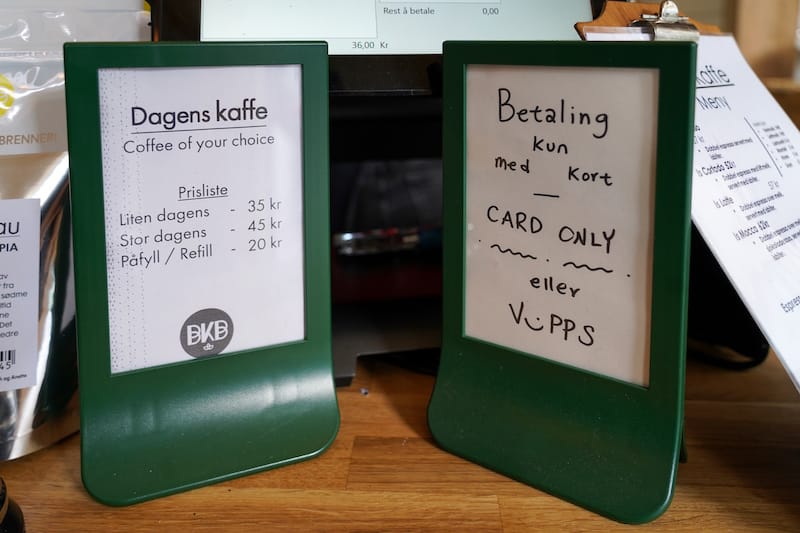 One thing to note – some American cards will require a signature on receipts, so don't run off after buying something!
If you receive foreign exchange fees from your bank for using your card abroad and in different currencies, many card machines will give you the option to select your home currency or to run the transaction in Norwegian kroner.
This happens to me a lot, so I always choose USD.
Most Shops are Closed on Sundays
Unless a shop proudly displays the word 'søndagsåpent', it will likely be closed on a Sunday!
Kiosks (Narvesen, 7-11, Deli di Luca, etc) are almost always open, but the prices are far higher than in a regular grocery store.
Just be sure to do your shopping on Saturday before the shops close on Sunday.
But, if you do forget something, there are a few grocery stores open on Sundays in Bergen's city center (and nearby). They are:
Bunnpris (Torggatan 7) is open from 0800-0100.
Bunnpris (Kong Oscars Gate) is open from 0900-0000.
Joker (Thormøhlensgate 28) is open from 0900-2000.
Most souvenir shops around Bryggen remain open on Sundays.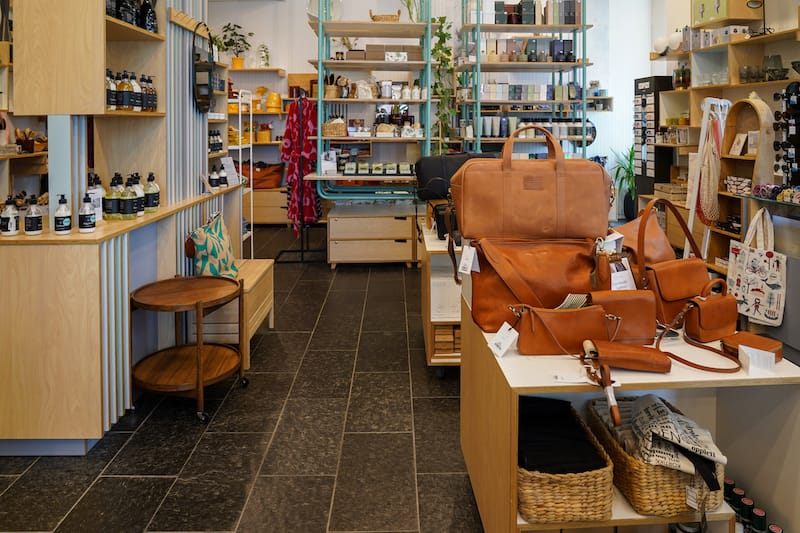 Grocery Stores are Cheaper than Kiosks and Gas Stations
Pretty self-explanatory! Grocery stores are far cheaper than kiosks and gas stations (like ⅔ cheaper).
I always found Kiwi and Rema 1000 to be the cheapest grocery stores to shop at for the items I liked.
💥 INSIDER TIP: If you have breakfast at your hotel, make a few sandwiches to-go and have them for lunch! Norwegians generally eat sandwiches for lunch, so you'll fit right in (and save some money)!
Norway's Alcohol Laws
Norway is not one of Europe's budget destinations when it comes to alcohol prices. It is a heavily taxed product, and there are many rules and regulations surrounding alcoholic beverages.
Here are some thoughts about alcohol in Bergen and the rest of Norway:
You can purchase alcohol in grocery stores in Norway on weekdays until 8pm and on Saturdays until 6pm. You can not purchase alcohol on Sundays (or election days).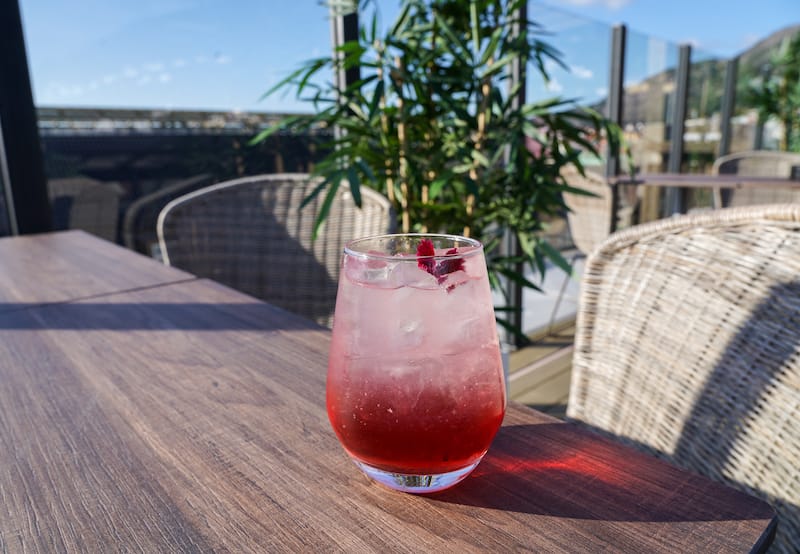 All hard alcohol must be purchased from the Vinmonopolet (a state-run shop). These shops have limited hours (usually 1000-1800 M-Sa) and are pricey. There are two Vinmonopolets in the city center of Bergen, and you can find them here:
Valkendorfsgaten 6
Strømgaten 8 (inside Bergen Storsenter)
You can easily purchase alcohol once you land in Bergen at the airport, but you have quotas (and Norway is not part of the EU, so they are different).
You can bring 1 liter of spirits into Norway with over 22% alcohol volume and 1.5 liters of wine with less than 22% alcohol volume.
You can bring 2 liters of beer into Norway (up to 4.7% ABV).
Remember this at duty-free if you choose to do your booze shopping there! This is the amount per person over 18 years old.
To buy alcohol in Norway, you must be 18 for beer and wine and 20 for hard spirits.
💥 INSIDER TIP: These days, alcohol is much cheaper in Norway than it has been in years (in my opinion). Most beers I saw in the city center were around $8-11 at bars.
Can You Drink the Water in Norway?
Yes, and it'll probably be the best water you'll ever drink in your life. I recommend bringing a water jug with you and toting it around!
At the airport and in some public spaces, you'll find water fountains to fill jugs up. Otherwise, you can fill it up at any faucet you find!
If you're getting still water at restaurants, it will be free.
Here are some of my favorite water jugs that you can purchase before your trip!
Norwegians Love Coffee
The Nordics are known for their love for coffee (with Finland being the top coffee-drinking nation in the world), and the Norwegians are right behind them!
Coffee is ever-present… and strong! Cafes are one of the best things about Bergen, and I definitely recommend hitting up a few when you're in the city!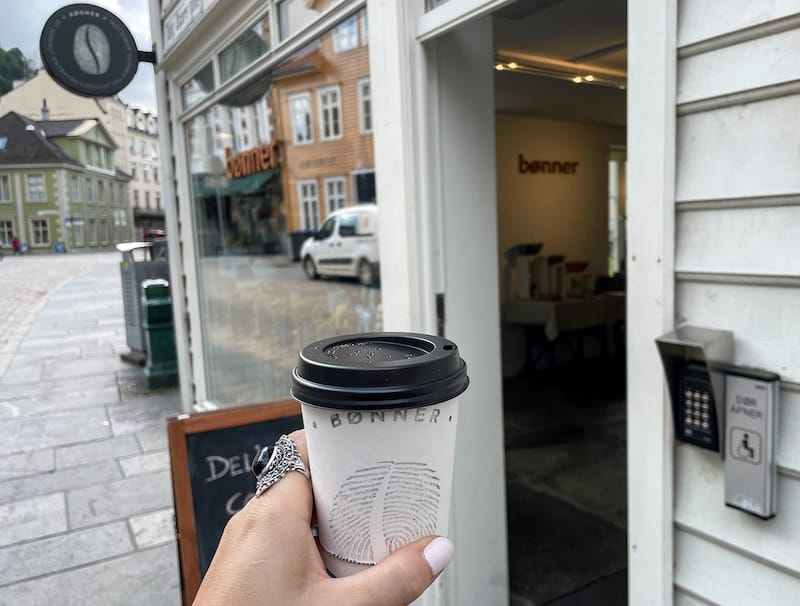 If you're okay with black coffee, order the 'Dagens kaffee' ('today's coffee') at a cafe and it will be a simple, black filtered coffee. It is one of the cheapest things on the menu. All cafes will also have dairy-free options for milk.
💥 INSIDER TIP: 'Påfyll' means 'refill' in Norwegian. You can usually get a påfyll of black coffee for half the price of a second cup! Just ask. Or, if you visit Godt Brød cafe chain, you get a free påfyll. A large cup of black coffee is around 40-45 NOK ($4-4.50) in most places.
Tipping in Bergen
Norwegians are paid well for their jobs, even in the service industry. I still tip the same by default (I've lived outside of the US for 12 years and still tip absurdly high for good service).
A tip in Norway is not usually included in a bill, but if you feel compelled to tip, it is always appreciated! I would recommend leaving 10% if you had great service.
Usually, you will be asked at the time of paying with a card. It will give you the option to post your final total so you can factor the tip in there.
Bergen is a UNESCO Creative City of Gastronomy
This part of Norway is known for its food and sustainability in its food culture. There are over 3,000 farmers nearby with organic food and over 6,500 people are employed by fisheries and the aquaculture industry.
As a result of this relationship between food, people, and nature, the city has been named one of UNESCO's creative cities of gastronomy.
Farmers' markets take place twice a month in Bergen on Saturdays. It is located by the Fisketorget (Fish Market) right in the heart of Bergen's city center and is a great place to get some local fruits and veggies!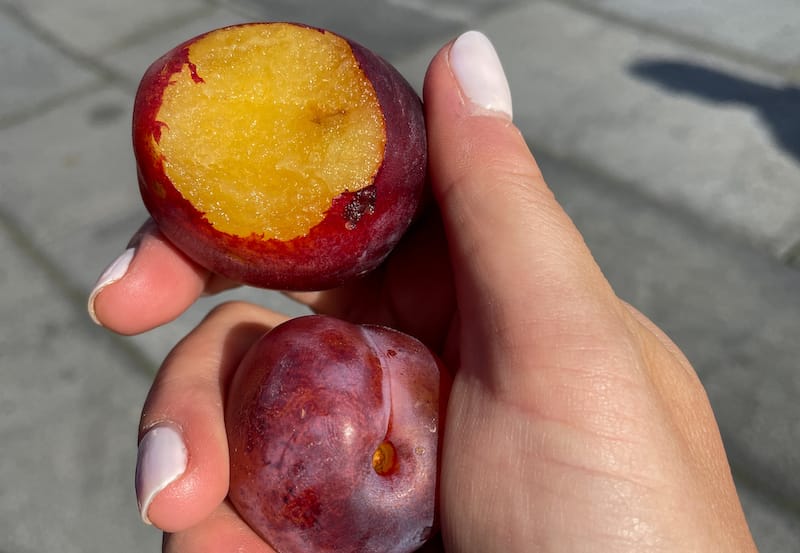 Check out the Bondens Marked website for more information.
Western Norwegian Cuisine (and Ingredients)
If you do find yourself in Bergen wanting to indulge in the local cuisine, you will need to know what exactly you're eating!
Here are some prevalent ingredients you will find in Western Norwegian cuisine:
Cod (torsk)
Shrimp (reker)
Halibut (kveite)
Mussels (blåskjell)
Whale (hval or hvalbiff)
Salmon (laks)
Lamb (lamm)
Dill (dill)
Potatoes (poteter), carrots (gulrøtter), leek (purreløk), beetroot (rødbeter)
Butter (smør) and bread (brød)
Many types of berries such as blueberries (blåbær), cloudberries (multe), lingonberries (tyttebær), strawberries (jordbær), raspberries (bringebær), black currants (solbær), and red currants (rips).
So, yes, Western Norway likes fish. And berries.
If you're looking at common dishes you will find in Western Norway, you can pretty much be assured that cod will be common across many menus!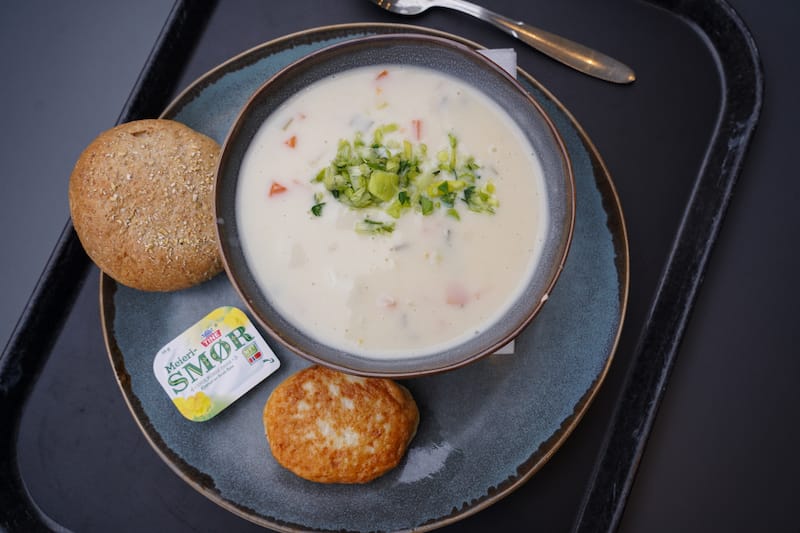 You'll also find salmon, halibut, shellfish, and lamb. Although not a conclusive list, here are some common menu items in Bergen:
Raspeballer (also called Komle): These are potato dumplings with salted boiled pork or bacon.
Fiskegrateng: a fish gratin with macaroni, topped with breadcrumbs and cheese… often on children's menus, but it is awesome so I order it if I see it on a menu.
Fiskesuppe: everywhere is different, but the creamy soup can have chunks of fish and shellfish with carrots, leeks, etc.
Fiskeballer: like meatballs but with fish – these are often topped with a creamy, white sauce.
Plukkfisk: a fish dish with potatoes, chunks of fish, onions, bechamel… often topped with bacon and green onions or leeks.
Pinnekjøtt: mostly seen at Christmas – lamb or mutton steamed for hours. Often paired with kålrabistappe (mashed rutabaga) and boiled potatoes. It's very salty and very delicious!
Skillingsboller: Bergen's version of cinnamon buns, or 'kanalboller' in the east.
Fårikål: eaten in many parts of Norway in the fall and into winter… a lamb and cabbage stew.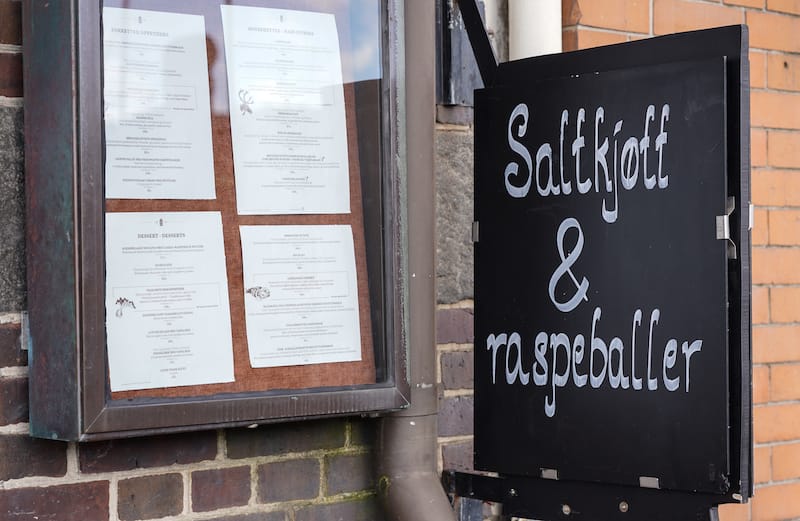 Gluten-free, Vegan, and Vegetarian Food in Bergen
Are you celiac, vegan, or vegetarian? Don't worry – Norway (mostly) has you covered! Most places will have options to accommodate any dietary choices or restrictions that you have.
You can see the words below (although most places will have an English menu):
Vegan: vegansk
Vegetarian: vegetarisk
Gluten-free: gluten-fri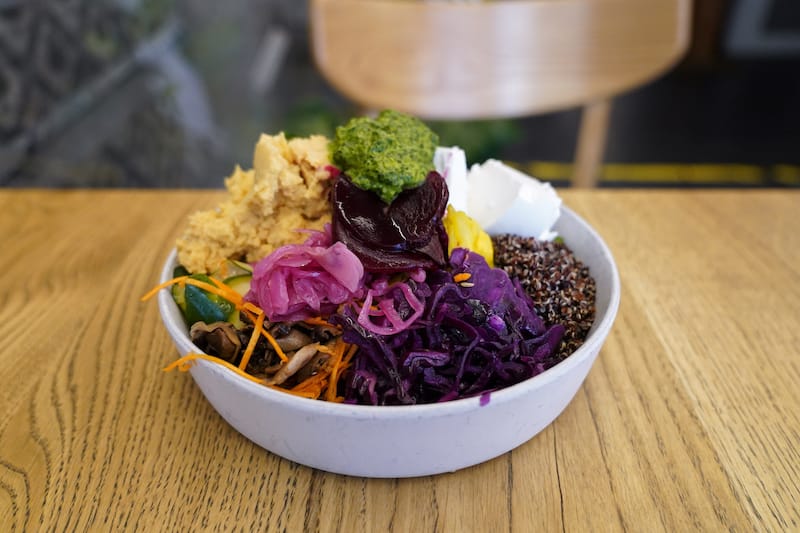 Souvenir Shopping in Bergen
Are you looking to bring back a souvenir from Bergen or the fjords? You'll find plenty of places throughout the city to grab something up… including all of the shops by Bryggen.
Whether you buy a Dale of Norway sweater, silver jewelry from Per Vigeland, or a cheese slicer from Bjørkelund, most of this can be claimed as tax-free.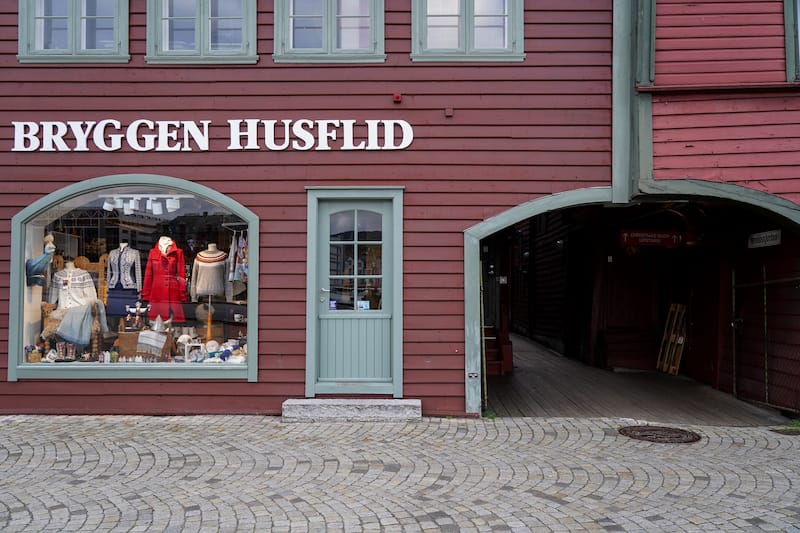 When you're checking out, be sure to ask the cashier if you can get a tax-free form and you can turn it in for some money back at the airport. Just be sure to fill out your details on the form and take it to ARK bookstore right as you go past security.
They will reimburse you that amount back on a credit card (and it takes about a week to receive it).
Bergen Restaurant Tips
I used to be unable to afford to eat out regularly in Norway, but lately, it feels a bit "cheaper" as a foreigner than it did previously due to the inflation around the world.
So, I ate out for every single meal on my 2022 trip to Bergen. Here are a few things to expect when eating at a restaurant in Bergen:
Alcohol is pricey. The markup at restaurants and bars is high, so expect to pay about $10 for a beer (and upwards of $12-15 for wine).
Tap water is almost always free! Sparkling water will not be free. No one will push you to order a drink in addition to the water.
Dairy is common in Western Norwegian cooking. Whether it be butter, milk, or cream… it is commonly used. But, Norwegians are really good at having vegan (or non-dairy) options, so check the menu, or ask.
Everyone will speak English. And almost every menu will also have English. Don't be shy about asking if you have a question!
All restaurants will take credit cards. In fact, you'll most likely stumble across a restaurant that won't accept cash.
Take-away can be cheaper than eating in, so if you see two menus, don't be alarmed. The takeaway menu may say 'ta med' and the dining-in menu may say 'spise her' or something along those lines.
The Fish Market is atmospheric to walk around and there are some good stalls there, but many don't have the greatest reviews and are overpriced. If you're looking for a cool experience near the harbor, head to Søstrene Hagelin and get a cup of 'fiskesuppe' to-go (on their 'ta med' menu). It is delicious and you can sit at the harbor and eat it!
If you purchase a bottle of soda or something at a grocery store, you will often be charged a 'pant'… or a small fee (currently 2 NOK). This means you can bring the can/bottle back and get some money back by putting it in a machine in the grocery store. Then you will get that amount discounted at the cash register. It adds up!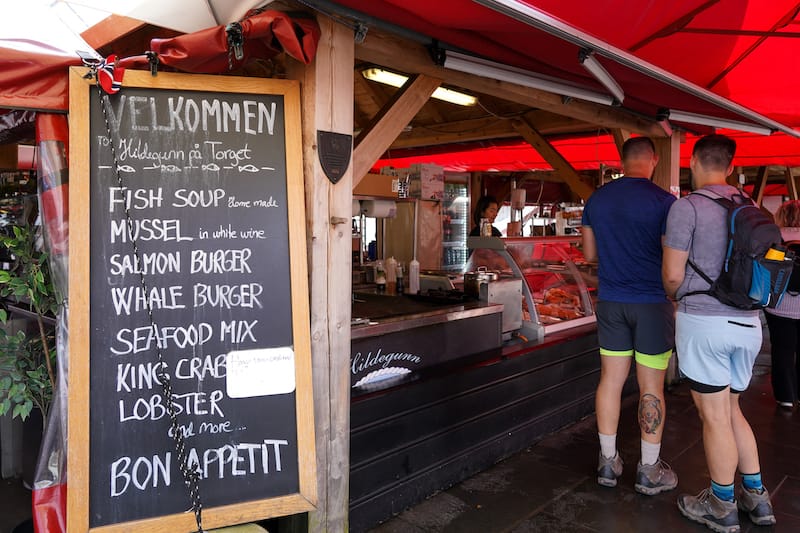 Practical Information for Visiting Bergen
The next section is some practical information that will be helpful for those visiting Bergen.
Best Time to Visit Bergen
Visiting Bergen at any time of the year offers its perks (hey, I love Bergen in winter, although many may disagree!), but I think the best season to visit Bergen would be summer.
Summer has the best chance of clearer skies, and the weather will be milder. However, this summer was notoriously bad, according to locals. It rained every day and was one of the worst summers in decades!
But, I arrived on August 30 for six days and never saw any rain whatsoever. Yes, this was an anomaly, but still pretty cool!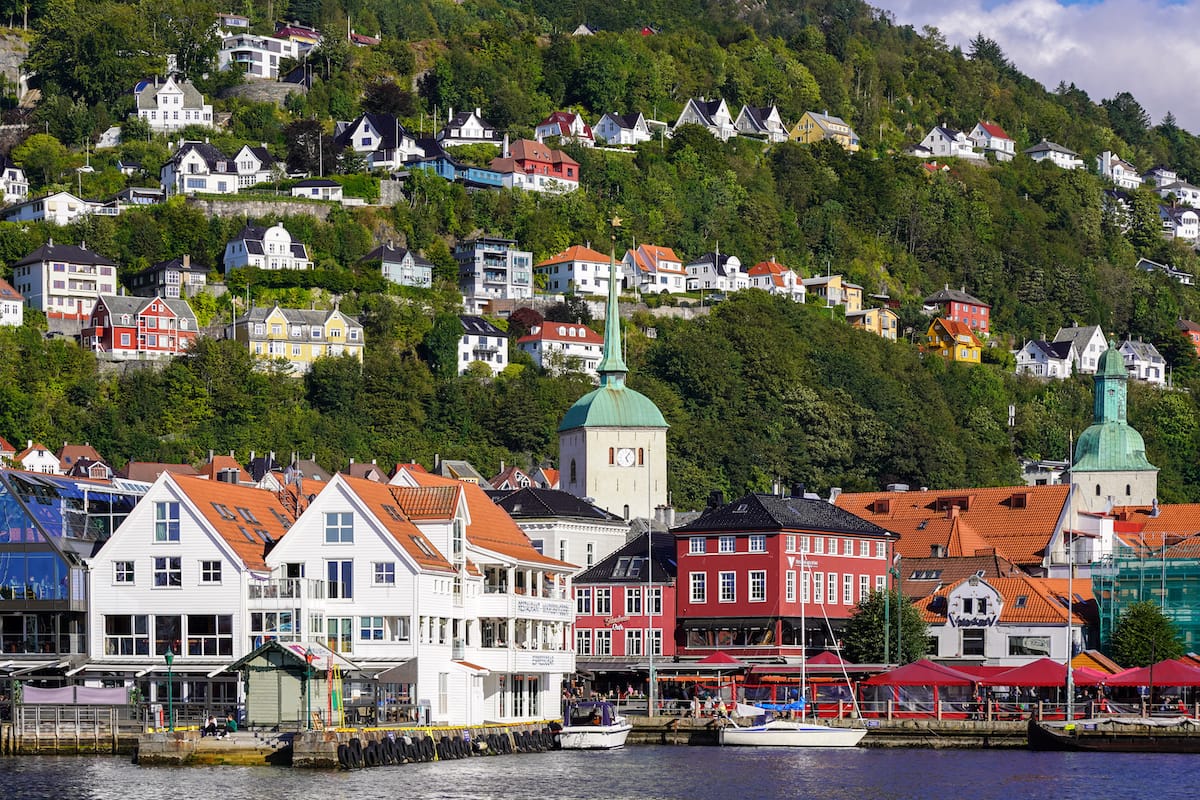 I will mention that autumn tends to be the nasty season. It is often rainy and really windy. The driest month, however, tends to be May.
If you're looking to explore many of the best day trips from Bergen while there, make sure you plan your trip in the months that will allow you a fair amount of light!
Does it Really Rain that Much in Bergen?
Um… yes? When I first moved to Bergen, I heard it was rainy, but I never compared it to the US. I lived in Ohio, which I found to be especially rainy and miserable for a lot of the year.
Little did I know that Ohio has 130 rainy days annually and Bergen has 239. Ouch.
The wettest months are October until January, and the driest months are May and June. But, regardless of which month you visit, expect at least 15-18 days of rain.
But, the best part about the rain in Bergen is that there are different types of rain. It'll drizzle, then it'll be misty, and then you'll get a torrential downpour.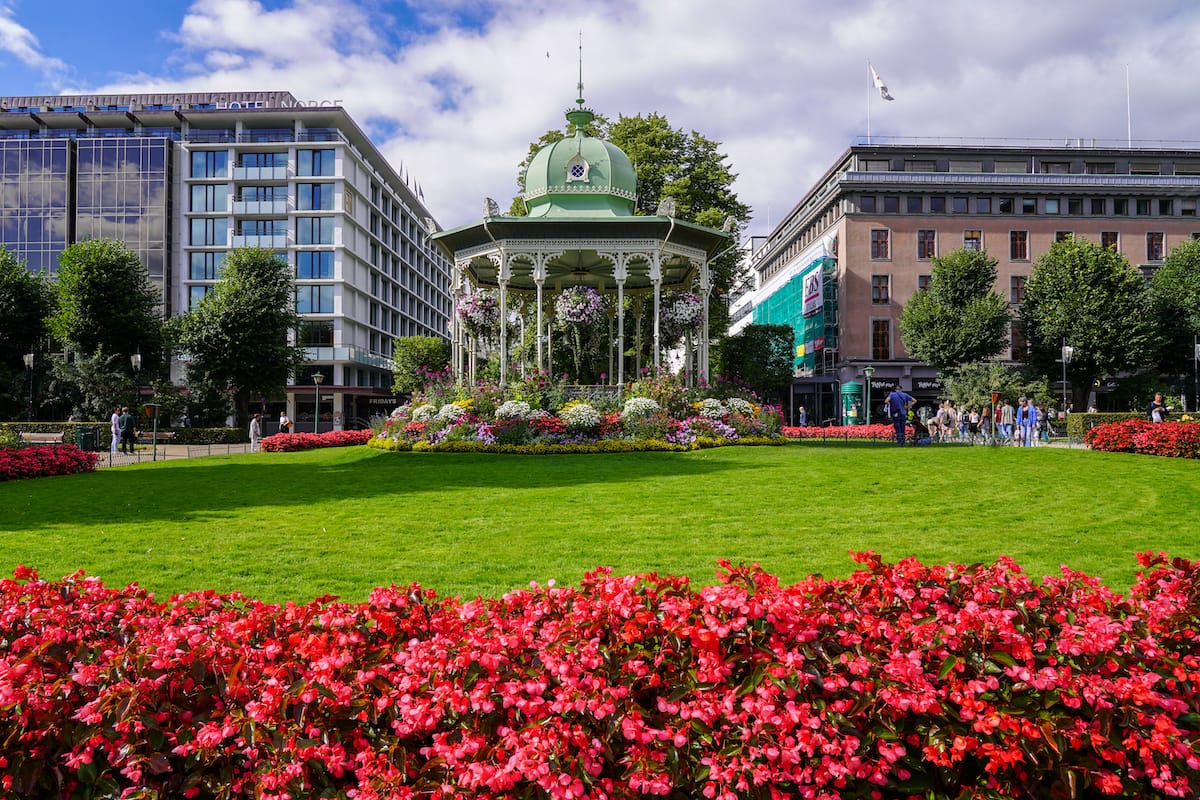 Because Bergen is situated between seven mountains, the weather gets trapped and doesn't really move anywhere.
Do umbrellas help? Sometimes. But, sometimes the city is referred to as an 'umbrella graveyard'. If you're looking to stay dry, opt for a rain jacket and rain pants instead!
💥 PRO TIP: Many hotels (especially chains) have umbrellas for guests to use in the lobby. This can save heaps of space in a suitcase (and weight).
Sun and Daylight in Bergen
Bergen is definitely not the Arctic, but it is Northern Europe and that means long summer days and short winter days! You can see the sunrise/sunset times on the summer and winter solstice below:
Summer solstice in June: sunrise at 0410, sunset at 2311
Winter solstice in December: sunrise at 0945, sunset at 1530
While you will see a bit of sun in the winter months, because of Bergen's seven mountains and lower snowfall numbers than other Norwegian cities, I find it feels a lot darker.
And around the summer solstice, you will never see pitch black nights (it will be a bit blue when the sun is down).
When the sun does come out in Bergen, Bergensers flock to parks and the outdoors! And one thing to not overlook is that you really should wear sunscreen in Bergen in the summer.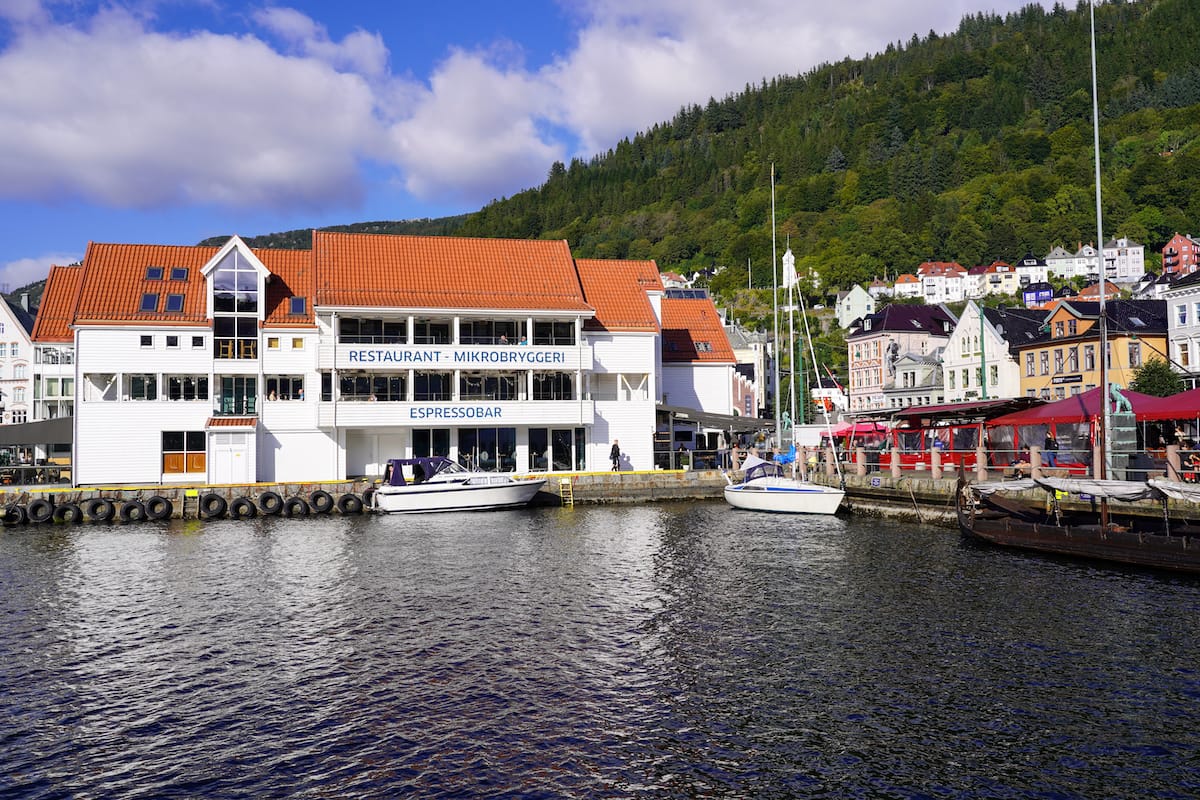 While the temperatures may be cooler than you're used to, the sun is actually closer to you than you'd expect (based on latitude) and it is super easy to burn.
Are there Northern Lights in Bergen?
Rarely, but don't count on seeing them if they are around. First of all, you have a lot of light pollution. Secondly, it is rare that they are that far south.
Third of all, Bergen is likely not going to grant you a 'clear skies' pass so that you can check them out.
If you're looking for the aurora, it is best to head to Tromsø for it!
How Wheelchair Accessible is Bergen?
Bergen is pretty old and many of the buildings are not wheelchair accessible, unfortunately. However, anything that has been built in recent years has always been built with accessibility in mind.
Here are a few that have listed themselves as wheelchair accessible:
Olivia at Zachariasbryggen
Lysverket
Michelsen Kafe og Bar
Egon Kjøttbasaren
Wesselstuen og Logehaven
Fløien Folkerestaurant (top of Fløien)
Dr. Wiesener (will need to go to top of the hill to enter)
26 North Restaurant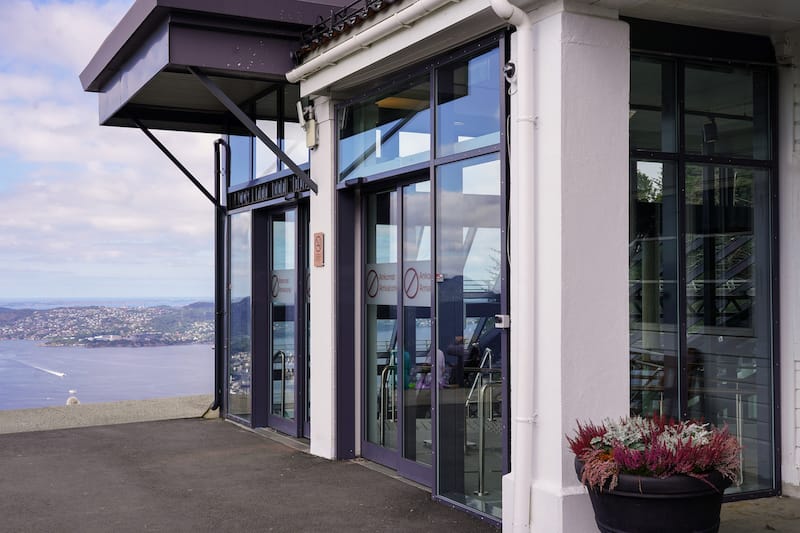 If you're looking for wheelchair-accessible museums and attractions, the tourism office has a list you can check out here!
Do You Need a Power Adapter for Bergen?
Most of the readers here will be from the US, Australia, or the UK (considering this is written in English), and if you are from one of those places, please note that you will need a power adapter for Norway.
The country uses a European socket that you will find across the continent (except the UK) with 220v.
I recommend bringing a power strip with you so that you only need to buy one adapter to put at the end of the power strip. Remember to turn things off and on when in Norway, as the electricity there is hydroelectric!
>> Click here to find a power adapter for your Norway trip
Useful Things to Know Before You Travel to Bergen
Bergensk Dialect
So, in Norway, there are two official written languages, and they are called Nynorsk and Bokmål. I learned to write in Bokmål which is what a lot of the larger cities use, particularly Oslo.
However, many villages and towns throughout the fjords will be written in Nynorsk. If you have grown accustomed to seeing certain words and then one day, you see them written differently, this could be the reason why!
While the written languages are pretty cut and dry, the spoken language is anything but.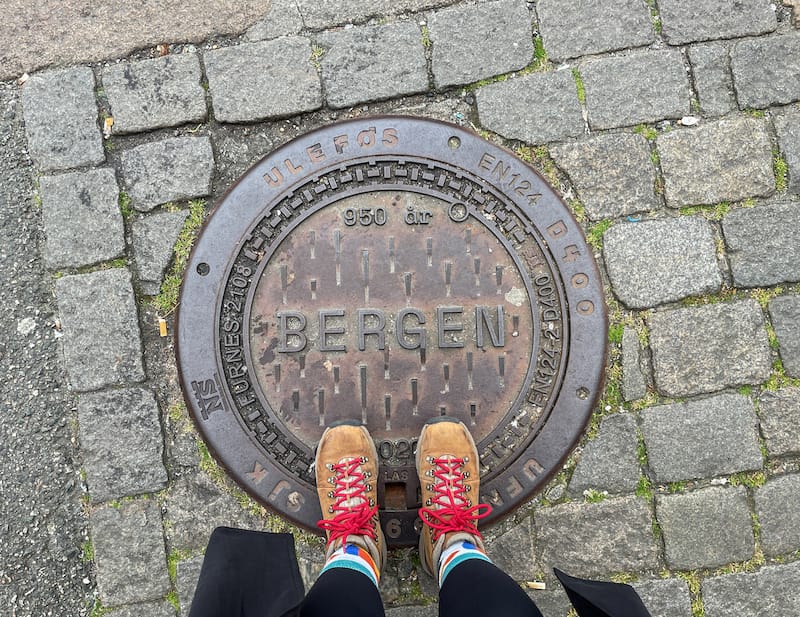 There are so many dialects in Norway and Bergen has its own dialect called 'Bergensk'. And… it is very recognizable and Bergensers are proud of it.
I learned a lot of Bergen slang and sayings when I was there, and when I incorporated it into the eastern dialect that I learned, it was all kinds of confusing.
If you learned a few words before your trip and people may not have sounded like what you envisioned, this is likely why! You'll fair better in Oslo with the Norwegian dialect that you learned.
Best Area of the City to Stay In
If you're looking for a truly Bergen experience, stay outside of the city. However, I simply find it easier to stay in the city center.
During the high season, you will need to book accommodation well in advance (I booked my last trip a few days prior and there were only around ten hotels with availability). If you're booking in the low season, you will have no issue… and prices will be far cheaper!
If you're looking for an area to stay in that is close to the city center but quieter, try looking into Nordnes. It is a short walk from the action, but quiet and charming in its own right.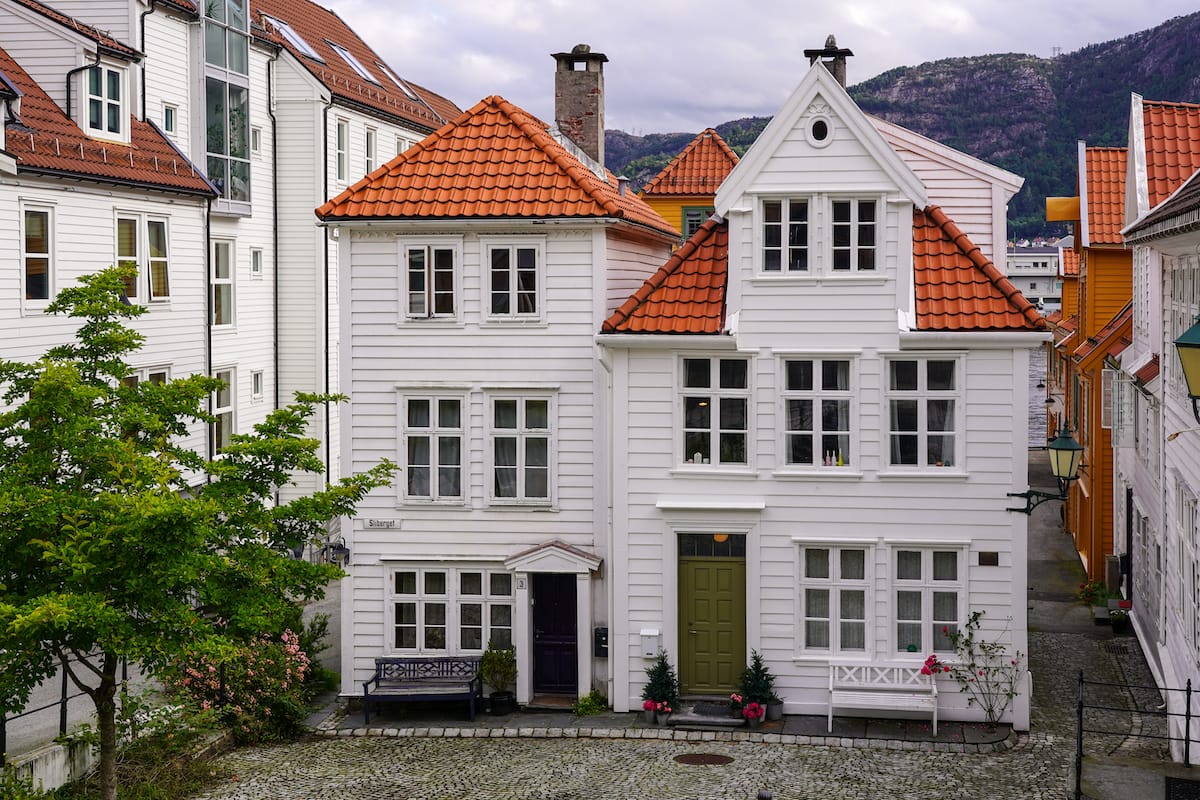 Sandviken is also not far from the city center and it is close to many museums, as well as Gamle Bergen's open-air museum.
Those that see the 'Citybox Hotel' pop up as a cheap option on Booking.com need to know that this hotel is not in the city center and will require a Bybanen ride back and forth.
You will also find many Airbnbs in Bergen.
Hiking in Bergen
Many people use Bergen as a launchpad for other places in the region. While Voss attracts adventurous travelers, don't write off Bergen as a hiking destination!
You will find plenty of trails within the city itself and some of them are truly fantastic!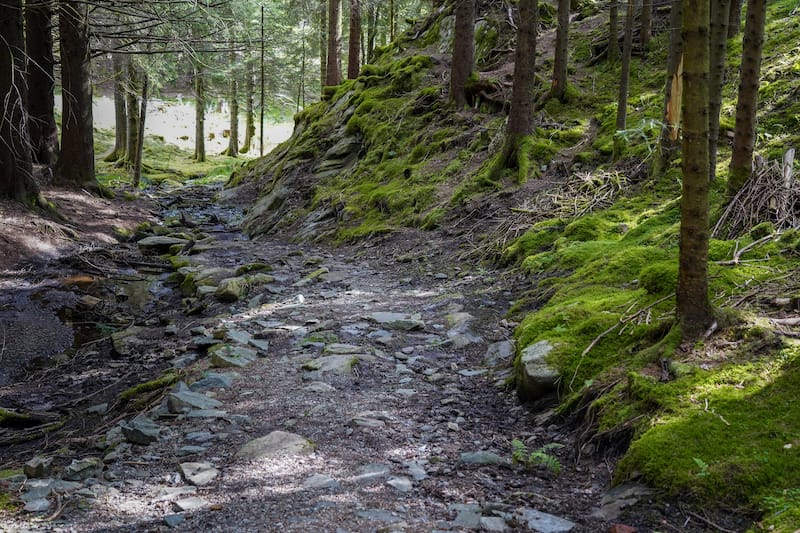 In fact, you can hike between Fløyen Mountain and Ulriken Mountain right above the city. This hike is of moderate difficulty and takes around 4-5 hours or more depending on your stamina.
To reach the train, you can either take the Fløibanen or Ulriken Cable Car and the trailheads start right there.
Bergen Card: Is it Worth It?
Is the Bergen Card worth it? This city pass can be purchased for 24, 48, or 72 hours and offers a plethora of discounts throughout the city.
So, is it actually worth the price? To be honest, it depends on the type of trip you have planned! The card has several museums on it, and many of them are free! It also has the Ulriken Cable Car and Fløibanen on it and the price is reduced.
You also get transportation included. However, the card only includes a few tours… so it may not be worthwhile if you're planning several trips to fjord country while in Bergen.
But, if you hit the city on a rainy day, it might be the perfect thing to purchase!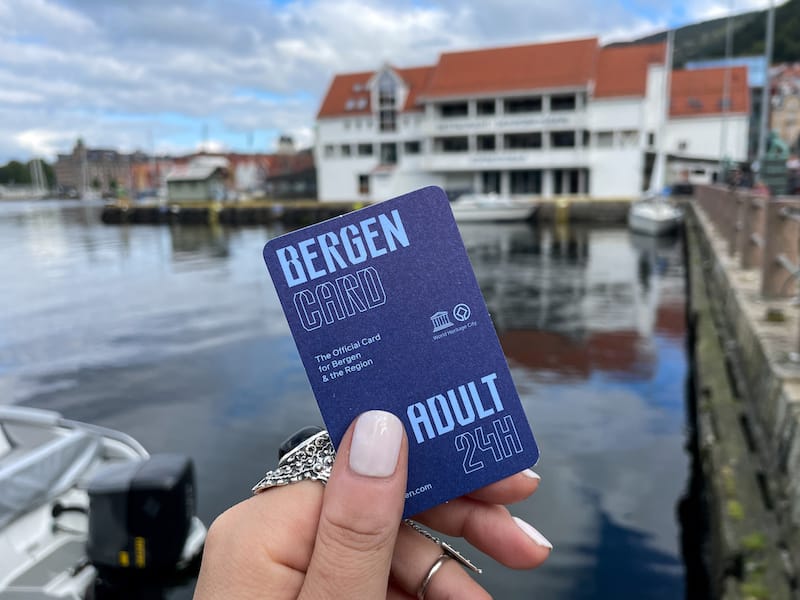 The cinema even has a discount on the card! You can pick a Bergen Card up at the Tourism Information Center right by the Fish Market and harbor, or you can purchase one in advance here.
Traveling to Bergen on a Budget
If you're traveling to Bergen on a budget, here are some of my best tips for you (some were already mentioned):
Shop in grocery stores as much as possible and never in kiosks. You can also buy bread (they have bread slicers in grocery stores!), pålegger (toppings like cheese and ham), and mayo/caviar in the shops.
Never use a taxi. The Bybanen and buses are super cheap and you can purchase a day pass. Or, Bergen is pretty walkable and you can get around on foot.
Don't shop or eat around Bryggen.
Hot dogs are cheap(ish) in Norway and a rather popular thing to eat! You can get them at the popular hotdog stand near the Fløibanen or at any 7-11/Narvesen. Alternatively, you can grab falafel or kebab throughout the city.
If you have hotel breakfast included, make extra sandwiches for lunch/dinner and pack them into small bags.
Skip the cappuccinos and lattes and opt for a 'dagens kaffee' (black, filtered coffee) where you can get a refill for a lot cheaper than a second cup of coffee. Godt Brød offers a free refill.
Many restaurants offer cheaper prices on takeaway food.
Bring a reusable water bottle with you. The tap water is exceptional in Norway and you won't have to purchase bottles from a store. Water is also free at restaurants so you can save money there!
Get discounts and freebies with the Bergen Card!
Did we miss any useful Bergen travel tips you'd like for your trip?
Let us know what you're interested in knowing before you visit Bergen, Norway in the comments!
More Bergen Travel Guides
Pin this Visit Bergen Travel Guide