This guide details the wonderful reasons why one should choose to travel to Lanzarote in winter as opposed to other seasons.
Are you planning your trip to Lanzarote last minute?
If youʻre booking your trip to Lanzarote last minute, we have you covered. Below are some of the top tours, hotels, and more!
🌊 Top Activities and Tours in Lanzarote:
🛌 Top Hotels in Lanzarote:
Casa Salinas Playa (Orzola apartment)
Hostal San Ginas (hostel and hotel I stayed at – budget option!)
Playa Blanca Marcastell (Playa Blanca apartment)
🚗 Looking for the best way to get around Lanzarote? Click here to check rental car rates for the Canary Islands!
It will tell you what to expect during winter in Lanzarote, plus all the great things to do there in the low season.
Winter in Lanzarote – Should You Book a Trip?
I actually visited Lanzarote in December. It is very rare that I book long trips during the earlier part of winter as I reserve them for dreadful February, but this was different.
My winter trip to Lanzarote was pretty dang perfect.
The weather was usually sunny but did have the occasional rain pass through (it never lasted long at all).
There was plenty to do and while I expected most businesses to be shut down during the low season, it was quite the opposite. Businesses just had shorter hours if anything.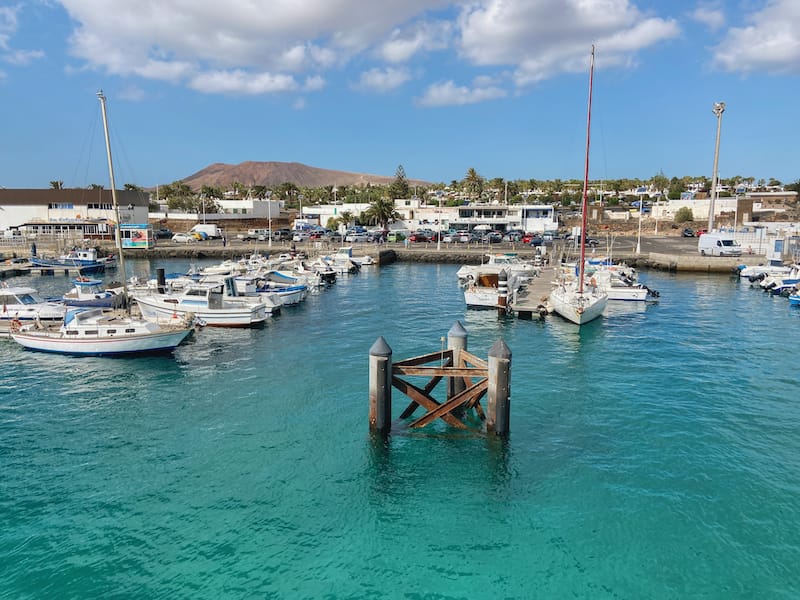 The tickets, food, hotels, and everything else seemed to be at a discounted rate compared to usual and my wallet appreciated that.
My Lanzarote winter trip was pretty epic, if I do say so myself.
The weather ranges from about 18-22C on average on Lanzarote during the winter months.
There were definitely tourists still there, but most came off of cruise ships so the cities and towns were a bit quieter in the evenings. It also made for a more personal experience than I would have anticipated during the busier summer months.
Restaurants did not have many people in them and the service was usually exceptional as a result.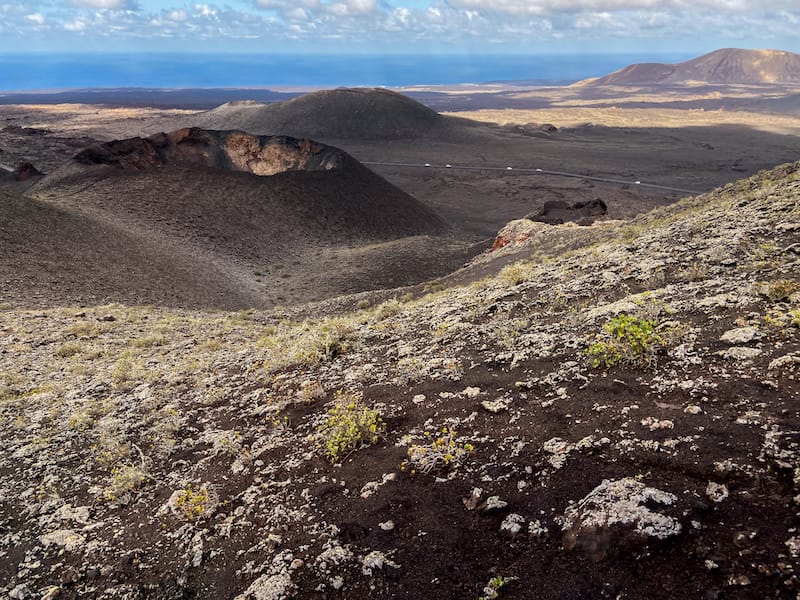 I also found the tours had other travelers, but you had a chance to feel like it was a more intimate experience than it would be during the summer months.
All in all, I would most certainly recommend traveling to Lanzarote in winter if you aren't looking for a holiday of just swimming and sitting by a pool.
Best Things to Do in Lanzarote During Winter
There are many things to do in Lanzarote during winter and this guide will cover some of the highlights.
Please drop us a comment on additional activities and things if you know of them as it will help future travelers enjoy their time there!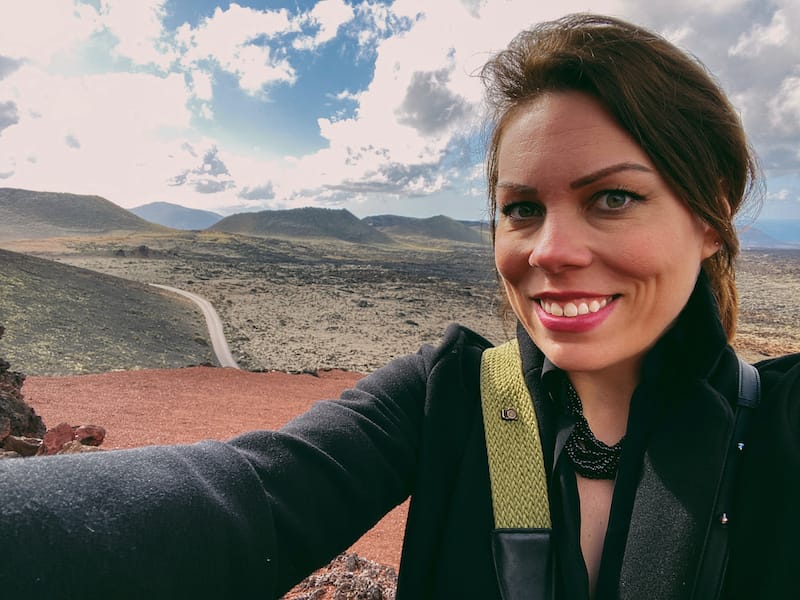 1. Learn More about Cesar Manrique
It is literally impossible to visit Lanzarote and not hear about Cesar Manrique, the island's most famous architect and name, at least one time.
Every single tour I took on the island took me to places that were created by him and gave me the opportunity to learn more about Manrique and his exquisite work.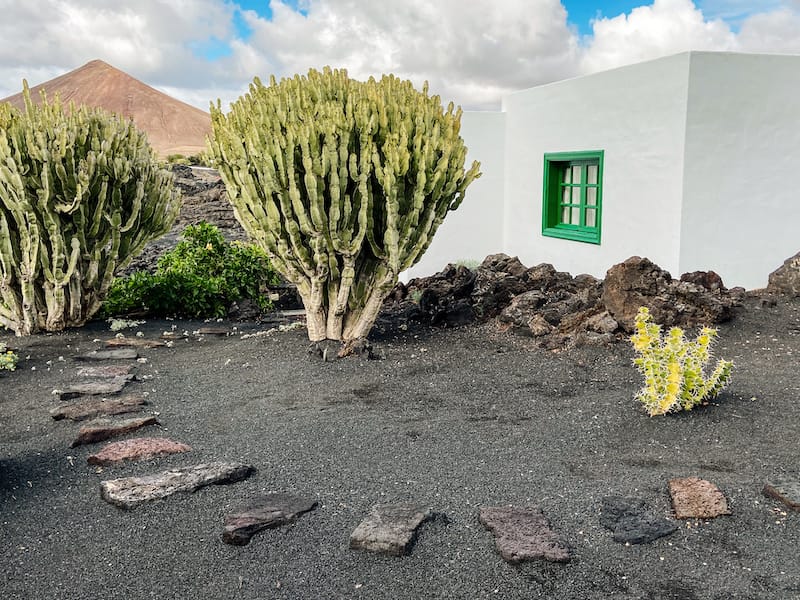 Another great place to learn about Manrique is at the Cesar Manrique Foundation in Tahiche.
I went there as part of my tour of north Lanzarote and it was a great place to learn more about his life and work that he dedicated to making Lanzarote the awesome travel destination it is today.
Nevertheless, if you don't have time to visit the Foundation or museums dedicated to him, you can still see his work spread throughout Lanzarote.
Book your Cesar Manrique tour: Full-day Cesar Manrique tour of Lanzarote
You can also take a tour of Lanzarote that focuses solely on Cesar Manrique.
To be honest, my favorite types of architecture lean toward old brutal modernism and I didn't think the work of anyone today would be of interest to me.
I found Manrique to be extremely enthralling and his work to be a breath of fresh air.
While I didn't get a chance to take this specific tour, it gets exceptional ratings and it is high on my list for my next trip to Lanzarote.
Click here to check rates and availability for the Cesar Manrique tour of Lanzarote.
2. Visit La Graciosa
One of my favorite days in the Canary Islands was the day I took a day trip to La Graciosa from Lanzarote.
La Graciosa is technically the newest Canary Island and its landscapes sure are rugged and unique to Lanzarote itself. It is definitely worth a visit!
To reach La Graciosa, you will need to take the 15-minute ferry from Orzola. Orzola is the northernmost town on Lanzarote and is a nice place to relax for a night before taking the ferry the next day.
Book your La Graciosa ferry: Round trip ferry ticket to La Graciosa from Orzola
I found good food and a really nice place to stay there and I could have stayed a few days longer just on that premise. Anyway, La Graciosa is kind of adventurous and kind of chill at the same time.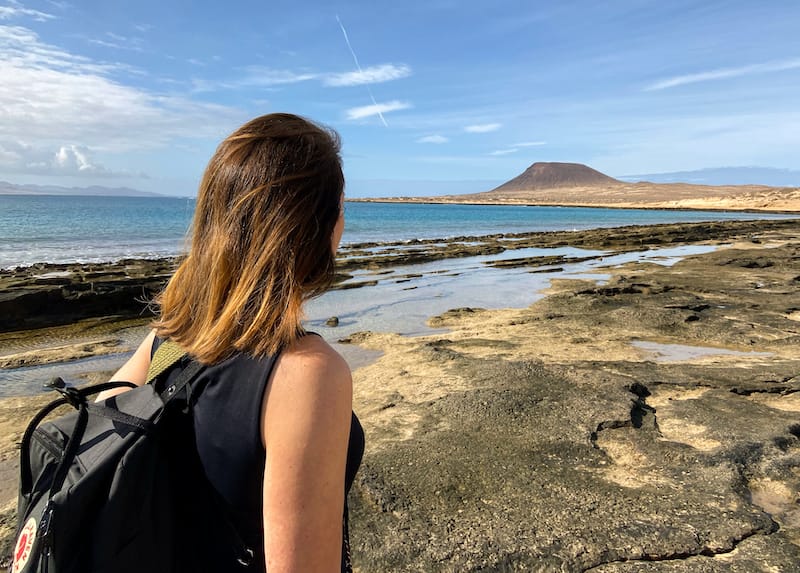 On La Graciosa, you will likely arrive in Caleta de Sebo, the capital of the island. That is where you'll find almost everything from food to tour pick-up to hotels and villas.
The town's origins are in a fish-salting factory that was open there until the middle of the 19th century. Nowadays, it still feels like a quaint fishing town, however.
Since I was there during the middle of the Lanzarote winter, there weren't many tourists there at all. In fact, it felt almost a bit like a desert island in the middle of nowhere that was yet to be discovered (in a good way).
There are a few beaches worth visiting on La Graciosa. The closest one to Caleta de Sebo is El Salado and it is permitted to camp on the beach if you desire to stay overnight!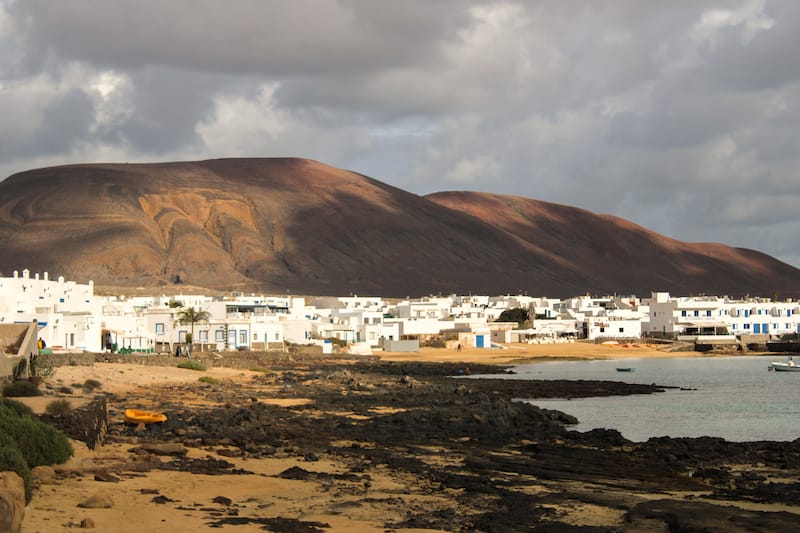 Otherwise, I recommend walking 2.5 kilometers to Playa Francesa or an additional 1.5 kilometers from there to Playa de la Cocina.
They offer impressive views of Montana Amarilla and the sand is a gorgeous mixture of colors. It was truly remarkable and breathtaking!
On the island, you can go scuba diving, an activity the island is known for.
Book your trip to La Graciosa with one of these tours or ticket options:
If you get seasick, be sure to bring some pills with you for the ferry ride.
It is only 15 minutes, but when I took it during winter, it was a bit 'rough' for my liking! Just a quick note for those traveling there.
3. Try Lanzarote Cuisine (Especially Stews!)
The food in Lanzarote actually surprised me. I was certain that the island specialized in solely seafood and truthfully, I didn't really do my research prior to traveling there.
What I discovered was a whole range of delicious dishes that offered seasonal options and everything ranging from stews to octopus salads.
The stews in Lanzarote made for such a fantastic winter dish, to be honest.
While the weather was mild, the evenings could get a little chilly and nothing excited me more than knowing I'd get to order a heaping bowl of a stew of some sort.
Ropa vieja is a common stew you'll find on the island that is made of chickpeas, protein, and a flavorful broth/sauce.
I saw it on various menus and it almost always was a unique variety which was kind of exciting.
Caldo de millo is also a really delicious corn soup that you'll see ubiquitously on menus during the cooler months.
Lanzarote's cuisine is pretty diverse and I highly suggest trying as much of it as you can during your winter trip to Lanzarote!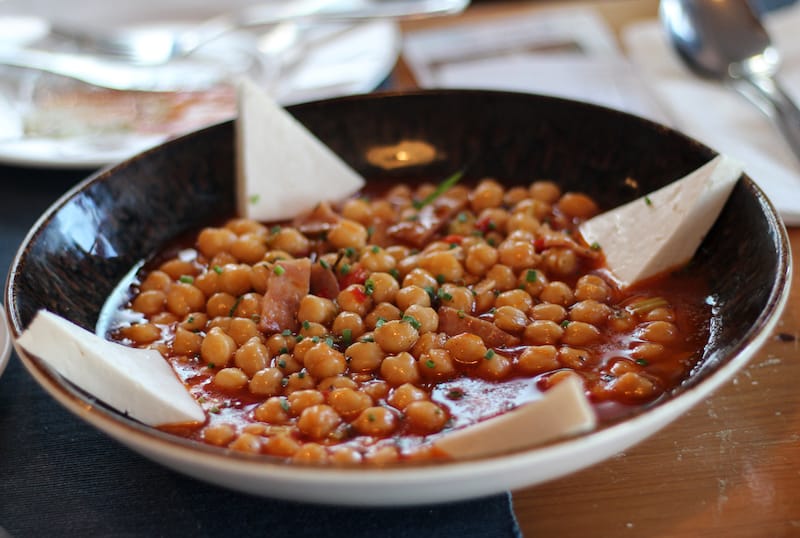 4. Explore Lobos Island from Playa Blanca
One of the biggest highlights for me from my trip to Lanzarote and Fuerteventura was visiting Lobos Island.
It is an easy excursion from Corralejo in Fuerteventura, but you can actually take a trip there from Lanzarote, too.
Lobos Island is a sanctuary for rare species of birds and reptiles like lizards and more.
There are several ways to get to Lobos Island and the best way to explore it at your leisure is actually to be based in Corralejo for a day or two.
Corralejo is on Fuerteventura, a short ferry ride away from Lanzarote. However, there are a few tours that are available from Lanzarote to Lobos Island.
One tour we recommend is this dolphin spotting tour that goes to Lobos Island from Lanzarote.
It is a half-day tour that will put you on a boat with an experienced guide as you cruise through the cerulean waters of the Atlantic.
Book your Lobos Island tour: Half-day dolphin spotting tour to Lobos Island from Lanzarote
I really loved Lobos Island and recommend it to everyone visiting Lanzarote or Fuerteventura.
The island can be quite hot, even in winter, so do pack sunscreen and a lot of water with you!
Be sure to stay on the path when hiking and walking around the island as it is illegal to stray off.
5. Marvel at Papagayo Beach
One of the best things to do in Playa Blanca and Lanzarote, in general, is to visit Papagayo Beach(es).
These beaches are easily one of the most remarkable places in all of Lanzarote and a can't-miss if you want to see one of the best natural sights there.
You may hear of this beach referred to as one or as many. In fact, it is a total of about four main beaches- Papagayo, Playa Mujeres, Playa Pozo, and Playa de la Cera.
These are referred to as the Papagayo Beaches and you can actually walk from one to another if you have it in you!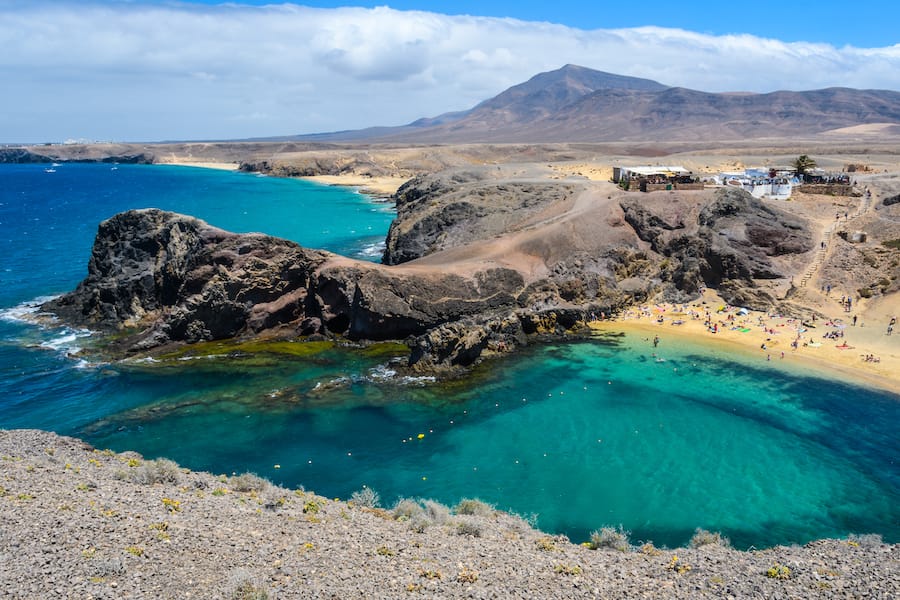 The beaches remain a bit secluded and offer a quiet and relaxing day, but getting a taxi there from Playa Blanca can cost you upwards of $60 or so.
Book your trip to the Papagayo Beaches with one of these tours:
As a result, we recommend taking a tour there if you're adhering to a tighter budget. A few tours are available, and they all run in winter.
Amenities at Papagayo are lacking so bring your own towels, beach chairs, etc. The beaches are top-rated for activities, however. It is great for swimming, snorkeling, and water sports!
6. Go Dolphin Spotting
Another popular Lanzarote winter activity is dolphin spotting.
This has become a popular thing to do there because dolphins are very prevalent in the winter whereas, in many other places, they are not.
Sometimes, if you're lucky, you can also see whales on cruises and spotting boats… but dolphins are much more likely to be seen.
The recommended way to see dolphins in Lanzarote is by joining a sunset cruise or a boat trip.
This sunset cruise lasts for 2.5 hours and will take you out for Champagne (included in the price) on a boat to check out the sunset and the dolphins calling the local waters home.
It is a highly recommended tour for those visiting Lanzarote in winter or summer!
Alternatively, you can join a mini tour to go and see the Lanzarote dolphins. This 1.5-hour cruise will take you out to sea to check out the local dolphins and also give you time to swim or snorkel.
7. Take a Ride through Timanfaya National Park
If someone asks me what I think of when I think of my time in Lanzarote, it would definitely be Timanfaya National Park and its lunar-like scenery.
I was completely blown away at how stunning the landscapes were and how obscure and absolutely mind-blowing it was. I genuinely thought this kind of scenery only existed on Mars!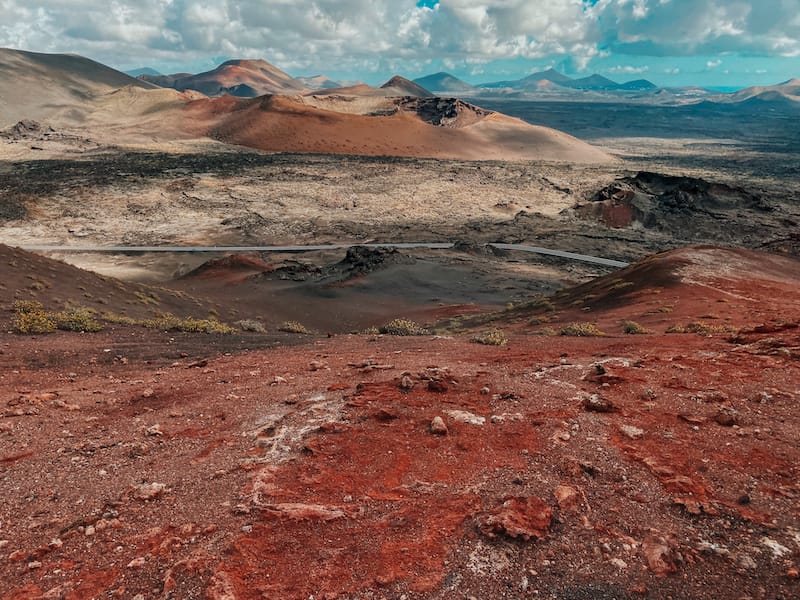 Timanfaya National Park is rather protected so you can't just roll up and stroll throughout it at your own leisure. It is still a potentially dangerous place… so, fair enough!
But, everyone visiting Lanzarote should still get a chance to see Timanfaya and the best way to do so is to join a tour of it.
Book your trip to Timanfaya National Park with one of these top-rated tours:
While the tour I joined was not my favorite one I've ever been on, I understood that the park can not just allow visitors to stroll through it.
As a result, the tour was mostly on a bus. Nevertheless, it was SO worth seeing this scenery with my own eyes and it was truly one of the most beautiful places I've ever seen.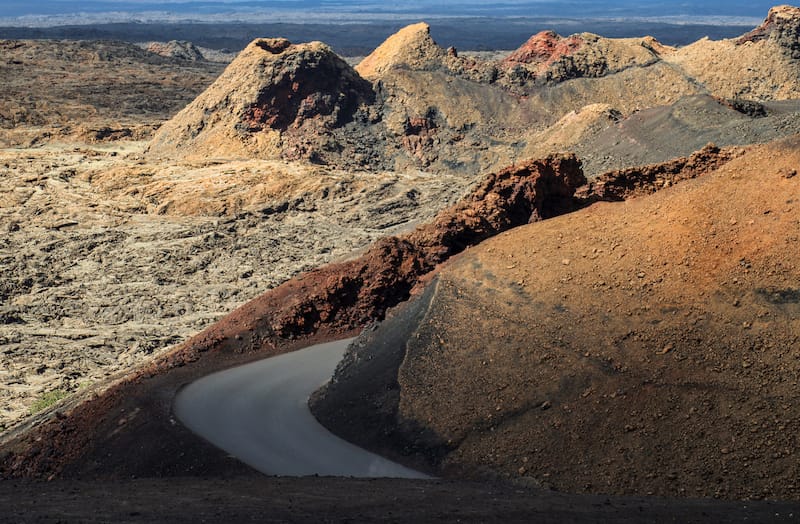 If you're an active traveler, you will have the chance to experience the National Park by hiking, if you wish!
I wish I had booked this experience, personally, as it would have allowed me to get up close and personal with Timanfaya and the volcanoes, but there's always next time!
This hiking tour of Timanfaya National Park can be booked through our partners at Manawa and it is highly, highly recommended for those wanting to not be in a vehicle to see the park!
In addition, they will provide transportation for you if you can't get to the meeting point yourself.
8. Attend the Saborea Lanzarote Wine and Gastronomic Festival
The Saborea Lanzarote Enogastronomic Festival is an event that takes place at the end of every November and it is the largest gastro event in the Canary Islands.
The greatest thing about this event is that it puts local ingredients center-stage and really highlights them and focuses on the regional destination as well as the product itself.
The Lanzarote event brings people from all over the island and the world together to celebrate new concepts, traditional ingredients, and much more.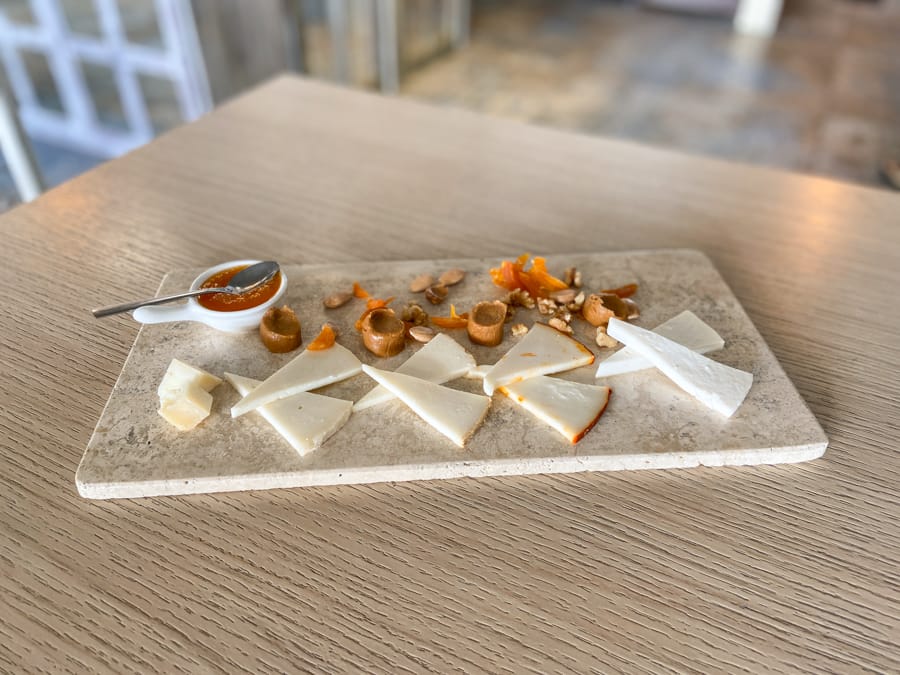 You will find masterclasses, lectures from international chefs, workshops, children-friendly activities and exhibitions, and more.
There is even a cooking contest that has amateur chefs from the island's different regions cooking off against each other!
If you're heading to Lanzarote in November, definitely check it out! It is held in Teguise and is a one-of-a-kind event!
9. Visit Costa Teguise With the Family
This gorgeous beach resort boasts a subtropical climate, making it warm as the rest of Lanzarote even in the winter months!
The temperatures in colder months like January are warm without being too hot, making it the perfect experience for those who don't enjoy the sweltering heat or for those who are traveling with little ones.
One of the most popular destinations is Aquapark, the island's largest waterpark. Ticket prices range between 14 and 26 euros, and entrance is free for babies.
Costa Teguise also boasts hotels with kids' clubs, so you and your significant other can enjoy the island's nightlife and other beach-side adventures!
Address: Av. el Golf, 315, 35508 Teguise, Las Palmas
10. Check Out the Green Lagoon in El Golfo
One of Lanzarote's most unique attractions is the green lagoon in the fishing village of El Golfo.
It's spectacular in person and can look different depending on the time of the day you visit. In fact, some say that it looks even greener if you visit on a cloudy day.
The lagoon is green due to the type of algae that grows in it. Green Lake was formed in the crater of a volcano and is surrounded by stunning volcanic rocks in the background.
It's considered a natural reserve, so it is not possible to swim in the lake, but it's definitely a spot worth visiting!
Best Lanzarote Tours
There are heaps of awesome tours you can take on Lanzarote, especially during the winter months.
I took a couple with Get Your Guide when I was there and they were fantastic introductions to the island!
For the more adventurous traveler, you also can hook up with some Manawa tours when there.
They specialize in exciting activities and Lanzarote has no shortage of such.
Below are our top tour recommendations on Lanzarote- covering the needs of all types of travelers!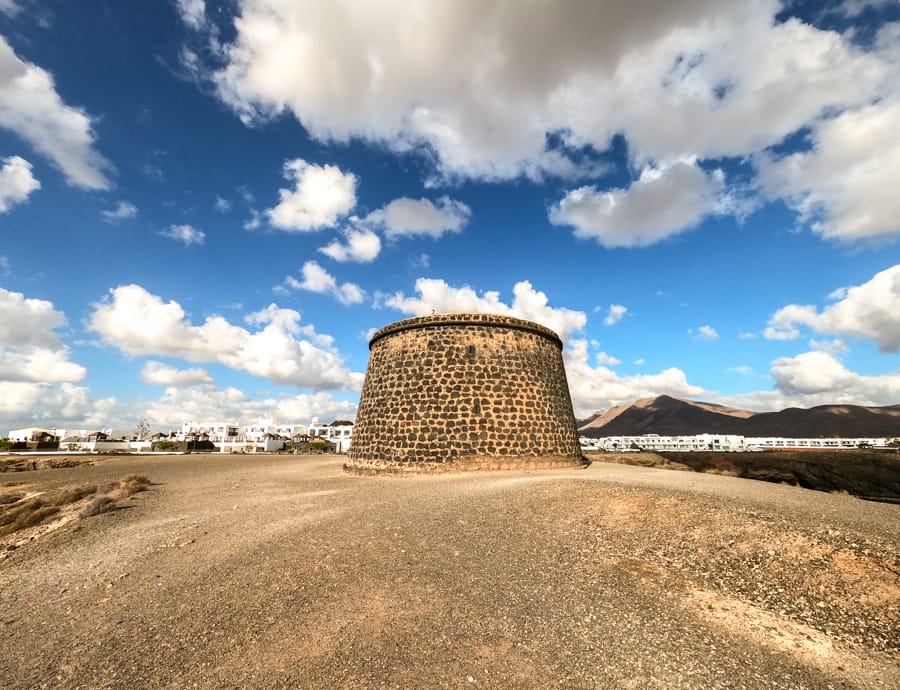 Where to Stay in Lanzarote
I stayed in three different places in Lanzarote. The first place I stayed at was at a beautiful flat in Orzola as I used it as a base to get to and from La Graciosa.
The second place I stayed was in Arrecife. I stayed there several nights and it served as a fantastic base to explore the island with tours.
And the last place I stayed was in Playa Blanca as I needed a chilled-out break and a place to use as a launchpad for eventually taking the ferry to Fuerteventura.
I opted for apartments for Orzola and Playa Blanca but stayed at a nice hotel/hostel in Arrecife. Below are the three places I stayed and recommend:
I hope this guide encouraged you to book a trip to Lanzarote in winter.
While it may not offer tropical temperatures, the climate is warm enough to get some sun and enjoyable temperatures during the colder months.
I traveled to Lanzarote in December, but I think any time of the year you visit will give you a fantastic holiday!
More Spain and Lanzarote Travel Guides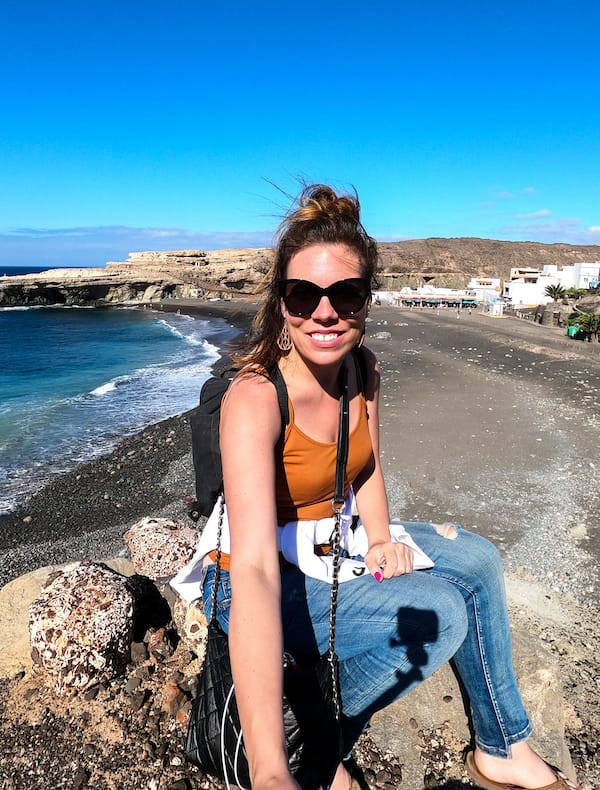 Megan is a travel blogger and writer with a background in digital marketing. Originally from Richmond, VA, she now splits her time between Frankfurt, Germany and Arctic Finland after also living in Norway, Armenia, and Kazakhstan. She has a passion for winter travel, as well as the Nordic countries, but you can also find her eating her way through Italy, perusing perfume stores in Paris, or taking road trips through the USA. Megan has written for or been featured by National Geographic, Forbes, Lonely Planet, the New York Times, and more. She co-authored Fodor's Travel 'Essential Norway' and has visited 45 US states and 100+ countries.