Are you contemplating booking a trip to Bergen in winter? I've got you covered! This guide will tell you some of my favorite things to do around Christmas and the rest of the winter season.
Are you planning your trip to Bergen last minute?
If youʻre booking your trip to Bergen last minute, I have you covered. Below are some of the top tours, hotels, and more!
🇳🇴 Top Activities and Tours in Bergen:
🛌 Top Hotels in Bergen:
🚗 Visiting Bergen independently? Be sure to book your Norway rental car ahead of time to ensure availability!
This Bergen winter travel guide will tell you what to do, weather expectations, and much more! I used to live there, so I spent an entire winter in Bergen and know all the secrets.
To be honest, Bergen is quite different than other Norwegian cities in winter, so it is important to have the right expectations before going.
If I missed anything in this guide, let me know in the comments. Thanks!
When is it Winter in Bergen?
If you're from somewhere warm, you may feel like it is winter in Bergen all year round as the temperatures never climb to be that hot.
However, winter in Bergen usually is from mid-late November until the end of March.
This is, of course, subject to fluctuation because climate change has definitely altered weather patterns in Bergen, as well as Oslo and other cities in Norway.
This guide is mostly geared at things to do in Bergen in December, January, and February.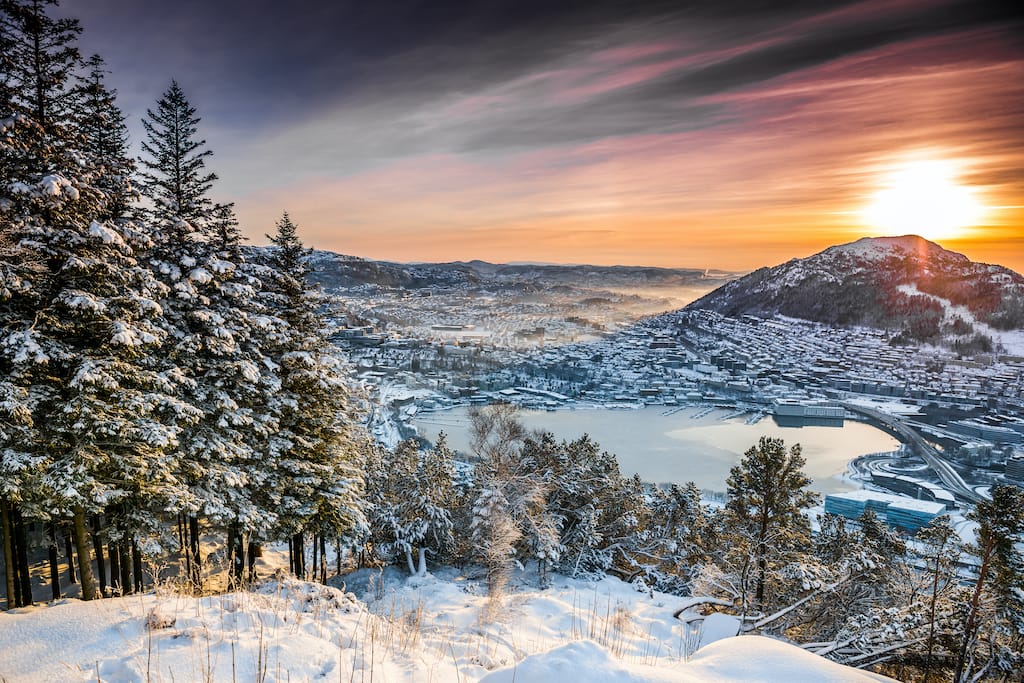 How Cold Does it Get in Bergen?
One thing many people don't realize is that Bergen is not the winter wonderland that everyone pictures Norway to be.
In fact, I spent one full winter there (and visited several other winters) and there could be snow everywhere else in Norway, but not in Bergen.
Bergen's climate is dependent on the Gulf Stream and it keeps fjord country mild during the winter months.
While you will likely see snow at some point, it will melt away and then happen again. Oslo snow just stuck around!
The average temperatures during winter are:
Bergen in December: Highs from 41F/5C. Lows from 34F/1C.
Bergen in January: Highs from 39F/4C. Lows from 32F/0C.
Bergen in February: Highs from 39F/4C. Lows from 32F/0C.
Another thing to note is that while Bergen may not entirely be all that cold, it rains. A LOT.
During the winter, it rains on average around 20 days of the month (slightly less during February in Bergen).
Does it Snow in Bergen?
Um… sometimes? All the books about Norway indicate that the country ends up buried in snow but that is only true for parts of the country during the winter (generally speaking).
While you're almost guaranteed rain in Bergen in winter (on average 20 days of the month, or 62% of the time, roughly), there is no guarantee for snow.
The weather in Bergen is generally too mild to receive snow… but it is not uncommon and at some point during the winter, you will see it. Just don't count on it while you're there.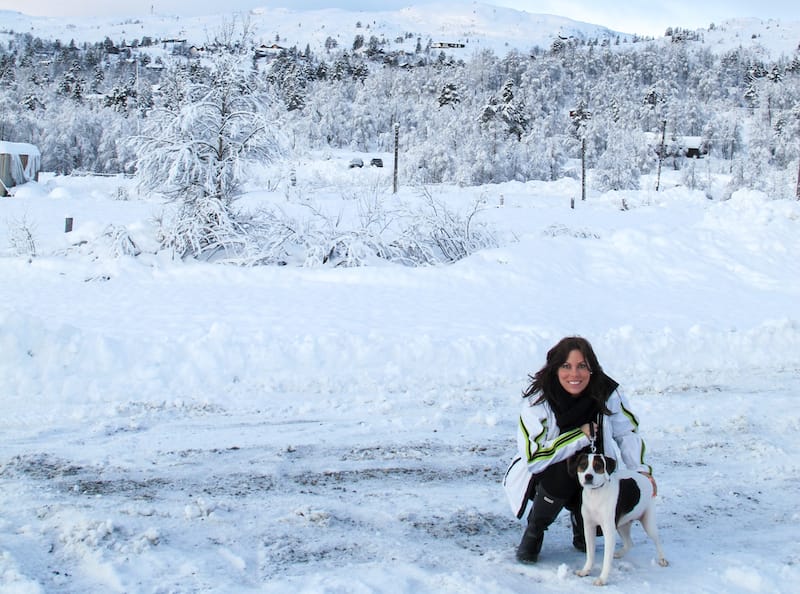 One thing to note, however, is that you can go inland a little bit and you're sure to see snow!
Many Norwegians will venture to Voss or Myrdal, but my favorite place that was always buried under the snow was Kvamskogen.
You can find some alternative options in our guide to the best Bergen day trips.
Things to Know Before Traveling to Bergen in Winter
Without doing proper research, people book trips to Bergen in winter without a clue. I definitely don't recommend doing that!
If you're seeking winter weather and aurora, visiting Tromso in winter is a far better option.
If you don't want to head north but still want a place with snow, opt for visiting Oslo during winter.
While the winter of 2019-2020 in Oslo was the warmest on record, you usually can find that 'cozy winter experience' there. Nevertheless, Bergen rocks, and visiting in the off-season is still a great trip to book!
Here are a few FAQs answered and a few things we think you should know before booking that Bergen winter vacation.
Winter Daylight Hours in Bergen
Is it dark in Bergen in the winter? Yes.
While you will receive far more daylight hours than Lofoten in winter or anywhere in the Arctic, it is still minimal and can throw your body for a loop!
For me, anything that was not 'fully light' was darkness and it took over a year of living in Norway to adjust to this phenomenon.
Norwegians take it very seriously that the sun 'turns' at the winter solstice and I would too if I grew up in a place with such drastically different hours of daylight from the summer to the winter.
If you are visiting Bergen around the winter solstice (around December 20-21), I would say that the days start at around 10am and the sun is back down by around 3pm-4pm.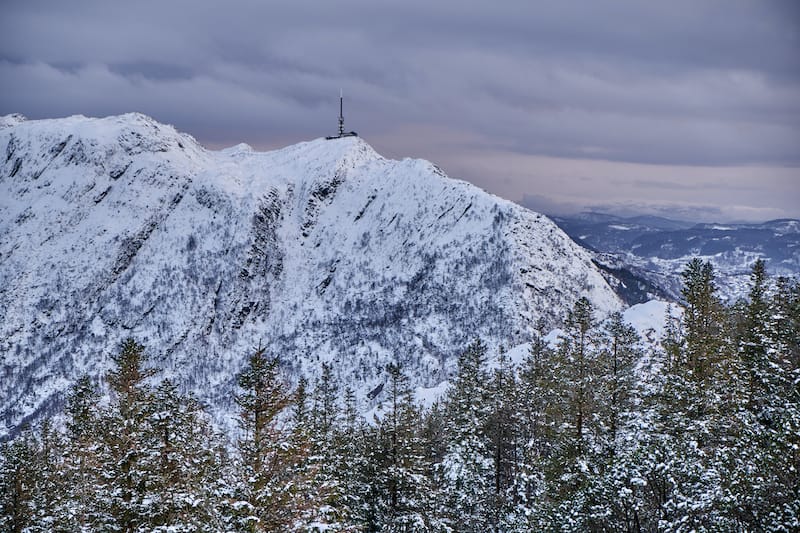 The light never sits high in the sky during that time, so places can feel very dark if buildings hide where the sun is.
It is seemingly okay in Bergen city center, but when you're in valleys nearby, like Arna or Dale, it can feel darker than it is.
Can You See the Northern Lights in Bergen?
NO. On a rare day that will pretty much not happen when you're visiting, you might get lucky.
But, seriously do not travel to Bergen for the northern lights.
I never saw them once when I lived there but they did unexpectedly come out one night because a bunch of Norwegians leaving a bar saw them at like 2am and reported it.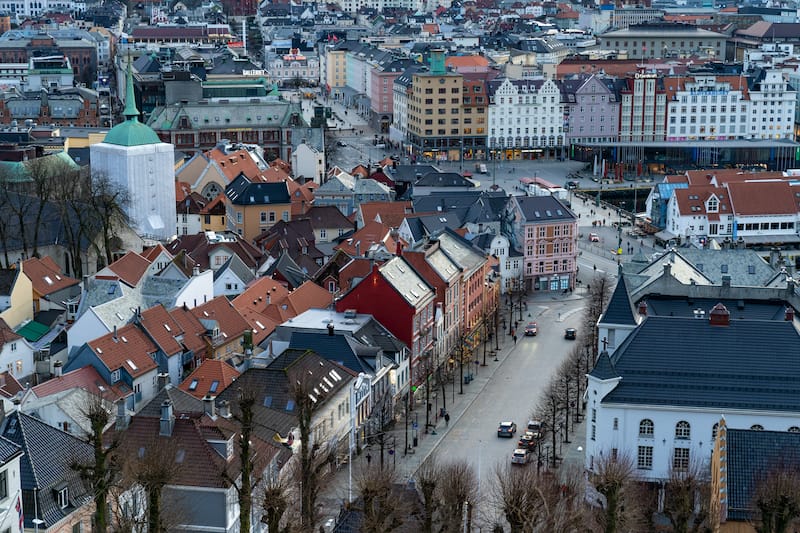 Another thing to consider is that there is a lot of light pollution in Bergen that would make it difficult to see them without them being extremely powerful and Bergen is also never clear during the winter… meaning that the skies would be far too cloudy to witness the aurora.
If you're looking to see the aurora… head north! I saw the northern lights in Tromso several times when visiting. You can also go even further north and attempt to see the aurora in Svalbard.
Skiing in Bergen
Those looking for a skiing trip to Bergen will be delighted to know that while the city doesn't really have skiing options (aside from cross-country if conditions are optimal), you can ski nearby in other places.
You can head to Fonna Glacier Ski Resort, Eikedalen, Myrkdalen, Voss, or other places that are somewhat nearby.
For more info, head to Fjord Norway's list of nearby ski resorts.
What to Pack for Winter in Bergen
You can see what to wear below, but here are some things I think are useful to bring for a winter trip to Bergen. I am not recommending an umbrella, however, because locals joke that their city is an umbrella graveyard. You get my just…
What to Wear in Bergen in Winter
While the list above was just a gear or accessory checklist, this next part is completely dependent on you.
If you're visiting Bergen from a place like Canada, you will likely be hot. If you're coming from India or Australia… not so much.
If you want more details on what to wear in Norway in winter, click the previous link to be taken to our complete guide.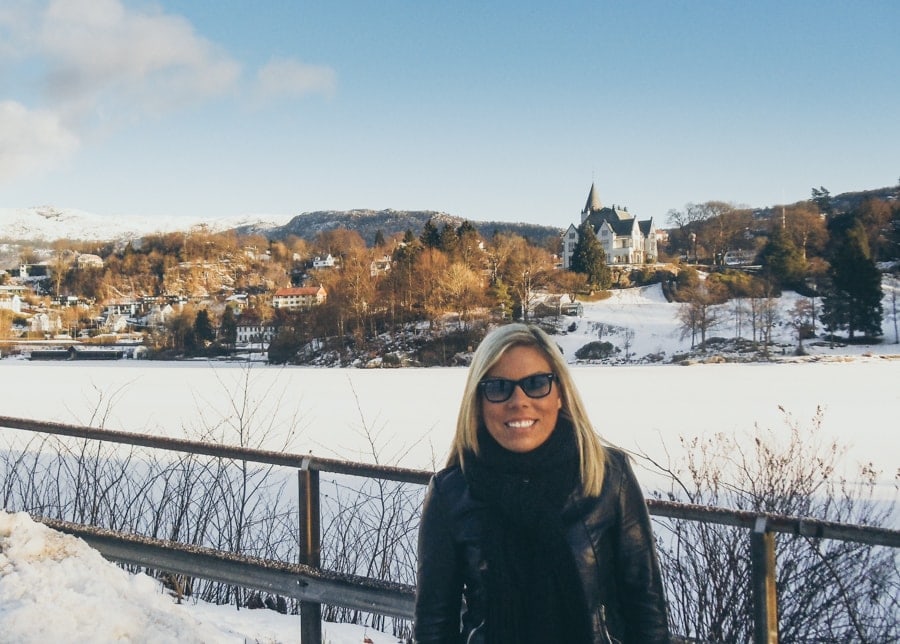 Here are a few quick suggestions of what to wear during the wet, Bergen winter:
You can leave the sunglasses at home. I'm not sure how this day in Bergen actually happened.
How to Get to Bergen in Winter
There are many options for getting to Bergen but one I don't recommend is driving if you're coming from Oslo.
The roads often close on the passes between Bergen and Oslo and it is just not a great thing to attempt! However, the trains in Norway are epic and you should definitely catch one from Oslo to Bergen.
Do note that it will likely be dark the entire time you're on that train ride, so you won't be able to see much.
The ride does pass through Finse, though, and you can see a bit at the station. It is where Star Wars was filmed (ice planet). Alternatively, you can fly to Bergen from almost every city in Norway.
Arriving by plane? Book your Bergen airport to city transfer here!
If you are going to rent a car to drive to Bergen and are coming from Stavanger or somewhere else in the west, it is a fairly easy drive but do be prepared for snow!
Are you flying to Bergen? Be sure to read our guide on how to get from the Bergen Airport to the city center.
Best Things to Do in Bergen in Winter
Visiting Bergen in winter is a great choice if you're flexible, don't mind the rain, and are ready to get cozy, or 'koselig' as Norwegians properly call it.
This list varies between historical sights, things to eat, seasonal activities, and museums. If you have any questions, please shoot us a message or leave a comment!
1. Visit The KODE Art Museum
Don't miss out on the unique opportunity to visit the famous KODE Art Museums, one of the biggest museum complexes for art, design, craft, and music in the Nordics.
The interesting museums contain more than 50,000 objects such as sculptures, videos, furniture, works on paper, installations, design, work, and fine art that are definitely well worth exploring.
I had many opportunities to see the exhibition of the legendary Edvard Munch and learn more about Bergen's history of art that dates back centuries.
You can explore the four main buildings that The KODE Art Museum has and see your preferred exhibitions.
Learn more about the museums and their locations on KODE's website.
2. Explore Bryggen and the Hanseatic Museum
While you are checking out Bergen, especially the center part of it, you will definitely see the beautiful and colorful Bryggen area that has been on the UNESCO list for World Cultural Heritage since 1979.
Bryggen
Bergen's old wharf, Bryggen, used to be a part of the Hanseatic League which was an empire from the 14th to 16th centuries.
Stroll the promenade on Bergen's harbor and you'll find that Bryggen has 62 characteristic wooden houses with different colors that have traditional architectural patterns and old methods.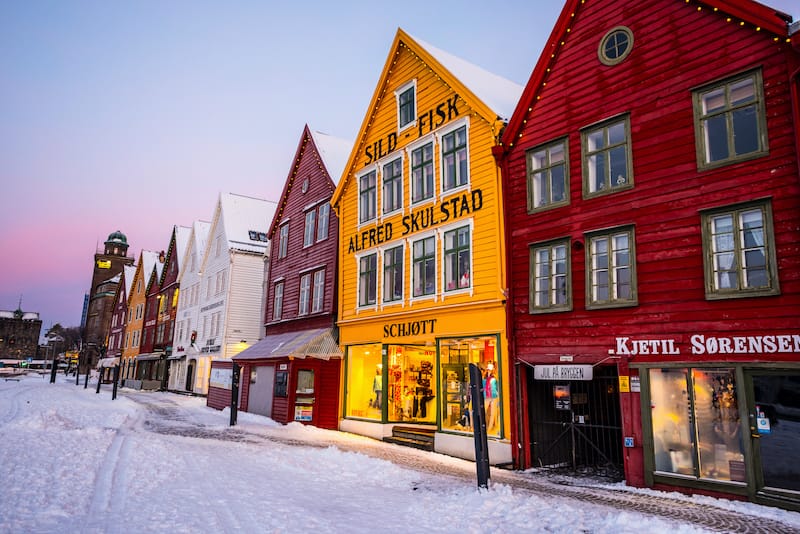 Keep your camera handy because you will definitely be able to score some wonderful photos of this Bergen landmark.
It is one of the best things to do in Bergen for a reason!
Get ready for your camera because you will take wonderful photos of historical colorful bindings that will be one of the highlights of your visit.
Hanseatic Museum
While walking around Bryggen, another interesting place to visit is the Hanseatic Museum, one of Bergen's best museums.
It details the history of Bergen, Bryggen, and the Hanseatic League.
The main part of the Hanseatic Museum is in Finnegården, one of the most well-preserved wooden buildings at Bryggen.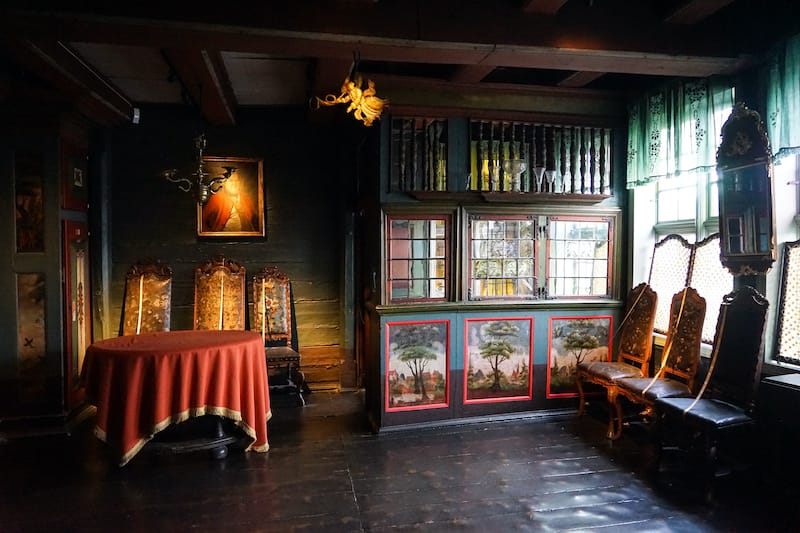 You will walk inside the building that has an interior design from the 18th and 19th centuries and you will see objects and exhibits from various parts of the history of Bergen.
To find out more about the Hanseatic Museum and its hours, entrance fee, and more… check out their website.
3. Go to Bergenhus Festning, Rosenkrantz Tower, and Håkon's Hall
While you're hanging around the harbor, you definitely can't miss visiting Bergenhus Festning (fortress), Rosenkrantz Tower, and Håkon's Hall… all three of which are pretty much side by side.
Rosenkrantz Tower was the home of King Eric Magnusson and it was built in the 1560s and was not only the residence of the king but also a fortified tower.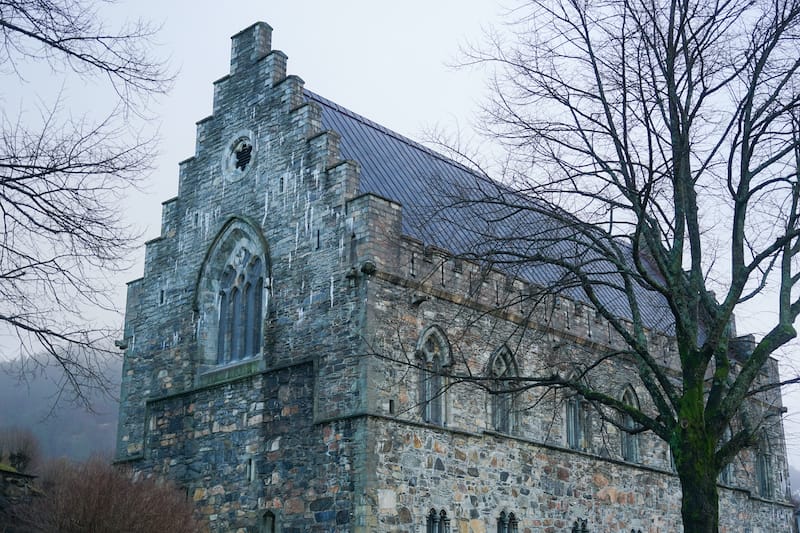 Right beside the Rosenkrantz Tower, you will see another Bergen landmark- the Bergenhus Fortress.
It is one of Norway's best-preserved fortresses that I always enjoyed photographing when I was in the city center.
Next, you can feel like royalty and visit Håkon's Hall. It was built for King Håkon Håkonsson between 1247 and 1261 and was the residence for the royal family and the hall for banquets.
The impressive Middle Ages building is one of the biggest secular constructions in modern Norway and is a place where you can still feel and hear the forgotten sounds of the feats and ceremonies of past centuries.
Fascinating fact: In 1261 during King Håkon Håkonsson's son's wedding that was taking place in Haakon's Hall, the number of guests reached 2,000 people which was very large for that time, and still today there are events held there.
You can find the aforementioned buildings at Bergenhus 10 in Bergen.
4. Take a Bergen Fjord Winter Boat Tour
Bergen's fjord offers a stunning view and my favorite part is that the boats are operating year-round and even during winter! Therefore, this Mostraumen fjord tour an essential for your Bergen winter bucket list!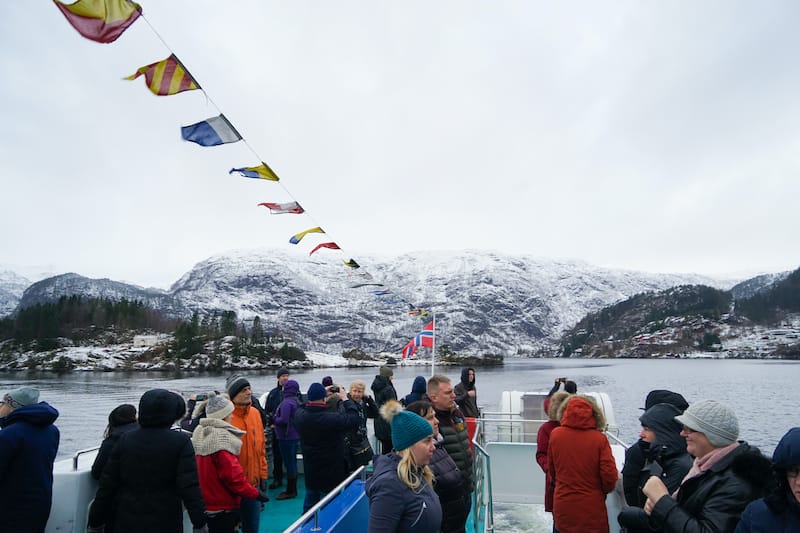 Jump on a boat tour to float on the narrow Mostraumen and see the picturesque Norwegian landscape in Norway's Hordaland province.
The boats usually serve warm wine and drinks and you can sit and enjoy the natural scenery and just how beautiful the fjord country is!
Book your Norway fjord cruise: Mostraumen winter fjord cruise of Norway
I highly, highly recommend taking a Bergen fjord boat tour because it will kind of just be that 'icing on the cake' for your trip to Western Norway.
5. Visit St. Mary's Church
Located in the Bryggen area of the city, St. Mary's Church construction began in 1130 and was finished 58 years later and it's one of the oldest buildings in Bergen and is the oldest church in Bergen.
While there is not much to see there, it still offers a really nice view and you'll likely be in that part of the city, anyway, and can check it out quickly for a photograph.
From there you also can see beautiful views of the city, the harbor, and the surrounding mountains.
You can find St. Mary's Church at Dreggsallmenningen 15 in Bergen.
6. Walk Through Pepperkakebyen in Bergen
A can't-miss place on this Bergen winter guide is definitely Pepperkakebyen, or the Gingerbread City.
It is one of Bergen's most famous winter attractions and thousands of tourists flock from all over the world to visit!
Do note that it doesn't run all winter- it is more of a 'Christmas' thing and runs from mid-November until the end of December.
But, it is a fairytale and is the world's largest Gingerbread Town.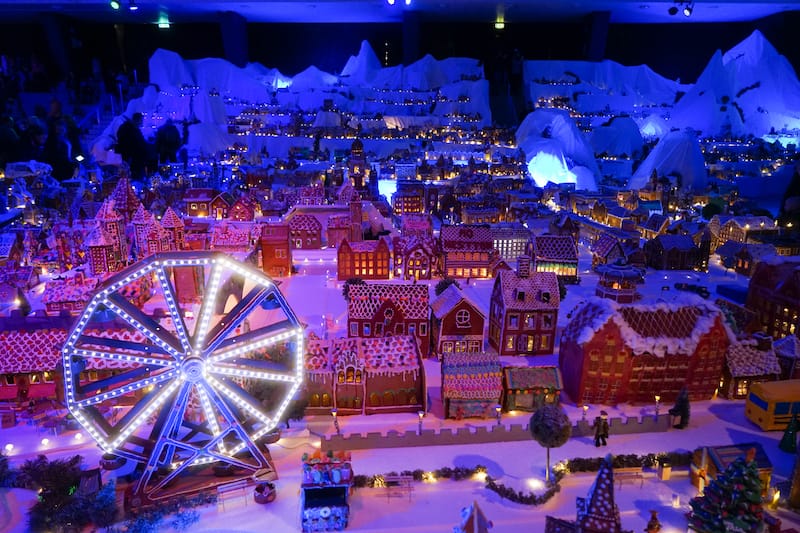 Norwegians love 'pepperkaker' or gingerbread cookies and Christmas without them just doesn't exist. It was one of my holiday favorites.
Once you enter Pepperkakebyen, you will be enticed by the smell and impressed by the intricate gingerbread houses that children and adults create for the seasonal city. This has been a Christmas in Bergen favorite since 1991.
You can find Pepperkakebyen on the dates it is open at Kode Permanenten (Nordahl Bruns gate 9) in Bergen. Check their website for winter dates.
7. Try Pinnekjøtt and Akvavit (Aquavit)
One of my favorite things about Bergen during Christmas and the holiday season is pinnekjøtt. Sorry, this is definitely not for vegetarians.
Pinnekjøtt is 'stick meat', or mutton/lamb ribs.
They are salty and need to be steamed for a few hours and they leave this delicious (or gross, depending on who you are!) smell that permeates for miles.
Nevertheless, I LOVE it. It. Pinnekjøtt is a Norwegian Christmas food but it is really traditional in western Norway.
It is usually served with boiled potatoes and kålrabistappe (mashed rutabaga).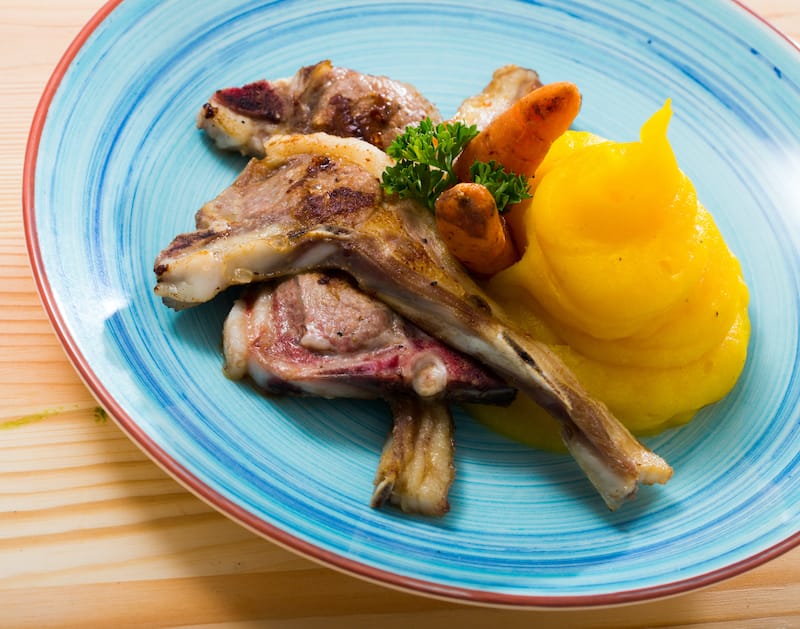 You can find it on many menus in Bergen during winter and I definitely recommend you try it if you are not plant-based.
Also, many Norwegians will tell you to down it with a shot of akvavit beforehand as it will 'open up your throat and stomach' for the fattiness of it.
Akvavit is made from caraway (like cumin) and is a popular spirit you will find all over Scandinavia.
The distilled drink also has potatoes and grain in it and has been a common Norwegian spirit since the 15th century.
8. Ride Fløibanen to See Views Over Bergen
A can't-miss activity in Bergen in winter (and ANY time of the year) is riding the funicular, Fløibanen, to the top of Mt. Fløyen for an epic view over Bergen.
After you get to the top of the mountain, you'll find a bakery cafe with fresh pastries, hot chocolate, and delicious coffee.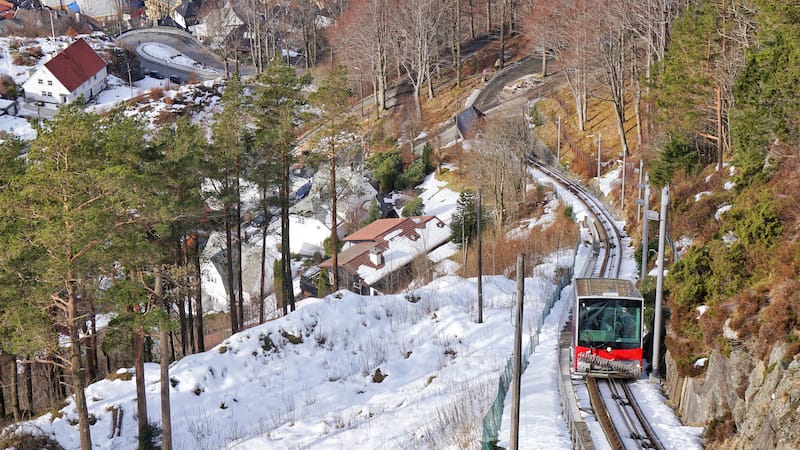 Be sure to wander around the mysterious Troll Park and discover the trail that has been used for over 100 years to get to the top of the Bergen mountain.
If you're not keen to ride Fløibanen to the top, there is also a hiking path up there. Either way, this view over Bergen can't be missed!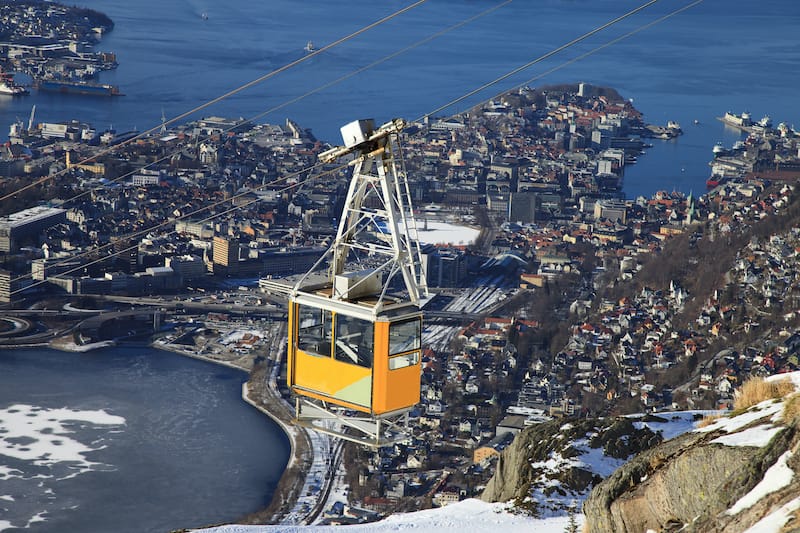 Alternatively, you can opt to go up Ulriken, Bergen's highest mountain, by cable car. The views are amazing from there too, and it is worth the experience!
9. Go to the Fisheries Museum of Bergen
Take a walk from the Bryggen neighborhood and reach the Norwegian Fisheries Museum which is located not far from it.
The insightful museum will grab your attention because it is located on the Sandviken side of the harbor in an 18th-century, traditional warehouse.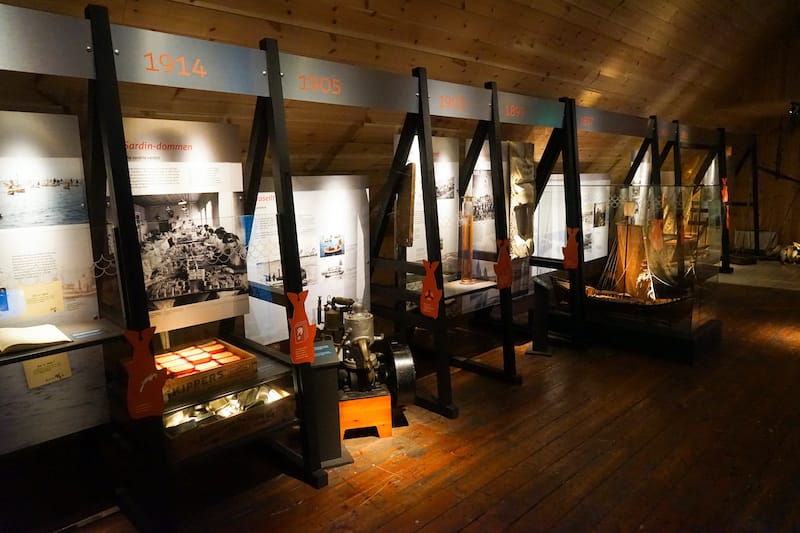 In the museum, you will learn the history of the coasts of Norway and also about the fisheries where you can see exhibitions and fishing tools that helped Norwegian Fishermen to catch fish back in the day.
10. Visit Troldhaugen (Edvard Grieg House)
Take a short day trip to Troldhaugen which used to be the home of world-renowned composer Edvard Grieg.
Today, the home has been converted into a museum where you can enter the world of Grieg and learn all about his upbringing and life.
Troldhaugen was built in 1885 and when translated, means 'The Valley of Trolls' and it is located only 10 kilometers away from Bergen.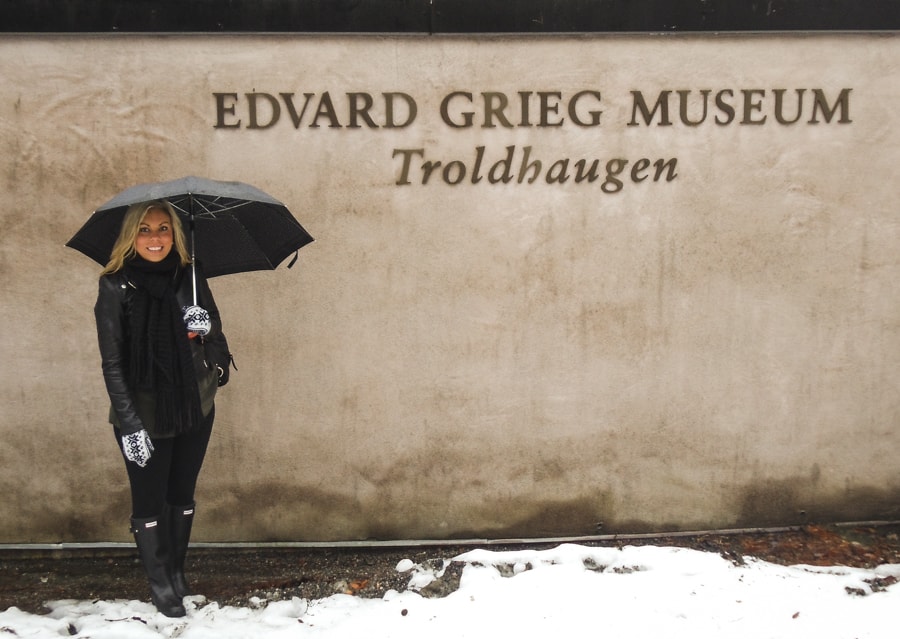 Edvard Grieg lived in his villa for 22 years and the house is showcasing the way it appeared in 1928.
An interesting fact about the Edvard Grieg creation process is that Troldhaugen used to have many guests and the loud noises were constantly disturbing the perfect, silent environment, so Grieg moved his workspace down toward the river and worked from there.
Troldhaugen can be found at Troldhaugvegen 65 in Paradis, near Bergen. Check out their website for more information.
11. Warm Up at a Bergen Cafe
Something I desperately miss from my time in Norway is the cozy cafes. Seriously- nothing beats a warm, Norwegian cafe on a dreary Bergen day.
Norwegians (and Finns) are amongst the world's biggest consumers of coffee and it shows.
Cafes are ever-present in Norway's second-largest city and you definitely need to hunt down one! My favorite street was Ytre Markveien and in and around that area, you'll find a few cozy cafes.
12. Go to the Maritime Museum
Okay, so there are quite a few museums on this guide, but the crazy weather is going to get to you at some point and you'll welcome the shelter and educational experiences.
The Bergen Maritime Museum is one of the best Maritime Museums in all of Norway and it displays the creation and evolution of seafaring life in the country.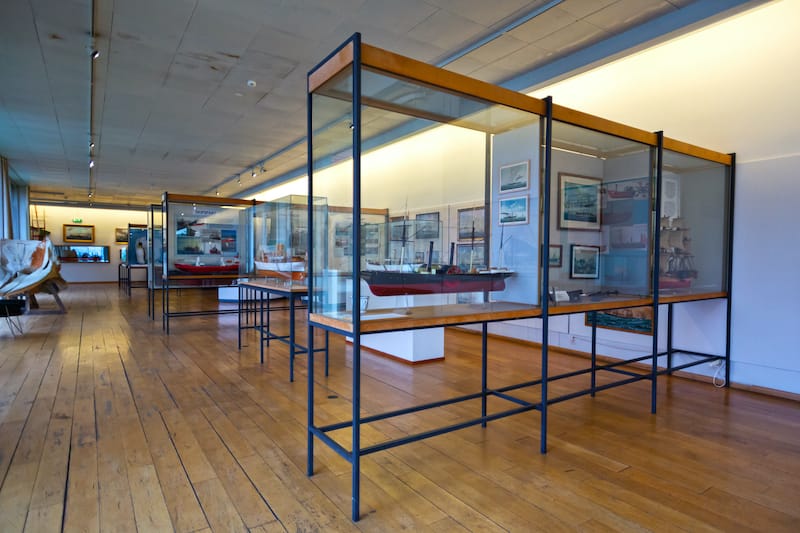 The fascinating Bergen museum will show you well-preserved ship models, interesting archaeological findings, paintings, and much more.
The Bergen Maritime Museum was founded in 1963 and can be visited at Haakon Sheteligs plass 15 in Bergen.
13. Enjoy a Bowl of Fish Soup
Bergen is known for fish and nothing is better on a cold winter's day than fish soup! You can find it at so many places in Bergen and can even get a cup to go at the harbor.
It is one of my favorite things to eat in Bergen in winter and I think it is a must-try when you're there if you're not a vegetarian or vegan.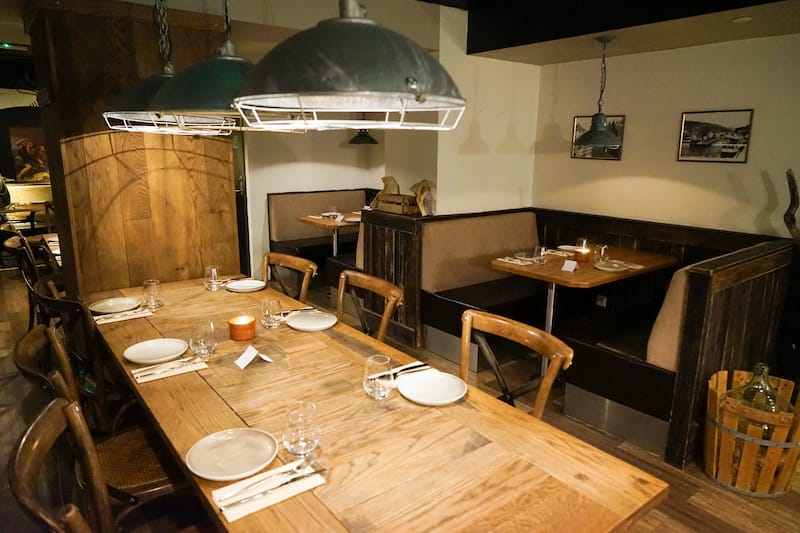 A fantastic restaurant to try is Bare Vestland (which means 'Just westland' in Norwegian- focusing on the cuisine of the Fjord country and Bergen area).
The rustic feel with flavorful food is a can't-miss place in Bergen. You can find Bare Vestland at Fresco Hall at Vågsallmenningen 1 in Bergen.
If you want to try a more casual place, opt for Søstrene Hagelin near the harbor! It is one of my favorite Bergen restaurants for fish soup!
14. Hunt for Colorful Street Art in Bergen
Bergen is a creative city and you can find a lot of street art around the city these days. And the scene keeps growing!
For more than 15 years, art has been emerging on Bergen's walls and even the famous Banksy visited Bergen in 2000 and left his mark there (signed and all!).
He wasn't famous enough at the time and authorities didn't know who he was, so it ended up painted over and removed.
Fortunately, you can still find some epic street art in Bergen these days and the city is small enough that you will stumble upon it as you peruse the streets.
Many Bergen street art murals have Scandinavian themes and are unique.
15. Go Sledding
What better way to make the most out of a wintertime trip than to go sledding? The best part is that sledding is an activity that can be enjoyed by all- kids and adults alike!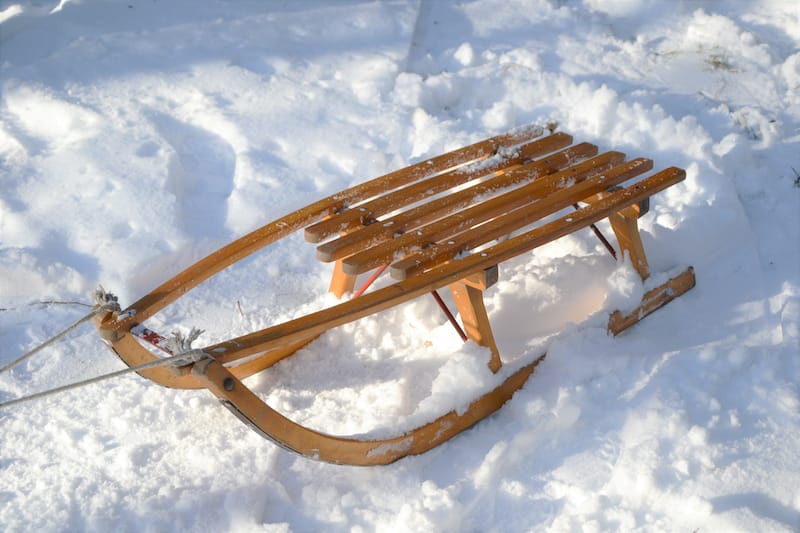 One of the most popular spots for sledding in Bergen is Mount Floyen.
You can pick up a sled at one of the local shops in order to make the most of this wintertime adventure.
16. Take a Walk in Byparken
Considered to be one of Bergen's most peaceful spots in the winter, don't forget to stop by Byparken if you want to take a nice relaxing walk to warm up.
Byparken is located near the Tourist Information Center and the Fish Market, so you will have an easy time finding it.
It is a beautiful green space with a lake that might be frozen over in the winter depending on when you visit.
A lot of people also enjoy birdwatching, as there are many birds that call the park their home. Be sure to also visit during the day so that you have enough time to check out the statues!
Winter Day Trips from Bergen to Consider
If you're looking to get outside of Bergen and explore some of the region surrounding it, there are some fantastic options available!
These are broken down into different categories depending on what you're on the search to do for a day trip from Bergen.
Snowy Day Trips (+ More)
If you've come to Norway to see snow but were left disappointed by the Bergen weather (you likely will be), no fear at all- there are areas nearby worth visiting that will offer that winter wonderland experience you are being denied in Bergen!
The following places are fantastic day trips from Bergen for those seeking SNOW! We also included a few that are not necessarily snow trips, but you will see it on the road there.
The list above is quite random but all places I visited in winter and loved.
I also loved the trip to the actual place! You can find wonderful Airbnbs in Odda that are close to the fjord and Folgefonna Glacier worth staying in.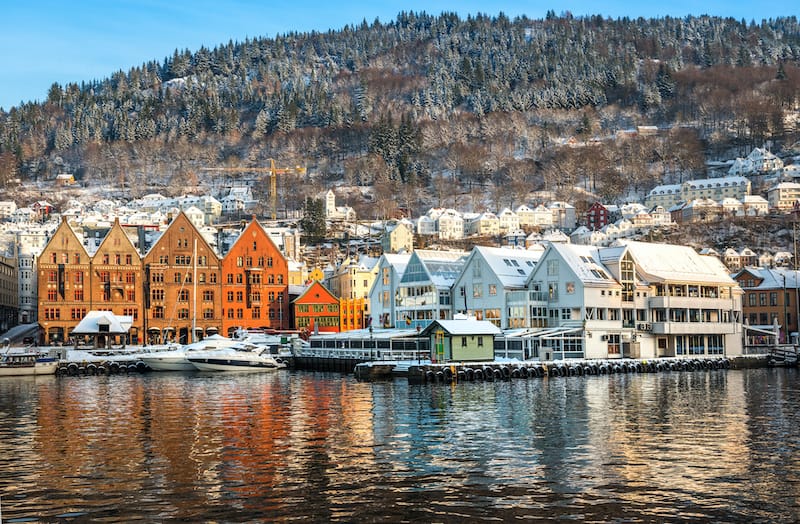 Best Winter Tours in Bergen
If you're looking to book a winter tour in Bergen, there is not a huge plethora of options, but here are some of the renowned ones. Definitely make sure to book a fjord cruise! You won't regret it!
Where to Stay in Bergen
You have a plethora of options for places to stay in Bergen during winter.
We are listing some hotels, as well as Airbnbs to cater to all travel styles. And, if you want more info, be sure to check out our Bergen Airbnb guide.
We do not suggest camping in Norway during the winter months, but feel free to rent a cozy cabin somewhere!
Bergen Hotel Options
Here are our Bergen hotel options for those traveling to the city in winter (or any time of the year!):
Should You Visit Bergen in Winter?
Maybe I am biased, but YES, you should visit Bergen in winter!
The city is charming and while it may be dark, there is some level of fantasy and magic that happens during the winter months. Maybe it is Pepperkakebyen…
We hope that this guide to winter in Bergen helped you feel confident to book the ticket and visit Norway!
If you're not sold on the idea of visiting during the coldest season, perhaps look at giving Norway in autumn a shot.
Additional Bergen and Western Norway Resources
Additional Norway Winter Guides
Pin this Winter in Bergen Guide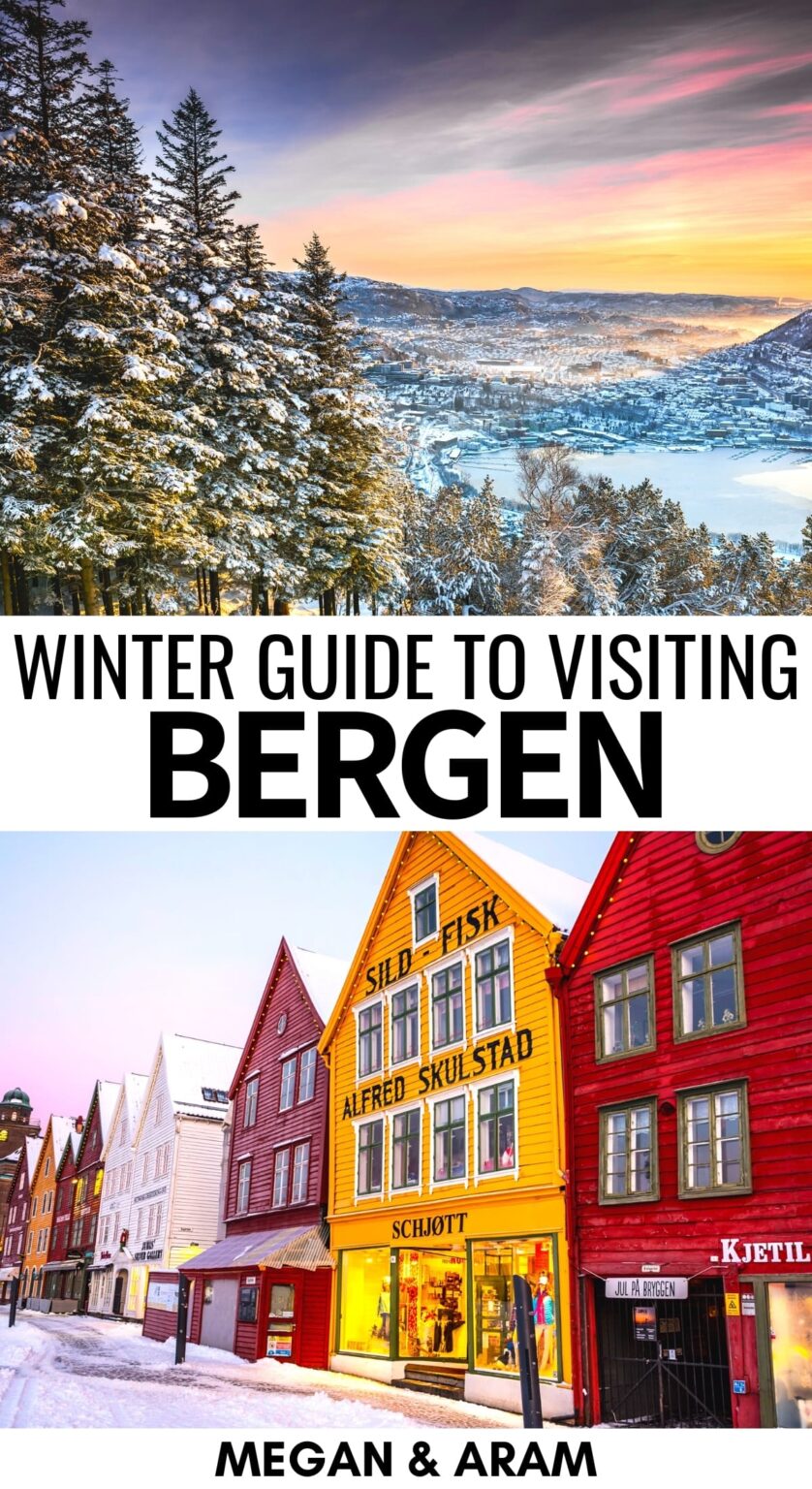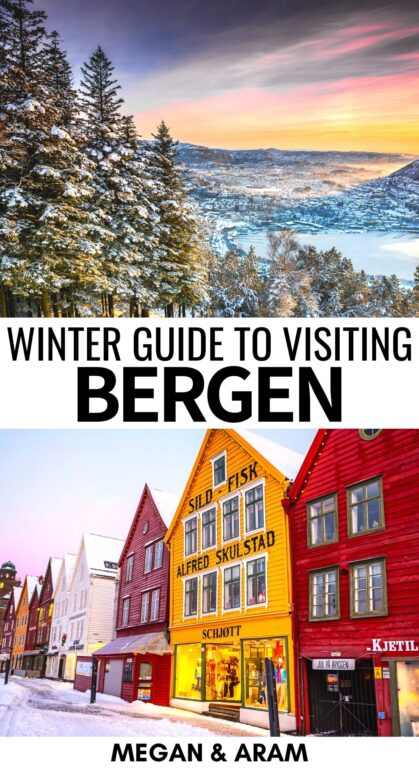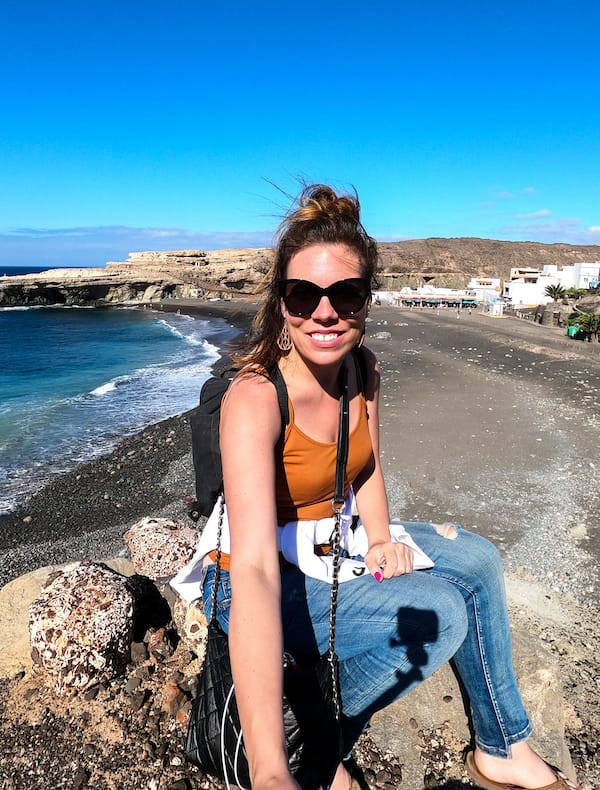 Megan is a travel blogger and writer with a background in digital marketing. Originally from Richmond, VA, she now splits her time between Frankfurt, Germany and Arctic Finland after also living in Norway, Armenia, and Kazakhstan. She has a passion for winter travel, as well as the Nordic countries, but you can also find her eating her way through Italy, perusing perfume stores in Paris, or taking road trips through the USA. Megan has written for or been featured by National Geographic, Forbes, Lonely Planet, the New York Times, and more. She co-authored Fodor's Travel 'Essential Norway' and has visited 45 US states and 100+ countries.