Planning a trip to Norway and wondering where to eat in Bergen? These are my favorite Bergen restaurants that will help you stay fueled (and satisfied!).
Are you planning your trip to Bergen last minute?
If youʻre booking your trip to Bergen last minute, we have you covered. Below are some of the top tours, hotels, and more!
🇳🇴 Top Activities and Tours in Bergen:
🛌 Top Hotels in Bergen:
🚗 Visiting Bergen independently? Be sure to book your Norway rental car ahead of time to ensure availability!
One thing to know about Bergen is that it is a fantastic food city if you forget about prices and sometimes not-so-diverse ingredients.
Norway is not the world's most fertile country but what it does grow, it grows especially well. And, let's not forget that world-famous seafood!
Another thing that makes Bergen pretty cool is that the city caters to all types of diet choices and restrictions. Vegans, vegetarians, and celiacs won't have any issue finding items on almost every menu.
These are the best restaurants in Bergen from my experience visiting the city, as well as living there. I have tried to include mostly restaurants that are located near the harbor or in a convenient location.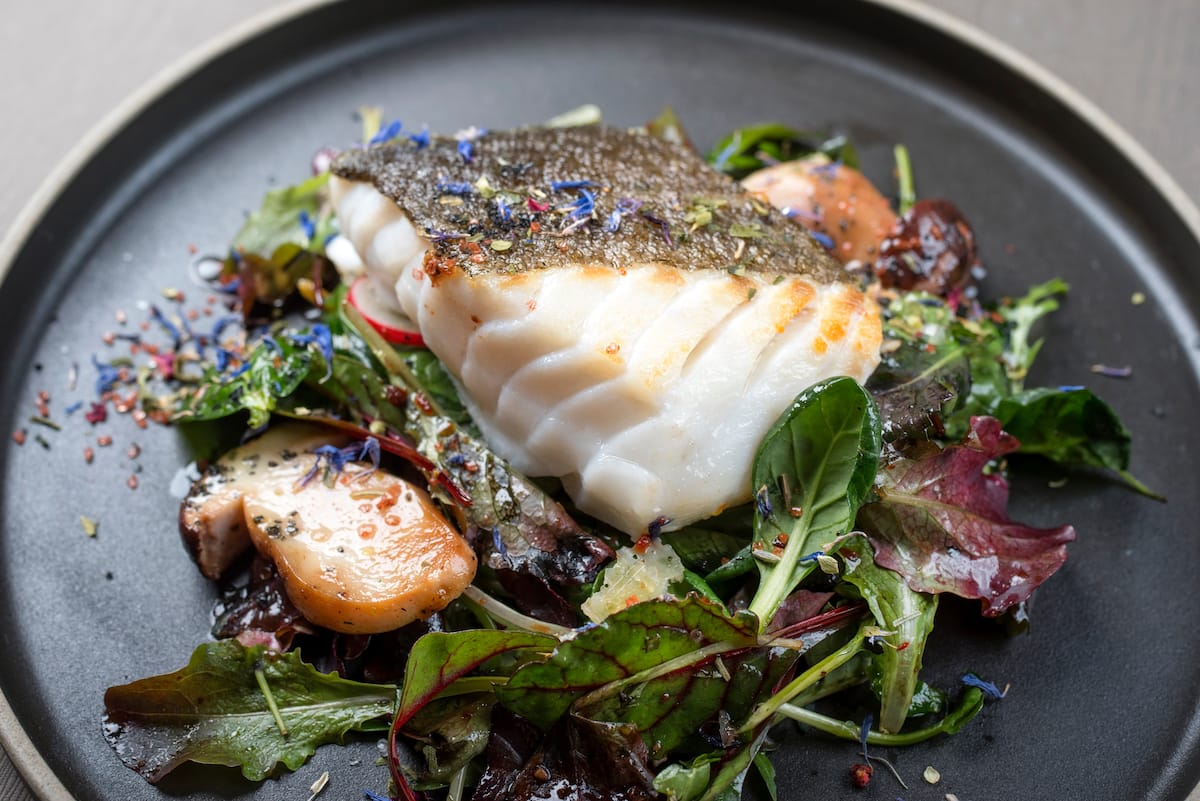 So, yes, there are some tasty places outside of the city center! I did include a favorite here that is actually in Laskevåg because they offer certain traditional dishes year-round.
I also left off any restaurants that specialize in an entirely different cuisine other than Norwegian or international fare.
Below, you'll find sections about tipping and ordering, as well as some common ingredients you will find on menus across the city. You will also find a short section about reserving tables in the city.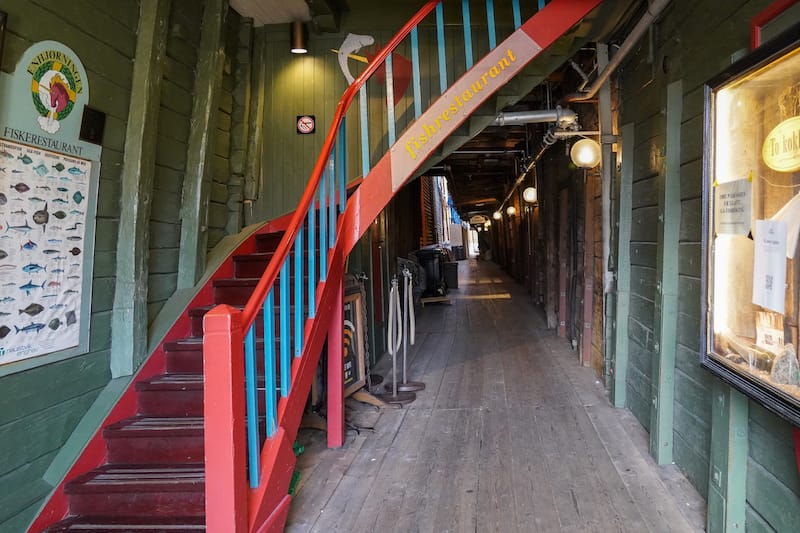 At the end of this guide, I also included a list of restaurants that are wheelchair-accessible. I have only eaten at the chain ones listed (and in Oslo, not Bergen), so I can not completely vouch for food quality.
Did we miss any amazing places to eat in Bergen? Let us know your favorite Bergen restaurants in the comments! Thanks!
Eating Out in Bergen Quick Tips
Reserving a Table at a Restaurant in Bergen
If you're visiting Bergen in high season (summer!), you will need to book yourself a table at many of the restaurants on this list. You can do so on their websites or by sending them an email.
If they have a booking platform on their website and you're trying to book the same day, you will likely need to give them a call (it will have a small phone icon indicating this). Otherwise, you can typically book in advance.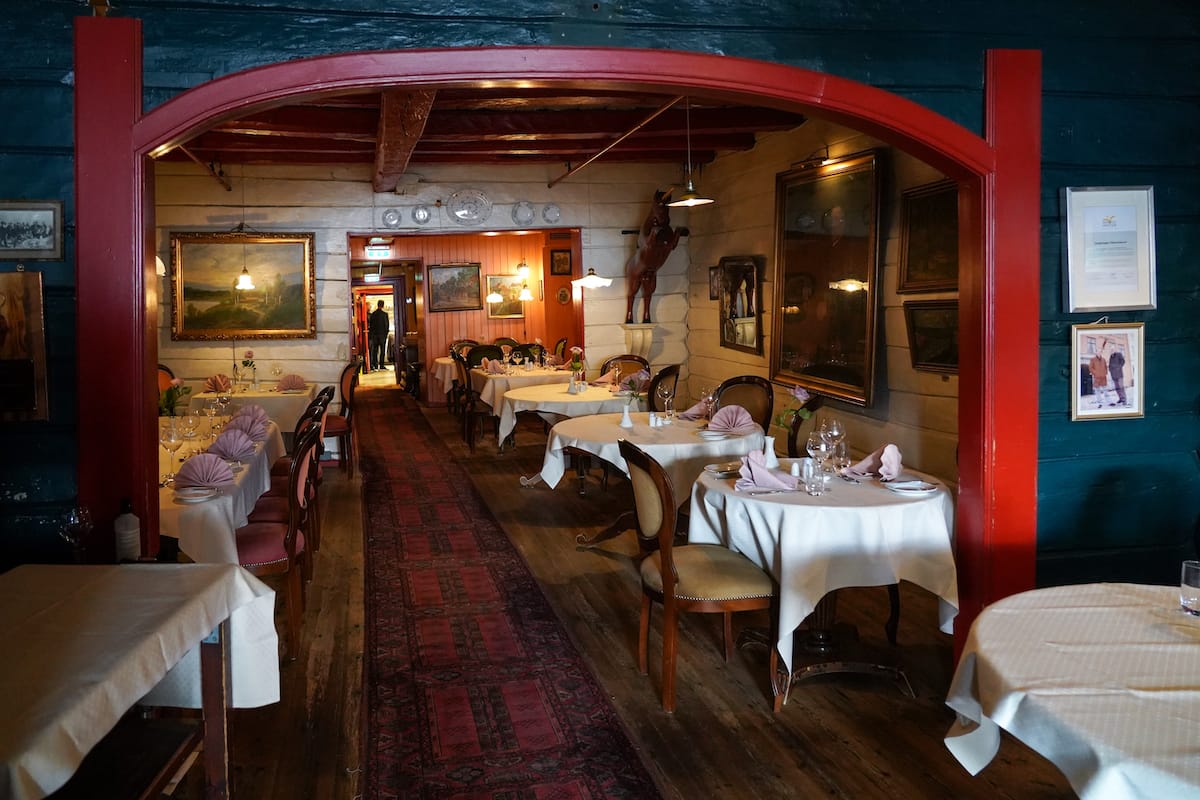 On my latest trip, I was traveling solo and kind of felt bad for taking up a 2 or 4-person table during the busier hours. I, therefore, told them I was free at any hour for dinner and they could book me for the most convenient spot.
They would have booked me in either way, but I felt better about not taking up an entire table at a busy hour!
Tipping and Paying
In Norway, the wait staff earns liveable wages and does not survive solely off of tips.
Therefore, don't feel pressured to tip, but I always recommend still leaving a little if you had a nice meal and experience! It is always appreciated.
All Bergen restaurants take credit cards (some don't even take cash these days) and in order to leave a tip, you can let the waiter or waitress know that you're intending to do so as they are getting the card machine ready.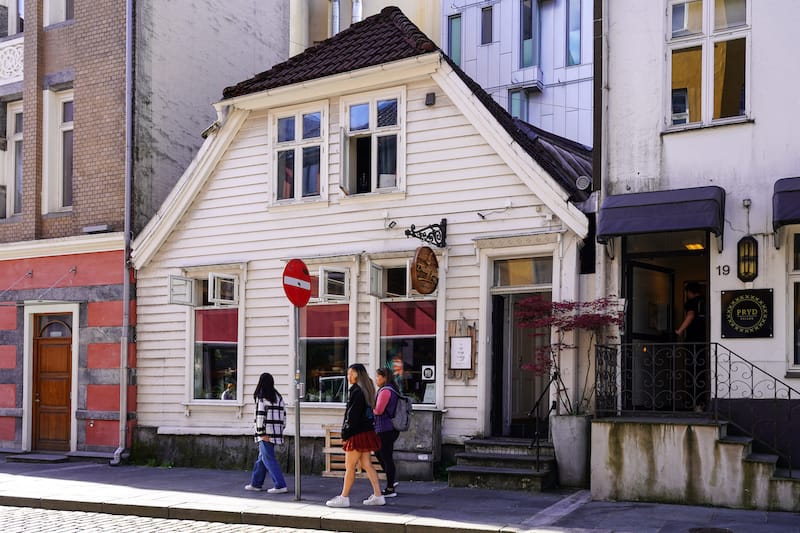 They will let you put in the total amount (which will include the tip) yourself and then it will read the card. Try to figure this number out ahead of time if you can as it will save a bit of time.
If you're using an American credit card, you might have to sign or enter a PIN code. I had to every time for whatever reason.
Is Water Free?
YES! I am currently living in Germany and nothing irks me more than paying $6-7 for water at a restaurant here.
Fortunately, Norwegians know their water is the best in the world and they want to show it off without cost.
You'll never feel pressured into ordering anything else, either. I had water at every place on this guide (with the exception of Moon Restaurant where I had a delicious Hardanger rhubarb cider).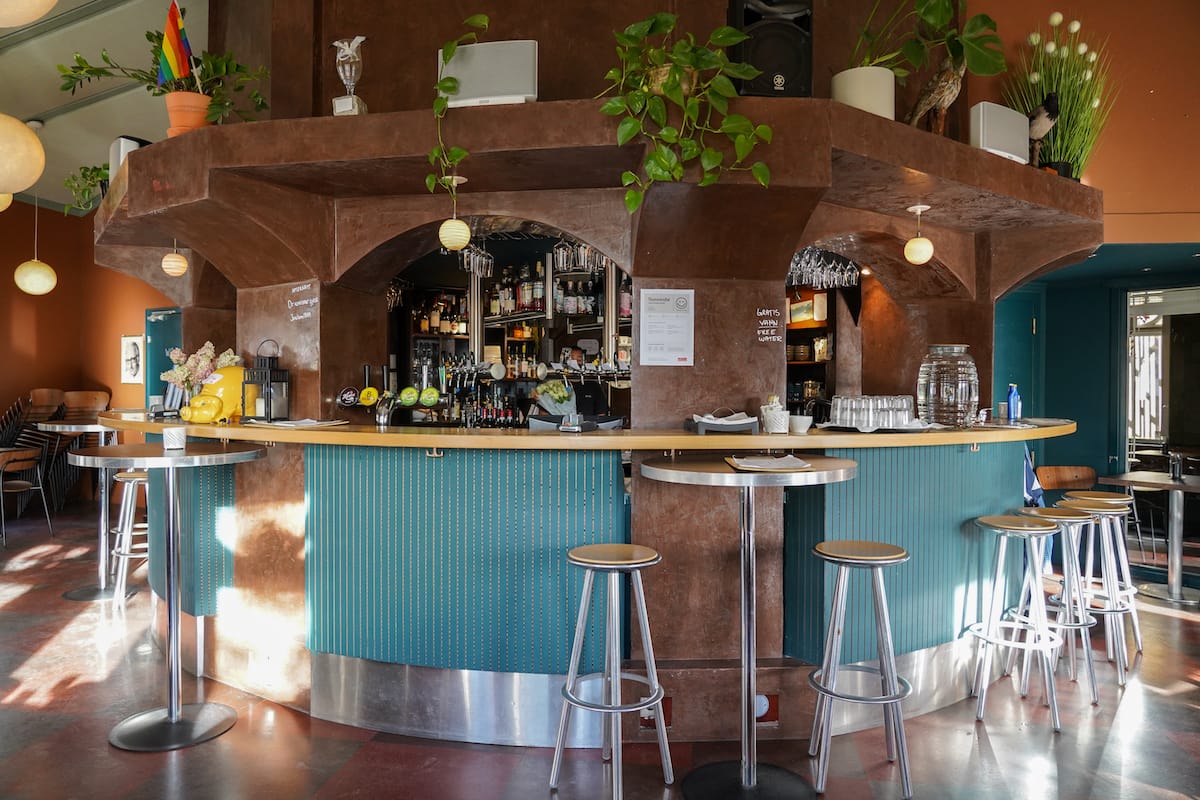 Sparkling water is not free, on the other hand.
What's on the Menu in Bergen?
One thing to know about dining out in Norway is that their menus will look a bit different to Americans. If you're from Europe, it will likely be the same! In Norway, an appetizer is called an 'entree', and an entree is called a 'main'. Dessert is dessert.
However, some menus that have a large American customer base may have it written the way we are used to seeing it.
If you're looking for Norwegian words, they are Forretter (appetizer) and Hovedretter (main course).
Many places in Norway will have a list of 'cold entrees' and 'warm entrees'. Just check what you're ordering to make sure you will get the right temperature.
So, what's on a typical Norwegian menu? The dishes will offer a variety (and almost always will have a vegan, vegetarian, and gluten-free option) but the ingredients tend to be pretty similar across the menu.
Here are some typical ingredients you will find on the menu in Norway:
Cod (torsk)
Shrimp (reker)
Halibut (kveite)
Mussels (blåskjell)
Whale (hval or hvalbiff)
Salmon (laks)
Lamb (lamm)
Dill (dill)
Potatoes (poteter), carrots (gulrøtter), leek (purreløk), beetroot (rødbeter)
Butter (smør) and bread (brød)
Many types of berries such as blueberries (blåbær), cloudberries (multe), lingonberries (tyttebær), strawberries (jordbær), raspberries (bringebær), black currants (solbær), and red currants (rips).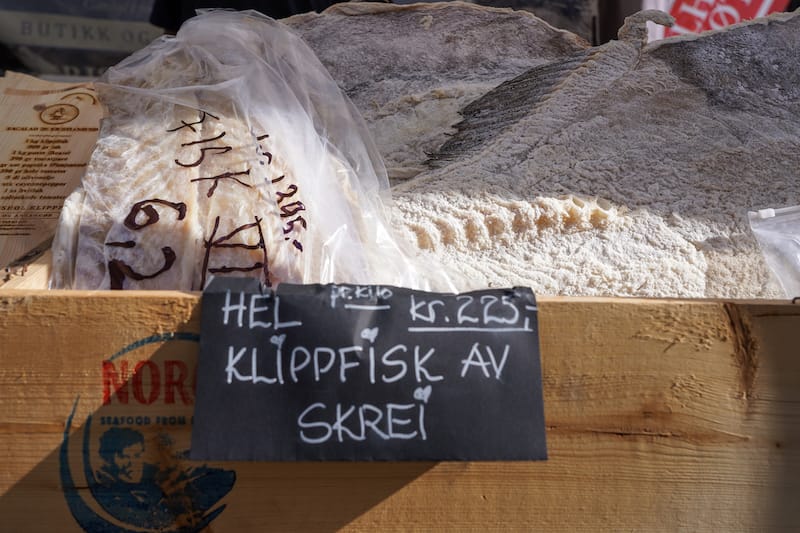 And, if you're looking for some traditional dishes in Bergen, here are a few that you might see on the menus of dining establishments (and to-go restaurants):
Raspeballer (also called Komle): These are potato dumplings with salted boiled pork or bacon.
Fiskegrateng: a fish gratin with macaroni, topped with breadcrumbs and cheese… often on children's menus, but it is awesome so I order it if I see it on a menu.
Fiskesuppe: everywhere is different, but the creamy soup can have chunks of fish and shellfish with carrots, leeks, etc.
Fiskeballer: like meatballs but with fish – these are often topped with a creamy, white sauce.
Plukkfisk: a fish dish with potatoes, chunks of fish, onions, bechamel… often topped with bacon and green onions or leeks.
Pinnekjøtt: mostly seen at Christmas – lamb or mutton steamed for hours. Often paired with kålrabistappe (mashed rutabaga) and boiled potatoes. It's very salty and very delicious!
Skillingsboller: Bergen's version of cinnamon buns, or 'kanalboller' in the east.
Fårikål: eaten in many parts of Norway in the fall and into winter… a lamb and cabbage stew.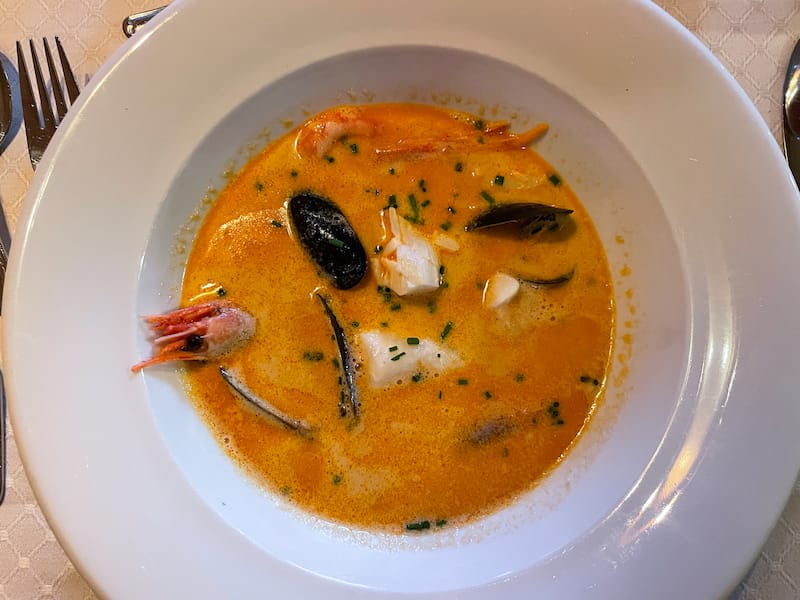 Spise Her eller Ta Med?
Will you eat here (spise her) or take away (ta med)?
At most of the restaurants on this guide, they will assume you're eating there… but if you go to a quick lunch place, you may see two menus with the words above written on them.
In Norway, takeaway is often cheaper than dining in. Not a substantial price, but still a difference. If you're a budget traveler, this is a good thing to know!
Best Bergen Restaurants
1. Bryggeloftet & Stuene Restaurant
Address: Bryggen 11
Website: https://www.bryggeloftet.no/
This Bergen restaurant is easily one of the most famous ones in the city and for very good reason. It is delicious!
I first ate here back in the day with a group of locals and when I dined there this most recent trip to Bergen, the table next to me were locals, as well.
While the place was brimming with tourists, it was refreshing to know that locals like this place, too!
Bryggeloftet & Stuene is a cozy spot at Bryggen that offers two floors of dining with a traditional menu without all of the tacky traditional restaurant nonsense.
The menu offers multiple courses and you'll find everything from an appetizer of Bergen fish soup to mussels from Trøndelag in a creamy, white wine sauce.
On my latest visit, I was craving a salad to go with my larger main course, so I had their garden salad with seasonal vegetables and a mustard dressing.
Their main courses range from game meat to local fish. You can get anything from a lamb or reindeer fillet to pan-fried halibut or bacalao with Norwegian-dried cod.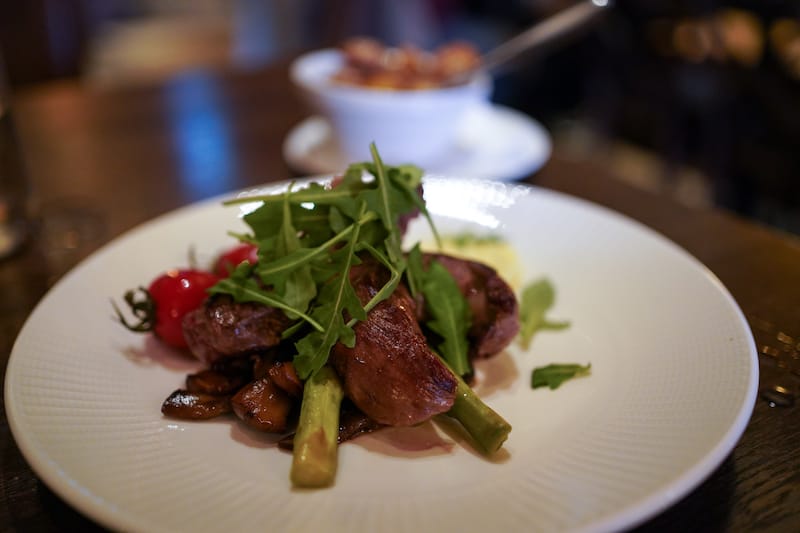 I opted for a lamb fillet that came with asparagus, baked cherry tomatoes, and tasty herb butter. It came with a side of crispy potatoes.
I would recommend booking a table in advance if you're heading there during the high season. I was able to get in easily on a Tuesday night at around 8pm, but it was completely packed even then.
💥 INSIDER TIP: Bryggeloftet & Stuene offers a daily changing menu/dish and you can try their raspeballer on Thursdays!
2. Trekroneren
Address: Kong Oscars gate 1
Facebook: https://www.facebook.com/3kroneren
I never thought I would put a hotdog stand on a restaurant guide I would write… but here we are.
Trekroneren is actually the first place I ate in Bergen my first time back in the city in 2010 and I definitely made many return visits throughout my time living in the city.
Needless to say, I had to hit up the place on my recent visit to get my fill… and I am not even a hotdog or sausage person.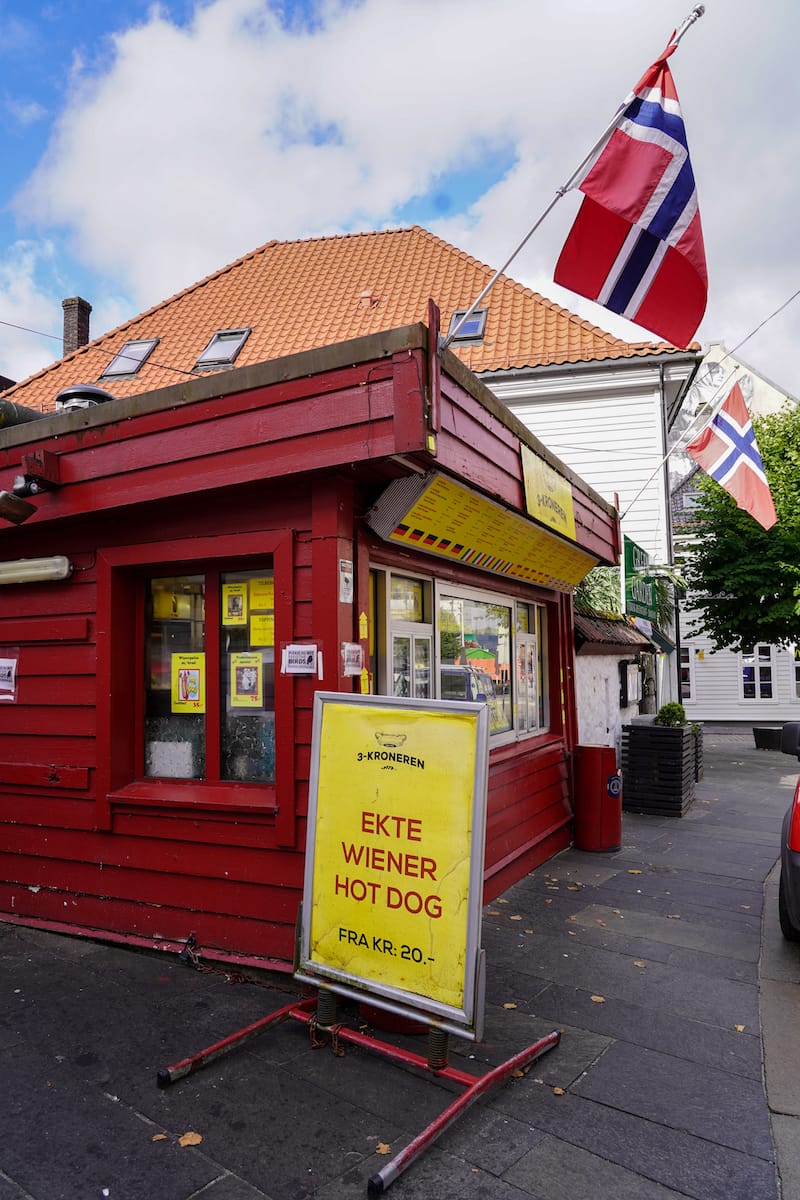 Opened in February 1946, this small stand is centrally located and has a large selection of sausages and hotdogs.
I remember ordering the reindeer sausage on my first trip back in the day but this time I opted for the bacon and cheese hotdog with fried onions and hotdog dressing as the toppings. They also have boar sausage and any other type you can imagine!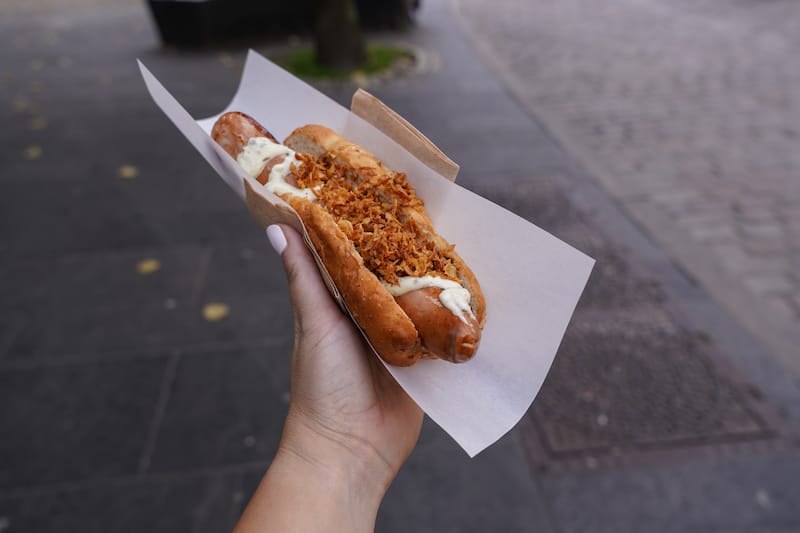 A cool fact is that all the sausages are prepared within a 30-minute drive of the stand… and all are made with local meat except the reindeer sausage which comes from Northern Norway.
Hot dogs are a good budget eat in Bergen, but these are still a little on the pricier side. I think I paid about $7-8 for my bacon and cheese one, but it filled me up and was delicious, so I didn't mind!
3. MOON
Address: Marken 33
Website: https://www.moonrestaurantbergen.com/
I had many exceptional meals in Bergen, but none quite impressed me like the night I spent at MOON.
I am always a bit hesitant to book places that offer 3-5 course offerings as I never know what to do with the multiple forks sitting in front of me (I still have no idea)… but MOON wasn't that type of place.
You will need to book a table in advance, but when you walk in, you will feel welcome and like part of the family, even if you're wearing hiking boots and a thermal top!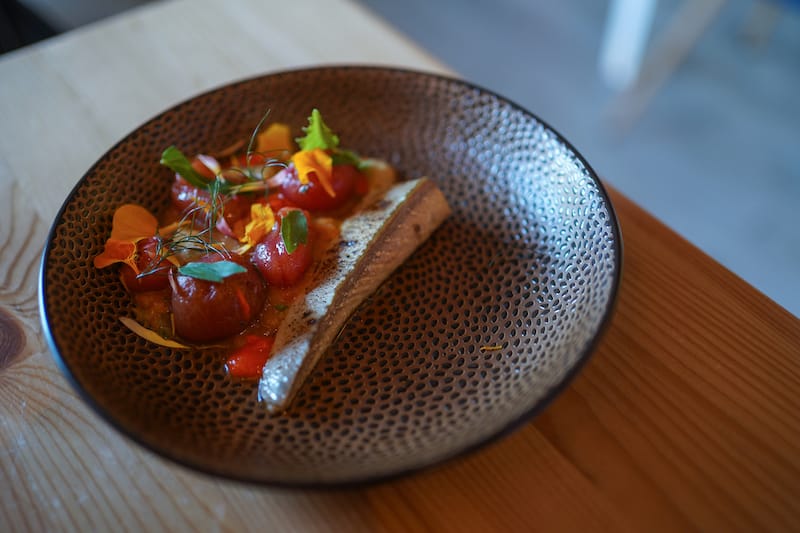 MOON is listed in the Michelin Guide for 2022 and the eatery was founded by Jules and Nicolas, twin brothers from the Jura area of France. They have a passion for food and wine and it really shows at the place.
Jules is the Head Chef and Nicolas is the restaurant manager and sommelier and their experience of working in more than 6 countries shows in their service and food quality.
What I really loved is that while the French techniques were extremely apparent in the cooking, the use of local ingredients from Bergen and the Fjord Country was super apparent and they really made them shine!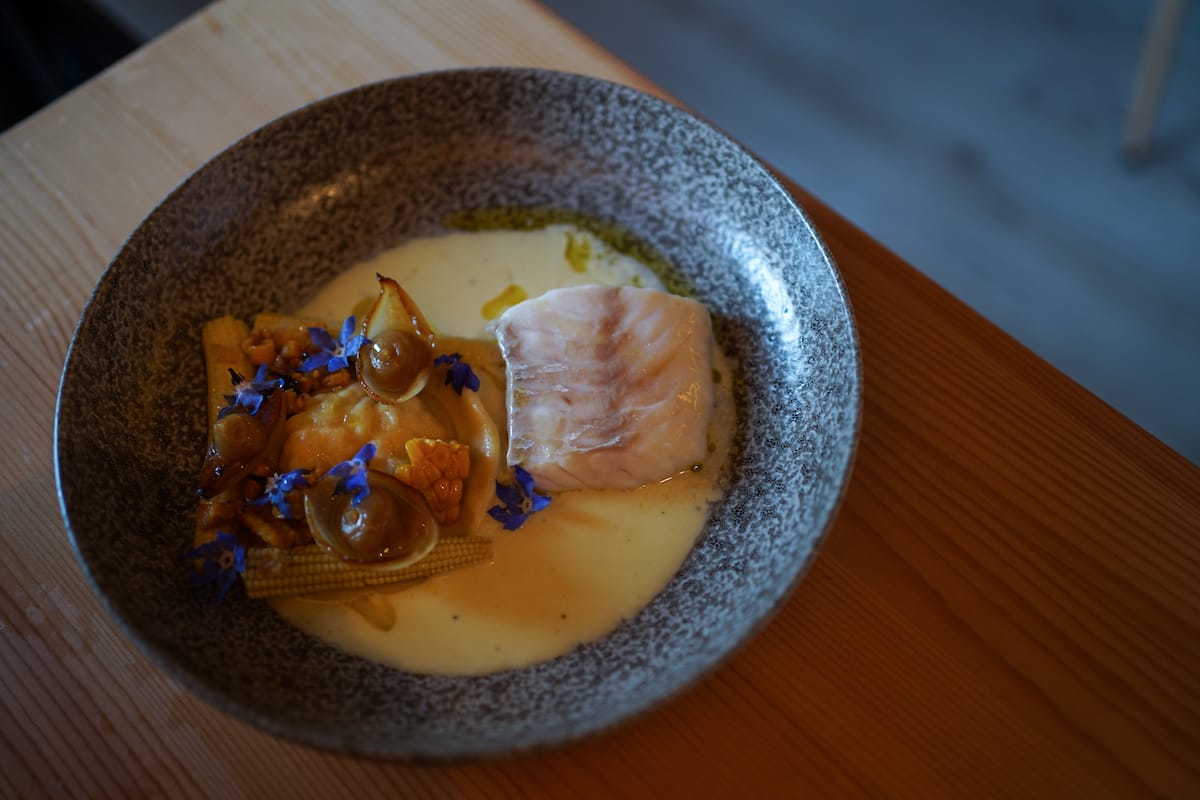 I ordered their 3-course menu with the addition of the cheese and in total, it was 800 NOK (about $80). I also ordered a couple of glasses of Hardanger Rhubarb Cider (non-alcoholic).
My meal consisted of an appetizer of mackerel and tomatoes (a common Norwegian combo), corny fish (a steamed hake with ravioli, mussel sauce, corn, onions, and a brown butter puree), and a dessert called Paris meets Bergen (Choux, praline, creme praline, pickled apples, and cider ice cream).
The cheese plate came out with some French cheeses that were absolutely divine.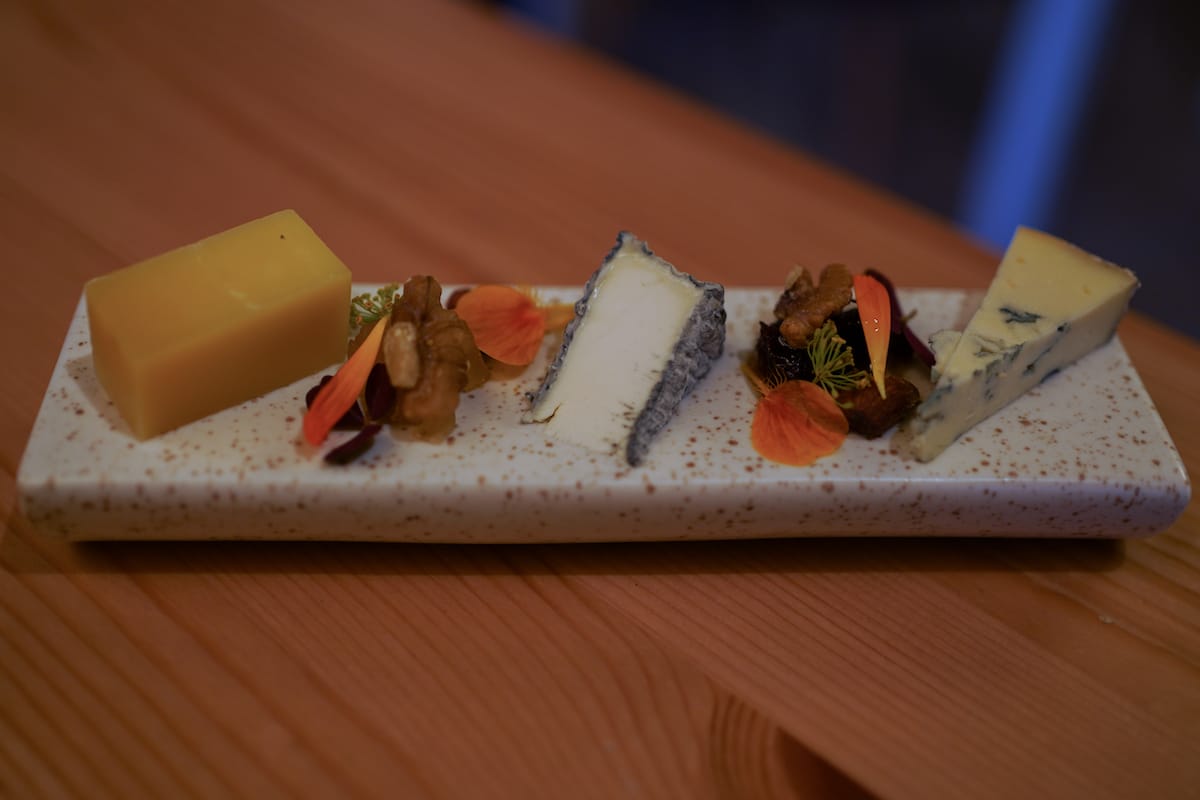 I could go on and on about how delicious my meal at MOON was. While it wasn't the cheapest meal there, it was my most memorable and one I will be going back for on my next trip.
4. Daily Pot
Address: Vaskerelven 21
Website: https://www.dailypot.no/
The Daily Pot is a restaurant that I was actually recommended to go to by two of the workers at Fjåk Chocolate and Coffee Bar. And, it lived up to their raves about the place!
Open 7 days a week (although a little shorter on weekends), the small Bergen restaurant offers 'Simple food for healthy people'. It has been around since 2016 and the weekly-changing menu truly highlights fermented foods and seasonal produce.
Everything is made fresh daily and to be honest, this meal really refreshed me after days of eating relatively heavy food!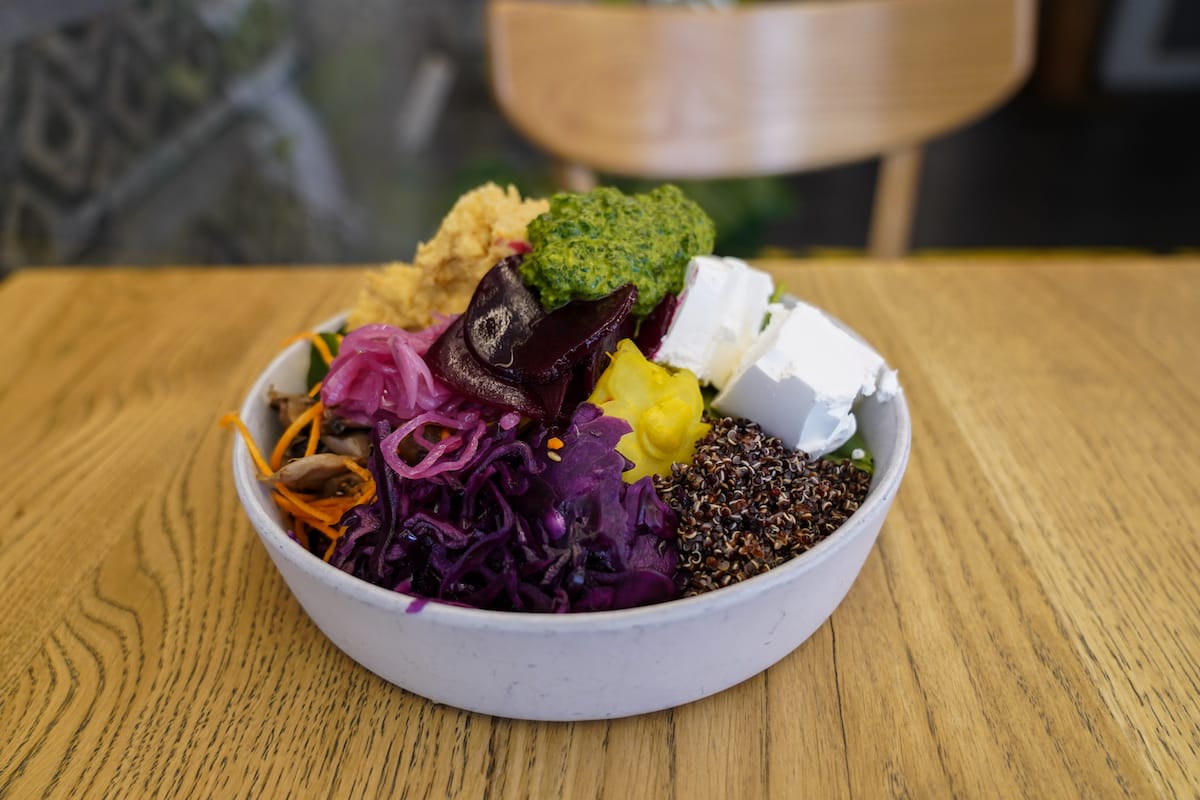 On the menu, you will find an array of soups to power bowls to sandwiches. There is even a dessert menu for those with a sweet tooth!
I had a cheese power bowl that was absolutely delightful and the hummus and Danish feta that topped it was so delicious!
5. Enhjørningen
Address: Enhjørningsgården 29 (Bryggen)
Website: https://www.enhjorningen.no/
I think Norwegian is a beautiful language and not many things sound better in English than they do in Norwegian. But, Enhjørningen does because it means 'Unicorn' in English.
Enhjørningen is a famous Bergen restaurant located in one of the old Bryggen buildings and it was absolutely an experience that I recommend everyone to have when they are visiting Bergen!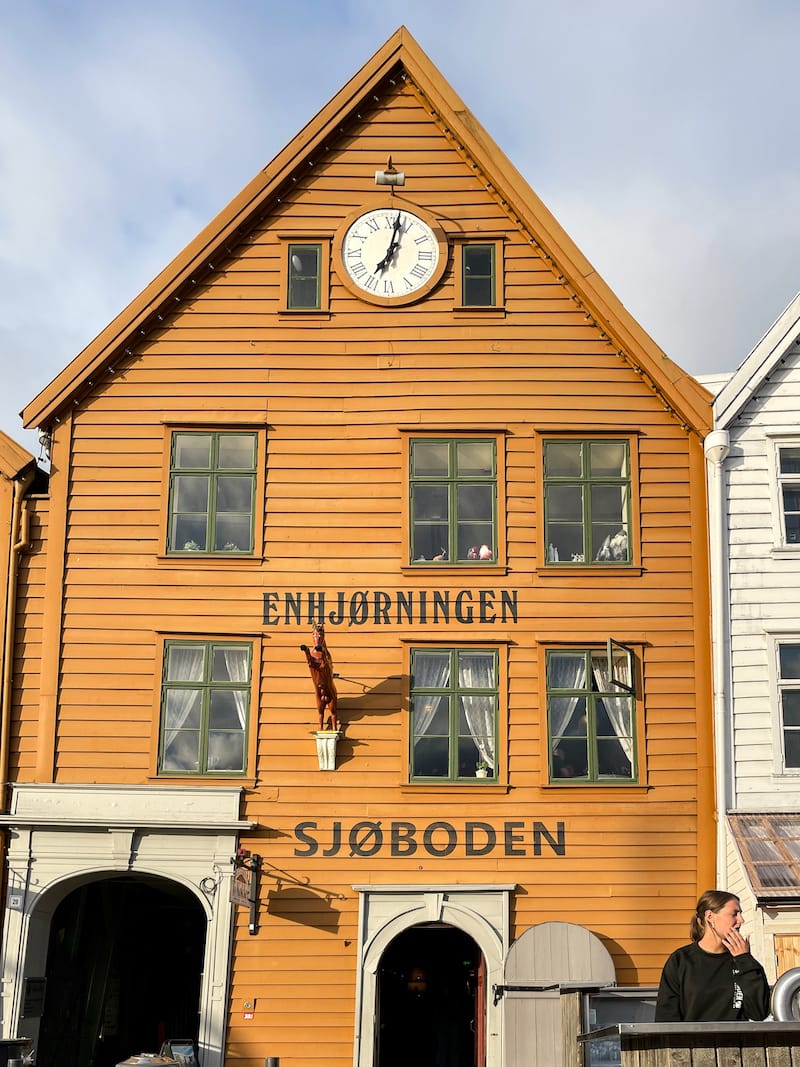 Unfortunately, it is not a wheelchair-friendly establishment as it is located on the second floor of a UNESCO World Heritage Site building, but if you are able to dine there, you will be pleasantly satisfied and will want to make a return trip.
The restaurant specializes in fish and seafood and it does it so well!
On the menu, you will find everything from steamed halibut to pan-fried salmon to bacalao and more. Not a seafood lover? They do offer a beef entrecote with red wine sauce. Vegan and vegetarian options are also available.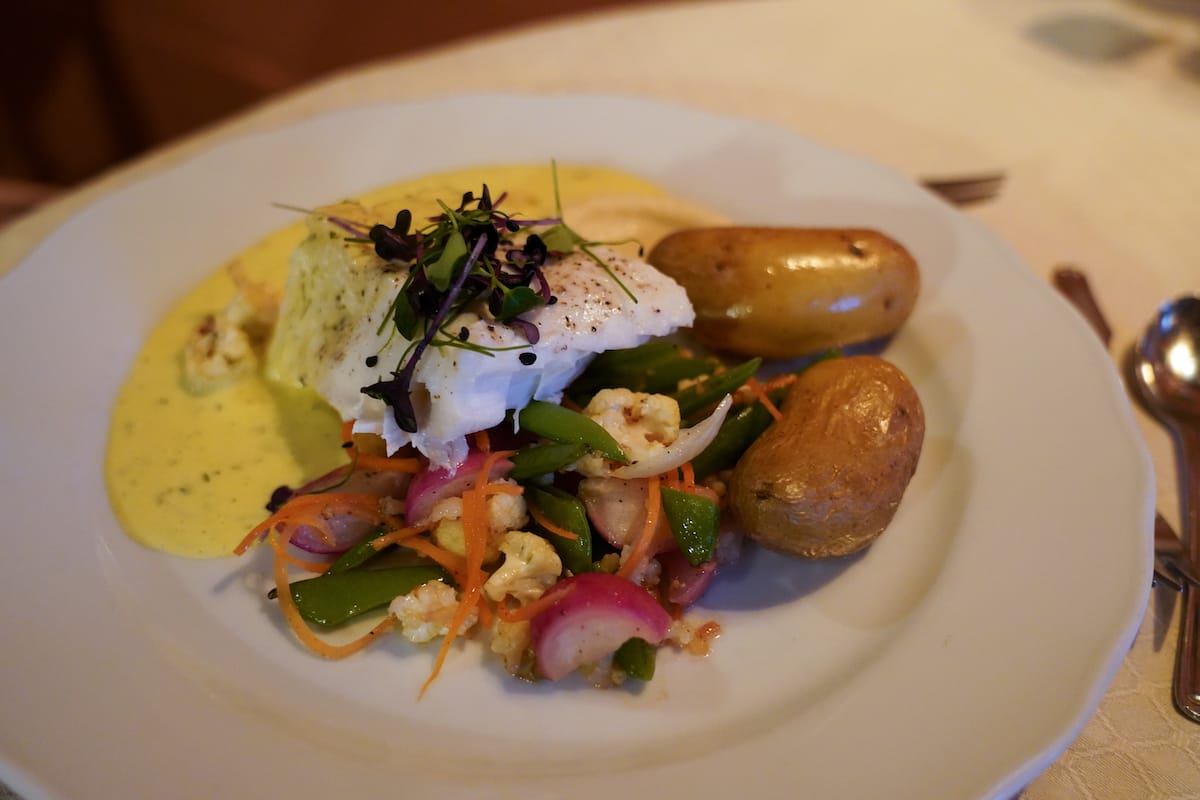 I ordered their fish soup as an appetizer and their steamed halibut with hollandaise sauce as a main. It was far too much food for me as a solo diner, but it was all so delicious that I didn't care.
They also offer a 5-course menu that has Norwegian cheeses as the 4th dish.
6. Søstrene Hagelin
Address: Strandgaten 3
Website: https://www.sostrenehagelin.no/
While I think a stroll around the fish market is one of the best things to do in Bergen, I don't think it is the best place for some of the city's famous fish soup.
Søstrene Hagelin, however, is definitely one of those spots and a must-visit for those looking to dive into Bergen's seafood scene in a casual manner.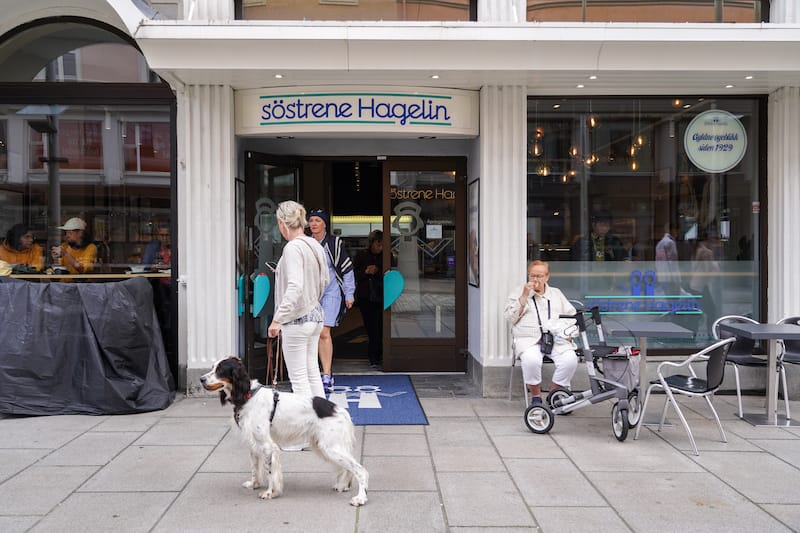 The famous seafood eatery has been around Bergen for years and its fish soup is made with the same recipe as its original in 1929.
Started by sisters (søstrene means sisters) Elna and Gudrun at the end of the 20s, they brought recipes from their home in Sogndal to Bergen and those same recipes are loved by Bergensers as they were nearly a century ago.
What I loved about the place is that it was casual and was made for a quick bite to eat.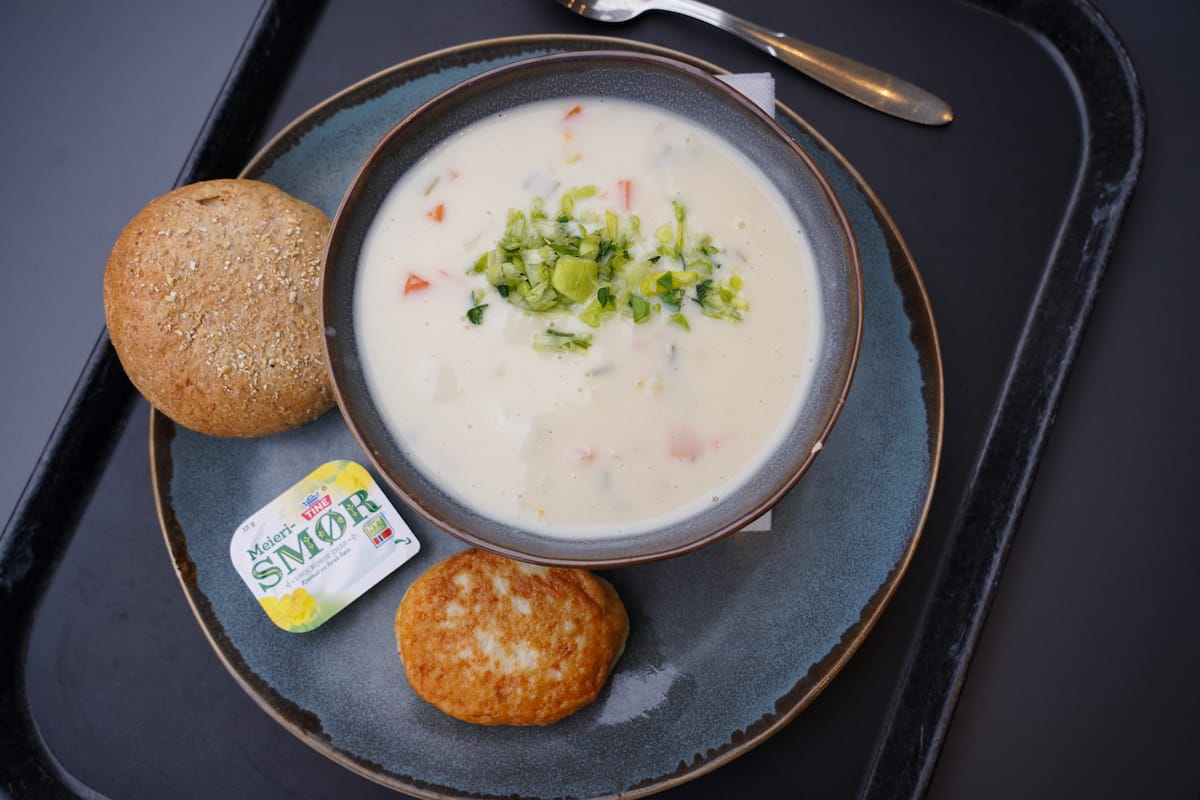 They have a takeaway menu and a dining-in menu and you'll find everything from their famous fish soup to fiskekaker (fishcakes), fiskepudding (fish pudding), and fish wraps on there.
I had their fish soup and one fish cake and both were extremely delicious and affordable.
💥 INSIDER TIP: If the weather plays in your favor, grab some fish soup to-go and sit by the harbor which is one street over!
7. Damsgårdstuene
Address: Damsgårdsveien 120 (Laksevåg)
Website: https://www.damsgardstuene.no/
I, sadly, couldn't get to Damsgård Stuen on my last trip to Bergen but it was one of my favorite restaurants in the city when I lived there!
I don't know the history of the place but it feels very old and like a throwback when inside and, to be honest, tourists don't really find their way there as it is located in Laksevåg, a way outside of the city center.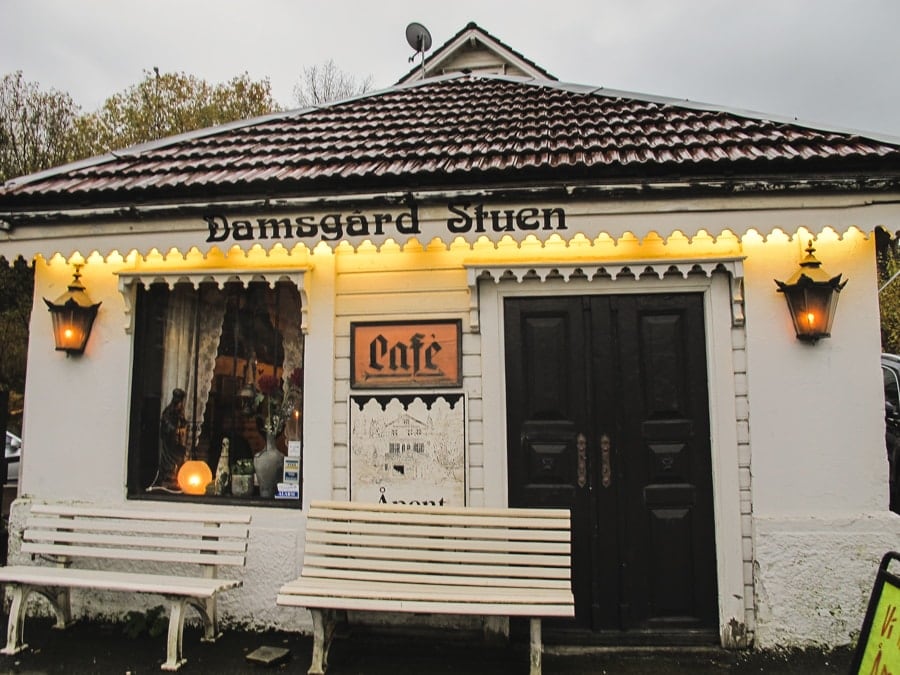 I actually first went there for a birthday party (they host small get-togethers) and eventually started making it back on my own.
Damsgårdstuene is open from Thursdays to Sundays from 15:00 – 19:00. Not exactly the best hours but if you can make it there, you will have the chance to try several traditional Norwegian dishes (even pinnekjøtt)!
8. Dr. Wiesener
Address: Nye Sandviksveien 17A
Website: https://www.drwiesener.no/
I had always heard about this place but I never had a chance to actually check Dr. Wiesener out until my last trip to the city. Located in Sandviken (pretty close to Bryggen), this bar and restaurant felt like the community's favorite place when I was there.
The vibe was awesome and everyone seemed to be chatting, enjoying the sun (it somehow was sunny all 6 days of my last Bergen trip), and drinking delicious Hansa beer.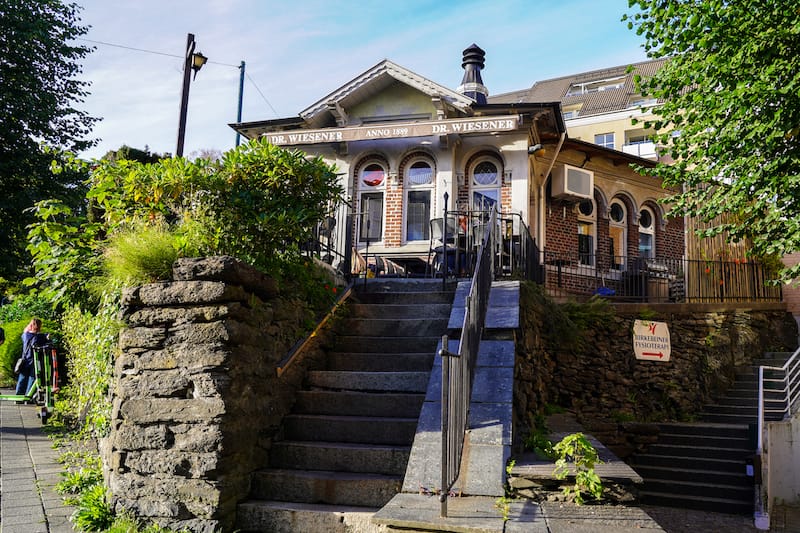 I didn't go for drinks (although I had a non-alcoholic beer there), but I went to test out the food. The place had a pub vibe with its food menu and they had international dishes and a few Norwegian ones.
I opted for cod and it came with some grilled lettuce (or maybe it was cabbage… but felt like lettuce) that was absolutely out of this world!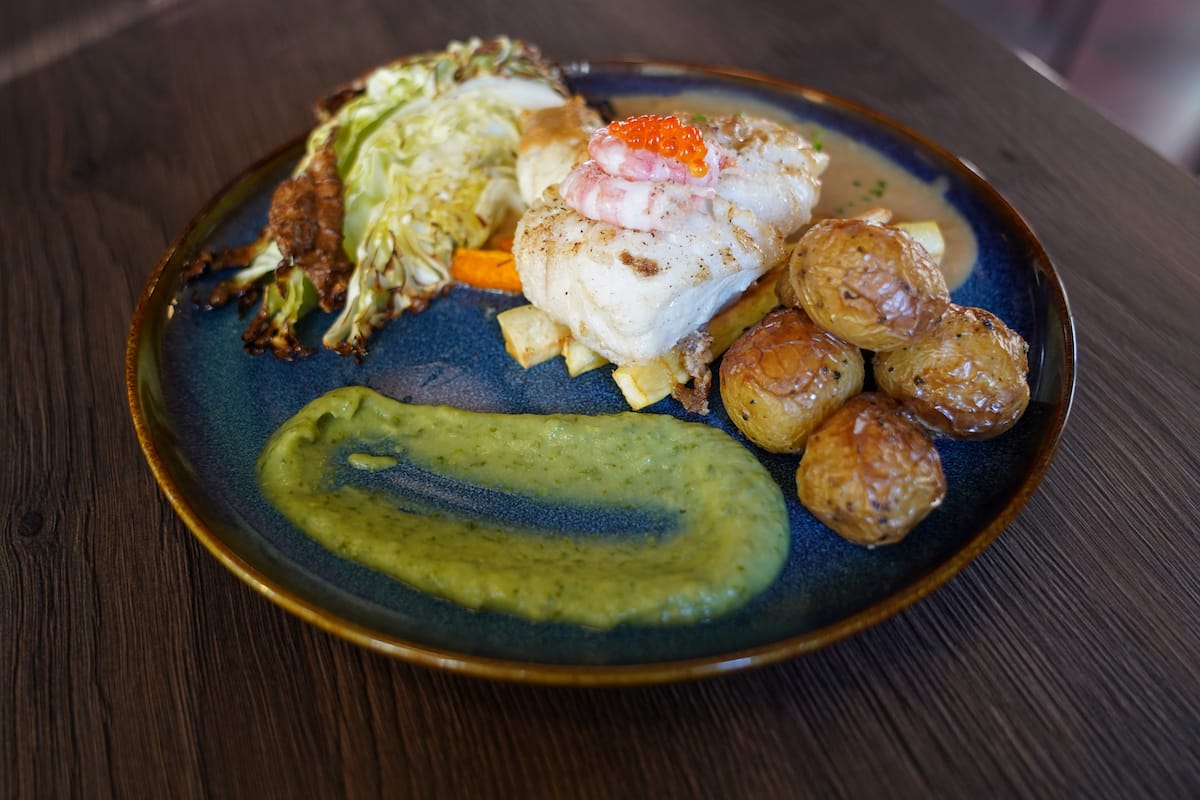 This is definitely a place to check out if you like elevated pub food and an inviting atmosphere! Dr. Wiesener is a wheelchair-accessible establishment.
Additional Restaurants in Bergen to Try
While these were all highly recommended from my trip and living in the city, there are some others I want to check out on my next trip back to Bergen! Some of the ones on my Bergen food bucket list are:
To Kokker (was never open this last trip when I was available to eat there!)
Marg & Bein
Dirty Vegan (highly recommended by multiple people when I was there)
Colonialen 44
Restaurant 1877
Spisekroken
Cornelius Sjømatrestaurant (looks like the coolest dining experience ever)
Wheelchair Accessible Restaurants in Bergen
Many of the restaurants I mentioned on this list are not wheelchair-accessible or are going to be more of a challenge for those with mobility impairments (often they will have a step to get inside).
Here is a list of places that you can add to your Bergen itinerary that are wheelchair-accessible:
Olivia at Zachariasbryggen
Lysverket
Michelsen Kafe og Bar
Egon Kjøttbasaren
Wesselstuen og Logehaven
Fløien Folkerestaurant (top of Fløien)
Dr. Wiesener (will need to go to the top of the hill to enter)
26 North Restaurant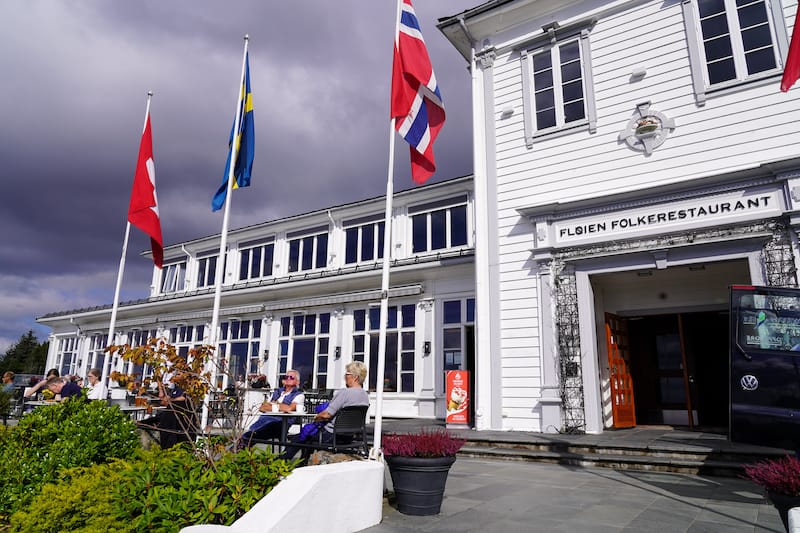 Did we miss any of the best restaurants in Bergen in this guide? Please let us know your favorites (and where in the city they are located!) below. Thanks!
More Bergen Travel Guides
Pin this Restaurants in Bergen Guide