Norway's rainy, west coast capital is an incredible place. And it is mind-blowingly beautiful. This is a guide to the best things to do in Bergen, Norway – from culture to food to history (and more)!
Are you planning your trip to Bergen last minute?
If youʻre booking your trip to Bergen last minute, we have you covered. Below are some of the top tours, hotels, and more!
🇳🇴 Top Activities and Tours in Bergen:
🛌 Top Hotels in Bergen:
Zander K Hotel (4-star gorgeous hotel)
Hotel Norge by Scandic (5-star luxury)
Citybox Bergen (some of my fave mid-range hotels in Norway)
🚗 Visiting Bergen independently? Be sure to book your Norway rental car ahead of time to ensure availability!
When I first moved to Norway, I struggled to adjust because of the rain in Bergen. I eventually moved to Oslo. What a shame (but I loved Oslo). But Bergen was the city that delighted tourists.
When my family came to visit me, I was so eager to drive them from Oslo to Bergen so they could marvel at the city which I swear is one of the most stunning and captivating in the world.
And the city didn't disappoint. For some odd reason, Bergen couldn't give me an ounce of sunshine when I lived there. But, it gave my family sun and they fell in love with the city!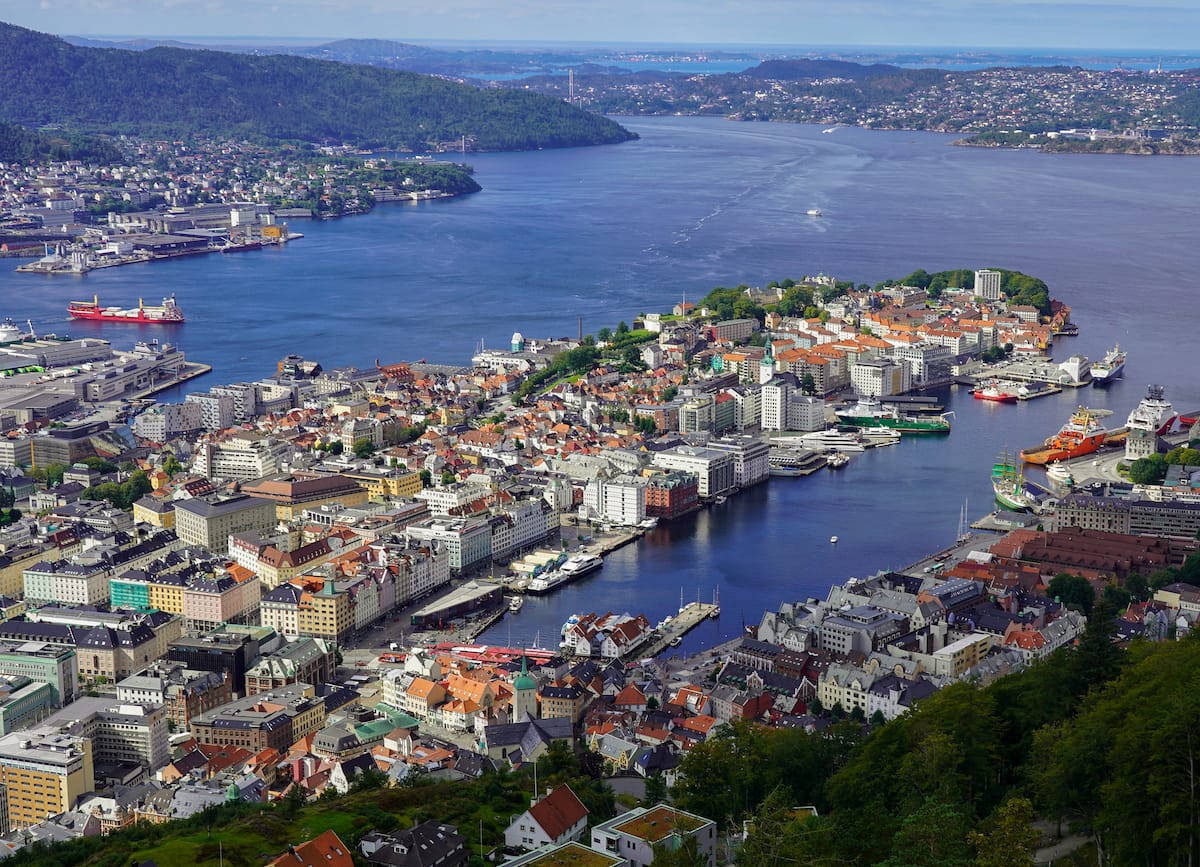 This guide contains some of my favorite things to do in Bergen – from the touristy stuff to some of my favorite restaurants and day trips.
If you have any other recommendations for the top attractions in Bergen, please drop them in the comments. Thanks!
Best Bergen Tours (to Maximize Your Time!)
If you're looking for something more organized when in Bergen and the surrounding area, here are some awesome Bergen tours you should check out.
These tours will help you maximize your time, which is especially important if you only have a short amount of time in the city! We listed a variety so that you can pick which one is most suitable for you (and many include multiple places!):
Best Things to Do in Bergen
The guide of places to visit in Bergen (and things to do there!) is not comprehensive as there are heaps of things to do there!
But, it is a good start for travelers who want to explore the depths of the Hanseatic city. I also give some insider tips throughout the guide from my time living and traveling there!
The guide also includes quite a few day trips from Bergen for the person who wants to experience Norwegian nature removed from the city.
1. Go on a Mostraumen Fjord Tour
One of my favorite things to do in Bergen is to head out on a boat – and there is no better way to experience the city for the first time than taking this Mostraumen fjord cruise!
The Bergen fjord tour will guide you through the Osterfjord before ending up in Mostraumen where you can see the Bergsåafossen waterfall and a small town before heading back.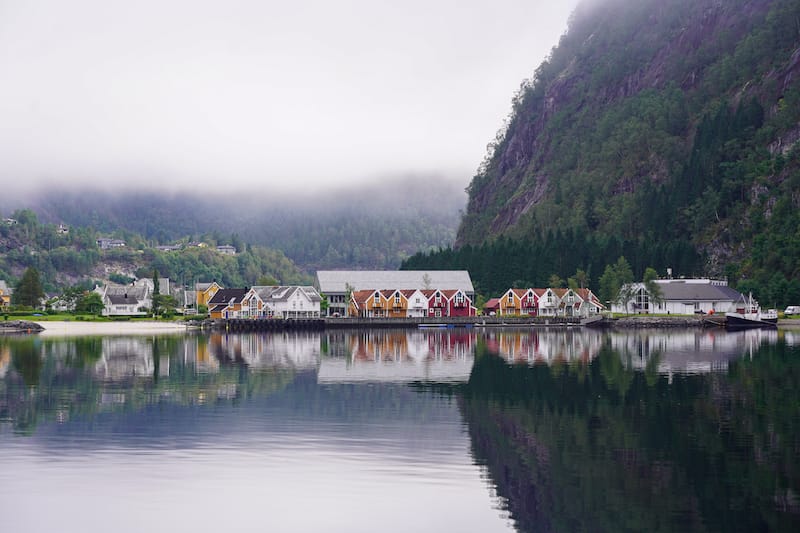 The tour is one of the more affordable ones and only will take up 3-3.5 hours of your day.
The best part is that it runs almost year-round (with the exception of January 1 – March 31).
>> Click here to book a Mostraumen fjord tour
2. Hang Out on the Quiet Nordnes Peninsula
A favorite part of Bergen for me is the Nordnes peninsula. This area is SO close to the city center but many people miss out on seeing it unless they spend a bit more time in the city (and away from Bryggen).
Nordnes is also home to Nordnesparken, one of my favorite parks in the city that overlooks the sea.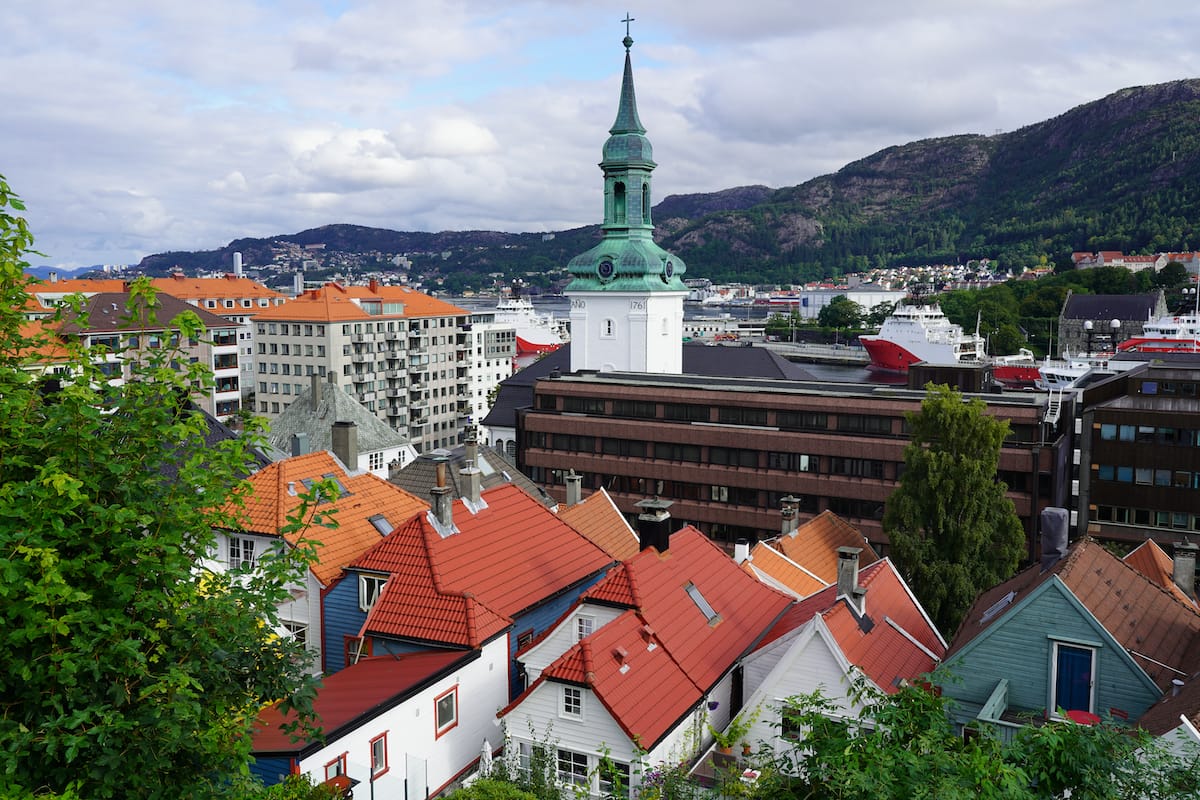 Seattle is a sister city to Bergen and in 1970, the Washington city sent a totem pole to Bergen as a gift for its 900th birthday. This totem pole stands in Nordnesparken today.
Be sure to also take a stroll down the beautiful Ytre Markeveien street there!
3. Cruise the Fjords to Famous Flåm
Flåm is one of the most talked about and visited fjord villages in Norway and its beauty and stillness are the reasons. I have visited several times and it never fails to make my jaw drop. It sits on the Aurlandsfjord (one fjord over from Nærøyfjord).
Many of the ships stop in the fjord and there can be an influx of visitors here and there but I totally deem it worthy of the trip from Bergen even if it is packed during the days.
If you're a craft beer fan, you'll be delighted to know that there is a really awesome brewery there called Ægir.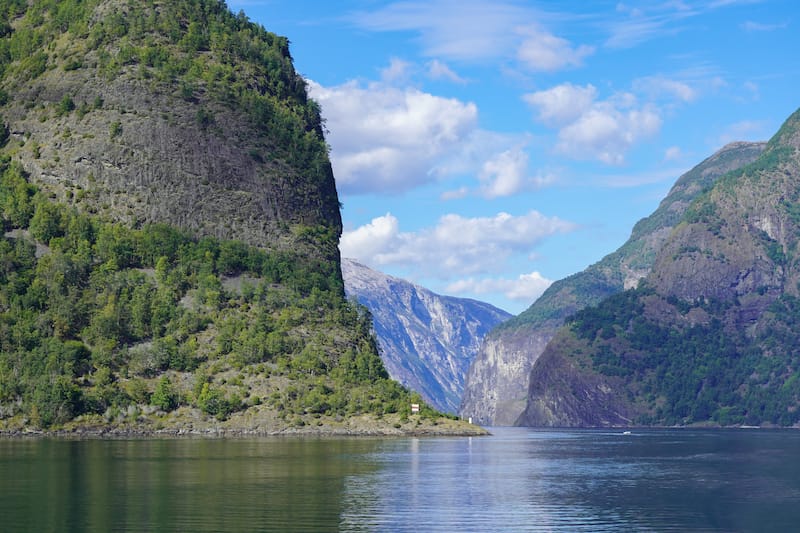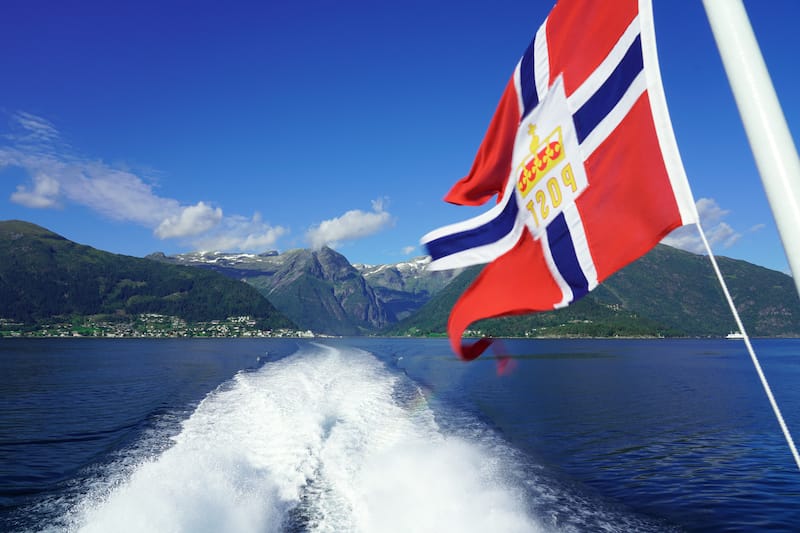 Some other things to do in Flåm are to ride the world-famous Flåmsbana to Myrdal (one of Earth's most beautiful train rides!), check out the historic Fretheim Hotel, take an adventure tour (RIB boats go from here… or you can rent a kayak!), and more!
You can reach Flåm on a day trip from Bergen by boat. Below is a top-rated tour from Bergen that you should consider checking out (I did this!).
>> Click here to check rates and availability to Flåm
4. Feel Like Royalty at Gamlehaugen
Located not too far out of the Bergen city center is Gamlehaugen, a Royal Castle in Norway that belongs to the Norwegian Royal Family.
The farm area itself dates back to the Middle Ages but this home was completed in 1900 and has been the Royal Family's Bergen home since 1927.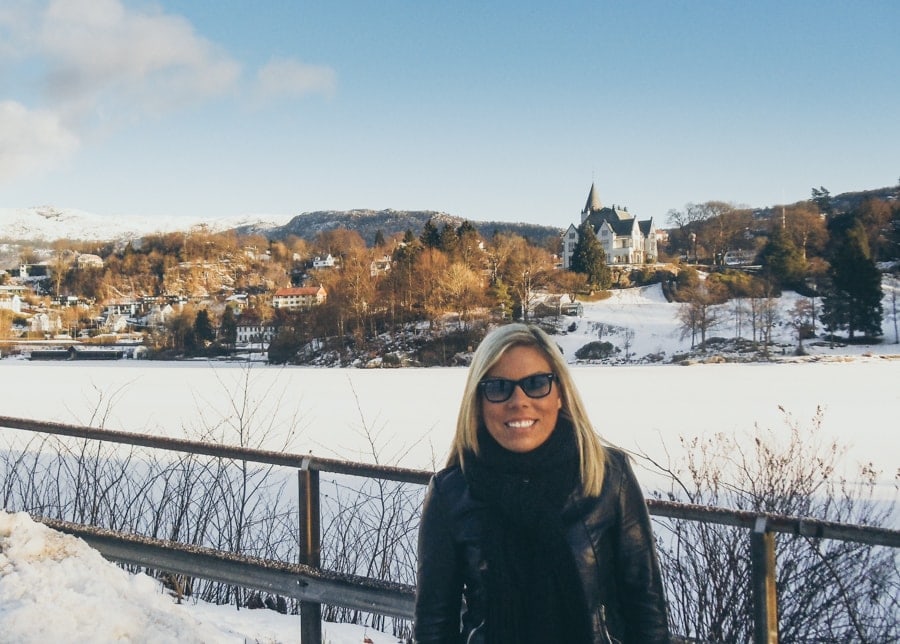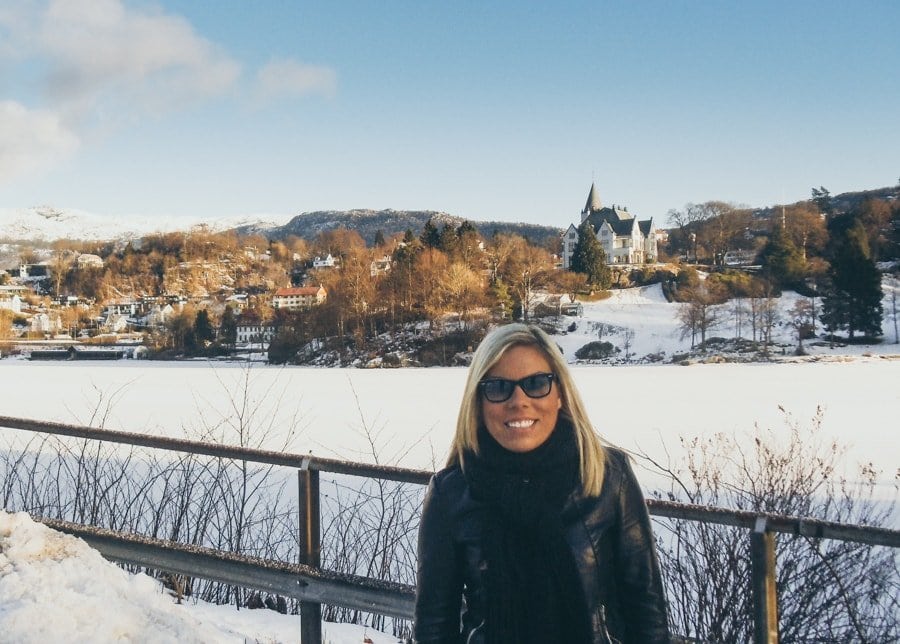 My favorite thing about the place is that it sits on a property of beautiful green land that you can actually visit and chill out in.
While this photo is actually from winter there, I did spend a few days throughout the summer sitting with friends at the park chatting and enjoying the sun!
You can visit Gamlehaugen at Gamlehaugvegen 10 in Paradis.
5. Visit Bergen's Most Famous Stave Church in Fantoft
In Fana, you will find one of Bergen's most recognizable sights, the Fantoft Stave Church.
Although reconstructed, it is still mind-blowing knowing that this church dates back to 1150, originally built near the Sognefjord.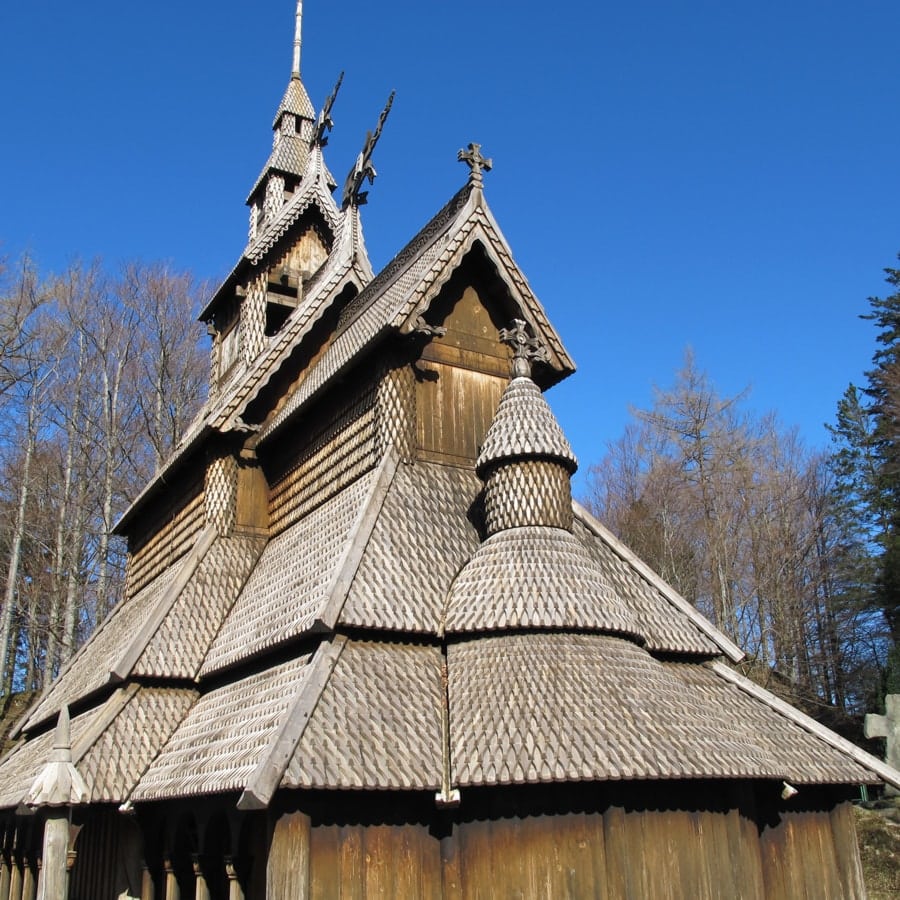 In 1992, the church was destroyed by arson… of which Varg Vikernes, a Norwegian Black Metal singer, was accused.
He was found not guilty in this particular instance but was convicted of arson crimes on other churches around Norway.
Nevertheless, Stave Churches are unique to Norway and this is one of the best Bergen attractions!
You can find the Fantoft Stave Church at Fantoftvegen 38.
6. Learn About the City's Seafaring Past at the Bergen Maritime Museum
One of Norway's oldest specialized museums is the Bergen Maritime Museum.
The place dates back to 1914 and was officially opened to the public on February 18, 1927.
Inside, you can find a lot of detailed info about Bergen's seafaring past and some of the stories date back 2,000 years! The museum offers guided tours during the high season.
To get to the Bergen Maritime Museum, you will need to get the bus to Møhlenpris stop or walk there from the city center (it is around a 15-20 minute walk).
Opening hours:
Mon – Fri: 10 am – 4 pm
Sat-Sun: 10 am – 5 pm
Address: Haakon Sheteligs plass 15, 5007 Bergen,
7. Visit Edvard Grieg's Former Home at Troldhaugen
Bergen's pride and joy is Edvard Grieg, one of the most famous composers in the world.
In Bergen, you can visit his former residence, Troldhaugen, where you will find the Edvard Grieg Museum, his villa that overlooks Nordås Lake, the hut where he composed his music, and his gravesite alongside his wife's gravesite.
The house museum is open Tuesday-Sunday from 10 am – 5 pm from May 1 until September 30.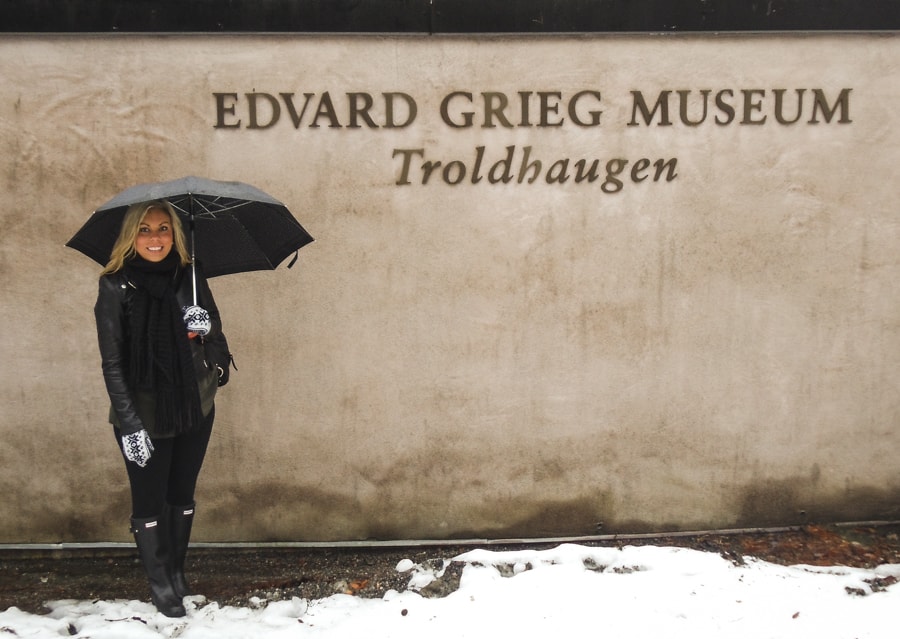 During the winter (Oct 1-April 30), it is open Tuesday-Friday from 11 am -4 pm and weekends from 11 am – 5 pm. It is part of the KODE Art Museums and Composer Homes and a ticket is 130 NOK for adults.
Address: Troldhaugvegen 65, 5232 Paradis, Norway
8. Do the Vidden Hike from Fløyen to Ulriken
You can do this hike either way as it is an out-and-back trail and I did it from Fløyen to Ulriken when I did the entire thing.
This is one of the best city hikes I have ever done and one of the most popular things to do in Bergen during the warmer months.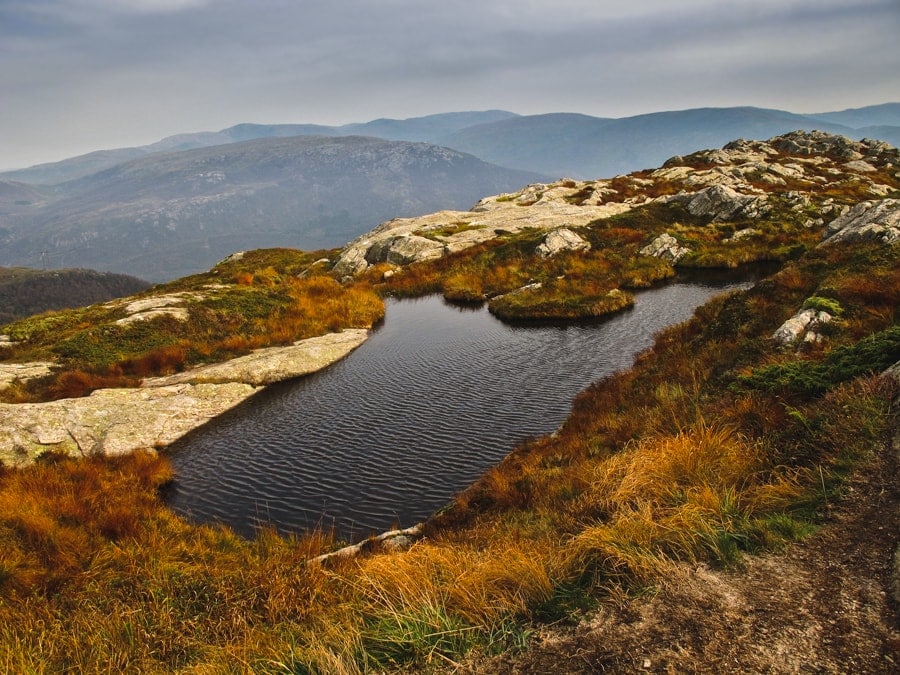 The entire hike is 15 kilometers (9.3 miles) and takes anywhere from 5-8 hours (depending on your stamina and the number of stops you make).
The best time to do the Vidden hike is from May until October but you can actually go up there and ski during the winter months.
The hike is well-marked and is considered moderate (although I would say it is easy-moderate if you hike frequently).
9. Ride the Fløibanen to Fløyen for the Famous View Over Bergen
One of the essential things to do in Bergen for any visitor is to take a ride up the Fløibanen funicular to that 'iconic' view of the city! Built in 1918, it takes you up to the top of Fløyen Mountain.
Up there, you will get a chance to see the city from above, enjoy a coffee at the cafe, eat at the restaurant, or even start a hike to Ulriken.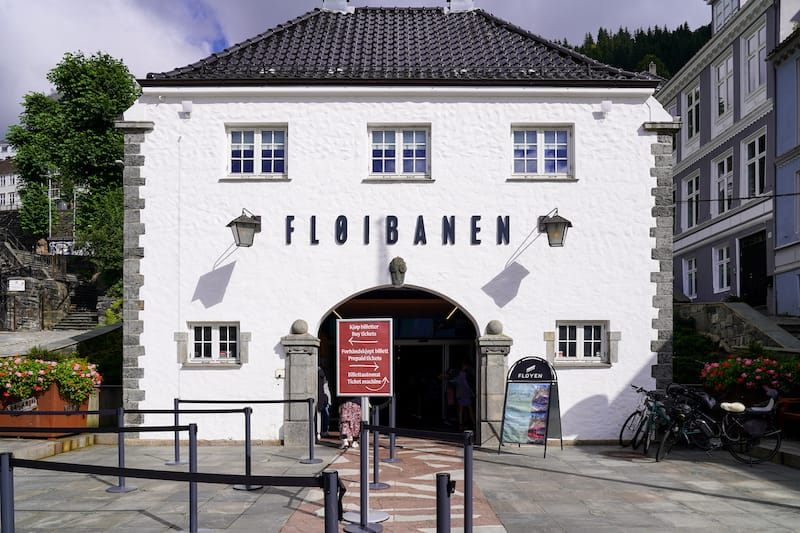 Be sure to also go a bit to the left (if facing the city) up there as there are goats wandering about!
The ride is short and the funicular leaves every 10-15 minutes, so you won't have to wait too long! A return ticket is currently 160 NOK (about $15) and there are student discounts (and dogs ride for free).
The Fløibanen runs until 11pm every night all year round and is wheelchair and stroller accessible.
10. Stroll Through Bergen's Largest Urban Park
If you're looking to get a little outside of the city center but still kind of be there… head to Nygårdsparken.
This gorgeous and spacious public park is in between the Nygård and Møhlenpris neighborhoods and has a large lake in its center.
As the largest urban park in the Western Norwegian city, it dates back to 1880 and is especially beautiful in the autumn.
Bergen is really safe, but I would avoid this park in the evenings and at night and I would avoid the northern part of it (around Nygårdshøyden) at all hours.
However, the southern end is nice for a daytime stroll!
11. Photograph the Beautiful Byparken
Another popular park in Bergen is Byparken. This park is super centrally located and smaller, but it is definitely one of the most popular places to visit in the city.
Now, despite living in Bergen, I don't really know if Byparken is just the small area where the gazebo is or if Festplassen and the large lake behind it are considered Byparken, too… but check it all out!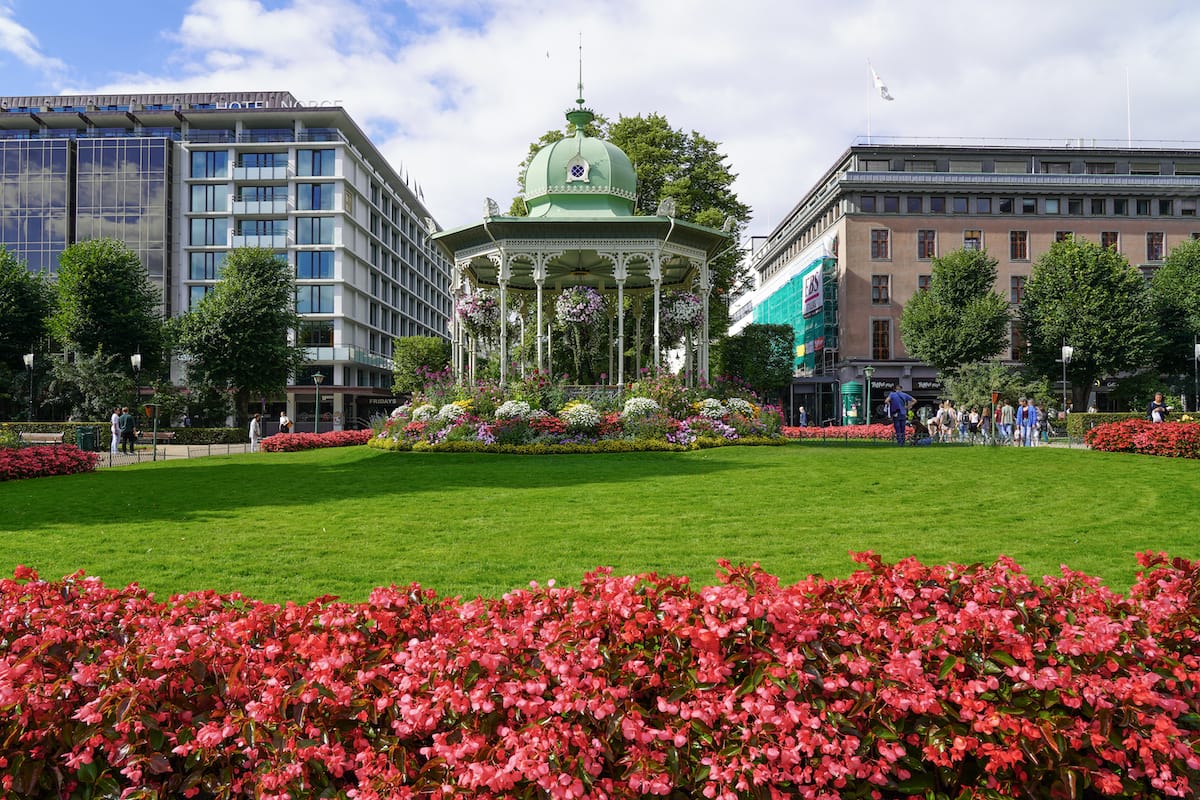 You will see events hosted around here, as well as the KODE Art Museum.
And, if you head to the left (if you're facing the lake away from the city), you will eventually run into Marken Street, which is worth a stroll down.
12. Indulge in Hanseatic History at Bryggen
If you've seen one photo of Bergen prior to traveling there, you have likely seen a photo of the charming, wooden harbor buildings called Bryggen.
These colorful buildings are a historic masterpiece of the city and are even listed as a UNESCO World Heritage Site.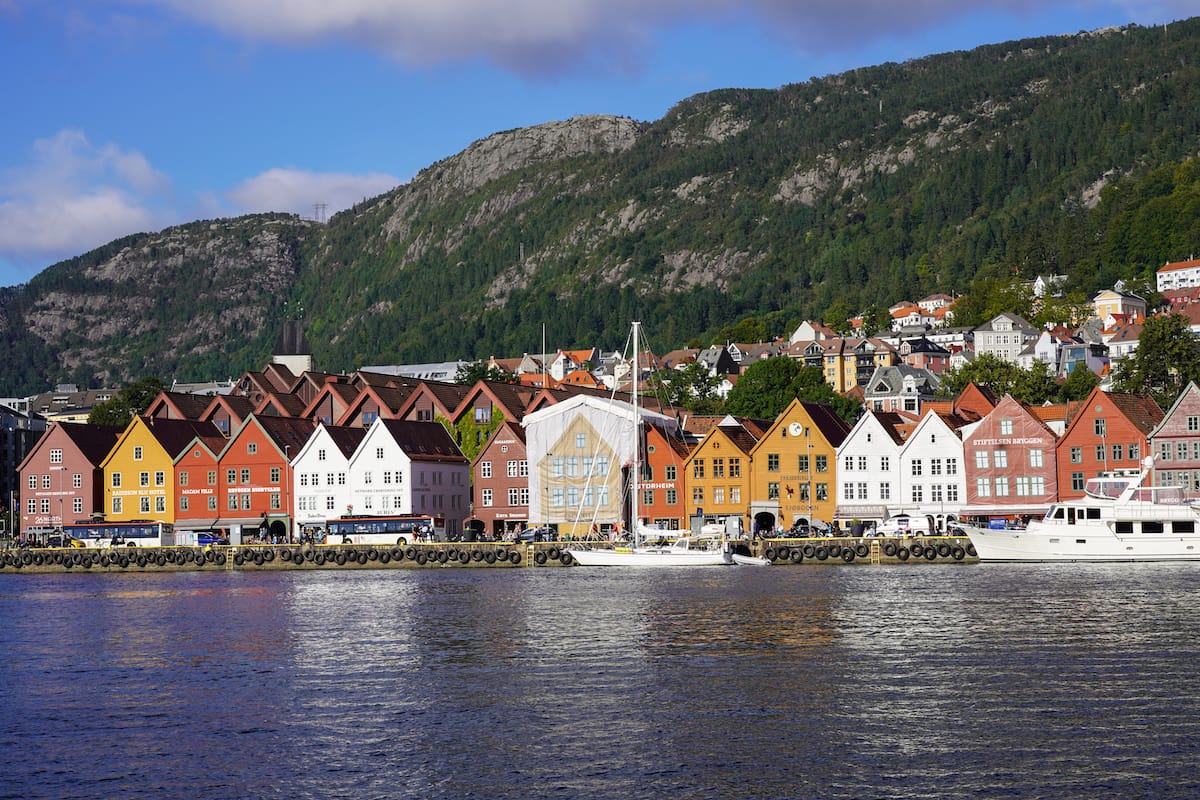 The Hanseatic buildings mark some of the origins of the city (founded in 1070) and now are home to museums, shops, and some of Bergen's best restaurants, bars, and cafes.
These iconic buildings and area sit on the harbor and will undoubtedly be one of the first places you visit when you arrive in the city!
13. Learn About the Battle of Vågen at Bergenhus Festning
As if Bergen couldn't get more idyllic and perfect… it has a fortress located directly on its harbor.
Bergenhus Festning is one of the best-preserved stone fortifications in all of Norway and it is definitely worth a visit and one of the essential things to do in Bergen if you're there.
The fortress dates back to the 1240s and despite being the main Bergen attraction, you can find peace and quiet within its walls.
It is one of my favorite places to visit in Bergen, actually. Mainly because I love strolling through the gardens around it.
You can find it a bit further down from Bryggen going toward Sandviken.
14. Go Back to the 13th Century at Rosenkrantz Tower
Okay, so this is kind of part of the Bergenhus Festning, but it definitely deserves its own place on this guide as it is a really cool place to visit in Bergen.
The Rosenkrantz Tower was built by Erik Rosenkrantz, the governor of the Bergen Castle, in the 1560s.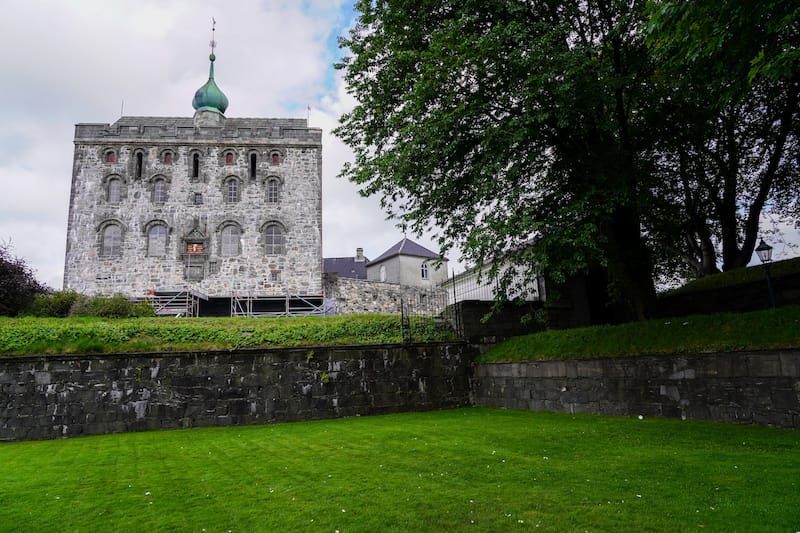 The tower is considered one of the most important Renaissance monuments in all of Norway and you can climb its narrow stairs and get an impressive view over the Bergen harbor.
There is a fee to visit the Rosenkrantz Tower and the hours vary depending on the season.
If you're into history, this is one of the best attractions in Bergen!
15. Peruse the Streets of Gamle Bergen
Perhaps Bergen's most charming quarter, Gamle Bergen is the city's 'open-air' museum and area where you can explore the history of the city.
Bergen was the largest wooden city in Europe in the 1900s and Gamle Bergen boasts 55 wooden houses from various eras and decades showcasing this history.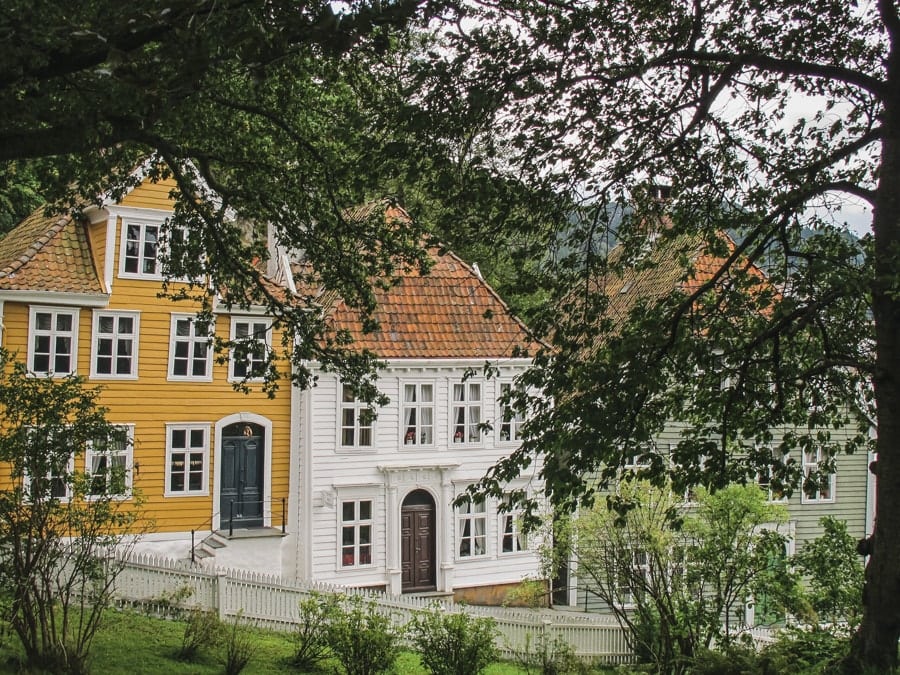 While it is a bit further away from the city center than many Bergen sights, it is still worth the drive or walk there (it is in Sandviken).
You can find Gamle Bergen and the open-air museum at Elsesro, Nyhavnsveien 4.
16. Explore the Ruins of a Cistercian Monastery at Lysekloster
I legitimately have no idea how I first discovered or heard about Lysekloster Monastery in Os Kommune. But, it is a super off-the-path place to visit near Bergen if you're interested and have a car!
The monastery is actually in ruins but is worth a Sunday stroll as you can rock up to it without a fee or anything and chill out.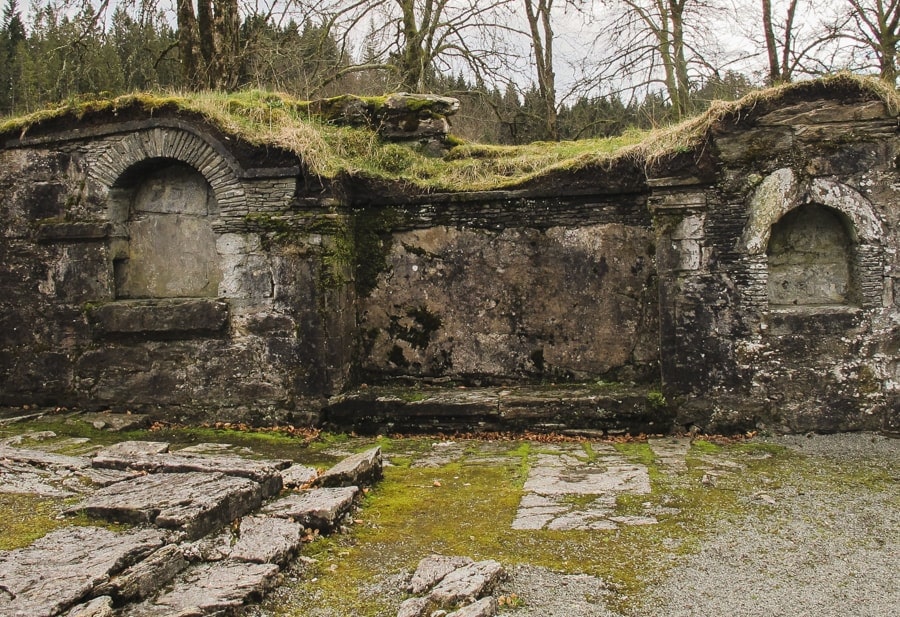 The Cistercian monastery was named 'Lysekloster' for the fjord it was situated on, the Lysefjorden.
You need a car to get here, but if you have one rented and are looking for a hidden gem in the area that is unknown to nearly everyone (even some locals), take a trip there.
Lysekloster can be found in Os Kommune a bit outside of Bergen.
17. Experience Bergen's Amazing Seafood at the Fish Market
A can't-miss spot in Bergen is the Fish Market. Existing since the 1200s, it is definitely worth a stroll through and is even a great place to have a beer if the weather isn't too shabby (but don't worry, they have covering and blankets if it is).
In 2012, an indoor fish market opened right beside it (called Mathallen). It is located right beside the outdoor one and below the tourist information center.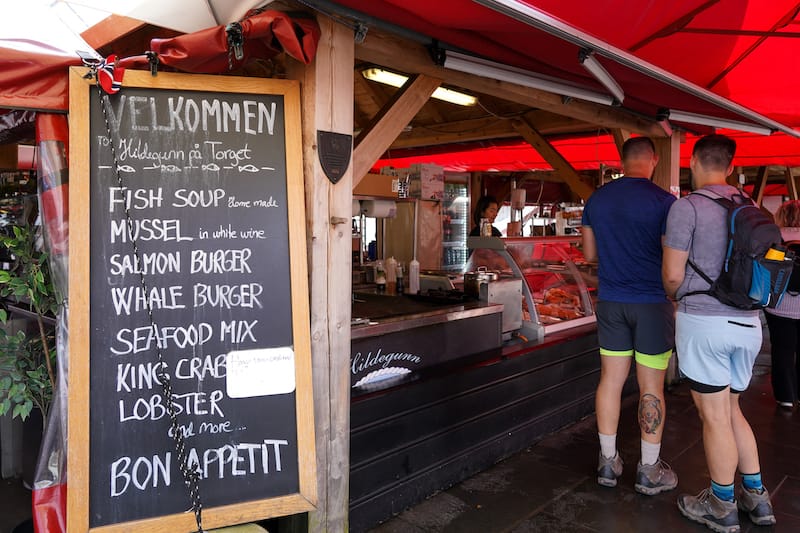 While I don't suggest eating lunch or dinner there (I just think there are better options), it is a great place to walk around and take in the atmosphere of one of the top attractions in Bergen.
18. Buy Bergensk Fiskesuppe by the Harbor
When in the city, I often had a hankering for something cheap and delicious. I never had to look far and would always end up with a cup of Bergensk Fiskesuppe, or Bergen fish soup.
There are so many places you can find this, but I love buying around the harbor at Søstrene Hagelin and taking it to go and sitting by the harbor (or sitting outside of their eatery).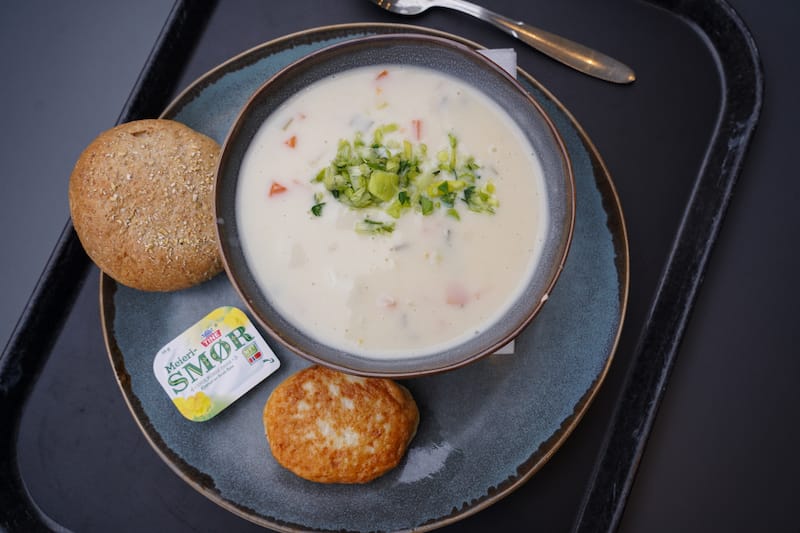 The soup is creamy, hearty, and thick and comforts you well on the dreary and chilly Bergen days.
Inside the soup, you will usually find potatoes, leek, and various types of fish (salmon and cod, most notably). This is one of the foods I really miss when away from Western Norway!
19. Find the Best Coffee in Bergen
Bergen has some exceptional cafes and one of my favorite things to do is to hunt them down and enjoy a cup of coffee with a sweet, Norwegian pastry.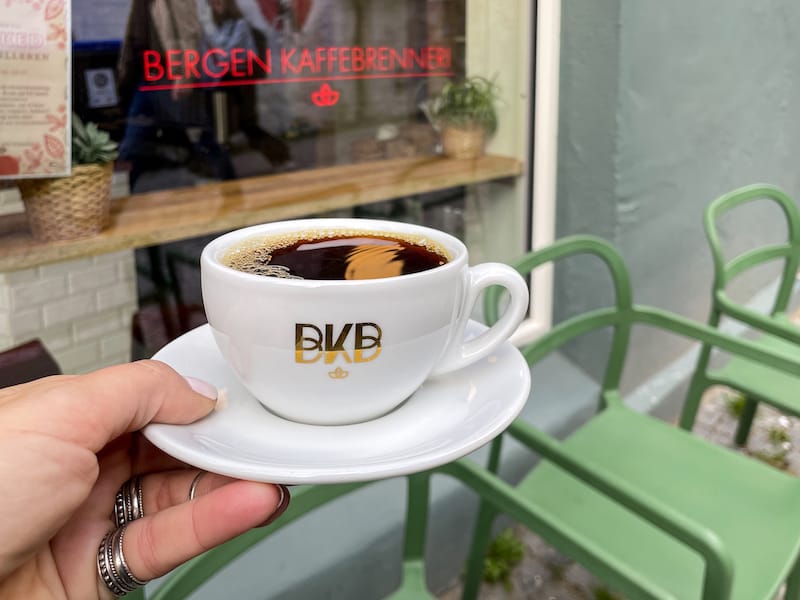 On my last trip to the city, I had the chance to check out several fantastic Bergen cafes and some of my favorites were:
Bønner (Temporarily closed – will update with more info soon!)
BKB (Bergen Coffee Roastery)
Blom
Kaffeemisjonen
One thing to note is that Norwegians drink a lot of coffee and many love a typical, black-filtered coffee. If you opt for this at a cafe, chances are you can get a half-priced refill (called a påfyll).
20. Support Local and Visit the 7 Fjell Tap Room
Norway's craft beer scene is honestly one of the best things about the country (and that says a lot). And 7 Fjell is proof of this.
'7 Fjell' means 'Seven Mountains' which is the symbol of Bergen (okay… that and rain… but it keeps those mountains green and luscious). The Bergen craft beer was named after this famous feature of the city!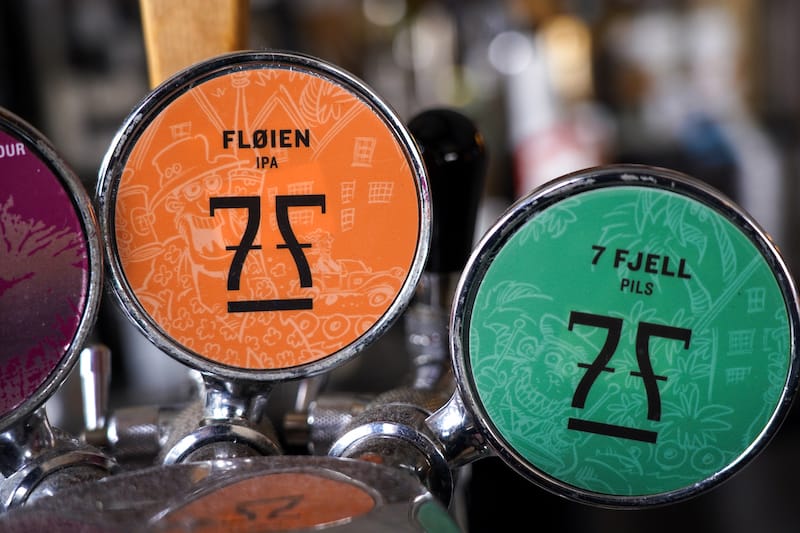 They have a tap room that exudes Scandinavian minimalism and intelligent design.
I highly recommend taking a trip out to Bønes and visiting the 7 Fjell Tap Room on your trip to Bergen if you're a beer enthusiast. You can find 7 Fjell's Tap Room at Fjellsdalen 5 in Bønes.
21. Enjoy Bergen's Best Restaurants
If you're a foodie and happen to be traveling to Bergen, don't worry… you're in good hands! You will find plenty of tasty restaurants in Bergen and some of my favorites are as follows:
Bryggeloftet & Stuene Restaurant: super touristy but locals love it too. You can find local food here and if you go on Thursdays, you can enjoy raspeballer! Located around Bryggen.
Trekroneren: some of the most delicious hotdogs you will ever taste! Located near Fløibanen.
MOON: French techniques with Norwegian ingredients. Exquisite! Located at Marken 33.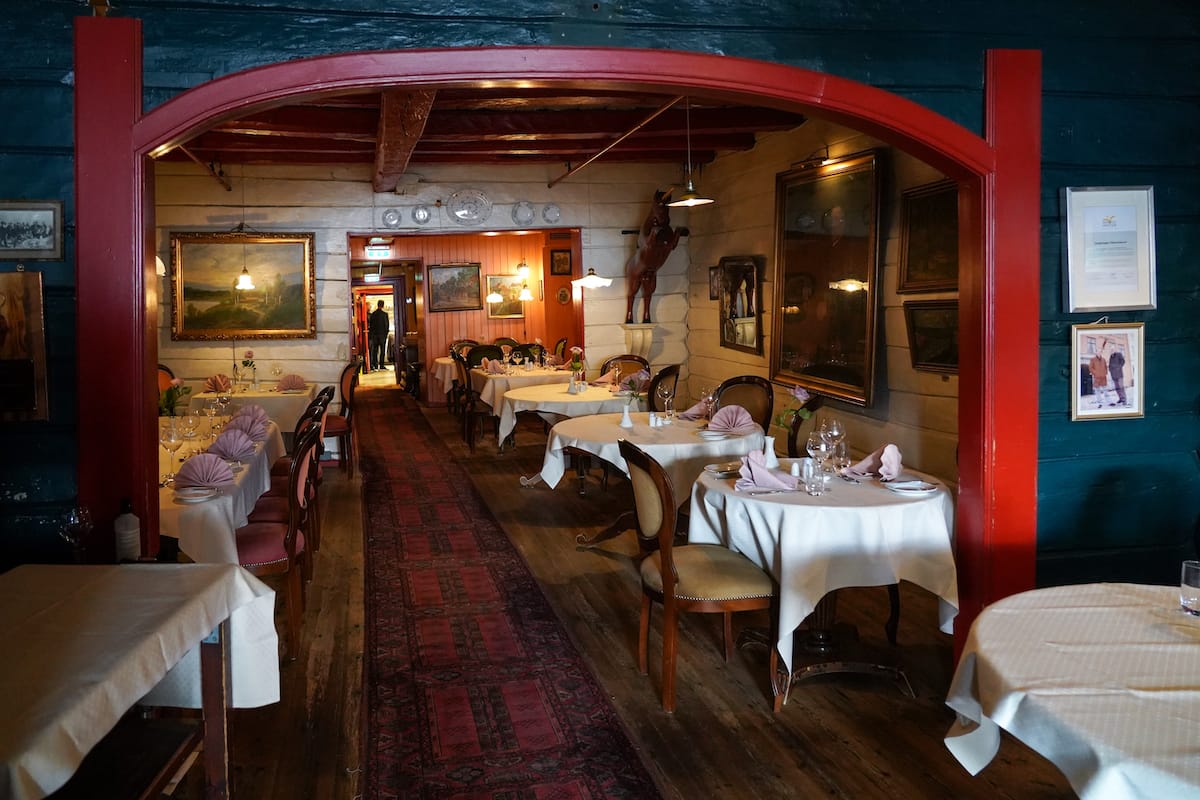 Click here to check out some of my other top restaurants in Bergen!
22. Have a Hot Chocolate at Fjåk Chocolate Shop & Cafe
Norwegians are never lazy when they produce a product and you can almost assure yourself that it will be high-quality. Fjåk Chocolate Shop & Cafe is located not far from the harbor area and they are the first bean-to-bar chocolate maker in the country.
You will find the highest quality ingredients combined with organic and ethically-traded chocolate.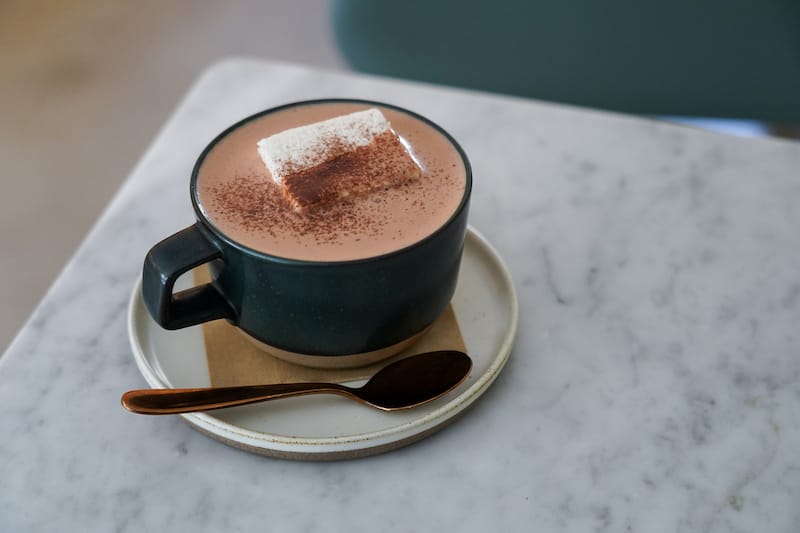 Their factory is located in the Hardangerfjord area but you can step inside their cozy cafe and try some… or opt for a hot chocolate as I did!
They offer a regular hot chocolate (as Americans know it) or a Spanish-style one (which I, personally, don't like as it is thick and tastes more like pudding). I had a milky hot chocolate with a large marshmallow in it and it was simply divine!
Address: Skostredet 5, 5017 Bergen, Norway
23. Take a Day Trip to Extreme Sports Capital, Voss
The city of Voss is likely a familiar one for people around the world all as a result of a certain famous water that comes from there. Well, sorry to spoil things, but Voss water isn't actually from Voss (but who cares?).
Voss is one of the best places to visit on your Norway trip and is Western Norway's capital of adventure and extreme sports.
The city is insanely beautiful and if you're an American football fan, you might be interested to know that Knute Rockne was born here.
There is even a statue dedicated to him in the city. His family later emigrated from Norway to the United States (Chicago) and the rest is history.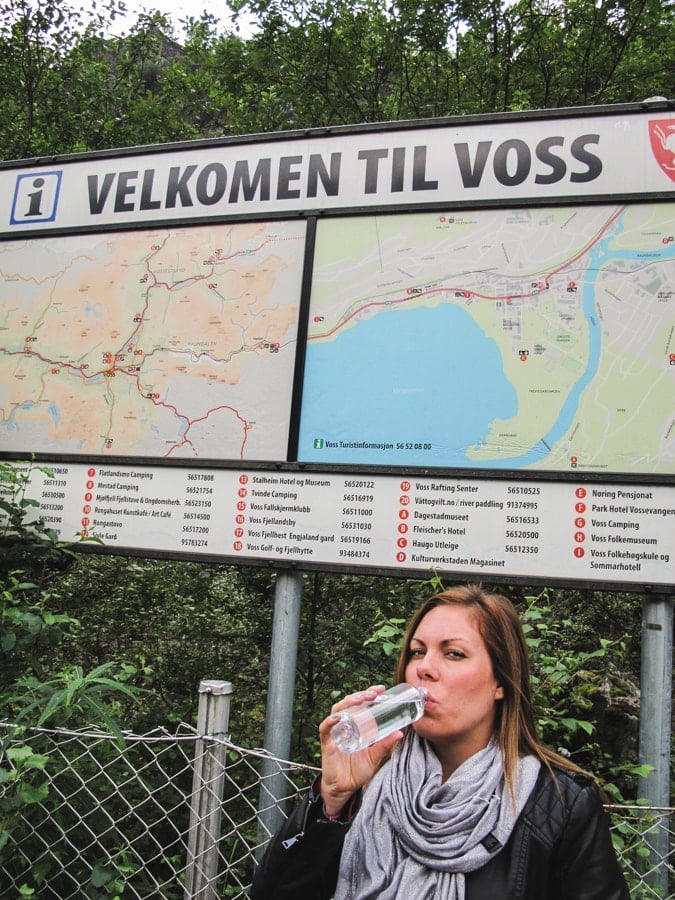 Nevertheless, Voss is an easy train ride from Bergen and there is plenty to do there (and many places to stay overnight).
Be sure to ride the gondola to Mount Hanguren (a year-round activity), go skiing at one of the three resorts nearby (in winter, of course), or go skydiving, rafting, or kayaking (in summer).
If you decide to visit Voss as more than just a day trip, you can book a room at the historic Fleischer's Hotel in the town.
24. Travel to Folgefonna National Park and See a Glacier
From Os where I lived, I was able to see the Folgefonna Glacier on most days, especially when the weather was clear outside.
Folgefonna Glacier (one of Norway's most famous glaciers) sits inside Folgefonna National Park in the Odda area and is easily one of the best places to visit in Norway.
The area surrounding the glacier is teeming with aqua streams from glacial runoff and the fjords are magical.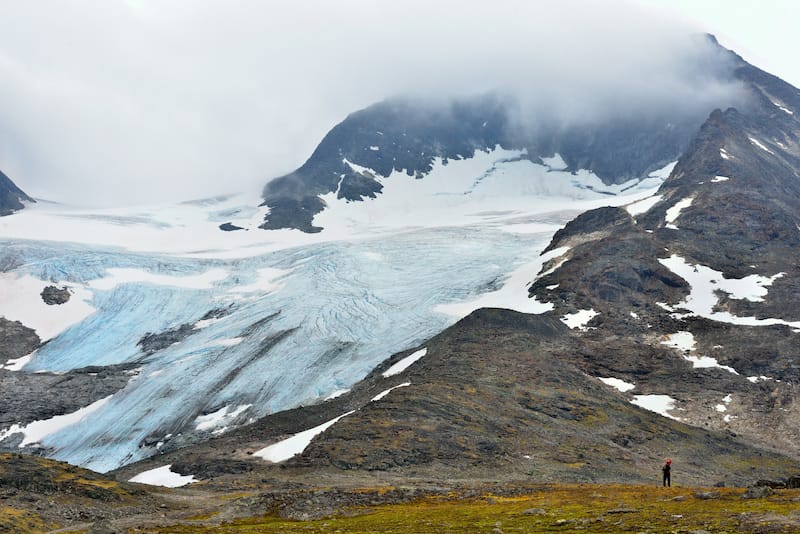 Even if you don't make it into the park, the drive alone is so ridiculously pretty that you'll be mesmerized by the scenery. It takes a couple of hours to get there from Bergen, but add it to your list if you're addicted to nature like I am.
Click here to see our guide to the best Airbnbs in Odda (near Trolltunga and Folgefonna).
25. Drive Northern Europe's Steepest Road at Stalheimskleiva
**Please note that Stalheimskleiva is temporarily closed to vehicles for maintenance. You can only walk along it. Will update this once it reopens for visitors.
If you continue past Voss, you will come across Stalheim, a village that sits high in the Nærøydalen (Nærøy valley), and right on the E16 highway.
There is a hotel there called the Stalheim Hotel and it has historic WWII ties.
If you continue driving, you will have to drive down into the valley a bit more and you will experience a lot of twists and turns as you're on Stalheimskleiva, Northern Europe's steepest road.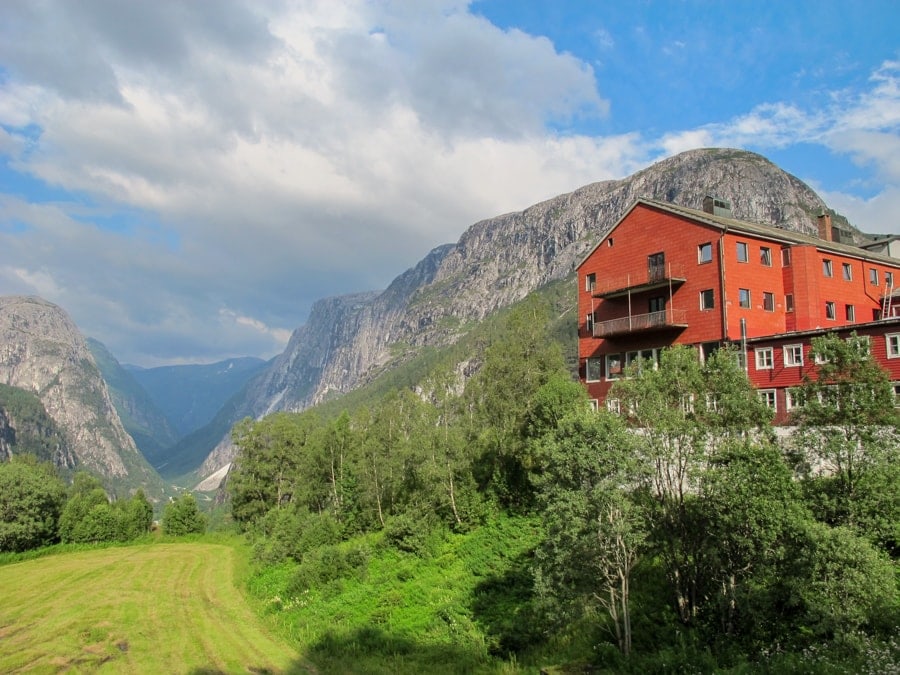 This Norwegian road was built between 1842 and 1846 and has 13 narrow turns, making it an adrenaline-rush experience!
At the top of the road, you will find the hotel but keep your eyes peeled on the way down (if you're a passenger) as you will see waterfalls along the way. The names of the waterfalls are Stalheimsfossen and Sivlefossen.
26. Swim in a Seawater Pool at Nordnes Sjøbad
Something I never took the time to do was swim in the seawater pool at Nordnes Sjøbad.
The famous sea bath has been around for over 110 years but didn't become a sea bath until 1965 and became heated in 1978.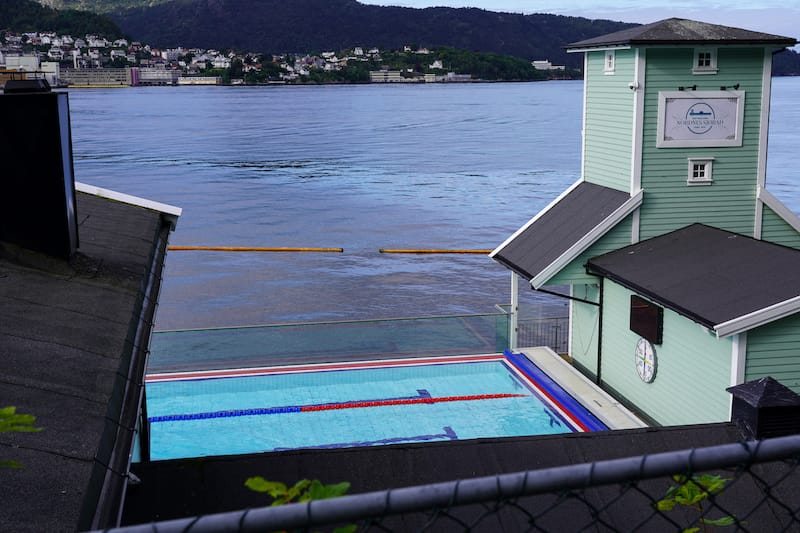 Today, you'll find a 25m long saltwater pool with changing facilities, a children's pool, sauna, diving tower, and more! An adult single ticket costs 90 NOK in summer and 80 NOK in winter. You can learn more here.
You can find Nordnes Sjøbad at Nordnesparken 30 in Bergen.
27. Smell Christmas at the Pepperkakebyen
In 1991, one of Bergen's biggest traditions started and it takes place during the dark, winter months! In the center of the city (Torgallmenningen), you can find Pepperkakebyen, the world's largest gingerbread town.
Since it started, young children and local businesses are involved in its annual construction and people come from all over the world to visit it.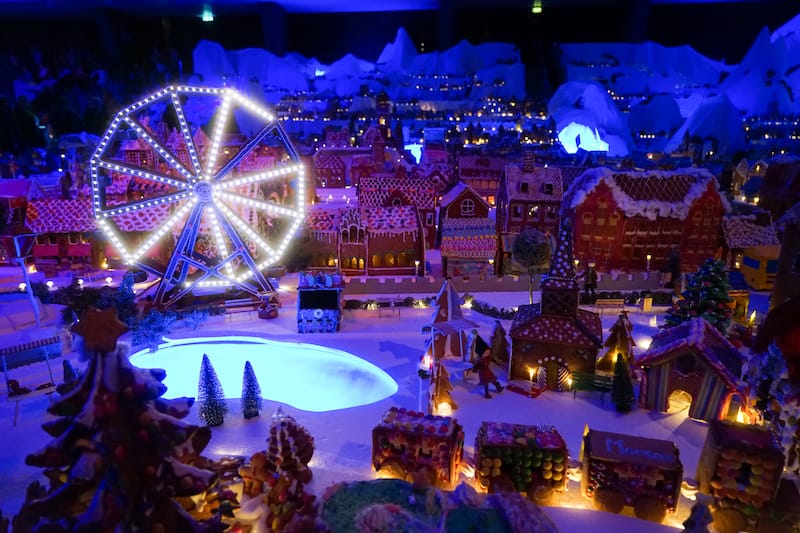 It is open from mid-November until the end of December and all profits made are donated. This is a must-visiting if you're visiting Bergen during these months!
It really is one of the most unique things to do in the city. You can find the Pepperkakebyen during the Christmas holidays at Teatergaten 30-22.
28. Rock Out at Bergenfest
Bergenfest has been around for over 25 years and is one of the city's most popular music festivals.
There are a variety of musicians, bands, and artists that are invited each year and the festival is an absolute blast!
The best thing about the festival is perhaps its location. Bergenfest takes place near Bryggen and Bergenhus Festning- making it one of the most unique music festivals in Europe.
The festival tends to take place in early summer and the next dates for it are June 12-15, 2024. Hope some of you can make it!
Click here for more information.
How to Get to Bergen
There are several ways to get to Bergen even though it may look a bit remote on the map!
You can fly there or if you're the type that wants to experience a luxury cruise, there is that option too as the harbor receives a lot of tourists off the boat.
If you do fly, however, you will arrive at the Bergen Flesland Airport. It is super easy to get from Bergen Airport to the city center and it is usually fairly cheap to fly there from within Europe.
The train ride from Oslo is also known to be one of the most gorgeous train rides in the world (I have taken this train so many times).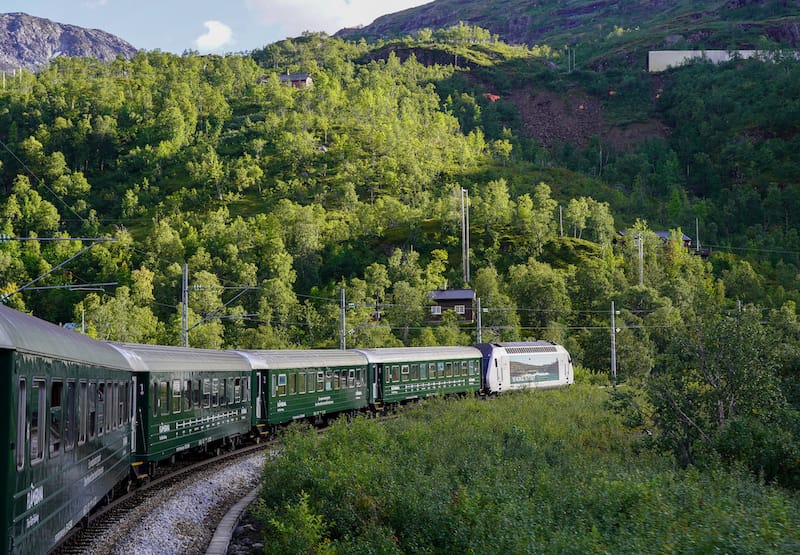 And, if you take this train, you can take a day in Flåm between destinations!
Where to Stay in Bergen
If youʻre looking for some of the best accommodation options in Bergen, here are our top picks!
Did we miss any of the best things to do in Bergen Norway for a first-time visitor?
Let us know what to do in Bergen in the comments. Thanks!
More Norway and Bergen Travel Guides
Pin this Bergen Things to Do Guide