If you're visiting Tromso, one of the best things you can do there is to take a Tromso snowmobiling tour and explore the Arctic landscapes!
Planning your trip to Tromsø last minute?
Below are some of the top tours, hotels, and more! Donʻt forget to plan ahead when visiting Tromsø and nearby!
🇳🇴 Top Activities and Tours in Tromsø:
🛌 Top Hotels in Tromsø:
Radisson Blu (luxury)
Thon Hotel Tromsø (mid-range – I have stayed here!)
Smarthotel Tromsø (budget option – I have stayed here too!)
🚗 Visiting Tromsø independently? Be sure to book your Norway rental car ahead of time to ensure availability!
This guide covers some of the top snowmobile tours in Tromso and shows how to book them (and who each tour is made for)!
It also gives some tips for a Tromso snowmobile trip – including what to wear, how to book, and more!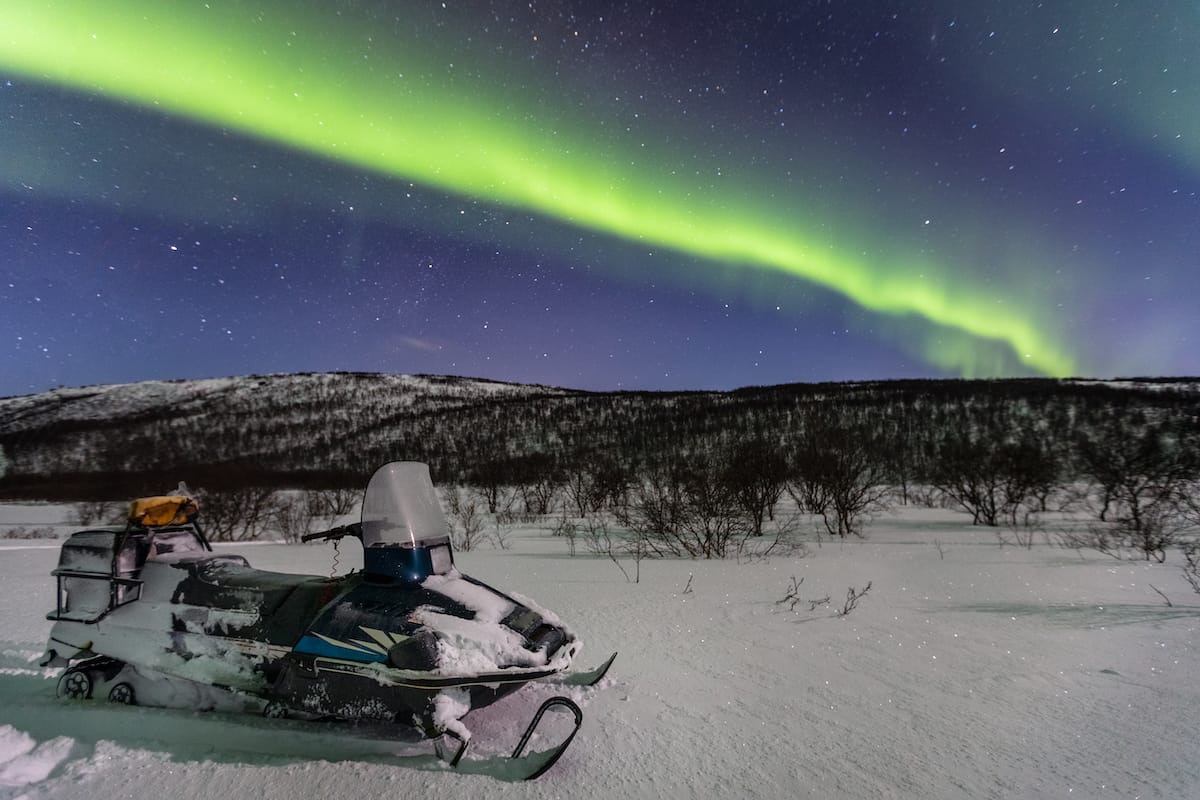 Did we miss anything you'd like to know about snowmobiling in Tromso? Let us know in the comments!
Snowmobiling in Tromso – Overview
When people head to Tromso, they often end up on tours doing the same thing as hundreds of other people.
Snowmobiling is a popular activity in the Norwegian city, but it also is one where you can kind of escape the mass crowds, too!
And, don't underestimate the time spent on a snowmobile! You still have a chance to see the northern lights in Tromso, as well as many other cool things along the way!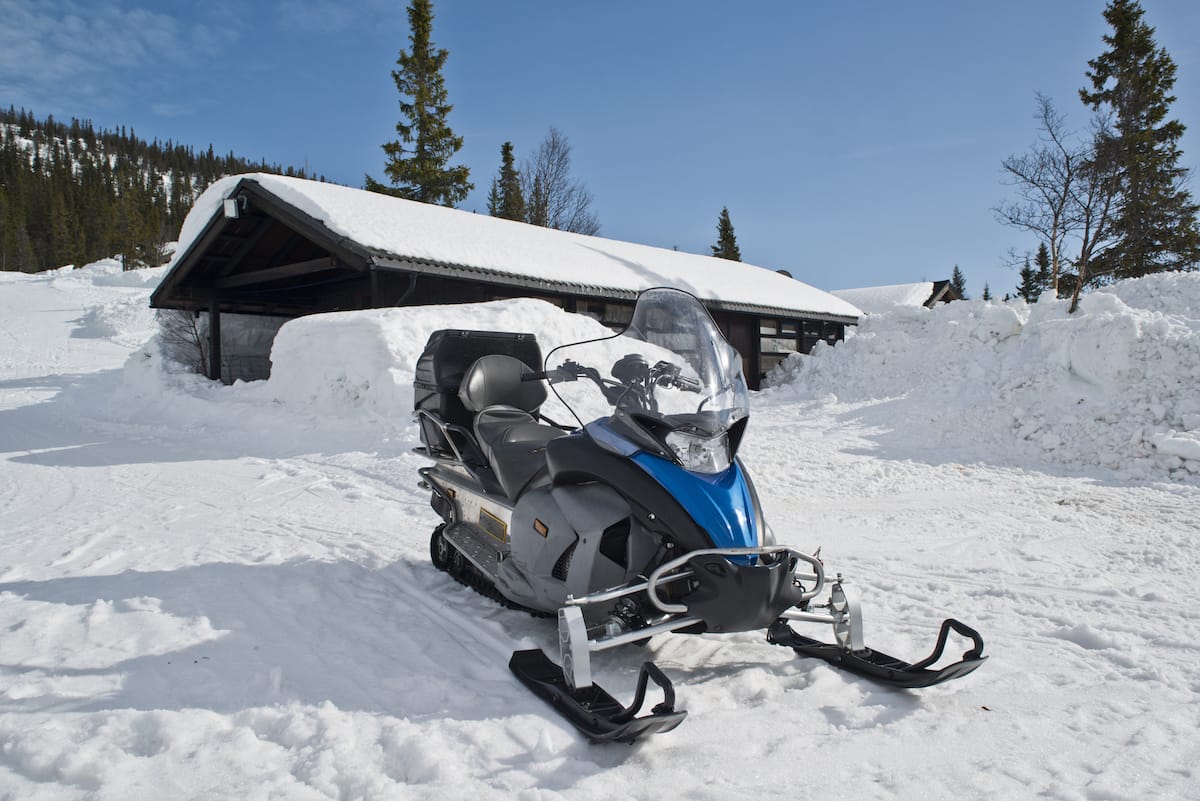 This guide details a few different Tromso snowmobiling excursions that you may want to consider when planning your Tromso itinerary. Some happen in the mornings and others happen later in the day.
Some of these Tromso tours are combined with other activities, like the Tromso Ice Domes, while others are simply an adventurous snowmobiling trip around Northern Norway!
At the end of the guide, we give some tips on what to bring for the journey. If you have any questions, don't hesitate to reach out to us!
Can You Take a Snowmobile Tour in Tromso Year-Round?
Nope. The snow melts and this activity is primarily something you do in Tromso in winter. Snowmobiling is also great for early spring.
Best Tromso Snowmobiling Tours
1) Tromso Snowmobiling Tour (Morning or Evening)
Duration: from 6 hours to full-day (you can pick morning or evening tour)
Language: Norwegian, English
Meeting point: Outside Magic Ice Bar (Kaigata 4)
Season: December-March
BOOK A MORNING TOUR // BOOK AN EVENING TOUR
Morning Snowmobiling Tour
Your adventurous day will begin with a briefing and safety lesson where you will be able to ask questions and learn all you need to know about driving a snowmobile! This tour is one of the best in Tromso for getting you out into the Arctic wilderness.
Run by the Arctic Travel Company, your pickup will take place in Tromso at the Magic Ice Bar before transporting you to Camp Tamok where you will be provided with warm clothing and shoes (do wear wool or long underwear, however!)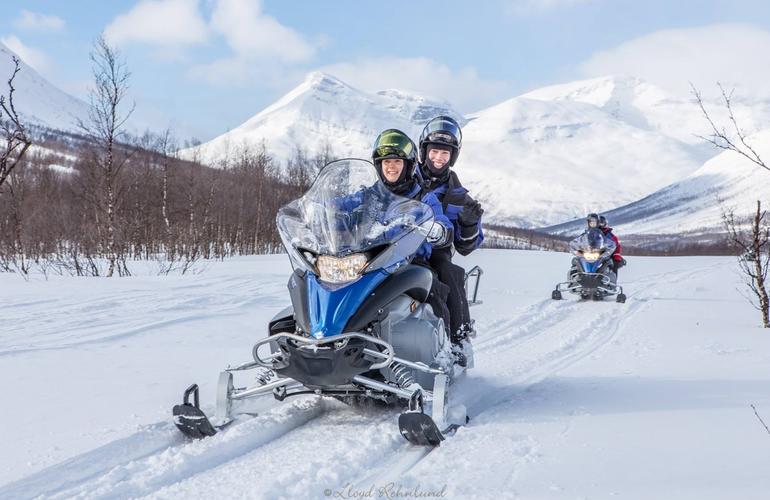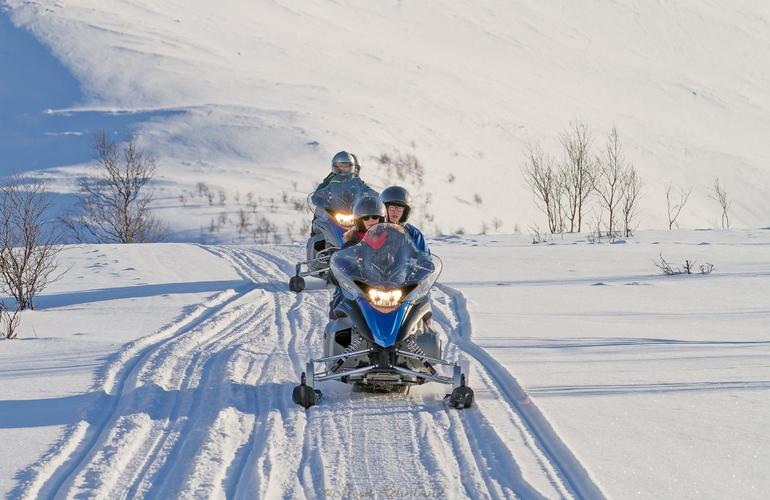 The tour will have two people on a snowmobile (one driver, one passenger). You will have the chance to switch places throughout the journey and your trip will cover a distance of 11 kilometers each way (7 miles)… putting you on a snowmobile for a total of 2-2.5 hours of your trip!
You'll soar through the Finn Valley and will see everything from icy lakes to wildlife and more. There are plenty of photo opportunities throughout! Once your trip is done, you will have the chance to enjoy a hot meal in a cozy lavvu (Sami tent) surrounding a fire with tea and coffee.
USEFUL TIP: If you are booking specific northern lights tours during your Tromso trip, I would book the morning tour for snowmobiling and not the evening one. This will allow you to concentrate on the activity at hand and enjoy it to the fullest!
The greatest thing about this trip is that it allows you to also combine it with an evening northern lights trip.
If you are planning to be a driver on the tour, you must bring a driver's license. However, children 6-11 years of age are permitted as passengers (must be 130cm, or 4 feet 3 inches tall).
Evening Snowmobiling Tour
For the evening tour, all of the same is the same except you have a chance to see the northern lights on your trip! This is a great combo tour if you're pressed for time in Tromsø and want to combine two activities into one. The price essentially stays the same.
Do note, however, that if you see the northern lights, you will not be able to sit outside and photograph them for hours as you still have some ground to cover on the snowmobile!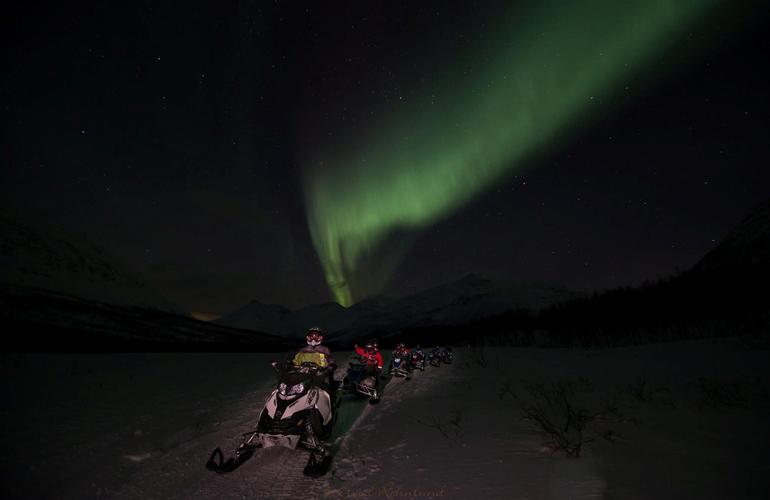 If you are only booking one northern lights tour in Tromso, I would recommend it not be this evening tour as you won't get hours in front of the camera to catch them and photograph. However, if you have other tours booked, this is a fantastic combo tour that will be extra special if the aurora does show its face!
2) Full Day Tromso Snowmobile Tour (Visit Three Countries!)
Duration: 10 hours
Language: English
Meeting point: Grønnegata 76
Season: December-April
CLICK HERE TO BOOK
If you are adventurous and looking to explore the Arctic terrain of THREE countries instead of just one, this is the Tromso snowmobile tour for you!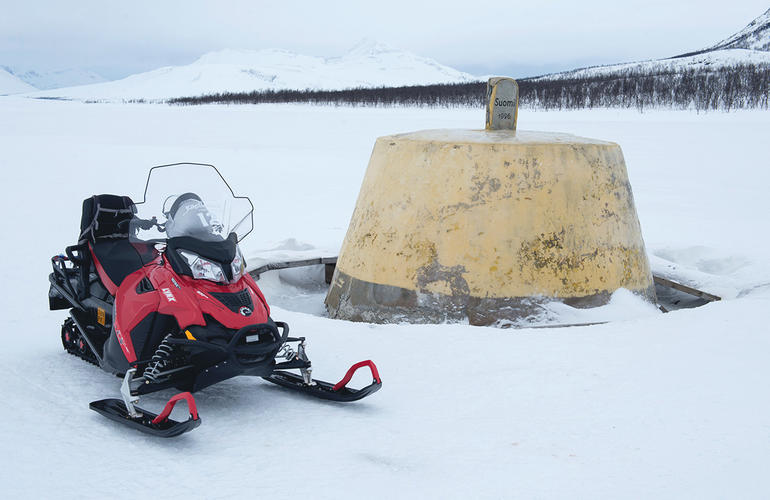 The minimum age is 16 (even for passengers) but everyone is welcome if they are 16 and older, regardless of fitness ability. You will race over frozen lakes and through forests as you traipse the Arctic terrain. This trip takes you to Norway, Sweden, and Finland!
💥 INSIDER TIP: In my opinion, this tour is better in spring than in the middle of winter. The reason is that you will spend some time in a car driving to the location and it is so beautiful in this part of Europe that it would be a shame for there to be complete darkness for your drive! I would recommend this tour from mid-February onward to take advantage of the daylight.
Your journey starts early and you'll head out on a 2.5-hour drive to Kilpisjarvi, a village in Finland. From there, you will learn how to ride a snowmobile!
You will then take to the area to explore by snowmobile and will get to ride along the Finnish/Swedish border. When back in Kilpisjavri, you will have a hot lunch waiting for you.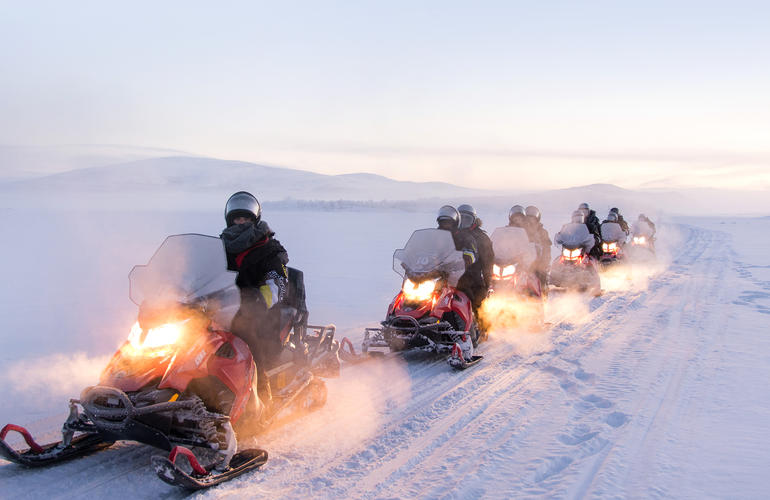 The minimum age for the driver is 18. You will spend 3 to 3.5 hours driving during this tour. This includes breaks along the way. No driver's license is required. Please note that this tour can only run if there are at least 8 people signed up in total. So, be sure to arrange a 'Plan B' just in case!
3) Snowmobiling, Ice Domes, and Reindeer Visit Combo Tour
Duration: 8 hours
Language: English
Meeting point: Outside Magic Ice Bar (Kaigata 4)
Season: December-March
CLICK HERE TO BOOK
If you're short on time in Tromso, combo tours can be the way to go! While I am not a huge fan of combining northern lights tours with other activities, I do think this combo tour that combines snowmobiling, an Ice Domes trip, and a reindeer visit is fantastic for combining several activities into one tour!
This is a morning tour and you'll set off at around 8:30-9am for the Ice Domes. They are located in the Norwegian wilderness in Tamokdalen. Once you arrive there, you will get briefed for your snowmobile trip. This is a beginner tour, so no prior experience is necessary!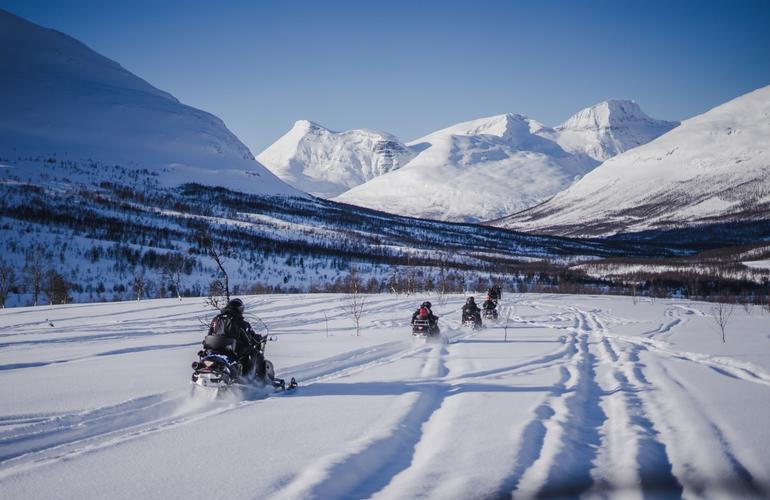 Each snowmobile will have two people on it – a driver and a passenger on each (and you can switch places but the driver must be 18 and have a valid driver's license). You will snowmobile for about 2 hours through the Finn Valley before heading back to the Tromso Ice Domes.
Once back at the Ice Domes, you will get to explore the Norwegian ice hotel – including the ice bar, ice cinema, rooms, and restaurant! You will learn how they construct the place each year and can ask questions throughout. Guests will then get to see the reindeer that live on-site. There will be no sledding, petting, or Sami cultural experience alongside it, however.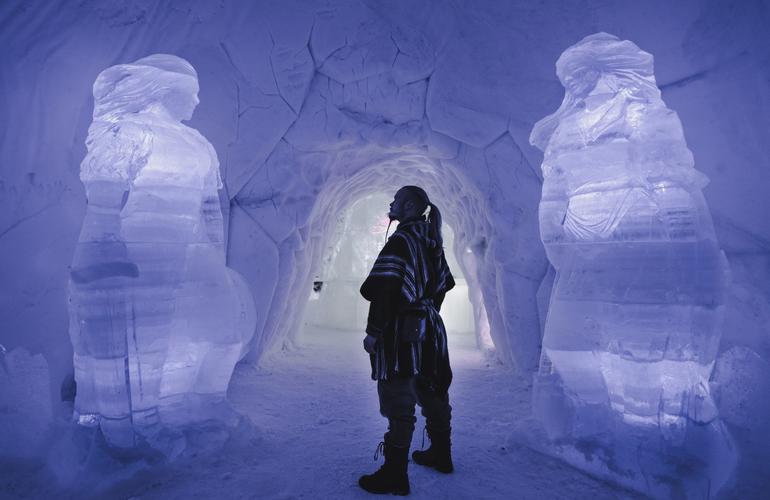 This trip is a wonderful option for those looking to take advantage of many Arctic activities at once! And, the greatest part is that you still have time in the evening to enjoy a northern lights trip!
What to Bring & Wear Snowmobiling
We definitely recommend packing well for a snowmobiling trip to Tromsø. If you're going there during the winter months, expect it to be cold! Do not forget a good parka! This can be good advice no matter what time of year you go out.
You can see our complete winter in Norway packing guide here.
Here are our top recommendations for what to pack for snowmobiling in Tromso:
⇒ Helly Hansen 'Svalbard' Parka: This is the parka that I swear by when I am dressing for winter in Norway. It is thick but not too trendy so you don't have to worry about it not being suitable for multiple trips. It is also just long enough that it covers your thighs and gives you room to breathe.
Helly Hansen is a Norwegian brand so they really do make their apparel suitable for Norwegian locations. Click here to see prices.
⇒ Valid driver's license: If you're going to be taking a snowmobile tour in Tromso, it is imperative that you have a valid driver's license in order to drive. Be sure to bring it along!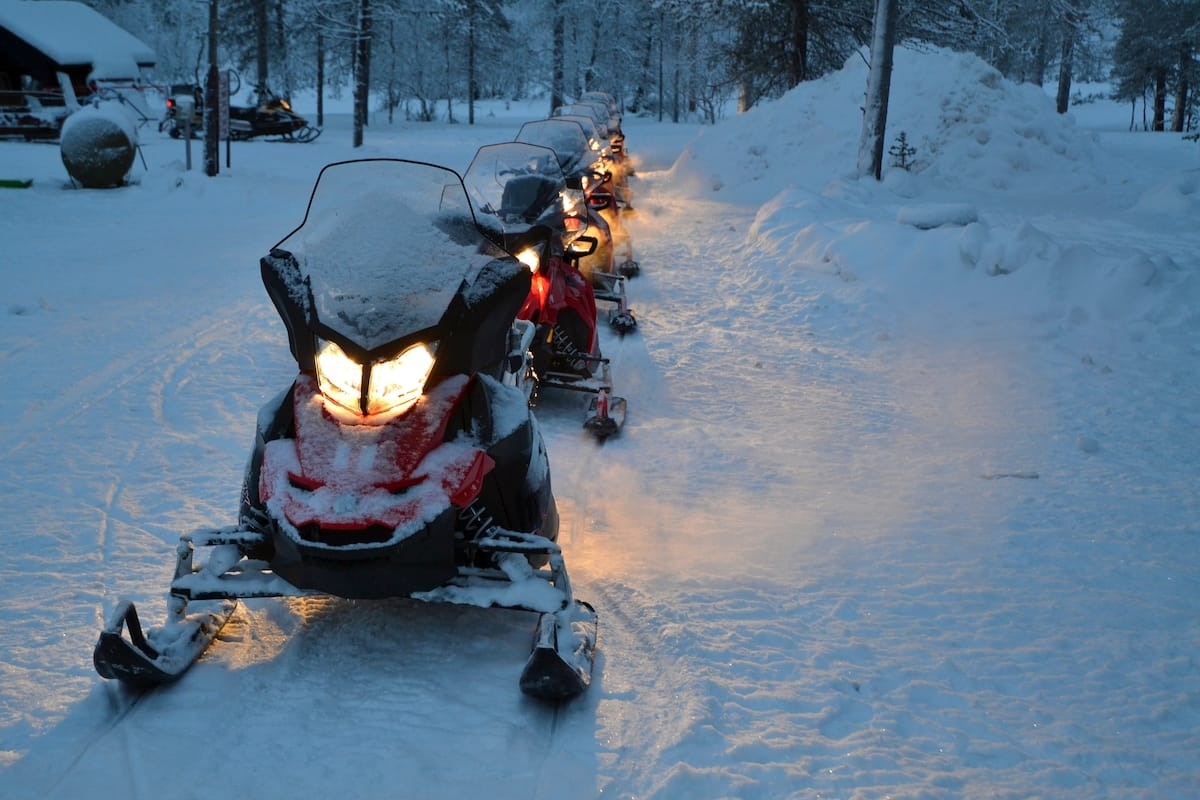 ⇒ Good snow boots: Another thing you're going to absolutely want to bring along for your Tromso trip is a pair of really good snow boots. I wear Sorels when traveling to the Arctic and they work really well.
Your snowmobile outfitter will likely provide good boots, but I always like to bring my own just in case (and you'll need them in Tromso anyway!) You can see my exact pair of Sorels here.
⇒ GoPro Hero8 Black: You can bring whatever kind of camera you'd like into the wilds of Tromso, but I recommend definitely bringing along a GoPro. We use the new GoPro Hero8 and it is fantastic. It also has a great long-term battery. Click here to get your hands on a new GoPro for your trip.
💥
INSIDER TIP:
If you don't have
snowmobile gear
, don't worry – the
snowmobile tour companies
usually have gear for guests to use on top of their own parkas, etc. But, do verify this beforehand!
Where to Stay in Tromso
You'll find plenty of amazing places to stay in Tromso and here are a few of our favorites:
Is there anything you'd like to know about snowmobiling in Tromsø? Also, be sure to let us know your favorite Tromsø snowmobiling tours in the comments!
More Tromso Travel Guides
Pin this Tromso Snowmobile Guide