Are you looking for the best places to visit in Lanzarote for an upcoming trip? Keep reading as we dive right into the best destinations!
Are you planning your trip to Lanzarote last minute?
If youʻre booking your trip to Lanzarote last minute, we have you covered. Below are some of the top tours, hotels, and more!
🌊 Top Activities and Tours in Lanzarote:
🛌 Top Hotels in Lanzarote:
Casa Salinas Playa (Orzola apartment I stayed at)
Hostal San Ginas (hostel and hotel I stayed at – budget option!)
Playa Blanca Marcastell (my Playa Blanca apartment)
🚗 Looking for the best way to get around Lanzarote? Click here to check rental car rates for the Canary Islands!
It took me far too long to travel to Lanzarote and the Canary Islands.
Not that I didn't think there were beautiful places to visit in Lanzarote, but mainly because I just assumed it was all packaged tourism and I didn't know how to independently book a trip there (yes, for real).
I finally had a chance to visit Lanzarote this past December and I must say, the landscapes blew me away!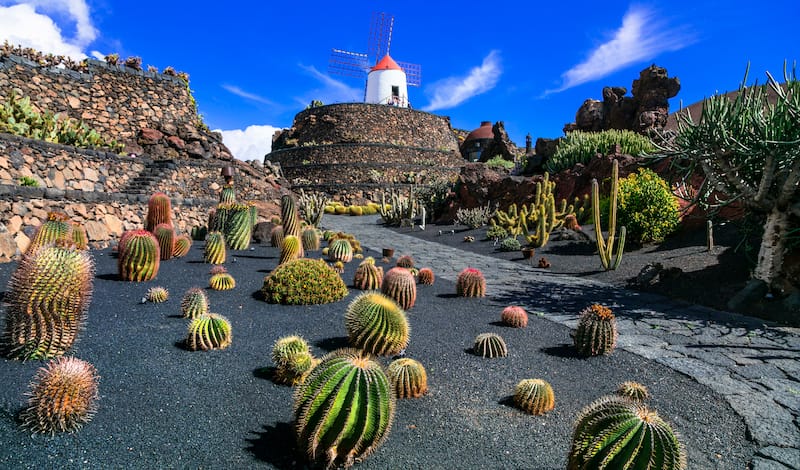 There were heaps of things to do and places to see on Lanzarote that I was shocked a place so otherworldly and beautiful existed just a short flight away from Germany!
This is a guide to the most beautiful places to visit in Lanzarote.
From the wild beaches of Papagayo to relaxing Orzola, this volcanic island is a great place regardless of whether you're visiting Lanzarote in winter or in summer.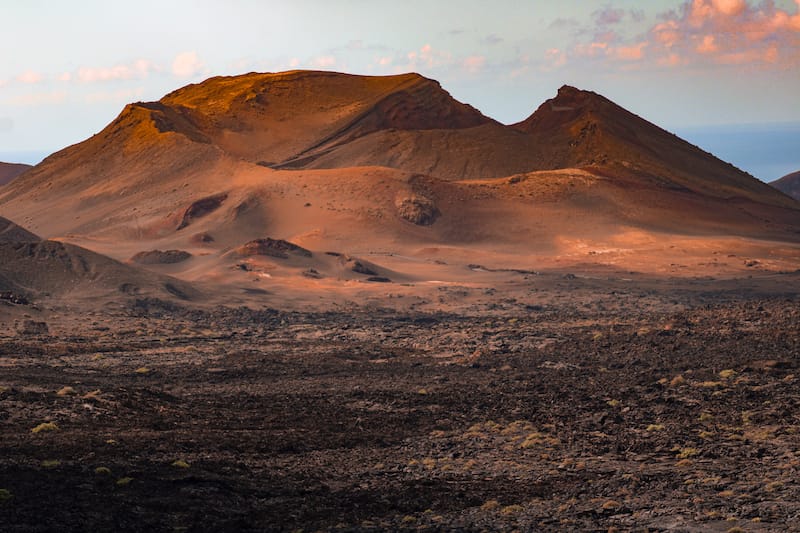 Renting a Car in Lanzarote
The best way to travel around Lanzarote is by rental car.
You can also take tours of the island, but you will be passed in and out of gift shops on many of them and it can perhaps not match your travel style.
Avoid these tourist traps by renting a car and exploring Lanzarote independently! Trust me! Click here to check Lanzarote rental car rates and availability.
Map of the Best Places in Lanzarote
To add this map to your Google Maps account, click the 'Star' icon next to the map name. You can then view it on your cell phone or computer by heading to your Google Maps account, click the menu and add it to 'Your Places'.
Best Places to Visit in Lanzarote
1. Arrecife
I highly doubt that most of you are traveling to Lanzarote to go to Arrecife.
But, it is a fantastic place to base yourself if you're truly looking to visit Lanzarote to explore the island and not just chill at the pool or beach.
I spent 3 to 4 days in Arrecife and found the city to have some pretty good food (better than I had in other places in Lanzarote), a very nice promenade, and much more.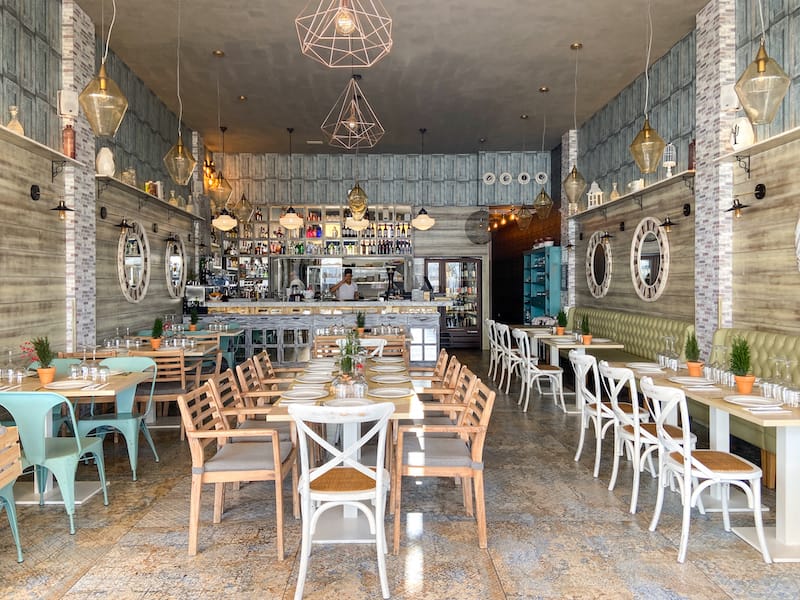 Another perk to visiting Arrecife on your Lanzarote trip is that many of the North Lanzarote tours leave from the city.
They also stop by other resort areas on the island, but Arrecife was a convenient and centralized spot for seeing the island.
There are definitely enough things to do in Arrecife to give yourself a base there if you're wanting to see more of Lanzarote.
While many travelers will head to the resort cities as a base, I found Arrecife quite pleasant and a breath of fresh air.
2. Timanfaya National Park
All I can say about this park is wow. Timanfaya National Park is one of the most mind-blowingly beautiful places in Lanzarote and, truth be told, the world.
Located in the southwestern part of the island, the park is 51 square kilometers and the scenery has been designated a biosphere reserve by UNESCO.
Basically, the park resembles Mars. There is only one active volcano inside and the greatest recorded eruptions happened between 1730 and 1736.
Book your Timanfaya National Parks trip: Trip to Timanfaya, Caves, and Lunch
You can not just rock up to the park and walk in. It has very strict regulations and it can only be explored by tour, for the most part.
My tour went on a bus through the park and while it was pretty incredible, I would love to have joined a hiking tour instead.
Timanfaya National Park is outstanding and, in my opinion, it is the best attraction in Lanzarote.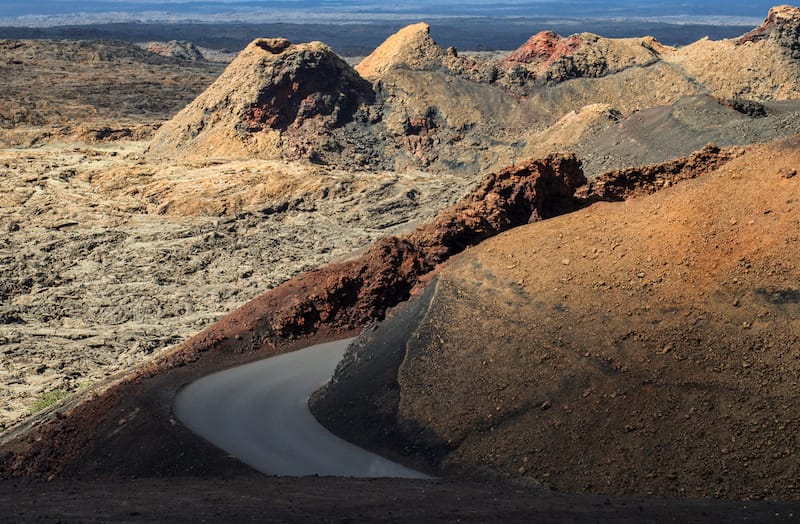 3. Playa Blanca
The reason that Playa Blanca was added to my Lanzarote itinerary was that I needed to get to Fuerteventura by ferry and, low and behold, the ferry leaves from Playa Blanca.
This is the newest town in Lanzarote and you will find several things to do in Playa Blanca. It is known for its resorts and packaged holidays.
While this wasn't attractive to me as someone who typically travels independently, I was curious and I have to say, I had a ton of fun in Playa Blanca despite being there during the off-season!
Book your Fuerteventura trip: Day trip to Fuerteventura and Corralejo
I found good restaurants (including a decent Indian restaurant!), nice cafes, and a really pleasant and clean place to call home for a few days. I really, really enjoyed Playa Blanca!
Playa Blanca is a great base for going to Lobos Island, Papagayo Beaches, or Fuerteventura.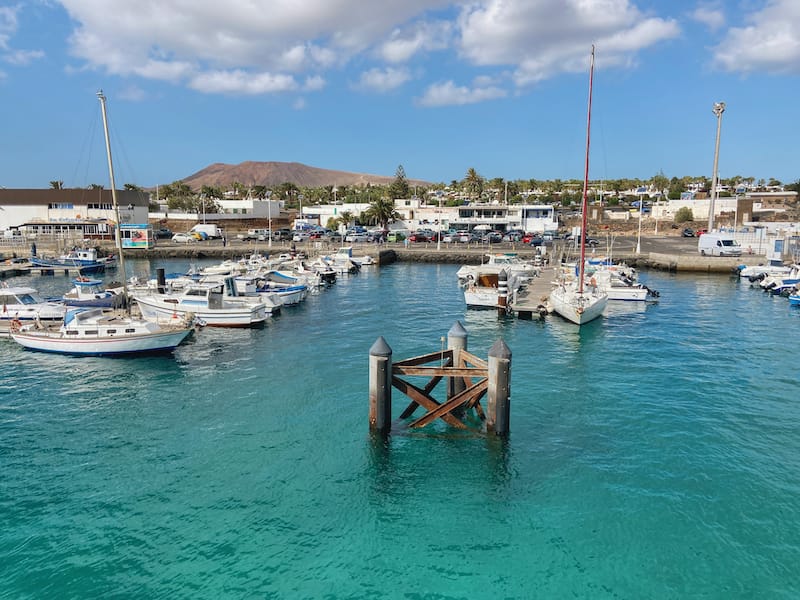 4. Teguise
Teguise was the former capital of Lanzarote and is situated slightly in the north of the island, just south of Haria.
With a population of just over 22,000… it is a fantastic place to visit in Lanzarote and Cesar Manrique even originally hailed from the area.
While I preferred staying in Orzola to catch the ferry to La Graciosa, Teguise is a nice alternative if you can't make your way all the way to Orzola.
Some of the main sights in Teguise are the Teguise Church, Santa Barbara Castle, the wind sculpture by Cesar Manrique, and the famous Teguise Market.
5. Jardín de Cactus (Cactus Garden)
One of the most popular places to visit in Lanzarote is the Cactus Garden in the village of Guatiza.
This gorgeous garden is located in a former quarry and there is an array of cacti grown here, including many prickly pears.
The well-known cactus garden was created in 1991 and has remained a highlight of Lanzarote as it is the last project of Cesar Manrique.
Jardín de Cactus currently has 4,500 cacti in it and 450 different species of cactus and succulents ranging from all around the world.
6. Orzola
A huge Lanzarote highlight for me was discovering the little village of Orzola in the north of the island.
This village is the gateway to La Graciosa, but I found the place to be a huge joy in itself and well worth the visit!
Many people flock to La Graciosa as a day trip or stay overnight there, but don't pass on Orzola!
There are some charming restaurants right on the sea and you can find seaside accommodation at a fraction of the price in the fishing village.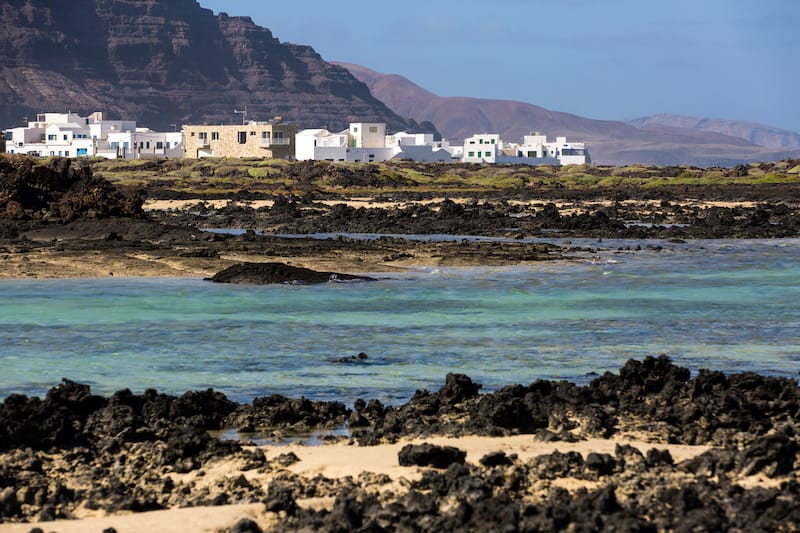 The Lanzarote village is known for its Los Caletones, unique coves along the sea formed by volcanic eruptions.
We found delicious meals and a chilled-out atmosphere in Orzola. If you have a night or two unaccounted for in Lanzarote, opt for a stay in Orzola.
Tourism has suffered a bit there in the past year and the locals are very friendly and eager to have travelers coming through. Don't miss our travel guide to Orzola!
7. La Graciosa
If you're actually going to visit Orzola, you've probably booked yourself a trip to La Graciosa, one of the best places to visit in the Canary Islands.
La Graciosa isn't actually a part of Lanzarote, instead, it is the newest Canary Island and it is truly spectacular.
The best way to reach the island is by a tour or a ferry from Orzola in the north of Lanzarote.
From there, you will be taken to this almost deserted island. It is known for snorkeling and its beaches and it was one of my favorite things I did when I was visiting Lanzarote.
Book your La Graciosa trip: 6-hour sailing trip to La Graciosa
The volcanic island is 2 kilometers away from Lanzarote, situated across the Strait of El Rio. It is part of the Chinijo Archipelago Natural Park and is 29 square kilometers.
There are merely 734 people living on the island but you will find enough restaurants and cafes to keep you occupied on your visit there!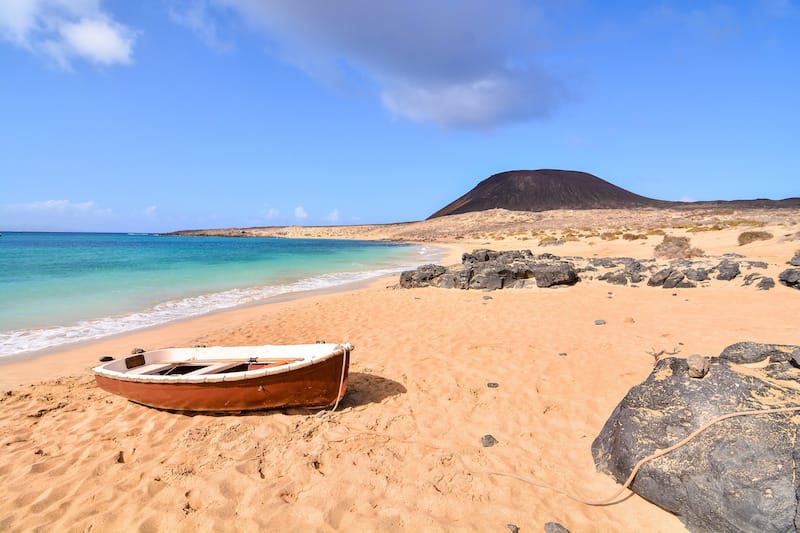 8. Jameos del Agua
About 10 kilometers away from Orzola and the northern tip of Lanzarote sits Jameos del Agua, a jaw-dropping Lanzarote attraction filled with natural caves reformed by Cesar Manrique.
This is one of the main sights on Lanzarote these days and a must-visit for travelers.
These caves have their own vegetation and species (including a special crab that you can see with your own eyes) and you can visit many different geological formations while seeing some of the beautiful artworks and sculptures within the place.
This is one of the largest volcanic tubes in the world.
9. Mirador del Rio
If you're looking for the most epic view of Lanzarote (and La Graciosa!), look no further than Mirador del Rio, a viewpoint that is approximately 475 meters high (1,560 feet). It is located in the northern part of Lanzarote and is a must-visit!
This viewpoint is no ordinary viewpoint… it was created between 1971 and 1973 by Manrique with a cafe, souvenir shop, and platform that are all built into the black lava rocks.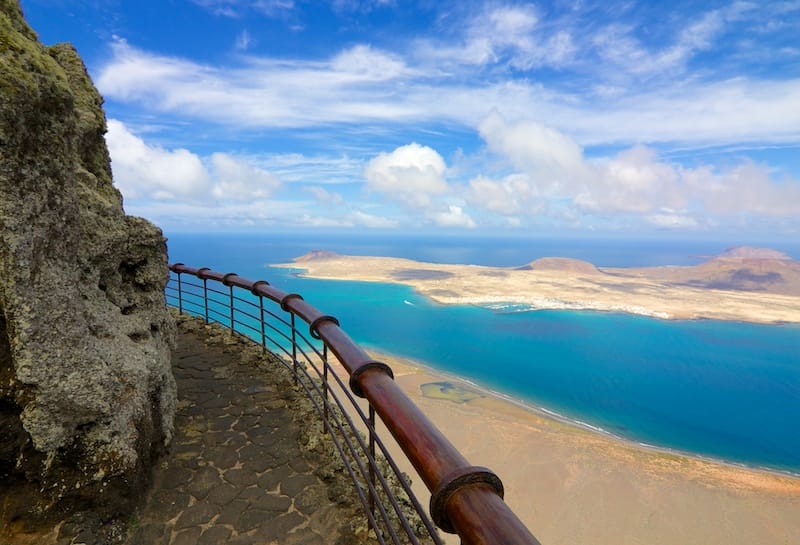 It truly is spectacular and offers a gorgeous view of the island.
This is one of the best places to visit in Lanzarote if you want a humbling view of how the landscapes of the island are.
10. Wine Valley of La Geria
Many people don't realize this, but Lanzarote is world-famous for its wine.
The reason it is so renowned is the process it uses to grow the grapes is unique and gives them a special taste.
La Geria is Lanzarote's main wine-growing region and is a protected area encompassing about 20 square miles (52 square kilometers).
Seventy-five percent of the wines are made from the Malvasia grape which is one of the world's oldest grape varieties.
The soil in Lanzarote is not easy to cultivate, but the people living there managed to find a way years ago.
Just trust me, you have to see this for yourself. La Geria is unique and you can also buy a bottle of wine from the bodegas there.
11. Museo LagOmar
If someone tells me I am visiting a museum, I am usually like 'Count me out'.
Museo LagOmar was totally different.
This museum was the brainchild of Cesar Manrique and was designed by Jesus Soto for a British developer who had a dream to build something resembling an Arabian Nights aesthetic.
In the 1970s, actor Omar Sharif visited Lanzarote and fell in love with the property, and purchased it.
It is alleged that he later lost it in a game of poker and today this gorgeous place is a can't-miss!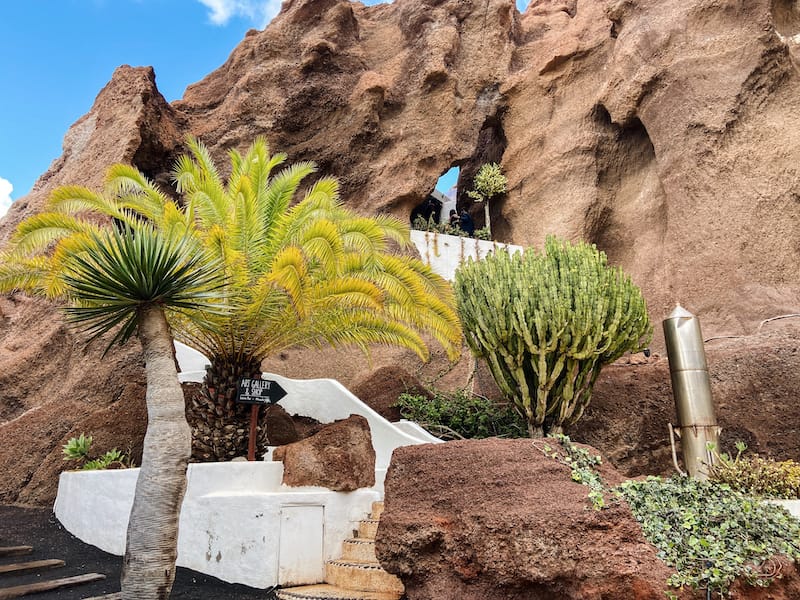 It is easily one of the most Instagrammable places in Lanzarote and you will love walking around and photographing the museum.
The Museo LagOmar is open daily from 10 am to 6 pm.
Address: C. los Loros, 2, 35539 Nazaret, Las Palmas, Spain
12. Haria
While there is not necessarily one thing that makes Haria great, I felt like the place just had a cool vibe and it made it one of the most interesting places to visit in Lanzarote for those looking to explore a place with a bit of nature and views.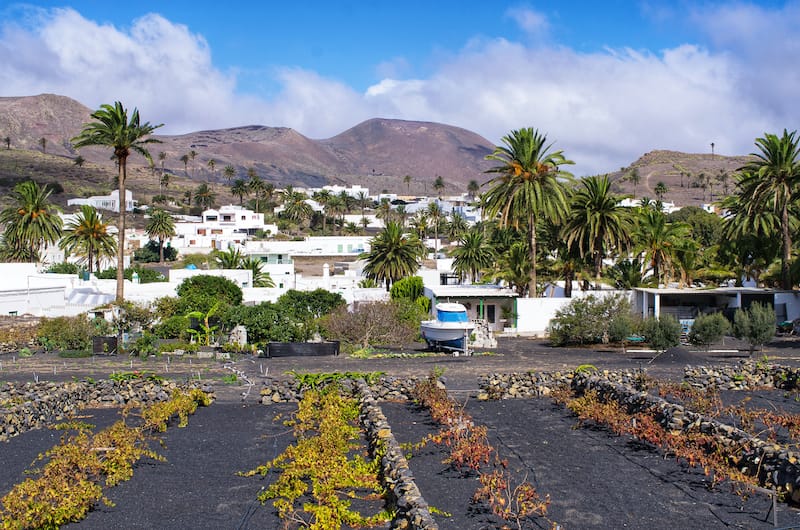 One of the real reasons I adored Haria Village is that the town of 1,128 residents is also known as the Valley of 1,000 Palms. Cesar Manrique is also buried here in the cemetery.
If you don't have time to stop by Haria on your own trip, stay alert as many tours will pass the town with the buses or even stop there for lunch (one of mine did!).
13. El Golfo (Laguna de los Clicos)
I have concluded that I am easily entertained by obscure nature and Lanzarote sure had its share of strange geological formations.
One of the most notable was in El Golfo and is usually referred to as El Golfo (or Charco or Laguna de los Clicos).
This Lanzarote destination is a green lagoon that is situated close to the ocean. The green lagoon actually is the remains of a volcanic cone that ended up eroding on one side from the seawater.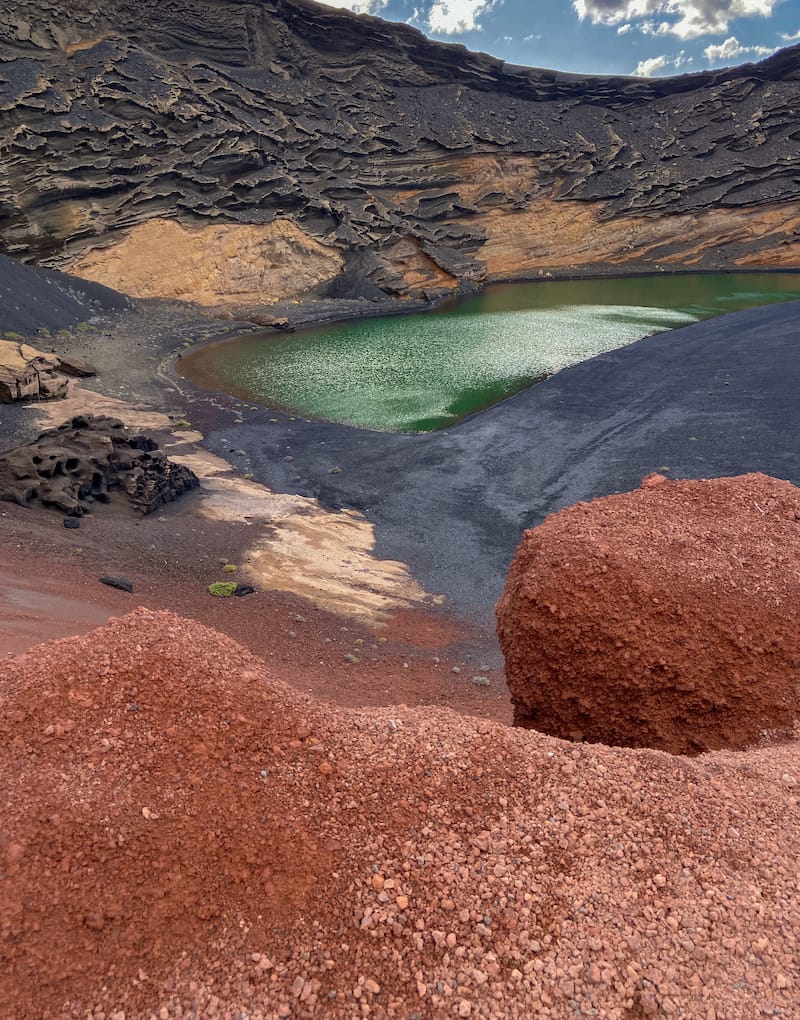 The vibrant green color is caused by a type of algal phytoplankton that feeds off of filtered seawater.
Raquel Welch actually filmed the 1966 film 'One Million Years BC' here, which makes El Golfo a definite must-visit in Lanzarote!
14. Famara Beach
One of the most popular beaches in Lanzarote is Famara, or Playa de Famara.
Situated in Lanzarote's far north, this area is known as one of the best places to visit in Lanzarote for surfers and adventurers.
The cliffs of Famara Peak are 671 meters tall and there is a village nearby called Caleta de Famara.
The north coast of Famara is actually closed off and inaccessible to vehicles, so you can make your way there on foot to see the unique biodiversity the area is known for. There are ten endemic plants there.
15. Papagayo Beaches
The Canary Islands are brimming with beautiful beaches and one of the most famous beaches in Lanzarote are the Papagayo Beaches or Playas de Papagayo.
These sandy beaches can be found on the southern tip of Lanzarote and are located in the spectacular Los Ajaches Natural Park.
Book your Papagayo Beaches cruise: Catamaran cruise to Papagayo Beaches
The Papagayo Beaches are often ranked as some of Spain's most beautiful beaches and it is not hard to see why when you finally see them in person!
These beaches will be the icing on the cake of a wonderful Lanzarote trip and are one of the most gorgeous places to visit in Lanzarote, especially if you're based in Playa Blanca for your trip!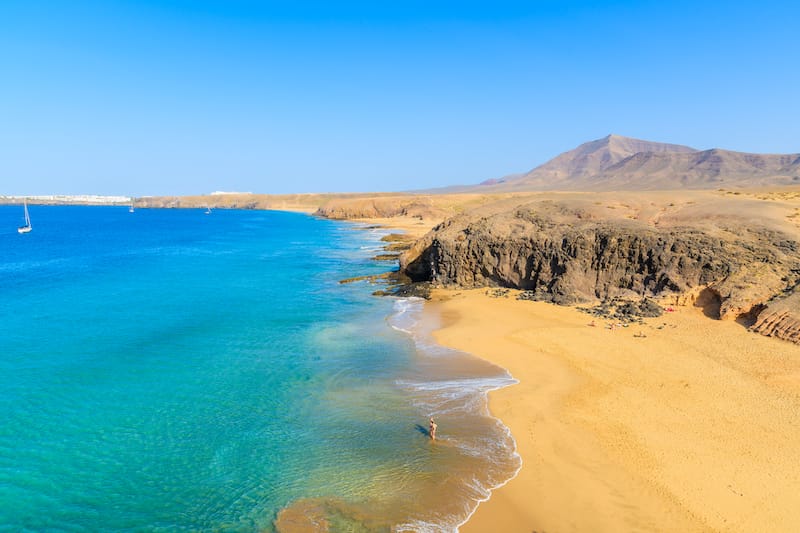 Should You Book a Trip to Lanzarote?
Absolutely! Just be sure to rent a car if you are capable of doing so or plan your trip out beforehand to take advantage of all these wonderful places to visit in Lanzarote.
There are plenty of tours in Lanzarote that you can take advantage of, but please note that many of them are a bit touristy-trappy feeling, in my opinion.
But, they are affordable and will get the job done if you're just looking to see the highlights of Lanzarote.
Top Tours in Lanzarote
More Lanzarote Travel Guides
Pin this Beautiful Places in Lanzarote Guide