There are plenty of cool places to visit in Iceland but one of my favorite experiences is when I took a Katla ice cave tour on my latest trip there.
This guide details how to book an ice cave tour of Katla, including insider tips and why you should add this experience to your Iceland itinerary!
Are you planning your trip to Iceland last minute?
If youʻre booking your trip to Iceland last minute, we have you covered. Below are some of the top tours, hotels, and more!
🇮🇸 Adventure activities on the South Coast (and nearby):
🛌 Top places to stay in Reykjavik (+ Vik!):
Sand Hotel (Reykjavik boutique hotel on Laugavegur)
Hotel Kria (best hotel in Vik – hands down!)
Center Hotels Arnarhvoll (stylish w/ Reykjavik harbor views)
✈️ Want to get from the airport to Reykjavik hassle-free? Find the best airport transfer option here!
🚗 Looking for the best way to get around Iceland? Click here to check rental car rates for Iceland!
Katla is easily one of the best places to go on an ice cave tour in Iceland and this winter activity is a must if you're in the south of the country!
If you have any questions about taking a tour of Katla volcano and the Mýrdalsjökull glacier ice caves, let us know in the comments.
We hope that this guide gives you all the information you need before your adventure!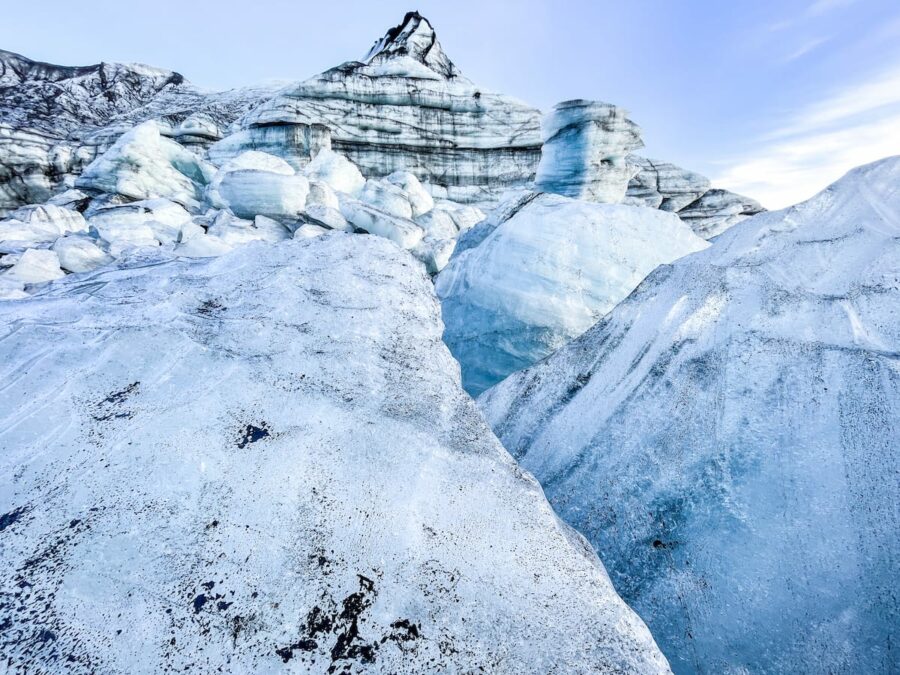 About Katla
Katla is renowned for being one of the most volatile volcanoes in Iceland and has even made its mark on the world as it accounts for 4% of all global volcanic CO2 emissions.
The extremely active volcano is located in the south of Iceland (Vik is a good base for visiting) and it hasn't had a violent eruption for 104 years… and many suspect that it will create a mess once it does erupt again.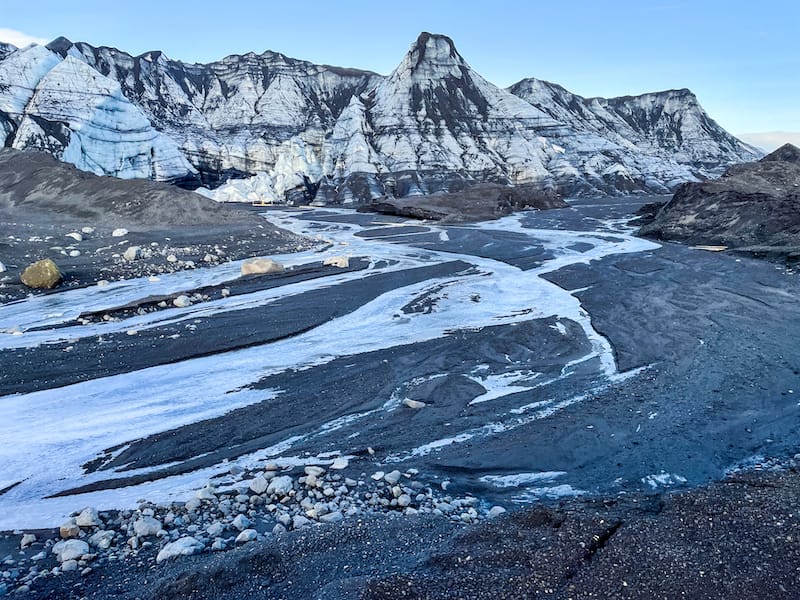 Katla is the name of the volcano and it is covered partially by the Mýrdalsjökull glacier (and its secondary glaciers, like Kötlujökull, noted below). It erupts every 20-90 years and last erupted in 1918… meaning that it is overdue for something major.
As a result, we learned (on this tour!) that the village of Vik has precautions in place and the meeting point will be at the church if there is an eruption.
The volcano has been showcasing a bit of unrest since 1999 and it may only be a matter of time.
But, until then, you can visit the volcano and take this tour called the 'Dragon Glass Katla Ice Cave Tour' with Troll Expeditions which will allow you to walk on the volcano, Kötlujökull Glacier, and around the area as a super jeep takes you to parts you would not be able to otherwise reach!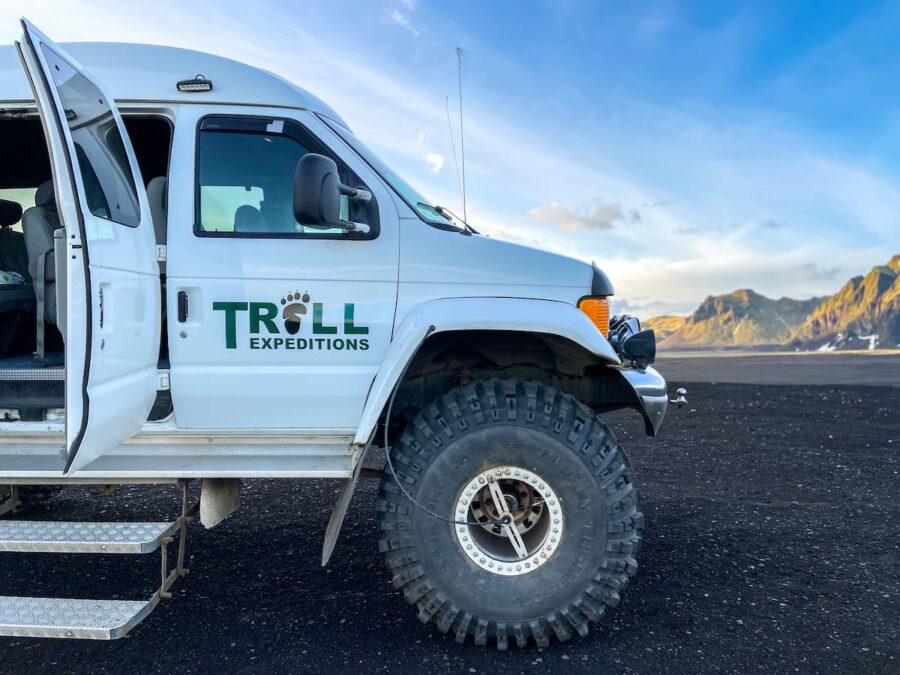 What is a Katla Ice Cave Tour?
So, Katla is a large volcano covered partially by the Mýrdalsjökull glacier's secondary glacier – Kötlujökull, as noted above. And, during the colder months, ice caves form in between the volcano and the glacier!
These caves are unpredictable and can be large, small, lasts for months (or years!), or lasts for a day. Which, kind of makes this tour unique and almost unpredictable in its own way.
While many people come to Iceland in winter for tours like the northern lights (which also offers no guarantee that you will see them), it can be a bit risky to put yourself on an ice cave tour and the ice caves not be there or be too dangerous to enter.
>> Click here to book your Katla Ice Cave Tour <<
However, this tour is a bit different… as it allows you to walk on both a glacier AND a volcano. You will absolutely see ice and whatever is around the day that you're there. And, in a way, I find it makes the tour that much more special.
You won't come out with the exact 'Instagram' photos as another person… yours will have their own backstory and different formations perhaps.
When we visited, we could only enter one ice cave (the other one became too dangerous the days prior) but we got to see a newly formed waterfall that had just appeared!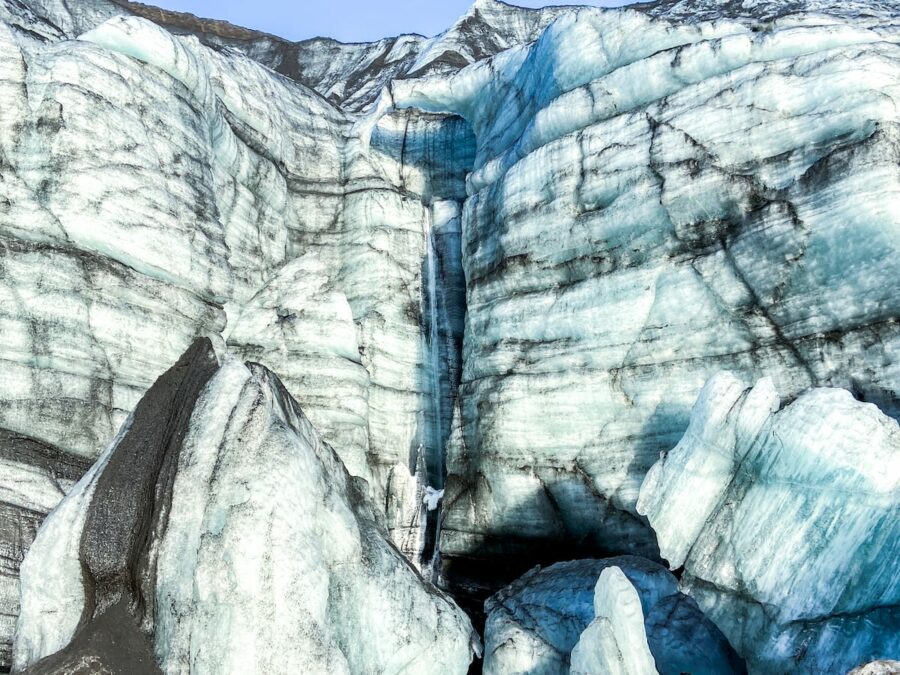 So, when the guides take you there, it is always a new sight for them, too, as something new may unexpectedly appear. I kind of think that this is what makes Iceland one of the most magical places on the planet.
About The Dragon Glass Katla Ice Cave Tour
This ice cave tour of Katla was a fantastic way to see the volcano up close and get to see some new geological wonders that had just formed right before our arrival (which was super cool).
The tour is operated by Troll Expeditions whom we worked with on a few other tours, including snorkeling in Silfra and a glacier hike in Skaftafell.
We were picked up in Vik (the location may be soon changing so I don't want to note here – but they will inform you ahead of time where exactly in Vik to meet) and hopped into a huge 4×4 super jeep for the tour.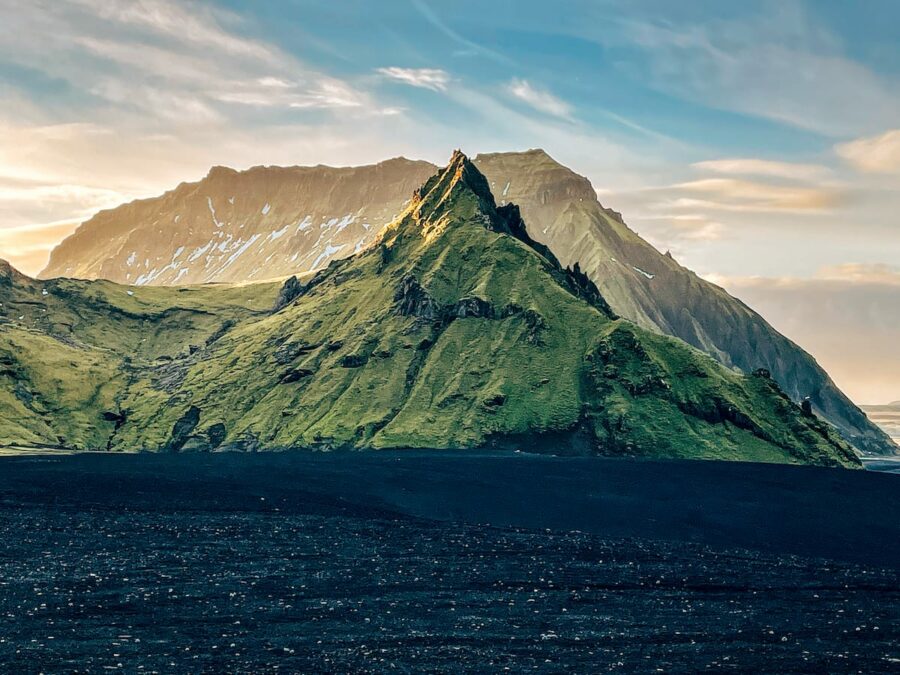 From Vik, it will take you off-roading to the volcano. It was a bit of a drive to get there (I think it took like 30-45 minutes or something) but the scenery along the way was simply mind-blowing and otherworldly!
Once you arrive, you will get briefed about the safety of exploring Katla and the ice caves as well as the terrain surrounding them. It is imperative that you listen as glaciers are very dangerous places without an expert guiding you!
>> Click here to book your Katla Ice Cave Tour <<
You will also be given crampons for your shoes. While it may not seem like the place you want to wear crampons at the start, trust me, they will make the entire tour a lot easier!
You will also be on top of ice and loose rocks for parts of the journey and they will help your gait!
From there, you will head into the glacier/ice caves area that is part of Kötlujökull Glacier (a secondary glacier of Mýrdalsjökull.
The guide will lead you there and you will explore the volcano and its incredible ice caves as well as walk around some of the areas to see other structures that have recently formed.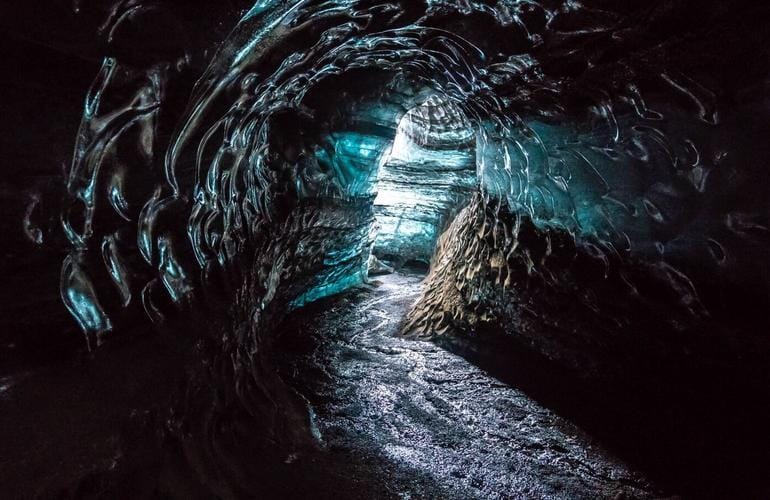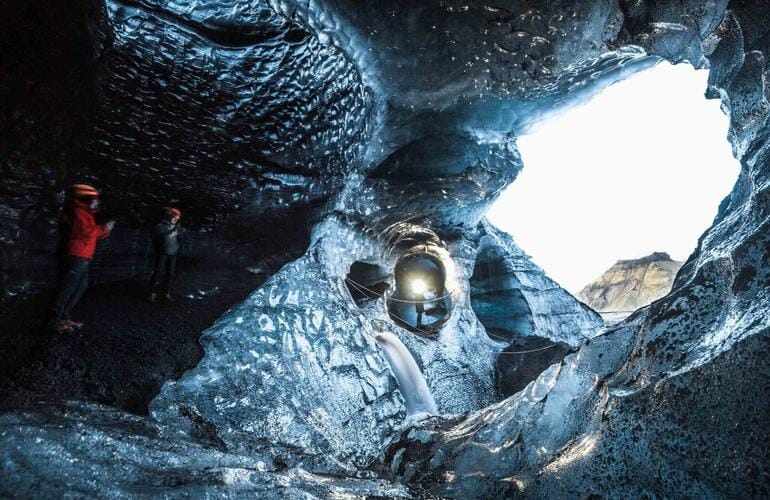 Insider Tip: If the ice cave isn't huge when you visit, it is nothing to be upset with the tour or tour guide for.
Things can literally change overnight here! Just bask in the glory that you're on a volcano that makes such a significant impact on our planet!
Who Can Take this Katla Tour?
For this tour, it is pretty much open to anyone! When I went, Iceland was just starting to open up again for tourism and we only had a small group for the journey.
It was Aram, me, and four middle-aged American women.
They were not overly active in their everyday lives and found the tour fairly easy but did note that it involved a bit more walking than they had expected (you must walk to and from the ice cave (it really isn't too far) as well as to another area for some other potential ice caves.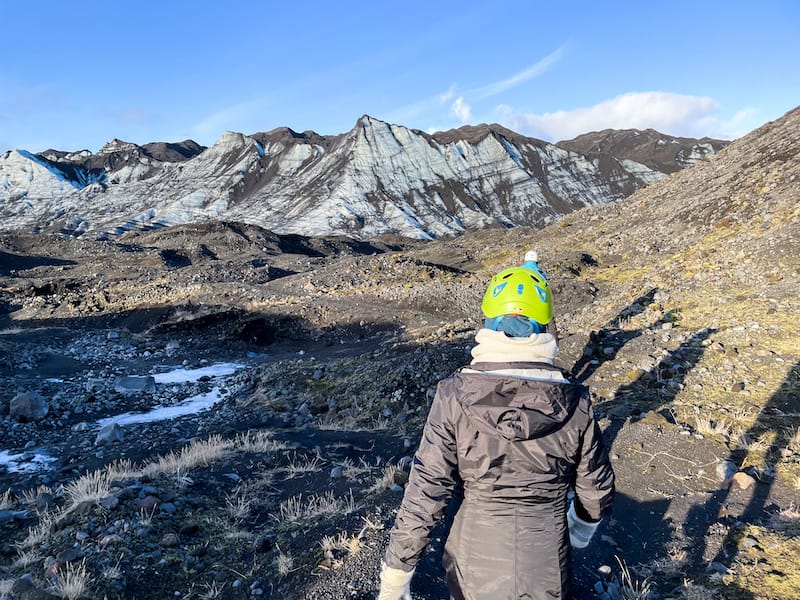 The guides will speak a high-level of English (and/or Icelandic + English) and it was quite easy for anyone who has an elementary command of English as you don't really need to know too much to do the tour other than to follow safety instructions.
But, this could limit you from asking too much about the geology of the area and Katla's importance to Iceland.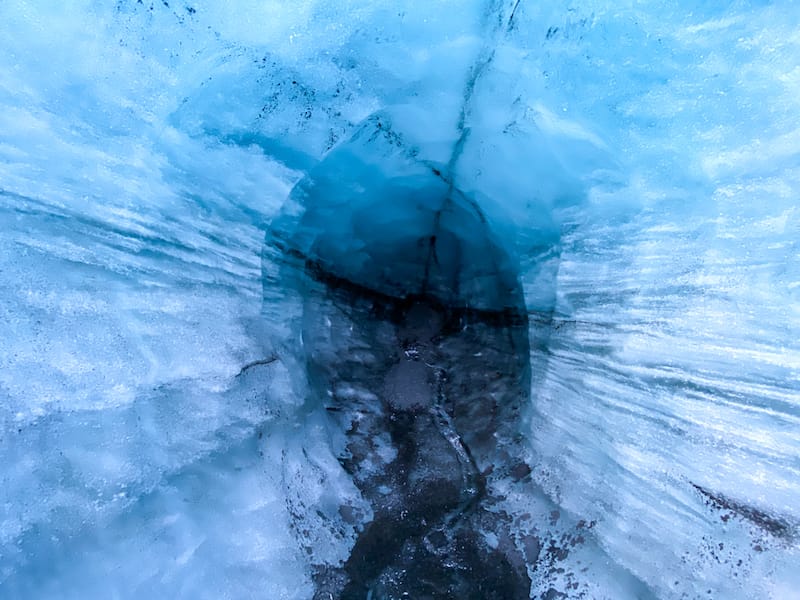 All participants must be 8 years of age or older.
What to Wear on this Tour of Katla
To be honest, layers! I know everyone is sick of hearing that, but this was the day of layers for us. The sun was shining the entire time we were there (in early winter) and there was no wind. Therefore, we got hot quickly!
I wore hiking boots with thick wool socks, a Kari Traa thermal base layer, and (probably too thin) Nike leggings. I also put a thick black parka over top and had a sweater in the jeep that I never needed to put on.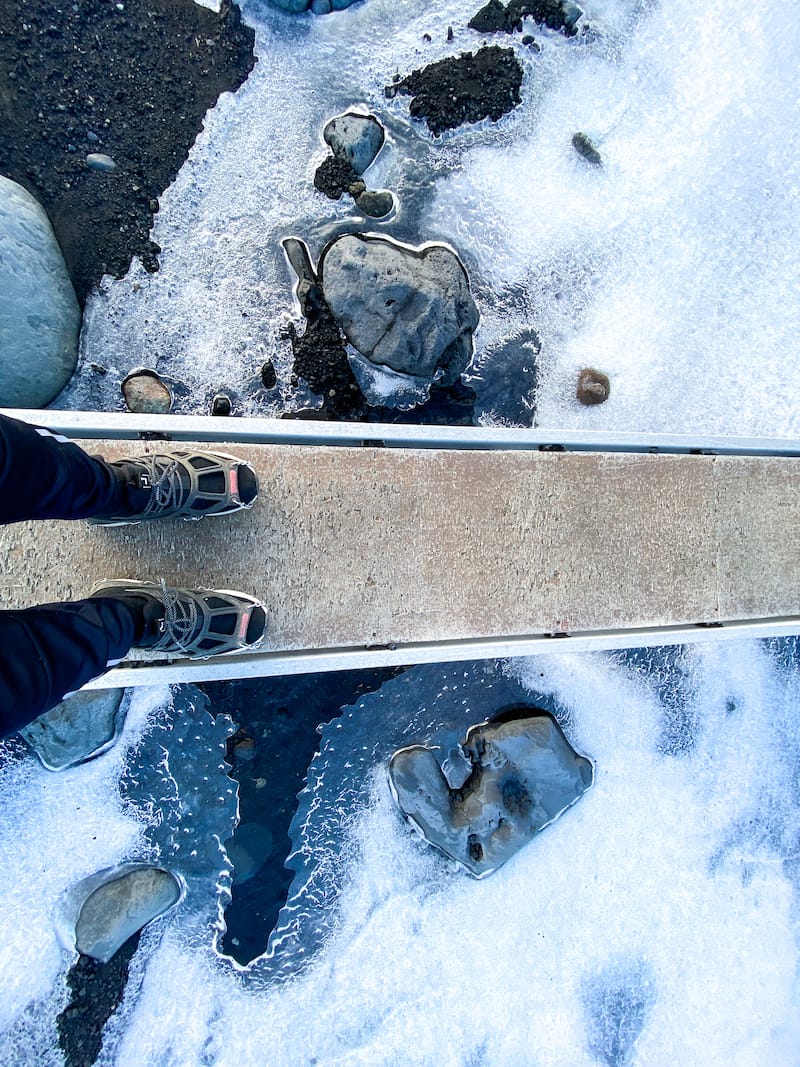 I do recommend wearing a pair of waterproof pants, however. While I got extremely lucky with the weather, I anticipate that is not usually the case.
Also, if you happen to slip on the ice (or rocks) anywhere, you will be grateful to stay dry! You can rent waterproof pants (we note this below!) if you do not have any!
Also, be sure to pack a nice pair of gloves/mittens, your camera, and anything else you might need to keep warm.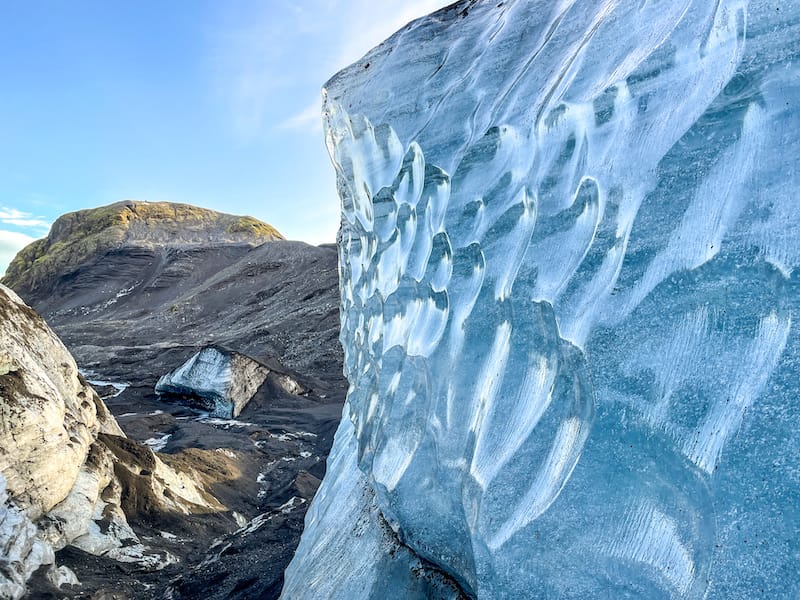 As the winter sets in, you will likely encounter snow (it hadn't arrived by the time our trip happened).
If so, it might be worth investing in a pair of snow gaiters, which I also recommend for the trip if you are doing any winter hikes, anyway.
The tour will provide you with crampons and helmets.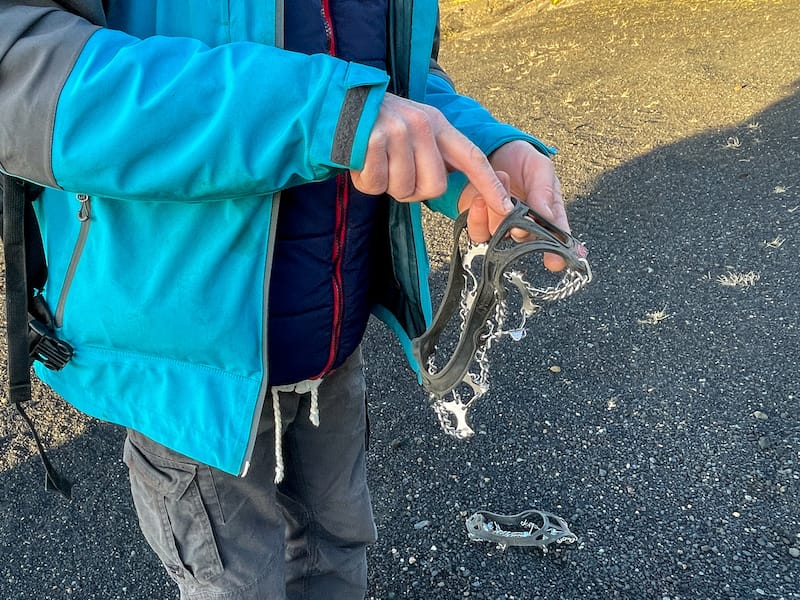 Can You Rent Equipment for the Tour?
Yes! You can rent equipment for the tour. The prices are as follows:
Hiking Boots Rental (Children Price ISK 1,500, Adult Price ISK 1,500)
Waterproof Jacket (Children Price ISK 1,000, Adult Price ISK 1,000)
Waterproof Pants (Children Price ISK 1,000, Adult Price ISK 1,000)
You can rent this on the spot so just be sure to inform your guide as you arrive at the meeting point.
Tips for Ice Cave Tours in Iceland
Be early! They say to arrive 20 minutes early and definitely make sure you do that. If you're driving in from Reykjavik, give yourself an extra hour to arrive just in case there are any mishaps.
If you're in Vik, still come early. If the meeting point is at the Lava Show location, you can go in and grab a coffee if they are open.
If it is in another location (they will mention it), there is the Skool Bus Cafe where you can get delicious coffee.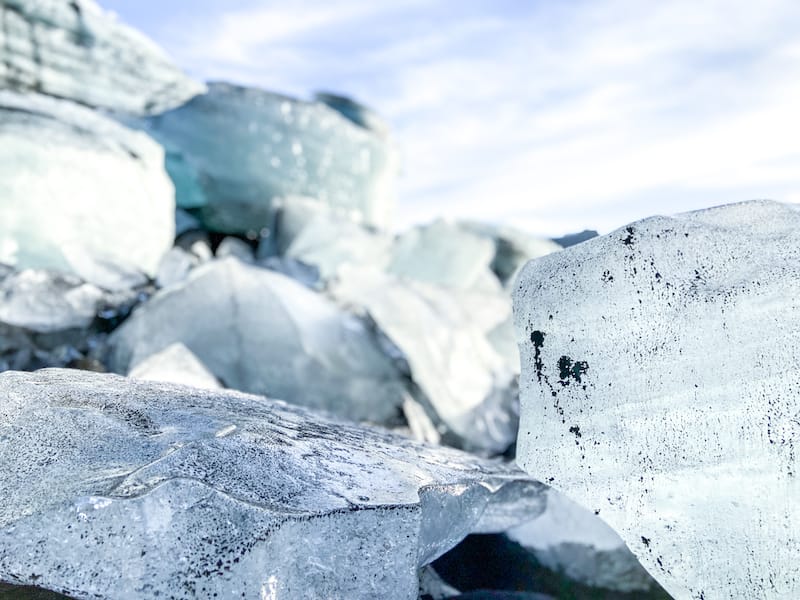 The jeep can make it through the snow – so if you are going in the middle of winter, the weather will likely not be a huge factor. Do not plan on cancellation unless it is extreme.
Stay with the group and ensure that your friends/family do the same. This is a dangerous area if explored without a guide. It is also easier for others in the group as it keeps things on time.
>> Click here to book your Katla Ice Cave Tour <<
Claustrophobic? You might have a little issue inside of the ice caves if they are large and deep (mine were not when I was there but I am claustrophobic).
If this is the case, chat with your guide beforehand as he/she will ensure you still get to see everything in a way that won't cause extra anxiety or fear!
Again, we really stress that your tour will likely not look exactly like the photos when booking.
This is a good thing as your experience will vary from others and you can see Mother Nature doing her thing! It truly is a once-in-a-lifetime experience (that can never be exactly replicated)!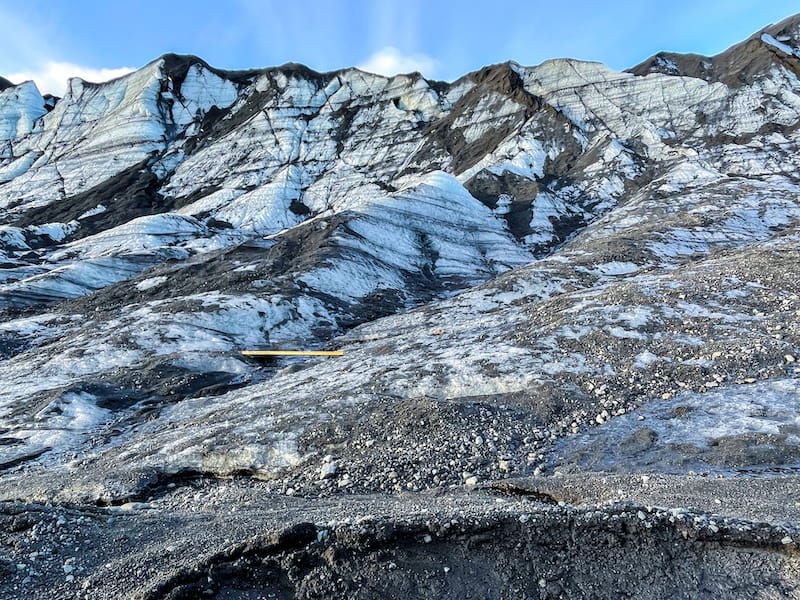 How to Book this Katla Ice Caves Tour
We highly recommend booking this Katla ice caves tour online before you even arrive in Iceland!
We took ours through Manawa (a fantastic company that specializes in adventure tourism!) which has a direct partnership with Troll Expeditions.
You will receive a voucher from Manawa which will detail all instructions beforehand, including the meeting point.
Other Iceland Tours You Might Like
Have you ever been on a Katla ice caves tour? Let us know your tips and thoughts in the comments! Thanks!
More Iceland Travel Guides
Pin this Iceland Ice Caves Tour Guide