I have done a lot of unique things around the world but one of my ultimate favorite experiences was the Skaftafell glacier hike adventure I did in Iceland.
This guide will detail how to book a glacier tour on Skaftafell, as well as insider tips and why this is something you absolutely must do when you're visiting Iceland!
Are you planning your trip to Iceland last minute?
If youʻre booking your trip to Iceland last minute, we have you covered. Below are some of the top tours, hotels, and more!
🇮🇸 Adventure activities on the South Coast (and nearby):
🛌 Top places to stay in Reykjavik (+ Vik!):
Sand Hotel (Reykjavik boutique hotel on Laugavegur)
Hotel Kria (best hotel in Vik – hands down!)
Center Hotels Arnarhvoll (stylish w/ Reykjavik harbor views)
✈️ Want to get from the airport to Reykjavik hassle-free? Find the best airport transfer option here!
🚗 Looking for the best way to get around Iceland? Click here to check rental car rates for Iceland!
Another great thing is that if you go during the winter months, you can also choose a tour option that includes an ice cave! Our tour combined glacier hiking with ice caves on Skaftafell and it was an epic experience!
Skaftafell is in a convenient location that allows you to visit other parts of south Iceland like the glacier lagoon at Jökulsárlón, Diamond Beach, and more!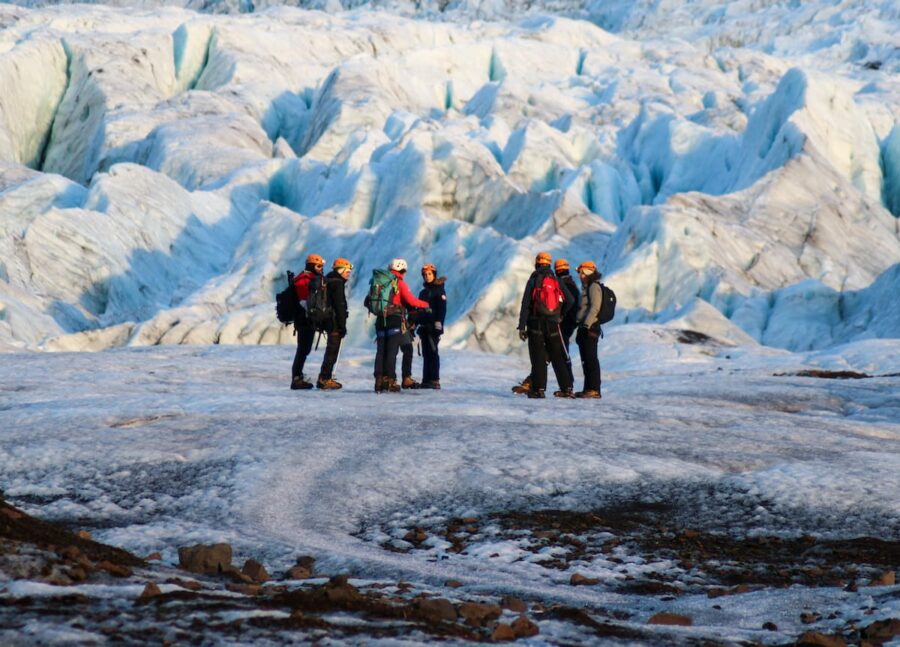 If you have any questions about glacier hiking in Skaftafell, let us know in the comments! In addition, if you have any Skaftafell glacier hiking tips, leave those below for future travelers! Thanks!
About Skaftafell
Skaftafell is technically an Icelandic national park and is located in Öræfi in the southeastern part of the country.
While it is no longer considered its own national park as it was combined with Vatnajökull National Park, the main highlight of the area is Skaftafellsjökull, or the Skaftafell Glacier.
The area contains many amazing highlights such as Svartifoss (one of Iceland's most famous waterfalls) but my favorite reason to visit is for all the activities you can do on the glacier itself!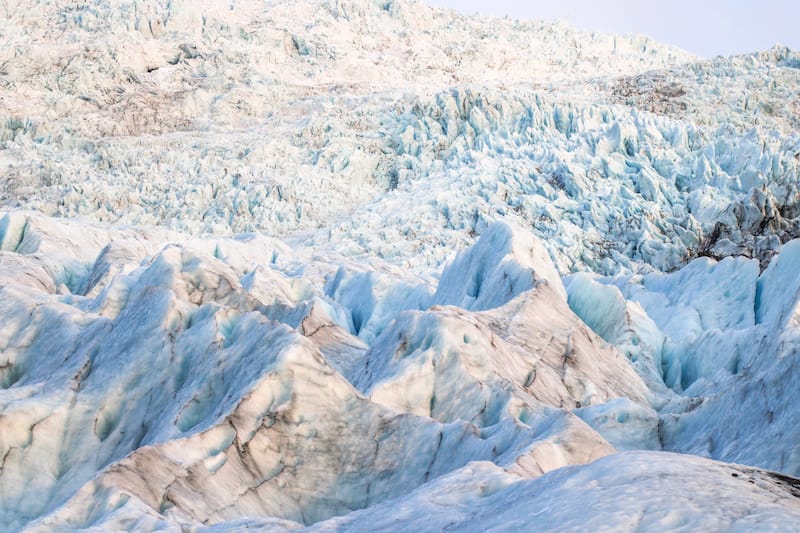 The glacier is 326 kilometers from Reykjavik and can be reached from the main road with a short turn at the end for 2 kilometers along Road 998 (this will take you to the visitor's center).
From Hofn, the glacier is 136 kilometers and from Jökulsárlón it is merely 57 kilometers.
Skaftafell is a tongue of Vatnajökull, the largest European glacier. And while it is fun to enjoy the place now, it is receding at a rapid rate and is an excellent example of how climate change is a true concern for our planet.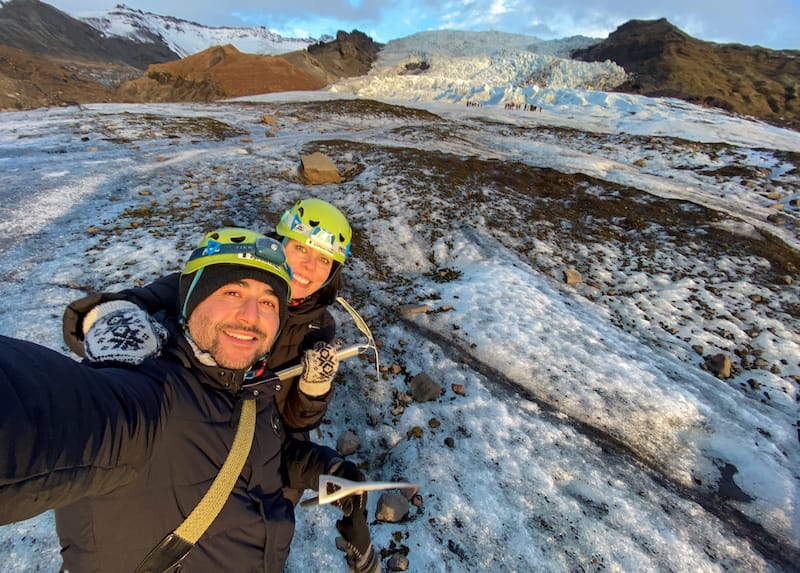 The best way to explore Skaftafell Glacier is most definitely by hiking on it!
You can book this amazing Skaftafell Glacier Hike and Ice Caves Tour with Troll Expeditions and enjoy one of the best tours I have ever experienced!
Skaftafell Glacier Hike – What is it?
To be honest, a glacier hike kind of is exactly as it sounds… taking a hike on a glacier.
However, a bit more goes into it than just that. Glaciers are dangerous and you really do need an expert guide to lead you along.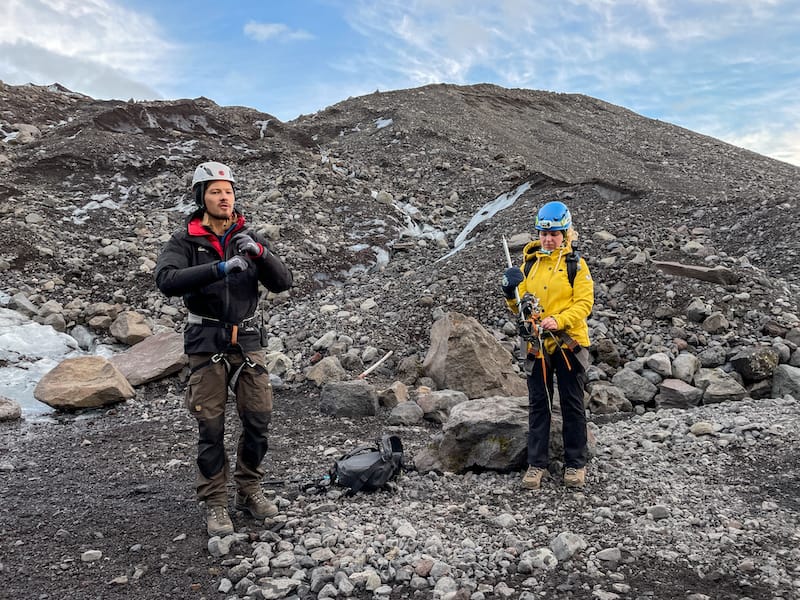 You also need the right equipment and a simple pair of hiking boots is definitely not going to cut it! You will need a harness (just in case something happens!), an ice ax, a headlamp, and ice crampons (or ice cleats).
When you have dressed appropriately, you can head to the glacier with your guide where you will follow in a line up the glacier a bit
>> Click to Book Your Glacier Hike in Skaftafell <<
You will be taken along the surface of it where you will have views for days and you will also have plenty of chances to photograph the blue ice of the glacier (which there was no shortage of)!
If the season is right and you book the same tour that I did, you might also have a chance to visit a newly formed ice cave on the Skaftafell Glacier.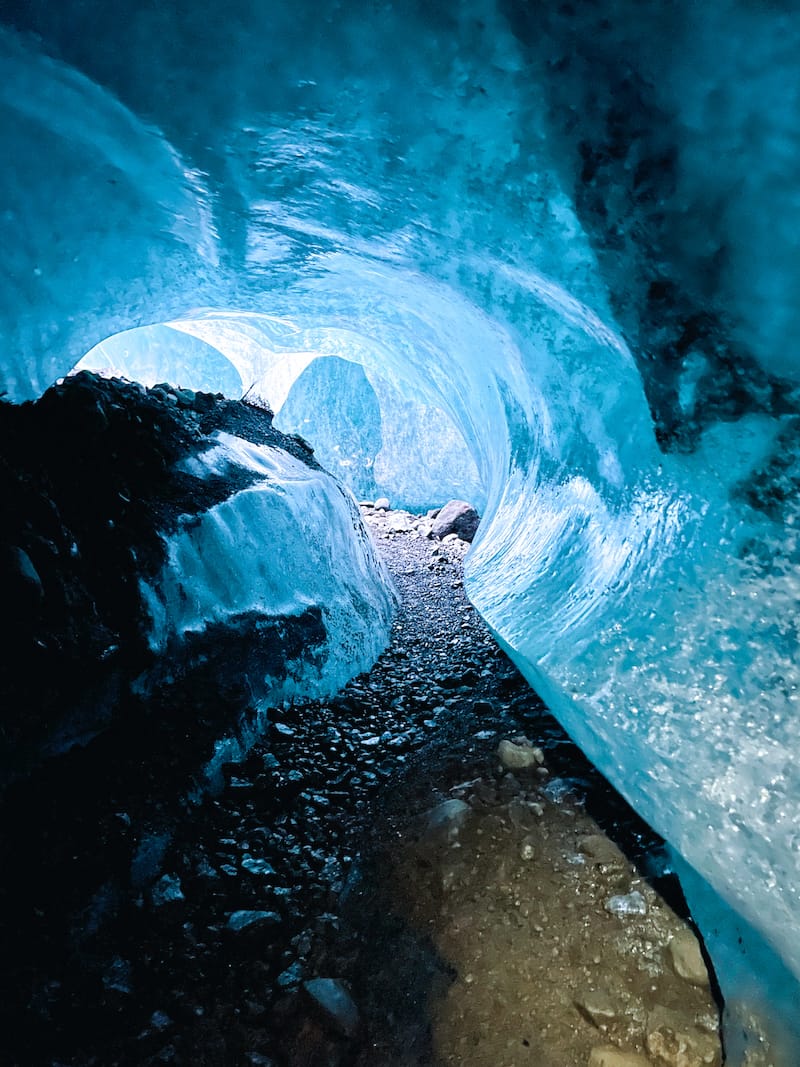 Another thing that makes glacier hiking so unique is that you can't do it just anywhere. We had many glaciers in Norway when I lived there but not all of them were able to be hiked on for beginners.
About This Skaftafell Blue Ice Cave & Glacier Hike
This Skaftafell Glacier Hike runs twice daily and we opted for the morning session (9am) but actually mixed up our days with another tour (whoops!) and ended up put on the afternoon hike (2pm). It worked out perfectly as we got to experience dusk on the glacier!
The tour starts by meeting at the visitor center where you will find your guide. The meeting point was at Troll Expeditions in Hof.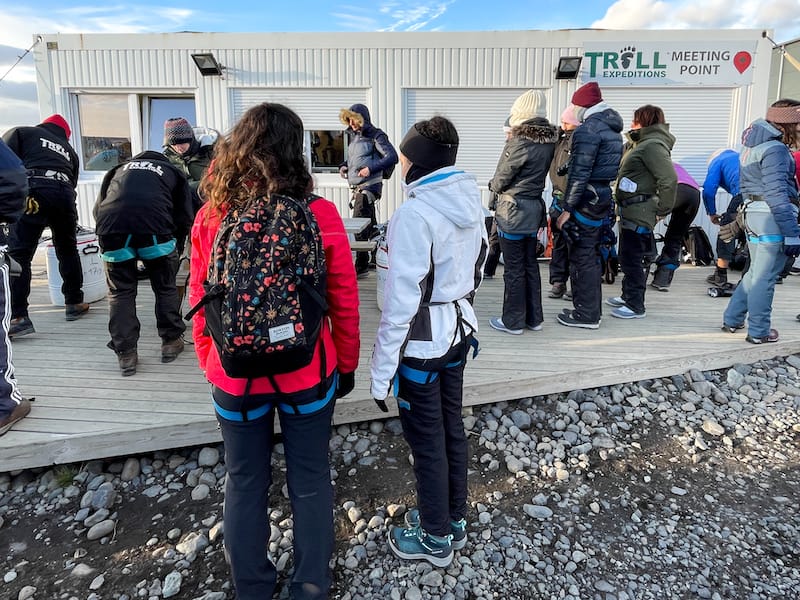 Once there, you will find bathrooms (which you need to annoyingly pay for), as well as a small concessions stand with a few items but randomly no coffee or anything that useful.
Nevertheless, it was heated and a fine place to relax inside until the tour started.
Once the tour starts, you will need to find your guide. There will be TONS of people around… but don't worry, you will be broken down into smaller groups for the actual hike!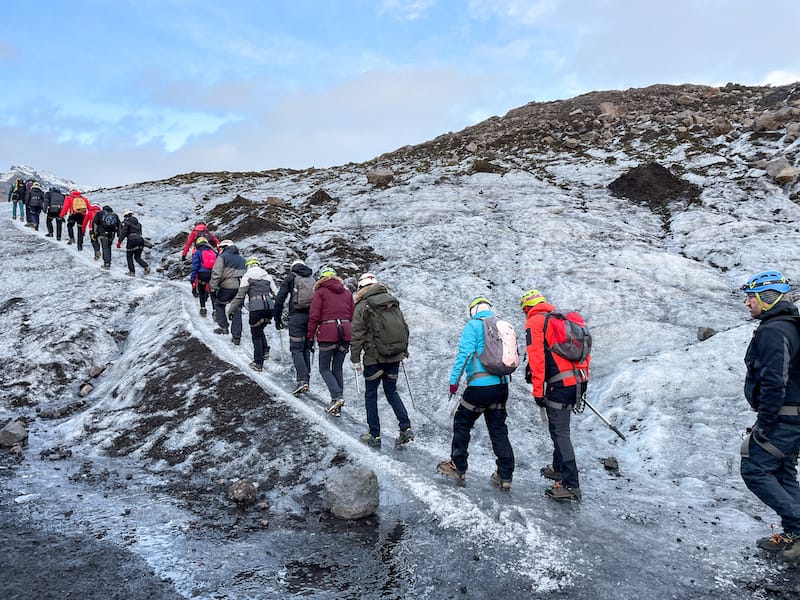 They will fit you for the equipment where you will be given an ice ax, ice crampons (they will fit you!), and a headlamp/helmet. You won't need to put it on just yet but will need to keep a hold of and carry it.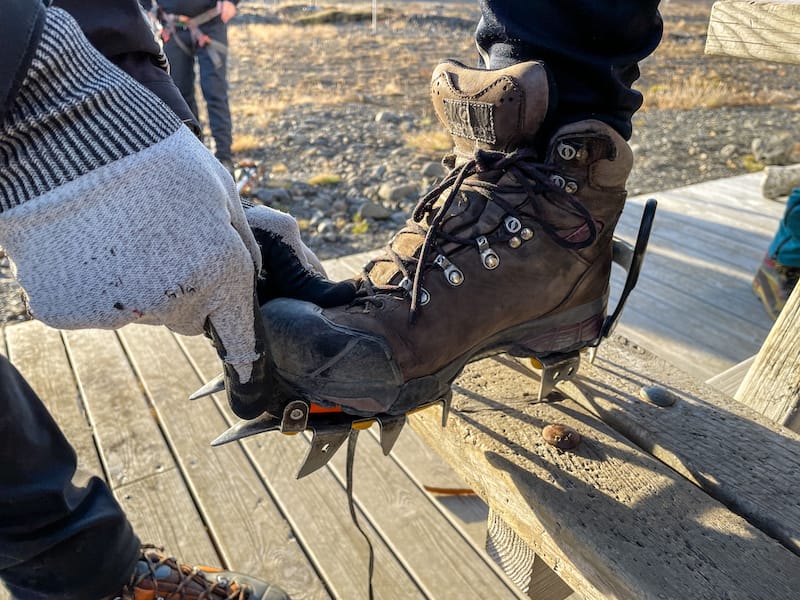 They will also give you a harness. It is more for safety than anything else.
After you get all of your equipment and a small briefing after check-in, you will form your groups.
Do be aware that if you sign up for the same tour I took, it is a 4-hour tour and the regular glacier hike is 3 hours. Do be sure you join the correct group!
>> Click here to book your Skaftafell Glacier Hiking Tour <<
You will then get into buses and vans to head down to the glacier. However, some people drove… so that is an option too. We went on the bus.
From there, you will walk to the glacier with your guide, he or she will brief you and help you put on your equipment, and then you are ready for the hike!
The hike takes you up the glacier with lots of stops for photos (especially when you see blue ice!). You will then see the ice cave.
Also know that ice caves change daily or disappear regularly… so your photos will likely be different than mine or others'! It is kind of the joy of it, in my opinion!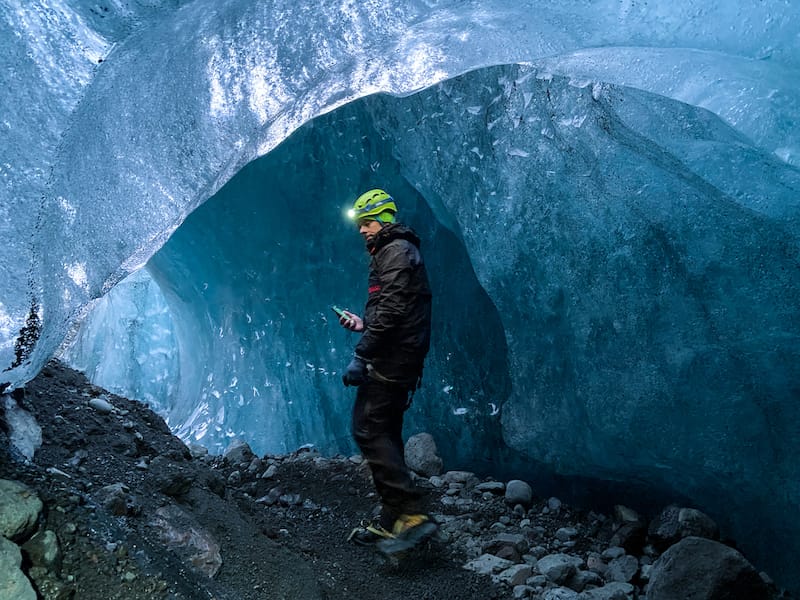 You will spend a few hours on the glacier before heading back down and returning to your car or to the meeting point.
💥 PRO TIP: If you have a bad gait like me, don't worry! These crampons offer so much confidence and security! I never saw a person fall or slip on the glacier.
It was a very organized and extremely enjoyable glacier hike on Skaftafell!
Troll Expeditions is just fantastic and we thoroughly enjoyed every tour we took with them!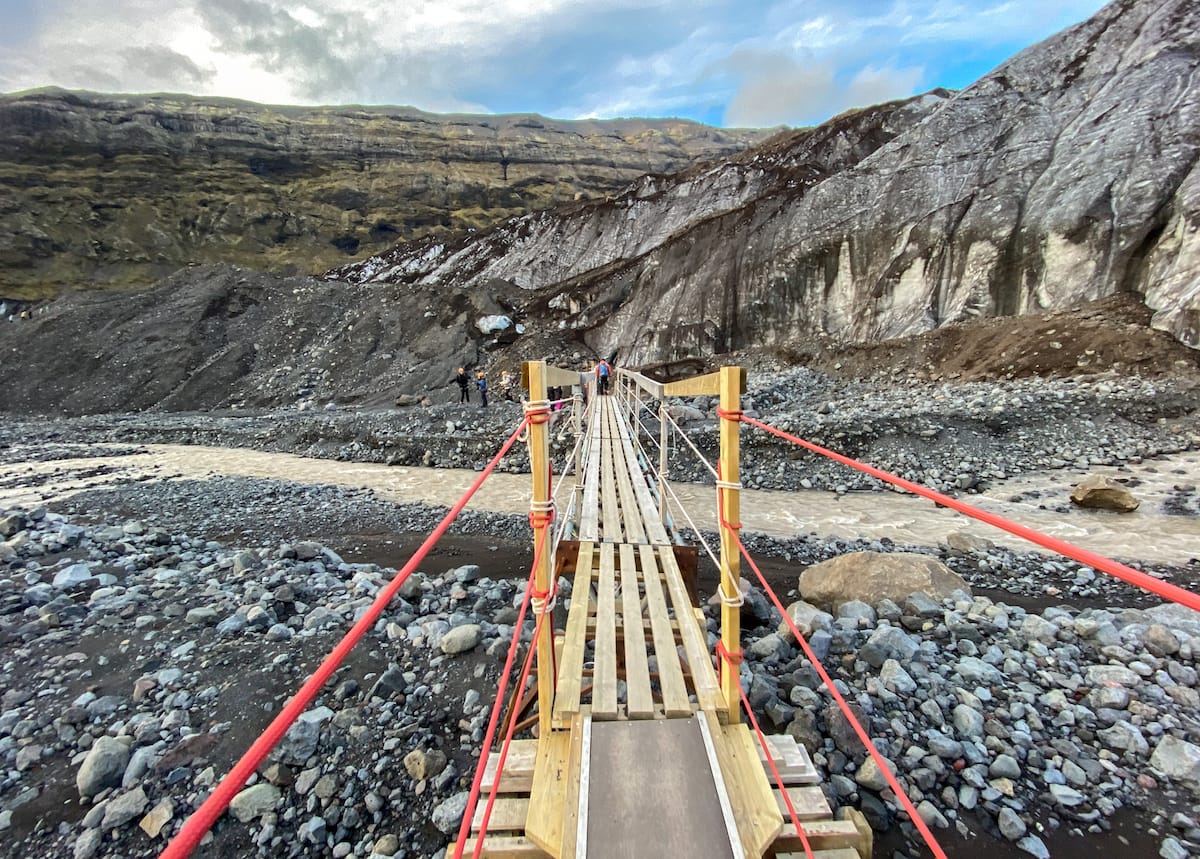 Who Can Take this Skaftafell Tour?
The minimum age for the Iceland glacier hike is 8 years old. The guides were skilled in English and a variety of other languages (my guide was from the Czech Republic).
It states that the fitness level is 'occasionally sporty' but I found the hike was fantastic for beginners (just make sure you have no mobility issues, first and foremost).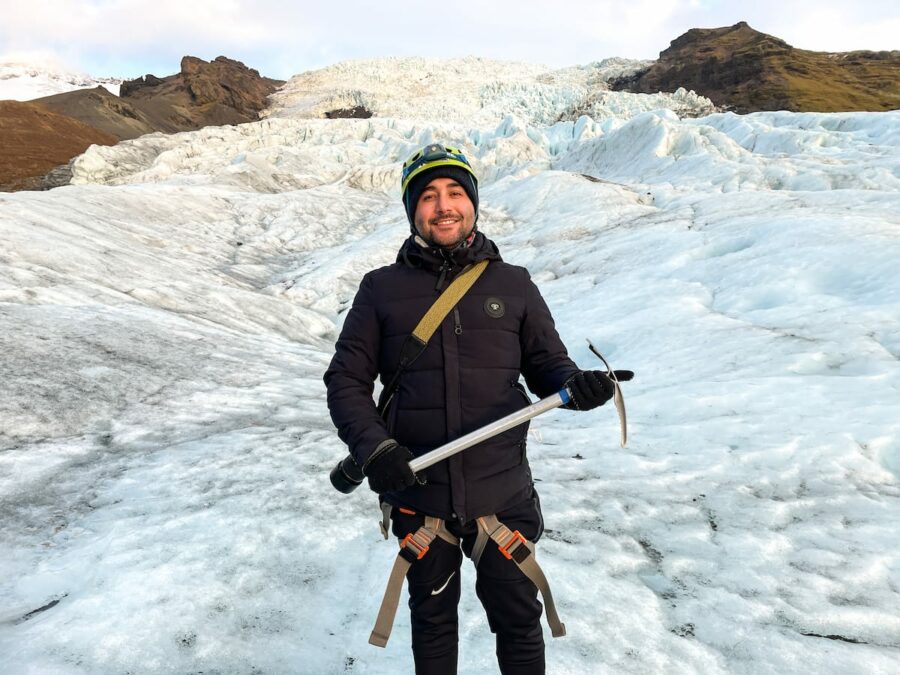 I am scared of heights and had no issues although the ice cave did exacerbate my claustrophobia, but you can step out if you have issues.
What to Wear on this Tour of Skaftafell Glacier
Layers! Fortunately, when we did the Skaftafell Glacier hike, we didn't have crappy weather and it was dry.
But, it was winter and cold enough that you needed a parka and warm socks with hiking boots (the crampons will go over the top of them).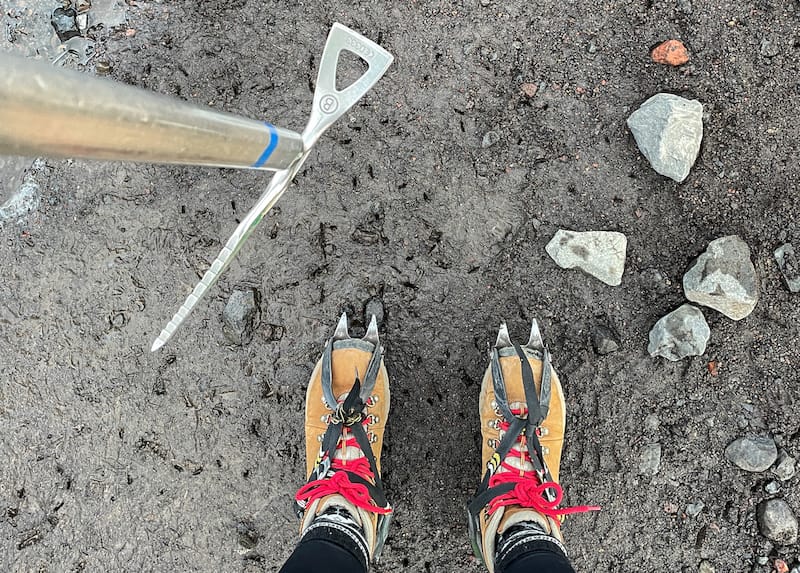 I recommend wearing waterproof pants, however. While we did not have any issues with rain/snow when visiting, I imagine the likelihood of having that is greater than NOT having it.
Troll Expeditions will supply you with a headlamp, crampons, a harness, and an ice ax, but the dress is up to you.
Aram did not have the right shoes for the hike (he wore sneakers), so please make sure you have hiking boots. If you don't – you can rent gear as noted below.
Can You Rent Equipment for the Tour?
Yes! You can rent equipment for the tour. The prices are as follows:
Hiking Boots Rental (Children Price ISK 1,500, Adult Price ISK 1,500)
Waterproof Jacket (Children Price ISK 1,000, Adult Price ISK 1,000)
Waterproof Pants (Children Price ISK 1,000, Adult Price ISK 1,000)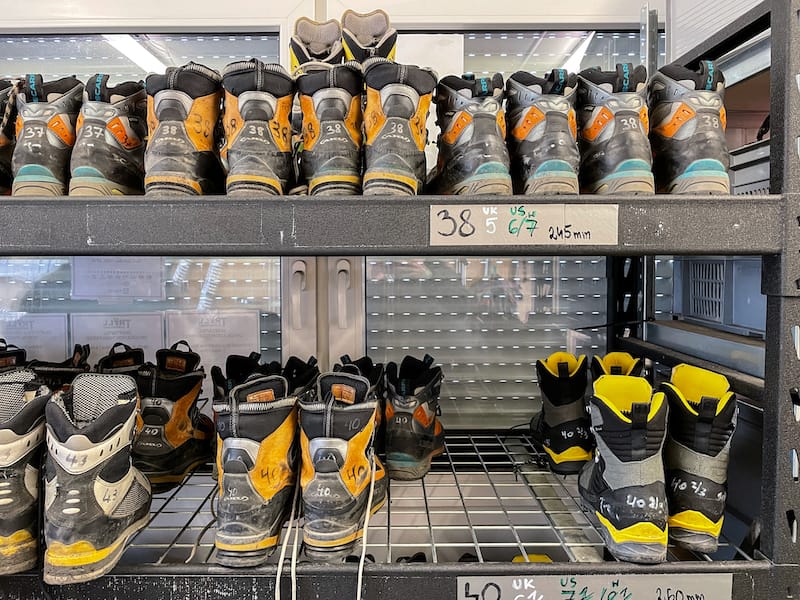 You can rent this on the spot so just be sure to inform your guide as you arrive at the meeting point.
Tips for Glacier Hikes in Iceland
Be early! They say to arrive 30 minutes early and definitely make sure you do that.
If you're driving in from Reykjavik, give yourself an extra hour to arrive just in case there are any mishaps. It is a long drive, to be honest, so I recommend staying in Vik before/after.
I recommend wearing a shorter parka for this as the harness will need to fit easily. I wore a long parka and it was a nightmare… I eventually put my parka on top of it because it was not very cold, but I really wished I had worn a shorter jacket!
Stay with the group and ensure that your friends/family do the same. This is a dangerous area if explored without a guide. It is also easier for others in the group as it keeps things on time.
>> Book your Skaftafell Glacier Hike here <<
Claustrophobic? You might have a little issue inside of the ice caves if they are large and deep (mine were not when I was there but I am claustrophobic).
If this is the case, chat with your guide beforehand as he/she will ensure you still get to see everything in a way that won't cause extra anxiety or fear! You can easily step out of the caves.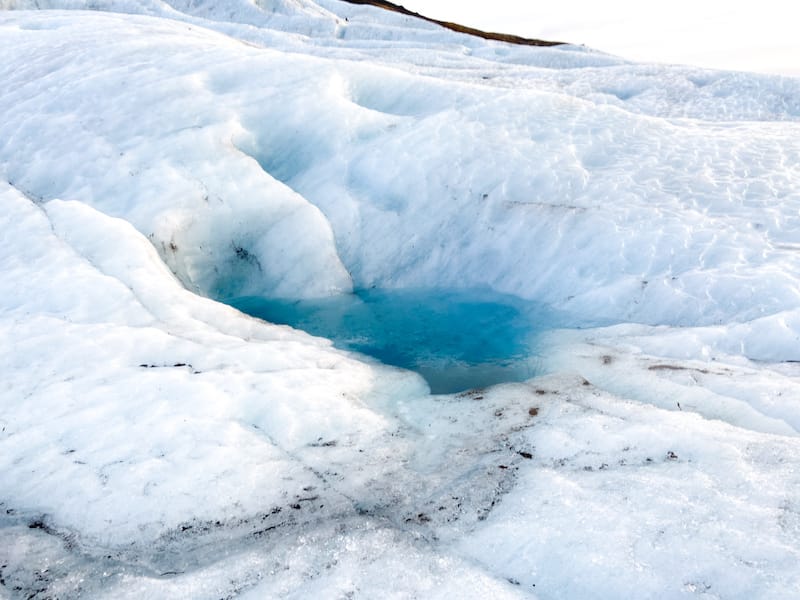 Again, we really stress that your tour of the ice caves part will likely not look exactly like the photos when booking.
This is a good thing as your experience will vary from others and you can see Mother Nature doing her thing! It truly is a once-in-a-lifetime experience (that can never be exactly replicated)!
How to Book this Skaftafell Glacier Tour
We highly recommend booking this Skaftafell Glacier Hike and Ice Caves tour online before arriving in Iceland.
We took ours through Manawa (a fantastic company that specializes in adventure tourism!) which has a direct partnership with Troll Expeditions.
You will receive a voucher from Manawa which will detail all instructions beforehand, including the meeting point.
Other Iceland Tours You Might Like
Have you ever been on a Skaftafell glacier hike tour? Let us know your tips and thoughts in the comments! Thanks!
More Iceland Travel Guides
Pin this Iceland Glacier Hiking Tour Guide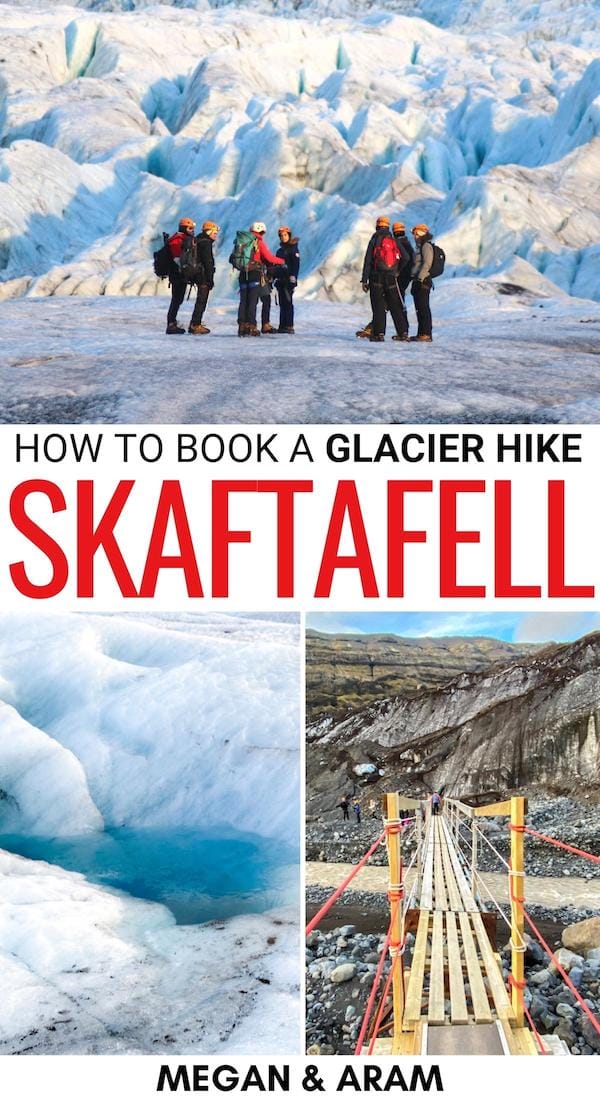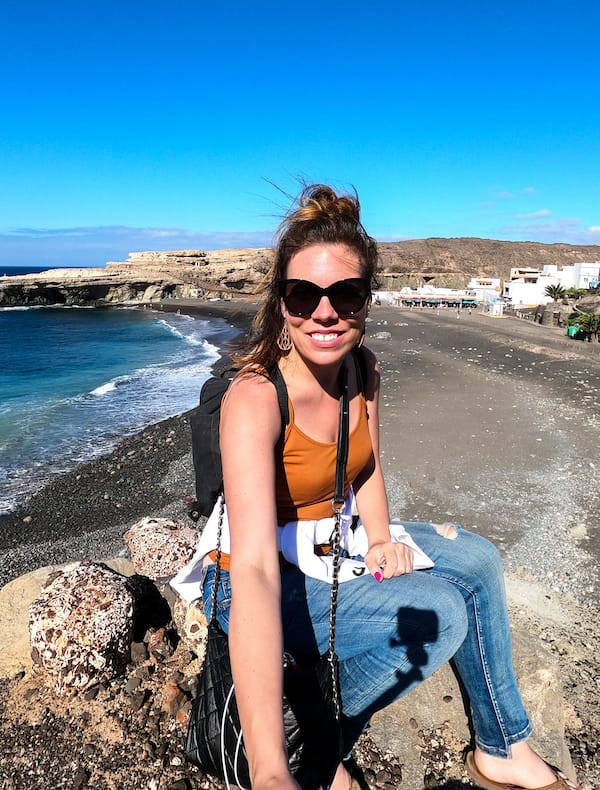 Megan is a travel blogger and writer with a background in digital marketing. Originally from Richmond, VA, she now splits her time between Frankfurt, Germany and Arctic Finland after also living in Norway, Armenia, and Kazakhstan. She has a passion for winter travel, as well as the Nordic countries, but you can also find her eating her way through Italy, perusing perfume stores in Paris, or taking road trips through the USA. Megan has written for or been featured by National Geographic, Forbes, Lonely Planet, the New York Times, and more. She co-authored Fodor's Travel 'Essential Norway' and has visited 45 US states and 100+ countries.