Spending some time in Lisbon in winter this year and unsure of what to do? Keep reading for some diverse options!
Lisbon has it all in winter – Christmas markets, world-class museums, and food that will leave your mouth wanting more!
It doesn't have the snow that the north of Europe gets, but sometimes you need a little sun in winter!
If you're planning a winter trip to Lisbon… you've come to the right place! Let's check out some of the best things to do in Lisbon in winter.
Did we miss anything to do during winter in Lisbon? Let us know in the comments. Thanks!
Winter Temperatures in Lisbon
If you're seeking winter sun in Europe, Lisbon is a great choice.
While it does rain more often than it does during the summer months, it is still a fabulous place to go if you're escaping little daylight in Northern Europe or just want more sun than what you'd get in Germany or the UK, for example!
The average winter temperatures and rainy days for the winter in Lisbon are as follows:
December in Lisbon: highs of 15°C (59°F), lows of 9°C (49°F); 10 days of rain
January in Lisbon: highs of 15°C (59°F), lows of 8°C (47°F); 10 days of rain
February in Lisbon: highs of 16°C (61°F), lows of 9°C (48°F); 8 days of rain
March in Lisbon: highs of 18°C (65°F), lows of 10°C (51°F); 6 days of rain
Best Things to Do in Lisbon in Winter
1. Check Out the Lisbon Christmas Markets
Swinging by a traditional Christmas market is a must to soak in that festive Natal (Christmas) spirit.
From mid-November until the beginning of January, cozy Christmas markets can be found all over Lisbon.
Campo Pequeno is the main Christmas market featuring more than 100 vendors. Here, you will definitely find the perfect Christmas gifts for your loved ones.
For the full winter wonderland experience, visit the Rossio Christmas Market, where you can taste mulled wine and porco preto (black pig) sandwiches, ride the Christmas train, and more.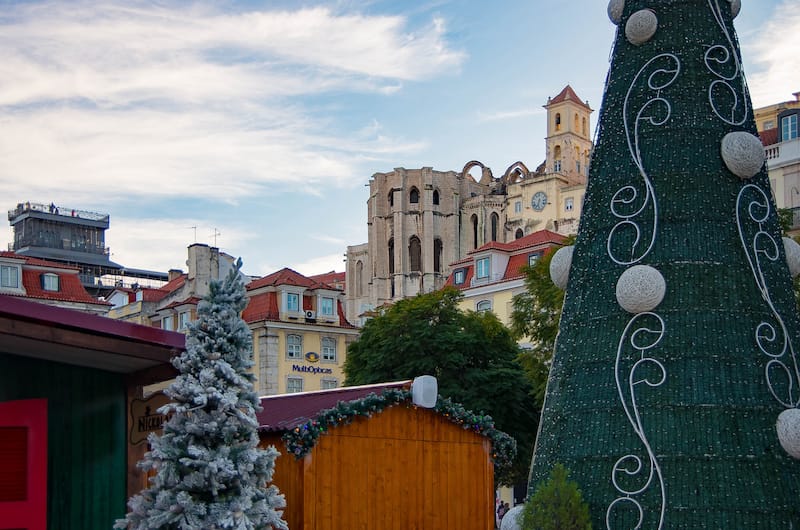 If you're visiting with the kids, make sure to check out Wonderland Parque Eduardo VII, which features Christmas stalls, an ice skating rink, Santa's village, and a plethora of activities for the young ones.
Hop on the 30-meter Ferris wheel to take in mesmerizing 360° views of Lisbon.
2. Take a Food and Wine Walking Tour
Indulge your taste buds with delicious flavors of Portuguese cuisine during a Food and Wine Walking Tour of Lisbon.
This 3-hour guided walking tour will make you discover the culinary history of Portugal in Lisbon's traditional places while your guide shares lots of insider tips for wine, petiscos, food, and fado.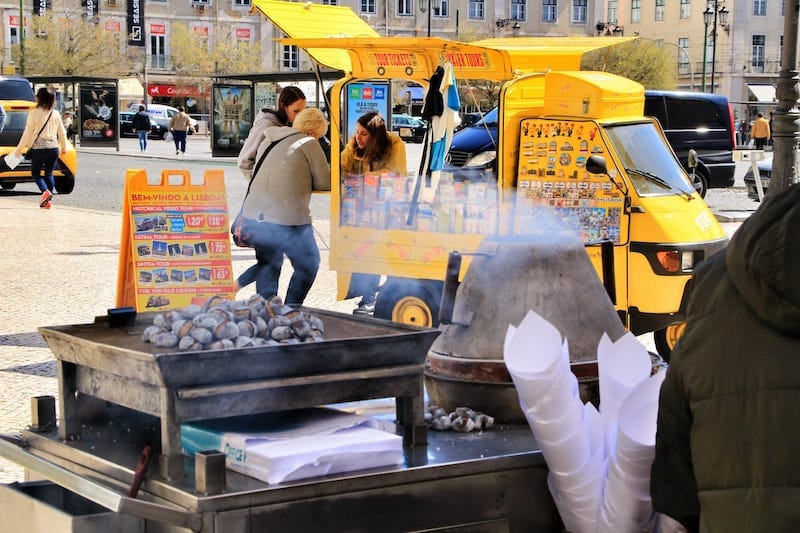 Check out the 18th-century café Nicola, savor the famous Portuguese codfish cake and pair it with a glass of refreshing green wine, sip a glass of Port, Portugal's famous fortified wine, and try the delicious São Jorge cheese.
After learning the history of Ginjinha (typical Portuguese Cherry Brandy), tasting Portuguese Bifana (pork meat sandwich) and Chouriço (Portuguese bread), head to Manteigaria Silva to shop for specialty fish, cheese, ham, and more.
>> Click here to check rates and availability
3. Find the City's Best Hot Chocolate
There is simply no better way to fight off the harsh winter chill than with some hot chocolate in a mug.
Bettina Corallo is an aromatic and friendly spot where you can grab your delicious hot chocolate and pair it with cocoa sorbet, perfect for those who appreciate the true taste of chocolate.
Landeau Chocolate, with a location in Rua das Flores, is another great spot for trying the best hot chocolate that will certainly make your taste buds do the jingle bell hop. The taste of their chocolate cake is out of this world!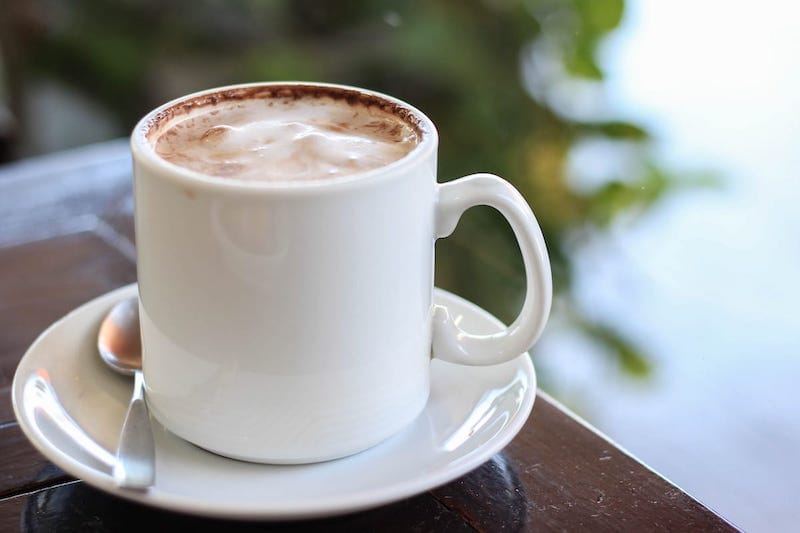 Pasteis de Belem and hot chocolate in Fábrica dos Pastéis de Belém are the perfect compliment for anyone's relentless sweet tooth.
We bet you won't be able to put their hot chocolate down as you watch the snowfall.
4. Take a Live Fado & Alfama Tour
Exploring Lisbon's Alfama district and thrilling your taste buds with local cuisine with Lisbon's Live Fado & Alfama Tour with Traditional Dinner guarantees an uncompromising experience.
Hear traditional Fado music on a guided walking tour in the city's oldest district, where Fado was born in the early 19th century.
Start your tour with a traditional Portuguese dinner, then wander down the alleys of the old part of town through Mouraria and Alfama.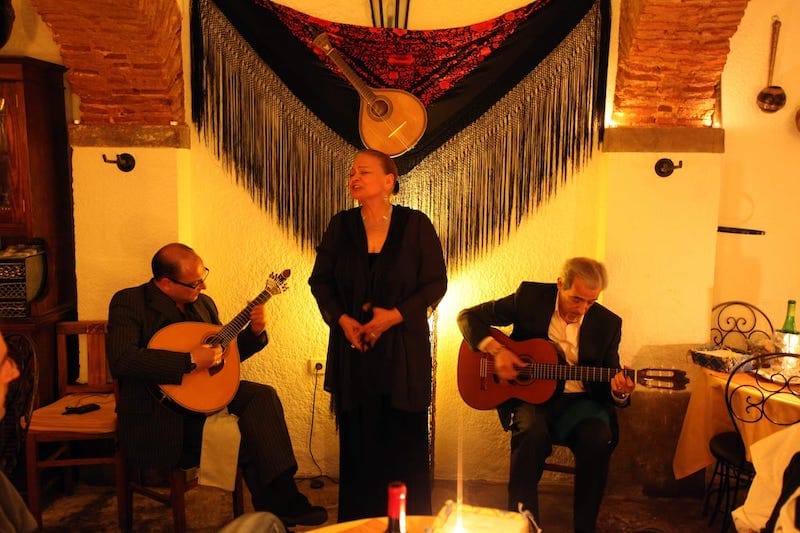 End your tour at an atmospheric and traditional Fado house where you can attend a concert and immerse in melancholic melodies of the UNESCO-listed musical genre of Fado, a quintessentially Portuguese genre produced by a Portuguese guitar and characterized by heartfelt lyrics.
>> Click here to check rates and availability
5. Go to the Natalis Christmas Fair Festival
Are you in search of that perfect Christmas gift? If so then make sure to check out Natalis Christmas Fair at Feira Internacional de Lisboa.
This is the perfect free-entrance, Lisbon Christmas event for the whole family.
It consists of several sections, including the Santa Claus Market, the Sustainability Market, the Brincadeiras Market, and the delicious Gastronomy section packed with chocolate and sweets.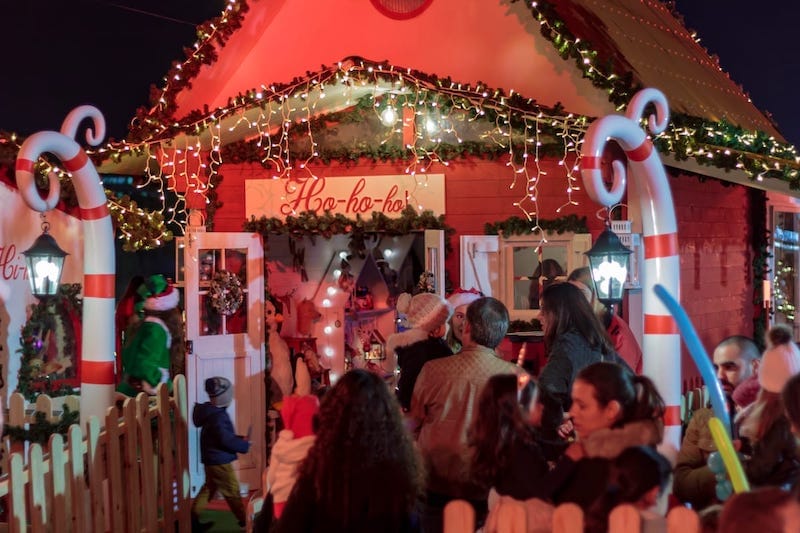 Here you will find more than 180 exhibiting participants displaying a wide range of Christmas gifts, home textiles, books, toys, gastronomic delights, and decorative items.
The hard part may be picking just one Christmas item to gift. All those workshops, demonstrations, and entertainment make this event a truly fun and unforgettable experience for all ages.
6. Take a Pastel de Nata Baking Class
If you have ever wanted to try your hand at baking local pastries on your travels, then make sure to add a Lisbon Pastel de Nata Baking Class to your city itinerary.
This hands-on pastry class allows you to dive deep into Portuguese culture and learn the secrets of their unique gastronomy.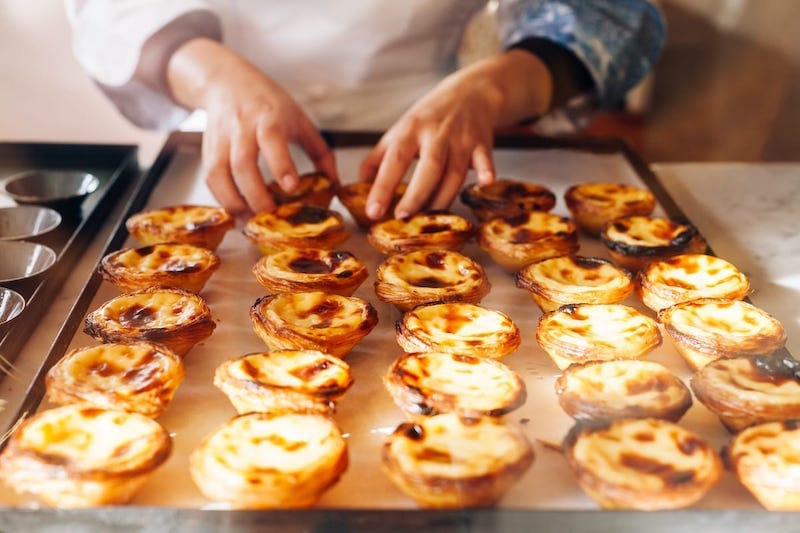 Here you will experience a step-by-step process of making your very own Pastel de Nata from scratch with the help of friendly chefs and instructors.
After making a batch of these local pastries, savor your fresh-out-of-the-oven Pastel de Nata and pair it with local drinks which perfectly complement this delicious journey.
>> Click here to check rates and availability
7. Stick around for Noite De Ano Novo (New Year's Eve)
Get enchanted by the lively and vibrant ambiance of Lisbon during New Year's Eve.
Witness the spectacular fireworks in Praça do Comércio (Terreiro Do Paco), the big square in the center of Lisbon packed with bars and restaurants.
Those who are spending the night around Alfama and Mouraria should head to Castelo de São Jorge to take in the magnificent firework show from a great viewpoint.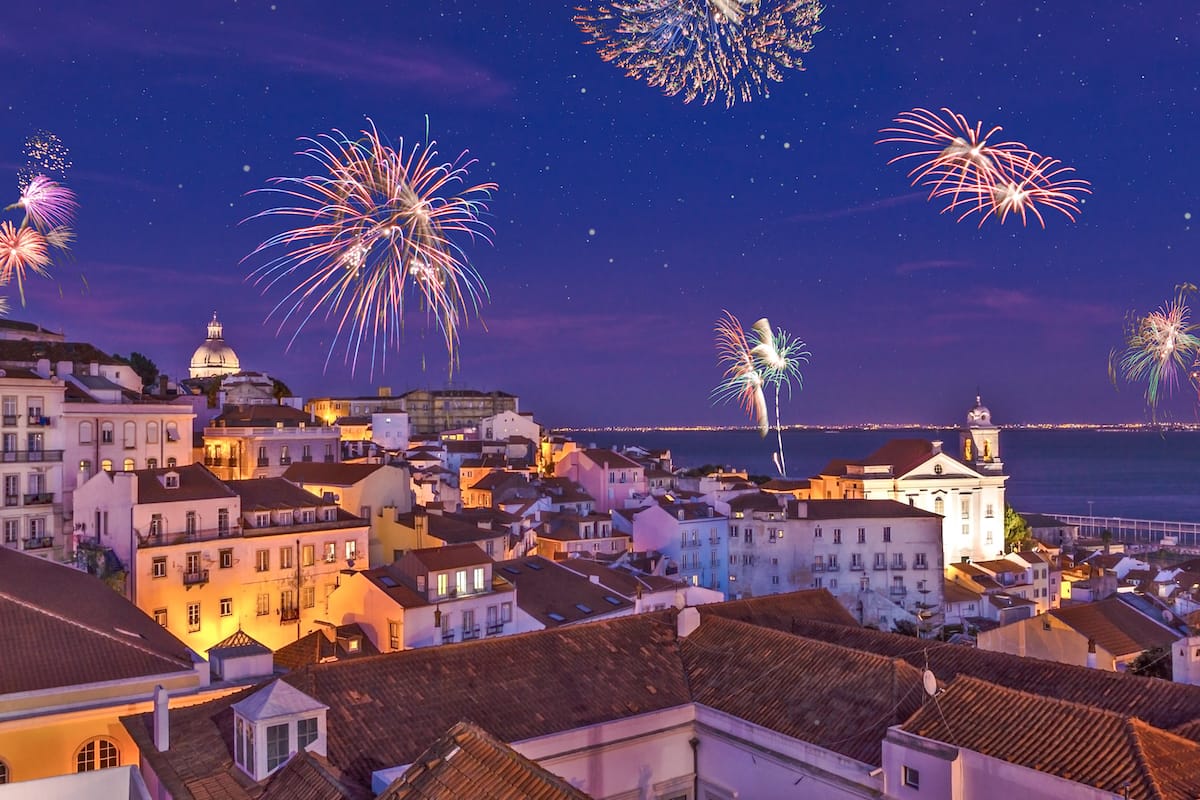 Lisbon offers crazy parties to help you welcome the New Year in style, including Le Reveillon no Convento do Beato, the Fim de Ano event at Palácio Real da Tapada da Ajuda and Passagem do Ano na Estufa Fria.
Another Lisbon NYE option is to enjoy dinner cruises or spend the evening watching Fado shows, Portugal's traditional music, at Café Luso, Clube de Fado, or Adega Machado.
8. Go Ice Skating in Lisbon
Get a taste of the Lisbon Christmas spirit at Wonderland Lisboa, found right in the heart of the city in Eduardo VII Park.
This winter playground, open throughout the month of December, features an ice rink, Christmas Market, and a Ferris wheel with 360º views from heated cabins.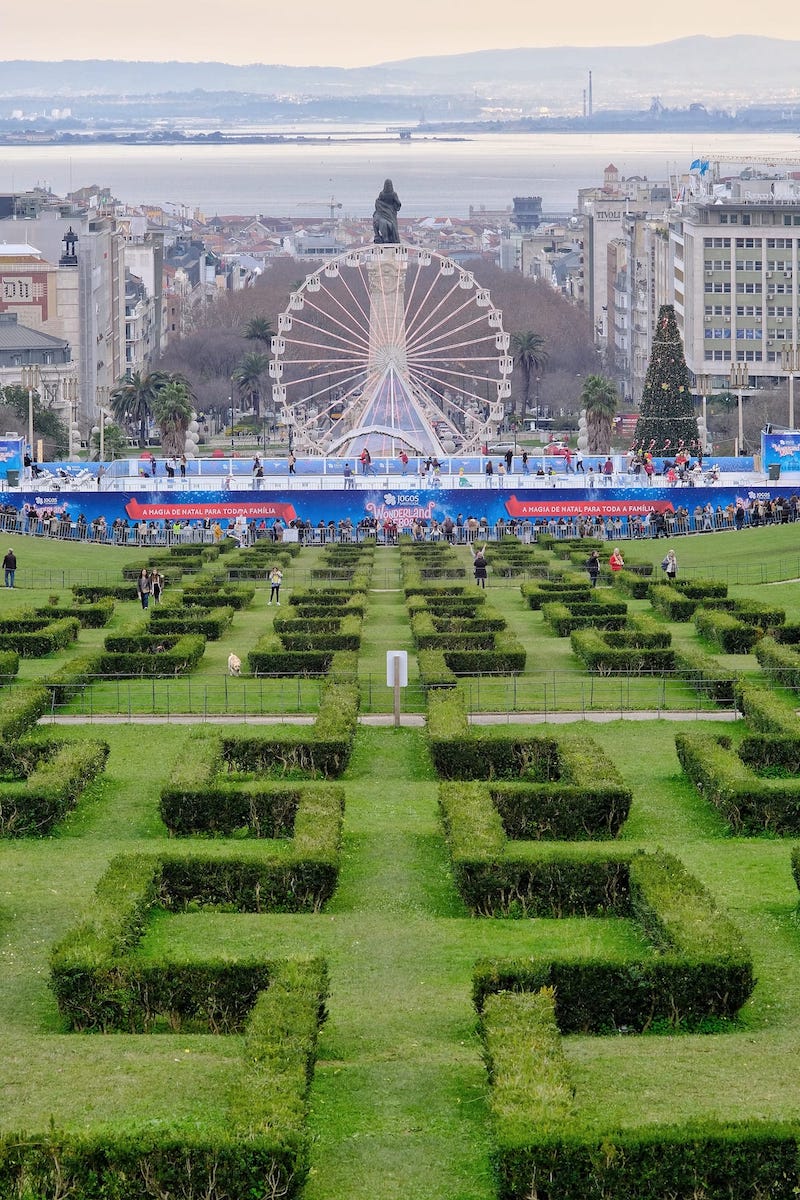 The 600-square-meter ice rink is the perfect place for the whole family to have wintertime fun.
After hours of fun on the ice, grab some warm hot chocolate or tea, meet Father Christmas, ride the Ferris Wheel and do some shopping from 57 lined cozy wooden stalls, which offer apparel, handcrafted jewelry, crafts, and regional products.
9. Indulge in Portuguese Traditional Food
Lisbon's food culture is brimming with vibrant, delicious, and authentic flavors that will surely leave you wanting more.
Bacalhau, dried salted codfish, is one of their national dishes, and there are a number of ways to prepare this mouth-watering meaty fish.
Try the traditional Bacalhau à Braz, scrambled eggs with olives and fried potatoes, or Bacalhau Ze do Pipo, baked under mayonnaise. Eating the whole crab at Lisbon guarantees an uncompromising culinary experience.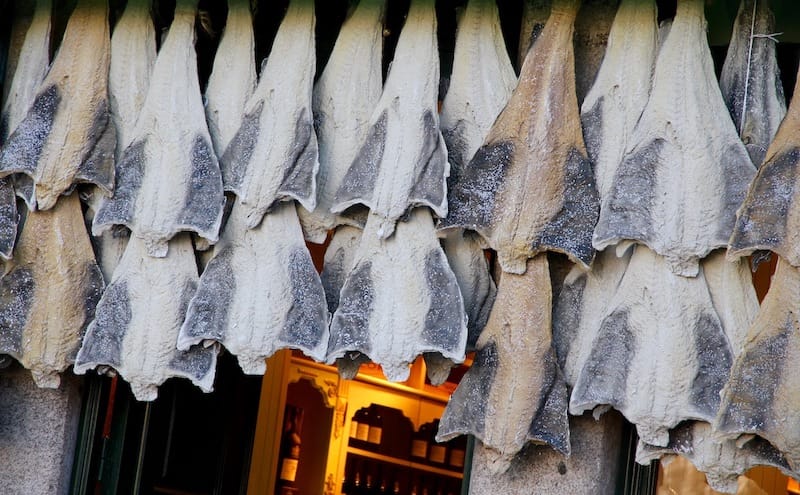 The mixture of crab innards and fat is served in the shell with a sauce made of butter, garlic, onions, white wine, peppers, and chili.
Don't forget to try chicken piri piri, arroz de marisco (prawns, clams, and other seafood cooked with rice and vegetables), bifana (Portuguese sandwich), and top everything off with golden Pasteis de Nata.
10. Go on a Pub and VIP Club Crawl
Explore Lisbon's unique nightlife scene with local guides during the Pub and VIP Club Crawl tour of Lisbon.
Party lovers can take part in the first and the biggest pub crawl in Lisbon, drink and dance at some of the city's best bars and clubs until the wee hours.
Get the party started with an hour of unlimited free beer or sangria, then head to visit Bairro Alto's three best bars, perfect for meeting fellow travelers from around the globe.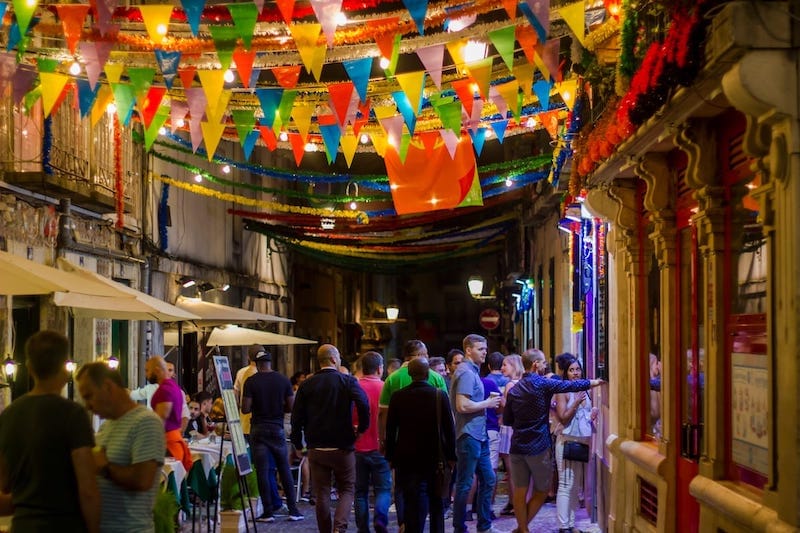 At least two local guides will introduce you to Lisbon's booming nightlife.
In each bar, you can skip the line and enjoy exclusive discounts on cocktails, listen to different types of music, and simply party for 5 hours or more. Round off your night with free entry to a local club.
>> Click here to check rates and availability
11. Get Inspired at the Miradouros Viewpoints
Walking the miradouros in winter is a fantastic way to take in the epic views of the city.
To admire Alfama's rooftops and towers, head to Miradouro das Portas do Sol, while Miradouro da Senhora do Monte is one of the most romantic miradouros, offering breathtaking sunset views over the city.
Miradouro Da Graca is another well-shaded viewpoint for witnessing Saint George's Castle from a cozy cafe.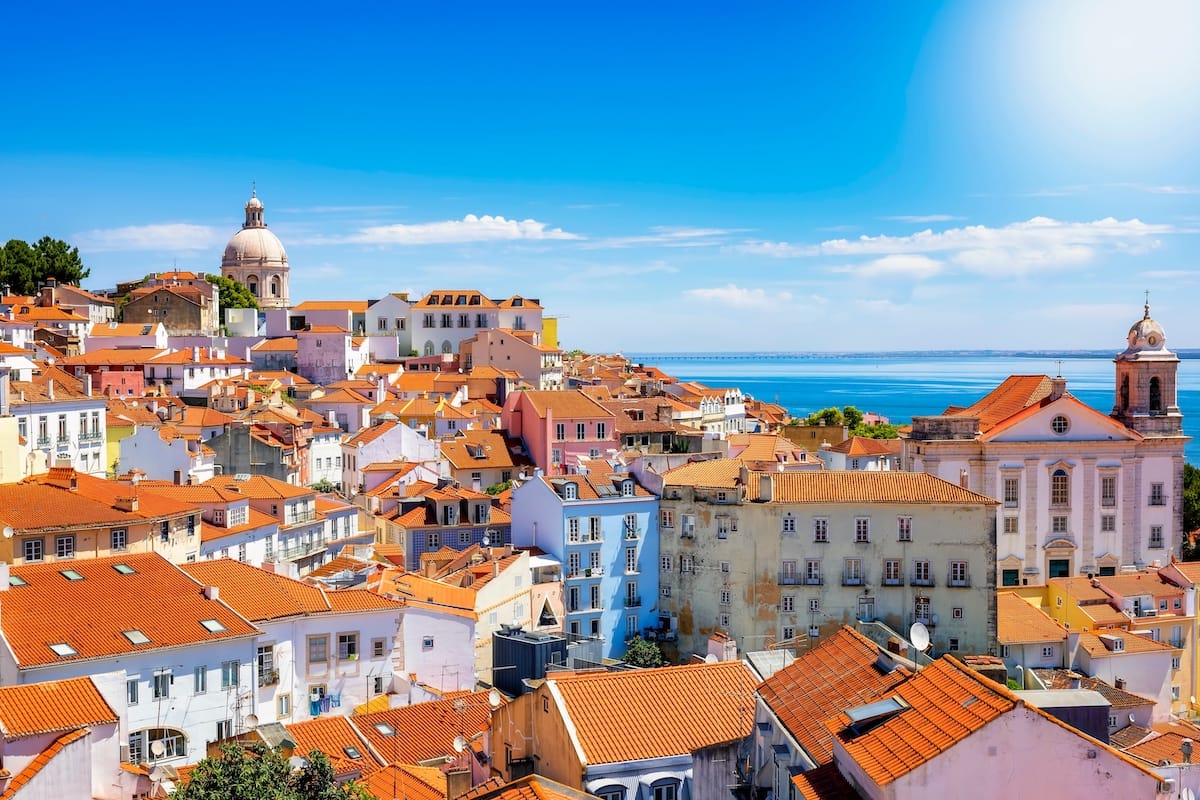 Stand above the city at Santa Justa Elevator to enjoy Rossio Square and the entire downtown from another perspective.
For a one-of-a-kind experience, climb Discoveries Monument to marvel at the Tagus and the entire Belem district, including the Jeronimos Monastery.
Miradouro de Sao Pedro de Alcantara, Miradouro De Santa Luzia, and Edward VII Park are other popular viewpoints you shouldn't miss.
12. Visit the National Coach Museum
Step back in time to the 17th, 18th, and 19th centuries by witnessing one of the world's most important collections of horse-drawn carriages at the National Coach Museum.
Originally housed in the 1905 Royal Riding School and created by Queen Amélia in 1905, here you can find some of the most noteworthy coaches, berlins, rickshaws, and carriages owned mostly by Portuguese royalty.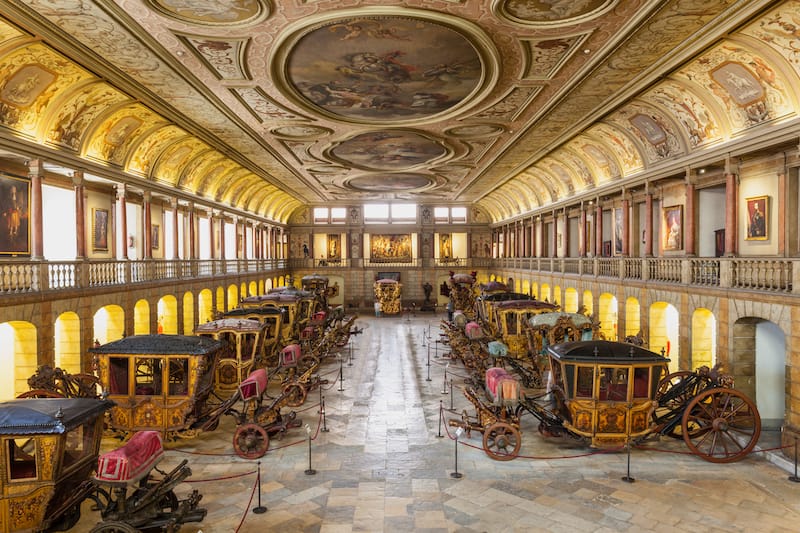 Highlights of the collection include horse-drawn vehicles belonging to Philip II of Spain, the oldest coach used by King Felipe II of Portugal, the Coach of the Oceans, the Coach of the Ambassador, and the Coach of Lisbon's Coronation that belonged to Pope Clement XI.
The museum also holds several paintings, a mail carriage, a prisoners' carriage, an 1895 Panhard et Lavossor from France, and other interesting objects from the pre-automobile era.
Address: Av. da Índia 136
13. Relax at a Cozy Cafe in Lisbon
Lisbon's diverse coffee scene will certainly keep you caffeinated and happy for your whole winter visit.
Shakar is a warm and cozy coffee shop that will feed your senses with its delectable menu of exceptional coffees, like salted caramel lattes, espresso tonics, and organic matcha latte. They also serve breakfast, brunch, and desserts.
Grab your coffee made with single-origin beans sourced from Brazil, Honduras, or Ethiopia at cozy ​​Olisipo Coffee Roasters, which operates for just eight hours each week.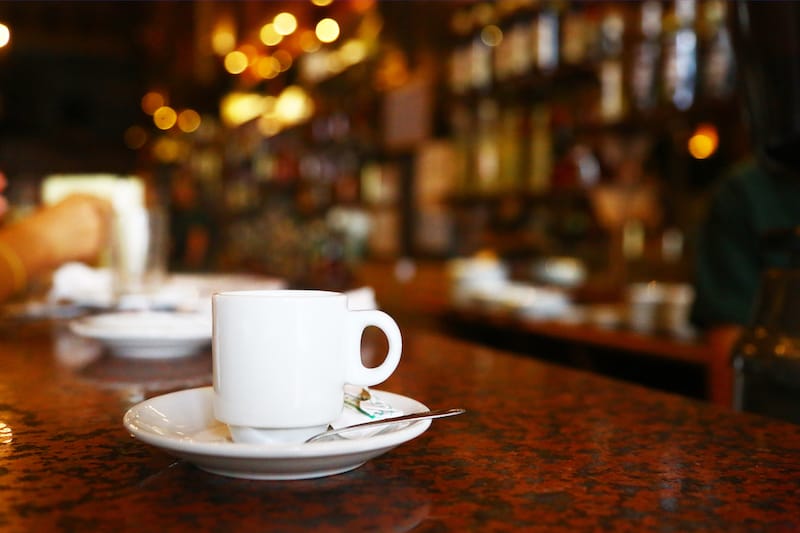 Milkees is another great coffee shop to escape the cold. If you want to feed your sweet tooth and pair your coffee with delicious pastries, then this is the place to go.
The taste of their cookies sprinkled with fleur de sel flakes is out of this world.
14. Take a Daytrip to Sintra and Cascais
Embark on a full-day trip from Lisbon to discover the famous Pena Palace and Sintra's history, admire mesmerizing views of the coastal cliffs of Cabo da Roca and tour the stunning seaside town of Cascais.
You have an option to choose between a shared tour or a private one.
Besides helping you to avoid the long lines, your friendly guide will also share some of the must-visit restaurant options for savoring mouth-watering traditional Portuguese dishes.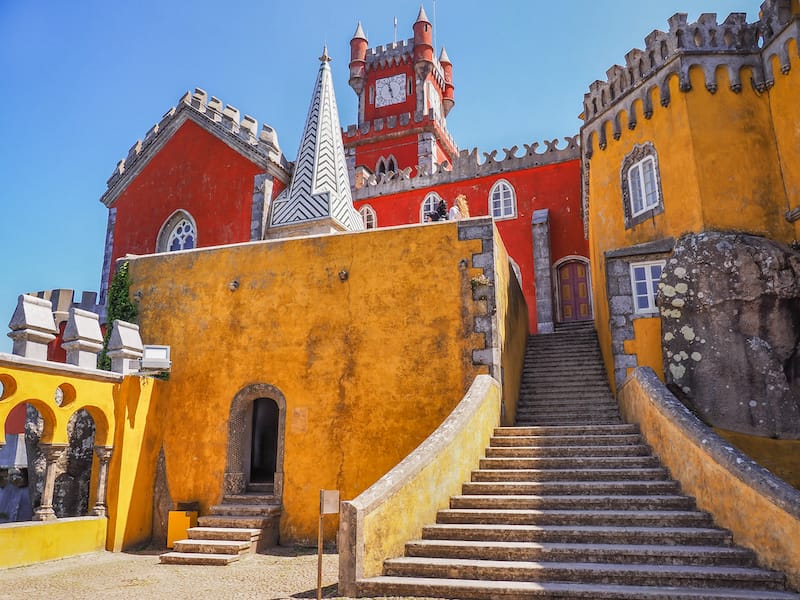 First, head over to the center of Sintra to wow at Romanticist architecture, historic palaces, and villas. Then continue to Cabo da Roca to watch adrenaline lovers showing off their surfing skills at Guincho beach.
At the end of the tour, take a stroll through lovely Cascais, and explore Cascais' luxury marina, restored fort, and charming fishing port.
>> Click here to check rates and availability
15. Discover the National Tile Museum
Housed in Madre de Deus Convent from 1509, the National Tile Museum is a must-see attraction packed with 7,000 pieces of Portuguese tiles, or azulejos, of all colors and sizes, some of which date back to the 15th century.
Here you will dig deep into the origins and evolution of the art in Portugal, learn how tiles have been made and decorated throughout history, admire the Madre de Deus Church, explore rooms of colorful azulejos (the most impressive ones being Chinese-inspired blue-and-white Dutch and Portuguese panels from the Baroque period), and even witness ceramics, porcelain, and faience from the 17th to the 21st century.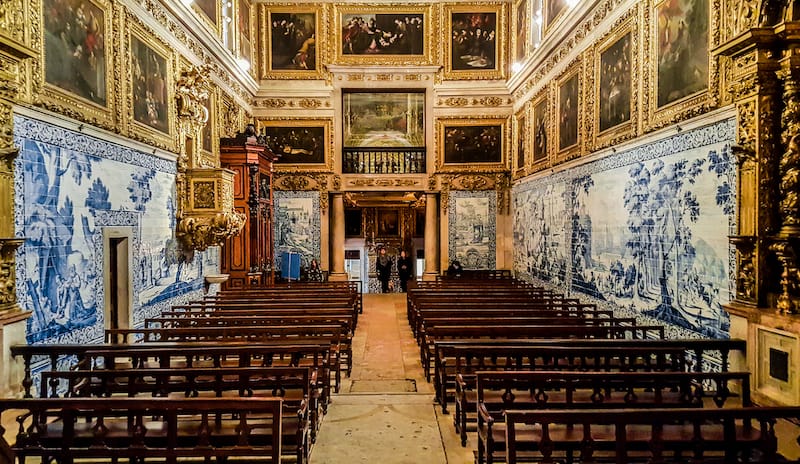 The museum, with an admission fee of 5 euros for adults, features a gift shop and Tile Cafe and is open Tuesday through Sunday from 10am-6pm.
Address: R. Me. Deus 4
16. See Portugal's First Jesuit Church
When walking through the Bairro Alto district, make sure to visit São Roque Church. Being the first Jesuit church in Portugal, it is among the earliest in the world.
Once housing artifacts in memory of Saint Rocco, the church eventually became the official home of Jesuits in the 16th century.
Many locals and tourists simply pass by the building due to its plain façade, but believe me, once inside, you will be mesmerized by its jaw-dropping interior.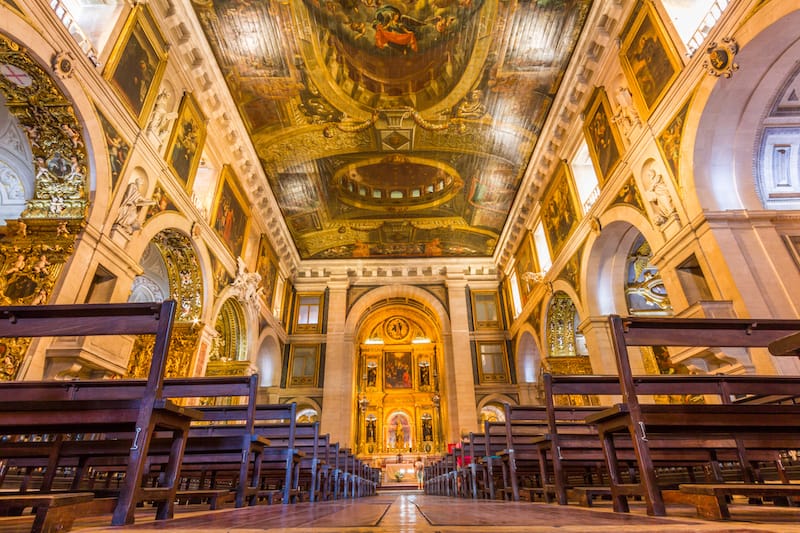 There you'll find nine chapels dripping in gold and four altars, some of which were shipped in from Italy during the 18th century.
Nearby you will find the Museum of the Treasure, which features one of the world's most important Roman sacred art collections.
The church is free, but there is a small fee (€2.50) for the museum.
17. Ride on the Famous Tram 28
Whether you like walking in chilly weather or not, make sure to take a ride on Tram 28.
Mainly used as public transport by locals, these yellow trams are like a symbol of Lisbon that runs from the Martim Moniz square to the Prazeres district.
Screeching and rattling through the narrow streets of the city, it passes through many popular tourist areas, like Alfama, Baixa, Estrela, and Graca. Make sure to ride the tram early in the morning to avoid mid-day crowds.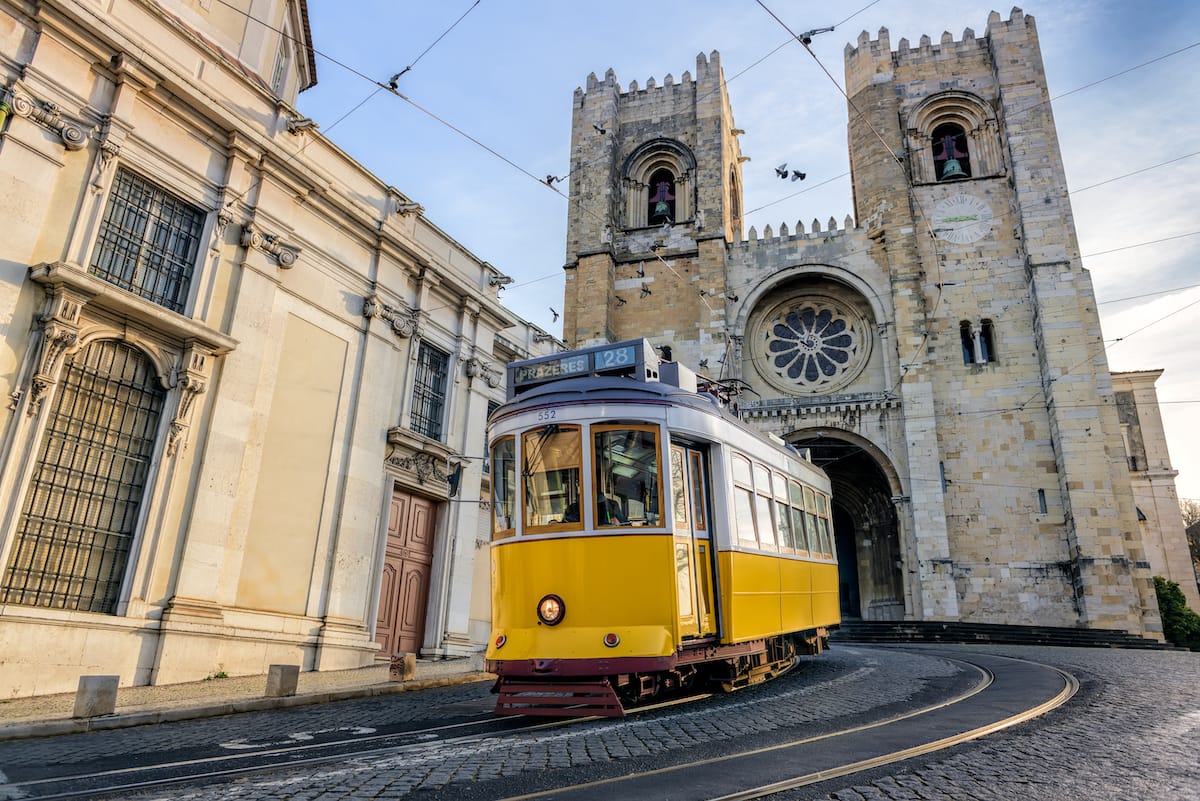 Hop aboard the E28 tram, which will take you along a scenic route and make you admire Lisbon's historic districts.
You can buy a single ticket on board the tram for 3 euros or get a 24-hour public transport ticket from any metro station for 6.40 euros, which includes metro, tram, and bus services.
18. Explore the MAAT – Electricity Museum
If you want to explore Lisbon's art, architecture, and technology under one roof, then head over to the Museum of Art, Architecture, and Technology (MAAT).
Nestled on the EDP Foundation Campus, MAAT is housed within two buildings: Central Tejo Power Station, Portugal's first power station, and AL_A's new Kunsthalle, designed by British architect Amanda Levete.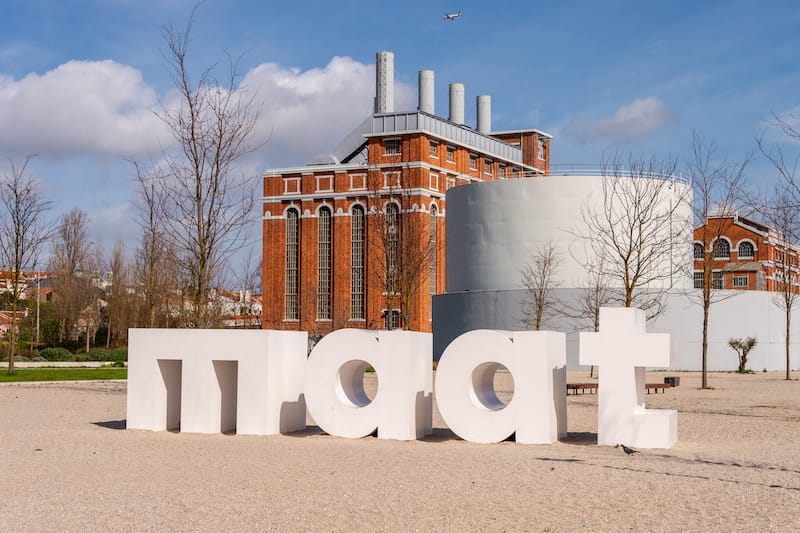 In this multidisciplinary art and culture destination, you can discover a permanent collection and rotating exhibitions featuring everything from pop art, ceramics, and wood sculptures to contemporary Portuguese art and even the history of Portuguese electricity.
You can tour both buildings for €11. If you don't want to enter to check out contemporary and international exhibitions, you can still walk around or get to the top of this white-tiled waterfront icon for panoramic views.
Address: Av. Brasília, Belém 1300-598
19. Feast at the Time Out Market
When the cold weather hits, be ready to indulge your taste buds with some of the Portuguese bone-warming dishes in Time Out Market.
Nestled inside the historic Mercado da Ribeira in the Cais do Sodre waterfront district, this gastronomic complex features over three dozen stalls serving savory food, sweet desserts, and liquid libations.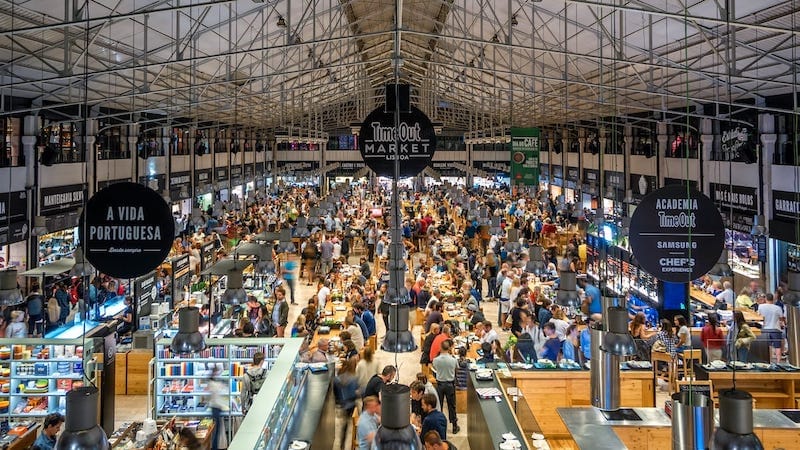 A few of the stalls showcase cuisine created by innovative Michelin-starred chefs, like Alexandre Silva and Henrique Sá Pessoa, while others offer Portuguese dishes and even eclectic international cuisine.
Savor Portuguese liqueur at Licor Beirão, enjoy delicious seafood at Marisqueira Azul and Lisbon's best steak at Café de São Bento, sample artisanal-dough pizzas baked in a wood-fired oven at Zero Zero, and try a caipirinha at the Time Out Bar.
Address: Av. 24 de Julho 49
20. Visit the World's Oldest Bookstore
Livraria Bertrand, just west of Alfama, is the world's oldest bookstore (according to Guinness World Records), which opened its doors to the Portuguese public back in 1732.
In 1755 a devastating earthquake destroyed the original store, which made the Bertrand brothers relocate the bookstore somewhere more stable.
The majority of the books, ranging from cooking to fiction, biographical to photography, and more, are ​​centered around the Portuguese language, but there is a small English-language section offering some classic works and a few contemporary bestsellers.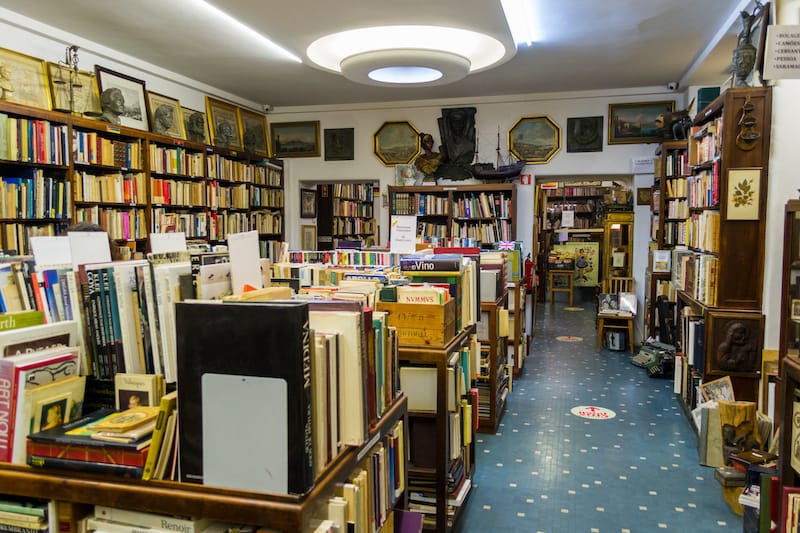 When buying the book, make sure to get the stamp stating that it was bought at the world's oldest bookstore.
In the back of the bookstore, you will find a small cafe, the perfect place to tear through some pages.
Address: R. Garrett 73 75
Did we miss any of the best things to do in Lisbon in winter? Let us know in the comments. Thanks!
More Portugal Travel Guides
Pin this Winter in Lisbon Guide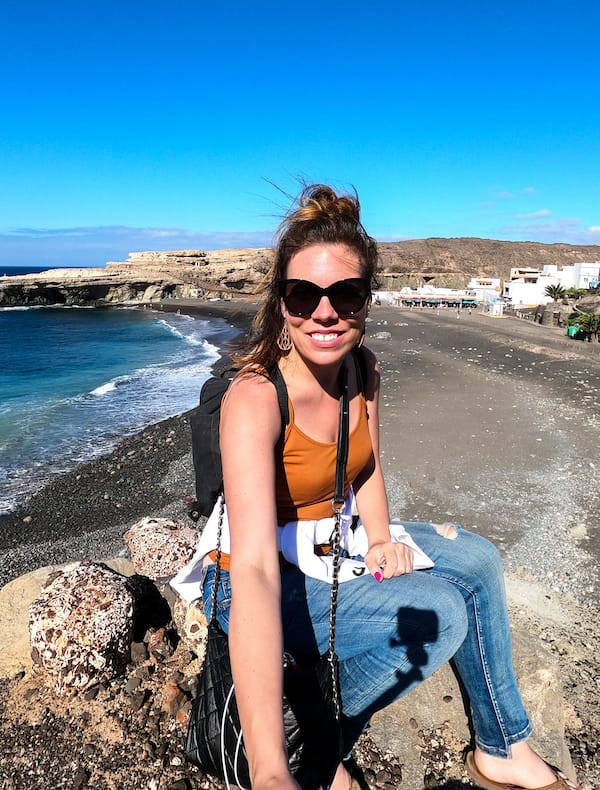 Megan is a travel blogger and writer with a background in digital marketing. Originally from Richmond, VA, she now splits her time between Frankfurt, Germany and Arctic Finland after also living in Norway, Armenia, and Kazakhstan. She has a passion for winter travel, as well as the Nordic countries, but you can also find her eating her way through Italy, perusing perfume stores in Paris, or taking road trips through the USA. Megan has written for or been featured by National Geographic, Forbes, Lonely Planet, the New York Times, and more. She co-authored Fodor's Travel 'Essential Norway' and has visited 45 US states and 100+ countries.