Are you looking to travel around the US this fall? This is a guide covering the best places to visit in October in the USA (and what makes them awesome)!
You will find so many epic places to visit in the US in October, including national parks. This guide will stick mainly to regions, cities, and towns, with the occasional national park squeezing its way in!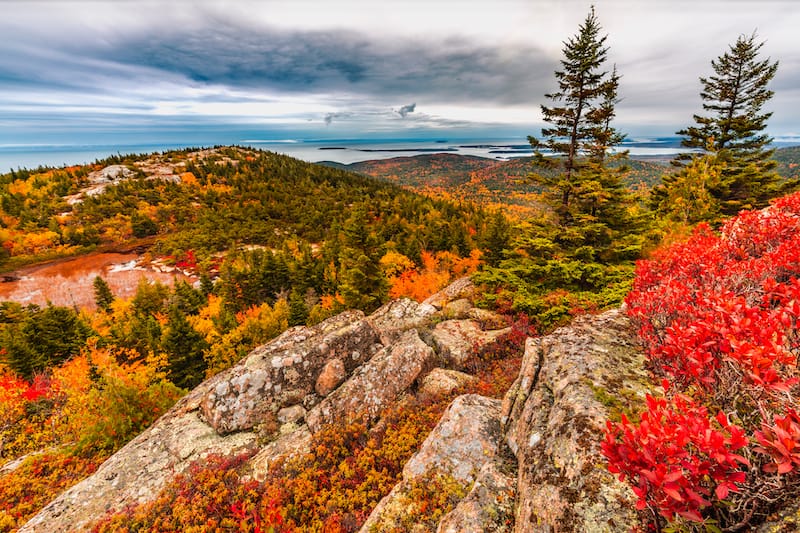 To curate this list, we have recruited some of our favorite bloggers to help! Let us know the best places in the USA in October in the comments!
Best Places to Visit in October in the USA
Hudson Valley
Location: New York
Average temperatures and precipitation: highs of 58F (15C) and lows of 43F (6C); 7 days of precipitation
Reasons to visit the Hudson Valley in October: wine and cider trails, fall foliage, pumpkin patches, and family activities
Recommended by: James Ian from Travel Collecting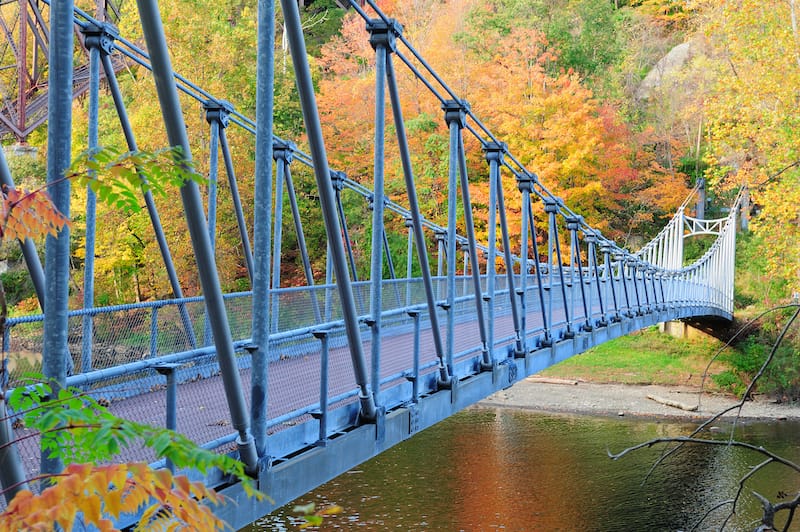 The Hudson Valley in New York State is at its very best in October. This is the prime time for leaf peeping. The valley runs on both sides of the Hudson River between New York City and Albany and is surrounded by mountains on both sides.
This means that there is always somewhere in or next to the valley for the entire month of October that is at peak fall color.
Popular places to see the leaves are Mohonk Preserve and Minnewaska State Park on the west side of the river, and any of the historic mansions on the east banks of the Hudson River, including the Vanderbilt Mansion in Hyde Park.
The valley also has plenty of farms that are open for u-pick fruit, and October is a great time to pick apples and pears fresh from the trees.
Add in fall fun like a hayride and a corn maze and you have a perfect October weekend. Popular farms include Hurd's Family Farm, Prospect Hill Orchard, and Barton Orchards.
For more adult agritourism, stop in at one of several wineries and cider houses in the area. You can sample local cider at Brooklyn Cider House (actually in New Paltz, not Brooklyn) and Westwind Orchard in Accord, where you can even enjoy wood-fired pizza in their orchard too (bundle up, as October can be chilly). Follow the Shawangunk Wine Trail for a range of local wineries and vineyards to visit.
The Hudson Valley is also perfect for Halloween festivities. Find the perfect pumpkins for your Jack o' Lanterns at a real-life pumpkin patch.
Then see more than 7,000 hand-carved pumpkins arranged in fantastical displays at the Great Jack o'Lantern Blaze in Croton-on-Hudson.
Finally, if you dare, visit an entire haunted village at Headless Horseman Hayrides and Haunted Houses in Ulster Park.
The Hudson Valley really is the perfect October destination.
Orlando
Location: Florida
Average temperatures and precipitation: highs of 85F (29C) and lows of 68F (20C); 5 days of precipitation
Reasons to visit Orlando in October: Halloween festivities at Disney World
Recommended by: Danila from Travelling Dany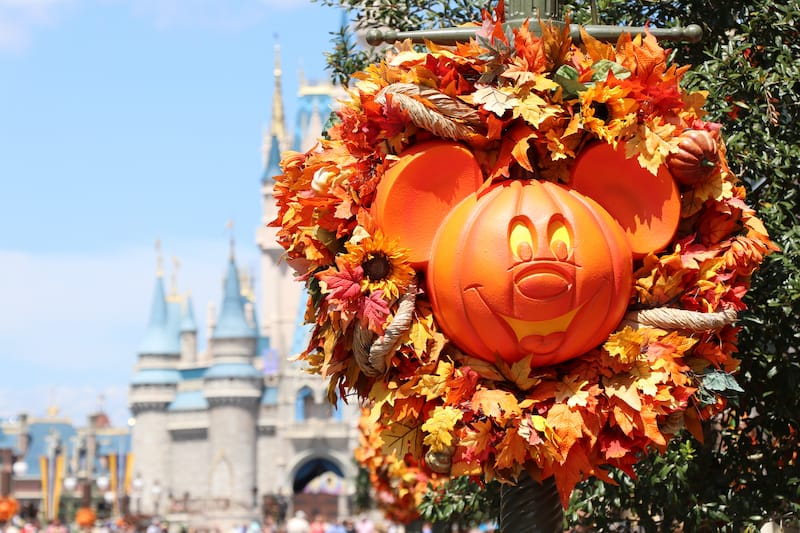 October is the best time of the year to visit Orlando (Florida). Yet comfortable temperatures and reasonable hotel rates are only part of the reason why you should book this trip.
October means in fact… Halloween celebrations! Where else to go if not in the second-best US city for amusement park lovers? Halloween at Disney World is like no other. Expect spooky decor, incredible events, and themed food offerings for each park.
At night the weather will be cool enough that even exploring Disney Springs will be a blast. The shopping, dining, and entertainment area near Orlando Walt Disney World is in fact going to be fully decorated.
You can enter Disney Springs for free, and you won't even need a Park Pass reservation, unlike Disney World's theme parks. It's thus the perfect place to go if you're planning to visit Orlando on a tight budget.
The Disney Springs Halloween decorations are even more impressive than the ones in Magic Kingdom! There are so many photo ops throughout the area: you should hit them all to get the best Halloween pictures for the 'gram.
Unsurprisingly, Halloween is a busy time to visit Orlando. Make sure you book well in advance and scour the net for great deals.
October might be a busy time but many hotels offer their guests discounts on Disney tickets and even a free shuttle service!
Lake Geneva
Location: Wisconsin
Average temperatures and precipitation: highs of 62F (17C) and lows of 42F (5C); 7 days of precipitation
Reasons to visit Lake Geneva in October: Oktoberfest, adventure activities, fall foliage
Recommended by: Trijit Mallick from Dog Travel Buff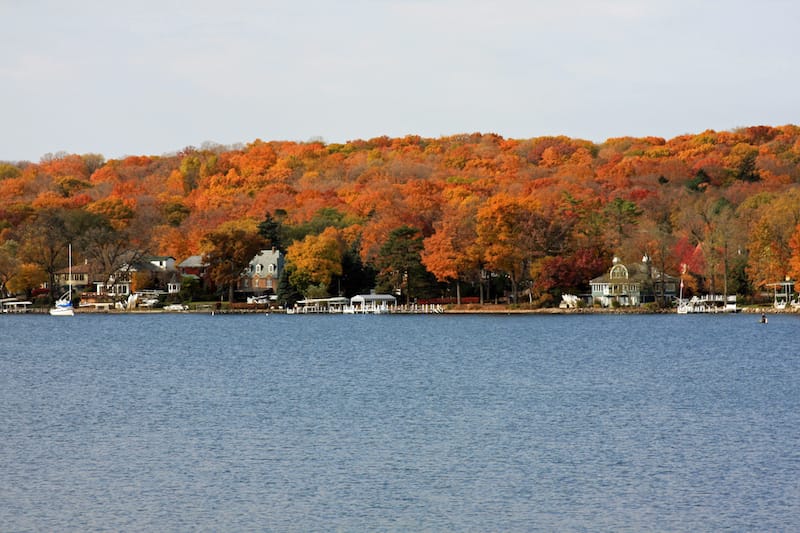 Located just a two-hour drive from downtown Chicago, Lake Geneva is one of the best places to visit in the USA in October and is a must for every Wisconsin bucket list!
From the vibrant fall colors to Gala Oktoberfest to zip-lining through the fall foliage and walking along the shore path of the lake, there are plenty of things to see and do throughout the fall season in Lake Geneva.
To experience the best fall colors of Lake Geneva, you can rent a bike and bike through Big Foot Recreation District, hike the scenic Lake Geneva Shore Path, or take a boat cruise on Lake Geneva.
The Lake Geneva Shore Path is free for all and offers incredible scenes of historic estates, excellent water views, and fantastic glimpses of colorful trees along the way. Lake Geneva is a dog-friendly place. So, you are welcome with your furry friend too.
If you visit Lake Geneva in October, you shouldn't miss the famous Oktoberfest that is generally held during the weekend.
These two days are fully packed with various types of fun events and entertainment. Enjoy the musical performance from the local artists, pumpkin giveaway, and many more.
Adventure-loving people can enjoy zip lining through the fall foliage. It is one of the most popular outdoor activities in Lake Geneva, especially during the fall season.
Geneva Canopy Tours offers two hours of zip lining experience where you can fly between colorful trees on different zip lines.
Philadelphia
Location: Pennsylvania
Average temperatures and precipitation: highs of 67F (20C) and lows of 52F (11C); 7 days of precipitation
Reasons to visit Philadelphia in October: Oktoberfest, adventure activities, fall foliage
Recommended by: Lance and Laura from Guide to Philly
One of the best places to visit in October is Philadelphia, Pennsylvania. Fall is magical in the City of Brotherly Love.
Early October brings peak leaf season in Bucks County, an area just outside the city that is consistently rated as one of the ten best spots for autumn leaves in the country.
Sports are still popular in October. At the beginning of the month, the Broad Street 10-mile race brings runners from around the world hoping for personal best times. The course is flat and one of the fastest at that distance.
Rowing is a popular sport in the city and the end of October brings the Head of the Schuylkill Regatta, an elite rowing race on the city's Schuylkill River. Every year, nearly 10,000 rowers are cheered on by over 30,000 spectators!
But the biggest and best reason to come in October to Philly has always been Terror Behind the Walls. The country's largest and best scary haunted attraction that runs most of the month.
Terror Behind the Walls is located within the abandoned Eastern State Penitentiary, a 10-acres prison that once housed Al Capone and other hardcore criminals.
Terror Behind the Walls takes up several wings of the prison, while the rest of the 10-acre prison site is open for Halloween Nights, a non-scary themed environment of beer gardens, lounges, light shows, and open spaces that are inhabited by ghouls, zombies, and freaky characters.
Collectively, this is the country's largest Halloween experience. See why Philly is the #1 place to experience Halloween in America!
Bishop
Location: California
Average temperatures and precipitation: highs of 76F (24C) and lows of 37F (3C); 0 days of precipitation
Reasons to visit Bishop in October: fall foliage, outdoor activities still in abundance, classic car show
Recommended by: Dhara from Roadtripping California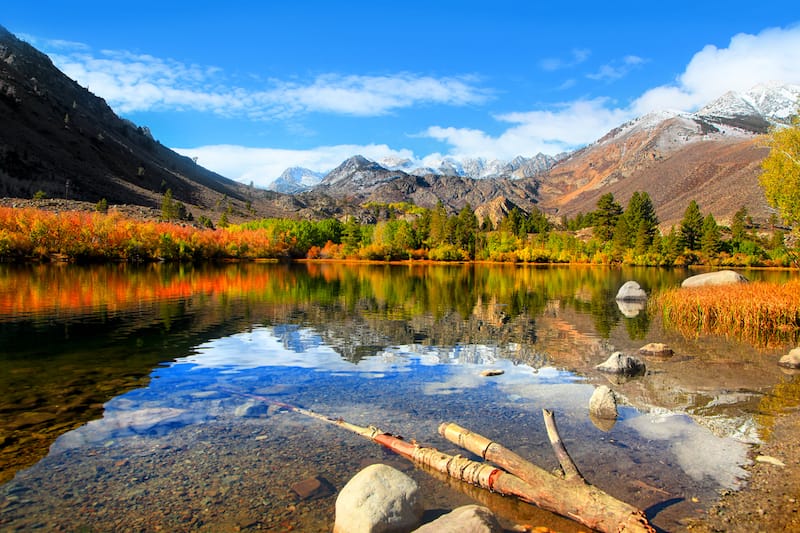 If you are looking for great October travel destinations, consider Bishop, in the Owens Valley of California! The town has a "big backyard," perfect for epic adventuring or just relaxing in the beauty of nature.
Fall colors in the Eastern Sierra are considered the most outstanding in the country after New England, and Bishop is front and center when it comes to leaf-peeping here.
Colors generally peak in October, and you will see aspens, willows, and cottonwoods put on a brilliant show of yellows, oranges, and reds.
While you can catch fall color right in town, head to Bishop Creek Canyon on California Highway 168 West for magnificent swathes of color.
The area is studded with beautiful lakes, so you can enjoy boating, canoeing, or fishing while you enjoy the colors. October is still generally a good time to enjoy some hikes or mountain biking.
Drive north from town to take in more fall color around Round Valley and along Highway 395. Bring your bikes, because the lanes and small country roads here are perfect for road biking.
At the start of the month, the Fall Colors Car Show sees folks traveling to town in classic cars for a fun fall event. Bishop is known for its bakeries, so if you enjoy sweet treats, be sure to check them out for fall-themed flavors.
Oklahoma City
Location: Oklahoma
Average temperatures and precipitation: highs of 73F (23C) and lows of 50F (10C); 5 days of precipitation
Reasons to visit OKC in October: pumpkin patches and other fall activities, Red Earth Parade & FallFest
Recommended by: Disha from Disha Discovers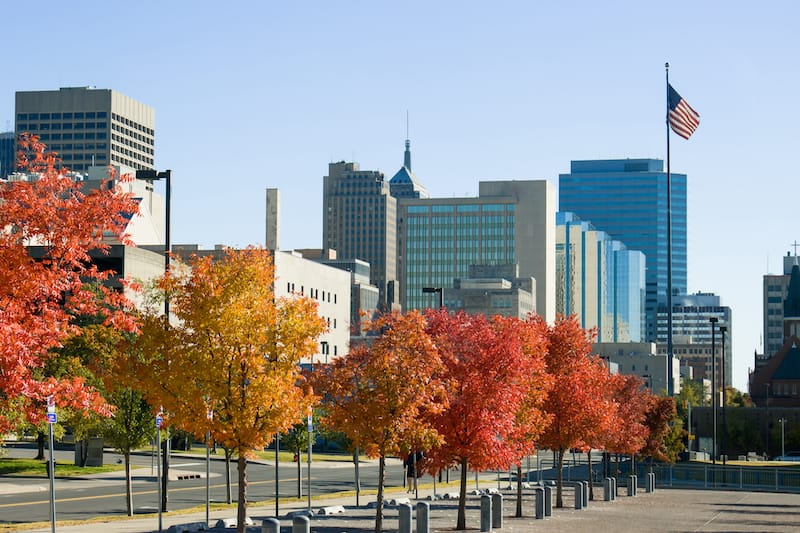 There are so many amazing places to visit in the USA in October and Oklahoma City, Oklahoma is one of them. This charming city is brimming with things to do during October and these events will give you a taste of Oklahoma.
One of the most profound things to do is to participate in or watch the OKC Memorial Marathon. People gather here from all over the world to honor the victims of the Oklahoma City bombing.
Oklahoma City is abundant in Native American history and a great place to learn more about the culture is at the Red Earth Parade & FallFest. This event honors Oklahoma City's Indigenous Peoples' Day. The parade starts in downtown Oklahoma City and there are markets, children's activities, and artwork scattered around the area.
Further, Oklahoma City has an incredible fall atmosphere! The Orr Family Farm is a must as it offers a pumpkin patch, mazes, hayrides, and more.
You can also visit Pumpkinville at the Myriad Gardens in the downtown area. You'll find everything 'fall' here from pumpkins, haystacks, entertainment, and more.
Lastly, you can get into the fall spirit by doing a murder mystery dinner show at the infamous Skirvin Hilton. It's the oldest hotel in the city and one of the best romantic getaways in Oklahoma.
Blue Ridge Parkway
Location: North Carolina and Virginia
Average temperatures and precipitation: highs of 68F (20C) and lows of 46F (8C); 5 days of precipitation
Reasons to visit the Blue Ridge Parkway in October: fall foliage, small mountain towns, amazing hiking opportunities
Recommended by: Bret Love & Mary Gabbett from Blue Ridge Mountains Travel Guide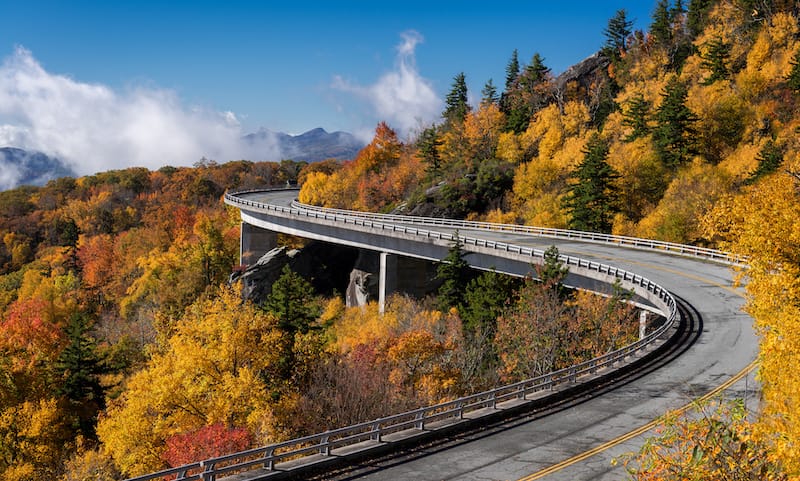 We're not the sort of travelers who typically return to a given destination over and over again, simply because there are so many places we have yet to see.
So the fact that we're spending October of this year doing the exact same thing we did last year– taking a road trip north along the Blue Ridge Parkway– should tell you something.
Originally established by President Franklin D Roosevelt as part of his New Deal, which was designed to provide jobs and improve American infrastructure in the wake of the Great Depression, the Blue Ridge Parkway stretches nearly 470 miles.
It begins at the entrance to Shenandoah National Park in Waynesboro VA and ends at the entrance to Great Smoky Mountains National Park in Cherokee NC.
Along the way, it takes you through unimaginably picturesque parts of the Blue Ridge Mountains, with stunning mountain landscapes, verdant valleys, rushing rivers and creeks, wondrous waterfalls, and hiking trails (including long-distance treks along the Appalachian Trail and Mountains-to-Sea Trail) that make it easy to explore this glorious protected wilderness.
After driving the North Carolina section of the Parkway for the first time, it was easy to understand why it attracts some 15 million annual visitors, making it the #1 most visited unit of the U.S. National Park System.
The drive takes you to beautiful Blue Ridge mountain towns such as Asheville, Banner Elk, Boone, Cherokee, and Little Switzerland, showcasing small-town Americana at its finest.
The must-see sights along the way are endless, including more than 200 scenic overlooks; iconic landmarks such as Mount Mitchell (the tallest summit east of the Mississippi River), Grandfather Mountain, and the engineering marvel known as the Linn Cove Viaduct; and popular attractions like the Oconaluftee Visitor Center, Southern Highland Craft Guild's Folk Art Center, and the Orchard at Altapass.
In October, all of these sights are surrounded by the brilliant glow of green, yellow, orange, and red leaves gleaming like gems in the sunlight, with the cool, crisp autumn air in the mountains providing the perfect escape from the stress of our day-to-day lives.
Branson
Location: Missouri
Average temperatures and precipitation: highs of 72F (22C) and lows of 44F (7C); 6 days of precipitation
Reasons to visit Branson in October: fall foliage hiking, cheaper prices in fall, Harvest Festival
Recommended by: Monica from Planner at Heart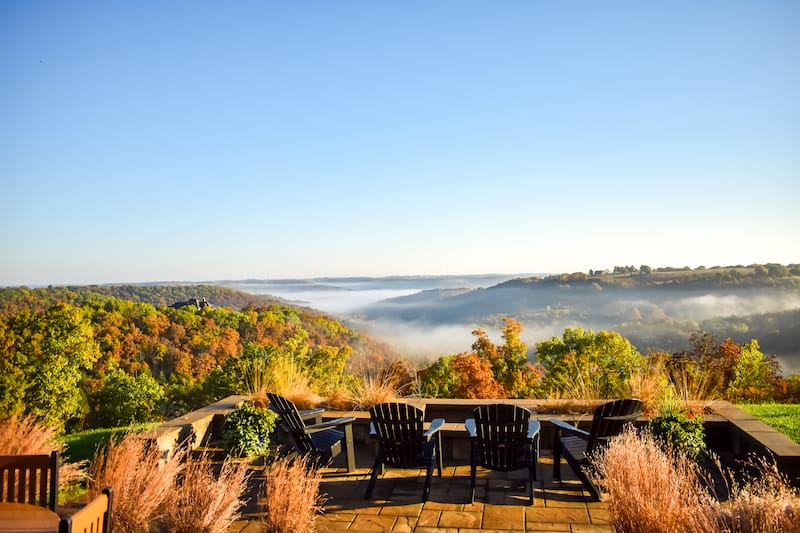 Cooler temperatures, fewer crowds, cheaper room rates, and the Ozark Mountains' fall foliage make Branson, Missouri, one of the best places to visit in the USA in October.
Over 9 million people a year come to this Associated Press Top Family Destination. During the fall, you can still enjoy what "The Orlando of the Midwest" has to offer with all the benefits of shoulder season travel.
The Ozarks' green trees start to change in mid-September, so planning an October visit almost guarantees you'll get to enjoy the region's red, orange, and yellow fall foliage.
The Ruth and Paul Henning Conservation Area west of Branson has some of the best fall foliage hikes.
Take your pick from the one-mile Glade Trail, ½ mile Streamside Trail loop, or the paved Dewey Bald Trail (perfect for strollers or wheelchairs) that leads you to the 40-foot viewing tower. It's one of the best places in Branson to see sweeping views of the fall foliage.
One of the most popular things to do in Branson is Silver Dollar City Amusement Park, and its annual Harvest Festival is just another reason to visit. Their thousands of illuminated pumpkins and family-friendly frights make it a perfect fall outing in Branson.
Branson is the perfect weekend trip from St. Louis and Kansas City both!
Boston
Location: Massachusetts
Average temperatures and precipitation: highs of 62F (17C) and lows of 47F (8C); 7 days of precipitation
Reasons to visit Boston in October: great day trips (including Salem!), fall foliage, whale watching
Recommended by: Lieze at Glitter Rebel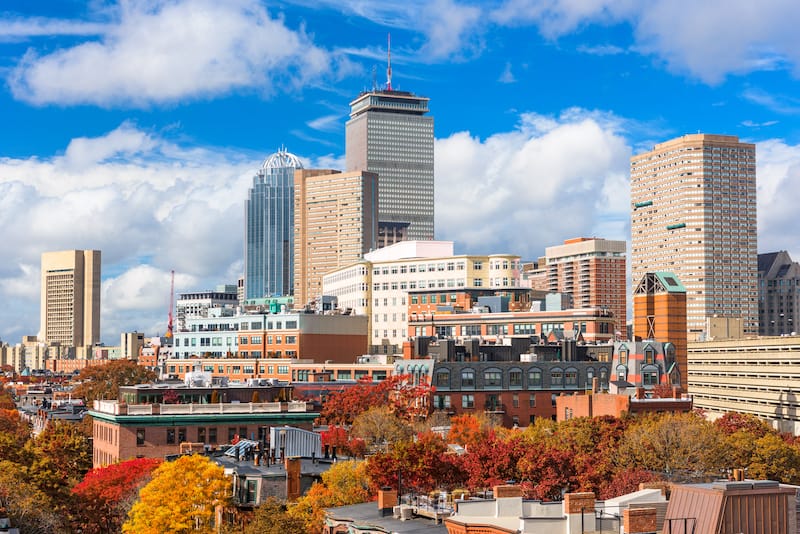 Boston is an amazing city to visit in October. You will be hitting the end of the whale watching season, so while most of the tourists have already packed up and left for home, you will have a chance to see these magnificent creatures at cheaper prices and on less-crowded boats!
Overall, Boston is a lot less busy in October which means hotels are cheaper and it is easier to find a space in one of the many amazing seafood restaurants.
Talking about seafood: September, October, and November are excellent months to indulge! You can also go on the search for the best lobster roll in Boston!
Since October is the month of Halloween you can also head to Salem on the outskirts of Boston. This spooky little town (Yes! That Salem!) gets all decked out in pumpkins, black cats, and witches!
Last but not least, the forests and lakes around Boston are absolutely magical in the fall. Famous Cape Cod is only an hour away and is one of the best Boston day trips.
Fall colors in Boston are at their best in mid-October, and the Arnold Arboretum of Harvard University is a must-see in fall! Boston is also a great base for exploring some of the most beautiful New England state parks.
Maui
Location: Hawaii
Average temperatures and precipitation: highs of 77F (25C) and lows of 60F (15C); 3 days of precipitation
Reasons to visit Maui in October: cheaper trip, hiking opportunities, food and wine festival
Recommended by: Editor's choice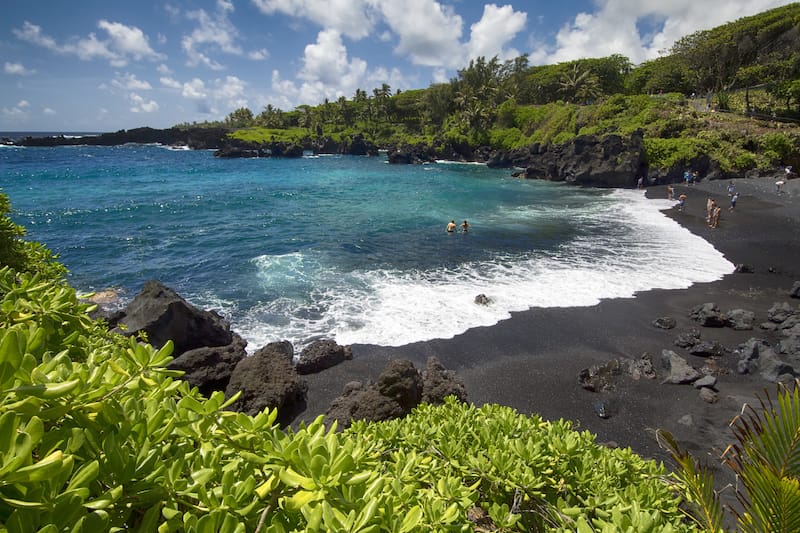 Let's be honest, there is not a bad time to visit Hawaii. It is picturesque with mesmerizing beaches and charming small towns in abundance! But, it really shines during October when accommodation and flights are cheaper and you can see it in a lesser-crowded state!
Maui is famous for its stunning beaches, gorgeous hiking trails, and mind-blowing scenery. One of the best hikes on Maui is the Pipiwai Trail which passes through a tropical bamboo forest to a cascading waterfall.
If you're looking for something truly 'fall', you can visit Kula County Farms on a sunny, fall day and pick pumpkins! This is a great thing to do with kids if you want to still have a taste of autumn in the tropics.
Haleakala National Park must be on your list while you are visiting Maui in October! The volcanic national park is one of the most underrated national parks in the US and is known for having one of the most famous sunrises in the world.
During October, you can head to the Hawaii Food & Wine Festival on the island and join the locals in tasting the best the island has to offer!
Aspen
Location: Colorado
Average temperatures and precipitation: highs of 58F (15C) and lows of 31F (-1C); 7 days of precipitation
Reasons to visit Aspen in October: film festival, fall foliage, hiking before winter sets in
Recommended by: Editor's choice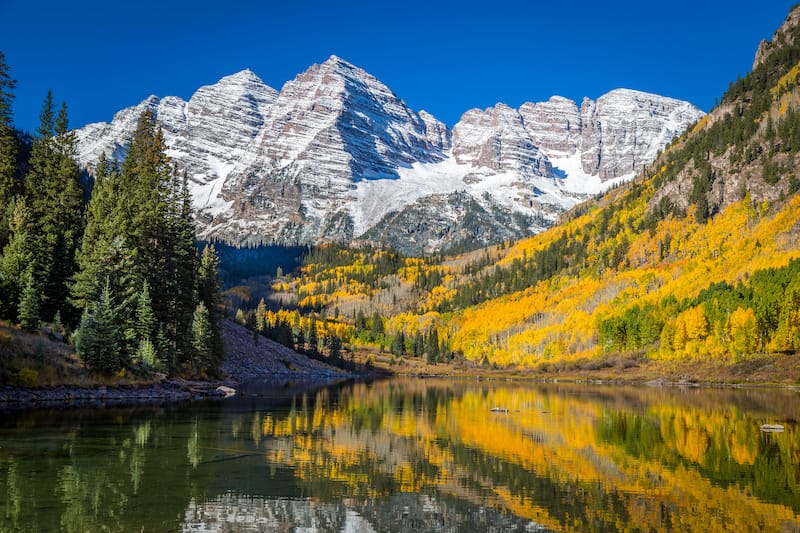 The gorgeous Colorado mountain town of Aspen is a wonderful place to visit in the fall and so much to offer all types of visitors! While the temperature drops quite a bit, the alluring foliage and snow-covered peaks will get you out and about!
Aspen in fall has several amazing things to do before the winter ski season sets in! You can enjoy some of the hiking trails in the area like the Sunnyside Trail (which is connected to the Hunter Creek Trail) which leads you to the top of Red Mountain for epic views.
Another place to visit close by that will blow your mind during autumn are the Maroon Bells. There are plenty of hikes in the vicinity of the Colorado landmark, making it a fantastic place for outdoor lovers.
Don't miss out on the opportunity to discover the history of Aspen by the Aspen Historical Society which runs preserves and exhibitions, including the history of the Alpine mining town. You can also take a Victorian west-end tour of the town with them.
During October, one of the most popular things to do in Aspen is taking a ride on the Aspen Mountain Gondola which takes you to 11,212 feet to admire Elk Mountain, the Roaring Fork River, and a view of the town.
Another fall event that takes place in Aspen is the Aspen Film Fest, where you can check out foreign and independent films (and see which award they each take home)! Aspen is also a great getaway from Denver and can be done as a day trip or weekend trip!
Savannah
Location: Georgia
Average temperatures and precipitation: highs of 78F (26C) and lows of 58F (15C); 4 days of precipitation
Reasons to visit Savannah in October: a haunted city, less rainfall, comfortable temperatures
Recommended by: Theresa from Fueled by Wanderlust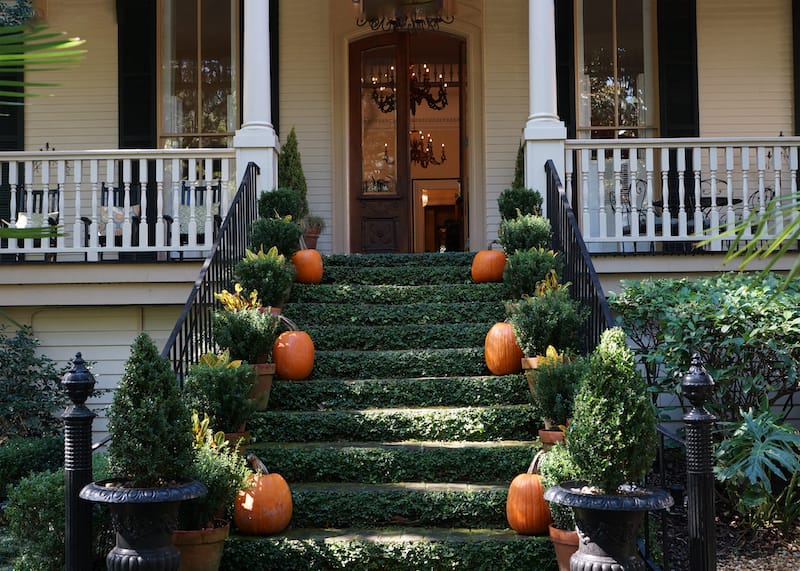 Savannah is a beautiful place to visit in October, with pleasantly warm weather that is perfect for walking tours. With Halloween around the corner, those seeking spooky stories will find plenty in Savannah.
Finally, visitors can also partake in Savannah Pride and the SCAD Savannah Film Festival in October.
The October weather is perfect for comfortably exploring Savannah's 22 squares. The weather will be coming down from the sweltering, sticky summer heat to more reasonable highs around 78 degrees Fahrenheit.
October is also one of Savannah's driest months, with an average rainfall of 2.39 inches. It is also perfect weather before the winter in Savannah arrives.
In addition, Savannah is rumored to be one of the most haunted cities in America. With Halloween coming up, there are many spooky places and activities to check out in Savannah.
Whether it's staying in a chic, yet haunted hotel, like Marshall House, or doing a haunted walking tour, there is a thrill waiting to send shivers up your spine.
Finally, there are a few unique events that Savannah offers in October. There is Savannah Pride, which features events like a "masquerade", a parade, and a festival with music and refreshments. It really is one of the coolest places in Georgia!
There is also the SCAD Savannah Film Festival, which takes place over eight days and screens films created by both amateurs and renowned professionals alike. Savannah is an amazing day trip from Wilmington NC, August GA, and other places!
Washington Cascades
Location: Washington
Average temperatures and precipitation: highs of 37F (3C) and lows of 23F (-5C); 9 days of precipitation
Reasons to visit the Cascades in October: fall foliage, scenic byways where you can see a variety of landscapes
Recommended by: Jessica from Uprooted Traveler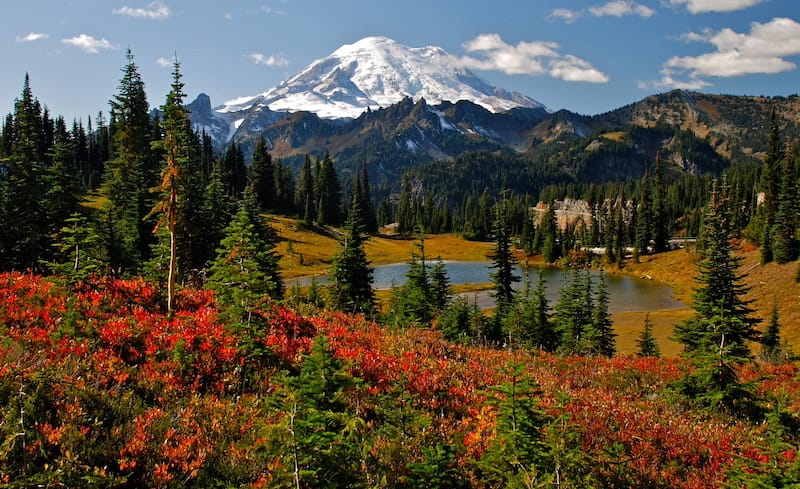 While there are a plethora of areas in the United States that have spectacular fall foliage in October, the Cascade Mountain range in Washington State experiences a unique explosion of autumnal color.
Not only do the usual suspects of trees, like maple and oak, turn spectacular shades of yellow, brown, and orange, but also certain types of deciduous trees, like larches, fade into a dazzling golden color towards the beginning of the month.
In addition to the towering trees, the ground of meadows and valleys also tends to explode in autumnal colors, with the wildflowers, succulents, and shrubs turning shades of scarlet and saffron.
One of the best places to explore the Cascade's fall foliage up-close and personal is Mount Rainier National Park, which offers hikes, like the Skyline Trail, Naches Peak Loop, and Tolmie Peak, providing dazzling views of Rainier, the tallest mountain in the Cascade Mountain range, and its vibrant host of fall colors.
For a more relaxing way to enjoy the Cascades in the fall, drive the Chinook Scenic Byway, a 107-mile drive that weaves from the Northern Cascades south, snaking past waterfalls, stunning snow-capped mountains, and some of the country's most breathtaking autumnal landscapes. You can also stay in a gorgeous cabin nearby!
Bend
Location: Oregon
Average temperatures and precipitation: highs of 62F (17C) and lows of 33F (0C); 2 days of precipitation
Reasons to visit Bend in October: great base for day trips, cooler weather, many hot springs nearby
Recommended by: Allison from She Dreams of Alpine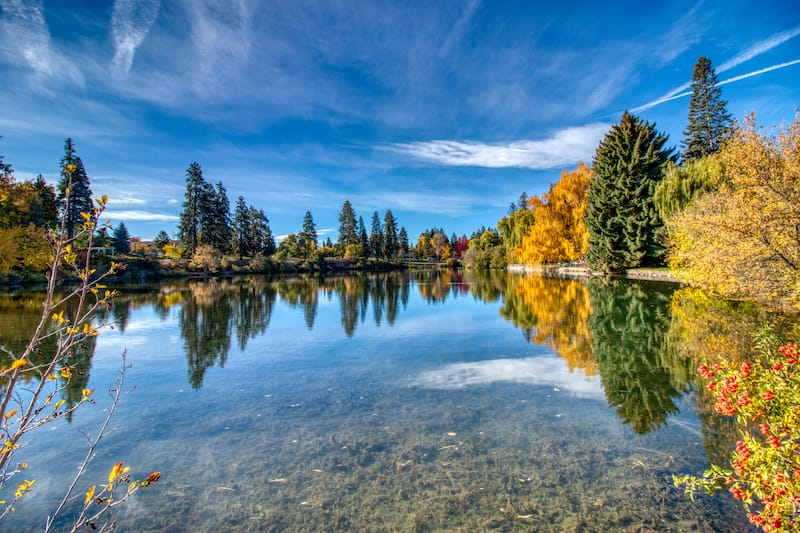 Located in central Oregon, the town of Bend is a perfect place to visit in October. This awesome mountain town offers tons of outdoor activities which are especially wonderful during the cooler weather of the fall.
One of the top attractions near Bend is the Tamolitch Blue Pool. This clear turquoise lake is a great day hike, and the fall foliage of October makes it extra stunning.
Another one of the best things to do in Bend is exploring Smith Rock State Park. In October, you'll avoid both the heat and the crowds of the warmer months. You can hike one of the many trails in this desert-like landscape or even climb the incredible volcanic rock formations.
Bend is also home to several natural hot springs, so you can warm up on a chilly October day. Check out Paulina Lake Hot Springs at the Newberry Volcanic Monument or Terwilliger Hot Springs in the Willamette National Forest.
Or make a two-hour drive to the gorgeous Umpqua Hot Springs – which is clothing optional! Whichever option you choose, soaking in one of these natural hot springs is the perfect way to relax during your October visit to Bend.
Bend is also one of the best weekend getaways from Portland, particularly for those looking to escape into autumn!
Vermont
Location: –
Average temperatures and precipitation: highs of 55F (13C) and lows of 34F (1C); 10 days of precipitation
Reasons to visit Vermont in October: several festivals, fall foliage, cider tasting
Recommended by: Keri from Bon Voyage with Kids
One of the best places to visit in October in the USA is without a doubt the beautiful Green Mountain state of Vermont. Some of the USA's most beautiful fall foliage can be found here, as well as an assortment of harvest festivals, apple picking, and pumpkin picking. It is also a great time to take a hike in one of the beautiful hiking trails.
While there are many places to visit in Vermont to enjoy festivals, Oktoberfests, and see the beautiful colors, our favorite spot is Woodstock, Vermont.
Not only is this quintessential New England town something out of a magazine, but its lovely shops, wood-covered bridge, bed and breakfasts, and delicious dining options make it the perfect backdrop to enjoy the stunning colors of October when you will see the most colorful foliage. Billings Farm in Woodstock is a great spot for apple and pumpkin picking, cider tasting, and often fall festivals.
Nearby Quechee Gorge is also a great place to hike down and get a view of the colors up close. Woodstock is also not too far from nearby ski resorts, and about an hour from Killington and Sugarbush ski resorts, where you can often find fall festivals on the calendar.
The best part is riding the ski lifts up to catch a view of the colors from above. Vermont is known for high-quality food, and before you leave Vermont, be sure to enjoy a delicious breakfast with local maple syrup.
Nearest to Woodstock is our favorite, the Public House Diner, a great spot in an old diner car. Vermont is one of the best places in the USA to visit in October, and one to put on your bucket list!
The Mighty 5
Location: Utah
Average temperatures and precipitation: different temperatures depending on which park you're visiting
Reasons to visit the Mighty 5 in October: tolerable temperatures, a lot of sun, several hiking opportunities
Recommended by: Agnes from The Van Escape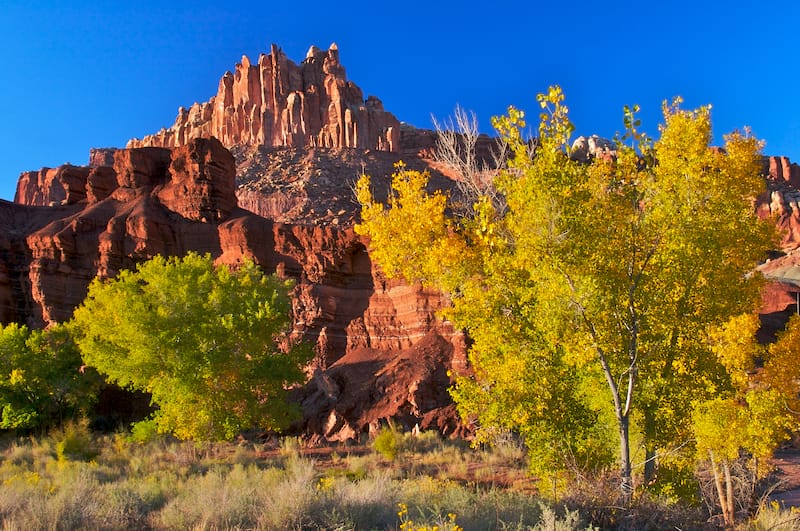 October is ideal for visiting the Mighty 5 of Utah National Parks. All of Utah's fantastic parks, including Zion, Bryce Canyon, Arches, Canyonlands, and Capitol Reef, are less crowded, allowing you to avoid long lines.
Also, the cost of lodging is lower than during the peak season!
The most important aspect of visiting Utah Mighty 5 in October is the weather. There are plenty of sunny days, but they are not scorching. Autumn's red and gold tones glisten on the trees. Daytime highs fall 15°F, from 86°F to 71°F, and rarely drop below 60°F.
That is why the Narrows hike in Zion National Park is best done in October. The river's water temperature still allows for hiking. In addition, the flow is much calmer in the fall, and there is little rain, making river hiking much safer.
Hiking to Delicate Arch in Arches National Park for sunset is worthwhile. In October, the rocks' rusty colors contrast with the mountains' white peaks in the distance. With less dust on the road, the scenic drive around Capitol Reef will be more enjoyable.
Because sunrise occurs later in October, it is easier to get up and enjoy this natural spectacle. Sunrise Point in Bryce Canyon will be the most spectacular.
Mount Desert Island
Location: Maine
Average temperatures and precipitation: highs of 55F (13C) and lows of 38F (3C); 9 days of precipitation
Reasons to visit Mt Desert Island in October: fall hiking at Acadia, cheaper accommodation in Bar Harbor, fewer tourists
Recommended by: Editor's choice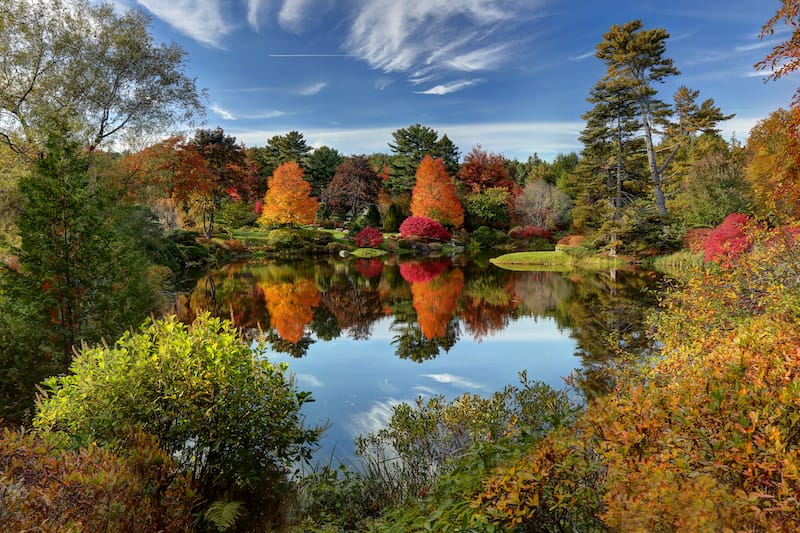 Located in Hancock County in the state of Maine is Mount Desert Island, an island encompassing over 108 square miles of rocky shores and insanely beautiful nature that is an epic place in October in the US!
The Maine island is renowned for being home to the beautiful small town of Bar Harbor and one of the most visited national parks in the US, Acadia.
If you find yourself visiting this part of Maine during October, be sure to join a Bar Harbor Whale Watching tour where you can watch the whales migrating and going about their daily life from afar on a boat.
But, you definitely need to make Acadia a top priority when visiting! Known as the North Atlantic Coast's Crown Jewel, Acadia National Park is a fantastic fall destination where visitors can experience hiking trails, see snow-covered mountains (later in the month) while walking through vibrant forests, and photograph the renowned Bass Harbor Head Lighthouse (and picturesque Otter Cliff)!
One of the most popular reasons to visit Mt Desert Island in October is to check out Bar Harbor and Acadia's Oktoberfest! Over 80 breweries from Maine join together to make the event happen. It takes place during the second week of October annually.
Cleveland
Location: Ohio
Average temperatures and precipitation: highs of 63F (17C) and lows of 50F (10C); 9 days of precipitation
Reasons to visit Cleveland in October: gorgeous foliage, lots of festivals and events
Recommended by: Noel from Visit California and Beyond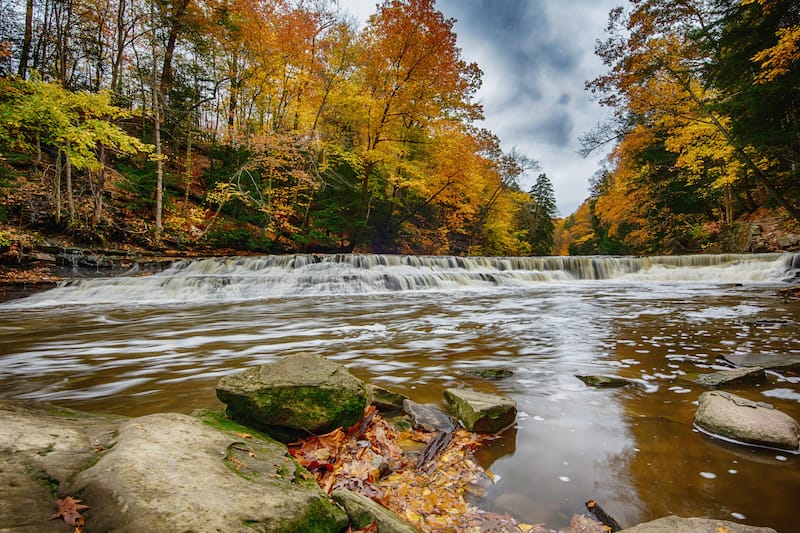 Cleveland not only rocks as its motto states but it also shines during fall and it is the best time to see foliage in the city. You don't have to go far around the city as its Metropark areas are unofficially called the emerald necklace.
The many parks encompass a total area of over 21,000 acres and are filled with beautiful trails, waterfalls, and various golf courses worth visiting for fall with a colorful display of reds, yellows, and oranges of local maples, Cleveland pear, and birch trees.
In fact, the string of parks is actually the number one visited attraction by locals and visitors to Cleveland!
Around Cleveland itself, you'll still find lots of beautiful trees and landscapes surrounding the city and cool neighborhoods like the Little Italy neighborhood, University Circle, and the hip new urban neighborhood of Tremont with quirky shops, street art, specialty food venues, and restaurants to explore.
Even the neighborhood's cemetery is gorgeous with beautiful lakes, monuments, and a large mausoleum of John D Rockefeller and President James Garfield that you can tour and be gifted with some spectacular views of the city and surrounding landscape with trees putting on a vibrant display of colors in fall!
October is the best time to also enjoy festivals and events in the area. Some of them include enjoying Apple and Butter Cider at Lake Metroparks Farm, Fall Season at Pumpkin Village, Corn and pumpkin weekends at Cleveland Metroparks, Harvest Festival at Coe Lake, and the Family Fall Fest at Petros Lake Park.
We hope this guide gave you some ideas and inspiration for the best places to visit in October in the USA.
You Might Also Like:
Pin this USA in October Guide