The quickest way to reach any destination is by plane, but taking a scenic road trip is far more memorable and exciting. This is especially true when embarking on a Colorado to California road trip, one of the nation's best!
Some of the most spectacular natural wonders of the US can be found between these two states. Colorado itself has gorgeous natural scenery such as lush forests and the Southern Rockies.
Whether you live in the Centennial State or are staying over in a Colorado Airbnb, you're likely to agree that this state is picturesque!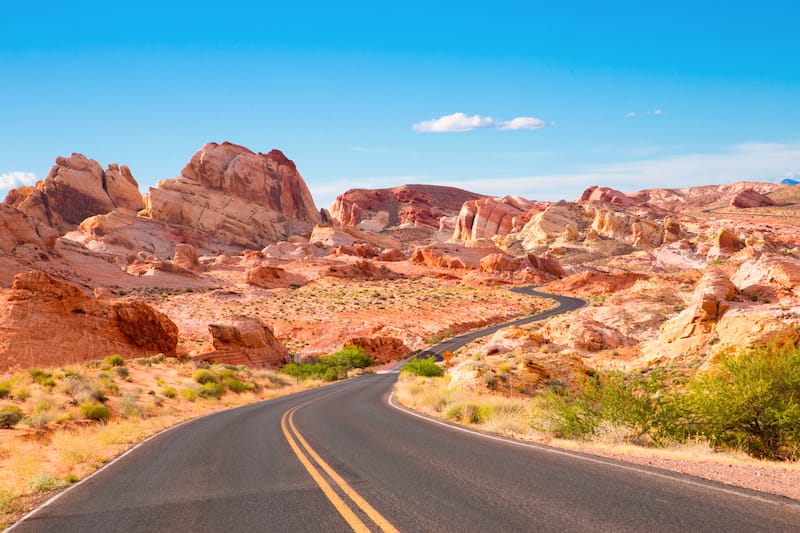 While this may be the case, one must sometimes seek out warmer weather. Well, where better to go than the sandy shores of Los Angeles, California?
This 7 day Colorado to California itinerary will take you past several magnificent attractions that will definitely make for a fun-filled road trip experience.
How Long Does it Take to Drive from Colorado to California?
How far is California from Colorado, you may ask? Well, on average, it's about 1,140 miles away (and is truly one of the best west coast road trips)!
The drive time from Colorado to California will depend on several factors such as your exact starting point and final destination in California.
This itinerary's route, Denver to Los Angeles, drive time is just over 16 hours with no stops. If one were driving from, say, Colorado Springs to California's San Francisco, then the drive would be a little over 19.5 hours.
Naturally, this all depends on your desired route.
If you decided to include other places, such as Pikes Peak, you will need to factor in the driving to Pikes Peak and the additional route.
You can also opt to reroute your trip to include Great Sand Dunes National Park in southwestern Colorado.
CO to CA Road Trip Map
You can check out this Colorado to California road trip map below. The main stops are all there, along with some of the notable landmarks along the way! They are all detailed throughout the post.
While these roadside attractions and things to do will take up more time, please note that the options are there in case you choose to omit other places on the trip (or simply have more time).
Colorado to California Road Trip on Roadtrippers

For road trips, I use a map app called 'Roadtrippers'. This app is brilliant and it creates maps like none other – you can see everything from times, points of interest on your route, estimated gas costs, accommodation options, and more!
This is one of my top recommended apps and I use Roadtrippers Plus to create maps for the trips I take. If you want to sign up and create your own, you can save $5 by clicking here and using my promo code BTR5QTP.
National Parks Pass
If you are visiting any of the national parks on this guide, or any of the other 2,000 federal registered sites in the US, we highly, highly recommend purchasing an 'America the Beautiful' pass that lasts for 1 year and grants you admission to all registered sites. At only $79.99, it is a steal and one of the best values for your buck for US travel!
>> Purchase your National Parks Pass here and start traveling!
Renting a Car (+ Other Transport Options)
One of the biggest things that you will need to consider when embarking upon a huge road trip in the US is that you will need a way to get around!
If you're traveling alone or in a small group, it is definitely best to rent a car. We partner with Discover Cars and that is who I have used to rent cars throughout the US, as well!
They offer the lowest rates and you can also book full-coverage insurance through them if you don't have a policy at home.
Alternatively, if you are traveling with a larger group, a rental car may not be the best option.
In this case, I would consider hiring a charter service or bus to transport you from California to Colorado (and beyond).
A top company called Champion Charter Bus offers rentals for groups, as does Shofur California.
You can inquire about rates with either – just let them know your route, duration, and group size!
Accommodation on the Road
For each location and suggested overnight, we list a couple of options for accommodation. We list a few local hotels, Airbnbs, and some camping options.
We, personally, love camping and staying outdoors… and this is such a spectacular area that we think you might love doing the same!
Airbnbs
One of the reasons we love Airbnb, especially when taking a road trip, is that your car gives you the flexibility to stay outside of busy city areas. There are some fantastic Airbnbs listed on this guide in each of the destinations we recommend staying overnight at!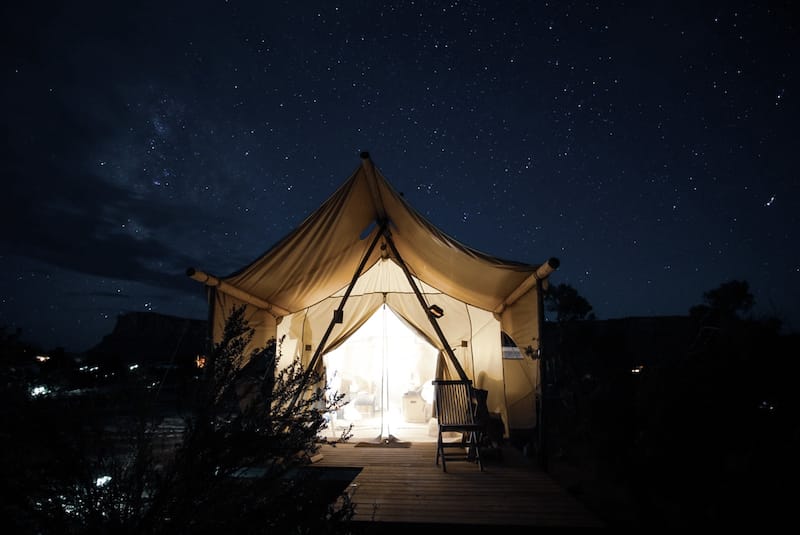 Camping and Glamping
If you're more into camping or glamping, we have listed some reputable campsites and areas throughout the guide. We love Hipcamp, a site that finds the best campsites in and around the destination you're heading to.
Haven't signed up for Hipcamp just yet? It's never too late to create an account! You can save $10 by using my referral code.
Road Trip Itinerary: Denver to California Drive
You will find a breakdown of this road trip itinerary from Denver to California (LA area). Needless to say, everything is an estimate and we do give approximate gas costs under each 'day' so you can set your budget beforehand.
| | | |
| --- | --- | --- |
| Day | Destinations | Approximate Mileage |
| 1-2 | Denver, CO to Moab, UT | 350 miles (5 hours, 33 minutes) |
| 3-4 | Moab, UT to Page, AZ | 278 miles (4 hours, 41 minutes) |
| 5-6 | Page, AZ to Springdale, UT | 116 miles (2 hours, 26 minutes) |
| 7 | Springdale, UT to Los Angeles, CA | 436 miles (6 hours, 59 minutes) |
Day 1 and 2 – Drive from Denver to Moab, UT
Distance: 350 miles
Time: 5 hours, 33 minutes
Fuel: about $38
Attractions on the way: Loveland Ski Area (An hour and a half from Loveland, CO), Breckenridge (small detour), Colorado Ski and Snowboard Museum (Vail, CO), AVA Rafting & Zipline (Vail, CO), Bonfire Brewery (Eagle, CO), Glenwood Springs (Colorado), Rifle Falls State Park (Colorado), Dinosaur Journey (Fruita, CO), Cisco Ghost Town (Cisco, UT), Sego Canyon Petroglyphs (Utah)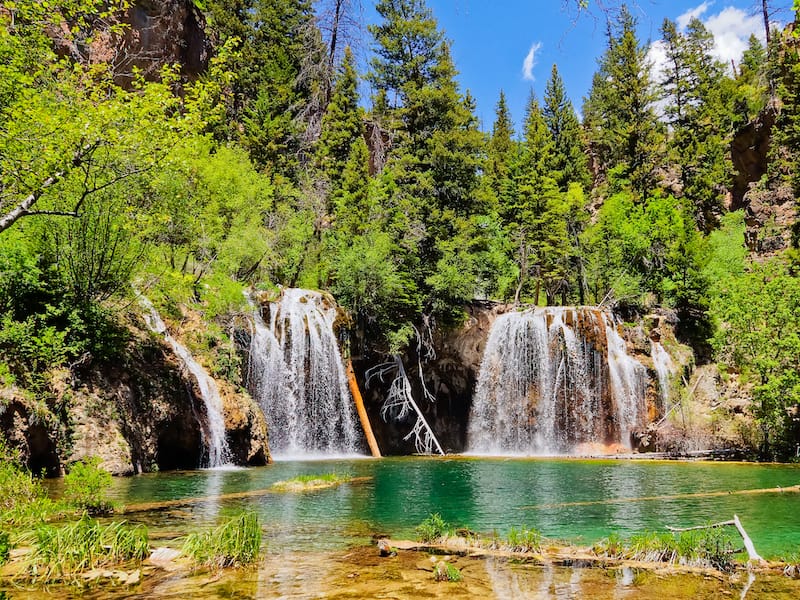 Start this epic road trip in Colorado's capital, Denver. The quickest route to Moab is via the I-70 which goes past some of the state's famous ski towns in the Rocky Mountains such as Vail.
You can even make a stop at the famous Betty Ford Alpine Gardens in Vail! Along the way, you'll get to admire green forests, hills, and mountain views.
Break up the first leg of the road trip with a lunch stop in Glenwood Springs. This quaint town is surrounded by mountains and has plenty of short activities to choose from.
Depending on the time of year, one could warm up in the town's hot springs. Or, in the summer, take a 3-hour white-water rafting tour for adrenaline-pumping fun.
Another 198 miles on the open road, and you'll find yourself in the town of Moab – an adventure seekers paradise. It's just 5.2 miles from the spectacular Arches National Park.
You'll want to stay here for at least two nights to ensure that you get to experience all that this national park has to offer.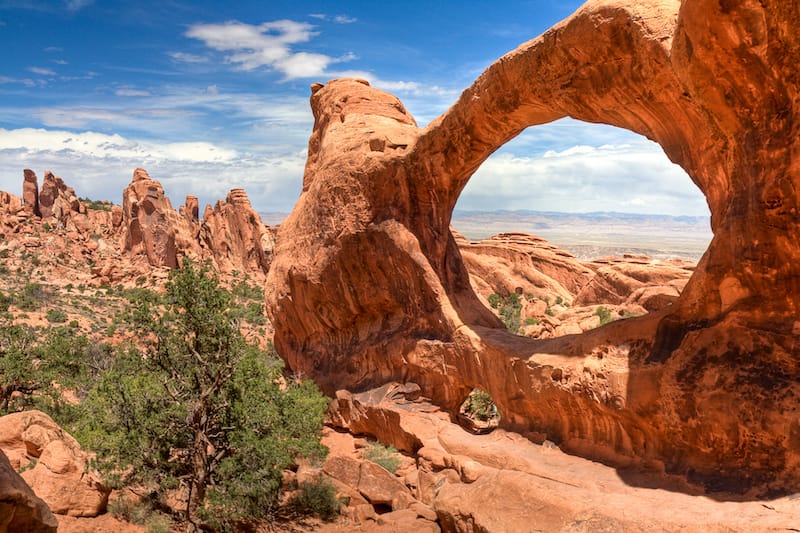 There are over a dozen things to do and viewpoints to visit in the park. Here are some suggestions on the best lookout points and hikes to do. For a sunrise hike, make your way to the Delicate Arch. This is considered to be a difficult hike, but the view is so worth it.
Afterward, spend some time driving around the park, admiring the tall red rock formations. There are plenty of stop-off points where you can do quick, easy hikes.
Another relaxed, flat hike with a jaw-dropping view is the Double Arch. This rock formation is incredible in pictures and even more mesmerizing in person.
Visit a lot of US National Parks? Get your National Parks Pass here!
Don't be alarmed if you're visiting Arches National Park in winter – there is still plenty to do and the snow is never that bad that you can't enjoy some of the hikes there.
Where to Stay in Moab
There are a variety of places to stay in Moab. Here are some hotels, Airbnbs, and camping options in Moab, Utah:
Day 3 and 4 – Drive from Moab to Page, AZ
Distance: 278 miles
Time: 4 hours, 41 minutes
Fuel: about $30
Attractions on the way: Sand Flats Recreation Area (Moab, UT), Hole N' The Rock (Moah, UT), Needles Overlook (Moab, UT), Newspaper Rock State Historical Monument (Monticello, UT), Canyon Country Discovery Center (Monticello, UT), Dinosaur Museum (Blanding, UT), Church Rock (Arizona), Monument Valley (Arizona), Navajo National Monument (Tonalea, AZ), Lake Powell (AZ/UT), Antelope Canyon (AZ), Horseshoe Bend (AZ)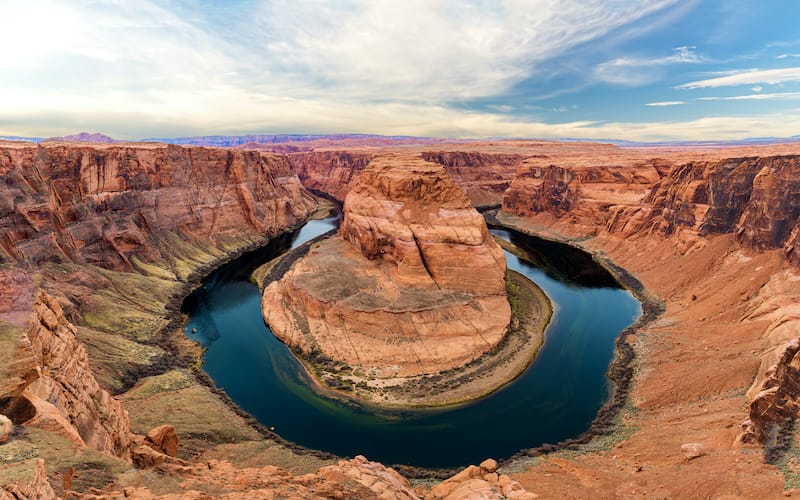 From Moab, continue on the US-191 S down to Bluff for a quick pitstop. This pioneer town is surrounded by sandstone bluffs and the San Juan River.
Just after Bluff is the Sand Island Petroglyph Panel, an amazing and educational attraction to look at before crossing over into Navajo Nation and Arizona.
After this stop, your Denver to California road trip will continue 2.5 hours on to Page. The town originally started out as a temporary work camp in the mid-1900s but is now a popular spot for tourists visiting Horseshoe Bend and Antelope Canyon.
You can opt to stay in Page for just one night, but for a more leisurely trip, stay here for two nights, which will give you a full day to see the area.
Page sits on the southern shores of Lake Powell. Here, you can take a boat tour to explore the clear blue waters or take a refreshing dip on a sizzling summer's day. However, the two most popular attractions to visit are that of Horseshoe Bend and Antelope Canyon.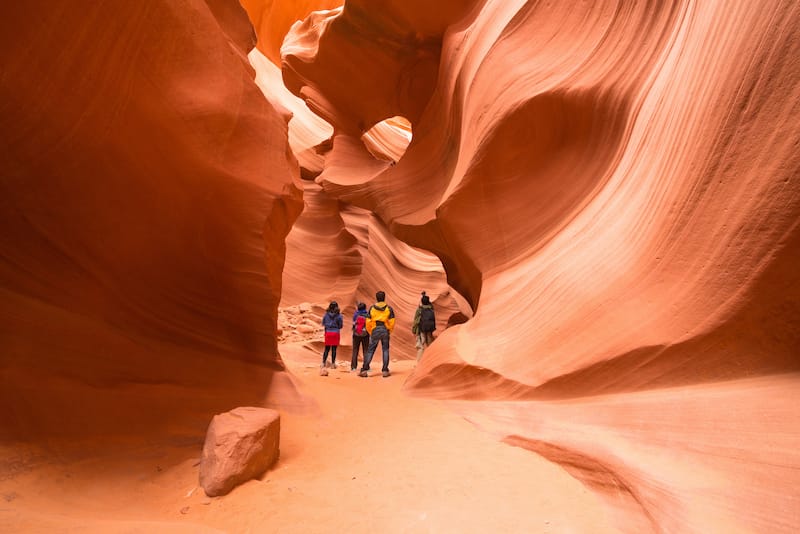 Horseshoe Bend has been created by a 270-degree curve of the Colorado River. It's just 10 minutes from Page, making it ideal for heading out for an early morning view before the crowds arrive.
It costs about $10 to enter the parking area, after which you'll have to take a short hike to the viewing area. If you're looking for a more unique way to experience this, take a paddle tour and row along the horseshoe-shaped canyon yourself.
Antelope Canyon is just seven miles from Horseshoe Bend. These red-orange rocky canyons were formed after millions of years of erosion. The Upper Canyon is the more popular area to visit.
Read more: Best places to visit in Arizona
At the right time of year, beams of sunlight stream into the canyon, a sort after image by hundreds of photographers. This area should be on every Arizona bucket list!
To visit both the Upper and Lower sections of Antelope Canyon, you have to book a guided tour. For a flatter walk, visit the Upper Canyon as the Lower Canyon features steep inclines and ladders.
Visiting this area of Arizona is essential if you're in the state, regardless of whether your road trip goes from Colorado to California or whether it merely goes from Arizona to California.
Where to Stay in Page
There are a variety of places to stay in Page. Here are some hotels, Airbnbs, and camping options in Page, Arizona:
Day 5 and 6 – Drive from Page to Zion National Park
Distance: 116 miles
Time: 2 hours, 26 minutes
Fuel: about $13
Attractions on the way: Lake Powell (AZ/UT), Wahweap Hoodoos (Big Water, UT), Paria Rimrocks Toadstool Hoodoos (Big Water, UT), Nautilus Rock (Kanab, UT), Pahreah Ghost Town (Paria, UT), Paria (Utah), Grand Staircase-Escalante National Monument (Kanab, UT), Coral Pink Sand Dunes State Park (Kanab, UT), Moqui Caverns (Kanab, UT), Checkerboard Mesa (Utah)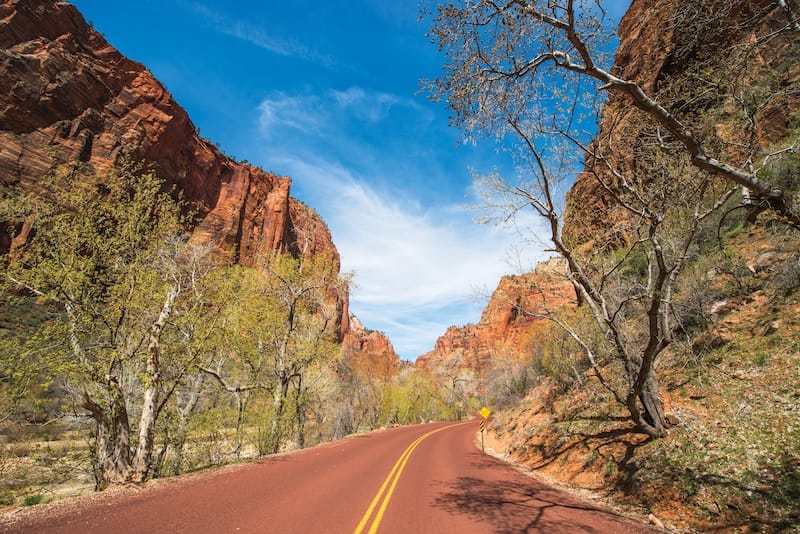 From Page, it's just a short 117-mile drive to Springdale, a town that sits on the southern border of Zion National Park. Hikers will feel like they're in heaven here as this park is considered to be one of the top hiking destinations in the continental US.
While hiking might be one of the top things to do here, there are plenty of other ways to explore the park and surrounding area. Definitely stay in Springdale for two nights to get the most out of your time here. Zion is great in winter and summer both, so definitely don't miss out on a chance to visit!
On your first day, consider heading to the Zion Human History Museum to learn about the Native Americans and early pioneers or rent a tube and float along the Virgin River.
Start off your full day in Springdale by watching the sunrise light up the rock faces of the Towers of Virgin River. This spot can be accessed via the Canyon Overlook Trail. Then head back down to the visitor's center, where you can hop on the park's shuttle.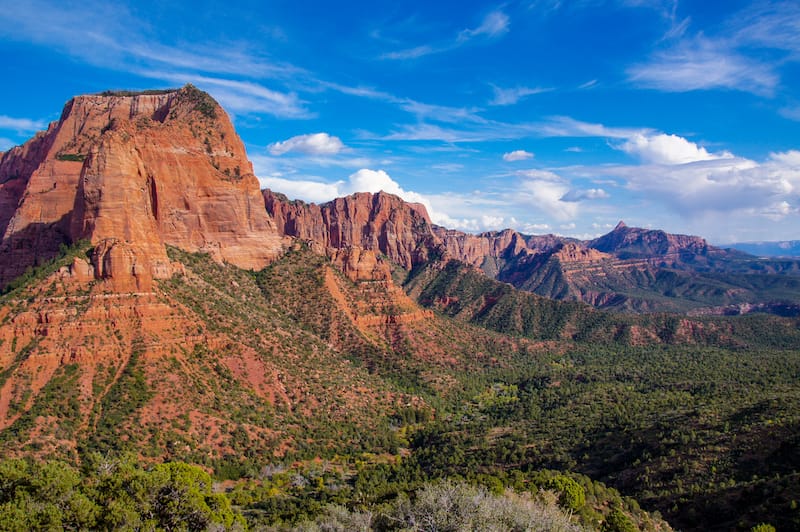 This is a great way to see the entire park and, during peak season, access certain closed roads. This shuttle also stops at multiple points where you can jump off and go for a hike.
For an easy morning hike, take the easy-going Pa'rus. Or, if you're looking for a less crowded spot, head to the northern section of the park, where you'll find Kolob Canyon.
Visit a lot of US National Parks? Get your National Parks Pass here!
After a lunch break at Zion Lodge, head out for a late afternoon hike followed by a gorgeous sunset. One of the most spectacular views can be found at Angels Landing. From here, you'll be able to see the sweeping valley below and, at sunset, watch the beams of the sun make the cliffs glow with a golden hue.
Where to Stay near Zion National Park
There are a variety of places to stay near Zion National Park. Here are some hotels, Airbnbs, and camping options in Zion National Park and southern Utah:
Day 7 – Drive from Zion National Park to Los Angeles
Distance: 436 miles
Time: 6 hours, 59 minutes
Fuel: about $47
Attractions on the way: Silver Reef Museum (Leeds, UT), Quail Creek State Park (Hurricane, UT), Dino Tracks Museum (St. George, UT), Virgin River Canyon, Valley of Fire State Park (Overton, NV), Las Vegas (Nevada), Seven Magic Mountains (Las Vegas, NV), Bonnie & Clyde's Death Car (Primm, NV), World's Tallest Thermometer (Baker, CA), Mojave National Preserve (California), Calico Ghost Town (Yermo, CA), California Route 66 Museum (Victorville, CA)
The last leg driving from Denver to Los Angeles may not have national parks for you to admire (although you can detour and spend one day in Joshua Tree toward the end if you wish!), but there are still a couple of interesting attractions to check out.
From Springdale, drive along the I-15 S towards Las Vegas, one of the most famous places to visit in Nevada. On the way, you'll be able to explore not one but two eerie ghost towns.
Just seven miles outside of Springdale is Grafton. Established in 1859, this pioneer town hasn't been home to a (human) soul since 1944.
About an hour after Grafton, you'll come across the Silver Reef Museum. In the late 1800s, this Wild West Ghost Town was a silver mining boomtown.
Read more: Road trip from California to Arizona
Another two hours of driving, and you'll be passing through Sin City. About 25 miles on, and you'll reach the spectacular Seven Magic Mountains.
This 30 feet stall art installation was created by a Swedish artist named Ugo Rondinone. From here, you'll only have 245 miles left to finish your Colorado to California road trip.
More Than 7 Days for Your Trip?
If you're planning this Colorado California road trip and you have more than a week, that is actually a fantastic thing because the road has SO many sights to see along the way. Seriously, it is mindblowing!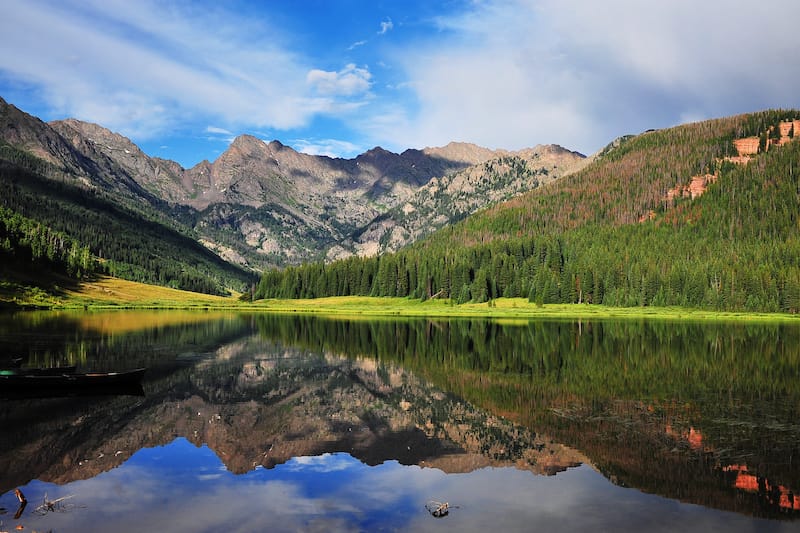 We listed many attractions above but some of our favorites that we think you can incorporate with a longer trip are skiing or hiking in Vail (Colorado), a day trip to Canyonlands National Park in Utah (really close to Arches), a trip to Monument Valley (Arizona), a day trip to Valley of Fire State Park near Las Vegas (Nevada), and a day trip to Joshua Tree National Park (California).
These are some of our favorites to consider if you have additional days to play around with on your trip. And so many of them pass through some amazing small towns along the way!
Final Thoughts on This Colorado to California Road Trip
There is so much to see when driving from Denver to California. None of this can be seen when you're flying amongst the clouds.
But, this seven-day road trip through five states will take you to some of the country's greatest natural treasures and coolest attractions.
So, what are you waiting for? It's time to pack the car and discover the beauty of the United States. And the perfect place to start is with this Colorado to California road trip!
Pin This Road Trip from Colorado to California Guide