Are you looking to head out on some of the best weekend trips from Minneapolis (and the Twin Cities area)? We have you covered!
Are you planning your trip to Minneapolis last minute?
If youʻre booking your trip to Minneapolis last minute, we have you covered. Below are some of the top tours, hotels, and more!
🛌 Top Lodging Options in Minneapolis:
Millenium Minneapolis (amazing downtown option!)
300 Clifton (famous boutique hotel)
Hilton Garden Inn (downtown + pet-friendly!)
🇺🇸 Top Experiences/Tours from Minneapolis:
Escape Game Minneapolis (60 minutes)
Minnehaha Falls (self-guided audio tour)
🚗 Looking for the best way to get around Minnesota? Click here to check rental car rates for MI!
If you live in Minnesota, there are many different places that you can explore from this state within two days.
These are some incredible Minneapolis weekend trips – including cities, road trips, and more!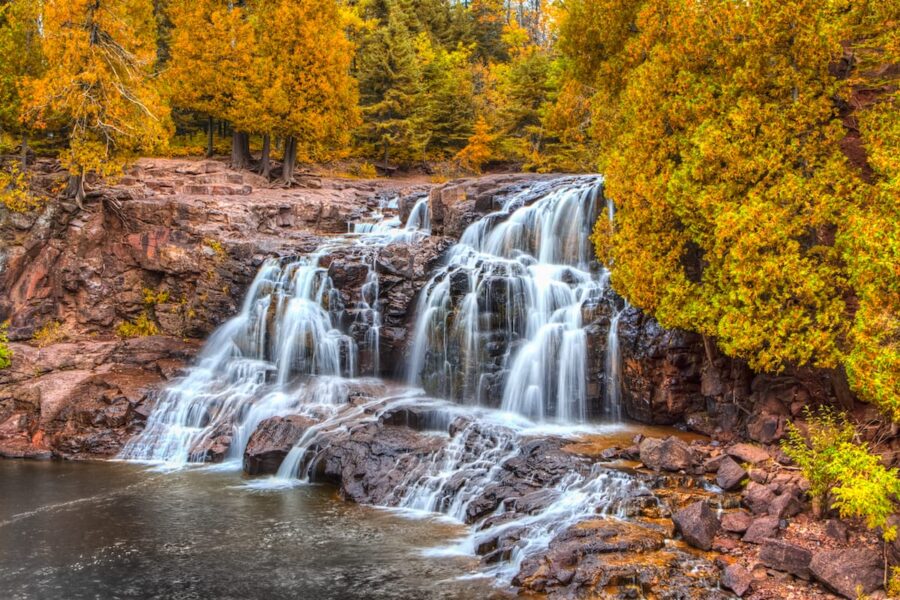 Whether you are planning a trip with your family, partner, or friends, there are both affordable and luxury options available to make your weekend getaway memorable.
So, without further ado, dig in for our top recommendations and leave your favorite weekend trips from St. Paul and Minneapolis in the comments!
Best Weekend Trips from Minneapolis & St. Paul
Before you plan to visit a place, here is a disclaimer. Most of the attractions mentioned in the towns or cities below are open throughout the year, but some options may require an advanced reservation as they might be temporarily closed for some months.
To ensure a successful trip, contact the representatives at your favorite places and confirm their availability and closing hours before you start packing your bags!
Nevertheless, we are still confident that these are some of the top US destinations regardless of the season, and hope you can escape to some!
1. North Shore
Location: Minnesota
Distance from Minneapolis to the North Shore: varies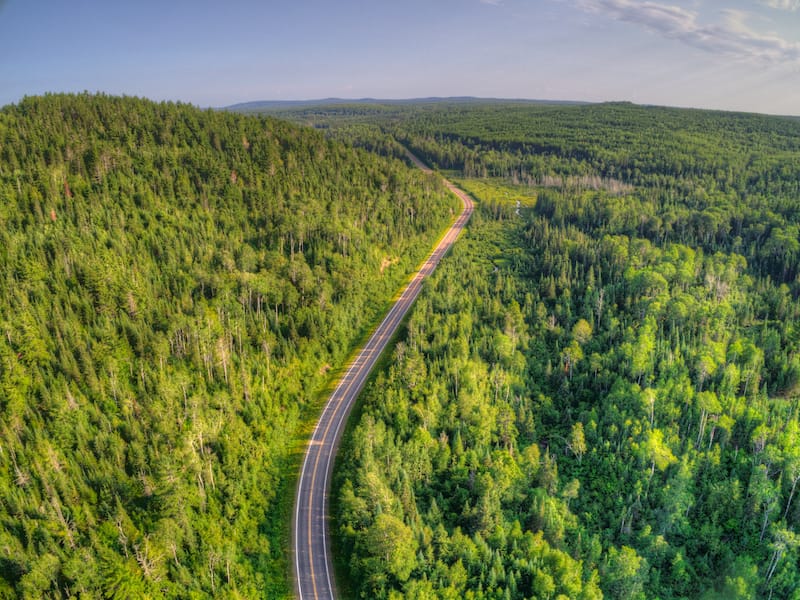 The North Shore is one of the best places to visit in the Midwest and perhaps the entire country. The drive is manageable from the Twin Cities at just over 2.5 to 4.5 hours (depending on how far and deep you want to go).
There are many great things to do on the North Shore of Minnesota. Some of my favorites include hiking in the Superior National Forest, biking on the Gitchi-Gami State Trail, and fishing in Lake Superior.
There are also plenty of opportunities for camping, skiing, and snowmobiling. If you're looking for a great place to relax and enjoy nature, the North Shore is definitely worth checking out!
2. Great River Road Trip Tour
Location: Minnesota
Distance from Minneapolis to Great River Road: varies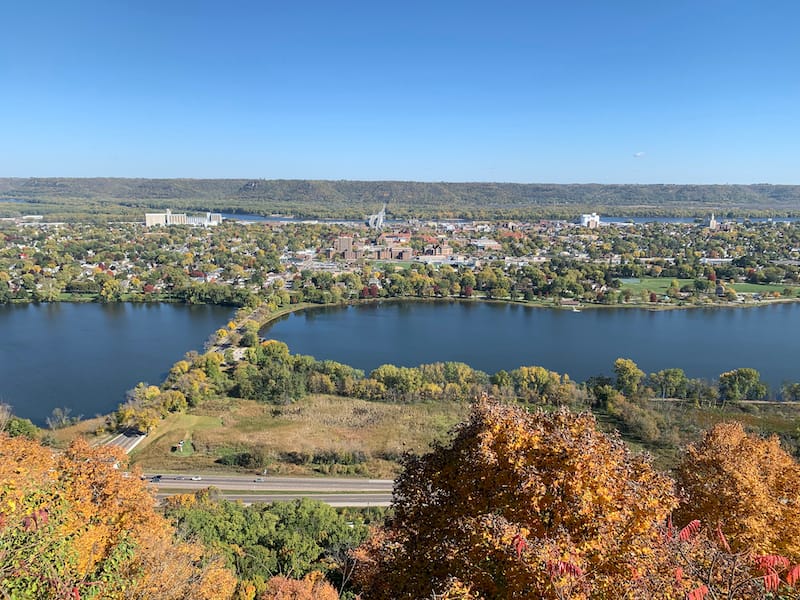 This weekend trip away from Minnesota is perfect for people that like hopping to multiple destinations on their weekend getaway.
The best thing to do on the Great River Road is to go kayaking, biking, or hiking. You can also go canoeing or fishing on the Mississippi River. The nearby river towns also offer great entertainment like wineries and breweries.
There are plenty of amazing small towns tucked away in the area for you to explore on both the Minnesota and Wisconsin sides of the Mississippi River some of the must-visit spots are Red Wing, Hastings, Lake City, and Winona.
Check out these top things to do in Red Wing, which is a must-stop town on any Great River Road excursion.
On the Wisconsin side, stopping in La Crosse and Prescott.
Beyond the towns, there are plenty of great state parks to visit along the way so why not combine your trip with a little camping and a small-town bed and breakfast?
This is the ultimate weekend trip from the Twin Cities for people that love exploring and continuously hopping from town to town.
3. Chicago
Location: Illinois
Distance from Minneapolis to Chicago: 408 miles (6 hours, 21 minutes)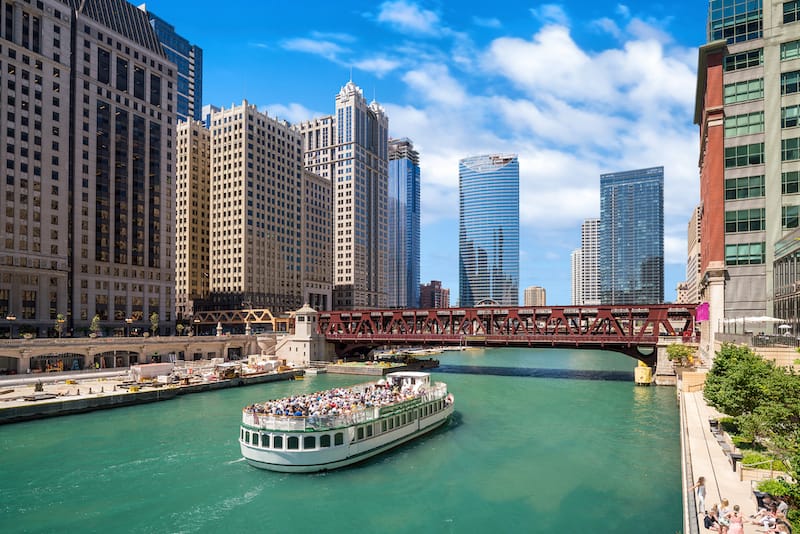 Chicago is a bit far for a weekend road trip but it's still doable. Don't let the driving distance fool you for a weekend getaway from the Twin Cities.
The flights into Chicago seem like they run on the hour at Minneapolis-St. Paul Airport and take around 1 hour to get into either O'Hare or Midway.
Some people take longer to commute from the Chicago suburbs to downtown than it takes for you to fly from Minneapolis!
Chicago is obviously home to plenty of great attractions like my personal favorites: Wrigley Field, Lake Michigan, and all the amazing neighborhoods offering great vibes and great dining options.
Chicago is a city that can fill the itinerary of any type of traveler and it doesn't need to be expensive either. The flights from Minneapolis are sometimes less than $100 for a round-trip flight and Chicago is friendly for vacation rental options and affordable hotels.
However, you can definitely drive this route if you have a long weekend and are visiting Chicago in summer. I am not sure I'd advise planning a quick weekend getaway in the winter.
4. Madison
Location: Wisconsin
Distance from Minneapolis to Madison: 268 miles (4 hours, 17 minutes)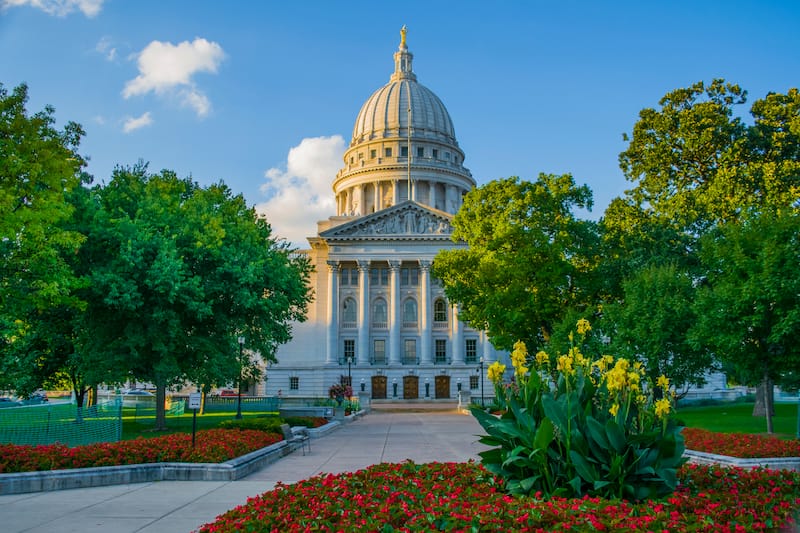 Are you done exploring Minnesota and want to take a break and visit another state? In that case, a trip to Wisconsin may help you escape all your worries for the weekend. But where in Wisconsin should you plan your stay?
Madison is a great city with a vibrant culture and a buzzing atmosphere.
Moreover, it is just about a 5-hour and 35-minute ride away from Minnesota. So, if you wake up early, you will have two full days to explore every place in this city.
This quintessential city offers a great blend of modern and historic art and architecture. For instance, it is home to Frank Lloyd Wright's Taliesin Estate which proudly flaunts extraordinary architecture.
This property covers an area as massive as 600 acres and provides a perfect experience with a guided tour.
What's more, Madison's downtown has the magnificent Wisconsin State Capitol Building.
This place has a breathtakingly beautiful exterior with a jaw-dropping dome and two wings. That said, the interior has a stunning vibe as well and includes different ornaments and murals.
If you want to experience calm during your trip, make sure to pay a visit to the Olbrich Botanical Gardens and treat your senses. This attraction has a garden and a free and open conservatory for the public throughout the day.
If you are lucky, you might also catch an event or educational program.
5. Des Moines
Location: Iowa
Distance from Minneapolis to Des Moines: 244 miles (3 hours, 41 minutes)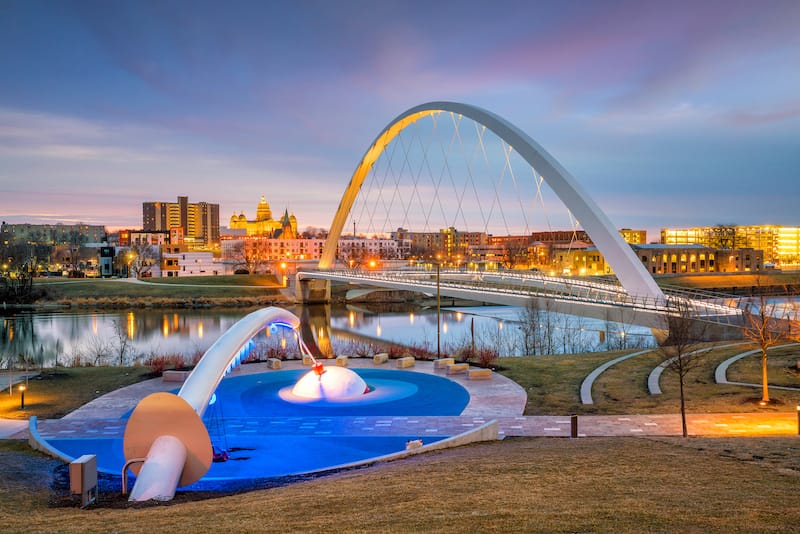 Des Moines is the capital city of Iowa state, and it takes about only 6 hours from Minnesota to reach this destination.
So, what is so special about this city? Interestingly, there are many attractions that you will love while spending your time here during the weekend.
First, if you want to experience greenery and nature, the city has many beautiful parks such as the Pappajohn Sculpture Park, Gray's Lake Park, Water Works Park, and Principal Park.
Each park has its vibe and is ideal for soaking in some sun while enjoying the natural beauty of this town.
Since you will have two to three days to experience this city, do your homework and visit the park that might suit you and other people traveling with you.
What's more, Des Moines has many museums and historic buildings worthy of your attention. For instance, you can visit the Des Moines Art Center which houses both contemporary and modern art pieces and structures during your short trip.
In addition, the State Historical Museum is another place that you might not want to miss. This attraction tells the entire story of Iowa, and if you are lucky, you might also witness a few programs being conducted in the place.
When in Des Moines, there are also many places where you can choose to buy snacks or lunch.
For instance, the Des Moines' Downtown Farmers' Market supports many local vendors. From bakers to farmers and foodies, this marketplace is usually booming with people and is generally open on the weekends.
If you want to visit this city, make sure to book a place in the downtown area. This area has many restaurants and many shopping places that you can explore.
6. La Crosse
Location: Wisconsin
Distance from Minneapolis to La Crosse: 158 miles (2 hours, 36 minutes)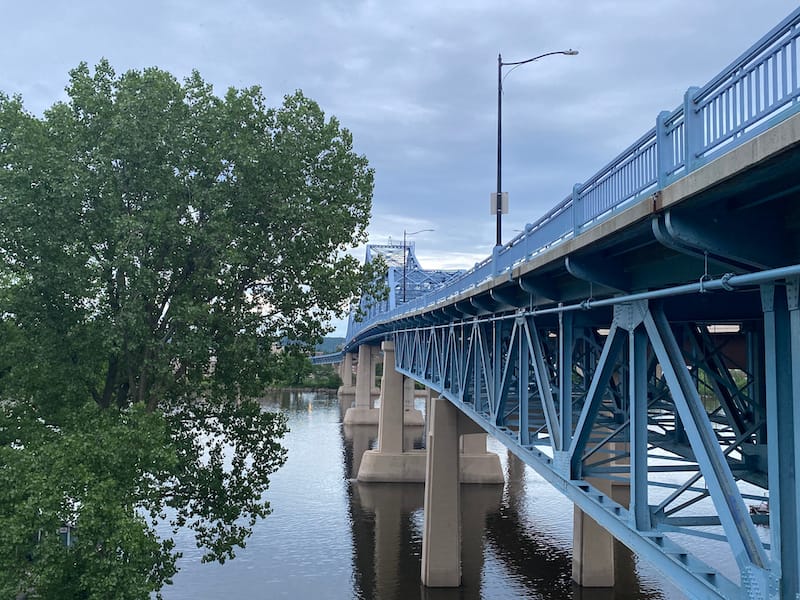 If you don't mind driving your car for five hours from Minnesota, head to a small town, La Crosse, located over the Wisconsin border.
There is nothing like spending your weekend in a quiet village with many parks, museums, and landmarks to blow your mind away.
In addition, the region has many signature sights. For instance, the Grandad Bluff is a beautiful destination point that overlooks this exotic town. You can view the beautiful Mississippi River Valley, which will leave you spellbound for a few minutes.
What's more, this place also has picnic areas and a shelter that you shouldn't miss.
If you want to spend some quiet and peaceful time during your trip, plan some hours in Riverside Park. There are many things to experience here, such as watching the river flow slowly or enjoying paddlewheel boating with your partner or kids.
The Riverside International Friendship Gardens are also perfect for some late strolling.
One of the best things about this town is that three rivers surround this county. It means this town provides a perfect outdoor setting for people that love athletic activities.
From fishing and kayaking in Mississippi to biking and hiking in Hixon Forest, La Crosse County will give you many opportunities to satisfy your adventurous soul during your weekend getaway.
You can choose from many hotels before you plan a visit here. For example, the Holiday Inn & Suites and the Radisson Hotel are some of the many options that will help make your stay memorable.
7. Decorah
Location: Iowa
Distance from Minneapolis to Decorah: 157 miles (2 hours, 50 minutes)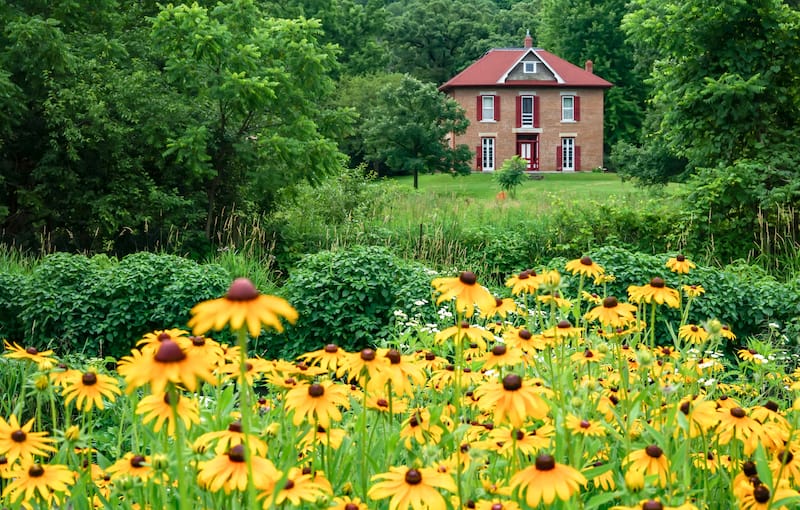 Similar to a beautiful mountain town, Decorah may seem like a remote place, but its uniqueness will help you forget the tough city life for some time.
This small city will make you feel fresh for your next work week, thanks to clear streams and limestone cliffs.
So, what are the different things that you can do here? The good news is that Decorah is just around a 5-hour drive away from Minnesota, which means you will reach the destination in a short time.
When in Decorah, you can visit Dunnings Spring Park and explore the main attraction, the gigantic Minnesota waterfall.
Moreover, this park also has trails for hiking and picnic areas to have a good time under the sun.
After spending some time in the above attraction, you can also visit the Seed Savers Exchange Heritage Farm and the Lillian Goldman Visitors' Center.
You can explore some food crops and local plants while your kids can have a good time in the children's garden.
If you love spending your trips exploring museums and old landmarks, the Vesterheim Norwegian-American Museum is an excellent tourist attraction. It exhibits folk art that might strike your fancy.
Similarly, places such as Agora Arts feature the work of different artists working in the region. It is an award-winning gallery that proudly exhibits jewelry and unique art pieces.
Decorah also has many different eateries and restaurants that will keep you full during your weekend trip. In addition, you can also easily find a hotel according to your budget.
8. Wisconsin Dells
Location: Wisconsin
Distance from Minneapolis to Wisconsin Dells: 215 miles (3 hours, 25 minutes)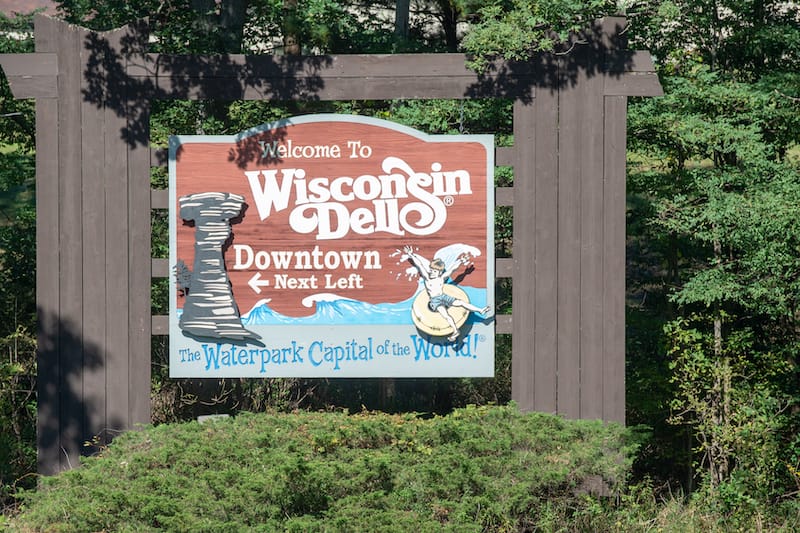 Considered the "world's waterpark capital, Wisconsin Dells is a city in the south of Wisconsin and is just a 5 hour and 30 minutes drive away from Minnesota. This place is a hub for different attractions that will make your short trip memorable, especially for families.
And you never know, you might end up planning another short trip to this city.
If you are an adventure lover and want to experience an adrenaline rush this weekend, explore the beautiful indoor waterparks in this city.
Here's the good news! There are four options available and each park offers all the major facilities you may require.
However, if the indoors is not your thing, outdoor waterparks in Wisconsin Dells will help you have a good time with your family or friends.
What's more, if you are traveling with your partner, the town has many places that offer handcrafted beverages.
In addition, many different wineries and breweries are offering excellent service and ensure that you and your partner can have a fun time tasting unique wines.
The downtown area of Wisconsin Dells has its charm. After visiting all the museums and parks in the city, you can explore this part of the town as it has many restaurants and shopping places to enjoy.
Wisconsin Dells also has many malls and boutiques. So if you want to go on a shopping spree during your weekend trip, the city will make sure you accomplish all your plans. This area also has a few motels to book your stay.
9. Cedar Rapids
Location: Iowa
Distance from Minneapolis to Cedar Rapids: 276 miles (4 hours, 16 minutes)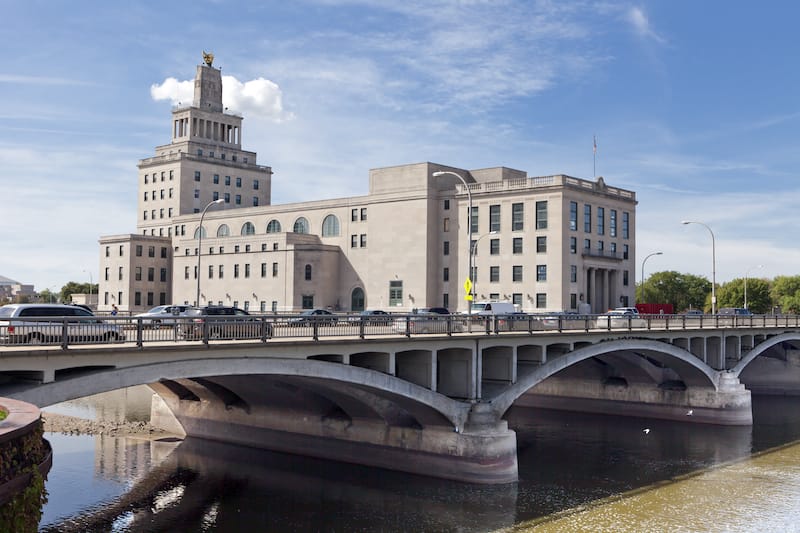 Love traveling and can't wait for the weekend to come already? If yes, why not plan a weekend trip to Cedar Rapids, located in east Iowa and is just a 6 hours drive away from Minnesota?
There are many reasons why we think this place is a perfect weekend getaway. For starters, like other towns on the list, you can easily travel to Cedar Rapids using your own vehicle.
Secondly, there are so many fun things you can do within a short period. For instance, if you are traveling with your family, you can visit the NewBo City Market for some fun activities.
Moreover, you can also take part in family-friendly tours that can take you to places such as Air FX Trampoline Park and Wickiup Hill to get a good dose of both indoor and outdoor fun.
Other than that, the city is home to many trails, golf clubs, parks, and even farms that you might want to experience.
In addition, for the history buff in you, there are many renowned museums such as the Brucemore Cultural Center and African American Museum of Iowa.
The African American Museum exhibits the rich history of African-Americans living in this region.
The Cedar Museum of Arts houses art pieces from artists around the world. Moreover, you will also come across a collection of Roman portraits. And the good thing is that you will get to experience a different collection on your every visit.
Another great feature of this city is that you will easily find many different places to stay. From B&Bs to hotels, the accommodations in Cedar Rapids promise to offer great hospitality, service, food, and comfort.
10. Green Bay
Location: Wisconsin
Distance from Minneapolis to Green Bay: 277 miles (4 hours, 25 minutes)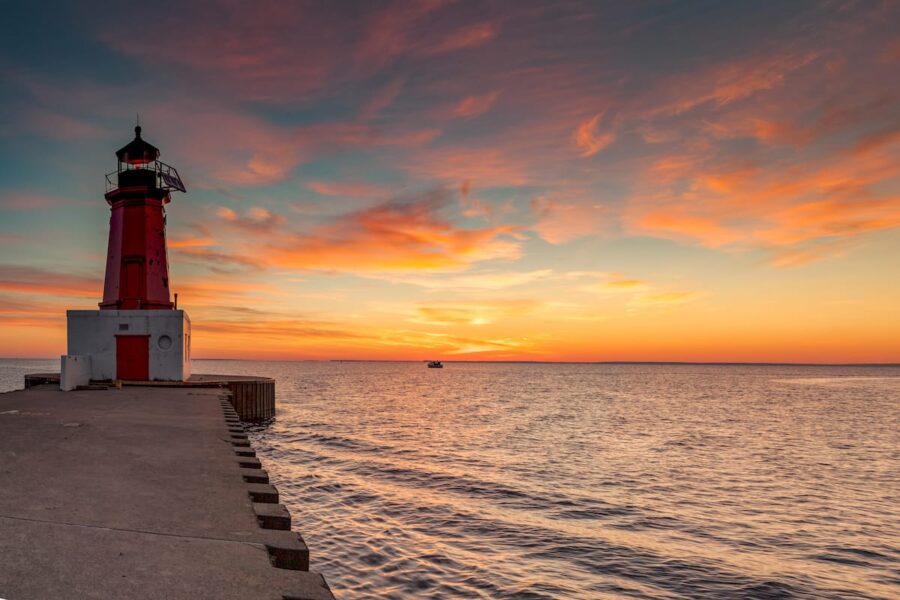 Here's a fun fact! Green Bay is the only smallest city in America with a professional sports team. If you didn't know already, the Green Bay Packers is one of the most loved sports teams and has many fans from around the world.
Now, that's surprising, no?
But that's just a tiny thing that makes this city special. Attractions such as wineries, museums, and parks make Green Bay a perfect destination for a short weekend trip.
It takes 6 hours to reach this destination, but once you are in Green Bay, you will see that there are so many different things to experience.
For instance, if you love history, museums such as the Hazelwood Historic House Museum, National Railroad Museum, Neville Public Museum, and the Oneida Nation Museum will serve you right.
From various artifacts to historical pieces, these places will help you explore the true identity of Green Bay.
What's more, the city offers many family attractions. For example, if you are traveling with your kids, the Bay Beach Amusement Park has many different rides to enjoy.
Similarly, the Green Bay Botanical Garden is home to many unique plants and a nice place to arrange a nice picnic.
Interestingly, while this city may be small, its nightlife is undeniably beautiful. So, whether you want to see a play or watch a small comedy gig, you will come across many places that will offer you these facilities.
In addition, Green Bay has many bars and restaurants that provide live music that you can enjoy with your beers and food. Moreover, these places are also great for meeting local people and making new friends.
Did we miss any of your favorite weekend trips from Minneapolis and St. Paul? Let us know your favorite Twin Cities weekend getaways in the comments! Thanks!
Author Bio: Kyle Kroeger is the owner of ViaTraveler.com. ViaTravelers is a destination travel blog providing the best tips, hacks, and itineraries to help you explore the world. Follow us on Instagram, Pinterest, Facebook, and YouTube.
More Great Lakes Travel Guides
Pin this Minneapolis Weekend Trips Guide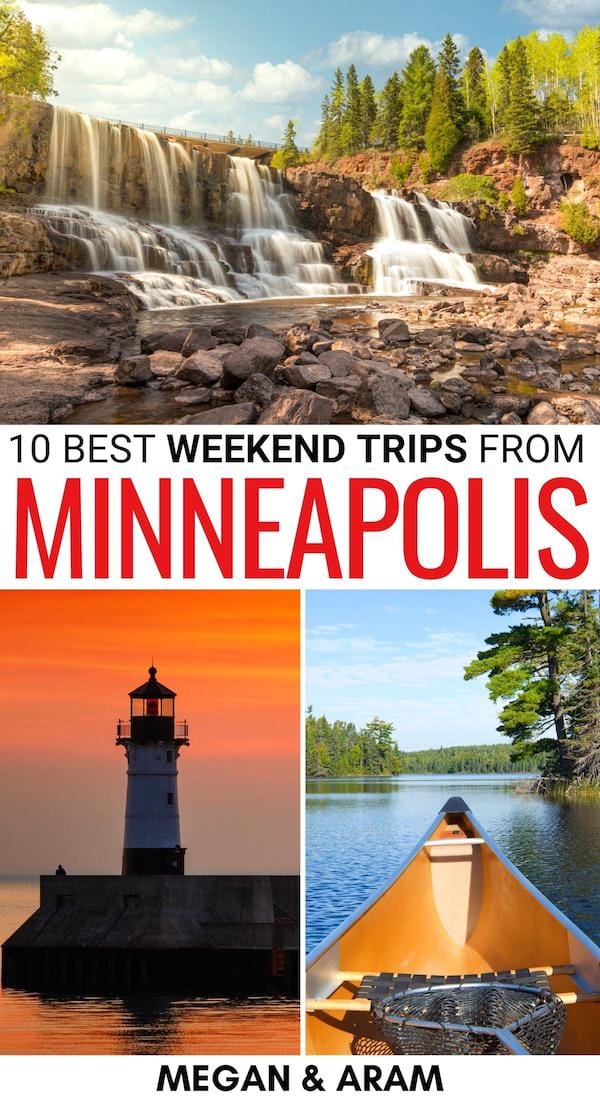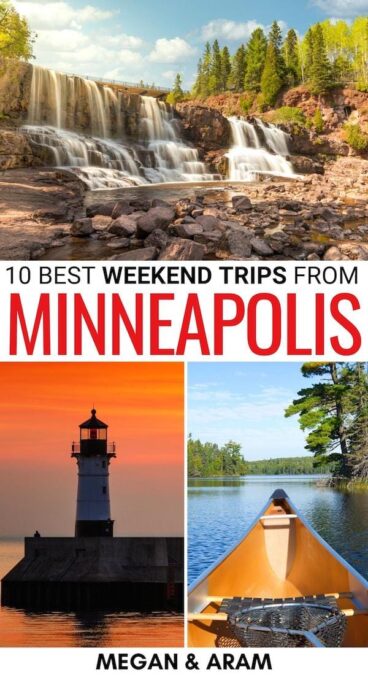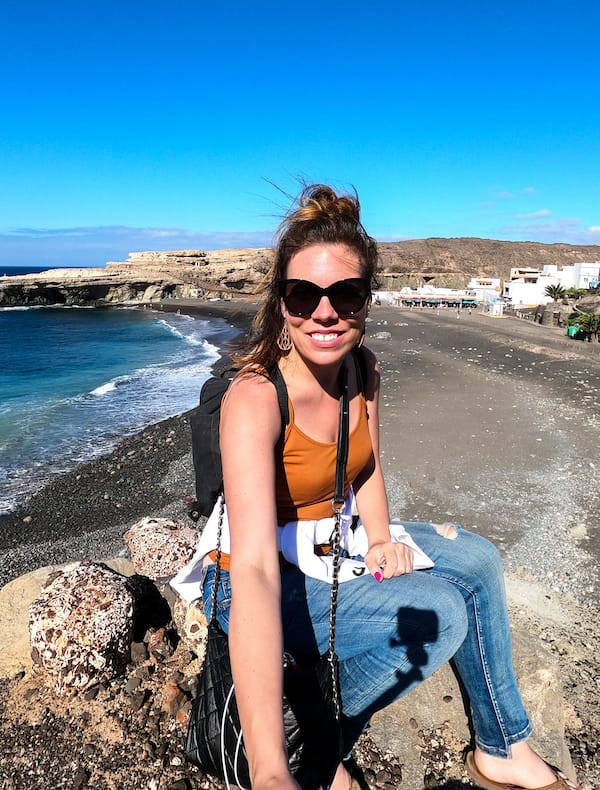 Megan is a travel blogger and writer with a background in digital marketing. Originally from Richmond, VA, she now splits her time between Frankfurt, Germany and Arctic Finland after also living in Norway, Armenia, and Kazakhstan. She has a passion for winter travel, as well as the Nordic countries, but you can also find her eating her way through Italy, perusing perfume stores in Paris, or taking road trips through the USA. Megan has written for or been featured by National Geographic, Forbes, Lonely Planet, the New York Times, and more. She co-authored Fodor's Travel 'Essential Norway' and has visited 45 US states and 100+ countries.