Nevada is just brimming with beautiful and unusual things to do – it is so much more than just Vegas! These are the best day trips from Las Vegas that will allow you to see a bit more than just the Strip!
Are you planning your trip to Vegas last minute?
Below are some of the top tours, hotels, and more!
Top Experiences and Tours from Las Vegas:
Top Hotels in Las Vegas:
We figured that many people traveling to Las Vegas would be from out-of-town, so we included some very obvious Las Vegas day trips in this guide, as well as some lesser-known suspects.
Did we miss out on any cool places to visit near Las Vegas? Let us know in the comments! Thanks!
Places to Visit Near Las Vegas Map
To add this map to your Google Maps account, click the 'Star' icon next to the map name. You can then view it on your cell phone or computer by heading to your Google Maps account, click the menu and add it to 'Your Places'.
Las Vegas Day Trips (Within 2 Hours)
Valley of Fire State Park
Location: Nevada
Distance from Las Vegas: 45.7 miles (48 minutes)
Valley of Fire State Park is famous for its Aztec sandstone, ancient trees, and petroglyphs that are about 2,000 years old. It really is one of the most beautiful state parks in the United States.
The area offers both camping and hiking opportunities to those looking to embark on one of the best Vegas day trips!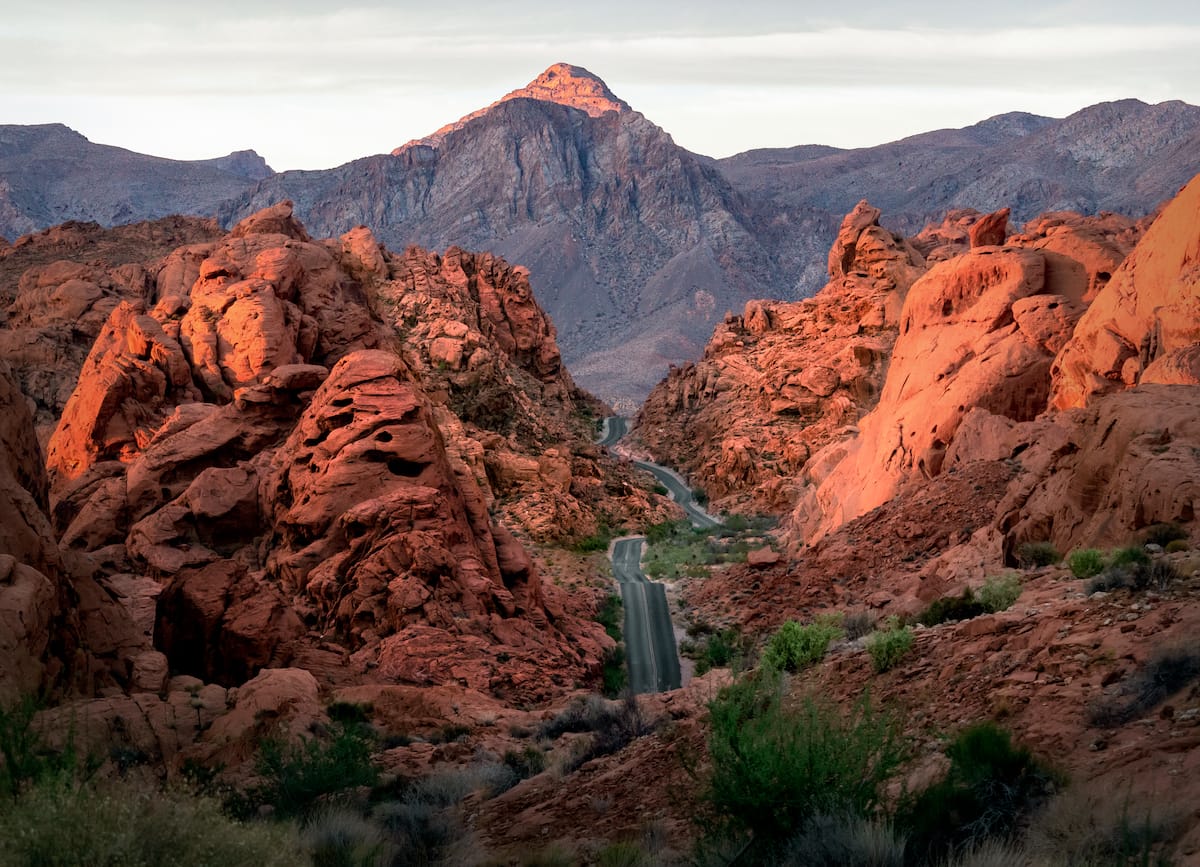 Campsites are equipped with shaded tables if you opt for an overnight in the park. There are plenty of hiking trails within Valley of Fire and you can find out more information from the Visitor Center.
Note that the park charges an entrance fee. If you have a Nevada State Park pass, you can enter the park with it. The purchases of tickets are made at the Visitor Center (if you can book an organized tour there from the city).
>> Click here to book a tour to Valley of Fire from Las Vegas
Goodsprings Ghost Town
Location: Nevada
Distance from Las Vegas: 38 miles (39 minutes)
Goodsprings Ghost Town is an awesome choice of day trips if you're around Las Vegas and are looking for a short trip to an abandoned town with a story to tell. It is also a good escape from clubbing in Vegas as you will be around… nobody!
This town was one of the vastest mining districts in southern Nevada, but now it kept its frozen-in-time feel from 1904.
One of the prominent things to see here is the Pioneer Saloon. It has a stamped tin structure, which is thought to be one of the last of its kind in the US.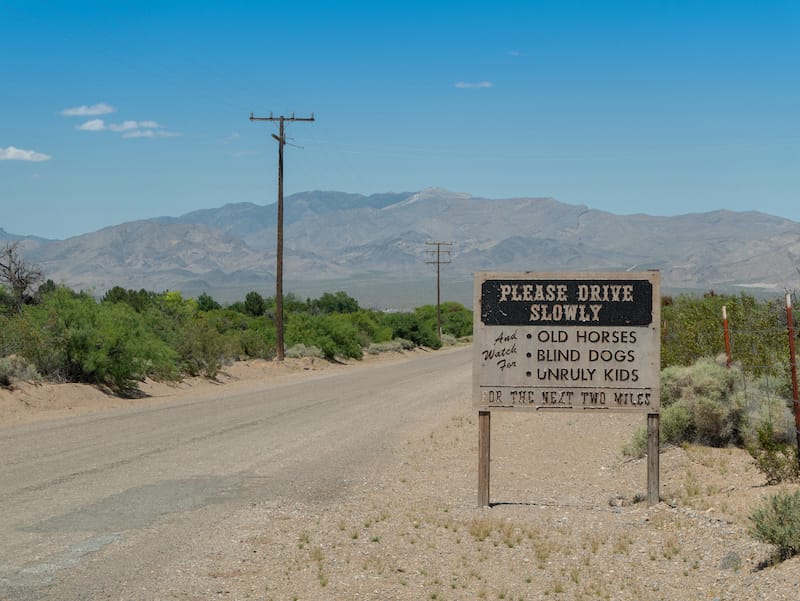 Apart from that, the town offers off-road tours full of adrenaline, like the Vegas Off Road Tour that departs from the Pioneer Saloon to take travelers to the historic Goodsprings mine sites and beyond.
Also, a lot of famous television shows and movies have been shot here. You can grab a Ghost Burger at the Pioneer Saloon (the Food Network has even shouted this burger!), enjoy a cold beer, and hear some intriguing stories about town's past.
Boulder City ​​
Location: Nevada
Distance from Las Vegas: 26 miles (29 minutes)
Boulder City is the city of the builders of Hoover Dam and it is the gateway to the engineering marvel. The city was constructed in 1932 for dam workers and their families.
For quite a small town, the number of available recreational activities here is large, however, don't be surprised if you don't find any casinos here! It is one of two places in Nevada that prohibits gambling!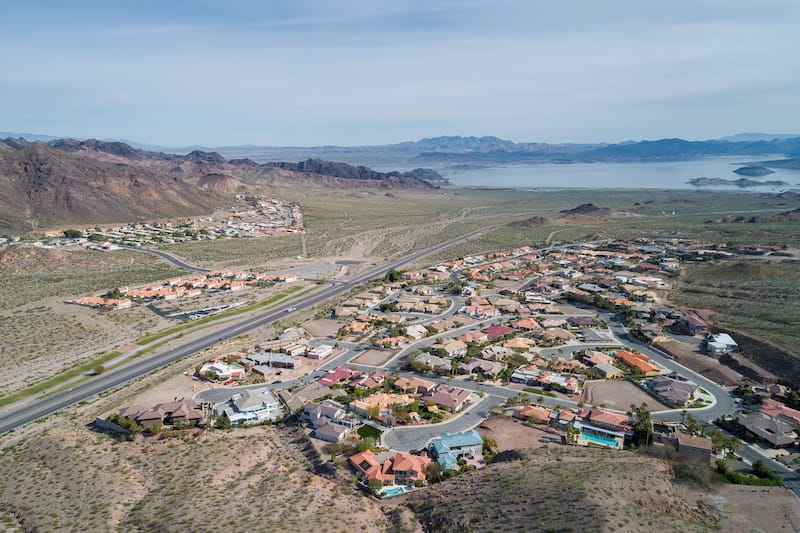 Nevertheless, the array of activities goes from full of adrenaline helicopter rides over the Hoover Dam to learn more about the region's history.
Some other entertaining things to do in Boulder are ziplining over the Mojave Desert, taking a food break at the renowned World-Famous Coffee Cup Cafe, and sampling some of the greatest craft beers of the area.
Also, extreme sports lovers will certainly love the skydiving tours and off-road desert excursions available in Boulder City!
Eldorado Canyon and Techatticup Mine (Nelson)
Location: Nevada
Distance from Las Vegas: 42 miles (45 minutes)
In this area, you'll find the richest and oldest gold mine in Southern Nevada. Even though the area is now referred to as Nelson, originally it was called Eldorado, because Spaniards were the ones to locate the rich soil.
This place is very famous for photographers and movie directors, especially in the area of Techatticup Mine. Visitors are welcome to take some guided tours going inside the Techatticup Millsite and Savage Mine.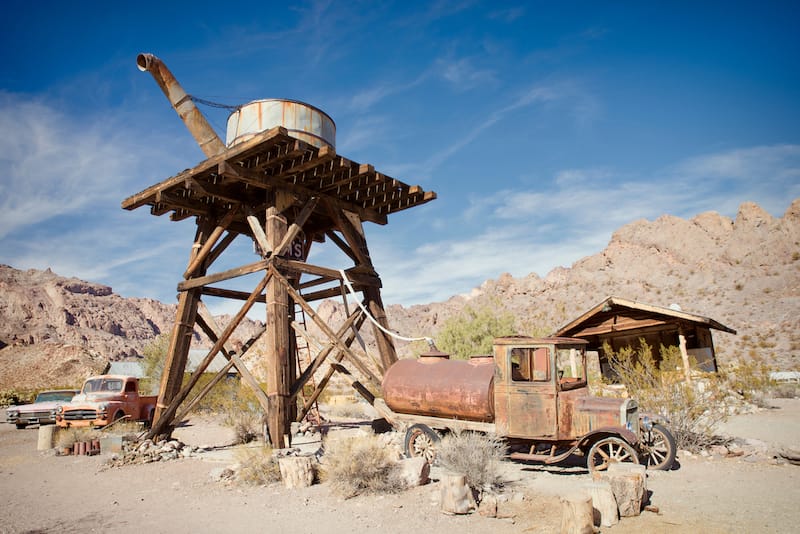 This tour is cool because even in the summer, the mine never goes too far about 70F!
If you're a water junkie, then note that there are also canoe or two-person kayak tours offered, all taking place on the beautiful Colorado River.
Willow Beach
Location: Arizona
Distance from Las Vegas: 54 miles (58 minutes)
At Willow Beach, there is 235 miles of shoreline full of unique scenery and wildlife to see. If you're looking for day trip options from Las Vegas that involve water sports and fun, definitely consider visiting Willow Beach and the area surrounding it.
There are boating rentals available as part of the Lake Mead National Recreation Area in Arizona, including canoes, powerboats, and other watercraft to have the maximum fun possible.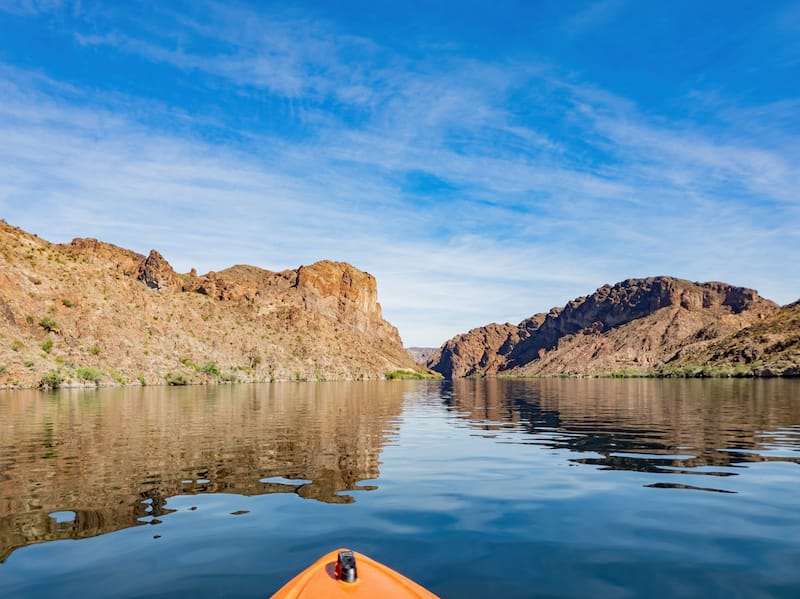 You can also extend your time spent here and stay at the campgrounds and RV spaces that are available. Also, there is a lakeside convenience store and a gift shop in case you want to take some souvenirs home with you.
St. George
Location: Utah
Distance from Las Vegas: 120 miles (1 hour 50 minutes)
The city of St. George is located in the Mojave Desert's northeastern corner, close to the Pine Valley Mountains.
With a relatively warm climate, St. George has a great variety of outdoor activities. For families visiting the Utah city, Pioneer Park, Sand Hollow State Park, and St. George Children's Museum are some of the most popular places to visit.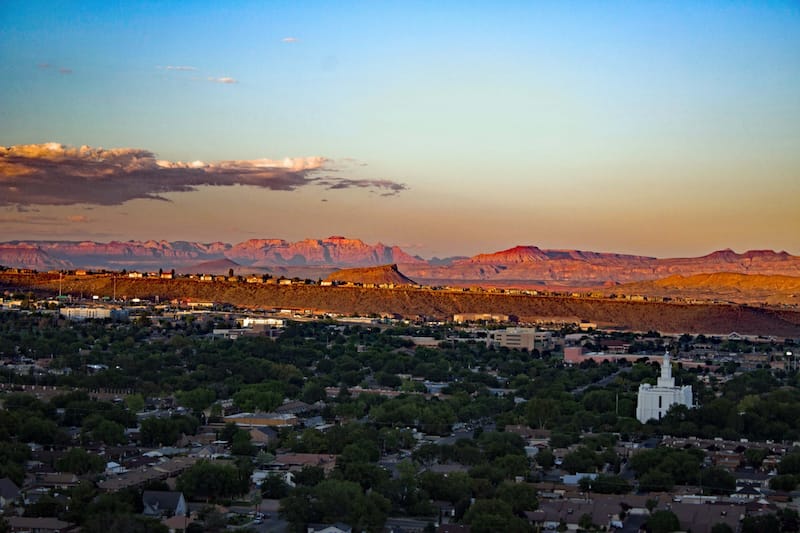 Located just 20 minutes away from St. George, Snow Canyon State Park is one of Utah's greatest lesser-known gems. It has a lot of hiking trails, featuring a variety of natural wonders, including lava tubes, red cliffs, and petrified dunes.
Still, there is much more to this Utah town! Make sure to do proper research before your day trip from Las Vegas, so that you don't miss out on anything.
Sloan Canyon National Conservation Area
Location: Nevada
Distance from Las Vegas: 17 miles (19 minutes)
Also called the Sistine Chapel of Native American rock art (because of their size and significance), the Sloan Canyon National Conservation Area and Petroglyph Site preserves over 300 rock art panels and almost 1,700 patterns reflecting Native cultures from the archaic to the historic periods.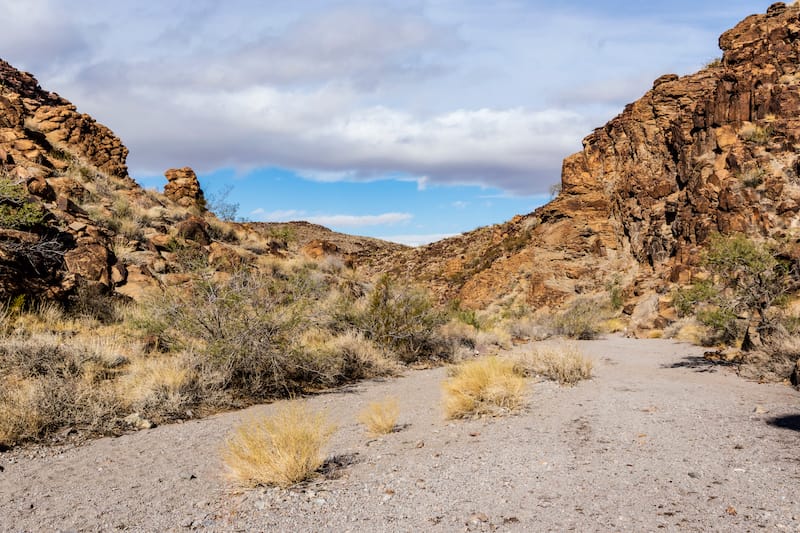 Visiting this place will give you an opportunity to get acquainted with unique geologic areas and rich cultural resources. At Sloan Canyon, you can combine history with recreation and fun.
On the area's designated trails, you will find activities such as horseback riding, hiking, and biking. Still, mainly because of recent issues related to vandalism, camping and off-roading are not permitted.
Havasu National Wildlife Refuge
Location: Arizona
Distance from Las Vegas: 111 miles (1 hour 46 minutes)
The main thing to do in Havasu National Wildlife Refuge is bird watching; it's a migratory route for hundreds of species of birds. Apart from that – you will find opportunities for boating, kayaking, canoeing, and fishing available.
The 20-mile-long Topock Gorge (one of the last surviving natural portions of the lower Colorado River) is the spot of bird watching, while Topock Marsh is the best area for fishing.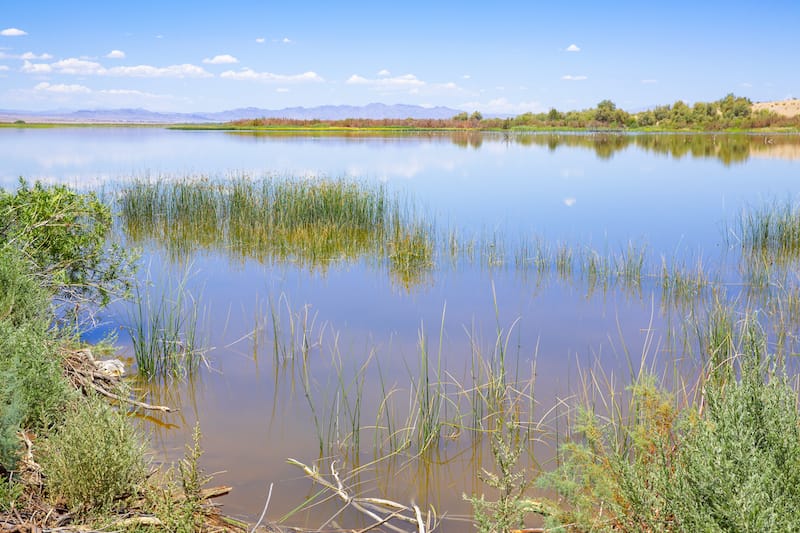 Hiking to the Havasu Wilderness Area promises some great views of desert landscapes, but remember to have your bottle of water with you! An important note: camping is not permitted at the Havasu National Wildlife Refuge.
The wilderness area is only accessible by foot. All transportation, even bicycles, as well as horses and other pack animals, are prohibited.
Hoover Dam
Location: Nevada
Distance from Las Vegas: 37.2 miles (41 minutes)
The Hoover Dam, located in the Black Canyon of the Colorado River, protects Southern California and Arizona from devastating floods.
Guests can take part in different kinds of tours when on a day trip to the Hoover Dam from Las Vegas.
Some examples of tours are: visiting historic tour tunnels and riding the original elevator to the top of Hoover Dam, walking through the original construction and inspection tunnels at the center of Hoover Dam, or visiting the viewing platform that overlooks a 30-foot diameter penstock.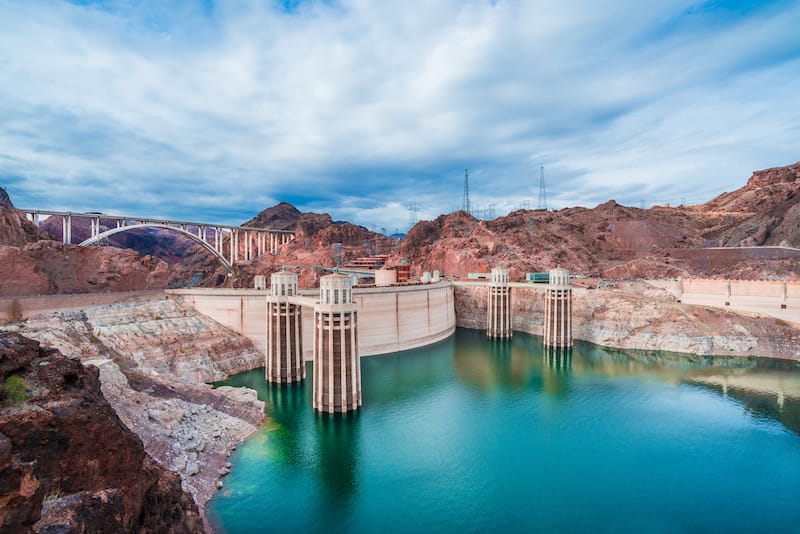 In addition, you can also enjoy a 360-degree view of the Dam, Colorado River, Lake Mead, and the Hoover Bypass Bridge from the Observation Deck.
Tickets are available for purchase in the Visitor Center, and all tickets are sold on a first-come, first-served basis and are not being sold online. This is one of the most famous Las Vegas day trips.
>> Click here to book a 3-hour tour to the Hoover Dam from Vegas
Lake Mead National Recreation Area
Location: Nevada
Distance from Las Vegas: 32 miles (38 minutes)
Lake Mead is America's first and largest national recreation area. It can be said that the number of recreational activities here is unlimited- from swimming to hiking and cycling to boating, camping, and hunting. And beyond!
With about 750 miles of shoreline at Lake Mead, you can enjoy a day at the beach or go boating. Alternatively, you can get to Willow Beach (which we mentioned above), where you will find a paradise for paddlers and those looking for kayaking and canoeing.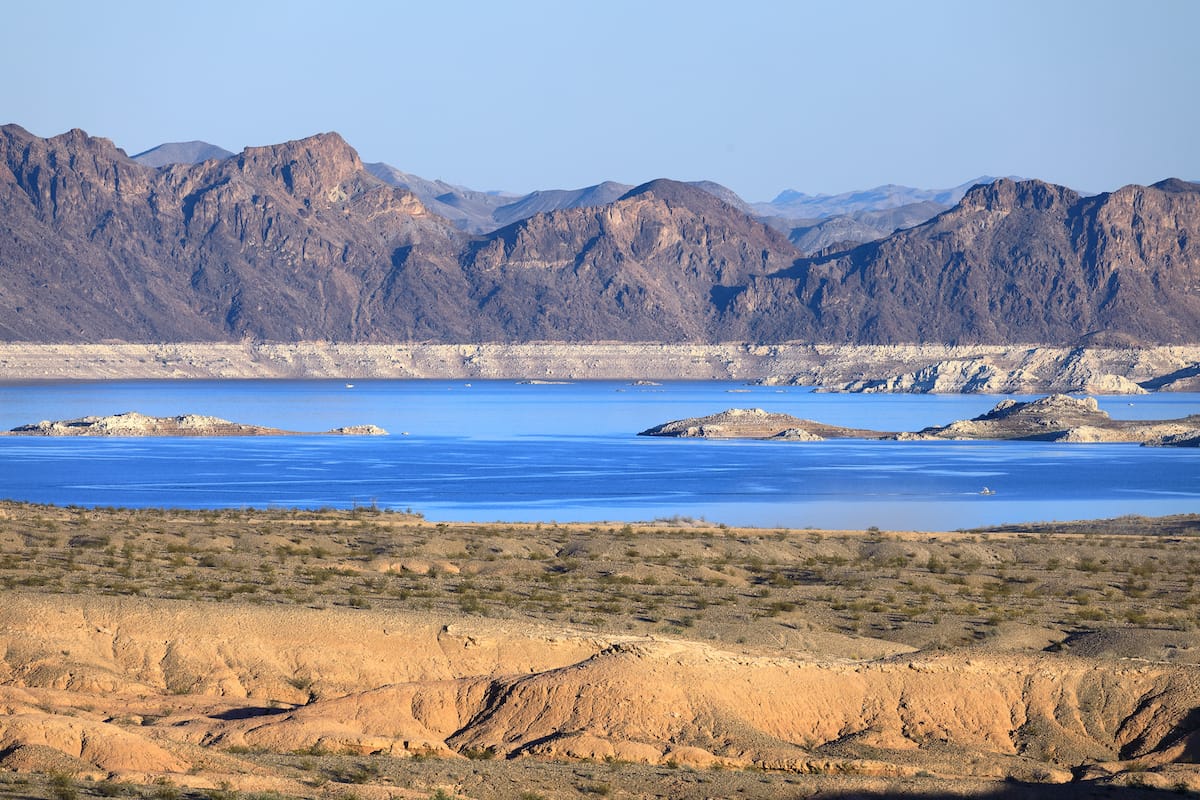 Also, if you happen to be there from November to March, don't miss out on the chance to wander around the canyons and washes abound through hiking trails.
Red Rock Canyon National Conservation Area
Location: Nevada
Distance from Las Vegas: 29 miles (46 minutes)
Red Rock Canyon National Conservation Area is a day trip from Las Vegas is a one-way 13-mile scenic drive, including hiking and trails, camping options if you wish to overnight, eye-catching flora and fauna, rock formations, and much more.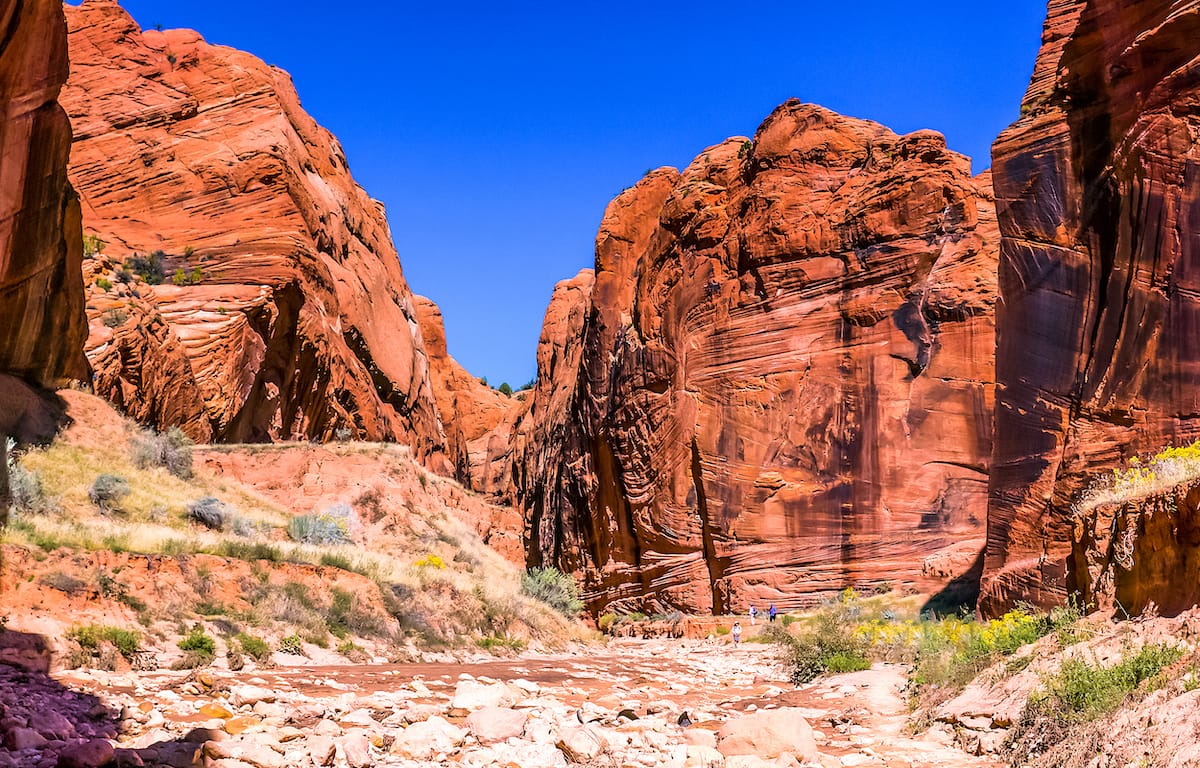 There is one drive-in campground, Red Rock Campground (formerly called Moenkopi Campground). Be mindful of the fact that backpacking and overnight permits are available at the Visitor Center, although backcountry camping is only allowed above 5,000 feet.
At the Red Rock Canyon entrance station, passes are available, and all visitors are required to purchase them.
Death Valley National Park
Location: Nevada and California
Distance from Las Vegas: 110 miles (1 hour 55 minutes)
Even though it's the hottest and driest national park in the US, you'll be surprised at how much "life" there actually is at Death Valley National Park.
On the list of things that should not be missed in the park that is shared by Nevada and California, are the Artists Palette (it's all about the park's colorful volcanic past), Badwater Basin (a stunning landscape of salt flats), and Zabriskie Point (offers spectacular views of the park).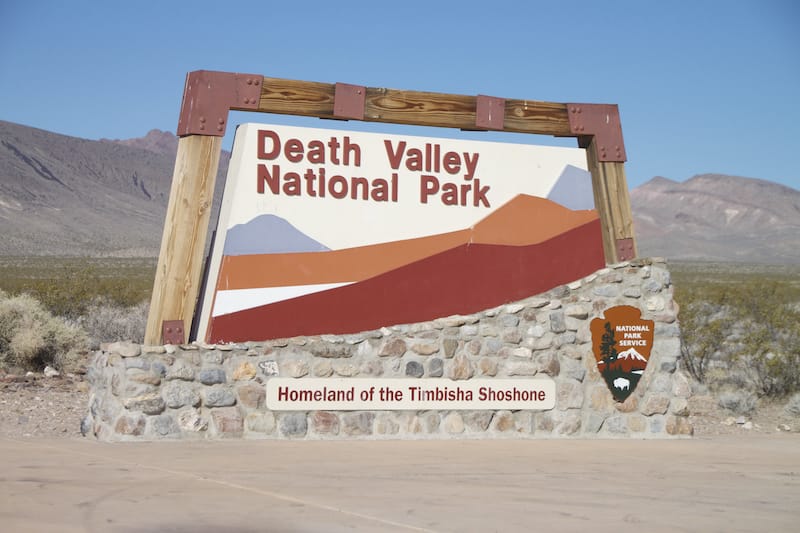 Hiking enthusiasts have a variety of both easy and challenging routes to choose from such as Harmony Borax Works, Salt Creek Interpretive Trail, Panamint Dunes, and Little Bridge Canyon.
One of the best things to do in Death Valley in winter is to go stargazing! Be sure not to miss an opportunity to turn this into a weekend getaway from Las Vegas if time permits so you can do just that!
>> Click here to book a 4×4 tour from Vegas to Death Valley
Laughlin
Location: Nevada
Distance from Las Vegas: 97 miles (1 hour 32 minutes)
Located on the Colorado River, Laughlin is a resort town full of entertainment and fun. There are 9 different resorts in the area, with a capacity of about 10,000 rooms.
Laughlin has an array of delicious restaurant options if you're looking for dining on the go. If you love classic steakhouses, get yourself to Range Steakhouse or pay a visit to Gourmet Room, which is an elegant and cozy piano bar lounge. For more casual options, get to Bruce's Taste of Chicago, Cafe Aquarius, etc.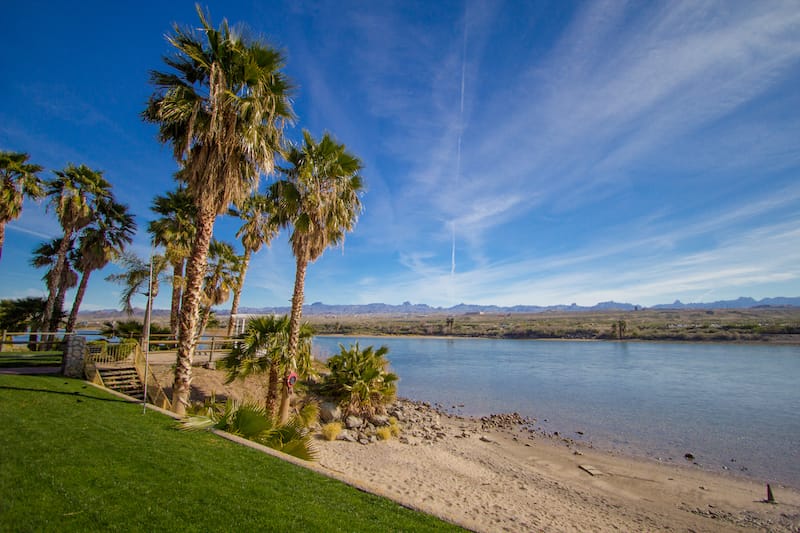 Famous musicians like Carrie Underwood, Toby Keith, Kid Rock, and Rascal Flatts along with other renowned top comedians and performers have performed in Laughlin and it is definitely a sound alternative to Las Vegas (even just for the day)!
Additionally, you can take some day trips from here, or test your luck at the numerous casinos in Laughlin.
Rhyolite Ghost Town
Location: Nevada
Distance from Las Vegas: 123 miles (1 hour 56 minutes)
The glory of Rhyolite during the gold rush period is known to many but nowadays, the small town is known simply for being a ghost town!
It flourished during a time when thousands of gold-seekers and miners arrived at the town and transformed it into a place full of entertainment and mining production.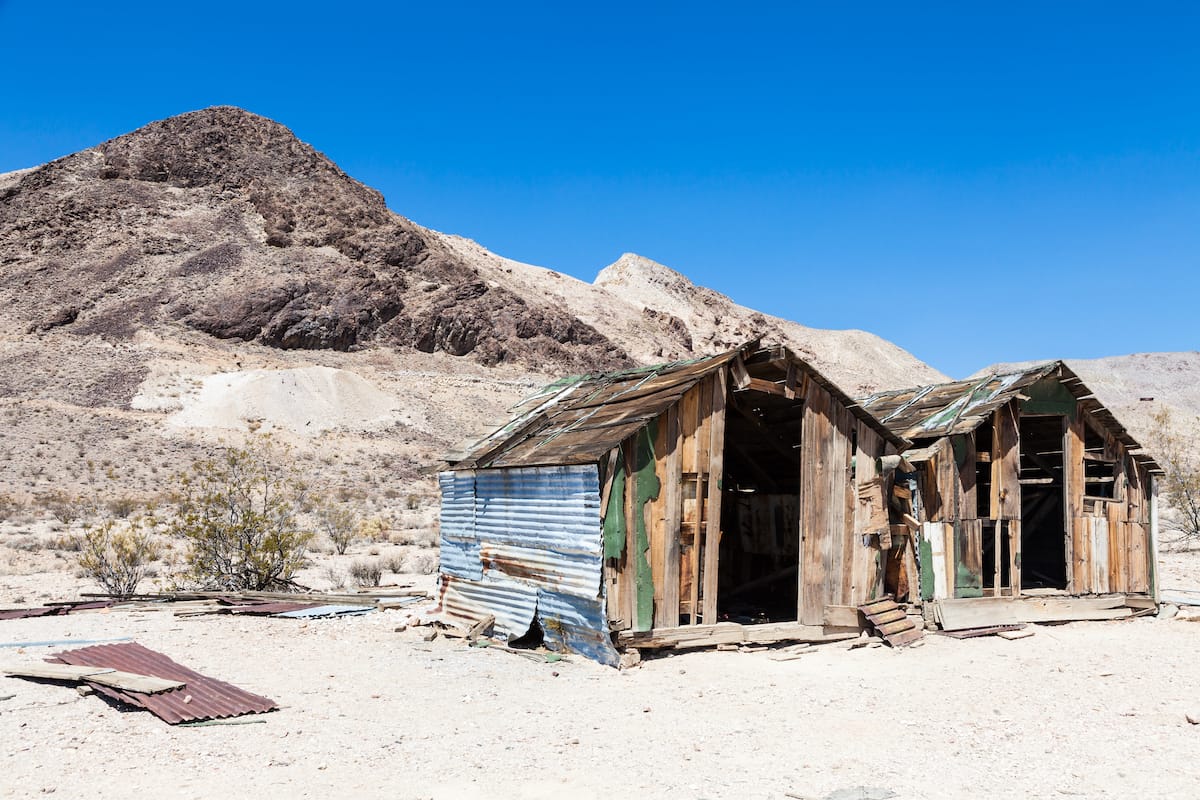 However, during this short period of time, Rhyolite lost its status as a great town, and around 1920, the population diminished and was left, more or less, abandoned.
The best way to explore Rhyolite is to stroll around the remains on foot. Upon your arrival, you'll see the famous Tom Kelly Bottle House, built out of bottles in 1905. Note that you can view it only from outside. This is a great day trip from Las Vegas, especially for children.
Mount Charleston (& Vicinity)
Location: Nevada
Distance from Las Vegas: 39 miles (45 minutes)
Suitable during all seasons, the Spring Mountains Visitor Gateway spreads over 90 acres and provides incredible nature views and many adventurous things to do. One of the best places to visit here is Mt. Charleston!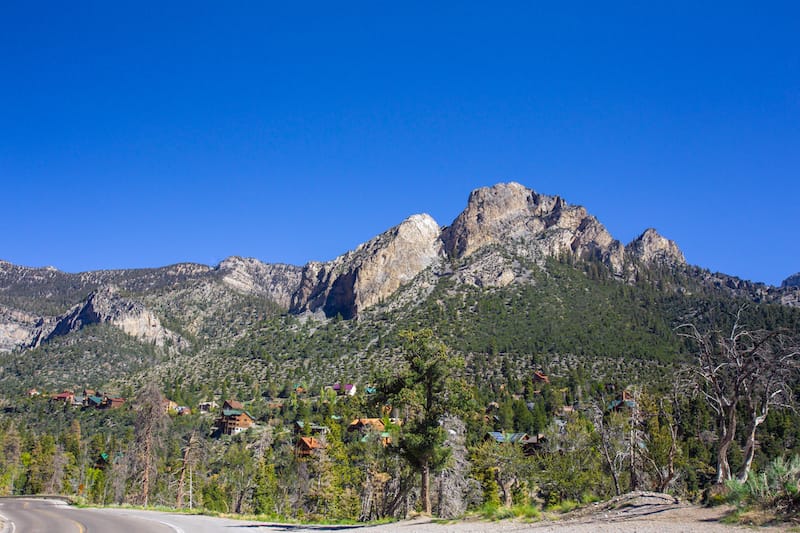 Apart from group picnic areas, horseback riding, camping and biking areas, two amphitheaters, countless trails, there are many gorgeous areas that provide extraordinary views of Kyle Canyon and Charleston Peak.
For hikers, this area offers very accessible trails like the Acastus Trail or some challenging ones like Southern Nevada's most notable peak, the 11,916ft Charleston Peak.
Mojave National Preserve
Location: California
Distance from Las Vegas: 68 miles (1 hour 7 minutes)
Mojave National Preserve is located in the Mojave Desert in San Bernardino County, California.
With an area spanning 1.6 million acres, this preserve is home to singing sand dunes, an amazing variety of spring wildflowers, cinder cone volcanoes, a large Joshua Tree forest, and more.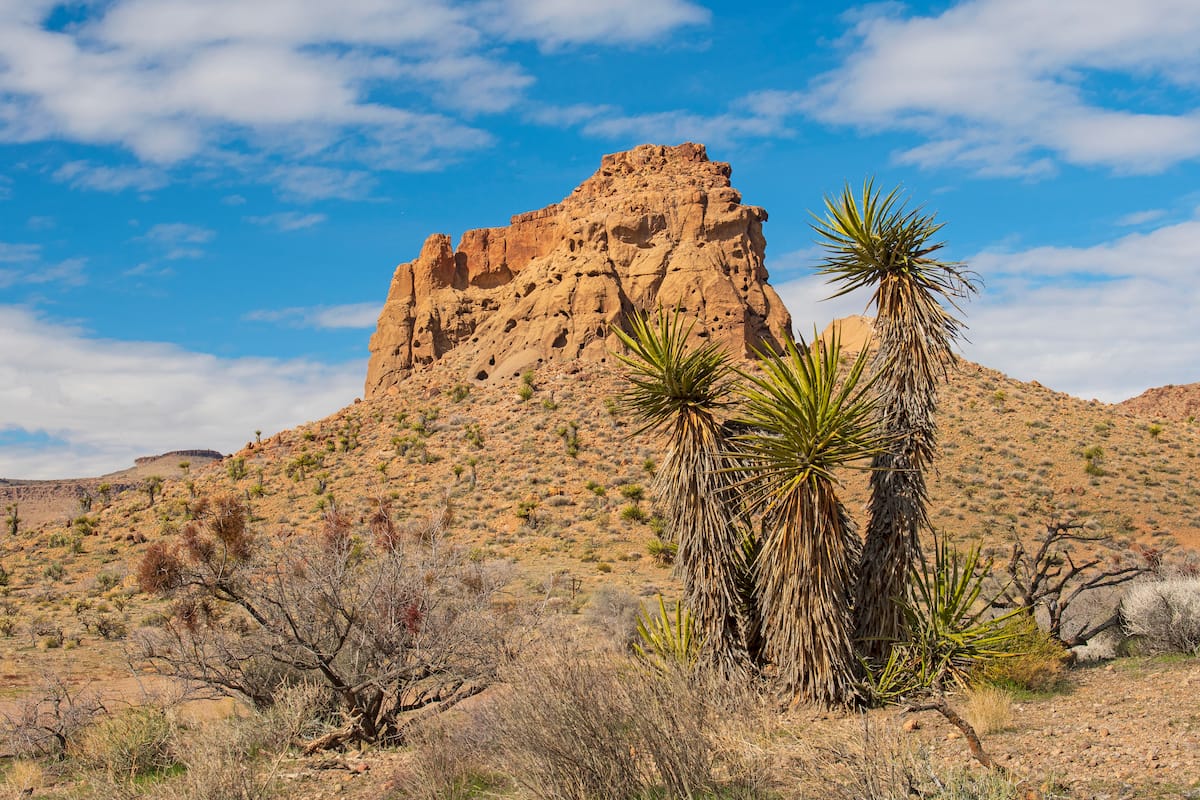 The preserve features two main campgrounds- the Mid Hills Campground and the Hole-in-the-Wall Campground if you're looking to turn this into a weekend trip from Vegas instead. Both of them are available year-round, have fire pits, and picnic tables.
Hiking at Mojave National Preserve offers hikers the chance to take on easy and moderately difficult trails, like Rock Springs Trail (where you can learn the history of Rock Springs) or Kelso Dunes Trail, which gets you to the top of the most popular sand dune.
Currently, there is no entrance fee there.
Las Vegas Day Trips (2-3 Hours)
Dixie National Forest
Location: Utah
Distance from Las Vegas: 176 miles (2 hours 41 minutes)
Dixie National Forest is the largest national forest in Utah, known for its breathtaking views of ​​Hell's Backbone Bridge and the Death Hollow (and more)!
This forest is located close to 3 national parks and 2 national monuments. It has an extensive amount of red sandstone formations, just like in Bryce Canyon or Red Canyon.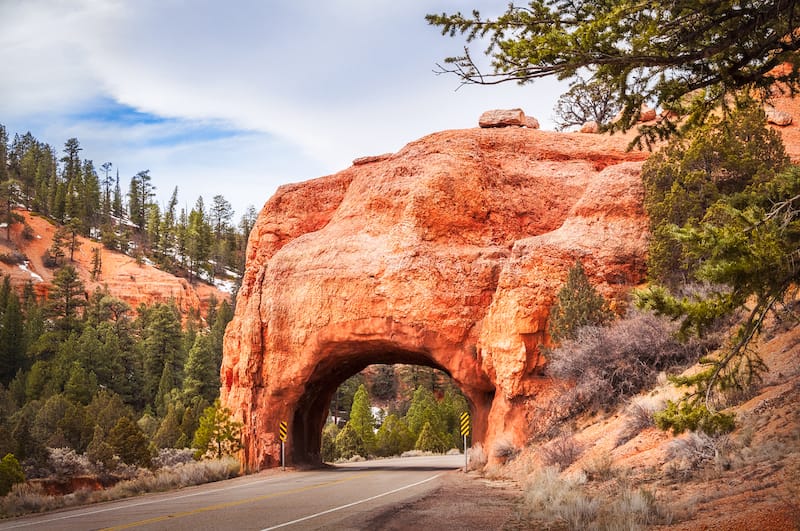 Top things to do here include hiking through Cedar City, Spectra Point, or strolling along some of the wildflower trails. Cedar City and Brian Head mountain biking are good options for those who like to explore the areas on wheels.
Last but not least, there are also some campgrounds like Cedar Canyon, Te-Ah, and Duck Creek if you decide the journey is too far from Vegas and you want to stay longer.
Cathedral Gorge State Park
Location: Nevada
Distance from Las Vegas: 166 miles (2 hours 35 minutes)
Another great alternative for reconnecting with nature when in Nevada is by taking a day trip to Cathedral Gorge State Park. It's renowned for its unique scenery where you will find natural slot canyons that seem to stretch on forever, and they're some of Nevada's only ones!
There are plenty of hiking routes to explore the caves at the park. Moreover, this park features some cathedral-like spires that are the result of geologic processes that occurred millions of years ago, which are well worth taking a look at.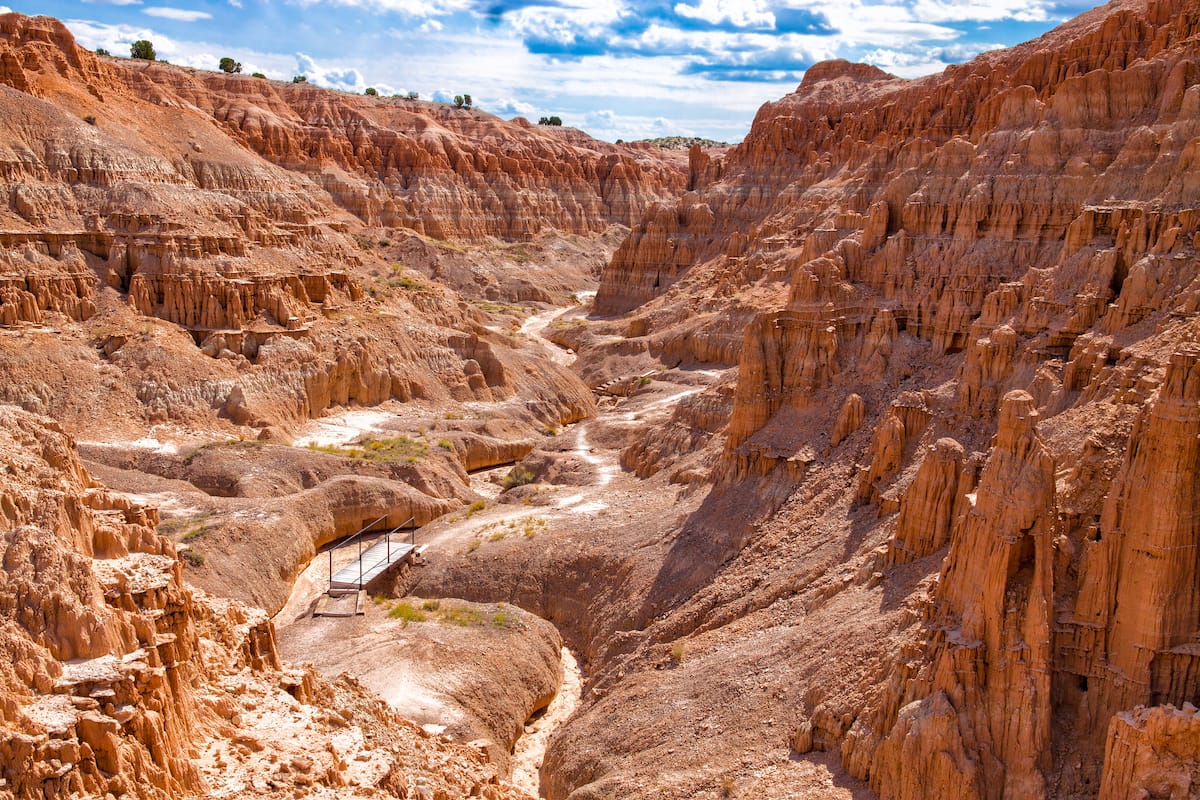 One of the best hikes there starts from Miller Point Overlook, gifting hikers with some indescribably beautiful sunrise or sunset views of the slot canyons below. Other recreational activities that are popular are camping, picnicking, wildlife viewing, and photographing.
The entrance fee to Cathedral Gorge State Park is $5 per person.
Calico Ghost Town
Location: California
Distance from Las Vegas: 149 miles (2 hours 24 minutes)
This historic ghost town just outside of Yermo has a lot to lure visitors to it! Keep in mind that there is an $8 entrance fee to get into Calico, but many say that it's worth it (that fee has the sole purpose of preserving this pretty old mining town).
One of the main attractions is the Maggie Mine. It was an operating silver mine in the 1880s, and it is now the only mine that is safe for visitors to visit.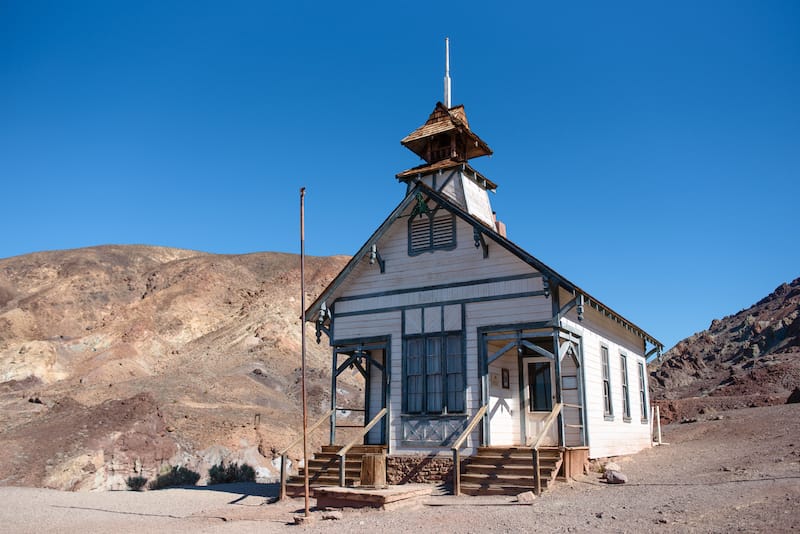 There is a lot you can learn there- from how the silver processing is done to samples of stamp mills that were used in mining in the past.
Also, don't miss the 8-minute Calico Odessa Railroad trip where you'll experience some confusing sights like water running uphill, and you can learn the real way of how the miners once panned for gold in a stream.
Zion National Park
Location: Utah
Distance from Las Vegas: 160 miles (2 hours 39 minutes)
Zion National Park holds the title of Utah's first national park. There are some amazingly beautiful canyons and hikes there like the famed Subway, Zion Narrows, Pine Creek, Mystery Canyon, and more.
If you're looking to turn this into a Las Vegas weekend trip, you will find plenty of camping options. There is the South Campground and the Watchman Campground (near the south entrance at Springdale).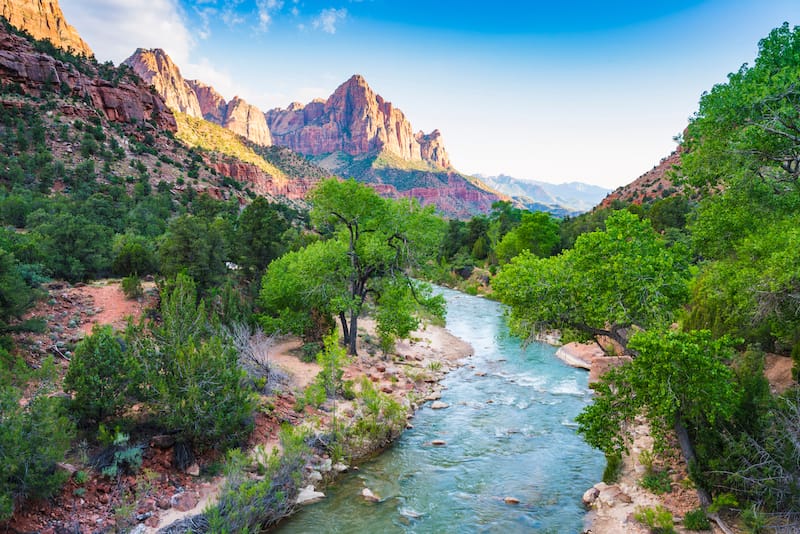 Camping is permitted only at approved campsites, and not allowed at pullouts and parking lots. From mid-March to late November, the campgrounds are nearly always crowded, so the advice is to make reservations beforehand.
If you're visiting Zion during winter, it will be easier to access campsites! And regardless of the time of the year, Zion remains one of the most popular day trips from Las Vegas.
Visitors are welcomed to explore the area not only by driving on 4 wheels, but also on a bike, or just via walking.
>> Click here to book a Zion + Bryce Canyon Day Trip from Vegas
Weekend Getaways from Las Vegas (Over 3 Hours)
Bryce Canyon National Park
Location: Utah
Distance from Las Vegas: 260 miles (4 hours 4 minutes)
Bryce Canyon National Park is all about red rocks, cliffs, and picturesque views! It is often known for being a nice, long day trip from Salt Lake City but many people come from other directions, as well!
For those looking for a truly unforgettable day trip from Vegas to unwind, Bryce Canyon is for sure one of the best options (but is best done as an overnight as it is so far away!).
This national park is famous for its viewpoints – aptly named Sunrise, Sunset, Inspiration, and Bryce. If you're having a short visit, make sure to check out these spots, and have your camera ready to capture the breathtaking vistas.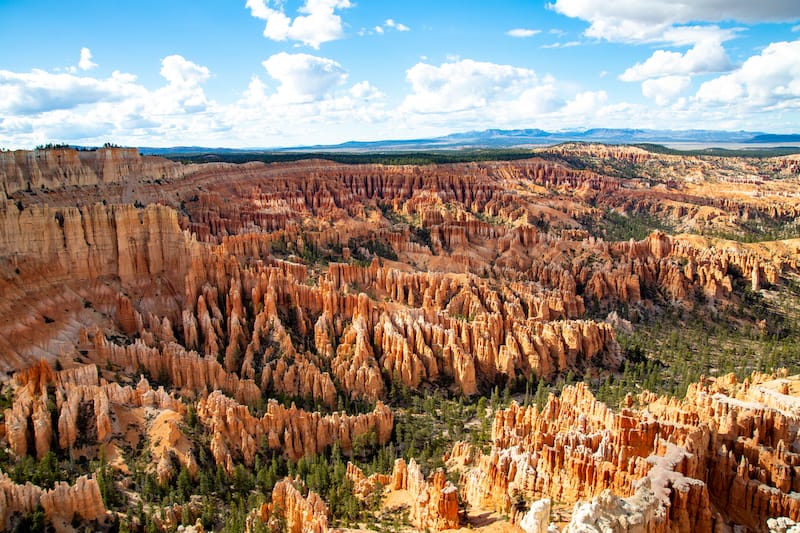 For some easy hikes, check out the Sunset to Sunrise trail (easiest hike with views of the scenic Bryce Amphitheater) or challenge yourself with 4-5 hours long hikes, such as Fairyland Loop.
Permits here are required only for overnight stays and can be purchased at the Visitor Center. Bryce Canyon is beautiful in winter and shoulder season as well!
>> Click here to book a Zion + Bryce Canyon Day Trip from Vegas
Best Places to Stay in Las Vegas
Needless to say, Vegas is a place brimming with hotels and amazing places to stay. Here are some of our top picks:
Did we miss any amazing day trips from Las Vegas that should be on this guide? Let us know your favorite Las Vegas day trips in the comments. Thanks!
Additional Nevada Travel Resources
Pin This Day Trips from Las Vegas Guide