Are you looking for the best day trips from Dallas? This guide has you covered! We share some of our favorite Dallas day trips (and a few weekend trips, as well)!
Dazzling, dynamic, and downright delightful, Dallas definitely deserves its place on your Texas bucket list!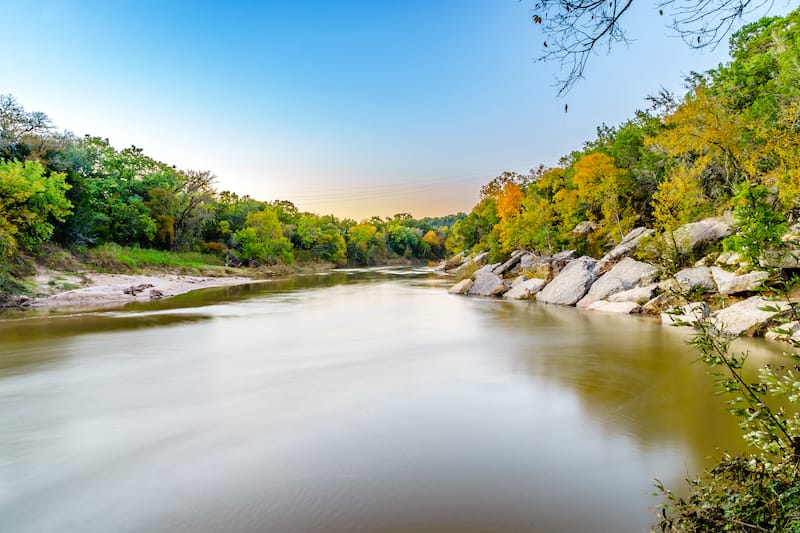 This is the home of the infamous Dallas Cowboys NFL team, first-rate museums and cultural pursuits, amazing food (complete with supersized portions!), scintillating nightlife, and many other enticing attributes.
All told, you're sure to have an absolute ball there. Yet, let's face it, Dallas is also a big, bustling metropolis and one of the most exciting places to visit in the United States!
So, after immersing yourself in the trappings of city life, it's natural to seek a break from all the hustle and bustle. Thankfully, the "Big D" also happens to be an incredible gateway to many of the best things to do in Texas.
The best part? You don't have to travel too far out of town to enjoy them.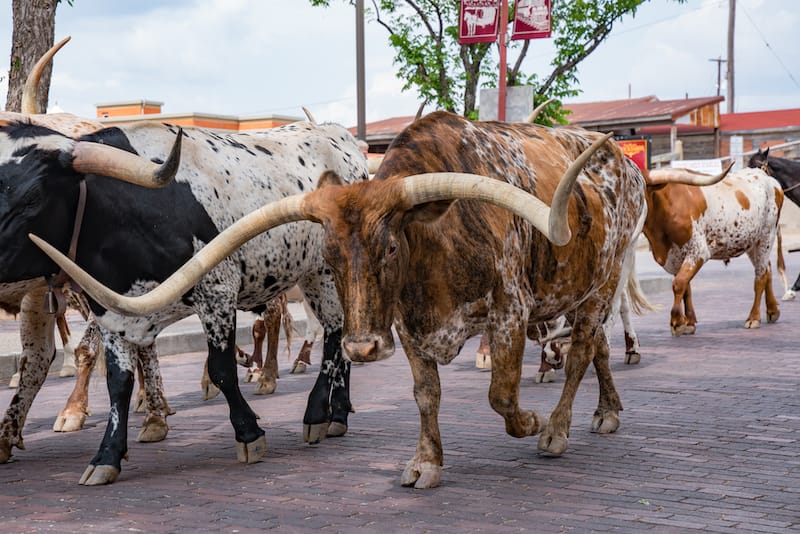 Want to find out about some of the best things to see and do on Dallas' doorstep? We've got you covered. These are some of the coolest day and weekend trips from Dallas.
Getting Around Dallas (and Nearby)
You will find so many ways to get around the city but, to be honest, the easiest way to travel north Texas is by car. However, if you are looking to travel to the surrounding areas in luxury, you can also do it by limo!
To enjoy the diverse range of sites Dallas has to offer, do book a local limo service. DFW Limo Service offers professional and knowledgeable drivers who will keep you entertained and well catered for.
Whether you're traveling on your own or in a group and looking for a stress-free trip, you will certainly have an unforgettable Texas experience!
If you are on a budget, you can take public transportation around, but I donʻt recommend using it outside of Dallas itself… Texas truly is huge!
Best Day Trips from Dallas
Let's get into it! Here are some top travel destinations just outside Dallas.
Oh, and just so you know, every single one of these Dallas day trips is less than or equal to 3 hours away in the car or campervan (don't forget your campervan accessories if that's how you're exploring)!
That should make them easily accessible to anyone in desperate need of some time away from town…
1. Oklahoma (Best for Weekend Trips from Dallas)
One of the biggest advantages of living in Dallas is its close proximity to two other scintillating states. You can drive to stunning parts of both Oklahoma (to the north) and Louisiana (to the east) in a matter of hours.
Now, Louisiana definitely deserves a visit. For the purposes of this post, though, we're going to suggest you take a day trip to Oklahoma, which is the closer of the two states. Trust us, you won't regret it!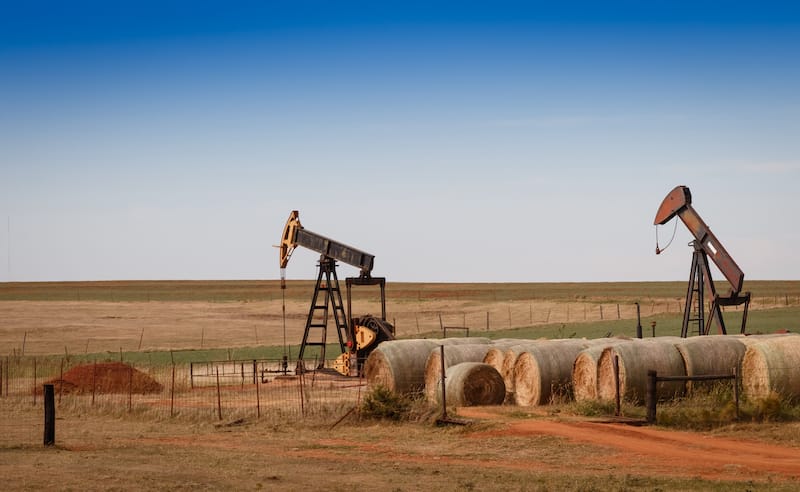 Oklahoma spoils you for choice in terms of your final destination.
You could aim for the Arbuckle Mountains (check out these mountain quotes!) and the beautiful Arbuckle Wilderness Park (approximately 2 hours away from Dallas), Turner Falls (around 2 hours), or Beavers Bend State Park (circa 3 hours).
If you prefer city life to nature (and don't mind spending a few hours in the car), then you could even head north to Oklahoma City.
Want our advice? Consider spending more than just a day exploring any of these Oklahoma attractions! With so much to see and do, they'd make amazing weekend trips from Dallas instead.
2. Fort Worth
Friendly, relaxed, and under an hour's drive away, no list of day trips from Dallas would be complete without mentioning Fort Worth.
Now, although the locals are sure to argue this point profusely, tourists may not notice too much difference between these two North Texas hotspots!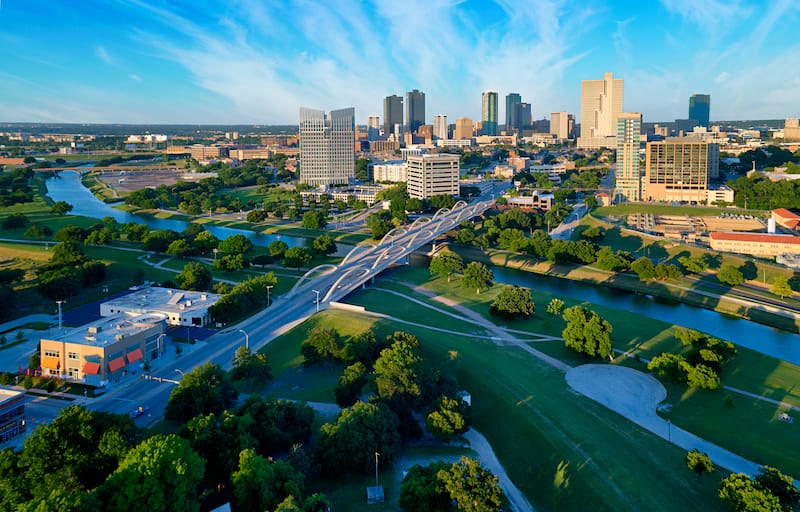 Nevertheless, thanks to the endless dining options, museums and galleries, outdoor activities (the Water Gardens are a particular "must-do"), and evening entertainment (don't miss the live music at Billy Bob's!), you're sure to fall in love with Fort Worth.
While you're there, be sure to soak up the atmosphere at Sundance Square, embrace cowboy culture at a honky-tonk bar, and fascinating history at the Stockyards. Trust us, there's so much to do in Fort Worth that you may end up staying the night!
3. Granbury
If you're looking for small-town vibes and a spot of lakeside relaxation, then head to Granbury!
It's about an hour and a half from Dallas and boasts a large recreational lake (complete with a swimming area, pier, and plenty of seating/picnic areas to enjoy), making it another prime place for a day trip.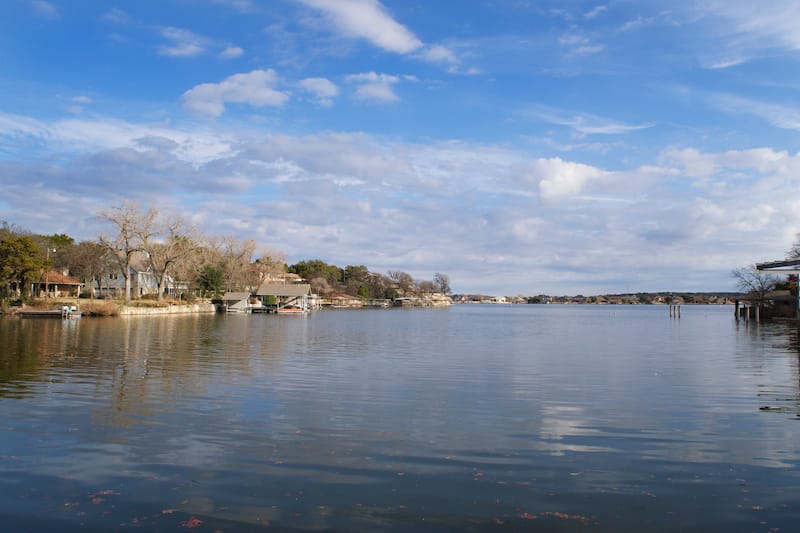 However, Lake Granbury's just one winning feature on a long list of fun things to do here. The restaurants and shopping opportunities in Granbury Square deserve a mention, as do the Moment in Time Hike & Bike Trail, art galleries, opera house, wineries, and breweries!
There really is something for everyone in Granbury. So, whether you're traveling with friends, a traveling family, or a solo backpacker, it's well worth checking out for 24 hours (or more!).
4. Canton
Bargain hunters unite! It's time to take a day trip to Canton, a lively little place located just 30 minutes east of Dallas.
A fun-loving, family-friendly place, Canton's best-known for its famous First Monday Trade Shows. Said to be the largest flea market in America, huge swathes of visitors and vendors descend on the town each month (on the weekend prior to the first Monday) to experience this enormous 100-acre shopping extravaganza.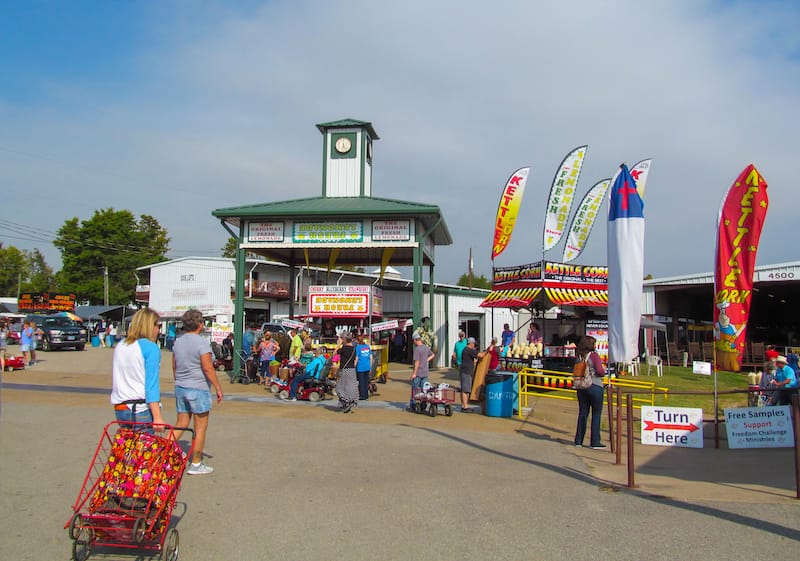 Don't worry if you can't make these First Monday flea markets though. Canton puts on a show (literally!) on weekends throughout the year, including festivals, concerts, and farmers' markets.
While you're there, check out the Splash Kingdom Waterpark, Twin Lakes Golf Course, and the various museums Canton has to offer too!
5. Weatherford
Positioned in the Prairies and Lakes region, Weatherford might be lesser-known than other places on this list, but it still makes a great westbound Dallas day trip (especially for history buffs and horse lovers!).
Driving to Weatherford only takes an hour. Yet, with its Victorian-era homes and proud pioneer roots, it feels like you've stepped back hundreds of years in time!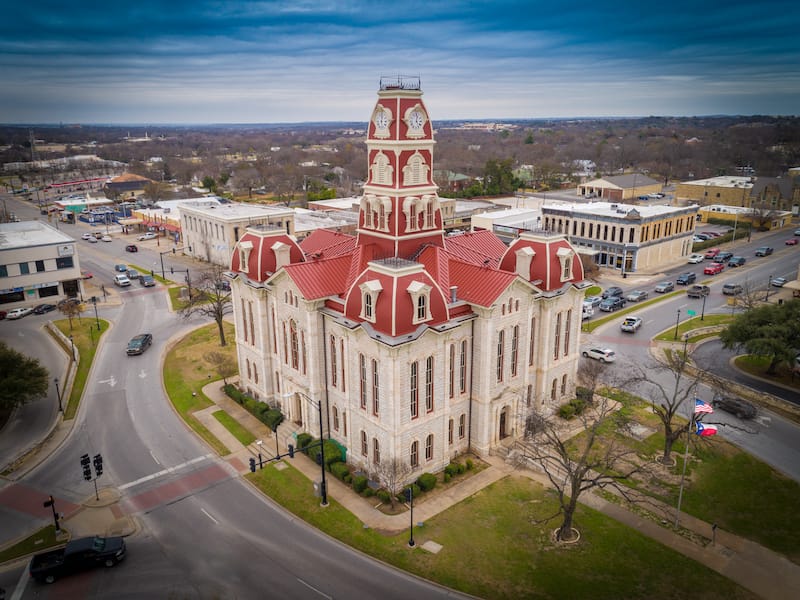 You'll love exploring the sprawling Chandor Gardens (designed and built by the artist, Douglas Chandor), complete with its countless waterfalls and fountains, and learning all about Native American history in the impressive Museum of the Americas.
Oh, and equine-enthusiasts are sure to appreciate Weatherford's reputation as the "Cutting Horse Capital of the World", a pedigree that's given rise to a bunch of pro trainers and hall-of-fame horses over the years.
6. Arlington
Looking for some fun of the adrenaline-fuelled kind instead of the laid-back variety? Drive to Arlington! This lively city's less than an hour from Dallas and is saturated with exciting action and activities to enjoy.
Arlington has a lot going for it- especially if you love sports, theme parks, bars, and shopping! Throw in the theatre, Convention Center, bowling alley, and indoor wood skating arena and you're in for a helluva time.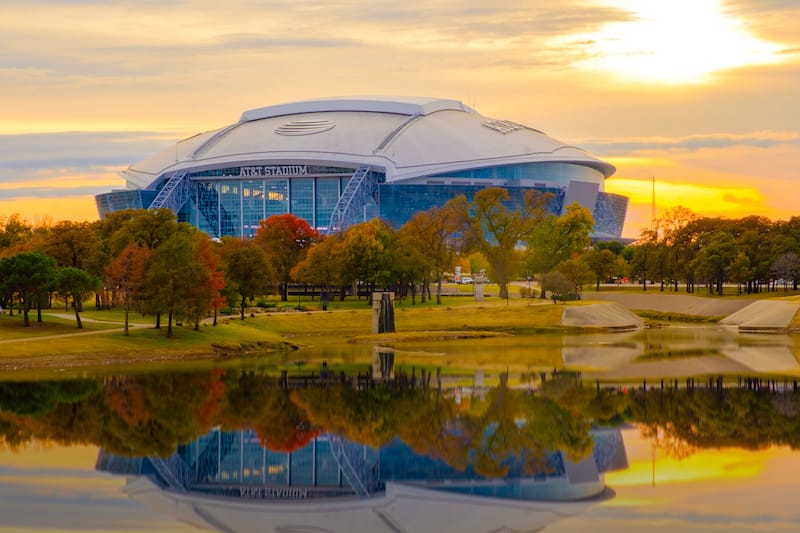 NFL aficionados are sure to be happy too. Why? Because this is the home of the notorious Dallas Cowboys, a team/franchise that's won a whopping 8 conference championships and 5 Super Bowls.
Indeed, taking a tour around the AT&T Stadium in which they play is worth it whether you enjoy American football or not!
As crazy as it sounds, this is the world's largest domed structure, making it an outstanding feat of architecture and a genuine sight to behold.
7. Jefferson
At 2+ hours from Dallas, Jefferson is a touch further afield than some towns and attractions on this list. If you're into history, fishing, and/or kayaking, though, then it'll be 100% worth that extra time in the driver's seat. Why?
For one thing, this quaint pre-Civil-War era town is bursting at the seams with old buildings, scenic streets, and eateries that scream "Texas charm".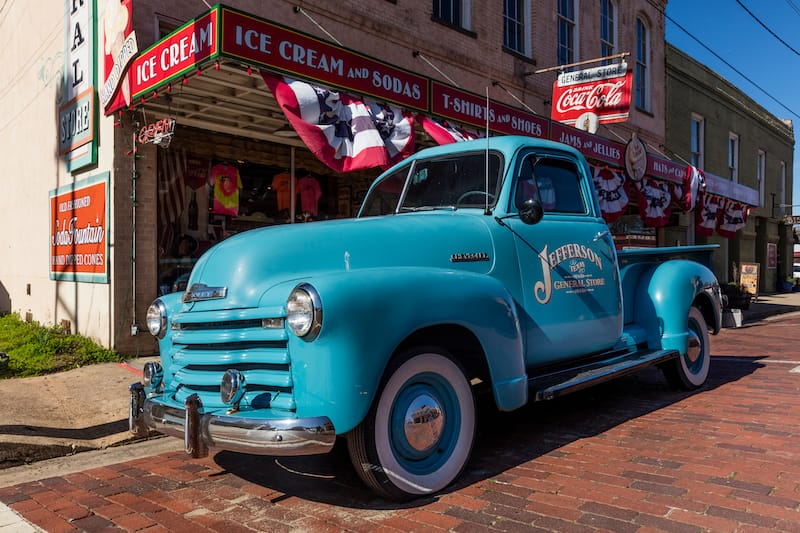 There's also a 19th-century bridge, the aptly named 'Bicycle Hill', and the Jefferson Historic Railway. Oh, and the landscape surrounding it's picturesque as well! It really is one of the coolest small towns in Texas!
However, another of Jefferson's central attractions is what's called the "Big Cypress Bayou". To an outsider, it may look seem nothing more than a good-looking, if swampy, body of water.
Yet the reality's that the bayou holds a huge variety of fish, making it a mecca for fishermen here. Why not bring a rod and see for yourself?
8. Austin
Another well-known name in the Lone Star State, Austin's a 3-hour drive from the Big D and offers would-be visitors a whole host of incentives to take the trip!
Once again, you really need more than a day to experience Austin to its fullest. But an afternoon's still enough time to get a sense of it.
Austin atmosphere's hip and artsy, with a touch of Silicon Valley-Esque prowess thrown in for good measure. It's also popularly referred to as the Live Music Capital of the US, so, as you can imagine, there's no shortage of live gigs to see!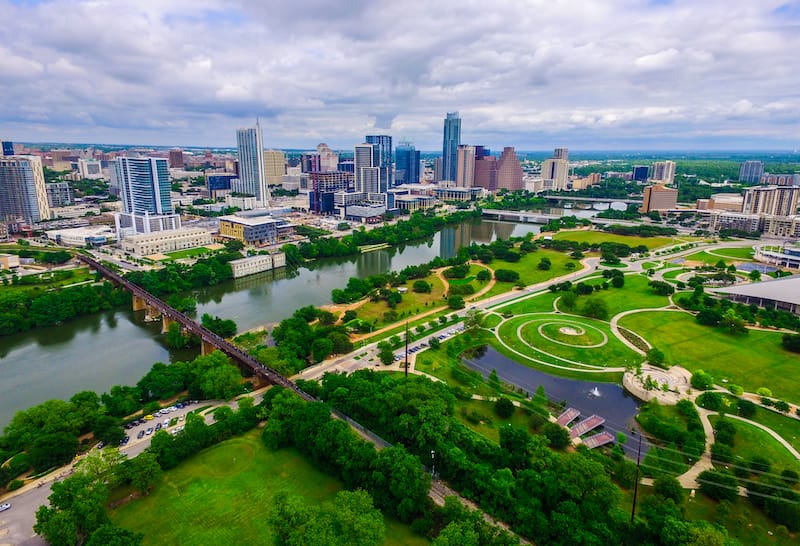 And with its abundance of outdoor activities (don't forget to put Barton Spring on your Austin itinerary if it is a hot day), street art, indie cafes, and museums (many of which don't cost a dime), you're unlikely to run out of fun-filled things to do here.
9. Davy Crockett National Forest in Kennard
Just under 3 hours east of Dallas sits the incomparable Davy Crockett National Forest. The appeal? 160,000 acres of unspoiled woodland and everything you'd expect to find in such an expanse of east Texas wilderness!
There are 50-miles of horse-back riding trails, hiking opportunities galore, pristine picnic spots, and even places to swim, fish, and take a boat out onto the water. Oh, and when deer season swings around, it becomes a popular hunting destination too.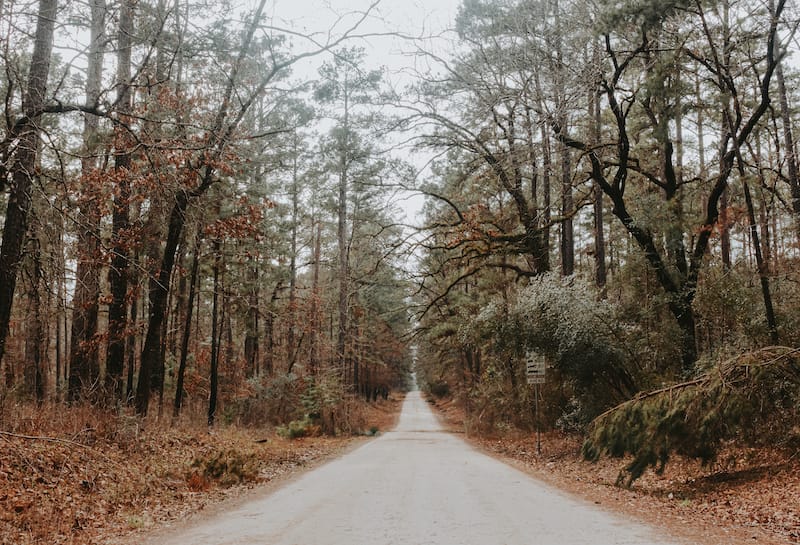 Ultimately, Davy Crockett National Forest is a haven for all outdoor enthusiasts, making it a must-do day trip from Dallas if you're desperate to immerse yourself in nature. Come here to relax, unwind, escape city life and breathe in the fresh air.
Likewise, with numerous campsites dotted around the forest, you may decide (and we'd strongly encourage you!) to stay here longer than planned!
10. Waco
If you ever pass the time in front of HGTV and "Waco" sounds familiar, then it's probably because you've been watching "Fixer Upper"- the popular show that's filmed there! Indeed, humble Waco's seen an influx of visitors for this very reason!
Following in Joanna and Chip Gaines' (i.e. the hosts of Fixer Upper) footsteps isn't the only motive to wander around Waco, though.
Full of history, not only was it a final resting place of Woolly Mammoths (their fossilized remains were discovered as recently as 1978), but it's also where Dr. Pepper first set up shop!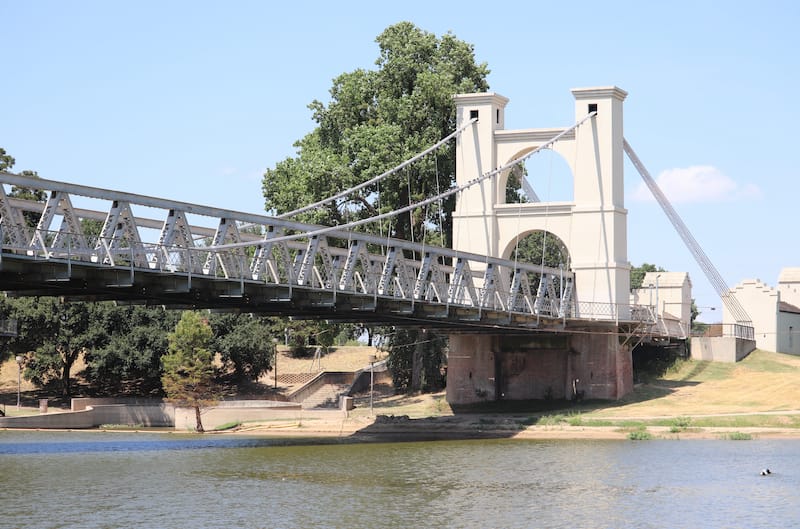 To immortalize both mammoth events, there's now a National Monument for the Mammoths and a Dr. Pepper Museum for people to peruse at their leisure.
And if those attractions aren't enough to compel you to drive the 1+ hours to Waco? Maybe the Magnolia Market, craft breweries, and Texas Sports Hall of Fame will be!
11. Dinosaur Valley State Park
Dallas-based dinosaur lovers are guaranteed a good time at the Dinosaur Valley State Park. Not only is it a mere 90-minutes from the city (head southwest down the US-67 S!), but this beautiful state park also boasts physical evidence of dinosaurs!
For example, in the right conditions, you'll see Acrocanthosaurus tracks perfectly preserved in the Paluxy River bed that are millions of years old.
The giant (and somewhat tacky) dinosaur statues that greet park visitors are sure to go down a treat with the kids as well! Don't worry if dinosaurs aren't your thing, though.
Hiking, biking, swimming, and horseback-riding opportunities abound in this neck of the woods. Then, if you grow tired of the outdoor pursuits, you can pop over to the cool town of Glen Rose to sample the various attractions on offer there too!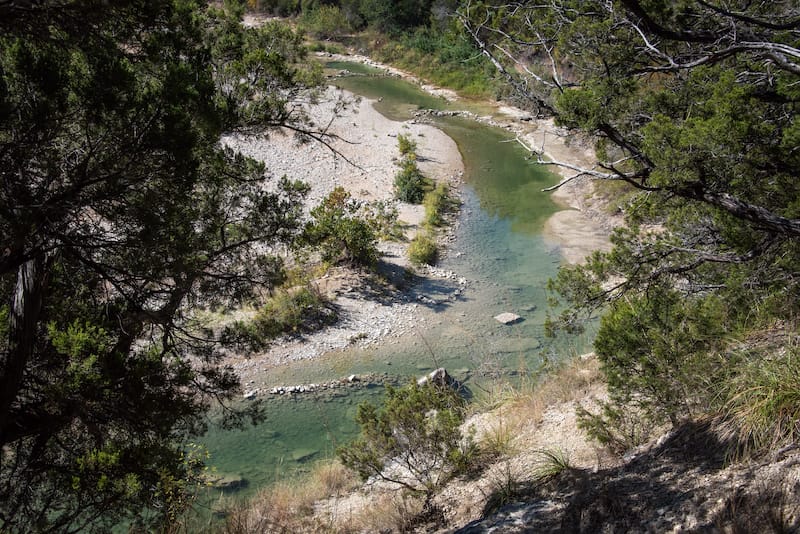 All told, Dinosaur Valley State Park and the surrounding area is an unmissable place to visit and a fitting place to bring this post about the best day trips from Dallas to a close…
There you have it, then: some awesome day trips from Dallas! As you can tell, for all the wonderful opportunities available in this famous Texas destination, there are countless more on the Big D's doorstep.
You can hop in the car, drive a few short hours in any direction and end up somewhere totally new, unique, and jam-packed with its own unmissable things to see and do.
Have you been looking for Dallas day trip ideas to take in the near future? Well, we hope the suggestions in this article have shed useful light on what's available!
In reality, we've only scratched the surface of all the amazing places to visit in the vicinity of Dallas. Head to any of the options above, though, and you're guaranteed to have a good time.
Pin this Dallas Day Trips Guide