If you enjoy paddling your way through scenic areas on beautiful calm waters, you'll love canoeing in Illinois.
The state has several rivers and lakes that stretch miles, including the Great Lake, so there's a lot to explore. These rivers all have different trips with other activities to be experienced on these bodies of water.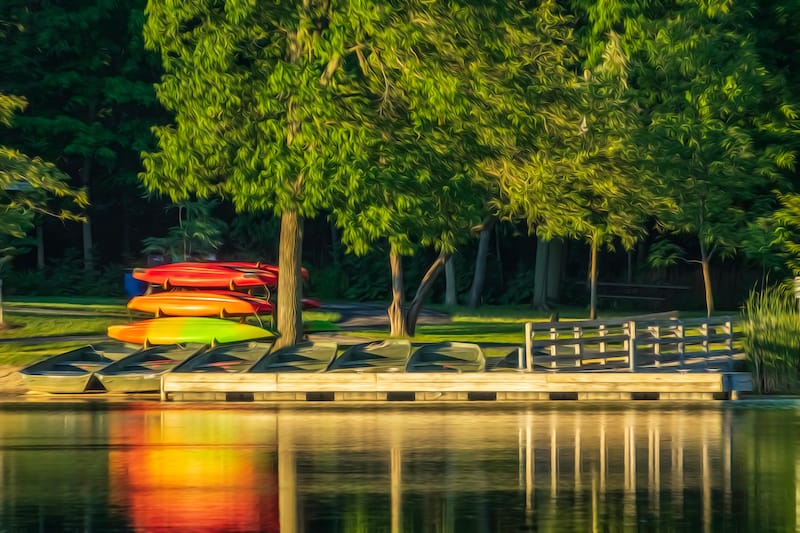 This presents a catch-22. People have only ±16 active hours a day, making it difficult to do all these trips, even if you had a month.
Additionally, all trips offer different experiences which can be bad or good, depending on your expectations and your canoeing skill. As such, it's easy to make the wrong choice and ruin your canoeing fun.
Luckily, this guide exists to steer you in the right direction on all things to help you plan an Illinois canoeing trip.
You'll learn about the state's best rivers and where to rent canoes if you don't own a hardshell or blow-up canoe. It will also teach you what state laws apply to canoeing, whether you're coming in from Chicago or the southern part of the state.
Canoe Trips in Illinois
There are a number of canoeing trips in Illinois that one can enjoy. These trips can be fun for the family, a group of friends, or solo paddlers. Here's a list of the best rivers that provide a great experience.
Kankakee River
The state's Kankakee river is famous for being one of the cleanest Midwest rivers. It's a class 1 river that's calm and is ideal for inexperienced people who're interested in canoeing in southern Illinois.
A trip on this river is as scenic as they come, as it allows you to see large oak trees and wildlife.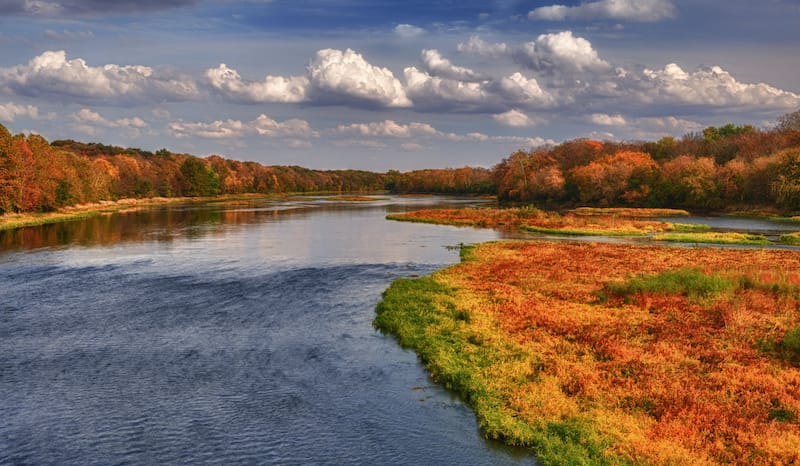 When paddling through the river, you can see deer, raccoons, beavers, various birds, and other wildlife. Those interested in fishing can pull out their rods and possibly reel in a catch including catfish, bass, and pike fish.
Kishwaukee River
This 63-mile-long river is another of Illinois' famous rivers. It makes for a scenic canoeing trip between different types of trees and plants and is home to many wildlife. It flows into Rock River which you can continue your journey along.
The water is on the calmer side which makes it good for beginners. It's also good for intermediate canoers and improving your skill since it has plenty of put-ins and take-outs.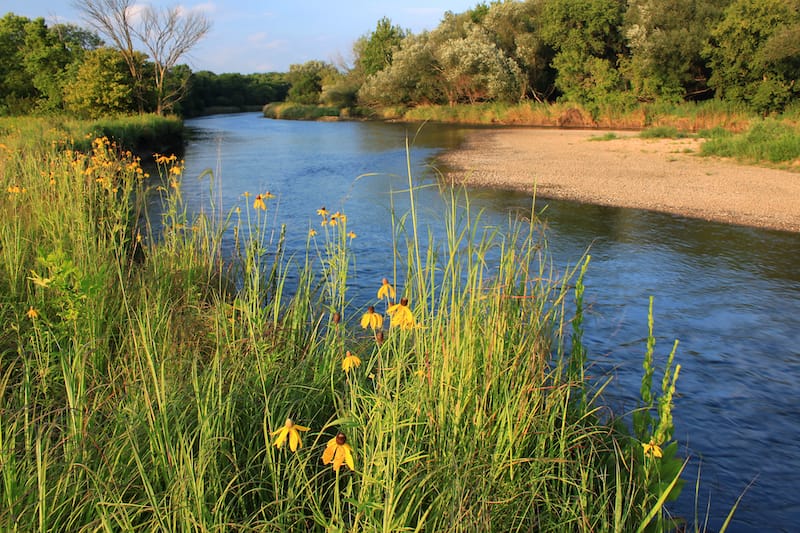 It flows through nature reserves and parks which you can explore when taking a break from canoeing.
Mississippi River
This Mississippi river is one of the longest rivers in the US and is historically significant, especially in Native American history. The river has a number of natural pools and as a result, the water is calm and great for novice canoers.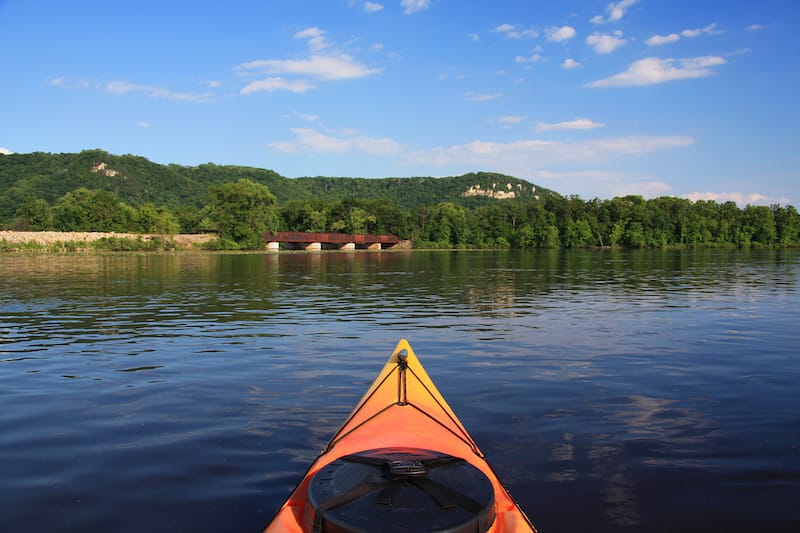 It's ideal for multi-day trips with family or a group of friends due to the many parks found along the river. You can have picnics, hike the parks and enjoy overnight camping stays surrounded by nature.
Rock River
This scenic river has plenty of wildlife for canoers to see. It stretches over 300 miles and is a gentle river that is great for both beginners and experienced paddlers. You'll paddle your way through sensational bluffs and pine stands with the chance of seeing several bird species.
It's great for single-day or multi-day trips. There are a number of campgrounds you can camp in and it also has a hiking trail you can enjoy.
Amongst the wildlife in the area, the great white pelican is frequently sighted. This makes the river a great trip for any and everyone.
Illinois River
The river, named after the state, is great for a single-day or multi-day journey as it stretches 273 miles.
It's situated around the Starved Rock State Park and has plenty of wildlife that can be sighted during your journey. It's a mild current river that's ideal for intermediate canoers but beginners can canoe there too.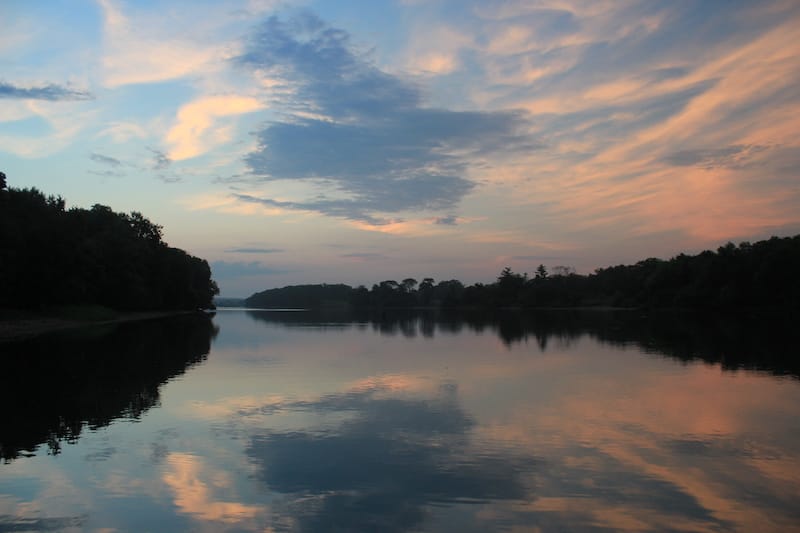 There are a number of campgrounds where you can set up your tent before falling asleep under the starry sky. This includes the Marshall State Wildlife Area which is home to animals such as muskrats, minks, and the blue heron.
Anglers can also look forward to catching catfish, crappie, bullhead, and other fish. This is a fantastic weekend trip from St. Louis and many other places.
Canoe Rental Illinois
What's that? You would love to explore these rivers but you don't own a canoe? That's okay, you can buy a hardshell or inflatable canoe and get to paddling. You're not ready for that commitment?
That's okay too. Thanks to the canoe rentals in Illinois provided by several outfitters, that problem is a drop in the ocean.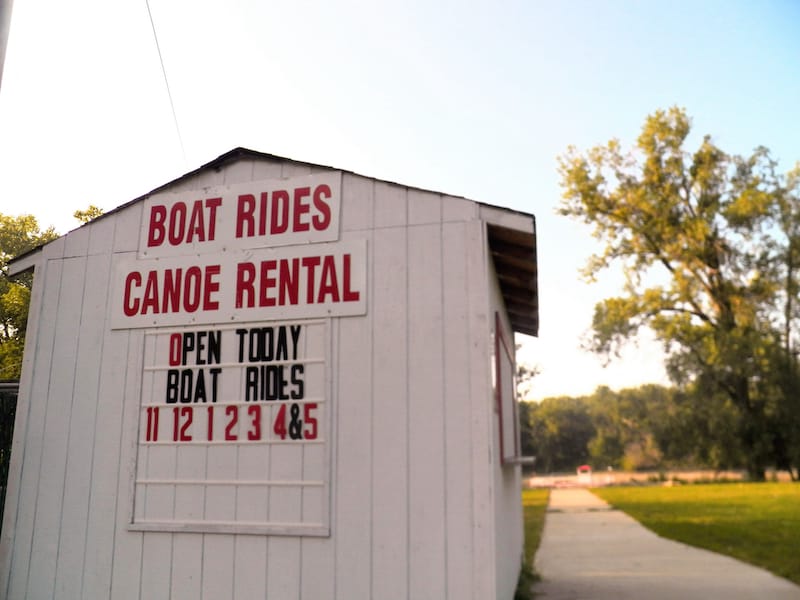 Most of these outfitters also offer value-added services that will make your canoeing experience even better. Here's a list of outfitters that rent out canoes for the rivers mentioned above.
Please note: These are not tour companies and they do not provide guides.
Reed's Canoe Trips
Reed's offers three different rental options for the Kankakee River. They rent out canoes to groups of all sizes. They provide all the necessary equipment, including lifejackets, and transportation to and from your launching point.
All ages are welcome to ride the rented canoes except for toddlers under 3 years of age.
Check out the pricing on their website.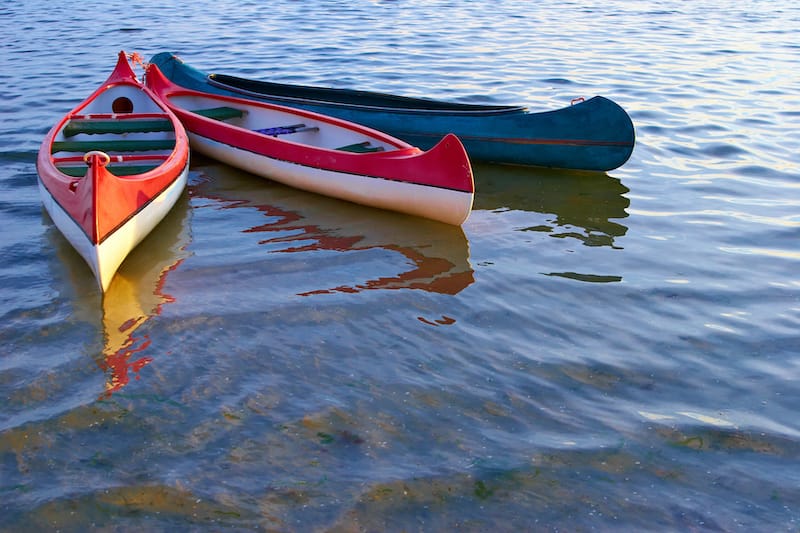 Larsen's Landing Outfitters
Located in Southern Rockford, Larsen's Landing Outfitters has two open fields nestled within the trees for any post-canoeing activities. The company accepts all group sizes and can rent out canoes for 2 to 100 people.
Their canoe rentals include all necessary equipment and transportation to your launch point. Additionally, they offer specialized outfitting with boxed lunches and a picnic after the trip. Your group will also get breakfast if they opt to camp at the Landing.
You can check out their rates on their website.
CW Outfitting
CW Outfitting rents out canoes, along with all necessary equipment, and provides transportation for small and large groups. They rent out canoes for single-day and multi-day use.
You can find their prices on their website.
White Pelican, Inc.
The White Pelican outfitters rent out canoes, and other necessary equipment, for day and overnight trips. A multi-day trip rental can also be arranged on request from you. They also offer shuttle services to and from your launch point.
You can contact them for their rates on their website.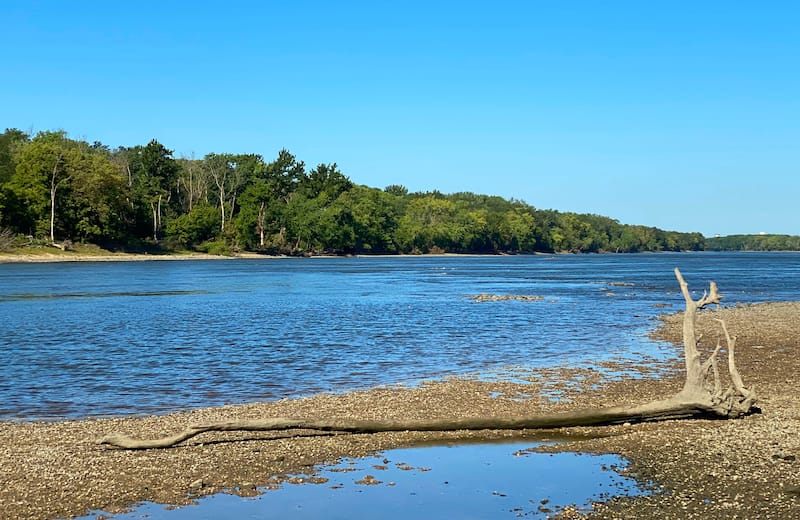 C and M Canoe Rental
This outfitter has 17 feet canoes, along with complementary equipment, on offer for rental. They also have transportation on offer from and to the launch point on the Fox River. The Fox River flows into the Illinois River.
They can arrange canoes for 1 to 100 people and they recommend booking the canoes for two weeks in advance.
You can find their rates on their website.
Illinois Kayaking Laws: How They Apply to Canoes
Illinois has laws on boating that apply to all watercraft, including canoes to a certain extent. These laws are centered around licensing, age, controlling a watercraft while intoxicated, life jackets, and more.
Paddle-controlled canoes, kayaks, and paddleboards are classed as unpowered vessels and therefore some laws don't apply to them.
A paddler doesn't need a license to operate an unpowered vessel. Kids that are 10 years old or younger aren't allowed to operate a motorized canoe.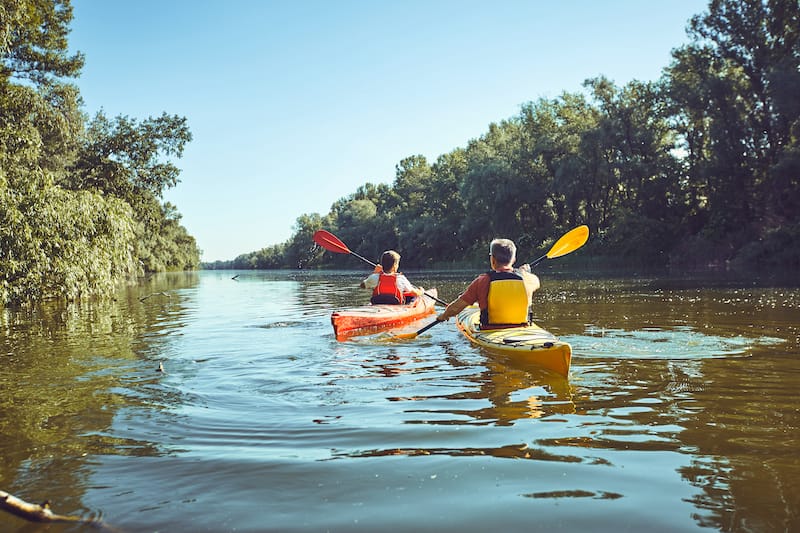 Those between 10 & 12 can only do so under adult supervision. Those between 12 & 17 must have completed a boating safety course and received a boating safety certificate. They also have to be under direct adult supervision.
Additionally, no persons are allowed to operate a watercraft under the influence of drugs – including alcohol. A person is under the influence if they have 0.08% or more alcohol in their blood.
You can also get a DUI for any amount of a controlled substance or intoxicating compound in your system.
There are penalties for boating DUIs that depend on the number of offenses. The first offense has a $2 500 fine and/or 1 year in jail. A second offense requires the offender to complete a safe boating course. It's a class 4 felony with a 3-year prison stay and/or $25 000 fine.
If the offender causes injury, they may be charged with a class 4 felony and a fatal injury fetches a class 2 felony charge.
You can find the complete list of laws, including lighting, life jackets, on Illinois' Department of Natural Resources website.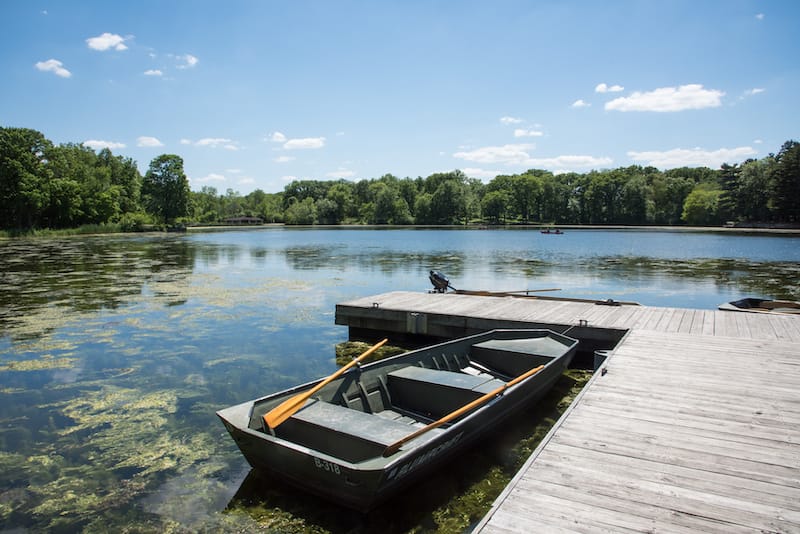 Illinois Canoe Registration
According to the Illinois Department of Natural Resources (DNR), unpowered vessels like canoes don't have to be registered. Canoes with trolling motors are an exception as they become powered vessels and therefore need to be registered.
You can register your canoe on the DNR's official website.
Canoeing in Illinois: A Fun-Filled Experience
As you can see, canoeing in the Prairie State is pretty great. There's an Illinois canoe trip for everyone, whether young or old, experienced or a beginner. There are also a number of complementary activities to do, such as fishing.
There are plenty of rivers and parks to explore during a single-day or multi-day expedition. This can be done using your own canoe or one rented from the several outfitters available. Just remember to do everything by the law so the fun doesn't stop.
If you've enjoyed reading this, let us know in the comments if we've missed any of your favorite Illinois canoeing spots.
More Illinois Travel Guides
Pin this Canoeing and Kayaking in Illinois Guide