Tucson is one of Arizona's most popular cities, home to a variety of cultural sites, museums, restaurants, and of course, plenty of outdoor adventures. These are the best things to do in Tucson AZ!
Are you planning your trip to Tucson last minute?
If youʻre booking your trip to Tucson last minute, we have you covered. Below are some of the top tours, hotels, and more!
🇺🇸 Top Experiences and Tours in Tucson:
🛌 Top Hotels in Tucson:
Lodge On The Desert (has a pool!)
🚗 Visiting Arizona independently? Be sure to book your rental car ahead of time to ensure availability!
Also known as "the soul of the Sonoran Desert," whether you're a foodie or you want to explore the hot desert, there's more than enough to keep you occupied when traveling to Tucson!
Check out the many restaurants that capture the flavors of the Southwestern US, learn more about the city's Spanish heritage, and explore some of America's best national parks.
In this article, we've compiled a list of the top attractions in Tucson, including canʻt-miss landmarks and more! Lets us know your favorite places to visit in Tucson in the comments. Thanks!
Best Things to Do in Tucson
1. Check Out the Tucson Breweries
Tucson's booming craft beer scene deserves special attention, so whether you are a beer lover or not, exploring a few of the town's at least 20 breweries promises an unparalleled experience.
Borderlands Brewing Company is one of the leaders in the Southern Arizona brewing community that offers Prickly Pear Wheat, Noche Dulce Vanilla Porter, and many other wonderful beers that are perfectly paired with street tacos from their on-site food truck.
Being one of Arizona's earliest craft breweries, Barrio Brewing Company is known for its 12 house-brewed fresh beers on tap and delicious menu.
Tucson's local brewing culture wouldn't be complete without a family-owned 1912 Brewing Company that makes its unique assortment of exceptionally outstanding beers using local ingredients and stand out with its signature sours.
2. Escape to Mount Lemmon
With sweeping views all around, Mount Lemmon offers a serene outdoor escape. Being one of the Sky Islands in Coronado National Forest, this 9,171-foot giant is the highest point in the Santa Catalina Mountains.
The winter months make Mount Lemmon Ski Valley a real winter playground by providing 22 trails for skiing and sledding. Regardless of whether you have a weekend in Tucson or more, checking out Mount Lemmon is a must!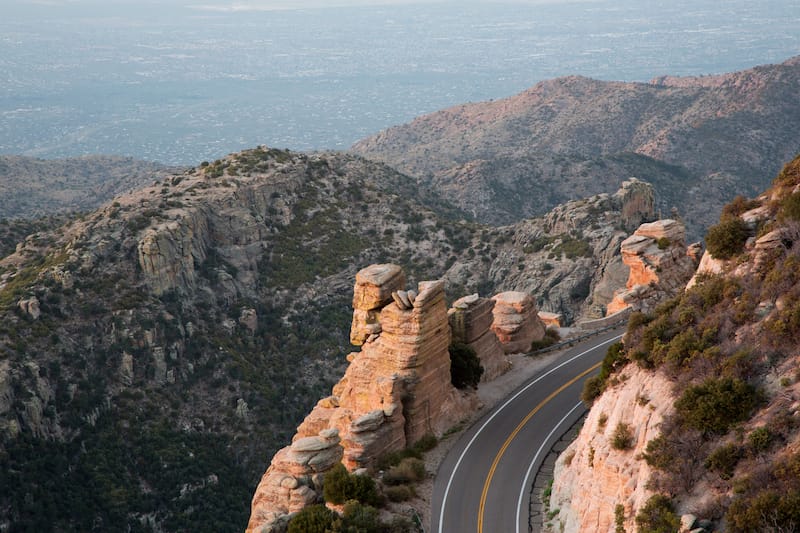 Take in the breathtaking views by driving 26-mile Mount Lemmon Scenic Byway, enjoy more than 2,000 rock climbing routes, hike Butterfly Peak Trail or Meadow Trail, camp in one of 5 Mount Lemmon campgrounds, or experience the thrill of cycling up the mountain along Catalina Highway.
Just note that a few of the stunning areas do require either a Coronado Recreational Pass or a National Pass/America the Beautiful Pass.
3. Stroll through the Tucson Botanical Garden
If you ask locals what the must-see attractions in Tucson are, chances are the Tucson Botanical Garden will make their top five list. This 5-acre complex operating since the 1970s consists of 16 individual gardens.
Here you can marvel at tropical butterflies from around the world at the Cox Butterfly & Orchid Pavilion, let the kids loose at Children's Discovery Garden, learn about the area's diverse native flora in the Cactus & Succulent Garden, take a relaxing stroll through Zen Garden, and so much more.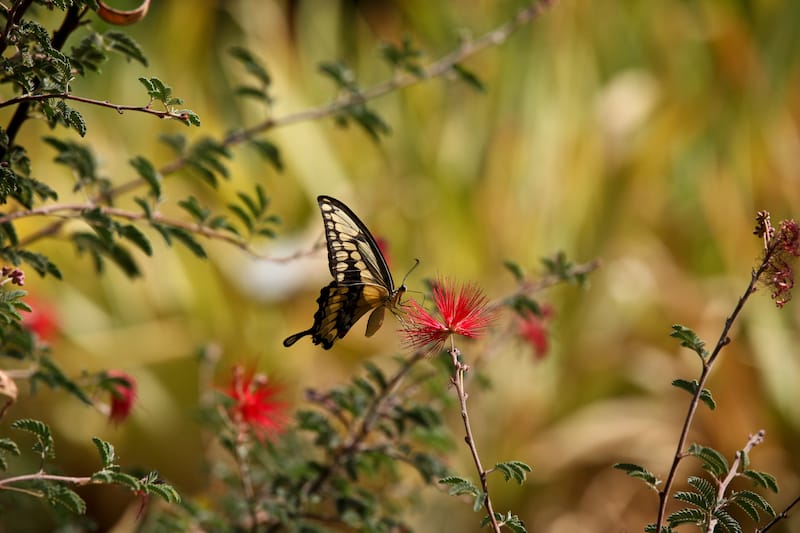 Everyone can take part in the tours that are offered throughout the year or community classes to learn gardening, watercolor technique for botanical art, the reasons birds migrate, and many other exciting topics.
The garden is open seven days a week with general admission of $15 for adults and $8 for children.
Address: 2150 N Alvernon Way, Tucson, AZ 85712
4. Visit the Mini Time Machine Museum of Miniature
Visit the Mini Time Machine Museum of Miniature, and you'll feel as though you're in a scene from Gulliver's Travels.
The museum features 10,000 square feet of state-of-the-art exhibit space, which showcases antique dollhouses dating back to 1742, miniature houses, room boxes, historical figures, snow villages, Bugatti Type 57SC coupes, fairy castles, among other awe-inspiring miniatures from many captivating exhibits.
The museum is open Tuesdays through Sundays from 9:00 a.m.-4:00 p.m. with general admission of $11.50.
The main highlights are Silver Queen Collection Cameo, Weaving Studio Collection Cameo, Colonial Room Collection Cameo, and many other stunning collections.
Make sure to check out the Museum during HalloWEEn and Wee Winter Wonderland to encounter fantastic creatures. Before leaving, don't forget to browse through the gift shop to take home a piece of miniature art with you.
Address: 4455 E Camp Lowell Dr, Tucson, AZ 85712
5. Do the Tumamoc Hill Hike
Adventure lovers shouldn't miss hiking challenging Tumamoc Hill, which is home to the University of Arizona Desert Laboratory.
This 3.1-mile out-and-back concrete trail packed with lovely wildflowers, iconic cacti, rich wildlife, and interpretive plaques serves as a popular exercise site for locals and tourists alike.
So expect to see many other walkers, runners, and hikers.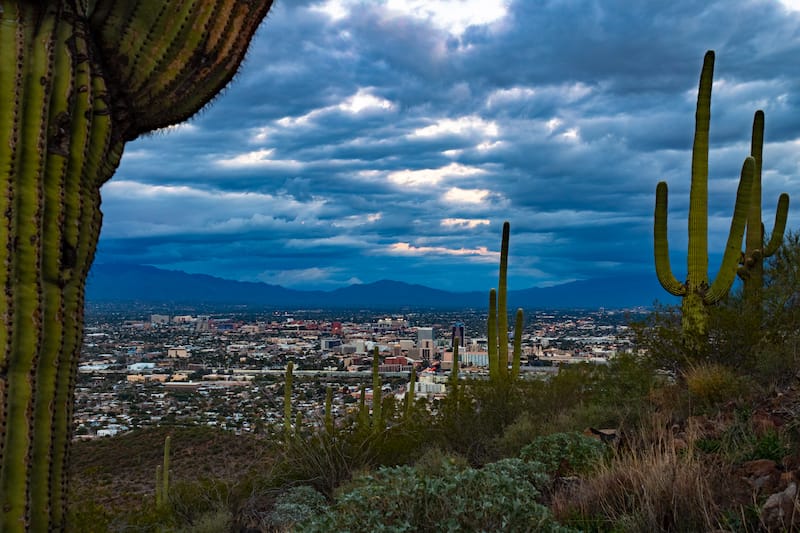 The 700-foot rise in elevation over 1.5 miles makes it quite a challenging hike, but the final panoramic views of downtown Tucson and surrounding mountains are well worth the effort.
The trail is open year-round from 4:00 a.m. to 10:00 p.m., but the perfect time to visit is October through April.
Park your car on the street along Anklam Road and head hiking up the hill that promises a good intense cardio workout along with spectacular views.
6. Search for the Best Mexican Food
Your Tucson trip won't be complete without appreciating Tucson's rich Mexican food legacy.
The Best 23 Miles of Mexican Food offers a wide range of dining options that will make you indulge your taste buds with the best Sonoran-style Mexican food north of the border.
El Charro Café is the nation's oldest family-owned Mexican restaurant that claims to be the place where chimichanga (a deep-fried burrito) was invented.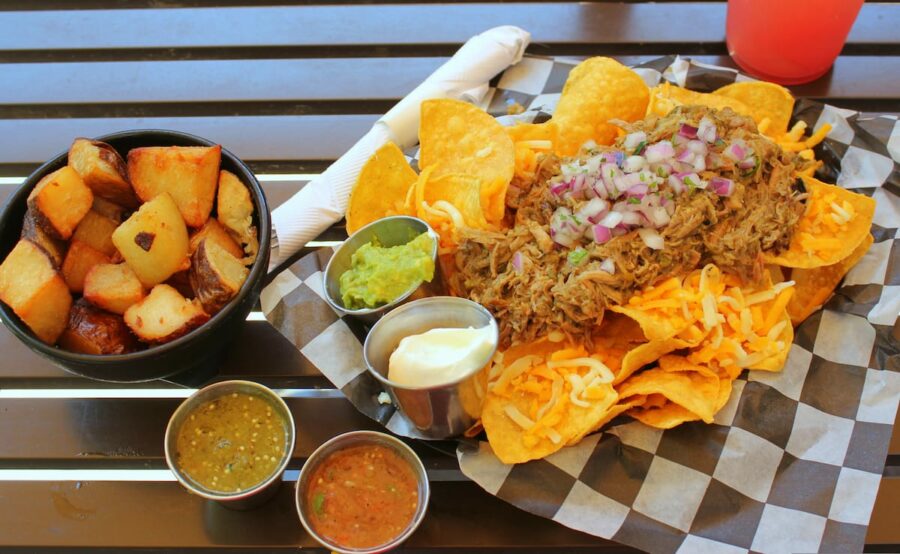 Another noteworthy one is El Berraco, where you will feel as if you're in a submarine surrounded by scuba diving helmets and savoring fresh seafood inspired by Latin cuisine.
Experience smells and flavors of iconic Mexican street food in Seis Kitchen which stands out with its popular burritos spiced up with signature homemade chipotle sauce.
7. Explore Saguaro National Park
Located a 30-minute drive away from Tucson, Saguaro National Park will reward you with the dramatic beauty of the Sonoran Desert. Established in 1933, the park is named for the gigantic indigenous cacti (saguaro) that are sprinkled throughout the park.
The park features 91,327 acres of land, which is divided into two sections: the Rincon Mountains from the east and the Tucson Mountains from the west.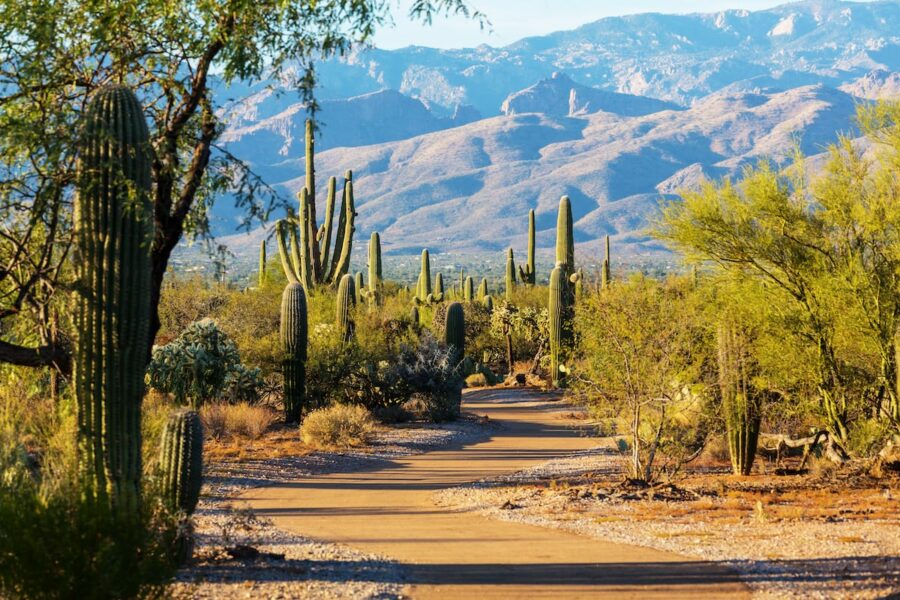 Each section offers a visitor center, majestic cactus forests, and miles of trails for hiking, mountain biking, horseback riding, and spotting wildlife, such as Gila woodpeckers, desert tortoises, jackrabbits, and more.
You can also take a scenic drive along the Cactus Forest Scenic Loop Drive or camp in nearby Gilbert Ray Campground.
The park is open daily from 7a.m. to sunset for a $15 one-week admission fee per car.
8. Discover Tohono Chul Park
Founded in 1985, Tohono Chul Park is another botanical garden that will make you experience the nature and culture of the Sonoran Desert region.
The 29 acres of the park are home to a wide range of themed gardens, including a Hummingbird Garden, Children's Garden, Performance Garden, and more.
Take part in a daily tour to admire over 500 diverse species of plants or learn more about Sonoran Desert's rich flora and fauna while walking along Saguaro Discovery Trail, South Loop Trail, or Desert View Trail.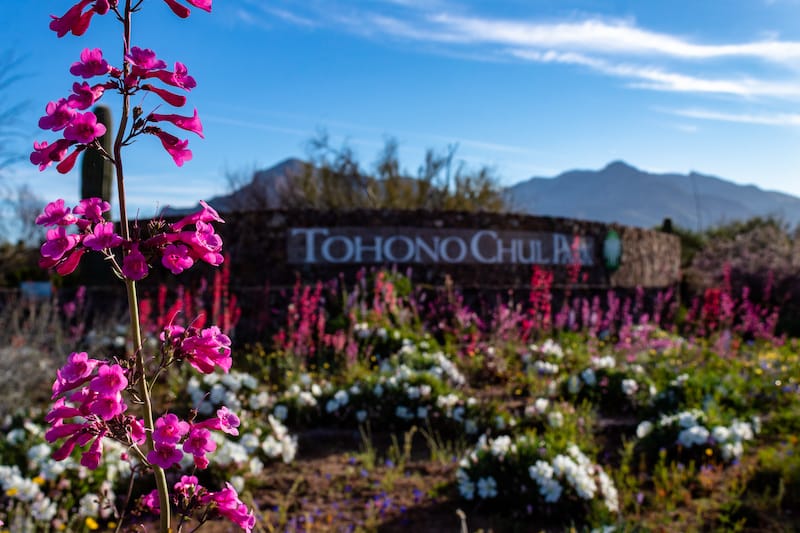 You can also find several permanent artwork collections throughout the park, showcasing eye-catching masterpieces from Ned Egen, Steven Derks, Fred Borcherdt, and others.
Charming art galleries featuring Southwestern artwork make this park a real cultural gem.
After touring this lovely outdoor oasis, pop over to Garden Bistro, which serves delicious fare inspired by the Sonoran Desert.
Address: 7366 N Paseo Del Norte, Tucson, AZ 85704
9. Go Underground at Colossal Cave Mountain Park
Colossal Cave Mountain Park, home to one of the largest dry cave complexes in the United States, is the perfect place to experience an authentic Wild West vibe and immerse in endless Sonoran Desert vistas.
Depending on how much of an adventure lover you are, you can book one of the following guided tours: a half-mile family-friendly Classic Cave Tour, Ladder Tour to get through the cave's secret sections, and a 3.5-hour Wild Cave Tour to explore the cave's deepest and darkest corners.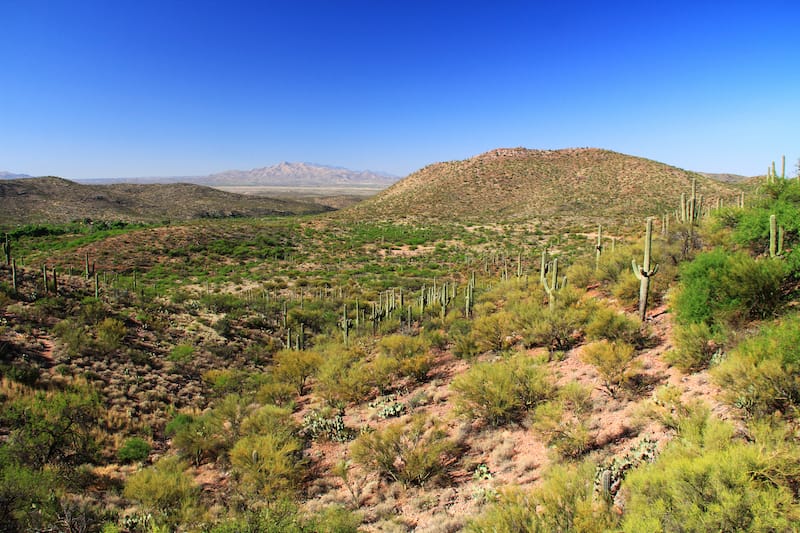 If you prefer to stay above the ground, this 2,400-acre park offers scenic trails for hiking, running, mountain biking, and horseback riding, as well as the Terrace Café, picnic areas, petting zoo, butterfly garden, wagon rides, and campsites.
The park is open daily from 8 a.m.-5 p.m., with an admission fee of $18 for adults and $9 for children.
Address: 16721 E Old Spanish Trail, Vail, AZ 85641
10. Shop at the St. Philips Farmers' Market
Get a real taste of the area's local produce at the St. Philips Farmers' Market, nestled at award-winning St. Philip's Plaza near downtown Tucson.
Serving the local community and visitors alike for over 20 years, here you can find more than 60 vendors offering fresh fruits and vegetables, flowers, soaps, cheese, jams, nuts, hand-roasted coffee, eggs, fresh salmon, grass-fed beef, arts & crafts, and more.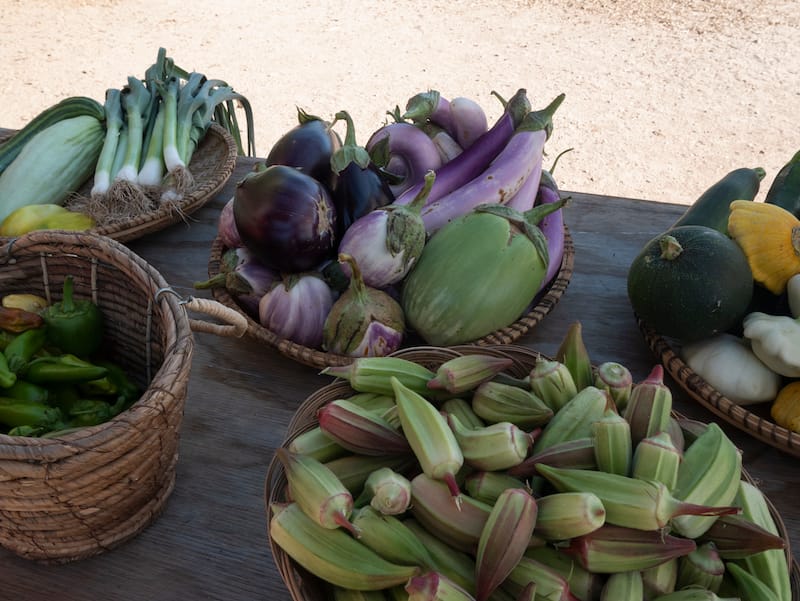 The farmers' market is open on Saturdays and Sundays from 8:00 a.m.-12:00 p.m. during the summer and 9:00 a.m.-1:00 p.m. during the winter.
After browsing through the market, you can enjoy dining, shopping, live music, and personal celebrations right in the heart of St Philip's Plaza.
Address: 4280 N. Campbell Avenue, Tucson, AZ 85718
11. Get Refreshed at Kennedy Lake
After exploring the city, it's time to immerse in tranquility at the small, man-made Kennedy Lake.
Tucked away in J.F Kennedy Park, these 10 acres of parkland are the perfect place for friend and family hangouts as they offer group ramadas, picnic tables, grills, playgrounds, benches, and sports fields.
Please note that swimming and wading are prohibited in the lake.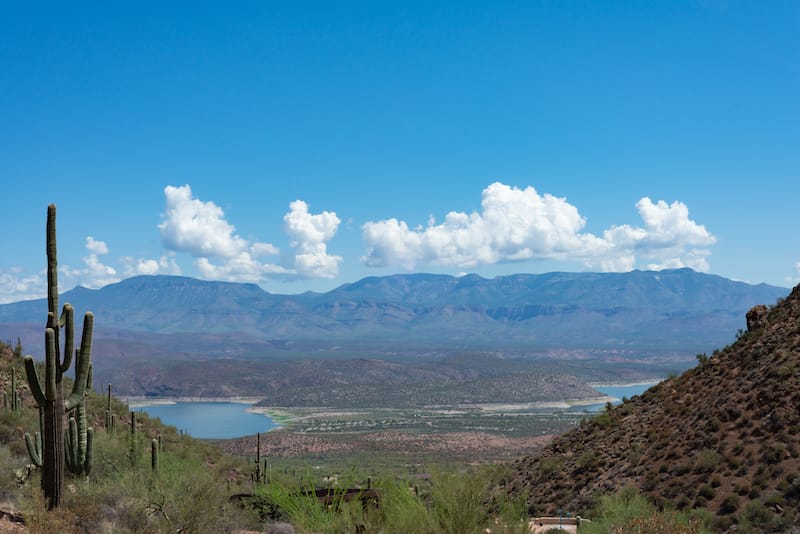 Fishing is the most popular activity here as the lake is stocked with catfish, white amur, trout, bass, sunfish, and carp, so you can certainly bet on your next great catch.
Canoeing and boating are also available on the lake for those who prefer to take in stunning views from the water.
12. Travel Back in Time to Old Tucson
Have you ever watched a Western movie and wished you could be there? Old Tucson gives you the chance to experience a piece of old Western history.
Nicknamed "Hollywood in the Desert," it was once the main hub for filming classic Western movies.
The set was originally built in 1939 by Columbia Pictures and served as a backdrop for more than 400 films and TV shows, like El Dorado, Arizona, etc.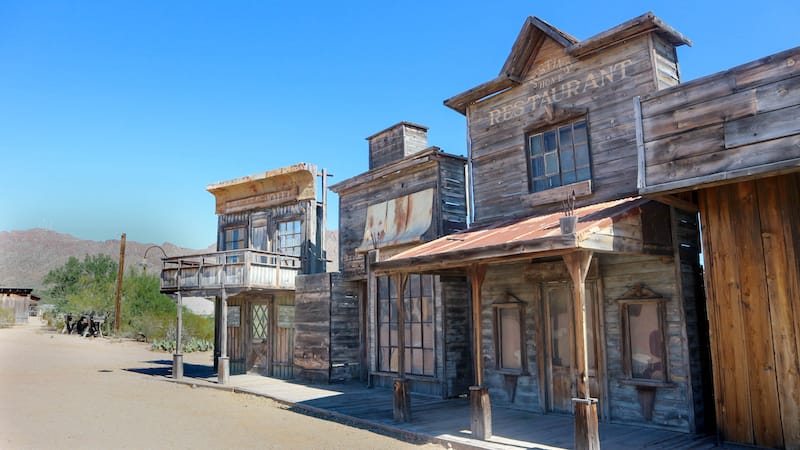 With a general admission of $19.95, you can completely indulge in the Wild West atmosphere, visit superb Old Tucson Studios, enjoy historic film tours, head down into the iron door mine, see replica saloons, and witness reenactments of gunfights.
Taking a stagecoach ride, shooting at Dead-Eye Dan's Shooting Gallery, or panning for gold for an extra fee will guarantee an uncompromising experience.
Old Tucson is temporarily closed, but it will open soon with a new operator.
Address: 201 Kinney Rd, Tucson, AZ 85735
13. Get Inspired at Sabino Canyon
Nestled at the base of the Santa Catalina Mountains in Coronado National Forest, Sabino Canyon will treat you to sweeping views of unusual desert vegetation, riparian corridors, and majestic rock cliffs.
The canyon is home to Sabino Creek, stunning waterfalls, and scenic trails that allow hiking, walking, and horseback riding, so you can take in magnificent views and explore rich flora and fauna.
Make sure to hike the Seven Falls Trail which will take you from the desert to Bear Canyon, where you can even take a dip in natural pools.
Those not into hiking can hop onto the Sabino Canyon Tram for a 4-mile narrated tour that will make you experience the canyon through nine stops along the way.
14. Learn More at Fort Lowell
If you're looking for a historical site where you can dig deep into the area's rich heritage, a visit to Fort Lowell is a sure bet.
Being part of Fort Lowell Park, Fort Lowell was constructed in 1873 and was mainly used as a United States Army post until 1891 to protect Tucson against the Apaches.
With free admission, the museum gives you an opportunity to ​​try your hand at crafts, witness unique artifacts, and immerse yourself in military life during territorial days.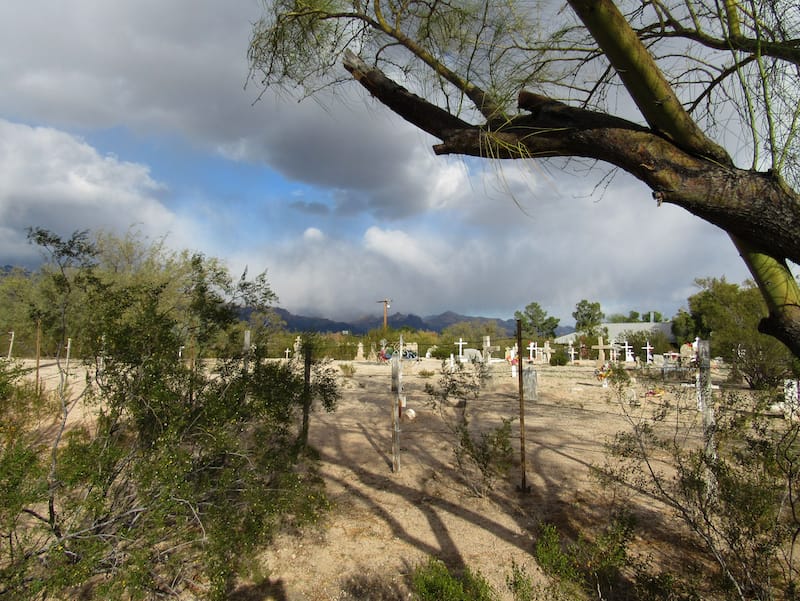 Being operated by the Arizona Historical Society, the museum is open Thursday through Saturday from 10 a.m.-4 p.m.
After touring the museum, you can head to explore the park, which features Hohokam sites, a duck pond, sports fields, picnic facilities, a swimming pool, and a playground.
Address: 2900 N Craycroft Rd, Tucson, AZ 85712
15. Get Fueled Up at Exo Roast Co.
Exo Roast Co. is the perfect place to get your caffeine fix. Operating since 2009, it has been a small-batch coffee roaster that offers specialty coffee, baked goods, and locally sourced breakfast.
Enjoy your breakfast in the outside seating area, which they like to call "Corbett Porch," or if you don't have much time, you can take your delicious grab-and-go coffee with you.
Order their must-try Savory Egg Sandwich, Kimchi Bowl, or Breakfast Tacos, and you will want to start your every morning in this cozy corner.
Exo also allows you to get your coffee fresh at your doorstep monthly or bi-weekly by choosing one of the following subscriptions: "One Time Coffee Purchase," "Regional Subscription," or "Roaster's Choice Subscription."
Address: 403 N 6th Ave, Tucson, AZ 85705
16. Shop and Eat on 4th Avenue
Fourth Avenue, known to locals as "Fourth," is a well-known street that draws many visitors with its eclectic shopping and dining scene.
Go on a vintage treasure hunt in Desert Vintage, head on over to BLX to find the perfect skateboard, get a unique tattoo at Sacred Art Tattoo, find hard-to-find books at Antigone Books, and savor authentic Mexican cuisine in La Indita.
Make sure to take part in the iconic family-friendly Fourth Avenue Street Fair, held every year in the spring and winter, which hosts local entertainment, delicious carnival food, and artists from around the globe.
Diverse bars and nightclubs on this street, like Medusa, Plush, and Sky Bar, really spice things up in the evenings, where you can catch a drink and dance till the wee hours.
17. Stargaze at Kitt Peak National Observatory
Established in 1964 and home to the world's largest collection of research telescopes, Kitt Peak National Observatory is a real paradise for astronomers.
Nestled high above the Sonoran Desert, it features 27 telescopes, three of which are dedicated solely to public viewing.
Kitt Peak Visitor Center should be your first stop to learn about the day or night programs, awe at hypnotic exhibits, and check out the gift shop.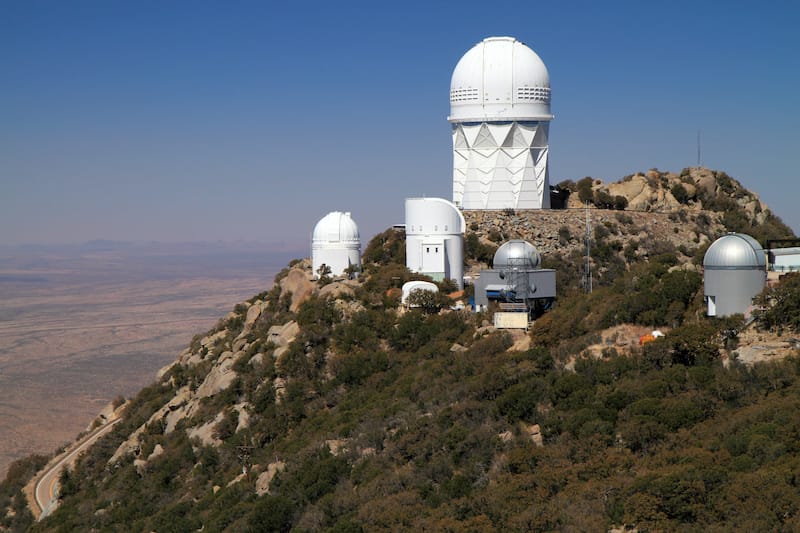 Visitors can tour the observatory grounds through self-guided tours, take part in one of three docent-led tours to get up close and personal with historic telescopes, and even get a behind-the-scenes look at the Kitt Peak's telescopes not available to the public through VIP tours.
Explore the night sky with the Nightly Observing Program or Dark Sky Discovery Program and discover the Moon's mysterious secrets with the Night of the Marvelous Moon Program.
18. Visit the Sosa-Carrillo-Frémont House
Leave the 21st century behind as you enter the Sosa-Carrillo-Frémont House, where you can witness what life and culture were like in 19th-century Southern Arizona. It is one of the oldest buildings in Tucson, built in the 1870s by Jose Maria Sosa.
Often referred to as Carillo House, it was named after the most powerful families at the time it was built.
The Museum allows you to appreciate the real character of the recreated house for free by admiring Sonoran row house design, period furnishings, and special exhibits.
Sosa-Carrillo-Frémont House is now owned by the Arizona Historical Society and features the headquarters of Borderlands Theater Company.
Address: 151 S Granada Ave, Tucson, AZ 85701
19. Check Out the Cathedral of Saint Augustine
The Cathedral of Saint Augustine, located at Stone Avenue, is another architectural gem of Tucson that gives you a glimpse into the majesty of the Roman Catholic church.
Built-in 1896 and restored in the late 1960s, the cathedral is designed in Mexican Baroque architectural style.
The cathedral is free to visit so everyone can get spiritual and admire the stunning architecture both within and outside the church.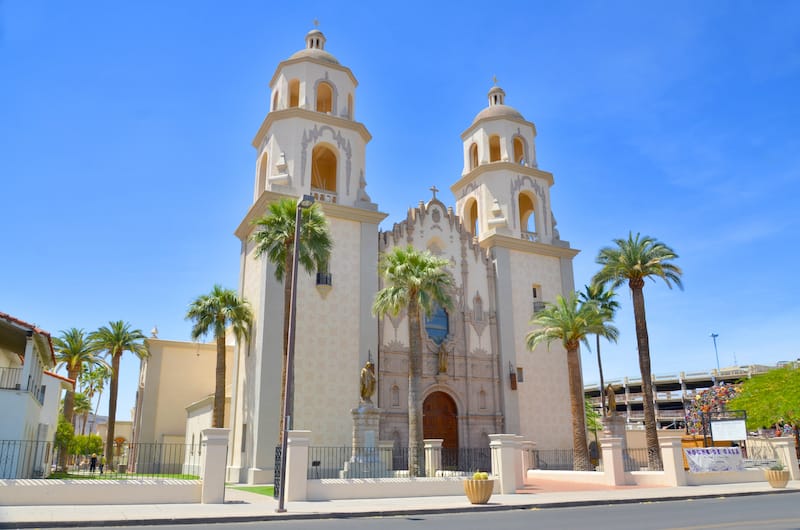 The original stone façade features the intricate coat of arms of Pope Pious XI and carvings of local flora and fauna, such as yucca, saguaro, various cacti, horned lizards, etc.
Inside, you can see sloped floors, one of the original bells from the Spanish-era Presidio San Agustin del Tucson, and an impressive crucifix from Pamplona in Spain dating back to the 12th or 13th century.
Address: 192 S Stone Ave, Tucson, AZ 85701
20. Take a Tour of the Pima Air & Space Museum
The Pima Air & Space Museum is a terrific museum for aerospace buffs.
Being one of the world's largest privately funded aviation and space museums operating since 1976, 80 acres of outdoor display and 250,000-square-foot hangars feature over 400 aircraft and thousands of flight-related artifacts from around the globe.
Six indoor exhibit hangars showcase the rarest and iconic planes from every era, including WWII fighters, John F. Kennedy's presidential plane, Boeing 787 Dreamliner, a replica of a 1903 Wright Brothers Flyer, etc.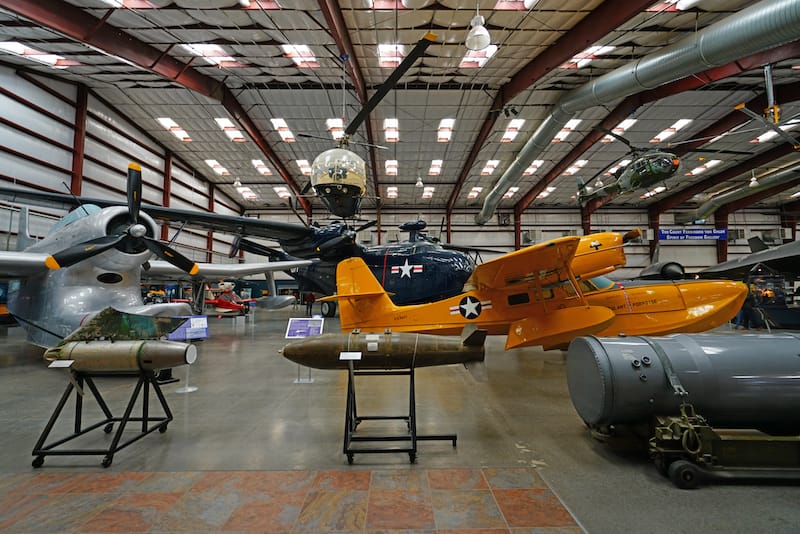 The museum is open seven days a week from 9 a.m.-5 p.m. with regular admission of $16.50 for adults.
Tram tours and private walking tours (not included in the admission fee) led by professional guides are also available to tour the museum.
Address: 6000 E Valencia Rd, Tucson, AZ 85756
21. Stop by San Xavier del Bac
Founded in 1700 by Jesuit explorer Father Eusebio Kino, San Xavier del Bac, also known as the "White Dove of the Desert," is a Spanish Catholic Mission church nestled on the Tohono O'odham San Xavier Native Reservation.
Be ready to marvel at its sacred beauty and dazzling white adobe facade that serves as a great example of the finest remaining Spanish Colonial architecture in the country.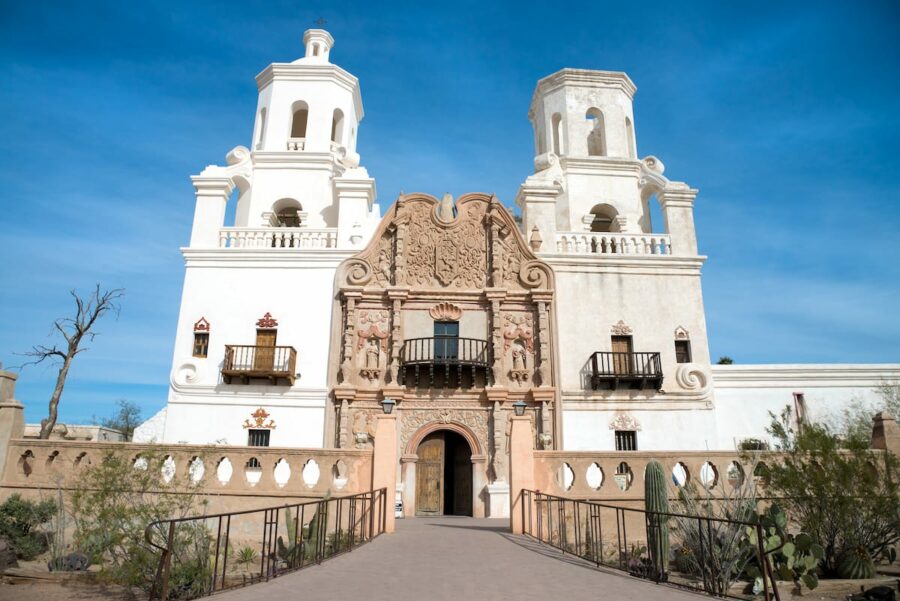 Visitors can first watch a 20-minute video, then walk through the old church to awe at marvelous frescoes, sculptures, paintings, and detailed carvings.
This oldest European structure in Arizona is open to the public daily from 9 a.m.-4 p.m. and draws over 200,000 pilgrims and tourists alike every year.
Address: 1950 W San Xavier Rd, Tucson, AZ 85746
22. Discover the Arizona Museum of Art
Housed on the University of Arizona Campus, the Arizona Museum of Art is the ideal place to quench your thirst for unique art.
The museum showcases over 6,000 exhibits highlighting European and American fine art from the Renaissance period to the present era, including sculptures, paintings, textiles, prints, and hand drawings.
The museum's centerpieces are the Samuel H. Kress Collection consisting of masterpieces from the 14th through 19th centuries;
The Altarpiece from Ciudad Rodrigo displays works from 15th-century Spain; the Robert Priseman Collection;
the Modern Art Gallery including works from the mid-twentieth century; and Xinyu Zhang's "Wander Around" highlighting the role of humans in the technologically-driven world. Please note that the museum is closed on Sundays and Mondays.
Address: 1031 N Olive Rd, Tucson, AZ 85721
23. Have a Picnic at Sentinel Peak
If you want to experience Tucson from another perspective, then you shouldn't miss visiting Sentinel Peak, also known as "A" Mountain, which stands 2,900 feet above the Santa Cruz Valley.
Once serving as a lookout point for Natives and Spanish settlers, it now offers unparalleled panoramic views of Tucson and the Santa Catalina Mountains.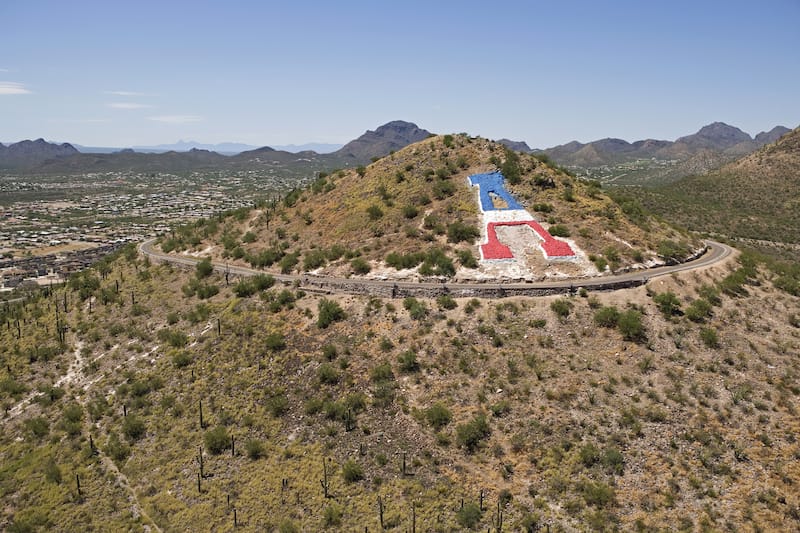 The giant A on the mountain was built by University of Arizona students in 1916, who still organize homecoming celebrations with a ceremonial lighting of the "A" every year.
This park is the perfect place for family picnics, romantic sunset viewing, hiking, biking, walking, or simply driving up and back down along Sentinel Peak Road that encircles Sentinel Peak Park.
24. Visit the Old West at Trail Dust Town
Enjoy a trip back in time to the Old West in Trail Dust Town, which boasts rich dining and a Wild West-themed shopping scene mixed with small town vibes.
Visit the locally owned Pinnacle Peak to savor their iconic Cowboy Steaks in a complete "Old West" atmosphere.
To get a true feel of the bygone era, make sure to hop aboard the nostalgic CP Huntington train, take part in Pistoleros Wild West Show, check out the quaint old carousel, try your hand at panning for treasures at Gabby's Gulch, or test your skills at an interactive rifle "shooting" gallery.
You can also shop for gourmet Belgian chocolates in Chocolate Depot, learn a new magic trick at The Magic Shop, immerse in a spa day at the Peak of Perfection, or pop over to Trail Dust Trading Company to take home a piece of this tiny town with you.
Address: 6541 E Tanque Verde Rd, Tucson, AZ 85715
Best Time to Visit Tucson
Tucson, Arizona is a great place to visit any time of the year because it is almost always warm. With that being said, it's generally advised that you visit between April and May or September and October.
During these seasons, you won't find yourself roasting in the sweltering Arizona heat, and you won't have to deal with as many crowds or expensive accommodations.
In addition, many people from cold states enjoy warming up in the winter season, which still offers visitors plenty to do. It is even the best time to go hiking in Saguaro National Park!
Where to Stay in Tucson
If you are looking for the best places to stay in Tucson, these are some of the top picks in town!
What are your favorite things to do in Tucson? Let us know your top picks and Tucson attractions in the comments. Thanks!
More Arizona Travel Guides
Pin this Tucson Things to Do Guide