Are you searching for something to do and somewhere to go this summer? These are the best places to visit in the USA in July!
There are endless places to put on your USA summer bucket list but these ones are particularly some of our favorites – ranging from cool towns on the California coast to lesser-known islands in the Carolinas.
Each destination on this USA in July guide will include the average temperature, reasons to visit, some July festivities, and tips to help you plan your trip around the US!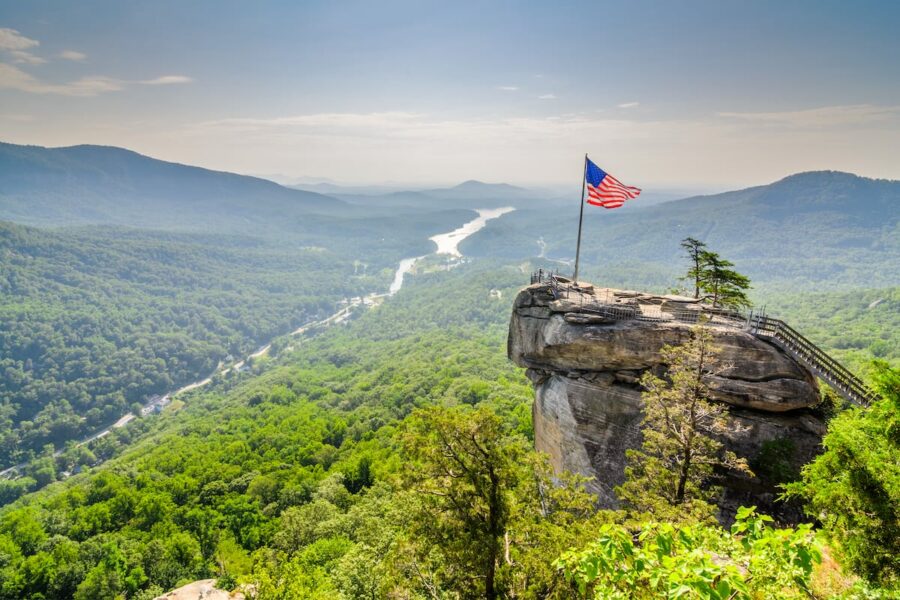 We hope that you can also list some of your favorite places to visit in July in the USA in the comments!
Be sure to check out our guide to the best national parks in July if you're looking for a nature escape instead of a city one! This guide contains only the best regions, towns, and cities to visit in the US in July.
Best Places to Visit in the USA in July
San Diego
Location: California
Average temperatures and precipitation: highs of 76F (24C) and lows of 52F (15C); 0 days of rain
Reasons to visit San Diego in July: some of the best beaches in the nation, Comic-con, summer events galore
Starting with the 4th of July fireworks, your vacation to San Diego will be all about great events, parties, and concerts. Spending a weekend in San Diego is a must for those looking to visit one of the coolest cities in the US in July!
Fan of movies and TV shows? Make sure not to miss out on the annual Comic-Con, the biggest comics and pop culture event with celebrities.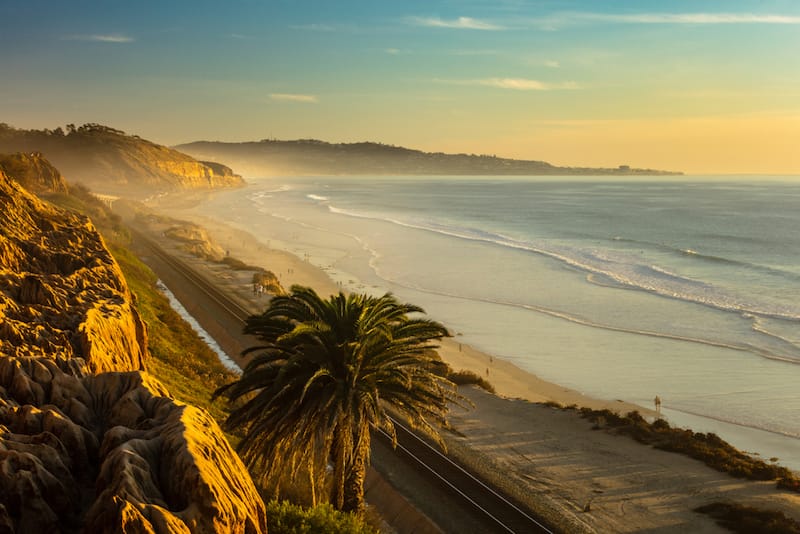 Visit Balboa Park on any Friday in July to find a line of food trucks and entertainment throughout the territory. On Tuesdays, the park hosts the 'Twilight in the Park' free concerts.
Lovers of water activities will have a fantastic time at the Imperial Beach Sun and Sea festival with world-class sandcastle sculptors building sand masterpieces, live music, a farmers market, and more.
Don't overlook San Diegoʻs best coffee shops either! You can grab a delicious cold brew and take it down to the beach.
Finger Lakes
Location: New York
Average temperatures and precipitation: highs of 82F (27C) and lows of 59F (15C); 8 days of rain
Reasons to visit the Finger Lakes in July: nature escape, many waterfalls and hiking trails, wine festival
There is no chance of getting bored in the Finger Lakes region of New York in July with its many outdoor activities. To escape the summer heat, head to Watkins Glen State Park to explore its 19 waterfalls and the Gore trails spanning 2.5 miles.
Enjoy summertime in Finger Lakes, celebrating the magic of glass at the Rockwell Museum and Corning Museum of Glass.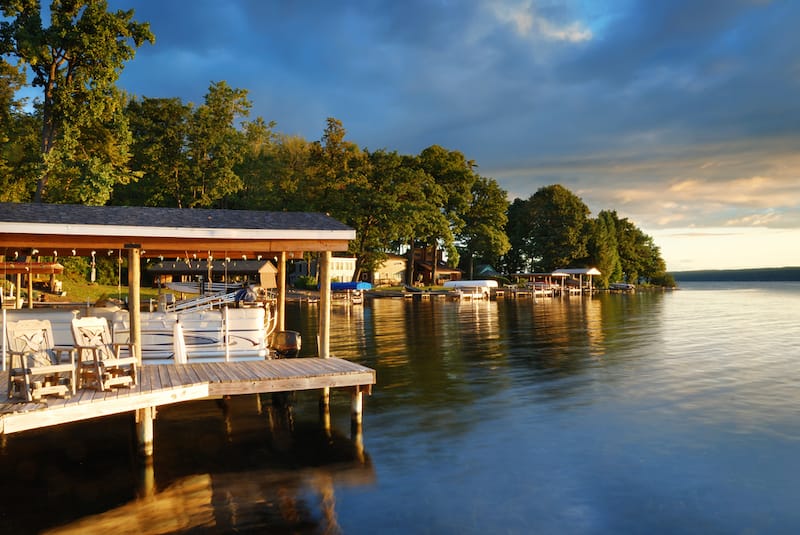 While visiting the museum, you will have the opportunity to discover your talent for glassmaking and take your masterpiece on a Finger Lakes wine tour.
Summer comes to life with the annual Wine Festival held in July!
Having been voted "Best Wine Festival" by USA TODAY eight years in a row, this is a favorite festival featuring over 90 wineries from New York State, live music, and more.
Cheyenne
Location: Wyoming
Average temperatures and precipitation: highs of 83F (28C) and lows of 55F (12C); 6 days of rain
Reasons to visit Cheyenne in July: world's largest rodeo, hiking trails, and many adventurous activities
If you are looking for a perfect summer escape, plan your July weekend in Cheyenne to take part in some fun activities.
The most popular event in the city, gathering thousands of guests from neighboring states, is the Cheyenne Frontier Days, the largest rodeo event in the world! It is one of the essential things to do in the state!
A two-week-long festival is accompanied by a fascinating air show, parades, pancake breakfasts, and night shows.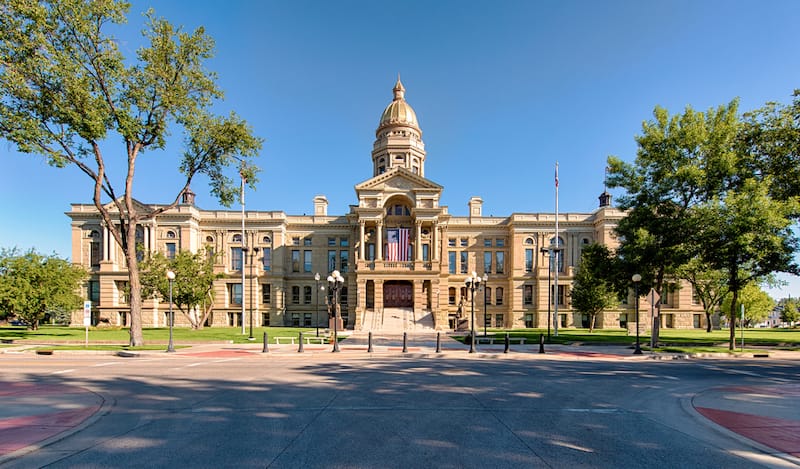 From popular summer activities, you can choose Curt Gowdy State Park with 35 hiking trails, waterfalls, rolling landscapes, and special mountain biking trails named the best by the International Mountain Biking Association.
Finally, don't miss out on a jazz night held every Friday in Hathaway's Lounge as a great end to the day and your summer trip.
If you want to escape the city a bit, Cheyenne is also a great base for exploring some of the best small towns in Wyoming!
Gettysburg
Location: Pennsylvania
Average temperatures and precipitation: highs of 85F (30C) and lows of 64F (18C); 8 days of rain
Reasons to visit Gettysburg in July: seasonal farmers markets, events around the anniversary of the battle
July is a wonderful time to visit Gettysburg, Pennsylvania, best known for its Civil War history. However, there are many more not-to-be-missed things in Gettysburg in July.
Dive into the historical events in Gettysburg National Military Park, where the Confederate Army gained victory in July 1863.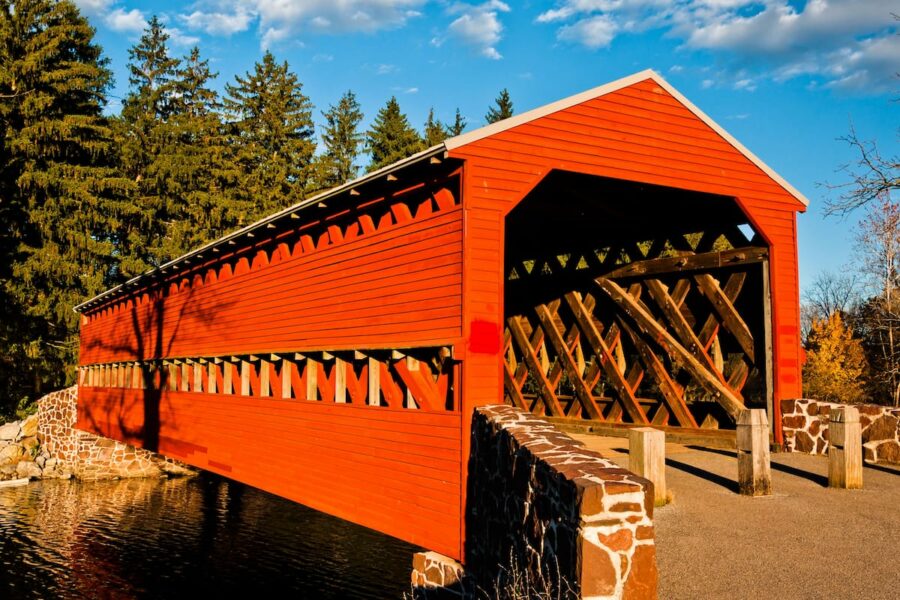 The guided tour will take you through the battlefield and major monuments. On the 2nd of July, the national park will mark the 159th anniversary of the Battle of Gettysburg, holding all-day family events.
Your summer trip to Gettysburg will be incomplete without visiting the farmers market filled with seasonal fruits, veggies, and herbs.
Chicago
Location: Illinois
Average temperatures and precipitation: highs of 82F (27C) and lows of 70F (21C); 6 days of rain
Reasons to visit Chicago in July: a lot better than visiting in winter, concert series, sports, food festivals
July is probably the best month to visit Chicago and enjoy delightful weather with many attractions and activities.
Navy Pier is your first destination to visit, especially if you travel with kids. Make sure to stay in the park when the city lights are on to enjoy fireworks and the view from the Ferris wheel.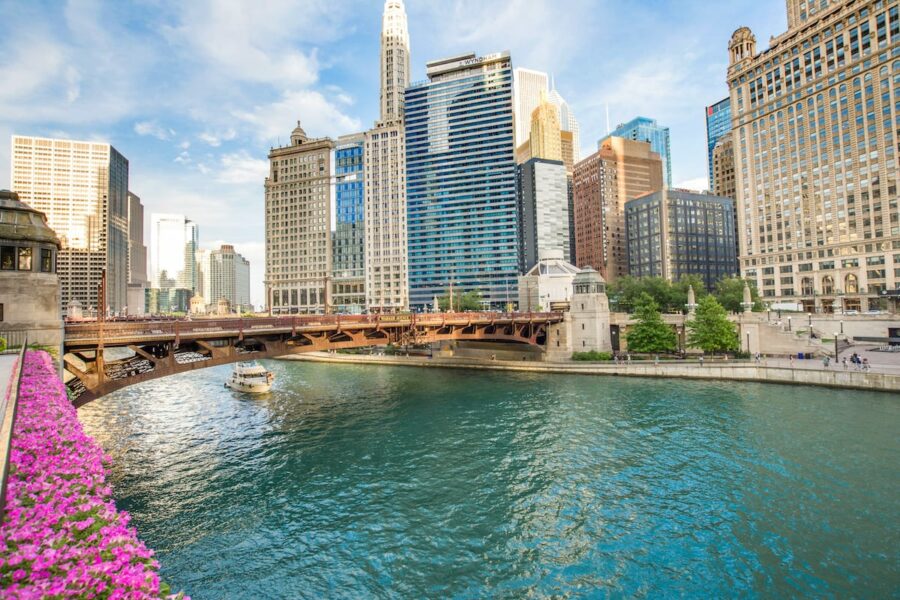 July is a "blessed" month for sports lovers to enjoy the basketball games of Chicago's WNBA team, White Sox baseball games, and more. After the game, head to one of the public parks in Chicago to enjoy a free movie.
You can always enjoy a free music concert at Millenium Park, which holds the annual Grant Park Music Festival, one of the most popular things to do in Chicago in the summer.
You will also love the Taste of Chicago pop-up festival showcasing over 40 eateries and food trucks in Grant Park, accompanied by live concerts.
Anchorage
Location: Alaska
Average temperatures and precipitation: highs of 66F (19C) and lows of 52F (11C); 7 days of rain
Reasons to visit Anchorage in July: cooler temperatures, incredible scenery, markets, and festivals
The largest city in Alaska, Anchorage, offers a great summer experience throughout the city and its outskirts. If you are a fan of adventurous activities, you will love your days in Anchorage!
The first and maybe the best thing to do is to hike to Flat Top to enjoy the bird's-eye view of the Anchorage mountains and the Alaska scenery.
Whether you choose to head up to the peak or take a flat 0.6-mile loop, the views will be breathtaking either way. After a long walk, sit back and relax with a craft beer in one of the 50 breweries in Anchorage.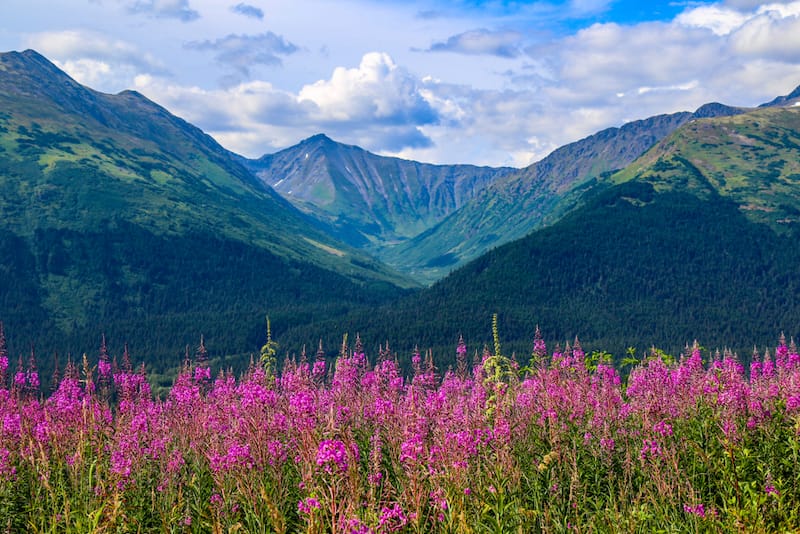 Your July bucket list will be incomplete without checking out the Anchorage Market and Festival, which takes place on Saturdays and showcases over 300 vendors with unique gifts, clothing, local food, and more to browse while enjoying live music and snacks.
Don't leave the most populous city in the state without checking out some of the nearby cute towns that make ideal day trips from Anchorage!
Monterey
Location: California
Average temperatures and precipitation: highs of 70F (21C) and lows of 52F (12C); 0 days of rain
Reasons to visit Monterey in July: Speedfest, festival season kicks off, comfortable temperatures (and no rain!)
The Bay Area invites you to participate in some of the big events and festivals abundant during July in gorgeous Monterey.
A Fourth of July all-day celebration opens the season of festivals, with the next up being the Monterey Beer Festival which you definitely won't want to miss. The festival presents local beers, gourmet food, and snacks to anyone who attends!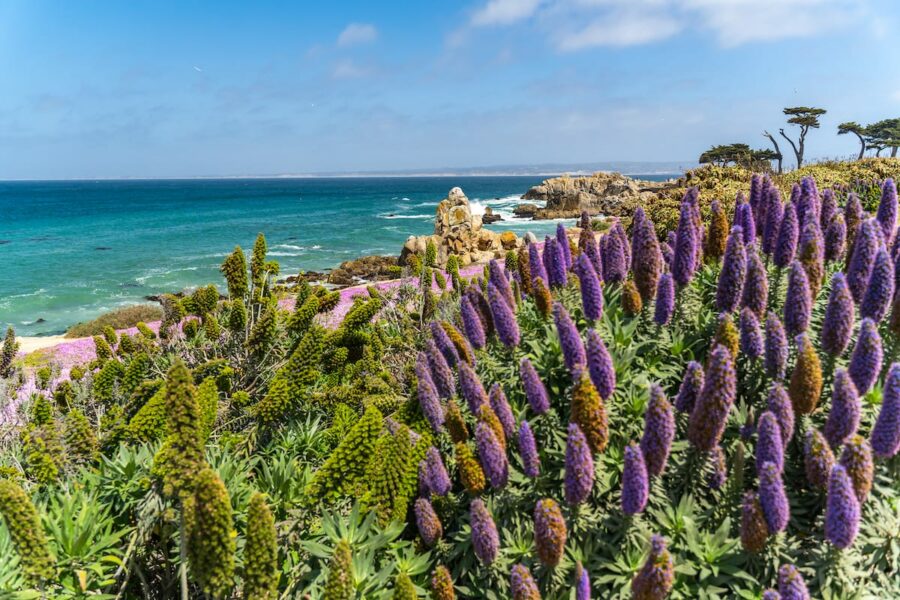 If you want to experience a bit of Monterey County heritage and culture, then the Pacific Grove Feast of Lanterns is an excellent choice. For over a century, this event has been a regional staple in the California coastal city.
Want to experience an adrenaline rush? MotoAmerica Superbike Speedfest will show off the fastest racing bikes driving around the Laguna Seca race track for three days.
Traverse City
Location: Michigan
Average temperatures and precipitation: highs of 80F (26C) and lows of 60F (15C); 6 days of rain
Reasons to visit Traverse City in July: Cherry Festival and others, hiking along the lake
Gorgeous and vibrant Traverse City in Michigan is a perfect getaway for a USA July vacation with delicious food options, scenic vistas, and great summer outdoor activities.
The top popular festival to attend in Traverse City is the National Cherry Festival, also called "Blessing of the Blossoms," which has been held since 1925. The festival is full of fun, favorite foods, and, of course, lots and lots of cherries!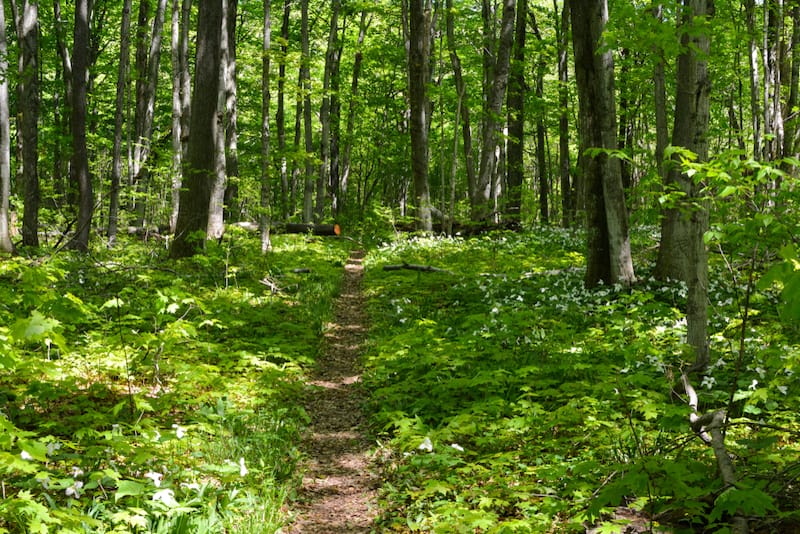 One of the most exclusive events not to miss is the Old Town Classic Car Cruise, which showcases classic cars, trucks, and motorcycles at Turtle Creek Casino.
Hot July mornings can be spent hiking along a beautiful lakeshore on the Sleeping Bear Dunes National Lakeshore beach in this Michigan town.
The best way to finish the day and enjoy the city vibes is Friday evening spent at the Michigan Legacy Art Park, holding Summer Sounds events.
Whitefish
Location: Montana
Average temperatures and precipitation: highs of 81F (27C) and lows of 48F (8C); 5 days of rain
Reasons to visit Whitefish in July: comfortable temperatures and nature opportunities galore!
Whitefish, Montana, nestled within the untouched wilderness, awakens with urban and outdoor activities during the summer.
The Whitefish Arts Festival opens the season of festivals with exhibits of traditional arts and crafts by local artists in the small Montana town.
To make the most of your July trip to Whitefish, start exploring the world-famous Glacier National Park with three top destinations – Blackfoot Glacier, Going-to-the-Sun Mountain, and Heavens Peak.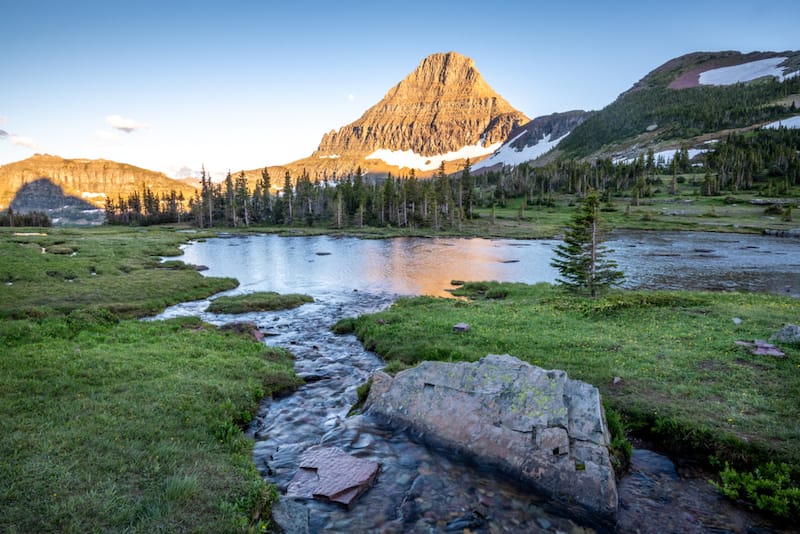 Also, visit Flathead National Forest, which has 2,000 miles of hiking trails and picture-perfect views. It is one of the most beautiful places in Montana, hands down!
July is a perfect time to visit Flathead Valley, looking for craft beer venues like the Big Sky Brews Cruise. The tour will take you through Whitefish and the surrounding area with craft beer tastings.
Another summer delight to attend is the Whitefish Farmers Market which takes place every Tuesday with excellent local food, live music, and entertainment.
Chincoteague
Location: Virginia
Average temperatures and precipitation: highs of 84F (28C) and lows of 71F (21C); 8 days of rain
Reasons to visit Chincoteague in July: one of VAʻs most underrated destinations, beautiful beaches
The oasis of Virginia's Eastern Shore, Chincoteague is a wonderful destination for summer vacation, with many things to do on the pristine island.
One of the town's biggest events to attend is the Chincoteague Volunteer Fireman's Carnival, a tradition dating back to 1924 after some disastrous fires.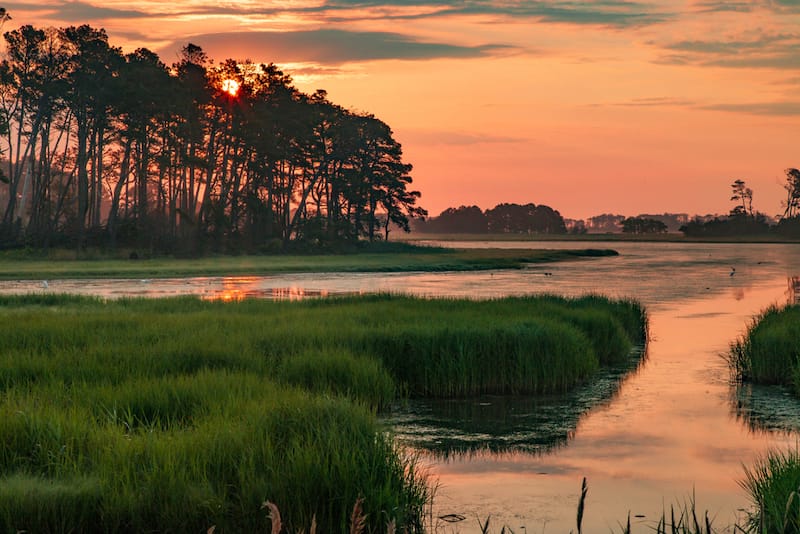 The festival, held on weekends throughout July, has something for everyone: pony rides and games, food, and live entertainment. On the 4th and 30th of July, there will be holiday fireworks.
The Annual Pony Swim is another popular event in Chincoteague. It takes place on the last Wednesday of July, starting with the Saltwater Cowboys taking the herd to the corral, where you can visit and see ponies.
To watch the Pony Swim up close, you can take a cruise or kayak into the water. Beware! This is mosquito season, and they can be brutal! Prepare ahead (but July is definitely worth it)!
Durango
Location: Colorado
Average temperatures and precipitation: highs of 84F (28C) and lows of 49F (9C); 7 days of rain
Reasons to visit Durango in July: concert series, hiking trails, farmers markets
If Colorado is your destination for a July vacation in the USA, choose Durango as a great option to have both urban attractions and outdoor activities! It is one of the coolest towns in Colorado!
To start off your perfect Durango vacation, you can hike part of the Colorado Trail running from Denver to Durango through the Rocky Mountains.
It is a great 500-mile hike with spectacular views. Bikers will love over 30 miles of mountain biking trails in the Horse Gulch area, as well. It makes for the perfect weekend trip from Denver.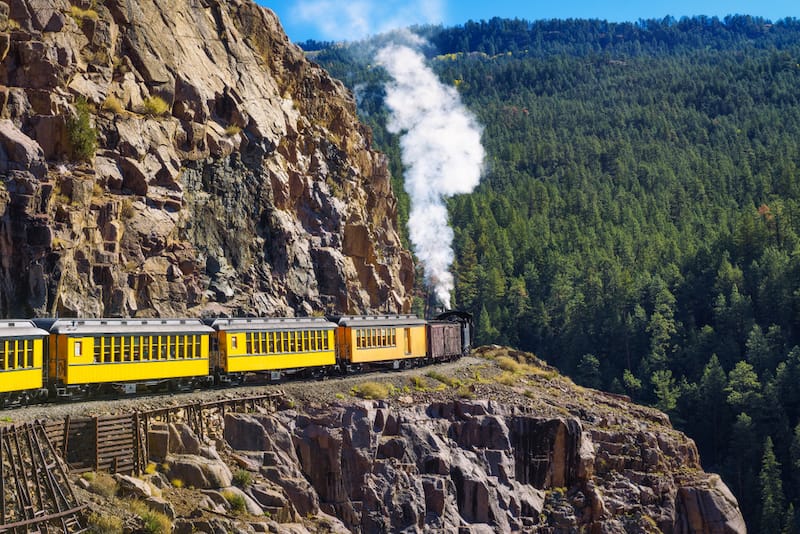 In July, you will experience the best Durango concert series, the Music in the Mountains annual music festival, taking place in all concert halls in Durango for three weeks.
Finally, don't forget to check out the Durango Farmers Market, held every Saturday from early morning to noon, offering local products, live events, and entertainment.
The Berkshires
Location: Massachusetts
Average temperatures and precipitation: highs of 81F (27C) and lows of 55F (12C); 7 days of rain
Reasons to visit the Berkshires in July: hiking trails, orchestra performance in the park, comfortable temperatures
Known for its outdoor adventures—hiking and water sports—the Berkshires are a top choice in Massachusetts for July vacationing for residents of big cities.
Outdoor enthusiasts will love Berkshire Hills, a dream destination to be close to nature and a rival to some of New Englandʻs best state parks!
Things to do in the Berkshires include swimming or boating at the Stockbridge Bowl, biking along the 11.2-mile Ashuwillticook Rail Trail, and hiking at Monument Mountain, Great Barrington.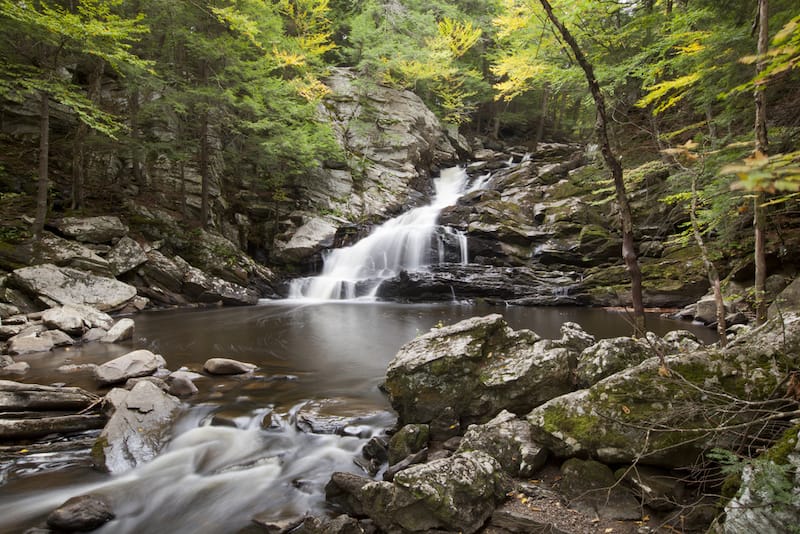 In the summer, you will have a unique opportunity to enjoy the Boston Symphony Orchestra performance in Tanglewood, a lush green territory with gardens and sculptures.
Jacob's Pillow is another cultural event worth attending. Held at a National Historic Landmark, the international dance festival hosts more than 50 dance companies and over 500 performances you will enjoy.
Fort Davis
Location: Texas
Average temperatures and precipitation: highs of 88F (31C) and lows of 61F (16C); 7 days of rain
Reasons to visit Fort Davis in July: hiking trails, cool (for Texas), 4th of July celebrations, Big Bend Music Festival
Set high in the Davis Mountains of West Texas, Fort Davis will inspire you with incredible landscapes and many ways to enjoy the outdoors.
Davis Mountains State Park will be your starting point in Fort Davis. The park has 4.5 miles of hiking trails with wildlife, mountain biking, and stargazing.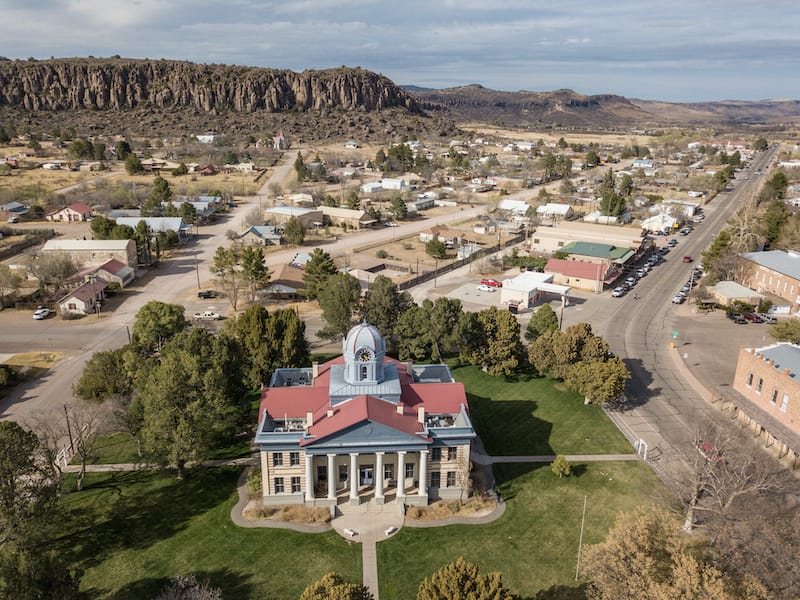 You can spend more time in the state park by taking a 75-mile loop through the Texas mountains.
The main July event in Fort Davis is, for sure, an exciting Fourth of July celebration with activities throughout the whole weekend.
The end of the month is also full of music and live performances. Make sure to visit the Viva Big Bend Music Festival for four days with over 50 bands.
Burlington
Location: Vermont
Average temperatures and precipitation: highs of 79F (26C) and lows of 59F (15C); 9 days of rain
Reasons to visit Burlington in July: hiking and biking trails, breweries galore and festivals during the summer
Traveling to Burlington? The largest city in Vermont will surprise you with beautiful nature, surrounded by the lush Green Mountains.
The most delightful moments in Burlington will be on Lake Champlain and the lake waterfront, stretching between Vermont and New York.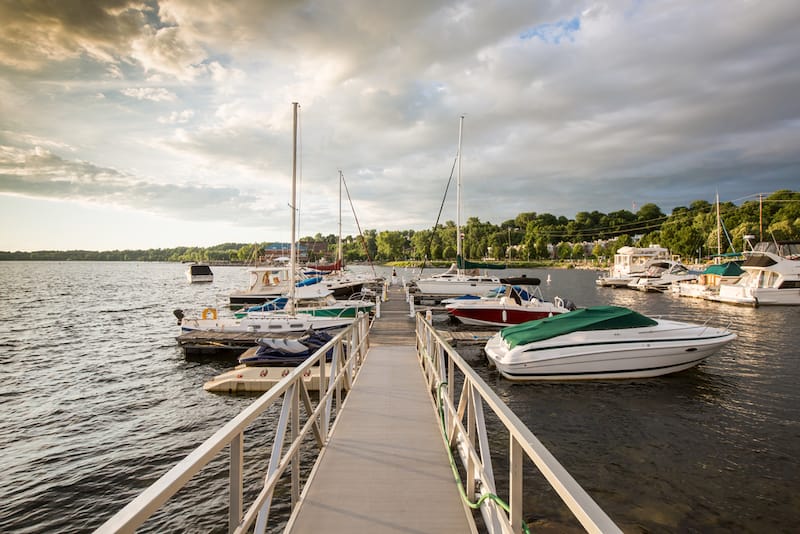 Get deeper into nature in one of the hiking destinations like Stowe Pinnacle, with beautiful biking and hiking trails into the hills.
From summer activities, everyone will love brewery hopping in Burlington. Magic Hat is a staple of the Vermont brewery scene at all available local craft beer venues.
Moreover, in July, you will be part of the Vermont Brewers Festival, celebrating the state's craft breweries.
Nashville
Location: Tennessee
Average temperatures and precipitation: highs of 90F (32C) and lows of 59F (21C); 8 days of rain
Reasons to visit Nashville in July: concerts, 4th of July celebrations, food festivals
Best known as the Music City, Nashville totally transforms during summer, offering great stuff to do in July, from outdoor activities to summer music events, exhibits, and festivals.
Discover the many concerts and music events held in Nashville during your vacation. Music in the Vines is a series of jazz music concerts held in Arrington Vineyards every Saturday and Sunday from April through October.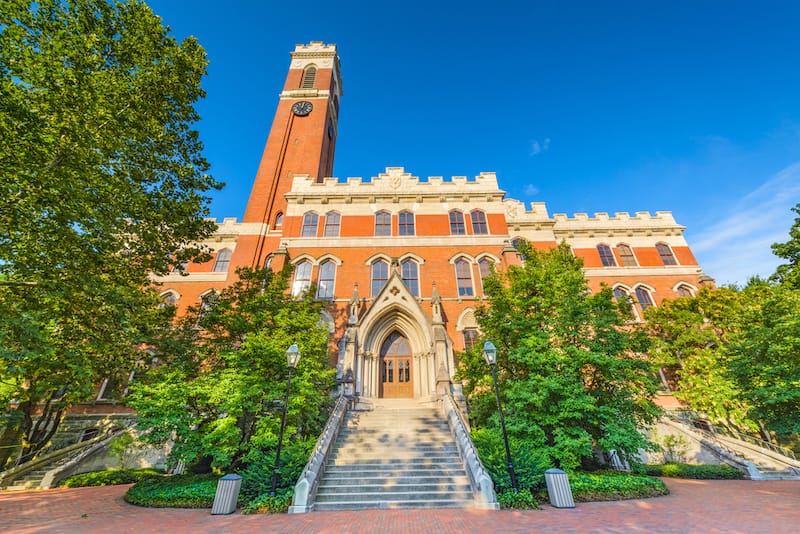 Experience more spectacular views by participating in the Fourth of July celebration and the Let Freedom Sing concert in the city. You can catch other performances on other dates as well. It really is one of the best places to visit in the USA for the 4th of July!
Nashville likes to eat, and no wonder they have so many food festivals and events. The watermelon festival opens the month with a summertime family holiday.
For the next few days, Nashville will be filled with the sounds of the Music City Hot Chicken Festival, Brewer's Festival, and more.
San Juan Islands
Location: Washington
Average temperatures and precipitation: highs of 67F (19C) and lows of 50F (10C); 4 days of rain
Reasons to visit the San Juan Islands in July: whale watching, beat the heat, lavender festival
The San Juan Islands are a dreamland to leave all your worries behind and enjoy summer. To enjoy long sunny days, start exploring the San Juan Islands, and hiking thousands of acres of land.
You can choose Moran State Park from many state parks with 38 miles of trails, five lakes, and picnic shelters where you can stay for a whole day.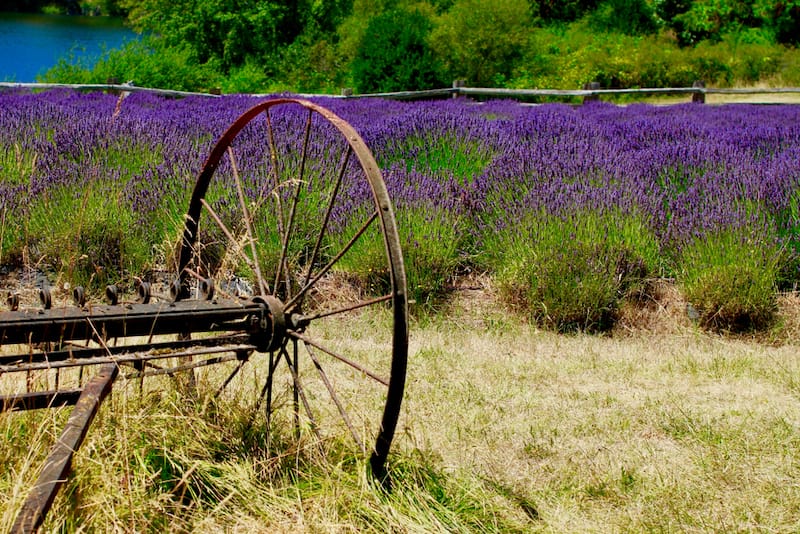 More exciting views are waiting for you in Lime Kiln Point State Park, the best place for whale watching. Come back to the park's lighthouse to spot orcas, humpbacks, minke whales, sea lions, and seals if you have time.
One of the San Juan Islands' most beautiful July festivals is the Lavender Festival at blooming lavender fields, where you can harvest your own lavender or taste lavender-inspired food and beverages.
Cambria
Location: California
Average temperatures and precipitation: highs of 82F (27C) and lows of 63F (12C); 0 days of rain
Reasons to visit Cambria in July: hiking trails, wildlife viewing from the coast, state fair
One of our favorite places along the Central California Coast is Cambria. July will be great fun here, so don't miss out on the outdoor activities and festivals in Cambria to unwind and relax. It is the ideal small town in CA to do so!
Head straight to Moonstone Beach to take a one-mile stroll along the boardwalk winding along the coastline, and make sure you look out because you may be able to see whales and dolphins.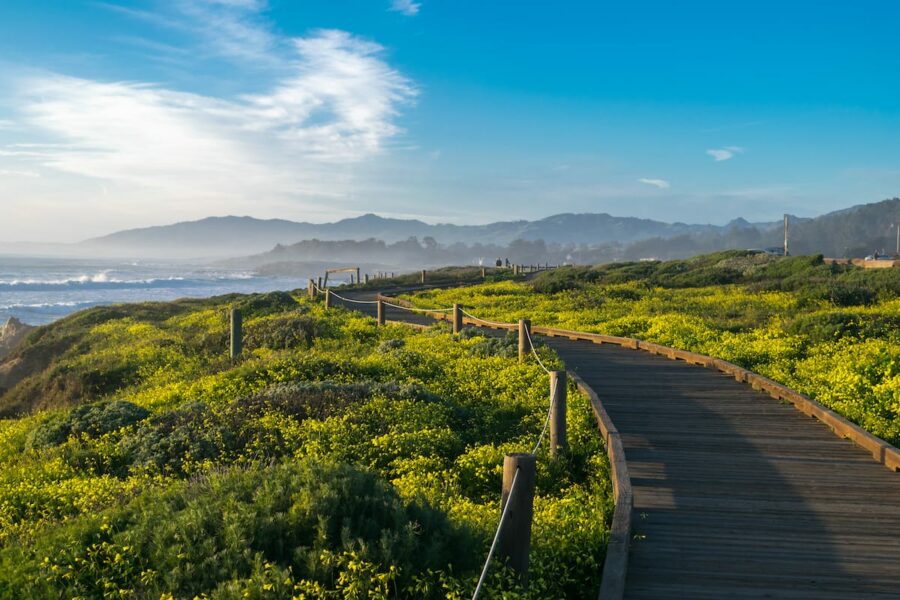 You can take a 2.5-mile Forest Loop Trail in the Monterey Pines for scenic views.
The biggest July event in Cambria is the Annual California Mid-State Fair, with live shows and entertainment, fair food, carnival rides, shopping, and exhibits of local arts.
Boston
Location: Massachusetts
Average temperatures and precipitation: highs of 82F (27C) and lows of 66F (19C); 6 days of rain
Reasons to visit Boston in July: festivals all month long, concert series, farmers markets
Kicking off with the 4th of July celebrations, Boston opens the season with summer events, concerts, and outdoor activities attractive to locals and guests. It is absolutely one of the best places to visit in the USA in July!
Your Boston vacation will start with the beats of the Boston Harbor Fest, a decades-old tradition of celebrating history and the harbor.
The festival will take you through historical places, the Freedom Trail, and live entertainment for four days, including the Independence Day weekend.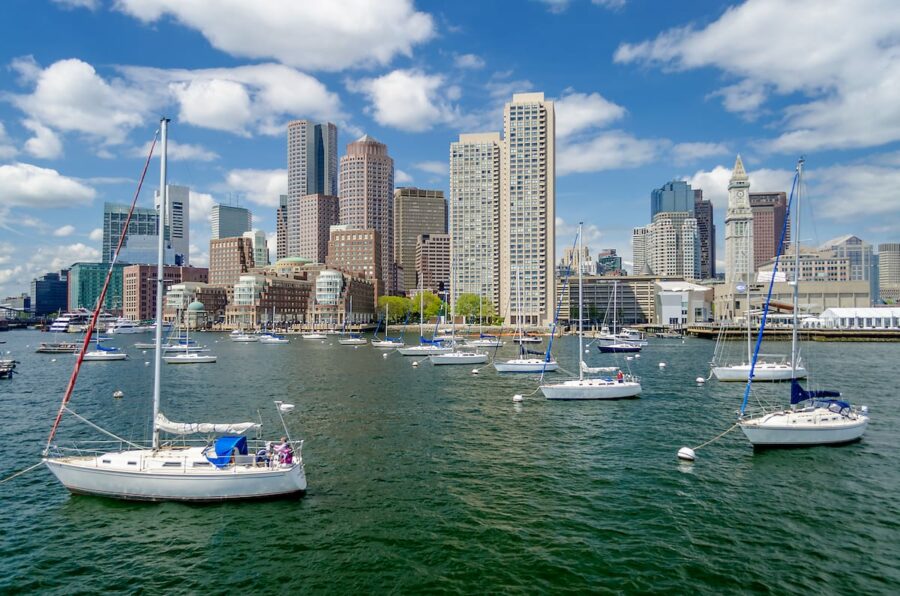 Throughout July, you can enjoy free summer concerts at the Hatch Shell. Bring a blanket and snacks to enjoy a picnic, live entertainment, and pleasant Boston evenings.
Taste local delicacies and fresh products during the Copley Square Farmers' Market organized for the whole month of July. Also, don't forget to hunt down the best Boston lobster rolls!
If you are looking for something else, you will definitely like to watch the Red Sox game in Fenway Park, followed by a bar crawl at craft breweries.
If you are looking to escape, you can find some epic Boston day trips where you can head to other cities in the region or check out some of the best beaches in New England.
Big Island (Hawaiʻi)
Location: Hawaii
Average temperatures and precipitation: highs of 86F (30C) and lows of 72F (22C); 2 days of rain
Reasons to visit the Big Island in July: releasing of sea turtles on the 4th, festivals across the island
Plan your trip to Hawaii's Big Island in July to fill your vacation days with special events (and some of the nation's most beautiful beaches).
The month of celebrations will be announced with the traditional 4th of July release of young sea turtles into the ocean as a unique symbol of independence. It is such a great reason to visit Hawaii in July!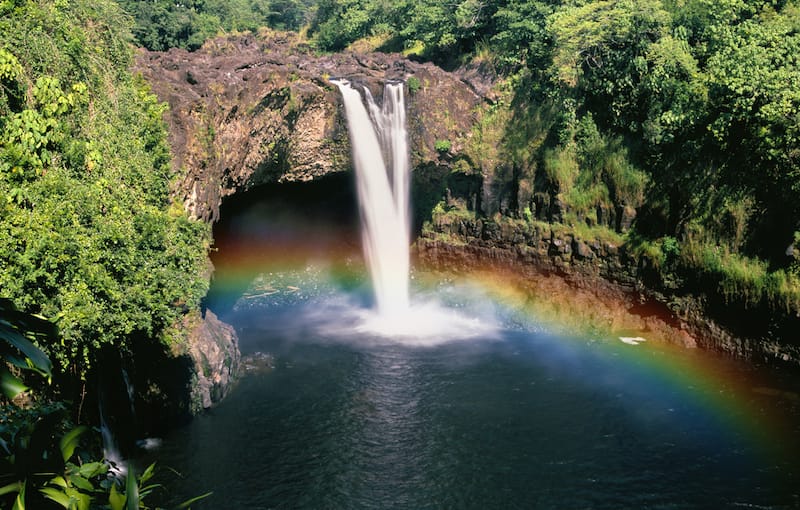 Don't miss out on another popular event on the Big Island: the Hawaiian International Bill-fishing Tournament, gathering all the fishing enthusiasts worldwide.
If you want to have some incredible views of Hawaiian nature, take part in the Volcano Village Festival at Hawaii Volcanoes National Park.
Celebrated in different locations across the village, the festival showcases Hawaiian culture with live entertainment, hiking tours, a petting zoo, food trucks, ohana (family) activities, and more!
Portland
Location: Maine
Average temperatures and precipitation: highs of 79F (26C) and lows of 59F (15C); 7 days of rain
Reasons to visit Portland in July: outdoor film festival, food festivals, mild temperatures compared to the south
The tiny coastal city of Portland is a sophisticated place and an absolute magnet for tourists visiting Maine.
Whether you choose to stroll through the lively harbor, chill downtown, or have fun on the water, there is always something exciting to do in Portland.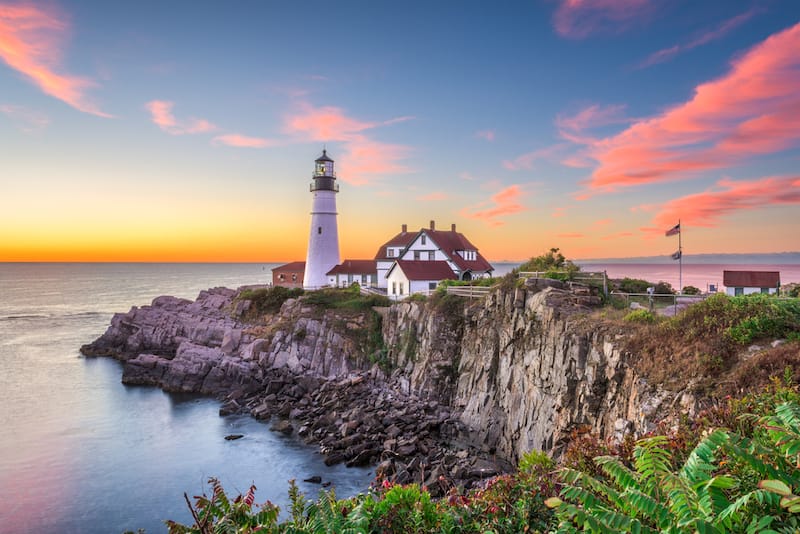 For July activities and events in Portland, make sure not to miss the Yarmouth Clam Festival, a summertime tradition with an abundance of delicious Maine mollusks as the main dish.
July will be all about outdoor activities like the Maine Outdoor Film Festival, which has been hosted in Portland for the past ten years. It might not be the Oscars with the red carpet, but it is definitely worth your attention and a reason to visit the New England city!
From Portland, you will find some of Maineʻs cutest small towns and day trips, so be sure to plan a little bit of extra time to explore them all!
New York City
Location: New York
Average temperatures and precipitation: highs of 84F (29C) and lows of 69F (25C); 8 days of rain
Reasons to visit NYC in July: several 4th of July festivals, outdoor movie theater experiences, and so much more!
The big city lights are calling for a summer adventure! Things are getting hot, and there is so much to do and experience in July. Your unimaginable vacation in New York City starts with the Manhattan skyline lighting up to celebrate Independence Day.
Of the dozens of 4th of July celebration events, one of the most interesting is the Hot Dog Eating Contest on Coney Island. So come hungry and eat as many hot dogs as possible in ten minutes.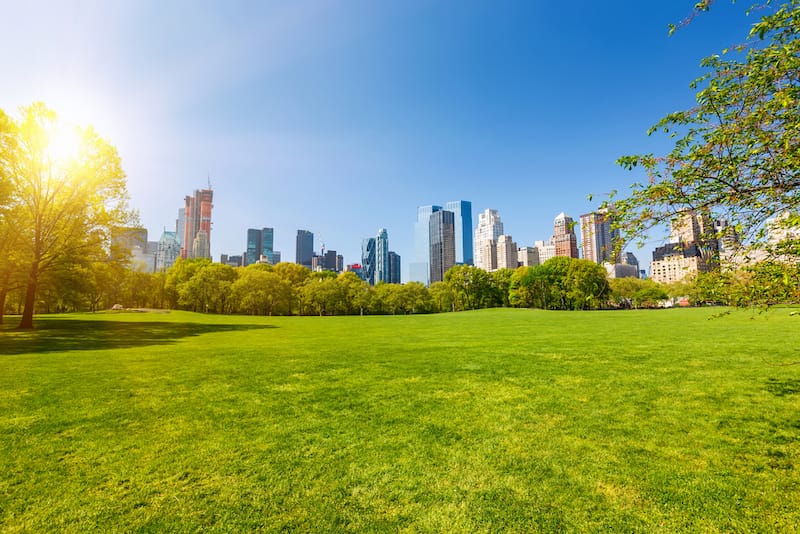 Don't forget to visit the free Bryant Park Film Festival and picnic performances. In the heart of Manhattan, Bryant Park is full of people enjoying the outdoor movie theaters and socializing.
Want more performances? Visit Central Park to watch one of the performances of the Delacorte Theater with world-known stars like Meryl Streep, Al Pachino, Denzel Washington, and others.
Kiawah Island
Location: South Carolina
Average temperatures and precipitation: highs of 89F (31C) and lows of 74F (23C); 8 days of rain
Reasons to visit Kiawah Island in July: spend 4th of July at the beach, water activities, and hiking trails
Celebrating the 4th of July at the beach lit up with the thousand sparkles of fireworks sounds cool, but Kiawah Island has much more to offer for July vacationing.
The naturally preserved area is home to championship golf courses, a nature sanctuary, and beaches where you can relax and watch dolphins and other wildlife.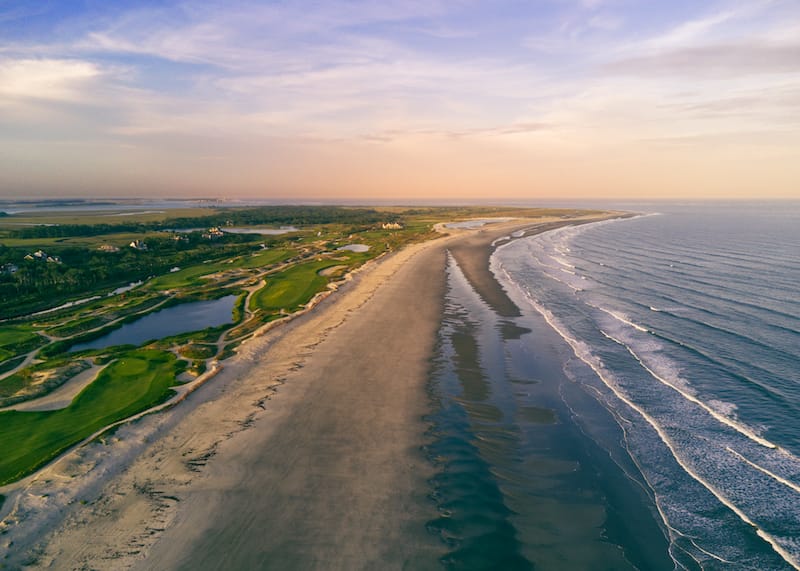 Enjoy 30-mile hiking or biking trails in March Island Park with coastal landscapes, allowing you to explore the island in a different kind of way.
Continue exploring Kiawah Island's waters with Tidal Trails kayaking or paddleboarding, and, if lucky, you will see dolphins in their natural environment.
Summer evenings can be made better with live music and cold drinks in Freshfields Village, which lights up every Friday with jazz sounds.
Flagstaff
Location: Arizona
Average temperatures and precipitation: highs of 82F (27C) and lows of 51F (10C); 8 days of rain
Reasons to visit Flagstaff in July: milder temperatures for Arizona, lots of hiking opportunities
Known for its rugged natural beauty, Flagstaff has a lot to offer for your USA in July vacation- hiking, rock climbing, and an unforgettable Independence Day celebration.
To discover the nature and landscapes of Flagstaff, start your tour with Coconino National Forestʻs red rock canyons, dramatic cliff formations, wetlands, and volcanic summits.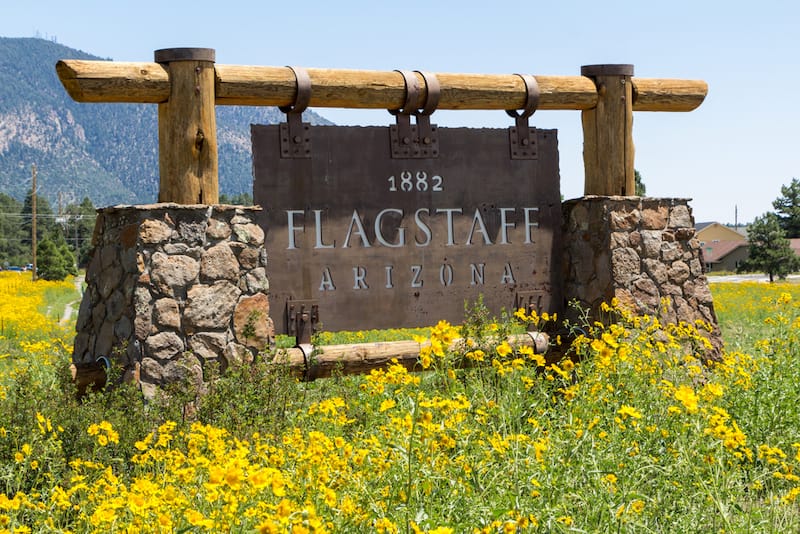 Take another adventure through the one-mile Island Trail to explore Walnut Canyon National Monument and its Douglas fir trees.
The more challenging Lenox Crater and A'a trails will lead you through several scenic places in Arizona. The Lava Flow Trail is wheelchair and stroller accessible.
Back in the town, you have a chance to enjoy live music and activities in the square followed by a movie at dusk.
Sonoma Valley
Location: California
Average temperatures and precipitation: highs of 89F (31C) and lows of 52F (11C); 0 days of rain
Reasons to visit Sonoma in July: wine, music and wine festivals, nearby hiking trails
Sonoma Valley, best known as the land of vineyards and over 400 wineries, is an excellent choice for a few days' escape. Take advantage of the many opportunities available in July when planning your Sonoma vacation.
Another unforgettable adventure is waiting for you in Trione-Annadel State Park, with 35 miles of trails for hiking and Lake Ilsanjo perfect for fishing.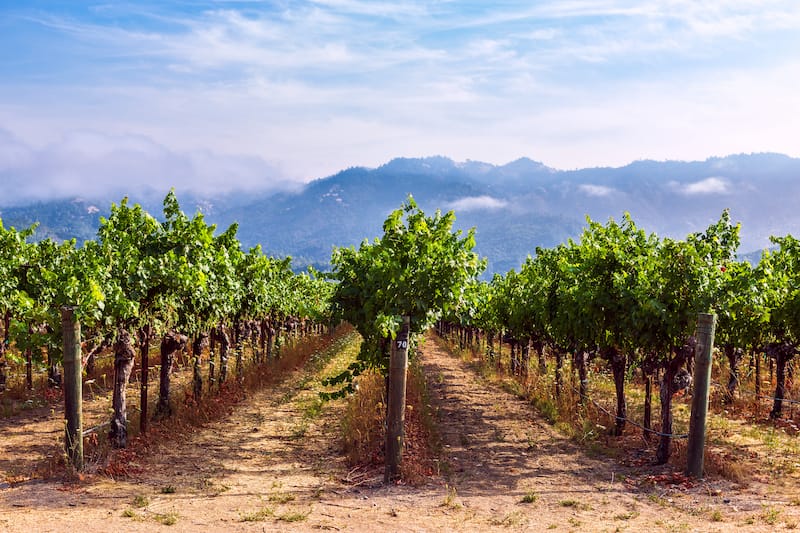 What about wine? Wine festivals are organized throughout the year, but you will have two festivals – Independence Day celebrations and the Wine and Dixieland Jazz Festival in July.
What a perfect pairing of wine and music during the perfect California summer!
Portland
Location: Oregon
Average temperatures and precipitation: highs of 80F (26C) and lows of 58F (14C); 2 days of rain
Reasons to visit Portland in July: craft beer, live music, several weekend trip options for nature
Whether you plan your trip today or in July, there will always be something exciting to do in Portland.
Independence Day celebrations open the July events season in Portland, followed by the Waterfront Blues Festival, rocking the city for five days straight!
Next, the Cathedral Park Jazz Festival will continue the celebration by promoting good music in the town.
You should also definitely take part in Portland's most prominent beer parties downtown, thrilling beer lovers with craft beer: the Portland Craft Beer Festival, Puckerfest, and Oregon Brewers Festival. All of these events are held in July.
Portland still has more to offer! Stick around town to enjoy live music, movies in open-air cinemas, and kids' games in public parks.
We hope you enjoyed this list of some of our favorite places to visit in the USA in July! Let us know your top USA summer destinations in the comments. Thanks!
Traveling another time of the year? Check out our month-by-month guides!
Pin this July in the USA Destinations Guide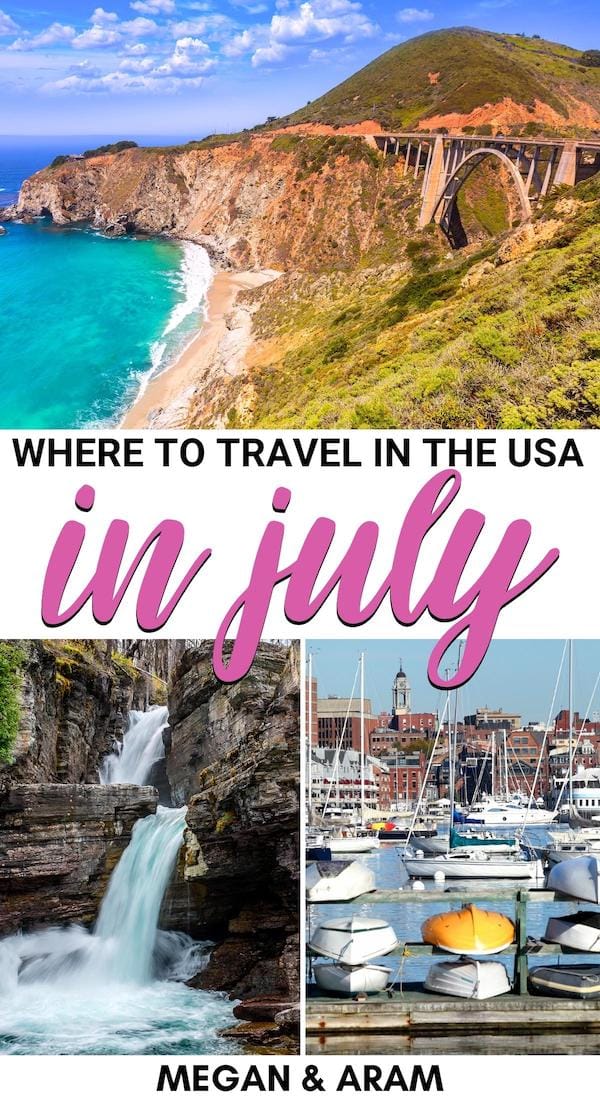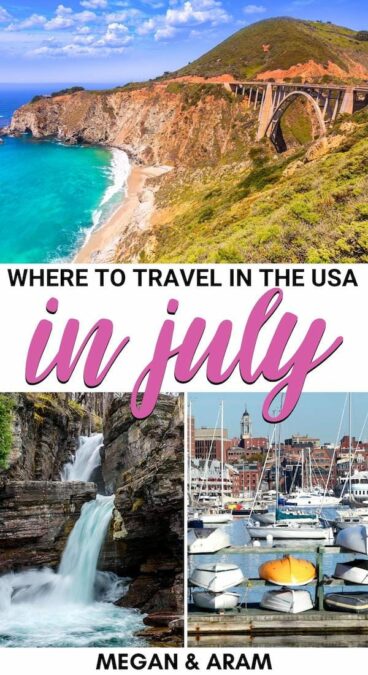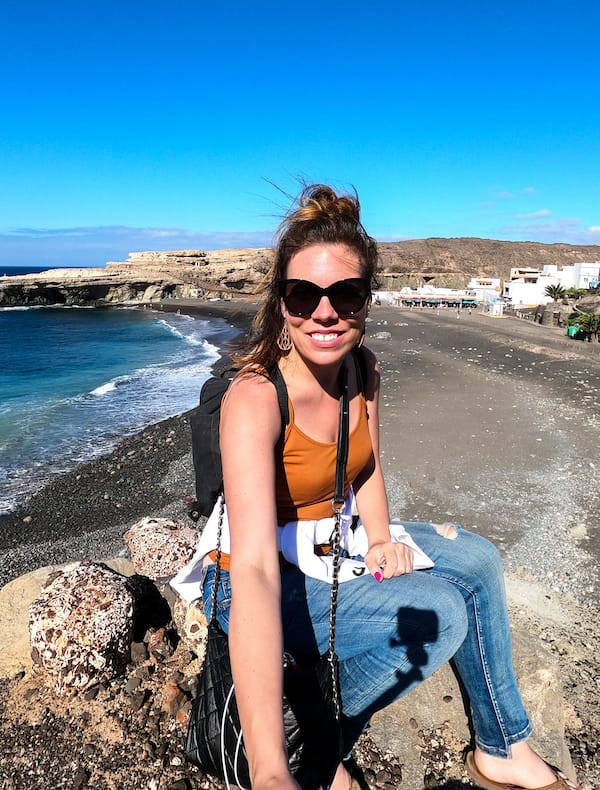 Megan is a travel blogger and writer with a background in digital marketing. Originally from Richmond, VA, she now splits her time between Frankfurt, Germany and Arctic Finland after also living in Norway, Armenia, and Kazakhstan. She has a passion for winter travel, as well as the Nordic countries, but you can also find her eating her way through Italy, perusing perfume stores in Paris, or taking road trips through the USA. Megan has written for or been featured by National Geographic, Forbes, Lonely Planet, the New York Times, and more. She co-authored Fodor's Travel 'Essential Norway' and has visited 45 US states and 100+ countries.