December is one of the most magical times of the year to be in the United States! And these are the best places to visit in the USA in December!
Whether you're looking to spend Christmas at one of these destinations or simply explore somewhere new, they all offer something unique during the winter months!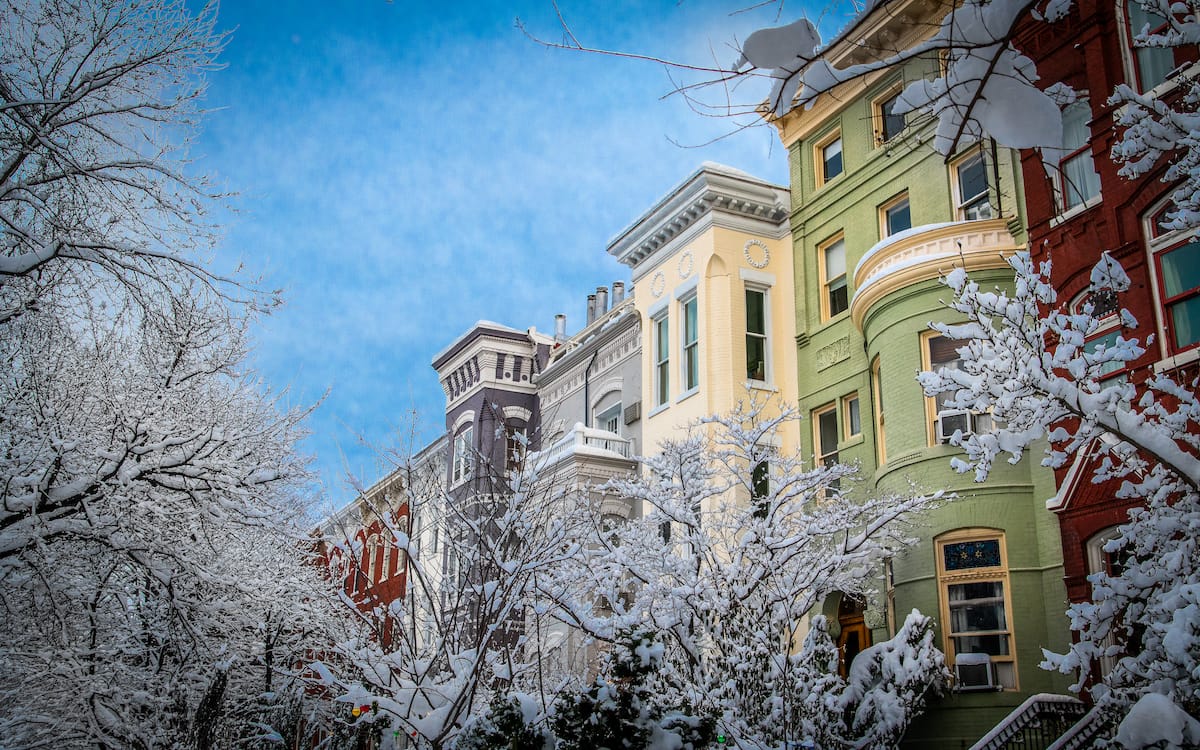 This guide is a curated mix of warm and cold places – since many of us (including me!) actually love the cold!
Did we miss any amazing places to visit in December in the USA? Let us know your top picks (and why!) in the comments. Thanks!
Best Places to Visit in the USA in December
1. Boston
Location: Massachusetts
Average temperatures and precipitation: highs of 42F and lows of 28F; 9 days of rain
Reasons to visit Boston in December: winter activities like sledding and ice skating, Boston Common Tree Lighting festival
Boston is meant to be enjoyed in the winter, and on average is about 37° Fahrenheit. While beautiful in summer, we believe the winters in the American city are super underrated (although cold)!
After sledding at Flagstaff Hill in Boston Common, you can warm up with some New England Clam Chowder from Union Oyster House or hot chocolate from the L.A. Burdick before continuing with activities in the same park.
There are also many amazing Boston day trips that are great during the winter (including some of the best state parks in New England). Be sure to dress warmly though!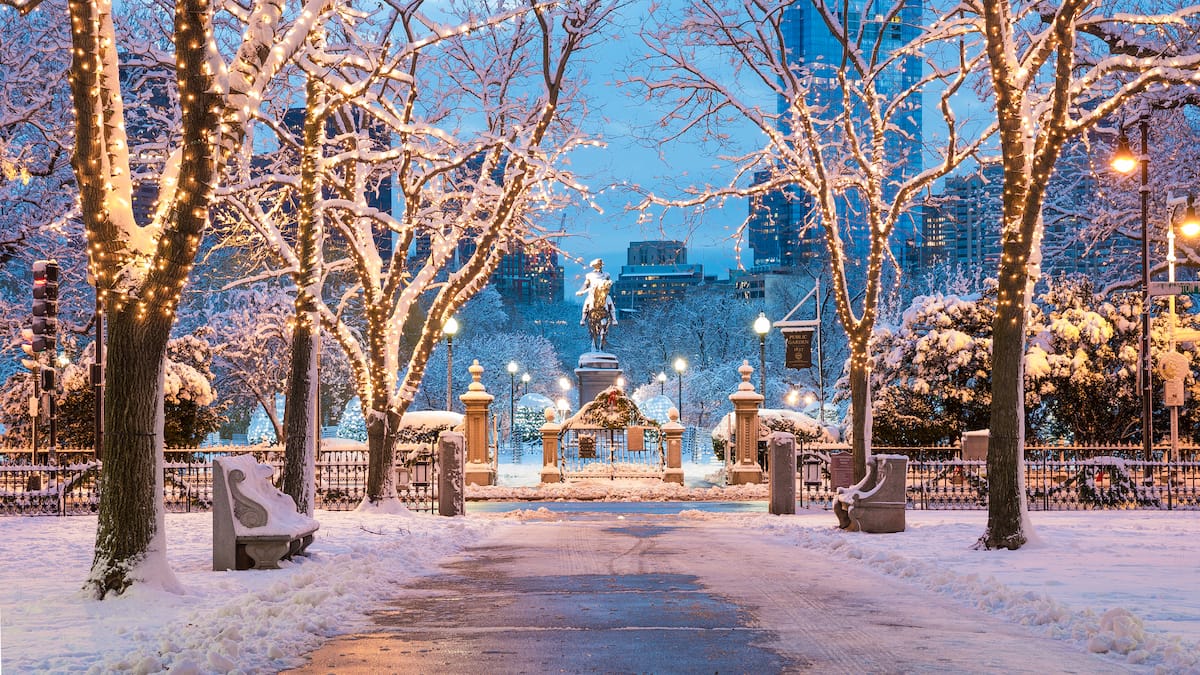 Here, you can do everything from ice skating at Boston Common Frog Pond to spectating the lighting of a massive tree in the Boston Common Tree Lighting festival, where food, activities, and performances take place.
From shopping in the SoWa Winter Festival & Holiday Market, which is a local market of artisanal and handmade items and treats, with seasonal and holiday cocktails and vendor food in a vintage market decorated with Christmas lights, to watching The Nutcracker at the Boston Ballet and a weekend prior to drinking a few Boston-beers at the Samuel Adams Brewery.
Can't forget a New England Patriots game! So grab one of the city's best lobster rolls and have a little fun!
2. Moab
Location: Utah
Average temperatures and precipitation: highs of 45F and lows of 22F; 3 days of rain
Reasons to visit Moab in December: hiking opportunities at the nearby national parks, fewer crowds in winter
The contrast of the snow over the red rock of Moab along with the empty parking lot and thin crowds during the winter season is worth the visit alone.
The weather during the winter is fairly chilly, with highs averaging at 45°F and lows at about 22°F, however, with the sun heating up the rocks, you'll barely even notice.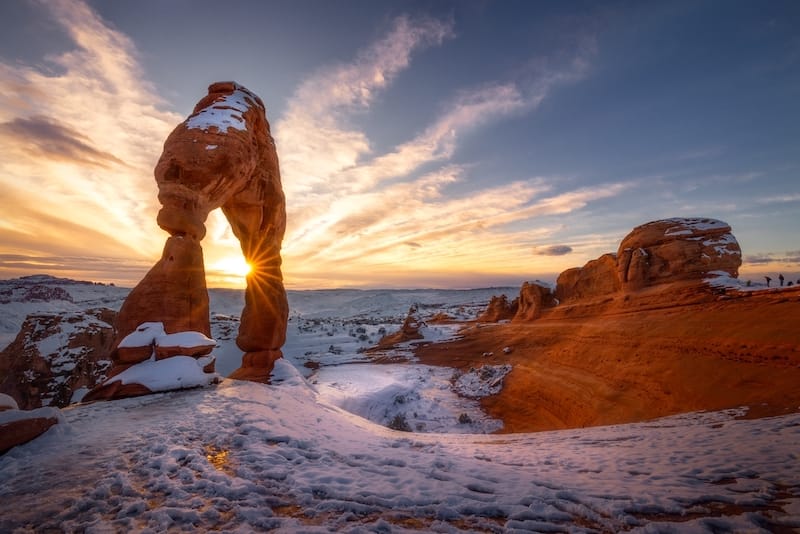 If your goal is hiking while in Moab, then as you head toward the La Sal Mountains, you'll see the Colorado River bending into the canyons of Dead Horse Point State Park.
As you increase altitude, the trails may be covered in snow, however, the snow more often than not melts by the afternoon, depending on if it is exposed to the sun.
Another great destination, Arches National Park, hosts a variety of different rocked arches, including the largest arch in the world called the Landscape Arch and the picturesque Delicate Arch.
3. South Padre Island
Location: Texas
Average temperatures and precipitation: highs of 72F and lows of 57F; 3 days of rain
Reasons to visit South Padre Island in December: fewer crowds but still nice temperatures, birdwatching
South Padre Island is ironically the place people go to avoid the winter weather. A famous spring break destination, don't rule it out as a winter hotspot!
With the winter temperature averaging in the 60s or 70s and lows in the 50s, most days are sunny and warm– not too warm and not too cold.
You'll find people strolling the beaches at all hours of the day, perhaps even swimming, fishing, or just sitting nearby enjoying the view.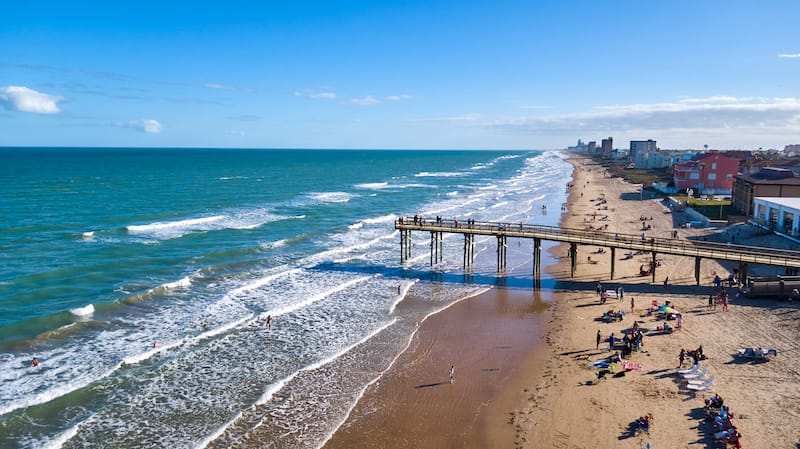 The local cuisine revolves around seafood, as it is caught fresh daily from the Gulf of Mexico.
There is an abundance of water activities to keep busy with. Either bring your own kayak or paddle board or rent one locally from Eh Brah SUP, and trail the Gulf Coast, or go boating or a relaxing restaurant cruise!
In addition to the water activities, bird watching is another popular activity as South Padre Island is a halfway point between migratory checkpoints. Birds and humans both flock to South Padre!
4. New York City
Location: New York
Average temperatures and precipitation: highs of 44F and lows of 31F; 8 days of rain
Reasons to visit NYC in December: famous for Christmas and NYE events, ice skating at Rockefeller Center
Winter is the ideal time to visit NYC because of its lesser crowds, mostly due to the cold. It is decently cold in December, however, it's far worse in January and February.
As for snow, expect at least 4 inches of snow on average but don't be alarmed– no cold, heatwave, or alien invasion will get in a New Yorkers' way, especially in the festive winter.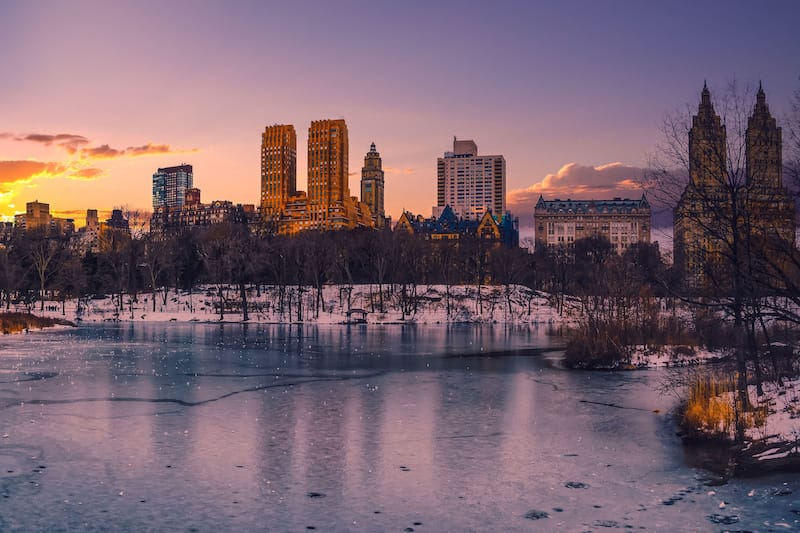 The Rockefeller Christmas Tree is lit for over a month in the Rockefeller Center and is adjacent to its ice rink, where you'll always find people skating under the festive lights and grandiose decorations.
Fifth Avenue in Midtown Manhattan is busy with its legendary holiday sales, seasonal presentations, and events.
The New Year's Eve Ball Drop in Times Square is an anticipated event, with afterparties all throughout the block until early morning. There are seasonal shows performed on Broadway and the New York Ballet as well!
5. Sedona
Location: Arizona
Average temperatures and precipitation: highs of 60F and lows of 34F; 3 days of rain
Reasons to visit Sedona in December: hiking opportunities, stargazing, Red Rock Festival of Lights
Sedona is the least crowded during the winter and has average high temperatures in the mid-50s, whereas average lows range from the high 20s to low 30s.
The Arizona city does get snow, however, it doesn't last too long when the sunlight hits the red rocks.
The red rock towers and cliffs and steep canyon walls are surrounded by almost two million acres of national forest land, including pine forests, and nestled between two state parks and four wilderness areas.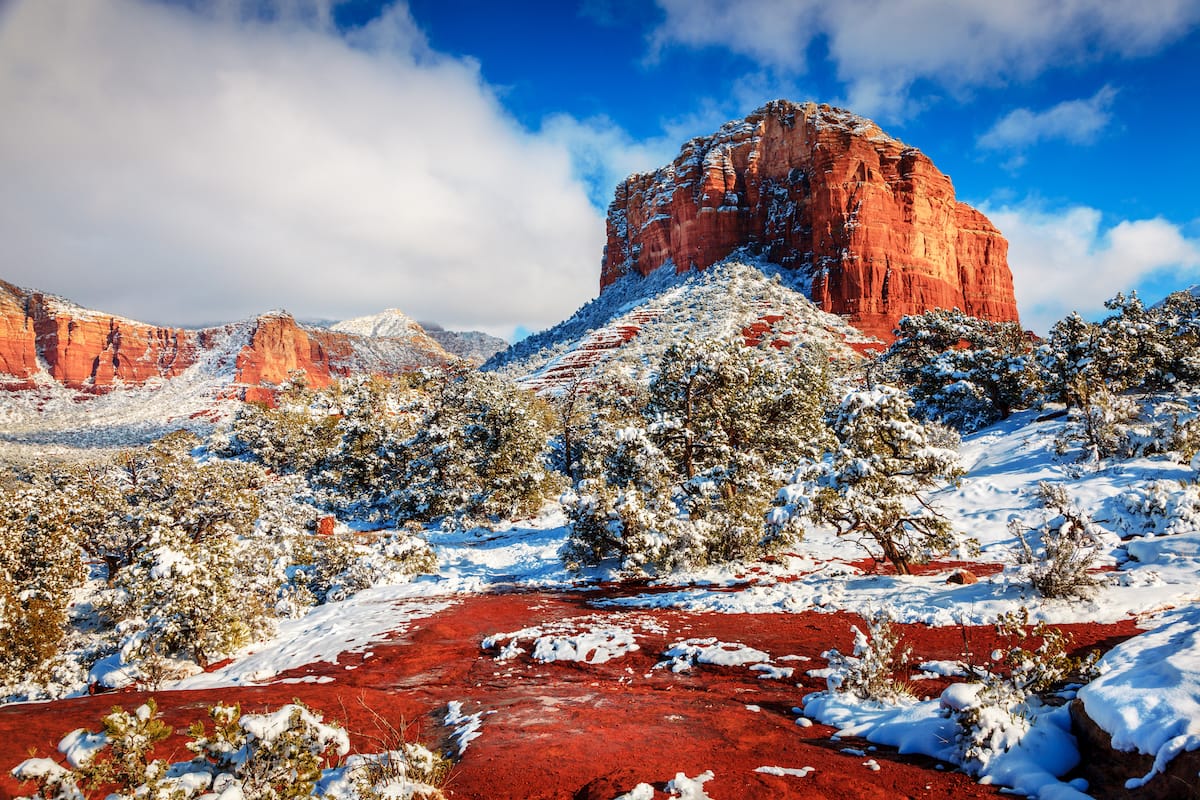 The landscape has a seemingly endless list of trails of various difficulty levels for you to enjoy the gorgeous weather forecast.
Enjoy the breeze during a jeep tour deep into the desert for a scenic thrill. The cabins, resorts, and inns are the most affordable during this time, often with outdoor pits.
As for winter events, the Red Rock Festival of Lights has over 6,000 luminarias illuminating its courtyards supplemented by live entertainment.
You will also find so many amazing day trips from Sedona that are worth embarking on in the winter months!
6. Seattle
Location: Washington
Average temperatures and precipitation: highs of 45F and lows of 36F; 14 days of rain
Reasons to visit Seattle in December: can easily warm up with coffee, day trips, Bellevue Botanic Garden lights
The temperature in Seattle during the winter averages around the 40s with occasional dips, and it sometimes snows in the city, however not on a consistent basis.
The Bellevue Botanic Garden's every inch is illuminated in its Garden of Lights, and in the winter months, a more seasonal and holiday accent is highlighted throughout the garden and its arrangements, and is stunning against the snow!
Pike Place Market is a must-see when visiting Seattle, especially during the festive winter months when the seasonal vendors and handmade artisanal items are put on display.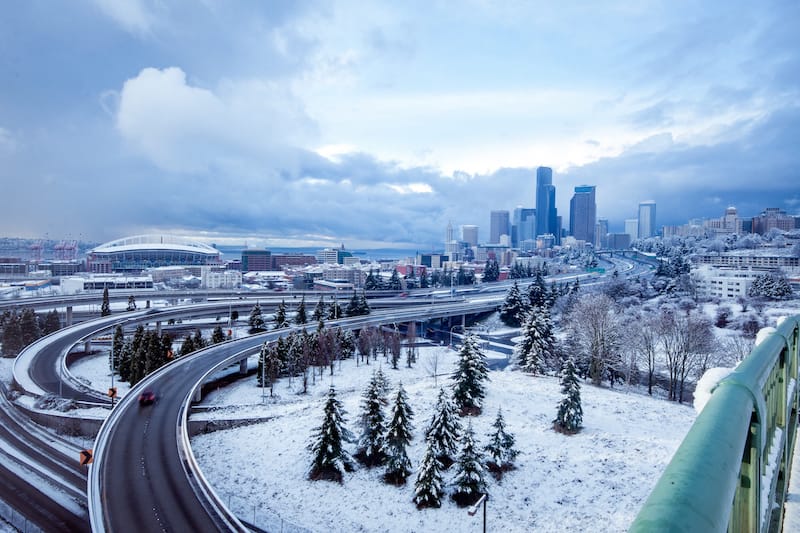 The neon lights are augmented with Christmas ones, and the market's essential fingerprint in the city grows in value.
The Original Starbucks is also in Seattle, and you can stop by to warm your tummy up with a coffee beverage!
The state's ferry system is a charming feature of the city that can connect you with its islands and peninsulas.
7. Las Vegas
Location: Nevada
Average temperatures and precipitation: highs of 60F and lows of 27F; 1 day of rain
Reasons to visit Vegas in December: fewer crowds and nice temperatures, Bellagio Conservatory & Botanical Gardens lights
Las Vegas is a metropolis resort in the middle of the desert, and in the Vegas winter, its high temperatures average around the 60s, and the lows average near the upper 30s and low 40s.
During this season, the city is more accessible all throughout due to its smaller volume of people. Tickets for entertainment and performances in the city, like the Cirque du Soleil show, are easier to get.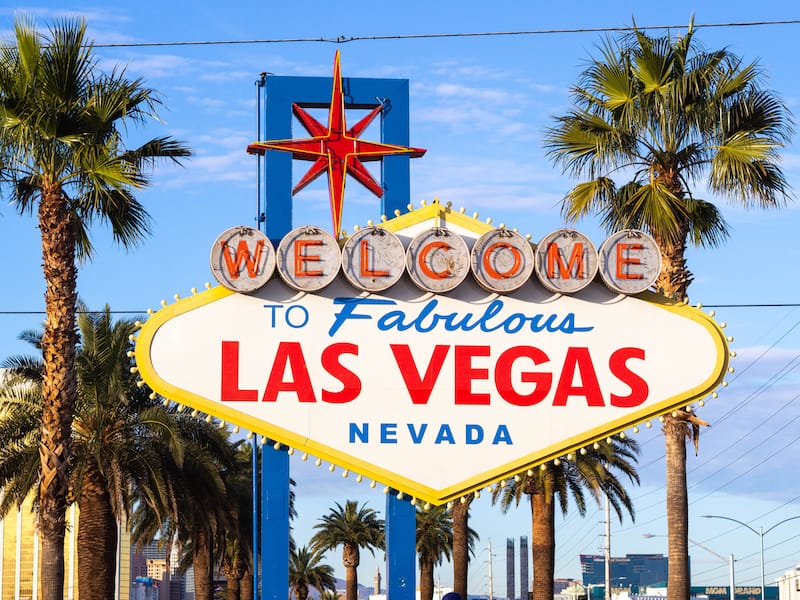 One of its most famous locations, the Bellagio Conservatory & Botanical Gardens, transforms into a winter wonderland with festive lights and decorations for its Majestic Holiday Magic exhibit.
The LINQ Promenade is also transformed with its Christmas Tree Lighting, and the adjacent Flamingo Las Vegas becomes a center of joyous holiday performances as it hosts its annual Flamingo Holiday Festival.
Visitors can even participate in seasonal activities, like ice skating, at the Cosmopolitan's famous Boulevard Pool, which is converted into an ice rink!
If you're keen to get out of the city, there are plenty of day trips to choose from. One of our favorites is Valley of Fire State Park (one of the nation's best state parks).
8. North Pole
Location: Alaska
Average temperatures and precipitation: highs of 1F and lows of -16F; 3 days of rain
Reasons to visit North Pole in December: home of Santa Claus (in the US), snowy Alaskan beauty
The small Alaskan town of North Pole is named after Santa Claus' home and headquarters for his Christmas gift-giving operation.
The temperature of the small town averages with highs of 1°F and with lows averaging at about -16°F. Yup, super cold, but that's just how Santa likes it.
Santa Claus Lane, the prominent street of the town, is decorated all year with festive candy cane motifs and striped light poles.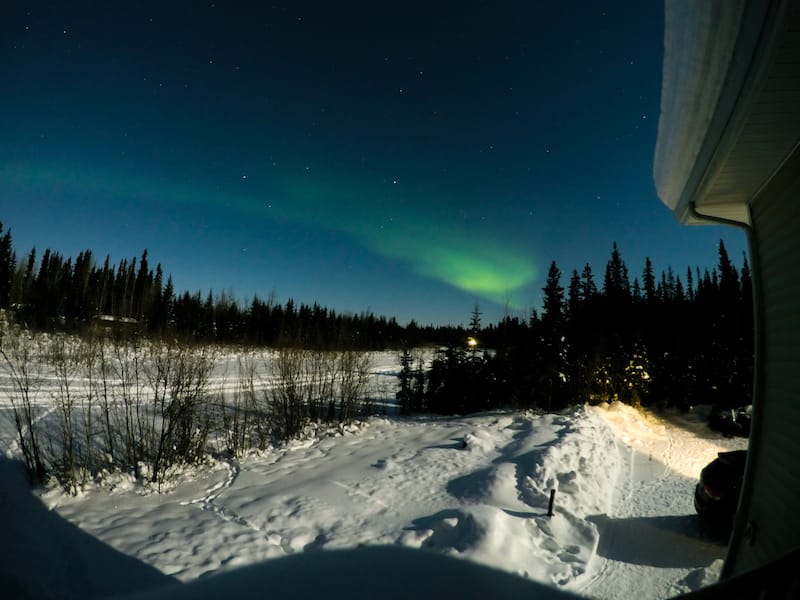 The Santa Claus House, where Santa officially lives, is open to visitors and welcomes thousands every year to see the home, gift shop, and pastry shop of locally made items, along with a statue of Santa himself.
One of the most popular activities during the Christmas season, especially with children, is to take a photograph with Santa in front of his house!
On your way out of town, take a postcard written by Santa from the gift shop as a souvenir!
9. Sanibel Island
Location: Florida
Average temperatures and precipitation: highs of 77F and lows of 57F; 3 days of rain
Reasons to visit Sanibel Island in December: gorgeous winter temperatures and little rain, fewer crowds
During the winter season, Sanibel's year-round subtropical climate cools down to the perfect temperature of the upper and mid-70s on average; these winter months are categorized as the peak season and are thus, more expensive than the rest of the year.
There is an occasional frost and freezing temperature but the island and its many resorts and hotels don't stress too much over it, and neither should you.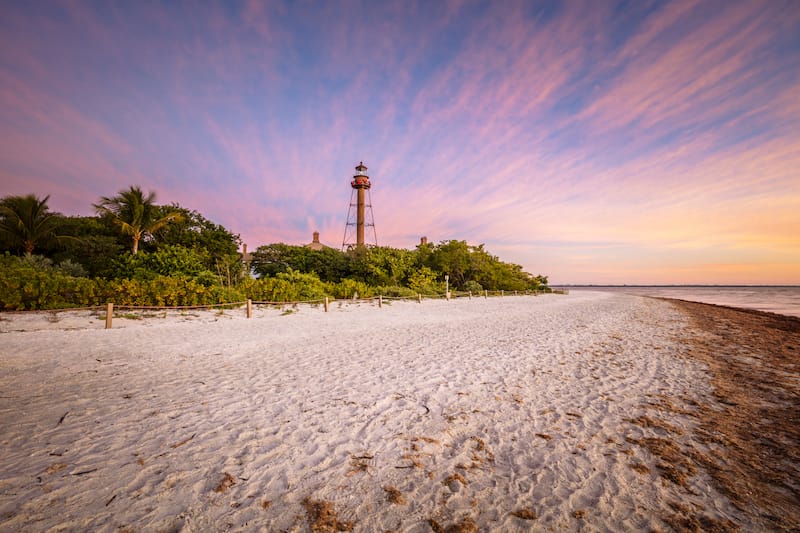 Instead, focus on the many beautiful, sandy beaches of Sanibel Island, like the popular Bowman's Beach, Blind Pass Beach, and Lighthouse Beach Park.
The one-of-a-kind Bailey-Matthews National Shell Museum has over 30 exhibits dedicated entirely to shells and mollusks.
In addition, one-third of the island was turned into a Wildlife Refuge by conservationist J.N. "Ding" Darling, and for a reasonable fee, you can not only trail the area, but can also help finance the conservation of the wildlife!
10. Bethlehem
Location: Pennsylvania
Average temperatures and precipitation: highs of 56F and lows of 47F; 7 days of rain
Reasons to visit Bethlehem in December: nickname is Christmas City USA, markets in the city
Christmas City USA was founded in the mid-18th century by a German Count and a small group of religious Moravians, who together christened and named the settlement Bethlehem.
Their established bookstore in 1745, known as the Moravian Book Shop, is today known as the oldest continuously operating bookstore in the world.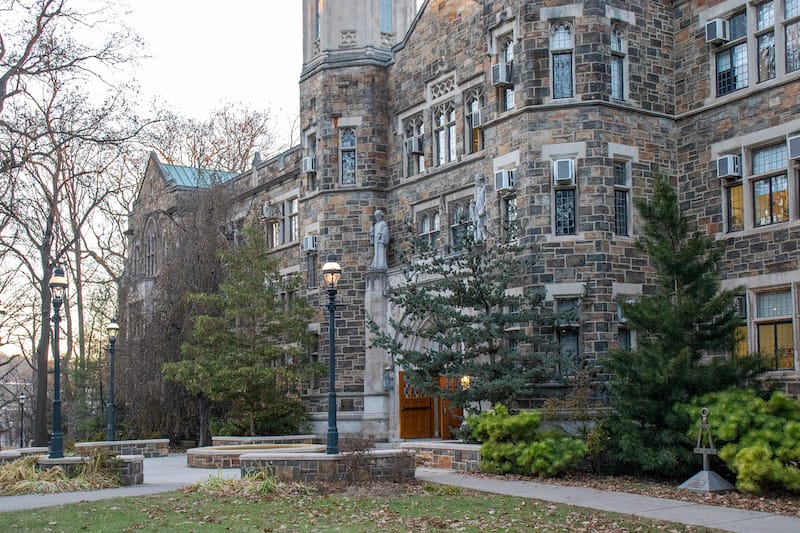 The Christmas City Village, which is built and decorated with German-inspired motifs and architecture, is a Christmas market that is held on the weekend during the holiday season along Main Street in two different locations, and has popular handmade treats, pastries, and gifts!
To get a better view of the historic city and its Christmas charm, there are tours offered a few times every week during the season by guides wearing costumes.
They educate their groups on the Moravian roots of the city and how it came to be known as Christmas City USA.
11. Aspen
Location: Colorado
Average temperatures and precipitation: highs of 35F and lows of 11F; 8 days of rain
Reasons to visit Aspen in December: skiing, Breathtaker Alpine Coaster, many festivals and fun
Aspen is heaven for nature and thrill enthusiasts, with four resorts mounted in the Rocky Mountains. It is a great getaway from Denver and other places in the state.
The Buttermilk is a safe haven for beginners with five lifts and a fraction of its 21 miles of trails are rated as easy.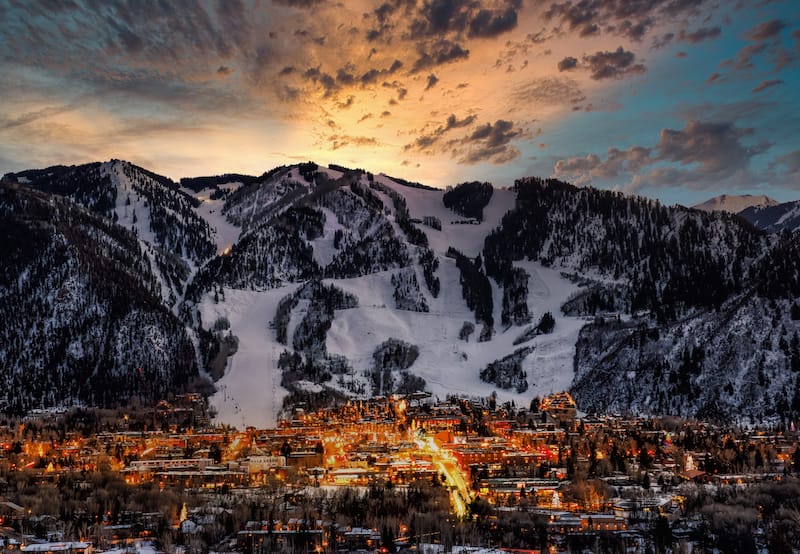 Aspen Highlands has 84 miles of trails with five lifts as well, and is more suitable for intermediate and expert levels: Ajax or the Aspen Mountain, is 4 miles of trails with eight lifts and is also more suitable for the intermediate and expert level skiers, and Aspen Snowmass has over 3,300 acres of skiable land with trails of all difficulty levels and a 4,406-foot vertical drop.
For another type of thrill ride, the Breathtaker Alpine Coaster gives a 28 mph ride through the nature of Aspen on a mile-long track!
Also in the Aspen area is the White River National Forest, which hosts the Maroon Bells area, a popular and scenic hiking destination.
12. Newport Beach
Location: California
Average temperatures and precipitation: highs of 64F and lows of 49F; 3 days of rain
Reasons to visit Newport Beach in December: comfortable temperatures and little rain, Christmas Boat Parade
Lots of Americans flock to the warmer regions like the migrating birds during the winter, with one of the primary destinations being Newport Beach.
In the winter, the temperature averages with highs around the mid-60s and lows around the 50s.
The renowned white sandy beaches and clear waters are perhaps the most attractive part of Newport Beach, with Crystal Cove and Corona del Mar State Beach being two of the beaches to choose from.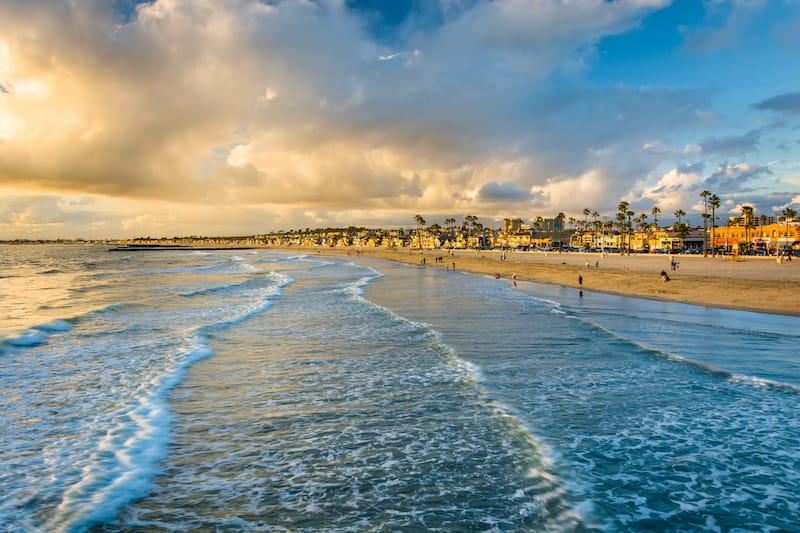 You'll catch people lounging on the beach, enjoying the sunset, or watching the whales in the distance!
For the city culture of Newport Beach, Fashion Island's mall of endless stores and restaurants offers a lavish experience for visitors.
As for something seasonal, the Christmas Boat Parade is an event that takes place in December for five consecutive nights, in which various boats are decorated with ornaments, festive lights, and even inflatables all around Newport Bay!
It's no wonder that this is one of the best beach towns in the state!
13. Adirondacks
Location: New York
Average temperatures and precipitation: highs of 30F and lows of 13F; 7 days of rain
Reasons to visit the Adirondacks in December: skiing and trailing, ice climbing, other winter activities
The Adirondack Mountains in Upstate New York aren't just full of natural beauties, they also host a handful of winter carnivals and interesting sporting events, like arctic golf.
The massive mountains are excellent for downhill skiing and snowboarding, and thus many resorts are dispersed all throughout the large park and mountain chain.
McCauley Mountain, Gore Mountain, and Whiteface Mountain are three of the most famous mountains for skiing and trailing.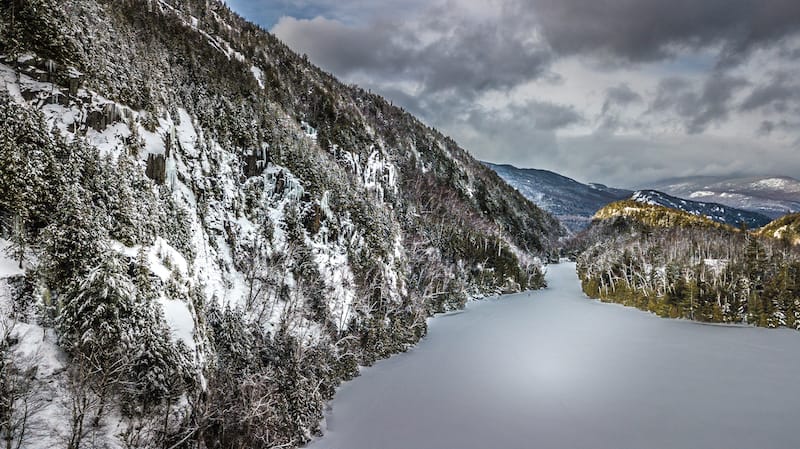 The natural attractions of the park are highlighted in the winter, giving a unique spectacle for visitors with the ice formations of the High Falls Gorge.
Natural Stone Bridge & Caves Park with its marble caves hidden amongst the blanketing snow, and the massive icicles of the frozen Ausable River at Ausable Chasm's gorge are among the park's attractions.
It doesn't end there– there is an abundance of options in the park due to its ideal territory for ice climbing, winter hiking, and snowmobiling!
14. Savannah
Location: Georgia
Average temperatures and precipitation: highs of 64F and lows of 45F; 6 days of rain
Reasons to visit Savannah in December: fewer tourists but nice temperatures, Savannah Christmas Market
The winters in Savannah have pleasant high temperatures averaging in the low 60s, with its lows averaging around the 40s. The historic city takes a magical turn during the winter.
In the Plant Riverside District, you'll find the Savannah Christmas Market, live performances, fireworks, and a list of events, including the Tree Lighting Ceremony and Boat Parade of Lights, in which Santa arrives by boat on the festively lit river near the Historic River Street.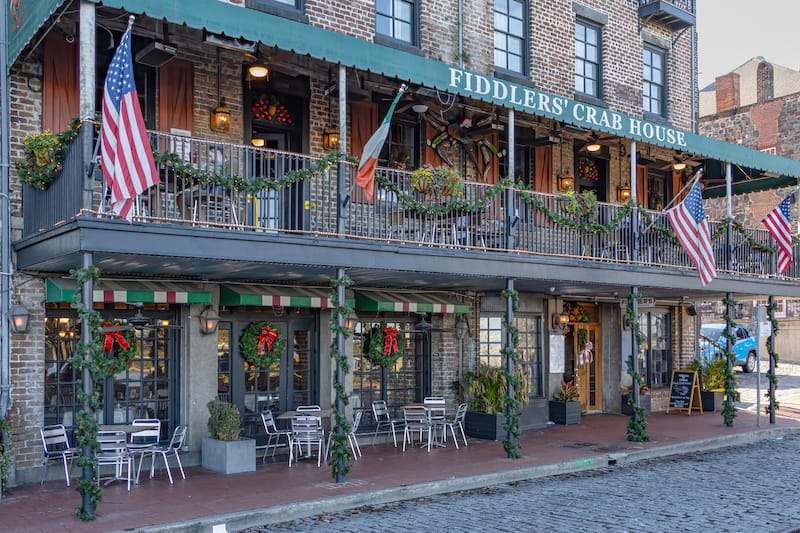 The Hamilton Turner Inn, the Marshall House, and all of Broughton Street are decorated with Christmas Bows and lights, looking like a picturesque town from an old Christmas movie.
Forsyth Park is also a stunning sight to behold during the winter when snow decorates the towering trees leading to the Forsyth fountain.
In addition to the holiday events, there are also unique annual winter festivals that take place, like the Telluride Mountain Film Festival and the Savannah Book Festival.
15. Lake Tahoe
Location: Nevada and California
Average temperatures and precipitation: highs of 44F and lows of 28F; 5 days of rain
Reasons to visit Lake Tahoe in December: snowy heaven with lots of skiing, snowtubing
Lake Tahoe's cabins are worth the getaway alone, let alone the famous scenery, spas, and natural activities available for its visitors.
In the winter, the panoramic of the lake, pine trees, and the mountains blanketed in snow leaves iconic imagery you'll never forget if you're visiting Lake Tahoe!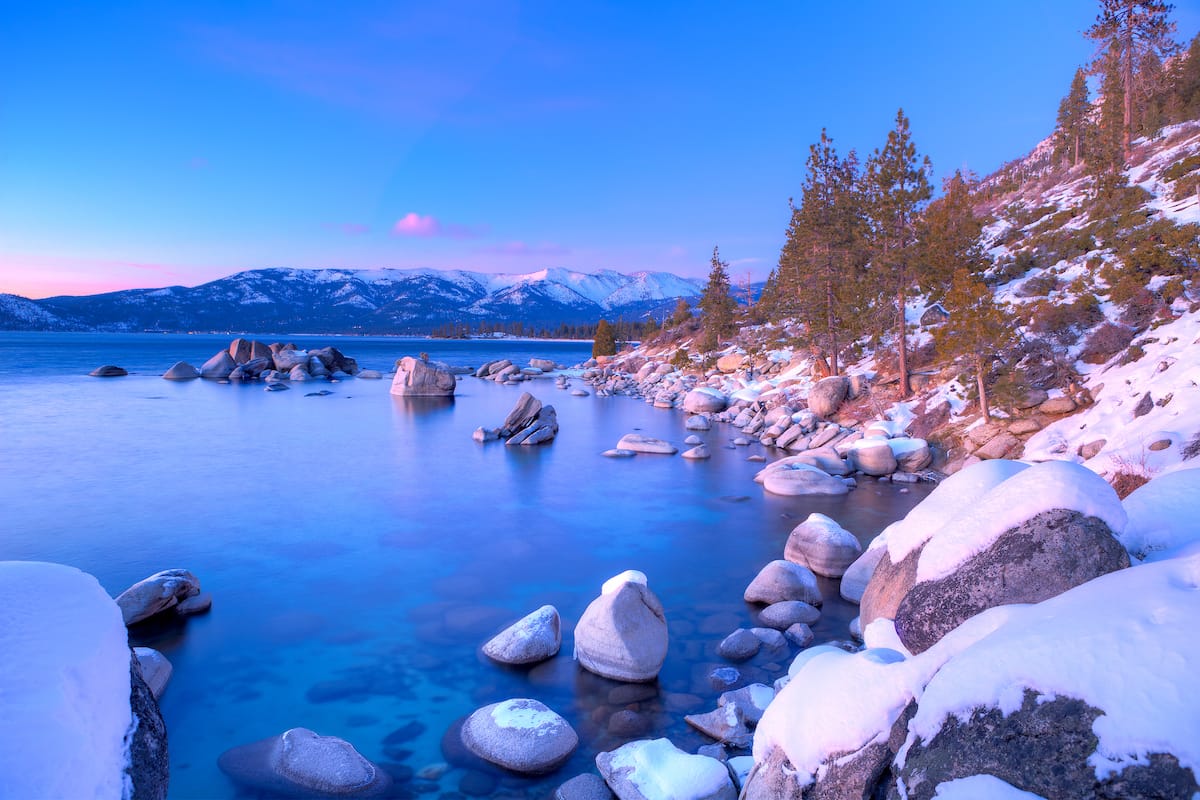 You can explore that scenic landscape with skiing, snowboarding, and even snow tubing if you find yourself in Lake Tahoe in winter.
There are a handful of trails to choose from for hiking, like the Tahoe Rim Trail, which offers a grand view of the lake up close.
In South Lake Tahoe, there are gondola and chairlift rides that take riders up to the summit where they can picnic, hike some more, or simply marvel at the otherworldly view.
After a day's worth of outdoor activities, you can close the day with a rejuvenating deep tissue massage, or any other revitalizing treatment at one of their spas, like the Lighthouse Spa.
16. Leavenworth
Location: Washington
Average temperatures and precipitation: highs of 34F and lows of 21F; 12 days of rain
Reasons to visit Leavenworth in December: a Bavarian village in the US, heaps of winter activities!
In the heart of the Cascade Mountains, you'll find the Bavarian Village of Leavenworth.
The village looks like something straight out of a fairytale, especially during the winter when the homes and streets are decorated with Christmas motifs, ornaments, and lights.
Additionally, its Nutcracker Museum holds the largest collection of nutcrackers from all over the world.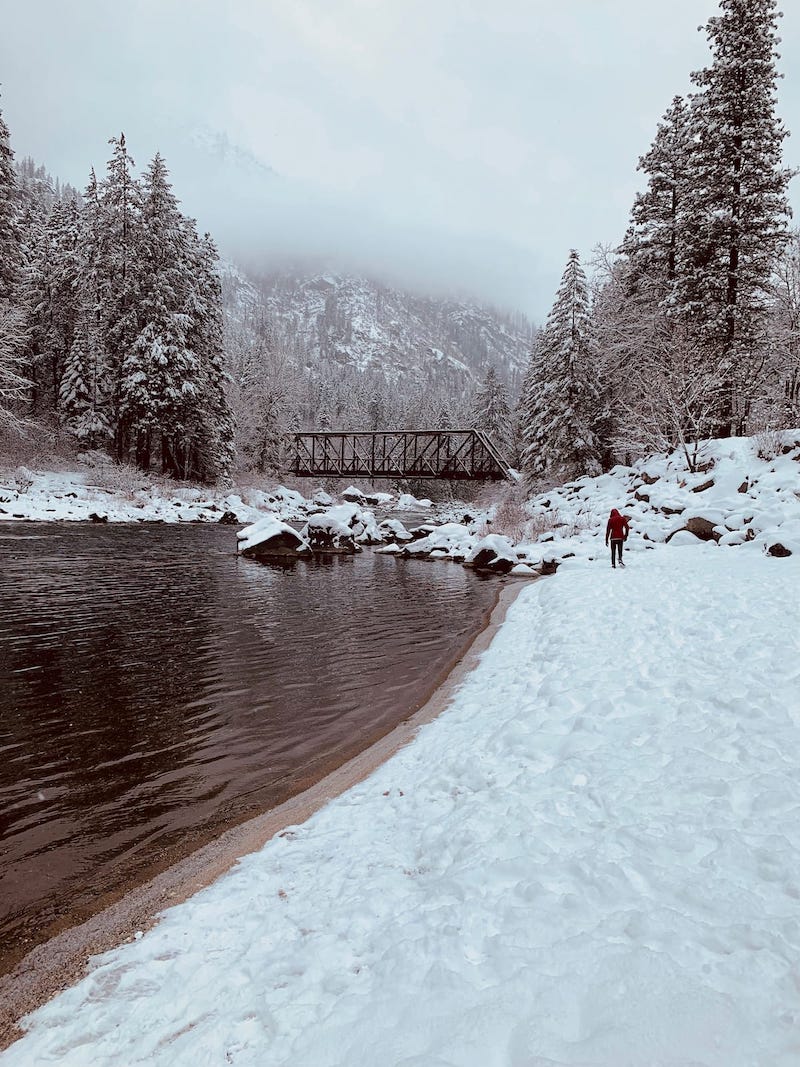 Wander the streets of boutique shops of authentic Bavarian arts and crafts, foods, and other local items, as if you're time traveling back to the Old World.
The mountain range it's surrounded by many trails that you can tour by foot, or by snowmobiling, as Leavenworth is one of the most famous destinations for such activities.
There are additional outdoor winter activities, such as Nordic skiing and snowshoeing, where you can tour the alpine country's famous trails, like the Icicle River Trail, or an abundance of other trails available in the Lake Wenatchee State Park.
17. Williamsburg
Location: Virginia
Average temperatures and precipitation: highs of 53F and lows of 33F; 7 days of rain
Reasons to visit Williamsburg in December: ice skating in Merchant's Square, Christmas Village at Busch Gardens
Williamsburg has a plethora of outdoor social activities throughout the winter season and holidays.
There is ice skating at Liberty's Ice Pavilion, which is in the middle of Merchant's Square, where performances, events, an abundance of shopping opportunities, and the giant Christmas tree are placed.
Its Christmas Village is an event where local vendors of Christmas treats and beverages, beer, artisanal crafts and gifts, and visits with Santa are organized, and the setup resembles a traditional Christmas market in Europe.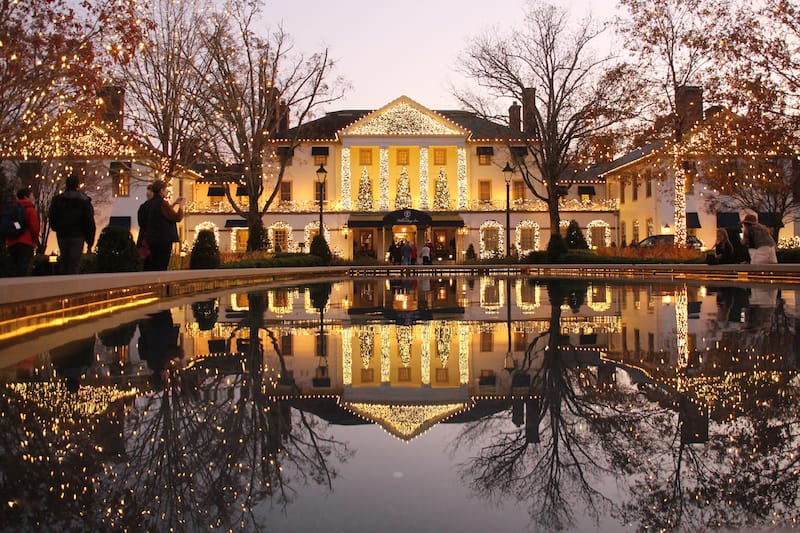 While attending these events, you'll probably catch glimpses of the largest living history museum in Colonial Williamsburg, and its actors depicting daily life during those times.
As for other events and things to do in Williamsburg, the Busch Gardens has an outdoor Christmas Village that is festively decorated, with attractions and coasters throughout.
Sweethaven Lavender Farm has an annual Country Christmas event, in which live music, its specialty lavender hot cocoa, and shopping opportunities are draped in an all-in-one experience.
18. Oklahoma City
Location: Oklahoma
Average temperatures and precipitation: highs of 51F and lows of 30F; 2 days of rain
Reasons to visit OKC in December: Devon Ice Rink at the Myriad Botanical Gardens, Oklahoma City Tree Lighting
The winter weather is fairly moderate, averaging around 50°F until January when it drops an additional 20° on average.
The Oklahoma City Tree Lighting is a traditional festival with performances, family activities, and photos with Santa Claus.
In Downtown Oklahoma City, the Devon Ice Rink at the Myriad Botanical Gardens is open every day for outdoor ice skating as early as mid-November.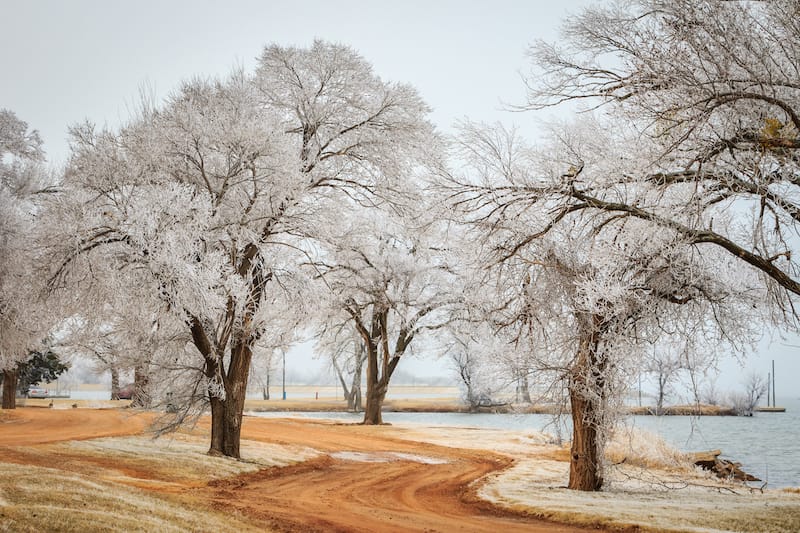 During the holiday season, there are also local vendors of locally made items at the Holiday Pop-Up Shops in Midtown, the unique feature of this shopping experience being the weekly rotating vendors of local and small businesses.
In addition to the holiday activities, there are also a few museums to exhibit, such as the National Cowboy & Western Heritage Museum, the Museum of Osteology, and the Museum of Art.
For entertainment, there's the Frontier City amusement park, which is Western-themed, and the picnic areas of the reservoir and lighthouse at Lake Hefner.
19. Asheville
Location: North Carolina
Average temperatures and precipitation: highs of 50F and lows of 31F; 7 days of rain
Reasons to visit Asheville in December: the Biltmore is beautiful during the holidays, North Carolina Arboretum tree lighting
In North Carolina's Blue Ridge Mountains sits Asheville, a city with historic architecture and beautiful, natural scenery. It is a great places to visit in the USA in December!
The North Carolina Arboretum is a free arboretum and botanical garden of a variety of different plants from around the world and has a winter lights show, which includes the lighting of a massive Christmas tree.
The Pisgah National Forest is part of the Appalachian Mountains. It has jaw-dropping visuals of waterfalls and mountain peaks during the winter, as well as hundreds of hiking trails.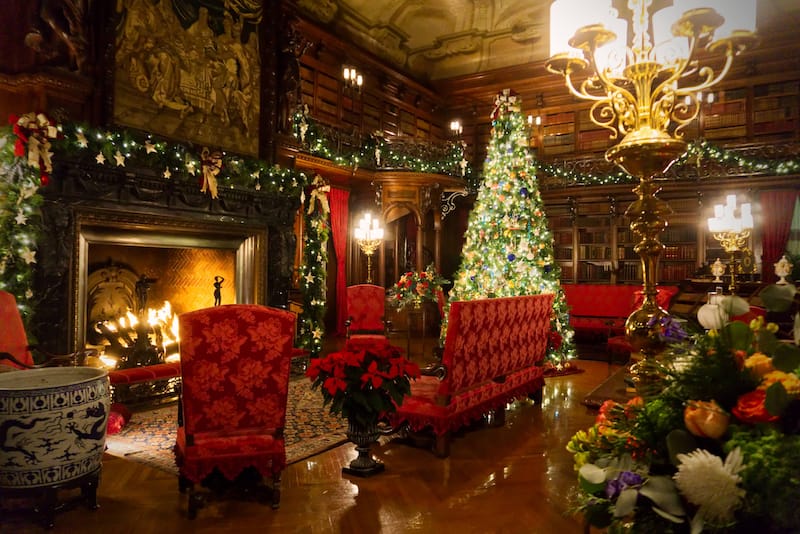 Blue Ridge Parkway and the DuPont Forest are also excellent options for hiking in the winter, the latter known for its Waterfall trails, like the Hooker Falls.
To avoid the cold, you can tour the interior and garden of the iconic Biltmore Mansion, or for more exposure to the city's history, the Southern Highland Craft Guild Folk Art Center showcases crafts from the Southern Appalachian region.
20. Stowe
Location: Vermont
Average temperatures and precipitation: highs of 23F and lows of 8F; 19 days of rain
Reasons to visit Stowe in December: top ski town, dog sledding, so many other winter activities!
Forbes ranked Stowe as one of the "Top 10 Best Ski Towns in America" because of the mountain resort town's plethora of winter activities and trail system.
With options including sleigh rides, fat biking, dog sledding, snowmobiling, Alpine skiing, Nordic skiing, snowboarding, ice skating, ice climbing, ice fishing, and snowshoeing– long story short, you won't be running out of things to do.
Its ideal terrain is sculpted by several Green Mountains Peaks and Byways, including Mount Mansfield, Vermont's highest mountain, presenting an abundance of trails for each activity.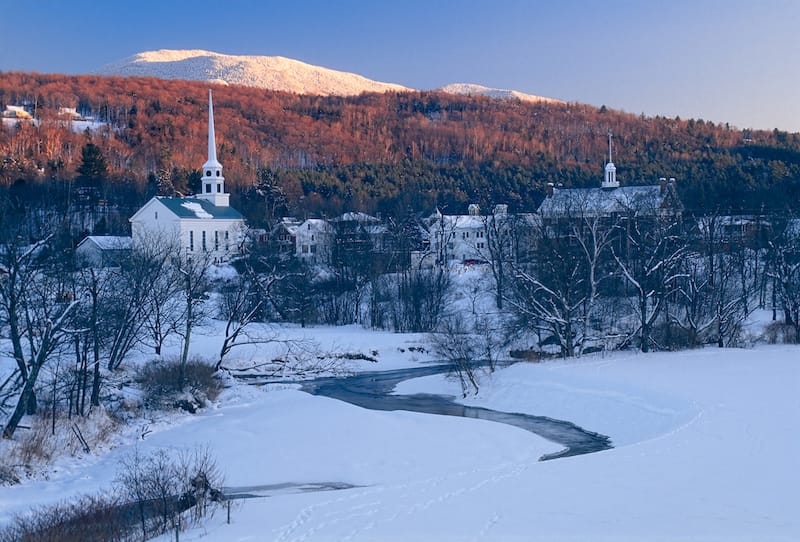 The Après Skiing and Craft Beer scene is also named one of the "Best Ski Towns for Foodies" by Fodors Travel.
It has a versatile selection of craft breweries, cider-houses, distilleries, and wineries, with food menus all offering locally-sourced Vermont products.
For other indoor activities, there are salon services and treatments, massages, hot tubs, and saunas in any of their self-proclaimed world-class spas.
21. Washington DC
Average temperatures and precipitation: highs of 48F and lows of 30F; 7 days of rain
Reasons to visit Washington DC in December: museums to flee the cold, ice rink at Washington Harbor
The mild climate of Washington DC gives average high temperatures ranging from the mid-40s to the high 50s in the winter, with lows ranging from the mid-20s to the high 30s, and snows occasionally.
You'll see buildings, the streets, and light poles festively decorated for the holiday season if you happen to be in DC in winter.
On the Potomac River shoreline is the District's Holiday Boat Parade, where ice skating, a large Christmas tree, and the waterfront nightlife draw visitors.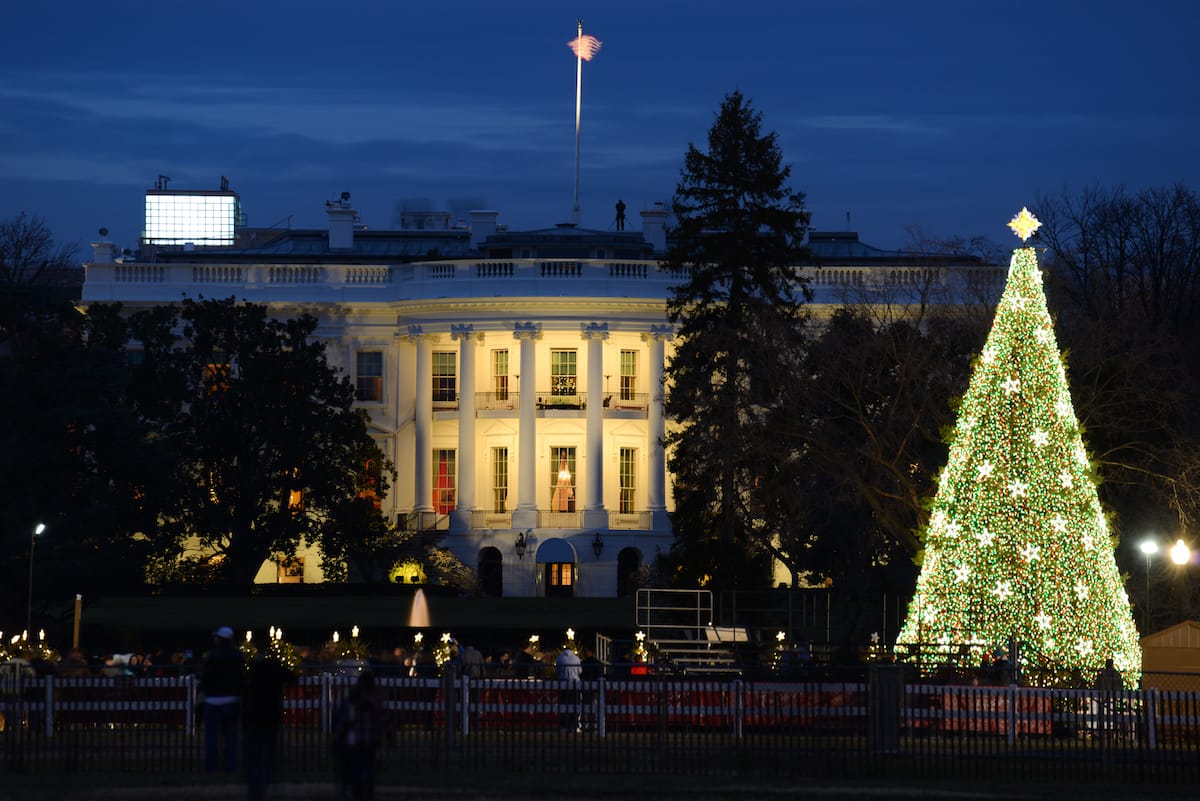 The DC Chocolate, Wine & Whiskey Festival provides everything in its title and is one of the most popular events in the city.
In addition to Christmas and New Years, there is also the Chinese New Year Parade, where the local Chinese community hosts traditional delicacies and performs traditional dances and songs to celebrate in Chinatown.
In Washington Harbor, the large central fountain is transformed into an ice rink, where locals can ice skate as early as mid-November.
22. Nashville
Location: Tennessee
Average temperatures and precipitation: highs of 51F and lows of 32F; 8 days of rain
Reasons to visit Nashville in December: Gaylord Opryland's A Country Christmas, Holiday LIGHTS Experience at Cheekwood
The temperature in Nashville during the winter is mild, ranging from 30 to 50 degrees on average, making it a great place to visit during the winter.
The city, also known as Music City, has an annual holiday tradition combining the country with Christmas called Gaylord Opryland's A Country Christmas.
It includes a range of activities, such as ice tubing and gingerbread decorating, and of course, offers a queue of live performances whilst surrounded by Christmas ornaments and decorations.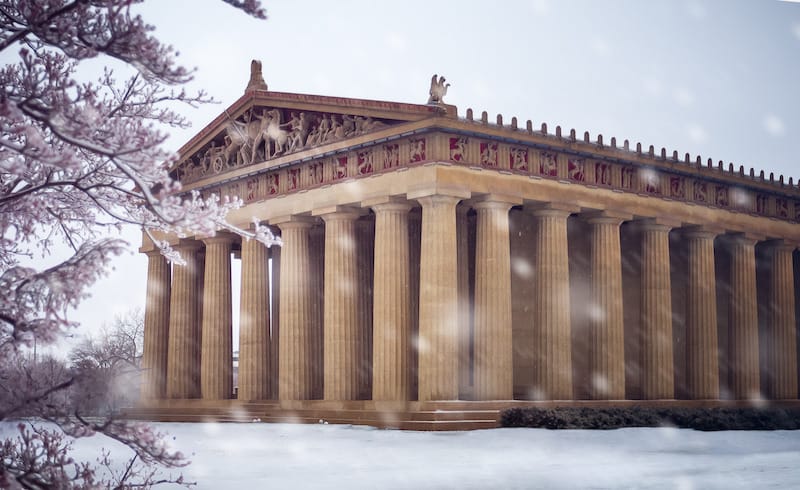 At the Cheekwood Estate & Gardens, there is also the Holiday LIGHTS Experience, known to have one million lights that illuminate the mile-long gardens, creating an opportunity for you to take a stroll in Winter Wonderland.
For indoor attractions to evade the cold, there are historic home tours dispersed throughout the city, like the Andrew Jackson's Hermitage, major museums such as the Country Music Hall of Fame and Museum and Adventure Science Center, as well as indoor entertainment facilities, such as the Pinewood Social.
23. Dallas
Location: Texas
Average temperatures and precipitation: highs of 58F and lows of 39F; 5 days of rain
Reasons to visit Dallas in December: Fair Park's Enchant Christmas, shopping at Holiday Village
In the winter, Dallas has an average daily high temperature of 64°F, with the exception of January, when it drops an additional 10°.
It's best to visit during the Christmas season in winter! There are plenty of day trips, Christmas festivities, and more!
In Fair Park, they transform the landscape into an interactive Nordic-inspired winter wonderland, called Enchant Christmas, and has an ice skating rink, an 80-foot Christmas tree, a village for Santa, a maze out of Christmas lights, and an outdoor 'Polar Bar.'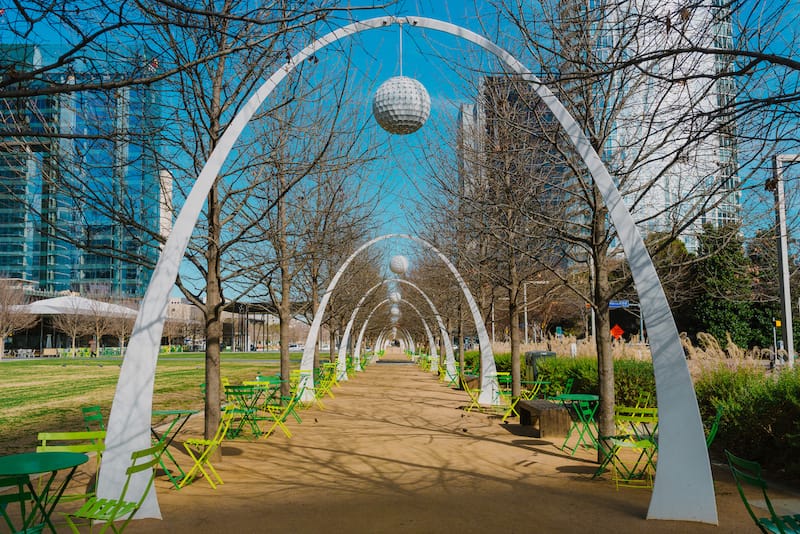 The Dallas Arboretum and Botanical Garden has another holiday tradition of transforming its Main Garden into the 12 Days of Christmas, depicting various scenes from the carol.
For other Christmas entertainment, there is the Holiday Village for shopping and pictures with Santa, and the Dallas Symphony Orchestra performs a collection of Christmas pops.
The Galleria Dallas is the city's impressive mall, and it houses the largest Christmas tree in the nation in the center of its indoor ice skating rink.
24. Park City
Location: Utah
Average temperatures and precipitation: highs of 35F and lows of 14F; 6 days of rain
Reasons to visit Park City in December: skiing opportunities (as well as other winter sports), top-notch dining experiences
Park City is bordered by the Valley Resort and the huge Park City Mountain Resort and has over 330 trails, making it the largest ski and snowboarding destination in America.
These trails provide visitors with an endless list of activities, including cross-country skiing, dog sledding, ice skating, snowboarding, skiing, sleigh rides, snow biking, snowmobiling, snowshoeing, and snow tubing.
The Utah Olympic Park is another popular place to see, and it offers tours along with bobsled rides for its visitors.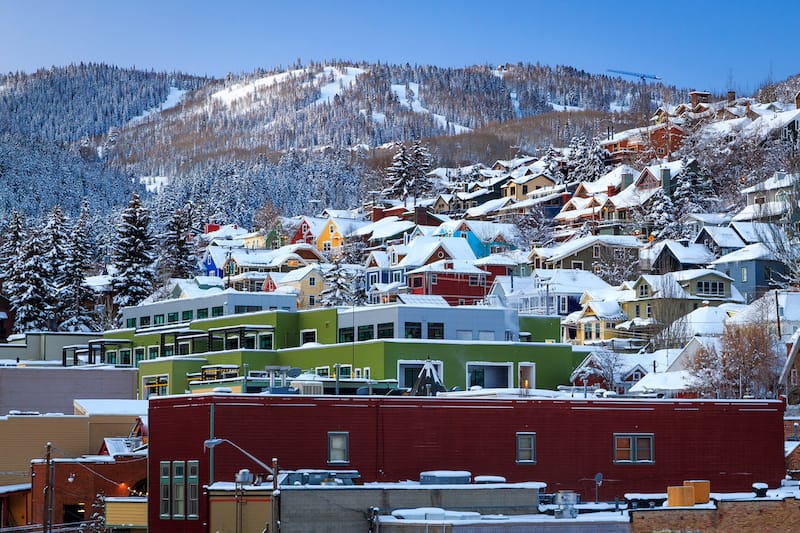 The Olympic Park also includes the Alf Engen Ski Museum, which traces the history of skiing culture from all over the world, and in the nation.
There is a one-of-a-kind six-course fine dining experience in a Viking Yurt, in which at dusk you will reach the top of Park City Mountain by sleighing.
For other quality dining experiences, the Historic Main Street Park City boasts a selection of award-winning restaurants.
The best thing is that Park City is a pretty easy weekend or day trip from Salt Lake City!
25. Charleston
Location: South Carolina
Average temperatures and precipitation: highs of 61F and lows of 46F; 6 days of rain
Reasons to visit Charleston in December: James Island's Festival of Lights, mild temperatures, oyster festivals
The winters in Charleston are mildly temperate, with winter temperatures ranging from the low 40s to the mid-60s. Snow is rare, which is why Charleston is a popular winter getaway location.
Its sea islands are perhaps its most alluring attraction, with versatile terrains ranging from white sandy beaches to impressive forests with giant oak trees.
The islands are popular hiking destinations to enjoy the complementary, cooling winter climate.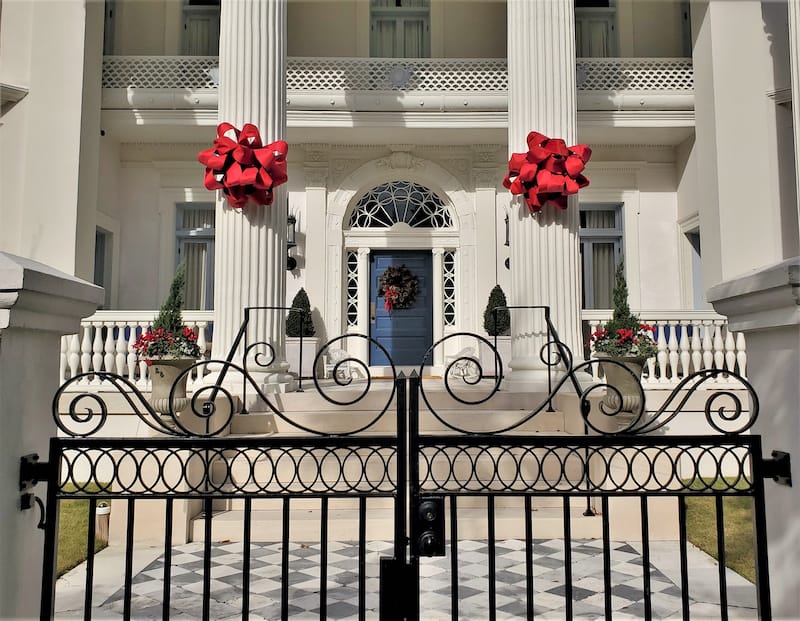 Winter is the ideal time to eat oysters as it is its prime season, and along the coast of South Carolina, there are an abundance of restaurants hosting their take on oyster cuisine, as well as the Lowcountry Oyster Festival.
Another highly anticipated festival would be the 5-day Charleston Wine + Food Festival which highlights Charleston's famous culinary culture.
For the holiday season, there is the James Island Festival of Lights, which has two million lights sparkling for miles, and Middleton Place hosts a holiday market.
Did we miss any of the best places to visit in the USA in December in this guide? Let us know your favorite cities and states to visit in the USA in December below!
Traveling another time of the year? Check out our month-by-month guides!
Pin this USA in December Guide