Are you planning a trip down south and looking for the best things to do in Savannah in winter? Read on if so!
Are you planning your trip to Savannah last minute?
If youʻre booking your trip to Savannah last minute, we have you covered. Below are some of the top tours, hotels, and more!
🇺🇸 Top Experiences and Tours in Savannah:
🛌 Top Hotels in Savannah:
The Drayton Hotel (boutique hotel in center!)
The Marshall House (historic inn from 1851)
Eliza Thompson House (another historic inn near Forsyth Park)
🚗 Looking for the best way to get around Savannah? Click here to check rental car rates for Georgia!
Winter in Savannah is mild for those traveling in from the north!
With highs in the low 60s, it is a place where you can get an 'early spring' if you're traveling from somewhere north of the city.
This guide details the best things to do in Savannah in winter, including how to spend Christmas in Savannah.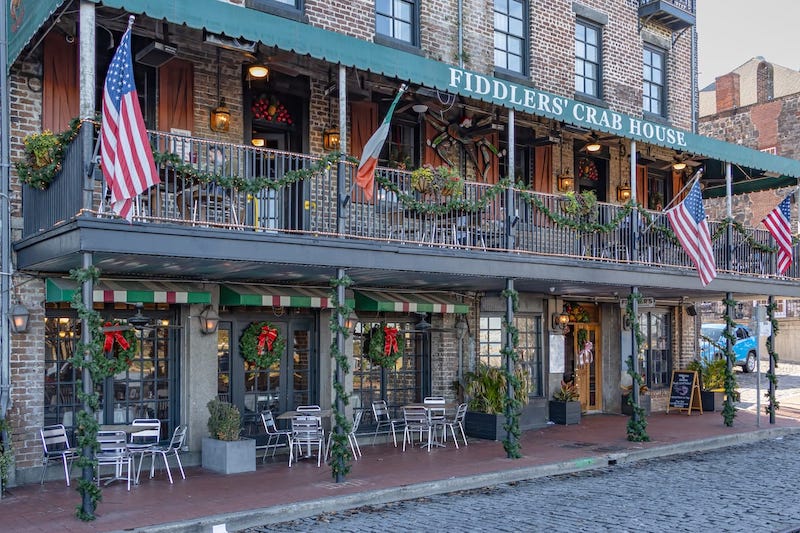 Did we miss anything? Let us know in the comments!
Savannah Winter Quick Info
Average Winter Temperatures in Savannah
As with most Southern cities, Savannah doesn't get too cold in the winter, with temperatures rarely dipping below freezing.
However, there is a lot of moisture in the air, making Savannah colder than it actually is.
Here are the average temperatures each month during the winter:
Savannah in December: high: 63 F, low: 45 F
Savannah in January: high: 61 F, low: 42 F
Savannah in February: high: 64 F, low: 45 F
Savannah in March: high: 70 F, low: 51 F
Does it Snow in Savannah?
For the most part, you will see sunny skies in Savannah, with a few days of rain and overcast weather.
However, Savannah has an average of zero inches of snow every year, meaning that it's not quite the place to visit if you want a winter wonderland.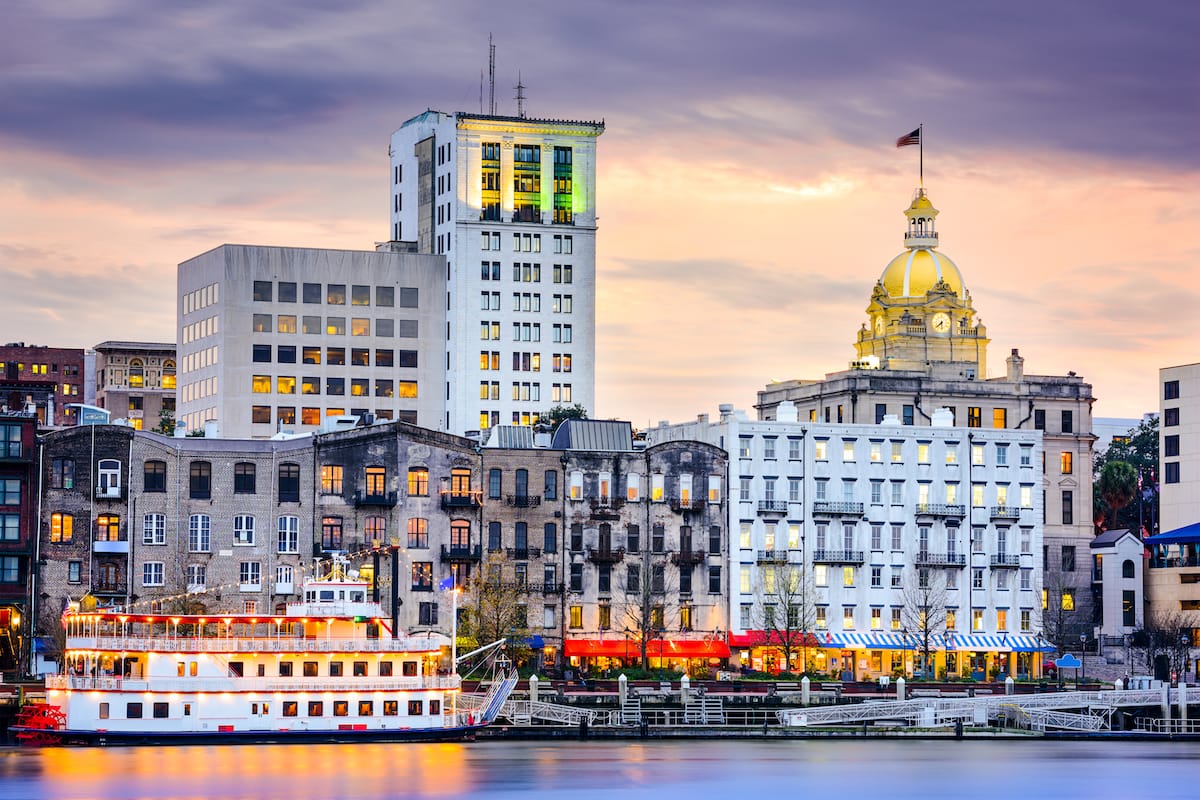 With that being said, you might experience icy conditions some days, and the lack of snow doesn't mean that the city lacks in its wintry spirit.
Best Things to Do in Savannah in Winter
1. Visit the Davenport House Museum
The Davenport House Museum is an integral part of Savannah's history, offering a glimpse into American life in the 1820s.
The house was built by Isaiah Davenport, a young carpenter from New England.
Once, the Davenport House bustled with the activity and lives of enslaved workers. Today, the three-story house and its garden are a place of reflection.
The museum showcases 500 unique pieces of furniture, textiles, and ceramics, all well-preserved and open to the public.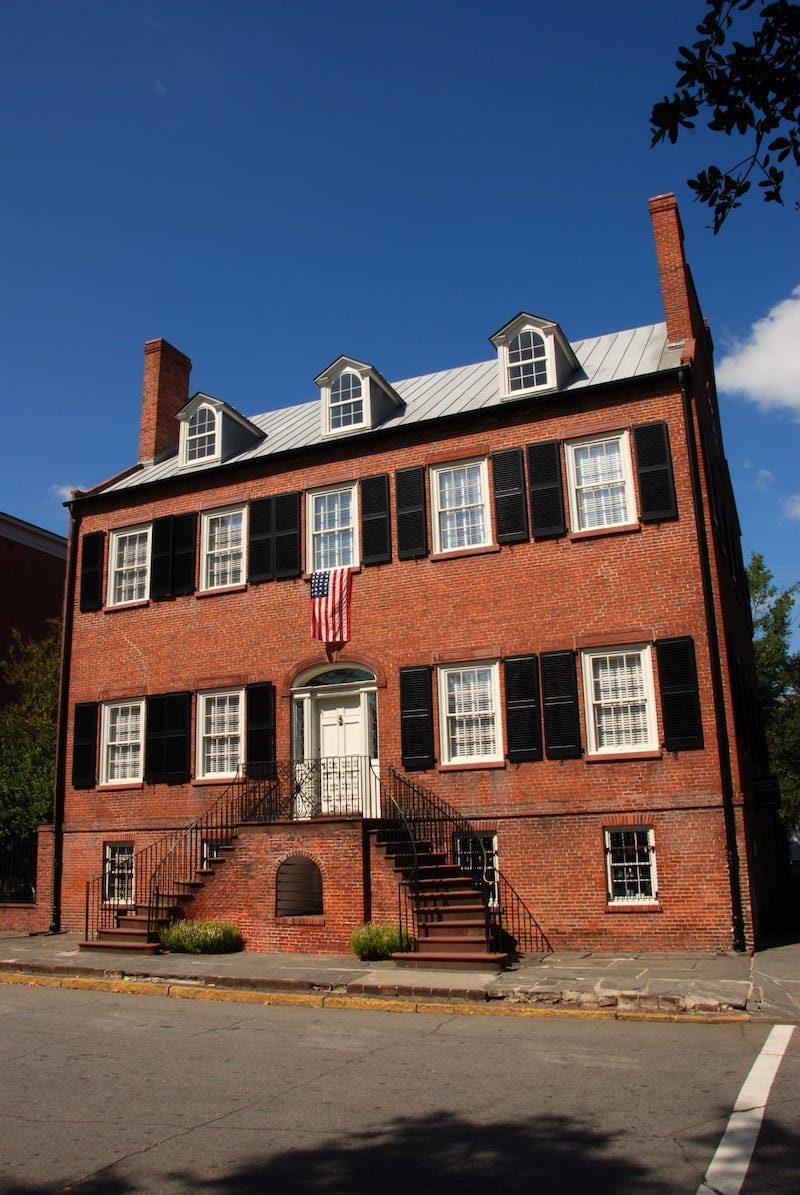 Within the walls of the outstanding Federal-style home, you will see the meticulous craftsmanship of the interior staircase, plaster ceilings, and fireplaces.
A knowledgeable tour guide will tell you the story of the house and its residents, both free and enslaved.
To visit the museum, you can take a hop-on, hop-off trolley tour that stops right outside the building.
Address: 323 E Broughton St, Savannah, GA 31401
2. Take a Day Trip to Tybee
Located only 20 minutes from downtown Savannah, Tybee Island is a wonderful day trip to enjoy mild winter temperatures.
With laid-back vibes and fewer crowds, Tybee is an ideal gateway. Plus, you can book oceanfront hotel rooms at discounted rates.
The first reason to visit Tybee in winter is the abundance of shrimp and oysters.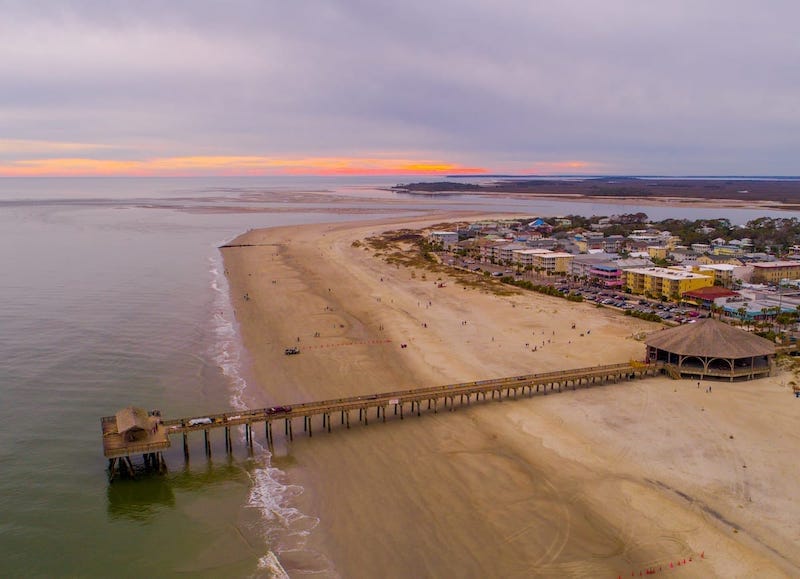 You will have tons of oyster roast, Low Country boil, and buckets of peel-and-eat shrimp at Bubba Gumbo's or Bernie's Oyster House. Sounds like heaven, right?
If you have planned to visit Tybee Island during Christmas and New Year celebrations, get ready to see the largest fireworks display in the Southeast.
Once done with shrimp and fireworks, head to McQueen's six-mile biking trail to enjoy the coastal views.
3. See a Christmas Show at the Savannah Theatre
Since 1818, the Savannah Theatre has been entertaining audiences with top-notch performances. Today, it continues to host live performances and is a favorite movie theater for the residents.
Every winter, the theatre kicks off the season with Elf The Musical, a popular and back-by-demand show.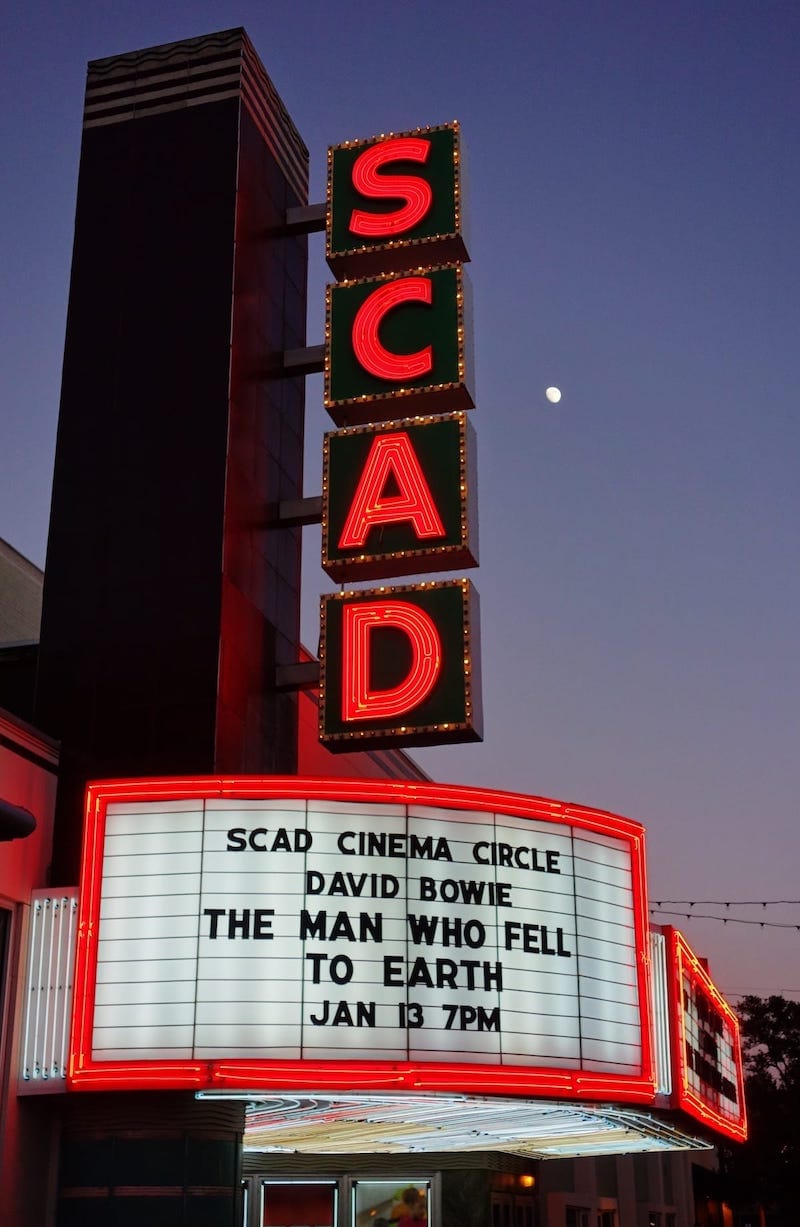 This funny and cute tale fills your heart with the Christmas spirit and prepares you for another great show at the theatre.
The Savannah Theatre hosts A Christmas Tradition, a 2-hour performance that brings the holiday sparkle. By the way, this year is going to be the 20th-anniversary show.
Address: 222 Bull St, Savannah, GA 31401
4. Take a Historic Sightseeing Trolley Tour
A trolley tour of historic Savannah is a great chance to explore the popular attractions, and even the cold weather should not bother you.
You will take a tour on the longest-running trolley line in the Georgia town, exploring old neighborhoods and cobblestone streets.
A guided tour will tell you all the exciting stories about buildings, streets, and historical figures involved in the funding of Savannah.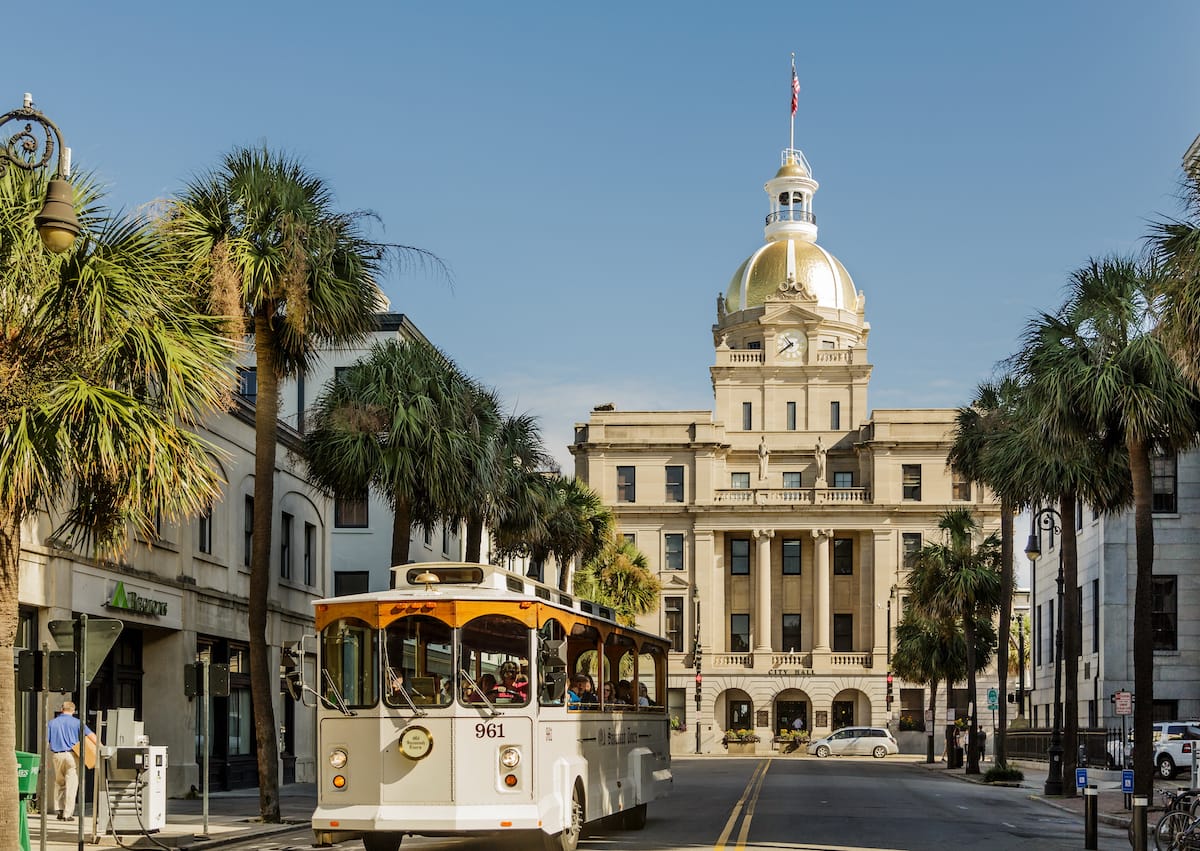 By the way, your guide will be dressed in special costumes to make the stories more impressive.
The Old Savannah Trolley Tour takes about an hour and a half, but you will manage to learn about 270 years of American history while riding through Savannah's National Historic Landmark District.
>> Click here to check rates and availability
5. Relax in Gorgeous Forsyth Park
While Forsyth Park is more popular and more commonly visited in spring and summer, you should not miss it while you are on your winter vacation in Savannah.
The central attraction of the 30-acre park is a fountain, installed in 1858. While walking to the fountain, keep your eyes open to see artists drawing in the park.
The fountain is unique to the city, but there are similar ones in Paris, Pero, and Cusco.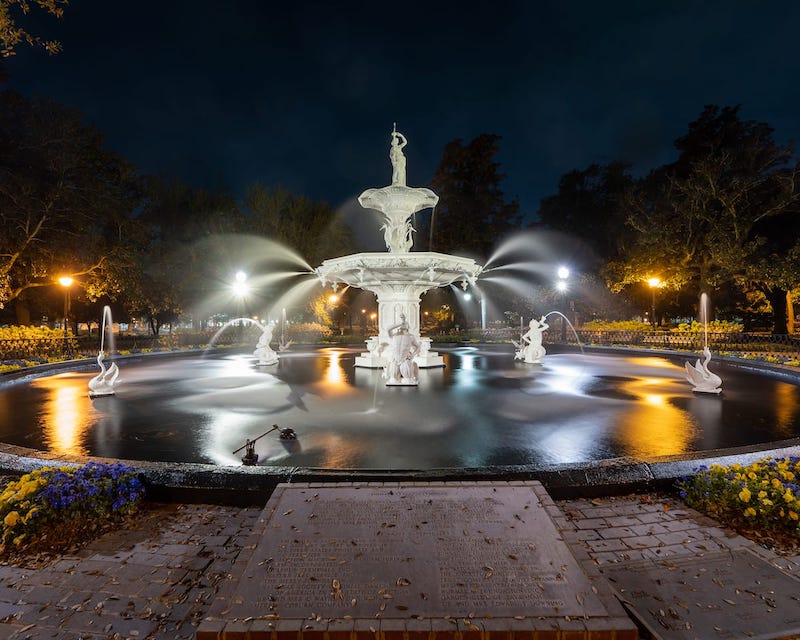 The summer months are much busier at the two playgrounds and event space deep in the park. In winter, it is an excellent place for privacy to enjoy silence.
Take a walk to the south side of the park, where you'll find a farmer's market open every Saturday.
They have delicious coffee and pastries on the spot! If you need a snack, swing by Sentient Bean or Brighter Day Natural Foods for some goodies.
Address: 2 W Gaston St, Savannah, GA 31401
6. See the National Museum of the Mighty Eighth Air Force
Opened in 1942, the National Museum of the Mighty Eighth Air Force displays the living history of the "greatest air armada of all time," its people, and their commitment during WWII.
The major exhibit at the museum is the restored B-17 Flying Fortress. You will learn the stories of unimaginable bravery, discover thousands of artifacts, and see photographs of veterans.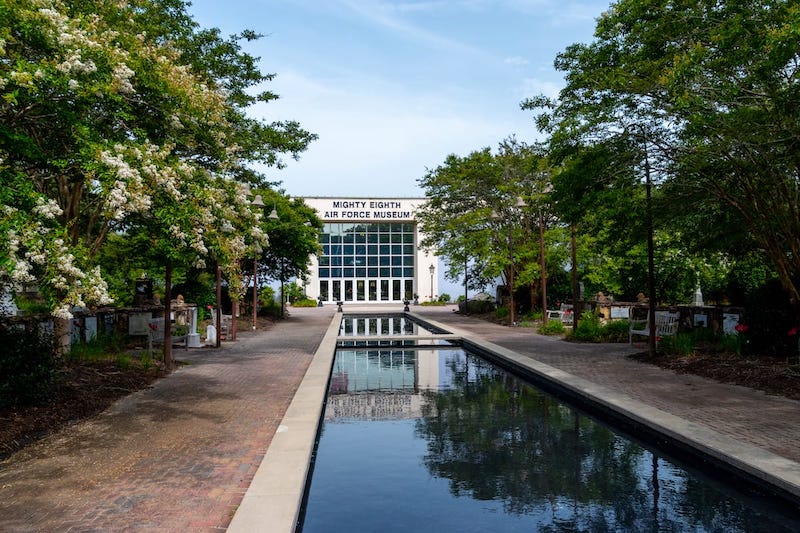 Located minutes from downtown Savannah, the museum can be part of your cultural tour.
Plan to spend at least two hours in the museum, and when you are done, have a lunch break or a quick snack in an in-house English pub.
Before leaving, check out the souvenirs in the gift shop and take a piece of the Mighty Eighth Experience with you.
Address: 175 Bourne Ave, Pooler, GA 31322
7. Feel Festive at the Savannah Christmas Market
Since 2020, Savannah has hosted a Christmas Market, a joyous event at Plant Riverside District.
The tree lighting ceremony, featuring the First Baptist Church, opens the one-month-long event.
From November to January, the city recreates a European-style open-air Christmas market, showcasing local vendors with gifts and seasonal food specials, free-entrance holiday events, live performances, and photos with Santa.
Be sure to also stop by District Smokehouse on River Street to taste melt-in-your-mouth food with craft beer.
For a perfect steak, choose Stone and Webster Chophouse, but make a reservation in advance. There are dozens more restaurants and cafes, and whichever you choose, it is sure to be worthwhile.
P.S. Check out the opening hours of the Christmas market before visiting.
Address: 400 W River Street, Savannah, GA
8. Sign up for a Culinary and Cultural Walking Tour
A fun and delicious tour is what you need on a cold winter day in Savannah. Take a culinary and cultural walking food tour to discover the renowned sights, learn about the city's history, and sample the local favorites in food stores and restaurants.
The 3-hour tour will start at a central location in Savannah, taking you to the Savannah Historic Downtown with grand architecture and tales about Savannah's stormy history.
You will pass by Oglethorpe Square, Ellis Square, and the American Prohibition Museum.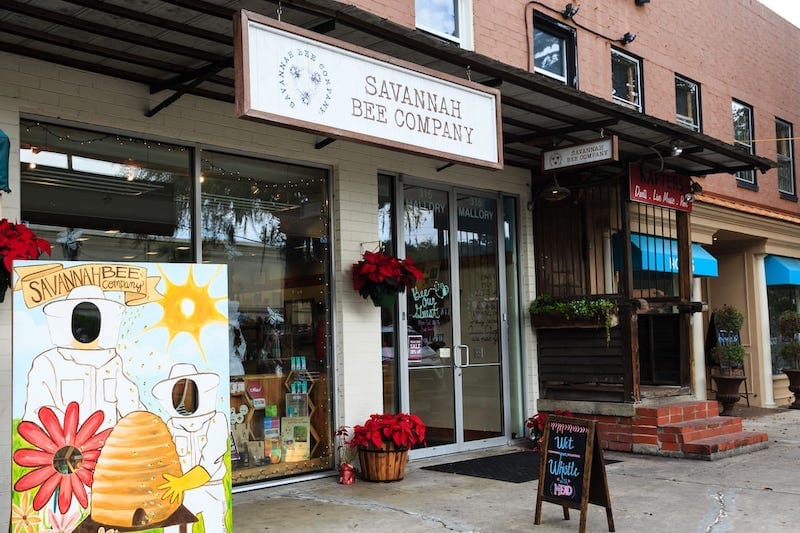 For food tasting, you will stop by Savannah Bee Company to taste local honey and visit several pubs for seasonal shrimp, pork belly donut sliders, and beverages.
The tour is wheelchair and stroller accessible.
>> Click here to check rates and availability
9. Go Ice Skating at the Savannah Civic Center
The winter holidays in Savannah are all about fun events, and one not to miss is the ice skating event in the Savannah Civic Center, held from December to January.
You will have up to six magical sessions daily, each lasting 90 minutes. For just $7 per person, you will get a skate rental and an hour and a half of skating time.
Located in the Historic Landmark District, Savannah Civic Center is a great place to spend a couple of hours before you continue exploring the city.
No trip to Savannah is complete without Joe's at the Jepson Cafe and Restaurant near the Savannah Civic Center. Start with a bowl of Joe's signature tomato basil soup and ask for the dessert of the day.
Address: 301 W Oglethorpe Ave, Savannah, GA 31401
10. See the Christmas Lights at the Coastal Georgia Botanical Gardens
Every winter before the holidays, the Coastal Georgia Botanical Gardens light up with 1 million lights for the December Nights and Holiday Lights show.
This annual tradition lasts a whole month until December 23 with special events on the weekends.
Once illuminated in colorful lights, the gardens host local artisans, vendors, and food trucks to sell local goods in the Merry Market.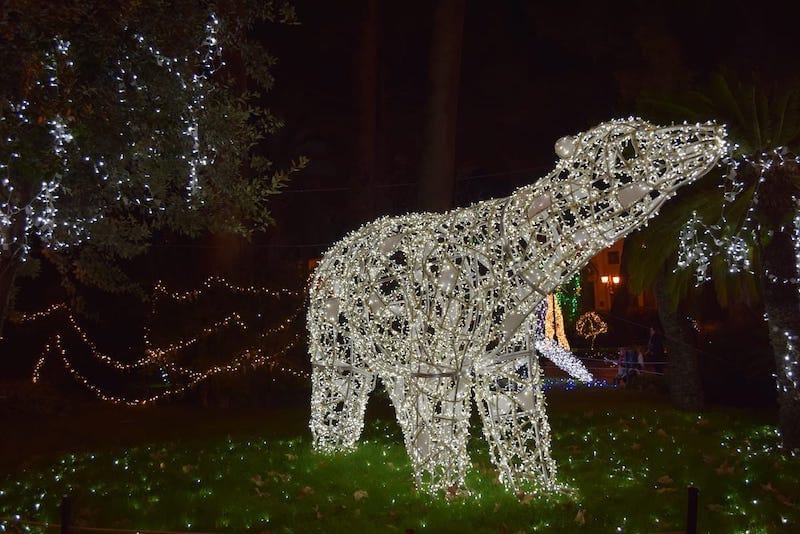 The botanical gardens at the Historic Bamboo Farm are a top Savannah attraction and a museum of plants that should not be missed during the daytime.
There are 11 different gardens, each with its own unique flora and history.
Of course, the gardens look their best in spring and summer, but you can still check out the Barbour Lathrop Bamboo collection, brought to North America from China in the 1920s.
Address: 2 Canebrake Rd, Savannah, GA 31419
11. Kick Back at the Coastal Empire Beer Co.
The best way to beat the winter chill is to taste beer from the award-winning Coastal Empire Beer Co. brewery.
When they say award-winning, they prove it not only with taste but with over 12 medals in USA competitions and international ones.
Of course, you are not visiting the brewery to admire its awards but to taste craft beers and live by their motto: "Live. Relax. Savor."
The signature beer to start with is Savannah Brown Ale, with a rich malt flavor and a crisp, hot finish. Don't forget to taste Tybee Island Blonde, with a light hop flavor.
Coastal Empire Beer Co. has a tap room open year-round from 5 p.m. to 9 p.m., where you can taste all the craft beers.
Address: 79 Ross Rd, Savannah, GA 31405
12. Take a Riverboat Sightseeing Cruise
Winter and cold weather are not a reason to cancel a cruise to Savannah. A 90-minute sightseeing tour will give you different perspectives of Savannah, accompanied by tales and stories about Georgia's "First City."
With a cup of hot tea or coffee, you will enjoy panoramic views of the water and even pass by Old Fort Jackson, one of the country's largest and oldest artillery pieces.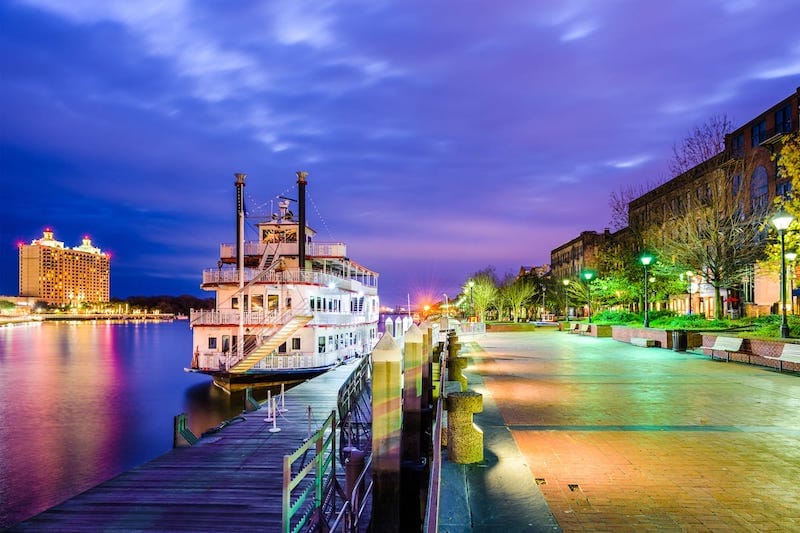 Here you will have a very short stop to take photos. You will also pass by Historic River Street, a waterfront promenade with popular restaurants, shops, and entertainment venues.
If you get cold, you can continue enjoying the tour in the glass-enclosed and climate-controlled observation deck. A bar and grill for snacks and drinks are on the top deck.
>> Click here to check rates and availability
13. Go to One of the Winter Festivals in Savannah
If you want to escape crowds and high prices, winter Savannah is an excellent choice. Moreover, you will have months of holidays and festivals to enjoy Savannah's cultural life.
The holiday season opens with multiple events throughout the city, starting with the Lighted Christmas Parade on River Street.
The three-day festival will be all about merry music, holiday cheer, lots of food, and the Lighted Christmas Parade.
Stay in Savannah to celebrate the New Year by watching a firework show over the ocean on Tybee Island.
If you plan to see Savannah in February, you will take part in one of the events of the Black Heritage Festivals.
You can visit historic Black neighborhoods such as the house of Second African Baptist Church, the African-American Monument on River Street, and the Owens-Thomas House as an example of an urban enslaved people's quarter.
Mardi Gras on Tybee Island closes the season with all the dazzling colors of a festive parade marching around downtown with live entertainment and Cajun-style food.
14. Have Dinner at the Olde Pink House Restaurant
The Olde Pink House is an upscale restaurant occupying the Colonial-era Historical Southern Pink Building of 1771.
The mansion was built for James Habersham, one of the founders of Savannah and one of the wealthiest men in the South.
The interior is authentic, with heavy curtains, fancy white linens, and silver spoons.
The basement gives you totally different feelings. Regarded as haunted (some say James Habersham hung himself here), the basement is transformed into a pub with a low ceiling, wood walls, and candles.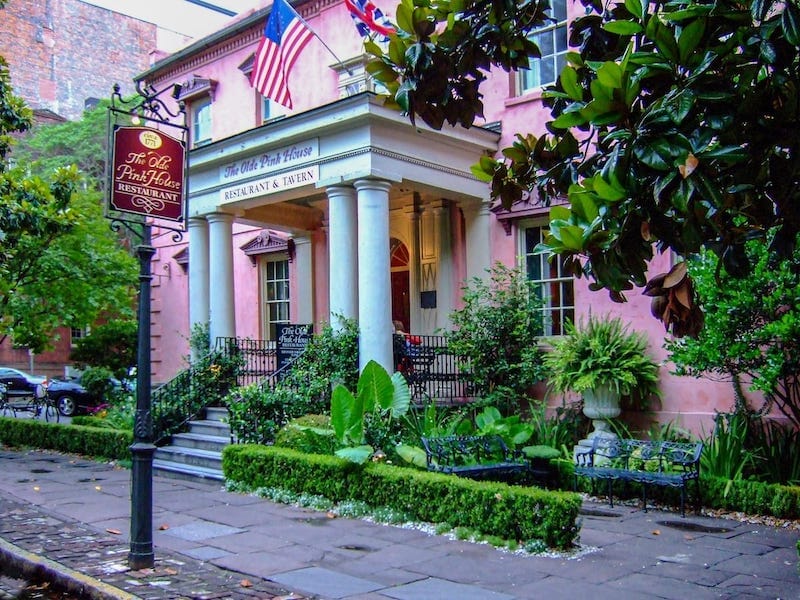 Yes, the mood will give you goosebumps, but you will definitely enjoy the atmosphere.
But the best part about the Olde Pink House is the Lowcountry cuisine, with fresh seafood, prime-aged beef, and craft cocktails.
If you are lucky, you can get a single table in the wine cellar for a special occasion.
Address: 23 Abercorn St, Savannah, GA 31401
15. Go on a Savannah Holiday Tour of Homes
For over 45 years, the annual Holiday Tour of Homes has been held in Savannah to show you its history and take you through the most beautiful private residences decorated for the holidays, historic inns, and the most noteworthy museum homes.
Each home represents a different period in Savannah's culture. These tours are crucial for the city and community because they contribute to the continued preservation of its heritage.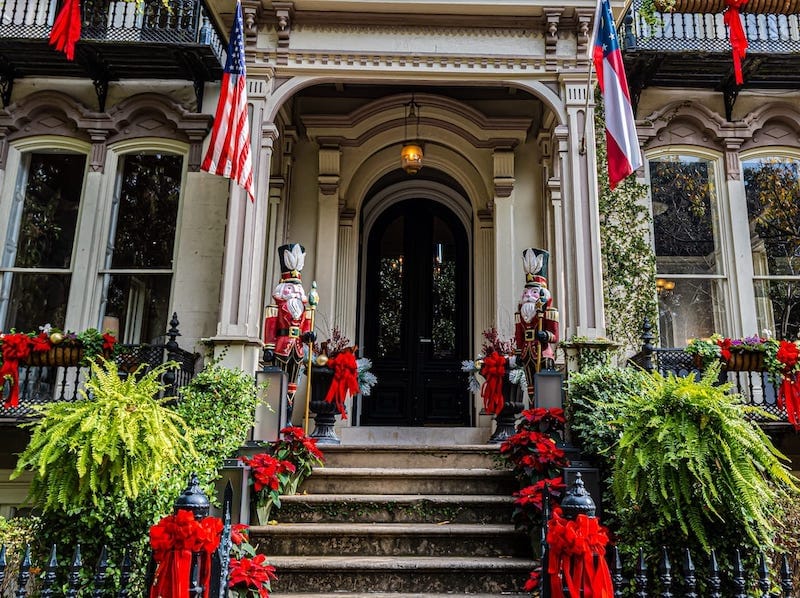 The tour includes eight private homes with museums and historical inns that have preserved their authentic design and furnishings.
Keep in mind that it is not allowed to take pictures or videos, so anything you see will remain in your memories. Also, don't forget to wear comfortable shoes.
The tour is not wheelchair or stroller accessible.
16. Attend the MountainFilm Festival in January
For all movie addicts and cultural enthusiasts, there is a wonderful event in Savannah held every year in January.
The MountainFilm Festival is a unique opportunity for the city to educate and inspire the audience to appreciate culture and history.
The MountainFilm Festival is a wonderful chance for networking; you will see and talk to visionary artists, change-makers, and enthusiasts who inspire audiences to take action.
The four-day film festival features over thirty films of different genres. Evening programs are held at the Trustees Theatre, screening award-winning films.
One of the days is devoted to documentary short films about environmental protection, social justice, cultural diversity, and adventure.
17. Indulge at Leopold's Ice Cream
It doesn't matter what the weather is like outside; you can enjoy an ice cream cone every day, all year round. And if it's ice cream in Savannah, it definitely should be Leopold's Ice Cream.
With the best motto, "Good Things to Eat, Good Things to Drink," they have been serving award-winning premium ice cream for generations for over a century, and the recipe hasn't changed since then.
It has become a historical tourist attraction where guests visit to taste freshly baked pastries, sandwiches, and ice cream.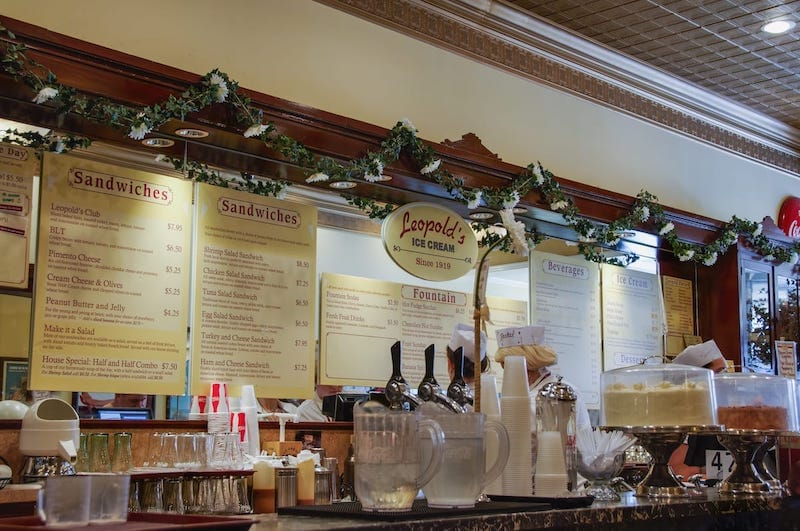 Leopold's Ice Cream is located in Savannah's Historic District and perfectly blends with other cultural attractions offering its handcrafted delicacies.
All the toppings for the finest ice cream are prepared from scratch by the chef. Here, people not only taste premium-class ice cream but also create memories to share with future generations.
By the way, it was named one of the world's top 10 ice cream parlors.
Address: 212 E Broughton St, Savannah, GA 31401
18. See Local History at Fort McAllister State Park
Drive ten miles to the south of Savannah, and you will find yourself among the live oaks, salt marsh, and Spanish moss of Fort McAllister State Park.
This extensive recreation area, located near the banks of the Ogeechee River, is residents' favorite camping and picnicking site.
The park is also home to Fort McAllister, a Confederate earthwork fortification that has survived multiple attacks by Union soldiers.
Start exploring the park with the museum displaying Civil War artifacts and a gift shop to buy souvenirs.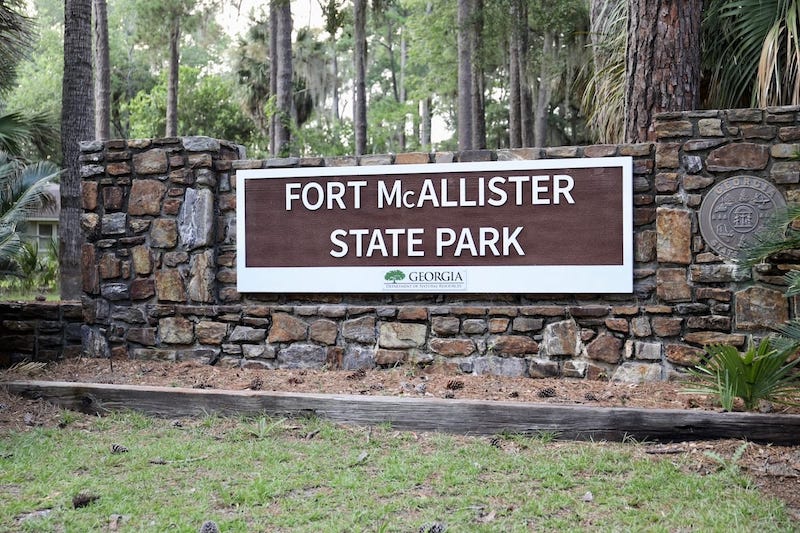 If you plan to stay longer in the park, you can spend the night in one of the seven cottages. Unfortunately, camping is closed for the winter.
Once settled, hike along Redbird Creek, a 50-minute loop trail near Richmond Hill. There are shorter trails like Magnolia and Fort McAllister Fishing Pier that can be explored in less than half an hour.
The park is wheelchair and stroller accessible.
Address: 3894 Fort McAllister Rd, Richmond Hill, GA 31324
Where to Stay in Savannah
If you're looking for the best places to stay in Savannah, here are some of our top picks for your trip!
Did we miss any amazing things to do in Savannah in winter? Let us know your tips and recommendations in the comments.
More Southeast USA Travel Guides
Pin this Winter in Savannah Guide