Colorado Springs is such a gorgeous and exciting city to visit in Colorado. And you'll find many places nearby that are worth an excursion to. These are the best day trips from Colorado Springs, CO.
Are you planning your trip to CO Springs last minute?
Below are some of the top tours, hotels, and more!
Top Experiences and Tours in Colorado Springs:
Top Hotels Colorado Springs:
We have listed a diverse array of day trips – from historical sights to mountain hikes, and more! These trips can easily be turned into some of the best weekend trips from Colorado Springs if you want to get away for more than a day!
What are your favorite Colorado Springs day trips? Let us know in the comments. Thanks!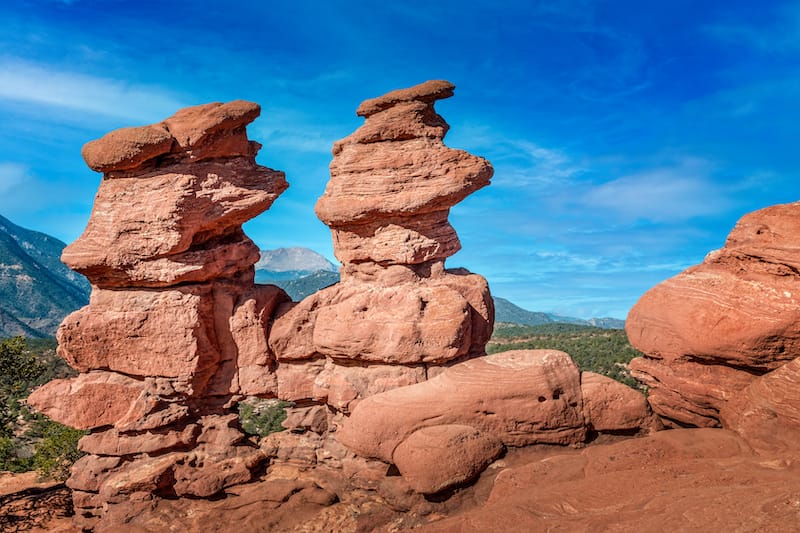 Best Day Trips from Colorado Springs
Garden of the Gods
Distance from CO Springs: 5.6 miles (12 minutes)
Located on the outskirts of Colorado Springs, Garden of the Gods offers abundant recreational opportunities like hiking, biking, horseback riding, trail running, and rock climbing.
Start your trip at the Visitor and Nature Center. The park boasts plenty of scenic trails, including the paved Perkins Central Garden Trail, Susan G. Bretag Trail, Palmer Trail Loop, and Buckskin Charlie Trail Loop.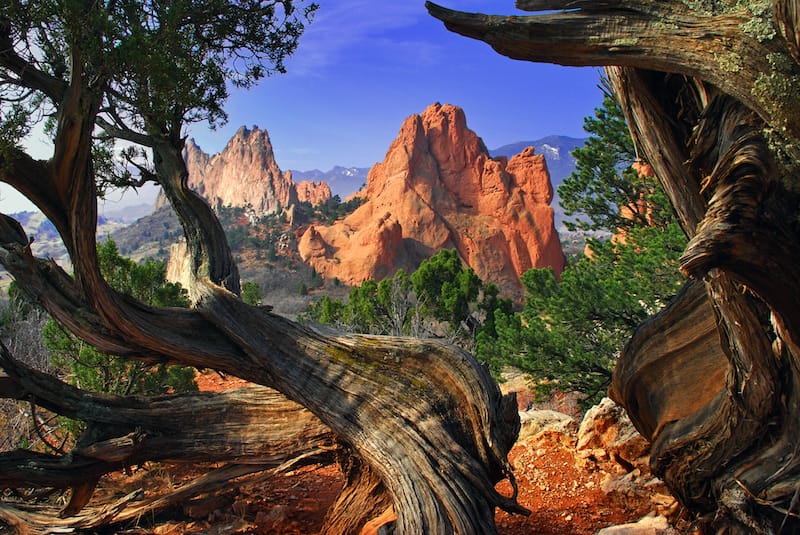 To see the natural wonders of the area, take a guided jeep tour! Electric bike rentals and Segway tours are also available.
For camping opportunities (if you're opting to stay overnight), stop at the Garden of the Gods Campground & RV Resort. It provides a swimming pool, playground, and even a dog park.
In addition, check out the Garden of the Gods trading post's galleries. There are also many things to do in winter in Garden of the Gods if you're visiting in the off-season. This is one of the best day trips from Colorado Springs and is a must-visit when you're in the city!
Eldorado Canyon State Park
Distance from CO Springs: 97 miles (1 hour, 37 minutes)
Eldorado Canyon State Park is a true gem for climbers boasting opportunities for fishing, hiking, and picnicking, as well.
The area encompasses 12 miles of hiking trails, including Fowler Trail, Rattlesnake Gulch Trail, Eldorado Canyon Trail, Streamside Trail, and Crescent Meadows.
Mountain bikers can explore the Walker Ranch Loop or Rattlesnake Gulch Trail. After a long day of hiking, consider relaxing your muscles at the Eldorado Springs Swimming Pool.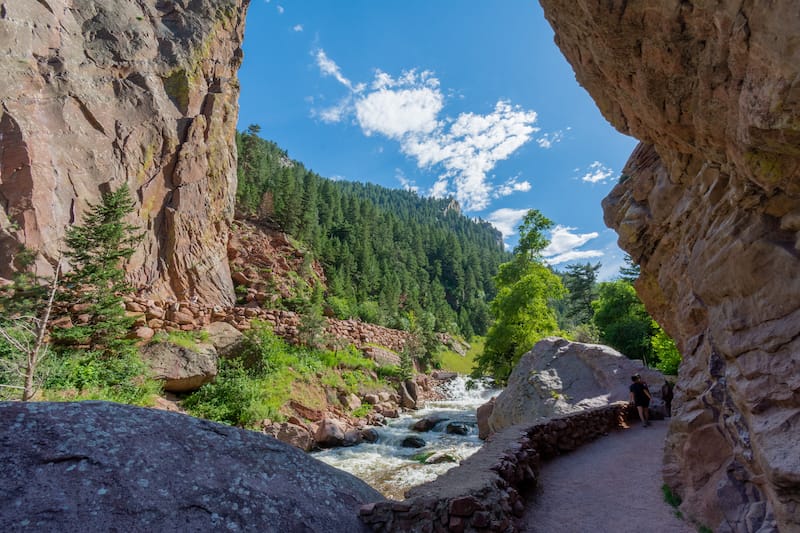 Eldorado Canyon is considered one of the best places for climbing with numerous climbs, like the Bastille Crack, the Wind Ridge, and the Colorado Mountain School.
Overnight camping is not allowed in the Colorado state park. However, you can find campgrounds nearby at Golden Gate Canyon State Park.
Fairplay (and South Park City)
Distance from Colorado Springs: 83 miles (1 hour, 37 minutes)
Fairplay, an old gold mining settlement, is home to some of the best trout fishing around.
But fishing in Fairplay's beautiful rivers isn't the only draw of this little town- it also is home to South Park City, a restored 19th-century mining camp turned into an open-air museum. You can see restored buildings both local and imported from locations in the surrounding South Park Basin.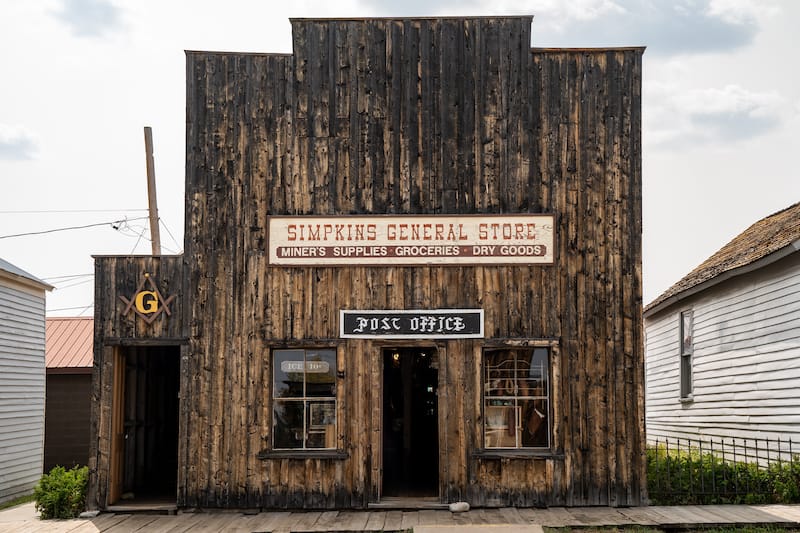 Also, while not named after a specific town in particular in the South Park Basin, the TV show South Park was visually based on this area.
While you're there, make sure to spend some time at Fairplay Beach, which surrounds a beautiful high-elevation pond. It's a great spot for hiking, picnicking, and fishing.
There are also some beautiful reservoirs in the basin, including Antero, Terryall, and Eleven Mile, the latter of which is particularly good for ice fishing in the winter.
Paint Mines Interpretive Park
Distance from CO Springs: 37 miles (43 minutes)
The phrase 'Colorful Colorado' derives from this historical and archeological site. The Paint Mines Interpretive Park offers its visitors various displays of chromatic formations.
The park spans over 750 acres of land, chock full of hoodoos, spires of colored clay, and grasslands. The sandstone caps sit at the top of the hoodoos, protecting them from erosion and making this place unique!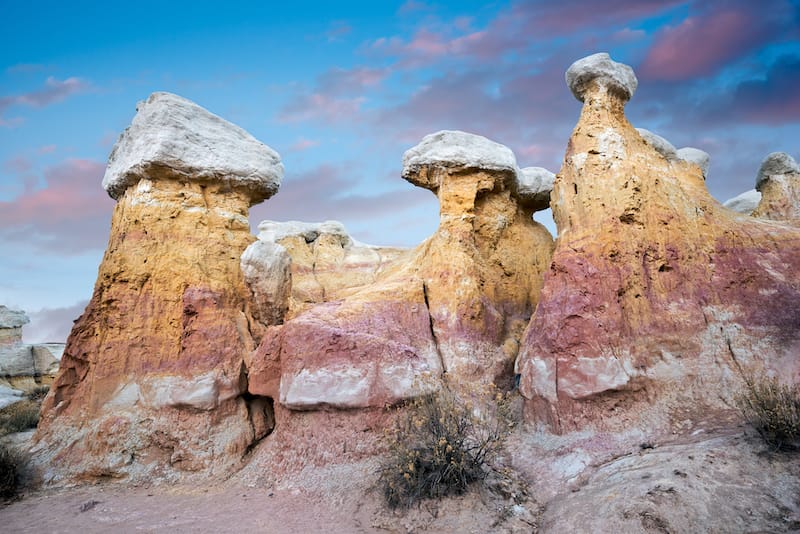 Paint Mines is an absolute treasure for geological enthusiasts, hikers, and bird-watchers. The area contains 4 miles of trails rising over 500 feet in elevation.
You can hike through the labyrinth of hoodoos and personally explore these wondrous formations. Because of the fragile environment, the land is protected as a significant archeological and geological site.
Frisco
Distance from CO Springs: 137 miles (2 hours, 17 minutes)
The small town of Frisco houses various recreation opportunities and attractions, including watersports, hiking, biking, skiing, camping, tasty eateries, and shopping.
Not-to-miss spots for outdoor adventures are the Frisco Adventure Park, the Frisco Bay Marina, the Ten Mile Canyon National Recreation Trail, Windrider of the Rockies, Rainbow Lake, Frisco Nordic Centre, and Meadow Creek Park.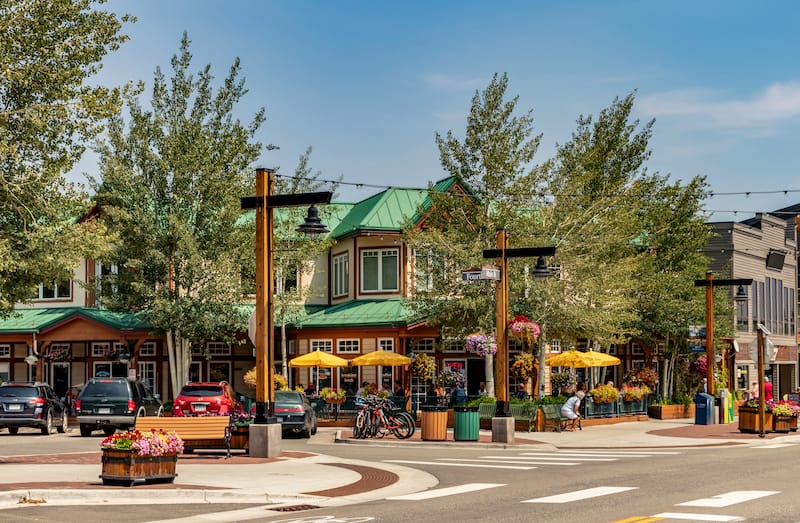 To explore the town's rich historical and cultural background, visit the Frisco Historic Park and Museum, the Gatherhouse Glassblowing Studio and Gallery.
You will find several tasty places to eat and you can enjoy some of the best restaurants in Frisco. Popular picks are the Lost Cajun, the Butterhorn Bakery and Cafe, Vinny's Euro American Restaurant, Peppino's Pizza and Subs, the Silverheels Bar and Grill.
Another great thing about Frisco is that you're not too far from gorgeous Breckenridge. If you're keen to get away from larger city life and want to see one of the cutest small towns in Colorado, be sure to take a day trip to Frisco!
Great Sand Dunes National Park
Distance from CO Springs: 165 miles (2 hours, 38 minutes)
Great Sand Dunes National Park is a designated US national park and is home to the highest dune in North America (and is full of amazing adventures).
You'll find so many things to do in Great Sand Dunes National Park. Some of the most popular activities are to explore the dunes by hiking through the 30 square mile dune field with five dunes over 700 feet tall, including High Dune, Hidden Dune, and Star Dune.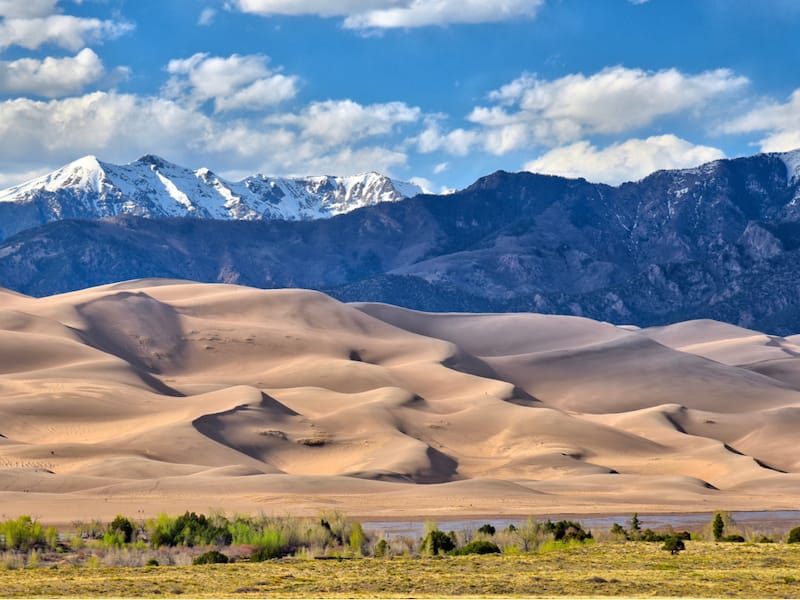 Don't miss an opportunity to hike along the forested trails, like Montville Nature Trail, Mosca Pass Trail, and Sand Ramp Trail.
In the Colorado National Park, you can also check out the Ranger Show at the Amphitheatre, have a scenic drive along Medano Pass 4WD Road, and gaze at the Milky Way.
Remember, no trip to Great Sand Dunes National Park is complete without sledding and sandboarding on the dunes!
Lake Pueblo State Park
Distance from CO Springs: 51 miles (53 minutes)
Lake Pueblo State Park is home to Lake Pueblo and covers 10,000 acres of land and stretches along 60 miles of shoreline, providing fishing, camping, boating, hiking opportunities.
The Colorado lake boasts 34 miles of biking and hiking trails, the most popular of which is the Pueblo River Trail. As the climate is relatively mild, you can enjoy the park and its hikes all year round.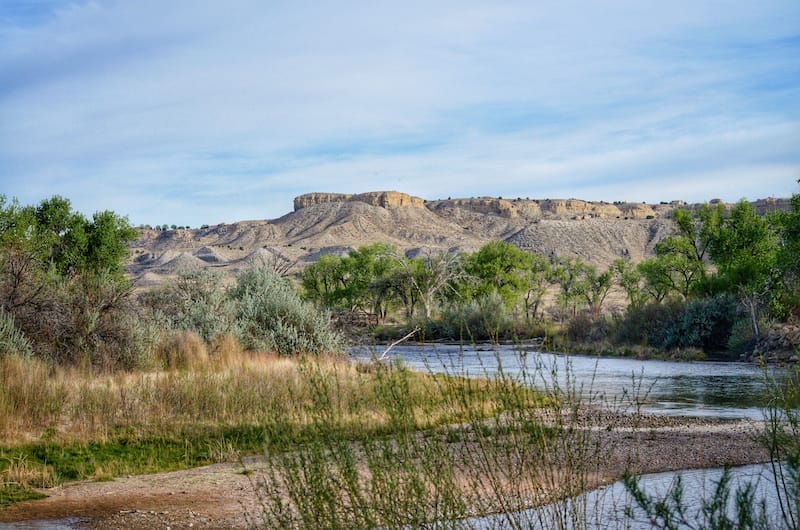 The reservoir spans over 4,600 acres and offers sailboarding, jet skiing, water skiing, and boating. Sailboat rentals are available in the area. Just visit North Shore Marina or South Shore Marina.
This Colorado Springs day trip is the perfect place for camping, with more than 400 year-round electric and non-electric campsites. Lake Pueblo is also a hot spot for fishing enthusiasts.
Nederland
Distance from CO Springs: 113 miles (1 hour, 57 minutes)
This Colorado mountain town has become a top destination in the state, providing the best year-round outdoor recreation! Your trip to Nederland should start from the famous Carousel of Happiness, a restored 1910 carousel with 56 hand-carved animals.
Be sure to check out the Caribou Room to enjoy live music, dine at local restaurants like New Moon Bakery, Crosscut Pizzeria, and Taphouse, try local beers at Very Nice Brewing Company or Knotted Root Brewery, and visit the Nederland Mining Museum.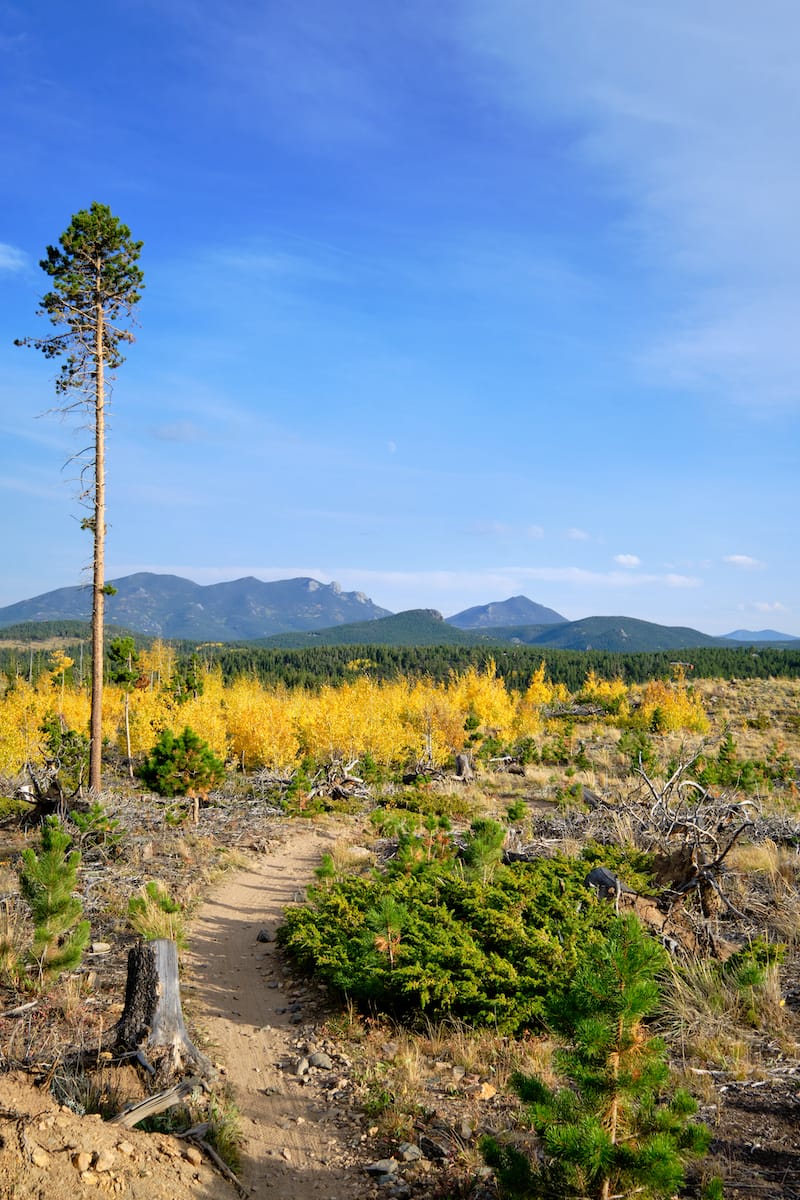 If you want to enjoy some of the nature surrounding Nederland, head to the Barker Meadow Reservoir and the Gross Reservoir. Both offer perfect opportunities for fishing and hiking.
From Nederland, you'll have access to the Peak-to-Peak Byway, a scenic drive popular for fall foliage watching.
If you find yourself in Colorado Springs in winter and opt for a day trip to Nederland, there are plenty of things to enjoy, including skiing at Eldora Mountain, enjoying the Eldora Nordic Center, and attending Frozen Dead Guy Days.
Idaho Springs
Distance from CO Springs: 99 miles (1 hour, 36 minutes)
With tons of year-round activities and beautiful scenery, Idaho Springs is a hidden treasure providing thrilling adventures.
If you like whitewater rafting, head to Clear Creek, the most popular rafted river in Colorado. Prefer fishing? Echo Lake is a perfect choice.
For hiking adventures, you'll find numerous trails, like St. Mary's Glacier and Mt. Evans. For those preferring relaxing vacations, the town still has a lot to offer.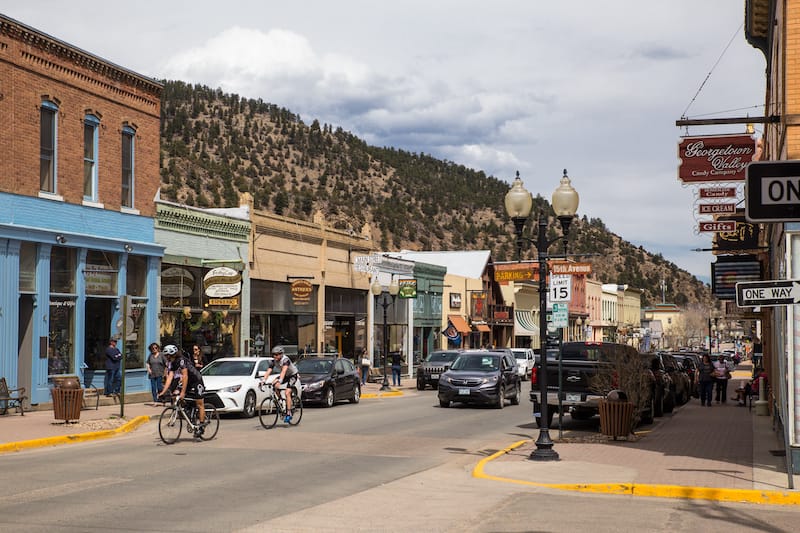 Stroll along the downtown which is packed with historic buildings, shops, and restaurants. You can end your day by relaxing at Indian Hot Springs and enjoy local flavors at places like Azteca Mexican, Beau Jo's, and Tommyknocker.
As a former mining town, Idaho Springs also provides mine tours, the most famous of which are the Argo and Phoenix gold mines.
Pikes Peak Highway
Distance from CO Springs: 14 miles (27 minutes)
Constructed in 1915, Pikes Peak Highway is a scenic drive providing views of surrounding lakes, mountains, and wildlife.
While driving, you'll find access to three lakes available for fishing and other water activities. They are the Crystal Reservoir and North and South Catamount Reservoirs.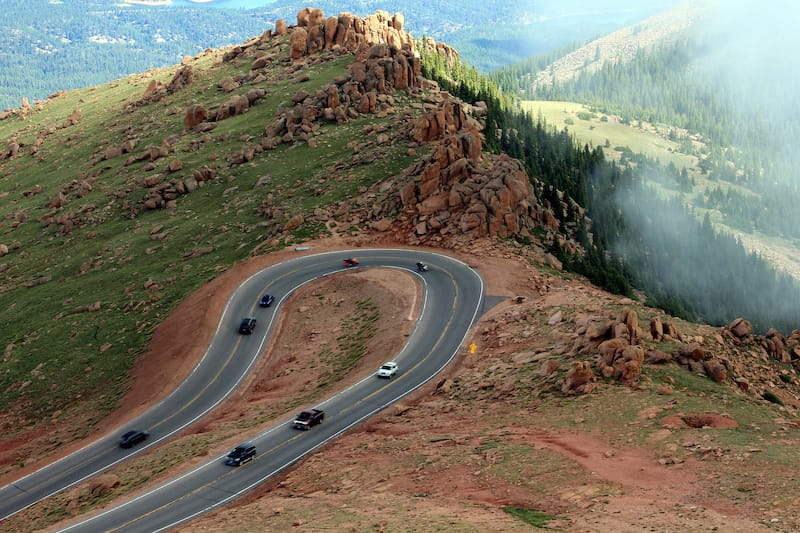 There are many trails located off the highway, making it a prime place for hiking enthusiasts and you can hike up Pikes Peak via the Barr Trail. One can also bike up and down the highway.
Reaching the top of the road, you'll be greeted by Crystal Reservoir. There, you can rent boats at the Visitor Center and check out some fantastic vistas. Other must-visits along the scenic route are the Devils Playground, Glen Cove Inn, and the Pikes Peak Summit House.
Phantom Canyon Road

Distance from CO Springs: 51 miles (1 hour, 18 minutes)
If you're looking for a scenic and exciting Colorado road trip, Phantom Canyon Road is for you. The road is part of the Gold Belt Scenic Byway, it has two tunnels, three elevated bridges, and passes through Phantom Canyon.
the road follows the route of the Florence & Cripple Creek Railroad, built in 1894 as a connection between Florence and Cripple Creek. This winding path offers stunning landscapes, wildlife watching, and plenty of photo opportunities.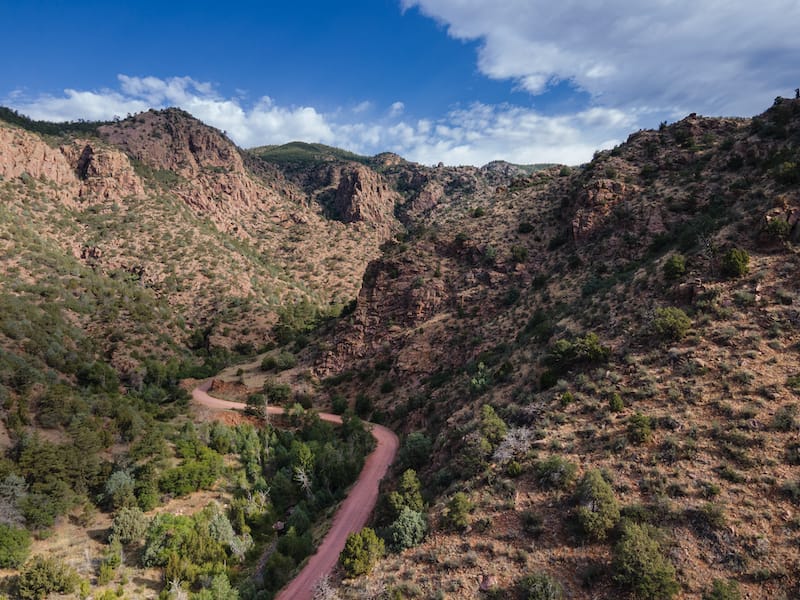 If you're road tripping in fall, you'll have a chance to enjoy the gorgeous color display of the Aspen trees. So, don't forget your camera! Picnic and rest areas are also available along the route.
Boulder
Distance from CO Springs: 97 miles (1 hour, 31 minutes)
Boulder is a vibrant town just north of Denver with plenty of diverse options for outdoor activity, great restaurants, shops, and nightlife.
Your first stop should be the Boulder History Museum where you can learn about the history of the Colorado city. With 45,000 antique artifacts, the museum depicts the historical story of the area.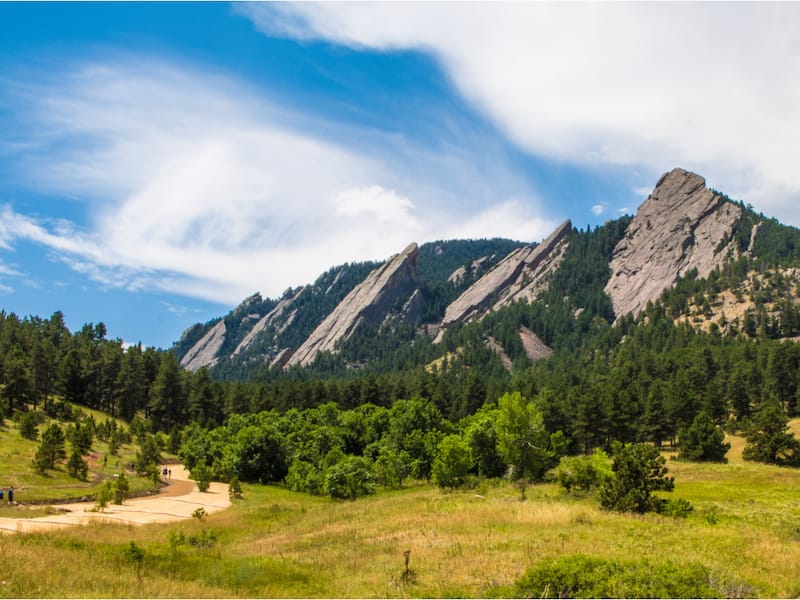 Another place to visit is the Boulder County Farmers Market, offering local fresh food and local handicrafts.
Additional points of interest include the Avery Brewing Company, Boulder Museum of Contemporary Art, Eldorado Canyon State Park, Boulder Dushanbe Teahouse, Jax Fish House & Oyster Bar, and the Fiske Planetarium.
Rocky Mountain National Park
Distance from CO Springs: 134 miles (2 hours, 19 minutes)
Home to mountain peaks, alpine lakes, numerous hiking trails, waterfalls, wildlife, scenic drives, and more… Rocky Mountain National Park is one of the most diverse and visited national parks in the USA.
Before kicking off, check out the Beaver Meadows Visitor Center and stock up on maps and park information. The most popular thing to do in Rocky Mountain National Park, to no one's surprise, is hiking.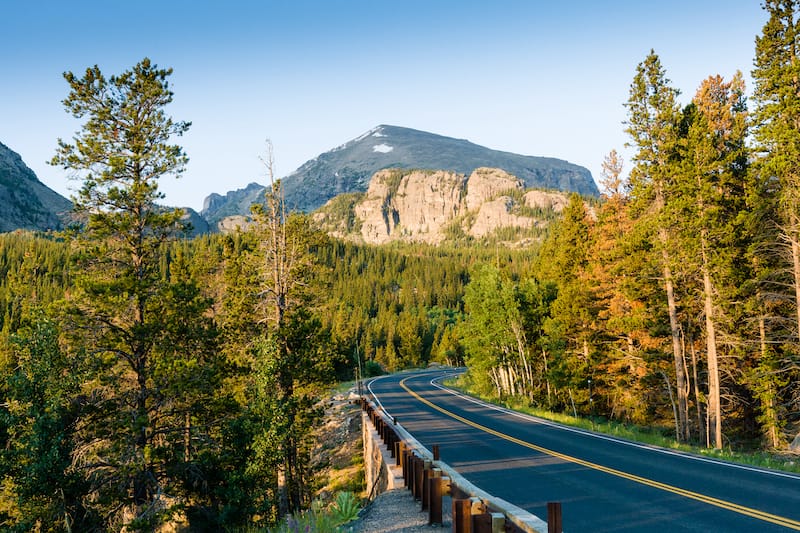 Grab your boots and choose among various trails, like the Alpine Ridge Trail, Ute Trail to Tombstone Ridge, Emerald Lake Trail, or Bear Lake.
Tired of being on your feet? Take a drive along Trail Ridge Road or Old Fall River Road.
For a history and cultural experience, check out the Moraine Park Museum and Holzwarth Historic Site. At the end of a wild day, visit Estes Park and have a refreshing beer or ice cream to finish off your day in the Rockies.
Georgetown
Distance from CO Springs: 111 miles (1 hour, 48 minutes)
The small mining town of Georgetown welcomes visitors with a rich historic past and an exciting present. You'll find many things to do in Georgetown, from visiting the town's main historical attraction, the Georgetown Loop Railroad.
Take a ride to Silver Plume and back on a gauge railroad. Explore the museums and historical sites of the town such as the Georgetown Energy Museum, Hamill House Museum, Hotel de Paris Museum, the Georgetown Heritage Center, and the Alpine Hose.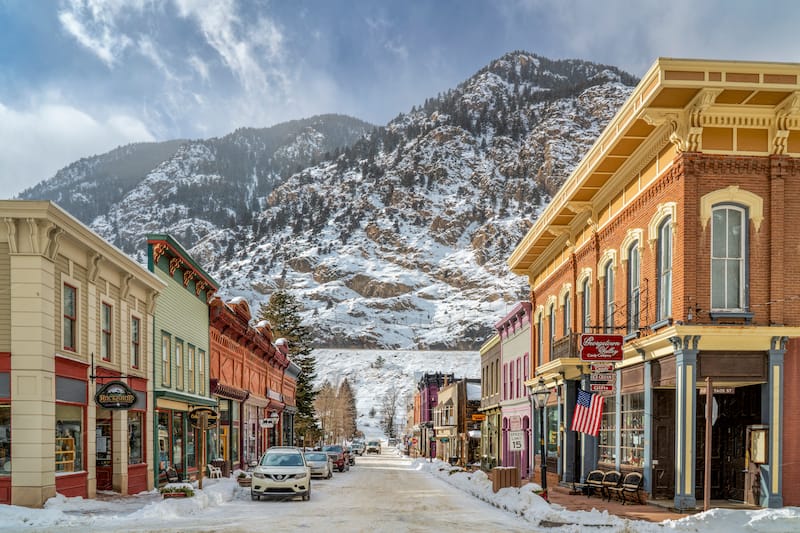 If you like fishing or the outdoors, head to Georgetown Lake or to Clear Creek. You'll find two campgrounds situated near Georgetown that are free and a great place to stay if you turn this Colorado Springs day trip into an overnighter!
For hiking enthusiasts, Guanella Pass covers several trails, the most famous of which is the hike to Mt. Bierstadt. You'll find some dining options in Georgetown like the Euro Grill, Happy Cooker, Gourmet Mexican Food, and the Lunch Cantina.
Florissant Fossil Beds National Monument
Distance from CO Springs: 34 miles (45 minutes)
Florissant Fossil Beds National Monument encompasses many acres of land packed with huge petrified redwoods and fossils. Check out the visitor center and before starting your day trip to learn more about what you're going to see!
There are two main hiking trails going past the fossil beds- the Petrified Forest Walk and the ​Ponderosa Loop Trail. The park also covers 14 miles of other hiking trails with mind-blowing scenery and wildlife.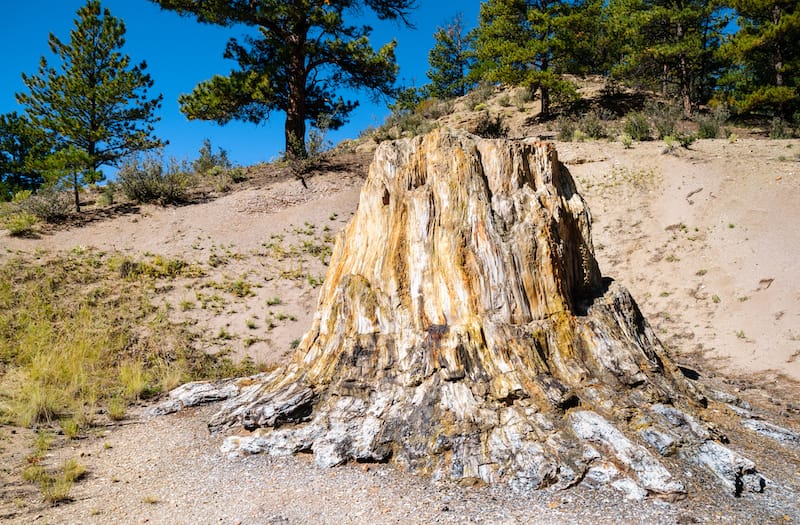 If you're tired of hiking, then horseback riding may be an option for you. Or, you can take a drive to the Hornbek Homestead and explore the historic ranch dating back to 1878.
In addition, the park offers ranger-guided programs, including programs for children, where they can earn a Junior Ranger badge!
Lariat Loop National Scenic Byway
Lariat Loop National Scenic Byway is the gateway to the Rocky Mountains, providing access to many of Colorado's most famous attractions and sites.
It follows the early 1920s driving route in the Foothills and passes by the cities of Golden, Morrison, and Evergreen.
Popular things to do along this road include biking, boating, camping, hiking, and snowshoeing. You can bike up Lookout Mountain or hike in numerous parks along the route.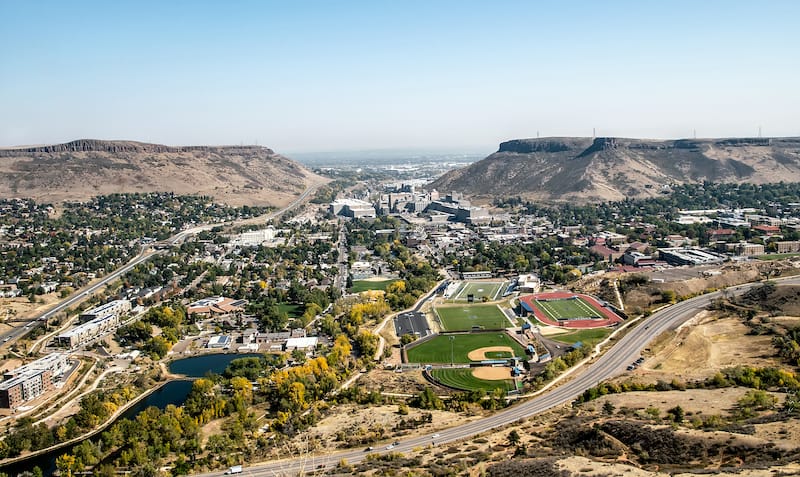 If you're keen to turn this into a Colorado Springs weekend getaway, there are several campsites located near the loop like Golden Gate Canyon, Bear Creek Lake, and Echo Lake.
Clear Creek also offers perfect fishing opportunities and you can go boating on Evergreen Lake. Almost all the parks along the route are open for winter activities.
Other stops you should make on Lariant Loop are the Coors Brewery, Windy Saddle Park, Lookout Mountain Park, Buffalo Bill Museum, and the Buffalo Herd Overlook.
Manitou Springs
Distance from CO Springs: 6 miles (11 minutes)
The mountain town of Manitou Springs will surprise you with its rich historical background and many things to do.
One of the best things to do there is to take a walking tour and check out all eight natural springs, including Seven Minute Spring, Navajo Spring, and Twin Spring.
If you seek an unforgettable hike, the Manitou Springs Incline in the downtown area is definitely for you! An even more challenging hike is the Barr Trail to Pikes Peak.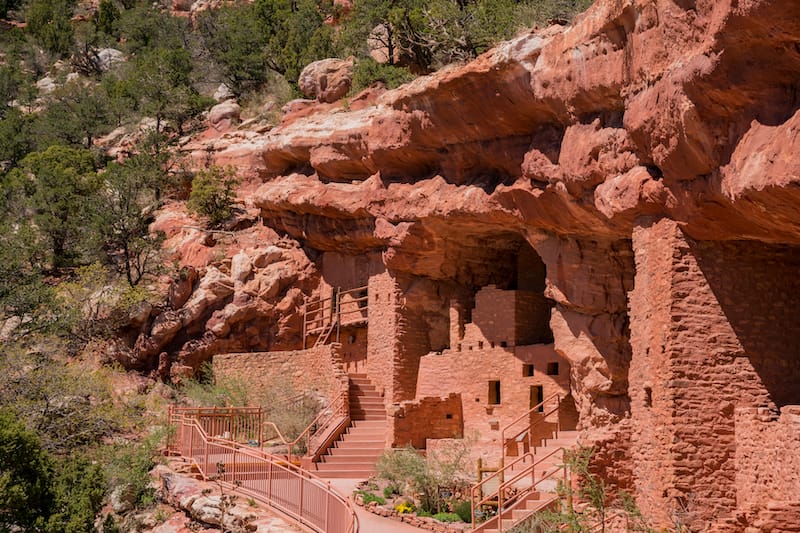 Some places to visit nearby are the Cave of the Winds Mountain Park, Adventures Out West, Garden of the Gods, and the CityRock Climbing Center.
After some of your outdoor adventures, be sure to visit attractions like the Manitou Cliff Dwellings, Ruxton's Trading Post, Manitou Springs Memorial Park, Miramont Castle Museum, Green Horse Gallery, and the Manitou Springs Heritage Center.
Broadmoor Seven Falls
Distance from CO Springs: 3 miles (7 minutes)
Broadmoor Seven Falls is a famous waterfall in Colorado that is comprised of seven cascading waterfalls over 181 feet tall!
It's regarded as the grandest mile of scenery in Colorado and the most beautiful canyon in the world. There are two main hiking trails, offering various views of the falls.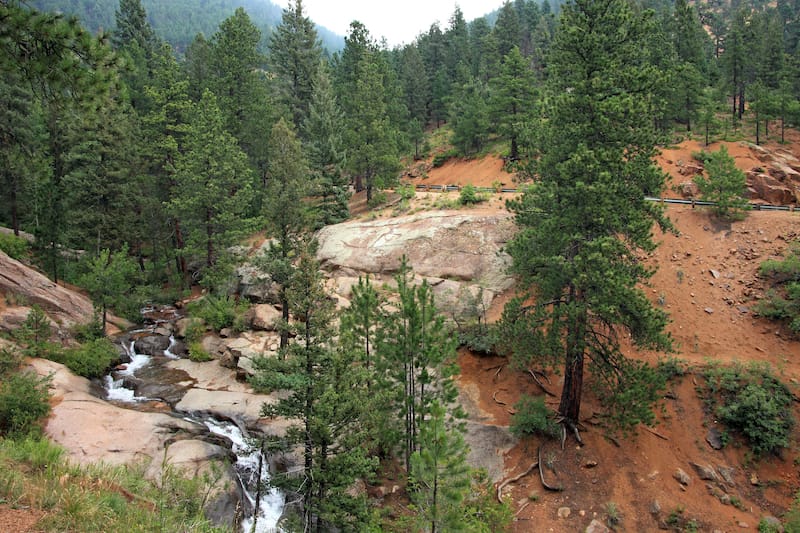 You can also reach the top by ascending the 224-step stairway located along the falls. Another must-do is to take the elevator to the Eagle's Nest across from the falls and soak up the panoramic views.
Catch your breath and enjoy the local cuisine there at Restaurant 1858. You'll find souvenirs and snacks at the Seven Falls Gift Shop. There are also ten zip-lines located here – ranging from 300 feet to 1,800 feet in distance!
Royal Gorge
Distance from CO Springs: 48 miles (58 minutes)
Royal Gorge is a well-known attraction in Colorado packed with various activities and things to do.
One of the most popular things to do there is to go rafting in the Royal Gorge. It's listed as one of the top 10 white water rafting runs in North America!
Start your adventure in the morning to avoid crowds of visitors.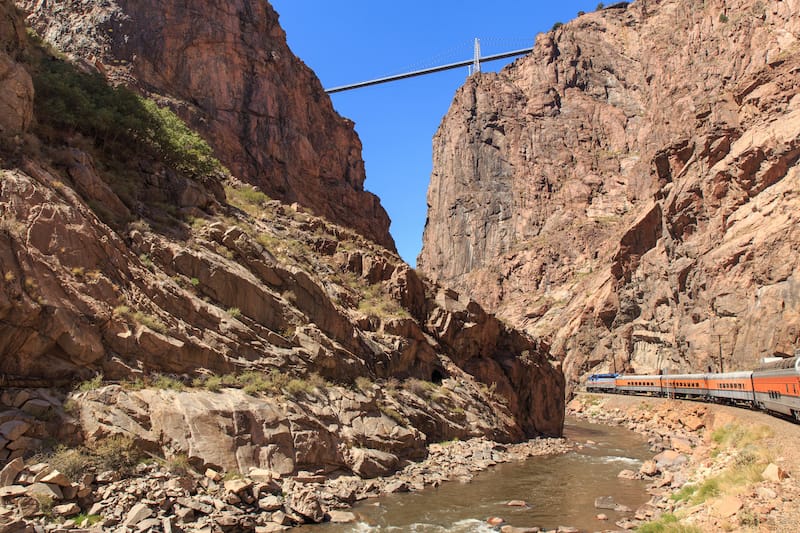 But, the Royal Gorge is more than just rafting! You can hike or bike The Canyon Rim Trail which stretches through pine and juniper forests and offers views of the Royal Gorge, Wet Mountains, and Sangre de Cristo.
Another famous trail to hike is Point Alta Vista. If you prefer driving, take a road trip along Scenic Skyline Drive where you can enjoy the mountain vistas and find some dinosaur footprints on the cliffs.
Add more stops to your day trip bucket itinerary like Bishop Castle, the Royal Gorge Bridge, and the Royal Gorge Route Railroad.
You will find so many cool things to do at the Royal Gorge that it actually warrants more than a day trip there!
Crystal Creek Reservoir
Distance from CO Springs: 16 miles (29 minutes)
Crystal Creek Reservoir is a 136-acre lake where you'll find plenty of recreational activities including hiking, picnicking, boating, and fishing.
Start your trip at the Visitor Center, where you'll find public restrooms, a gift shop, and 103 parking spaces.
Many people head out to this reservoir to go fishing. It is stocked with brown, rainbow, and brook trout and is a great place to take your family for some scenic views.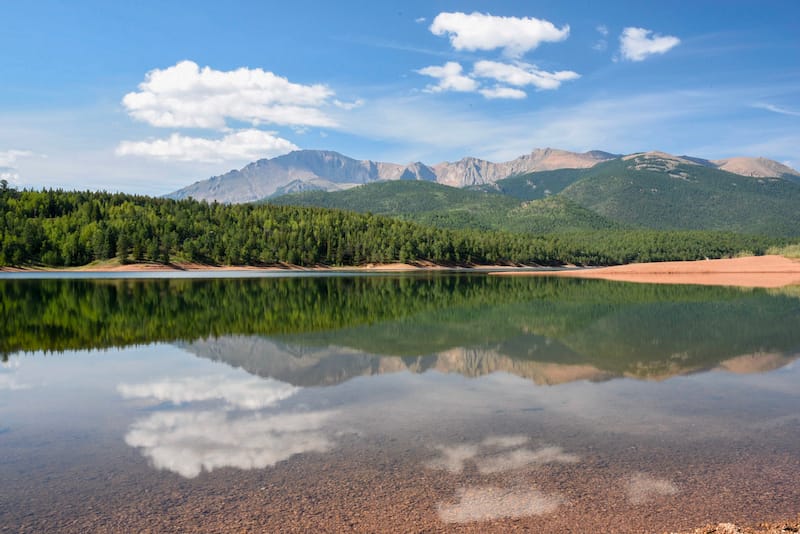 The area also provides opportunities for picnicking with picnic tables and benches located around the Crystal Creek Reservoir. For those preferring hiking, a trail is available along the shoreline.
Other activities include boating, birdwatching, and wildlife watching. Please note that swimming is prohibited.
Where to Stay in Colorado Springs
You will find many diverse places to stay in and around Colorado Springs. Below are a few of the top-rated hotels (3-4 stars) in the city that are great choices for accommodation:
Did we miss any of your favorite day trips from Colorado Springs? Let us know in the comments!
More Colorado Travel Guides
Pin this Colorado Springs Day Trips Guide