There are few places I can confidently state that I would visit over and over again but Valley of Fire State Park in Nevada is most certainly one of those places. This is a guide to how to take a day trip to the Valley of Fire from Las Vegas.
Are you planning your trip to Valley of Fire last minute?
Top Valley of Fire from Las Vegas Tours:
Top Hotels in Las Vegas:
This guide contains a list of the best things to do in Valley of Fire State Park, including top attractions and can't-miss viewpoints.
You will also find a suggested Valley of Fire itinerary for your trip as well as tour options for those not renting a car.
Did we miss any amazing Valley of Fire landmarks? Let us know in the comments! Thanks!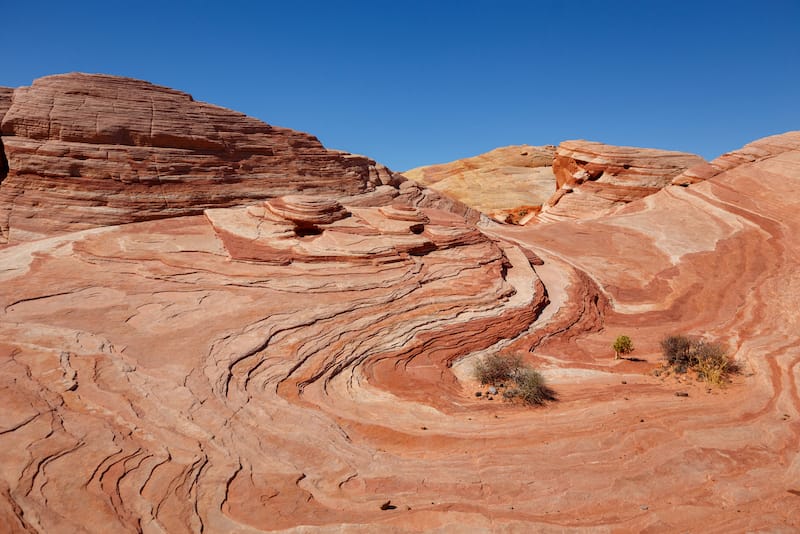 About Valley of Fire State Park
Valley of Fire State Park is one of the most beautiful parks in the United States and it is not even a designated National Park (although it impresses like one).
It sits around 50 miles northeast of Las Vegas and is renowned for its unique, red rock formations dotted throughout the Nevada desert landscape.
The Aztec sandstone gives the illusion that the area is on fire and that is where the name originated from.
You can plan a day of hiking in Valley of Fire State Park, or you can simply drive through and see the top attractions quickly.
But, it is definitely a very easy day trip from Las Vegas and a must for everyone looking to escape the strip for a bit!
Best Time to Visit Valley of Fire State Park
You can visit Valley of Fire State Park at any time of the year but it is extremely hot during the summer months! Therefore, the best time to visit the Valley of Fire is from October until April.
The park is a great thing to do when you're visiting Las Vegas in winter, fall, or spring.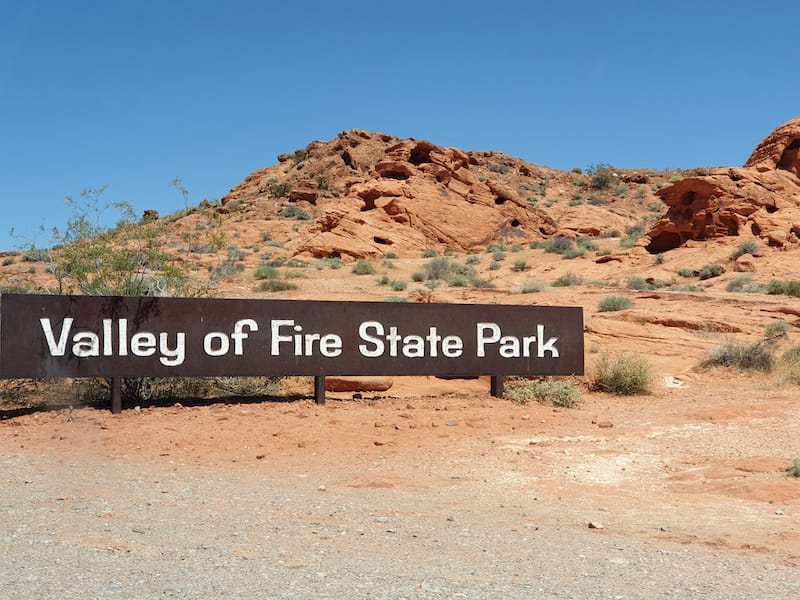 During the summer months, you are looking at an average temperature above 100F on most days and it will remain that way throughout the entire three months of summer. You better adjust your Vegas packing list accordingly!
September stays relatively hot still (in the 90s), making October far more desirable to start the planning for a trip to Valley of Fire State Park from Vegas.
How to Get to Valley of Fire from Las Vegas
Valley of Fire State Park is approximately 55 miles northeast of Las Vegas and about 20 minutes from Lake Mead via I-15 and State Route 169.
There's only one main road in the park and visitors won't have difficulty navigating it. The Valley of Fire Scenic Byway connects both the east and west entrances of Valley of Fire State Park at a distance of just under 11 miles.
The best way to get there is, naturally, by rental car. But, you can also take a day tour from Las Vegas there. We detail both options below!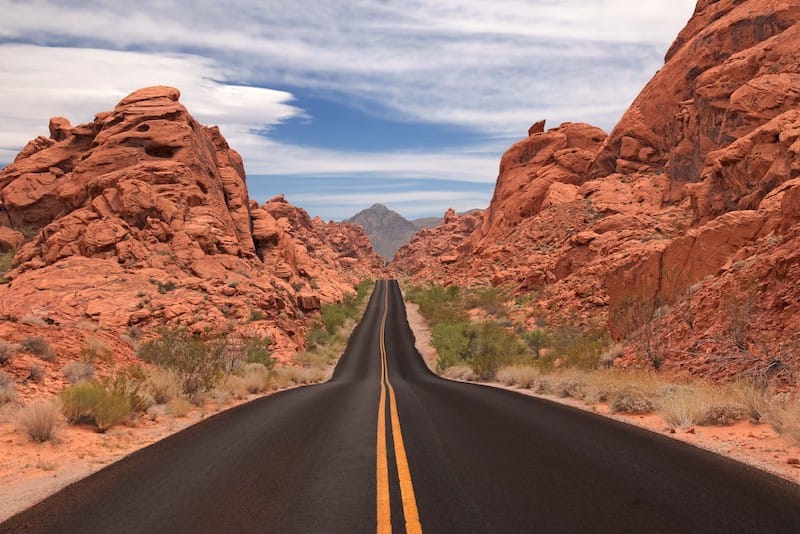 Rental Car
Renting a car in Las Vegas is a great option if you're looking to get out of the city and explore the surroundings a bit. Click here to check rental car rates in Nevada.
Valley of Fire Tours
You will find several tours that can take you from Las Vegas to Valley of Fire State Park. Below are some of the top-rated Valley of Fire tours, including multi-day trips that will combine other amazing US National Parks and sites along with VofFSP!
Valley of Fire Practical Information
Below are some useful travel tips for Valley of Fire State Park, including a few field notes to help you plan your trip:
It is not free to enter the park by car. You will need to pay an entrance fee of $10 per vehicle with Nevada plates and $15 per vehicle with out-of-state plates.
The Visitor Center is open daily from 0830/0900 until 1630. Campgrounds are accessible 24 hours a day, however.
You will find shaded areas equipped with restrooms at Atlatl Rock, Seven Sisters, the Cabins, and around the White Domes and Mouse's Tank Trailhead area. These are also fantastic places to set up and have a picnic!
Fires are only permitted in designated areas where you will find grills and fireplaces.
You can bring dogs to Valley of Fire SP but they must be kept on a leash (of less than 6ft in length).
Drones are not permitted in the park.
Things to do in Valley of Fire
Fire Cave
Fire Cave is one of the first sites to see when hiking along the 7 Wonders Loop Trail in the Valley of Fire State Park. When you hike to Kaolin Wash, you will be able to find Fire Cave on the left side.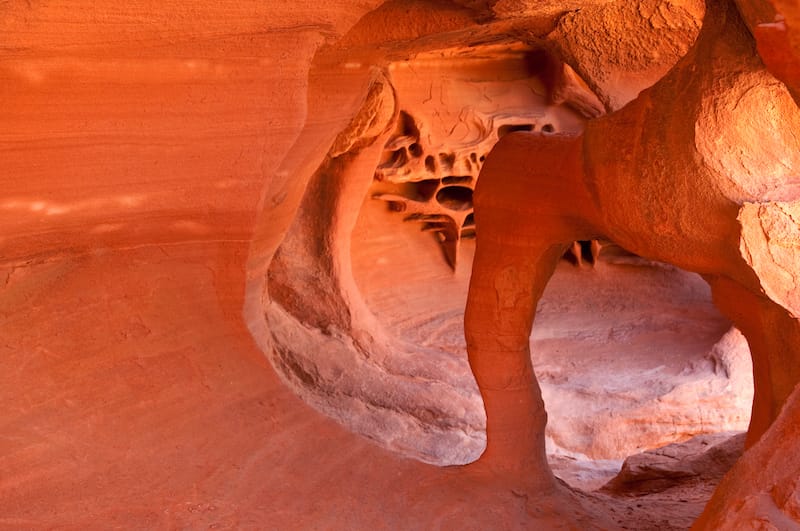 You may have to hike down towards the right if you ended up on a path that got higher because of the flat rocks. The pastel-colored rocks make this site one of the most aesthetically pleasing in the park.
If you visit the park in the morning, the creation will be covered by the shade, but the lack of sunlight will not take away from the pastel rock. It is not large in size, but the unique shape caused by erosion makes it a great spot for photo opportunities.
Rainbow Vista
Undoubtedly one of the most beautiful locations in Valley of Fire State Park is the Rainbow Vista Trail and it is well-known for all the different colors that visitors will be able to see.
You can get a glimpse of these colors right from the beginning, ranging from shades between white and brown and red. Although you can do the hike at any time of the year, keep in mind that it will get very hot in the summer, so you should try hiking early in the morning.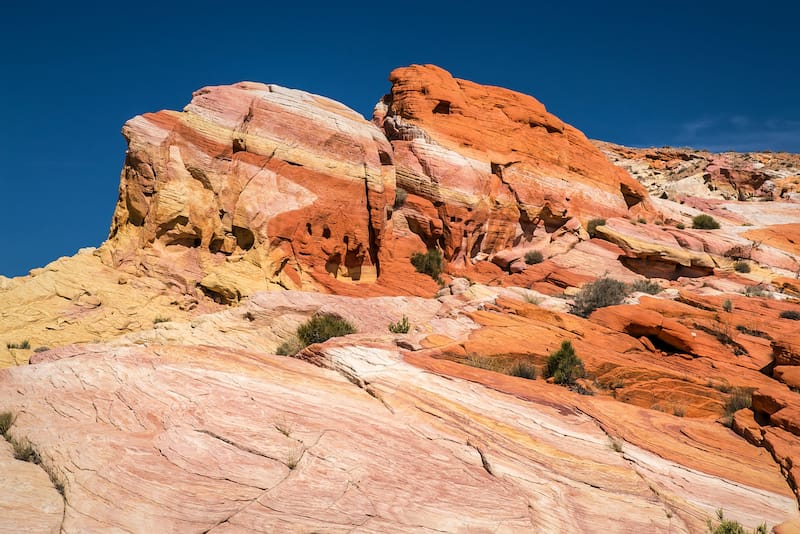 It is around 1.1 miles and can take an hour. When you reach the end of the trail, you will be able to see Fire Canyon. The trail is well-marked, and there are signs that provide indications of places that are great for photography.
Pink Canyon
Pink Canyon, also referred to as Pastel Canyon, is just what it sounds like- a small canyon made of stones that are in different shades of pastel pink.
The beautiful colors make it one of the most popular spots on the 7 Wonders Loop Trail. It is recommended that you visit the canyon in the morning when the sun isn't too high in the sky, as that is when the different hues of pink truly reveal themselves.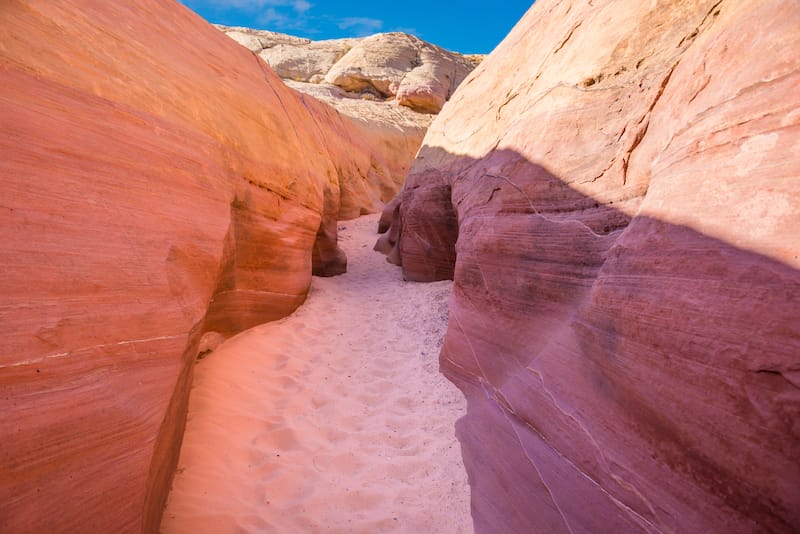 Pastel Canyon is located past Striped Rock in the Kaolin Wash extension, so be sure to check it out when you hike the 7 Wonders Loop Trail.
Elephant Rock
Elephant Rock is one of the most unique spots in the park because it is a rock formation with an arch resembling an elephant.
Elephant Rock is near the east entrance of the park, and its sandstone composition gives the formation a nice orange color. The hike to Elephant Rock is easy, and only 0.3 miles.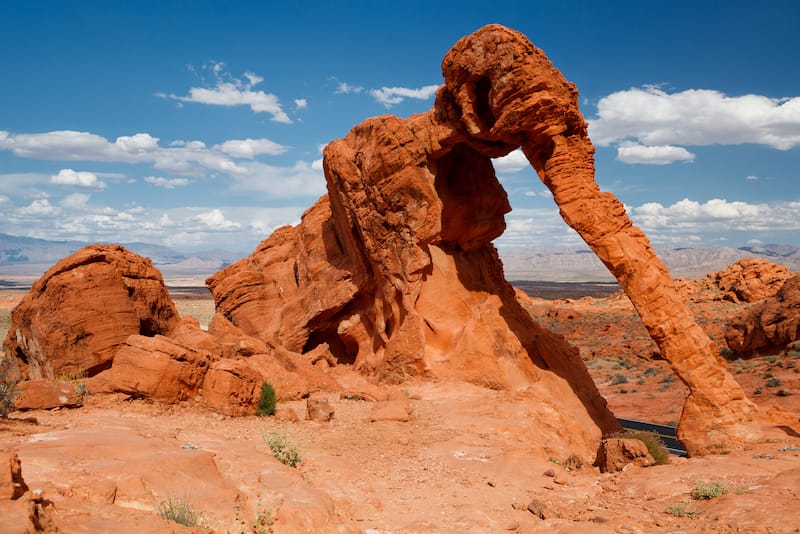 When you enter Valley of Fire State Park from the east entrance near Lake Mead, it is the first stop when you hike up the trail from the parking lot.
With a little bit of imagination, you will easily be able to see how the sandstone formation is in the shape of the elephant's trunk, legs, and head. People remain amazed at how the fragile creation has been able to stay upright.
However, considering its fragility, visitors should not climb on Elephant Rock.
Mouse's Tank
For those who love history, you have to check out Mouse's Tank. It was used as a hideout by Little Mouse, a Paiute outlaw in the 1890s in order to escape those who had accused him of killing two people in the valley.
Before visiting Mouse's Tank, you will be able to learn more about the backstory and the history by visiting the exhibits at the Visitor's Center.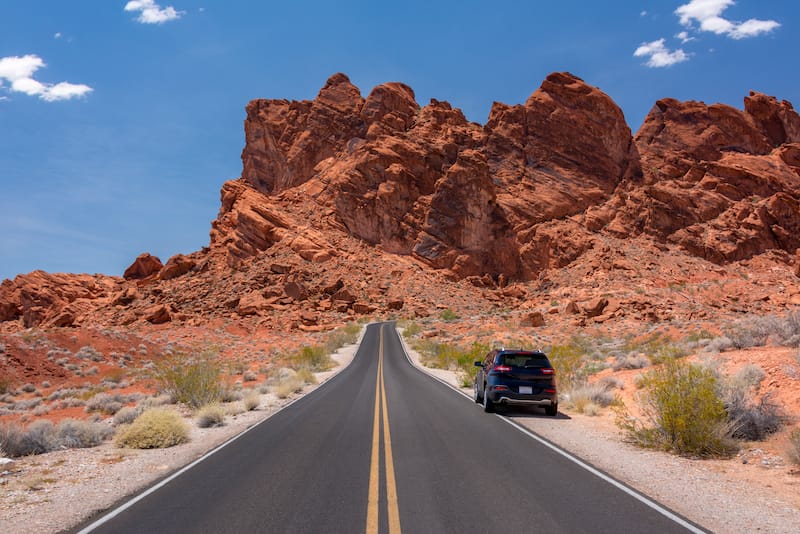 Mouse's Tank is easy to access after hiking 0.75 miles. When you reach the hideout, you will see that it is a natural basin, from where it gets its name; the basin collects water when it rains.
In addition, the trail leading to Mouse's Tank features prehistoric petroglyphs that were carved into the rocks by local tribes.
Fire Wave
The Fire Wave happens to be one of the most popular hiking trails in the Nevada state park. It is around 1.5 miles round trip.
When you reach the Fire Wave, you will see a rock formation that has several stripes and shades of orange, which reminds visitors of swirled ice cream or a wave.
The trail to Fire Wave is easy and accessible as it is only made up of rock, hardpack, and sand.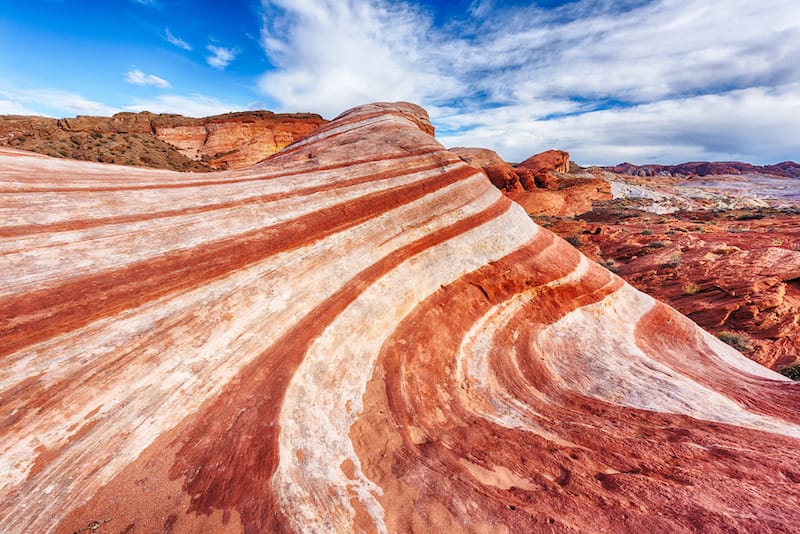 One important thing to keep in mind, however, is that it tends to get crowded near Fire Wave, which means that you might want to choose the time to visit accordingly or simply be courteous to others who want to take photos.
Another thing to consider is that it can get very hot, so be sure to take it slow and drink plenty of water! This is one of the most iconic attractions in Valley of Fire and it is extremely worth the visit!
White Domes
White Domes Trail, which is located right at the end of White Domes Road, is known for being one of the most scenic locations in the state park.
The trail is 1.1 miles with many different sandstorm formations of unique shapes and colors. You can also check out an old film set, which was used as a filming location for movies such as Star Trek: Generations, Transformers, and Casino.
Then, you can go through a narrow canyon, which features how the rock walls eroded because of water.
There are diverse and unique landscapes all along the trail. There is also an area at the beginning of the trail with picnic tables and a kiosk describing the history of the area.
Seven Sisters
Seven Sisters is a group of seven boulders in the sandy deserts of Valley of Fire State Park, which is how it got its name.
The rocks are entirely red and surrounded by flat desert, making them impossible to miss. In fact, it is also a popular location for photography. They are located right on the side of the Valley of Fire Road.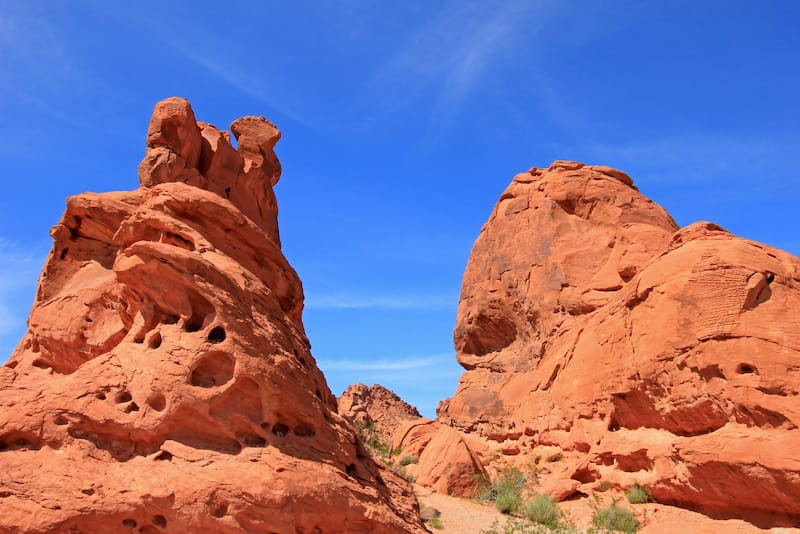 The boulders all stand together and look similar. Many people like to take a break here under the shade of the boulders.
You can also have a picnic or take some stunning pictures. According to the information panel at Seven Sisters, they used to be a part of early red formations, but the boulders are all that remain after erosion destroyed the other sandstone deposits.
The Beehives
The Beehives is another fantastic spot that is on many people's bucket lists when they visit Valley of Fire State Park.
The Beehives are located right near the west entrance of the state park on the right side of the road. They get their name due to the fact that the sandstorm formations look almost like beehive nests.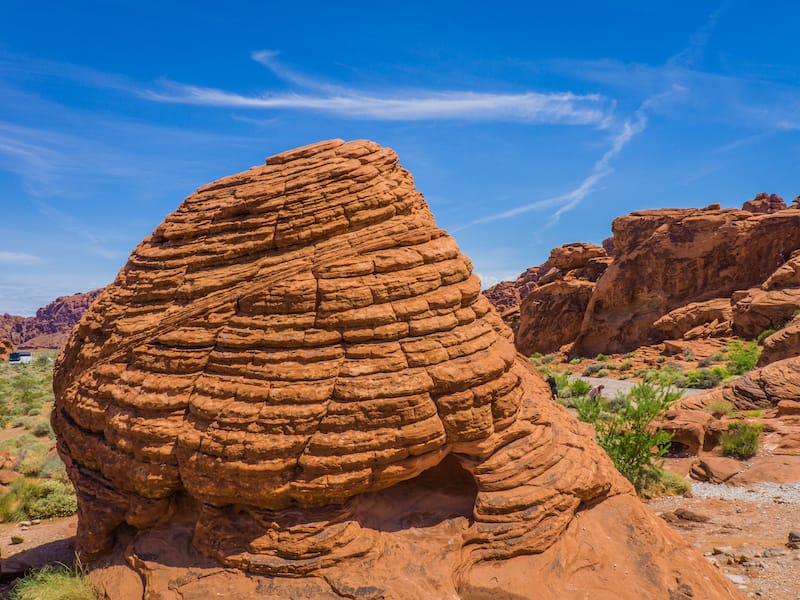 In addition, wind and water erosion caused holes to form in the rocks, which also contribute to their unique appearance.
Visiting The Beehives should only take around 10 to 15 minutes, making it a great spot to check out during your busy day.
Atlatl Rock
Atlatl Rock gets its name from the word atlatl, which refers to people who threw sticks or darts to make them sharper.
Atlatl Rock is located along the Scenic Loop Road, which is around 2 miles long. The rock features etchings that were carved into the red rock by ancient tribes, giving you the opportunity to see Native American petroglyphs up close.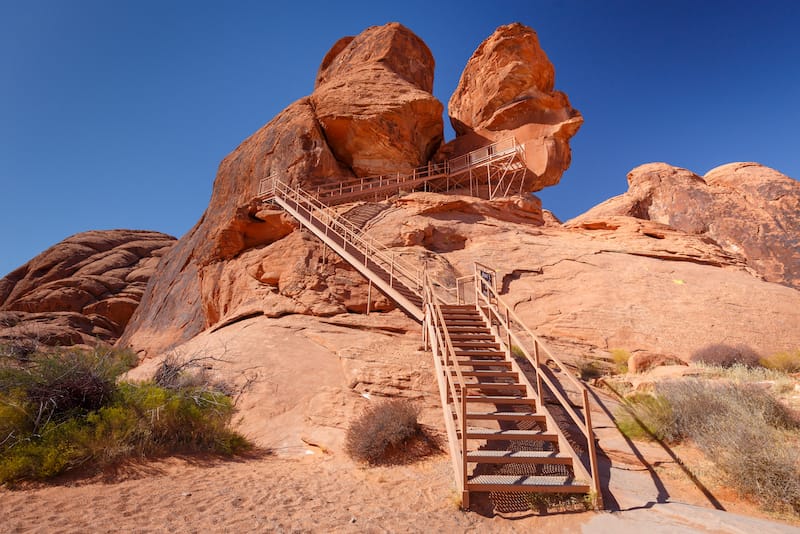 There is a metal staircase on the side so you can go right to the viewing area to see the petroglyphs. The trail is 250 feet long, most of which consists of stairs.
In addition, near the rock is a picnic area for you to get some rest or eat during your trip. The attraction does not take long to see, making it a perfect addition to your itinerary.
Arch Rock
Arch Rock is another site to see along Scenic Loop Road in the western portion of the park. It is located only around 0.3 miles down the trail from Atlatl Rock.
Arch Rock is a small arch that sits on top of a rounded rock, which was formed by erosion. It is located right off the side of the trail, so you will not have difficulty finding it.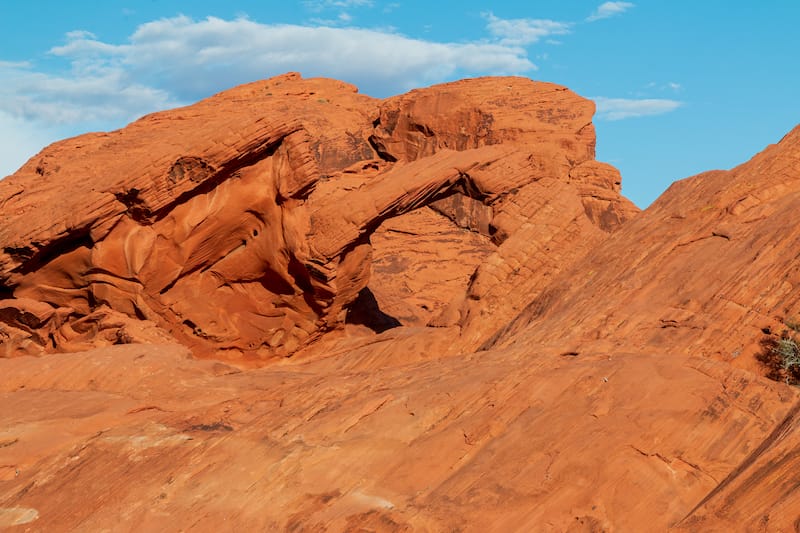 This is another great site to take photographs. Keep in mind that since this rock is shaped like an arch, it is naturally more fragile, so do not climb on top of it. The rock can be viewed easily from below.
Balancing Rock
The rock gets its name from the fact that it looks like the top of this structure is balancing. The column gets narrower towards the top, giving it this appearance. In order to reach Balancing Rock, hike from the Valley of Fire State Park's Visitor Center.
It is located close to White Domes Road, and the trail is easy to hike, making it accessible for anyone who wants to visit the park.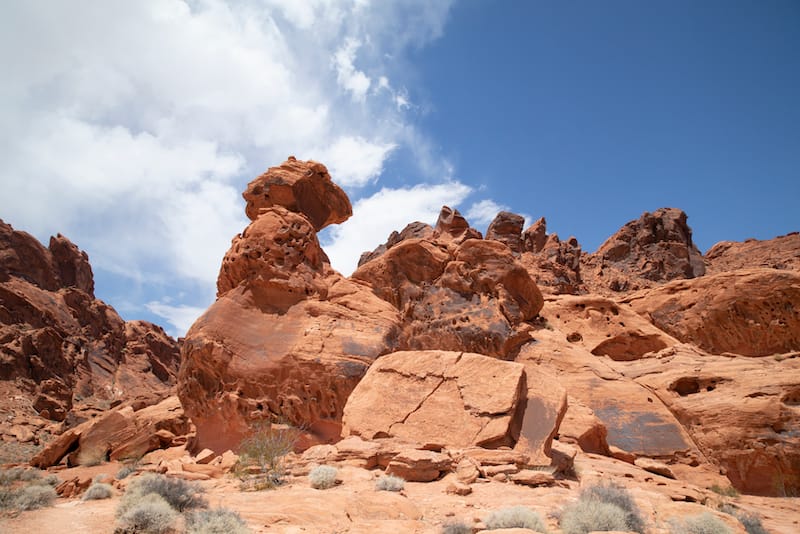 You'll find it around ⅛ of a mile down the trail and it is 20 feet tall. The rock is fragile, of course, so you should not climb on it.
However, you can get great views from below, or it is suggested that you drive up White Domes Road and look back to see the unique shape.
Petrified Logs
Petrified Logs features petrified wood, which is the fossil of a tree that turned into stone. There is a loop of 0.3 miles, which features several petrified logs and information regarding how they were formed.
The logs were essentially formed when trees were carried from forests far away, deposited by water, and buried beneath mineral deposits.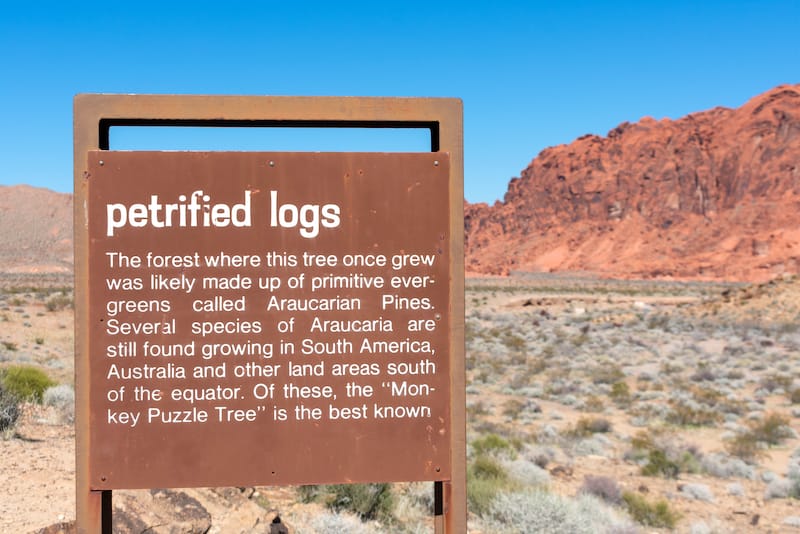 These minerals will then replace the wood in a manner that looks like the original structure of the tree. The loop of petrified logs is located in the southwestern part of the state park, right up the road from the Valley of Fire Highway.
The logs are located within fenced-in areas to protect them. The hike is easy, and you are allowed to take dogs on a leash.
Fire Canyon (Silica Dome Viewpoint)
Fire Canyon and Silica Dome Viewpoint is one of the most easily accessible locations in Valley of Fire, and it is located comfortably in the center of the park.
It is a high point that overlooks several of the park's stunning features, namely Fire Canyon and Silica Dome.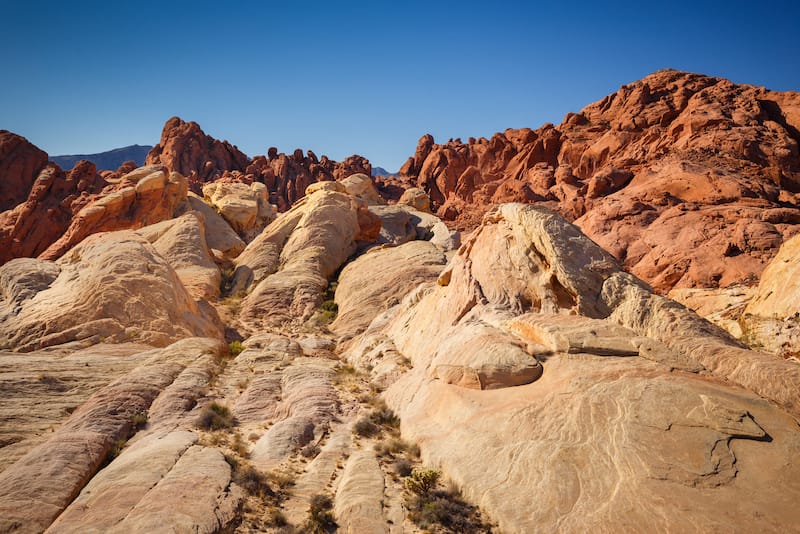 In order to reach Fire Canyon and Silica Dome, follow the road from Mouse's Tank to Fire Canyon Wash. Here, you will be able to have 360-degree views of your surroundings as you check out the canyons and sand grains, which are almost entirely pure silica.
To get to the viewpoint, take the road past the Visitor Center on the right, where there will be a turnoff for the viewpoint.
Suggested Valley of Fire Itinerary
We have mapped out all of the suggested Valley of Fire points of interest and they can be found on this map. You can hit every one of them in a day, if you wish.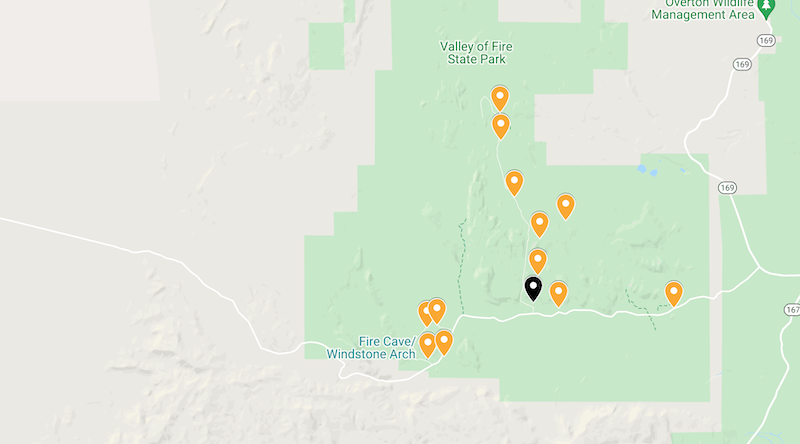 Rather than giving exact information about times and how long to spend at each, we encourage you to just set aside one day in Valley of Fire State Park to make the most of it as possible.
Here is the order we recommend visiting the sights in:
Beehives: if entering from US15, these are the first thing you'll see after entering the park on the righthand side.
Atlatl Rock: Located about half a mile from Beehives on Campground Road.
Arch Rock: Close to Atlatl Rock on Campground Road.
Fire Cave / Windstone Arch: Located on Campground Road (a loop that takes you back to the main highway in the park). We recommend spending more time here than in other places.
Valley of Fire State Park Visitor Center: Stop in and check things out.
Seven Sisters: Great place to stop for lunch.
Elephant Rock: Situated near the eastern entrance.
Mouse's Tank: This road takes you to some of the best hikes and sights in the park. It is 5.7 miles long.
Rainbow Vista: best view of Mouse's Tank and involves a bit of climbing. Take your time here!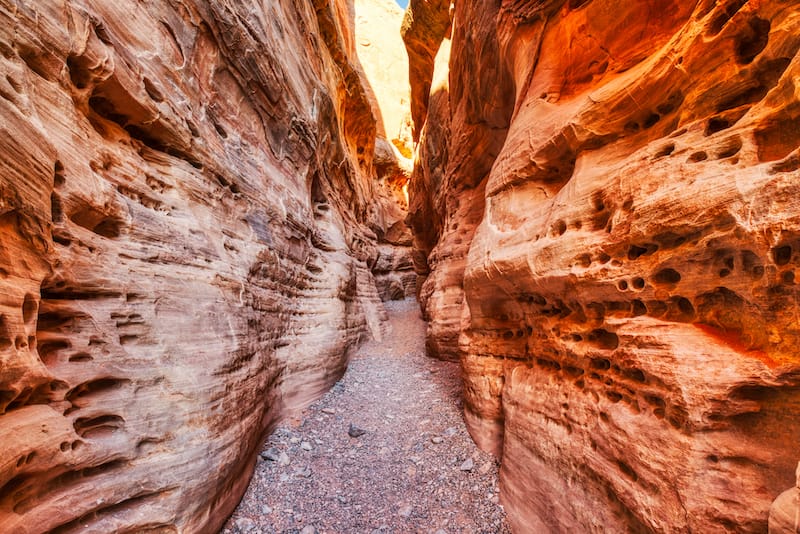 Depending on how your day is going, you will want to go north of Rainbow vista to some of the other landmarks we mention in this guide. You will find the following there:
Fire Wave
Pink Canyon Trail
White Domes Road
What to Pack for a Valley of Fire Day Trip
To be honest, what you pack really depends on the season you're visiting in and if you're traveling by car or by tour. Below are some things we believe you should take regardless of the season, however.
Water bottle: You're in the desert so this definitely goes without saying. We use this Klean Kanteen stainless steel bottle when we travel.
Good hiking boots or shoes: If you're down to do some walking on the trails and to some of the sights, you definitely want good shoes! We love Keen's Targhee hiking boots!
Nevada state parks passport: Just because it is fun! Pick yours up at the Visitor Center.
Sunscreen: Little protection in the desert!
Hat and sunglasses
Tons of snacks for the day to keep nourished
Camping in Valley of Fire State Park
There are plenty of camping opportunities in Valley of Fires State Park and camping there is a fantastic choice because you will have a chance to wake up to the most incredible of views (in mild temperatures)!
Group campsites can be booked in advance but the others are first-come, first-serve. If you are visiting Valley of Fire State Park outside of visitor hours and are not camping, you will be fined… so all the more reason to stay overnight!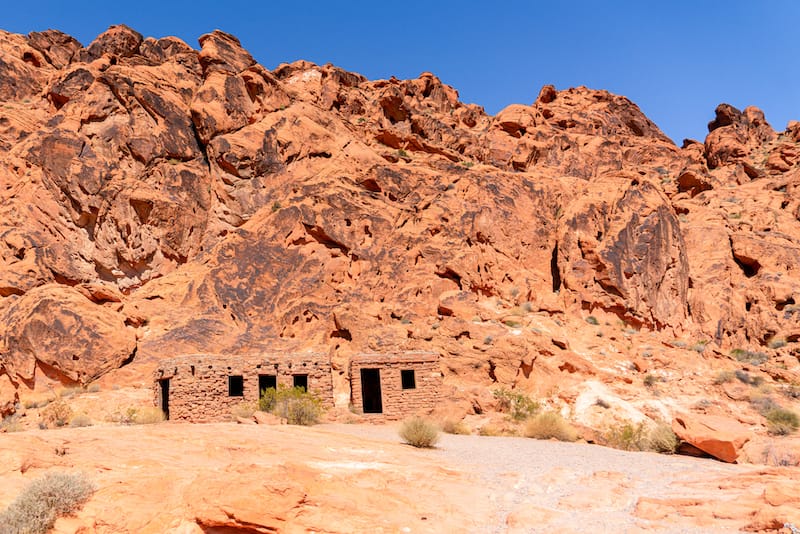 There are 72 campsites in total, including ones that are well-known like the Arch Rock Campground. You'll find three group camping areas within the park. These group areas can accommodate up to 45 people and RV hookups are available, as well.
All campsites come with shaded tables, grills, fresh water, and restrooms. There is, however, a camping limit of 2 weeks within a 30 day period.
The price per car for camping is $20 with Nevada state plates and $25 for out-of-state plates.
Where to Stay in Las Vegas
If you're visiting Valley of Fire from Las Vegas as a day trip, you will want to find an amazing hotel in Las Vegas to call 'home' for the duration of your trip. Here are some of our personal favorites in Sin City:
ABOUT THIS LAND
Valley of Fire State Park is on the unceded land of the Nuwuvi (Southern Paiute) people. We ask you to join us in acknowledging their communities, their elders both past and present, as well as future generations.
We also acknowledge that Valley of Fire SP was founded upon exclusions and erasures of many Indigenous peoples, including those on whose land these designated parks are located.
⇒ Do your research before visiting State and National Parks and places in the US. Native Land and Whose Land are good starting points.
⇒ Hire Native guides when possible and encourage State, National Parks, and government organizations to start hiring them.
⇒ Donations matter. Part of the proceeds from this blog is donated monthly to the Native Women's Wilderness.
More Nevada Travel Guides
Pin this Valley of Fire Things to Do Guide