Many people dream about visiting New York City in winter and many will make the long trek from all over the world to fulfill their dream.
I have spent several winters in NYC and I think there is a nice mixture of things to do for those looking to hit up the touristy sights and those looking for something a bit more off the path.
There is more to the city than festive NYC photo shoots and world-class restaurants. And while many people flock there to check out the best observatories in New York (and skyline views), we think there is so much more going on!
This guide will detail some of the best things to do in NYC in winter.
New York City in Winter
This is a guide aimed at first-timers on how to enjoy NYC in winter. Please let me know if you have any added suggestions to help create the perfect NYC Christmas itinerary (or winter one!) in the comments section. Thanks!
How to Get to NYC (and Get Around Once There)
Getting to NYC is super simple (depending on where you're coming from!).
But the more challenging part is how to get around the city once there!
You have plenty of public transportation options, from renting a car (we use Discover Cars for that!) to taking the subway and beyond. Renting a car will increase parking lot payments, taking a taxi will become really expensive, and taking the subway is fine and easy but can be time-consuming.
Walking is feasible if you're heading somewhere nearby!
Alternatively, for those traveling in larger groups, we recommend Shofur New York – with just the info on group size and needs for the trip, they can charter an entire bus for your group!
It also will save a headache with the parking situation!
Storing Luggage in NYC
One of the main things I seek out in cities when I travel is a place to store my luggage. I have had hell with this previously with luggage storage in New York City because it simply didn't exist for some time due to security threats.
I also am not always smart with the type of luggage I bring with me when I travel. I own some of the best 4-wheeled suitcases, yet I often opt to bring backpacks that are not easy to carry around (and the suitcases can also be a pain during the winter months).
There was one time I even begged a hotel to take my luggage for me as I had an overnight 'layover' after getting off the plane and waiting for my morning bus to Pittsburgh.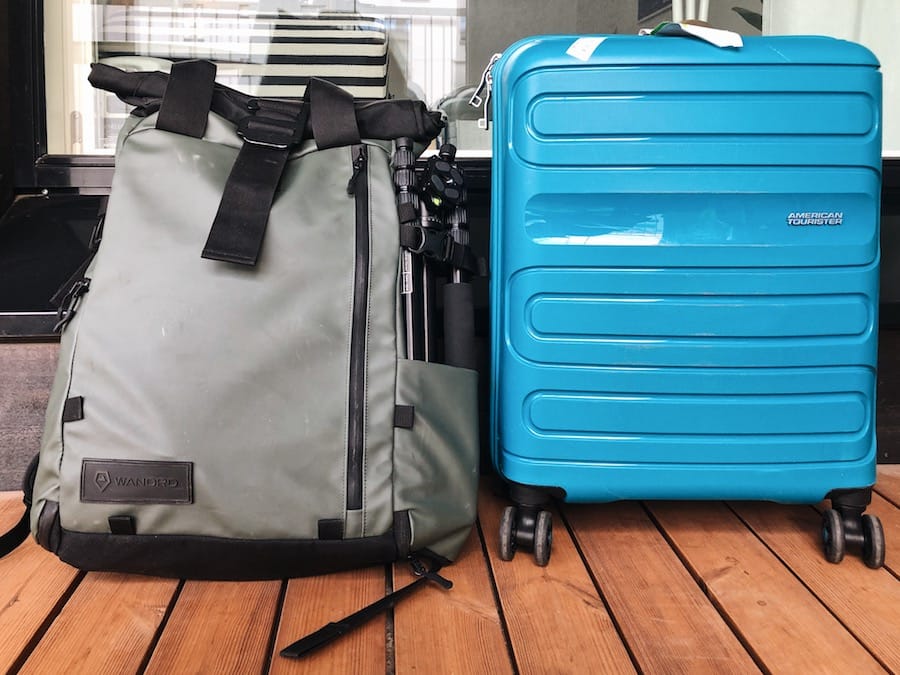 Fortunately, the problem has been solved. LuggageHero is a company from Denmark that pretty much should specialize in solving all world problems because they certainly solved this pain of a problem in NYC and several other cities.
Click here if you are looking for where to store luggage in NYC and other places around the world.
What to Pack for NYC
There are so many things you can bring with you to New York. And, don't worry, you can pretty much spend a lot of money in the city anyway and purchase new things. But, if I were to list a few items to tote along with you for your New York in winter trip, these are it:
⇒ Good walking boots: New York is pretty cold in winter but there is not always snow. I recommend wearing a nice pair of walking boots to trot around the city in. I prefer my black, vegan Dr. Martens while Aram wears his favorite pair of brown boots when he is traveling.
⇒ New York guidebook: While we think blogs are fantastic for trip planning, we still love guidebooks as they add a personal touch when you're perusing around an unknown city. Our favorite guidebooks are from Fodor's Travel (really informative and offer a lot of details) as well as Lonely Planet (better for those on a budget looking for hidden tips). Click here to buy the Fodor's NYC guide and click here to buy the Lonely Planet NYC guide.
⇒ Mobile power bank: New York is cold during winter and you will definitely want to haul around a mobile power bank with you so your phone can stay on at all times. You never know what you may stumble upon in NYC and it is better to be able to capture every moment when you can! Click here to buy our suggested power bank.
⇒ Klean Kanteen water bottle: New York City has water fountains throughout the city and it is a much more environmentally friendly thing to carry around a reusable water bottle than to purchase plastic water bottles from a shop. Click here to shop our Klean Kanteen water bottle that we travel with.
Do You Need Travel Insurance in the USA?
New York City is huge and you will need to spend quite a bit of time discovering all the city has to offer. With that being said, accidents happen and you definitely don't want something to go wrong in the United States where you could end up with a hospital bill of $290,000 (wish this was a joke). We recommend SafetyWing, a Norwegian insurer, for all travel insurance needs in the United States.
>> Click here for a US travel insurance quote
Renting a Car in NYC
New York City in winter is a dream for many and one of the best ways to explore the area outside of the city center is by car. We mention a couple of day trips or city escapes below and you definitely will want to rent a car and visit them independently.
>> Click here to check rental car rates for NYC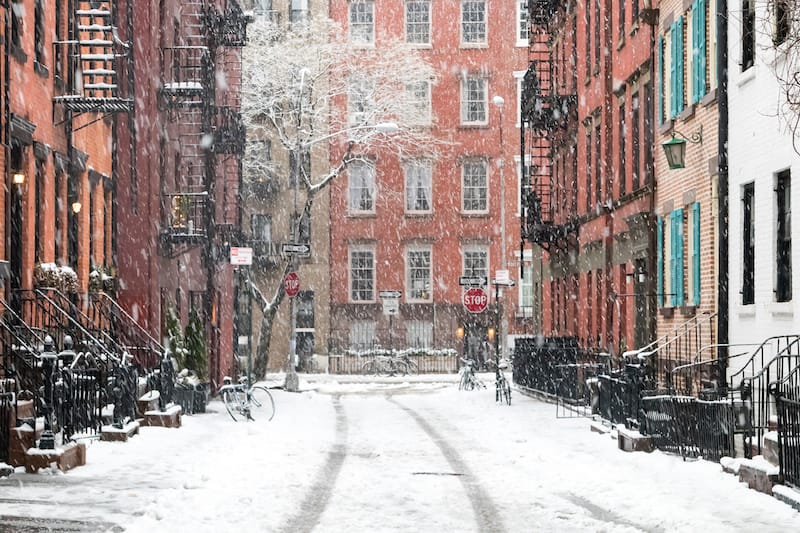 New York City Pass
One of the best investments for those traveling to NYC in winter is to grab up a New York City pass. This city pass will give you discounts, freebies, and access to many museums, sights, restaurants, and more.
>> Click here to get the NYC Pass
Best NYC Tours
There are many images that come to mind when one thinks of NYC during winter. If you're a first-timer in New York City, we want to ensure you are able to see all of the main sights as well as some extras.
The best way to do this is by tour as you'll get the details and ability to quickly see the sights that make this city so completely iconic. Here are some of our top recommendations:
Things to Do in Winter in NYC
Go Ice Skating at Rockefeller Center
One of the best things to do when spending winter in New York City is to head to the Rockefeller Center and enjoy some outdoor ice skating, especially if you're seeking the best way to enjoy the outdoors in NYC.
The large ice rink is located outside of the Rockefeller Center and exudes holiday charm, as the whole area will be donned with Christmas lights and decorations.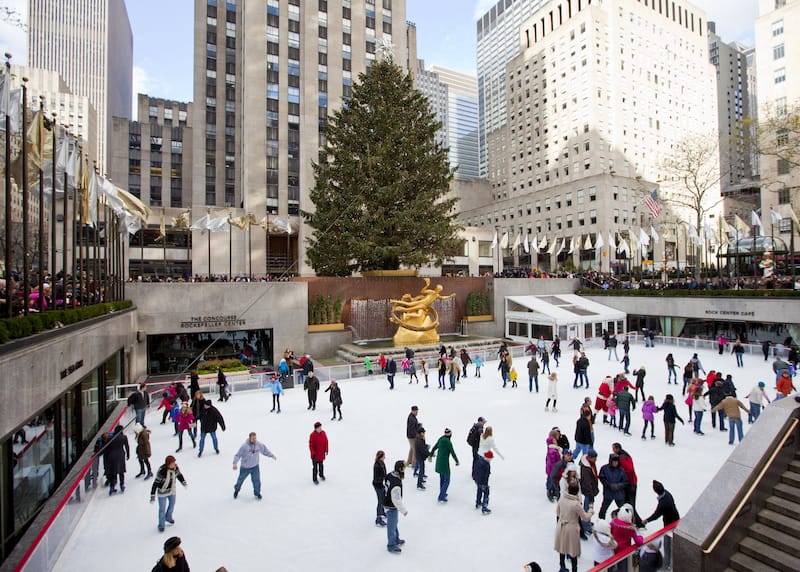 During the season, there are also plenty of spectacular events and shows held on the ice such as breakfast with Santa or dance shows. Open from October to April, the ice rink is open throughout the day for public skating.
General admission is done on a first-come, first-served basis and it is not possible to buy tickets in advance. Prices are set around peak holiday times with large increases around the holiday period. For those who are not comfortable on skates, you can book lessons to learn on the ice rink.
Window Shop the Christmas Displays
New York is home to some of the most extravagant window displays in the world and each year, they get more impressive and beautiful. From Macy's to Saks 5th Avenue, you will find these grand window displays everywhere, often being unveiled with great anticipation.
I highly recommend taking half a day to walk around the streets of Manhattan and peruse the windows of all the shops and try to resist filling your suitcase up with Christmas gifts for just about everyone you know.
Escape the City for the Catskills
So this is a post about what to do in New York City in winter… but one of the best things about NYC is that it is a fantastic base for several other trips in the region!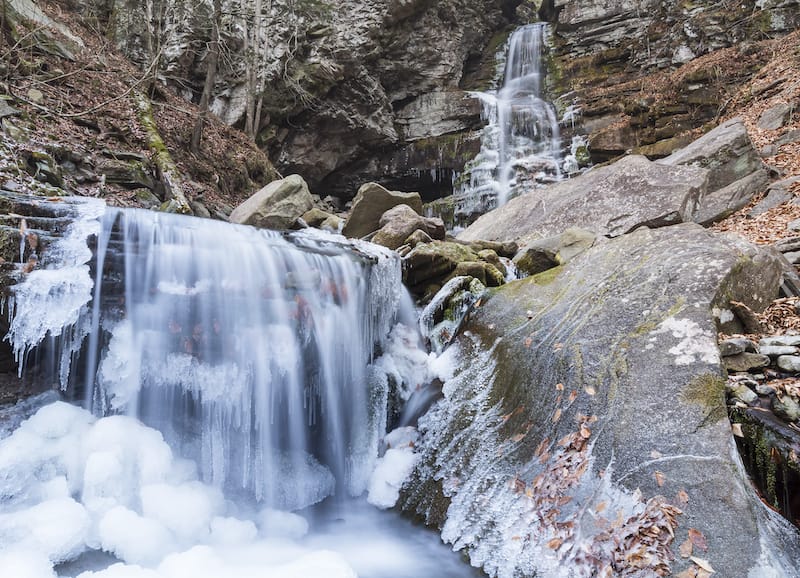 There is nothing better than jetting off to the Catskills. There are plenty of cozy resorts in the Catskills for couples or small groups and the mountains are perfect no matter which season you happen to be visiting.
See Saint Patrick's Cathedral
The imposing Saint Patrick's Cathedral is a large Catholic cathedral in the center of New York. Take time to visit the cathedral in the build-up to Christmas and view the impressive Christmas tree inside that has been beautifully decorated.
For a more in-depth view of the cathedral, take a candlelight tour of the catacombs and go into the depths of the neo-gothic building. Tours run daily when the cathedral is open to the public.
>> Click here to take a catacombs tour of the cathedral
Drink a Delicious Coffee in Greenpoint
One of my favorite things to do in winter is to find a cozy little cafe to relax in and enjoy an amazing flat white or pourover. Greenpoint is my favorite area of NYC (it is in Brooklyn) and it has some of my favorite cafes in NYC.
You will easily be able to find a charming cafe where you can escape the bitter east coast cold. As you wander around Greenpoint searching for the best little coffee shops, take time to check out many of the cool and quirky independently run shops in this hip neighborhood.
For my coffee recommendations, check out my Greenpoint coffee guide.

Hit the Winter Sales on 5th Avenue
New York is a shopaholic's paradise with plenty of places to spend money littered throughout the city. From high-end fashion to the world's biggest brands, you will enjoy New York City in winter even more if you're dressed stylishly.
After Christmas is done with, head to the famous 5th Avenue and shop until you drop in the winter sales. Fifth Avenue is home to some of the world's biggest clothing brands with some of the prestigious brands having their flagship store located on this famous avenue.
Be sure to purchase extra luggage for your return journey. If you are like me, you will return with double the amount of clothing you arrived with. Whoops.

Visit the Rockefeller Christmas Tree
From December until the beginning of January, a large Christmas tree is on display in front of the Rockefeller Center. The colorfully decorated Christmas tree is adorned with bright lights and beautiful decorations.
Attracting over 100 million visitors each year, the popular tree is the centerpiece of New York's Christmas celebrations. And yes, it is not exactly one of the unusual things to do in New York City as it is pretty touristy.
The turning on of the lights is broadcasted live on TV and features performances from different artists. The picture-perfect tree is definitely worth a visit and a great photo opportunity.
Play Winter Sports in Central Park
New York's iconic Central Park is a great place to escape the hustle of the city and take a walk in the large inner-city park. During the winter months, the park enjoys a healthy blanket of snow covering the ground and trees.
Once the snow is thick enough, you can enjoy cross-country skiing across the large meadows and through the trees. For those looking for something a little easier, snowshoeing is also a possibility.
Within the park, you can also take advantage of the large outdoor ice rink where you can do some winter skating. Alternatively, simply take time to enjoy this large space of inner-city, winter nature.
Take a Night Time Winter Helicopter Ride
New York is the city that never sleeps and as night falls, the city is illuminated with bright lights that contrast perfectly against the dark night sky. The best way to enjoy the lights of New York is via a helicopter tour over the city.
You will take off from Manhattan and fly over the city seeing Central Park and the shimmering lights of the many skyscrapers. Before you return to the landing spot, you will pass by the fully illuminated Statue of Liberty.
>> Click here for helicopter tour prices and availability
Visit Times Square on New Year's Eve
One of New York's most famous landmarks is bright and energetic Times Square. Times Square is also one of the most famous places in the world to celebrate the coming of the New Year. Over a million people each year watch the ball on the roof of One Times Square drop.
To enjoy the celebrations, you will need to arrive at Times Square relatively early in the day to get a good view but from that point onwards, you will need to remain relatively stationary as moving will result in losing your place.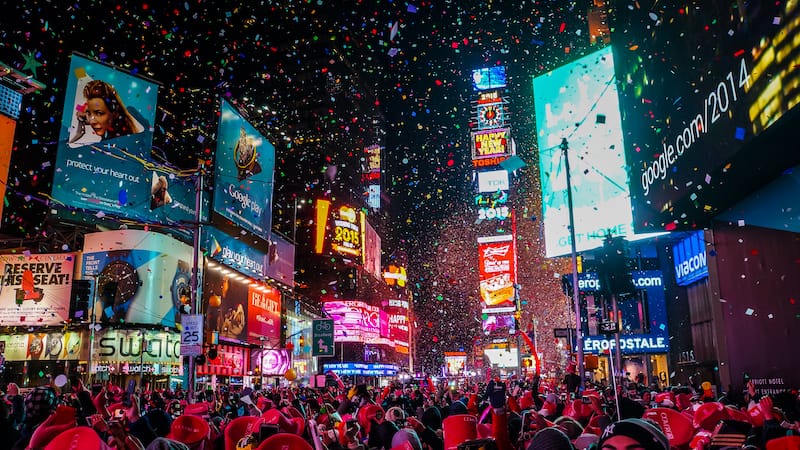 However, the mood in the square is joyful and there is a little celebration every hour as different time zones enter the new year. There are plenty of hotels, bars, and restaurants around the square where you can camp out instead of waiting in the cold outside.
Watch a New York Rangers Game at Madison Square Garden
New York is home to some huge sports teams such as the New York Rangers, an NHL ice hockey team. Ice Hockey is a fast-paced, entertaining sport to watch with fun fans which makes the whole experience far greater.
There are plenty of regular games throughout the season, so the chances you will be in town the same night as a game are pretty high. One of the best things about watching ice hockey is that even if you don't fully understand the rules, you can easily follow the action and enjoy the night.
The other plus is that watching a game means you get to visit the impressive and famous Madison Square Gardens, one of the most famous venues in the city. If hockey is not your sport, then it is also possible to watch the New York Knicks at Madison Square Garden.
If you are looking to see a little more of Madison Square Garden, you can book a tour here and see everything that goes on behind the scenes in this epic venue.
Go to Radio City Christmas Spectacular
One of New York's annual Christmas traditions is the incredible Radio City Christmas Spectacular. This amazing show is one of the highlights of Christmas and features the Rockettes, a long-standing, famous American dance troupe.
Tickets often sell fast and are best bought in advance to avoid disappointment, especially in NYC during winter. You can book tickets here, and this deal also includes a tour of the fantastic shop windows of 5th Avenue and visiting the Rockefeller Christmas tree on a guided tour.
Eat a Bowl of Ramen at Tatsu
There is no better winter warmer than soup… and there is no better soup than ramen. New York is full of great ramen spots but one of my favorites is definitely Tatsu Ramen. I stumbled across Tatsu ramen joint completely by mistake.
I had been planning to visit Momofuku Noodle Bar but upon arrival, I found out that there was a two-hour wait. As luck would have it, there was a ramen spot by next door called Tatsu and it looked hip and nowhere near as busy.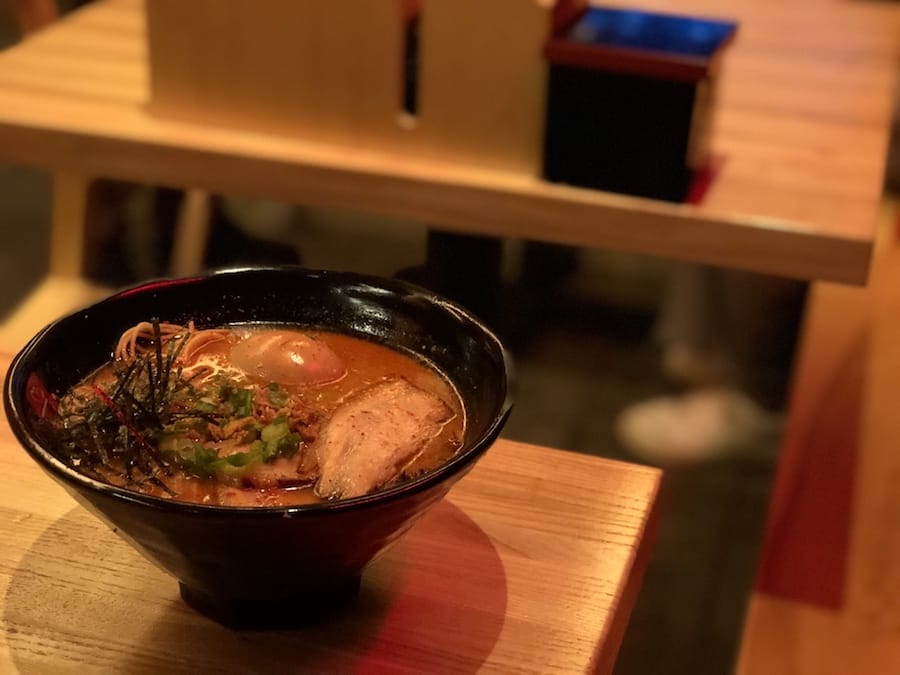 As you walk into the restaurant, you are greeted with several tablets from which you place your order and then head to the cashier to pay. After that, you take a seat and wait for your delicious bowl of ramen to be delivered to you.
The ramen there was tasty and I will definitely be going back there on my next visit.
Watch the Macy's Thanksgiving Parade
Macy's Thanksgiving Parade is one of the most famous parades in the world with some of the most ostentatious floats and balloons you will ever see. The route of the parade goes through the streets of Manhattan and passes some of the most famous sites on its nearly 3-mile route.
Around 8,000 people take part in the almost 3-hour parade that features many popular figures and characters from TV. The climax of the parade is the arrival of Santa Clause, officially kicking off the Christmas holiday period.
The parade is super popular and securing a good viewing spot on the route means getting there early.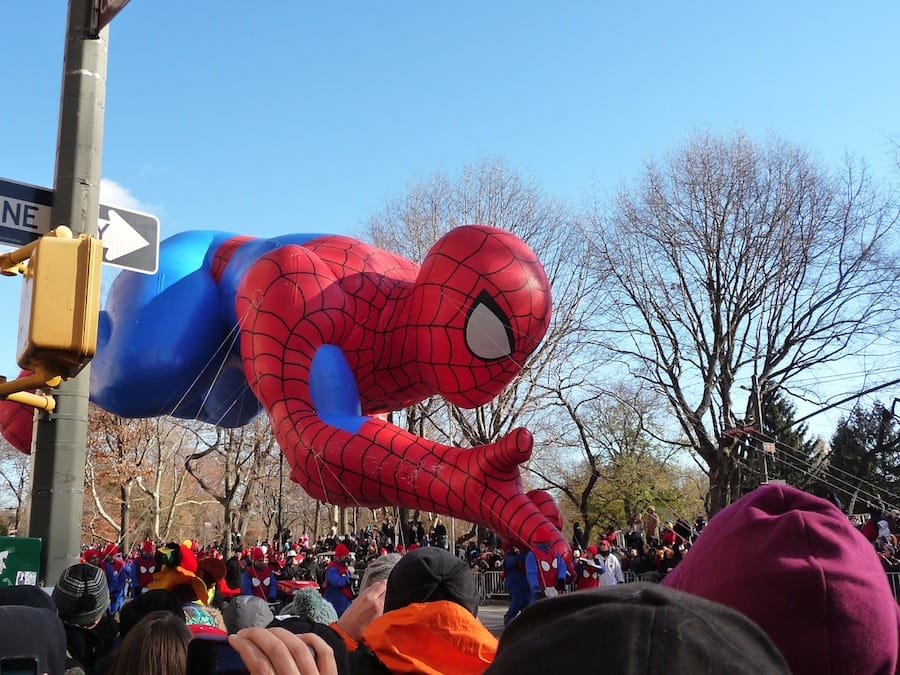 To get a spot near Macy's, you will need to get there around 6:30 am, but wrap up warm as it can get bitterly cold!
There are also other parades through New York during winter, such as a Halloween parade and a St. Patrick's day one if you happen to be traveling to the city during those times.
Check Out the Christmas Lights in Brooklyn
Head to Brooklyn's Dyker Heights to check out the renowned Christmas lights that adorn the houses in this holiday loving neighborhood. As you walk around the streets, you will see different styles of decorations, with people displaying nutcrackers and various other Christmassy figures to pimp up their displays.
One of the best ways to experience the lights is on a guided tour where you will be taken from Manhattan to Brooklyn and shown the charming neighborhood along with a few other sites in Brooklyn. I recommend taking this tour of the magical Brooklyn Christmas lights.
Go to the Top of the Rockefeller Center
Okay, okay… I know this guide says to go to the Rockefeller three times… but there are so many things going around in and outside of the iconic area that I decided to do it that way!
The Rockefeller Center is one of the best buildings to head to for a view. You will find a stunning rooftop space that has been created where you can see some of New York's most famous sights such as Central Park, the Statue of Liberty, and the Empire State Building.
Reaching the top of the 260m building is done within a minute as you take an express elevator directly to the roof. At the top, you can explore two floors of viewing areas which are a mixture of indoor and outdoor areas, along with the completely outdoor viewing deck.
You can book your tickets in advance here and the tickets are not bound to a certain day so you can choose the day and time with the best weather on your trip to enjoy the views over the city.
Celebrate the Chinese New Year in Flushing
New York is a city that celebrates diversity and its rich heritage built by the many immigrants that passed through the city to build a better life for themselves. One of the biggest groups to impact New York are the Chinese, who bought their delicious food and an intriguing culture to the city.
One of the most important celebrations in the Chinese calendar is the beginning of the lunar year and there is no better place to experience the festivities than in Flushing, Queens. The Lunar New Year changes each year but is always towards the end of January to early February.
Celebrations go on throughout the day with colorful and energetic parades along with plenty of other cultural activities. Warm-up after the parade in one of the many Chinese restaurants and try some of the authentic regional food available in the area.
Head Upstate for Winter Sports
Escape New York City in winter and enjoy a little skiing and snowboarding within 75 miles of Manhattan. One of the closest resorts to Manhattan is Thunder Ridge. Although it is not a large mountain area, it is perfect for a quick day trip from New York and can be easily reached by public transport from Grand Central.
For larger resorts, you will need to head a little further away, making them more suitable for an overnight stay. However, if you set off early enough, it is still possible to make a day trip out of them.
For an even closer ski area, you can head 50 miles into New Jersey and tear up Mountain Creek Resort which is home to an epic snow park.
Drink Craft Beer at Tørst in Brooklyn
America has a fantastic beer scene with craft beer bars everywhere. My personal favorite is Tørst in Brooklyn. Maybe it's my love for a good beer or my love for all things Scandinavia, but I am drawn to this Danish-inspired bar.
The interior of the establishment is almost entirely made of wood, giving it a sauna-like feeling while still being cozy (maybe I should have said 'hyggelig).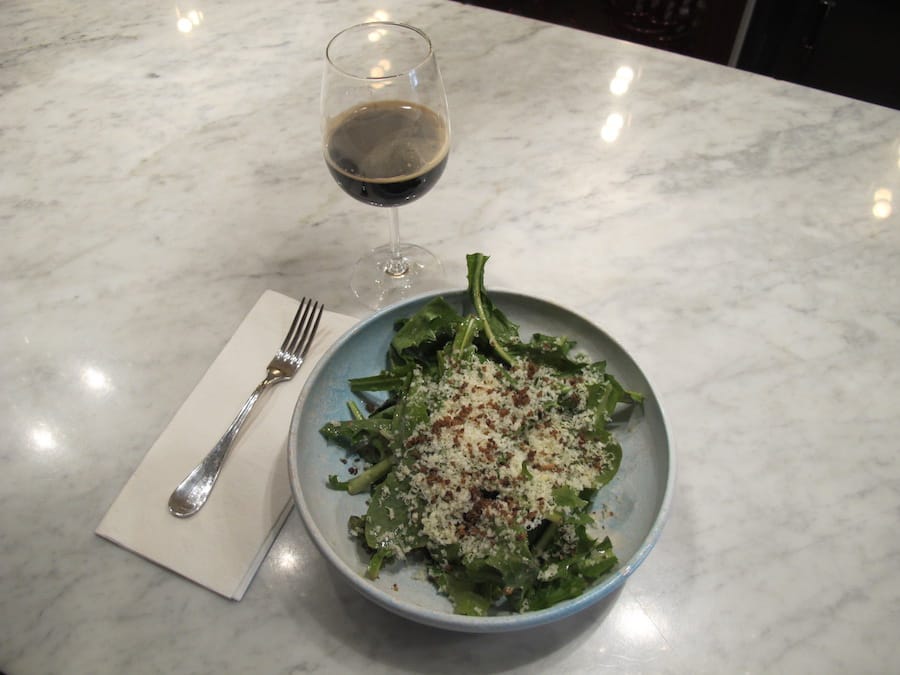 The uniquely Scandinavian feel makes it the perfect place to escape the depths of winter and enjoy a hearty beer while imagining you are somewhere warmer (or colder, like in Scandinavia).
The tap list is forever changing, so each visit is exciting as you do not know which beer will be available that day.
Head to the Bryant Park Christmas Markets
Throughout the world, Christmas Markets are becoming more and more popular. Traditionally associated with Germany, these little markets fill the air with the smell of delicious treats and the scent of mulled wine.
The Bryant Park Christmas Market is one of the best in New York and it has vendors coming from all over the world to sell their unique and interesting goods. Take time to wander around the stalls as you sip a hot drink to keep warm.
As night falls, the markets exude a beautiful orange glow providing a magical Christmassy feeling. The market also includes a large ice skating rink where you can enjoy winter in NYC by means of ice skating. The markets are open from the end of October to the beginning of January.

Watch the Lighting of the Hanukkah Menorah
There are many different religious celebrations during the winter period, one of which is the Jewish Festival of Lights, Hanukkah. There are two public places to watch the lighting of the Menorah in New York and both are competing to have the largest Menorah in the world.
Take your pick between visiting the giant 32-feet high Menorah opposite the Plaza Hotel in Manhattan, or the equally sizeable one in Prospect Park, Brooklyn. The timings of the lightings for both Menorahs are pretty similar to the lighting happening early evening.
However, on Fridays, the lights come on at 3:30 pm in accordance with the Jewish sabbath. The Brooklyn Lighting also is accompanied by music and potato pancakes. The events are open to everyone and not just those of the Jewish faith.
Eat at New York's Winter Restaurant Week
New York's food scene is one of the most diverse and remarkable in the world. The ethnic diversity in this metropolitan city has given way for restaurants serving food from many different parts of the world.
New York's Restaurant Week looks to celebrate these fantastic dining spots and during a three week period between January and February, you can visit participating restaurants and enjoy fixed lunches and dinners at a set price.
This is a great way to try some of New York's finest restaurants if you're on a tighter budget. It is advisable to make reservations for many of the places as people will often snap up the chance of eating at these highly reduced prices. This is a must-do in NYC in winter.

Where to Stay in New York City
Even though New York City is pretty expensive, there are still a variety of options for travelers who are visiting the city in winter. You can find everything from luxury splurges to budget hostels and apartments in various parts of NYC. These are some of our picks covering all budgets.
There are so many reasons to head to New York City in winter and this is only a small fraction of what there is to do in the city. Please leave a comment with any suggestions you may have for winter in NYC.
More New York Travel Guides