Are you traveling to the US this spring? This is a guide to the best places to visit in April in the USA!
There are many fantastic destinations around the United States that are worthy of being visited in spring, including many national parks.
This guide will uncover the best destinations to visit in the US in April that are regions, cities, and towns.
We have recruited some amazing bloggers to help us curate this list. Click here if you're curious about the best places to visit in Europe in April or the best national parks to visit in April instead!
Where to Travel in the USA in April
Washington DC
Location: –
Average temperatures and precipitation: highs of 67F (19C) and lows of 44F (7C); 8 days of precipitation
Reasons to visit Washington DC in April: cherry blossoms, mild temperatures, many children's activities
Recommended by: Editor's choice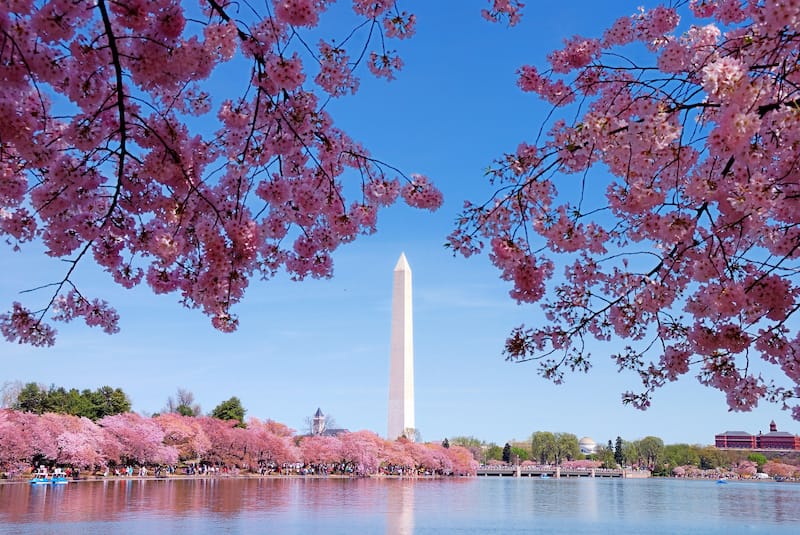 One of the best times of the year to visit Washington DC is most definitely in the spring when the city is in full bloom with its world-famous cherry blossom trees.
The cherry blossom trees were gifts from Japan in 1912 to the United States. The National Cherry Blossom Festival puts DC on the map from the end of March until mid-April as the city waits around for the blooming of the iconic trees. Many events take place during this time!
Kids will love Washington DC in April as the city also celebrates Easter and there are many events for children throughout the city.
Another top recommendation is to head to the theater to see some of the springtime favorites like Jesus Christ Superstar, Guys and Dolls, Bye Bye Birdie, and more!
New Orleans
Location: Louisiana
Average temperatures and precipitation: highs of 79F (26C) and lows of 61F (16C); 4 days of precipitation
Reasons to visit New Orleans in April: jazz festival, best time to see alligators, lots of food, great temperatures
Recommended by: Derek and Mike at Robe Trotting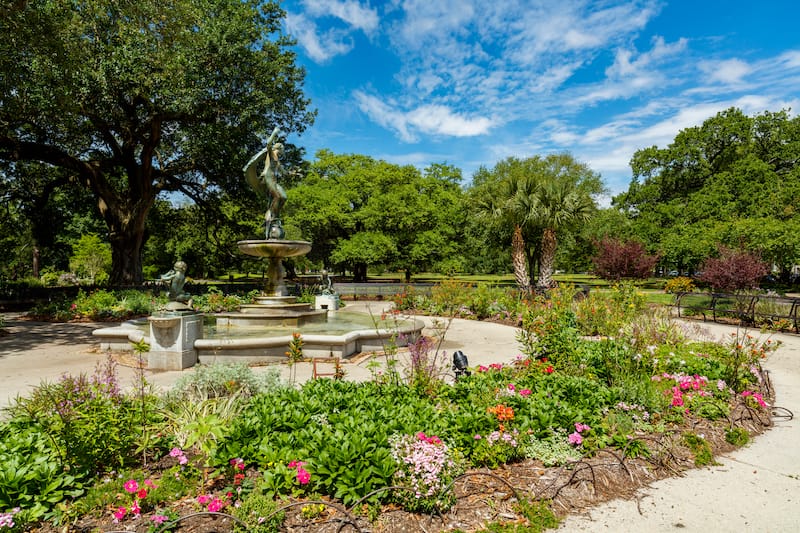 New Orleans is one of America's most fun and unique places to visit. There is never a dull moment or bad time to visit the city but it's a fantastic April destination and you can do so much with even only 2 days in New Orleans!
Spring ushers in the best weather of the year in New Orleans. The colder winter temperatures are gone, but the heat and humidity are still a few months away.
That's part of the reason why so many festivals are held in April in New Orleans, like the neighborhood celebrations of the French Quarter Fest and Freret Street Festival in uptown.
These events are like lively neighborhood-wide block parties that feature food vendors, live music, and a street party atmosphere. Another major festival in April is the New Orleans Jazz and Heritage Festival.
It draws visitors from all over the world and is a massive event at the city's fairgrounds featuring 14 stages of live music.
It's also the time of year where you're likely to see alligators on a bayou boat tour. April is also a great time to be outside in the city of New Orleans so booking a walking tour of the Garden District is a fun way to explore the mansions in this charming neighborhood of the city.
Austin
Location: Texas
Average temperatures and precipitation: highs of 80F (27C) and lows of 59F (15C); 4 days of precipitation
Reasons to visit Austin in April: cheap accommodation, food trucks, Cap10k run, Fusebox
Recommended by: Margherita at The Crowded Planet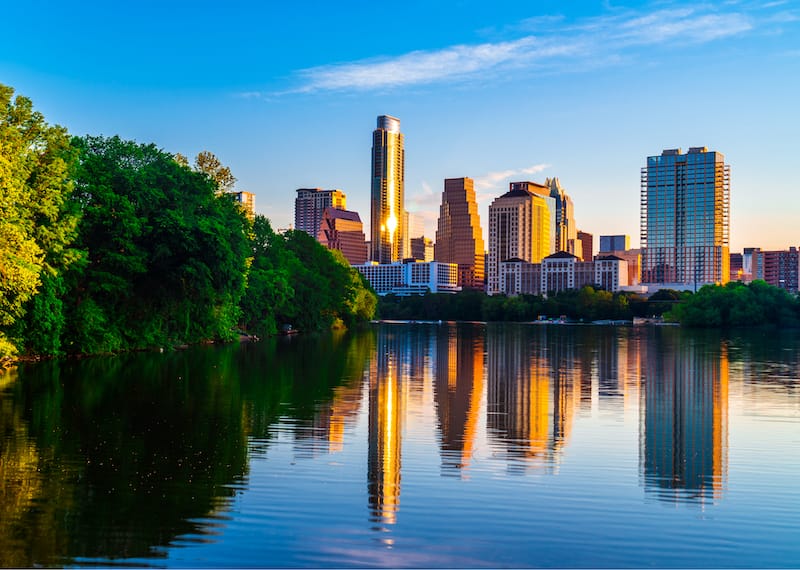 If you love all things weird, I'm sure you'll love Austin! The capital city of Texas prides itself on being edgy and unusual – after all, you'll see the slogan 'Keep Austin Weird' everywhere in town.
Spring is definitely the best time to visit – the weather is sunny and warm without being boiling hot, with temperatures in the 70s. Also, the crowds descending over Austin in March for SXSW have normally left by April, meaning accommodation prices are also more affordable.
There are two fun events taking place in Austin in April – the Cap10k run, taking you past most Austin landmarks including the Texas Capitol, and Fusebox, a 5-day hybrid arts festival including comedy and dance performances, plus literature, food, cinema, and more, in locations all over town.
To enjoy the city to its fullest, we recommend spending a minimum of 3 days in Austin. It's just enough time to enjoy the city's wonderful parks and open spaces, like Zilker Park and Ladybird Lake, and April is also a great time to swim in Barton Springs Pool, with a constant temperature of 70F.
You should also check out Austin's impressive food trucks, and if you like Texas barbecue, don't miss Franklin's – the line may be long, but yes, the brisket is THAT GOOD! Austin is one of the best Dallas day trips and a great place to visit from San Antonio and Houston as well!
Seattle
Location: Washington
Average temperatures and precipitation: highs of 57F (14C) and lows of 45F (7C); 10 days of precipitation
Reasons to visit Seattle in April: cherry blossoms, cheaper than in summer, sailboat rides
Recommended by: Ellie at Ellie's Travel Tips
With warmer weather and melting snow bringing the seasonal blooms and uncovering the natural landscape, April is the perfect month to visit Seattle, Washington.
By strolling the streets of Pike Place Market, visitors will find the first hints of spring with fresh fruits, vegetables, and flowers to admire. Located just outside of Seattle, the Browns Point Lighthouse offers awe-inspiring views ideal for a sunny April day adventure.
The end of April in Seattle is the best time to witness the pink Japanese cherry blossoms in bloom. The Seattle Cherry Blossom & Japanese Cultural Festival, typically occurring during the last week of April, commemorates Japan's 1976 gift of 1,000 cherry trees to Seattle.
Visitors to Seattle can enjoy this culture-rich event and other unique Seattle festivals in April that encompass the city's seasonal charm.
To discover Seattle's breathtaking shoreline, book a sailboat ride at the Center of Wooden Boats. As a great way to relax on the water, this sailboat attraction offers free rides every Sunday to its guests, showcasing Seattle's magnificent skyline from the coast.
Visiting Seattle in April will be less crowded than other, more-popular destinations around the United States, providing the ideal spring escape from everyday life.
Palm Springs
Location: California
Average temperatures and precipitation: highs of 87F (31C) and lows of 57F (14C); 0 days of precipitation
Reasons to visit Palm Springs in April: Coachella Festival, day trip to Joshua Tree National Park, nice temperatures
Recommended by: Editor's choice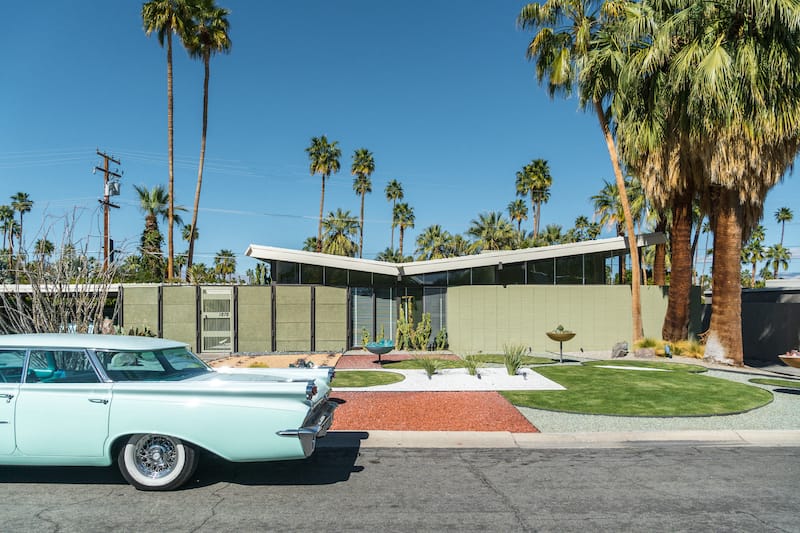 The most comfortable time to visit Palm Springs in California is mid-spring, preferably in April when the weather is just perfect to drive around, go hiking, lounge by the pool, pamper yourself at the spa, and more!
One of the most famous reasons people congregate in Palm Springs in April is that they head to the renowned Coachella Festival.
Artists from different genres gather there for the annual festival that lasts for about ten days and starts at the beginning of April each year.
Another awesome reason for spending April in Palm Springs is that it is located close to one of the most beloved national parks in the United States, Joshua Tree National Park.
You can pop over to Joshua Tree for one day or spend a bit longer there, but be prepared to be blown away by the ethereal landscapes.
There are many hiking trails in Joshua Tree that offer daytime activities, or you can opt to do a little stargazing at night. At only 37 miles away from Joshua Tree, the desert city is the perfect base to explore the California national park.
Denver
Location: Colorado
Average temperatures and precipitation: highs of 65F (18C) and lows of 35F (2C); 5 days of precipitation
Reasons to visit Denver in April: better temperatures than winter, hiking opportunities, less crowded than summer
Recommended by: Daria at The Discovery Nut
The Capital of Colorado, Denver is one of the best places to visit in April in the USA. While snowfalls are not uncommon in the Mile High City during mid-spring, visiting Denver in April means you can enjoy less-crowded venues and pleasant temperatures.
April is considered Colorado's shoulder season, a time between the moment when ski resorts close for the season and summer activities ramp up.
It might be the low-season for Colorado's mountain country, but not in Denver where you can still enjoy biking the city's trails, visit museums and breweries that this state is so famous for. Booking a weekend in Denver is the perfect city break!
From visiting the historic Larimer Square to shopping at the outdoor 16th Street Mall and going on a day trip to the beautiful Garden of the Gods, there is plenty of adventure in Denver during spring.
Thanks to its location along Colorado's front range, Denver also offers quick access to many beautiful hiking destinations in the Rocky Mountains and beyond.
While some trails are closed because of ice and mud, others offer a perfect opportunity to get back in shape after spending time in the city. It really is one of the best places to visit near Denver.
For example, nearby Boulder, home to the state's largest university, offers many great easy-to-intermediate hikes that tend to be crowded in summer, but have fewer people in April. Always check conditions online before planning your Colorado trip.
Denver also makes a great starting point for some amazing US road trips. One of my favorites is driving from Denver to Los Angeles!
Santa Fe
Location: New Mexico
Average temperatures and precipitation: highs of 63F (17C) and lows of 32F (0C); 2 days of precipitation
Reasons to visit Santa Fe in April: fewer crowds (cheaper prices), outdoor opportunities, botanical gardens in bloom
Recommended by: Wendy at Adventurous Retirement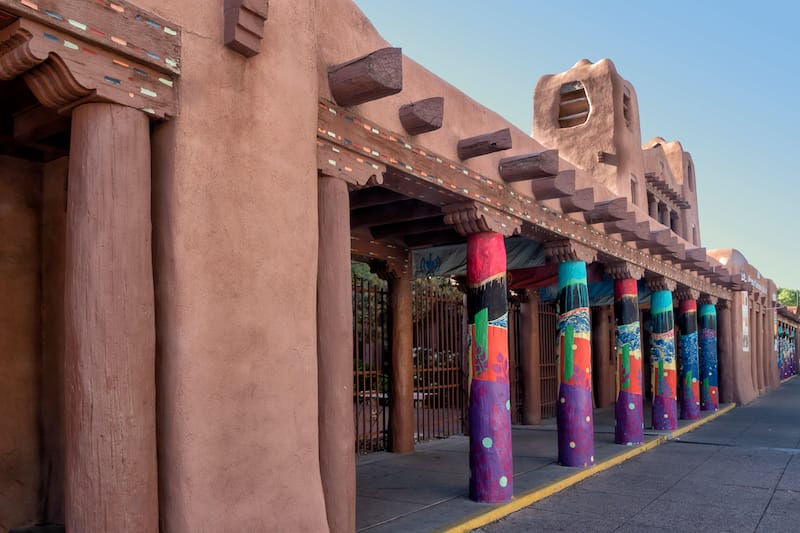 Santa Fe is a striking, diverse, and artistic city with ever-present history, boasting Adobe style architecture, breathtaking sunsets, fantastic food, and exhilarating outdoor activities. It should be on every New Mexico bucket list!
We visited Santa Fe and the surrounding area in April and found it a perfect time to explore this city's rich history, cultures, and outdoor experiences. April's weather makes it a good time to sightsee in town, and ski or snowshoe in the surrounding mountains before ski areas close just after Easter.
From the middle to the end of April in Santa Fe, temperatures range from the mid-40s in the mornings to mid-70s in some afternoons. Fewer crowds in April also means lower prices.
The pleasant weather in April enabled us to spend most of our time outdoors. The weather was perfect for hiking through Native American ruins and National Monuments and driving to Abiquiu to see the natural environment that inspired Georgia O'Keeffe's painting.
In town, take a stroll through the various outdoor museum and gallery areas, like Canyon Road, Railyard Arts District (RAD), and Milner Plaza. There are many places to visit in Sante Fe that you'll never be bored!
A visit to the Santa Fe Botanical Gardens in April is a treat with early blooming fruit trees, bright yellow forsythia, blue flowers, and radiant red crab apple blossoms. It is also a perfect time to enjoy meals outdoors – we had several picnics and dined al fresco at local restaurants.
April is a good time for short road trips outside of Santa Fe since snow is less likely. Also, it is not too hot to visit various Native American Pueblos outside of town like Taos, Pojoaque, San Ildefonso, Santo Domingo, and Santa Clara Pueblos to learn about their customs, how they lived, their history, and shop for exquisite Native American crafts.
For an interesting and diverse April trip in the USA, Santa Fe will not disappoint.
Philadelphia
Location: Pennsylvania
Average temperatures and precipitation: highs of 66F (19C) and lows of 47F (8C); 8 days of precipitation
Reasons to visit Philadelphia in April: cherry blossom trees, fewer tourists, Penn Relays, Dad Vail regatta
Recommended by: Lance and Laura at Guide to Philly
April is one of the best times of year to visit the City of Brotherly Love. Often overlooked in favor of New York or Washington, DC, there is a surprising amount to do in Philadelphia, Pennsylvania.
Philadelphia's massive Fairmount Park, the best urban park in America, is home to the Shofuso Japanese House and Gardens. Built in Japan and moved to this hillside in West Philly, the house is a pristine example of 17th-century Japanese architecture.
Surrounding the house and gardens is a dense tapestry of cherry blossom trees. Every spring (usually early April), the cherry blossom trees bloom and bathe the city in color. Outside of Fairmount Park, several of the historic streets in Old City Philadelphia are also lined with cherry blossom trees.
Every April in Philadelphia, tens of thousands of college and university students come to the city for athletic competitions. In track and field, the Penn Relays is a key lead-up to the annual World Championships and the Olympics. Since 1895, this is one of the oldest and most prestigious athletic competitions in the world.
On the city's Schuylkill River, every weekend is filled with regatta competitions with college students from all over the country. The famous Dad Vail regatta brings in over 100 universities and the banks of the river are packed with visitors and locals alike.
Anchorage
Location: Alaska
Average temperatures and precipitation: highs of 43F (6C) and lows of 32F (0C); 2 days of precipitation
Reasons to visit Anchorage in April: gray whale migration, standard daylight hours, spring is on the horizon after the long winter
Recommended by: Editor's choice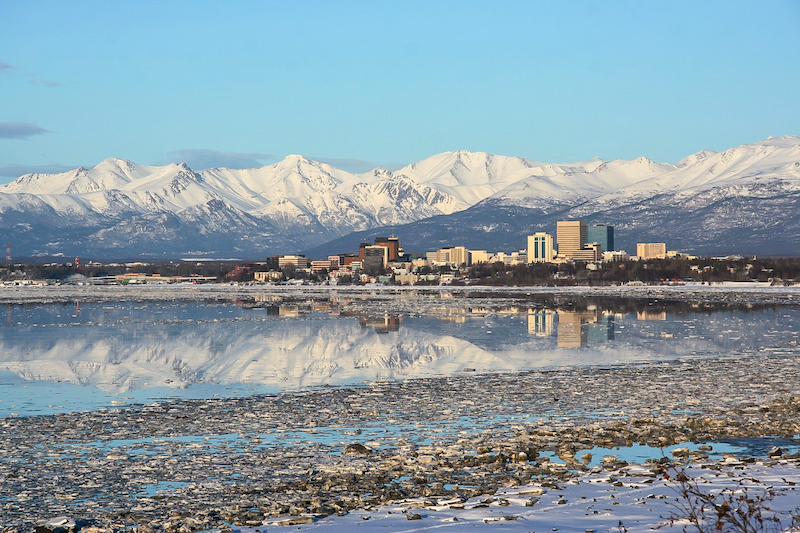 After a long and cold winter, Alaska's most populous city wakes up to a welcomed spring and many opportunities and America's largest state.
One of the main reasons to travel to Anchorage in April is to head to the coast, particularly around Kenai Fjords National Park, to see the gray whale migration. It may be a lesser-visited national park, but it is truly one of the best!
Boat tours start back up and Airbnbs in Seward are far cheaper in spring than in summer. You can book a place close to the harbor and take an affordable boat cruise to see the whale migration.
Another plus of visiting Anchorage in spring is that the days are 'normal' during this time of year. There isn't too much or too little daylight and it's just perfect, allowing you to explore and take a road trip through the beautiful Alaskan scenery whether it be to Denali or down to Resurrection Bay.
Las Vegas
Location: Nevada
Average temperatures and precipitation: highs of 81F (27C) and lows of 45F (7C); 1 days of precipitation
Reasons to visit Las Vegas in April: comfortable temperatures, fewer crowds, festivals, cheaper accommodation
Recommended by: Mayuri at ToSomePlaceNew
Las Vegas is an amazing destination to visit in the US in the month of April. During this month, the temperatures range between 74 and 82 degrees Fahrenheit (24 to 28 degrees Celsius).
Although for some tourists, it might be warm, and almost like summer, Las Vegas swings with outdoor festivals, pools, and street performances.
During April, the streets of Las Vegas are less crowded. Join in a walking tour of the Strip, and admire the architecture ranging from the Eiffel Tower, Bellagio fountains, Stratosphere to New York's Brooklyn Bridge.
All of the prime attractions are open in Las Vegas in April, and it is a great time to plan a weekend Las Vegas itinerary with girlfriends or couples to beat the crowds.
When in town, be sure to go on the Gondola ride at the Venetian with your loved ones, or go outlet shopping with friends. A visit to the Neon Museum is a must – it is one of the quirkiest museums in the USA – filled with unique neon signs.
If you are into music festivals, April is the time to be there and attend the Reggae Rise Up Festival. Another perk is that you will find many amazing day trips from Las Vegas, such as Valley of Fire State Park and Mt. Charleston!
April is the best time to visit Las Vegas as it is shoulder season. It is also amazing as you can score some great deals for accommodation and flights. And, naturally, Vegas is the most popular city to visit in Nevada.
Outer Banks
Location: North Carolina
Average temperatures and precipitation: highs of 69F (21C) and lows of 52F (11C); 6 days of precipitation
Reasons to visit the Outer Banks in April: spring temperatures, no crowds, cheaper accommodation, lighthouses
Recommended by: Neha at TravelMelodies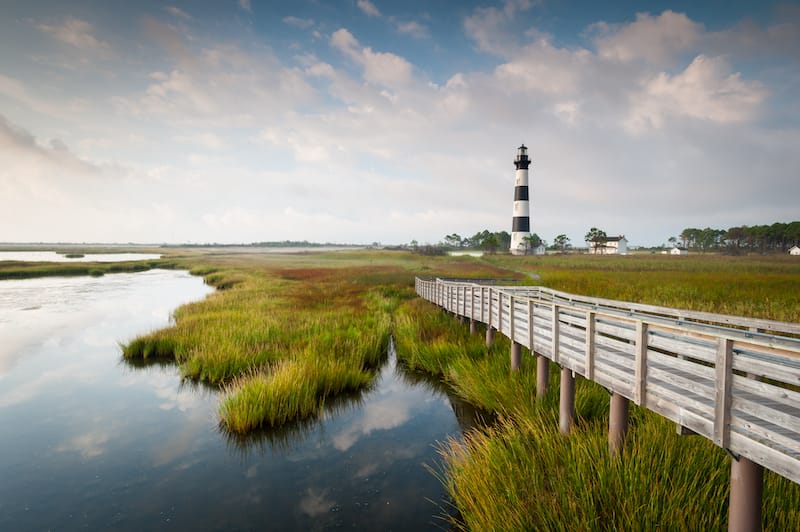 The Outer Banks, an archipelago of islands, is one of our favorite destinations to visit in April in the USA. This is the off-season when the temperatures are starting to get warm up while hotels are relatively affordable. The temperatures ranging from 60 to 70 degrees Fahrenheit, making it a fun time to enjoy the many outdoor activities.
There is so much more to this destination besides its famous sandy beaches. You just can't miss the mesmerizing sunrise and sunset reflecting in the waters. Sitting on the beach, gazing at the vibrant sky takes you into another world.
The Outer Banks is a place where history was created by the Wright Brothers and to witness their dreams and hard work, visit the Wright Brothers Memorial. It truly is one of the best day trips from Wilmington, NC and many other cities in North Carolina!
With a coastline spanning 200 miles, there are many beautiful lighthouses that are worth visiting. Brimming with history, most of them open in April for visitors to climb to the top of the lighthouse for scintillating views of the ocean.
Currituck Beach Lighthouse, Bodie Island Lighthouse, and Cape Hatteras Lighthouse are some that are must-visits. Alternatively, you can head up to Virginia's Outer Banks and see some of the best lighthouses in Virginia, too.
Are you an adventure lover? Then OBX won't disappoint you with its plethora of activities. We loved driving our AWD on Corolla Beach. Besides Corolla, you can drive to Cape Hatteras and Ocracoke Beach as well, but need permits. While driving on Corolla, look out for the wild horses or plan to take a Wild Horses Tour where guides will zip you around to locate the wild animals.
The Outer Banks will definitely charm you with its beauty, beaches, and history!
Texas Panhandle
Location: Texas
Average temperatures and precipitation: highs of 71F (22C) and lows of 42F (5C); 3 days of precipitation
Reasons to visit the Texas Panhandle in April: camping, hiking, and outdoor opportunities before it's too warm
Recommended by: Nicole at Grow Far, Grow Close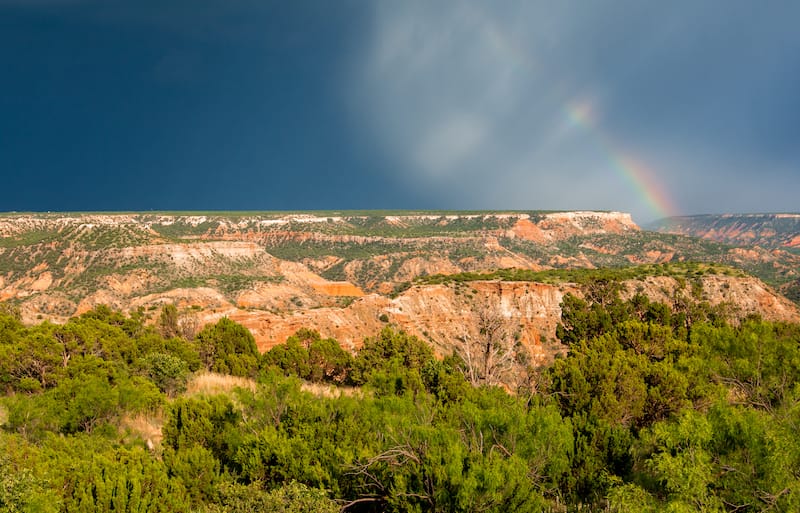 The Texas Panhandle is a rectangular area in the northern part of Texas bordered by New Mexico to the west and Oklahoma to the north and east.
It offers countless outdoor recreational experiences that are best enjoyed in moderate to warm springtime weather rather than the oppressive heat of summer.
There are a number of national and state parks nearby for camping, hiking, swimming, biking, and other outdoor pursuits. This includes Alibates Flint Quarries National Monument and Lake Meredith National Recreation Area which are only 12 miles apart from one another.
For something totally different, go visit the Cadillac Ranch located on the outskirts of Amarillo. This is an outdoor art installation of 10 colorfully painted Cadillacs planted nose-down into the ground.
Alternatively, visit the Devil's Rope Museum outside Graham, Texas, to see and learn about the over 6000 kinds of barbed wire housed there.
Finally, head over to Amarillo, once the center of the US cattle industry, to visit this pretty iconic town and have a meal from one of its fantastic restaurants.
Nashville
Location: Tennessee
Average temperatures and precipitation: highs of 71F (22C) and lows of 48F (9C); 8 days of precipitation
Reasons to visit Nashville in April: fewer crowds, tolerable temperatures, museums without the lines
Recommended by: Bryanna at Crazy Adventure Family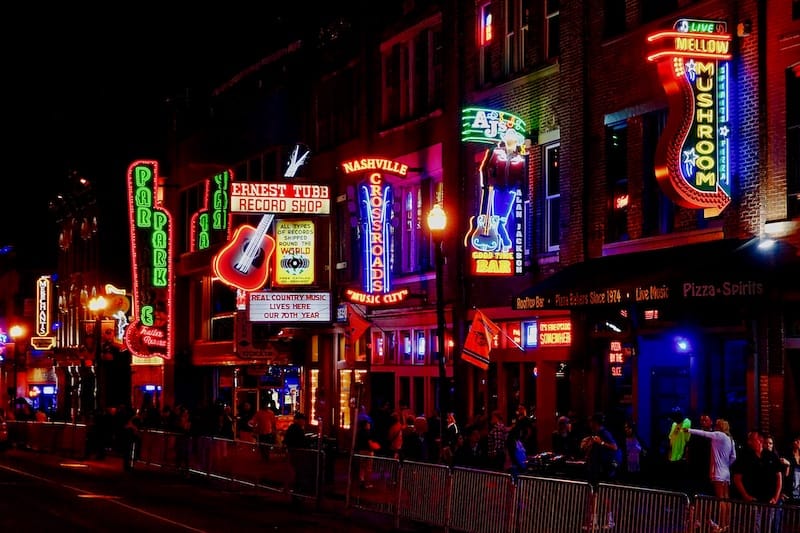 April is an ideal time to visit Nashville. The weather isn't too hot, so walking (and dancing) around downtown Nashville is enjoyable, and you normally aren't hitting the busy bachelor/bachelorette season yet.
Plus, many great outdoor music festivals kick off in April at places like the Musicians Corner located in Centennial Park. Here you will find live music, lots of open space, the Parthenon (a replica of the Parthenon in Greece), food trucks, and picnic tables.
As you walk down the street in Nashville in April, you hear music coming from everywhere. It makes you want to buy a cowboy hat and hit the dance floor. Which we highly recommend doing!
There is so much great history to explore at places like the Music City Hall of Fame and the Grand Ole' Opry backstage tour. Or you can jump on the Hop on Hop off the bus to get a driving tour of the city.
Plus there is delicious food everywhere you turn, and you won't want to miss the chicken and biscuits.
April is an amazing time to visit and take in the alive and energetic Music City and check out all the awesome things to do in Nashville!
Park City
Location: Utah
Average temperatures and precipitation: highs of 53F (12C) and lows of 29F (-2C); 7 days of precipitation
Reasons to visit Park City in April: possibility to ski or to hike, beautiful views, world-class resorts
Recommended by: Editor's choice
Located in Summit County and the ideal Salt Lake City day trip, Park City is a fantastic place to add to your USA bucket list!
The transition into spring is imminent and you may arrive to snow or you may arrive to fresh blooming flowers – April in Park City is unpredictable and it is kind of charming for that.
If spring arrives in April, you will have a chance to go mountain biking, hiking, and horseback riding. If the slopes are open, you will have a chance to ski or snowboard on some of the most famous runs in the United States.
There are two renowned ski resorts in Park City called Park City Mountain and Deer Valley. While taking to one of the resorts, you should also check into a luxury hotel and enjoy the spa, jacuzzi cabins, and more! Park City is a fantastic place to visit in April in the USA.
Nantucket
Location: Cape Cod, Massachusetts
Average temperatures and precipitation: highs of 51F (11C) and lows of 37F (3C); 8 days of precipitation
Reasons to visit Nantucket in April: fewer crowds, museum opportunities, Daffodil Flower Show
Recommended by: Ally at Ally Travels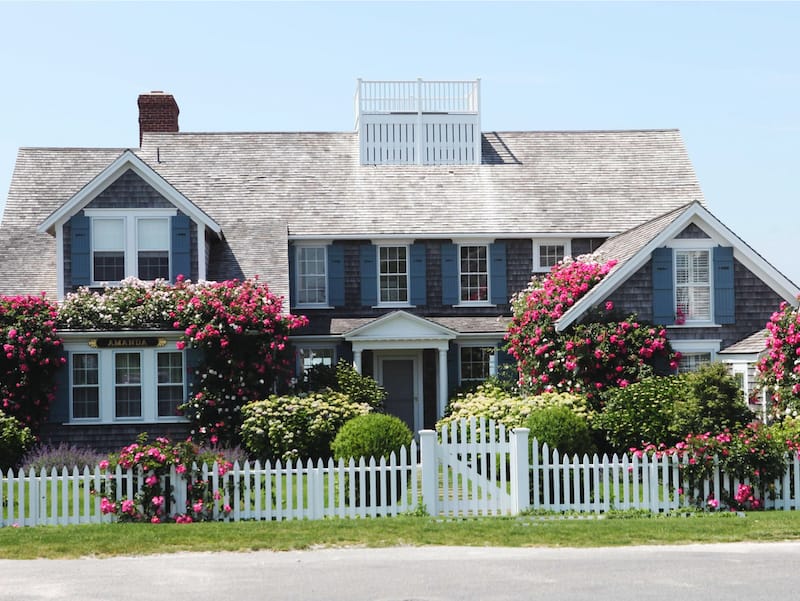 Nantucket is a tiny island off the coast of Cape Cod that's a small slice of paradise. It can be reached either by air or by sea and is most popular between the months of April and September.
Every April, Nantucket starts off the season with its annual Daffodil Festival. Typically taking place the last weekend in April in Nantucket, the island celebrates the springtime with a festival that includes art shows, contests, an antique car parade, and their famous Daffodil Flower Show.
After the parade, head over to Siasconset to enjoy the annual holiday picnic. Both locals and tourists take part, just bring your own supplies. If you're looking for a quick option, Claudette's sandwich shop is delicious and quick for takeaway orders.
A must-see for any visitor is Nantucket's famous Whaling Museum. You'll learn all about Nantucket's historic whaling days and see the reassembled skeleton of a 46-foot sperm whale.
Don't forget to take in the epic view of the harbor from the museum's observation deck. It's especially stunning at sunset and is one of the best things to do in Nantucket!
If you get the chance to visit Nantucket in April, don't miss it. You'll have a memorable stay on the island, especially if it's during Daffodil Weekend!
Atlanta
Location: Georgia
Average temperatures and precipitation: highs of 73F (23C) and lows of 49F (9C); 6 days of precipitation
Reasons to visit Atlanta in April: several outdoor opportunities, night market, Inman Park Festival
Recommended by: Jo at Uncensored Escapes
Atlanta is one of the most underrated cities in the US! Shrouded in lush trees, the aptly called "city in the forest" is also home to one of the best food scenes in the world!
If you want to dive right in, I recommend you head up to Buford Highway for the best foreign cuisine in town and try some of the innumerable amazing restaurants on offer there.
If you prefer American comfort food, then hit stunning Downtown Roswell for a myriad of restaurants that are sure to please, cute shops, and highly Instagrammable spots!
Visit Atlanta in April and you'll avoid both the chilly winter and the summer heat that starts around May and can extend well into October.
Time your trip right and you'll even be able to attend my two favorite events: Inman Park Festival and the Atlanta International Night Market! Both promise a fun-filled time with lots of food to indulge in and art stalls to browse to the sound of live music.
If you're looking to burn the calories from all your food explorations, go for a stroll in Piedmont Park, hike up Stone Mountain (just 20 miles east of Downtown), or drive up to the North Georgia mountains (1.5 hours north of Downtown) for a more rugged hike away from civilization. Youʻll also find many of the best small towns in Georgia there!
Finally, fellow street art lovers are bound to fall in love with the Beltline, Cabbagetown, and East Atlanta Village, where stunning, intricate murals abound.
Boston
Location: Massachusetts
Average temperatures and precipitation: highs of 57F (14C) and lows of 41F (5C); 8 days of precipitation
Reasons to visit Boston in April: baseball games, food festivals, whale watching tours, Boston Marathon
Recommended by: Ryan at Passions and Places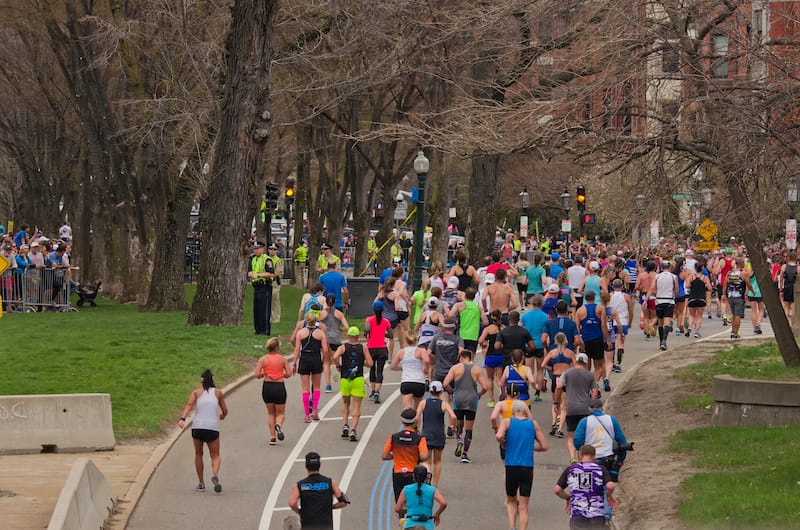 Beantown is at its best in April when winter's snow piles have melted away but before the unbearable humidity of summer settles in. The weather is perfect for whale-watching tours in the harbor, catching a pre-season baseball game at Fenway Park, or just taking a stroll along the Esplanade.
There's also the Taste of South Boston food festival, where dozens of Southies finest restaurants and bars serve their signature dishes in a beautiful space overlooking the harbor. It is also almost lobster roll season!
One thing that should be on everyone's Boston bucket list? The Boston Marathon! It's the oldest and arguably most prestigious annual marathon in the world. Fortunately, it's also free to watch!
While the start and finish lines can get very crowded, there are more than twenty-six miles of viewing space along the course.
Another free sporting event to check out is the Run of the Charles – New England's largest canoe and kayak race.
Thousands of professional and amateur racers paddle their way down the Charles River, from the suburb of Waltham to just south of Harvard's campus, with hordes of spectators cheering from the river's shady banks.
San Francisco
Location: California
Average temperatures and precipitation: highs of 63F (17C) and lows of 50F (10C); 4 days of precipitation
Reasons to visit San Francisco in April: cherry blossoms, end of the wet season, Easter Parade
Recommended by: Victoria at Guide Your Travel
April marks the end of the wet season in San Francisco which means sunny days and pleasant temperatures. San Francisco offers a lot of opportunities for outdoor activities such as hiking, sightseeing, or watersports and it should definitely be on all California itineraries.
Have a picnic in one of the many parks and enjoy cultural events like the Bay Area Theater Week which usually takes place in early April. With over 40 theatre companies in town, there is something for everyone including Broadway productions or new and upcoming plays.
During Easter, San Francisco becomes a hotspot for festivities suitable for all ages. Catch the famous Easter Parade and enjoy a day full of activities in and around the city.
If you're visiting San Francisco in April you should make sure you are in town in time for the annual Cherry Blossom Festival. Experience Japanese culture in the heart of San Francisco and admire the many performances that will take place during this time in Japantown.
Stay in time for the parade that takes place towards the end of the festival and don't forget to try some of the delicious snacks and treats that will be available from small restaurants and vendors close by.
Sawtooth Mountains
Location: Idaho
Average temperatures and precipitation: highs of 50F (10C) and lows of 20F (-7C); 5 days of precipitation
Reasons to visit Sawtooth in April: nature opportunities, many things to do in Stanley, wildlife spotting
Recommended by: Jessica at Uprooted Traveler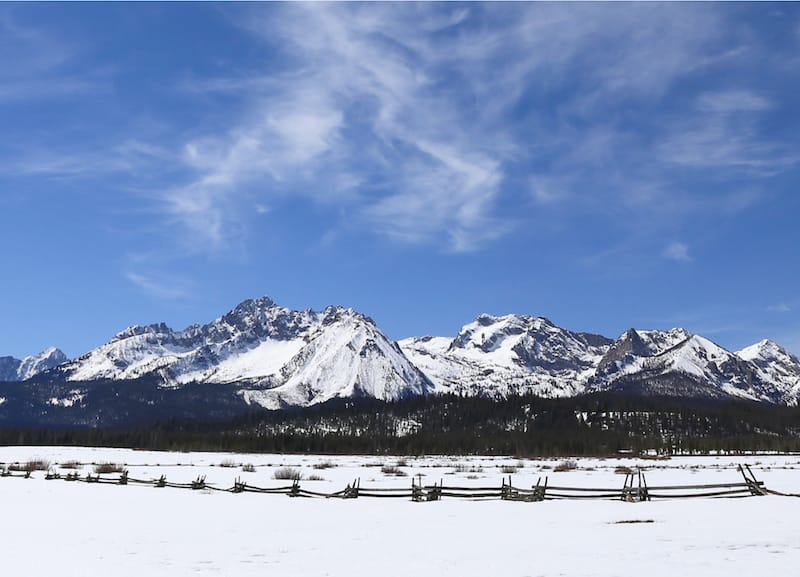 April is the perfect time to visit the jagged Sawtooth Mountains near Stanley, Idaho. The weather has started to warm up from Idaho's frigid winters, so visitors may enjoy some snow-free outdoor activities, such as camping near Stanley Lake in the footsteps of the mountains, which may otherwise be inaccessible during the earlier months.
The mountains, however, remain snow-capped, which add to the incredibly epic scenery and may also allow visitors to still participate in wintertime activities, like conquering a 10-mile snowshoe to Sawtooth Lake.
After a brisk springtime hike or snowshoe, is there anything better than jumping into one of the dozens of hot springs in the area?
Some popular spots worth a try include Boat Box Hot Springs, which offer a unique cauldron-like tub where bathers can regulate the spring's steamy water, or Kirkham Hot Springs, which provides many different pools for you to choose from and even a natural hot shower!
Given that the area's main draw is whitewater rafting, which generally starts in the early summer, you're more likely to have the mountains and springs to yourself and even a better chance of spotting local wildlife- elk and mule deer are frequently spotted in the springtime.
While perfect for outdoor adventures any time of the year, April is a great time to partake in the diverse array of activities that Stanley, Idaho offers. This area also makes a great weekend trip from Boise!
Hot Springs
Location: Arkansas
Average temperatures and precipitation: highs of 74F (24C) and lows of 49F (10C); 7 days of precipitation
Reasons to visit Hot Springs in April: bathhouses, outdoor opportunities, national park
Recommended by: Jessica at Unearth the Voyage
Hot Springs, Arkansas is one of the best places to visit in April in the US for many reasons. One of the biggest reasons why it's so great to visit in April is because of the weather.
Arkansas in April is absolutely gorgeous and you can expect highs in the mid-70s and lows in the mid-50s. Hot Springs is also known for Bathhouse Row, which was made into a National Park in 1921 to preserve the history of the town.
Bathhouse Row consists of 8 historical bathhouses that were built and became very popular in the late 1800s. To this day, you can still bathe in 2 of the historical bathhouses.
April is a great time to visit because part of visiting the bathhouses is walking up and down the bathhouse row and the downtown strip which is beautiful in the springtime.
There are also quite a few different events and festivals that take place in April, such as the Garvan Woodland Gardens Tulip Extravaganze, the Full Moon Mountain Bike Ride, and the Arts in the Park Festival.
Besides all the fun things to do in the downtown area of Hot Springs, there are 5,500 acres of National Park to explore with excellent hiking trails and a nice bike pathway. It really is one of America's most underrated national parks!
Florida Keys
Location: South Florida
Average temperatures and precipitation: highs of 82F (28C) and lows of 74F (23C); 3 days of precipitation
Reasons to visit the Florida Keys in April: fewer tourists, festivals, trip to Dry Tortuga National Park
Recommended by: Ed at Island Travel Guides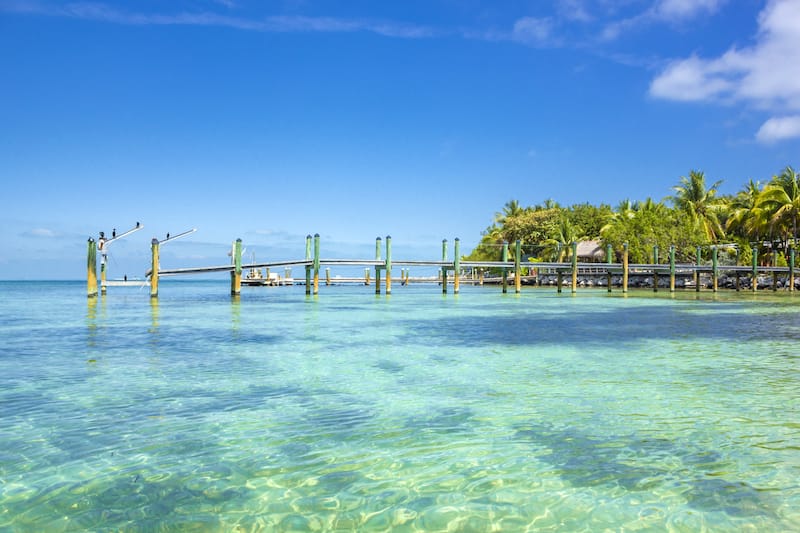 The Florida Keys come to life in spring when the weather is warm and dry and the hurricane season is yet to arrive. Typically, March through to May is the high season throughout the islands, with the crowds dipping slightly in April, making it a great time to visit.
After the spring break crowds have dropped off, the islands become slightly more peaceful in their own little way. While many of the tourists may have left, there is still plenty to do throughout the archipelago.
In the Upper Keys, April offers some of the best fishing and diving opportunities with the seas teeming with vibrant life. It is the first place to start off your Florida Keys road trip!
As you head further south in the keys the party still rages and April marks the annual Conch Republic Independence Festival. The 10-day festival is crammed full of quirky and weird traditions such as the annual bed race down Duval Street and shell blowing contest.
There are a number of other festivals in the Florida Keys in April and it is likely there will be something going on whenever you arrive. Take a break from the mayhem with a visit to one of the year-round state parks or national parks found within the Keys.
The boat ride to Dry Tortuga National Park is exceptionally beautiful during April when the seas are calm. April tends to be slightly cheaper than March or May, although hotel prices will be far higher than in the offseason.
Don't miss the lighthouse in Key West – it is one of the most recognizable Florida lighthouses and a beautiful seaside attraction!
Door County
Location: Wisconsin
Average temperatures and precipitation: highs of 50F (10C) and lows of 35F (2C); 8 days of precipitation
Reasons to visit Door County in April: Easter festivities, parks, and a lot of flowers and outdoor opportunities
Recommended by: Paulina at Paulina on the Road
April is the time when the blossom season kicks off in Door County. Door County is situated on a Wisconsin peninsula jutting into Lake Michigan, containing 10 waterfront towns and 300 miles of shoreline.
It is a beautiful destination that offers various wineries, boutiques, orchards, art galleries, hiking trails, and lighthouses. Visiting the place during holidays can offer a bunch of things to do; especially in April.
Spring in Door County is a time of liveliness. This is the season when citizens come out of hibernation, gardens and wildflowers start to blossom, and apple and cherry trees come to life.
The season welcomes many events like Ellison Bay Egg Hunt, Jacksonport Easter Egg Hunt, Blossom Run, and more. You can also enjoy other activities like visiting Door County Maritime Museum, hiking through Cave Point County Park, and witnessing the educational displays at Door County Historical Museum, to count a few.
The peninsula also celebrates spring with an eight-week-long celebration named Season of Blossoms. These festivals make Door County a perfect destination to visit in April.
Experience and celebrate this beauty with the locals and have a long stay at one of the best Airbnbs in Door County.
Oahu
Location: Hawaii
Average temperatures and precipitation: highs of 83F (28C) and lows of 68F (20C); 5 days of precipitation
Reasons to visit Oahu in April: festivals, beach relaxation, a lot of eating
Recommended by: Editor's choice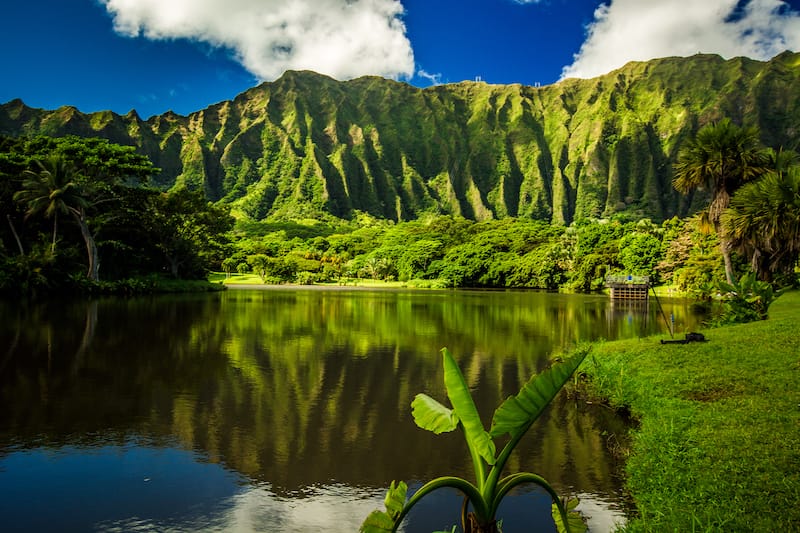 One of the best times to visit Oahu is definitely in the spring. By traveling to Oahu in April, you will have a chance to hang out on the beach, swim, waterboard, surf, and so much more! It is an awesome spring break destination in the USA!
There are many places to add to your Oahu itinerary and it'll undoubtedly be the trip of a lifetime.
April is also a season for festivals on Oahu. You can head there for the Waikiki Spam Jam Festival which is the largest annual food festival on the island and it is a must for those into eating and music.
Another popular festival in April in Oahu is the Spring Street Jam Festival. During it, the streets are teeming with arts and crafts booths, food vendors, and live music. Click here if you're looking for some amazing Airbnb rentals in Oahu.
We hope this guide gave you some ideas and inspiration for the best places to visit in April in the USA.
You Might Also Like:
Pin this April in the USA Destinations Guide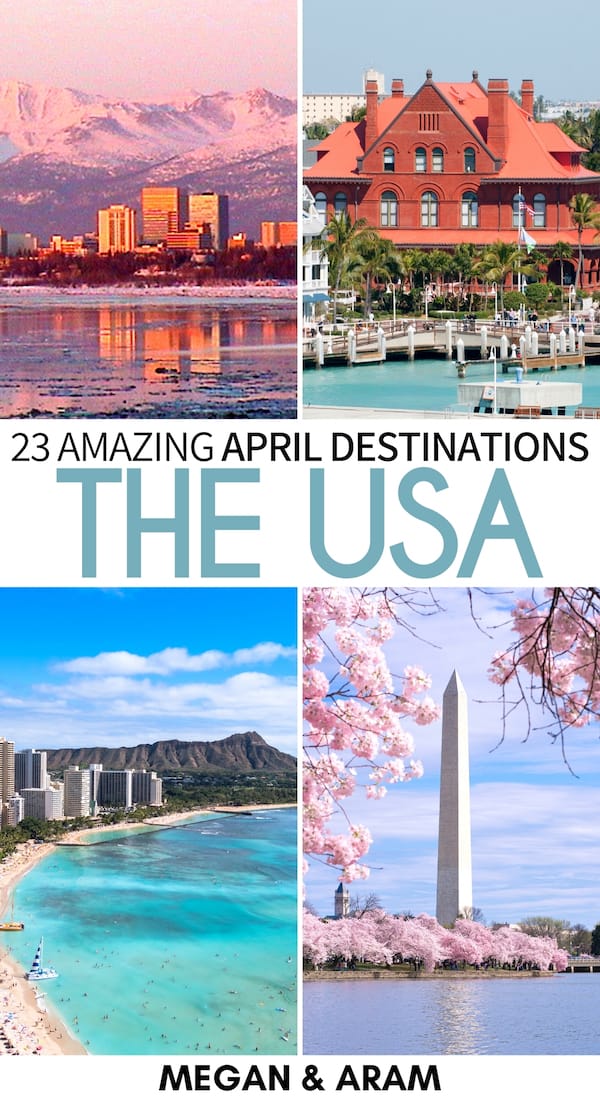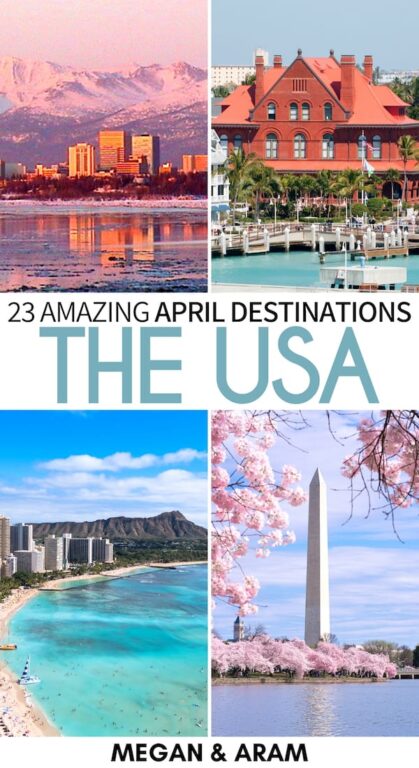 Photo Credits:
Palm Springs © Stephanie Braconnier – Shutterstock.com
Nashville © Erwin Widmer – Shutterstock.com
Boston © Belikova Oksana – Shutterstock.com