Are you looking for the best places to visit in February in the USA? Keep reading for our top picks!
February is a weird month in the US. You are either taking to the slopes and enjoying the remainder of the winter… or you're fleeing it for somewhere warmer and sunnier. No in-between!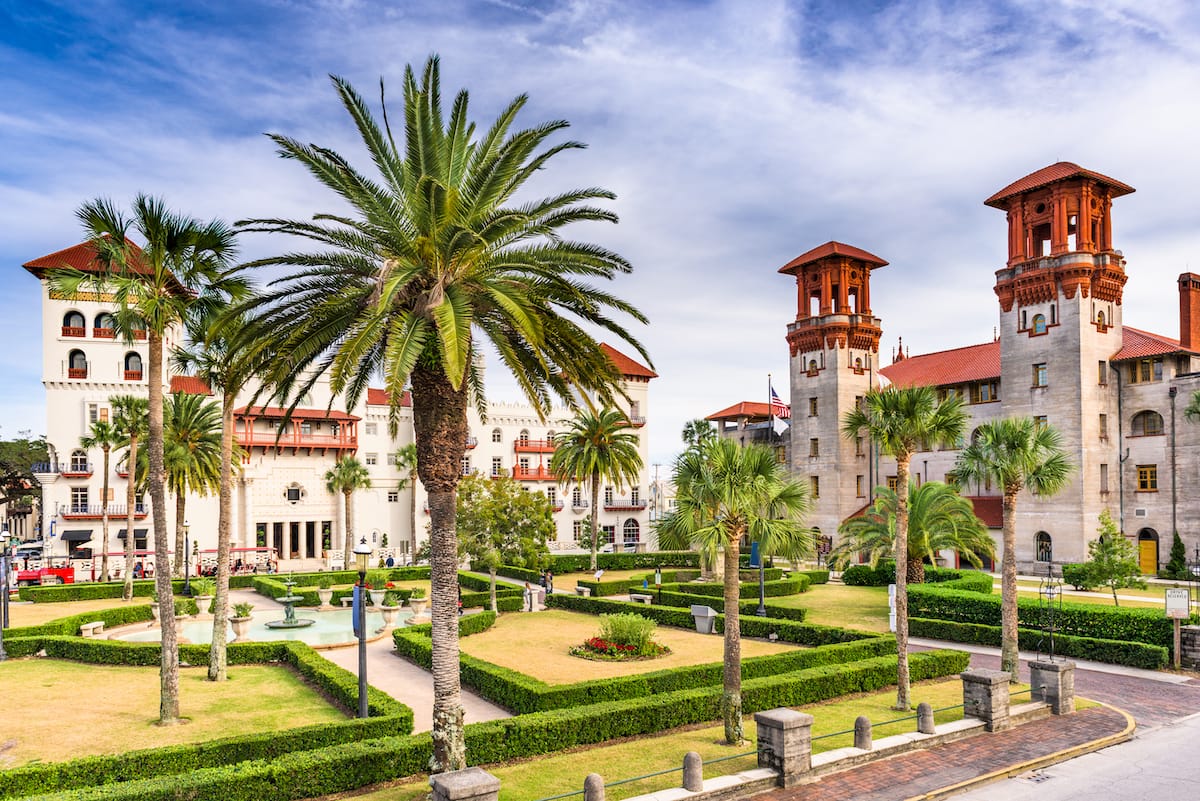 This guide covers an array of places to visit in the USA in February – from ski towns to tropical paradises!
Did we miss any amazing destinations? Let us know in the comments. Thanks!
Best Places to Visit in February in the USA
Big Sky
Location: Montana
Average temperatures in Big Sky in February: highs of 36F and lows of 9F, 7 days of precipitation
Looking for the best mountain destination this coming February? Big Sky, Montana, is absolutely stunning in February with lots of snow and winter activities.
Without losing a second, start exploring Big Sky Nordic Skiing with its 85 groomed kilometers of cross-country ski trails at Lone Mountain Ranch.
Big Sky is not only about skiing, snowshoeing, and snowmobile tours.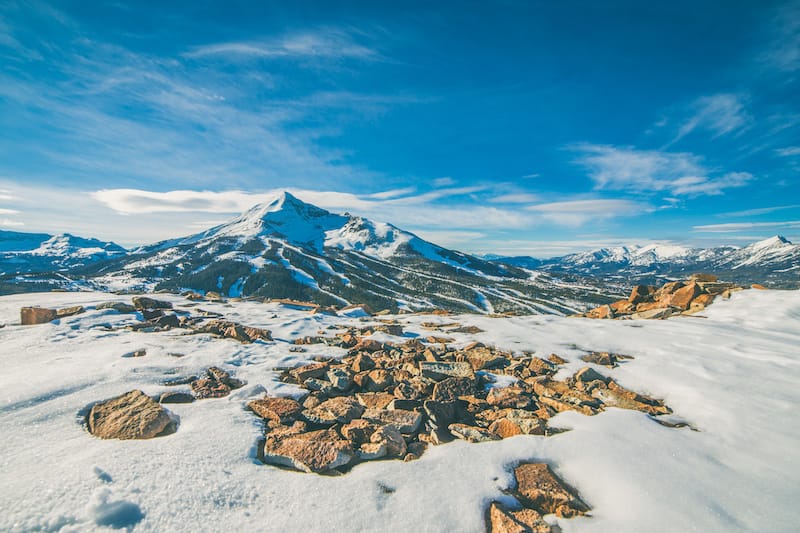 There are amazing hiking trails available during the winter months. One is the 1.6-mile Ousel Falls Trailhead, which takes you to the river and cliffs and ends with a scenic view of the frozen Ousel Falls.
Don't forget to take spikes for hiking when you travel to this gorgeous town in Montana!
Winter romance is doubled on Valentine's Day with a marvelous dinner experience in Montana Dinner Yurt, a secluded place with live music, outstanding food, and a bonfire to finish the day.
San Diego
Location: California
Average temperatures in San Diego in February: highs of 66F and lows of 51F, 4 days of precipitation
February doesn't always mean snow and low temperatures, especially when you spend it in San Diego. Actually, February is a great time to enjoy pre-season rates and the coastal city without crowds.
Start your February adventure with whale watching during the longest migration of 20,000 gray whales from Alaska to Baja in Mexico.
Lasting between mid-December and April, you can see them just 20 miles off San Diego's coast and it is one of the coolest sights in the United States!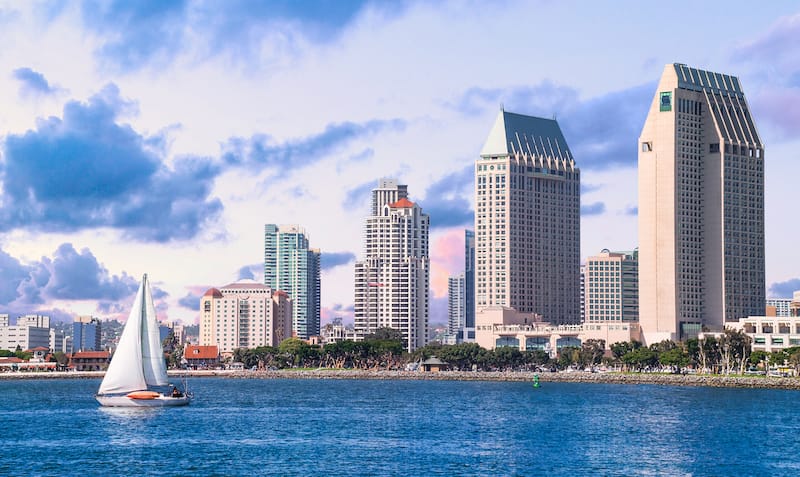 One of the most exciting events, Mardi Gras, which traditionally takes place in New Orleans, is also celebrated in San Diego, with a massive three-day celebration in the Gaslamp Quarter.
Be sure to check your arrival date and the event dates for the masquerade parade and live music clubs so you can spend a weekend there!
February is Museum Month in San Diego, meaning you can visit any museum throughout the month at half price. In fact, February in San Diego is packed with events.
Check the exact dates of San Diego's annual Jazz Party featuring 21 renowned jazz musicians, participate in San Diego's Chinese New Year Fair, or visit the Broken Yolks for Car Show Folks.
Brainerd Lakes
Location: Minnesota
Average temperatures in Brainerd Lakes in February: highs of 26F and lows of 0F, 3 days of precipitation
The charming Brainerd Lakes can make a wonderful February getaway if you are in search of fascinating natural landscapes, and even though the lakes are frozen, you will find tons of fun things to do.
Start your adventure in Brainerd Lakes on Mount Ski Gull, one of the best ski hills to enjoy downhill skiing. Let's skip all the winter activities you'll most likely be involved in and take the 115-mile-long Paul Bunyan State Trail instead.
When covered with a thick and flawless layer of snow, the trail becomes one of the best routes for snowmobiling. Plus, you can enjoy abundant wildlife while on your ride.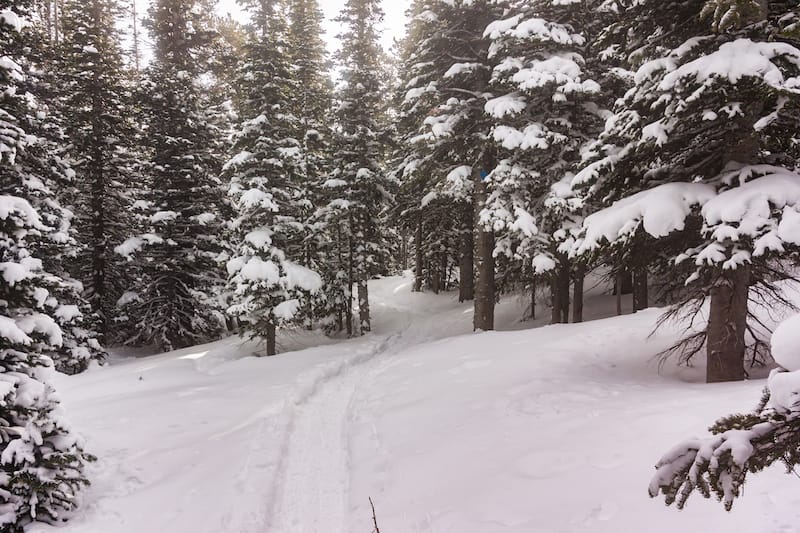 Winter is the time of festivals, and two of them are held in February in this Minnesota frozen paradise!
Make sure you don't miss the three-day Gull Lake Frozen Fore celebration on the Brainerd Lakes to have all the fun of snow golfing and dancing on a frozen lake.
Don't be scared of getting cold: there is a heated tent with an ice bar, food, and live music.
Finally, if you have time, visit the Three Bear Water Park to get a little taste of summer in the middle of February.
New York City
Location: New York
Average temperatures in NYC in February: highs of 43F and lows of 29F, 7 days of precipitation
While winter markets are still open, Carnival Day in Bryant Park is held in February, and the best Broadway shows are played; New York City is an excellent destination for a winter getaway.
Romance hits the streets of New York from the first days of February with red hearts and cupid's arrows seen here and there.
You can spend romantic moments watching a candlelit concert in one of the churches, getting married at a Brooklyn pizzeria, or celebrating being single by smashing out anger at Break Bar. Just walk around, and you will find lots of things to do to have fun.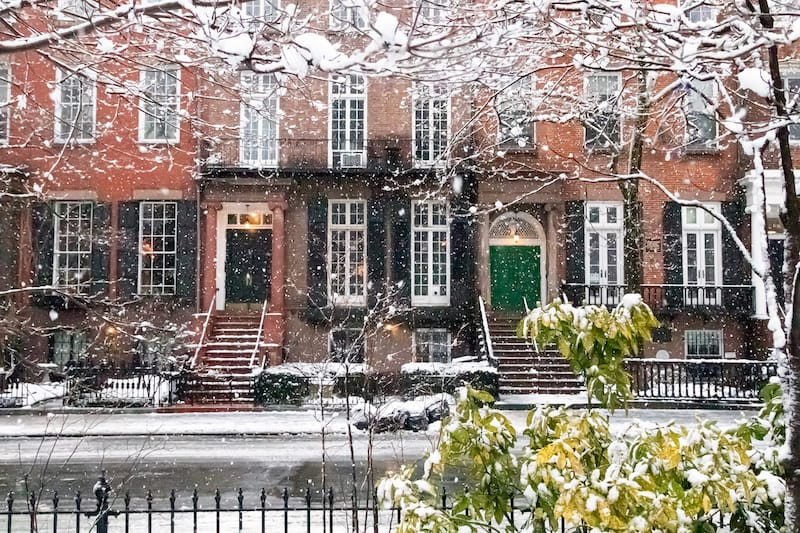 Another great event taking place throughout the whole month of February in New York is Black History Month.
Deep dive into Harlem's history by taking a Harlem Walking Tour and discovering the names that put American music on the world map.
February is the favorite month of gourmet lovers. From the end of January to mid-February, New York will host Restaurant Week, with over 300 of the city's restaurants offering low prices on their regular menus (check event dates beforehand).
Salt Lake City
Location: Utah
Average temperatures in Salt Lake City in February: highs of 43F and lows of 31F, 5 days of precipitation
February in Utah is all about snow, ice, and cold, but it is also about winter adventures in Salt Lake City not to be missed.
Without wasting a second, head to one of the 12 ski resorts within an hour's drive of downtown Salt Lake City. It can be Woodward Park City, where you can enjoy snow tubing.
There is a fantastic place to go for winter hiking: Hidden Falls, a truly hidden frozen waterfall in the S curves of Big Cottonwood Canyon. The 0.3-mile trail with 49 feet of elevation requires microspikes for safety.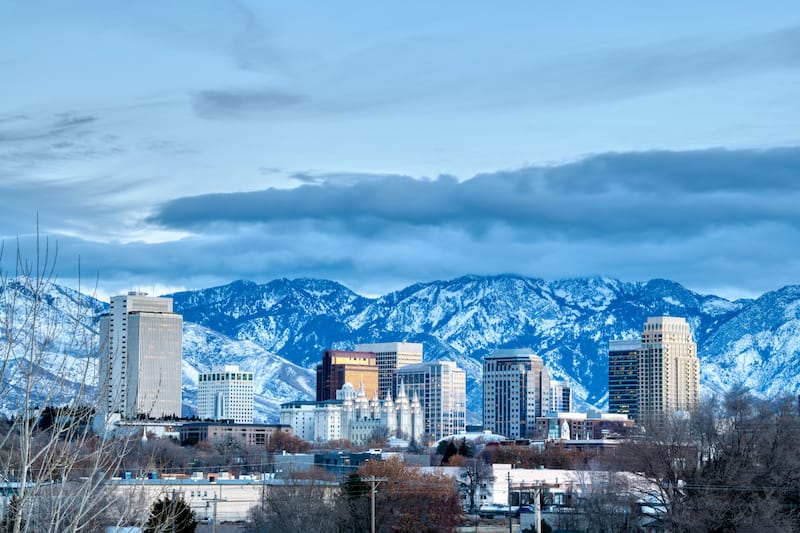 Although the second destination is not exactly in Salt Lake City, it is so impressive you need to see it: Midway Ice Castle, a man-made, beautifully illuminated castle and tunnels. Don't forget to grab your camera to have killer photoshoots.
Continue exploring winter! Salt Lake City is home to the Sundance Film Festival, held from January to February, showcasing movies in downtown Salt Lake City. It is a must for any itinerary during this time!
As a bonus option, don't forget to visit one of the local breweries like Uinta Brewing Co. to taste the bestselling Hop Nosh IPA and the Cutthroat pale ale.
Willamette Valley
Location: Oregon
Average temperatures in Willamette Valley in February: highs of 52F and lows of 35F, 12 days of precipitation
Famous for its exquisite pinot noir, the Willamette Valley is visited all year round with a little bit of everything to explore and enjoy, even in cold February.
Winter kicks off the cellar season in the Willamette Valley. It means you have a chance to take a wine tour of the South Willamette Wine Trail and 20 wineries without crowds.
Pinot Noir is best paired with black and white truffles, a culinary treat waiting for you on the self-guided South Willamette Valley Food Trail.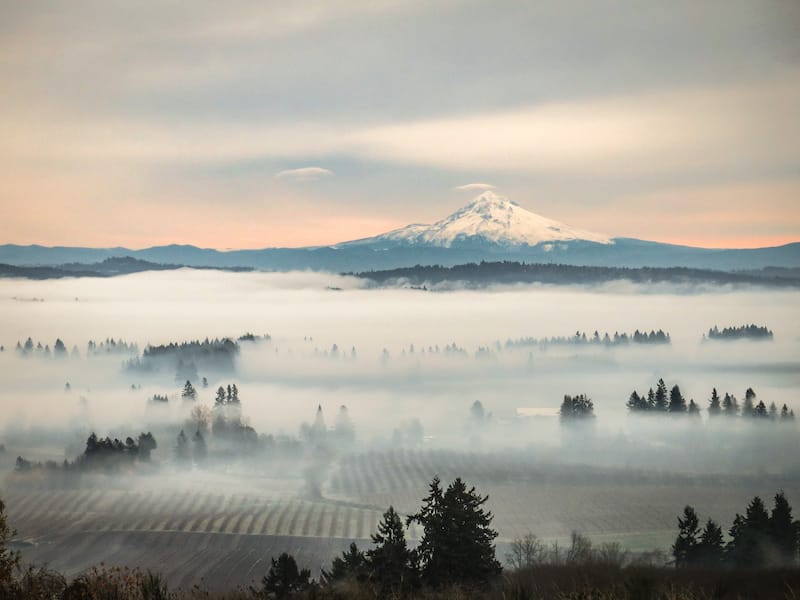 The Oregon truffle season lasts from December to February and is closed with the Oregon truffle festival.
Once you have enjoyed wine and truffles, visit Silver Falls State Park and hike the Trail of Ten Falls to explore its ten waterfalls.
Finally, get your bones warmed and your muscles relieved in the Terwilliger hot springs.
Taking a 0.2-mile trail through an old-growth forest of ferns and fir trees, you will discover six pools like a ladder pattern filled with spring water.
St. Augustine
Location: Florida
Average temperatures in St. Augustine in February: highs of 69F and lows of 48F, 5 days of precipitation
St. Augustine can become a wonderful weekend escape in February, especially if you want a change from the snowy panoramas.
Fascinating water views, romance in the air for St. Valentine's celebrations, and festivals are just a small part of the things to do in St. Augustine.
Spend your days in St. Augustine with the Beach Pier Art and Craft Festival following Valentine's Day.
The festival gathers all the local artisans on the St. Johns County Ocean Pier to present their crafts, including jewelry, ceramics, handmade soaps, and more.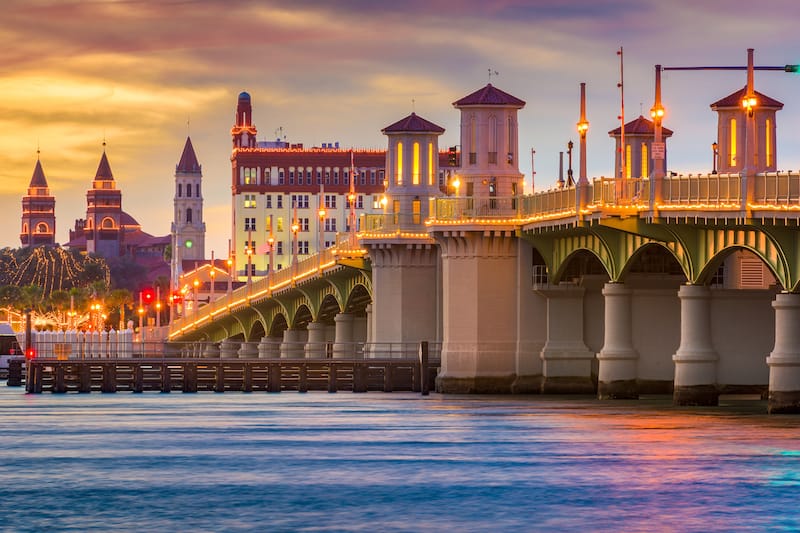 It is a great place to get acquainted with St. Augustine's history and take a piece of it as a souvenir.
Love is in the air all month long with St. Valentine's Day celebrations and a concert series in St. Anastasia Church. You can enjoy live jams lasting from October to April for free.
Participate in the Spanish Wine Festival as your final stop on your St. Anastasia vacation. The fest is all about Spanish food and wine, blended with history and wine-pairing dinner.
Annapolis
Location: Maryland
Average temperatures in Annapolis in February: highs of 45F and lows of 31F, 7 days of precipitation
Even though Annapolis is better known as a summer destination with bushels of Maryland blue crabs, it's also one of the mid-Atlantic's most sought-after destinations during the wintertime.
Throughout the month, Annapolis celebrates Black History Month by telling you the stories of African-Americans in Maryland, their colony, the Jazz Age, and modern culture.
Visit the Museum of Historic Annapolis to discover its inspiring stories… it really is one of the essential things to do in Annapolis any time of the year.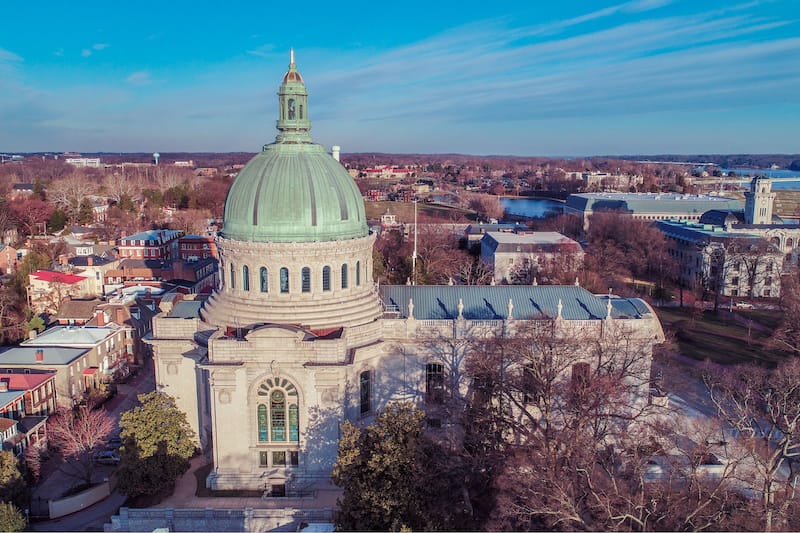 Do not hurry to leave Annapolis and Maryland because February will bring the most joyous FeBREWary festival held in the state, featuring more than 120 breweries.
Get the Maryland Craft Beverages mobile application to know where to visit on those days.
We are not done with joyful festivals in Annapolis. Stay longer in the town to participate in Restaurant Week, held the last week of February.
You will have a chance to taste different types of cuisine in local pubs and restaurants at fixed prices.
Whitefish
Location: Montana
Average temperatures in Whitefish in February: highs of 35F and lows of 16F, 6 days of precipitation
Whitefish is a fabulous winter wonderland and a great winter gateway for those who want to escape the crowds of other popular winter destinations.
If you are a lover of winter activities and festivals, Whitefish is the right place for you!
February is announced by Whitefish's annual Winter Carnival, a whole weekend of fun celebrations downtown.
The festival will showcase the Penguin Plunge in Whitefish Lake, parties around the town, and a grand parade downtown.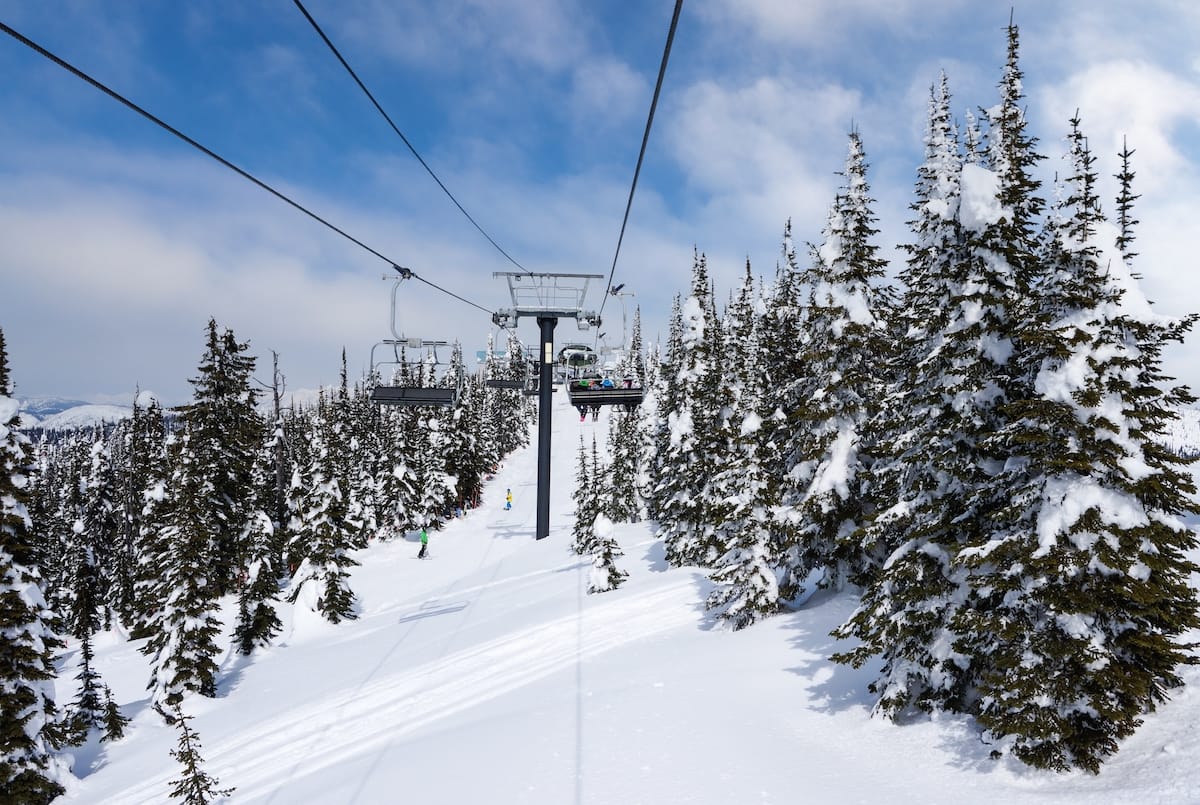 Whitefish is home to award-winning breweries, and February is a perfect time to have several of them.
You can take a Big Sky Brews Cruise to visit the most popular venues in Whitefish—Bonsai Brewing Project, Montana Tap House, and Spotted Bear Spirits distillery.
Don't leave Whitefish without enjoying the landscapes of Montana in Glacier National Park. Take an ice climbing expedition or hike around Lake McDonald to feel the fresh air deep in your lungs.
New Orleans
Location: Louisiana
Average temperatures in New Orleans in February: highs of 66F and lows of 47F, 6 days of precipitation
New Orleans is colored in the shades of festivals and events in February, and you can be part of them. February starts with Black History Month, an important event in the city's history and cultural activity.
Visit black-owned restaurants and historically black neighborhoods when you spend a weekend exploring the Big Easy!
New Orleans in February is, first of all, Mardi Gras, starting with a Rock 'n' Roll half marathon through the Lakefront while enjoying music.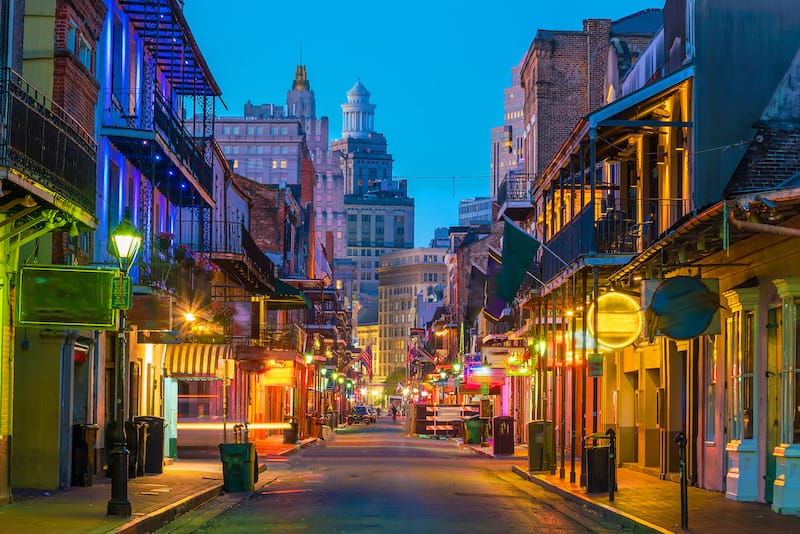 After running a marathon and burning calories, it's time to celebrate Mardi Gras. The celebrations will be held throughout the city day and night, with grandiose parades through the French Quarter and houses transformed into floats.
Mardi Gras also means Algiers Mardi Gras, the festival of food vendors with free admission where you can try literally everything, and, of course, the signature king cake, a delicious cinnamon-filled, icing-topped seasonal treat.
Breckenridge
Location: Colorado
Average temperatures in Breckenridge in February: highs of 31F and lows of 19F, 7 days of precipitation
The month of love in Breckenridge is full of events, and it is high time to plan your trip to Colorado. Starting with a generous snowfall during the Breckenridge winter, you will find dozens of trails to explore.
As a great option to start, you can take Mayflower Lake and Mohawk Lakes' moderate, 7.9-mile out-and-back hiking trails, perfect for snowshoeing and cross-country skiing.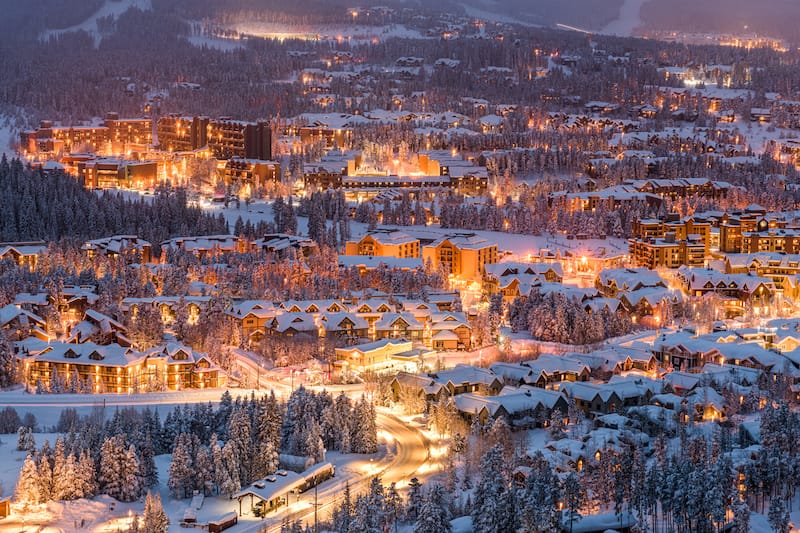 Breckenridge opens February with the Snow Sculpture Championship in downtown Breckenridge. You will have a chance to see snow masterpieces carved from 25-ton blocks of snow using only hand tools.
Stay engaged and don't hurry to leave downtown because the next festival it hosts is Mardi Gras, with masquerades, hurricane cocktails, jazz notes, and Fat Tuesday before the beginning of Lent.
San Juan
Location: Puerto Rico
Average temperatures in San Juan in February: highs of 85F and lows of 65F, 11 days of precipitation
The shortest month of the year is also the busiest in Puerto Rico, which welcomes thousands of visitors seeking good weather, Carnival, festivals, and whale watching.
It will be fair enough to start your tour with Festival Casals, the major cultural event in San Juan and Puerto Rico.
The largest classical music festival in the Caribbean is held at the Luis A. Ferré Performing Arts Center in the barrio of Santurce, San Juan.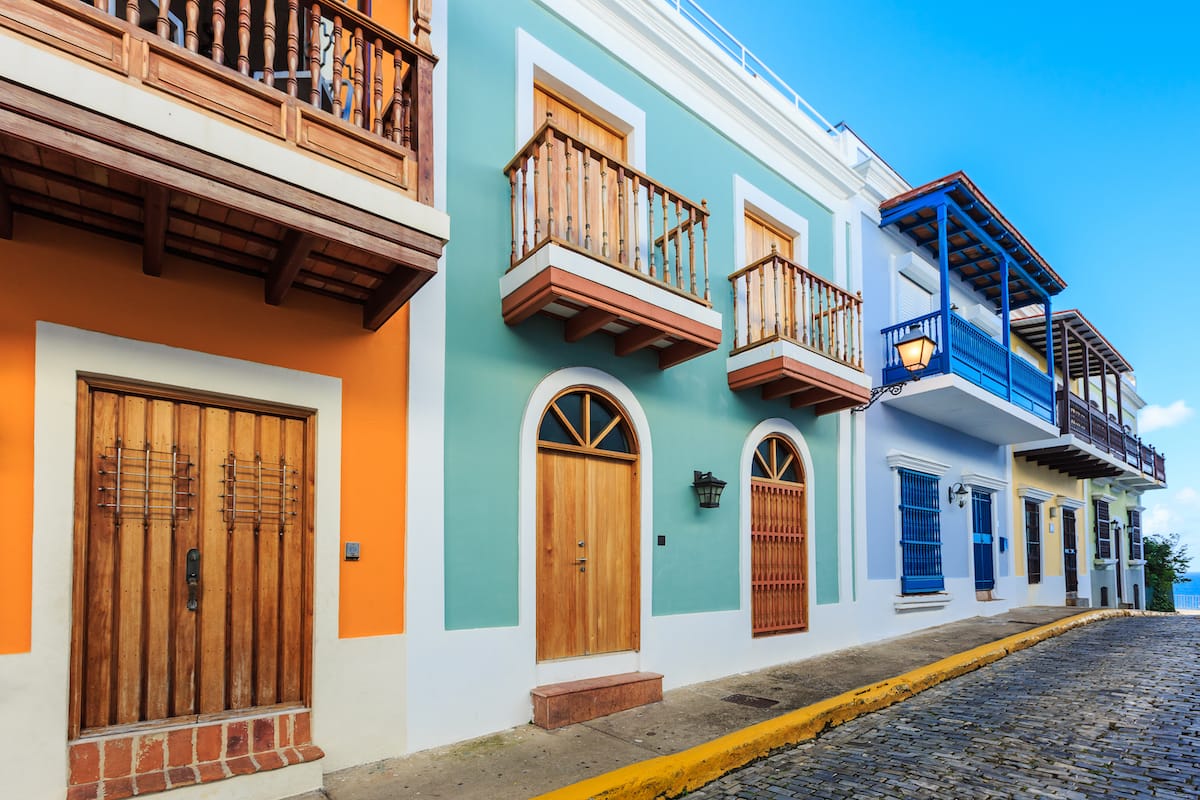 This grand festival gathers the most prominent classical musicians worldwide in memory of Pablo Casals.
With cooler weather and lower humidity during winter, rainforest hiking in El Yunque National Forest is the best destination to choose.
The park has easy walks like the 0.2-mile Los Picachos with a cloud forest view or the Angelito trail, ending with a refreshing natural pool.
Finally, even though most February festivals are held in other towns in Puerto Rico, you can still embrace the festive mood by visiting Cuatro Sombras for the Mariaco Coffee Festival or hanging out in La Placite de Santurce during the Carnival of Ponco.
Boston
Location: Massachusetts
Average temperatures in Boston in February: highs of 39F and lows of 24F, 7 days of precipitation
Big cities have much to offer, even in the cold winter days of February. Boston will perfectly match your expectations of filling your weekend with the Chinese New Year Parade, hockey games, Theatre District shows, and more. Let us talk about everything.
Chinese New Year is hitting the Boston streets with all the traditional colors and decorations in Boston Chinatown.
The parade marching down the streets will showcase martial arts groups performing the Lion Dance with huge drums and firecrackers at the end.
February is a month of great sports events, including the Beanpot Tournament, which should definitely be enjoyed in the popular Banners Kitchen & Tap sports bar, with a huge display to watch games.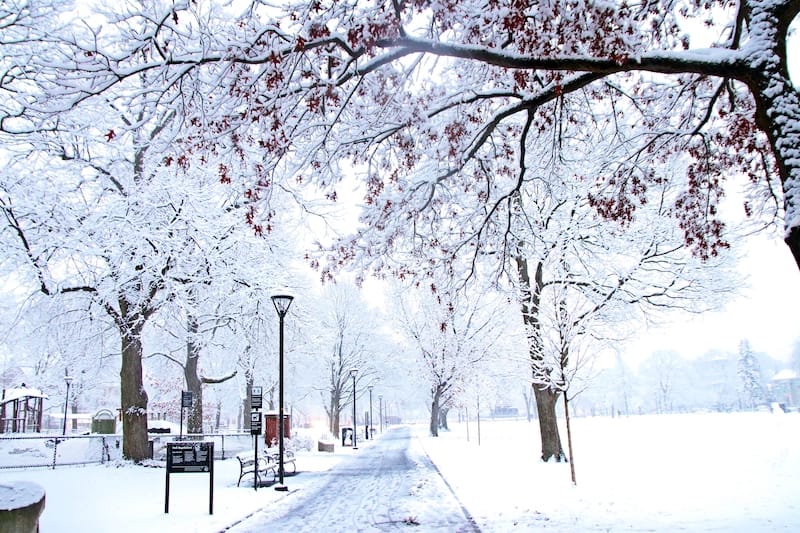 The last but not the least thing to do in Boston is to attend the annual Pig Roast at a Boston winery event, a celebration marking harvest and production.
There will be a lot of food, music, great wine, and people to socialize with.
If you've visited Boston before, be sure to embark on one of the many day trips the city has to offer.
Bonus tip: you will have a chance to enjoy your stay in Boston hotels for half the price or even less. The rates will start to rise again in March.
San Antonio
Location: Texas
Average temperatures in San Antonio in February: highs of 67F and lows of 43F, 5 days of precipitation
The shortest month of the year has no shortage of fun things to do in San Antonio.
Jump straight to February and rodeo season with one of the largest rodeo carnivals in the US, the San Antonio Stock Show & Rodeo.
You will see crazy rides in the AT&T Center, have delicious local food on the fairgrounds, and watch animals in barns.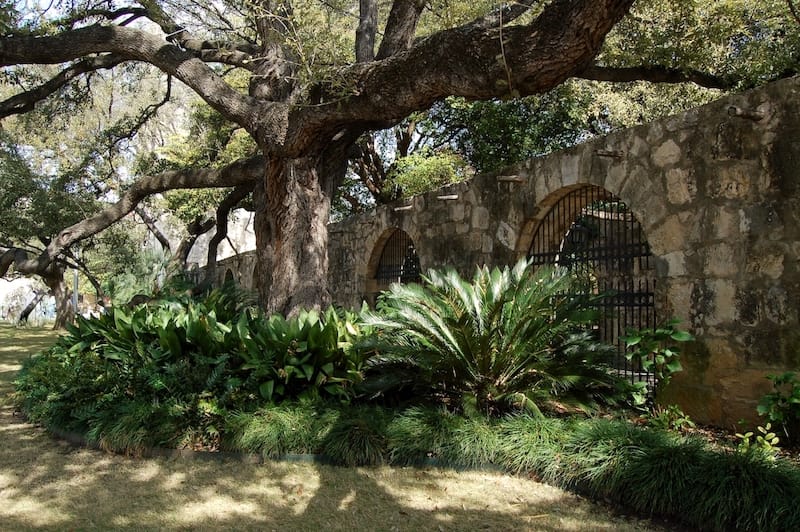 There is still one more event before we kiss goodbye to February and winter. Participate in the Fat Tuesday Mardi Gras party on the Riverwalk with music, dances, and, of course, lots of food, and be sure not to be late.
Change the noisy streets of San Antonio with the privacy of Friedrich Wilderness Park and hike through South Texas.
With a symbolic $3 fee for participation, you can take a moderately paced 5.5-mile Main Loop to Restoration Way trail to explore the wild nature.
Punxsutawney
Location: Pennsylvania
Average temperatures in Punxsutawney in February: highs of 37F and lows of 18F, 11 days of precipitation
If you have watched the 1993 Groundhog Day movie (and we do hope you did), today, you will have a chance to experience it in Punxsutawney, Pennsylvania, one of the best weekend trips from Pittsburgh during the winter.
Every February 2nd, the town comes alive as guests from all around the state and country come to get weather predictions from Punxsutawney Phil.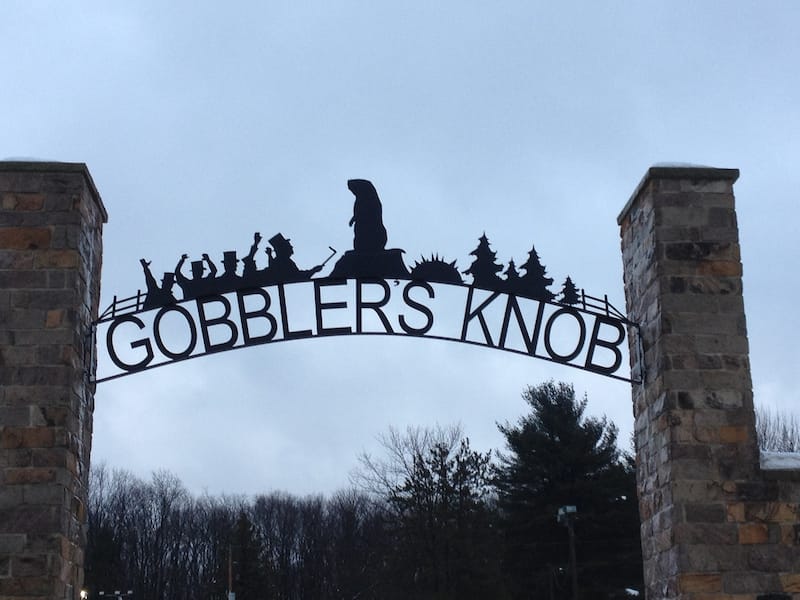 Once you have started exploring Punxsutawney with weather predictions, it is good to visit the Weather Discovery museum with interactive exhibits about tornadoes and even take a shot at newscasting the weather.
While we are waiting for Punxsutawney Phil, you can take a short drive to Cook Forest State Park to find the largest trees in Pennsylvania and the beautiful Clarion River that looks so mysterious in February fog.
Olympia
Location: Washington
Average temperatures in Olympia in February: highs of 51F and lows of 32F, 14 days of precipitation
A little frostier and foggier, Olympia can still be a great weekend escape in February. The moderate weather here is a great chance to go hiking and it is a great weekend winter trip from Seattle!
There are several options, but you can start with the Nisqually Estuary Boardwalk and Twin Barns 4.5-mile easy trail. It will take you only an hour to explore, but it will give you a bunch of emotions.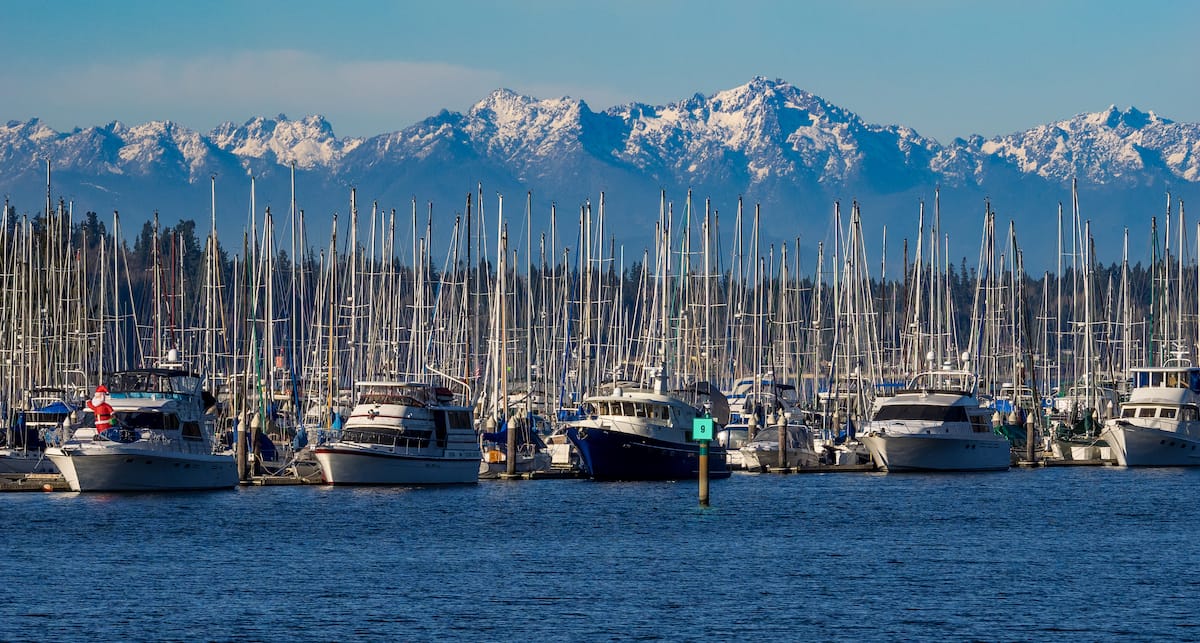 If you plan a romantic tour on Valentine's Day, the best path to choose is the Thurston Bountiful Byway, celebrating this day in wineries and breweries on your way. The natural scenery is no less impressive and exciting.
Olympia wouldn't be Olympia without a visit to the State Capitol Campus, with many sights you can visit any time of the year.
For a short tour, you can take a tour of the Legislative Building, which is open to the public every day, the Governor's Mansion, and the Temple of Justice.
Santa Fe
Location: New Mexico
Average temperatures in Santa Fe in February: highs of 47F and lows of 21F, 2 days of precipitation
If you think that February in Santa Fe will be all about warm weather, you may be surprised to find a decent amount of snow and fantastic winter activities waiting for you!
Ski Santa Fe, with a base elevation of 10.350 feet, is a full-day escape with extensive, flawless runs for winter sports.
Even the snow in February won't keep hikers away from accessible all-season terrain and various routes.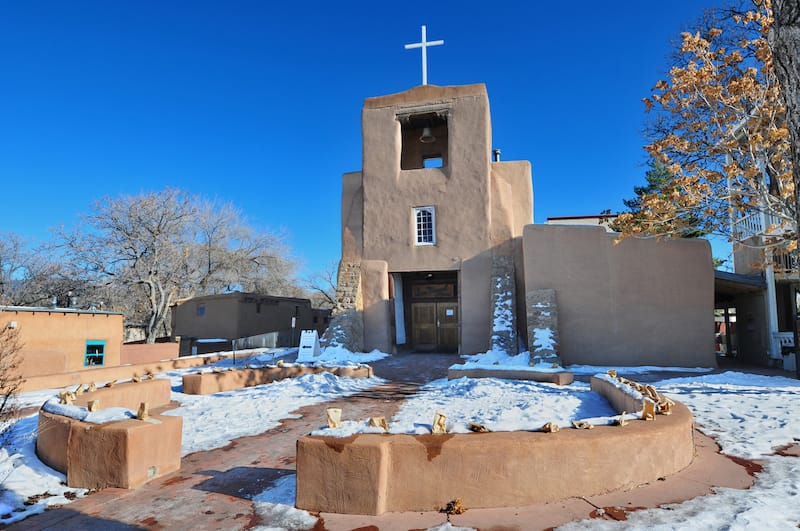 To name a couple of them, consider the 3.9-mile Pichacho Peak trail, which takes you to one of the highest hills with breathtaking views.
Take the shorter but unforgettable 1.9-mile Tsankawi Ruins hike in Bandelier National Monument to see the caves and wildlife – it is my favorite day trip from Santa Fe!
With Valentine's Day upon you, it is time to change the views and enjoy spa therapy at Four Seasons Resort Rancho Encantado with an outdoor hot tub and a head-to-toe massage.
St. Marys
Location: Georgia
Average temperatures in St. Marys in February: highs of 65F and lows of 46F, 5 days of precipitation
The historic Georgia town of St. Marys, bordered by the Atlantic Ocean from the east, has a rich cultural background and history, with widespread beaches and endless sea forests. In short, it is a fantastic, stress-free February gateway.
To get closer to the culture and history, start with St. Marys' Community outdoor market at Waterfront Pavilion, displaying counters of local products, crafts, baked goods, and more.
If you plan to have a different kind of vacation with parties, lots of food, and crowds, stay longer to participate in the Mardi Gras Festival in downtown St. Marys.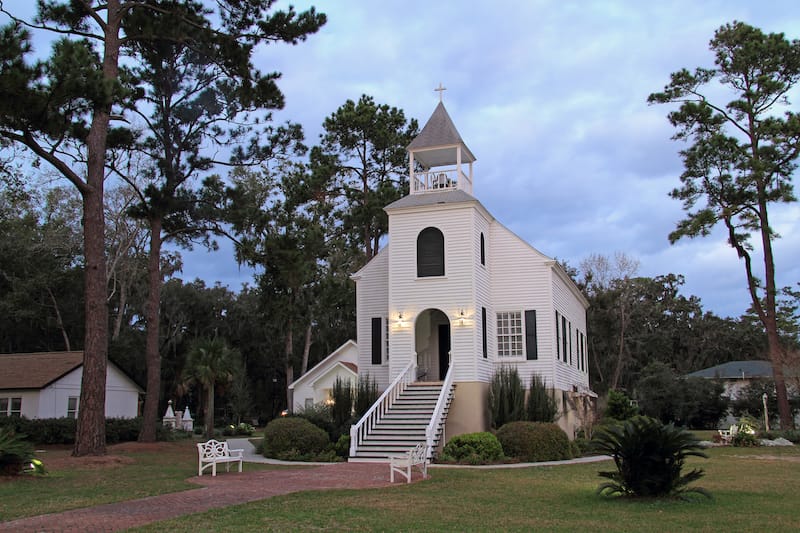 The celebrations start at 7 am with the Color Run and last until 5 pm with live performances and a grand parade.
There is still time to embrace St. Marys' landscapes, and the 4.3-mile-long Dungeness Loop trail is the best of the options. This easy waterfront hike will take about an hour to see the wildlife and ocean views.
Bangor
Location: Maine
Average temperatures in Bangor in February: highs of 31F and lows of 10F, 7 days of precipitation
Even though Bangor is most known for the horror and thriller stories of Stephen King, it can still become a romantic gateway for a weekend in February.
Speaking of romance… make sure you book a table at The Lucerne Inn for Valentine's Day to have the best seafood in this cozy Maine town.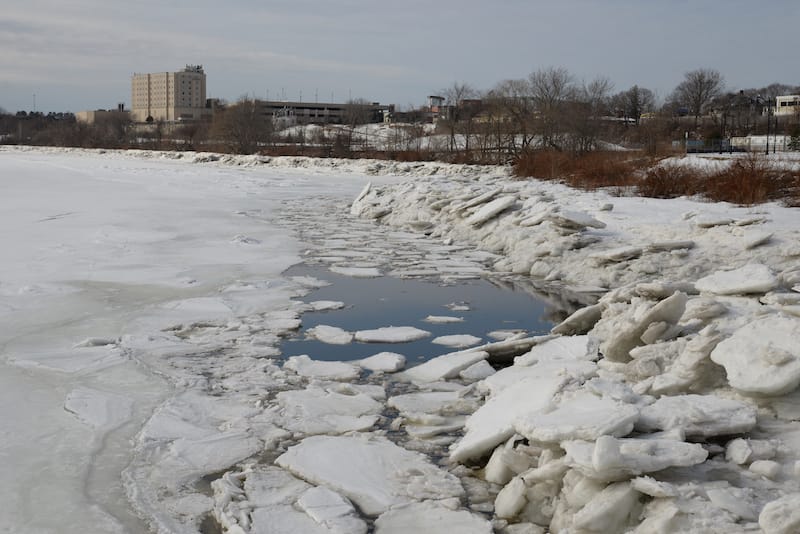 Guests visit Bangor for Maine's rugged wilderness, so finish exploring the city and head to the Penobscot River Walkway, a half-mile-long trail perfect for a short city escape with wheelchair-accessible paved trails.
With heavy snowfall during the winter months, there is hardly a better place to indulge in winter activities than Bangor, with nearby New Hermon Mountain and Eaton Mountain Ski Area.
For cross-country skiing, choose the Bangor City Forest or Acadia National Park. By the way, Acadia is the oldest national park east of the Mississippi River.
Phoenix
Location: Arizona
Average temperatures in Phoenix in February: highs of 72F and lows of 48F, 2 days of precipitation
Come to Phoenix this February if you want chill, mild temperatures, and days packed with events. The month will have a non-stop schedule of sports events and art festivals, so check the dates before your arrival.
Nothing can make you start February better than the Arizona Strong Beer Festival, an annual event gathering local breweries.
You will have beer dinners, presentations, and, of course, tastings of Arizona's craft beers. The event will be held in all major towns in the state.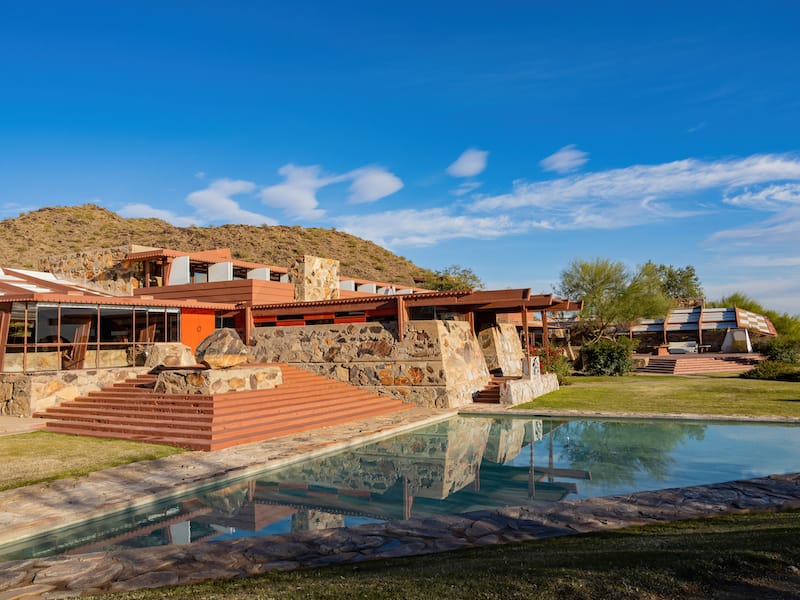 Keep up with the pace of fun events in Phoenix and visit the Street Eats Food Truck Festival, 2 days of fun, food, and music.
Over 40 food trucks will take part in the fest with all types of food and drinks.
We can't get enough of fun festivals after a long pause, and Arizona Cocktail Weekend in Downtown Phoenix promises to be the biggest event in Arizona.
Your weekend will be filled with craft cocktails by the best mixologists, parties, and happy hours.
Portland
Location: Oregon
Average temperatures in Portland in February: highs of 50F and lows of 38F, 13 days of precipitation
February is celebrated in Portland with some of the favorite annual events and activities you may wish to visit during your weekend escape.
February starts with Black History Month, celebrated with the PDX Jazz Festival. The event features over 150 live performances by international artists dedicated to preserving indigenous art.
As part of Black History Month, you can also participate in the Cascade Festival of African Films, celebrating African achievements.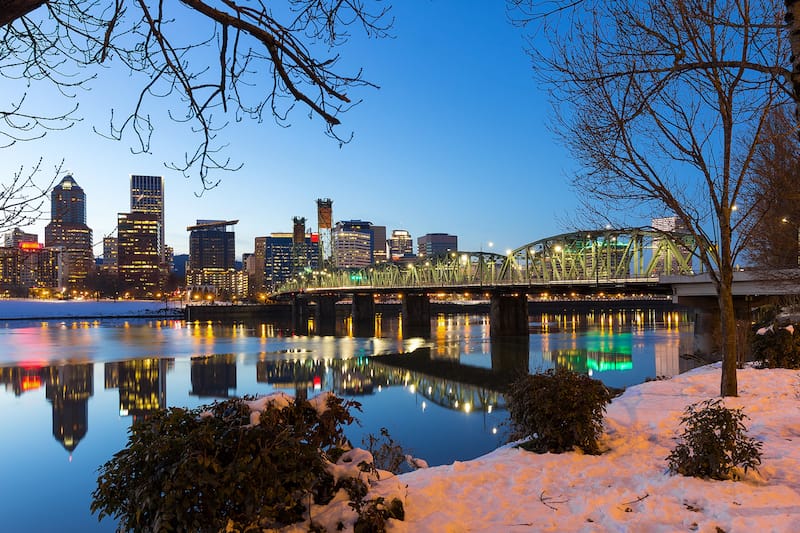 Fun festivals continue with the Portland Seafood & Wine Festival to enjoy lots of fresh seafood, signature wines and beers, distilled spirits, and entertainment during Dungeness crab season.
The festival will take place at the Oregon Convention Center.
The City of Roses is transformed into a city of lights for a few nights in February.
The beautiful Portland Winter Light Festival brings imaginative art and light into the city, filling the streets with over 100 illuminated art installations, live performances, and kinetic fire sculptures.
U.S. Virgin Islands
Average temperatures in the US Virgin Islands in February: highs of 83F and lows of 74F, 7 days of precipitation
Visiting paradise is always a good idea, but February is an exceptional month in the US Virgin Islands as a romantic gateway for Valentine's Day with its unimaginable sunsets.
Besides, February is a season of carnivals and great parades, starting with Mardi Gras celebrations in St. Croix.
Taking place on the North Shore of the island, Mardi Croix is all about bright colors and combos of purple-gold-green, lots of food, and music.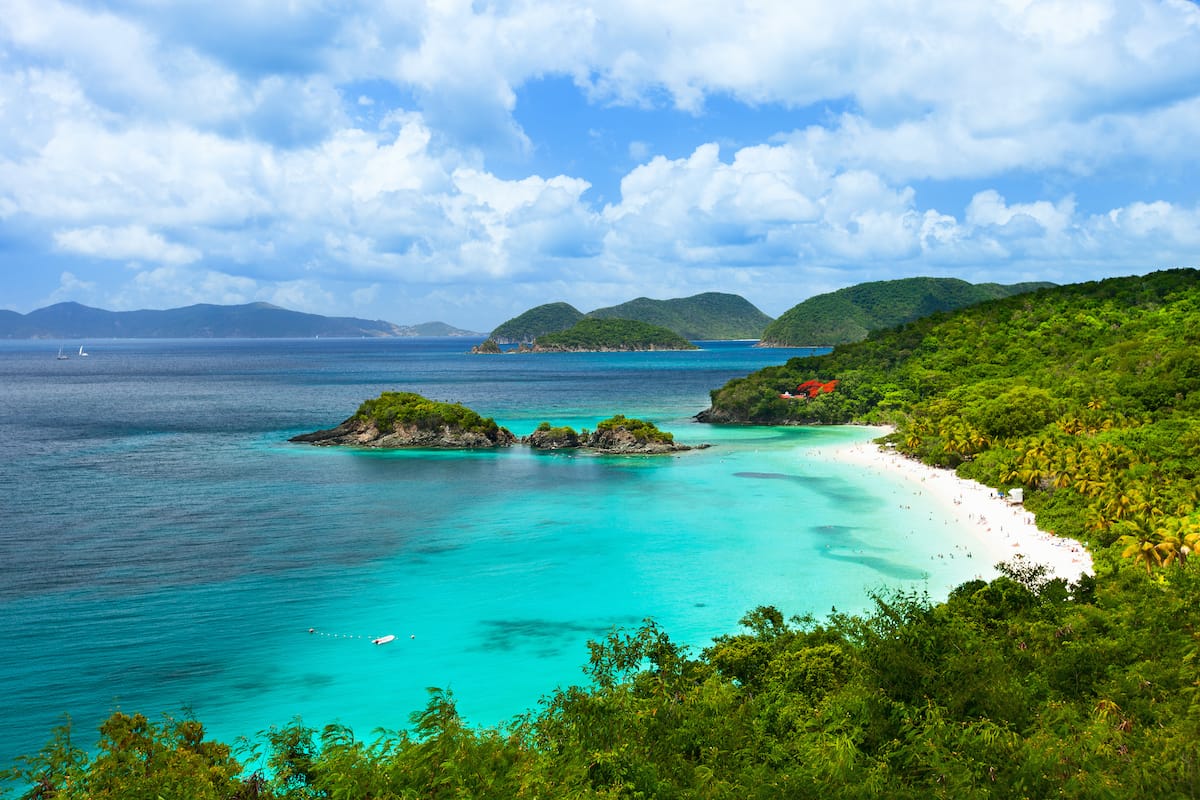 Find something crazy to wear for the parade. Also, you're sure to love the fact that the parade takes place on the beach, where you can take a dip whenever you want.
Whether you visit the Virgin Islands in summer or winter, hiking in Virgin Islands National Park should definitely be on your travel itinerary.
With more than 20 trails, the park offers a wide variety of hiking experiences for professionals and beginners, all spiced up with mind-blowing beachfront views.
For adventurous souls, the Reef Bay Trail is the one to explore and discover the petroglyphs. The park's rules for hiking include not eating unknown fruits, berries, or nuts, even if they seem delicious.
Gatlinburg
Location: Tennessee
Average temperatures in Gatlinburg in February: highs of 53F and lows of 29F, 9 days of precipitation
Gatlinburg means the Smoky Mountains, and Gatlinburg in February means winter hiking in the Smoky Mountains and lots of events not to miss.
Valentine's Day is marked with a special romance in Gatlinburg SkyLift Park.
The Love is in the Air event decks out the SkyBridge in themed decorations and lights, while the natural views of the Smoky Mountains are always there to amaze.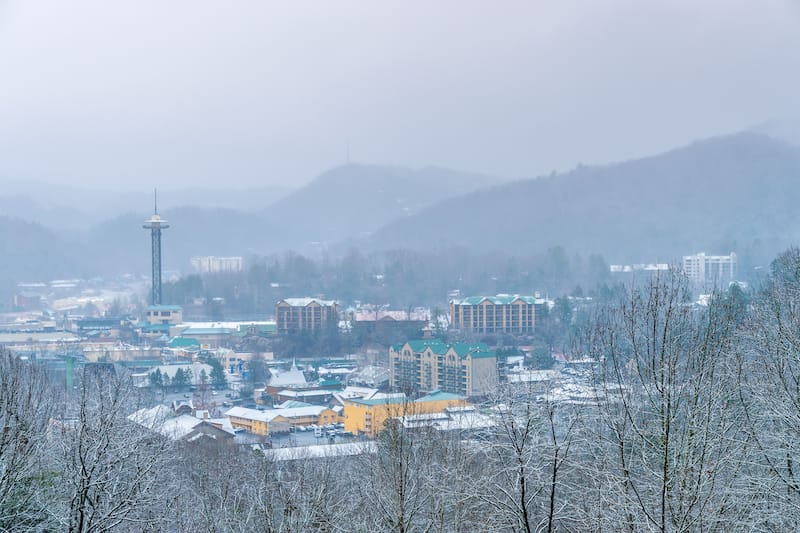 Throughout February, Gatlinburg hosts the Lights of Winterfest, decorating the city with millions of holiday lights and illuminations.
Rent a car and drive to the mountains, embracing the fantastic views and later skating at the Smokies.
Time for winter hiking in Great Smoky Mountains National Park. The hardest thing is to find the best trail because there are dozens and all are super exciting.
You may consider those that include views of frozen waterfalls, like the 2.3-mile loop to Laurel Fall, the 2.7-mile hike to 80-foot Rainbow Falls, and the Grotto Falls Trail through evergreen Hemlock forests to the cave and falls.
Napa Valley
Location: California
Average temperatures in Napa Valley in February: highs of 60F and lows of 37F, 8 days of precipitation
Napa is absolutely fabulous in February to avoid the crowds and experience wine tasting. Plus, Cabernet tastes better when it's chilly outside.
Purchase the Winter in the Wineries Passport with wine tasting in 14 wineries, and let's explore Napa Valley.
Take a hot mud bath at a Calistoga spa, enjoying a mix of mineral-rich hot water in-between wine tastings. Be prepared to be covered in sticky mud; just relax and enjoy it.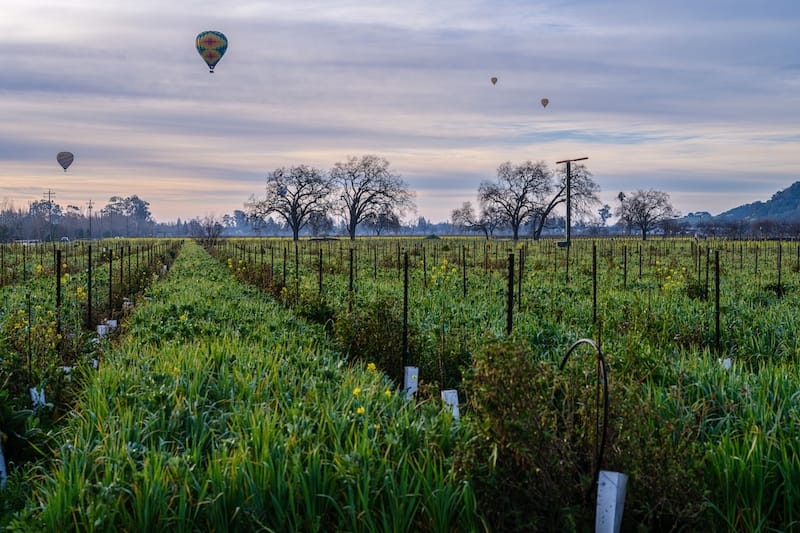 To continue your recreation, stay for a few days at one of the hot spring resorts (for example, Indian Springs Resort) with mineral water pools and a spa.
Let's get back to wine. One of the most exciting ways of exploring Napa Valley on a rainy February day is taking a ride on the Napa Valley Wine Train, and enjoying a delicious lunch while traveling through the vineyards.
The final stop is in the air of Napa Valley.
Even though hot air balloon rides are more common from April to October, you can still soar above the vines with Napa Valley Balloons, Inc., Balloons Above the Valley, or other companies offering rides.
Did we miss any of the best places to visit in February in the USA? Let us know in the comments!
Traveling another time of the year? Check out our month-by-month guides!
Pin this USA in February Guide