Do you love lobster rolls as much as we do? This guide tells you where to find the best lobster roll in Boston – including a bit of the history of the famous dish!
Did we miss any amazing places to enjoy a delicious Boston lobster roll? Let us know in the comments! Thanks
What is a Lobster Roll?
In New England, a very famous dish exists, which also happens to be their native dish.
Yes, you guessed it – lobster rolls! It's lobster meat but served on a grilled hot dog-style bun. It can be filled with butter, lemon juice, salt, and black pepper, or even topped with mayonnaise instead of the butter.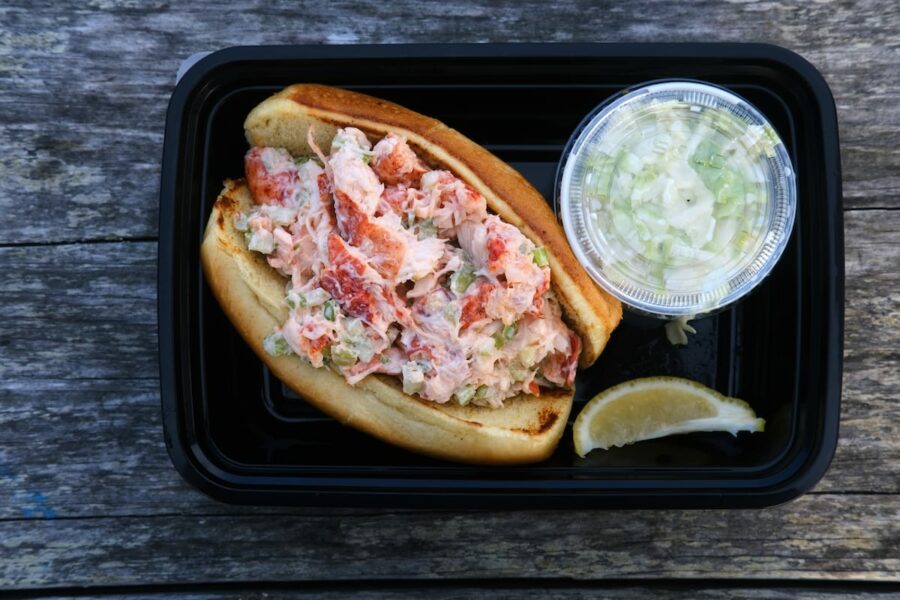 Some versions of lobster rolls even contain diced celery or scallion. Lobster rolls are typically served with potato chips or french fries as the side dishes.
Depending on where the lobster rolls are served, they can be split on the top instead of the side and have flat sides for grilling.
The lobster meat is mostly served cold instead of hot or warm.
The History of Lobster Rolls
There are many common rumors and theories about where lobster rolls originated. And Maine lobster rolls get a lot of the credit!
Indeed, the history of lobster rolls is quite fascinating. It is said that lobster rolls are native to New England's six states (Maine, Vermont, New Hampshire, Massachusetts, Rhode Island, and Connecticut).
Nobody is quite certain who the genius behind this yummy dish was, but it's said that whoever did the fishing, a.k.a. the lobsterman, made lobster sandwiches famous in the US!
A simple, cheap sandwich was improvised by stuffing lobster meat between two slices of white toast bread. It can be traced back to the roaring twenties to Perry's restaurant in small town Milford, Connecticut.
A liquor salesman was craving a "hot grilled lobster sandwich," and Henry, the restaurant owner, put his mind to work and quickly came up with lobster rolls!
When is Lobster Roll Season in Massachusetts?
The lobsters are most active between June and December as it is considered to be the main fishing season.
Lobsters are, however, harvested year-round. In the winter and early spring, lobsters are still caught but in smaller numbers.
It is recommended to order lobster rolls during the high season, usually mid-May and mid-November.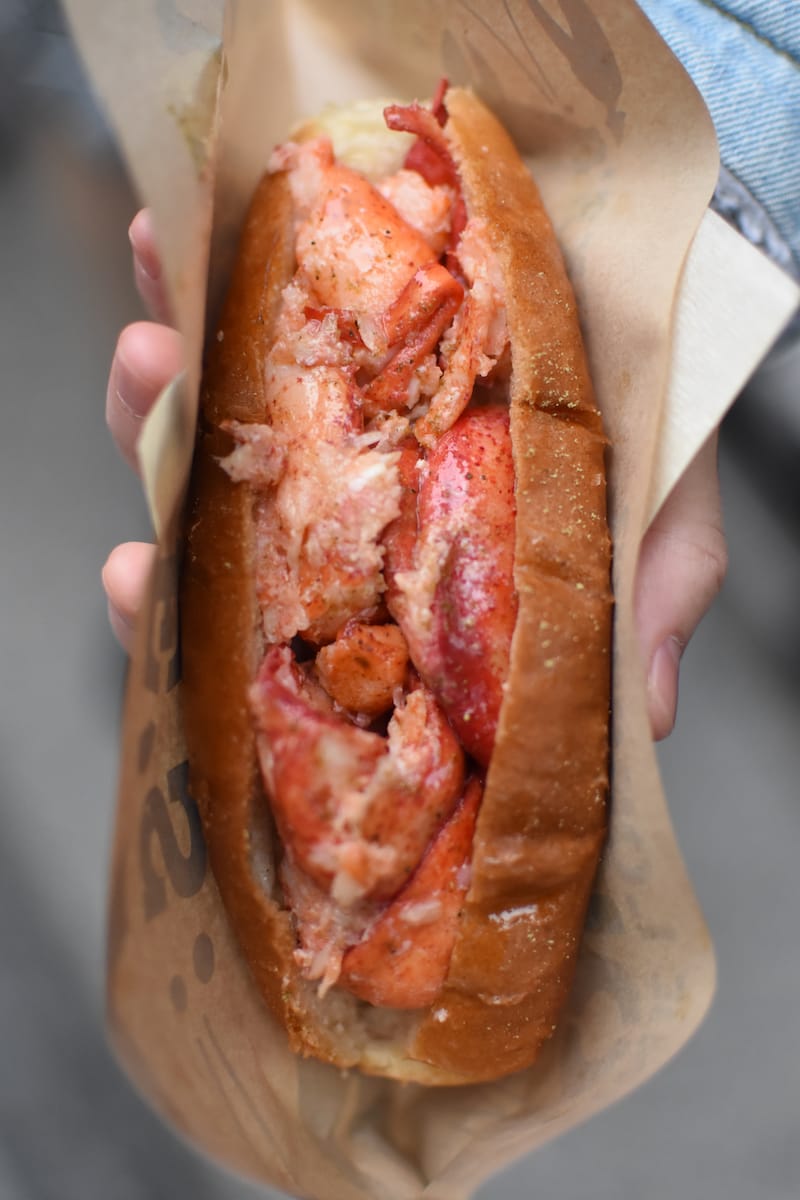 Where to Find the Best Lobster Roll in Boston
Row 34
Location: 383 Congress St. Boston
Website: https://www.row34.com/boston
Shore Gregory developed a passion for seafood when he began his career at Creek Oysters. He soon became the Island Creek Oysters' president and helped build the company that it is today.
Since it was noted for having the best oysters in the world, his team and he soon began to shift their focus toward the launch of Row 34 in Boston's Fort Point neighborhood.
Originally, this restaurant was built in 1908 and promised the best oysters and fish to their friends and customers!
Some of the top menu items at Row 34 include the Grilled Salmon Dish, the Squid Ink Bucatini, and the Local Bluefin Tuna.
And since we're talking lobster rolls, another dish that will water your mouth is the warm buttered lobster!
Neptune Oyster
Location: 63 Salem Street
Website: https://www.neptuneoyster.com/
The owners of Neptune Oyster were heavily influenced by Ernest Hemingway, who once spoke about how tasting the delicious oysters near the sea by gulping cold white wine washed away the empty feeling he had been experiencing and even made him happy and inspired creativity.
A lobster roll was then put on the menu!
Some classic menu staples from Neptune Oyster include the Spanish Octopus, Fried Ipswich Clams, the North End Cioppino, and the Maine Lobster Roll, which includes a toasted brioche roll served with either hot butter or cold with regular mayonnaise.
Another lobster staple is the N.O.B. Clambake-MKT, a whole 2 lb Maine lobster, clams, chorizo, and sweet corn.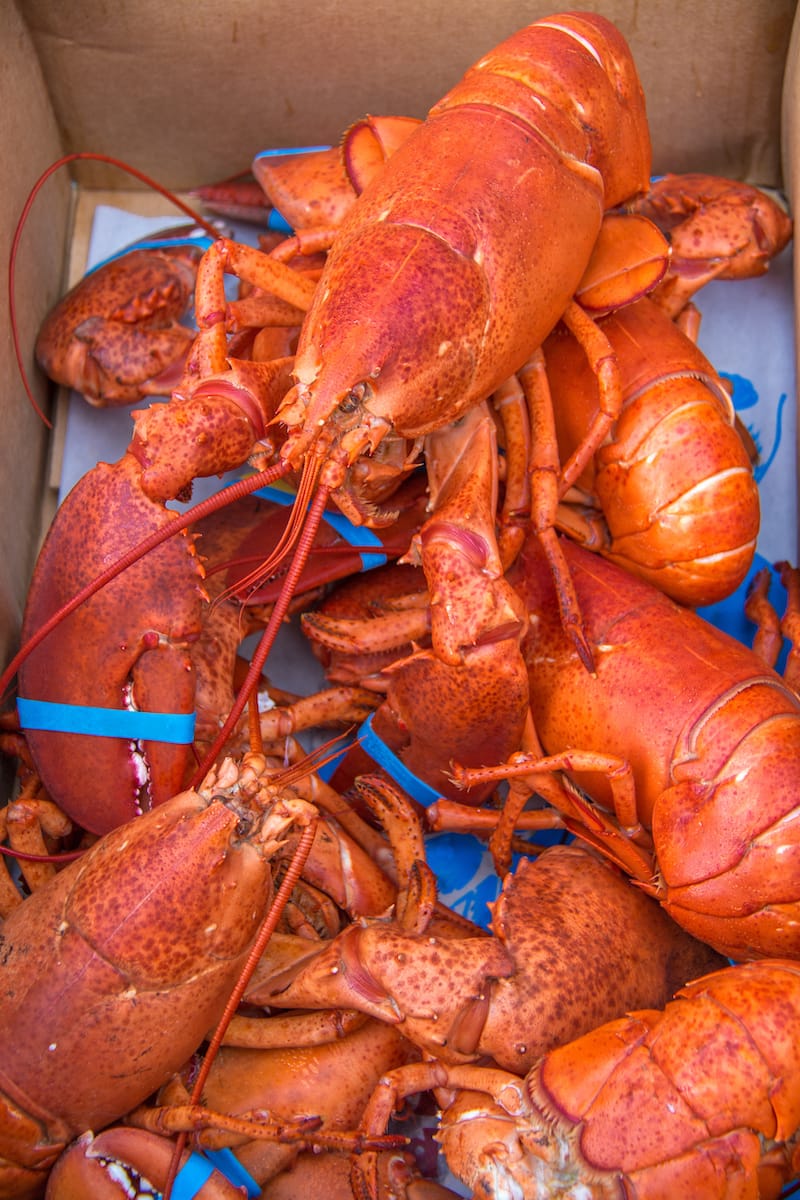 Pauli's
Location: 65 Salem Street
Website: https://paulisnorthend.com/
This restaurant goes way back, at least four generations deep, when Pauli worked with his grandfather, Nicolo, father, and uncle at the family deli and later at his mother's restaurant.
Pauli's has been famous for its overstuffed sandwiches, amazing homemade classics, fresh-tasting salads, and, of course, their lobster rolls that have even been featured on Good Morning America and the Food Network's Diners, Drive-ins, and Dives.
The restaurant started to pick up around 2011.
Some of their signature dishes include the California Wrap, the Mama Lucca, the Pollo Pazzo, the "Lobsta Roll," which includes chunks of fresh lobster meat, a twist of lemon and mayo on a grilled New England style hot dog roll, the "USS Constitution," which is 28 oz of knuckle and claw lobster meat, and, of course, their scrumptious tuna melt.
Luke's Lobster
Location: 75 Exeter Street
Website: https://lukeslobster.com/
The staff and representatives of Luke's Lobster are very serious about serving their customers the best kinds of seafood.
Aside from being well informed on how and where their fishermen catch lobsters, they also harvest sustainably to protect oceans for the future.
Some of their tastiest and most ordered dishes include the Vacationland pack, a set of a few lobster rolls and scrumptious side dishes, lobster rolls, and blueberry pie, so that you can curb your sweet tooth cravings as well.
The bluefin tuna steak is another staple piece from the "shack," as they call it, which is extremely delicious and so fresh you can taste the ocean.
One more dish one must try at Luke's Lobster is the Lobster Meat, with Luke's seasoning rated five stars. And of course, if you simply want lobster, then go for the Live Maine Lobster, which weighs around 1.5 lbs.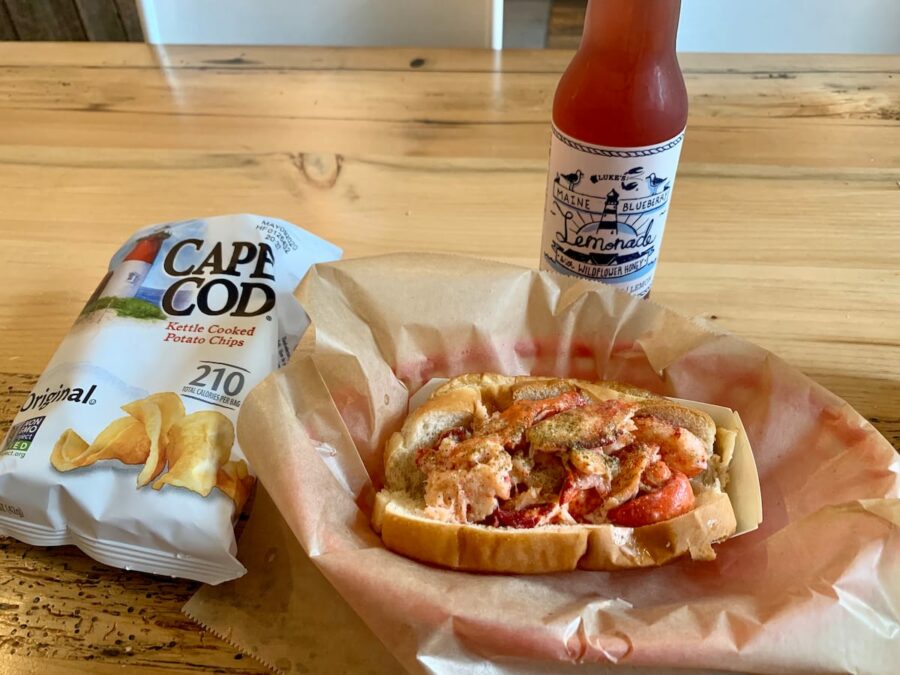 James Hook + Co
Location: 440 Atlantic Avenue
Website: https://jameshooklobster.com/
James Hook and his three sons, Edward James and Alfred, began trucking their daily lobster catch from Maine and Canada down to the fish piers on Boston's waterfront way back in 1925.
Every day they'd sell their caught lobsters to some of the finest lobster restaurants in Boston.
As the demand to purchase fresh lobsters from the Hook family increased, they started to distribute lobsters throughout the country as they became quite reputable in the seafood industry.
The family today ships over 50,000 pounds of lobster online daily! Some tasty classics you can devour at James Hook + Co include the Regular Lobster roll with mayo, the Large Lobster roll with mayo, the Regular lobster roll with butter, and, of course, the lobster salad.
If you're a cheese lover, opt for the mouthwatering lobster mac and cheese or simply devour a whole cooked lobster that can be up to 3 lbs.
Cusser's Roast Beef & Seafood
Location: North Station at 80 Causeway Street
Website: https://www.cussersboston.com/
Cusser's Roast Beef & Seafood Restaurant is a new spot compared to some of the older lobster restaurants in the area.
It opened in 2018 by the same team behind 80 Thoreau and Mooncusser Fish House, which were inspired by casual roast beef and seafood joints throughout Massachusetts.
This restaurant is not only known for its delicious lobster rolls but for its roast beef and craft beer as well.
Speaking of roast beef, if you're more into eating and not feeling the lobster devouring vibe, then opt for the Cusser's Three-Way, an all-natural Wagyu with house-made BBQ sauce, mayo, and cheese.
Another staple from the roast beef menu is the 80T Style, which includes pickled red onions, cheddar, and Thoreau sauce, which is classic, made specifically for these chains of restaurants.
The seafood section surely includes a few bestsellers like freshly cooked oysters, lobster rolls and fries, grilled cheese and fries, fish tacos, battered fish-of-the-day, slaw, pickled red onions, cilantro, and Thoreau sauce.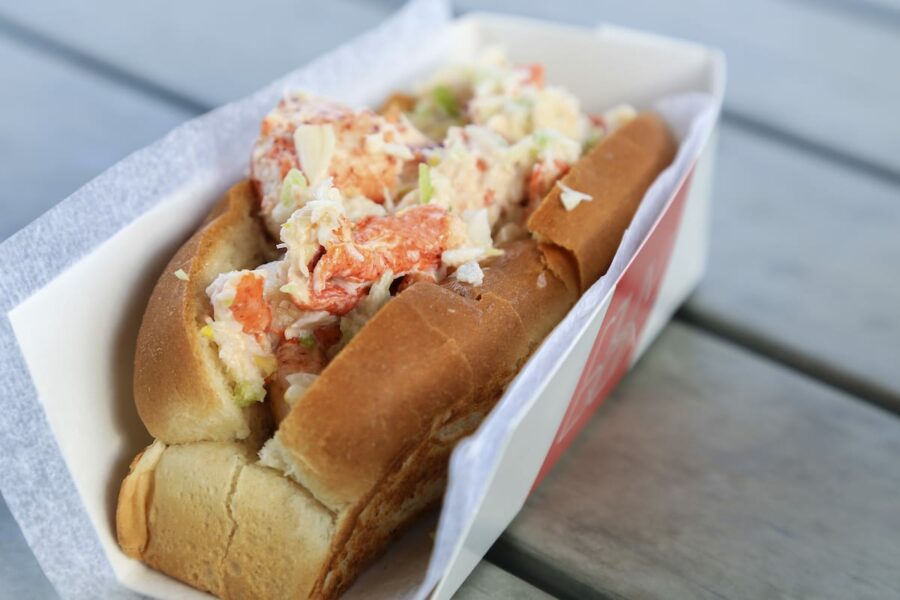 Yankee Lobster
Location: 300 Northern Avenue
Website: https://yankeelobster.co/
The Zanti family, who has been in the fishing business for many generations, were the ones who established the Yankee Lobster name.
Guiseppe Zanti Sr, a fisherman in Italy, came to America in 1898, seeking the fertile fishing grounds that he had heard about so much from the fisherman back in his homeland.
In 1921, he decided to also make a better future for his family in America, and after fishing for lobsters and crabs for many years in the Boston Harbor area, he realized that his entire family was surely invested fully in the lobster business.
The restaurant was officially opened in 1989 by Guiseppe's grandson and has been running it since.
One can taste various dishes at Yankee Lobster and feast on classic staples like the traditional lobster rolls, the hot buttered lobster rolls, lobster melt, fried lobster rolls, and a cooked 2 lb lobster and a 3 lb lobster!
The restaurant also features a raw bar where you can order shucked oysters or order a dozen to go.
Saltie Girl
Location: 279 Dartmouth St
Website: https://www.saltiegirl.com/
The Saltie Girl restaurant is by far one of the most versatile places when it comes to seafood!
The restaurant caters to people who like to indulge in many seafood classics, ranging from fried lobster and waffles with sweet corn butter and spicy maple syrup and French burgundy snails with black garlic butter, to name a few.
The restaurant boasts a full bar featuring specially curated wines, beers, spirits, and an innovative cocktail menu.
Kathy Sidell, the president of the MET Restaurant Group, was always fascinated by the ocean's incredible resources and the fruit it bore while she went fishing with her dad.
She pays very close attention to detail when it comes to choosing the right kind of seafood dishes for their customers.
Saltie Girl also takes pride in informing their customers that their dishes are mindfully sourced and considered sustainable food, cooked fresh off the bat, and served immediately to customers.
One must try a few favorites from this restaurant, such as the Fried Lobster and Waffles, the Moules Frites, the Panroasted Yellow Fin Tuna, the Grande, and the Chalk Stream Trout Almondine.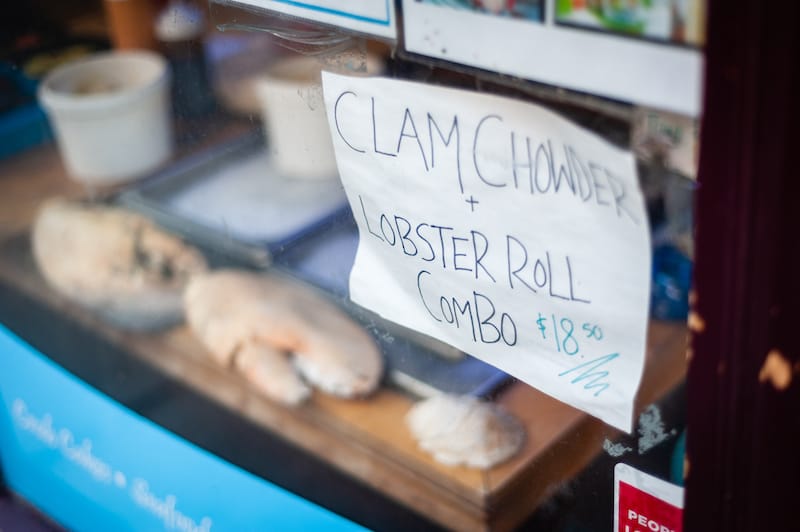 Alive and Kicking Lobsters
Location: 269 Putnam Ave, Cambridge
Alive and Kicking Lobsters serve their famous lobster sandwiches on two pieces of buttered toast instead of a roll as it is conventionally done.
They probably know better because it is quite excellent, according to top reviews. Residents and visitors are bound to dine here or even take away some fresh lobster meat.
The lobsters are fresh and served on homemade Scali bread. Aside from lobster, you can also order other side dishes and traditional American fare to munch on here.
Please note that this is in Cambridge, located close to Boston!
Eventide Fenway
Location: 1321 Boylston Street
Website: https://www.eventideoysterco.com/eventide-fenway
This restaurant offers tried and true classics that have been made popular at the Portland restaurant, which is called Eventide Oyster Co.
You can either have a quick lunch break here with a beer or Champagne or simply devour a dozen or more oysters.
Some juicy classic menu items include Oysters on the Half Shell, usually a dozen or half a dozen, the Bluefin Tuna Crudo, the Striped Bass Crudo, and a Bluefin Tuna Tartare.
If you're craving a simple sandwich, then at least make it something extraordinary, like ordering the Eventide Cheeseburger, which has Gochujang-Tallow mayo, iceberg, and pickled red onions, a fried chicken katsu sandwich with maple chinese mustard, the smoked tofu sandwich with onion rings and roasted jalapeno mayo.
You can try the New England clam chowder or the Maine lobster stew for some hot dishes.
The Heirloom Tomato salad is also something many customers love, or the Koji Buffalo Wings are marinated in charred scallion aioli, roasted garlic puree, and fried shallot.
Did we miss any amazing places to find the best lobster roll in Boston on this guide? Let us know in the comments, please!
More New England Travel Guides
Pin this Boston Lobster Rolls Guide