Bored of city life and looking to escape for a bit? These are the best weekend trips from St. Louis, Missouri!
St. Louis truly is a gem when it comes to a number of things to do and it is really hard to get bored there… but we all need an escape every so often!
These weekend getaways from St. Louis provide a bit of downtime and relaxation from the big city. We chose a variety of trips from other cities to green nature spots (and beyond)!
Let us know your favorite St. Louis weekend getaways in the comments – especially if we missed out on your top pick!
Weekend Getaways from St. Louis – Map
To add this map to your Google Maps account, click the 'Star' icon next to the map name. You can then view it on your cell phone or computer by heading to your Google Maps account, click the menu and add it to 'Your Places'.
Best St. Louis Weekend Trips
Below, you will find some incredible weekend trips from St. Louis, including reasons to visit the destination, how long it takes to get there, and some top things to do in the place.
Shawnee National Forest (Illinois)
Distance: 78 miles
Driving Time: 1 hour 33 minutes
Keen to discover Illinois's full potential of natural wonders? Then you should definitely pay a visit to Shawnee National Forest, a recreation area located in southern Illinois, full of mesmerizing beauty and adventures for all age groups.
Those who are really into hiking will certainly appreciate the Garden of the Gods, full of scenic rock hills to climb, or Pomona Bridge featuring a natural land bridge.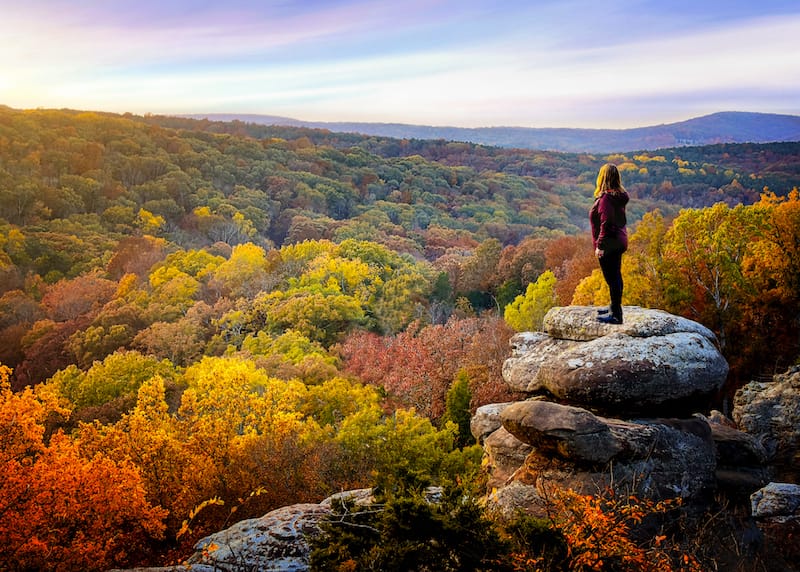 Explore the area's spectacular flora and fauna in Cave-in-Rock, famous for its limestone cathedral, or visit Heron Pond, where the floating boardwalk will grant you access to hypnotic views of surrounding lush greenery and wetlands.
A variety of lodging and camping options are available to help you recharge before exploring the rest of the National Forest. Get the taste of Illinois's winemaking in nearby wineries, or take a stroll through the vineyards to learn more about the grapes used to produce those unique wines.
Get your daily dose of adrenaline while enjoying Shawnee National Forest's exciting opportunities: kayaking, fishing, biking, ziplining, canoeing, and much more.
Lake of the Ozarks (Missouri)
Distance: 191 miles
Driving Time: 2 hours 54 minutes
Plan your next dream getaway to Lake of the Ozarks, and it'll undoubtedly guarantee memories that will last a lifetime. Honestly, this area rivals any of the national parks in Missouri and in a big way!
Nestled in the heart of Missouri, this lake resort offers a variety of recreation activities for water junkies, such as a mile-long lakeshore, swimming on the beaches, marinas, and rental services for fishing, waterskiing, or pontooning.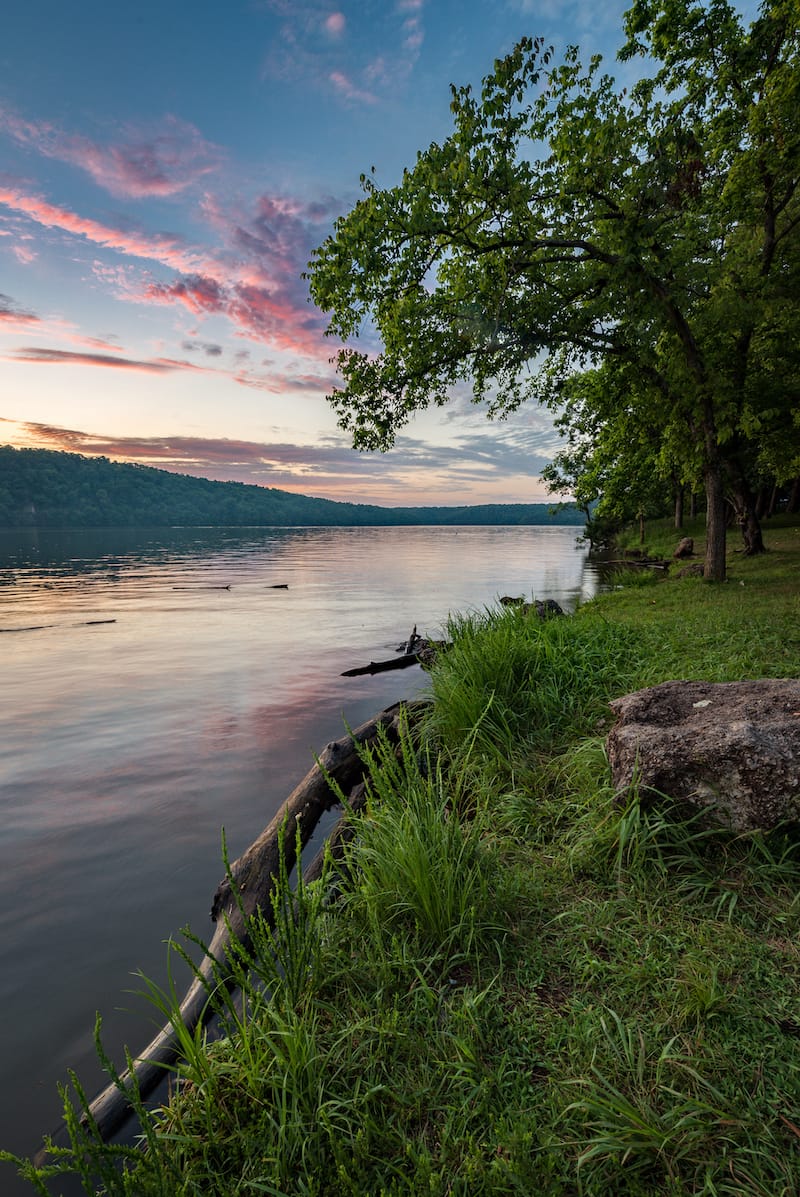 Explore the lake's scenic views or admire the oak and hickory forests while hiking or biking along one of the 12 trails available.
The area provides various recreational activities to delight everyone in your family, such as ziplines, wineries, golf courses, equestrian, spas, and numerous dining and shopping options.
Discover what lies underneath Lake of the Ozarks while taking part in cavern tours and appreciate the remarkable geology in nearby Ha Ha Tonka State Park, or get wet and wild at Big Surf Waterpark.
Meramec Caverns (Missouri)
Distance: 65 miles
Driving Time: 1 hour 4 minutes
Discover Missouri's hidden underground gem, the Meramec Caverns, nestled beneath Meramec Valley hills. You'll have a chance to witness awe-inspiring mineral formations at this natural wonder which is either a day trip from St. Louis or a weekend one.
You can take guided tours to admire this seven-story natural miracle along with one of its jewels, the "Wine Table," located underwater.
Meramec Caverns features a Theater Room Light Show with contemporary LED lights showcasing America's Armed Forces' praiseworthy history.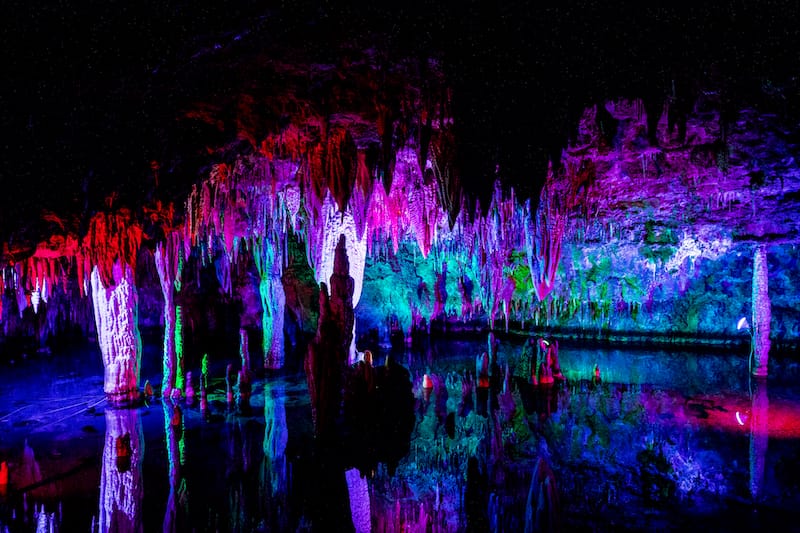 Exciting adventures await you in Meramec Caverns, ranging from zip lines and climbing walls to the history-filled boat and float trips on the Meramec River.
The caverns also provide convenient accommodations to have a refreshing break, organize a picnic, or have a full night's relaxing sleep at the Meramec Caverns' scenic campground.
Enjoy home-style cooking at the rustic-style Meramec Restaurant, do souvenir shopping for your loved ones in the nearby gift shop, or take your wax-museum experience to another level at the Jesse James Wax Museum.
Memphis (Tennessee)
Distance: 283 miles
Driving Time: 4 hours 5 minutes
Sure, you will find many things to do in St. Louis, but you will find just as many waiting for you in Memphis!
Whether you are a music lover, foodie, or art and history lover, Memphis has you covered and will undoubtedly ensure you return with memories that will last a lifetime.
Step back in time while visiting the Victorian Village or dine amidst real hairdressing tools dating back to the late 90s in the vintage-style Beauty Shop Restaurant.
Central BBQ will serve patrons (including Memphis BBQ!) its mouth-watering dishes, then astound you with the delicious taste of their ribs.
Join Peabody Rooftop Parties where you will have a chance to party, Memphis-style!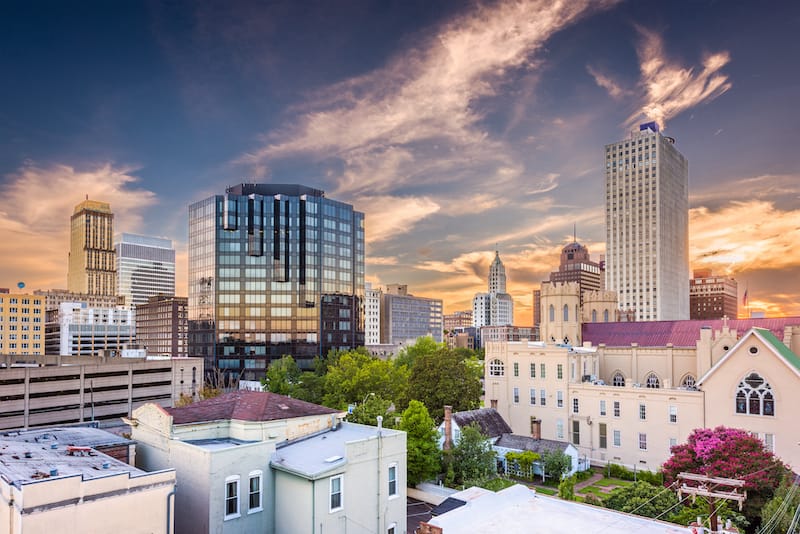 Another must-see spot in Memphis is the National Civil Rights Museum and Lorraine Motel, where the legendary Martin Luther King Jr. was assassinated.
Stroll on historic Beale Street, visit Graceland, discover what's inside the Memphis Pyramid, or experience authentic American Soul music vibes in the renowned Sun Studio or Stax Museum.
Chicago (Illinois)
Distance: 297 miles
Driving Time: 4 hours 32 minutes
Take a trip to Chicago and experience one of the coolest cities in the United States. Awaken the artist within and get a great dose of creativity at the Art Institute of Chicago or The Field Museum (as well as in over 60 other museums).
Admire the iconic Chicago Loop in the downtown district along with other awe-inspiring architectural wonders by Frank Lloyd Wright, Louis Sullivan, and many other notable architects.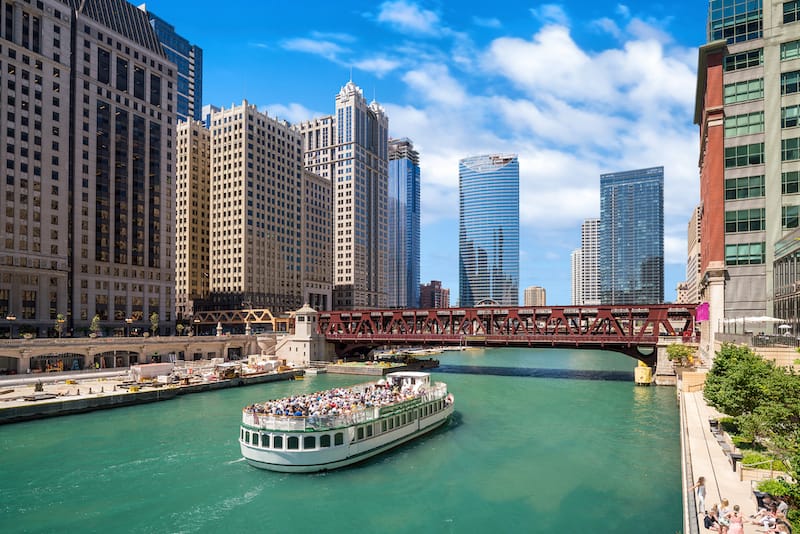 Pay a visit to historic Tony award-winning theaters and witness spectacular plays. Don't forget to have your shopping list with you while visiting Chicago and be sure to take a stroll down Michigan Avenue and spend at some of the most famous stores in the country.
Level up your dining experience and taste Chicago's culinary treasures in award-winning fine-dining restaurants.
Night owls can surely appreciate Chicago's busy and vibrant nightlife in cocktail lounges, bars, and dance clubs.
Make sure not to miss out on popular outdoor events like Chicago Blues and Jazz Festivals, Millennium Park concerts, and more. This large metropolis is one of the best weekend trips from Cincinnati, Milwaukee, and of course, St. Louis!
Katy Trail State Park (Missouri)
Distance: 80 miles
Driving Time: 1 hour 21 minutes
Katy Trail State Park is home to the US's longest rail trail, which offers breathtaking scenery along its 240-mile path.
It provides the ideal location for hiking, biking, or running and even two parts of the trail, from Sedalia to Clinton and from Tebbetts to Portland, are open to horseback riders.
Along the entire length of the track, you will find various leisure spots, plenty of dining and shopping sites, campgrounds, motels, wineries, and much more.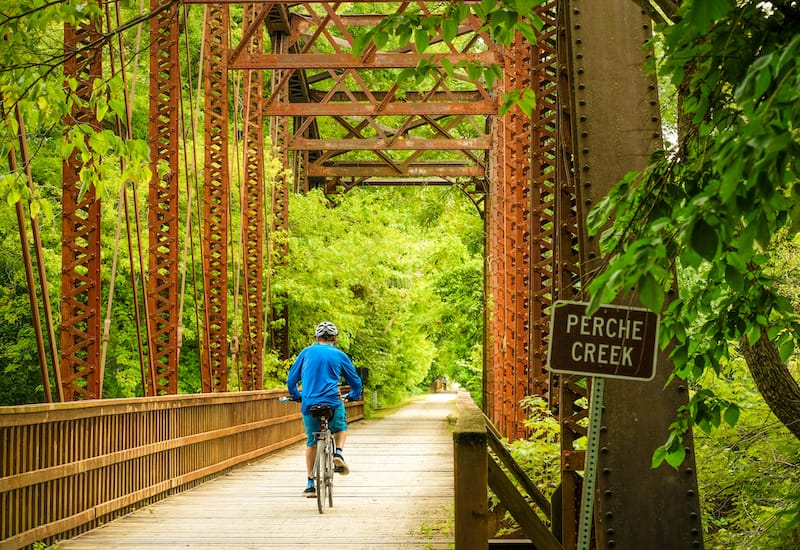 Your adventurous hikes on the trail will also be educational, thanks to the thorough information available at 26 trailheads. The trail also grants you access to a good look at the region's biodiversity.
Hike and admire nature along the eastern part of the trail, which parallels the Missouri River, and you will come across small towns and farmlands standing out with their rich heritage of Missouri.
Paducah (Kentucky)
Distance: 174 miles
Driving Time: 2 hours 39 minutes
Paducah is Kentucky's little art haven, full of creative culture, vibrant streets, rich heritage, and unique architectural style to enjoy with every step of your trip there!
Considered UNESCO's Creative City, many art centers have bases there, including Yeiser Art Center, Market House Theater, Maiden Alley Cinema and Gallery, and the National Quilt Museum.
They all offer their art appreciating audiences a diverse range of cultural offerings that range from live theaters and classical performances to art exhibitions and films.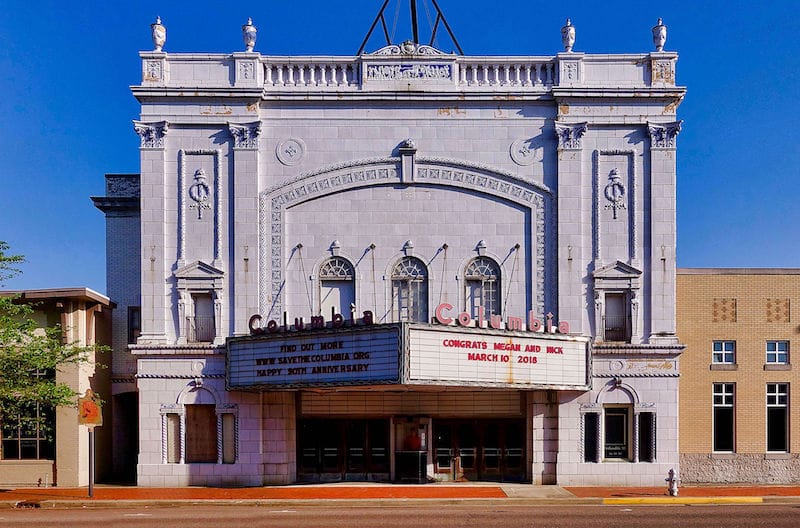 Stroll along the historic downtown and get acquainted with Paducah's powerful history at the restored Hotel Metropolitan and Paducah Railroad Museum.
Alternatively, educate yourself about Paducah's role in the Civil War at the Lloyd Tilghman House & Civil War Museum.
You can have a local brew or coffee in a historic but restored Coca-Cola bottling factory, which also provides a yoga spot nearby. Get a table at one of the locally-owned restaurants to experience a full-taste range of Kentucky's (delicious) cuisine!
Hannibal (Missouri)
Distance: 116 miles
Driving Time: 1 hour 50 minutes
A renowned Missouri tourist destination and Mark Twain's hometown, Hannibal offers visitors the chance to explore its rich heritage along with plenty of recreational activities for all tastes.
While in Hannibal, you will get the chance to admire Mark Twain and Molly Brown's homes up close.
Awaken your spirit of adventure while visiting Mark Twain's Cave Complex, hiking in Steyermark Woods Conservation Area, or relaxing at Sodalis Nature Preserve.
You can also enjoy wildlife at J. Thad Memorial Archery Range, or get an adrenaline rush through various extreme sports available at Hannibal Ramp Park.
Also, you can take your dining experiences to another level while dining onboard the Mark Twain Riverboat.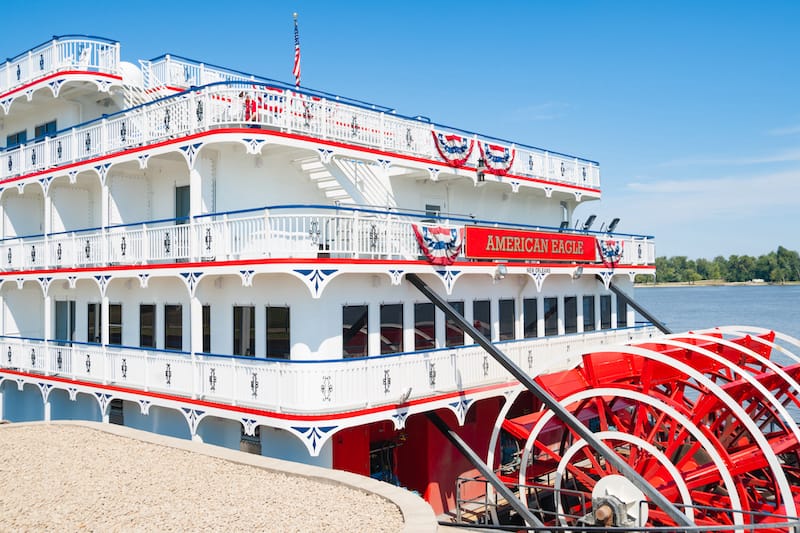 Other must-visit sites imperative to visit if you're interested in discovering the town's rich past are Rockcliffe Mansion, the Hannibal History Museum, and Big River Train Town & Museum, which is full of impressive collectibles and items dating back to their original state.
Explore the spookier side of the city while taking part in ghost tours or witnessing hair-raising wax figures at The Haunted House.
Land Between the Lakes National Recreation Area (TN/KY)
Distance: 216 miles
Driving Time: 3 hours 17 minutes
Land Between the Lakes National Recreation Area is a true paradise for nature lovers and the perfect getaway destination from city life where you can enjoy nature as it is.
Visitors can choose to admire the rich wildlife inhabiting the Elk & Bison Prairie or get educated about the region's ecosystem at Woodlands Nature Station.
You can take an astronomical tour with various educational programs organized at the Golden Pond Planetarium and Observatory that will certainly leave its viewers absolutely mesmerized.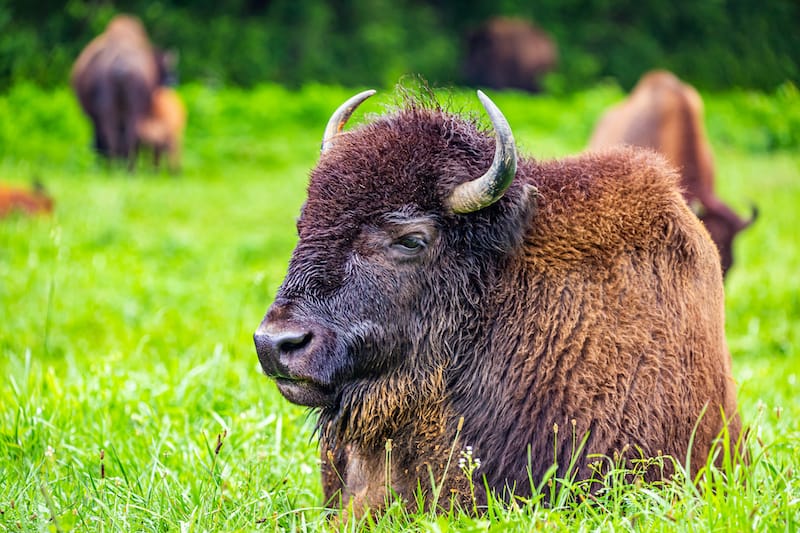 Turkey Bay OHV Area, one of the many campgrounds offered on-site, is available to spend a night or two under the starry skies.
The area has you covered with plenty of recreational activities for every taste to guarantee you an exciting and unforgettable trip.
Get your hiking boots and backpacks, and get prepared to spend a whole day hiking and biking on scenic nature trails. The park also grants access to hunting, fishing, bird watching, kayaking, canoeing, horseback riding, and more.
It is one of the best weekend trips from St. Louis for nature lovers!
Norfork Lake (Arkansas)
Distance: 247 miles
Driving Time: 4 hours 12 minutes
Offering more than 550 miles of serene shoreline, Norfork Lake is an absolute must-visit spot for water-sport junkies.
It offers boating, kayaking, canoeing, swimming, scuba diving, water skiing, and cliff jumping opportunities along with boats, motors, wakeboards, tubes, and jet skis available on the lake's commercial docks.
Fishermen and women rush to the lake for its world-class fishing opportunities and need to seriously prepare for their next great catch, which may be walleye, bass, bream, and more.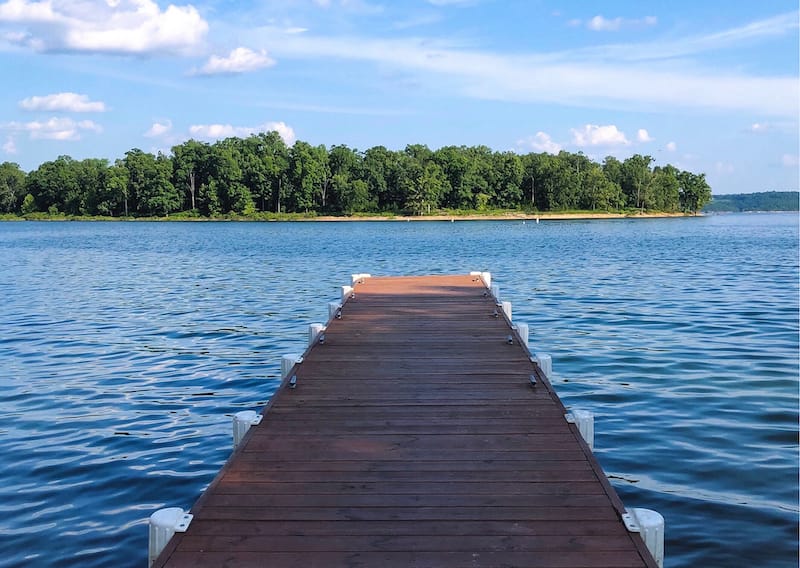 It is also home to one of Arkansas's greatest fisheries, ideal for catching striped bass. Your adrenaline-filled moments will be guaranteed at nearby adventure spots, which are Blanchard Springs Caverns, David's Trail, Dry Run Creek, and more.
Go for a hike along the nature trails on one side of the lake while sunbathing on sandy beaches on the other.
Nearby, you can also find vacation rentals and hotels for recharging before getting back to riding the waves the following day.
Blue Spring (Missouri)
Distance: 138 miles
Driving Time: 2 hours 31 minutes
Blue Spring is the 6th largest spring in Missouri and is renowned for its crystal blue waters and gorgeous surrounding nature. It discharges over 90 million gallons per day and is actually the deepest spring in Missouri (300 feet deep).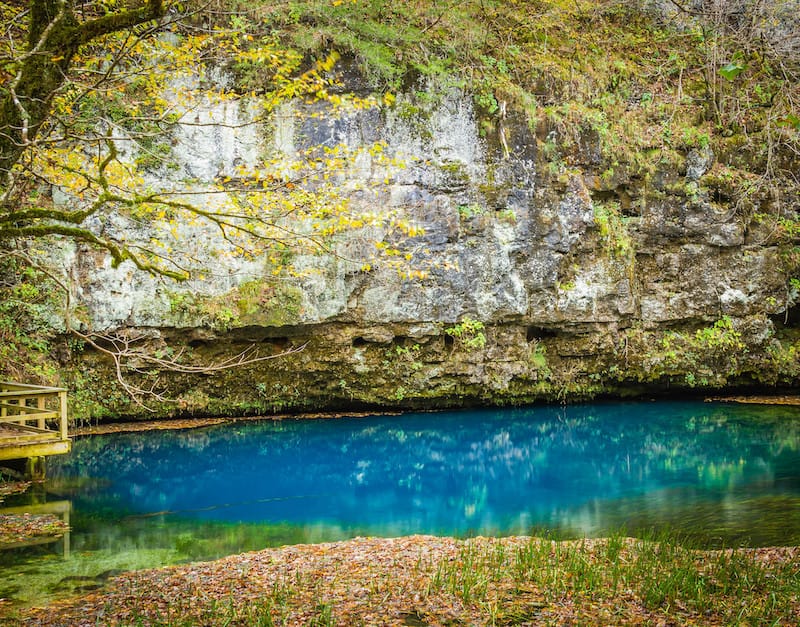 This is definitely one of the best places to visit as a weekend getaway from St. Louis as you will get to see a huge variety of wildflowers in spring and a lot of other gorgeous scenery at other times of the year.
What are your favorite weekend trips from St. Louis? Let us know your tips and suggestions in the comments! Thanks!
Pin this Weekend Trips from St. Louis Guide