There's a lot to do during a weekend in Minneapolis, and with only two days, you'll need to narrow it down to only the best things!
Are you planning your trip to Minneapolis last minute?
If youʻre booking your trip to Minneapolis last minute, we have you covered. Below are some of the top tours, hotels, and more!
🛌 Top Lodging Options in Minneapolis:
Millenium Minneapolis (amazing downtown option!)
300 Clifton (famous boutique hotel)
Hilton Garden Inn (downtown + pet-friendly!)
🇺🇸 Top Experiences/Tours from Minneapolis:
Escape Game Minneapolis (60 minutes)
Minnehaha Falls (self-guided audio tour)
🚗 Looking for the best way to get around Minnesota? Click here to check rental car rates for MI!
No matter what you're interested in, whether it's exploring museums, relaxing in nature, or getting in some shopping, there's something for everyone in Minneapolis!
We've taken care of an itinerary for 2 days in Minneapolis, so you can just get out and enjoy!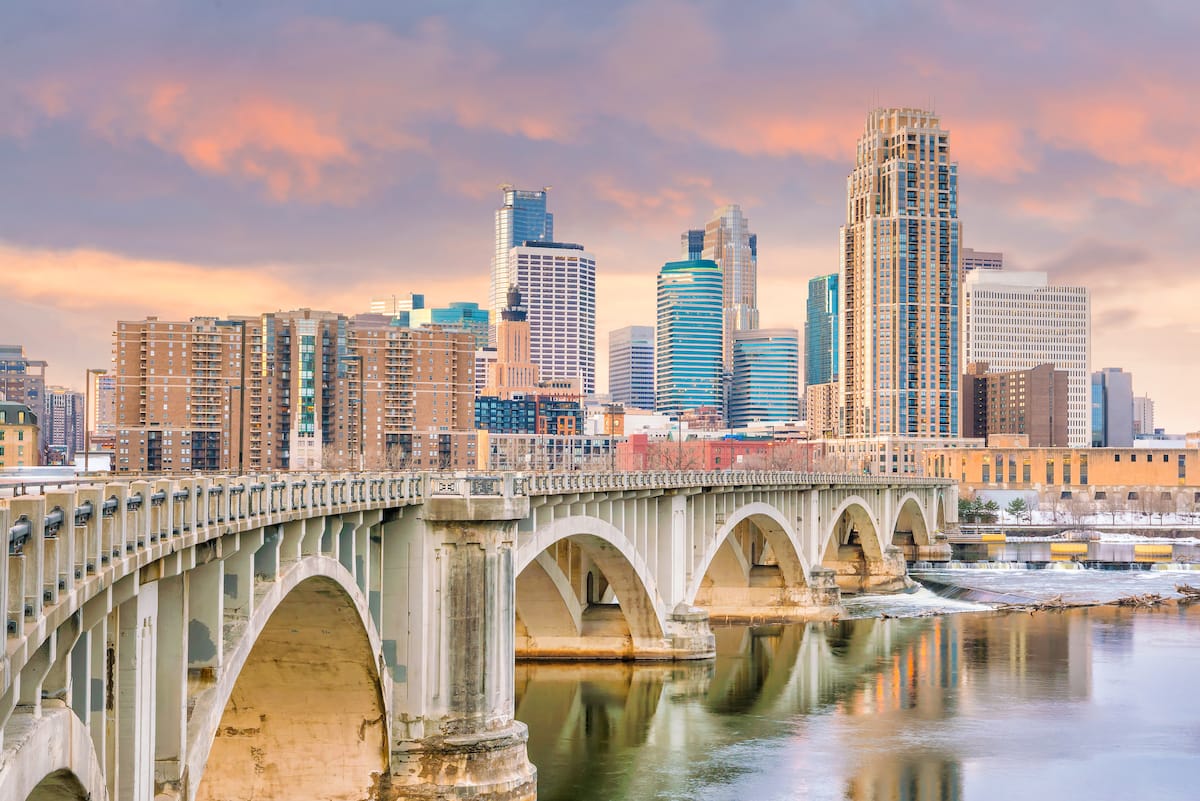 Did we miss anything important on this Minneapolis itinerary? Let us know your tips for 48 hours (or more!) in the city.
Weekend in Minneapolis: Day 1
On day one in Minneapolis, you'll get to explore a few of the best museums, as well as get out and experience the beauty of Minnesota's nature.
Grab a Coffee at Spyhouse Coffee Roasters
Exploring a city's best coffeeshops is one of the best ways to really get to know the local feel of a large city.
And in Minneapolis, Spyhouse Coffee Roasters in the downtown area is a local favorite.
Their beautiful and modern locations make for a cozy spot to spend a bit of time in before heading out to explore for the day.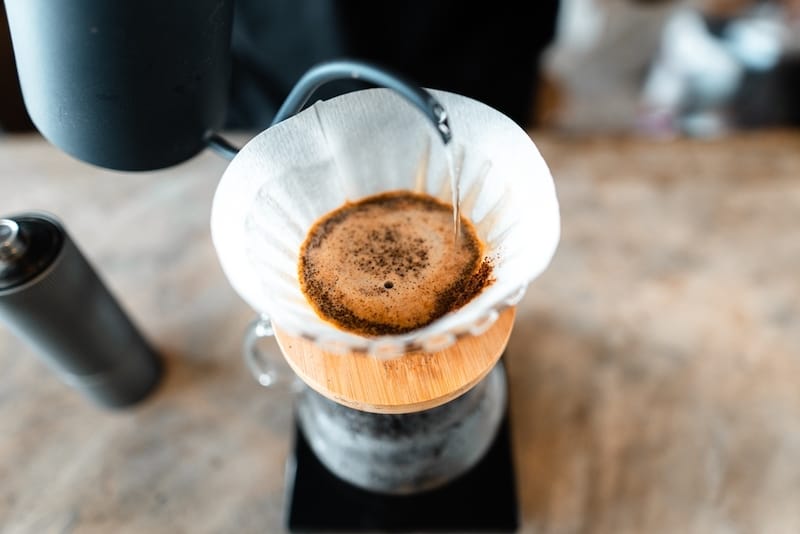 Choose from classics like drip coffee, cold brew, americanos, or a latte. Even non-coffee lovers will find something on the menu, like their chai tea latte or a jasmine tea lemonade.
They also have a wide selection of bakery items, including croissants, danishes, and muffins.
There are actually five locations in Minneapolis, so choose the closest one to your hotel and start your day off with a great cup of joe.
Visit the Minneapolis Sculpture Garden
Perhaps one of the most iconic places in the Twin Cities area is the Minneapolis Sculpture Garden.
This outdoor art exhibit is free to the public and is the perfect place to enjoy some fresh air while admiring the sculptures around you.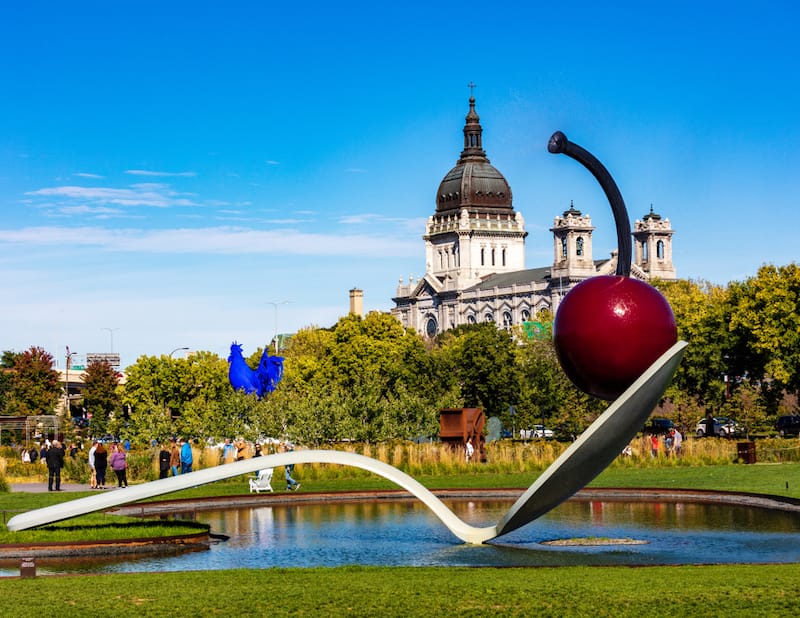 Over its 11 acres, there are 40 different outdoor sculptures created by talented artists. Among the most popular are the Spoonbridge and Cherry and a giant blue rooster. These can both be seen from I-94 as you drive through the Twin Cities.
The garden is maintained by the Walker Art Center, which is just a short walk away, and the next activity on your Minneapolis itinerary.
Address: 725 Vineland Pl, Minneapolis, MN 55403
Peruse the Walker Art Center
This contemporary art museum is located just steps away from the Minneapolis Sculpture Garden and is home to indoor exhibits.
Since its opening, the Walker Art Center has been home to nearly 12,000 pieces of art, and by planning a visit, you can see it all!
Even the building itself is a masterpiece.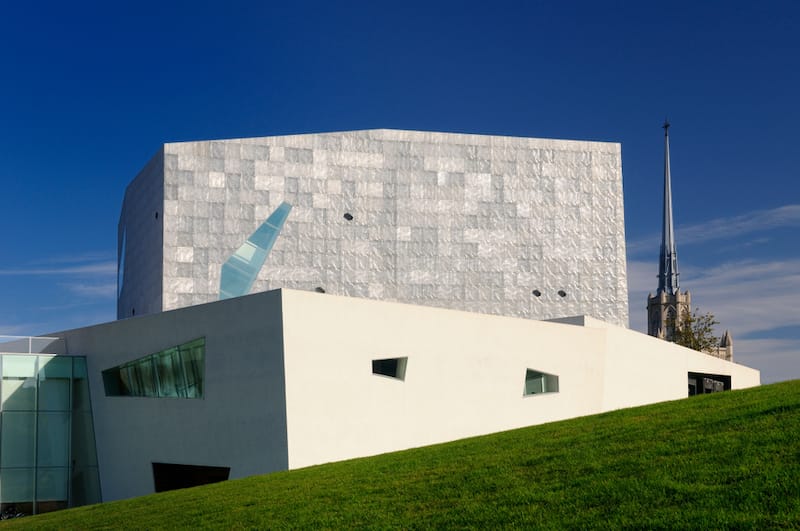 During the summer months, they host a music festival called Rock the Garden, and national and international artists have played on the stage at the event.
Address: 725 Vineland Pl, Minneapolis, MN 55403
Take a Day Trip to Stillwater
As lunchtime starts to sneak up on you, take the 30-minute drive over to the adorable Minnesota town of Stillwater on the St. Croix River.
Here you'll find a variety of great restaurants, including a rooftop bar, Papa's Rooftop, and a tiki-themed paradise, The Tilted Tiki.
After grabbing lunch, walk along the river and cross into Wisconsin on the historic Stillwater Lift Bridge. This pedestrian-only bridge has become an icon in the small town.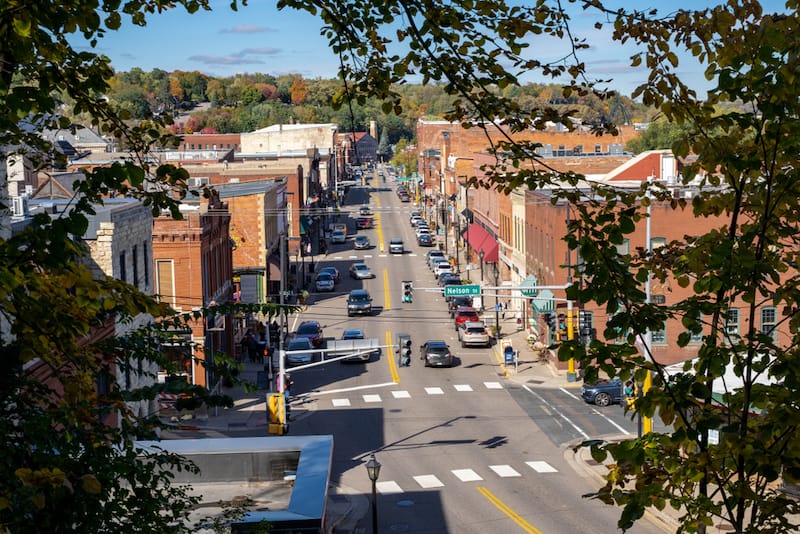 During the summer months, you can take a ride on the Stillwater Trolley, float down the river in a kayak, take a river gondola ride, or take a ride on the Stillwater River Boat.
On your way back to Minneapolis, make a stop at Saint Croix Vineyards. This beautiful local winery offers some of the best Minnesota-made wines and a tasting room to try them.
No matter how you spend the day, a few hours in Stillwater is the perfect addition to your visit to Minneapolis.
Enjoy Dinner in Minneapolis
After spending time exploring the museums and the small town of Stillwater, you'll likely be hungry and ready to grab a bite to eat.
Luckily, Minneapolis has a great food scene, so you'll be able to find something delicious, no matter what you're craving. And because you have an entire weekend in Minneapolis, you can try a few of them!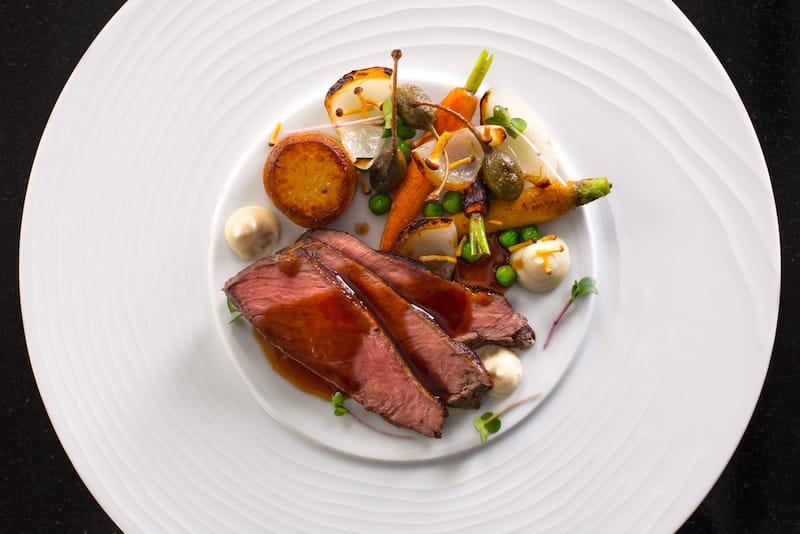 A few places that continuously come to mind for locals are Spoon and Stable, Psycho Suzi's, Fogo de Chão Brazilian Steakhouse, Red Rabbit Minneapolis, and The Butcher's Table.
Aside from these popular places, there are many local 'mom & pop' restaurants to check out, as well as food trucks during the summer months.
Watch the Sunset Over the Stone Arch Bridge
To end the first day of your Minneapolis itinerary, head back over to the downtown area, where you'll find the famous Stone Arch Bridge.
Built in 1881, this bright connect Minneapolis and St. Paul, forming the Twin Cities. It was built to bring the Minneapolis Union Railroad over the Mississippi River, but today, it's just a pedestrian bridge.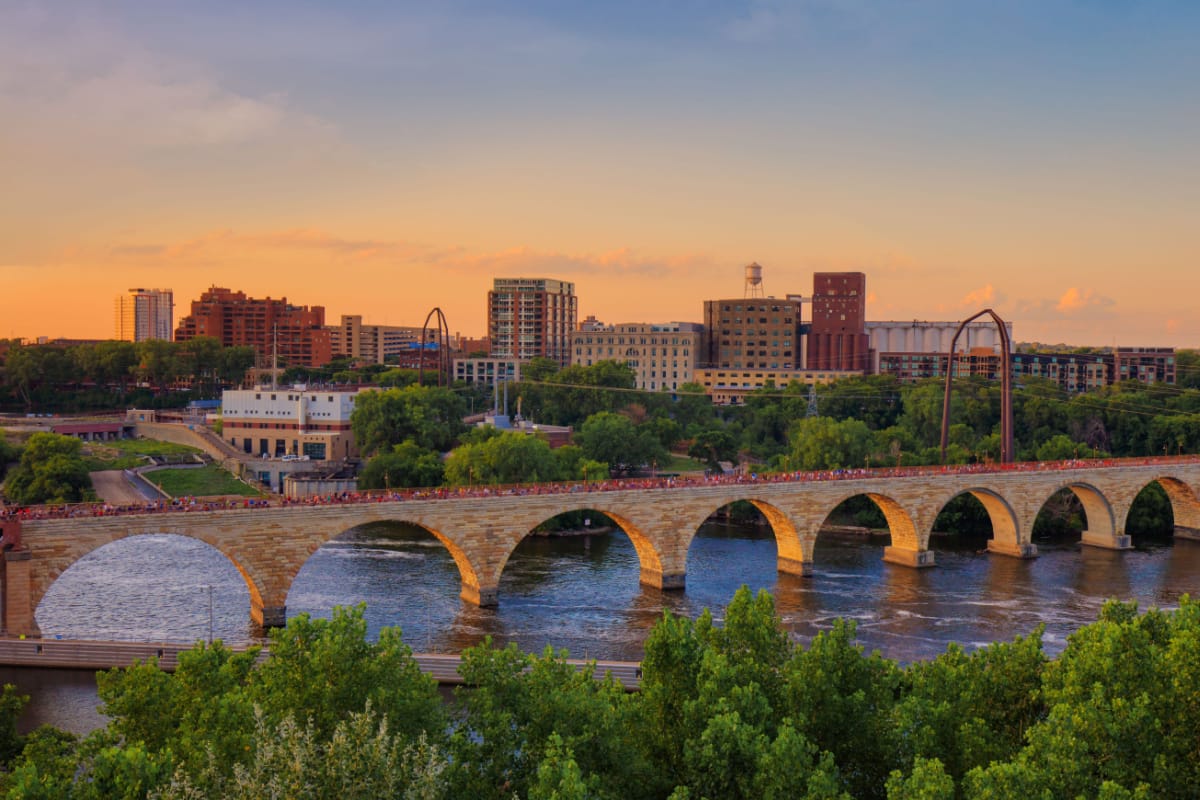 It offers one of the best places to watch the sunset in the city. Admire the views of the Minneapolis and St. Paul skylines and watch the sun sink beyond the horizon.
Watching the sunset is one of the best ways to end a busy day exploring until you're ready to get back to it on day two!
Address: 100 Portland Ave, Minneapolis, MN 55401
Weekend in Minneapolis: Day 2
While you've done a few of the best activities in the Minneapolis area, there are plenty more fun things to do for your weekend in Minneapolis on day two!
Take a Morning Walk at Minnehaha Falls
Start your morning at Minnehaha Regional Park, where you'll find one of the most popular waterfalls in the entire state of Minnesota.
Minnehaha Falls has a 53-foot drop and is surrounded by tall cliffs and has a large cave behind it. There aren't many waterfalls close to Minneapolis, so it's a must-see!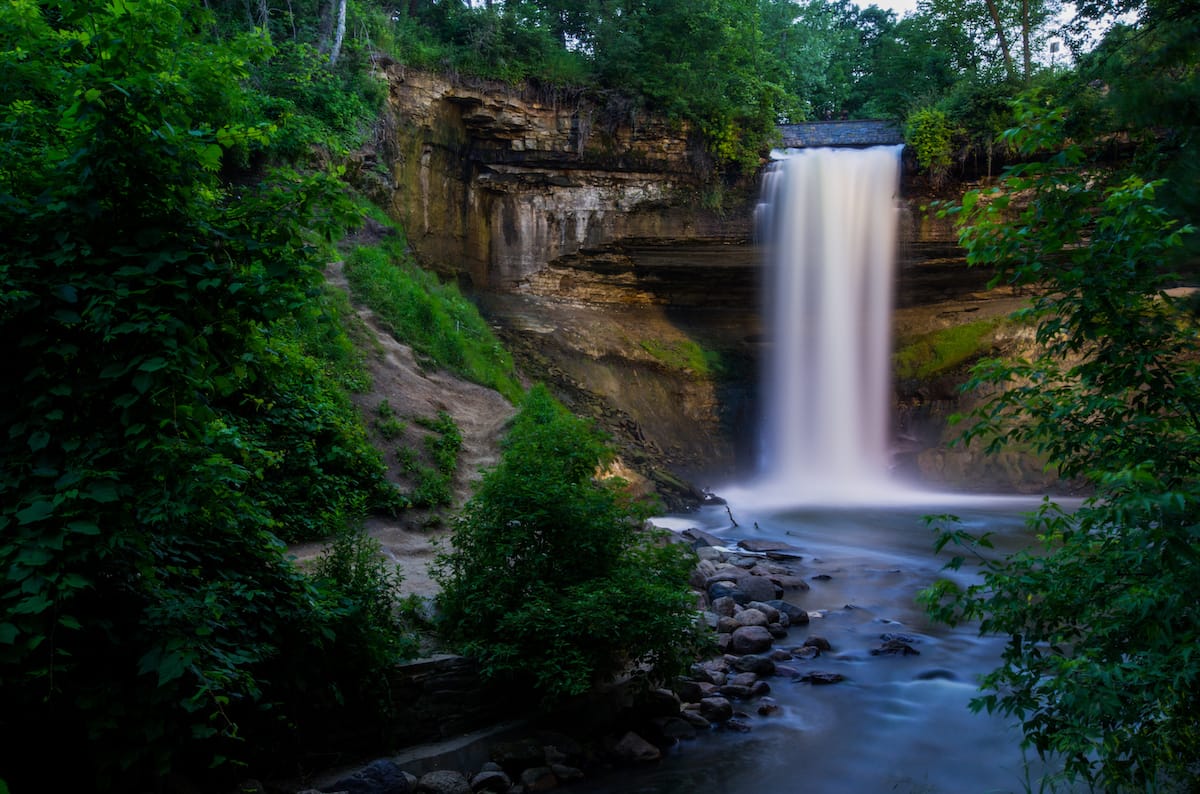 To reach the waterfall, it's just a short walk from the parking lot, but there are several other trails around the area that are perfect for walking on.
During the middle of the day, the waterfall can be very busy. But if you plan your visit in the morning, you'll encounter a lot fewer visitors, making your time more enjoyable!
Visit the Minneapolis Farmers' Market
While only open during the summer months, a trip to the Minneapolis Farmers' Market makes the perfect way to spend a Sunday morning visit.
Whether you're searching for some fresh produce from local farmers or a handmade souvenir to bring home, there is plenty to see.
It's the largest open-air market in the Midwest, and features goods from over 150 vendors, each having its own unique products.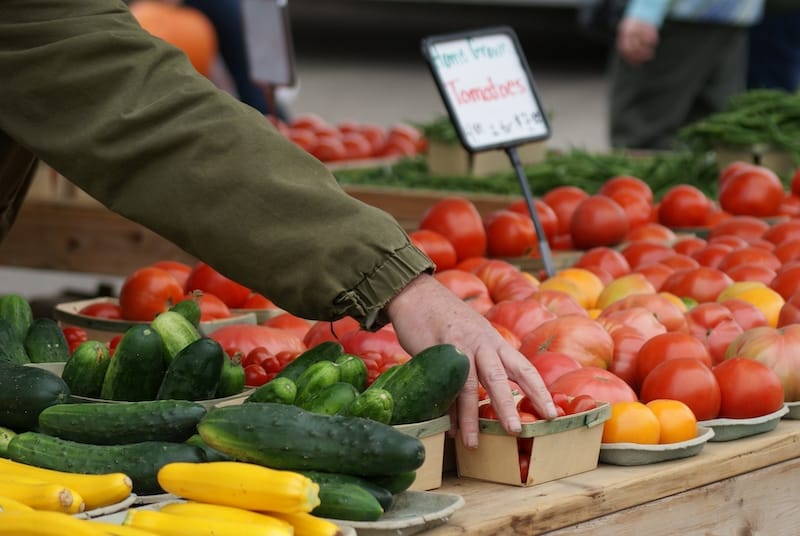 For the best chance at getting everything you're after, visit in the morning. But if you're just looking to wander around, any time of day is a great time to see the market.
Although it is smaller, there is also a winter market open on select days throughout the winter months.
Address: 312 East Lyndale Ave N, Minneapolis, MN 55405
See the Mill City Museum
Back in the late 1800s, Minneapolis was known as the 'flour milling capital of the world.' Today, you can visit a museum, located inside the ruins of what used to house the flour mills used back then.
Also located along the Mississippi River, the Mill City Museum showcases the history of this era and how the workers turned this into the best flour milling place in the world.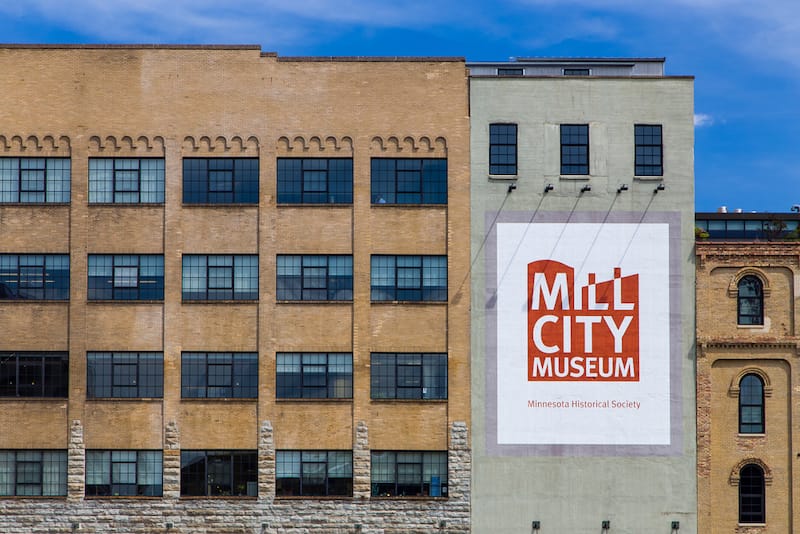 Through exhibits and labs, you'll get to experience the mill firsthand.
Address: 704 S 2nd St, Minneapolis, MN 55401
Visit St. Anthony Falls
Before heading a bit south of Minneapolis, check out one last thing along the Mississippi River waterfront.
St. Anthony Falls, years ago, was turned into a power source for St. Paul and the surrounding cities.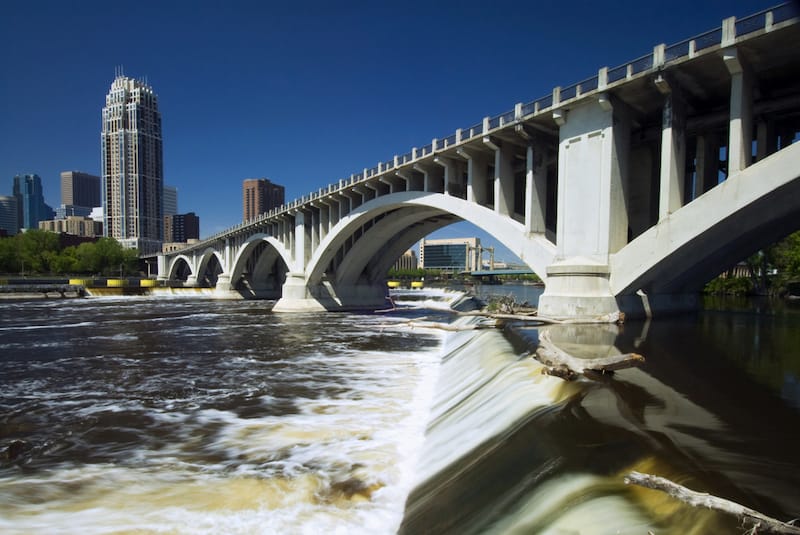 There is a 2-mile self-guided trail that loops around the area of the falls, which leads visitors past a visitor center and the falls.
To get the best views of St. Anthony Falls, head back to the Stone Arch Bridge, or to Water Power Park.
Shop at the Mall of America
One of the most popular things to do during a trip to the Twin Cities is to make a stop at the Mall of America.
As the largest mall in the entire country, you won't be shocked to find over 500 stores to shop at and over 50 restaurants to choose from.
There are four floors, three of which house the many stores, and the fourth is home to a movie theater and a few more restaurants.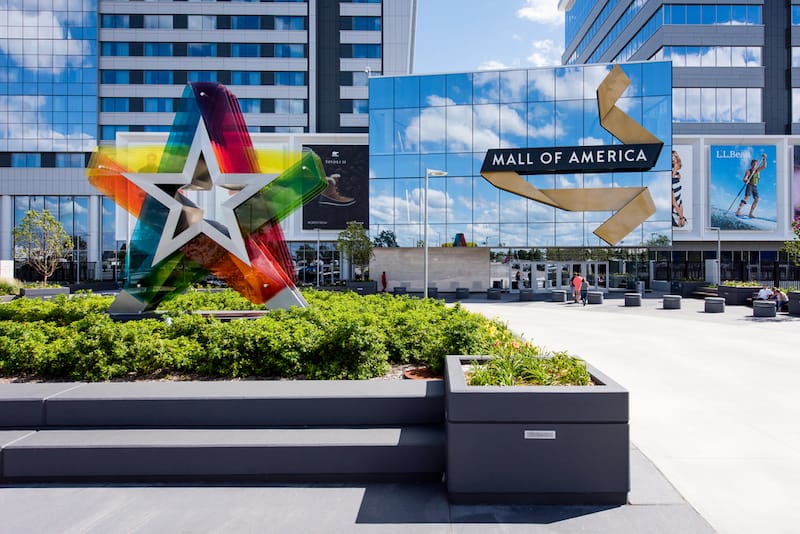 This giant mall is found in Bloomington, just 15 minutes south of Minneapolis.
Whatever you're on the hunt for, it's likely that you'll find it at the Mall of America.
Address: 60 E Broadway, Bloomington, MN 55425
More Than 2 Days in Minneapolis?
If you're lucky enough to have more than just one weekend in Minneapolis, then check out any of these extra activities to fill the rest of your schedule.
See a Show at First Avenue
First Avenue is the best concert venue in the Twin Cities area and has had some of the nation's top artists on the stage. In fact, it was one of the places where the famous artist Prince made a name for himself.
Along the side of the building, there are white stars, where you'll find the names of some of the biggest stars who've played here, including the Beastie Boys, Coldplay, and Macklemore.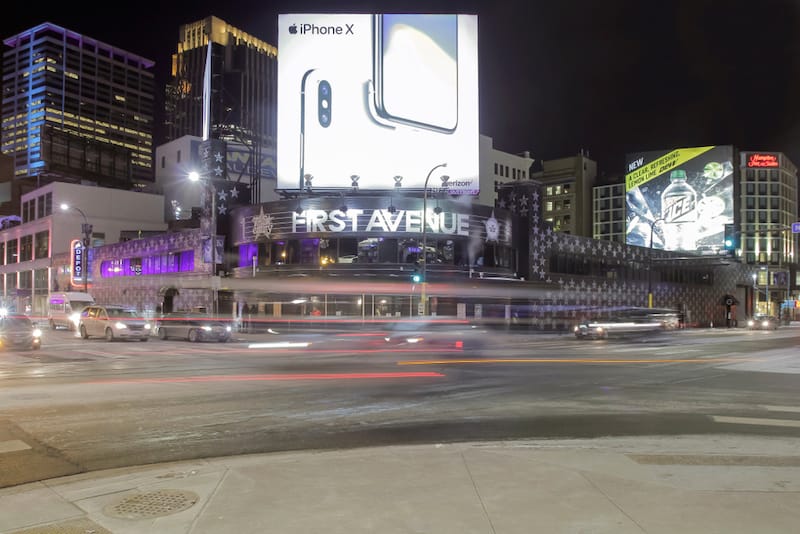 Concerts are hosted often here, so check to see if there's one that you're interested in!
Address: 701 N 1st Ave, Minneapolis, MN 55403
Ski or Snowboard at Afton Alps
As one of the best ski resorts in the area, if you're a skier or snowboarder, head to Afton Alps to fill more of your Minneapolis itinerary.
Afton is an Epic Pass resort, so it's a great resort for hanging out all day and coming on and off the slopes.
There are 50 runs to choose from, so whether you're a beginner or advanced, there will be a great run for you to check out.
If you're sticking around for a while, this is one of the best weekend getaways from Minneapolis!
See a Professional Sports Game
Minneapolis is home to multiple professional sports teams, so seeing one of their games during a visit is a great idea!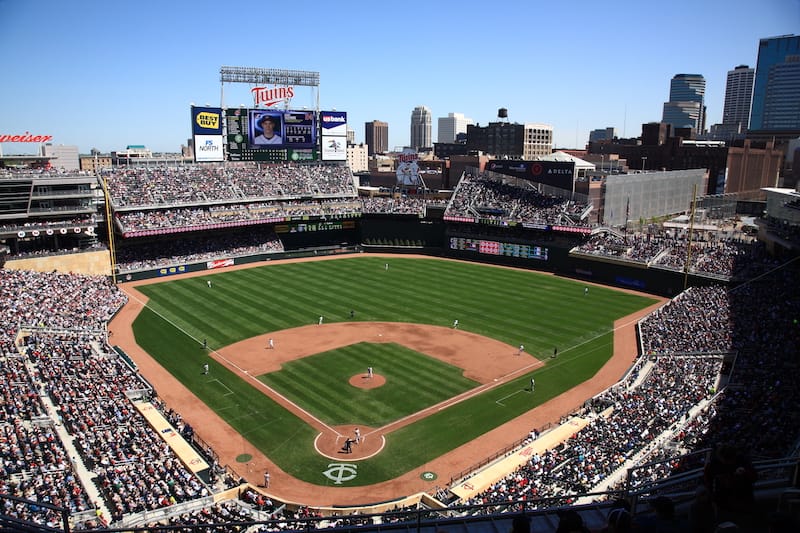 During the summer, the Minnesota Twins play at Target Field. The Minnesota Wild take the ice at the Xcel Center in the winter, and the Timberwolves play basketball at Target Center.
And if you're a football fan, then be sure to catch a Minnesota Vikings game at US Bank Stadium!
Recreate on the Local Lakes
Minnesota is well known for its lakes, in fact, it's called the Land of 10,000 Lakes!
So if you have some extra time, spend it recreating on one of the many lakes in the Twin Cities area.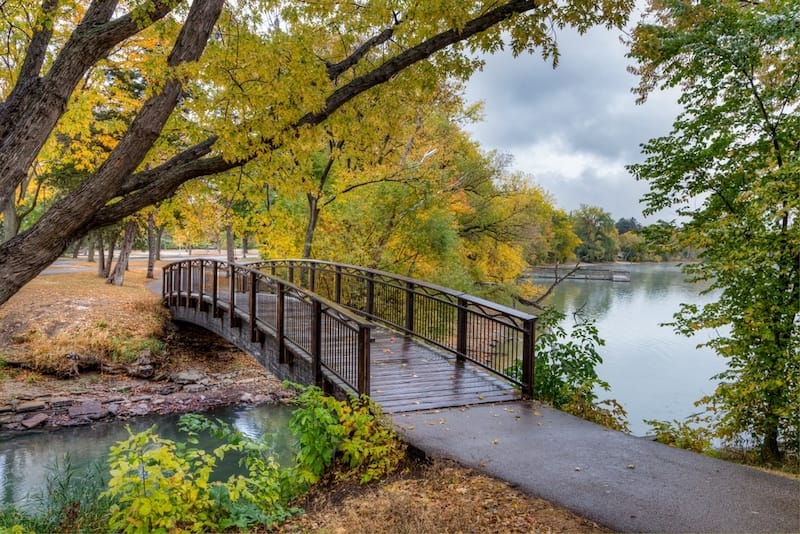 There are plenty to choose from, but among the most popular are Lake Nokomis, Bde Ska Ma, Lake Harriet, and Lake Minnetonka.
You can rent kayaks or paddleboards near many of the lakes, boat rentals are also available, or you can just spend time swimming or lounging on the beach.
Visit Minnesota's State Parks
Even in the large Minneapolis city, there are several state and regional parks to check out for spending time outdoors. And, some of these are considered the best places for a weekend break in the state!
Hikers will love getting out on some of the trails at Theodore Wirth Regional Park and Fort Snelling State Park, both of which are right in Minneapolis.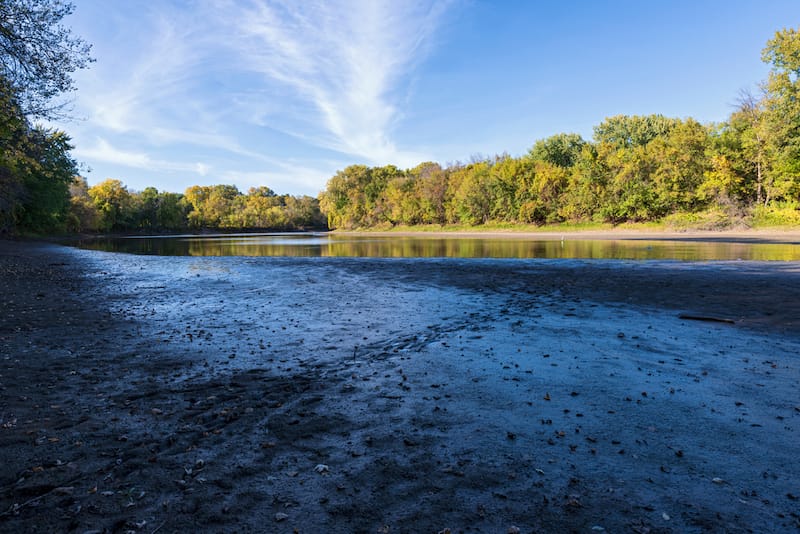 If you're up for driving a bit further, Afton State Park, William O'Brien State Park, and Interstate State Park all offer great hiking and opportunities to get outside.
Enjoy a Show at the Guthrie or Orpheum Theaters
One of the best ways to spend a rainy day is by staying indoors and watching a show at the Guthrie or Orpheum Theaters.
These two theaters produce some of the best Broadway shows in the Midwest, offering tickets to both local shows and touring productions.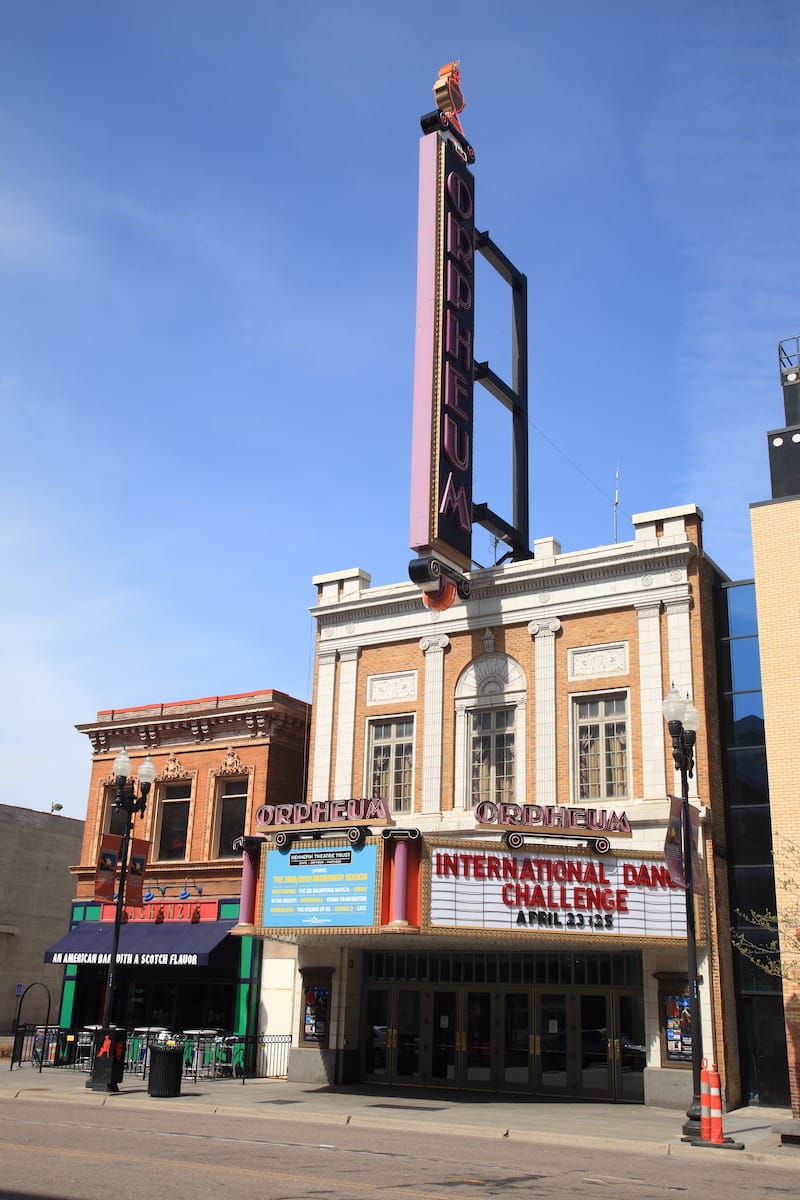 Some of the most popular touring Broadway shows have taken the stage here, including Wicked, Phantom of the Opera, and Beauty and the Beast.
If you're interested in theater, this is the place to be!
Best Time to Visit Minneapolis
While Minneapolis is great any time of the year, there's no doubt about it that summer is a better time to visit than winter.
Because of Minnesota's harsh and cold winters, it's best for visitors to plan their stay during the summer (June through August).
Temperatures during these months typically stay between the mid-60s and the mid-80s with minimal rain. The sun is also out most days.
Plus, there's no snow during the summer, which is a huge bonus in Minnesota!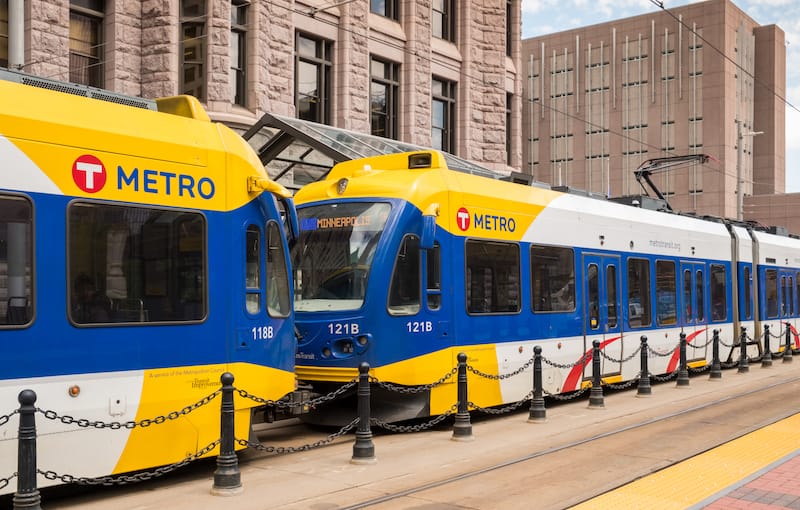 Where to Stay in Minneapolis
When you're done exploring for the day and are ready for some rest, head to one of these great hotels in Downtown Minneapolis.
Millennium Minneapolis
This beautiful hotel is located close to downtown Minneapolis, within a short distance of some of the best activities. It has a swimming pool, an on-site restaurant, and great views of the Twin Cities skyline.
>> Click here to check rates and availability
Hilton Garden Inn
This pet-friendly hotel offers free breakfast, a swimming pool, and easy access to much of downtown Minneapolis.
>> Click here to check rates and availability
Did we miss any amazing places on this weekend in Minneapolis itinerary?
Let us know your tips for spending 48 hours in Minneapolis!
More Minnesota Travel Guides
Pin this Minneapolis Itinerary