Let's be honest, we are all impressed by a beautiful waterfall. And, thankfully, there are several mind-blowing waterfalls in California worth gawking over!
This is a list of the best California waterfalls – from Yosemite and beyond! Let us know some of the best waterfalls in California that you have visited in the comments!
Waterfalls in California Map
To add this map to your Google Maps account, click the 'Star' icon next to the map name. You can then view it on your cell phone or computer by heading to your Google Maps account, click the menu and add it to 'Your Places'.
Best California Waterfalls – The List
Yosemite Falls
Location: Yosemite National Park
Height: 2,424 feet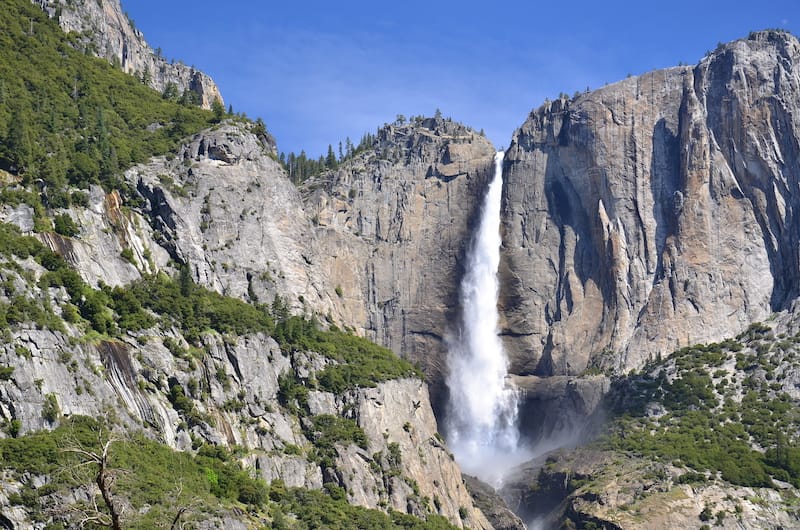 Yosemite Falls is the most famous waterfall in California and it is recognized around the world! It has a total height of 2,424 feet and is the tallest waterfall in North America and the 20th tallest in the entire world!
The waterfall in Yosemite National Park is located at the cliff of Mount El Capitan. It really is one of the best day hikes in Yosemite!
During the summer months, travelers will see a very weak waterfall and the bare rock behind it. However, from December until April, the power of this waterfall is noticeable and will blow your mind!
The noise of the waterfall can be heard from miles away and it is always said that this is the world's most melodic waterfall. I think it might be true!
Another phenomenon that Yosemite Falls is known for is the Firefall. This occurs only for a short period of time throughout mid to late February and it happens when the sun hits at the perfect angle. The time frame that this usually happens is around February 17-19, but it can occur a week before or after.
Please note that to visit during Firefall, you usually will need a special permit as visitors may be limited during the event. This is one of the most famous waterfalls in the United States!
Brandy Creek Falls
Location: Whiskeytown
Height: 25 feet (has multiple cascades)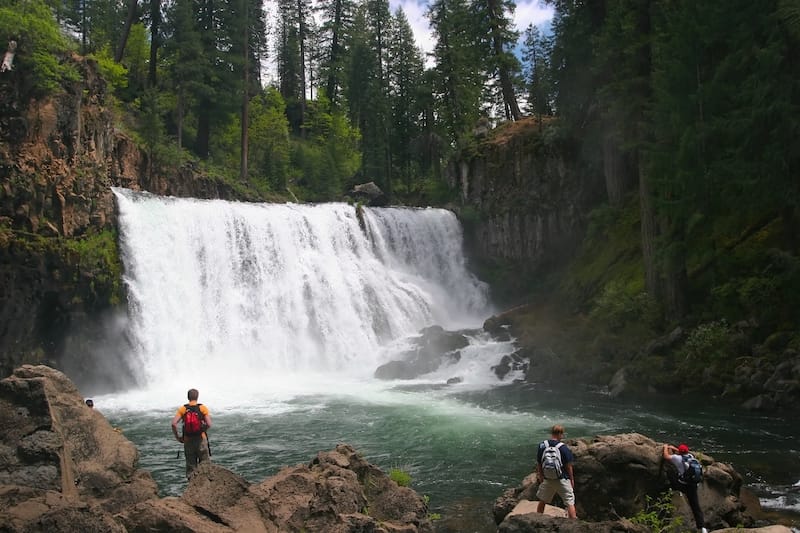 Whiskeytown is home to another great California waterfall called Brandy Creek Falls. The falls are unique and a hike will lead you to five different pools and multiple sections of it that form what is called 'Brandy Creek'.
While the waterfall is not that high, the multiple cascades make it definitely worthwhile. Altogether, the stream drops around 100 feet. This is a fantastic 1.5-mile hike in CA during the summer and autumn.
Click here to read more about the waterfalls of Whiskeytown.
Alamere Falls
Location: Point Reyes National Seashore
Height: 40 feet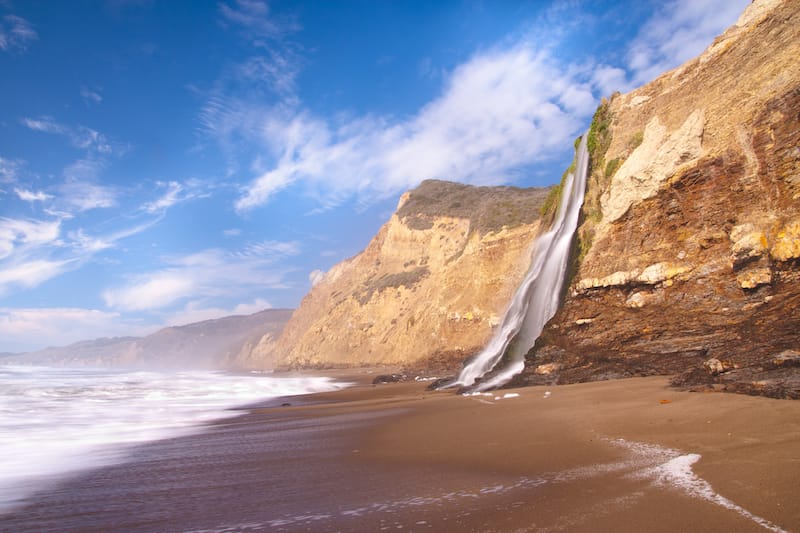 Alamere Falls is a natural wonder that can't be compared to any other waterfall in California. It is a waterfall that falls directly into the ocean and is a sight for all to see! These types of waterfalls are called 'tidefalls'.
Therefore, it is not surprising that Alamere is the only waterfall in California at the foot of which fur seals have set up a rookery. The most active season at Alamere is from December to May so be sure to plan your trip there accordingly!
During this period, the stream is truly blustery, and the rock transforms into an emerald tone because of the quirks of the water. The height of the waterfall is 40 feet. This is a perfect day trip if you've got a weekend in San Francisco or the Bay Area!
McWay Falls
Location: Julia Pfeiffer Burns State Park
Height: 25 feet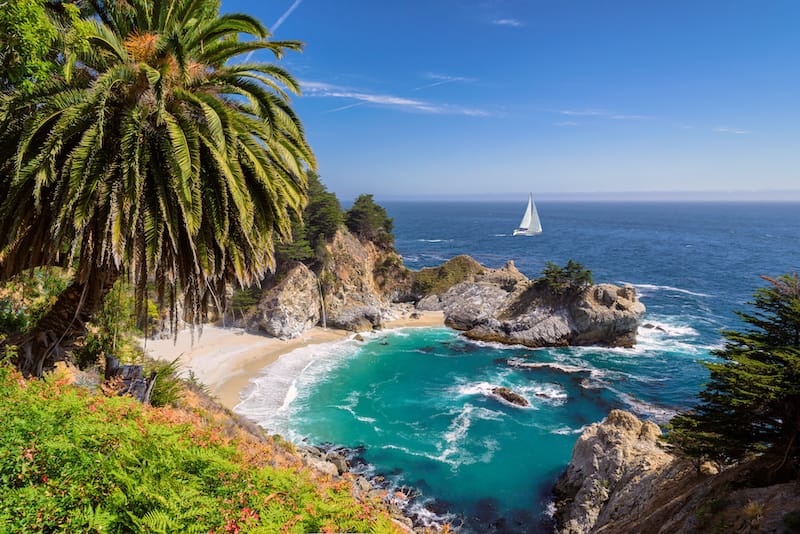 McWay Falls is another one of the tidefalls in California that you must put on your itinerary! It is located in Julia Pfeiffer Burns State Park in Big Sur in an area that remains green all year round. It is one of the best things to do in Monterey if you're looking for a day trip!
It truly is one of the best honeymoon or anniversary trip ideas as it will leave you with everlasting memories (I mean – just check out that scenery)!
The secret is that both the Mcway waters and the trees in that area are fed by a large underground river. McWay Falls tumbles off a cliff into a beautiful bay with sandy beaches, but… tourists are restricted as it is deemed too dangerous to be climbing around on and underneath.
Rocks are continually falling and ending up on the beach below. However, you can admire both the paradise beach and the once residential and luxurious "House by the Waterfall" from the observation deck.
Escondido Falls
Location: Malibu, CA
Height: one tier is 50 feet and the other is 150 feet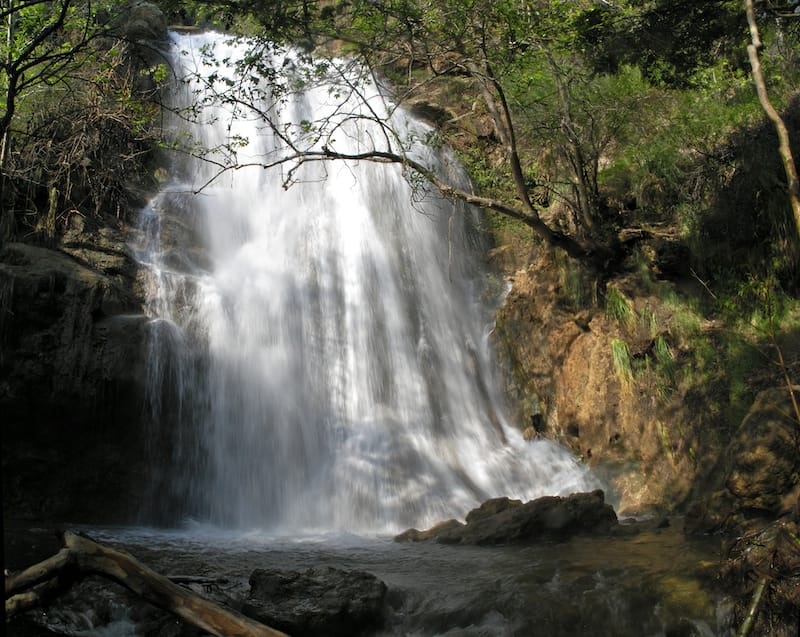 Escondido Falls is the tallest waterfall in the Santa Monica Mountains and has one of the best waterfall hikes in California. A relatively easy two-mile walk takes you from the Pacific Coast Highway to a tranquil waterfall nestled in a lush oak canyon (please note the 2 miles is only one way).
It starts along a winding road, turning into a canyon and crossing a stream a couple of times before arriving. The cascade consists of two levels, one of which is easy to hike to and the other is not. It is a more seasonal waterfall, so it is at its peak during the rainy season or after a storm.
Cedar Creek Falls
Location: Ramona, CA
Height: 80 feet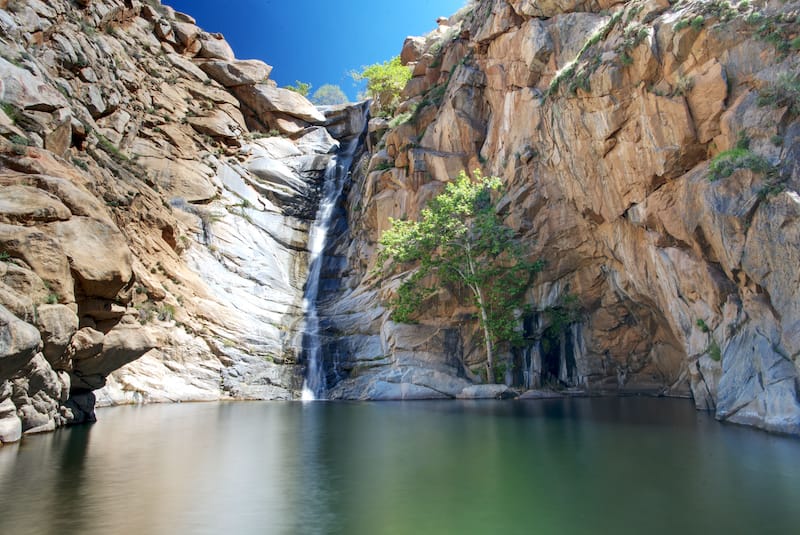 This 80-foot breathtaking waterfall falls into a swimming pit called the Devil's Punch Bowl. The nearly three-mile hike (one way) takes you through the Chaparral Hills and is quite strenuous as it is all downhill.
As you descend into the valley, the temperature rises by about ten degrees, so you should be prepared. There is, however, a shaded area where you can cool off. There is no diving or cliff jumping, but swimming is permitted.
Cedar Creek Falls is more of a seasonal waterfall so it may not be powerful (or even present) during the dry season.
Roaring River Falls
Location: Kings Canyon National Park
Height: 25 feet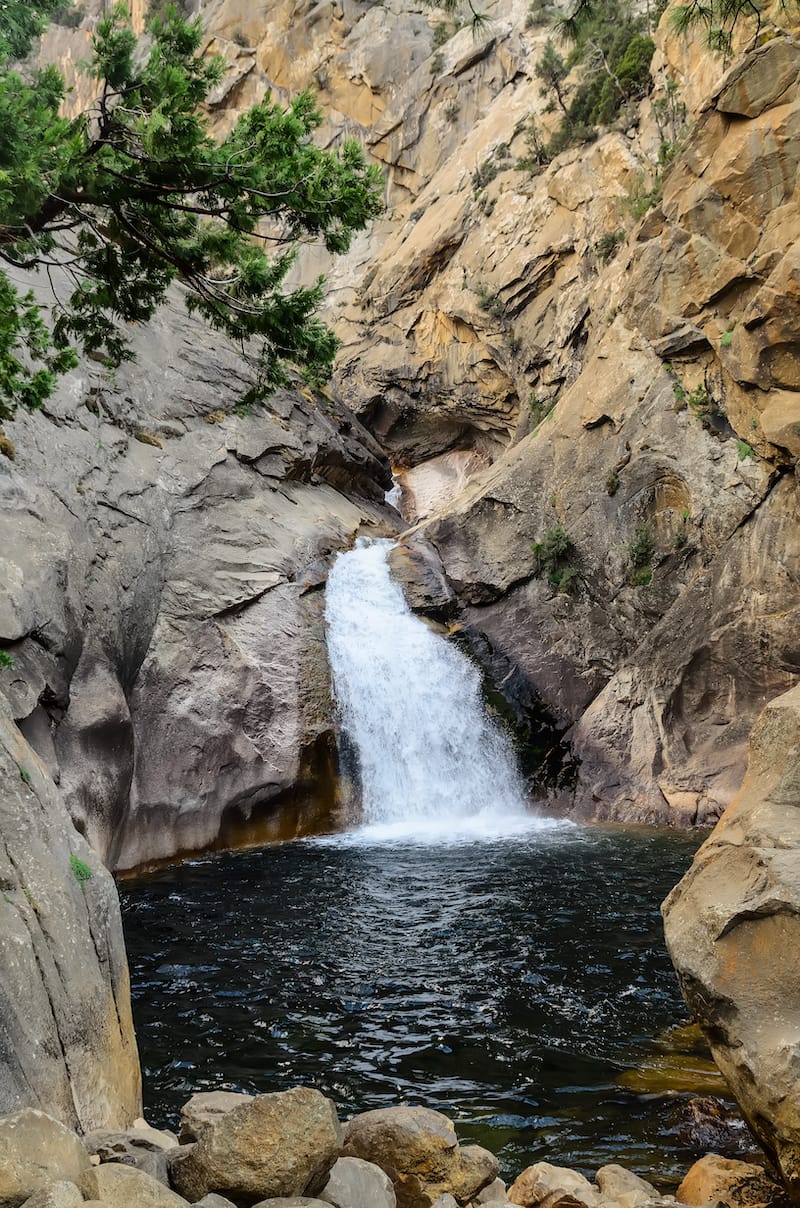 Roaring River Falls gradually sinks as it flows from south to north through Kings Canyon National Park, a fantastic California national park that is located beside beautiful Sequoia National Park.
It then flows south of King's River, but not before making its last leap across Roaring Falls. Access is very easy, requiring only a short walk from the paved trail off Highway 180 (approximately 0.3 miles).
For this reason, it is a popular stop for visitors to Kings Canyon. However, access to it is only possible when Highway 180 is open. If you're looking for cozy cabins near Kings Canyon and Sequoia, there are plenty available.
Vernal Falls
Location: Yosemite National Park
Height: 317 feet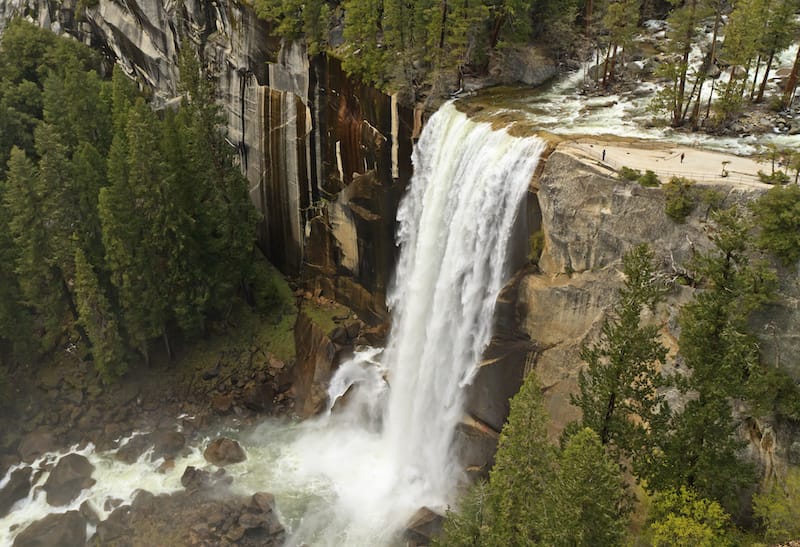 Vernal Falls is located on the Merced River inside of Yosemite, one of the most popular national parks in the US. From the main part of the local valley, Vernal is not accessible to the eye, but it opens up in all its glory from a road located near the nature center where you will turn to head there.
The trail leading to Vernal Falls is very rocky and sandy, but it is still a fairly easy hike to get to the California waterfall. You can visit Vernal Falls year-round. However, at the end of summer, the waterfall is noticeably less powerful.
Feather Falls
Location: Plumas National Forest
Height: 410 feet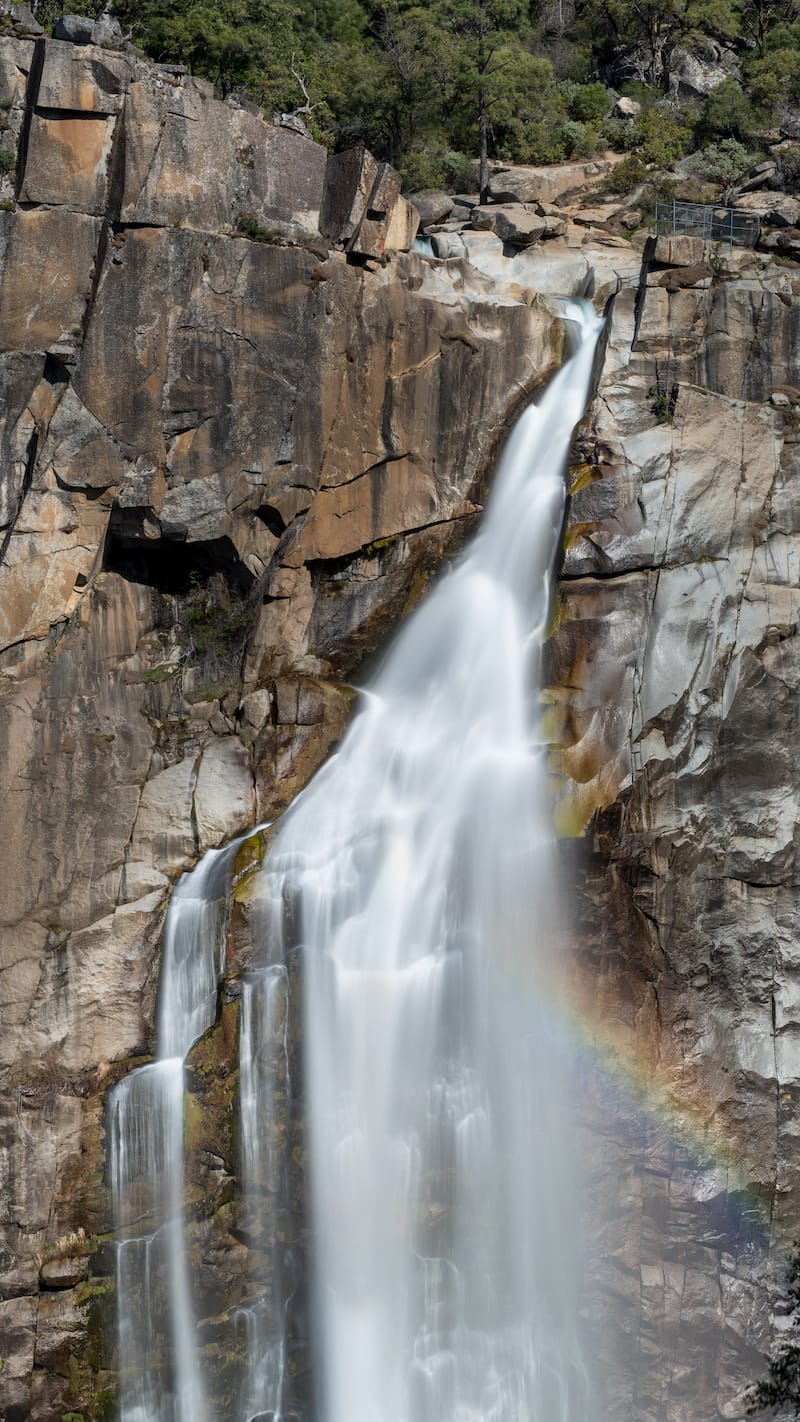 Feather Falls is one of the most awe-inspiring waterfalls in California. It is 410 feet high.
One interesting thing about this waterfall is that it isn't extremely accessible without a nice hike from one of two trails that lead there. However, you can view it from the middle arm of Lake Oroville.
One unique and cool fact about Feather Falls is that the area at Frey Creek is a migration stopping point for millions of ladybugs! So, if you're heading there in the winter (around November to March), be sure to stop and say hello!
Burney Falls
Location: McArthur-Burney Falls Memorial State Park
Height: 114 feet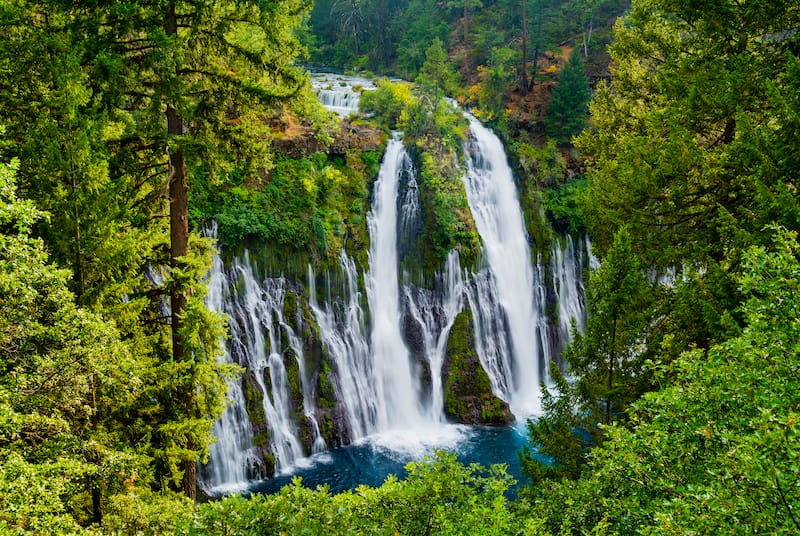 Burney Falls is around 114 feet in height and may seem small compared to other famous waterfalls in California, but it is no less impressive!
With 100 million gallons of water falling down the falls every day, even in the middle of a dry summer, it truly is one of the most beautiful places to visit in northern California.
After seeing the falls, you can camp in the park and then hike in the surrounding forest. However, you will have to plan such a trip in advance.
On holiday and summer weekends, the park is almost completely filled with tourists, and parking lots are closed (April – October). You can find how to reserve a place in the California State Park on the internet. It is advised to do this at least 6 months before the visit.
Kings Creek Falls
Location: Lassen Volcanic National Park
Height: 70 feet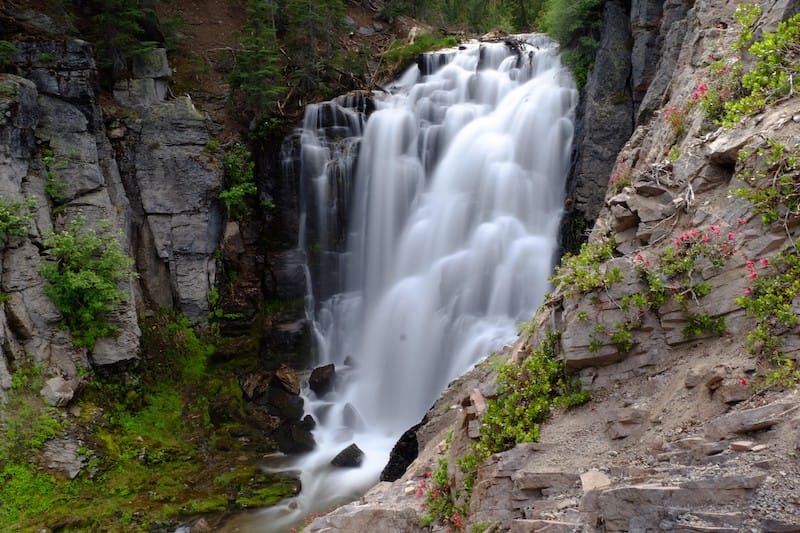 Kings Creek Falls is very popular with photographers and tourists. This beautiful waterway begins lazily as a small, winding stream in Lassen Volcanic National Park, one of the most underrated parks in the US, and then turns into a collapsed waterfall.
You will need to choose one of two trails for your hike to the falls – the Horse Loop or the Cascade Trail. The Horse Loop is longer and less steep, with great views, while the Cascade Trail is steeper and descends with rocky steps and across boulders. It offers a magnificent view of the cascades.
Grizzly Falls
Location: Sequoia National Forest
Height: 80 feet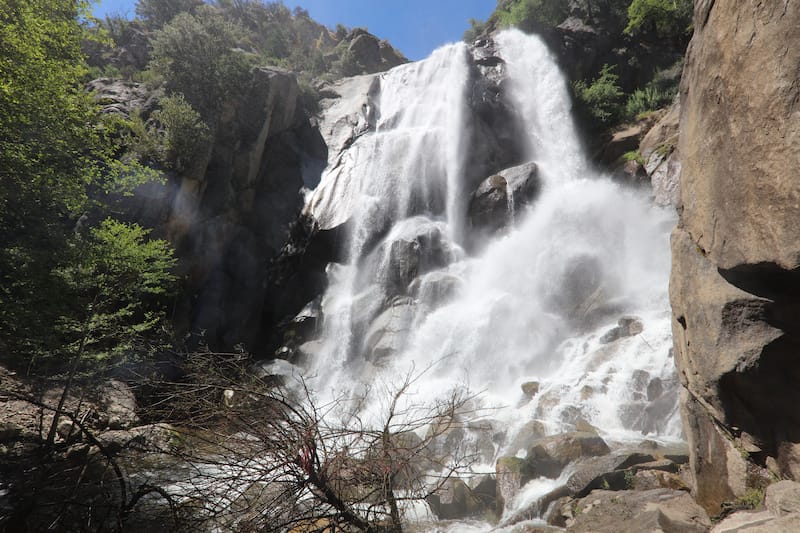 Found just west of Kings Canyon National Park inside of Sequoia National Forest, Grizzly Falls has a stunning cascade and is the perfect picnic spot where Grizzly Creek flows into the Kings River.
This area offers a scenic stretch of the wild river and a great place to relax. Water flows from Lake Grizzly and falls 80 feet below the cliff.
The lake is a great camping site and offers views from the 2,000-foot granite wall that sits in the lake. The hike is fairly short, about 0.1 miles.
Sturtevant Falls
Location: Angeles National Forest
Height: 50 feet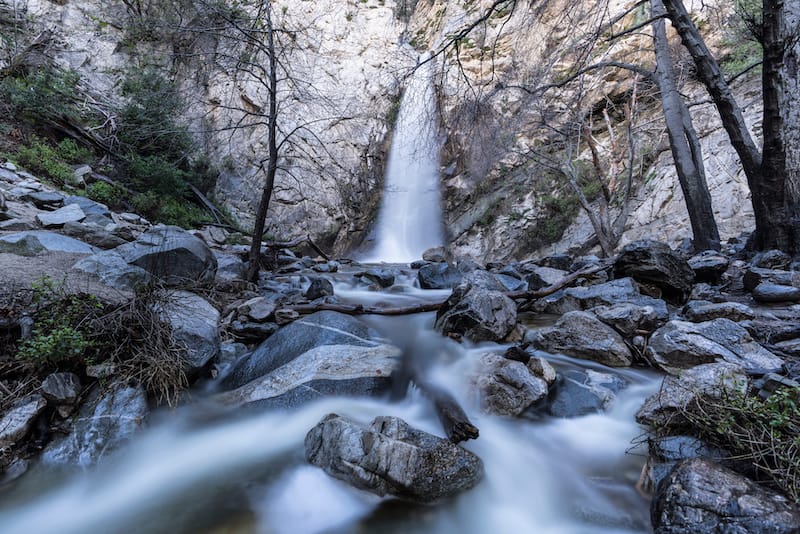 The trail to reach Sturtevant Falls, located in Santa Anita Canyon, is one of the best waterfall hikes in Southern California. After a long day in the forest, nothing is more scenic than a cascade of water falling from 50 feet above!
The 3.2-mile hike (round trip), which starts from the Trailhead Chantry, is pretty easy. For city dwellers, this is a great opportunity to take a break from the bustle of the metropolis amidst the picturesque nature.
Beware of parking in and around the area at the trailhead – it can be packed, so be sure to get there early.
Eaton Canyon Falls
Location: Eaton Canyon near Pasadena, CA
Height: 40 feet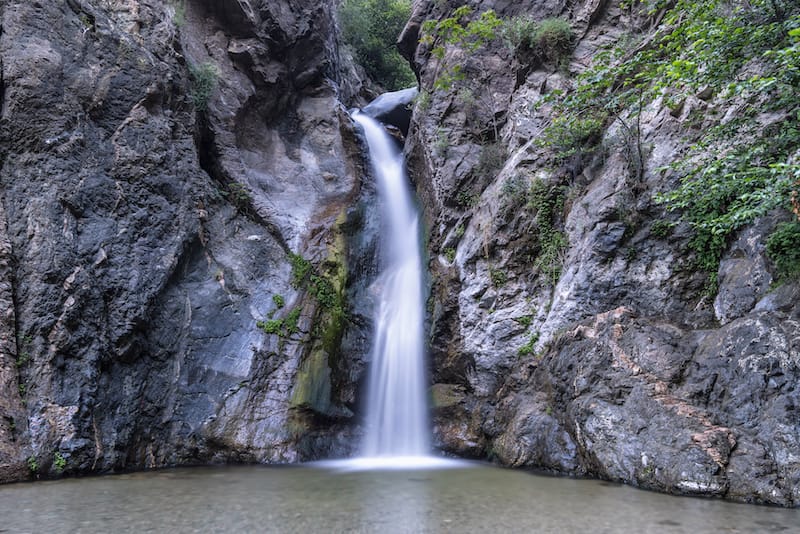 This "charming all year" waterfall is found outside of Pasadena, making it a popular local fascination. The trail begins at the Eaton Canyon Nature Center through an open area and then follows the east bank right into the mouth of the gorge.
Just walk past the bridge and follows the stream, crossing it a couple of times. About a half a mile from the canyon, the trail ends at stunning Eaton Canyon Falls. If you have some extra time, the Eaton Canyon Nature Center is full of the region's natural history.
Tueeulala and Wapama Falls
Location: Yosemite National Park
Height: varies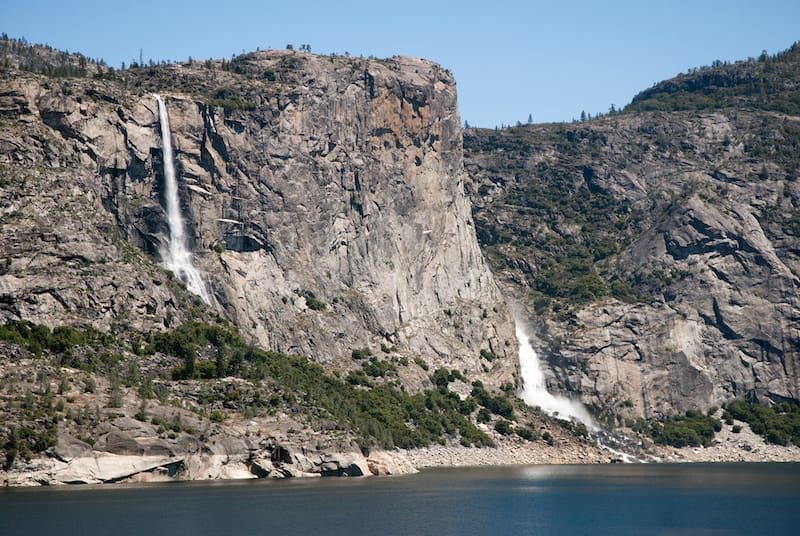 Tueeulala Falls is located in the northern part of the Hetch-Hetchy Valley in Yosemite National Park and is 880 feet tall. There is no path to the upper part of Tueeulala, but those eager to climb can easily climb even in the absence of a path.
Only this route will take the traveler as close as possible to the roaring Wapama Waterfall. In the spring, after the snow melts, the waterfall rages so violently that the special service of the national park is sometimes forced to close this section of the trail!
What are your favorite waterfalls in California? This list could go on forever (you can see a list of the ones that exist in CA here), so please let us know the best California waterfalls we failed to mention! Thanks!
More California Travel Resources
Pin This Waterfall Hikes in California Guide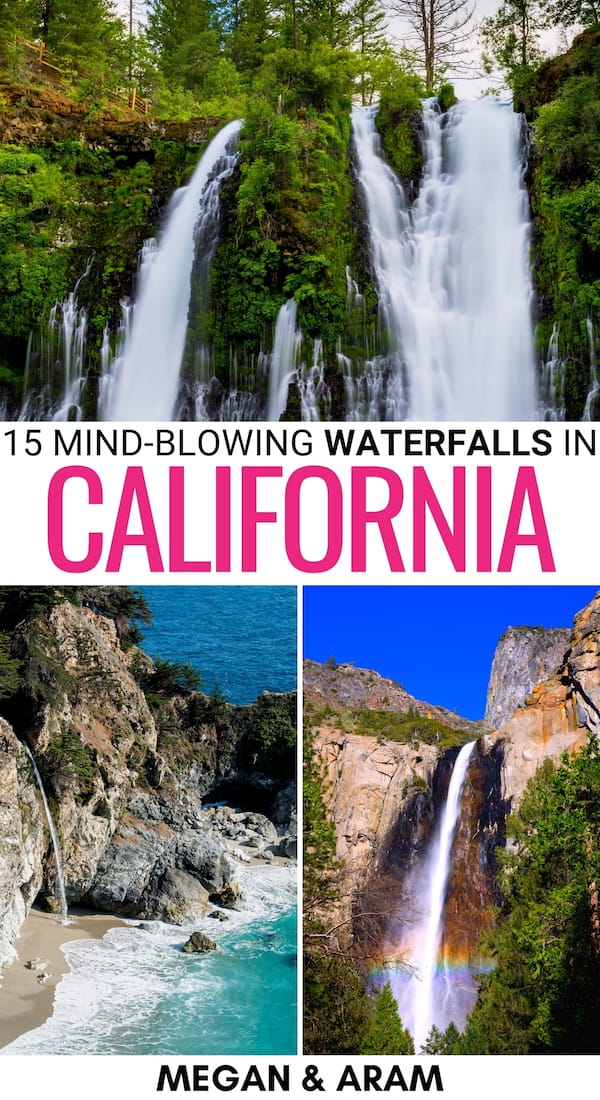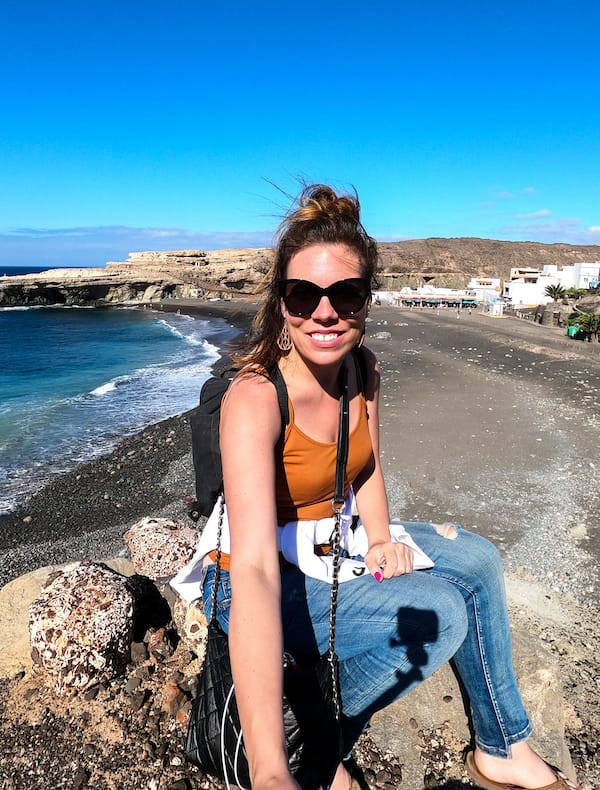 Megan is a travel blogger and writer with a background in digital marketing. Originally from Richmond, VA, she now splits her time between Frankfurt, Germany and Arctic Finland after also living in Norway, Armenia, and Kazakhstan. She has a passion for winter travel, as well as the Nordic countries, but you can also find her eating her way through Italy, perusing perfume stores in Paris, or taking road trips through the USA. Megan has written for or been featured by National Geographic, Forbes, Lonely Planet, the New York Times, and more. She co-authored Fodor's Travel 'Essential Norway' and has visited 45 US states and 100+ countries.