Are you looking for the best weekend trips from Pittsburgh, Pennsylvania? This guide has you covered!
Are you planning your trip to/from Pittsburgh last minute?
If youʻre booking your trip to/from Pittsburgh last minute, we have you covered. Below are some of the top tours, hotels, and more!
Top Experiences and Tours in Pittsburgh:
Essential Pittsburgh Experience (bestseller!)
Bike the Burgh Tour (bestseller!)

Top Hotels in Pittsburgh:
Hampton Inn (mid-range)
Morning Sun Inn (budget)
You may not know this, but I'm originally from west of Pittsburgh (on the Ohio side of things). I was born there, my extended family still lives there, and it truly is the place in the US that feels the most like home despite growing up in Virginia.
Before I moved to Europe, I actually lived in southwest Ohio, but I would still make regular drives to the Pittsburgh area to see my grandparents and go into the city (or to a Steelers game).
I also love that there are so many amazing things to do in Pittsburgh that I never got bored!
And, one thing I noticed when I would drive around the area was how many unique places existed and offered fantastic day and weekend trips from Pittsburgh.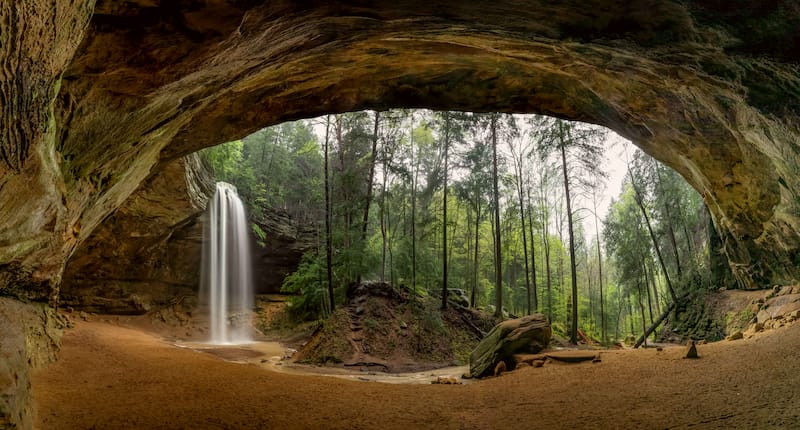 Many of these weekend getaways near Pittsburgh are obvious ones, like Erie or Columbus, Ohio… but others are a bit lesser-known for someone who is not from Western Pennsylvania or Eastern Ohio.
We also left out Philly. While there are some amazing things to do and museums in Philadelphia, there are some fantastic choices that are closer that we opted for instead!
Some of the trips are quite some driving distance and better for three-day weekends (or longer) and some of them are a very short distance and can be done as a day trip from Pittsburgh if you ultimately choose to do so.
We hope that you have found some inspiration from these Pittsburgh weekend trips and please let us know in the comments what your favorite Pittsburgh weekend getaway is!
Weekend Getaways near Pittsburgh – Map
To add this map to your Google Maps account, click the 'Star' icon next to the map name. You can then view it on your cell phone or computer by heading to your Google Maps account, click the menu and add it to 'Your Places'.
Best Pittsburgh Weekend Trips
Below, you will find some amazing Pittsburgh weekend trips, including reasons to visit each destination, how long it takes to get there, and some of the top things to do in the place.
Salt Fork State Park (Ohio)
Distance: 95 miles
Driving Time: 1 hour 41 minutes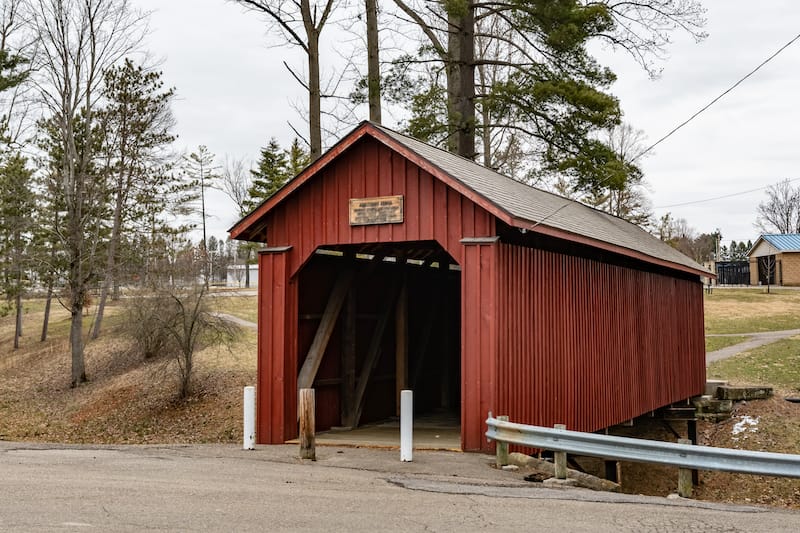 Beautiful Salt Fork State Park is a nature haven just a quick trip away from Pittsburgh. The park is filled with beautiful landscapes, such as meadows, valleys, forested hills, and winding streams.
Salt Fork State Park is Ohio's largest state park, with over 17,000 acres of land. You can follow the extensive hiking trail network across the park for an enjoyable day outdoors.
I actually used to intentionally detour onto this country road to take the 'scenic' route to go visit my grandparents and that is when I first discovered this gorgeous Ohio park. It is perfect for a day trip, an overnight, or a weekend getaway.
If you want to spend more than just a day at Salt Fork, there are several accommodation options, including cabins, campgrounds for RVs or tent camping, and a lodge with amenities such as indoor and outdoor swimming pools, sauna, tennis, volleyball, basketball courts, a swimming beach, and a boat dock on the large lake.
Besides hiking in the park, you can go boating, horseback riding, practice archery, fish, golf, hunt, swim, and picnic.
In the winter, you can enjoy cross-country skiing, ice skating, ice fishing, sledding, and snowmobiling. This park is an amazing place for a getaway at any time of the year.
Hocking Hills State Park (Ohio)
Distance: 195 miles
Driving Time: 3 hours 24 minutes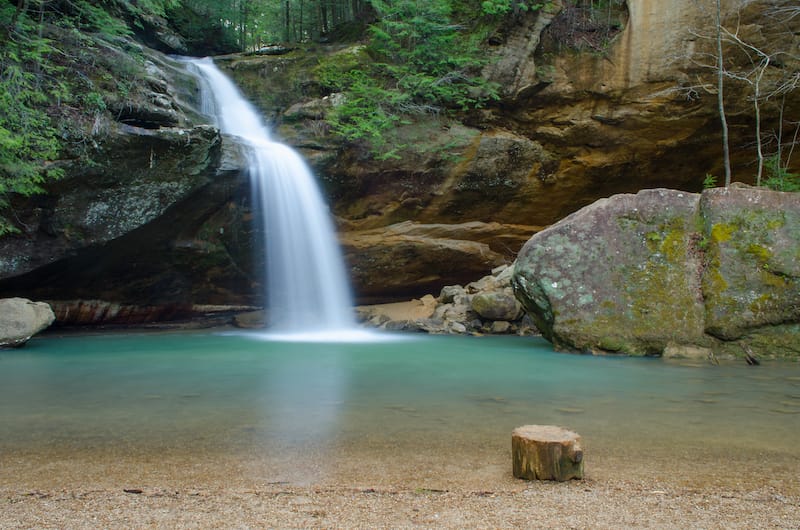 Hocking Hills State Park is packed with things to enjoy. See fall foliage turn color, take a guided wintry walk to look for owls, discover rushing waterfalls in the spring, and kayak in the summer.
There are plenty of activities to do all year round, whether you're looking for an adventure or a relaxing time. Hocking Hills has a visitor's center and a lodge, and it also hosts festivals and annual events throughout the year.
Outdoor activities available to visitors are hiking trails, several of which cross waterfalls, streams, and caves you can explore, as well as canoeing, kayaking, bicycling, fishing, boating, swimming, ziplining, climbing, rappelling, golfing, and horseback riding.
Some of the interesting sites you can discover are Old Man's Cave, Cedar Falls, Rock House, Cantwell Cliffs, and Ash Cave.
You can also enjoy the park for more than one day by staying there overnight, whether in a cabin or reserving a campsite.
Not only is this one of the best weekend trips from PGH, but it is also one of the best weekend getaways from Cincinnati and Columbus!
Shenandoah National Park (Virginia)
Distance: 205 miles
Driving Time: 3 hours 38 minutes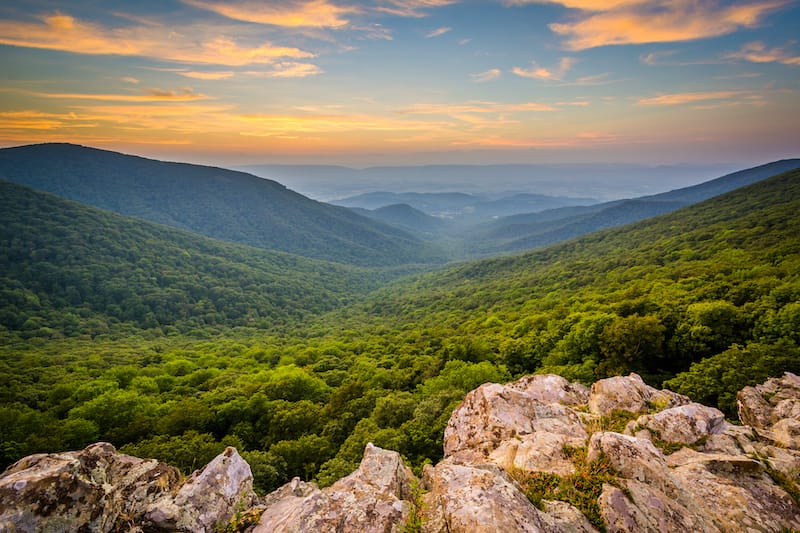 One of the most famous US national parks (and for good reason why!) is the beautiful Shenandoah National Park, located in the western part of Virginia in the mountains.
It has over 200,000 acres of land, full of meadows, wooded hollows, breathtaking vistas, waterfalls, woods, and wildlife.
For easy access to amazing views, drive along Skyline Drive. There are lookout points you can stop and marvel at the spectacular scenery.
There are many trails to hike in Shenandoah, including 101 miles of the Appalachian Trail. The hiking trails vary from easy to difficult, so make sure when you plan your visit to research what type of trail you'd like to hike.
There are also many of Virginia's best waterfall hikes located in the park.
For overnight stays, there are different campgrounds, cabins, and lodges available. The park is full of wildlife, including many bird species, deer, and black bears. Be vigilant while in the park and especially while camping; don't leave food out!
The park is also very pet-friendly, with most of the trails permitting pets. There are several visitor centers and way-side stops where you can find information from park rangers and get maps, food, supplies, and souvenirs.
Columbus (Ohio)
Distance: 185 miles
Driving Time: 2 hours 58 minutes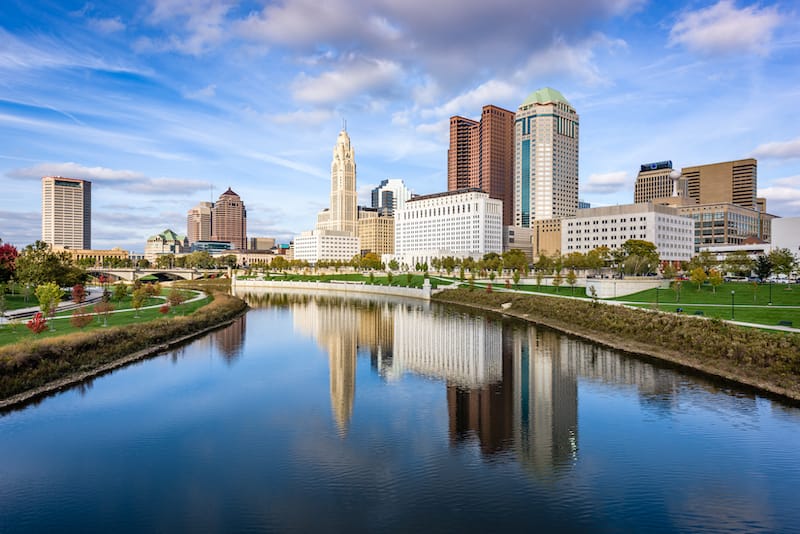 The capital of Ohio and the 14th-largest city in the United States, Columbus is an interesting city worth visiting. It has plenty of activities for people of all ages.
It is also home to The Ohio State University, my favorite university (and college football team) in the US.
Some popular things to do include visiting COSI, the Center of Science and Industry, which is a fascinating science museum with interactive, hands-on activities and a planetarium.
Stroll around the German Village Historic District to see the well-preserved houses from the mid-1800s. The Park of Roses is a beautiful park containing 11,000 roses of 350 varieties and is a lovely spot to take some photos.
Another place worth visiting if you're into art is the Columbus Museum of Art. If you want to explore the city from a different perspective, consider taking a segway tour to see the sights.
With many attractions and top-rated restaurants, Columbus, Ohio has plenty to offer both new and repeat visitors!
Hagerstown (Maryland)
Distance: 175 miles
Driving Time: 2 hours 45 minutes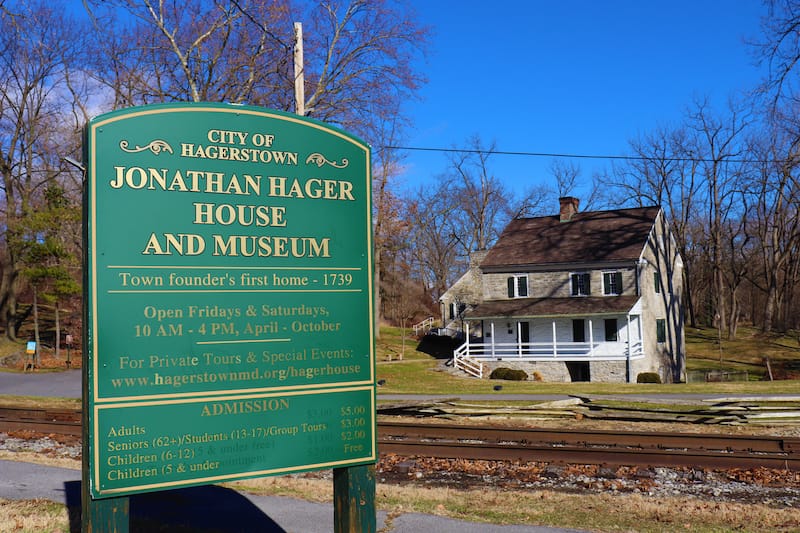 Hagerstown is an interesting city in Washington County, Maryland. It boasts an Arts & Entertainment District that has the Maryland Theatre and Performing Arts Complex, which is home to the Maryland Symphony Orchestra.
There is the beautiful Hagerstown City Park, which has the Washington County Museum of Fine Arts. Besides its great permanent collection, the museum has many exhibitions, events, concerts, and lectures.
You will also find part of the Appalachian Trail running through Washington County as well as several state parks, so there are plenty of opportunities for outdoor hiking and picnicking.
This area of the United States is full of historical sites from both the Colonial and Civil War eras. In Hagerstown specifically, you can find the Beaver Creek School Museum, which is a restored turn-of-the-century one-room schoolhouse.
You can also visit the Hagerstown Railroad Museum, which houses many tools and equipment railroad workers used every day.
If you're more into planes than trains, you can check out the Aviation Museum, which has photos, models, and information about the past 70 years of aviation in the area.
You can also visit the beautiful Jonathan Hager House Museum, the original home built in 1739 by the founder of Hagerstown. Hagerstown is one of the best weekend trips from Pittsburgh if you're looking for a cozy city vibe nestled in a natural setting.
Winchester (Virginia)
Distance: 190 miles
Driving Time: 3 hours 9 minutes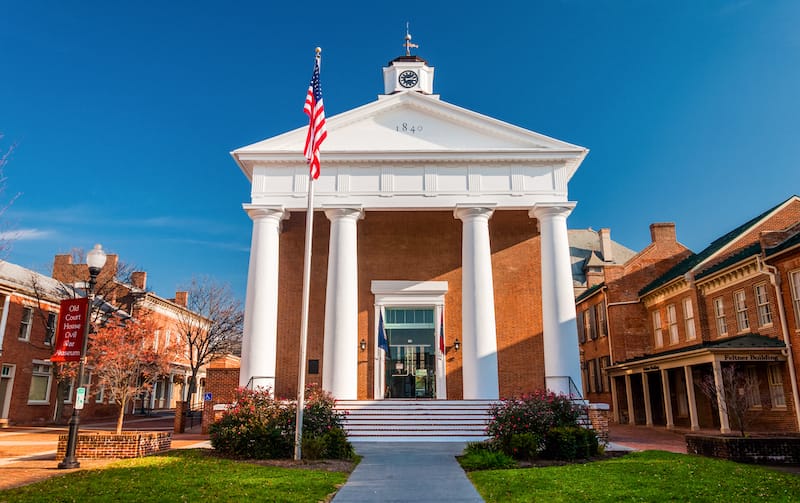 In northern Virginia, in the Shenandoah Valley, lies the town of Winchester. This small town boasts interesting sights to explore.
Wander the streets of Old Town, where famous figures like George Washington and Stonewall Jackson used to frequent.
The surrounding county has earned the title of the "Apple Capital of the World" and Winchester hosts the annual Shenandoah Apple Blossom Festival.
There are many things to explore in Winchester, such as museums, historical sites, vineyards, and farmers' markets.
Discover the Handley Regional Library; the building itself is a beautiful historical site and the interior, besides being a functioning library, is beautiful enough to go in and just look around. The library often hosts events so check out the schedule when you're in the area.
Other activities you can find around Winchester are horseback riding at a ranch, apple picking, visiting the Patsy Cline Historic House, visiting Stonewall Jackson's Headquarters, or taking the kids to Shenandoah Valley Discovery Museum.
There are many attractions to discover in Winchester, both modern and historical, making it a unique weekend getaway near Pittsburgh.
Monongahela National Forest (West Virginia)
Distance: 200 miles
Driving Time: 3 hours 38 minutes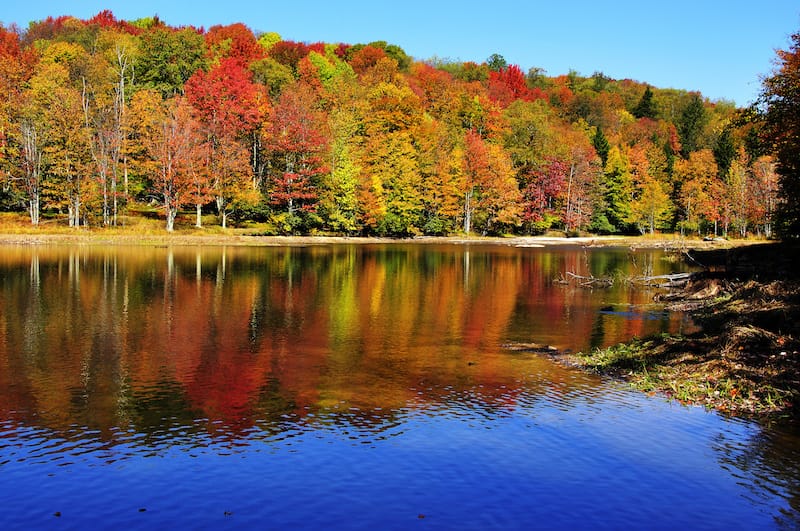 Located in the Allegheny Mountains in West Virginia, Monongahela National Forest is an 830,000-acre preserve. Hiking trails abound, and there are campgrounds where you can stay overnight.
Enjoy nature in the lush greenery, explore beautiful waterfalls, and see breathtaking views on ridges.
Some interesting things to see and do are the Dolly Sods hike, High Falls, Red Creek trail with views of the valley, and Bear Creek. The highest mountain peak in West Virginia, Spruce Knob, is located within the park.
Besides hiking, you can also mountain bike or horseback ride over many of the trails in the park. Canoeing, hunting, fishing, and wildlife viewing are also popular activities.
There are many types of flora and fauna in the preserve, some of the larger animals being deer, wild turkeys, black bears, bobcats, and foxes.
The preserve is also home to 9 endangered species that include birds, bats, and plants. This is a gorgeous place in West Virginia to experience the outdoors!
Cuyahoga Valley National Park (Ohio)
Distance: 110 miles
Driving Time: 1 hour 45 minutes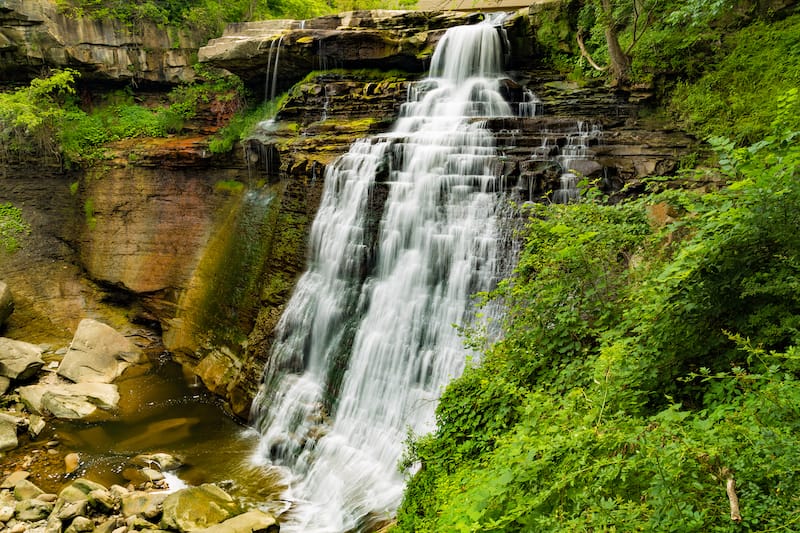 Cuyahoga Valley National Park follows the Cuyahoga River and is the only national park in Ohio. The park includes many natural and manmade features.
You can hike or bike on one of the many trails that wind through the park. In the winter, visit Kendall Hills for skiing and sledding.
A special attraction in this park is the Cuyahoga Valley Scenic Railroad that runs through the park, on which you can take a special railroad tour.
Sometimes there are themed tours, such as the Polar Express tour in the wintertime. Another option is the Bike Aboard trip, where you ride the train one way and bike back the other.
The park also has the Hale Farm and Village, which showcases how farming and rural life were lived in the 19th and early 20th centuries.
A popular site to visit at the park is Brandywine Falls, a beautiful cascading waterfall at the end of a wooden boardwalk. Surrounded by trees, it is especially beautiful in the autumn when the leaves are changing color.
Another fantastic thing you can do on the way to Cuyahoga Valley National Park from Pittsburgh is to stop at wineries along the way.
Some of Ohio's best wineries are located in the region and are definitely worth a stop!
Erie (Pennsylvania)
Distance: 125 miles
Driving Time: 1 hour 55 minutes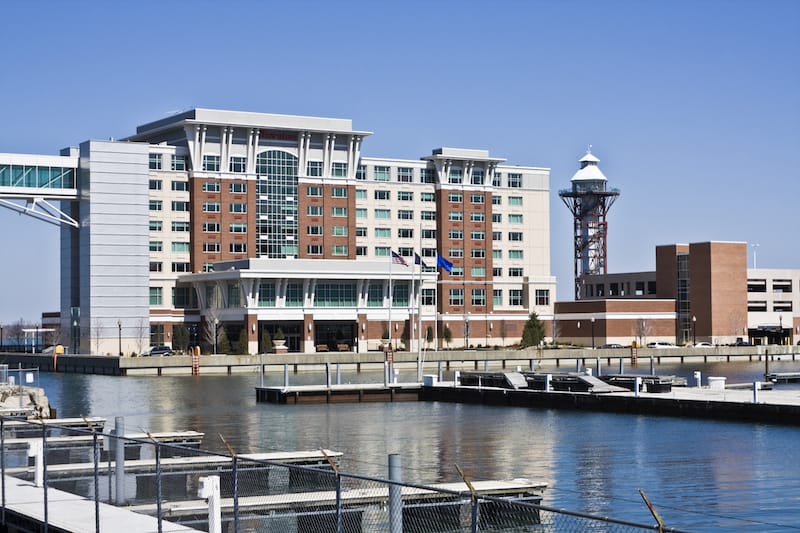 Erie, Pennsylvania lies in the northwest corner of the state, right on Lake Erie. It is the state's only port city on one of the Great Lakes. As such, the main attraction of this town is Lake Erie.
This area is great in both the summer and winter, as the lake affects the weather and Erie is part of the "Snowbelt". In the summer, popular activities include swimming, sailing, hiking, and biking.
Because of the sparkle of the water, Erie has been given the nickname "Gem City". Interesting activities to check out in town include visiting the Erie Maritime Museum, playing around at Waldameer and Water World waterpark, hiking, biking, and picnicking at Presque Isle State Park.
If you like fishing, there are several fishing charters that will take you out onto the Great Lake to fish.
At the Maritime Museum, you can see the USS Niagara, which was the flagship for Oliver Hazard Perry in the Battle of Lake Erie in the War of 1812.
Morgantown (West Virginia)
Distance: 75 miles
Driving Time: 1 hour 16 minutes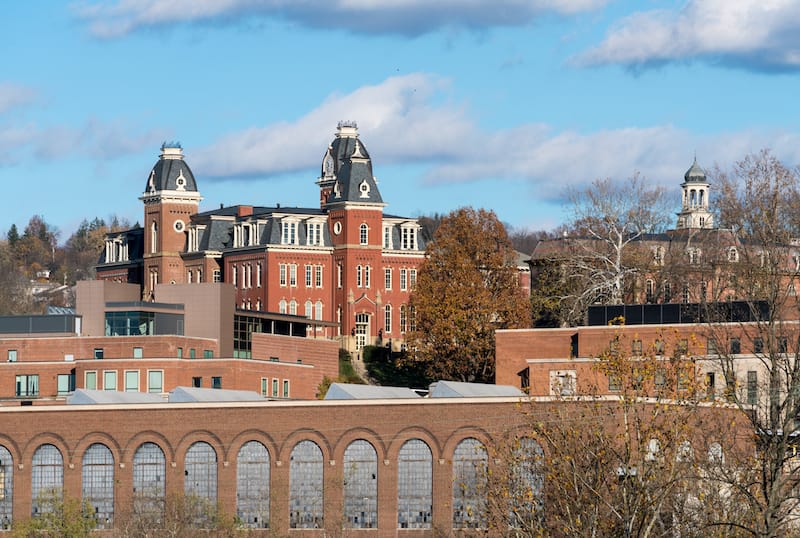 Morgantown is situated on the Monongahela River in central West Virginia. There, you will find West Virginia University, where you can catch a football game at the stadium, Mountaineer Field.
A peaceful walk on Cheat Lake Trail will bring you close to nature, and you can stop for a picnic in the park as well. Another natural site to visit is Dorsey Knob, a mountain summit located in the southern part of Morgantown.
Its main feature, Sky Rock, rises 600 feet above the surrounding landscape and is a beautiful lookout point.
Other attractions to visit are wineries, the West Virginia Botanic Garden, the Morgantown Farmers' Market, and the West Virginia University Core Arboretum.
If you're interested in arts and museums, you can check out Morgantown History Museum, West Virginia University Art Museum, the Monongahela Arts Center, and the Metropolitan Theatre.
Morgantown is one of the most underrated weekend trips from Pittsburgh and there is far more to do there than just WVU!
Walnut Creek and Sugarcreek (Ohio)
Distance: 110 miles
Driving Time: 1 hour 55 minutes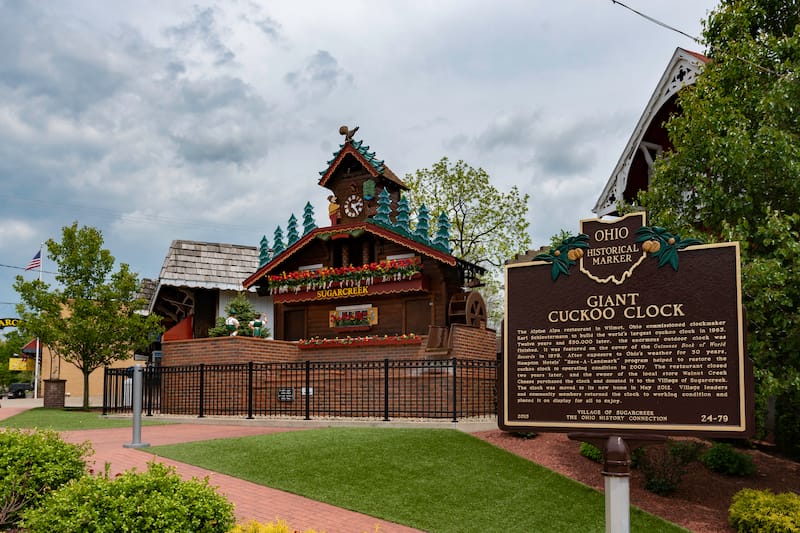 Walnut Creek is a popular tourist destination as it's in the middle of Ohio Amish country. It is also one of the cutest small towns in Ohio!
In Walnut Creek, you can take an Amish tour, check out the antique stores in the old town, get some cheese at a specialty cheese shop, see the Farm at Walnut Creek, and visit the German Culture Museum.
Sugarcreek is also in Amish country and boasts one of the world's largest cuckoo clocks in its town center.
The town has a strong Swiss heritage, and most of the tourism is based on the town's Swiss and Amish connections.
Some points of interest to visit in Sugarcreek besides the cuckoo clock are the Alpine Hills Historical Museum, the Amish Flea Market, and the Brick Wall Sculpture.
Seven Springs Mountain Resort (Pennsylvania)
Distance: 60 miles
Driving Time: 1 hour 11 minutes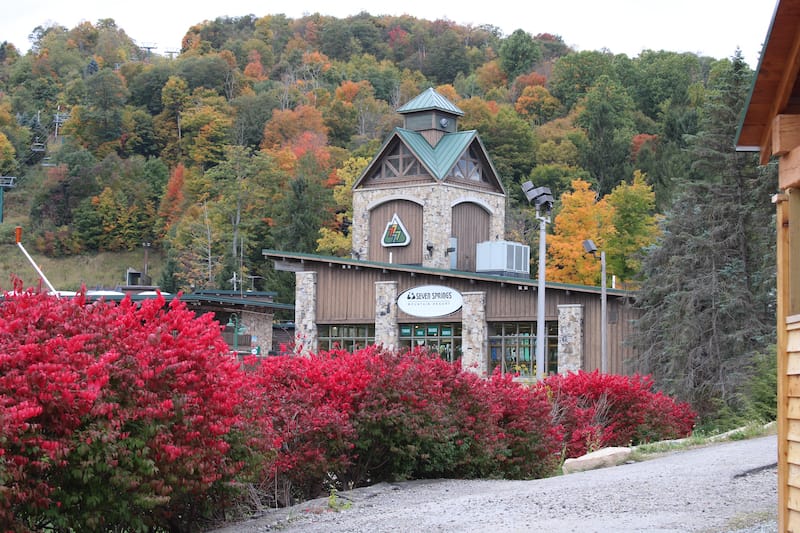 Seven Springs Mountain Resort is an exciting resort open all-year-round. In the winter, you can enjoy all snow activities including skiing, snowboarding, and snow tubing.
In the other months, you can enjoy hiking, biking, rock climbing, disc golfing, golfing, ziplining, paddle boating or paddleboarding on the lake, bungee jumping, swimming, riding alpine slide, and chairlift rides.
There are different accommodation options including rooms at the lodge, townhomes, condos, cottages, and chalets for rent. The resort offers so many family-friendly activities you will never be bored if you're traveling with kids!
If you're looking for a more relaxing getaway, there are nature trails to hike through and a spa at the lodge where you can relax and be pampered. This is the ultimate weekend trip from Pittsburgh!
We hope that our guide helps you get inspired to take one of these awesome weekend trips from Pittsburgh!
What are some of your favorite weekend getaways near Pittsburgh? Let us know in the comments section!
More Pittsburgh Travel Guides
Pin This Weekend Trips from Pittsburgh Guide