Are you planning a trip to the gorgeous American southwest and want to find the best places to visit in Arizona? This guide gives you thirty epic places to put on your Arizona bucket list!
From beautiful Arizona cities like Sedona to the wild landscapes of Monument Valley, there are many breathtaking destinations in Arizona worth visiting.
We cover a variety of them in this guide and include a map so you know where these incredible places are located! If you have a favorite Arizona destination that we missed on this guide, please pop it into the comments section!
Arizona Bucket List Destinations Map
To add this map to your Google Maps account, click the 'Star' icon next to the map name. You can then view it on your cell phone or computer by heading to your Google Maps account, click the menu and add it to 'Your Places'.
Best Places to Visit in Arizona – The List
1. Grand Canyon
It wouldn't be right to start off a list of places to visit in Arizona with anything that's not the Grand Canyon. The spectacular views of this place are recognizable not only in the US but also from people living all over the planet.
With breathtaking panoramas and jaw-dropping views, the Grand Canyon is one of the most visited places in Arizona (if not THE most visited place).
READ ALSO: Best US national parks to visit in December
Its gigantic scale and vivid colors were formed due to erosion that happened approximately 5 to 6 million years ago. This place is the kind that is better seen in person rather than heard about from others!
There are many things to see at the Grand Canyon. Here are some of the top Grand Canyon attractions and landmarks:
Rim Trail

Bright Angel Trail

Desert View Watchtower

Grand Canyon Village

Marble Canyon

West Rim Trail

South Kaibab Trail

Havasu Falls
Another perk of visiting the Grand Canyon is that there are so many other amazing places to visit near it. We even discuss a few of them in this guide!
2. Sedona
Sedona is a desert town famous for its red rock formations and open-air adventures.
The area is made up of sandstone, formed with iron deposits, giving the giant rocks the distinguished reddish colors that you will see when you visit Sedona.
Ancient history suggests that this area was home to prehistoric humans more than 10,000 years ago. It's important to note that some remains from the age-old settlements are still there in Sedona, making this place a desirable location to visit.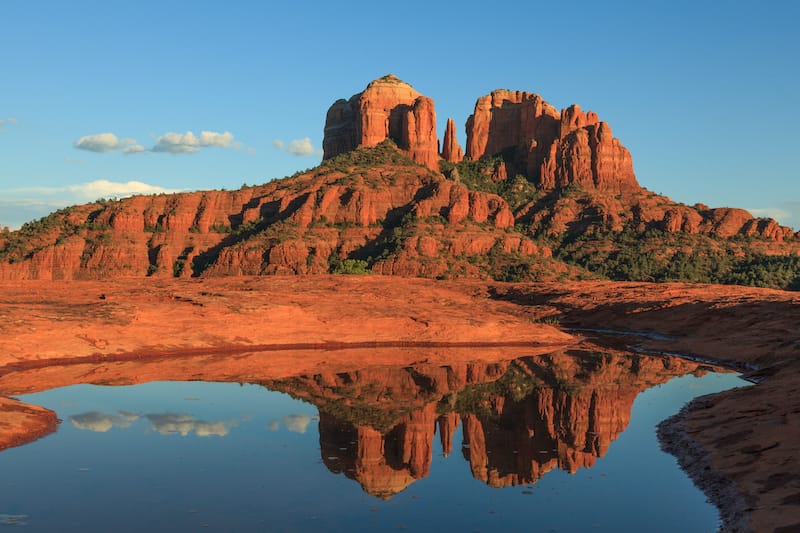 Today, the Arizona city has become a center for spiritual communities. The stunning trails and viewpoints provide a lot of opportunities for prayer and contemplation. Sedona is also acknowledged for the inspiring power of its Vortex meditation sites.
You will find a variety of awesome places to visit in Sedona and its surrounding area. Here are some of the top Sedona attractions:
Chapel of the Holy Cross
Tlaquepaque Arts and Shopping Village
Red Rock Country
Cathedral Rock
Sedona Arts Center
Cathedral Rock Trail
Amitabha Stupa and Peace Park
Oak Creek Canyon
One of the best things about Sedona is that it makes for a great base for exploring the surrounding area and some of the top sights in Arizona! And, the city is gorgeous year-round (there is nothing like winter in Sedona with a day exploring and an evening at the spa)!
3. Monument Valley
Monument Valley, otherwise known as the Valley of Rocks, is home to the Native American population of the Navajos. Located about 3 hours away from the Grand Canyon, the Valley has sandstone rock formations that have been developed over time and reach up to 400 to 1,000 feet above the valley's level.
When visiting Monument Valley, you have several accommodation options, including hotels, camping, and glamping.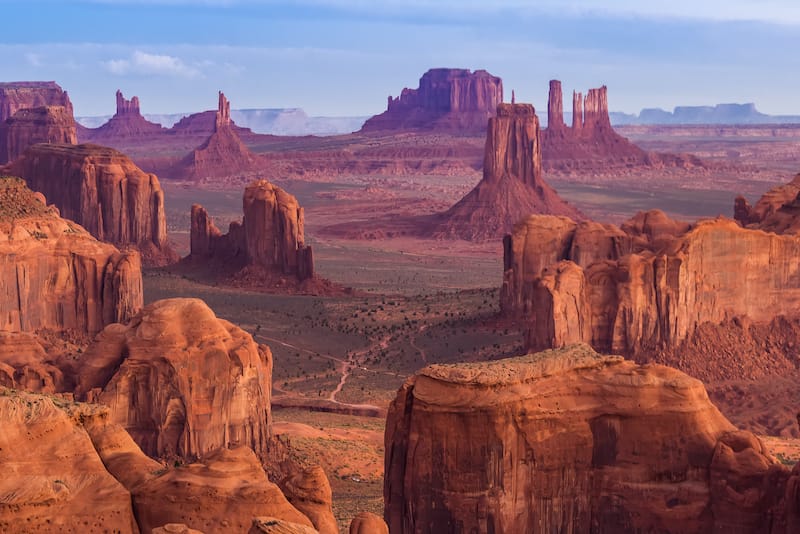 In case you're planning to spend the night in a tent, keep in mind that the weather fluctuates quite a lot in the area. The daytime is pretty warm and hot, while the nights are quite cold.
4. Glen Canyon National Recreation Area
Encompassing an area of over 1.25 million acres of land and water, the Glen Canyon National Recreation Area spans from the Orange Cliffs of southern Utah to Lee's Ferry in Arizona.
Glen Canyon Dam, a part of the recreation area, was constructed to harness the Colorado River's power and provide water and energy to the people of the west.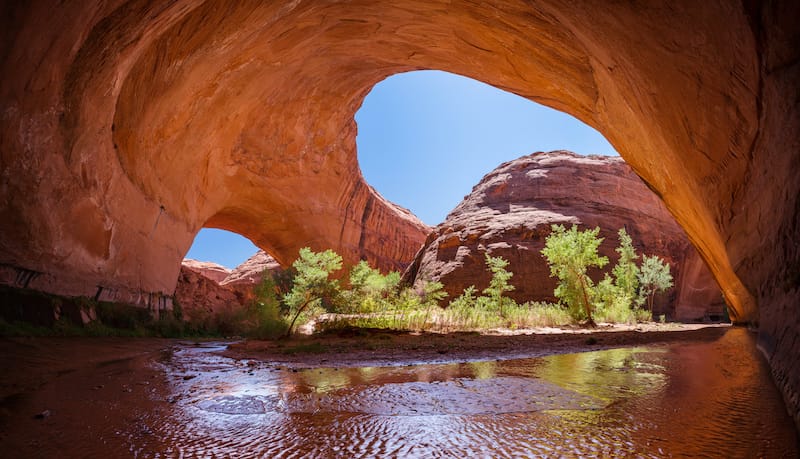 Another notable destination in the park is Horseshoe Bend, formed by the Colorado River when stretching around Pag. To enjoy the most incredible scenic views, the best option is to hike for a mile and a half from Route 89.
Some of the most popular places in Glen Canyon National Recreation Area include:
Horseshoe Bend
Antelope Canyon
Glen Canyon Dam
Rainbow Bridge National Monument
Goosenecks State Park
Lower Antelope Canyon
Cataract Canyon
You will find information about a few of these incredible places in Arizona further down in the guide. But, just trust us when we say that this is an epic place to put on a Colorado to California road trip itinerary.
5. Canyon de Chelly National Monument
In the northeastern part of Arizona, Canyon de Chelly is a worthwhile destination to venture to. Compared to the others, this monument and the entire Arizona destination is not too well-known, but the eye-catching vistas and remarkable geological formations are still there.
The sandstone walls rise to 1,000 feet, and the area gives a captivating insight into the life of the Navajo people, who still inhabit the location.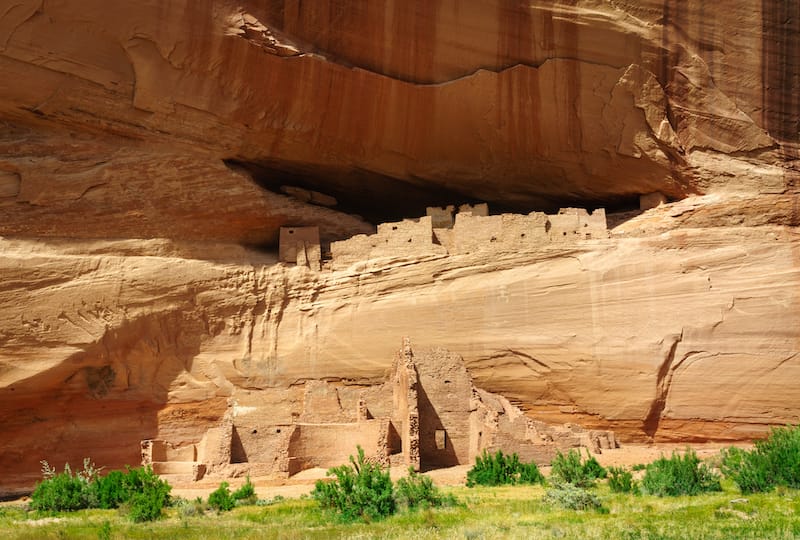 Visit Canyon de Chelly to admire the views of Ancestral Puebloan (Anasazi) ruins, which are pretty well preserved.
One of the most exciting things to do at Canyon de Chelly is to drive through routes along the canyons. For example, South Rim Drive and North Rim Drive (each one is more than 30 miles long) are outstanding pathways and will undoubtedly become one of the most unforgettable drives of your life.
6. Havasu Falls
Located near the village of Supai, Havasu Falls is the waterfall of Havasu Creek. Flowing through the Havasupai land in the Havasu Canyon, it is also part of the Grand Canyon.
It falls for 100 feet (30 meters) into a turquoise, blue pool. If you're on vacation in Arizona and want to witness something memorable, then this is where you need to visit!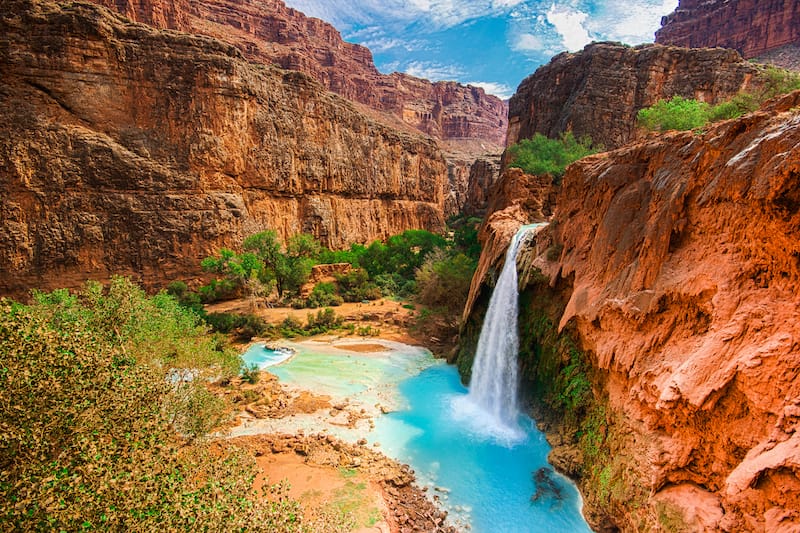 There are a few waterfalls in Havasu Creek, but Havasu Falls is the one that is visited the most and it is one of the most beautiful places to visit in Arizona.
7. Lake Mead National Recreation Area
Lake Mead National Recreation Area offers numerous year-round available activities for its boaters, swimmers, sunbathers, fishers, photographers, and hikers. The lake is one of the top attractions in Nevada and Arizona both (they share it).
The Mojave, Great Basin, and Sonoran Deserts – 3 of America's 4 desert ecosystems, all come together in Lake Mead. In addition, this area contains astonishingly diverse wildlife as well as a variety of flora. There are some species that are ONLY found here and nowhere else!
Some of the top sights at Lake Mead are:
Hoover Dam
Mike O'Callaghan-Pat Tillman Memorial Bridge
Arizona Hot Springs
Callville Bay
Historic Railroad Hiking Trail
Ringbolt Hot Spring
Also, do take note that Lake Mead is now ranked as one of the top freshwater lakes for scuba diving in the whole US, offering various depths for divers to explore.
8. Tombstone
Tombstone is renowned for the "Gunfight at the OK Corral" in 1881 between the Earp brothers and its mining history. This historic town, widely famous for the gunfight story, was a very rough place in the past, being home to prospectors, gunslingers, and gamblers.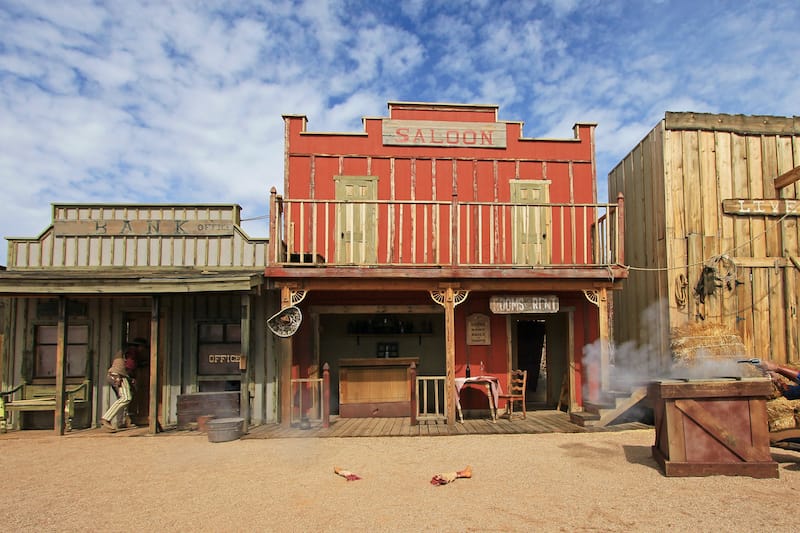 Nowadays, Tombstone is fun to visit and one of the top tourist destinations in Arizona. Along with a well-preserved old town, tourists are also welcomed to participate in a reenacted performance of the famous gunfight.
9. Petrified Forest National Park
Petrified Forest National Park is located about an hour and a half east of Flagstaff in Northeast Arizona. In the park, visitors can find some of the best collections of petrified wood in the US.
The place is famous for its petrified trees, turned into stone during the last 225 million years, and with its unique landscapes and colorful views of the vibrant Painted Desert.
READ ALSO: Best US national parks to visit in January
One of the many locations worth visiting is Painted Desert Inn, a former hotel turned museum where guests can see how the area looked in the early 1900s. Here are a few more locations worth visiting in Petrified Forest National Park:
Blue Mesa
Rainbow Forest
Agate Bridge
Crystal Forest
Jasper Forest
Newspaper Rock
Agate House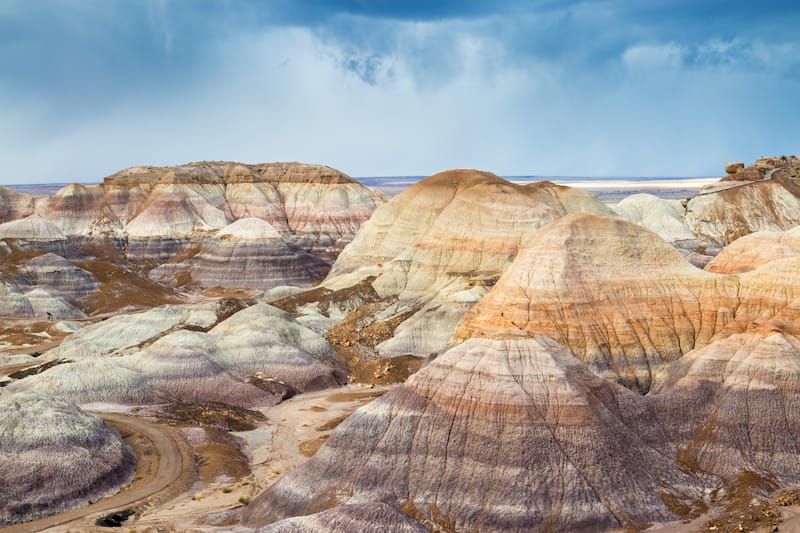 10. Saguaro National Park
Saguaro National Park is located in Tucson and is home to the nation's largest cacti. It is a must for any Tucson itinerary!
As North America's largest cactus, the oldest saguaros can live up to 200 years while growing and weighing 7 tons. Saguaro NP is home to majestic plants and extinct animal species found only in a small portion of the US.
READ ALSO: Best US national parks to visit in February
The park's information centers can provide you any kind of information you need about exploring the location. Based on how much time you plan to spend in the area, there are few excursion options.
Some of the top places to see in Saguaro National Park are:
Rincon Mountains
Gates Pass
Cactus Forest Drive
Wasson Peak
If you're into the outdoors, you will be excited to know that there are some top-notch hikes in Saguaro National Park and it is one of the best places to visit in Arizona.
11. Antelope Canyon
This gorgeous natural wonder is a must-see for people visiting the southwestern US. When arriving at the destination, be ready to be amazed by spectacular views that frequently change during the drive.
Antelope Canyon is completely made of sandstone and is very narrow, and got its beautiful shape from water and wind over the past millions of years.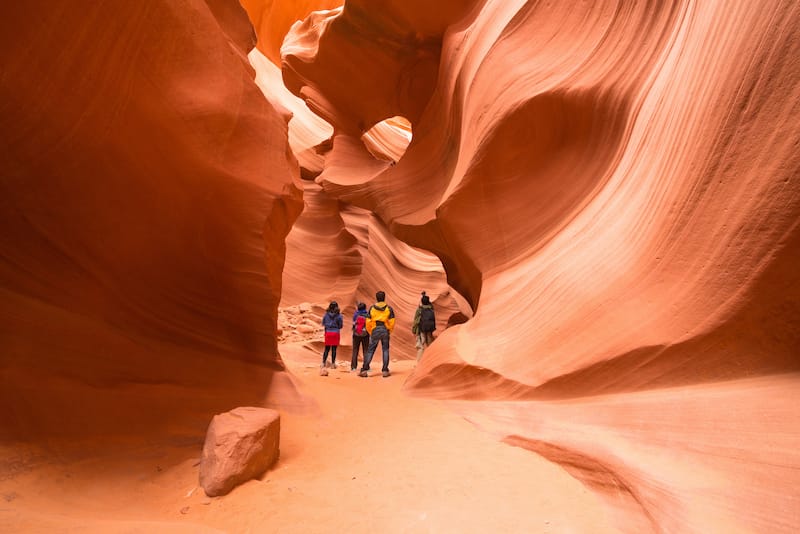 Photographers who've been there would agree that the location is a photographer's dream destination! The views inside the canyon are just incredible and, for sure, worth a quick visit.
And, a cool thing is that you can actually kayak to Antelope Canyon, making the experience even more memorable and unique!
12. Organ Pipe Cactus National Monument
Located just 2 hours west of Tucson, Organ Pipe Cactus contains 330,000 acres of pristine Sonoran desert wilderness.
No matter what the visitors' interests and hobbies are, everyone can find something alluring there, from scenic drives to hiking trails to birdwatching and beyond. This is also an ideal place to go desert camping.
People who've been there would claim that this location is not like what most of us imagine a desert to be like; in fact, they say it has a lot of green and lush and is very much full of life!
13. Tumacacori National Historical Park
In Tumacacori National Historical Park, one can dive deep into the 19th-century Franciscan mission, which was never fully completed but until these days, remains a remarkable monument to the efforts.
The park is located in Santa Cruz County in southern Arizona. Tumacacori consists of 360 acres divided into three separate units. The park protects the ruins of three Spanish mission communities, a National Historic Landmark, and the 1937 Tumacácori Museum building.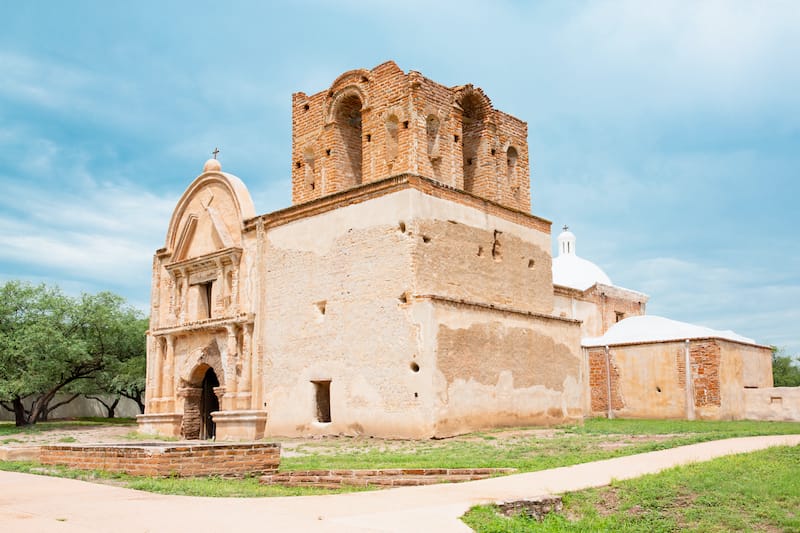 The mission is preserved precisely as it was in the times of Franciscans. Once you enter the area, there's a 14-minute video exhibiting things worth knowing in order to get a better understanding of Tumacacori. Visitors can purchase or borrow a self-guiding tour book for the Tumacácori Mission grounds.
14. Beaver Falls Trail in Havasu Creek
Beaver Falls Trail is a 24.5 mile heavily trafficked, out and back trail located close to Supai. It is rated as a difficult trail. You're in the vicinity of many other waterfalls, including famous Havasu Falls, but head this route to Beaver Falls to be sure to opt for another fantastic site.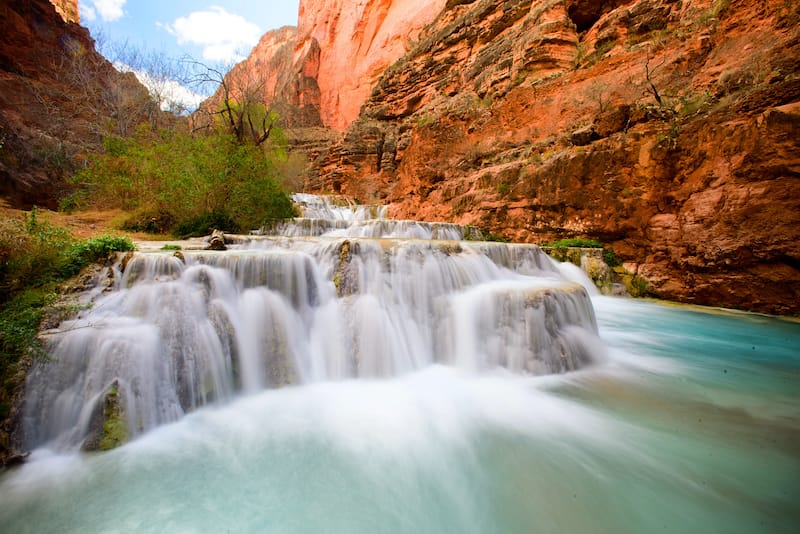 This place has a magical aura, and you most definitely would not want to leave it quickly! Keep in mind that in order to get to Beaver Falls, you must already be camping at Havasu, as it is not allowed to do day hiking into the canyon. Reservations must be made in advance in the tourism office.
This is one of the best hikes and places to visit in Arizona and is surely one for the Arizona bucket list!
15. Goldfield Ghost Town in Apache Junction
Numerous shops, historic buildings, a tour to Mammoth Gold Mine, and Goldfield Museum are just some of the reasons to visit the renowned Goldfield Ghost Town. Visitors are welcome to enjoy the wild west history as it was back in the day.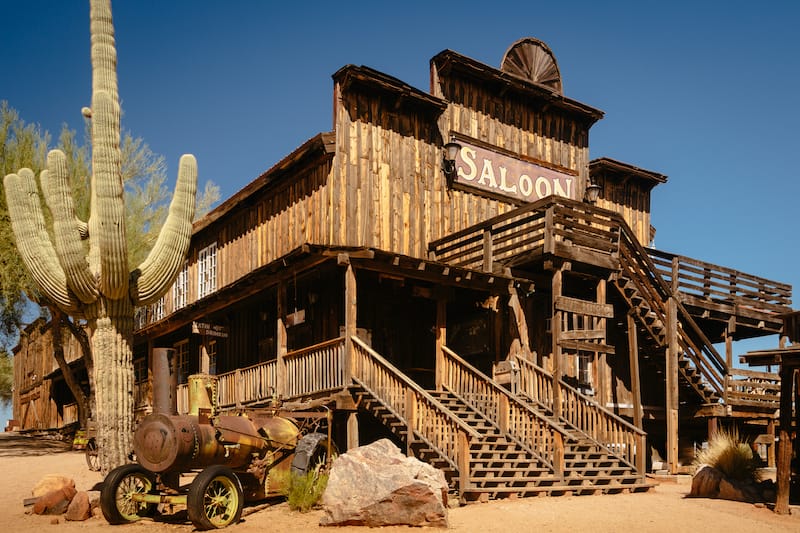 After a few attempts to reopen the gold mines, the town finally came to life again from 1910 on, and travelers still visit this place located on the historic Apache Trail and take in the excitement of going back in time, Arizona-style.
16. Montezuma Castle near Camp Verde
Mindblowing Native American ruins and remnants can be found at Montezuma Castle, which was a house to nearly 35 people in the past.
It's an epic castle, situated right between a mountain, which surprises all first-time visitors with its distinct location and outlook.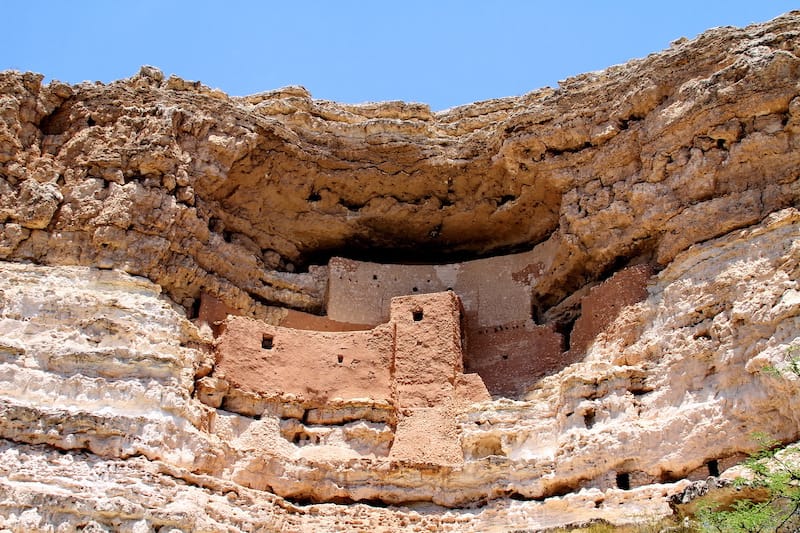 The Sinagua, who were the inhabitants of this castle, started to abandon it nearly 600 years ago, and the answer to why exactly that happened is still unknown and a mystery even today.
Nevertheless, the venue is now turned into an extraordinary spot for tourists to visit, and it's for sure a place worth spending some time and energy in. While it definitely gets tourism these days, it is still an off-the-path destination in Arizona as it is overshadowed by some of the other places in the state.
17. Horseshoe Bend
One of the most famous landscapes in the United States is that of Horseshoe Bend near Page, Arizona. Sometimes referred to as the East Rim of the Grand Canyon, this sight most definitely deserves its own place on this list!
The scenic Arizona landmark is an example of an entrenched meander that was formed around 5-6 million years ago by the Colorado River (which still currently runs through it).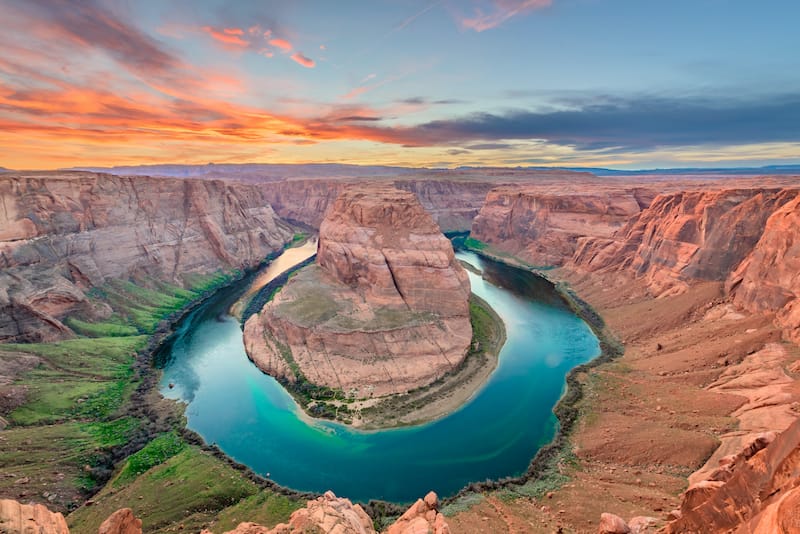 You can access Horseshoe bend by going on the 1.5-mile hiking trail there from the parking area off of US Route 89 near Page. This is Navajo Nation and the overlook is approximately 4,200 feet above sea level.
18. Phoenix
The capital of Arizona is Phoenix, a city of around 1.6 million people located in the middle of the Arizona desert.
The cultural hub and epicenter of life in Arizona, Phoenix is a fantastic weekend break or base to explore some of the best places to visit in Arizona.
Phoenix is brimming with museums, cultural centers, parks, and sports facilities. Some of the most famous places to visit in Phoenix are:
Desert Botanical Garden
Camelback Mountain
Papago Park
Heard Museum
Phoenix Art Museum
South Mountain Park and Preserve
Pueblo Grande Museum
There are many things to do in Phoenix and several incredible day trips from the Arizona capital city.
19. Scottsdale
A city rather close to Phoenix is the city of Scottsdale. The slogan of the city is "The West's Most Western Town" and it holds a population of around 260,000 people.
Scottsdale is located in the Salt River Valley and in the northern part of the Sonoran Desert. It is divided into four different areas – South, Old Town, Central, and the North.
If you're looking for the best things to do in Scottsdale, you will quickly notice that the city is renowned for its world-class resorts (they have the most AAA Five-Diamond hotels and resorts in the US!). You can see some of the things to do in the city by taking a peek at Phoenix above.
20. Lake Powell
Lake Powell is a man-made reservoir that is shared with Utah in the far north of the state. Located on the Colorado River, the scenic lake is visited by over 2 million people annually.
The landscapes here are truly magnificent. It is the second-largest man-made reservoir in the US (only behind Lake Mead).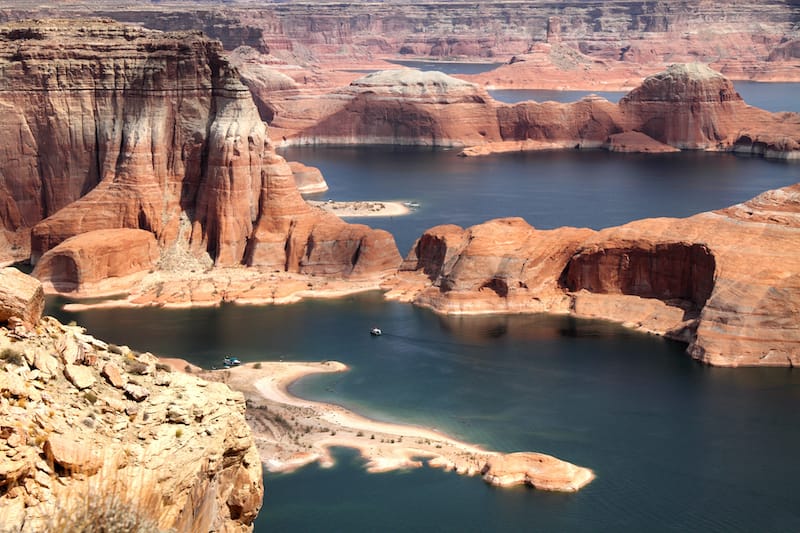 Lake Powell's main part stretches up Glen Canyon but there are a total of over 90 canyons on the sides of it. It is a fantastic place to find remnants of Anasazi culture and history, also.
Some of the main landmarks around Lake Powell are:
Glen Canyon Dam
Rainbow Bridge
Hite Crossing Bridge
San Juan goosenecks
Three-Roof Ruin
Padre Bay
…and many more! Lake Powell is one of the most beautiful lakes in the United States and is a must-visit for those taking a trip to the Grand Canyon or anywhere else in northern Arizona.
21. Papago Park
Papago Park is a park located in between the Arizona cities of Phoenix and Tempe. It is a must-visit place in the metro area and one of the best places to visit in Arizona for some urban nature.
One of the most popular landmarks inside of the Phoenix park is Hunt's Tomb, a small white pyramid tomb on a hill in the park that has been there since the 1930s for Arizona's first governor's wife. In 2008, Hunt's Tomb was placed on the National Register of Historic Places.
READ ALSO: Best US national parks to visit in March
Papago is so special because the deserty park has several unique geological formations and is home to a lot of desert flora. Inside the park, you will find many hiking trails, bike paths, the Desert Botanical Garden, and much more.
22. Wupatki National Monument
In between Arizona's Painted Desert and the highlands of the northern part of the state, you will find Wupatki, one of the most underrated destinations in Arizona.
This historic monument is a Native American archaeological site that dates back to around 500 AD. In Hopi language, it means 'Tall House'. Today, the monument is cared for and looked after but it is technically abandoned.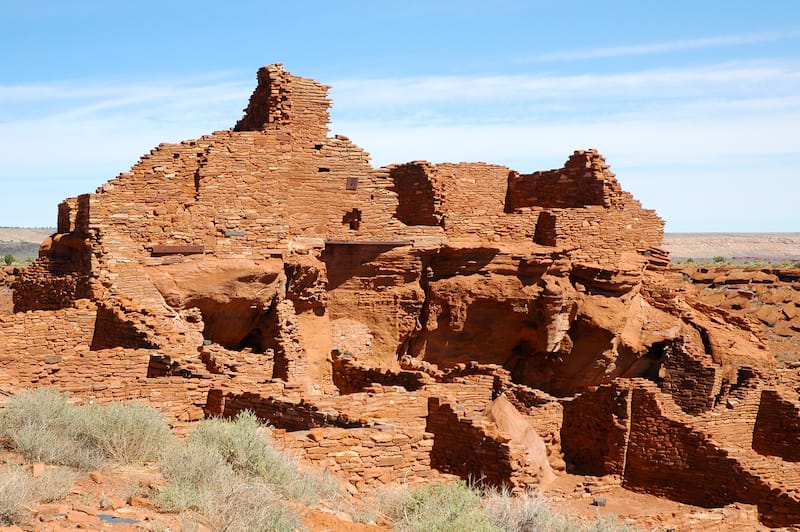 Some of the main sites and places at Wupatki National Monument are:
Wupatki Ruin Ball Court
Box Canyon Ruins
Wupatki Pueblo
You can find Wupatki National Monument located close to the Sunset Crater Volcano National Monument.
23. Vermilion Cliffs National Monument
Located in northern Coconino County, you will find one of the best places to visit in Arizona, Vermilion Cliffs National Monument. It is also home to the famous White Pocket in Arizona.
Established in 2000, this natural beauty protects the Paria Plateau, Vermilion Cliffs, Coyote Buttes, and Paria Canyon. It sprawls out over 293,000 acres and one of the biggest attractions there is 'the Wave'.
Travelers not only flock to Vermilion for its diverse wildlife but also for its ancient human settlements as you can see many Native American pueblos scattered throughout the land.
There are also many petroglyphs in the area. This is such an Arizona hidden gem so really give yourself some time to explore the protected area and all it encompasses.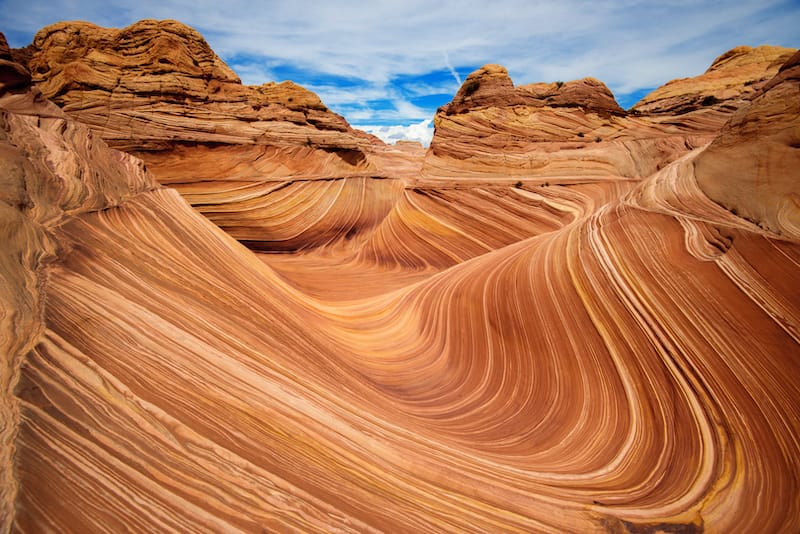 24. Chloride Ghost Town
Chloride is a ghost town in Arizona and at first glance, it may appear to just be another tacky tourist trap. However, it is rather cool and has a huge collection of junk art and murals.
While there is not too much going on in Chloride, it is definitely trying to garner some attention in recent years with gunfight reenactments, Arizona's oldest post office, and several other sites.
READ ALSO: The ultimate California to Arizona road trip itinerary
It is a great stop if you're on a road trip from California to Arizona and needing a short break.
25. Oatman
The village of Oatman is situated in the Black Mountains of Mohave County in gorgeous Arizona. Its birth was as a small mining camp when miners discovered over $10 million in gold in 1915 and within a single year, the population grew to over 3,500.
Currently, the town is a historic and interesting place to stop and visit. It is like going back in time and it is located on Route 66 so it played a huge role as travelers would pass it in between Needles, California and Kingman, Arizona.
Once a new route was built in the 1960s, Oatman was left pretty much abandoned.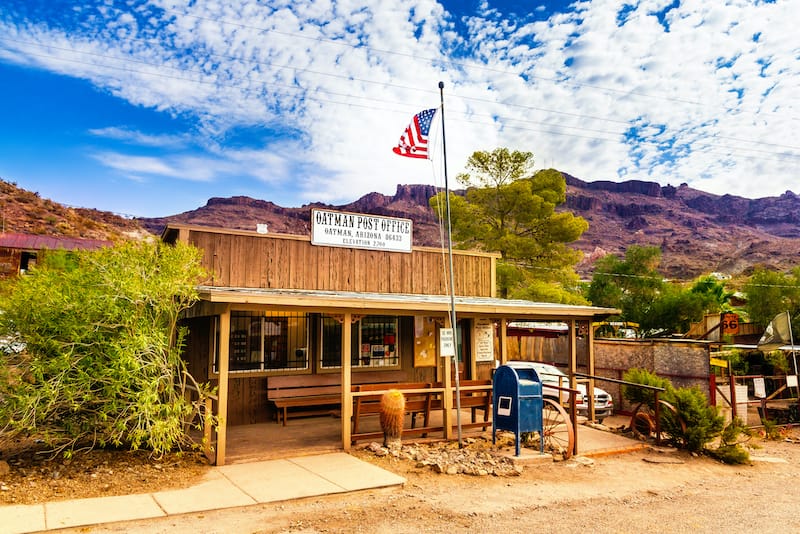 It is currently a 'ghost town' but it is definitely one of the coolest places to visit in Arizona for those into mining history and the state's early foundations.
26. Tucson
Tucson is the largest city in the south of Arizona and the second-largest in the state. With over half a million residents, Tucson is an oasis in the middle of the desert and worth a visit for a weekend break (or longer!)
It sits merely 60 miles north of the Mexico border and the city was the first American city to be recognized and designated as a 'City of Gastronomy' by UNESCO.
Some of the top places to visit in Tucson are:
Saguaro National Park
Arizona-Sonora Desert Museum
San Xavier del Bac Mission
Sabino Canyon Recreation Area
Pima Air & Space Museum
Old Tucson
Tucson Botanical Gardens
Tucson Museum of Art
There are some excellent hiking trails in Saguaro and if you're there in the cooler months, definitely give it a go! Click here to check out some of the best day trips from Tucson.
27. Winslow
The small town of Winslow, Arizona gained international recognition in the Eagle and Jackson Browne song 'Take it Easy' and has attracted visitors beyond the Arizona borders since.
Situated in Navajo County, the town has around 9,600 residents and the original Route 66 went through the town (until rebuilt). Some of the top things to do in Winslow (and nearby) are:
Visit Standin' on the Corner Park (dedicated to Eagles song)
See the historic downtown
Little Painted Desert County Park
Old Trails Museum
Homolovi State Park
Meteor Crater Natural Landmark
Winslow is definitely one of the best places to visit in Arizona and is worth a stop or overnight in!
28. Meteor Crater Natural Landmark
Located 18 miles west of Winslow in Arizona's northern desert is the Meteor Crater. It used to be known as the Canyon Diablo Crater and has been known by other names, too, but it eventually acquired its current name.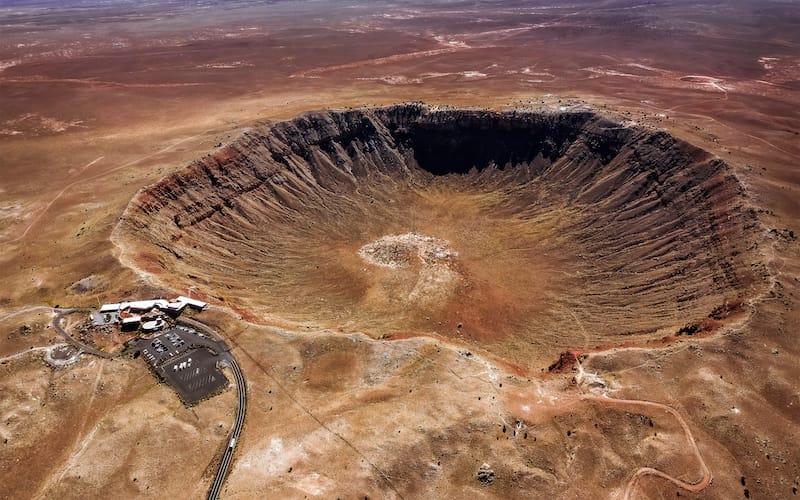 It is situated 5,640 feet above sea level and is around 3,900 feet in diameter. It was formed about 50,000 years ago during the Pleistocene epoch when the area was far cooler and damper. The area around it was dominated by mammoths and giant ground sloths.
In 1967, it was designated as a National Natural Landmark and has become one of the top landmarks in Arizona. And, in the 1970s, NASA astronauts even trained in the crater to prepare them for the Apollo missions that were set to go to the moon!
29. Kofa National Wildlife Refuge
Located in southwestern Arizona sits the Kofa National Wildlife Refuge. Located near Yuma and Quartzsite, it was founded in 1939 in order to protect the desert bighorn sheep that call the area home.
It spans across 665,000 acres of the Yuma Desert (part of the Sonoran Desert) and you can see the Kofa Mountains within the refuge.
Not only are there sheep in this part, but you will also find a lot of birds and a large plant variety within it.
Today, there are only around 428 desert bighorn sheep within the park and they live primarily in the two ranges inside of the refuge- the Kofa Mountains and Castle Dome Mountains.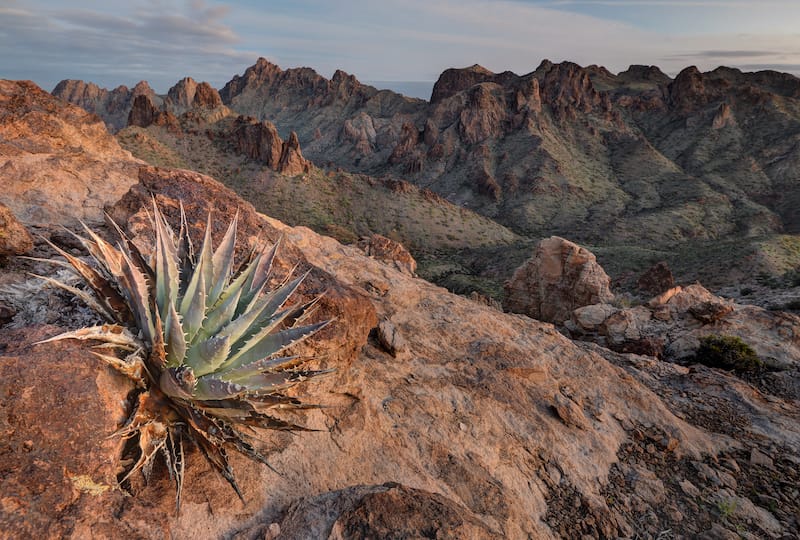 Other prevalent species within the region are badgers, desert tortoise, and kit fox. Recently, cougars have found their way back to the refuge full-time.
Inside of the national wildlife refuge, you will also have a chance to hike on some of the fantastic trails there. Don't miss the trails in and around Palm Canyon!
30. Apache – Sitgreaves National Forests
Green forests are not usually what one thinks of when they think of Arizona, but the Apache-Sitgreaves National Forests are remarkably green and worth visiting.
Sprawling out over 2.76 million acres, these US National Forests run along the Mogollon Rim and the White Mountains in east-central Arizona. They even go into New Mexico.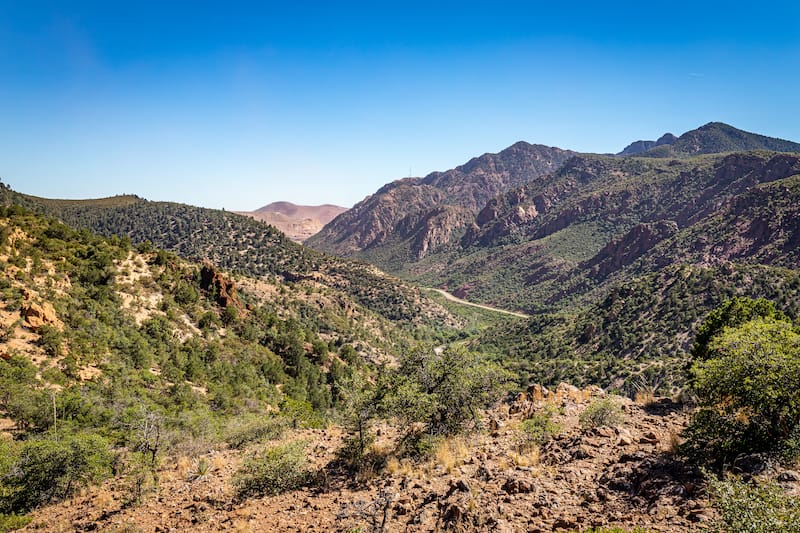 You will find over 400 species of wildlife inside of the forests and it offers such a great respite from the treacherous Arizona temperatures during the summer months. It is a popular weekend break from Pheonix as a result.
Some of the top landmarks and attractions in the forests are:
Mount Baldy Wilderness Area
Hannagan Meadow
Bear Wallow Wilderness Area
Escudilla Wilderness Area
There are also over eight large cold-water lakes and many smaller ones inside of the forests. There are also 680 miles of rivers and streams inside.
We hope that this guide helps you be inspired to visit the wildly diverse and beautiful state of Arizona! There are some of the best places to visit in Arizona, but there are many other places worthy of being on your Arizona bucket list!
Let us know your favorite places in Arizona in the comments!
Additional Arizona Travel Resources
Pin this Guide to Places in Arizona