The Blue Ridge Parkway is known as one of America's most scenic drives and for good reason. Around every turn, there is something new to see.
You'll go from stunning mountain vistas through rhododendron-lined forests and then by acres of farmland on the northern end.
There is so much to see and do along this winding road but this Blue Ridge Parkway itinerary will focus on fantastic hikes and small towns to explore along the way.
The main thing to remember when driving this road is to not get in a hurry and to enjoy the drive! If you see something that interests you, then stop. Take your time and experience all that this road has to offer – it is one of the best trips in the United States.
Have you taken a trip on the Blue Ridge Parkway? Please give us your tips and favorite stops in the comments! Thanks!
Blue Ridge Parkway Road Trip Map
You can see the itinerary for the Blue Ridge Parkway mapped out below. I have put the main stops mentioned on it and you can also zoom in to see other stops along the way that might be of interest to you.
Blue Ridge Parkway Itinerary on Roadtrippers

For road trips, I use a map app called 'Roadtrippers'. This app is brilliant and it creates maps like none other – you can see everything from times, points of interest on your route, estimated gas costs, accommodation options, and more!
This is one of my top recommended apps and I use Roadtrippers Plus to create maps for the trips I take. If you want to sign up and create your own, you can save $5 by clicking here and using my promo code BTR5QTP.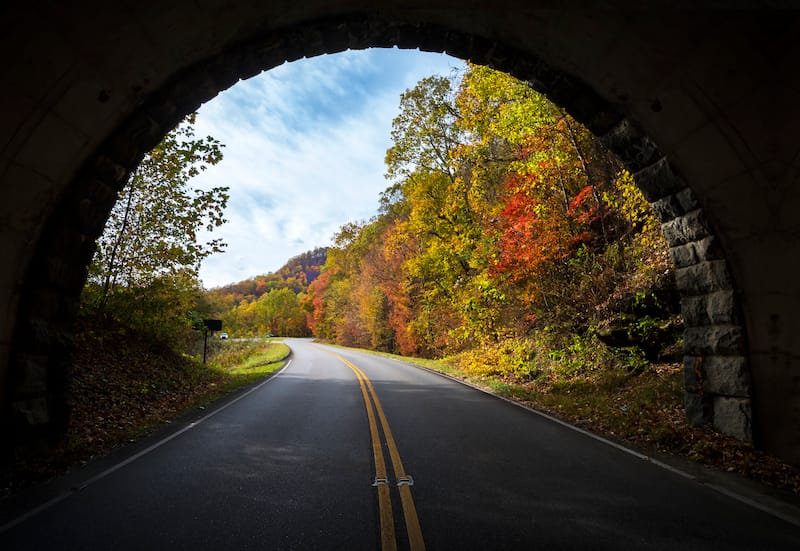 National Parks Pass
If you are visiting any of the national parks on this guide, or any of the other 2,000 federal registered sites in the US, we highly, highly recommend purchasing an 'America the Beautiful' pass that lasts for 1 year and grants you admission to all registered sites. At only $79.99, it is a steal and one of the best values for your buck for US travel!
>> Purchase your National Parks Pass here and start traveling!
7 Day Blue Ridge Parkway Itinerary
Naturally, you can complete this drive within one day. But, the stops make it so worthwhile and memorable, so we are extending it out over a week long.
Here is our suggested week itinerary for the Blue Ridge Parkway.
Day 1 – Cherokee
The Parkway begins in Cherokee where you'll find Harrah's Casino and the Oconaluftee Village. Try to make it into town by early afternoon so you can visit the village where you'll learn more about Cherokee history.
If you have time, then go by the Oconaluftee Visitor's Center in the Great Smoky Mountains National Park, one of the most visited national parks in the US. Sometimes you'll see elk grazing out in the field and there is a trail that follows the Oconaluftee River.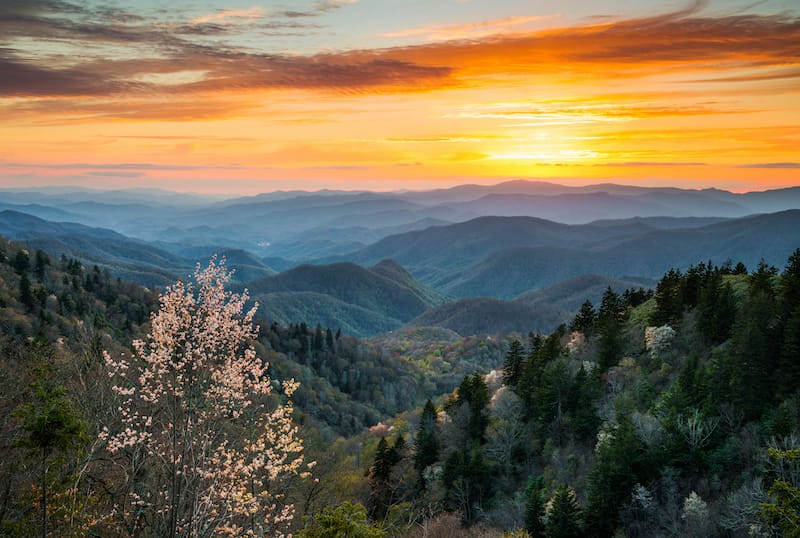 You'll also find some old farm buildings behind the Visitor's Center with information on what it was like to cultivate the land back in the day.
Be sure to go see Unto These Hills that night.
The play debuted on July 1, 1950 and is still going strong today. Make sure to bring a blanket as the temperatures can fall quickly after the sun goes down. There is nothing like watching a play under the stars though.
Stay at Harrah's Casino tonight so you'll be rested and can get up first thing in the morning to start your way down the road.
Day 2 – Mingo Falls, Soco Falls, & Graveyard Fields
Mingo Falls cascades down a rocky ledge for a total of 120 ft. This hike is quick and easy at only 0.3-miles but it is worth a stop. It won't take you long to get there as it's just outside of Cherokee.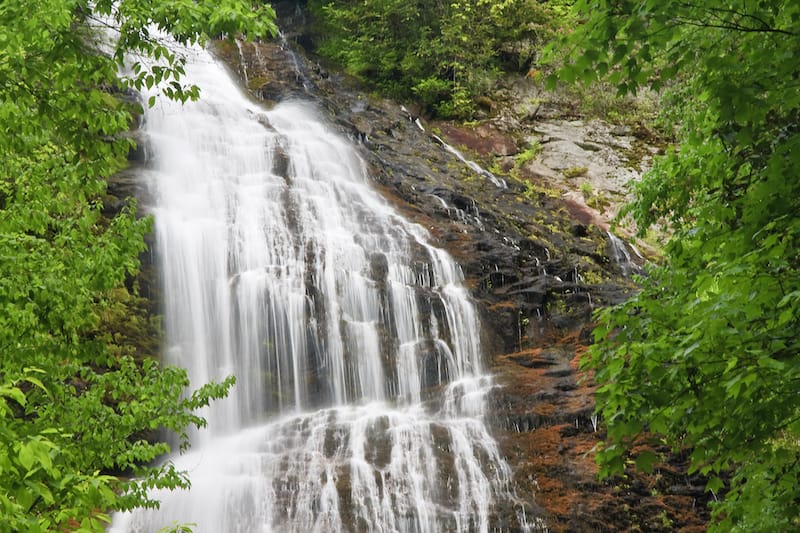 Next, be sure to hit Soco Falls. As you make your way to this beautiful waterfall, you'll pass multiple overlooks so stop at a few of these to enjoy the view.
This is another impressive waterfall with a short hike. The loop to the falls is only 0.2-miles but you can climb down to the bottom of the falls via some ropes.
These are two great places to get out and stretch your legs between some driving but not necessarily major hikes.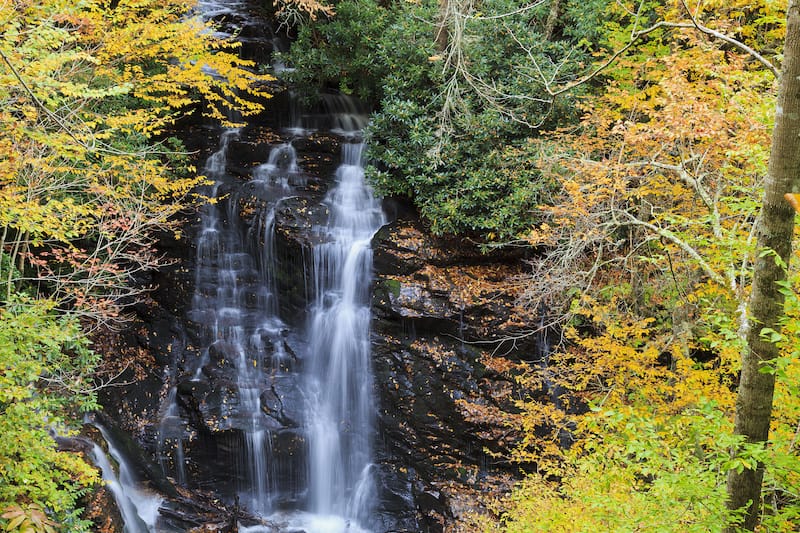 These two waterfalls should only take up the morning hours as long as you get started early. Next head down the road to Graveyard Fields where you'll get a bit more time outside the car.
Here there are two waterfalls – the upper and lower falls. The loop is 2.9-miles long with the option to extend your hike to the upper falls. The lower falls are right on the loop.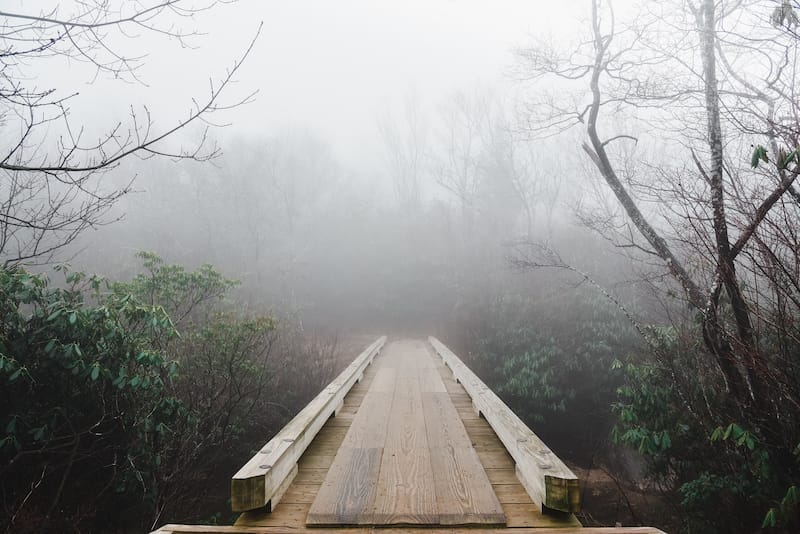 This should fill up the rest of your day so make your way 20-minutes down the road to Pisgah Inn. This quaint hotel has cozy rooms with incredible views of the Blue Ridge Mountains.
The restaurant is also top-notch so I wouldn't blame you if you had dinner and breakfast here.
Day 3 – Asheville
The Pisgah Inn is about an hour southwest of Asheville via the Parkway. There are so many things to do here that I really recommend you spend at least a day in this area.
One option is to stop off at the North Carolina Arboretum and enjoy one of North Carolina's largest and most diverse arboretums. If you love flowers and plants then this is definitely the stop for you. They also have plenty of trails on the property.
You could also stop at a few of the breweries downtown – just be careful that the driver doesn't have too much to drink! Asheville has a huge craft beer scene that has really grown over the past few years.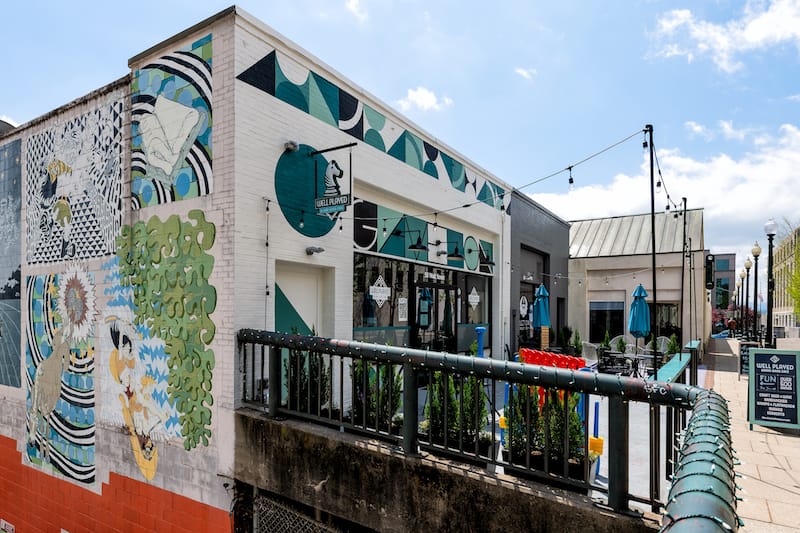 Finally, you could head over to the Biltmore House if you love history or just touring large homes. The Biltmore is the largest privately-owned home in America so it's one place you don't want to miss.
If Asheville is too large of a town for you then make a detour about 20 minutes east to the little town of Black Mountain. The downtown area here has many great shops and the restaurants in Black Mountain are all fantastic.
If you have time, then just past Asheville there is a short hike to Craggy Gardens that you must stop at for gorgeous 360-degree views. This is a decent hike at 1.9-miles but pretty easy. There is plenty of parking at the trailhead and sunset here is out of this world.
Make your way out to Switzerland Inn where you'll enjoy more mountain views and another great restaurant. Plus the buildings are Swiss-inspired so what's not to like?
Day 4 – Crabtree Falls & Little Switzerland
The hike of the morning will be to the base of an impressive waterfall – Crabtree Falls. The falls are similar to Mingo Falls but they are a bit shorter and the hike is longer.
Once you get down to the base, you're rewarded with one of the most picturesque waterfalls you'll find. This is what photographer's dreams are made of. Enjoy the time at the bottom of the falls for a while and find different angles to view this beauty.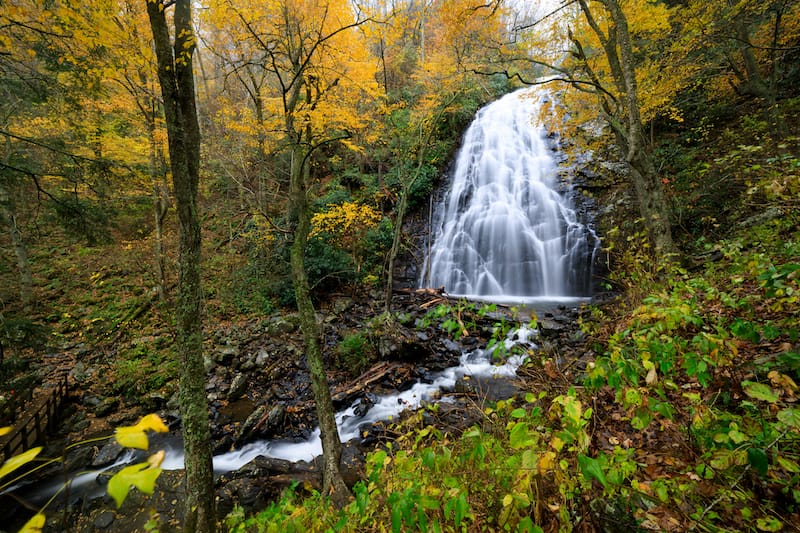 There is a bridge that crosses the river at the base of the falls but you can also walk up along the rocks – just be careful as they are very slick. There are also places on the sides of the bank where you can climb up for a different perspective.
The hike down isn't too bad, but when you are hiking back out you may need to take a few breaks depending on what kind of shape you are in. The hike out is pretty steep and you take a number of switchbacks to get out. The trail is about 2.7 miles total.
After Crabtree Falls, you'll likely be pretty hungry so head back to Little Switzerland for lunch. You can also spend the afternoon exploring this little town, enjoying the view, and shopping if you like.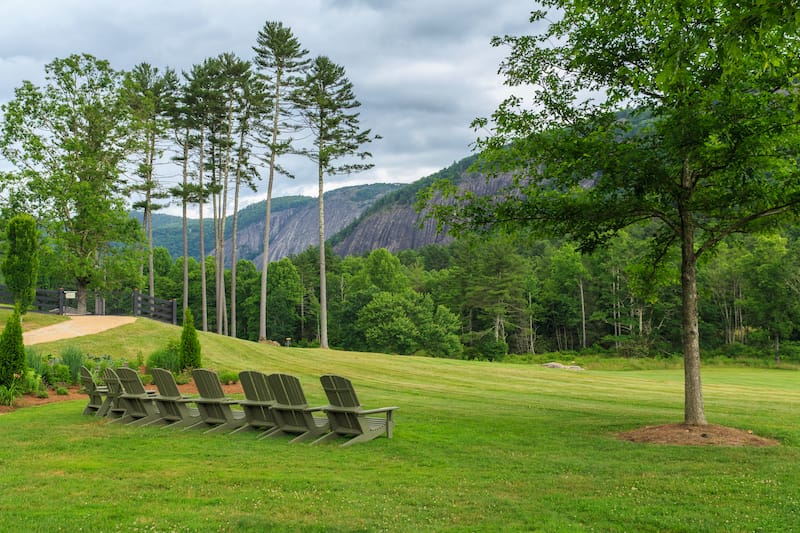 Check out Little Switzerland Books & Beans, the General Store, and Spruced Boutique. Depending on the time of your trip you can also stop by Altapass Orchard just down the road. They offer unique items from early May until the end of October.
Another fun place to stop by is the Emerald Village. This little spot is home to 12 historic mines and the North Carolina Mining Museum. You can also go on an underground tour of the Bon Ami Mine!
While kids do have fun with the "gem mining" and "panning for gold" this is not just a kid's attraction. The scenery is beautiful and there is lots of interesting history to learn here.
Once you're done exploring the quaint village and surrounding area, rent a secluded cabin with a hot tub and enjoy being tucked away in the forest.
Day 5 – Linville Falls
Get up early this morning because there is a lot to see here.
You can easily spend a full day exploring the Linville Falls Wilderness Area. There are two different parking areas – one in the Visitor's Center and the other closest to the village of Linville Falls in Pisgah National Forest.
If you're a novice hiker then take the Erwin's View trail to the Upper Falls then the Chimney and Gorge View. After you get done with that, take the Plunge Basin Trail which takes you to the bottom of the lower falls.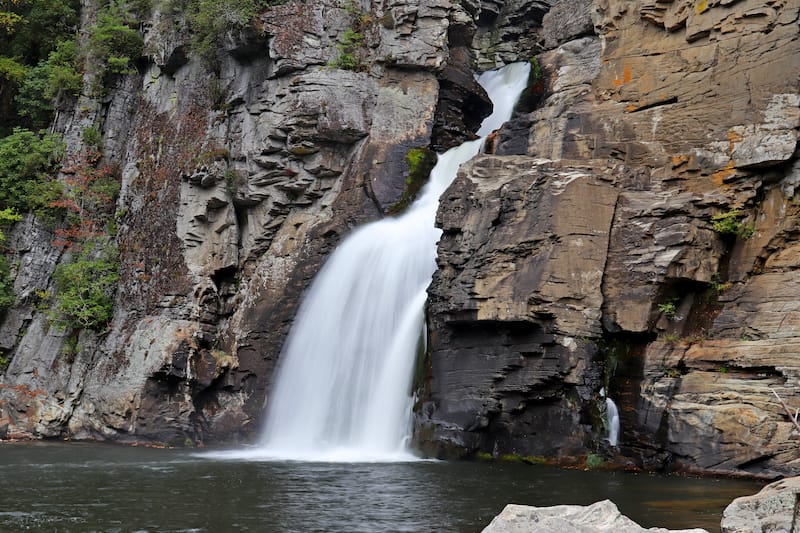 If you are a little more experienced then it's fun to take the Babel Tower Trail down to the Linville River Trail that winds along the river at the bottom of the canyon.
Be sure to pack your hammocks, a picnic, and plenty of water. Hanging your hammock up and having lunch by the river followed by a well-deserved nap is something you won't soon forget.
The Babel Tower Trail is tough coming out of the gorge though so be prepared for that. If you want to try this one, I highly recommend you are physically fit and can read a map and compass.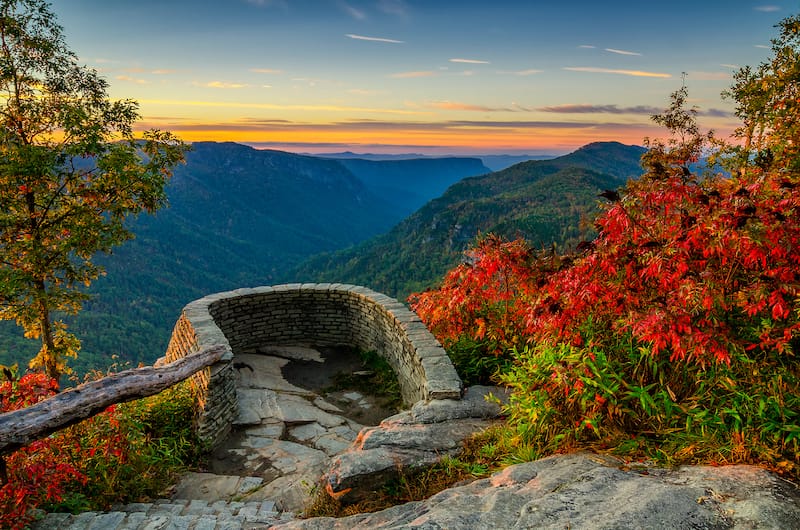 Once you are done hiking in the Gorge head out to Linville Falls Winery and have a glass while you sit outside and enjoy the view over their grapevines. They have great wines and very friendly service. You can also buy snacks here if you are hungry.
Stay at the adorable Linville Falls Lodge & Cottages. They have no air conditioning but you won't need it even in the dead of summer. The landscaping is beautiful with all the spring and summer blooms. The best part – this place is incredibly affordable.
Day 6 – Grandfather Mountain
Here is another spot where you can easily spend a full day. If you enter through the Grandfather Mountain attraction where the Mile High Swinging Bridge is located then you will have to pay an entrance fee.
However, you can also enter from the other State Park parking areas which are free. The two other parking lots are the Profile Parking Area and Boone Fork Parking Area.
Be very careful in this area as bears are prevalent and the trails here are steep and rocky. The majority of these hikes are strenuous so they are best for intermediate hikers.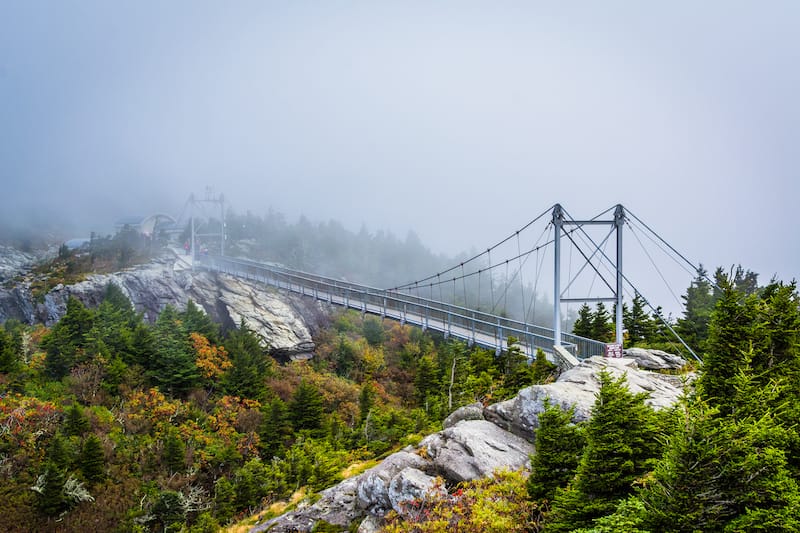 Hike the Profile Trail to the Grandfather Mountain Trail and you can boast to all your friends back home though. If you're looking for something a little easier then cross over the Linn Cove Viaduct and park at the Rough Ridge Trailhead.
This 3.6-mile out and back trail follows the Blue Ridge Parkway and takes you through beautiful forests and along some rock formations. The view from the platform by the stairs is second to none. You have a great view of Grandfather Mountain, the Linn Cove Viaduct, and can see for miles over the Blue Ridge Mountains.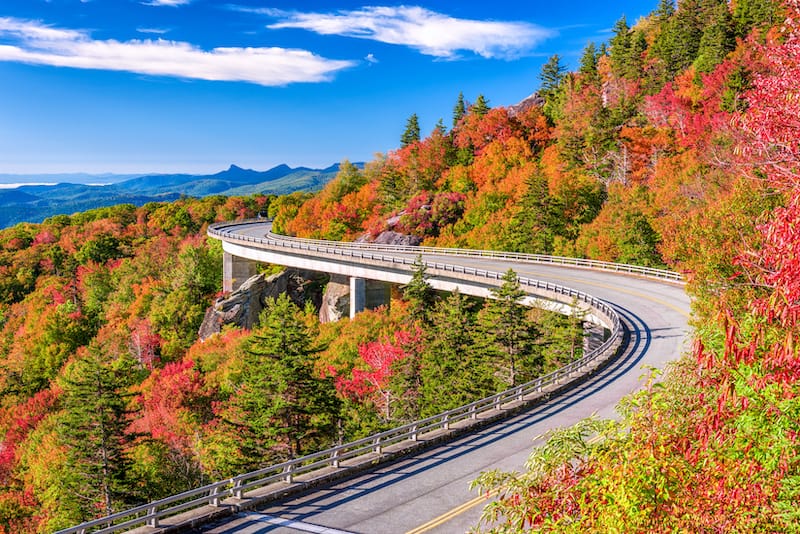 You literally feel like you're on top of the world. Tonight head into Blowing Rock for a nice meal at the Six Pence Pub where you'll feel like you've been transported to England. Have a photo in their telephone booth outside!
Stay at the Hemlock Inn in one of 18 uniquely decorated rooms. This one doesn't have the mountain views that the other hotels have boasted, but it is in the perfect location. You can explore the very walkable town of Blowing Rock during your stay.
Day 7 – Moses Cone & Doughton Park
The first stop of the day will be at Moses Cone Memorial Park. Here you'll find the Moses Cone Manor which was built during the 1890s and early 1900s by Moses Cone. He and his brother ran one of North Carolina's largest textile companies.
This large manor house overlooks a small lake nestled in the forest. There are plenty of hiking trails here that were used as carriage roads in a previous life. You can also walk through the house which is now home to the Parkway Craft Center.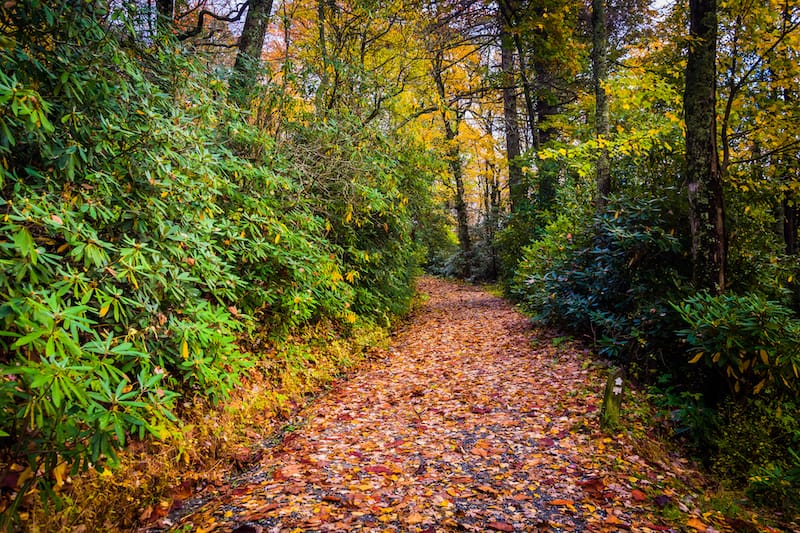 Different hand-made crafts are sold here and you can even watch demonstrations on how some of these things are made.
Don't linger too long though because the last stop on the Parkway is one you don't want to miss.
You'll come to the Doughton Recreation Area about an hour before you hit the Virginia line and it's arguably one of the prettiest places on the Parkway.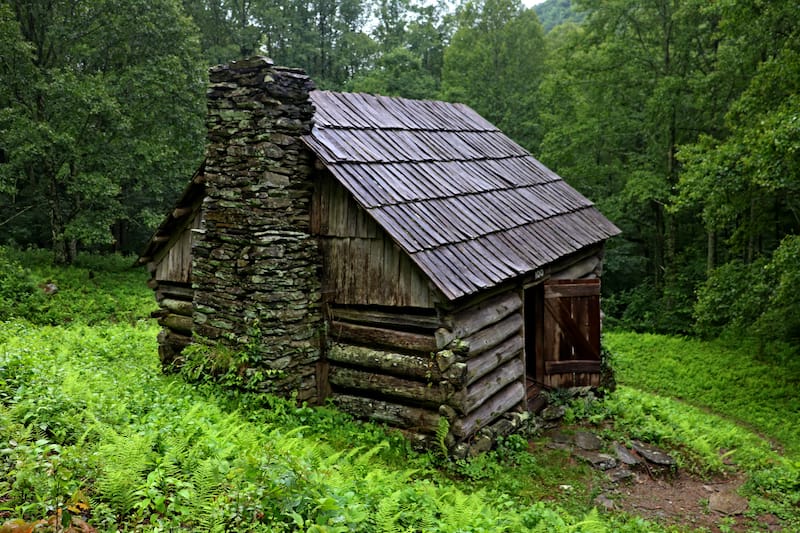 Stop at the Alligator Back Overlook and there is a 20-minute hike that you can take up to a small shelter. Be sure to pack sandwiches and some snacks and it will be one of the most unforgettable lunches you'll ever have.
The hike takes you through a forest, up a rock face, and across a meadow so the scenery is always changing. This is the perfect last hike on the Parkway!
We hope that you found this Blue Ridge Parkway itinerary a fantastic option for a North Carolina road trip! Please let us know your tips and suggestions in the comments!
Bio
Anna is a freelance writer and travel blogger at Stuck On The Go. She loves being outdoors, trying new adventures, and helping others do the same. She and her husband can usually be found on a hiking trail, whitewater rafting, or on the ski slopes.
More North Carolina Travel Resources
Pin this Itinerary for the Blue Ridge Parkway