There is far more to Nevada than just Las Vegas and the desert. This is a guide to the best places to visit in Nevada.
Yes, Nevada has a lot of desert! And yes, Las Vegas is in Nevada. However, there are so many cool places in Nevada worth your time and this guide will disclose some of our favorites!
While California may get all the credit, parts of Lake Tahoe and Death Valley National Park are actually inside of Nevada. But, Nevada is home to one of the most underrated national parks in the US (Great Basin).
These are the destinations in Nevada worth adding to your bucket list! Did we miss any Nevada attractions? Let us know in the comments!
Nevada Destinations Map
To add this map to your Google Maps account, click the 'Star' icon next to the map name. You can then view it on your cell phone or computer by heading to your Google Maps account, click the menu and add it to 'Your Places'.
Best Places to Visit in Nevada – The List
Las Vegas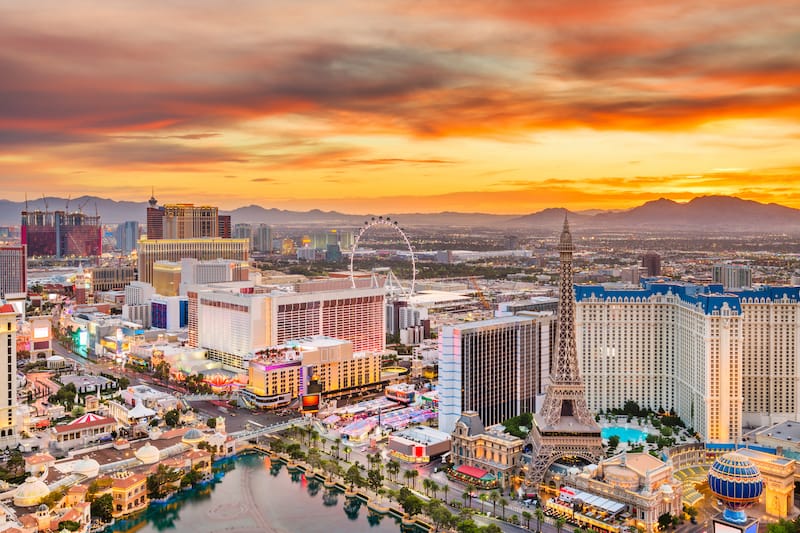 Las Vegas is one of the most popular cities in the United State and it never sleeps because it's full of many attractions, casinos, and other entertaining places that will make you want to visit the sin city.
One of the most popular places to visit in Las Vegas is the 2.5-mile-long strip which is one part of the famous Las Vegas Boulevard. The street is covered with glittering neon lights and is home to luxury hotels, performance venues, and many other places.
You can also experience gondola rides at the Venetian Hotel off of the strip, photograph the reproduction of the Eiffel Tower at the Paris hotel, admire the Bellagio Fountain Show at night, and experience hundreds of interesting and unique things to do in Vegas.
It truly is one of the main places to visit in Nevada and there is nowhere like it in the world. Another great thing about Vegas is that you have access to so many great day trips! There is nothing like visiting Zion in winter or the off-season and using Vegas as your base.
Great Basin National Park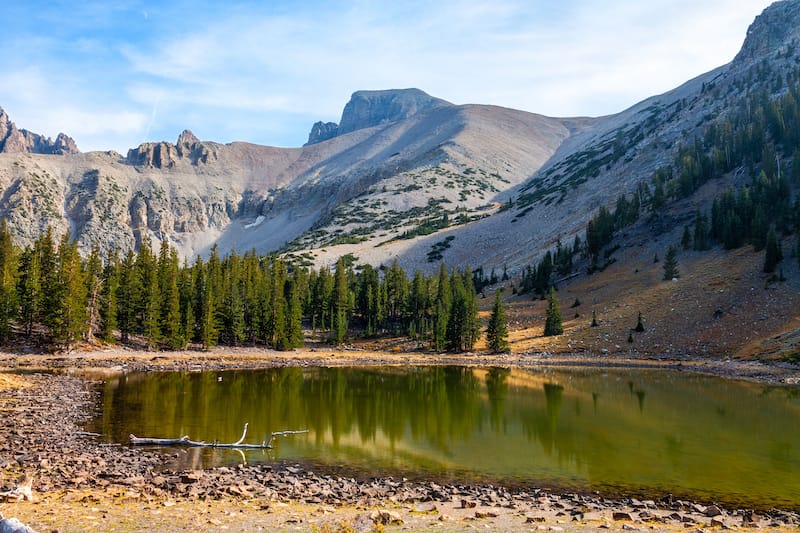 Located in the eastern part of the state of Nevada closer to the border of Utah sits the Great Basin Desert. It is home to the beautiful South Snake Mountains, including majestic Wheeler Peak.
Great Basin National Park is covered with lush green pine and aspen forests where hiking and camping enthusiasts can experience trails like the Lehman Creek Trail that takes you to the mind-blowing Lehman Caves, Sky Islands Forest Trail, Bristlecone Trail, and more.
The park is also home to gorgeous mountain lakes like Stella Lake and Teresa Lake where you can have a picnic and camp. It is one of the least visited national parks in the United States but it is a gem!
Massacre Rim
Located near the California and Oregon borders, Massacre Rim is one of the absolute best places to enjoy beautiful starry nights in Nevada. Due to its remote location, it's known to have "exceptional starry night quality" and is a Dark Sky Park.
This Dark Sky Park is accessible by car or truck, but you will have to pass over gravel roads when you reach the perimeter of the Sanctuary. Please note that these roads may be impassable during winter or when the weather is wet.
The Sanctuary itself is a landscape maintained to protect the principles of the wilderness. Inside of it, vehicle travel is restricted to a few 'rougher' routes that require a 4-wheel drive vehicle with high clearance.
Hiking, backpacking, and horseback riding are also available throughout Massacre Rim.
Hoover Dam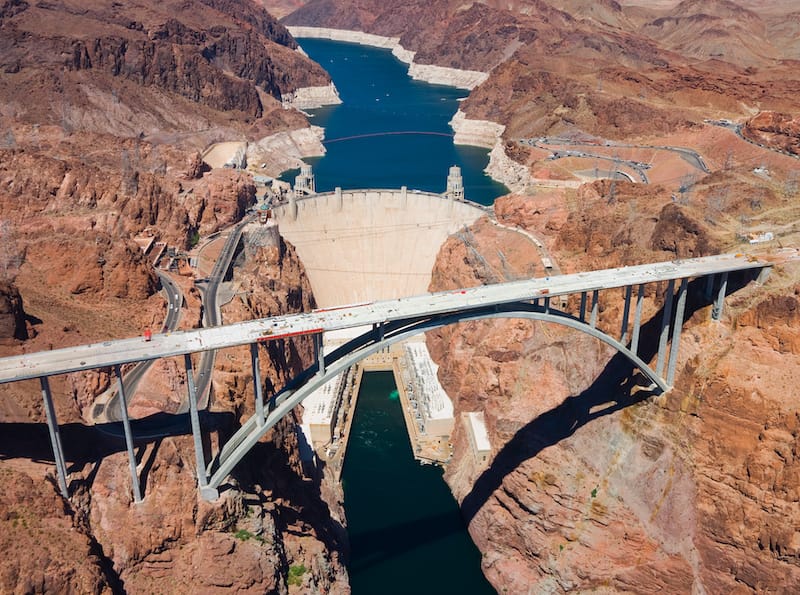 The impressive Hoover Dam is one of the most famous places to visit in Nevada that is located in the Black Canyon. It was constructed in 1931 and is one of the best engineering constructions in the United States. Over a million travelers visit annually to marvel at how spectacular the structure is!
The dam is built on the Colorado River where it is possible to raft and kayak. The area is also attracting hikers to hike the Historic Railroad Hiking Trail that passes through fascinating tunnels via Gold Strike Hot Springs Trail.
Other popular sights near Hoover Dam are the impressive Mike O'Callaghan–Pat Tillman Memorial Bridge, hidden Ringbolt Hot Spring, and more. This is the perfect stop on a road trip from Colorado to California (or anywhere that passes by the Las Vegas area)!
Reno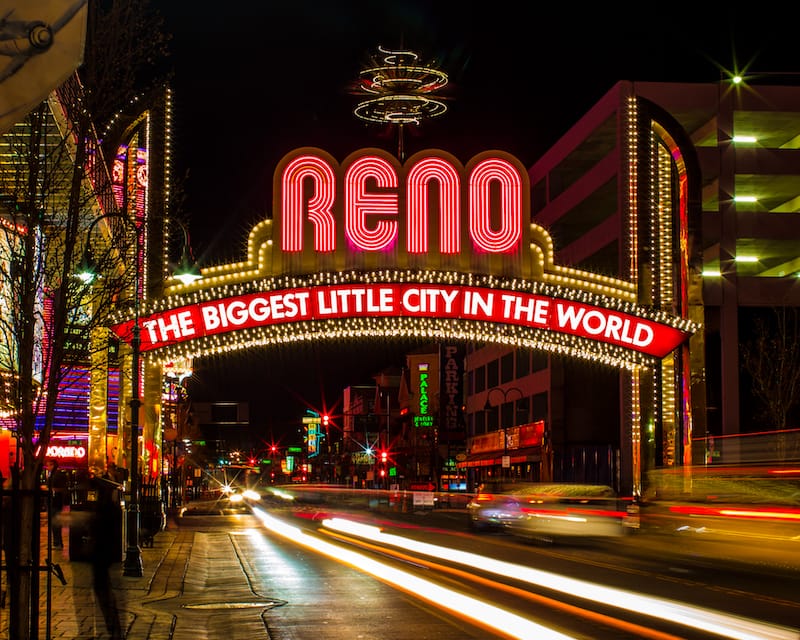 Reno is yet another city that is famous for its tourist sights and casinos and has a lot to offer its visitors, all year round.
Reno, also known as " The Biggest Little City", is famous for its fantastic selection of museums such as the Nevada Museum of Art that is the oldest cultural center in the state.
Reno is also home to many fantastic pieces of art dedicated to the Wild West. Another museum to visit in Reno is the National Automobile Museum which contains a fascinating collection of 200 retro vehicles, ranging from racing cars to high-class, luxury cars.
Casino lovers can visit the most famous casino in Reno, the Eldorado, and if you like nature, you can drive 40 miles away from the city to gorgeous Lake Tahoe.
It is considered to be one of the most beautiful lakes in the United States because of its crystal-clear waters and surrounding mountains.
Ely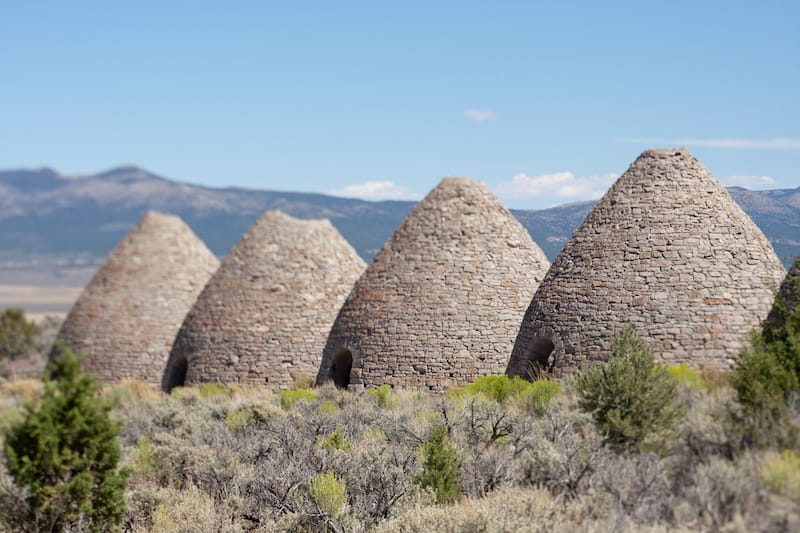 Ely is a small, mountainous city that thrives on history, art, and outdoor adventure. Founded in 1870 as a trading stop named Murray Station, Ely, later on, became one of the major copper mining regions of the world.
This city prides itself on the idea that there is something for everyone. The most well-known thing about Ely is the fantastic year-round outdoor recreation opportunities and history. On top of this, Ely also hosts thrilling races, memorable train rides, and many artistic and cultural events.
Some of the best things to do in Ely include checking out the unique Ward Charcoal Ovens State Historic Park, learning more about the history of Ely at the White Pine Public Museum, feeling the energy of the past at the Nevada Northern Railway Museum, etc.
Ely is also a fantastic weekend trip from Salt Lake City (and you can even pop up to the Bonneville Salt Flats in Utah from the Nevada city)!
Valley of Fire State Park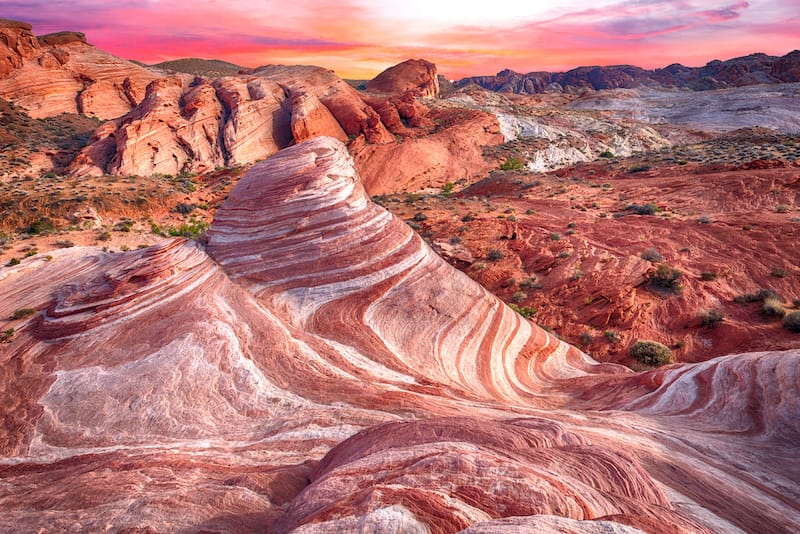 Nevada has many beautiful places and Valley of Fire State Park is one of the most fabulous ones in the state.
It is located approximately one hour away from Las Vegas and is home to several mesmerizing pink rock formations, prehistoric petroglyphs, hiking trails, and other fascinating natural spots. It is a fantastic place to stop if you're in Vegas or simply if you're on a road trip from California to Arizona or New Mexico.
The nature preserve and public recreation spot of Valley of Fire State Park is a perfect road trip destination where you can cruise along Mouse's Tank Road and enjoy the epic rock formations, especially at sunset.
Thousands of travelers are visiting Valley of Fire from Las Vegas to hike and photograph several famous rock formations like Mouse's Tank, The Beehines, Elephant Rock, and many more amazing natural wonders.
Sloan Canyon National Conservation Area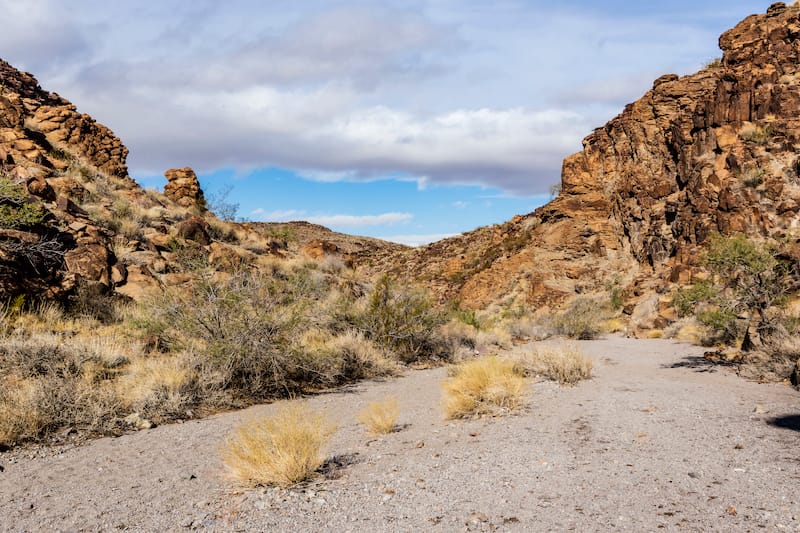 With 48,438 acres, this national conservation area promises special types of scenic and geologic features. One of the highlights of the Nevada attraction is the Sloan Canyon Petroglyph Site, which is one of the most significant cultural landmarks in Southern Nevada.
Archaeologists claim that the Native cultures from the Archaic historical period have produced more than 300 rock art panels with 1,700 individual design elements here.
As a premier rock art site, Sloan Canyon has some pretty strict regulations in place when it comes to keeping the petroglyphs preserved, so make sure you do not violate any. Apart from rock art, this place has boundless wildlife ready to impress its visitors almost every time of the year.
Pyramid Lake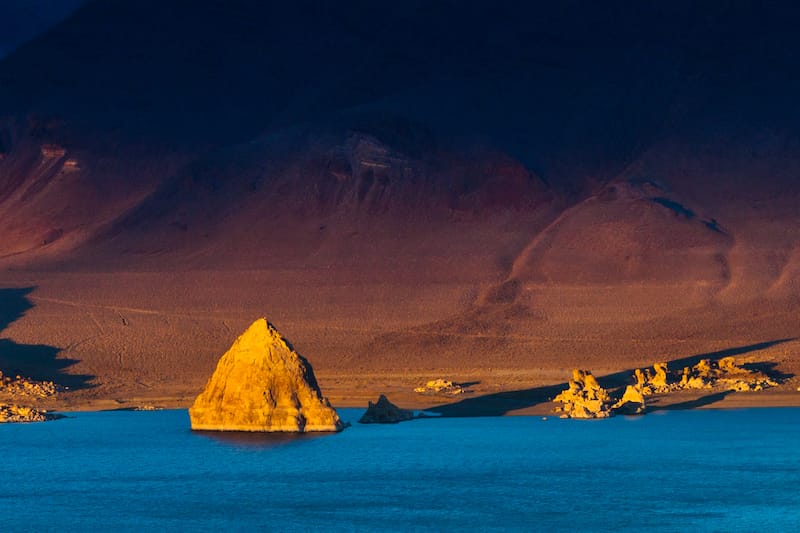 Pyramid Lake, widely known for its amazing scenery, is one of Nevada's largest natural lakes. It is surrounded by unique rock formations that make the location mystical and interesting.
A great way to spend some time near the lake other than to go fishing is to visit Paiute Tribe Museum and Visitors Center.
It is known that this lake played a significant role in the history of the Paiute Natives, and several exhibits in this museum specifically highlight information on the connection of the Paiute and Pyramid Lake.
Lake Tahoe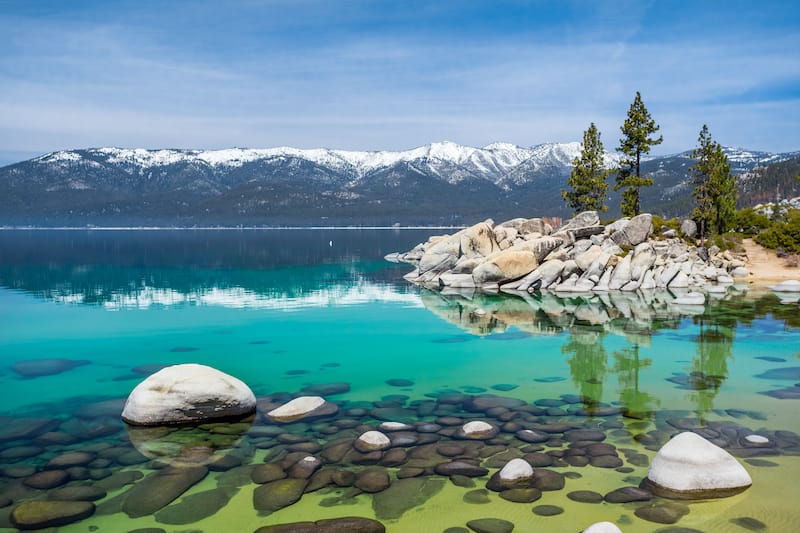 One of the most beautiful places to visit in Nevada is fabulous Lake Tahoe which is known as the Sierra Nevada Mountains' largest freshwater lake. Most people associate the lake with California, but it is also part of Nevada.
Located approximately 40 miles away from Reno, Lake Tahoe is known as one of the clearest lakes in the United States and is a great weekend getaway destination from the bustling cities of the west coast and southwest.
Lake Tahoe and the surrounding area offer a wide range of activities to do year-round. Some of the most popular activities are hiking, kayaking, swimming, hot air ballooning, golfing, and more.
Lake Tahoe has many popular places to visit such as Heavenly Mountain Resort and Squaw Valley for skiing, Emerald Bay State Park has many hiking trails, and be sure to also stop by the historic Vikingsholm mansion when you're there!
Rhyolite Ghost Town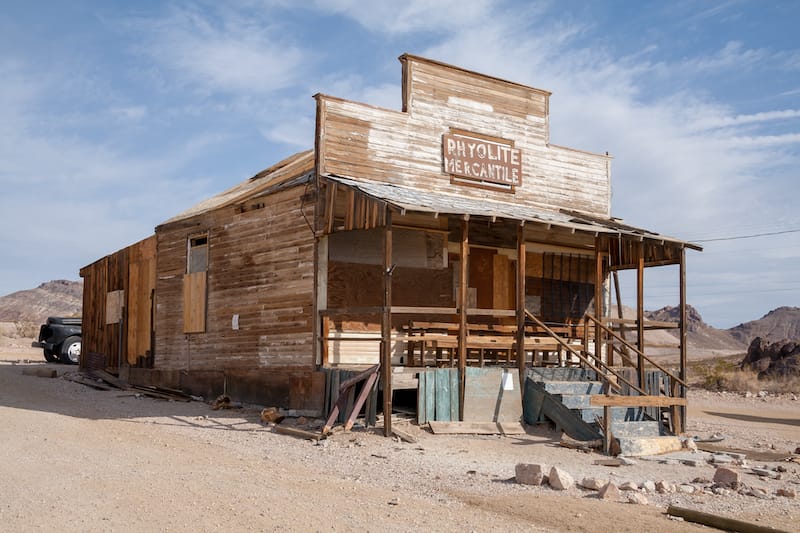 This so-called ghost town was established in 1904 but was "dead" by 1916, mainly because of the gold mine closure.
Even though the lights went out for far too long ago in Rhyolite, there are still many cool reasons to visit the ghost town.
Paramount Pictures restored the bottle house for the film The Air Mail in 1925. That house was constructed from hundreds of glass bottles in the walls of Adolphus Busch products. It truly is a bizarre attraction!
Apart from this house, there are several empty buildings and constructions such as a three-story bank, a general store, a train station, etc.
For those looking for an exciting yet different kind of experience, Rhyolite is a great Nevada destination!
Grapevine Canyon Petroglyphs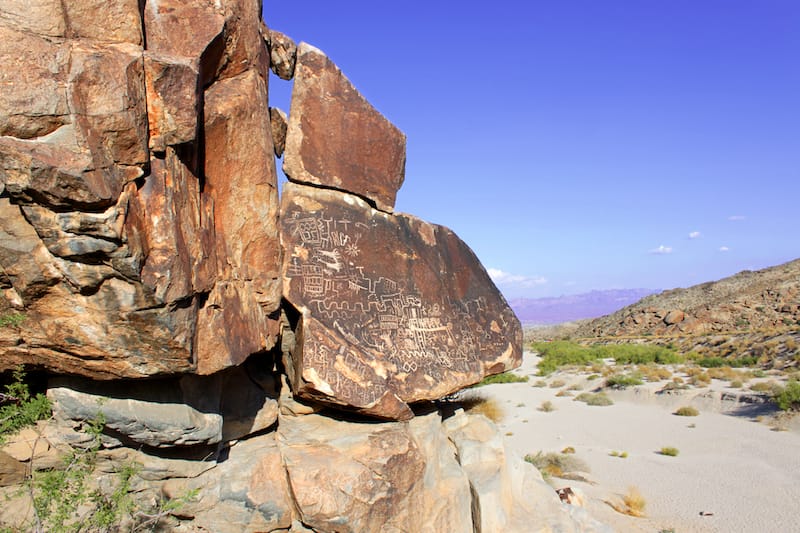 Also known as "Christmas Tree Pass," Grapevine Canyon Petroglyphs is home to nearly 700 petroglyphs and several rock shelters.
Do note that a significant number of petroglyphs are right at the entrance, so there is a lot to check out before entering the canyon further.
According to data, the petroglyphs were created in 1100 and 1900 AD. Sadly, the only fact that is known about them is that the area was inhabited by the Mojave, but both the meaning of the glyphs and their creators remain unclear.
Fly Geyser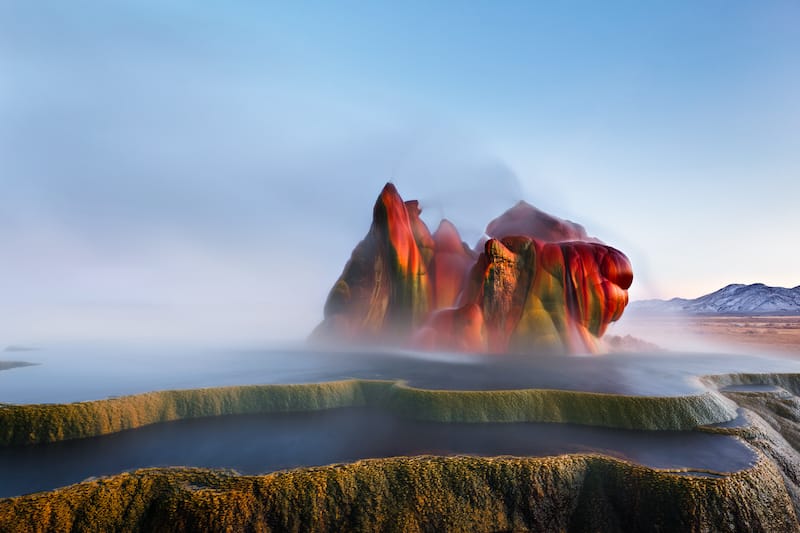 The small geothermal geyser named Fly Geyser is located on private land in Washoe County, Nevada. The geyser's uniqueness is that it has multiple hues of green and red colorings due to thermophilic algae in its consistency.
The Fly Geyser area's heat source comes from a very deep, hot rock pool where tectonic rifting is common. The geyser's temperature is typical of those at higher elevations (around 200 °F, 93 °C).
From April to October of each year, Fly Ranch is open for small, guided three-hour nature walks, and the geyser is part of the walk. The money collected from the tickets is given to Fly Ranch and Friends' organization as a donation.
Carson City
Carson City is the capital of Nevada and is home to historical attractions, theaters, art galleries, outdoor adventures, beautiful golf courses, shopping places, and many other landmarks and things to do.
If you are visiting Carson City, make sure you don't miss out on the interesting Nevada State Museum that tells about the regional history starting from prehistoric times.
Also, be sure to venture to nearby Secret Cove and Cave Rock formations in the area.
Outdoorsy travelers can hike in Carson City on the Kit Carson Trail and see the architecture and historical sites of the city. Or, you can cross the border into California and take a day trip to the ghost town of Bodie instead!
Don't forget to try the traditional, local steak in the famous Red's Old 395 Grill. They also have over 100 different types of beers to try!
Tonopah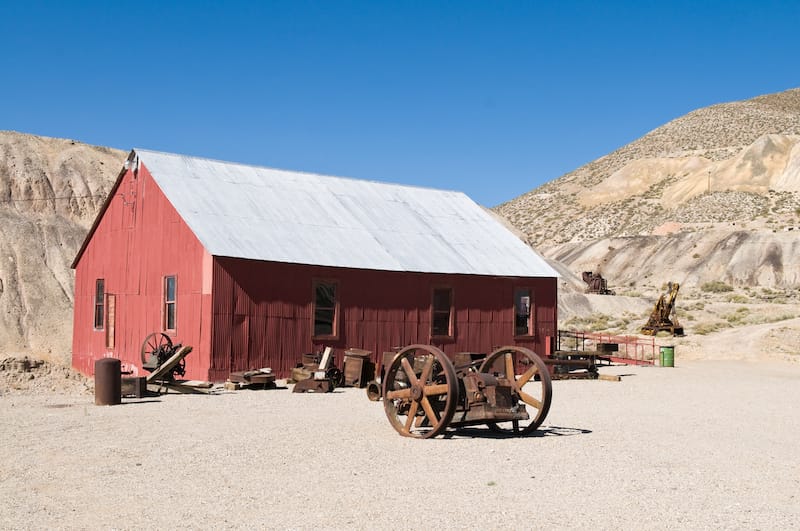 Tonopah is yet another place to visit in Nevada for those who love some great stargazing. Clair Blackburn Memorial Stargazing Park in Tonopah was built for both trained astronomers and those with a slight interest in stars.
Visitors can either enjoy the views with a telescope or just sit and look up from the picnic tables.
The town of Tonopah prides itself on its mining history. It thrived until 1920, but now it does not have the life and energy to revive it.
Remains of Tonopah are open for visitors to explore at the Tonopah Historic Mining Park and the Central Nevada Museum, both of which demonstrate Tonopah's western history.
This is one of the best small towns in Nevada to add to your itinerary.
Virginia City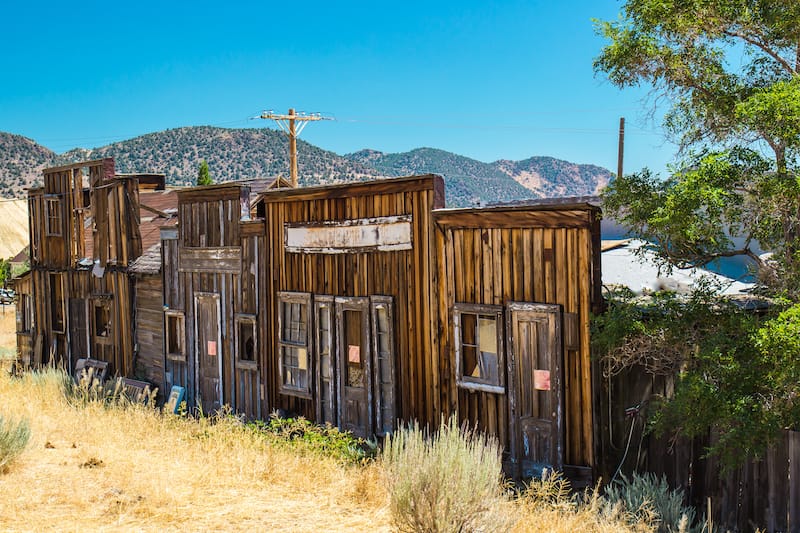 Virginia City is known for its 19th-century Victorian buildings that were built during the boom of the mining industry.
The whole town is one big attraction with different interesting and historical places to visit like Mackay Mansion, the oldest structure in Virginia City, built in the mid-19th century. It was once the home of the Gould and Curry Mine.
Other historical sites that have a specific western architectural style that you can't miss out on are the Piper's Opera House that was built in 1885, Fourth Ward School, and many others.
If you want to learn and see how the mine tunnel worked 200 years ago, sign up for the Ponderosa Saloon Mine Tour.
Cathedral Gorge State Park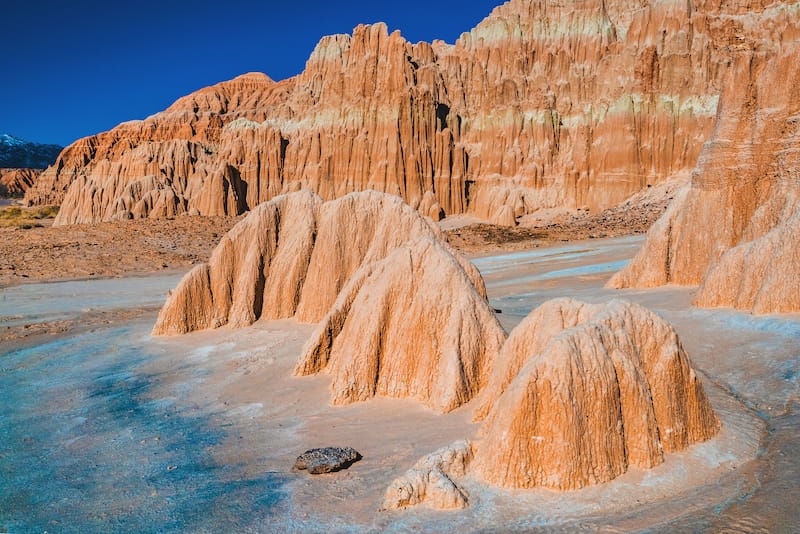 Located in a narrow valley in southeastern Nevada, Cathedral Gorge State Park is an amazing spot where erosion has done its job with carving some specific patterns in the soft bentonite clay.
With some really mesmerizing views, the park offers some great trails to enjoy hiking, picnicking, camping, and the overall Nevada landscapes that exist there.
There are more than 20 sites for camping, with facilities like large shade ramadas, grills, picnic tables, and water. Note that these campgrounds are not available for reservations.
Aside from camping, there is also a picnic area and parts of the park available for hiking. There is a remote area available via a 4-mile loop trail and there is also a 1-mile trail connecting the picnic area to the Miller Point Overlook.
Red Rock Canyon National Conservation Area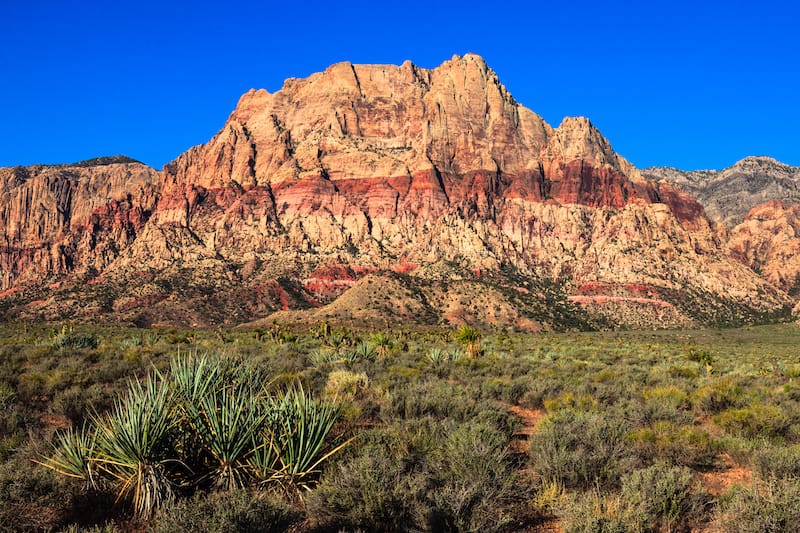 Located in the Mojave Desert, Red Rock Canyon National Conservation Area is home to fascinating red sandstone peaks, Native petroglyphs that date back many eras, and the Keystone Thrust Fault.
Red Rock Canyon National Conservation Area is located only 16 miles away from Las Vegas and has a lot to offer its visitors.
First of all, one of the best reasons to visit this Nevada destination is the scenic ride to get there!
Secondly, Red Rock Canyon has more than 26 hiking trails that you can experience. The most popular one is the Calico Hills Trail, a 2.6-mile trail that has some fantastic views along the way.
Lake Mead National Recreation Area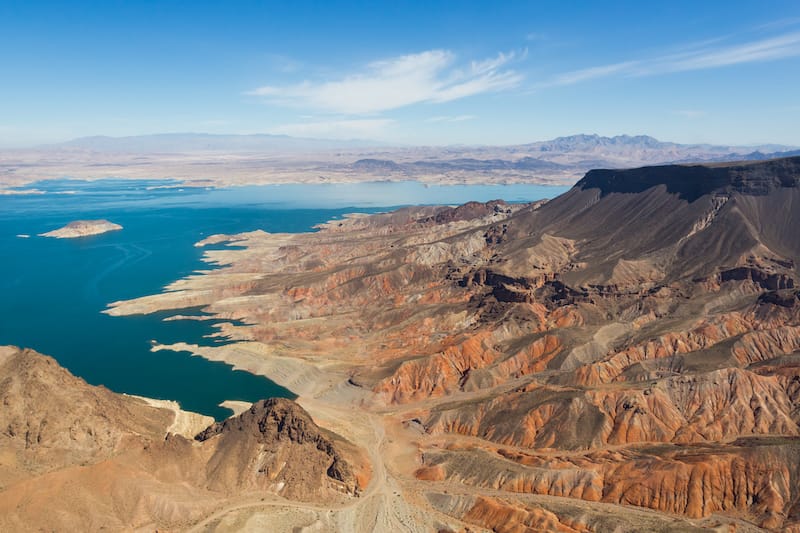 Lake Mead National Recreation Area is located approximately 16 miles away from Las Vegas in the southwestern part of Nevada.
The National Recreation Area is known for being the first and largest national recreational area in America.
It has a breathtaking landscape and blue waters, luring in travelers all year round to engage in different activities like swimming, hiking, boating, kayaking, and more.
It's a perfect weekend getaway destination from Las Vegas where visitors can picnic near the lake, see Hoover Dam up close, visit the Lost City Museum-Archaeology, kayak to stunning Emerald Cove, etc.
Lake Mead is a gem. There are also many amazing places to visit in Arizona nearby – so definitely consider a trip to see this marvel!
Lamoille Canyon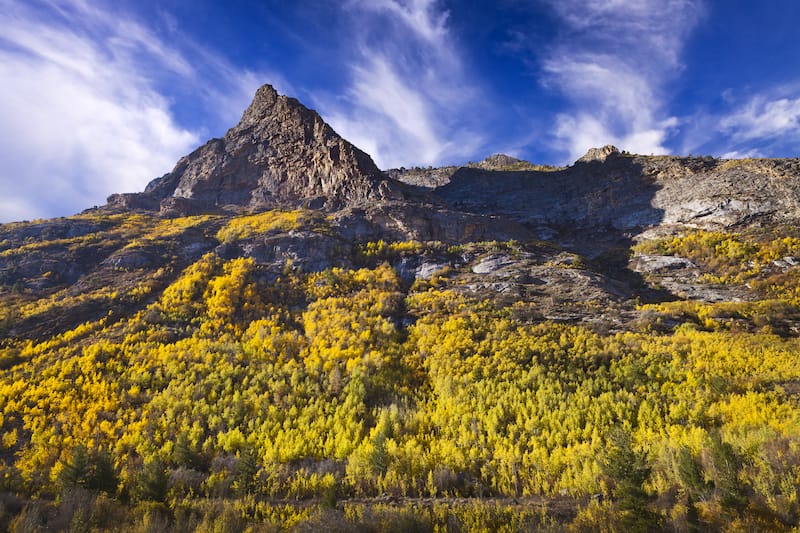 Many say that visiting the Lamoille area without seeing the unique Lamoille Canyon Scenic Byway is a big mistake! It is a u-shaped canyon flush with summer wildflowers and dazzling colors in the fall.
Be sure to check out the Lamoille Glacier Overlook on the way to the peak, where you can see the effects of two 1,000-foot-thick glaciers that carved the land into a u-shaped canyon.
You can also spend your spare time there doing some hiking, picnicking, mountain biking, backpacking, and more.
The area contains more than 100 miles of hiking trails, and one of them is Island Lake, a simple two-mile hike that promises some breathtaking views.
Ruby Mountains
As the wettest spot in Nevada, the Ruby Mountains offer a very green and lush landscape, which is truly a different kind of contrast to the ecosystems that one typically thinks of when Nevada comes to mind!
The Ruby Mountains are the only habitat in North America of an introduced Himalayan snowcock species. The name of the range was given after the early explorers' found garnet in the area.
During the recent ice ages, the central core of the range displays substantial evidence of glaciation, including u-shaped canyons, hanging valleys, steeply eroded granite mountains, moraines, cirques, etc.
Black Rock Desert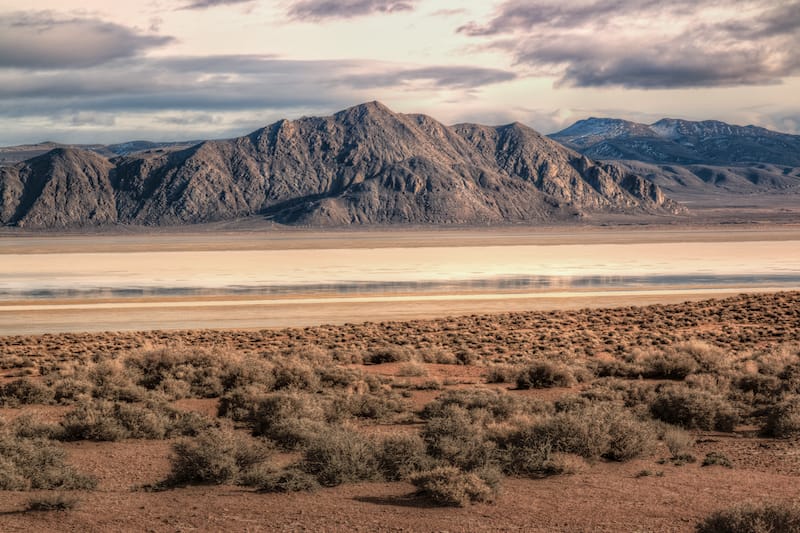 Black Rock Desert is home to a unique Plata and lava beds landscape; it's also rich with many hot springs like Trego Hot Springs, Black Rock Hot Springs, Double Hot Springs, and others.
This place in Nevada has become synonymous with Burning Man but also has very interesting and unusual places like Planet X Pottery, an artist community oasis located close to the Smoke Creek Desert.
The off-the-grid place is filled with a lot of pottery and art in its garden that you can also take home as a souvenir. There are some private hot springs that you can book and even swim in like in Soldier Meadows Hot Springs.
Mount Charleston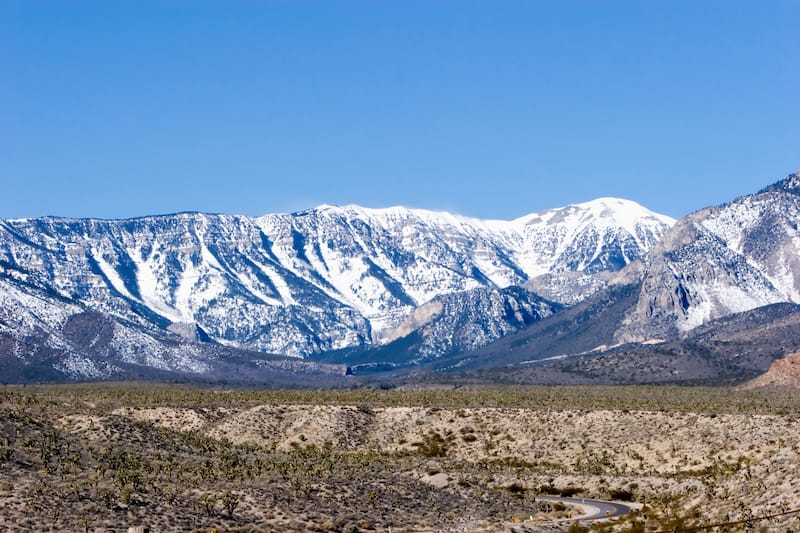 Mount Charleston is the highest mountain in both the Spring Mountains and Clark County and it is also the eighth-highest peak in the state.
The mountain can be seen from parts of the Las Vegas Strip when looking westward. At its base and to the east is the unincorporated town of Mount Charleston, Nevada.
With a variety of hiking trails, a ski area, a rustic hotel, and a small restaurant, Mount Charleston is a year-round getaway not only for Las Vegas residents but also for many tourists.
There are almost 200 campsites and over 150 picnic areas on Mount Charleston, some of which are RV-accessible.
Eldorado Canyon & Gold Mine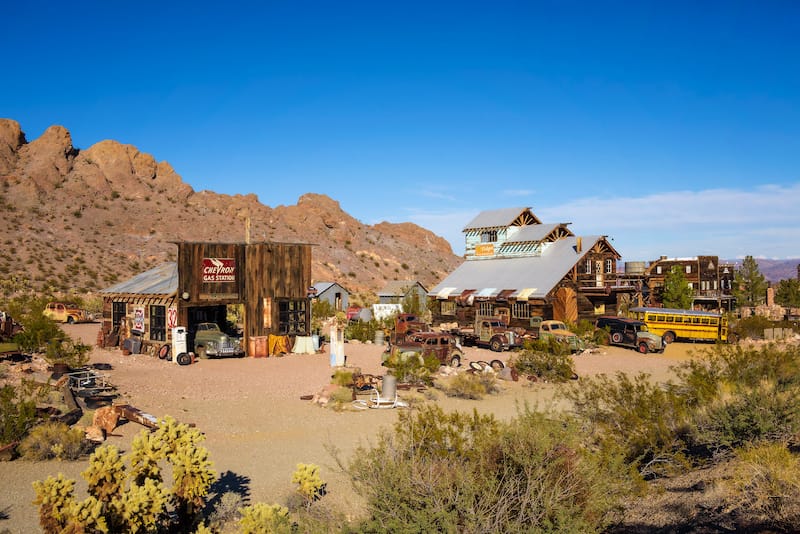 Only a 45-minute distance from Las Vegas, Eldorado Canyon is the oldest and richest gold mine in Southern Nevada.
This area (now referred to as Nelson) was flooded with miners and prospectors in the mid-1880s, which resulted in having a lot of disagreements and management issues, making the place full of murder and lawlessness.
However, vast quantities of gold, silver, copper, and lead were still produced there.
If you decide to visit this fascinating place, you can take a guided tour to get through the mine, inside Techatticup Millsite and Savage Mine, and more.
Also, for visitors, there are blue water cove trips provided where visitors can hire a canoe or a two-person kayak to row in the canyon below through the amazing Colorado River.
We hope that you found some really inspiring attractions in Nevada to visit on your upcoming trip! This guide to the best places to visit in Nevada is never conclusive and we will add to it over time!
Let us know your favorite destination in Nevada in the comments!
Additional Nevada Travel Guides
Pin this Guide to Places in Nevada