A recent travel highlight of mine was visiting Procida Island at the end of last year. This guide details a bit about my trip, including the best things to do in Procida, how to get there, and all of the wonderful reasons that you should visit!
Are you planning your trip to Procida last minute?
If you're traveling to Procida last minute, you want to ensure you have your lodging and tours booked ahead of time! These are our top picks:
🇮🇹 Best Tours to Procida:
🛌 Best Places to Stay on Procida:
Vento di Mare (fantastic accommodation by the port)
Chora Kale (where I stayed in the colorful harbor!)
🚗 Looking for the best way to get around Campania? Click here to check rental car rates for Italy!
Did I miss anything or any cool places to visit in Procida? Let me know what tips you have for a trip to Procida Island in the comments. Thanks!
About Procida Island
One of the most colorful places in Italy (and perhaps the world!) is Procida Island off the coast of Naples. This island is one of the Flegrean Islands and is only a mere 4.1 sq km in size and it is the perfect day trip from Naples!
The population barely exceeds 10,500 people and it is the Italian Capital of Culture in 2022, which is all the more reason to visit the beautiful place!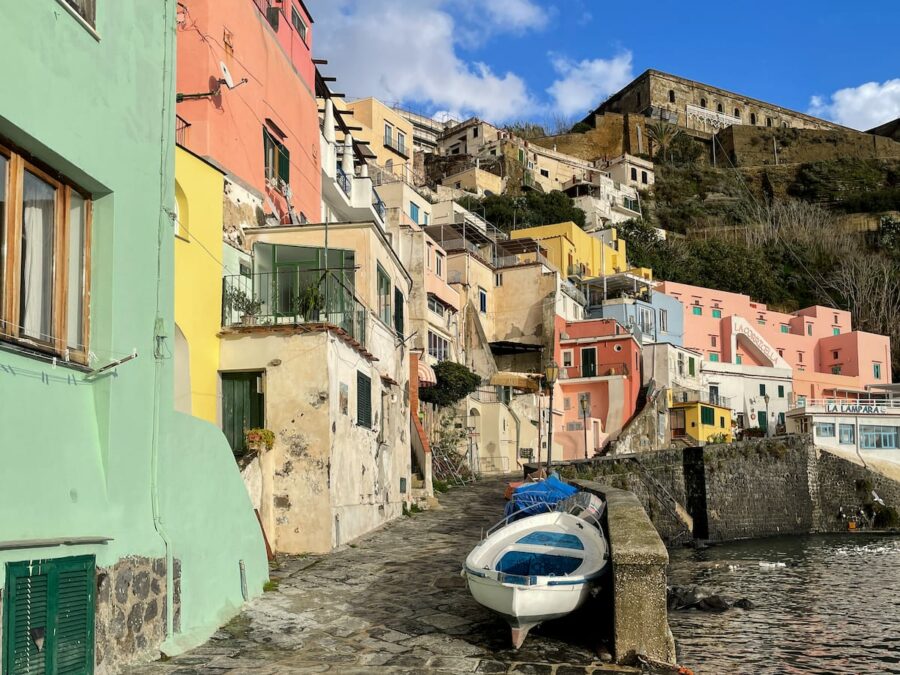 I was long drawn to Procida for its colorful harbors but several films have chosen the island as its filming location (The Talented Mr. Ripley and Cleopatra are just two famous names aside from the many Italian films shot there).
Historically, the island was formed by volcanoes that are now submerged, and today, you can also see Vivara, a satellite island, hanging off of its coast as well.
The first underwater aqueduct was built on Procida in 1957 and the island is a tourist masterpiece today.
It truly is one of the coolest places I have been in Italy and I encourage everyone to make a visit there (and stay overnight)!
How to Get to Procida
First and foremost, you need to get to Naples (or somewhere with a direct ferry or route to Procida). I found the easiest way to get there was from the port of Naples.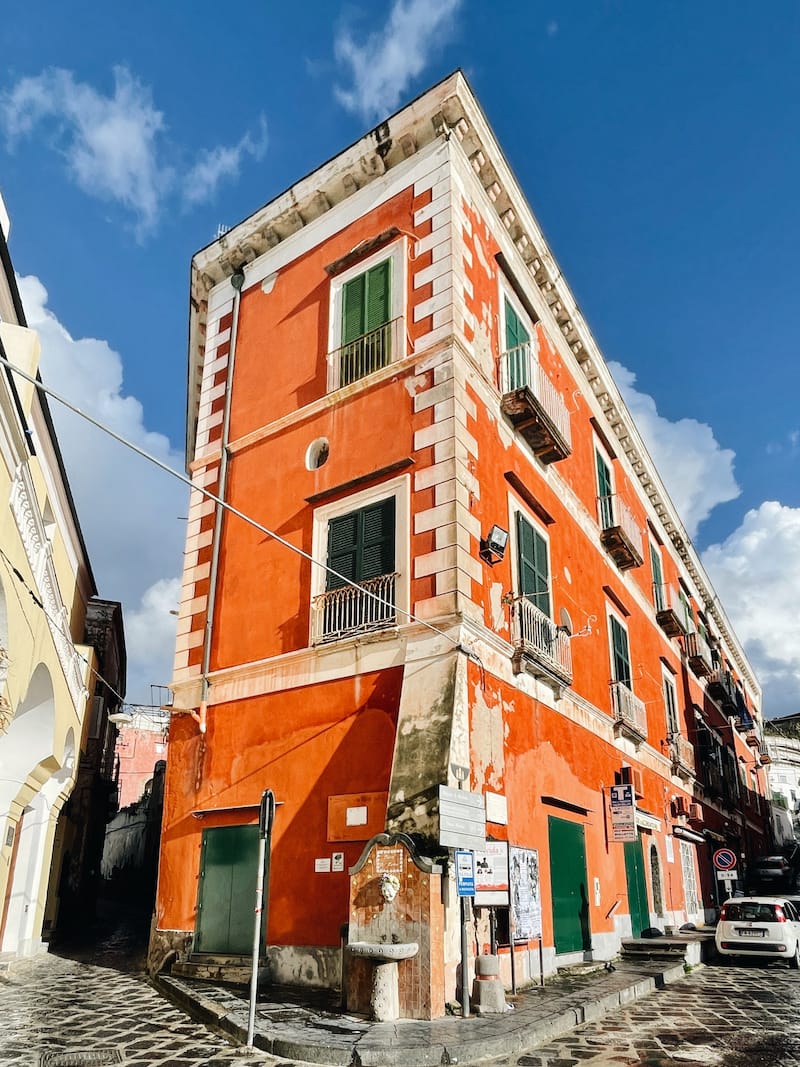 Ferry to Procida from Naples
There are ferries leaving from two different Naples ports – Molo Immacolatella Vecchia (the one I went from) as well as Calata Porta di Massa (the one I arrived back to).
To reach Immacolatella Vecchia, you will need to take the metro to Municipio and to reach Calata Porta di Massa, you will need to take the metro to Universita.
The first thing to know is that ferries are more frequent from April until October. From November until March, they will run less frequently (and are not pleasant – keep reading for more information on that).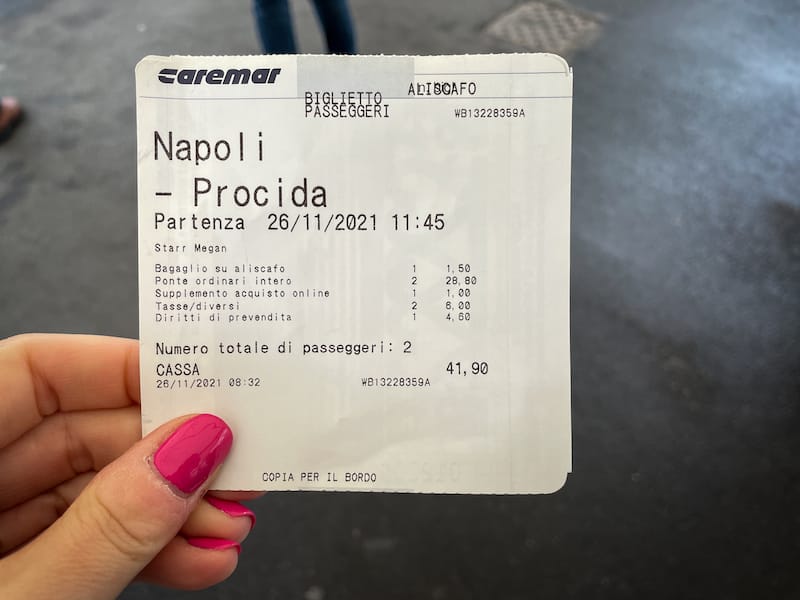 During the high season, you will find ferries departing every 1.5-2 hours. They vary in price and take around 45 minutes on the hydrofoil boat.
While you can purchase tickets at the kiosk upon arrival, these can get booked up quickly so I recommend doing it in advance!
If you opt for a car ferry (the larger, slower one), you will have a cheaper ticket, outdoor seating, and it can take around an hour to get to and from there.
💥 INSIDER TIP: Okay, so here is the important thing to note – do not take the hydrofoil during winter. I am not someone who gets seasick usually but this was the worst experience of my life.
Granted, you may have smooth seas, but I wouldnʻt chance it. Naples is super rainy and stormy during the winter. Again, I repeat, this was the worst experience of my life. I didnʻt even feel human during this experience.
Fortunately, I took the large car ferry from Procida to Ischia next and further from Ischia to Naples after – and it was a dream compared to the hydrofoil (the weather was still bad). Just trust me on this.
You can view all Naples ferry schedules here.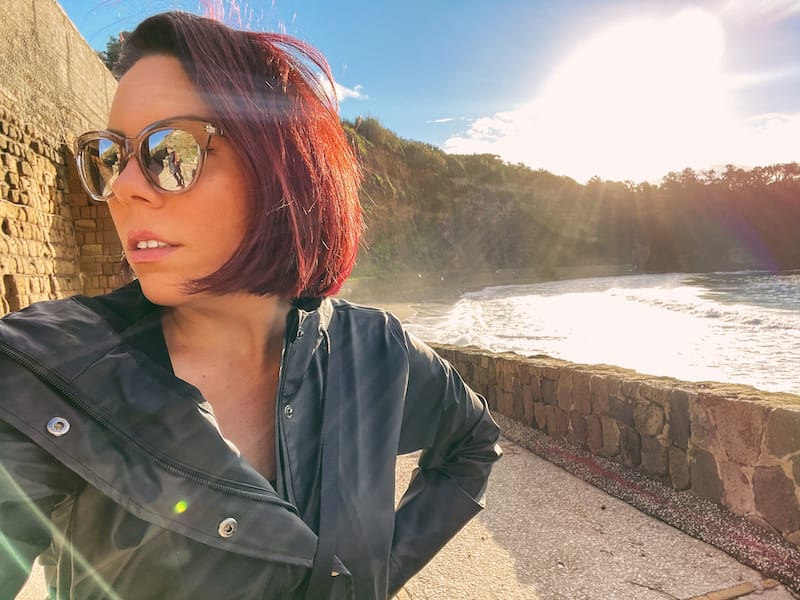 Tour to Procida from Naples
So, while all of this is easy, if youʻre looking for a more organized day trip to Procida from Naples, donʻt worry – it is also quite easy!
You have a few options but this option is truly the best. It includes a ferry to and from Naples as well as a restaurant lunch at a local establishment.
>> Click here to check tour rates and availability
Tour to Procida from Sorrento
Are you looking to travel to Procida Island from Sorrento instead? This small group (12 people maximum!) tour from Sorrento will take you to beautiful Procida and Ischia for the day.
>> Click here to check tour rates and availability
How to Get around Procida
You can technically walk the entire island. The walk from the harbor where the ferry arrives at the other sideʻs harbor is short but requires a few steps once you get to the backside of the island.
The streets are narrow and not great for cars, but locals will drive them anyway. And, it kind of makes walking a bit of a nuisance as it will require you to constantly pull over and let them pass.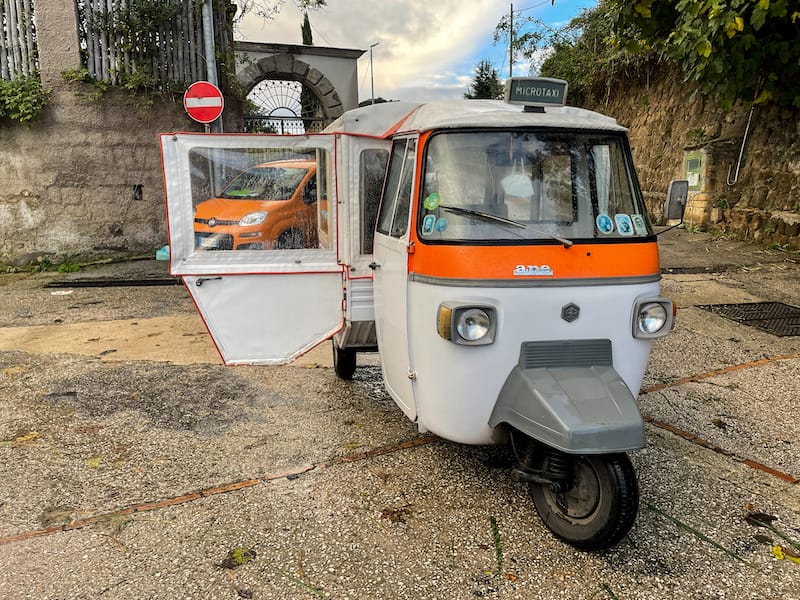 Taxis are available but a bit pricey. I only recommend taking a taxi if you have luggage and are looking to transport it to and from the ferry. Otherwise, the island is extremely walkable.
There is public transportation that goes around every so often but I donʻt think you need it, personally.
🌟 GOOD TO KNOW: It is illegal to bring a non-resident car to Procida from March 1-December 31. I wouldnʻt, personally, do it at any time of the year though. You simply donʻt need it.
Best Time to Visit Procida
If youʻre looking for no crowds, affordable prices, and having an island (somewhat) to yourself, then head there during winter. But, I wouldnʻt recommend it.
There are fewer restaurants open and the ferry to Procida is often rough if you take the hydrofoil. However, the larger ferry was pretty smooth.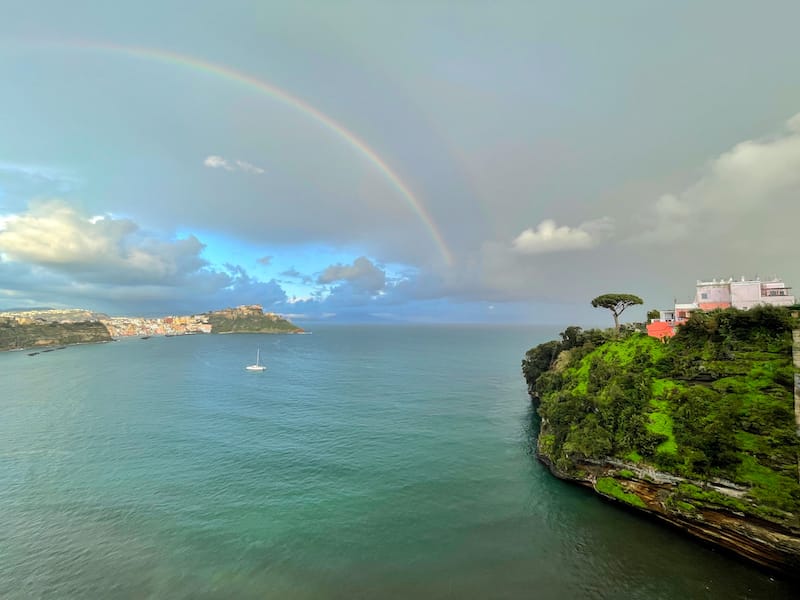 I went there in winter and the weather rained nearly every day. But, we did get some short breaks from the rain here and there! So, as a result, I recommend visiting in shoulder season or summer.
Just be aware that the prices will be at their highest during summer and accommodation must be booked far in advance if youʻre spending more than one day in Procida!
Best Things to Do on Procida Island
Visit Terra Murata
Known as the both historical and cultural center of Procida, Terra Murata is for sure one of the very first places you should visit in Procida.
When approaching the island from the sea, this area is clearly visible and it's almost impossible to miss it.
Apart from astonishingly beautiful views of the entire Gulf of Naples, you'll see medieval fortifications along with two long-range cannons that are from the times of the Neapolitan Republic of 1799.
The most prominent locations here are Palazzo d'Avalos and Abbey of San Michele, which are both 16th-century structures (more information is mentioned in the following paragraphs).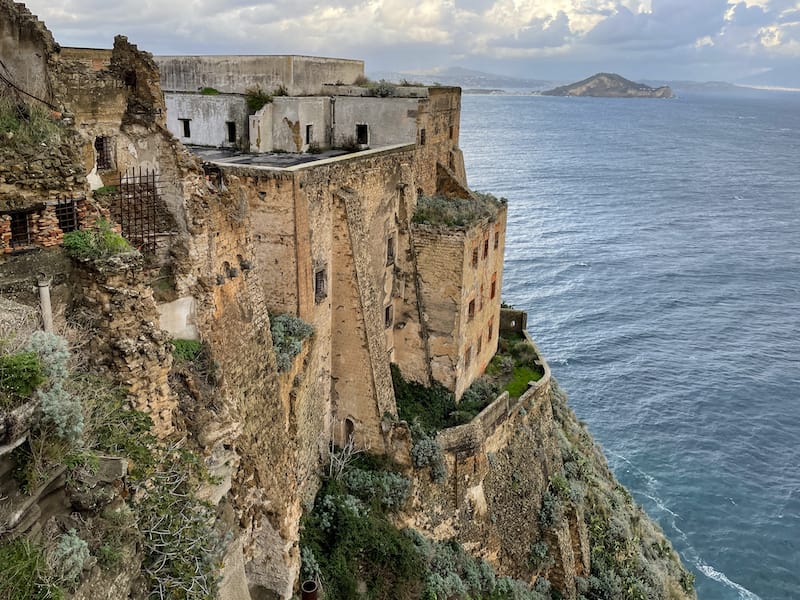 There is also an underground tour containing a historic burial site, which is yet another not-to-miss attraction.
You may either walk up to Terra Murata or take a bus from the port of Marina Grande. FYI, the walk takes about 20 minutes and is primarily uphill but really isn't too brutal as the views make it well worth it!.
See Abbazia San Michele Arcangelo
Abbazia San Michele Arcangelo is the religious center of Terra Murata village. From an archeological perspective, it's a system of several layers and transformations made over the centuries.
During the span of many years, it has been periodically destroyed and rebuilt (the existing architecture is from 1500). Today, it is one of the top Procida attractions!
Even though the oldest part of the building dates back to the 15th-century, there are historical records from 1026 revealing the presence of a monastery in this location.
The Abbey of San Michele Arcangelo is one of the most prestigious and richest churches in all of southern Italy.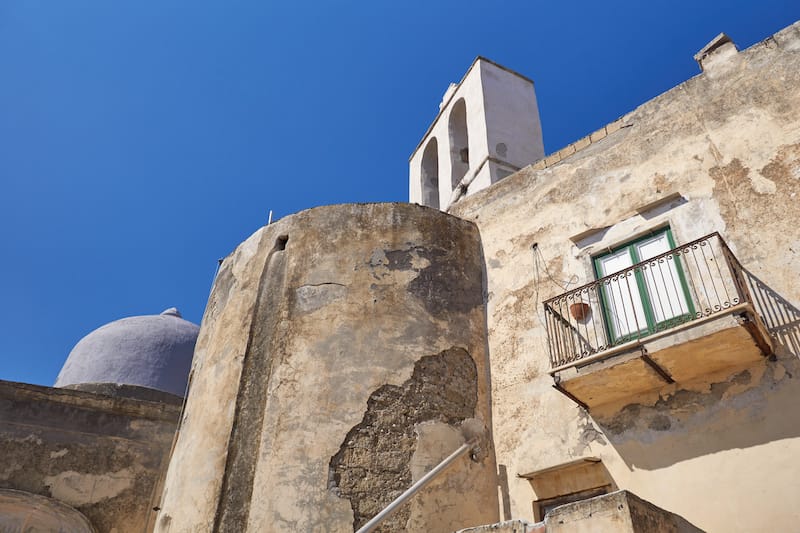 The Church of Santa Margherita Nuova is located on a promontory, serving all visitors with breathtaking views of Capri and the dreamy Italian coastline.
This place is home to works of art, one being an artwork depicting St. Michael fighting against Satan, among other pieces of art worth checking out.
Another highlight of the museum tour here is the library, which houses a variety of literature (the oldest one dating back to 1534).
Palazzo d'Avalos
Another place of interest in the area of Terra Murata is Palazzo d'Avalos. It is one of the must-visit Procida landmarks you have to include on your itinerary!
This building is considered to be one of the most famous landmarks in Procida; it was built in 1500 and was at times a royal palace, but then was converted to a prison in 1830, which was later closed in 1988.
The huge complex is made up of the courtyard, the guards' barracks, the individual cell building, Veterans Building, the medical facility, the director's home, etc.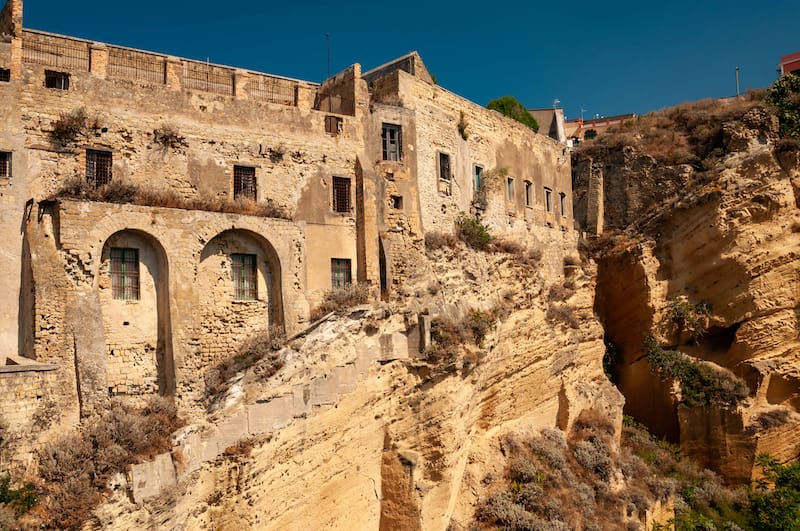 This unitary system played its role in the history of Renaissance architecture, and also was part of the political, military, and urban history of the island.
Visiting this site is allowed only on the basis of a prior reservation (seriously… I tried heading there without booking a tour and I couldn't get in). The guided tour takes place at 10:30 in the morning and the cost for groups of 15 people or more is 10€ each.
La Casa di Graziella
A colorful place in Procida is La Casa di Graziella. The home was built in 2011, based on the historical reconstruction of the house of Graziella.
According to its story, a French writer named Alphonse De Lamartine visits Procida for a short period of time and falls in love with a young Procidana girl named Graziella.
They lived in a small fisherman's house, but their love story does not end happily as Graziella dies from tuberculosis while the poet leaves for France.
After 200 years, the cultural association "La Casa di Graziella " (in association with the Municipality of Procida) rebuilt the home. It attempts to preserve the culture and practices of the time period depicted in the book (roughly 1810). ​
Everything the home has dates from 1800 to 1900, yet none of it belonged to Graziella.
It's an interesting journey back in time, especially if you've read the book or know how the story goes.
Panoramica sulla Corricella Viewpoint
To take some Instaworthy pictures (or just to enjoy the very best view of the island), don't miss your chance and visit Panoramica sulla Corricella viewpoint when traveling to Procida.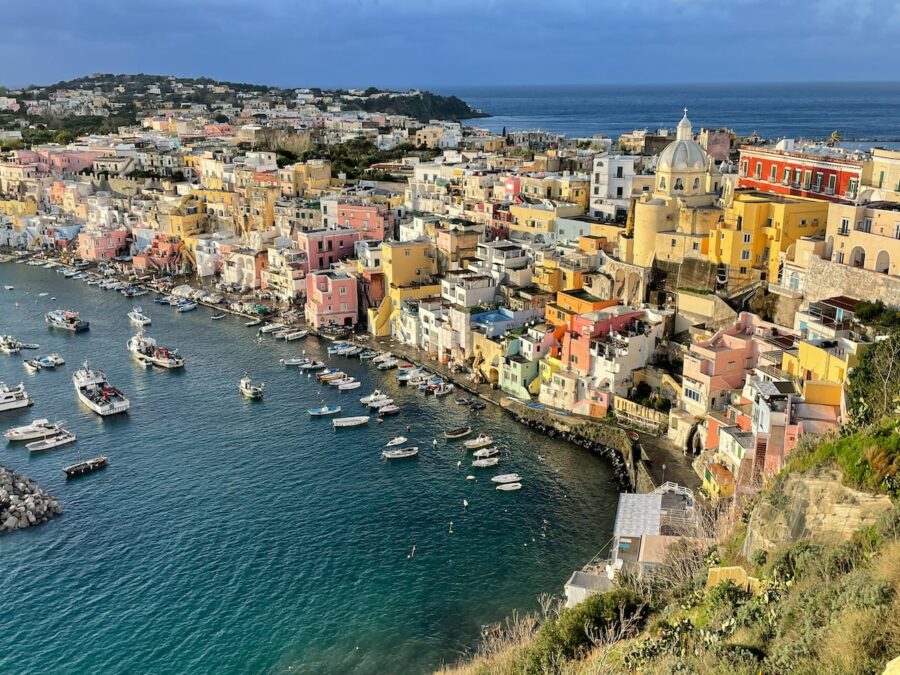 The island is small and you can easily find the exact location in relation to where you're at via Google Maps. It will not take a long walk from the harbor at Terra Murata to reach it. Honestly, it is a must for any Procida itinerary!
Santa Margherita Nuova
Dating back to the second half of the 16th-century, Monastery Santa Margherita Nuova is a construction of religious settlements.
These were the times when due to Saracen invasions, the Dominican monks who held the previous monastery of Santa Margherita Vecchia alla Chiaolella had to migrate.
In 1956, the area experienced harsh winter conditions, which resulted in major collapses. Only certain circles of the lower levels were saved, while the large and supporting arches fell.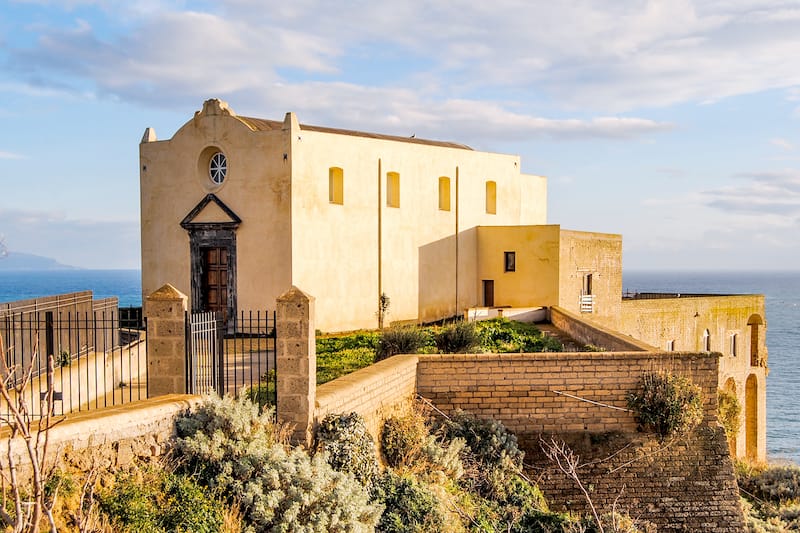 Restoration of the church's classroom took place in 2012, however, the renovation process of the convent is not complete yet.
The complex is located halfway between the entrance village of Corricella and the village of Terra Murata. The area overall is teeming with beauty and has a terrace that overlooks the village of Corricella.
Currently, various exhibitions and cultural events take place in the church. The working hours of the place are from Monday to Friday, 10AM to 7PM.
Marina di Corricella (Oldest Village on Procida)
Forming an amphitheater around the sea, Marina Corricella is an old fishing village located in Procida.
This is surely the perfect spot for those who love to spend their vacation time in a relatively quiet place (especially during the off-season)!
Here, the architecture of the 17th-century harbor is truly impressive. Arches, domes, windows, stairs, and multicolored facades give this area a very unique spirit.
The road to Marina Corricella is either by the sea or through four stairways that have different routes. The primary way to the village is via the Gradinata del Pennino and the Gradinata Scura.
This path can be seen as unusual as it tends to split into a barrel-shaped stretch with connectors for buildings on different floors, creating an impression of invasion of privacy.
By the way, don't miss your chance to visit Bar Graziella, especially if you're enthusiastic about cinematographic productions (it is decorated that way). It was, honestly, the only place consistently open on this part of the island when I was visiting in the off-season.
Isola di Vivara
Flanking Procida to the southwest, Isola di Vivara is a small, naturally-rich island in the Gulf of Naples.
Now considered a natural reserve, Vivara is a residual ridge of an ancient volcanic crater in the shape of a crescent.
In 1905, Giuseppe De Lorenzo described the islet as, "… limpid and clear in the light of day, is the pure aesthetic vision of the crater Vivara, rising from the crashing sea with a sweet and harmonious form…".
The sight was proven to be historic too. In the area of the coast, sunken installations of a large fishing and commercial fleets have been discovered 18 meters below water.
Casale Vascello
Following the Saracen invasions, the inhabitants were displaced to new locations on the island, one of the first ones being Casale Vascello.
This 17th-century complex has two entrances: Via Principe Margherita and Via Salita Castello.
There are a couple of interesting versions of how its name originated. One idea is that it comes from the dialect phrase "vescieddo" or "re vescio," meaning "downstairs," implying a downward housing relocation.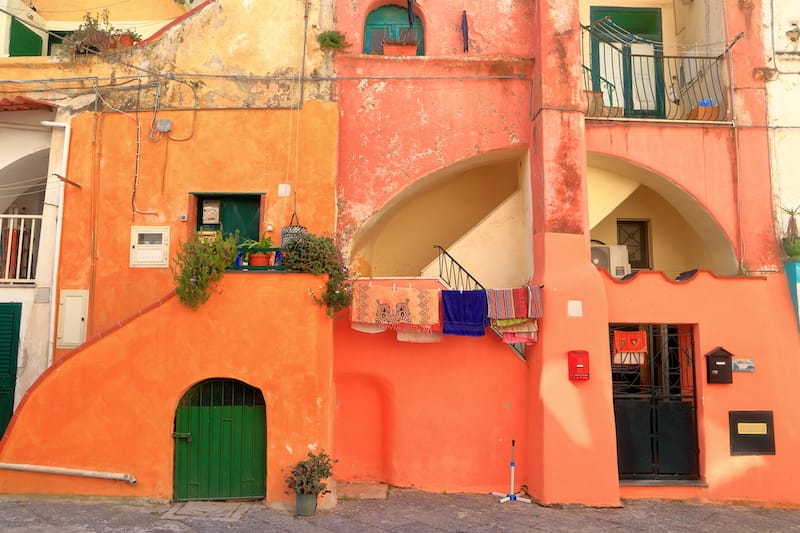 The complex is built around a huge central courtyard and has a labyrinth of narrow lanes. It's commonly used as a theater during summer cultural events and is worth visiting on your trip to Procida.
Best Procida Beaches
Spiaggia di Ciraccio (and Faraglioni di Procida)
Renowned for being the beach with eye-catching sea stacks (Faraglioni di Procida), Ciraccio has crystalline water and a lot of sun!
Ciraccio Beach is located on the western side of the island of Procida. It's the island's longest and most popular beach among families who frequently camp nearby.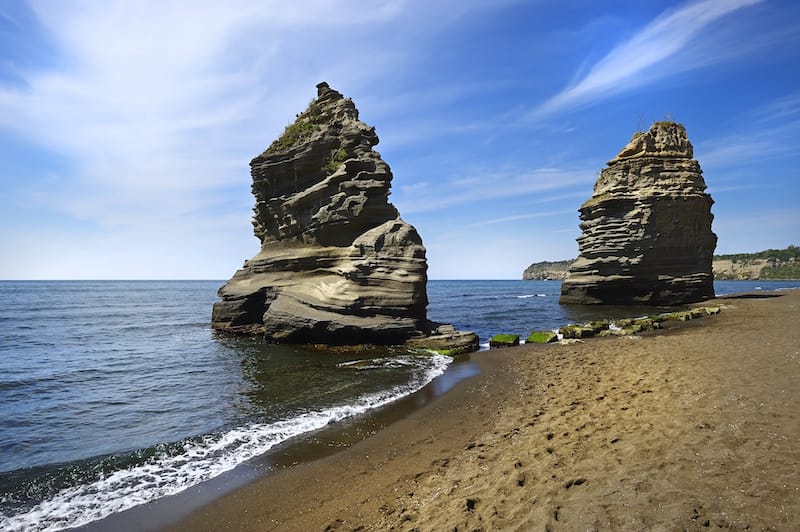 The shoreline is between Punta Serra and the promontory of Santa Margherita Vecchia.
To get to the beach, turn right via Flavio Gioia and follow the signs to the beach from Piazza Olmo. Alternatively, you can take bus line L2 from the Marina Grande port.
Spiaggia di Punta Ottimo
Punta Ottimo is a very quiet beach with beautiful blue waters and grayish-hued sand. While it is not considered one of the best beaches in the Naples region, visiting is still one of the best things to do in Procida.
The beach is fully surrounded by cliffs and there are no amenities whatsoever, only nature at its rawest. A big advantage of Punta Ottimo is that it's almost empty, even during the high season.
Many like this beach, from solo travelers and hikers to those who enjoy quiet getaways, etc. The coast is free and open to anyone.
Spiaggia Cala del Pozzo Vecchio
Pozzo Vecchio, also known as La Spiaggia del Postino, is reached via a ladder directly below the island's cemetery.
This beach has volcanic origins, and because of that, it has dark sand. Nevertheless, it has a beautiful clear sea and is surrounded by wild and scenic landscapes.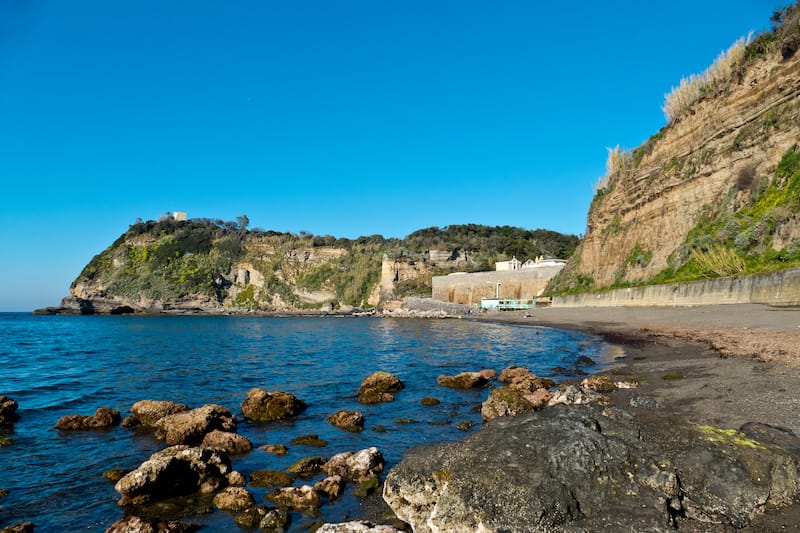 Getting here can be done in one of two ways. You can either get a bus from the port to the cemetery (Line C1) or walk from the Port of Procida to the beach. It's only a 20-minute walk and fairly easy.
Pozzo Vecchio beach is well-known for hosting a few scenes from Massimo Troisi's film Il Postino. Also, be mindful of the fact that there is only one private beach club here.
Spiaggia Chiaia
Just like Pozzo Vecchio, Chiaia also has volcanic origins and dark sand, but the waters there are shallow and suitable for children.
It's one of the most well-known beaches in Procida, located on the island's eastern shore. On the beach, you'll find a free public area, two beach clubs, and a restaurant.
Take Via dei Bagni from Piazza San Giacomo or Via Pizzaco from Piazza Olmo to the Chiaia beach, then descend the 182 steps that separate the street from the beach.
The path with stairs is also worth it as it grants you some stunning views of the colorful fishing village of Corricella and the Palazzo d'Avalos in Terra Murata, Procida's oldest village as mentioned above.
Spiaggia di Silurenza
If easy accessibility is a priority for you, then Silurenza beach might be the best choice for you on Procida.
Apart from the accessibility advantage, the beach also has all of the amenities you'll need for a pleasant day, including a restaurant with a delicious Italian menu.
To get to the beach, walk down Via Roma (Grotte side) for a few minutes. It's a short distance on foot from Marina Grande's port.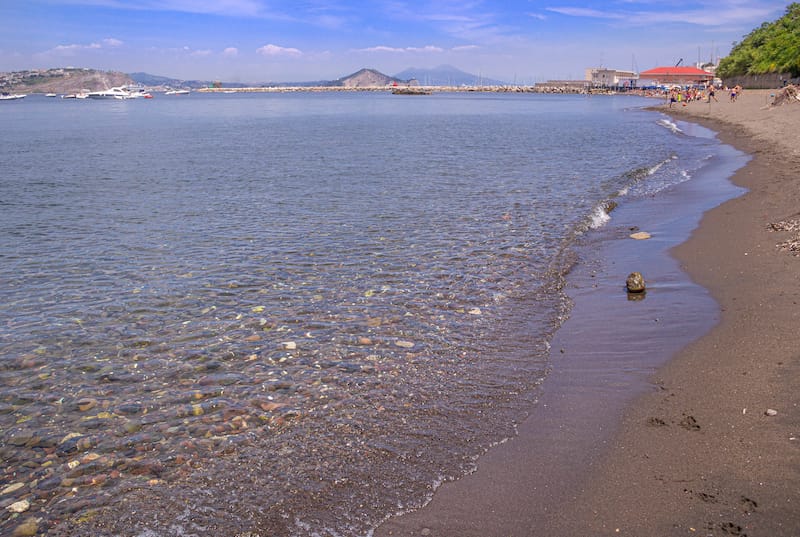 Silurenza is an ideal choice for those who plan to visit the island just for a day and don't want to miss the chance to soak up some sun and dip into beautiful Italian waters.
Best Restaurants in Procida
You will find some extremely delicious food on Procida, but if youʻre traveling during the off-season… good luck! You will have far fewer options (but thankfully, you can keep well-fed for a few days).
Here are a few of my favorite restaurants in Procida:
Ristorante La Medusa
This restaurant was my absolute savior on Procida. It is located right by the harbor where the ferries leave from and arrive to.
I was extremely seasick on my ferry to Procida and La Medusa was right there… and ready to make me feel better (with wine and food).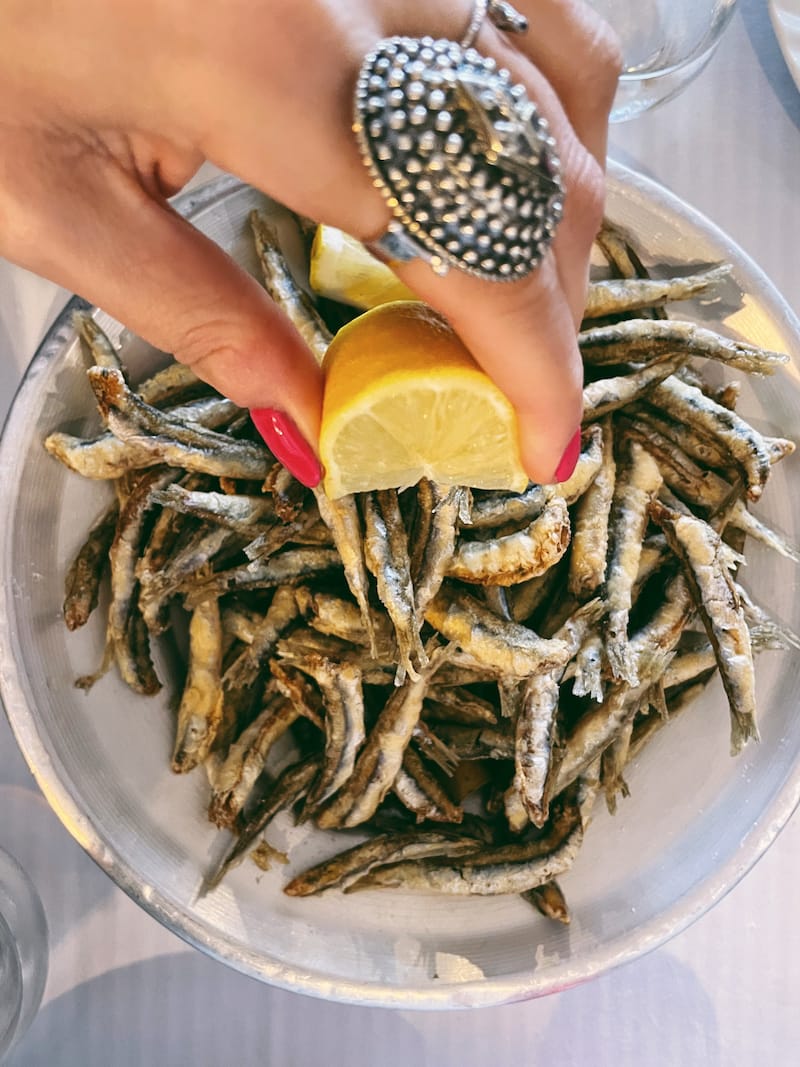 I ate here around three times and the food is simple, yet delicious. The menu is ever-changing depending on the season and what they have in for the day. I had everything from fried anchovies to homemade pasta here.
You can find Ristorante La Medusa right by the harbor.
Bar Capriccio
For those looking for some late-night drinks, I highly recommend checking out Bar Capriccio for a drink or two.
The bar offers a range of cocktails, soft drinks, and a stellar range of craft beers. Open until two in the morning, the bar is the perfect place to sit and relax before or after dinner and watch the world go by, and the harbor buzzes with people enjoying the warm Italian nights.
Be warned that with every order you get given a vast range of bar snacks that will easily fill you up and keep on coming the longer you sit there!
The bar also doubles as a cafe, opening up early in the morning for an espresso after the night before, along with the various sweet treats Italians love eating for breakfast.
Lingua di Bue
Procida is a culinary paradise, with a number of awesome restaurants serving up delectable dishes.
However, the island's most famous dish is a sweet pastry filled with cream and local lemons, called Lingua di Bue (or Lingua di Procida).
Roughly translating to Ox Tongue, the pastry is a long rectangular shape that apparently looks strikingly similar to an ox's tongue although I didn't see the resemblance.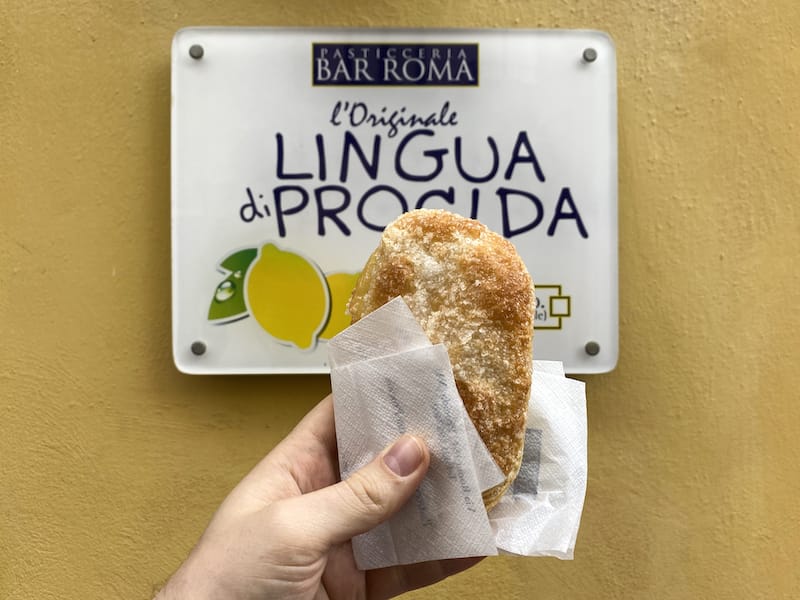 This dessert is so special to the island that it has received special protective status.
They can be bought throughout the island, but one of the best places to get them is Pasticceria Bar Roma by the main port. They offer a large selection, including flavors other than the traditional Lemon.
Il Gazebo
One of the best restaurants on the island is Il Gazebo. Located close to the main harbor the restaurant offers a great range of pasta dishes and main dishes.
Many of the dishes are distinct to the region and change throughout the seasons as different produce becomes available.
The setting of the restaurant is rustic, with indoor and outdoor seating available. I highly recommend trying their wild boar pasta, along with pretty much any of the fish dishes they have on special.
During the summer, the restaurant gets very busy, and booking ahead is essential. This restaurant is also, fortunately, open during the off-season and frequented by many of the island's local residents.
Assafa
If you are looking for a quick bite to eat around Marina di Corricella, look no further than Assafa. This small, hole-in-the-wall restaurant serves up a range of tasty dishes from pasta specials to seafood sandwiches.
Run by innovative chefs looking to go against the grain of traditional Italian cooking, they serve dishes such as a Prawn Carpaccio Sandwich.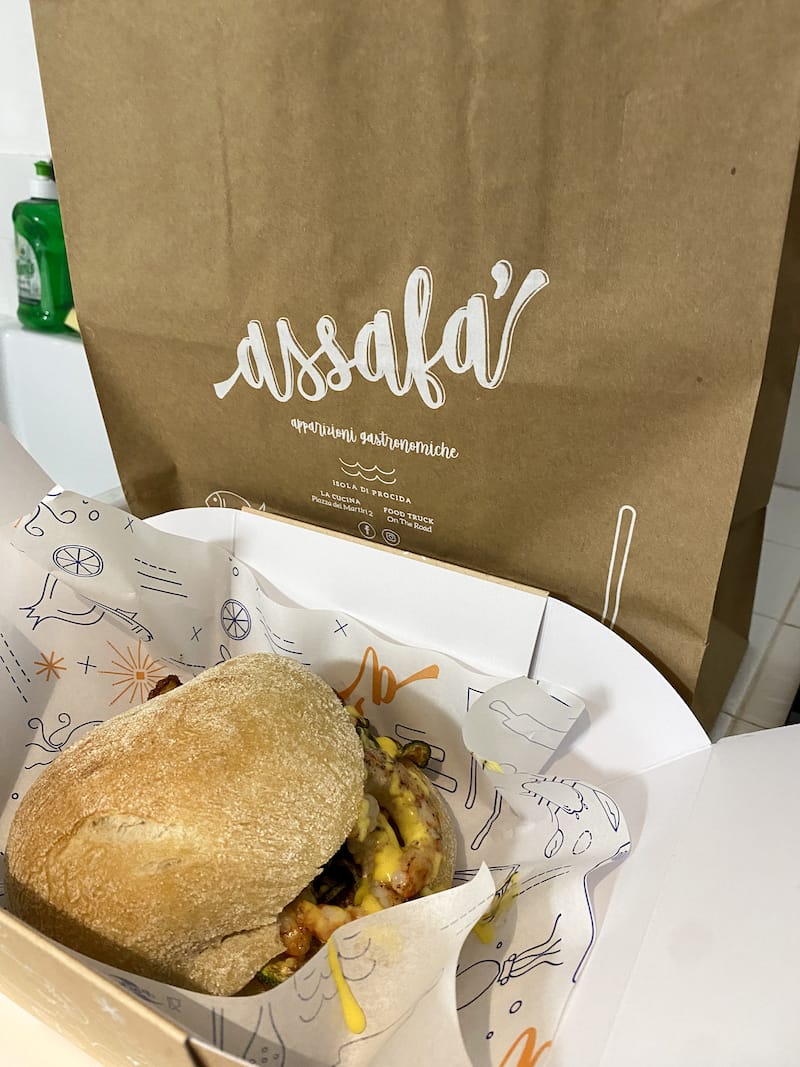 They also serve up a range of more family-friendly dishes that will satisfy even the pickiest of eaters.
Assafa opens for lunch and closes at 11pm, perfect for those looking for a snack after making their way back from the bars by the harbor.
Visiting Procida FAQ
Visiting Procida is fairly straightforward, but below are a few FAQ about a trip to the island. Let us know if you have any additional questions about traveling to Procida in the comments! Thanks!
Is Procida island walkable?
Yes! In fact it's encouraged! It only takes around 40 minutes to walk across the island and tourists are recommended to leave their cars behind on the mainland! Alternatively, you can rent bikes to navigate the island.
Is there public transport on Procida?
Yes, there is a small bus network on the island which will help you get your luggage to the other side of the island. There are also taxis on the island, but be warned they can be very expensive.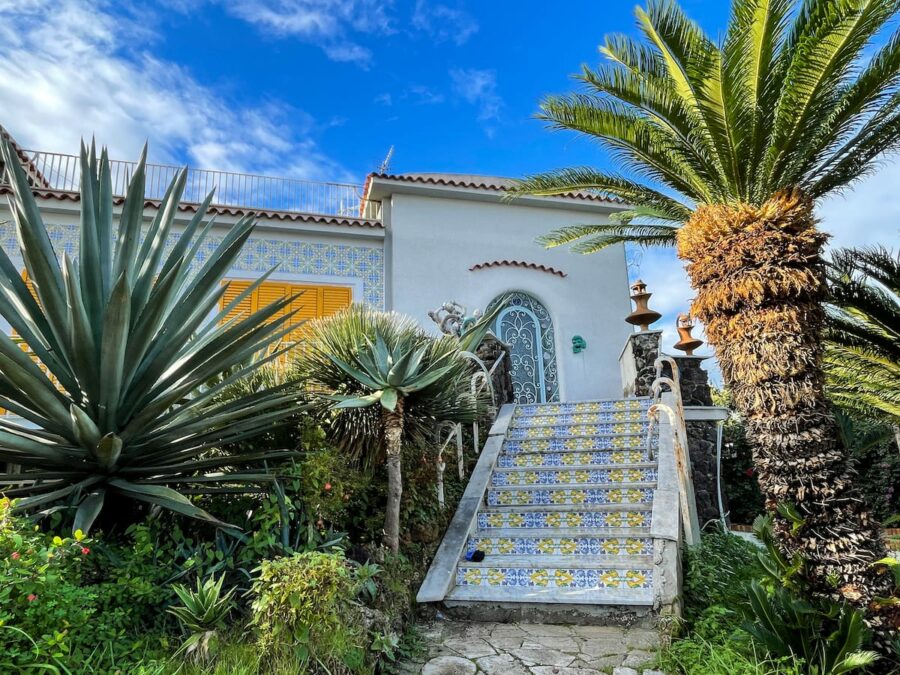 Is the ferry crossing from Naples to Procida rough?
During winter, the crossing can be incredibly rough and many passenger only boat services can be canceled for days on end, I recommend having sea sickness medication on hand! During the summer, the crossings in general are much smoother.
I recommend taking the larger, slower boat in winter. It was SO much better!
Are places on Procida open year round?
No, like many islands in southern Europe you will find that a number of the restaurants close during the off season. Around the main harbor, you will have more luck finding open places in winter.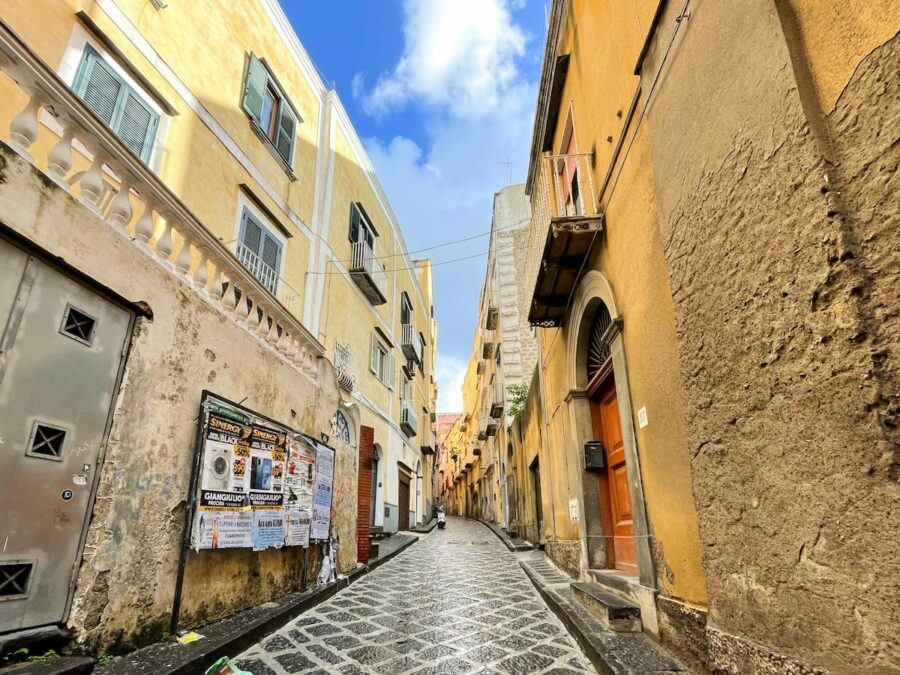 Where to Stay on Procida
Chora Kalè
A cozy studio flat, overlooking Marina di Corricella, Chora Kale has everything you need to enjoy Procida without breaking the bank. In fact, this is where I stayed when visiting! I loved it!
The room has everything you need including a TV with Italian channels and Netflix. There is also a small kitchen where you can whip up some delicious pasta dishes or cook some freshly caught fish.
The highlight of the property however is undoubtedly its spacious terrace that overlooks the harbor and the Gulf of Naples, on clear days you can even see Capri in the distance.
>> Click here to check rates and availability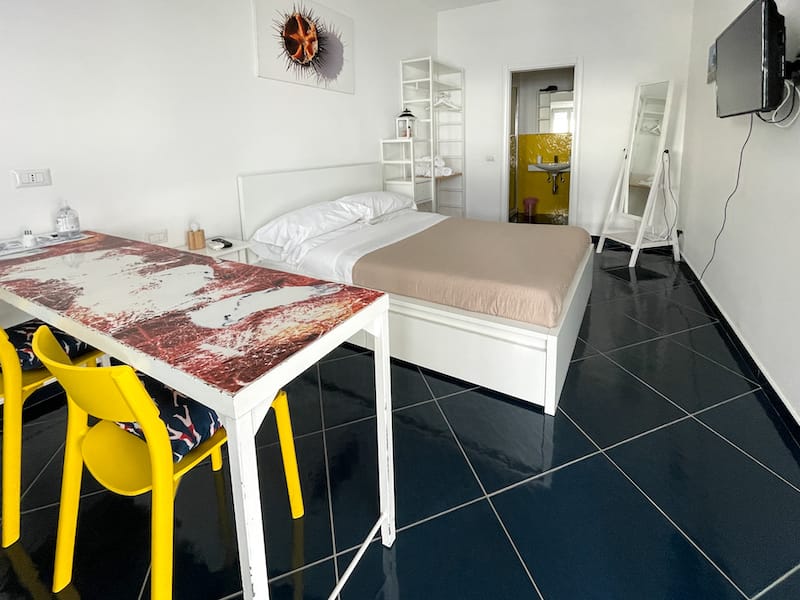 Vento di Mare
Located close to the main port, Vento di Mare offers spacious rooms with outstanding views over the harbor toward the mainland. Each room comes with its own private bathroom, a flat-screen tv, and a large comfortable bed.
A short walk from many of the island's best restaurants and bars. You will also not need to contest with transporting your luggage across the island.
>> Click here to check rates and availability
Did we miss any amazing things to do on Procida island? Let us know your top tips for Procida landmarks, attractions, and more!
More Campania Travel Guides
Pin this Procida Island Travel Guide