Even though it is known for its Champagne status, there are many things to do in Reims that don't include a glass of bubbly. This is a guide on what to do in Reims, France.
Are you planning your trip to Reims last minute?
Be sure to book your accommodation and Champagne tours in Reims ahead of time to ensure availability!
🇫🇷 Top recommendations for tours in/from Reims:
🛌 Top recommendations for accommodation in Reims:
🚗 Looking for the best way to get around Reims? Click here to check rental car rates for France!
Did we miss any amazing landmarks in Reims? Let us know your favorite Reims attractions and things to do in the comments!
Reims Things to Do Overview
I have to admit that I have neglected France quite a bit since living right next door in Germany. I tend to escape east and France and I connect as well as my dog does with other dogs… not well at all.
I have been to Paris around seven times and my disconnect with the city has constantly led me to shun other places in France in a very, unwarranted manner.
Maybe it was that I never really discovered the many hidden gems of Paris that existed and got sucked into the touristy stuff or the ordinary.
Whether I was staying at the best hostels in Paris or eating delicious cheese, nothing seemed to connect me with the French capital city.
I finally decided to bite my tongue and go back to France. To Reims this time… and a little side trip to Paris.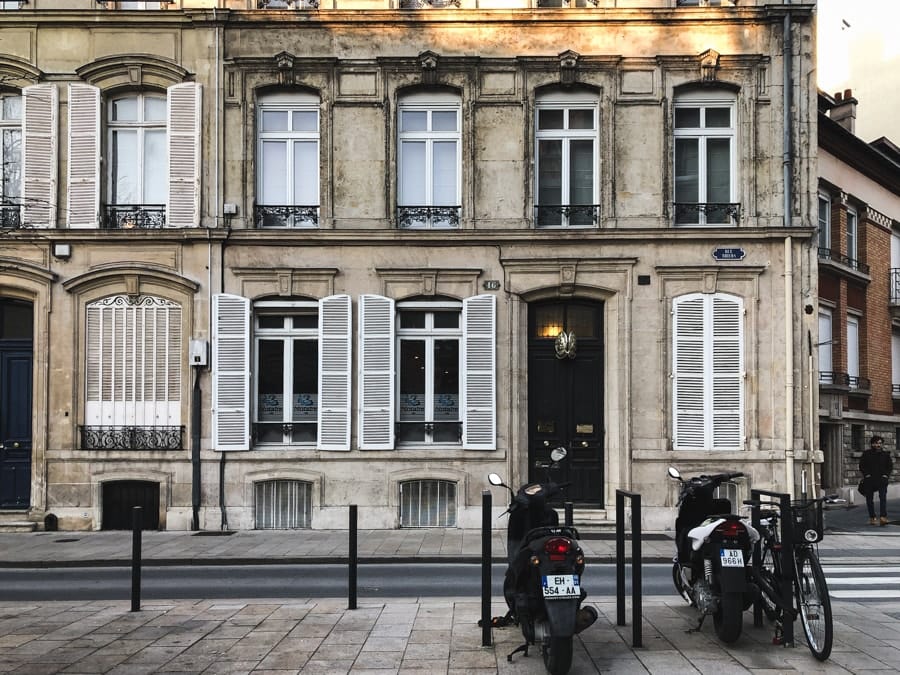 I thoroughly enjoyed Reims and it has inspired me to visit more of France one of these days, especially since the country sits right next door to Germany.
Reims is the unofficial capital of the Champagne region… a region that pretty much everyone should get familiar with.
You can see it independently as a city or book one of the many Champagne tours from Paris. This is a list of things to do in Reims. If you have more suggestions, please add them in the comments!
Best Reims Tours (to Maximize Your Time!)
If you're looking for something more organized when in Reims and the surrounding area, here are some awesome Reims tours you should check out.
These tours will help you maximize your time, which is especially important if you only have a short amount of time in the city! We listed a variety so that you can pick which one is most suitable for you (and many include multiple places!):
Best Things to Do in Reims
1. Admire the Art Deco Buildings in Reims
After the destruction of Reims during WW1, the city urgently needed to be rebuilt. And the unique architecture is also one of the reasons that Reims is one of the best day trips from Paris!
Because Art Deco was flourishing during the 1920s, there were over 6,500 planning applications that were submitted and as a result, Reims became an Art Deco powerhouse.
The Carnegie Library is one of the best examples of Art Deco architecture in France that was built after WWI. Villa Domoiselle is another great example of Art Deco architecture in Reims.
In order to admire this style, you need to be sure you're gazing up when walking around Reims.
It truly is everywhere! It really just overrides my thoughts that there are just a bunch of castles in France and similar, grandiose architecture. This was unique.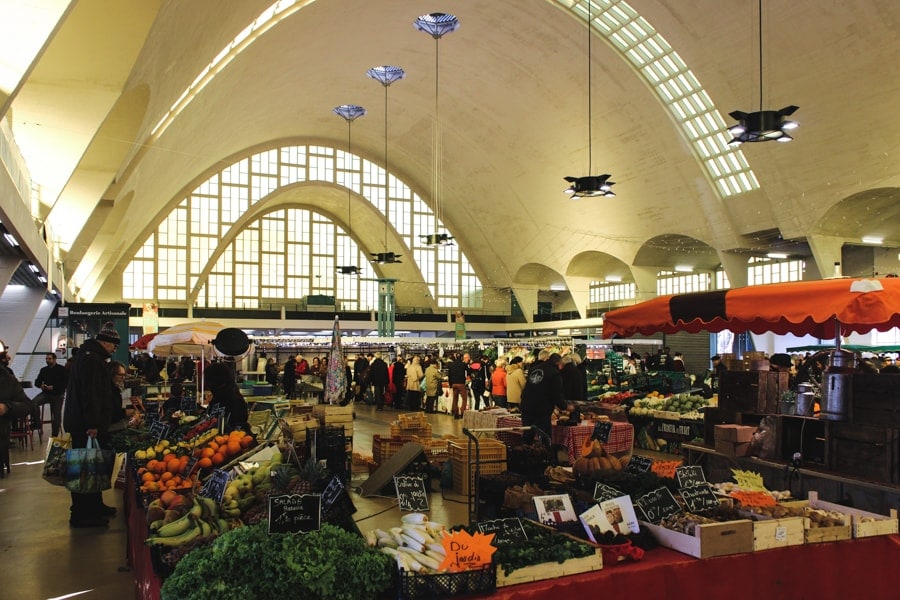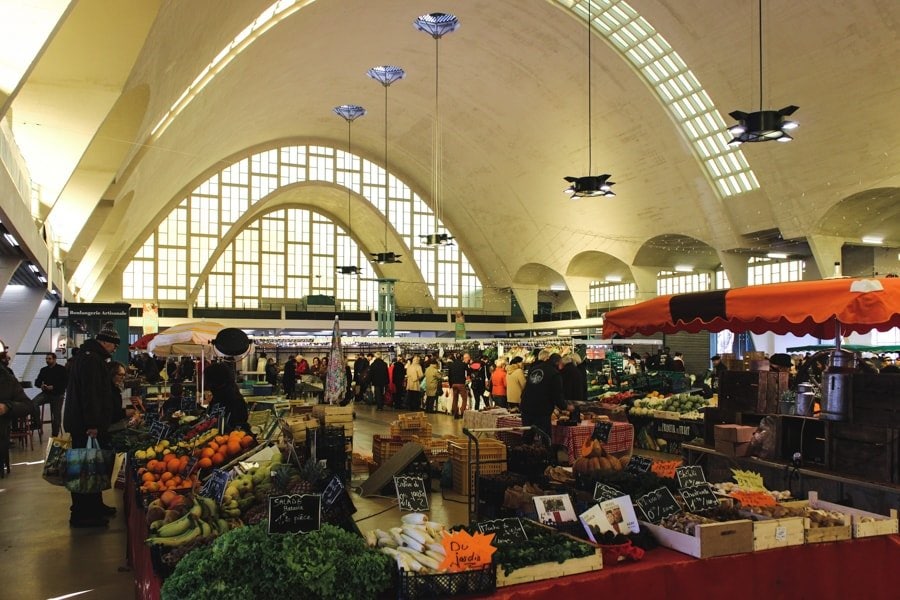 2. Learn the History of the Kings at Notre Dame Cathedral
The Notre Dame Cathedral in Reims is a UNESCO World Heritage Site and was rebuilt in 1211.
This is such a key part of France's history as it was historically the place where the kings were crowned. It sustained a large amount of damage during WWI and was fully restored in 1938.
Notre Dame Cathedral receives over a million visitors annually.
This is one of the main reasons you should add Reims to your Paris itinerary. You can find the Notre Dame Cathedral at Place du Cardinal Luçon in Reims.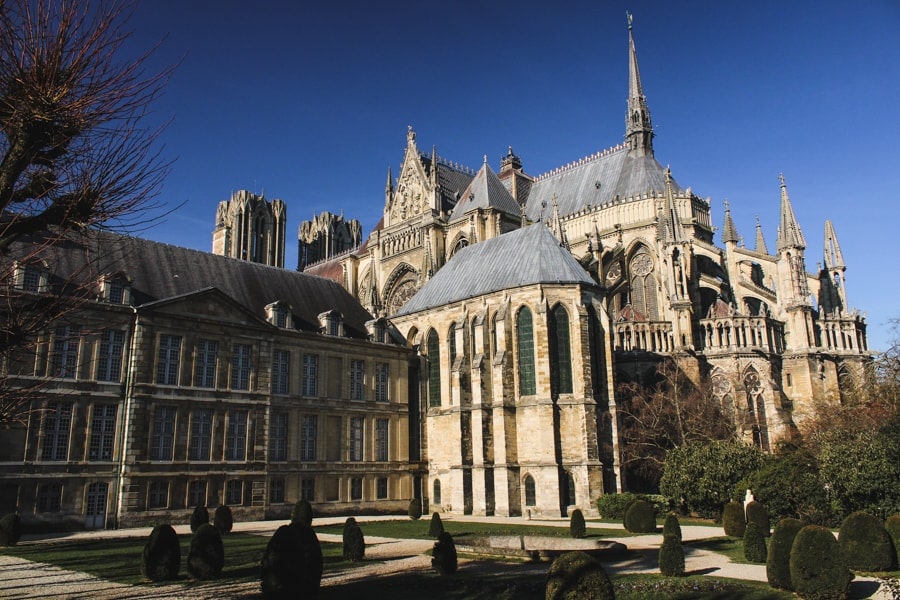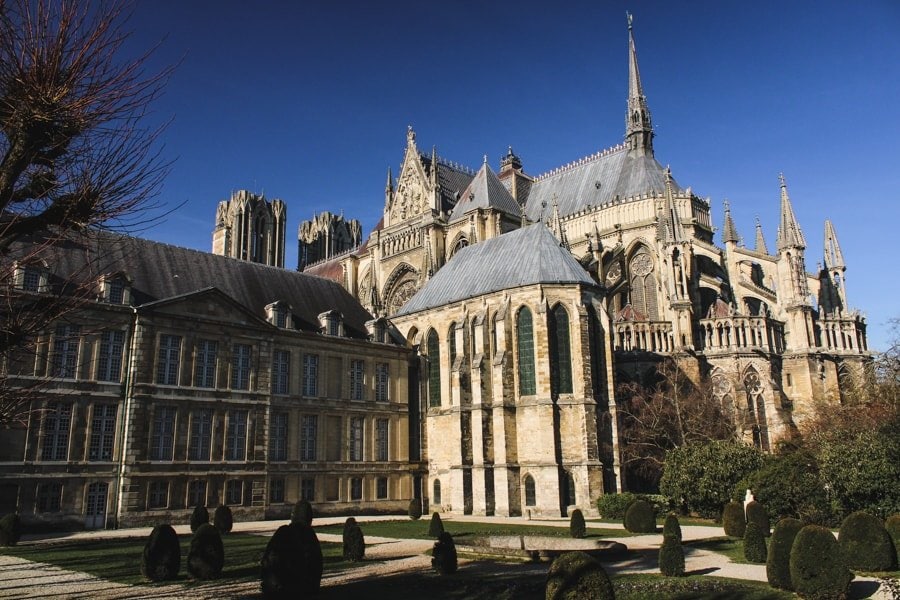 3. See a World Heritage Site at the Palace of Tau
The Palace of Tau was a difficult place to see when in Reims just based on a bit of construction in the area, but it is centralized and an essential thing to visit in Reims.
This former Palace of the Arch Bishop of Reims was used by French kings on their coronation days to host banquets… and is a must-visit if you're visiting Reims on a weekend break.
The first mention of the Palace of Tau was in 1311 and it was named after the Greek letter 'Tau'.
Over the years, the Palace has been rebuilt in various styles of the time, from the oldest part of the building being the chapel (dating back to 1207). The palace was damaged in a fire in 1914 and was never restored until after WW2.
The Palace of Tau is located right next to the Notre Dame Cathedral at Place du Cardinal Luçon in Reims.
4. Head to the Abbey of Saint Remi
The third part of the Reims UNESCO World Heritage Sites is the Abbey of Saint Remi (the other two are the Palace of Tau and Notre Dame Cathedral).
Founded in the 6th century, Pope Leo IX consecrated the Abbey in 1049 and brought many privileges to the place.
The relics of Saint Remi also brought the church many riches as gifts that came from wealthy people. During the French Revolution, many of Abbey's riches were looted.
You can find Abbey of Saint Remi at Rue Saint-Julien in Reims.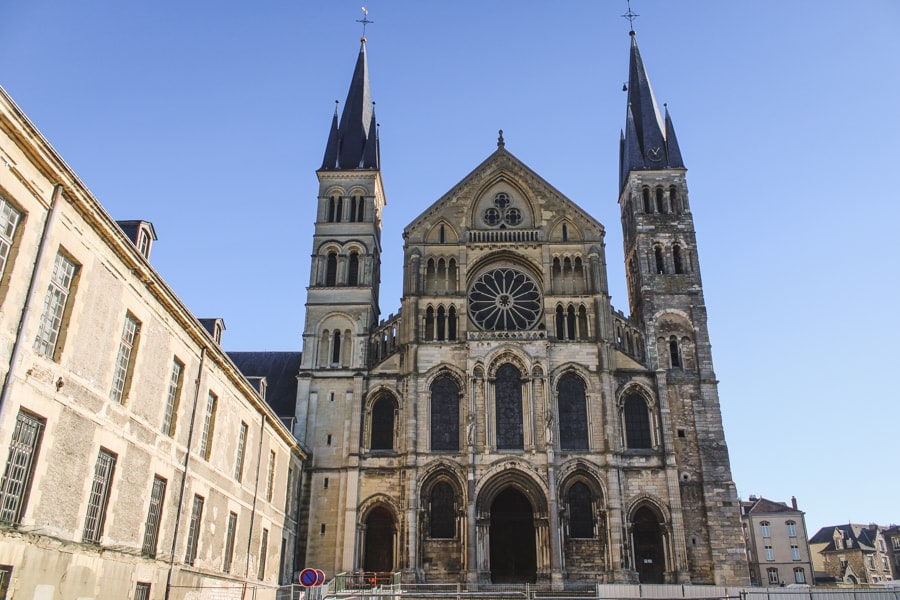 5. Visit the Foujita Chapel (Our Lady Queen of Peace)
The Foujita Chapel (Our Lady Queen of Peace) was conceived and designed by Tsuguharu Foujita in 1966. Foujita was a famous Japanese artist who was renowned for the frescos he painted inside of the chapel.
It is located in the gardens of the Mumm Champagne Winery.
The frescos were painted by Foujita at the age of 80 and he claimed this was in order to atone for 80 years of sin. He was later buried under the chapel.
You can find the Foujita Chapel at 33 Rue du Champ de Mars in Reims.
6. Marvel at the Reims Street Art
In an area called Zi Port Sec in the industrial part of Reims, there is a really large wall brimming with street art.
This was painted by around 60 artists in a 70-hour period to spice up the city of Reims. You can find this wall at 11 Rue du Commerce in Reims.
7. Vesle Canal
Reims actually has quite a few parks and natural areas but the place I really loved the most was along the Vesle Canal.
It runs through the city and offers a quiet change of pace from the city itself (which isn't that crazy to begin with, but still!)
This is definitely an enjoyable thing to do in Reims if you're looking for a more chilled-out kind of day.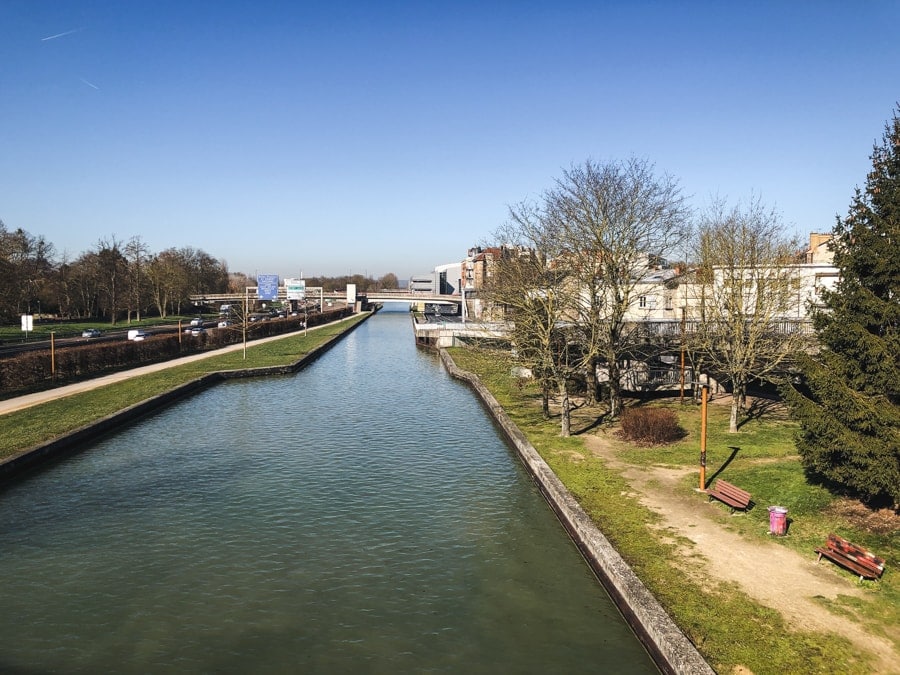 8. See the Reims Ruins at the Hotel le Vergeur
Reims was occupied by the German forces during WW1. The Germans had rushed down to Reims from Belgium to occupy it due to its historical significance of being the place where France had crowned its kings.
German occupation only lasted 8 days before the British forces pushed them out.
Once they had been pushed out, the Germans spent the rest of the war relentlessly bombing Reims in order to destroy it and ruin it for the future. They dropped over 4900 bombs on Reims in the span of 2 nights.
After the war, Reims needed to be rebuilt, but the owner of this hotel, Hotel Le Vergeur, decided to try and preserve some of the relics of the former grand architecture of Reims.
He, therefore, created a garden museum of these relics and once he passed away, he gifted the relics to the city of Reims.
You can find the Hotel Le Vergeur at 36 Place du Forum in Reims.
9. Check Out Where Germany Surrendered WW2
On the 7th of May after Hitler's death, the leaders of the forces were summoned to this school in Reims where the German delegation surrendered to the Allied Forces.
The Soviets did not fully accept this surrender and decided that it had to officially be done in Berlin.
This is how it all ended up transpiring. This school now called the Franklin Roosevelt School, is still in use in Reims today. There is an inscription on the building and a small museum in the classroom where the war was ended.
You can visit the School Franklin Roosevelt at 10 Rue du Président Franklin Roosevelt in Reims.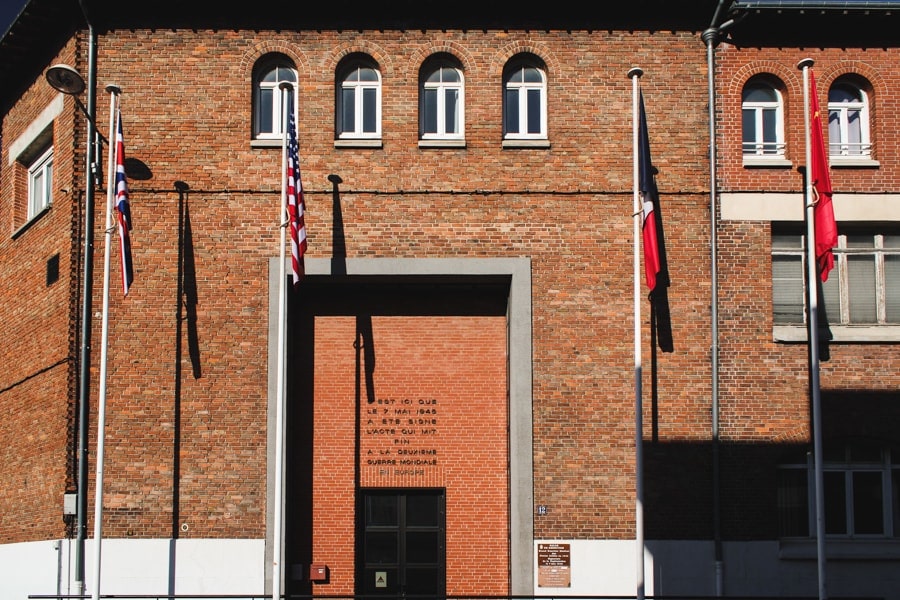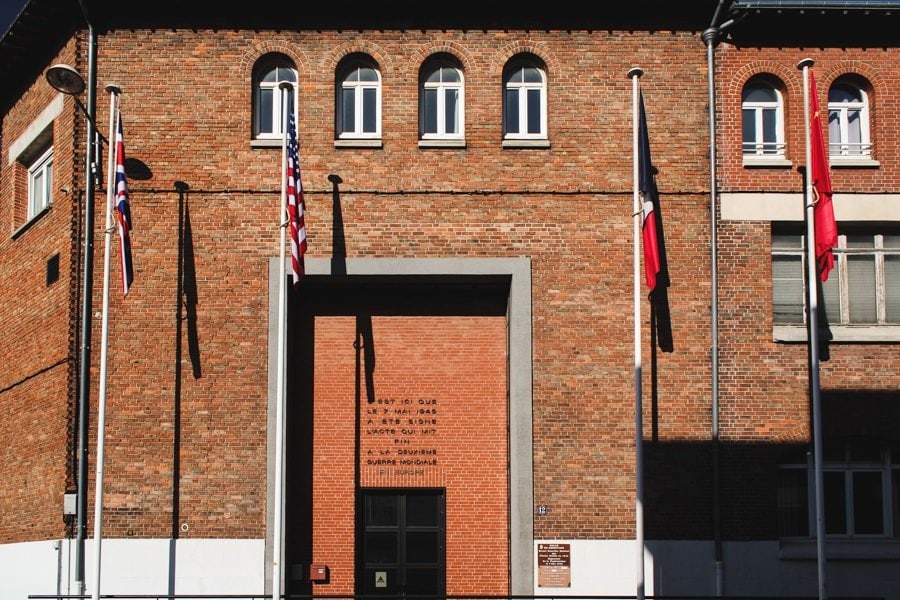 10. Stop by Porte Mars, a Roman Gate
This was one of the many buildings and structures in Reims that were under construction when I was there, but the Porte Mars is an old Roman gate dating back to the 3rd or 4th century and it is the widest Roman gate in the entire world.
Located near a large mosaic and consisting of gladiators and animals, the Porte Mars was one of 4 gates restored by the Normans in the 9th century.
Folklore has it that the citizens of Reims built the arch to thank the Romans for bringing roads to the city.
You can find the Porte Mars at the Place de la République.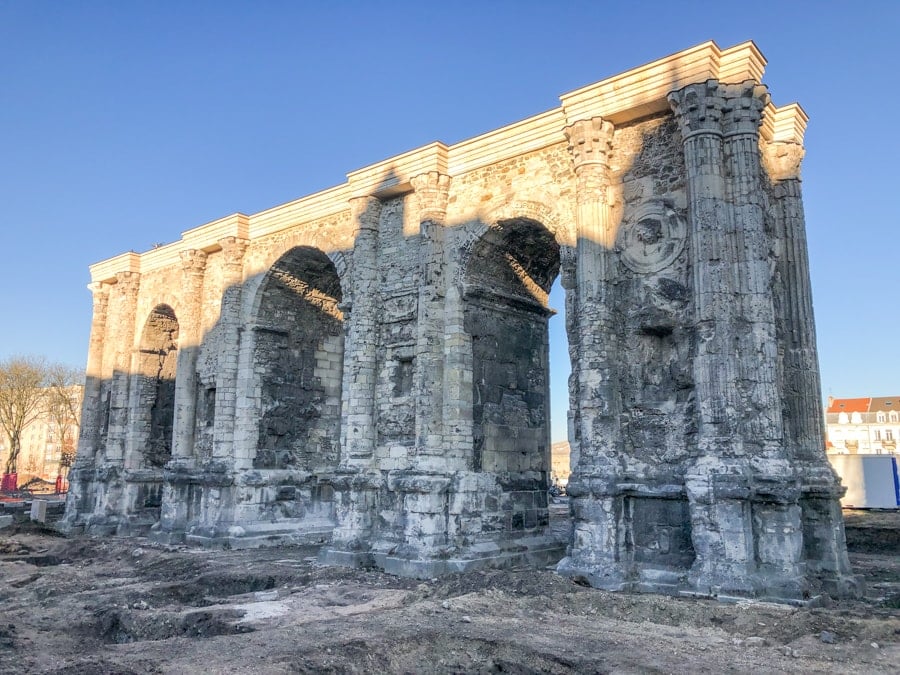 11. Try Reims Ham at Boucherie Brezillon
Reims is known for a special ham that originated in the region and has a unique flavor compared to other hams.
This Reims ham is cooked with nutmeg, parsley, and shallots and is cooked in stock and coated in yellow bread crumbs. It typically comes in either a square block or a cylinder.
I have to admit, I don't love processed meats all that much unless they are pretty open about the process and it doesn't include a lot of additives and Reims ham does not.
While the texture was a bit different for me, the flavors were exceptional and this is definitely something that food lovers must try when in Reims.
They can find Reims ham at any of the local butcheries, but the best place I saw (and it took ages to get served because it was so busy!) was Boucherie Brezillon which was located in between a cheese shop and a bakery.
Basically, I purchased something from all three and had a splendid day.
You can find Boucherie Brezillon at 32 Rue de Mars in Reims.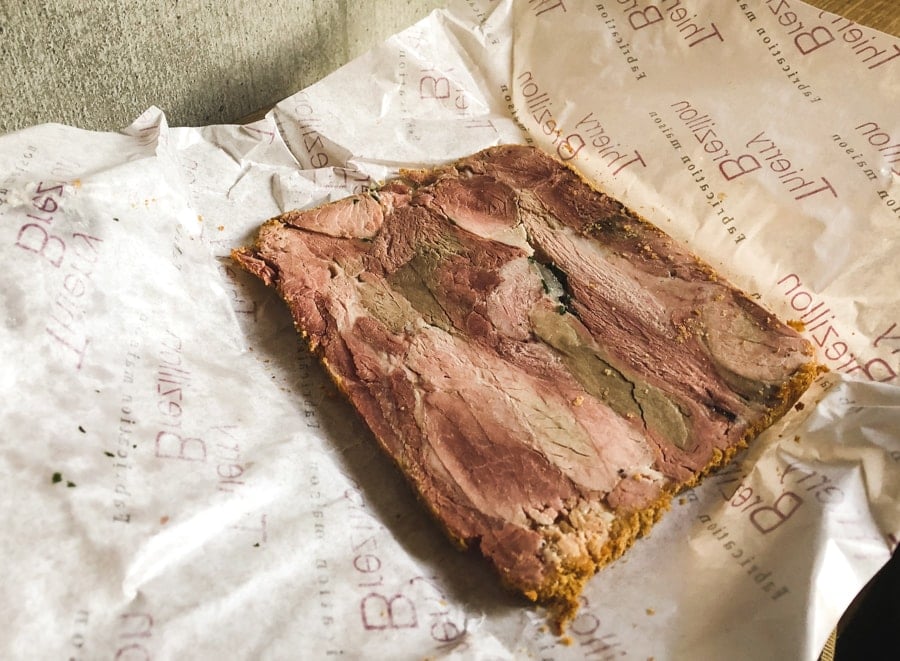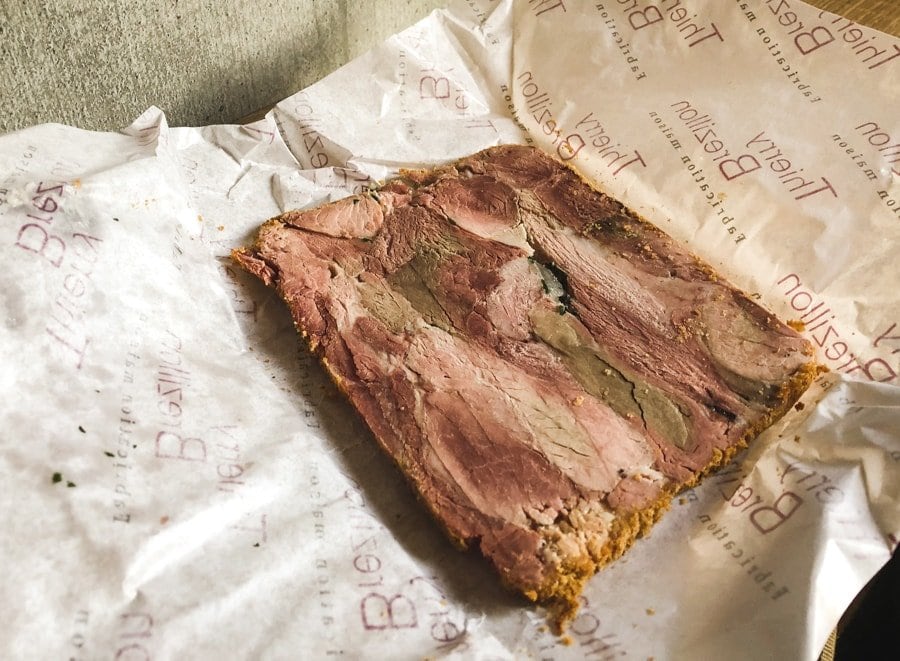 12. Indulge in Reims Mustard
Although mustard isn't cultivated in the region these days, Reims had its own famous mustard back in the day.
Presently, only the Maison Charbonneaux-Brabant has been able to keep the Reims mustard tradition alive with its delicious range of 12 mustards.
You can find Maison Charbonneaux-Brabant at 5 Rue de Valmy. I also found a Reims mustard at a local cheese shop (in the photograph).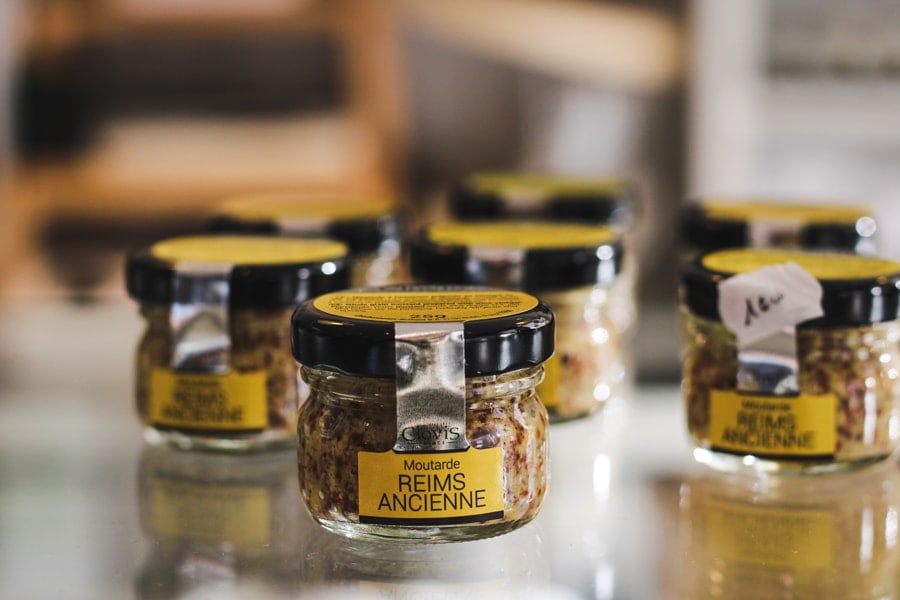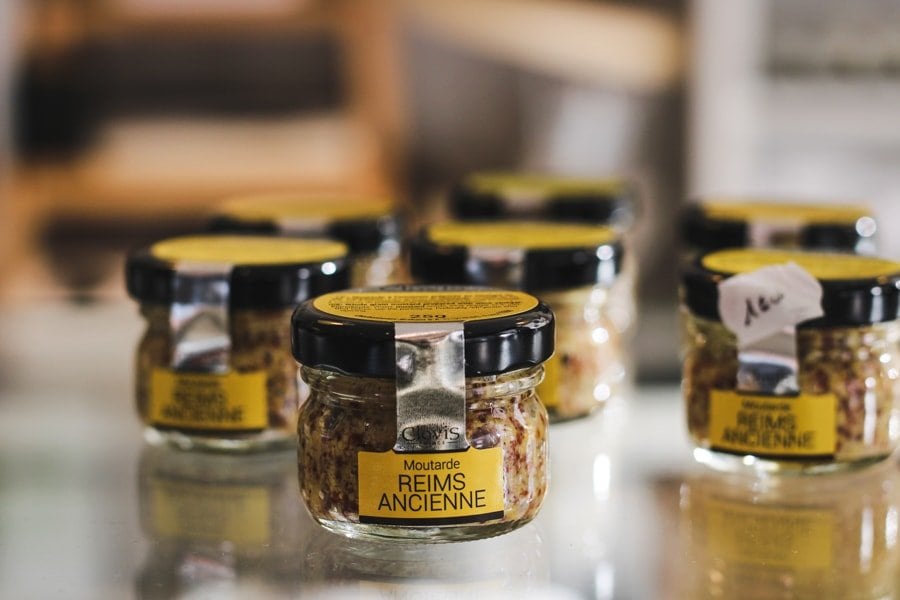 13. Enjoy Renowned Reims Truffles
I hate truffles but for some reason, people consider them luxurious and delicious. Reims used to have truffles that were classed as substandard but in recent years, they have achieved a reputation for being some of the best.
I didn't go and hunt these down, but if you're into truffles, this should be added to your list of what to do in Reims for sure.
14. Try Reims Cheese + Champagne at Fromage et Vins du Boulingrin
Ohhhhh cheese. I am lactose-intolerant yet I still endure the pain so that I can eat cheese (and ice cream). I was so stoked to try local cheeses in Reims and they did not disappoint.
One of the most famous local Reims' cheeses is chaource, a soft white cheese made from cow's milk and typically enjoyed with a glass of champagne, since you are in, after all, one of the best wine regions in Europe.
I imagine this is what I'll be eating in heaven for breakfast, lunch, and dinner.
Another local cheese is called langres. It is from the local area and tends to be served alongside red wine called Muid Montsaugeonnais which is also local.
My favorite place to get cheese in Reims was at Fromage et Vins du Boulingrin, a shop that specializes in champagne and cheese.
The staff was so friendly, spoke good English, and was helpful with picking the right cheese for me to try. Right next door you can buy amazing pastries and bread at Boulangerie Les Halles (some photos below).
You can find Fromage et Vins du Boulingrin at 28 Rue de Mars in Reims.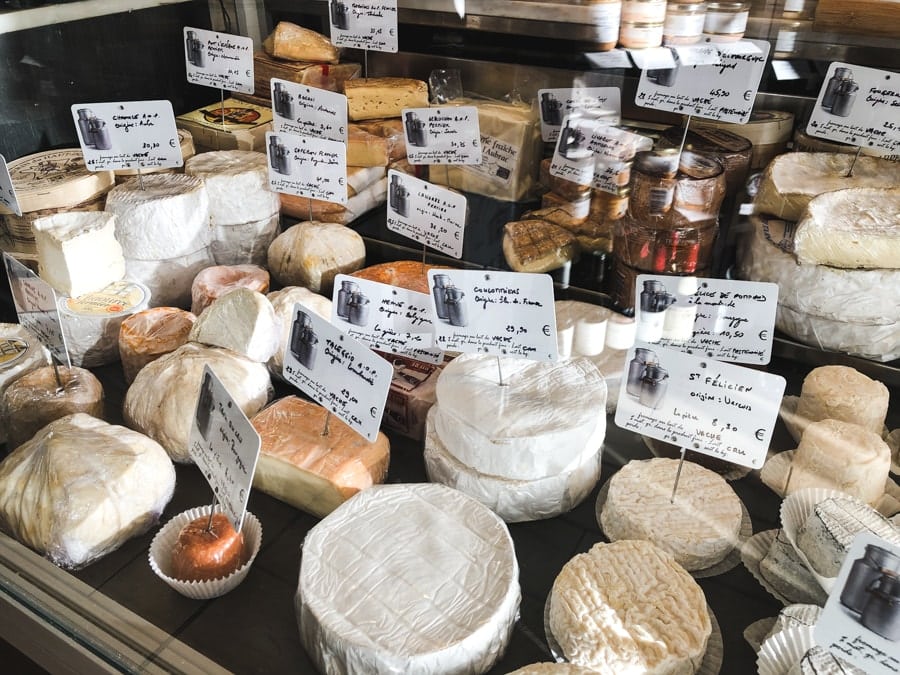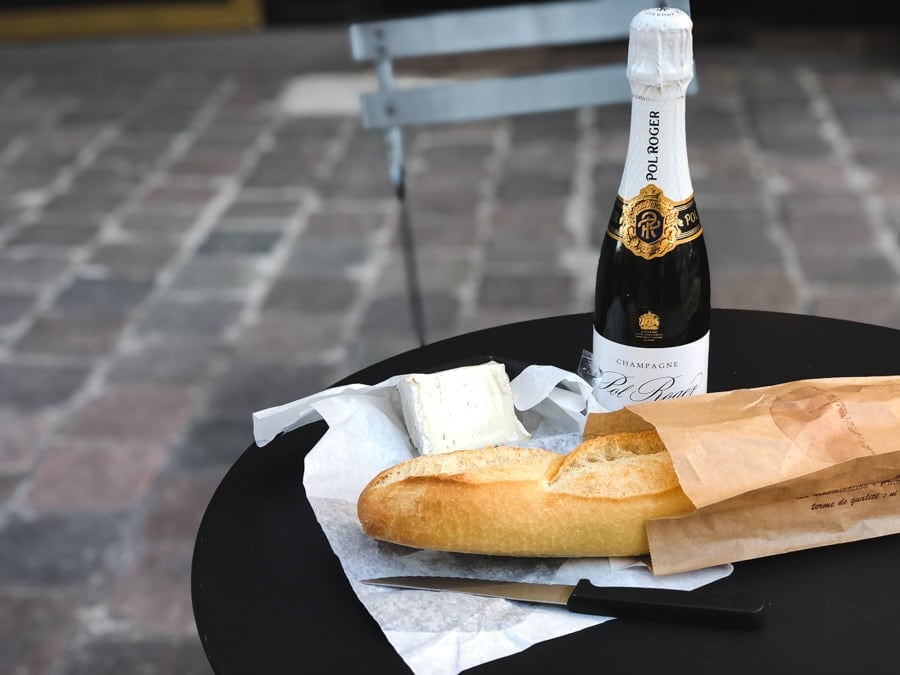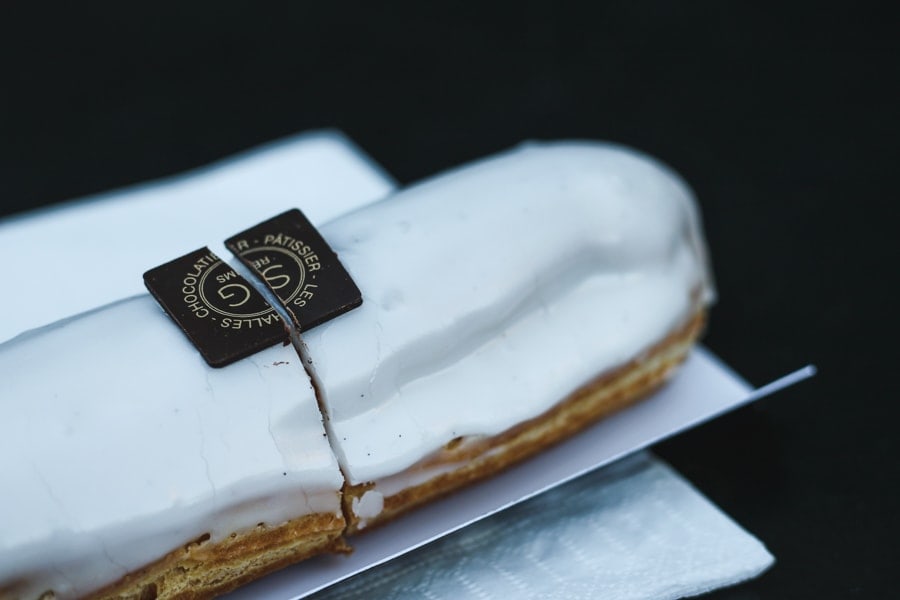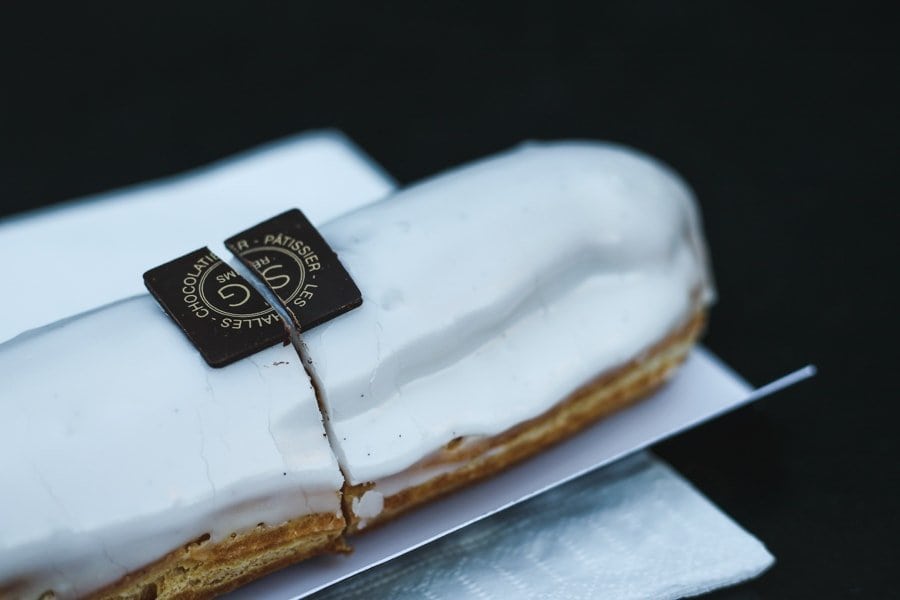 15. Enjoy Bouchons au Marc, Champagne Liqueur Chocolates
Another Reims must-try are bouchons au marc, champagne cork-shaped chocolates filled with champagne liqueur.
No one really knows the origins of these, but they started to appear in the 1950s and have become one of the most popular Reims souvenirs since.
A shop named Chocolaterie Deleans sells them and other special chocolates from the region. You can find Chocolaterie Deleans at 20 Rue Cérès in Reims.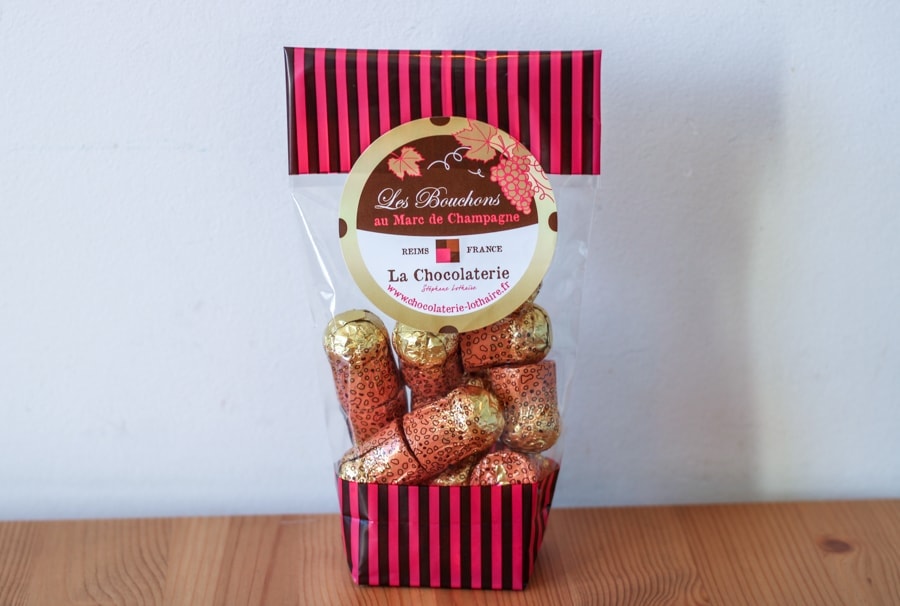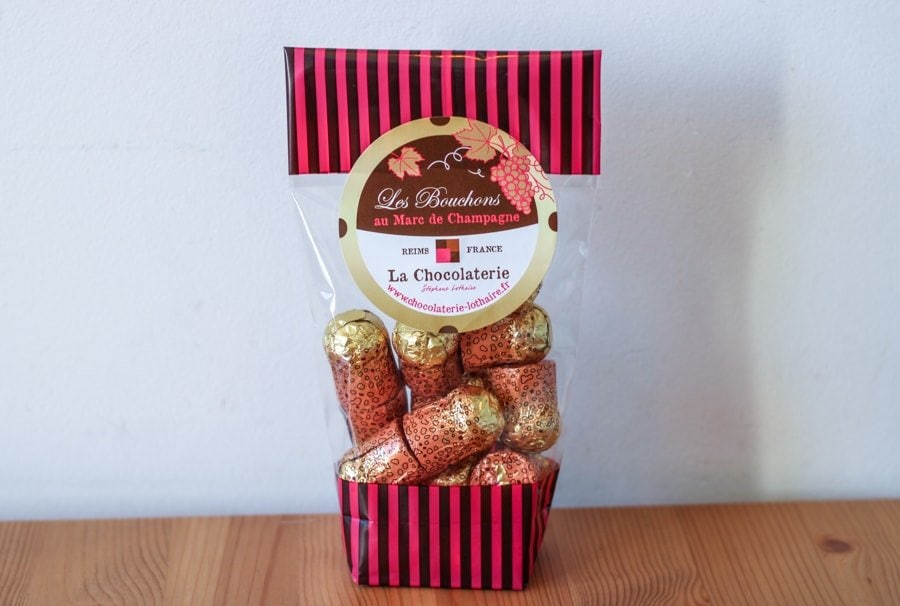 16. Taste the World's First Biscuits at Maison Fossier
One of the essential things to do in Reims is to try le biscuit rose de Reims, a pink biscuit with quite the history. It is one of the oldest biscuit styles in France dating back to the 17th century.
The most famous biscuit shop in Reims is called Maison Fossier and they were the ones that originally created biscuits around 1690.
This was where the term 'biscuit' was actually created as they created the special dough that would be baked twice to make use of the heat in the oven between batches of bread.
The biscuit is designed to be dipped in a liquid to enhance its flavor… most commonly dipped in champagne or red wine. The original recipe has been kept a secret by Maison Fossier since its birth.
Although the ingredients are standard for baking, the skill involved in making them is detailed and incredible. You can find Maison Fossier at 20 rue Maurice Prévoteau in Reims.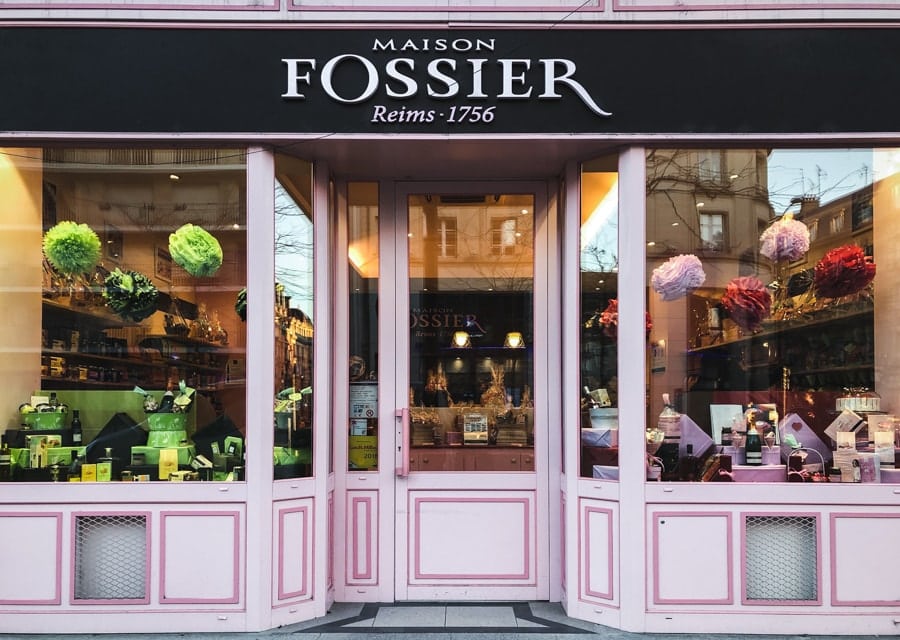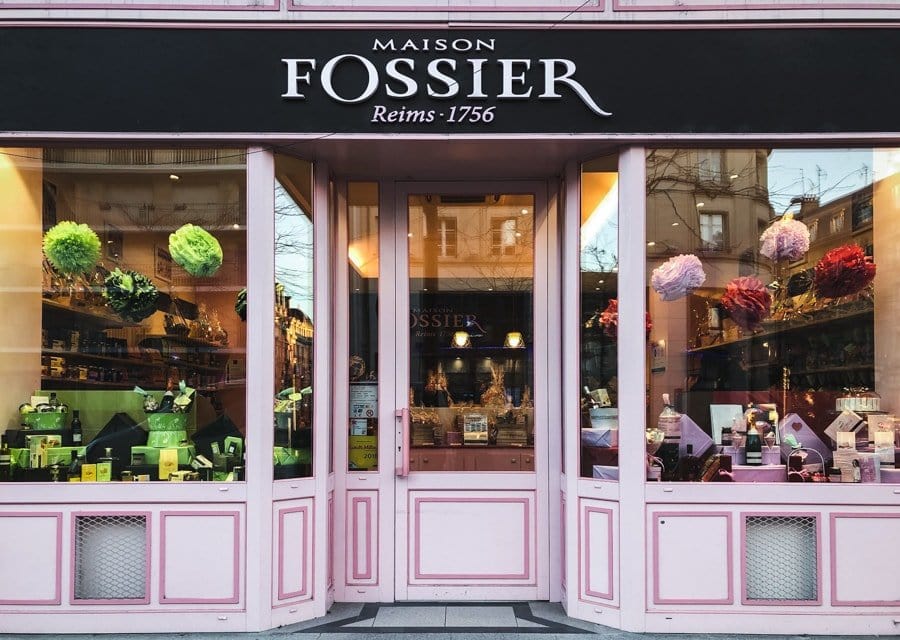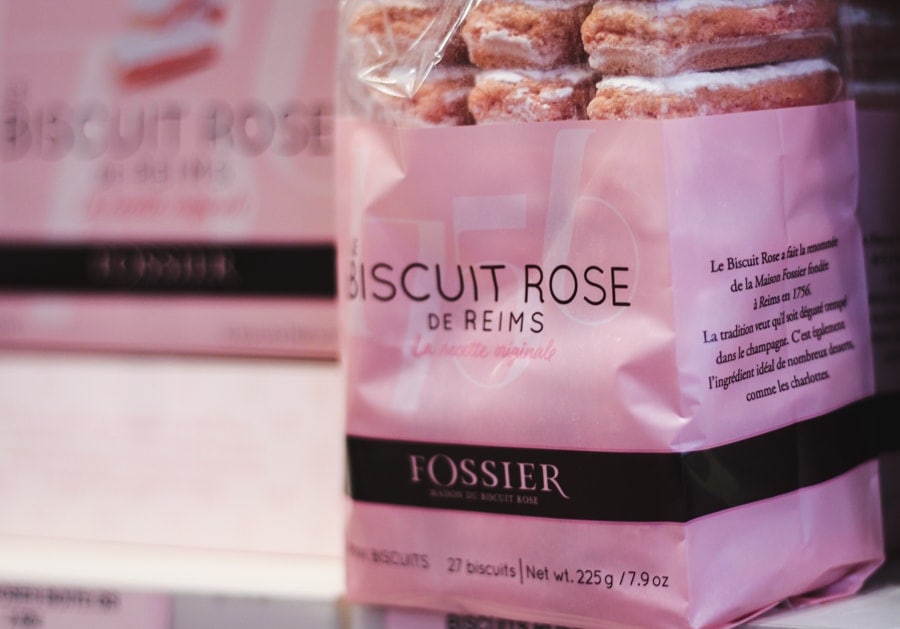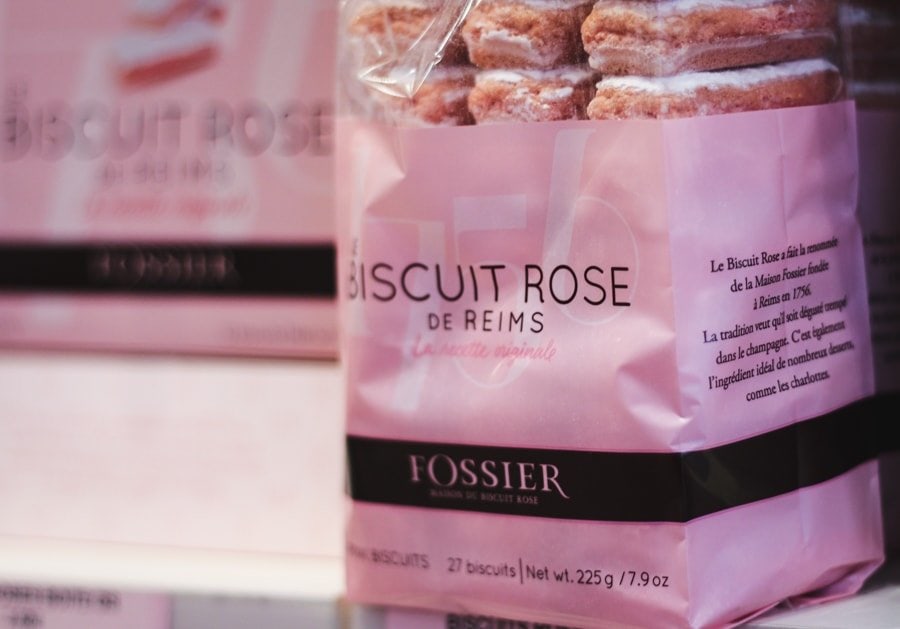 17. Have a Pourover at Oma Coffee
One of the first things I do, when I travel to a city, is to hunt down the city's best coffee shops.
I didn't have to search far to discover that Oma Coffee was the premier place in Reims specializing in specialty coffee.
I needed to have a meeting so I went there on a whim keeping my fingers crossed for wifi and a tasty coffee. I had both. They also have a range of sweet treats from classic French lemon tarts to macarons.
The atmosphere was youthful, yet pleasant. And the customer service was exceptional. I also had probably the best muffin of my life when there.
Definitely, head to Oma Coffee to get your day started when you're in Reims. You can find Oma Coffee at 44 Rue Gambetta in Reims.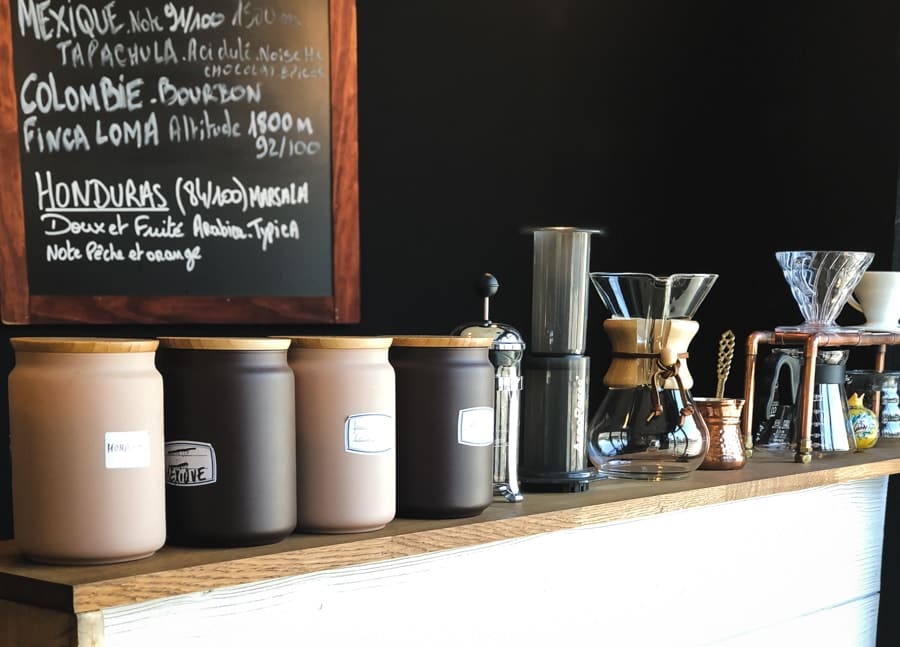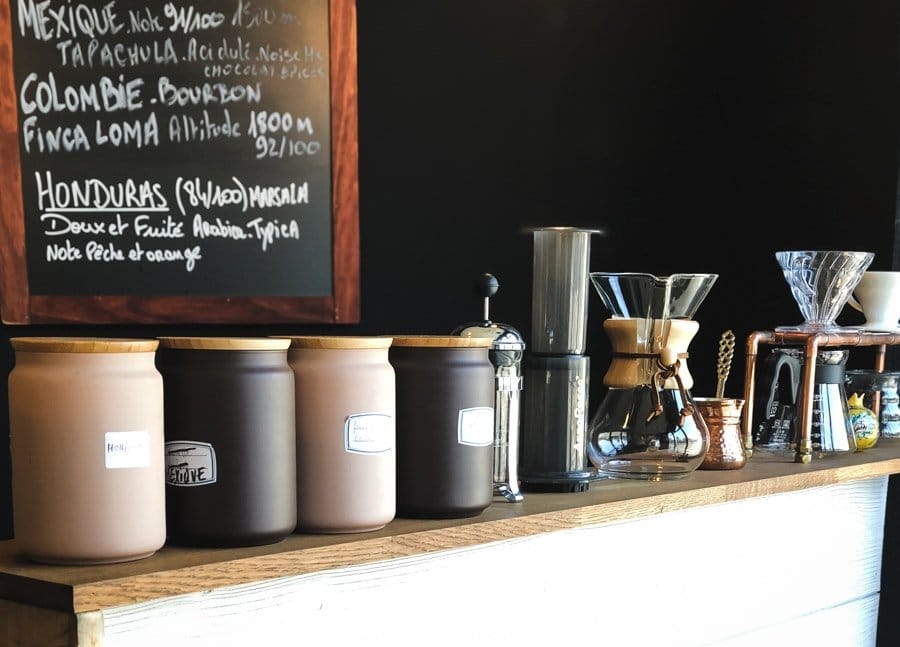 18. Try African Food at Afro Shop
Afro Shop is a place I had plans to enjoy dinner at but ended up somewhere else (okay… champagne bars). It is rated to be the best African restaurant in Reims and it also sells goods from all across the continent.
It is a no-frills experience and is a great place to visit if you want some down-to-earth and hearty food from afar. You can find it in Centre Ville at 98 Rue Gambetta in Reims.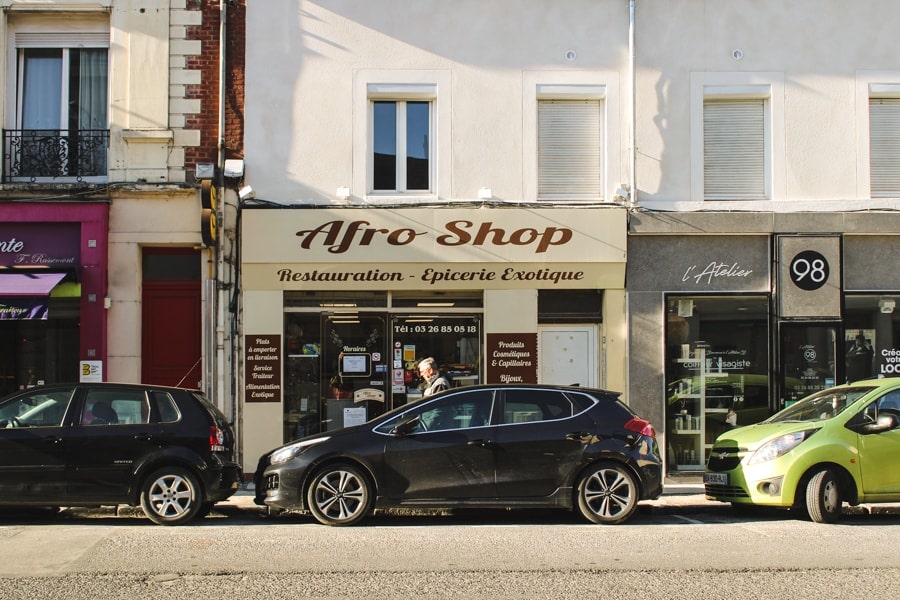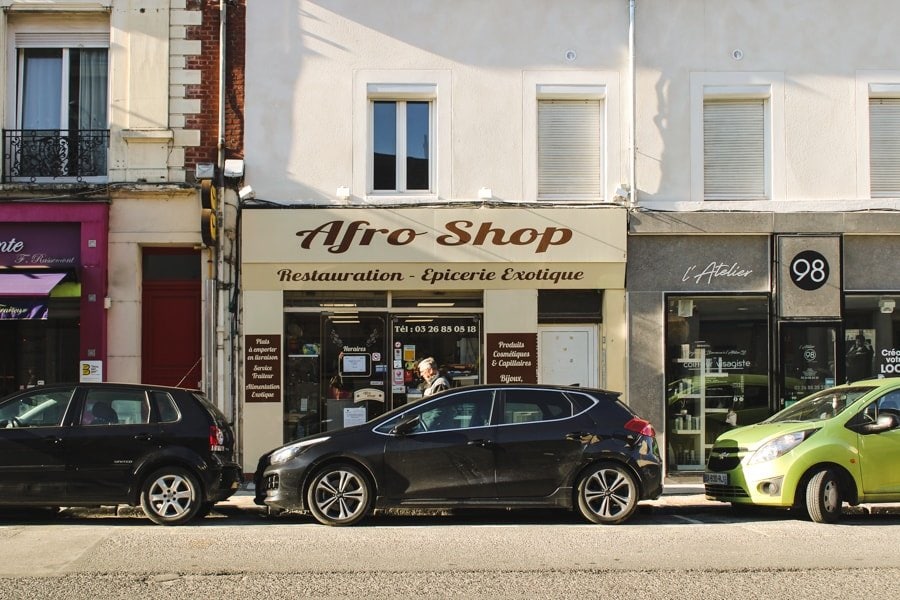 19. Imbibe at L.Bee Bar
I ended up in L.Bee Bar kind of by accident. I was not drinking beer when in Reims and I really wanted a tasty glass of Champagne because, well, I was in Champagne country.
I went into a bar next to it and the atmosphere felt stale and strange, so I hopped over to L.Bee Bar where it felt more alive and energetic.
To be fair, it was the bar's swanky and tacky decor that lured me in.
While they didn't really have any Champagne for me to enjoy, they did offer an affordable glass of red wine that I enjoyed before leaving.
I had a nice time here and can recommend it to travelers.
You can find L.Bee Bar at 69 Place Drouet d'Erlon in Reims.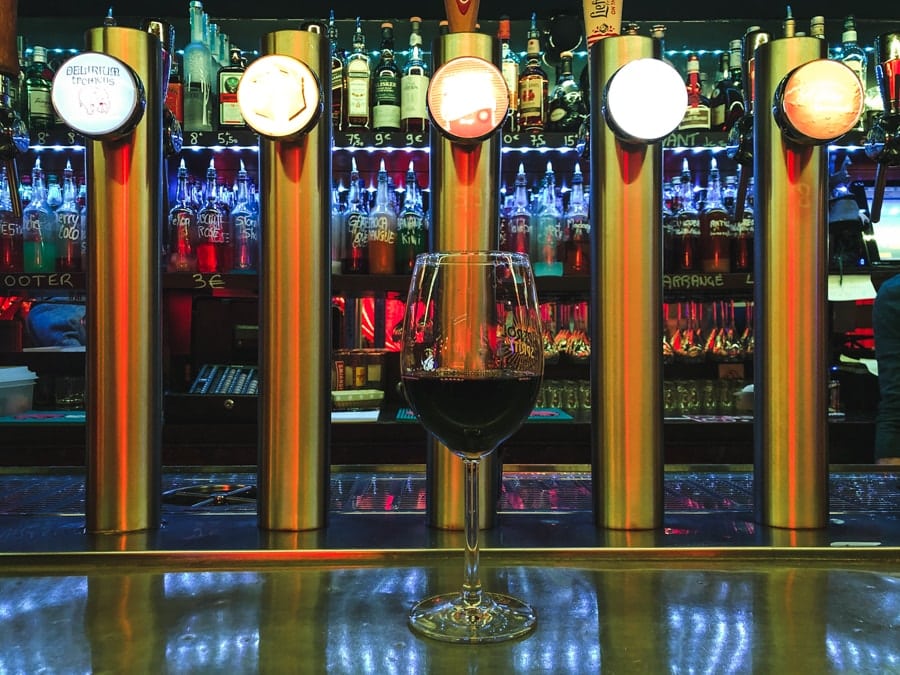 20. Do a Champagne Tasting and Tour at Champagne House Lanson
This Champagne House has been producing the beverage since 1760 and was a family-run business up until the 1980s. It has a long tradition of being one of the first Champagne houses to exist.
They offer a tour and it is one of the only tours in Reims that also allows you to see the vineyard. It is the only Champagne House that has a vineyard in Reims city, actually.
You can take a tour of Champagne House Lanson.
The prices range from €20-40, depending on how much Champagne you want to have at the end (I did the one that was €40 and it offered three full glasses of different styles). The tour lasts about an hour and a half.
You will get to see the amazing cellars, which also housed families during WW2. The chalk wine cellars at Lanson date back to Roman times and are part of the overall Champagne UNESCO World Heritage Site.
You can find Champagne House Lanson at 66 Rue de Courlancy in Reims. Click here for my guide to finding the best Champagne tour in Reims.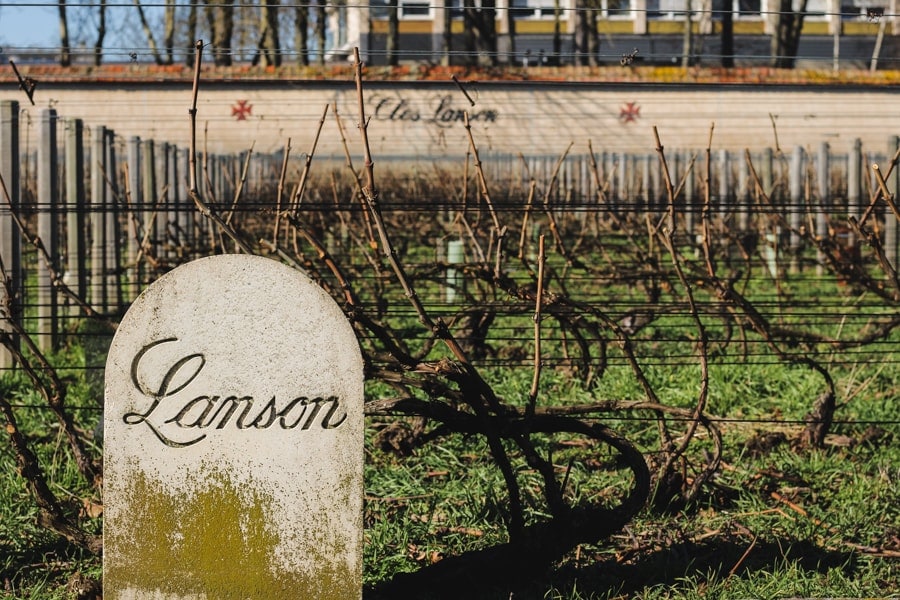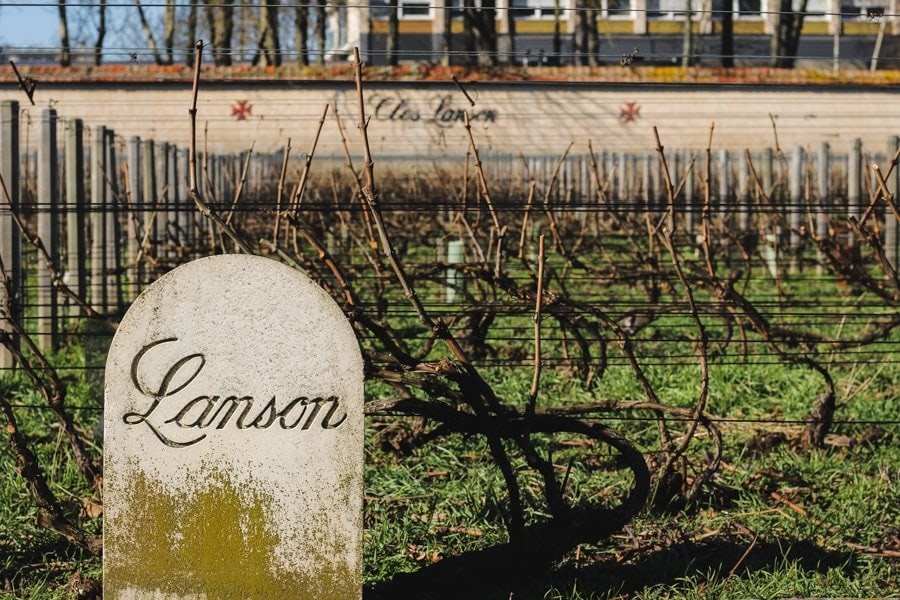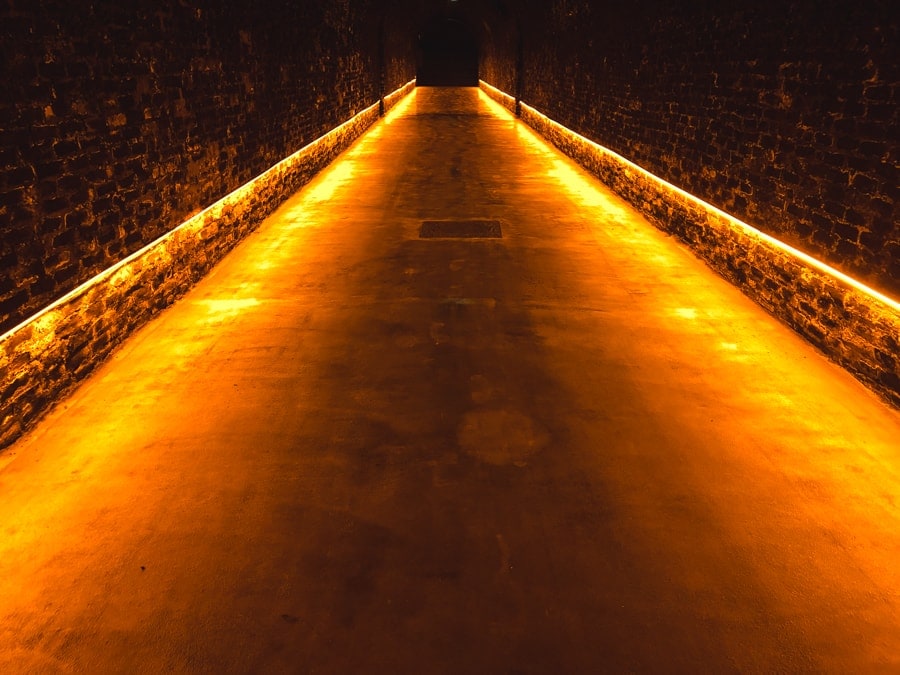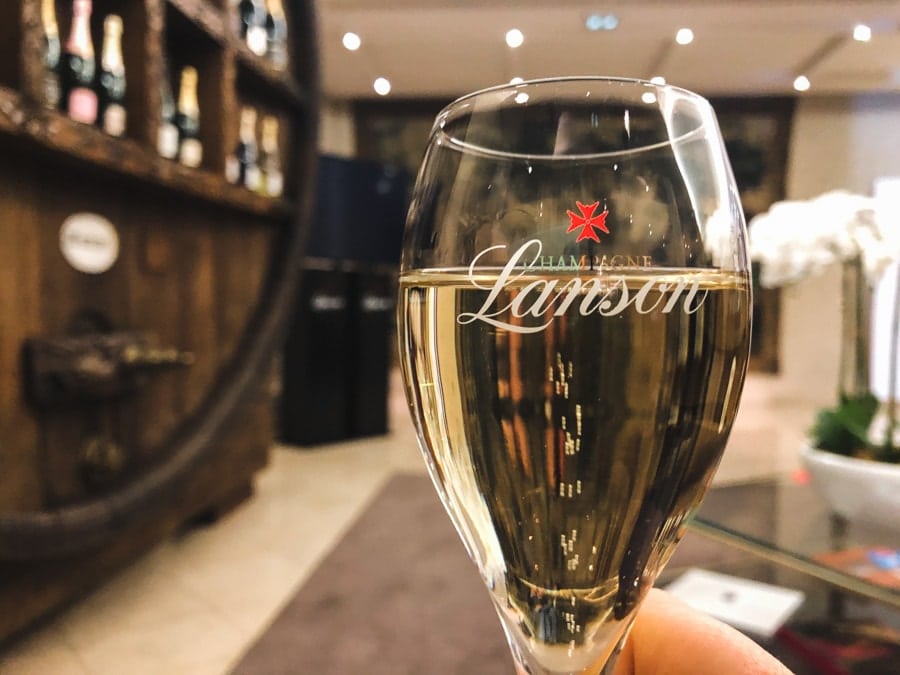 21. Enjoy Local Beer at L'Antirouille Craft Beer Bar
I am not currently drinking beer at all but it wouldn't be this blog if I didn't recommend at least one place to consume craft beer in a city.
In Reims, the best place to check out is L'Antirouille Craft Beer Bar.
This place has local brews as well as international ones. They may not have the ones you want on draft, FYI, so you may be stuck drinking something outside of the region.
If all else fails, I guess you will have to just succumb to drinking Champagne. Poor you.
You can find L'Antirouille Craft Beer Bar at 9, rue de Chativesle, Reims.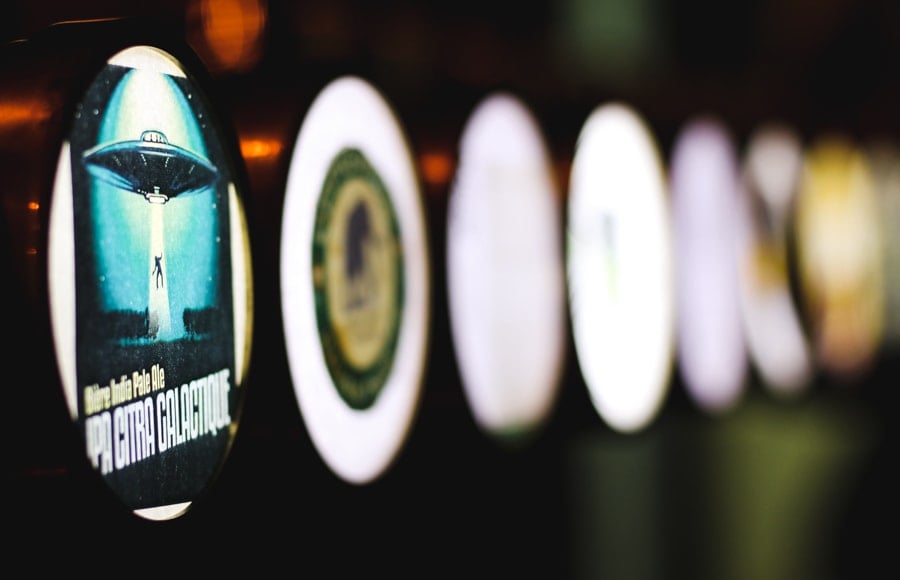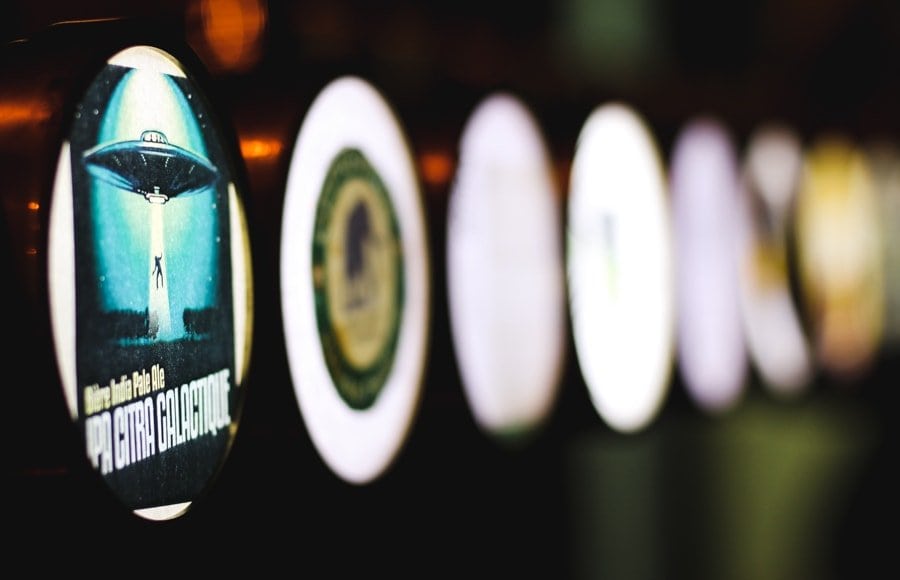 22. Venture out of Reims to the Abandoned Circuit Reims-Gueux
A former Grand Prix racing circuit located 7.5 kilometers west of Reims is the Circuit Reims-Gueux, an abandoned and partially destroyed racetrack.
It opened in the 1920s and was famous for its long straights allowing for maximum speed to be achieved.
Although other roads were built somewhat on top of it, the pit lanes are still there with the grandstands. The old advertising boards have been repainted.
The Circuit Reims-Gueux track saw its best years in the 1950s and 1960s when it hosted many endurance races and fourteen Formula 1 races.
You can find it at D27 in nearby Gueux.
23. Peruse Centre Erlon and Go Shopping
In the heart of Reims, you will find Centre Erlon, an upscale shopping district with a variety of stores and boutiques, as well as a large mall.
This area also has quite a few bars and restaurants lining it and is a place you can get sucked into for hours.
If you're looking for what to do in Reims for those coming to France to shop- look no further than Centre Erlon.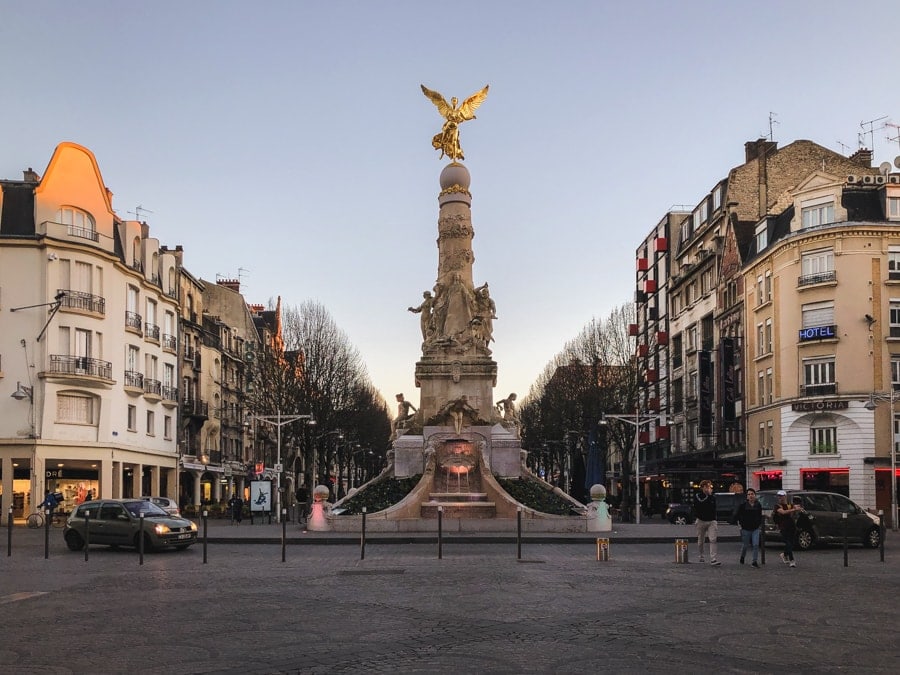 24. Go to the Top of Library Jean Falala for a Killer View
The top floor of Library Jean Falala actually provides a killer view of the Notre Dame Cathedral in Reims. I was so gutted when I was there that the place was closed (seriously, is everything always closed in France?
It seemed that way). Hopefully, it will be open when you're there and you can catch that view that I missed out on.
This is one of the best things to do in Reims, for sure. The Jean Falala Library can be found at 2 Rue des Fuseliers in Reims.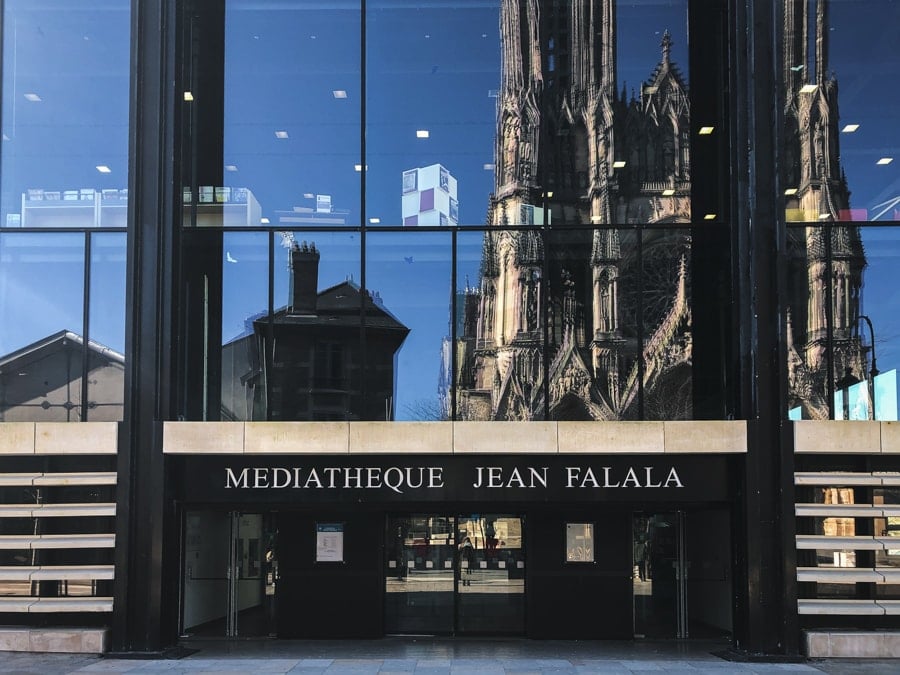 25. Buy Local at the YellowKorner Shop
I love finding quirky little shops when I travel that promote local artists and designers and YellowKorner Reims did just that.
They have an array of cool and hip designs from Reims, other parts of France, and even internationally. I loved this place and the customer service was awesome.
Definitely, a place to get something to bring home from. You can find YellowKorner Shop at 50 Cours Jean-Baptiste Langlet in Reims.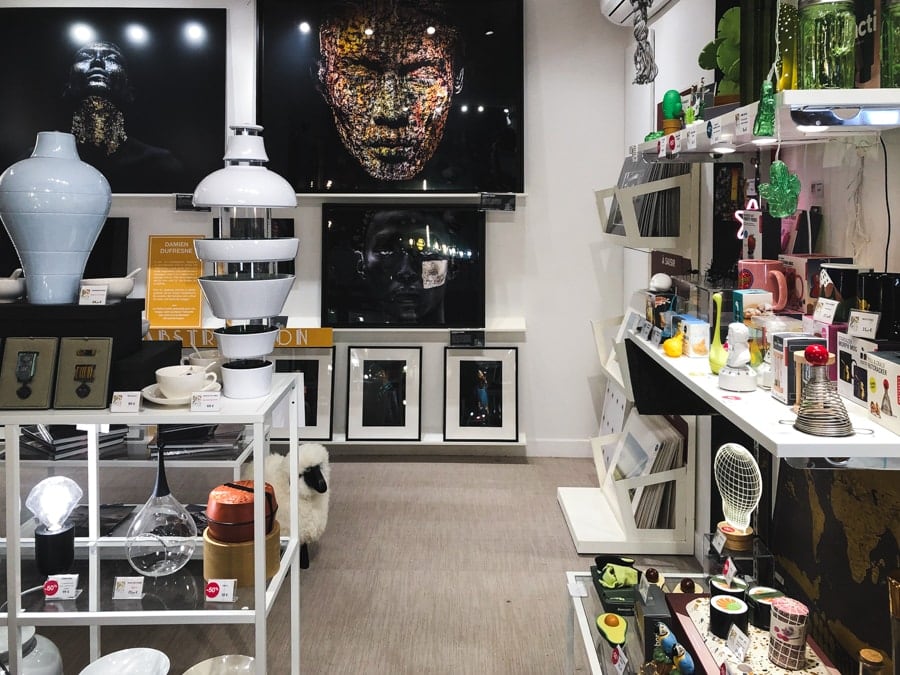 Reims City Pass
You can actually buy a city pass for Reims aptly called the 'Reims City Pass'.
This pass will grant you access to all public transportation for free, parking opportunities, a free guided tour of Reims, free museum entrance, and even large discounts on visits to the many Champagne houses in Reims and its surrounding areas.
To find out more or to purchase a Reims City pass, click here.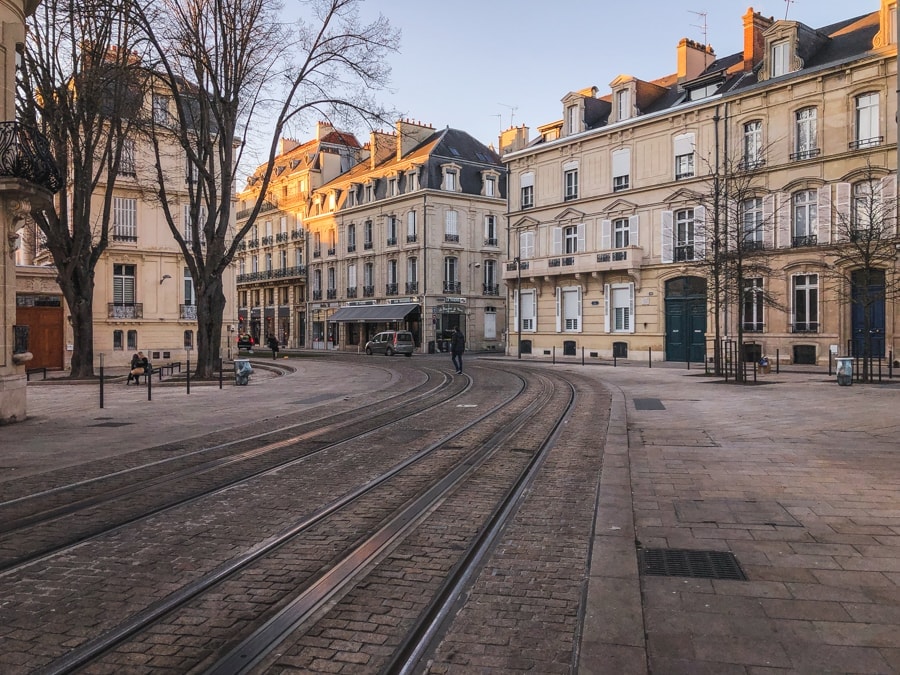 Where to Stay in Reims
There are several options for places to stay in Reims from hotels to apartments. Here is my recommendation for where I stayed in Reims:
Kosy Appart Hotels
This is where I stayed in Reims. It was an apartment that had a nice bathroom, a kitchenette and fridge, a table to eat at, a desk, and a comfortable and spacious bed.
It was centralized and close enough to everything I needed. I didn't like that they did not have a reception, however, as I was unable to leave my luggage somewhere on the last day and stroll the streets… but everything else was great!
Click here for rates and availability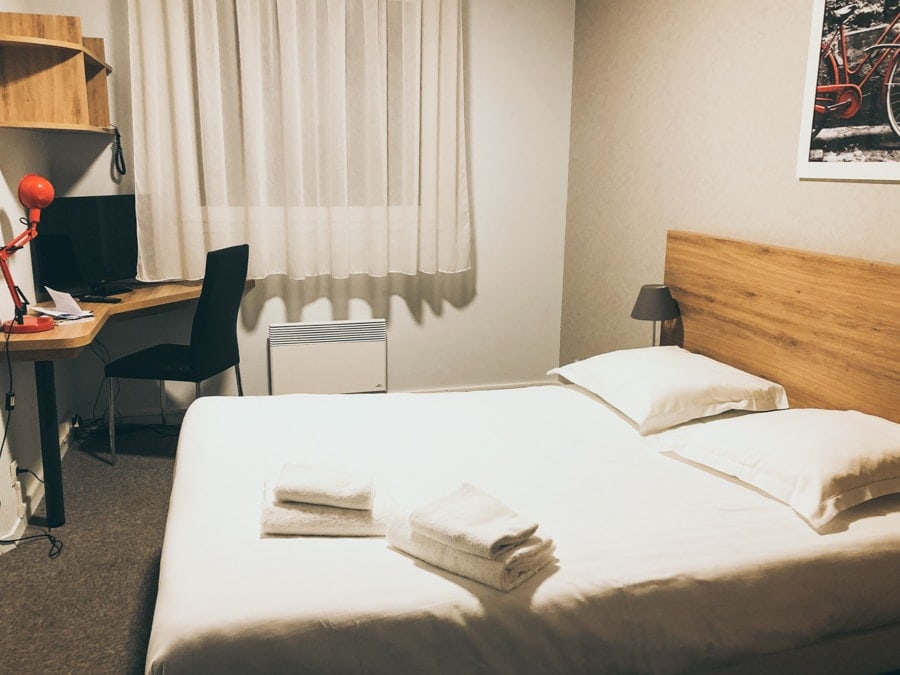 I hope this list will inspire you to visit this amazing city in France. There are many things to do in Reims for all types of travelers, especially the Champagne enthusiast!
If you have other suggestions, please drop them in the comments below!
More France Travel Guides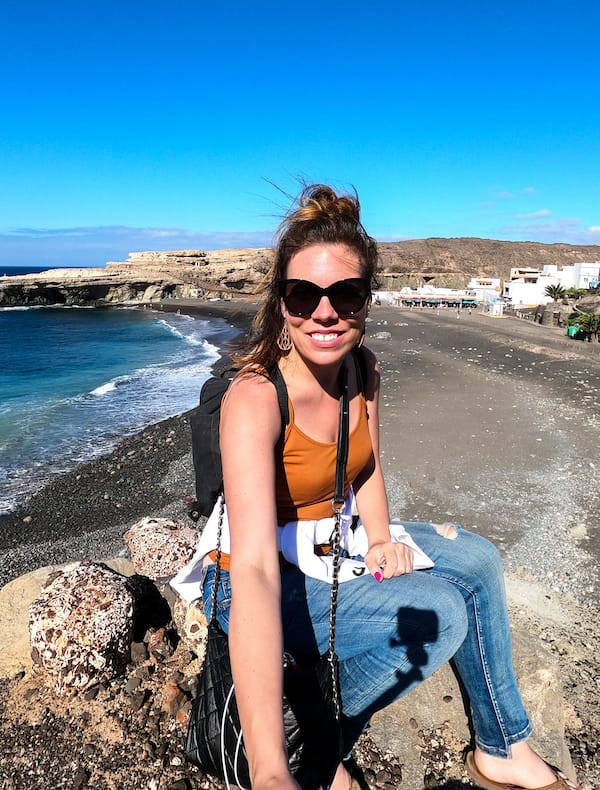 Megan is a travel blogger and writer with a background in digital marketing. Originally from Richmond, VA, she now splits her time between Frankfurt, Germany and Arctic Finland after also living in Norway, Armenia, and Kazakhstan. She has a passion for winter travel, as well as the Nordic countries, but you can also find her eating her way through Italy, perusing perfume stores in Paris, or taking road trips through the USA. Megan has written for or been featured by National Geographic, Forbes, Lonely Planet, the New York Times, and more. She co-authored Fodor's Travel 'Essential Norway' and has visited 45 US states and 100+ countries.