One of the travel hotspots currently is the fantastic country of Georgia in the Caucasus. A perk of traveling there is that the entire country is picturesque and has something to offer. This is a guide of the best places to visit in Georgia (country), hand-picked by other travel bloggers and myself.
This list is in random order and there are certain places that fit into other regions noted on the list. We know- but we thought some of the places needed their own section even if they are part of another region (ie: Sighnaghi in Kakheti).
We are also aware that depending on where you're from, you may not consider all of these places to be in Georgia. This post is not meant to be political. So, please just take it for what it's worth… and visit Georgia!
Unique Places to Visit in Georgia
My first trip to Georgia was far before tourism really picked up there (nearly a decade ago). One thing that has stayed true about the Caucasian country is that it has so much to offer visitors and is truly one of the best travel destinations.
Now that I live in the Caucasus, I tend to visit the same places over and over in the region. So, I recruited some help from other bloggers to talk about all the awesome places in Georgia that you can visit!
If we left anywhere off of this list and it deserves to be here, please drop it in the comments! Thanks so much.
Kazbegi
Editor's Choice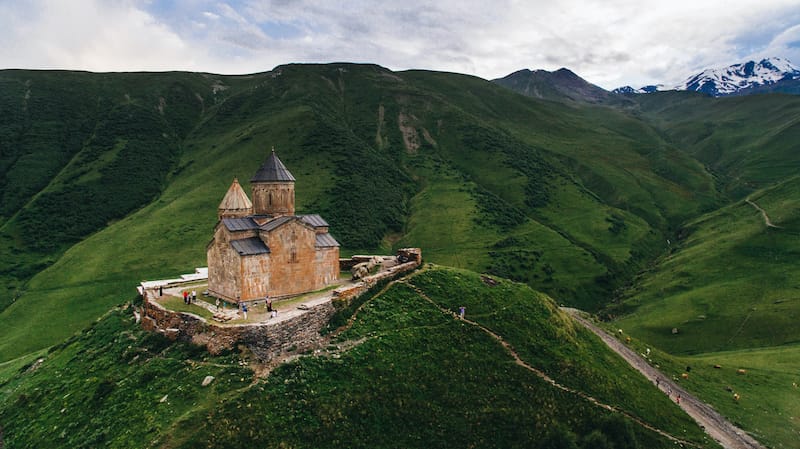 Kazbegi is a must-visit place if you find yourself in Georgia. Located in the high Caucasus mountains, it offers some of the most beautiful scenery in the whole country. Any lover of nature would be crazy not to go and make a trip there!
It has incredible hiking and is actually named after the largest mountain called Mount Kazbeg. There are also walking trails accessible for someone that wants to take it a bit easier, or even horseback riding if you're feeling extra adventurous.
An absolute must, though, is visiting the famous Gergeti Trinity Church. There is nothing like seeing it in person, with the grand Mount Kazbeg directly in front of it.
It is the perfect place to truly unwind. There is a sense of peace that comes from feeling isolated and being in a village. It is about a 3-hour drive from Tbilisi and takes you along the Georgian Military Highway, which is one of the most beautiful roads in the country (or frightening in my case!).
Stepantsminda is the main town in the region and has everything you could need. That is where you will find accommodation, restaurants, bars, supermarkets, etc. Click here to read our experiences visiting Kazbegi.
Akhaltsikhe
Recommended by Diana at Czech Souls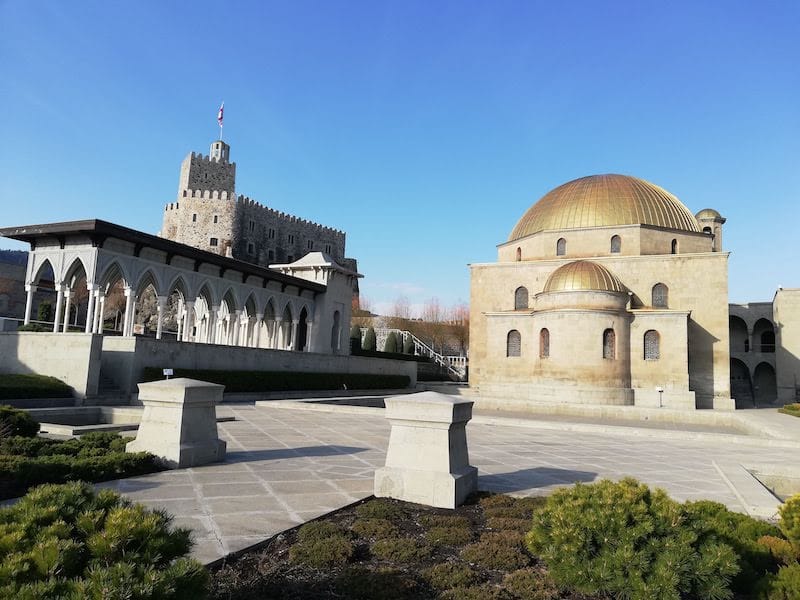 Akhaltsikhe, the capital of Samtskhe-Javakheti is mostly known as an entry point to Vardzia. Many people just rush through, but the city and especially its renowned sight – Rabati Fortress – shouldn't be overlooked.
This fortress resembles a castle and has a very rich history that is not only Georgian but also Ottoman. It has been renovated in the past decade and it feels like an oasis with its intact and well-kept gardens.
We have visited it early in the morning and that's what I'd suggest to anyone as we had the whole fortress for ourselves. It is well worth it to climb some of the towers as the view is no less beautiful than the fortress itself.
Should you stay in Akhaltsikhe overnight, get a room with a view of Rabati because it is beautifully lit at night. Otherwise, Akhaltsikhe has a great connection with all major Georgian cities and Armenia by marshrutkas.
It can also serve as a perfect base for your trips around the south of Georgia to both well-known destinations such as Borjomi and Bakuriani and lesser-known ones such as Tmogvi, Khertvitsi, or Mtsvane.
Tbilisi
Editor's Choice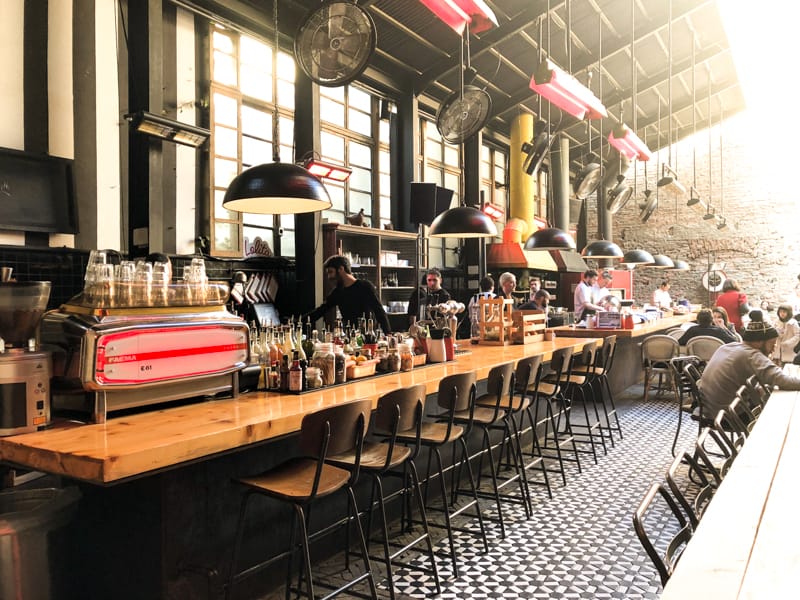 Tbilisi has everything you would want in a city; unique and beautiful architecture, absolutely delicious food, a very hip crowd, but also a calmer and quieter old town. It was founded in 458 and was perfectly positioned to be the route between western and eastern Transcaucasia.
It was captured by The Turks on several occasions and later burned down by the Persians and in 1921 made the capital of Georgia. Luckily, what you see now is an incredibly unique place to visit.
Some fun things to do around the city are going on a ride on the funicular and exploring that area and if the weather is nice you can stroll around the botanical garden, visit the Dry Bridge Market, or take a walking tour where you can see some of the most important sights.
Some delicious places you can eat are Lolita, Salobie Bia, and for the most delicious Adjarian khachapuri, head to Retro. Tbilisi is known for its nightlife, some of the more popular clubs are Bassiani and KHIDI. They are usually only open on the weekends and Bassiani requires registration.
Tbilisi is not only a fantastic summer destination but it also shines during the winter. Check out all the things to do in Tbilisi in winter here.
Vardzia
Recommended by Matěj at Czech the World
Vardzia is a huge cave monastery town in southern Georgia that was constructed in the second half of the 12th century during the golden age of Tamar the Great and Rustaveli.
It was abandoned after the Ottoman takeover in the 16th century. Nowadays, it's part of a state heritage reserve and has been submitted for future inscription on the UNESCO World Heritage List.
It's around 500 m long and 19 tiers high. There are more than 400 rooms including 12 chapels, 25 wine cellars, church, bakery, and many other interesting things.
It's pretty far from all the other popular attractions and the journey there is quite long, however, it's totally worth it. One can spend several hours wandering through dozens of different caves and tunnels.
The opening hours are every day except Mondays from 1000 to 1900. The last visitors are allowed in at 1800. If you are a student, don't forget to bring your student card because they have a huge discount for the entrance.
Visiting Vardzia is definitely one of the most amazing things to do in Georgia.
Adjara Region
Recommended by Amy at The Wayfarer's Book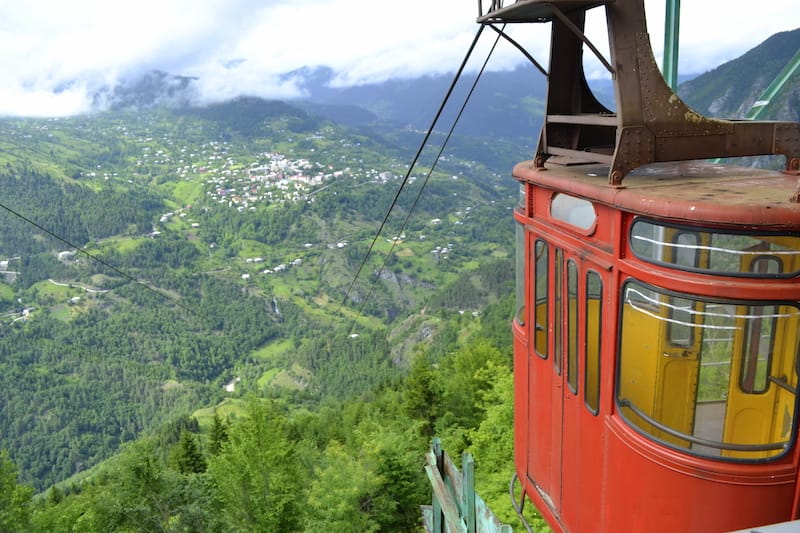 The mountains of Svaneti and Tusheti often get all the love from tourists in Georgia, but the mountains in Adjara are a real delight.
The region itself is well-known because of Batumi (see below) and its stretch of beaches, but if you dig a little further inland you'll reach the Lesser Caucasus mountains.
One of the most adventurous things to do in Adjara is riding the Khulo cable car. This small red vessel soars 350 meters over a valley to connect the villages of Khulo and Tago — where blissfully the only thing to do is hang out in a local's garden and order some coffee.
Traveling in Adjara is definitely for the bold! While there is plenty of hiking you can do, they are often more than just day trips.
However, there are loads of guesthouses and the people are incredibly friendly. The tourism office at Khulo was very helpful in giving me ideas of what else to do in the area. If you're looking for off-the-beaten-track Georgia, this is definitely it!
Batumi
Editor's Choice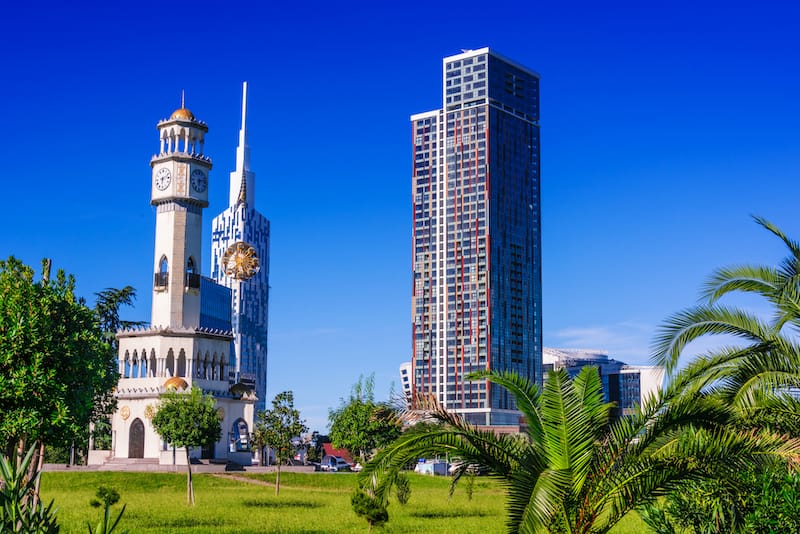 Batumi is definitely most popular because it is located on the coast of the Black Sea and it is aptly known as Georgia's Black Sea city. For the most part, the tourists are there to enjoy laying out in the sun but there are many other wonderful things to do.
Another great aspect of the city is its eccentric architecture. The flashy buildings are what allows it to be compared to Las Vegas often.
Batumi is part of the republic of Adjar where 30%o of the population is Muslim. The last remaining mosque in the city is the Orta Jame, which is quite small but an interesting place to visit.
Biking around the city is also highly recommended as there is nothing like feeling that freedom in such a beautiful place!
If you like hiking, the botanical garden is absolutely perfect; it is a steep walk, but once you reach the top the view of the Black Sea is superb!
Some of the best spots to eat are Retro, for the Adjarian khachapuri, Privet iz Batuma, BatuMarani for some Georgian dishes, and Cafe Adjar for some Adjarian specialties.
There are many options for getting to Batumi from Tbilisi and you can see them in our previously linked guide.
Tusheti (Omalo)
Recommended by Alex and Malin at Timezone Junkies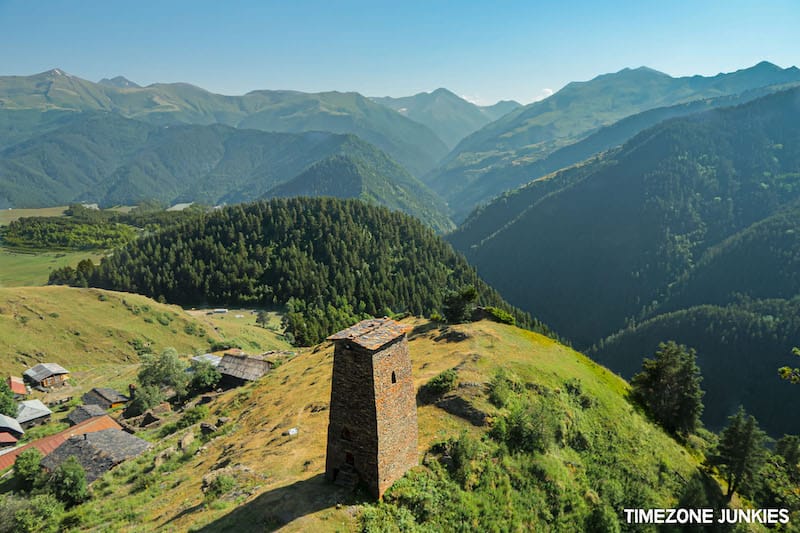 Taking a drive up to Omalo and the region of Tusheti is no small feat. Every year people die on this treacherous road that is only open from May to October due to bad weather and road conditions.
But don't let that put you off. Georgia's most remote region will blow you away with its incredible scenery and historic villages.
Arriving in the main village of Omalo, you will have the choice of staying in Upper Omalo or Lower Omalo or, alternatively, you could find a wild camping spot almost anywhere in this grassy plateau.
There are countless tiny villages hidden among the majestic mountains… some abandoned and some with home-stays. Getting to these little hillside hamlets can be as easy or as challenging as you want.
The majority of people coming up to Tusheti go there for the spectacular trekking while others come for mountain biking, horse-riding, or just to visit the little villages by taxi (Delica 4×4).
You can get to Tusheti directly from Tbilisi or Telavi or by changing your marshrutka at the towns of Kvemo-Alvani or Zemo-Alvani and they leave when they fill up.
The total trip should cost between 40-70 GEL depending on where you start.
Kutaisi
Editor's Choice
Kutaisi is Georgia's third-largest city but it retains an old charm compared to Tbilisi and some of the other cities in Georgia.
It was the former capital and for this reason, it has some important, ancient landmarks. Some of the must-see attractions are the Sataplia Nature Reserve, Prometheus Cave, Bagrati Cathedral, Gelati Monastery, and the Parliament building.
Just as important as visiting the sights, is taking time to explore the city. Wander the city and enjoy its architecture, particularly the Lado Meskhishvili State Drama Theatre.
There is also the Green Bazaar; somewhere you can spend hours of your day gawking over the local produce and delicacies.
Food is also a very important part of being in Kutaisi so be sure to enjoy several Imeretian khachapuris! You can go to award-winning Baia's Wine south of the city or a nice cafe like Sisters.
Borjomi
Recommended by Luda at Adventures with Luda
Most people may know Borjomi as the fancy carbonated mineral water sold all over Eastern Europe… but the actual town from where it's bottled deserves to be on your "to visit" list as well!
Borjomi is Georgia's beautiful resort town located in the mountains and it is the perfect place to break up a long trip from Tbilisi to Batumi. One to two days is plenty of time for you to see most of the attractions in Borjomi.
Start your day with a visit to Borjomi Central Park where you can try the famous mineral water for free! There's a large "kiosk" stand in the middle of the park where workers pour mineral water that's extracted directly from below.
Don't forget to take the cable car up to the panoramic viewpoint where you'll see a gorgeous view of the entire town. From there, take a moment to marvel at the beautiful architecture of the Golden Tulip Borjomi that was originally built in 1892 as a spa facility and later turned into a hotel.
Other popular places to visit in Borjomi include the red-and-yellow striped Romanov Palace, a place that the royal family used to visit at the beginning of the 20th century, as well as the Borjomi-Kharagauli National Park.
Whether you want to escape from big city life or simply spend some time in nature, Borjomi is the perfect place to do so.
Gori
Editor's Choice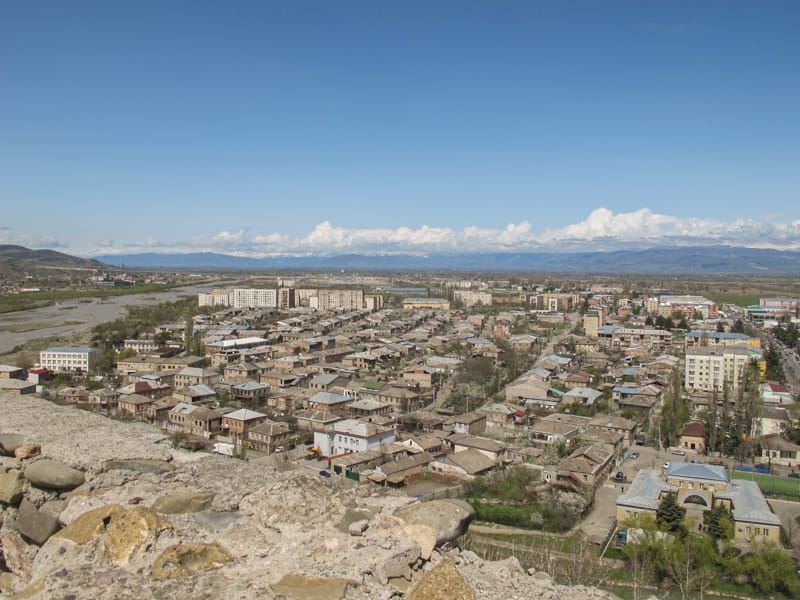 Gori is the city where Joseph Stalin was born and went to school, and to this day, you can see the Stalinist architecture ever-present in the downtown area.
The most popular attraction of the city is the museum dedicated to him where you can see his belongings and photos of him on display. But, there is far more to Gori than Stalin- I promise!
Another equally important site is the Gori Fortress, located in the middle of the city atop a hill where the view is incredible.
If you enjoy museums, the Sergi Makalatia Gori Historical and Ethnographic Museum is a great place to visit and it'll help you understand Georgian history further, as well as the Great Patriotic War museum.
The Cathedral of the Nativity of the Blessed Virgin is also an important attraction in Gori and you can enjoy the garden outside the building. Lastly, you can visit the Gori Dramatic Theatre and marvel at its typical Soviet architecture.
Some popular places to eat are the Fish House for fresh seafood, Gamardjoba for some authentic Georgian cuisine, and L'avenue for some fresh food and vegetarian options. If you have a sweet tooth, don't forget to stop by Cafe 22.
Katskhi Pillar
Recommended by Alex and Malin at Timezone Junkies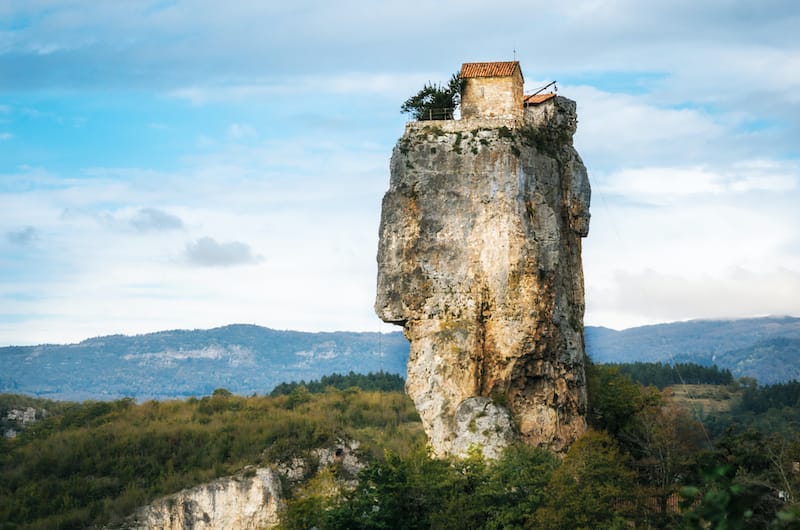 Katskhi Pillar, also known as Katskhi Column, has to be one of the most curious sites Malin and I have ever come across. Perched atop a 40-meter rock face, this perilous lookout is home to a single monk who climbs down the daunting ladder twice a week for supplies.
So why is there a chapel on top of this column and how old is it? After finding remnants of a plate with an inscription in 2007, the hermit cells were dated to the 13th century. However, upon further research, it becomes apparent that the actual age of the chapel is debated and range from the 6th to the 13th century.
Either way it is a fascinating place to visit. They even used to have a wine cellar up there! This would have been a dangerous place to get drunk. Unfortunately it is now closed to the public, but after seeing the ladder that runs up the side of the cliff-face you probably wouldn't want to climb it anyway. It's definitely not for the faint-hearted, that is for sure.
If there is anything you would like to change or if you have any questions please feel free to let us know.
Chiatura
Recommended by Emily at Wander-Lush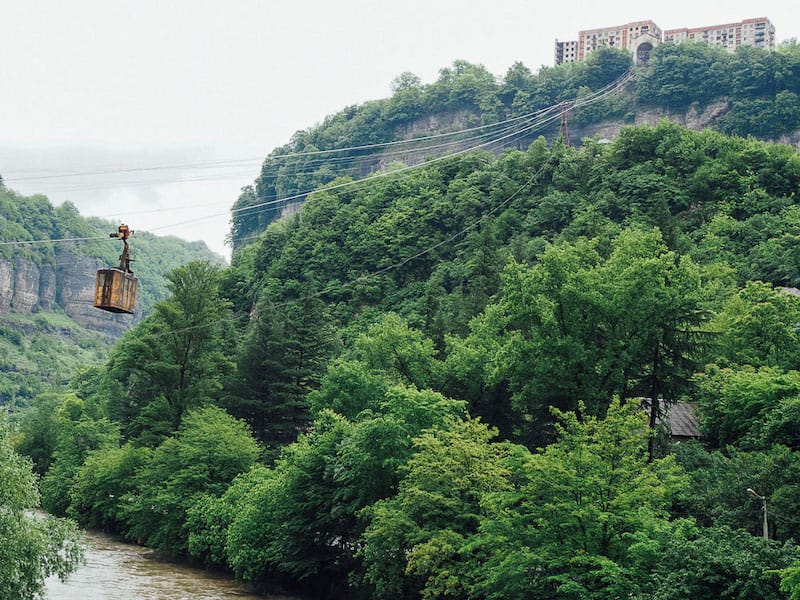 If you're looking for an alternative place to visit in Georgia, the city of Chiatura in western Imereti region has a fascinating history.
The city was established to service manganese and iron ore mines after deposits were discovered in the area in the 1870s. It flourished, and by the turn of the century, 60 percent of the world's manganese ore came from the hills around Chiatura.
To increase productivity, a network of cable cars was built to ferry miners from the center of the city, which sits in a low valley, up to the mines. At its peak in the 1950s, Chiatura had 17 separate aerial cableways crisscrossing its valley.
Many of them are still operational and used by residents on a daily basis (although at the time of writing, the lines are closed for refurbishment). Since the cable cars were built on the orders of Stalin himself, they're often referred to as 'Stalin's ropeways'.
A ride in one of Chiatura's rusty old 'flying coffins' is a nail-biting experience, but it's worth it for the magnificent views of the valley and city from the top. If you like brutalist architecture, you'll love Chiatura's concrete cableway station buildings. Some still have their original hammer-and-sickle insignia above the doorway.
Aside from riding the cable cars, you can visit the Pioneers Palace, central market, and wander the streets, which are full of colorful apartment blocks and reminders of the city's Soviet past. Chiatura is a quiet but friendly city.
There are a handful of hotels and restaurants, but most people choose to visit Chiatura as a day trip from nearby Kutaisi.
The journey takes around 2 hours each way and can easily be done using local marshrutka vans. Along the way, you can stop off at Katskhi Pillar for a view of the iconic monastery.
Martvili
Recommended by Jyotsna at Wander With Jo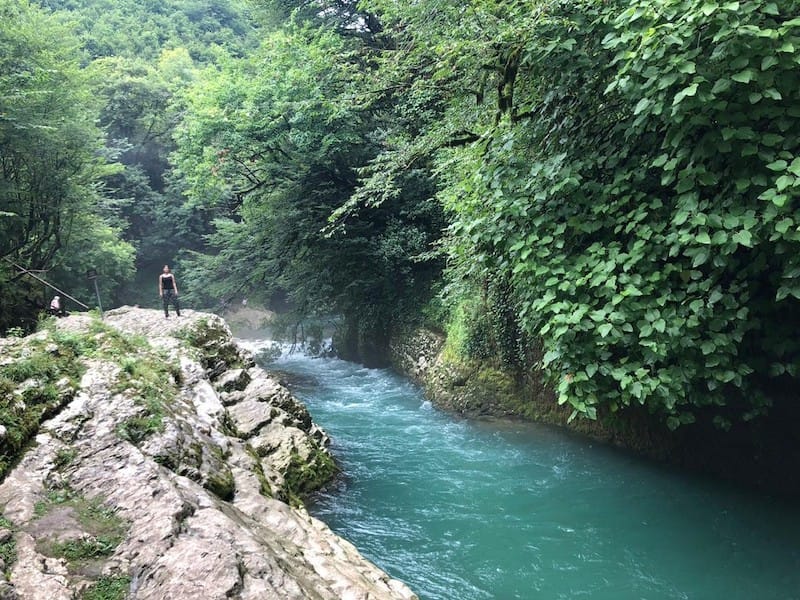 Martvili was an unexpected stop for me during my 14-day road trip across Georgia. Whilst heading to Svaneti, we got stuck in heavy rains which slowed us down.
So, a quick overnight stop in
Martvili
was impromptu. We lucked out and ended up in a cozy guest house owned by the tourism manager of Martvili. He took it upon him to showcase this amazing offbeat destination to us.
Our overnight stay turned into two night stop and we explored not just the famous Martvili canyon, but also the town's absolutely stunning and obscure natural wonders.
Martvili has an incredible history to boast off and some of the most beautiful waterfalls I have seen in Georgia. Top attractions in Martvili are – Martvili Monastery, Martvili Regional Museum, Kaghu Waterfall, Balda Canyon, Oghueshi Waterfall, and of course, the tourist attraction of town – the stunning – Martvili Canyon, among others.
We could've easily spent at least 2 more days doing a lovely trek recommended to us but we were short of time and Svaneti was calling. If you happen to visit Georgia, don't skip Martvili!
Georgian Canyons
Recommended by Baia at Red Fedora Diary
Apart from beautiful cities, remote villages with medieval defense towers, and ancient cave towns, Georgia is home to various breathtaking canyons that can be visited as a day trip from Kutaisi or Tbilisi.
Okatse, located in the Imereti region, offers a nice walk on a hanging walkway overlooking a massive gorge. The canyon is 35-50 meters deep and 16 kilometers long, but the infrastructure permits you to only be able to walk 1.5 kilometers of it.
Martvili is the Samegrelo region's jewel, boasting emerald green water running through the ravine. Unlike Okatse, Martvili doesn't offer a long walking path to explore the area; the highlight here is a short, 300 meter-long, boat ride through the scenic valley.
Once done, walk for 10 minutes through the moss-covered forest, and you are done with the visit.
For more adventurous souls who'd like to hike a short distance, Dashbashi and Birtvisi Canyons are the best places to visit in Georgia. Both of them are very close to Tbilisi and can be done as a day trip from the capital city.
The main reason to visit Dashbashi Canyon is its cascading waterfall and moss-covered stones under the water creating an illusion of beryl-colored creek.
Birtvisi is home to volcanic hillocks overlooked by the once least accessible fortification in all of Georgia.
Uplistsikhe
Editor's Choice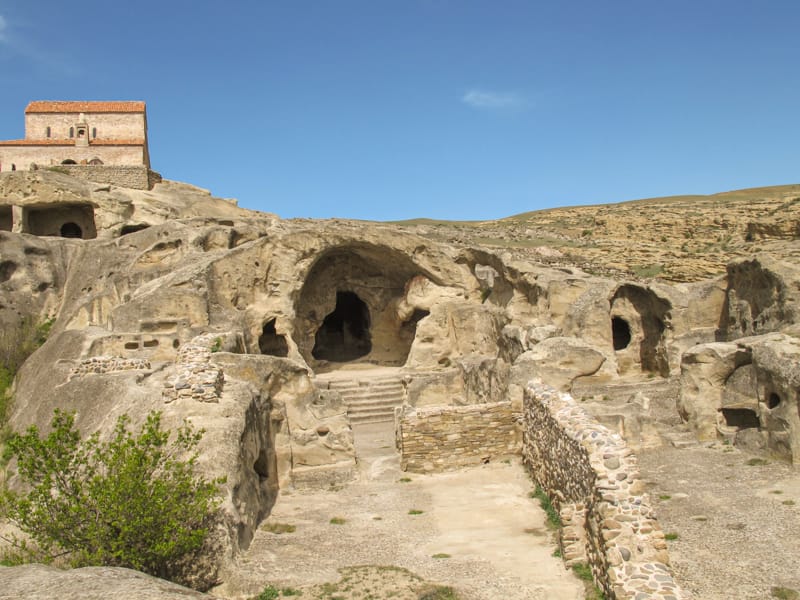 Uplistsikhe is a cave city based on a rocky plateau on the Kura River. It is located about 10 kilometers away from the city of Gori.
Uplistsikhe is one of the oldest settlements of mankind and in the 6th-century BC became the center for trade between Asia and Europe.
The cave city is the highlight, so it doesn't really matter where you decide to go first. The main attraction is probably the tunnel that was formerly used as an escape route.
Some other important parts are the large main square in the middle of the cave city, the hall of Queen Tamar, the wine cellar next to it, and of course the Princely Church, which will likely catch your eye first.
The church was built in the early Middle Ages and was named "Church Uplistsuli" (the church of the prince). Gold, silver, and bronze jewelry and sculptures were found there and they can be admired today in the National Museum in Tbilisi.
It is perfectly preserved to this day and it dominates the rest of the ruins of the ancient city.
Uplistsikhe is one of the few sights in Georgia for which we had to pay admission. It was the equivalent of €2.40 per person but is subject to change.
Abudelauri Lakes
Recommended by Miguel at Travelsauro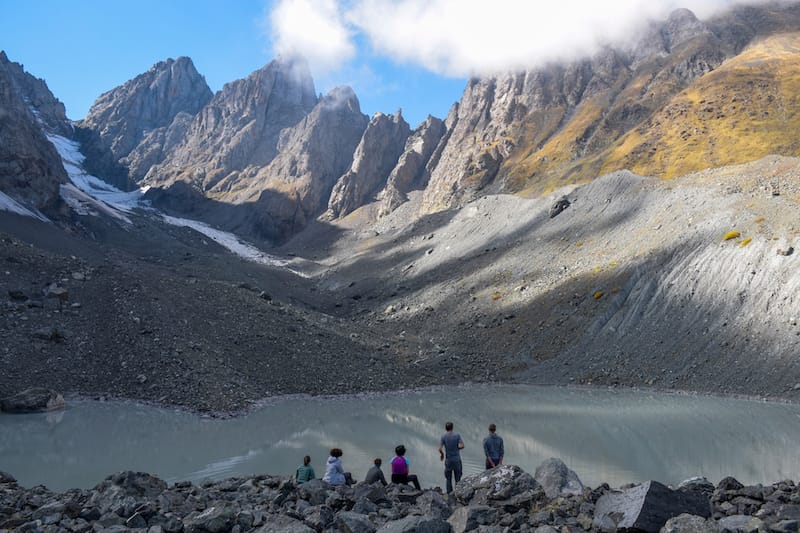 If you want to add some adventure to your Georgia itinerary, I recommend that you travel to the remote region of Khevsureti where you'll find fortified stone villages and unspoiled natural wonders such as the Abudelauri Lakes.
These off-the-beaten-path lakes stand out for their colors (green, blue and white), and the unique location. All three are beautiful, but the white lake is undoubtedly the most spectacular as it's surrounded by giant rocky walls.
The easiest way to get to the lakes is by getting a private tour from Tbilisi to Roshka. Theoretically, this can be done by public transport too.
However, the marshrutkas that connect Tbilisi with this region don't have daily departures. From Roshka, it takes about 3 hours to hike up to the first lake.
If you are into hiking, I recommend that you take the Juta to Roshka Trek. This trail, which can be completed in one or two days (depending on your hiking ability), goes next to the lakes making it one of the most adventurous experiences you can have in the country.
Kakheti Region
Recommended by Elisa at World in Paris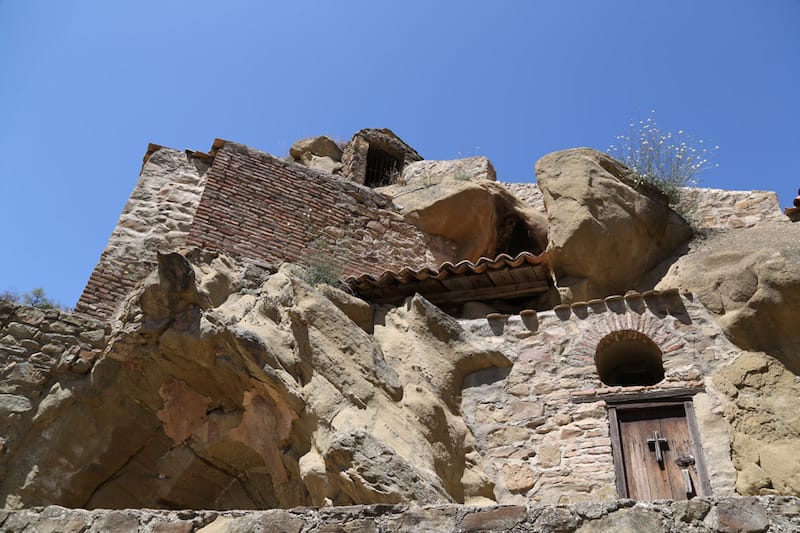 Kakheti is a region in eastern Georgia formed from the historical province of Kakheti and the small, mountainous province of Tusheti.
Kakheti's capital is Telavi, located on the foothills of the Tsiv-Gombori Rang. Sighnaghi (see below), is also a really well-known city in the region and a popular place to visit in Georgia. The region produces excellent wines and it is also home to beautiful monasteries and two national parks.
Kakheti is not far from Tbilisi and it is possible to visit some of its sights on a day trip from the capital, as long as you can arrange private transportation. Usually hotels in Tbilisi can help with that.
One of the most popular day trips from Tbilisi is Davit Gareja, a unique 6th-century rock-hewn Georgian Orthodox monastery complex located on the half-desert slopes of Mount Gareja.
Despite David Gareja is located at only 70 km from Tbilisi, this area looks like another world! On the way, we recommend doing a few stops to see more of the region like the Minotsminda Cathedral or for some great views over Mariamjvari Nature Reserve.
Sighnaghi
Editor's Choice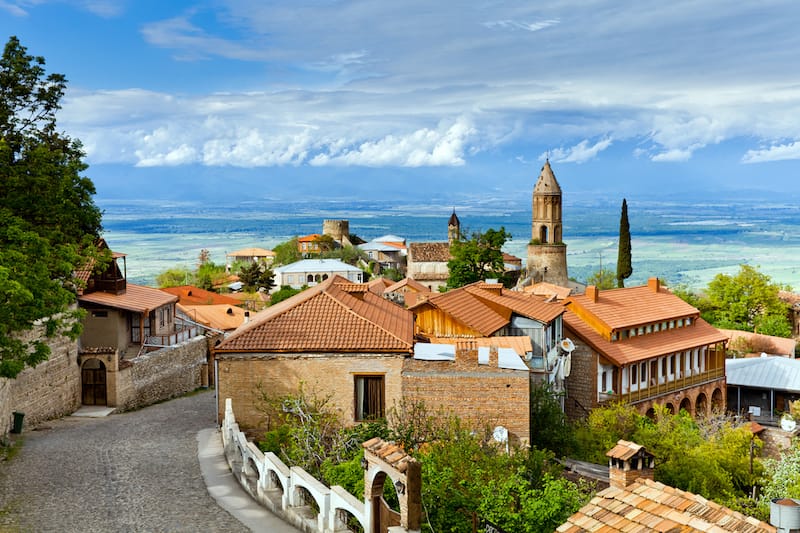 Sighnaghi is a relatively small town that doesn't require much time to explore but its location makes it the perfect place to stay while making several day trips to places nearby.
A popular thing to do in town is to walk along the Sighnaghi town wall; it has 23 towers, each one named after nearby cities.
An important place for many Georgians is the Bodbe Convent, where St. Nino who brought Christianity to the country, is buried. The two most prominent churches to visit are St. Stephen and St. Giorgi.
St. Nino's Spring is where pilgrims come to wash in holy water that will allegedly also heal you. On Sundays, the Bodbiskhevi Bazaar Sunday Market is open and you can see an amazing variety of local goods at unmatched prices.
Host of Sighnaghi is the first restaurant you will see as you enter the city through Tbilisi and if you go there, you can enjoy many Georgians specialties.
Nikala is the perfect place for some delicious Kakhetian food, and tasty khinkali. Lastly, at Pancho Villa you can enjoy Mexican food with Georgian ingredients.
Sighnaghi is undoubtedly one of the best places to visit in the Caucasus countries.
Tskaltubo
Recommended by Kami at Kami and the Rest of the World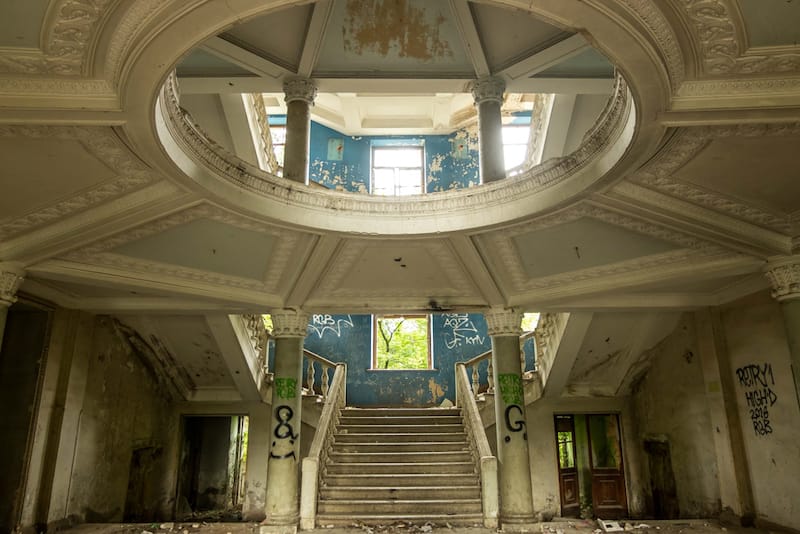 Tskaltubo is one of the easiest day trips from Kutaisi and such a fascinating place to visit in Georgia. The healing waters were found in this area already in the 13th-century but the first sanatoriums were opened in the town before World War 2.
Soon after, Tskaltubo became a major spa destination in the former USSR, with some 20 sanatoriums and 9 bathhouses and famous residents, such as Stalin, who had his own cottage here.
After the collapse of the USSR and the civil war in Georgia, the town fell into disrepair and remain so until today. A few sanatoriums are reopened but the majority is in ruins, often occupied by IDPs from Abkhazia.
But even if the buildings are not in the best condition, you can still visit many of them. Fans of urbex will be in heaven exploring abandoned hotels and bathhouses and admiring the grand architecture from the Soviet times.
Even if you are not into urbex, you should still visit Tskaltubo to enjoy the healing features of the bathhouse or visit the nearby Prometheus Cave.
Svaneti
Recommended by Coni at Experiencing the Globe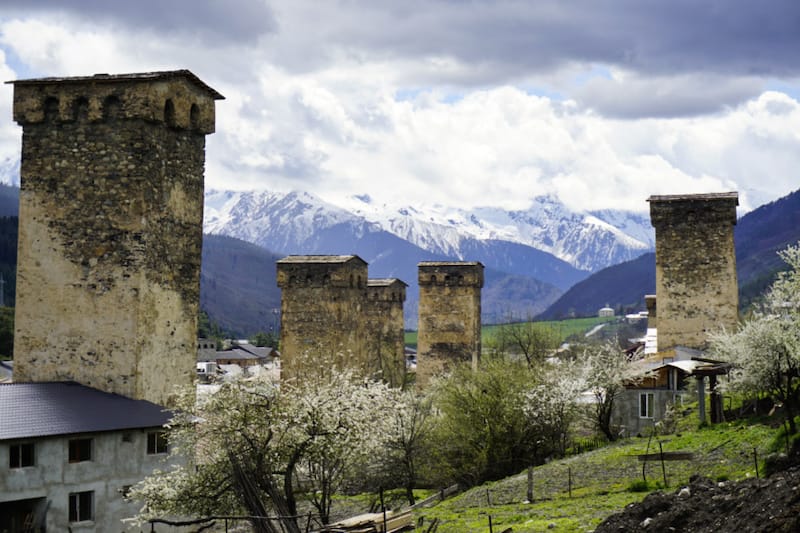 The Svaneti region is a truly unique place. It's surrounded by 5000 meters peaks with deep valleys in between, where little towns have flourished. For this reason, people have lived in extreme isolation, giving the Svans a special character, as well as their own culture, language, and traditions.
The emblem of the region are the Svanetian houses, which feature defensive stone towers erected between the 9th and 12th centuries.
Mestia, the capital of the region, is known as Georgia's capital of adventure.
If you're into sports, the region offers two small ski resorts (Tetnuldi and Hatsvali), and world-class backcountry skiing.
Also, it's the ideal place for hiking. The most known trail leads to Ushguli (see below), a UNESCO World Heritage Site said to be the highest permanently inhabited village in Europe. The trek will get you there in 4 days, or you can catch a ride to do a day trip.
From Mestia, you can also do day hikes to the Koruldi lakes and the Chalaadi glacier, both offering stunning views.
To get to Svaneti, jump into a ubiquitous marshrutka to Mestia or if you manage to get a reservation, get an inexpensive flight from Tbilisi or Kutaisi.
Ushguli
Recommended by Yulia at Miss Tourist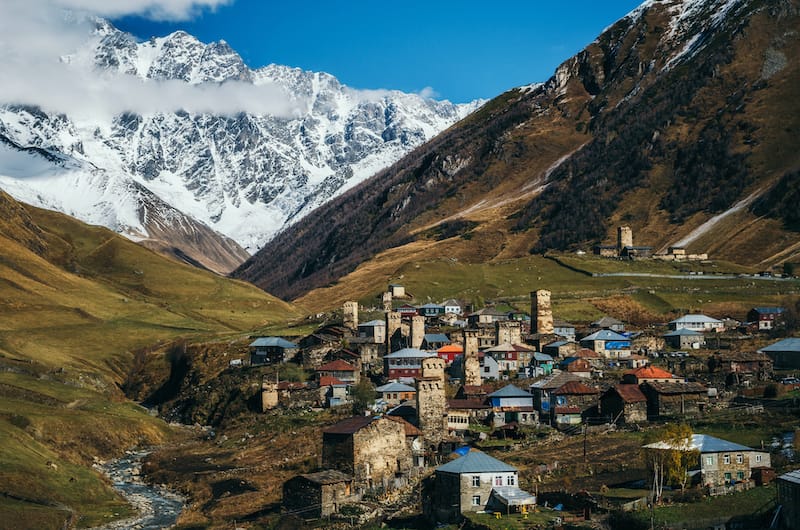 Ushguli, one of the main attractions in the Svaneti region, is a tiny community of about 200 people lost in the Caucasus mountains.
Ushguli was proclaimed a UNESCO World Heritage site thanks to its defensive towers that date back to the IX century. It is also considered to be the highest continually inhabited settlement in the world (the elevation there is about 2,400 m)!
Despite the fact it is only about 45 km away from Mestia, the closest "city", it will probably take you about 3 hours one way driving a 4×4 because of the road quality. You might rent a 4×4 yourself and drive slowly (that's what we did and it was such a fun adventure!) or hire a local driver to take you there for a day trip.
The views on the way are absolutely breathtaking, if not for the settlement itself, I would go just for that!
We only stayed in Ushguli for a couple of hours to enjoy the views from a terrace cafe, but you can stay overnight and do mountain trekking or horse riding the next day. Attention – Ushguli is not your regular city with 5-star hotels – the accommodation options are super simple, but it is worth it!
Rustavi
Editor's Choice
Rustavi is a fairly young city and it was officially a city in the year 1948. Nowadays, it is the fourth-largest city in Georgia.
For about a decade after the collapse of the Soviet Union, Rustavi was known as the sleeping city because many of its inhabitants would leave to work in Tbilisi and come back to sleep.
Now, it has become the car city, where there is the biggest manufacturer of car parts and the biggest second-hand dealership. It is also the only place you can obtain your driver's license.
One of Rustavi's main attractions is its Motopark where you can watch or even drive a Formula1 car. If you are more into nature, you can hike in Birtvisi Canyon or visit some parks around the city.
There is also a historical museum and drama theatre that are definitely worth a visit while you're there. Rustavi can be reached by public transportation or taking a taxi from Tbilisi.
Mtskheta
Editor's Choice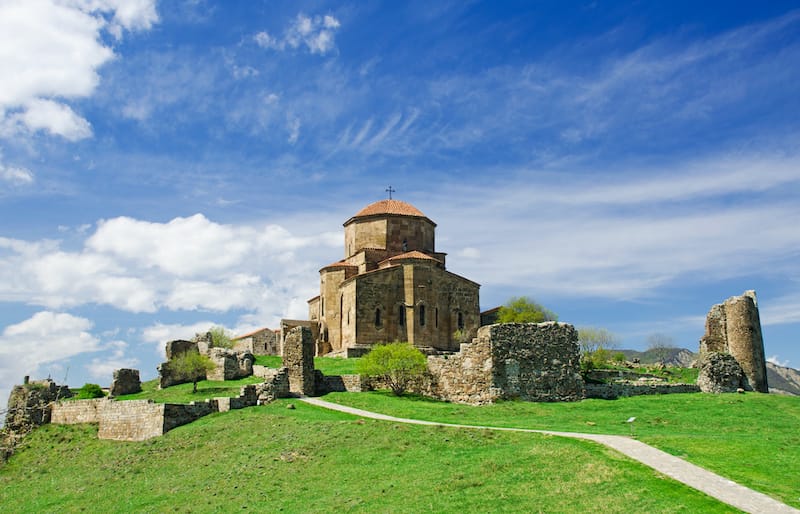 Mtskheta is declared the "Holy City" by the Georgian Orthodox Church and its monuments became a UNESCO World Heritage Site as a result.
It is only a 40-minute drive from Tbilisi and doesn't require much time to explore fully. There are several sites surrounding the town that are worth seeing, however.
One that can be visited on your way there is the Jvari Monastery, one of the oldest monasteries in the country.
Svetitskhoveli Cathedral is also highly recommended and it is where many Georgians believe the seamless robe of Christ is buried. Visiting Shiomgvime is also an interesting place to walk around or you can visit the ruins of the Amazi castle, named after a Pagan idol.
If you enjoy wine, you must visit the Chamber of Wine, a four-story building dedicated to the beverage.
As for eating, beans are a staple and important part of the cuisine and Salobie is the perfect place to eat this traditional meal. Ada Cafe is also highly recommended… you can enjoy fresh food and a spectacular view of the river!
Gudauri
Recommended by Pedro at Travel with Pedro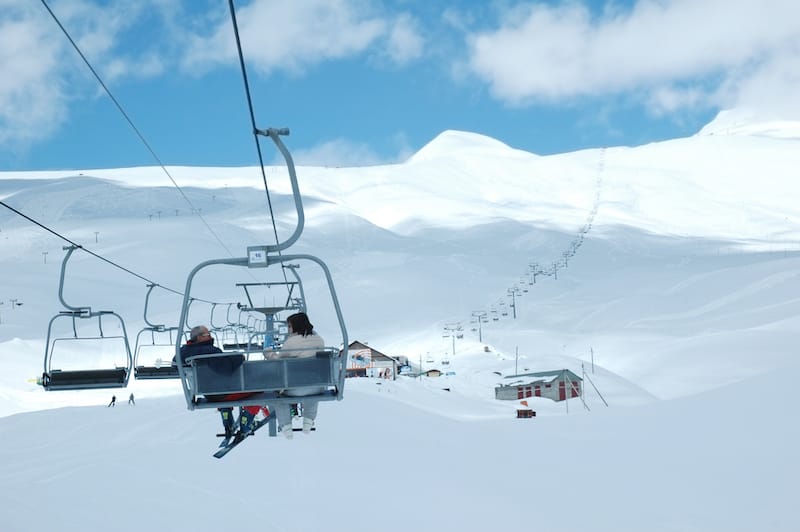 Gudauri is famous for being the most popular ski resort in Georgia. But rather than a seasonal destination, Gudauri is a great place to visit all year-round. The resort is located right on the historical Georgian Military Highway, which connects Tbilisi to Russia.
Before arriving in Gudauri, still on the highway, you will find the half-moon shaped Monument to the Georgian-Russian Friendship, built in 1983. It is really worth it stopping at the monument's viewpoint to enjoy the scenery – the views are truly beautiful!
In the warmer months, the resort is quieter and attracts nature lovers looking to explore hiking trails, going paragliding, or just in search of some peace and quiet. But it's between December and April that Gudauri becomes a hotspot for skiers from all over the region and, increasingly, other parts of Europe.
With a total of 15 ski lifts, Gudauri Ski Resort offers 35km of slopes, 13% of which is available for beginners, 56% for skiers of an intermediate level (red), and 31% for experienced skiers (black). Day passes are very affordable, with prices around 15 euros per adult.
There are many good hotels in Gudauri, with some new openings coming up. Overall, you can find accommodation for every budget, including small family-run hotels and trendy boutique hotels with a swimming pool.
Abkhazia
Editor's Choice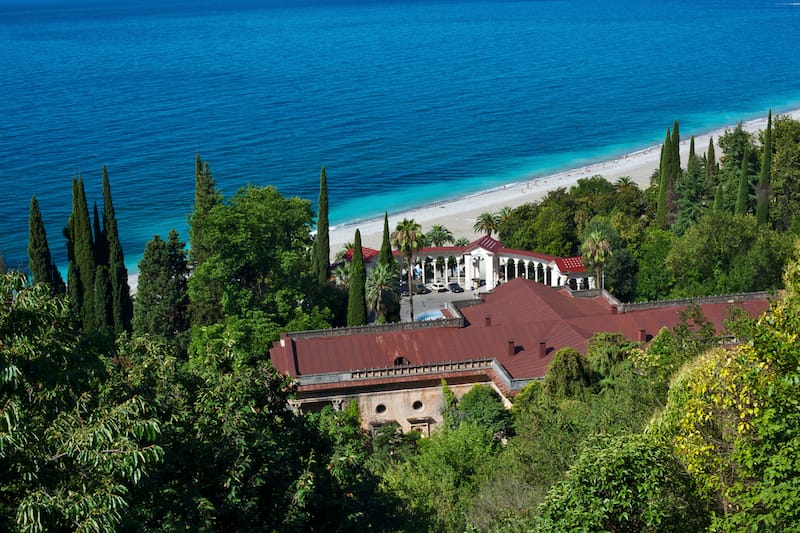 Abkhazia is a self-declared sovereign state that is part of Georgia, though the government refuses any sort of union with Georgia. They even have their own language and use the Russian Ruble as a currency.
It lies on the east coast of the Black Sea, making a very popular place for Russian tourists. The nature in Abkhazia is absolutely astonishing, with a sea on one side, and beautiful lakes, several waterfalls, and gorgeous mountains and parks to hike through.
One of the main attractions is definitely the Anacopia Fortress and at the top, you can savor the view of New Athos and the slopes that surround it.
Another very popular destination is the Gegsiky Waterfall and Lake Rica, wonderful options for anyone craving being around a body of water.
The New Athos Simoneau-Kananitsky Monastery is also a very impressive and a must-visit location, or you can enjoy a stroll through the Sukhumi Botanical Garden.
Some of the top-rated restaurants in Abkhazia are Restaurant Nartaa (I ate there almost every meal when in Sukhumi!), Tavern Khait, and DEM. Click here to see how you can travel to Abkhazia.
We hope you enjoyed these many awesome places to visit in Georgia and we hope you were able to add some to your list. If you have more Georgia trip recommendations, please drop them in the comments for future travelers. Thanks!
PIN IT FOR LATER!