The Caucasus is one of the most magnificent regions in the world. Home to wine, genuine hospitality, deep-rooted history, and famous food make this entire region worthy of a visit.
These are the best places to visit in the Caucasus countries.
This list was a compilation of places decided by other travel bloggers and us. If you have a favorite place that is missing, please leave a comment below and let us know!
Places to Visit in the Caucasus Countries
This list is split by country but it also includes disputed territories and exclaves under where they are mostly associated with or governed by. There is no political stance taken on any of the places on this list.
Places to Visit in Armenia
Armenia has become my home over the years and a place I adore living. The landscape is diverse from the north to the south and I can find beauty in Yerevan, Gyumri, and everywhere in between.
From the world's oldest winery to the green mountains of Dilijan, these are the best and most popular places to visit in Armenia.
Yerevan
Editor's Choice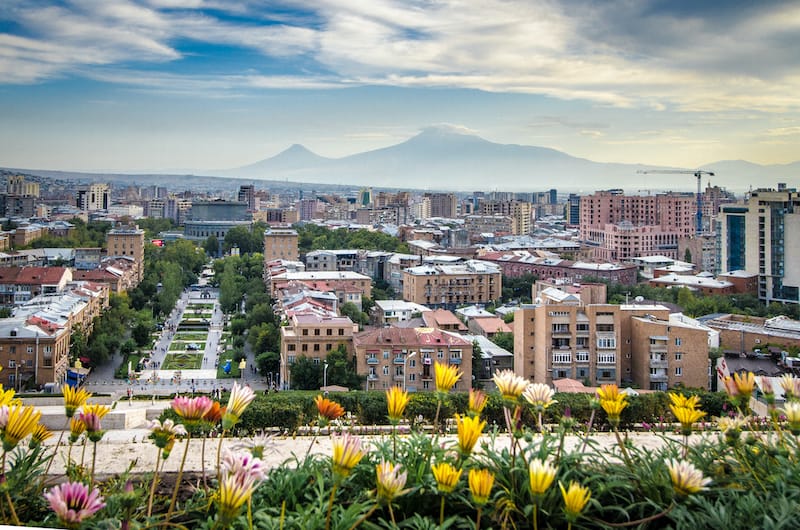 Home sweet Yerevan. There are many reasons I chose to move to Yerevan but the friendliness of the people and the deliciousness of the food are definitely two of the top reasons.
Yerevan is older than Rome and is the capital city of Armenia. A city built from pink tuff (volcanic stone), it is a liveable city and one where the sun shines 300+ days a year on average.
There are so many cool things to do in Yerevan, from visiting the Cascades to the Blue Mosque, you will definitely find many things to keep occupied.
It is also a very cultural city with several cafes, tasty Armenian restaurants, and places to visit near Yerevan (including UNESCO World Heritage Sites).
Eating is one of the best things to do in the capital city and you can find delicious Armenian restaurants in Yerevan such as Sherep, Yerevan Pandok, and Kamancha.
If you're taking a trip to the Caucasus, Yerevan is a can't-miss city. You will fall in love with its chilled out vibe and sidewalk cafe culture!
Gyumri
Editor's Choice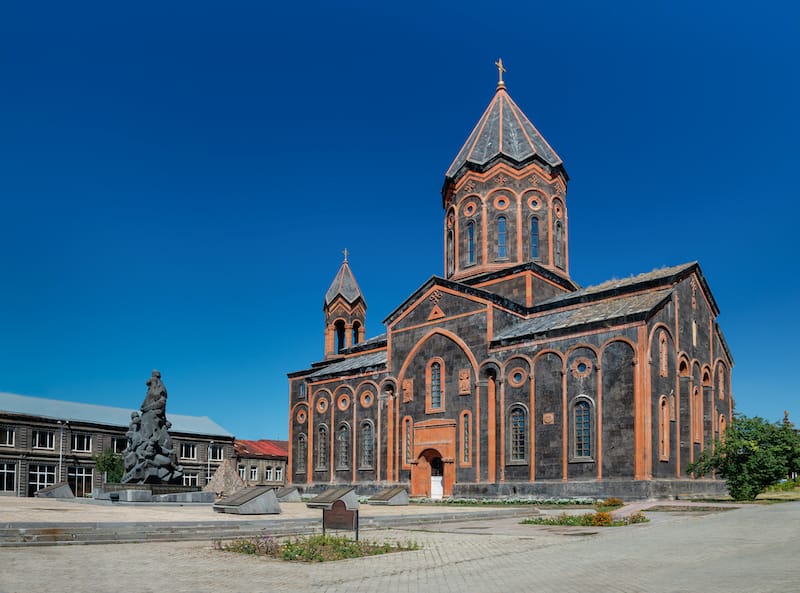 Armenia's most authentic and artistic city is definitely Gyumri and it is considered to be the second capital of the country.
Located in the north in the Shirak marz (province), it is Armenia's second-largest city in terms of population and the country's creative hub.
One of the biggest draws for tourism to Gyumri is its unique architecture. It truly is a gem and you can find so many dynamic layers of architecture there- most from the 18th and 19th centuries.
One of the best things to do in Gyumri is to spend hours wandering the historical district of Kumayri.
In 1988, a devastating earthquake destroyed so much of the city and left its residents in shock… and many lives were lost as a result.
Fortunately, these days, hip cafes and art centers are popping up, injecting a cultural renaissance in the Armenian city.
Gyumri is known for being Armenia's humorous city and it has produced many famous Armenians throughout the years, such as Greco-Roman wrestling Olimpic champion Arthur Alexanyan, famous actor Frunzik Mkrtchyan, pianist Tigran Hamasyan, and many more.
We truly believe that Gyumri is one of the best places to visit in the Caucasus countries and hope that you can take the time to check it out if you're in the region!
Dilijan
Editor's Choice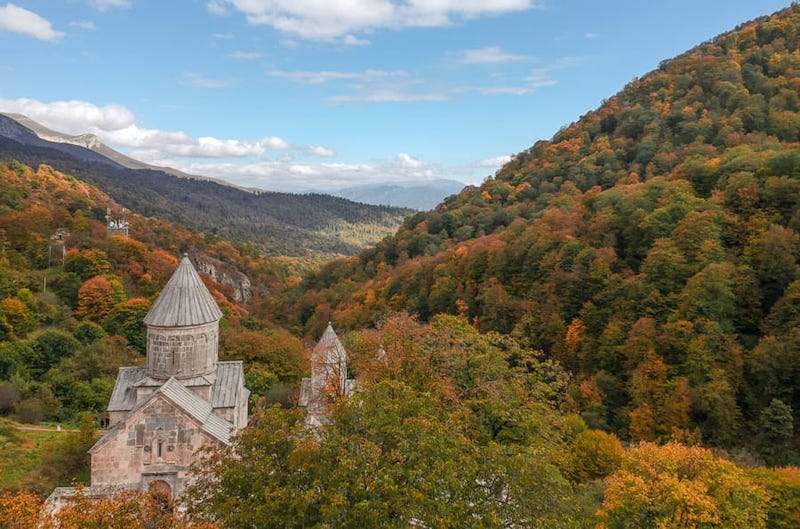 Known as the green paradise of Armenia, Dilijan is truly an epic place to visit in the country as it is a region surrounded by greenery, hiking, and many lakes.
Located approximately one hour away from Yerevan in the Tavush region, Dilijan can amaze its visitors with stunning nature, relaxing views, hidden mountain lakes, and some of the best monuments and monasteries in Armenia.
After you pass the treeless and barren Sevan landscape, you will go into a long, mountain tunnel where you will pop out on a windy road twisting down the mountainside covered with a copious amount of trees.
Dilijan is also known as a spa town destination in Armenia and has been long before the USSR. Many famous artists, politicians, and creatives spent a lot of time in Dilijan relaxing.
In addition, one of the most advanced universities in Armenia is located in Dilijan. It is called UWC-Dilijan. You will also find an abundance of charming architecture and cafes, like Cafe #2, in the region.
Dilijan National Park is an Armenian jewel and you can see some of the country's best flora and fauna there.
And, not far from Dilijan, you can find the 13th-century Haghartsin Monastery and 12th-century Goshavank Monastery, both offering fantastic medieval architecture.
Khor Virap
Editor's Choice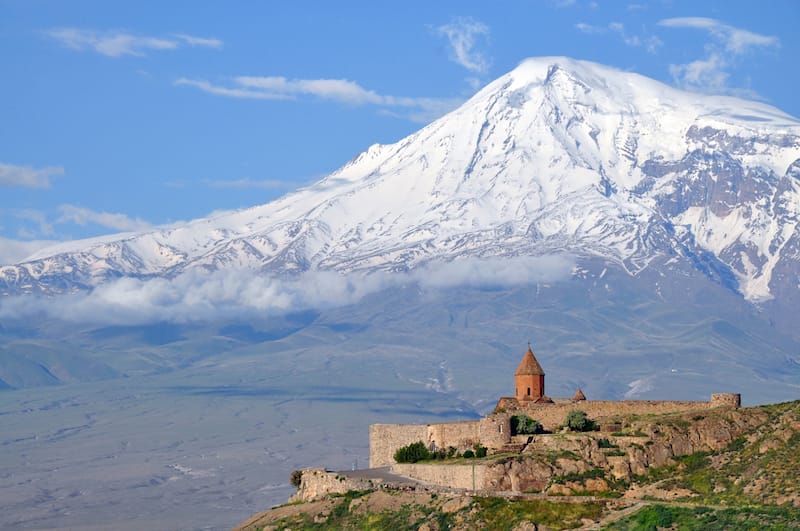 One of the most mind-blowing places to visit in Armenia is definitely Khor Virap. It is the monastery that offers a gorgeous view of Mt. Ararat alongside many vineyards nestled in a remote, yet stunning part of Armenia.
Khor Virap not only has an epic location, but it also has architecture that is of great importance to Armenia and its history.
The monastery is located 40 minutes away from Yerevan in the Ararat region of Armenia so it is easily one of the best day trips from the capital city.
Armenia was the first Christian nation in the world with construction and history dating back to 301 AD. Khor Virap was one of the most important sights signifying religion's importance and place in society back then.
Known as the 'Royal Dungeon' directly translated, it was initially used as a prison before becoming an icon and symbol of Armenia.
The person that was meant to suffer there was Gregory the Illuminator who survived being imprisoned and later became the forefather of Christian Armenia.
While today most people visit to see the epic sight of Khor Virap against Mt. Ararat, you can still descend down into the dungeon where he was kept.
Lake Sevan
Editor's Choice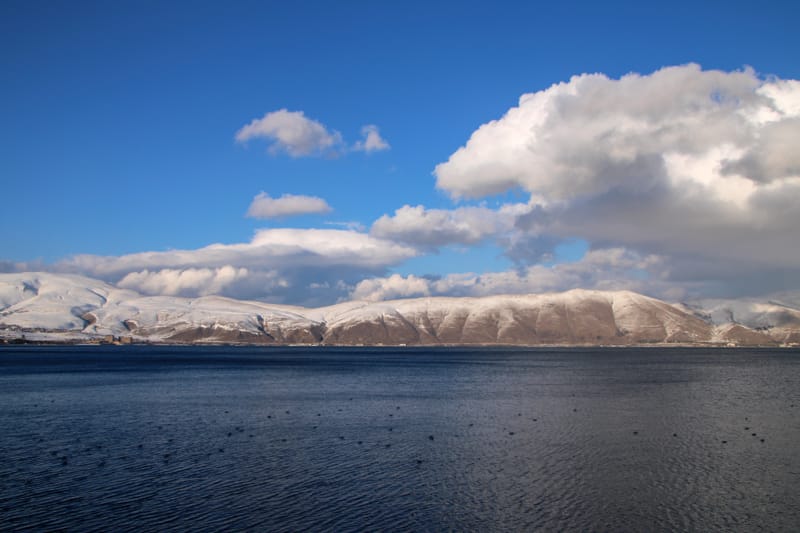 Located in the Gegharkunik province merely 45 minutes away from Yerevan is gorgeous Lake Sevan, the blue pearl of Armenia and all of the Caucasus.
Lake Sevan is the biggest freshwater lake in all of the Caucasus countries and it is located at a very high altitude and is the life support for Armenian agriculture.
It is also a beloved tourist spot! Local and travelers alike that are visiting Armenia will flock to Lake Sevan because of its beautiful beaches and refuge from the hot summer heat of Yerevan. There are also many historical towns and villages surrounding it.
Sevan Peninsula used to be an island in the lake and many outstanding churches were built there. Nowadays, it is a peninsula connected to the mainland and the tourists love visiting for food, sights, and religious history.
One of the most famous pieces of Soviet-era architecture in Armenia is located there- the Sevan Writers' House.
Areni
Editor's Choice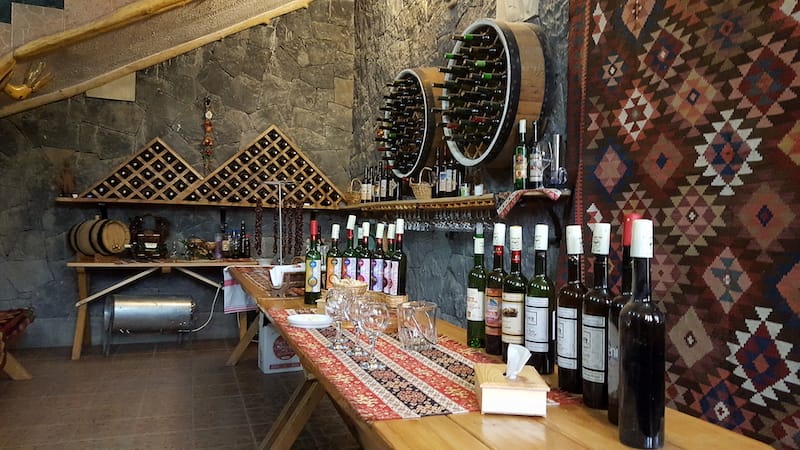 The historic winemaking village of Areni in Armenia is located in the Vayots Dzor region and is one of the earliest traces of winemaking in the world and where many Early Bronze Age remains have been unearthed.
Wine has been made in Areni for centuries and this was proved in 2008 after archaeological researchers discovered the world's oldest winery in Areni in a place called the Areni-1 Cave complex.
It is truly mind-blowing to see the earliest traces of such a popular beverage right here in Armenia and you're able to visit it and see the human remains and equipment tied to winemaking dating back 6100 years.
In addition, the world's oldest leather shoe was discovered at Areni-1 Cave and it dates back 5500 years.
One of the best experiences in Armenia takes place every autumn in Areni when you can attend the country's biggest wine festival in the village.
It is surrounded by dramatic scenery and the guests can try hundreds of varieties of wine and eat tasty Armenian food in the process.
Tsaghkadzor
Editor's Choice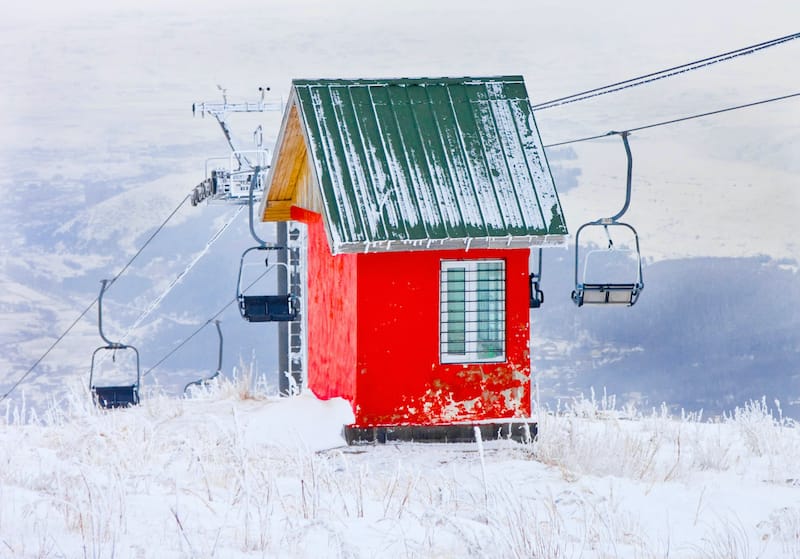 Tsaghkadzor is another spa town that is located only 40 minutes away from Yerevan and is known as a skiing destination because of the famous ski resort that is located on a top of the mountain. It is 2819 meters high.
The spa town is gorgeous in any weather. In winter, the snow covers the mountains which are surrounding the city making Tsaghkadzor look like a fairytale.
During summer, everything is green and it is possible to hike in many beautiful places and take zip lines or other adventurous activities.
Tsaghkadzor is also known for its many guesthouses and hotels. You will see many visitors relaxing and soaking in the crisp, mountain air.
Artsakh
Editor's Choice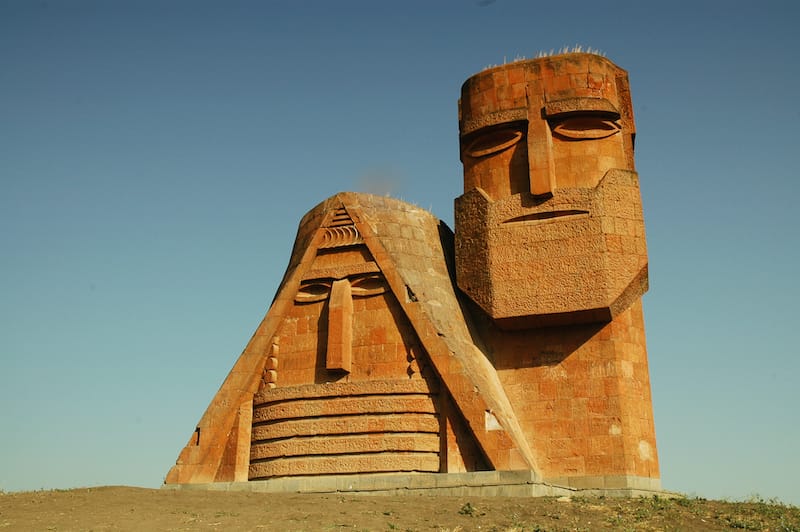 Artsakh, also known as Nagorno-Karabakh, is a politically disputed area of the Caucasus that falls under Armenia's jurisdiction and is one of the most beautiful places to visit in the region.
It has some of the most undiscovered landmarks in the Caucasus and is truly an off-the-path experience for travelers wanting to see raw nature and untouched history. It is home to many castles, fortresses, waterfalls, mountains, and more.
The capital of Artsakh is Stepanakert and it is very clean and beautifully constructed.
Another popular city there is Shushi and it is a sight to see and has a famous fortress and gorge where you can witness the well-known umbrella waterfall outside of the city.
To reach Artsakh, you're looking at a 6-hour drive from Yerevan. During this road trip, you will pass many large canyons and powerful flowing rivers and mineral water natural pools.
Artsakh is still waiting to be discovered since the war in the 1990s. It is a remarkable place and will definitely be on the radars of many in the future years.
Insider tip: If you plan to visit Artsakh, please be aware that you will no longer be permitted entry into Azerbaijan. Plan your trip accordingly if you're seeing the entire Caucasus on a single trip.
Places to Visit in Azerbaijan
Azerbaijan has diversity for days within its borders whether it be the many cultures and backgrounds residing there or the mindblowing landscapes within the country's borders.
From modern Baku to the stunning valleys and landscapes of Nakhchivan, there are many great places to visit in Azerbaijan. Here are some travel blogger top picks.
Baku
Editor's Choice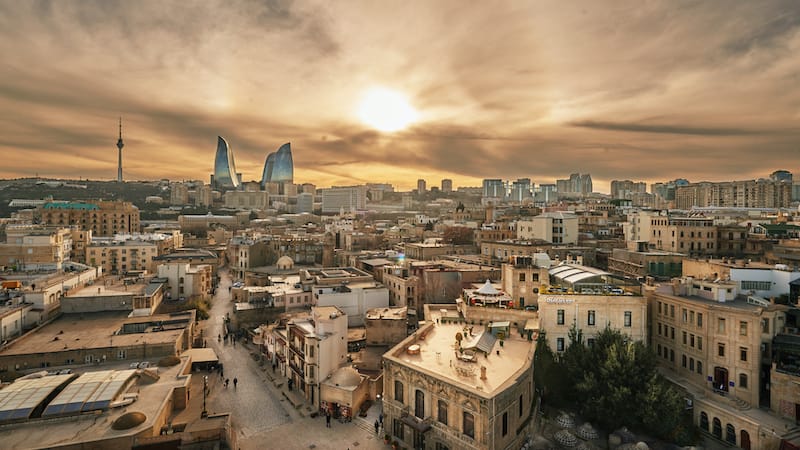 One of the most interesting and thrilling cities in the Caucasus is Baku, Azerbaijan. The capital city is known for its modern architecture, Caspian Sea views, and amalgamation of cultures. You can find anything and everything in Baku and it truly is a diverse capital city.
There are many things to know before taking a trip to Baku, but one essential thing you need to know is that the city is home to some delicious food and fresh vegetables and fruit.
There are several great Baku restaurants to satisfy all tastes and you won't be hard-pressed to find one that suits your desires.
Some of the best things to do in Baku are to take a trip to Gobustan, walk the promenade (where you will find some obscure Soviet architecture), and find a cafe to chill at.
It is easy to get from the Heydar Aliyev Airport to the city and it is even easier to take a taxi around Baku.
If you're going on a visit to Azerbaijan, definitely make sure you give Baku a few days to explore! We recommend two days in Baku at a minimum.
Ganja
Recommended by Stephanie at History Fangirl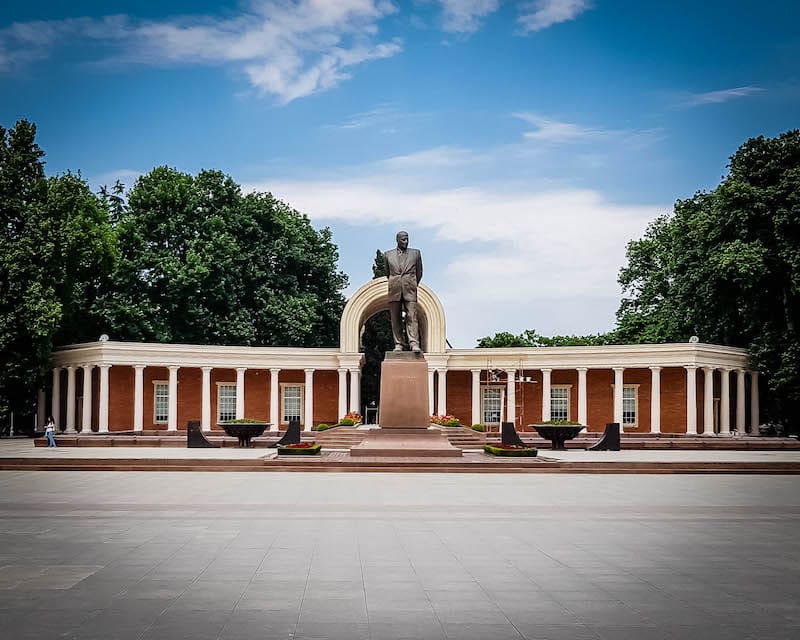 Azerbaijan's second city sees far less international tourism than its capital, but that doesn't mean you should forget to put Ganja on your Azerbaijan itinerary.
Ganja is home to beautiful architecture, Soviet history, and modern folk art. It also is the site of the Immamzedeh, the second most important holy site in Shiah Islam.
If you love staying in Soviet throwback hotels, the Ganja Hotel will make your trip.
It's barely-updated interiors and Wes Anderson-meets-Kruschev aesthetic will have you feeling like you are staying in a time capsule.
The Bottle House is a home-turned-glass mosaic dedicated to a Soviet soldier who never came home from the war.
You can also find a truly beautiful Orthodox Church here. Alexander Nevsky is brick on the outside, but on the inside its cheery and bright robin's egg blue.
From Ganja you can take day trips to Lake Goygol or Naftalan, so don't just come here for a quick overnight!
Gobustan National Park
Recommended by Talek at Travels with Talek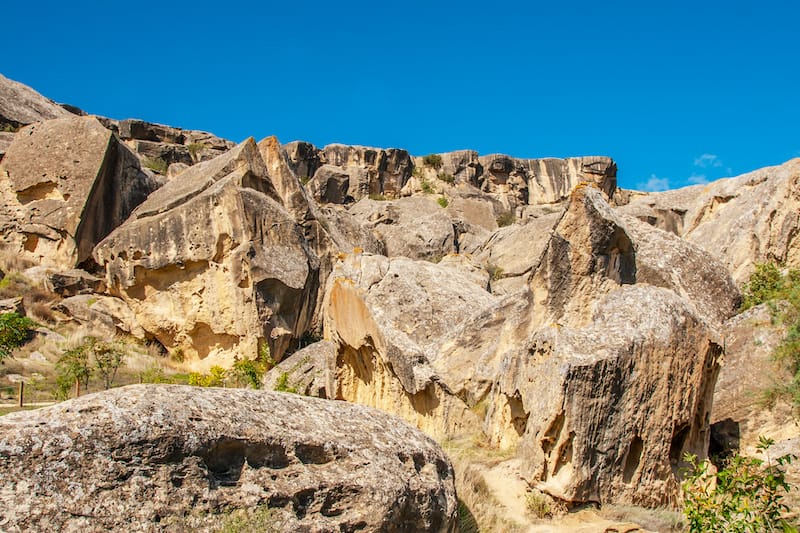 About an hour southwest of Baku, the capital of Azerbaijan, is Gobustan National Park. Established in 1966 as a national historic landmark, it was also declared a UNESCO World Heritage site in 2007.
Gobustan makes for a perfect day trip from Baku for anyone interested in exploring the nation's history and cultural heritage.
There are two must-see, unique, and fascinating sites in Gobustan. The first is the Petroglyph Museum which offers a detailed explanation of the prehistoric petroglyphs or rock carvings found in the area.
Visitors will appreciate the "please-touch" exhibits as well as the life-like recreations of the area's original inhabitants. The museum also functions as an educational center including a small 3D theater.
The second must-see is the main attraction, the actual rock carvings. It is fascinating to see artistic expressions created by people that lived thousands of years ago.
The art is said to be as impressive and as artistically sophisticated as the cave art of Altamira, Spain.
In addition to the history of the petroglyphs, many travelers also flock to Gobustan to check out Azerbaijan's mud volcanoes, one of the most famous sights in the country!
There are many tours to the mud volcanoes from Baku that you can choose from to see these natural wonders.
Shahdag
Recommended by Clemens at Traveller's Archive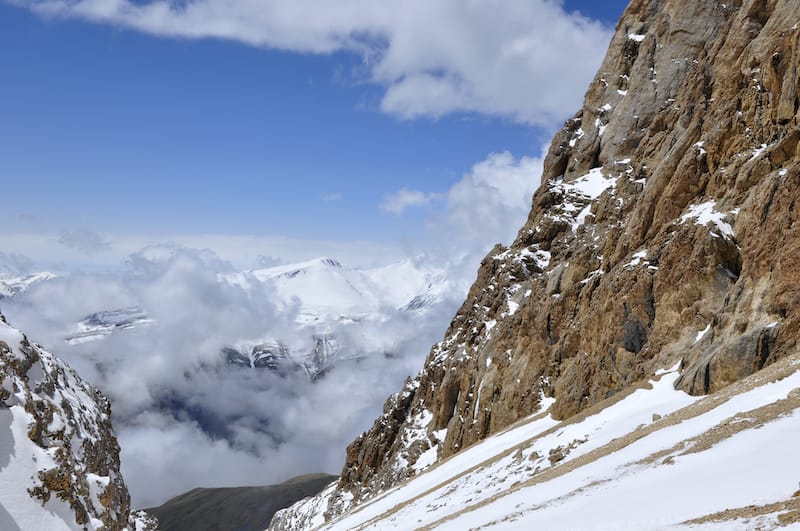 The 4200-meter high Shahdag stands out between the peaks of the Caucasus. No wonder that it is also called Königsberg.
The "Shahdag Mountain Resort" is located about 200 kilometers north of Azerbaijan's capital Baku in north-east Azerbaijan and is ideal for discovering the largely untouched nature, the rough wildness of the Caucasus and the traditional way of life of the villagers.
Shahdag is primarily a popular ski area and the first ski resort in Azerbaijan. It was only opened in December 2011 and is constantly being expanded.
For skiing and snowboarding, there is 17 kilometers of slopes available, including 10 lifts to transport the guests. The winter sports area lies at an altitude of 1,435 to 2,525 meters.
Shahdag is not only a snow-sure ski area in winter, but the adventure park also offers tourists a variety of activities all year round.
Tourists can explore the mountain trails by bike or quad, or view the mountains from above with the paraglider.
Khinalug
Recommended by Kami at Kami and the Rest of the World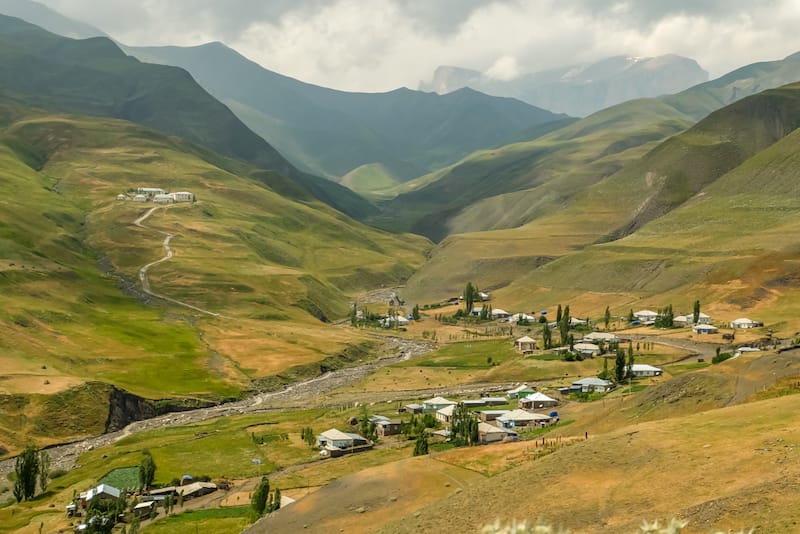 Khinalug is one of the most beautiful places you can visit in Azerbaijan.
This remote village is located high in the Caucasus mountains at the altitude of some 2200 meters above the sea level and is a perfect natural oasis where you can recharge your batteries in the stunning scenery.
Since Khinalug is located so far away from the rest of the country (Baku is 220 kilometers away but the road to the village is a bit of challenge), the place has preserved its unique traditions, culture, and language.
But the main reason to visit Khinalug is, of course, the scenery that will take your breath away. The village can be a good base to go hiking in the area and enjoy the amazing nature.
You can come here as a day trip from Baku (although it will be a very long day) but it's better to stay overnight.
There are a few homestays available where not only you can spend the night, but also peek into the local customs and life.
Quba
Recommended by Emily at Wander-Lush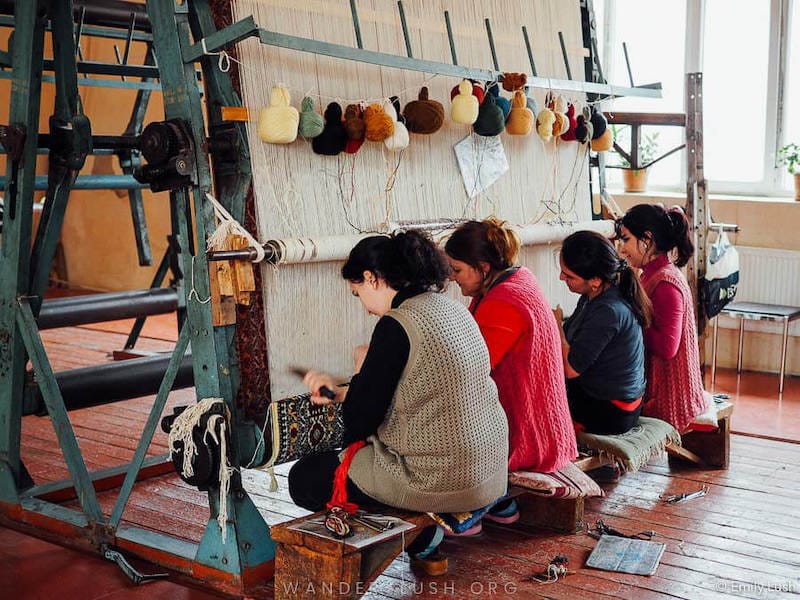 Most travelers skip through the small city of Quba on Azerbaijan's east coast on their way to Xinaliq. If you're interested in history and culture, it's worth a stop off (or a dedicated trip) to visit the carpet workshops.
Quba is home to one of Azerbaijan's seven schools of weaving, and there are dozens of studios in town where women work in tandem on massive looms.
The ornate floor rugs and prayer mats they produce are decorated with colors and patterns unique to the region. Qadim Quba is the biggest workshop and welcomes tourists to drop in and wander through. They also run a small gift shop.
Beyond the carpet workshops, other things to do in Quba include visiting the city's mosques (the red-brick Juma Mosque is the most iconic). There's also a ruined hamam and a couple of house museums in town.
Just over the river, the village of Qirmizi Qasaba dates back to the 13th-century and is a total contrast to the rest of Quba. Home to a community of Mountain Jews, the streets here are defined by synagogues and distinctive architecture.
Interestingly, it's believed to be one of the only all-Jewish towns outside of Israel (hence the nickname 'Little Jerusalem').
Quba is easily accessed by a bus or minivan from Baku's International Bus Terminal. It takes just 2 hours to reach by road, making this an easy day trip from the capital.
Sheki
Recommended by De Wet and Jin at Museum of Wander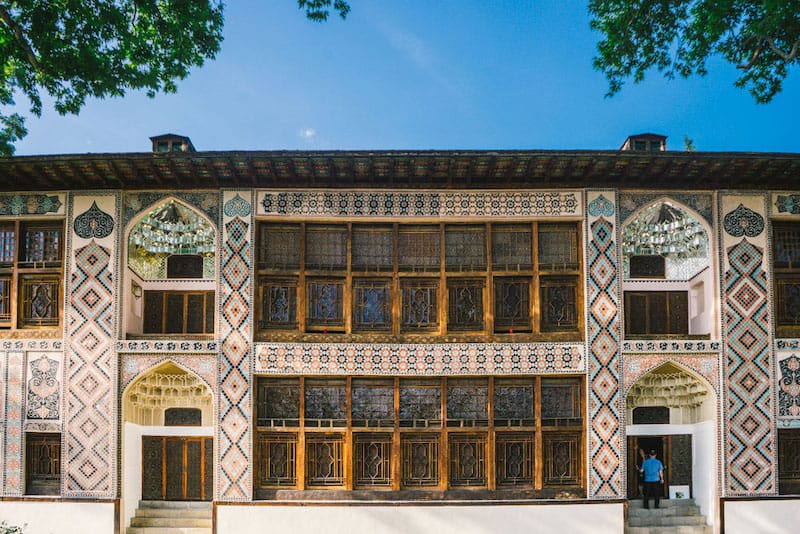 Slightly offbeat, small Sheki sure packs a punch, and must definitely not be missed on any Caucasus itinerary.
Situated in northwestern Azerbaijan, Sheki is the Caucasus that you envision and hanker for when planning a trip to the region.
Stunning silk route architecture, palaces, Ladas packed to the rafters with watermelons, streets lined with plane trees, brick mosques, sweet desserts, the rolling green foothills of the Caucasus mountains and some of the friendliest people you'll ever meet is why Sheki is our favorite place in Azerbaijan.
Sheki has a fascinating history and today you'll see different layers of the Silk Road, Soviet-era, and modern day Azerbaijan as you explore the town.
The UNESCO Sheki Xan Sarayi (Summer Palace) is covered in miniature paintings from floor to ceiling and should be on the top of your list of things to see in Sheki. This palace alone is worth a trip to Azerbaijan.
Also, make sure to visit the smaller Winter Palace and the Sheki Karvansaray. The silk route Karvansaray has partly been transformed into a hotel, so you could even spend the night here for the full Sheki experience.
Lake Goygol
Recommended by Stephanie at History Fangirl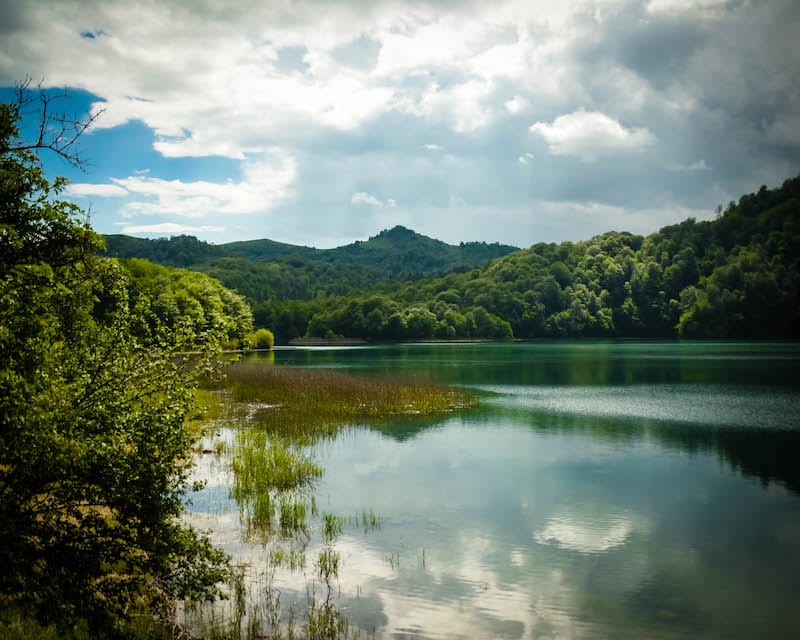 Situated in Goygol National Park about thirty kilometers outside of Ganja, Lake Goygol is extremely popular with locals but pretty far off the typical tourist path.
This makes a stop here even more special because you can truly be overcome with calmness and serenity while staring at one of the country's most beautiful gems.
The lake was created by an earthquake in the twelfth century and is considered especially clear and clean.
Of course, it doesn't lack for visitors, as local Azeris all know to come here, and you'll find it busier in the summer than during shoulder season or winter.
There are actually almost twenty mountain lakes in the area and eight large lakes. However, if you're only going to visit one, Goygol is the standout.
You can reach Lake Goygol by taxi from Ganja, or if you have rented a car in Azerbaijan you can choose to drive. Just be aware that there may be a traffic jam comprised entirely of livestock somewhere along the way.
Nakhchivan
Recommended by Stephanie at History Fangirl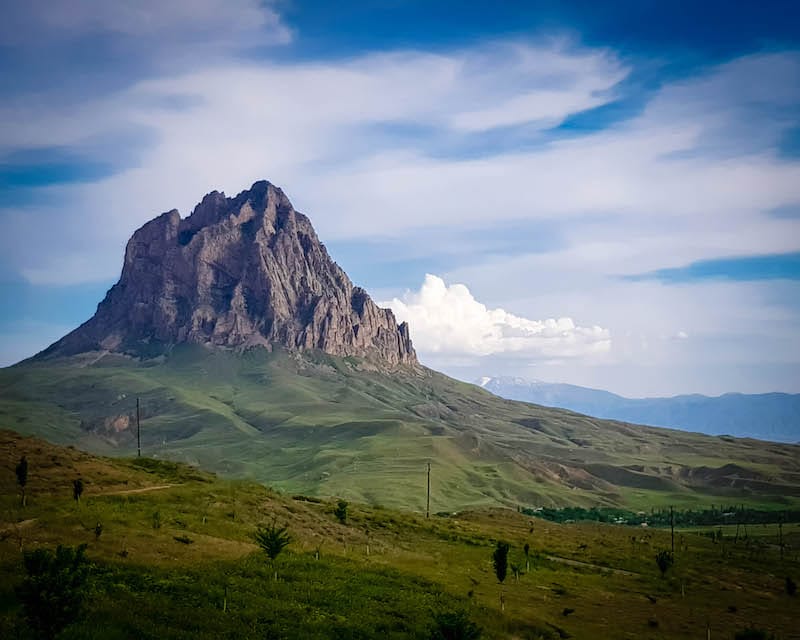 Nakhchivan is an exclave of Azerbaijan accessible only via flights from Baku or Turkey or overland from Iran. This mountainous region is green and lush, with gorgeous lakes and forests.
This region also is home to many important Islamic Holy Sites like the tomb of Moses and the Ashabi-Kahf caves which appear in the Koran.
Because of this, it was one of the capitals of Islamic Culture in 2018, hosting a symposium in its capital.
While foodies might run out of things to try, culture and history travelers will be delighted to visit Alinjagala castle, which is often considered the Machu Picchu of Azerbaijan because of its near inaccessibility.
This hike up is not for the weak!
While you need to make an effort to come out here since it's not connected to the rest of Azerbaijan, there is so much to see and do here that you may end up extending your visit beyond the typical day or two.
This charming but isolated region is one of my favorite anywhere in the world, and my number one reason someone should travel Azerbaijan.
Insider tip: As noted above, you can only get to Nakhchivan by flying there. The flights are fairly affordable.
Places to Visit in Georgia
There are several amazing places to visit in Georgia, one of the hottest travel destinations in the world at the moment. From the Georgian capital of Tbilisi to the tall mountains and epic hikes of Kazbegi, Georgia is a nature lover's paradise.
These are the best places to visit in Georgia according to other bloggers and us!
Tbilisi
Editor's Choice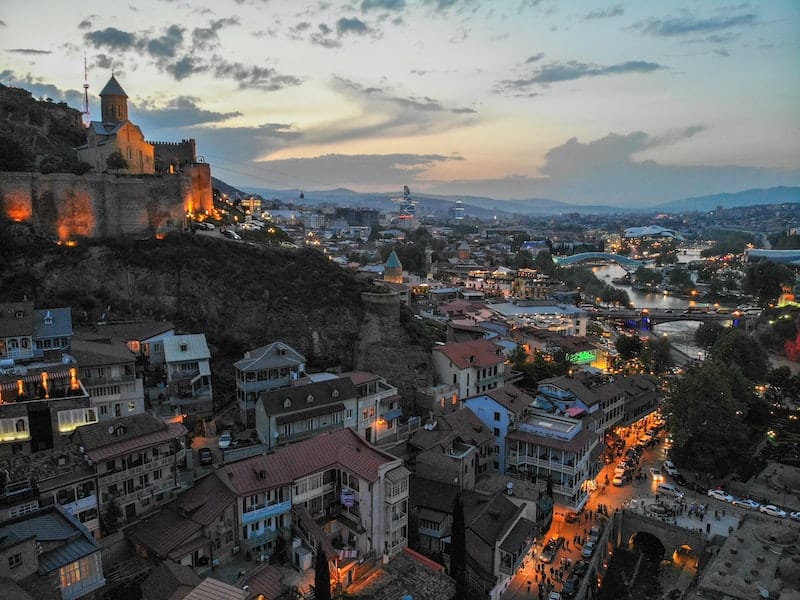 Georgia has been on travel radars for several years and almost everyone arrives in the capital city of Tbilisi before they make their way to the astounding countryside.
Tbilisi has many different sides to it but one thing is for certain- Tbilisi is beautiful in winter and summer and you'll find plenty of things to do in all seasons.
You can visit the Narikala Fortress, Tsminda Sameba Cathedral, or even head to the Royal Baths for some relaxation and rejuvenation.
One of the best things about Tbilisi besides its world-famous food is how easy it is to visit other places in the country.
You can easily get from Tbilisi to Yerevan and see a bit of Armenia or you can stay in Georgia and go from Tbilisi to Batumi instead.
In recent years, Tbilisi has become a digital nomad's paradise, with fast wifi, cozy cafes, and creative vibes. We completely understand why so many people are choosing to move to Tbilisi and call the Caucasian city home!
If you're looking to travel to Tbilisi, we recommend you book that ticket as soon as you can. You won't regret it.
Batumi
Editor's Choice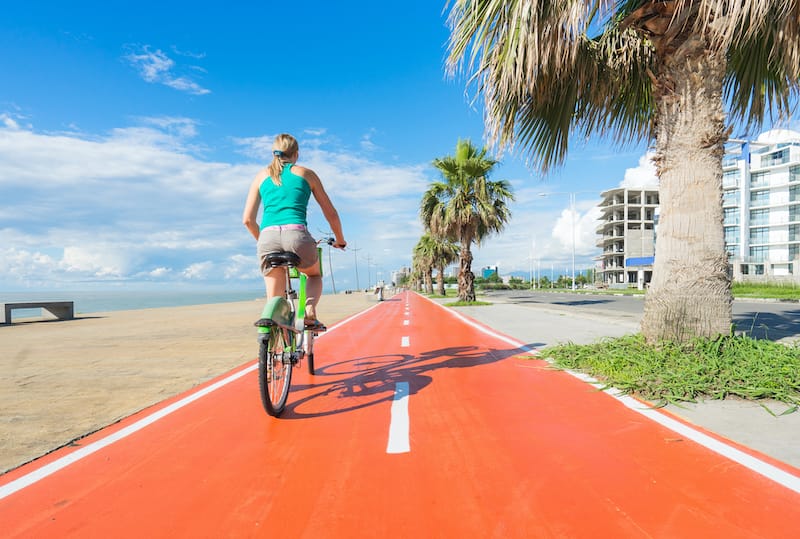 Batumi has gained popularity in recent years due to the low-cost flights from Kutaisi, Georgia… making the city far more accessible for a long weekend getaway than it ever was before.
When you first arrive in Batumi, you will be stunned by its modern architecture and gorgeous Black Sea beaches. It has a clean and current vibe and it can offer a nice contrast from other places in Georgia.
Some of the most popular things to do in Batumi are visiting the Gonio Apsaros Fortress, strolling down Batumi Boulevard, and checking out the popular botanical gardens in the city. The capital of Adjara is definitely worth a visit if you're in the area.
It is pretty simple to get from Tbilisi to Batumi and you will have options ranging from renting a car to taking a train or comfortable bus.
Mestia
Recommended by Elaine and David at Show Them the Globe
A quiet and unassuming town, Mestia is surrounded by snow-capped mountains and its picturesque landscape is dotted with medieval watchtowers. Outside the town center, it feels like time has stood still.
Mestia is home to one of the most important museums in Georgia, the Svaneti Museum of History and Ethnography. The museum has a fascinating collection of historic Georgian artifacts.
Most visitors to the Upper Svaneti region base themselves in Mestia and it is the starting point for some renowned Svaneti hikes.
A 6-hour round trip hike leads to the Chaladi Glacier and the Koruldi Lakes, a collection of alpine lakes at the foot of Mount Ushaba.
A visit to Ushguli, the highest settlement in Europe, is a must-do from Mestia and is a major draw for visitors to the town.
The more adventurous travelers embark on a 4-day hike but a 2-hour jaunt in a 4×4 taxi is also a popular option.
In recent years, Mestia has emerged as a year-round destination with the nearby ski resorts continuing to attract visitors during the winter months.
Kazbegi
Editor's Choice
One of the most popular spots to visit in the Caucasus is undoubtedly Kazbegi, or Stepantsminda.
The northern town is home to Gergeti Trinity Church, a famous church atop a mountain that provides a sick view from one of Georgia's most attempted hikes.
It is easy to visit Kazbegi on a day trip from Tbilisi (or an overnighter) and you can do it independently or with an organized tour.
When I first found myself there, it was April and after a treacherous journey on the Georgian Military Highway (it has since improved!), I was completely ill-prepared for my hike.
I recommend you bring the right clothing and equipment if you intend on hiking in Kazbegi.
One of the best things about the trip from Tbilisi to Kazbegi are the many stops through the mountain towns and villages along the way. You will pass many famous sights, including the famous ski resort, Gudauri.
If you have time in Georgia and are visiting during the right season (ie… not winter!), definitely take a trip up to Kazbegi and admire its beauty.
Mtskheta
Recommended by Ivan at Mind the Travel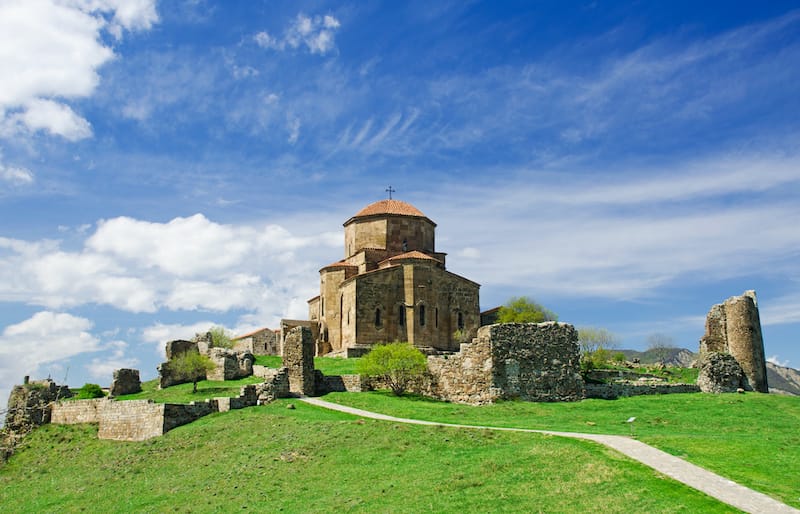 As small as Mtskheta may be, the town carries tremendous significance both culturally and historically for the Georgian people and the Georgian Orthodox Church.
It's important to know that Mtskheta was the ancient capital of the Eastern Georgian Kingdom and also the place where Christianity was proclaimed the official religion of the region in 337. Today, it's the spiritual heart of the entire country.
As if that isn't enough, Mtskheta is one of the oldest cities in Georgia, where human settlements dating back more than 4000 years has been discovered.
Furthermore, Mtskheta is home to three of Georgia's most stunning churches such as the Svetitskhoveli Cathedral.
It is not surprising that the historical monuments of the town were included in the UNESCO World Heritage in 1994.
Mtskheta is just a stone's throw away from Tbilisi. To get there, you can hop on a minibus for only 1 GEL. The entire journey takes around 30 minutes one way.
Mtskheta is not a place to visit if you're looking for fancy, posh hotels or upscale lounges to dress up for and hit for cocktails.
It may not be the best place to hang out with friends either. Instead, you will find a number of medieval churches brimming with history.
One of the landmarks you can't miss here is the Svetitskhoveli Cathedral. This imposing church houses the robe of Christ's robe, which kind of explains its grandeur. The interior is impressive, full of colorful icons.
Another place of interest in Mtskheta is Jvari Monastery. The 6th-century complex sits high on a mountain top across the river from Mtskheta and provides panoramic views over Mtskheta and the confluence of the Aragvi and Mtkvari.
Ushguli
Recommended by Adriana at Czech the World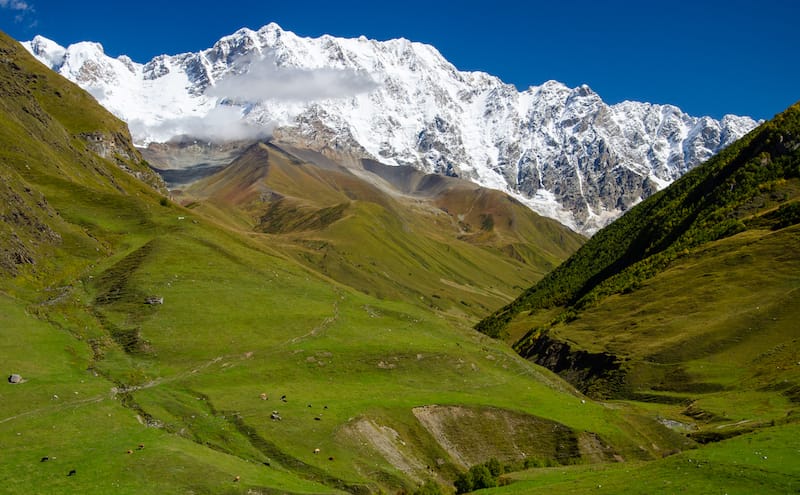 Visiting Ushguli in the Svaneti region is one of the absolute best things to do in Georgia. It's a small village full of typical Svan towers surrounded by huge snow-covered mountains. It's simply a magical place with breathtaking views.
I highly recommend hiking the whole trek from Mestia to Usghuli. It's not that long and it's well worth the effort. If you are not that much into hiking or don't have that much time, you can go to Ushguli on a day trip.
There are regular marshrutkas (minibuses) from Mestia.
From Ushguli, I highly recommend taking a day trip to the Skhara glacier. It's flat- 8 kilometers one-way and the views are staggering!
You can also arrange taxi marshrutka in Ushguli, which takes you just under the glacier. Alternatively, you can walk one way and hitch-hike on the way back (we did and it worked).
Theoretically, it's possible to visit Ushguli year-round, however, because it's over 2000 meters above the sea level, visiting in winter could be very tough there.
You will also need to arrange a 4-wheel off-road vehicle. The temperatures hover around -10°C and the whole village is covered in snow.
The best time to visit Ushguli is May-June and September-October. The temperatures will be comfortable and there won't be that many tourists as in the summer months.
Borjomi
Recommended by Maggie at The World Was Here First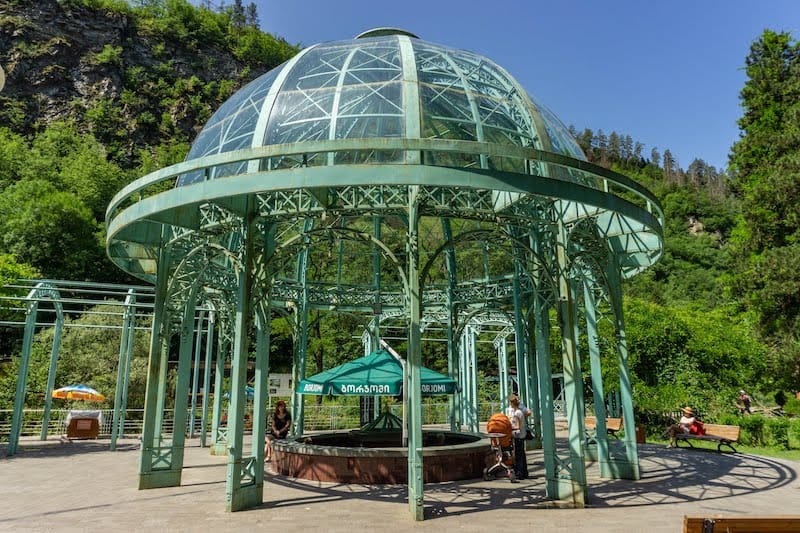 One of the best places to visit in Georgia outside of the capital that often gets overlooked in lieu of the mountains of Svaneti or the coast of Adjara is Borjomi.
This lovely city is located in south-central Georgia and is well-known for its eponymous mineral water that is a popular beverage and tonic throughout the former Soviet Union.
Borjomi has been a resort town for centuries, with people flocking from all over to bathe in its "healing" geothermal waters, however, the town and its surrounding area has so much more to offer than just that.
There are many things to do in Borjomi on its own and it's well worth taking a day or two to explore the town, wander through the mineral water park, ride the cable car and splash around in the mineral water baths.
Borjomi is also located on the edge of the Borjomi Kharagauli National Park, which is the largest national park in Georgia and offers a host of hiking and horseback riding opportunities through the lush pine forest.
If you're visiting in the winter, Borjomi is also located close to the Bakuriani ski resort, which is one of the most popular ski resorts in all of Georgia.
Borjomi can also serve as a great jumping-off point to explore the incredible cave city of Vardzia and the restored fortress town of Akhaltsikhe.
All in all, if you're planning a trip to Georgia, make sure not to miss beautiful Borjomi!
Kakheti
Recommended by Rohan at Travels of a Bookpacker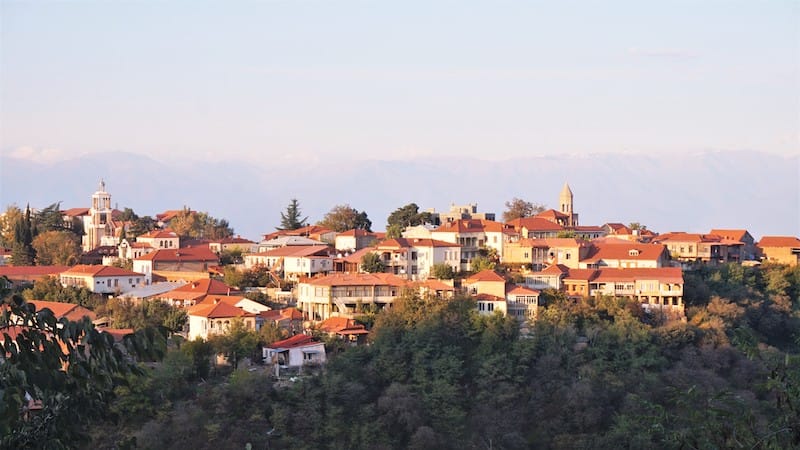 If you're visiting the beautiful country of Georgia, you can't miss spending some time in the Kakheti region.
Famed as one of the first places on earth to make wine, this is the heart of Georgian wine country and the sprawling vineyards and cute guesthouses are the perfect place to unwind for a few days.
There are two main towns in the Kakheti region – Sighnaghi and Telavi. Both make a great base for exploring the area and there are transport options to both from Tbilisi.
As well as the numerous vineyards and wine tours there are also many beautiful, historic monasteries and castle ruins to wander. The most famous monastery is David Gareja which is built into a stone cliff.
This one is a bit harder to get to so make sure you have a few days if you're planning to include it in your Kakheti itinerary.
Otherwise, find yourself a guesthouse with a good view and sit back and relax with some good food and quality Georgian wine!
Vardzia
Recommended by Coni at Experiencing the Globe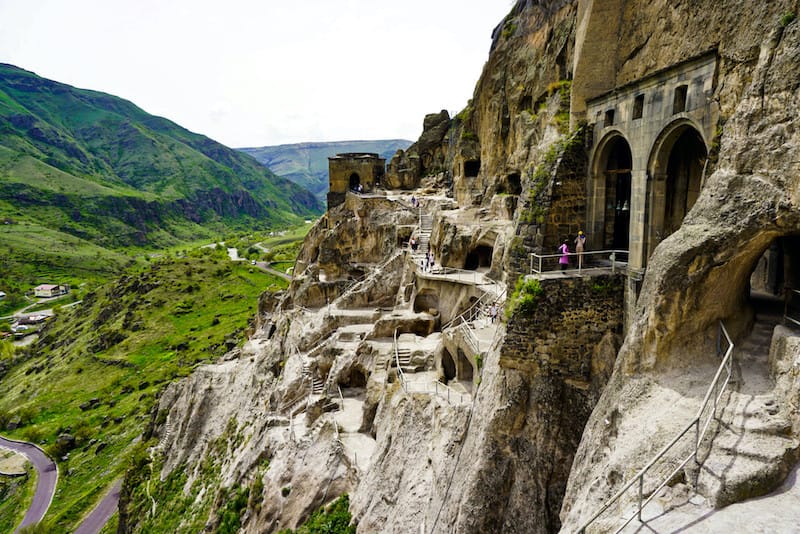 When traveling through Georgia, you're bound to find amazing sites. From mountains to monasteries, the country is stunning. But even with that said, Vardzia will make your jaw drop.
As you approach the mountainside, you wonder where this town is. Until it hits you: the city is IN the mountain. You read it right, not on the mountain, but inside of it.
Queen Tamar ordered the construction of a cave monastery in the 12th-century. She wanted a place to protect the monks from the massacre that the Mongols were conducting.
It ended up being a 13-level complex that eventually saw about 6000 monks inhabit it. After a strong earthquake and a slaughter by the Persians, the city remained abandoned from the 16th-century onward.
Today, some monks are there to preserve the town which is in the tentative list to become a UNESCO World Heritage Site.
During your visit, just get lost around the intricate paths discovering different corners as you go up and down the stairs.
Make sure you don't miss the Church of the Dormition, the most important spot in the city, and pay attention to its impressive mural paintings.
Kutaisi
Recommended by Alex at Lost with Purpose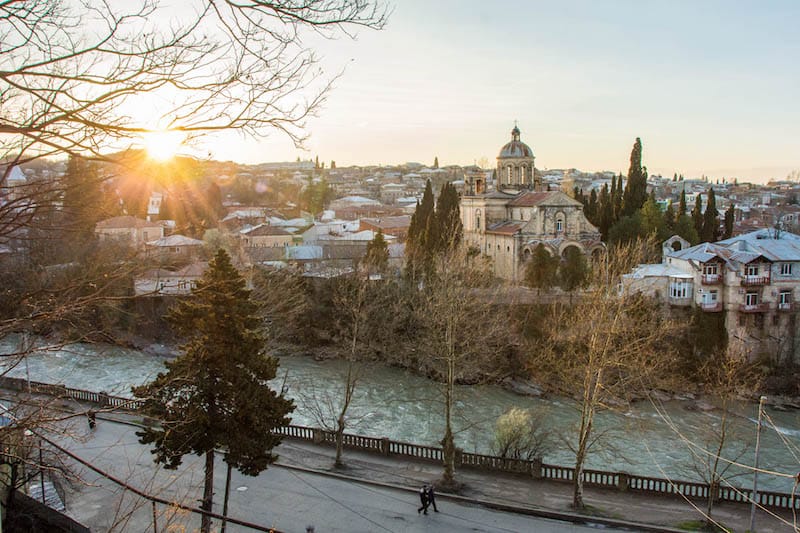 Charming Kutaisi lies in western Georgia. Though it's Georgia's third-largest city, it doesn't feel impersonal—a large, friendly student population, impressive monuments, and its gently hilly location make Kutaisi a welcoming place to relax.
Kutaisi's most iconic sight is the white walls and turquoise tops of the towering Bagrati Cathedral, visible from almost anywhere in Kutaisi.
The original cathedral dates back from the 11th century, but the Ottomans destroyed much of it when passing through the region in the 17th century.
Bagrati used to be a UNESCO site, but in 2017 it lost this status due to extensive renovations. Nevertheless, it's still a sight to behold.
Gelati Monastery is another draw to the region. This (still) UNESCO-listed monastery lies just outside Kutaisi, a short marshrutka ride away. Like many Georgian monasteries, it's perched on a hilltop with gorgeous views, and its interior frescos are stunning.
All churched out? No worries, Kutaisi just as good for strolling or picnicking along the river, and its Green Bazar is a lively affair.
If you're willing to venture out further, there are also petrified waterfalls in Prometheus Cave, and the Okatse and Martvili Canyons are about an hour's drive away.
Abkhazia
Editor's Choice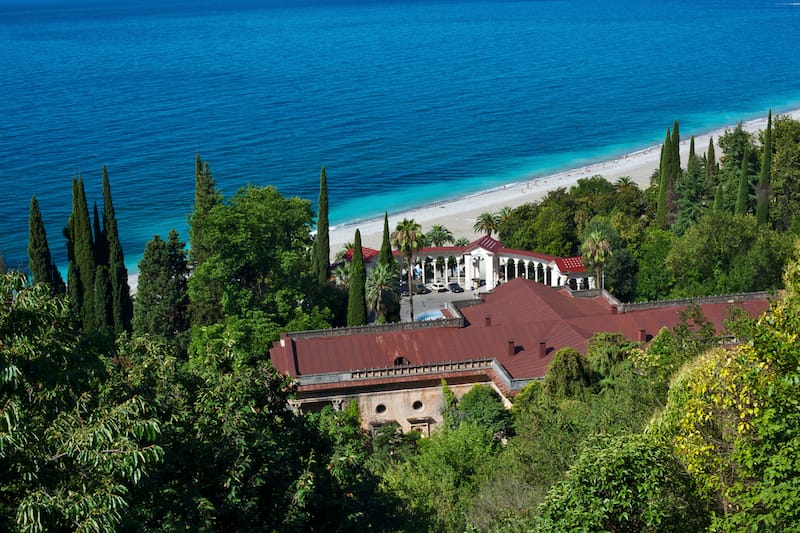 While there is a dispute about whether Abkhazia is actually part of Georgia, most of the world recognizes it as part of the country, so we are listing it here despite the controversy.
Please do note that you need a separate visa to Abkhazia in order to visit and it requires extra procedures which you can read about in our linked post.
Abkhazia is a de facto sovereign state in the Caucasus that is an autonomous republic of Georgia. It has a strong history of violence with Georgia and unfortunately, that is very evident when visiting Abkhazia.
You will see just as many abandoned buildings and derelict businesses there as you will see ones open.
However, it truly is one of the most magnificent places I've ever traveled to in terms of beauty and hospitality.
It is a riviera for vacationers (especially from Russia) during the summer months and the landscapes will blow your mind. You can sit on a beautiful beach and look back and see tall, majestic mountains.
Sadly, visiting Abkhazia is not always possible from the Georgian side as the border is often closed. If you choose to visit from Russia, you will be barred from entering Georgia in the future.
There are also some safety concerns in the border towns (Georgian border). Visit with caution.
Insider tip: The Inguri border with Georgia is often closed. Please check before to ensure it is open- you can send me a message or tweet me at @megancstarr for more information as I have access to the latest updates. In addition, ensure you don't get the Abkhazia visa stuck in your passport… it will create a lot of problems if so.
We hope you enjoyed this round-up of the best places to visit in the Caucasus countries. If you think a place was missed, please let us know!