Before you visit the Azores, there are many things you should know about the archipelago of nine islands that make up the autonomous region of Portugal.
I had wanted to travel to the Azores from the time I was a young kid and I finally had the chance to do it a year ago and it blew my mind.
There is no other way around it… it was and still is the most magical place in Europe for me (despite its mid-Atlantic location).
I hope that these Azores travel tips will help you when you plan your trip there! Let us know in the comments if you have any questions!
Azores Travel Tips and Practical Info
While I had a blast on the Azores trip, there were a few things that I didn't know prior to arriving there and that is why I have created a post to share these details and facts with you. These are some useful things to know before you book your Azores vacation.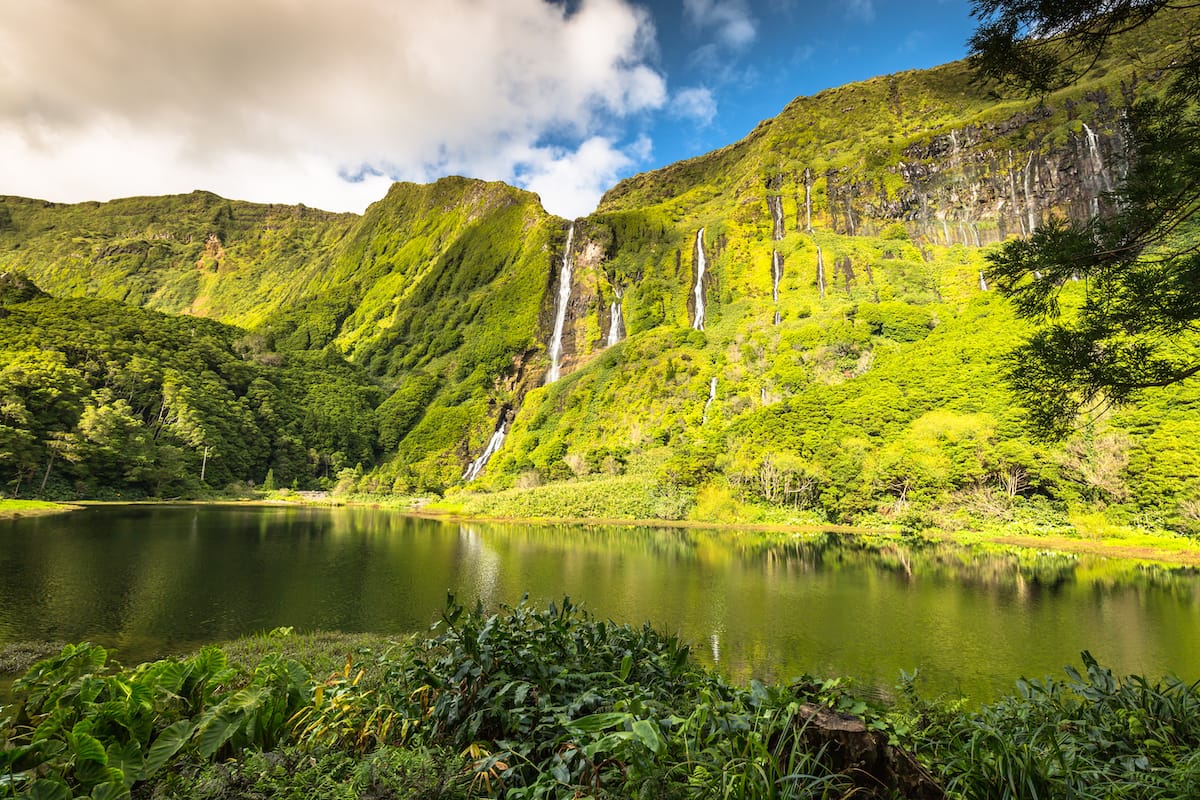 Click here if you're looking for my 4-day Azores itinerary.
This post will cover everything from what to know before you rent a car in Ponta Delgada to what foods are popular in the Azores.
Please list any others you think I may have left out in the comments! I only visited Sao Miguel on my travels to the Azores and I hope to return next year to visit the other islands in the Azores.
Do You Need Travel Insurance for the Azores?
The Azores is a safe place to travel to but you will certainly want to be insured while exploring the stunning and pure landscapes.
We recommend SafetyWing, a Norwegian company that specializes in travel insurance and they have some of the most affordable, top-quality packages anywhere. Be sure to register for 'Portugal' on their site.
>> Click here for a Portugal/Azores travel insurance quote
Renting a Car in the Azores
One of the best things to do in the Azores is to rent a car and explore the islands with immense amounts of freedom.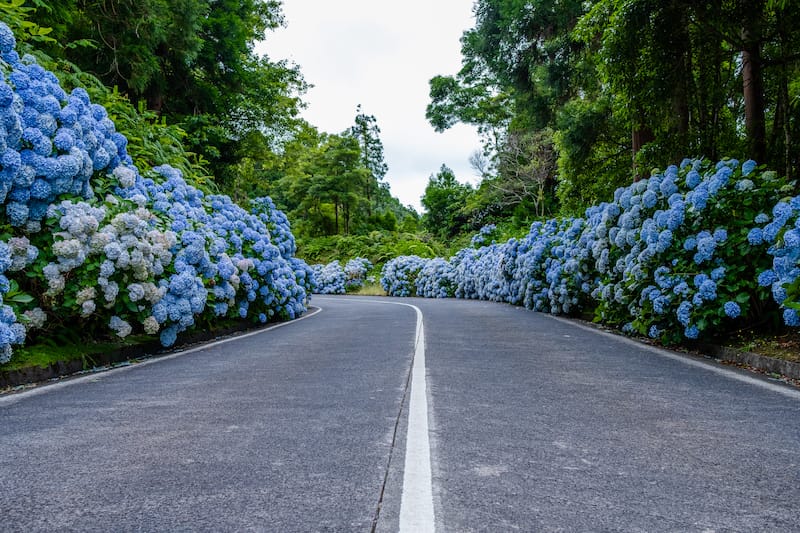 You will likely want to stop to take photos often or just admire the scenery. If you're unable to drive- don't worry, there are many great tours available, but we truly think renting a car will enhance your Azorean experience.
>> Click here to check rental car rates for the Azores
How to Get to the Azores (Flights to the Azores)
How to Go to the Azores from the United States
There are so many ways to get to the Azores these days. If you're visiting the Azores from the United States, you can fly with either Delta or SATA Airlines (the Azorean airline) currently.
The departures leave from New York JFK and Boston Logan. The flights take just over 5 hours.
How to Travel to the Azores from Europe
There are more options to travel to the Azores from Europe than the United States currently.
Some of the airlines that fly to Ponta Delgada, Azores are KLM, TAP Portugal, SATA Airlines (Azores Airlines), Air France, Ryanair, easyJet, among a couple of others.
You can remarkably fly to Ponta Delgada for a really cheap price. If I recall correctly, I paid around $39 one way from Lisbon to Ponta Delgada. The price fluctuates.
My Azores Tours Recommendations
I actually didn't rent a car for my Azores trip. I tried but then I didn't renew my license in time because I am lazy and ended up booking affordable Azores tours instead.
It was a brilliant idea. Don't let not being able to rent a car discourage you from visiting these epic islands!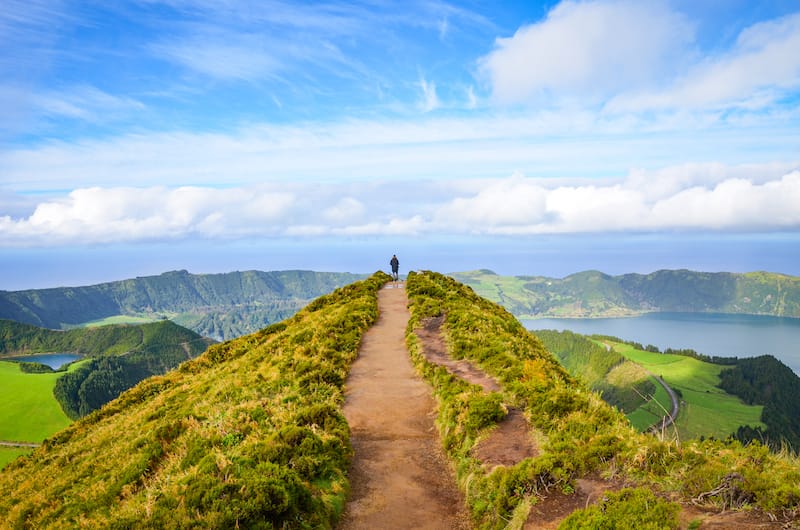 I went on the first two on two different days. I definitely recommend them and both tours were the highlight of my time in the Azores.
Click here if you're looking for Azores whale-watching tours, otherwise, here are my three tour recommendations (the two I took and one that combines the two tours for a long day of seeing the entire island of Sao Miguel).
Random Facts to Know Before You Visit the Azores
The following are some random and miscellaneous facts (okay… and opinions) about the Azores.
The islands are receiving increased tourism but I have learned that people either have been to the Azores or they haven't even heard of the islands. There is rarely an in-between.
Azores Tourism is About to Boom
So, this is my opinion. But mark my word. These little-known islands are the most spectacular place in Europe. I am not even kidding.
I have never witnessed such raw and pristine nature anywhere.
Yes, they are in the middle of the Atlantic, so they are technically not mainland Europe, but getting to the islands has never been easier and cheaper.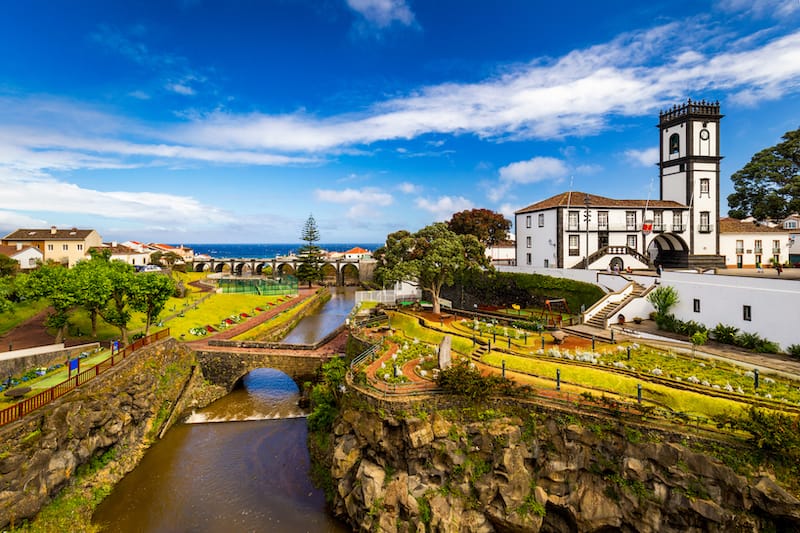 Discount airlines are flying there as are regular, commercial airlines and the plane tickets from Lisbon are around $30-$50 each way. You can get to paradise for a small penny.
The islands are currently affordable, authentic, and maintain an Azorean charm. I really hope that tourists sustainably visit the Azores and do their best to maintain the unique culture that exists there.
There are Many Azoreans in the US and Canada
Many Azoreans emigrated from the beautiful islands to the US and Canada in waves.
Most of the ones in the US settled in New England (Massachusetts to be exact) and they played a large part in 19th-century whaling and even had a large part in the California Gold Rush.
What I find cool now is to see that airlines are flying from Portugal to Boston and having a stopover in Ponta Delgada. This route is giving so many Azoreans the chance to visit their homeland and enjoy just how incredibly wonderful it is.
There are currently about 320,000 people of Portuguese descent living in Massachusetts alone (most are Azorean and Madeiran).
Sao Miguel is Not Necessarily A Sunny Holiday
Many people will be shocked to find out that you don't go to the Azores for sun. It's not that it doesn't exist, it is just that the weather changes so drastically from hour to hour. And yes, it rains in the Azores.
How else would the place stay so ridiculously green and lush? I think the weather in the Azores is like Hawaii meets something a little cooler. And there are seasons there.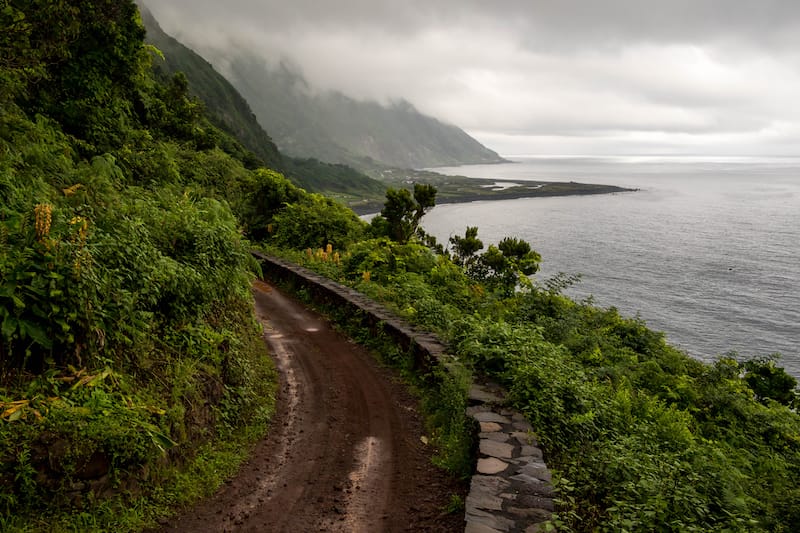 Every island in the Azores has its own climate and patterns and I can only speak about Sao Miguel. On Sao Miguel, the north-central part of the island receives more sun than the southern part. Just in case you want to take advantage of that.
I stayed for three days on the northern part of the island at the Sao Vicente Lodge and the weather was usually pretty decent.
There are 9 Islands in the Azores
When you visit the Azores, you will quickly realize that there are nine islands making up the autonomous Portuguese nation.
You have Flores and Corvo to the west; Sao Miguel and Santa Maria to the east; and Graciosa, Terceira, Sao Jorge, Pico, and Faial in the center.
Each island is different from the next and they have their own distinctions. Each island in the Azores has volcanic origins.
That Abandoned Hotel in the Azores is Not an Intrepid Experience
You know how every blogger and their mother has written about their Urbex trip to the famous abandoned hotel in the Azores? Well, everyone has done it and been inside.
The hotel is on the main road and is far from an 'off the path' experience, and I can't believe so many people write about it as though they discovered it in the middle of a freaking forest somewhere. It literally sits beside the most famous view in the Azores.
Fortunately, these overdone blog posts about this hotel will happen no longer (soon enough). The hotel was supposed to reopen in 2021 but has been delayed due to COVID. Let's see what happens!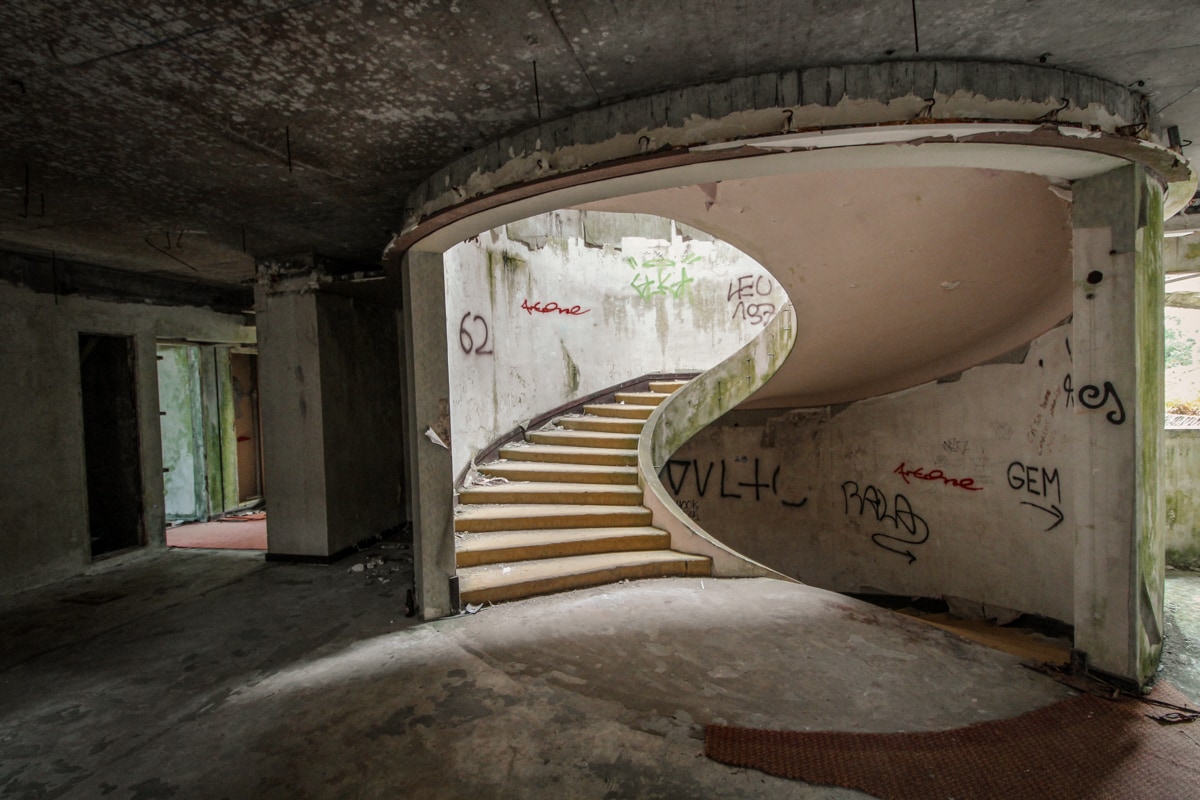 I hope I get to stay there someday as it will surely offer the best view to wake up to in the Azores as the area overlooks Sete Cidades.
Click here if you're looking for Sao Miguel hotels and guesthouses that you can actually stay in!
There is a US Air Base on Terceira
On the island of Terceira, there is a United States Air Base called Lajes Field.
The base was built and opened in 1934 and it played a key role during WW2 as it was a major hub between Europe and the United States (since the Azores are located in the center).
The number of personnel stationed there drastically declined from 2012-2014 but the base is still in operation.
The Street Art in Ponta Delgada is Awesome
The capital city of Sao Miguel, Ponta Delgada, has a really cool street art scene. It kind of shocked me to see such cool urban art hanging around the well-constructed city.
There is an annual street and urban art festival called the Walk and Talk Urban Art Festival and it celebrates the importance of street art to the city.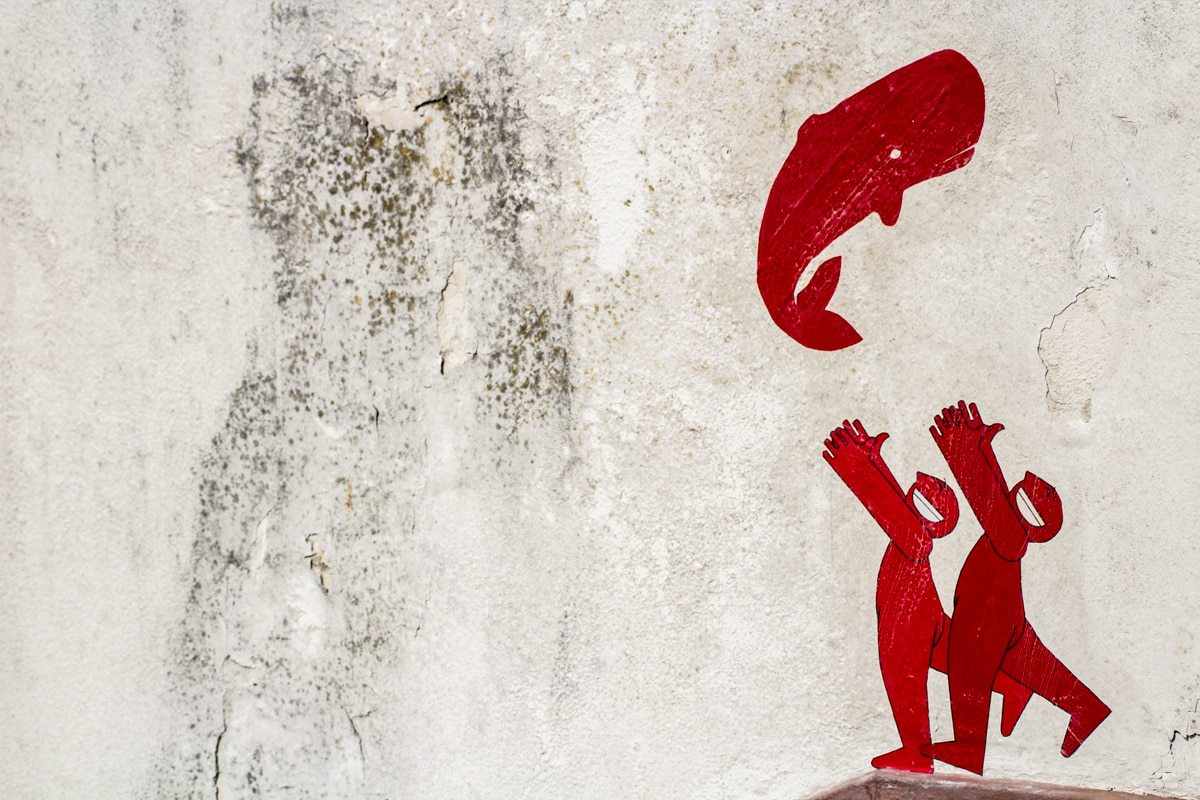 The festival also ensures that new street art is created during the days it takes place, leaving something new to be discovered on the facades and buildings every time you come back to Sao Miguel.
Getting a SIM Card in the Azores
There are plenty of options for getting a SIM card in the Azores, but I highly recommend heading to MEO when there and picking up the 30GB for 15 Euros option. The SIM card lasts for 15 days upon activation.
The coverage is good and MEO is a reputable company in Portugal for data coverage. You can find out more about the data plan here.
Is there Good Wifi in the Azores?
Believe it or not, wifi is pretty available and works well in the Azores. When I visited the Azores, I was pleasantly surprised at this.
It states that there are over 1,600 places in Ponta Delgada alone that offer wifi hotspots, so you're not going to be hard-pressed to find a place to get connected if you forego getting a SIM card for your phone.
I also found that hotel lobbies were fine to permit me to work from the lobby when there (I had to work a bit on my trip) as long as I was quiet or purchased something small. You can read more here.
Getting Around The Azores
The process of getting around the Azores can be a bit difficult if you don't have a rental car. I highly, highly suggest renting a car when in the Azores for an optimal experience there.
But, if you're like me and don't currently have a license, other options do exist when visiting the Azores.
Understand the Landscape Before Renting a Car in the Azores
The Azores landscape is dramatic and the roads can be a bit the same (but not usually). On the other hand, when I compare the roads and infrastructure in the Azores to other places I've traveled, it is far better and more developed.
The only time I felt that the roads were a bit bumpy and stressful was when we would off-road to random waterfalls or something while on a tour.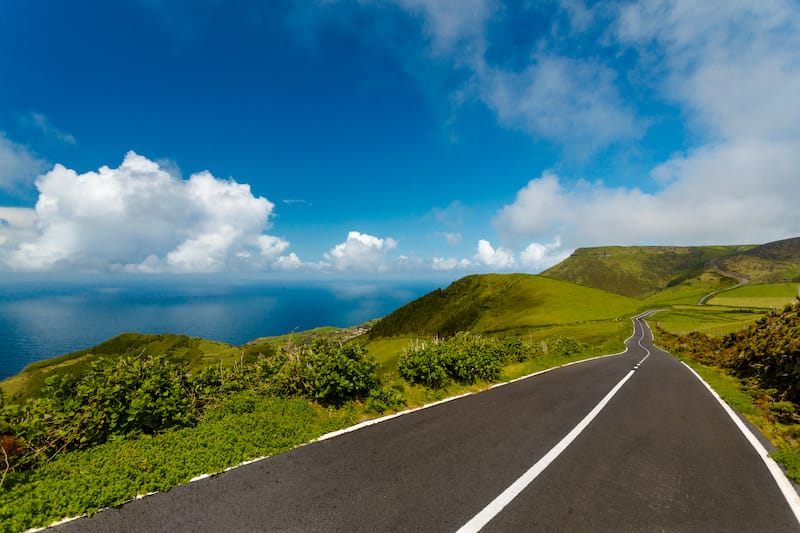 But, for the most part, the highways are nice, not overly crowded, and the driving was pretty organized.
Take a Tour of the Azores
If you are unable to rent a car like me, you can easily arrange an Azores tour. There are plenty of tours that can accommodate all needs and desires in the Azores.
They will arrange transportation and ensure that you are able to see a lot of the islands without a vehicle.
The tours are also pretty affordable and the Azores whale watching excursions are some of the best on the planet!
I used Pure Azores when I was there and they were absolutely fantastic and did a great job showing me Sao Miguel without being on a massive tour bus with heaps of other people.
Island Hop with SATA Airlines
I have received so much conflicting information regarding island hopping in the Azores. I was initially told that you can fly between the islands for free if you message SATA and ask for a seat on a plane. I did this and never heard back.
But it does seem that SATA offers an Azores pass that makes it easier to connect via air between the islands. If anyone has updates to this- please let me know. I'd love to include someone's experience here if they have done it.
Or Island Hop with Ferries
One of the best and only ways to see more than one island in the Azores is to take the ferry between them. Atlanticoline operates regular ferries (and some seasonal ones) between the Azorean islands.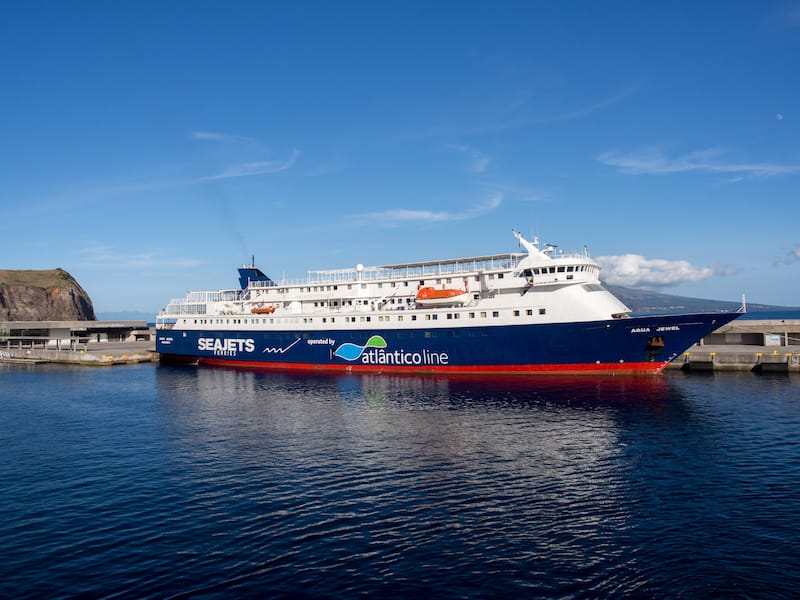 The islands I wanted to go to were not able to be connected by ferry during my dates (I went in October) but this is definitely an option I am going to be using next time I am in the Azores.
Below is the current schedule for the ferries in the Azores. Be sure to check Atlanticoline's website for updated information and timetables before booking a trip.
Sao Miguel is Larger Than You Think
The largest island in the Azores, Sao Miguel, is probably larger than you think. Especially if you are visiting other islands in the archipelago. Sao Miguel is 293 square miles.
While this number doesn't seem drastic, when you consider the topography of the island, it really is pretty astounding.
Especially given that the island looks totally different on one side compared to the other. That is what truly makes the Azores mindblowing.
Make sure you plan adequate time on Sao Miguel so that you can see all parts of it in detail without rushing around the island.
Getting From Ponta Delgada Airport to the City Center
Unfortunately, the best way to get from the airport to the city center when you visit the Azores is via taxi. If you rented a car from the airport, you can naturally pick it up there.
The taxis from the airport shouldn't be much given the airport is only 3km from the city center.
When I was there, I took a taxi from the airport to the north coast, so my fare was far more than if I had just headed straight into Ponta Delgada.
Flora, Fauna, and Nature in the Azores
Wow. I don't even know where to begin with how breathtaking and raw the nature in the Azores was. I saw plants and trees that I had never seen before.
It was a whole new experience for me and one I am eager to relive in the near future.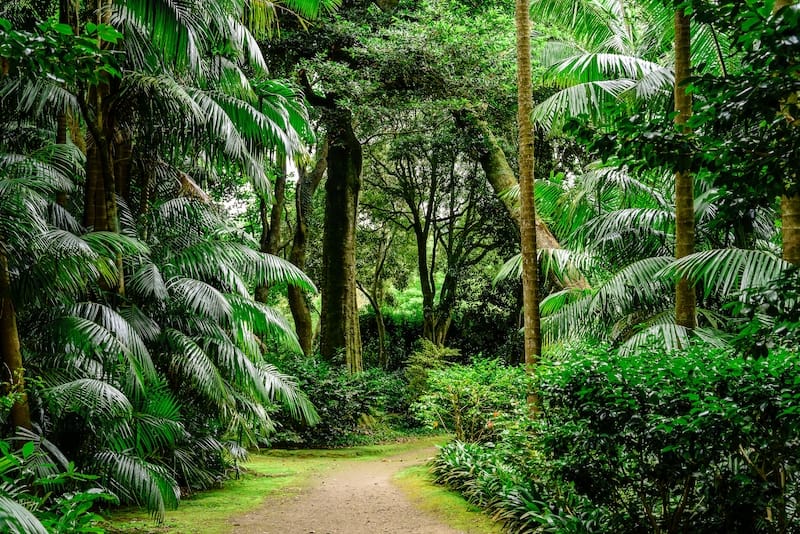 So many things that grow in the Azores don't grow anywhere else or are non-existent anywhere else on the European continent. These are some things to expect to see or witness when in the Azores.
Natural Pools & Thermal Baths in the Azores
Visit the Azores and come back a new person. Seriously- the islands have healing properties and one of the ways to experience nature's magic is by visiting one of the many thermal baths that exist, especially on Sao Miguel.
The thermal baths are where hot geothermal waters mix with the cold, ocean water in a natural pool by the ocean. The locals take advantage of these and I definitely intend to next time.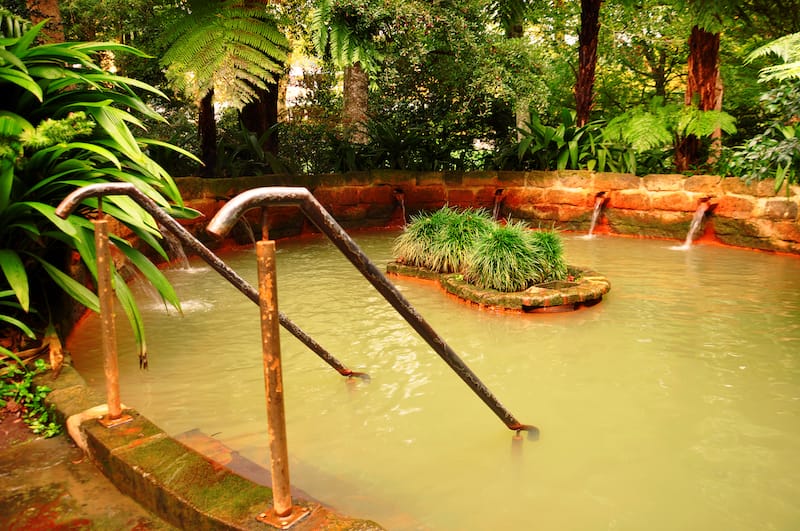 Not all thermal baths are situated in the ocean. You can find some inland like at Parque Terra Nostra and Caldeira Velha. I had a chance to visit quite a few even though I didn't go into them. Next trip…
Blue Hydrangeas Dot the Azores Landscape
I never thought that hydrangeas were all that beautiful, to be honest. Then I saw them in the Azores and against the lush, emerald scenery, and my mind was forever changed.
Blue hydrangeas are everywhere in Sao Miguel. Like everywhere. They line the roads, grow ubiquitously in parks, and are just completely symbolic of the island.
And for the rest of my life, I will always associate blue hydrangeas with the Azores. If only my home country had a flower that was associated with it instead of all the stuff that actually is.
The West Side and East Side of Sao Miguel are Totally Different
The first time I saw a place that varied so much on a small piece of land was on the Big Island of Hawaii. I went from Hilo, the rainiest city in the United States, to the Kailua-Kona area which was dry and sunny every single day.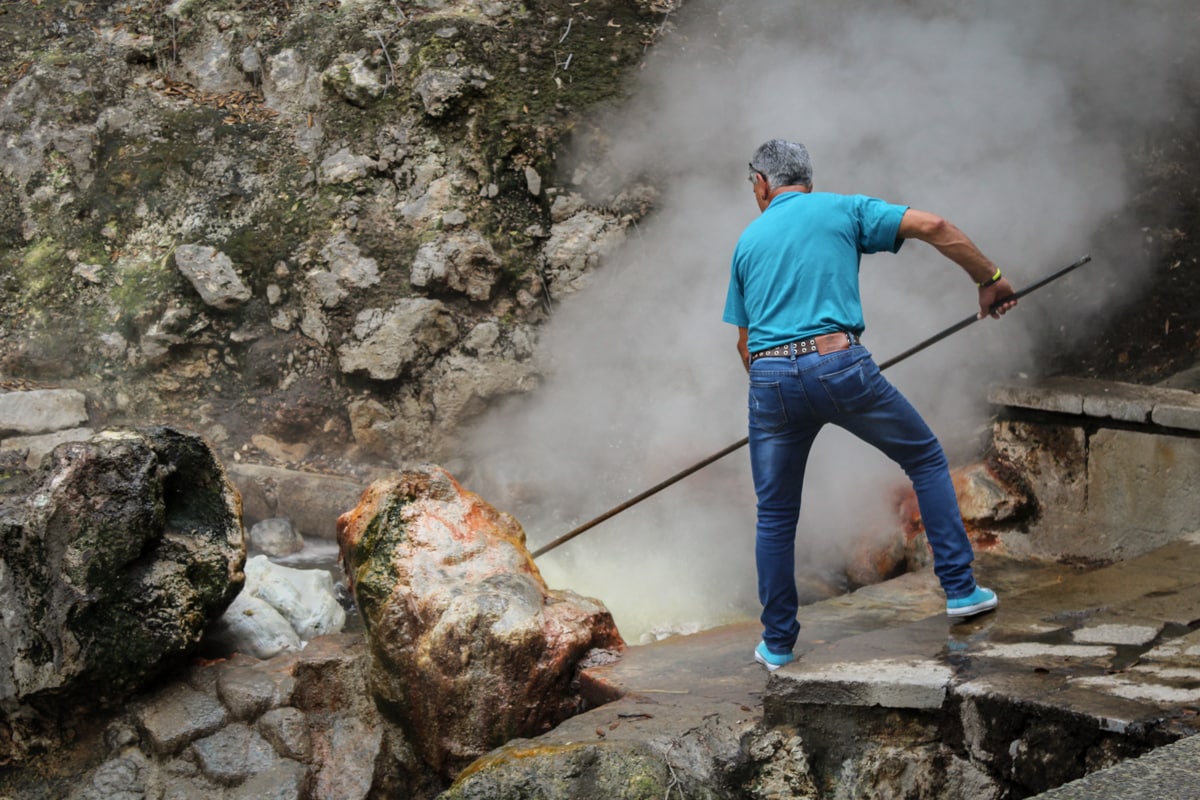 It blew my mind. Sao Miguel is somewhat similar. On the island's east side, you will witness a lot of geothermal activity. Fumaroles rule the landscape and it creates a different atmosphere and biodiversity.
On the west side, there are craters and blue lakes and it is lush and green in a way that you've never seen. It is truly difficult to explain the drastic difference to someone who has never been- but trust me, you will notice it when you go there.
Jurassic Ferns are Everywhere
These ferns don't grow in many places but can be seen in New Zealand and parts of Australia. And… in the Azores. They were everywhere there.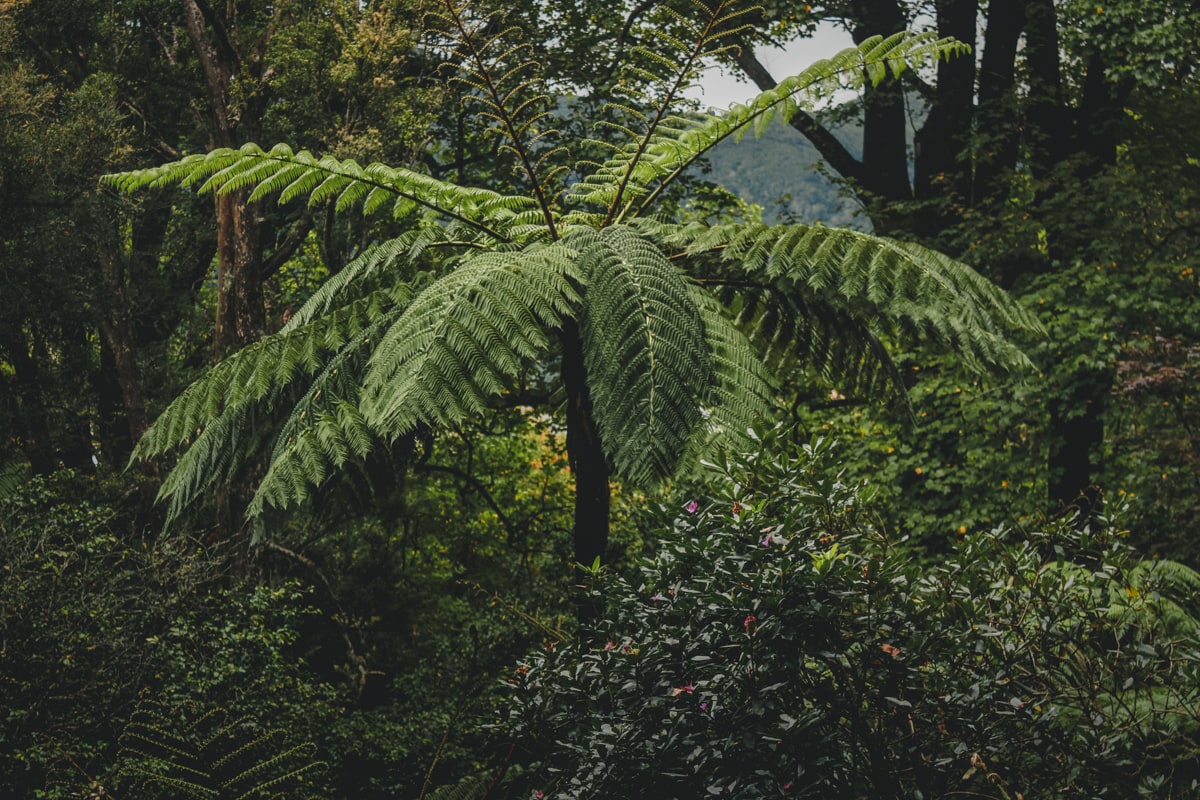 It made me feel like I was on a different planet because ferns and flora like this just do not exist in mainland Europe (or even most parts of the United States, for that matter).
Whaling Used to Be a Mega-Industry in the Azores
In the Azores, whaling used to be a large industry for the islands. In 1984, the islands banned the practice and industry and many of the whaling stations were turned into whale-watching areas and research centers.
And many of the whalers themselves turned their businesses into whale-watching ones.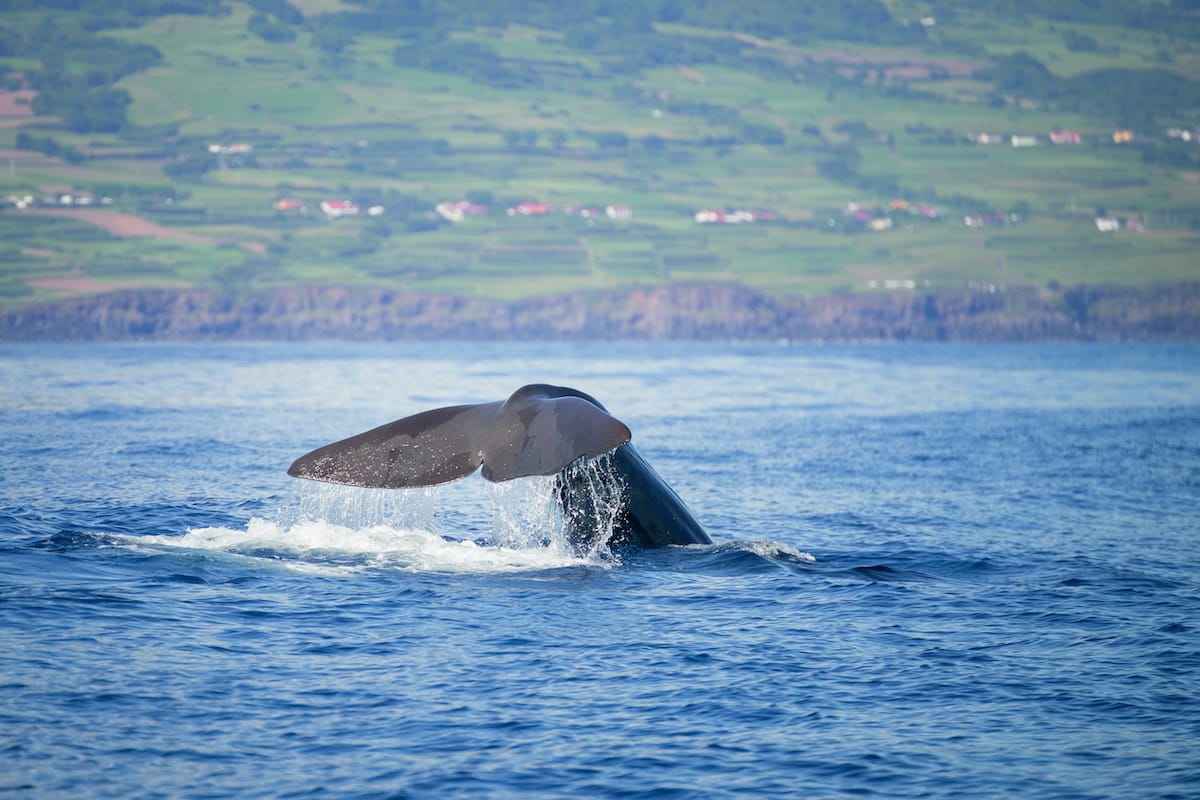 Kind of remarkable, in my opinion. On Sao Miguel, you can see whaling stations dotting the seaside landscapes. Whale watching is now one of the lures of the Azores and many people come to see the sperm whale swimming in the deep cerulean waters.
⇒ Click here for whale-watching tours in the Azores
Birdwatching in the Azores
If you're a bird-lover, the Azores are a great place to do a little birdwatching. Two of Europe's rarest birds are located in the islands- the Azores bullfinch and Monteiro's storm petrel.
Because of the islands' unique positioning in the middle of the Atlantic between North America and Europe, you have the chance to watch a number of migratory species make their seasonal routes through the Azores.
If you visit the Azores, you will have the chance to witness at least thirty breeding species of birds and up to 400 different types of species on the archipelago.
Drinks and Food in the Azores
My favorite part of the Azores… okay, the landscapes and people were up there too. But the food and drinks there- perfection! Some things about the cuisine shocked me a bit, but for the most part, the cuisine was just as delightful as I had expected it to be.
It was kind of a blend of food I hadn't tried before and Portuguese foods that I had tried. And it is so unique to other parts of Europe that it really made these little islands that much more special.
Below are some things to know before you travel to the Azores in terms of food and drinks.
Dairy in the Azores
One random Portugal fact is that fifty percent of cheese on the mainland comes from the Azores. A lot of it comes from the island of Sao Jorge. But, all of the cheese I had in the Azores was absolute perfection. In fact, all dairy was incredible.
And I'm lactose-intolerant (I just suffer because I don't take care of myself).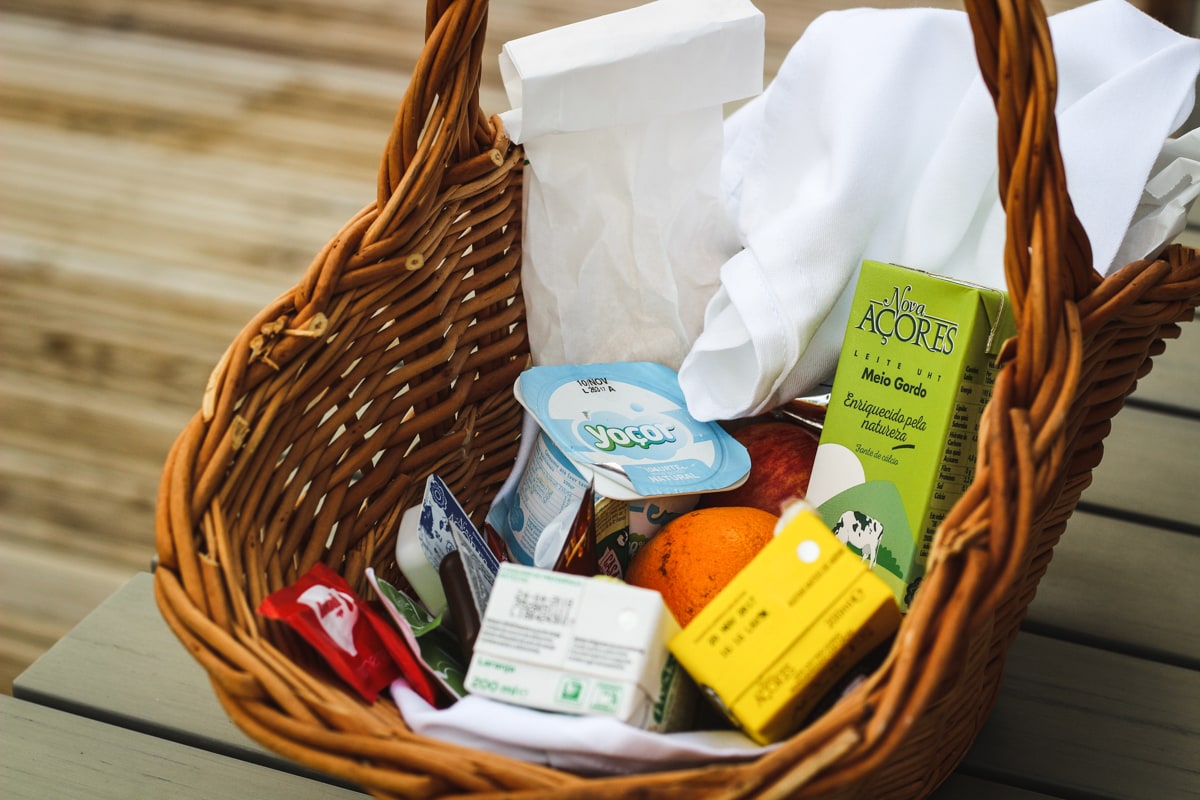 The ice cream, milk (and I hate milk), cheese, yogurt… all of it had so much flavor and just tasted natural and not artificial whatsoever.
The Cows in the Azores
In the Azores, you will see an abundance of cows everywhere you look and drive. When these cows aren't producing world-class dairy products, they are roaming around free enjoying life in one of the most beautiful places on the planet.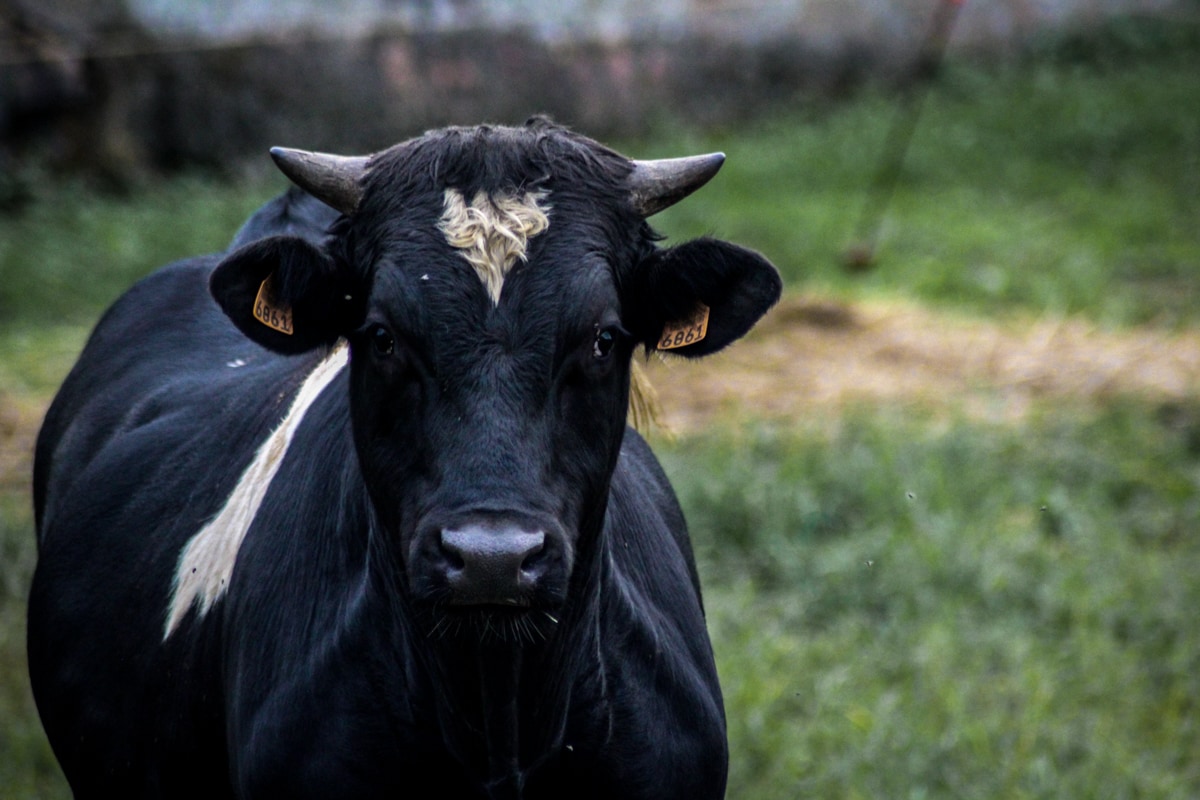 The cows are so free and live such a good life compared to other places that when they die naturally, their meat is still edible and able to be sold for consumption.
I don't eat a lot of meat myself, but this puts other places to shame. The meat in the Azores was so tasty.
They Love Eating Octopus
And luckily, so do I. Every time I went out, I saw menus with octopus as the main ingredient (specifically in a red wine sauce). It was so delicious and I couldn't get enough of it as someone who loves seafood.
There is also heavy use of limpets (a type of shellfish) and a mollusk that is unique to the Azores called cracas.
We would wander through small villages and eat amongst the locals, especially when in the northern part of Sao Miguel.
Azores Pineapples Are the Best
But you need to travel to the Azores to taste the pineapple! The pineapples there are so sweet and succulent that I haven't tasted any fruit quite like it.
The juice, liqueurs, and fresh fruit itself are mind-blowingly good. As a result, the Azores don't really export the pineapple- they are pretty much all consumed on the islands by the locals and the tourists.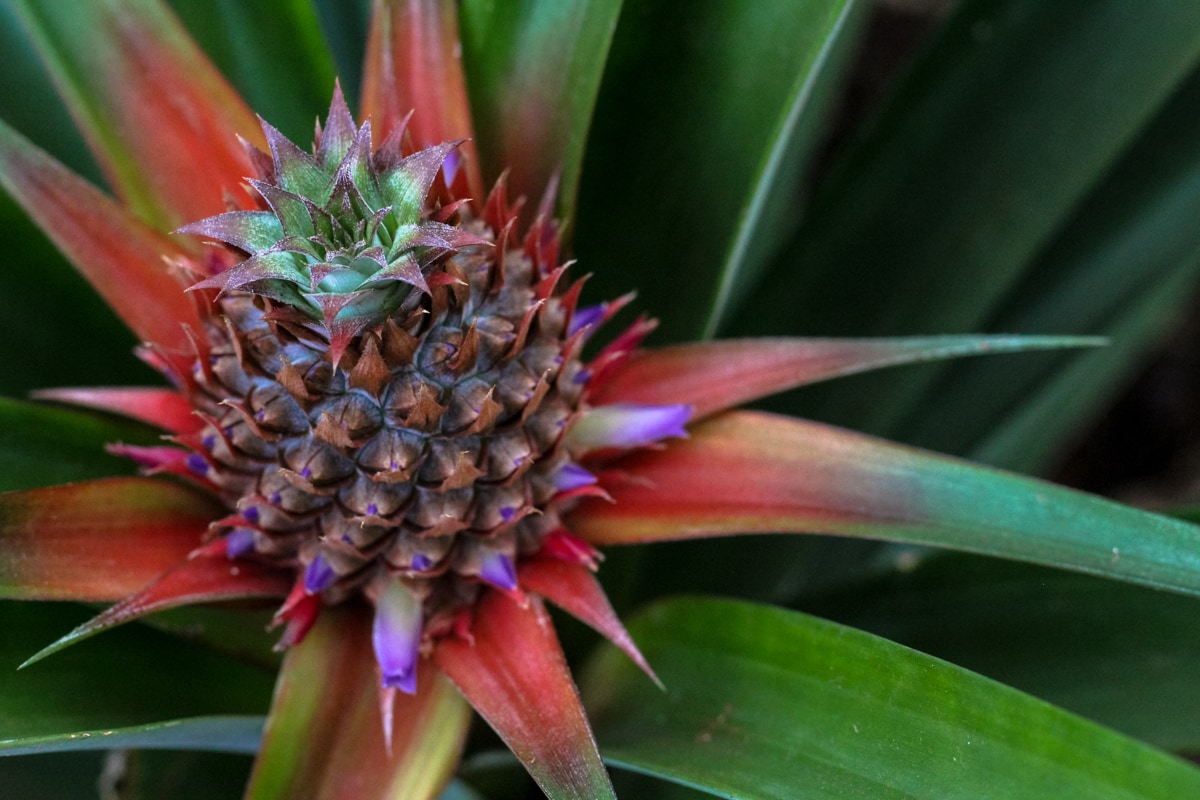 If you're keen to take one home, don't fret… you can purchase one at the airport in Ponta Delgada or by taking a trip to the A. Arruda Pineapple Plantation on Sao Miguel.
The Only Tea Plantation in Europe is There
Tea was found growing wildly and naturally in the Azores and this resulted in a unique tea culture. Cha Gorreana and Cha Porto Formoso are two tea plantations offering Azorean tea and the stuff is good.
As part of one of our tours, we visited the Cha Gorreana tea plantation and learned about tea's history, importance, and present-day place in the Azores.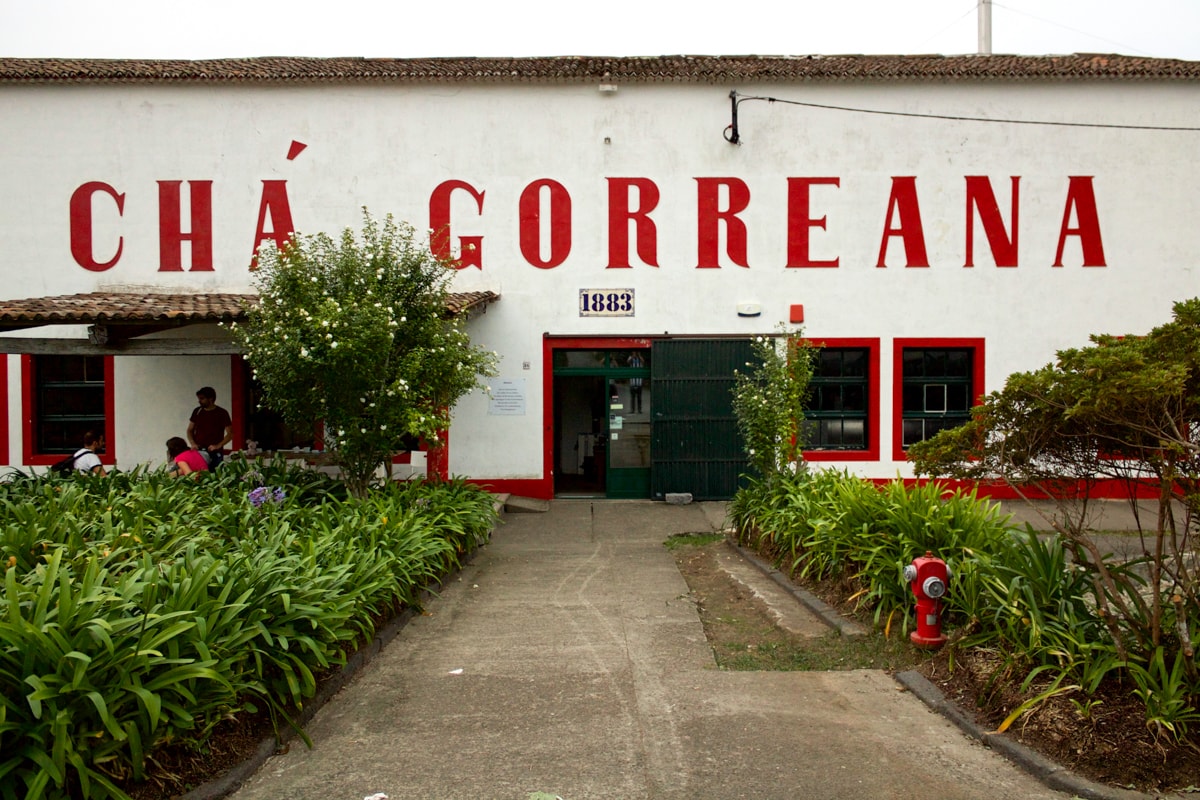 You can find Azorean tea at most souvenir shops in Ponta Delgada, as well, so you can take some home or give it to others as a nice gift.
You Can Find Good Mexican Food Near Ponta Delgada
Are you an American living abroad and deprived of tacos? Okay, likely not, but I am and finding good Mexican food near Ponta Delgada needs to be declared to the world.
The restaurant is called "Let's Go Mexico" and it is owned by a Californian and is close to Ponta Delgada in an area called Sao Roque.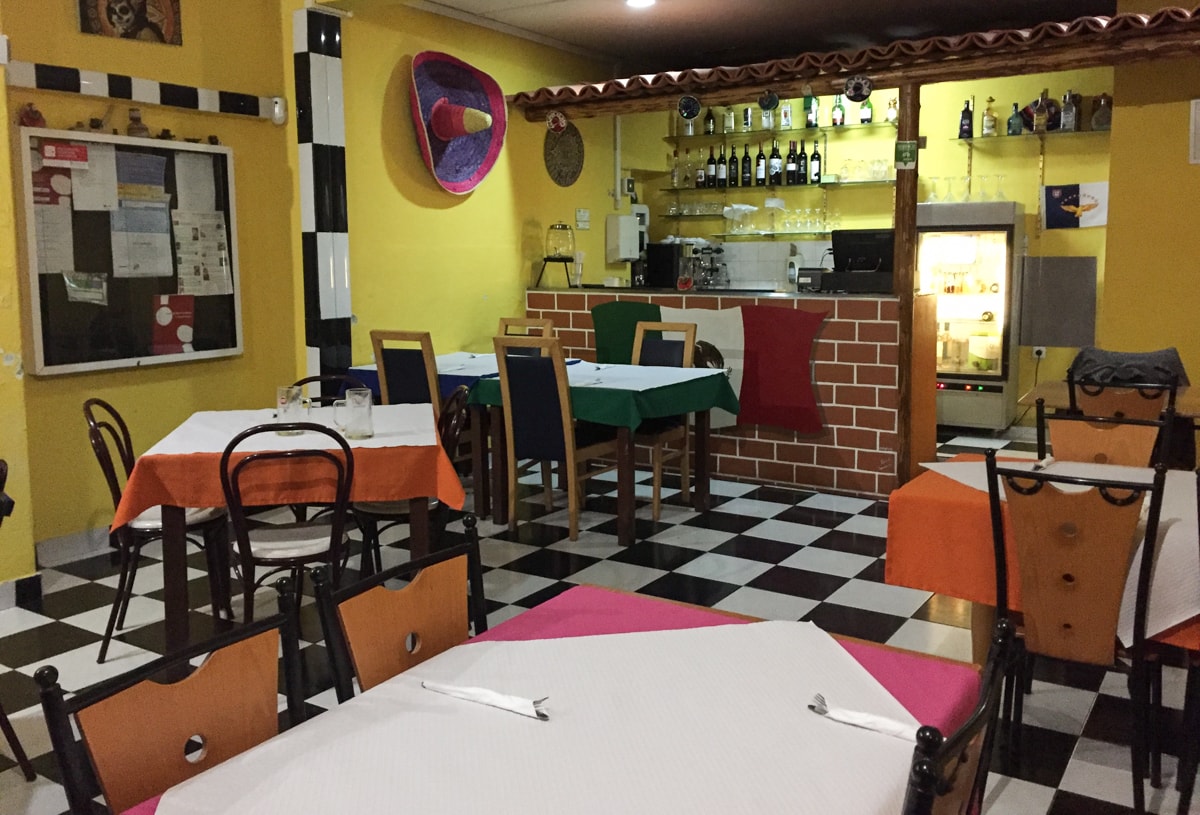 I remember seeing this place on a map and when I saw the outside, I wasn't too sure about it. It is in kind of a weird neighborhood that I passed while walking from where I was staying in Ponta Delgada. But, we gave it a chance.
It was the best decision ever. They even have homemade margaritas by the pitcher. You can find Let's Go Mexico at Rua do Açougue 2 in Sao Roque.
Azores Wine is Good… and Cheap
The local wines in the Azores can be purchased just about anywhere and are extremely affordable and delicious. Most Azorean wine comes from the island of Pico (up to 4/5 of the stuff!) and it is distributed all over the archipelago.
Azorean wine is special because it is made on volcanic soils giving it a completely unique taste to wines you may have tasted elsewhere. Grab yourself a bottle or enjoy a glass when you're out for dinner- you won't regret it.
Cozido de Furnas
The natural elements play a major role in everyday Azorean society and this also impacts cooking and cuisine. In fact, the area around Furnas is what I imagine the hot springs in New Zealand kind of look like (many have said the same)!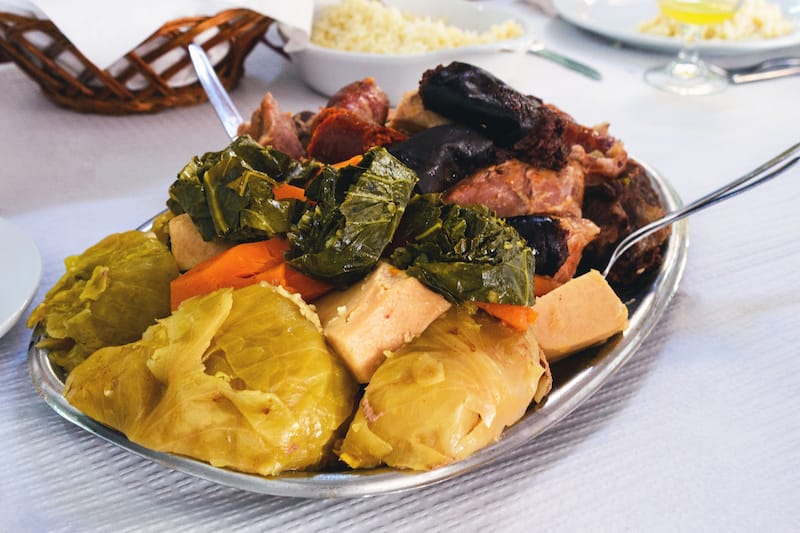 Cozido de Furnas is a 'stew' made from a variety of meats and vegetables that are cooked underground in a fumarole. A fumarole is an opening in the ground near volcanoes (or in it) where hot sulfurous gases emerge.
The heat and energy cook this stew for hours and this type of cooking is especially common in the eastern part of Sao Miguel. Local restaurants will prepare cozido de furnas for guests and I can assure you, it is a must-try when you visit the Azores.
It was simply delicious.
Craft Beer in the Azores
So, craft beer hasn't particularly taken off in the Azores. But… Korisca Cerveja Artesanal exists! You can find it at a few places around Ponta Delgada, but my favorite place to enjoy a local craft beer was at A Tasca.
The place was spacious and served food, wine, and some of that amazing beer.
I enjoyed their APA and Brown Ale when there. You can find A Tasca at R. do Aljube 16 in Ponta Delgada city center. To find out more information, check out their Facebook page.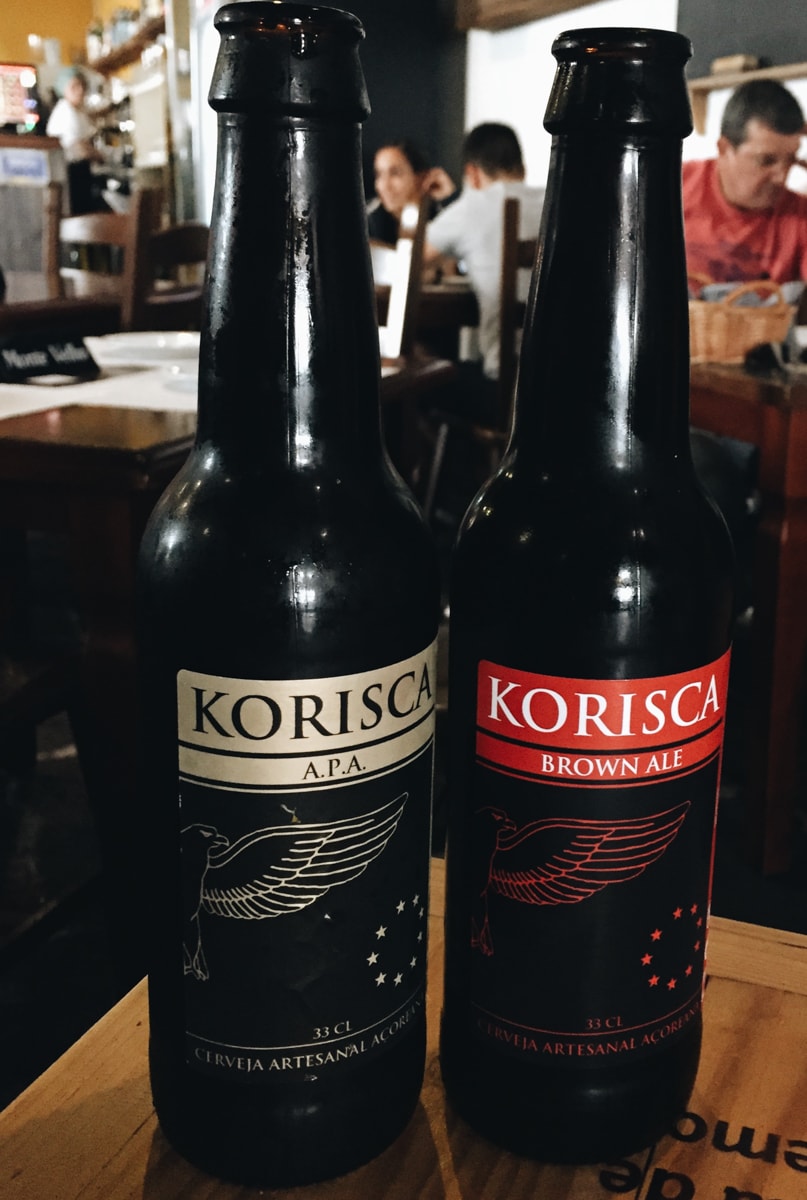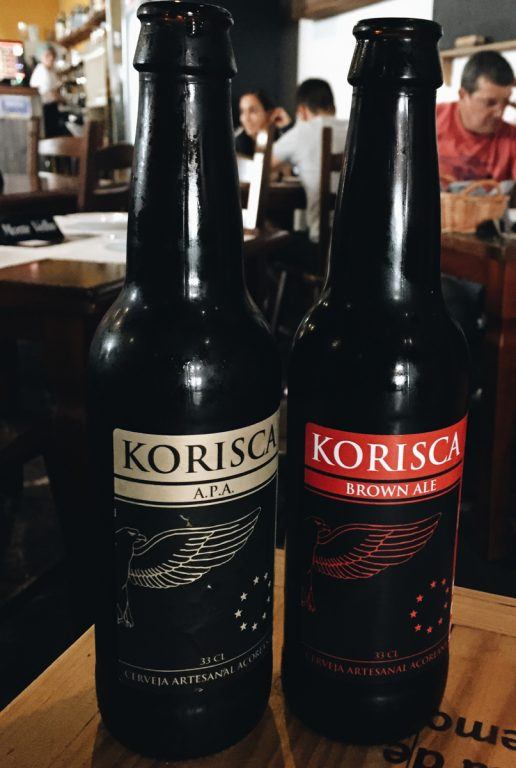 There are many things to know before you visit the Azores, but these are thirty things that I think you should know before your Azores trip!
If you have any additional suggestions or tips, please drop them in the comments for future travelers!
Where to Stay in the Azores
We have written an entire guide about where to stay in the Azores, but if you're looking for some of our top picks, you will find them below. We have only chosen hotels in Sao Miguel for this post.
Furnas Boutique Hotel – Thermal & Spa (Splurge): This place is epic. It is easily one of the most desirable places to stay in the Azores and we were thinking to splurge and calling it home for a night will leave you with unforgettable experiences.
This is a fantastic option for those interested in driving around the island of Sao Miguel and stay in Furnas (east side) for one night. Click here for rates and availability.
Sao Vicente Lodge (Upscale mid-range): I stayed here on my trip to the Azores and I am enamored with the place. It was such a fresh type of accommodation that gave me hospitality, comfort, and so much scenery I still dream about it to this day!
It is an eco-friendly lodge that offers apartment-type places to stay and my room offered one of the best ocean views I have ever witnessed in my life. Click here for rates and availability.
Hotel Arcanjo (Budget): If you're traversing the Azores on a budget, then Hotel Arcanjo is the place for you. The Sao Miguel accommodation offers hospitality, comfort, and all the basic amenities that you could wish for on your trip to the Azores. Click here for rates and availability.
More Azores Travel Guides
Pin this Guide to Visiting the Azores