Many travelers don't desire to go to the Caucasus during the winter months because they are unsure of what to do.
This is a guide to Yerevan in winter and it will showcase the many things to do in Yerevan during the colder season.
If you have suggestions of what to do in Yerevan during winter, please drop them in the comments!
Things to Do in Yerevan in Winter
Yerevan can be extraordinarily hot during the summer.
And Yerevan can be pretty dang cold during the winter. However, the city offers a lot to travelers who are passing through Yerevan in winter and this guide will showcase some of my suggestions.
As a person who works and spends most of his time in Yerevan, I am positive that the Armenian capital city has just as much to do in winter as it does in summer.
Yerevan is Armenia's pink capital city. The winters in Yerevan and the rest of Armenia vary from year to year.
There may be one year where the entire country is buried in snow and the next year's winter may give you the impression that it is just an extended autumn.
Regardless of how harsh the winter in Yerevan is, the city still exudes a positive and fun vibe and the city is covered in lights and the businesses are ready to welcome customers in from the cold.
If you have additional suggestions of what to do in Yerevan during December, January, and beyond… please drop it in the comments for us!
What to Pack for Yerevan
Yerevan in winter can bring unpredictable weather but the sun is usually shining, which is a change from many places in western and northern Europe.
However, the temperatures are a bit chilly and chillier than most travelers would expect. These are a few things we recommend bringing to Yerevan in winter:
⇒ Good boots: While you don't need to trudge around the city in snow boots, we still recommend having a nice pair of walking boots that you can put thick socks on underneath for your Yerevan visit. Megan wears a black pair of vegan Dr. Martens and cites them to be the most comfortable pair of shoes she owns. I, on the other hand, wear a pair of brown boots that look like this.
⇒ Mobile power bank: The temperature during the winter can deplete your phone and you always want a bit of battery because you never know what you will stumble upon in Yerevan! We love this power bank as it has 25000mah and doesn't need to be recharged often. Click here to shop our favorite power bank on Amazon.
⇒ Stylish beanie: You will want to bring a beanie or winter hat to Yerevan to keep your head warm and Megan loves Scandinavian brands Libertine-Libertine and Samsøe & Samsøe, so you can usually find her in one of their designs. I am not quite as picky and will wear whatever I can get my hands on.
⇒ Lonely Planet Georgia, Armenia & Azerbaijan: Something can be said about guidebooks even still here today. While I recommend this blog for preparing you for your trip to the Caucasus, you will definitely find value in purchasing a guidebook to have with you once you arrive. This Lonely Planet book is excellent and you can purchase it here.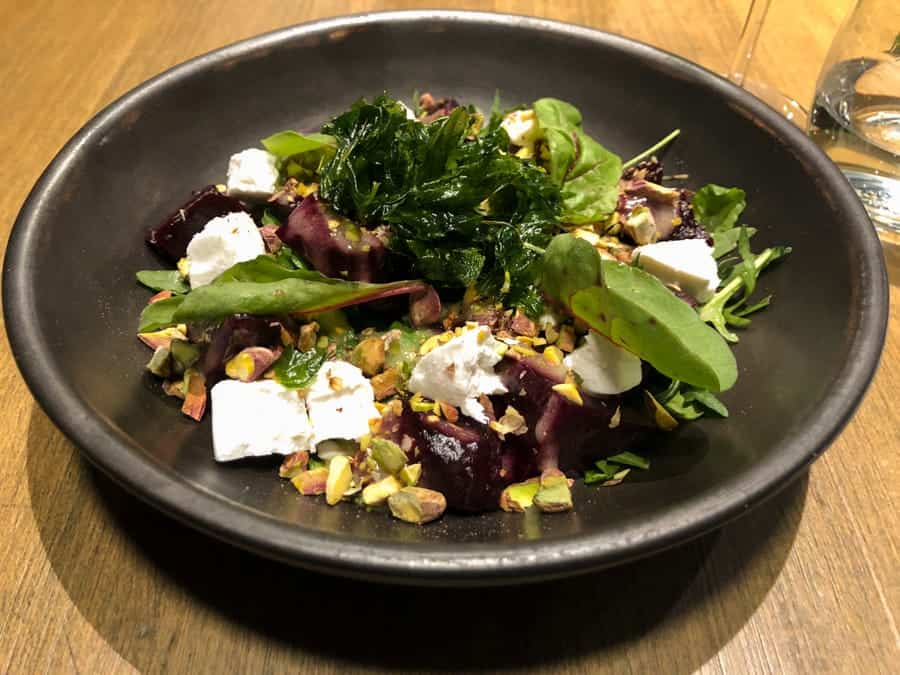 Do You Need Travel Insurance for Armenia?
One thing that is imperative for those traveling to Armenia is a good travel insurance policy. We always recommend SafetyWing since uncovering their affordable rates, vast coverage, and great customer service.
They are cheaper than many other companies on the market and the Norwegian company has top reviews.
Best tours of Yerevan
Yerevan is such a magical city during any time of the year, but particularly in winter.
If you're keen to discover a bit of the Armenian capital and some of its surrounding areas, the best way to do so is by an affordable, organized tour.
There is so much history in Armenia that would want to take in everything from a person with a lot of knowledge.
Yerevan Card
Yerevan has heaps of activities and so many cozy cafes and restaurants throughout it. There is a great opportunity to enjoy these places for free or with a discount.
By purchasing the Yerevan card, you will get to enjoy a city pass that grants you special access and discounts to some of the most popular sights in the city and some of the best eateries.
This is the ideal investment for some epic Yerevan sightseeing.
Renting a Car in Yerevan
Renting a car is, by far, the best way to get around Yerevan and the local area. The city center is walkable, but anything outside of the city center is pretty much only accessible by taxi, a tour, or renting a car.
The landscape in Armenia is so stunning that you will want the opportunity to stop and admire it and take photos. You can drive to the Holy City of Etchmiadzin or to the Temple of Garni… there are endless opportunities.
Winter Activities in and around Yerevan
Armenia has a mountainous terrain in most parts and it really lends itself to winter activities. I am listing a couple of wintery day trips from Yerevan as well as some places to go ice skating in and around the capital city.
Ice Skating at Swan Lake
In the center of Yerevan, you will find popular Swan Lake. It entertains locals and travelers all year long.
In the summer months, it is a nice and cool place to hang out as it is a fountain area and they often screen movies right on the lake.
In the winter months, Swan Lake is frozen with special equipment and it becomes an ice-skating rink.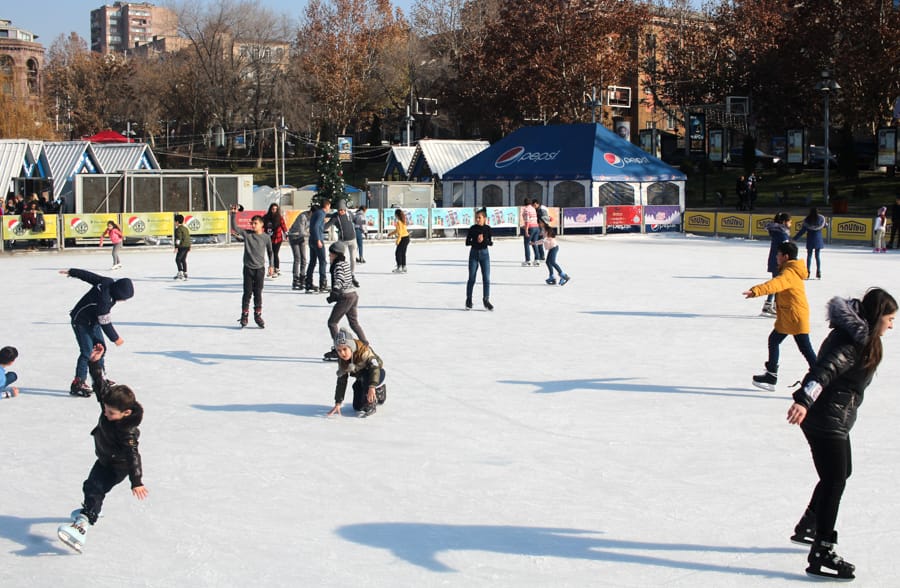 While it is a small area, it is still enjoyable to put on a pair of skates and cruise around on the ice.
If you're not down with ice skating, you can just go and chill in the area as there is always something happening around Swan Lake and the Yerevan Opera House.
Skiing or Snowboarding in Tsaghkadzor
One of the most known skiing resorts in the Caucasus is Tsaghkadzor in the Kotyk Province of Armenia, and a great day trip from Yerevan as it is located only 40 minutes away.
They have an abundance of things to do for winter sports lovers there. You will find high-quality service and amenities and the entire experience on the slopes and in the town is superb.
In Tsaghkadzor itself, you will find a cozy mountain town that has an ancient church, delicious restaurants, cafes with traditional Armenian food, a beautiful square, and many charming cottages to stay in.
The nature in the area is mind-blowing so bring your camera and snap away.

Walk Through a Winter Fairytale at Yeraz Park
This park is located about 25 minutes away from the center of Yerevan. It is a little wonderland that operates all year-round.
During the winter months, Yeraz Park is covered in lights making it feel like a fairytale world.
At the park, you will find ice skating, cafes, troll houses, Santa Clause's house, and many other activities that make this place perfect for couples, individuals, and families who come to Yerevan in winter.
Visit the Karen Demirchyan Sports and Concerts Complex
Known for being a Soviet architectural masterpiece, the Karen Demirchyan Sports and Concert Complex is far more than a brutalist beauty with a cool design.
It is located about 15 minutes away from Yerevan city center in Uptown on a hill. It is home to a large indoor ice skating rink.
While many other skating rinks in Yerevan are small are difficult to navigate around… this one is a professional one that is spacious and well-maintained.
Not only does the Karen Demirchyan Sports and Concerts Complex have ice skating opportunities for visitors, but there are also shows and competitions there.
This complex is a must-visit for those visiting Yerevan in winter that are ice skating enthusiasts.
Join the Santa Charity Marathon
Winter in Yerevan can make many flee indoors but beware- you will see a lot of Santa Clauses running around the city and enjoying the brisk temperatures.
Organized by the Yerevan Half Marathon, the Santa Marathon is a charity event where people dress up as Santa and run to raise money as well as to celebrate the new year.
There are free coffee and tea and other beverages that are given to participants during the different runs.
There are also many musical artists that will play at the event to energize those participating and those watching and cheering friends and family on. You can either join in… or watch.
Yerevan Winter Day Trips
Take a Day Trip to Garni Temple
Garni is as beautiful in winter as it is in summer. It is one of the most historic places to visit in Armenia and is actually a Pagan temple in a country of religious monasteries.
Garni Temple is located about 40 minutes away from Yerevan city center. Once you're in Garni village, you will find a lot of charming shops, restaurants, cafes, and much more.
It is definitely worth taking a Yerevan taxi out there if you don't have a rental car and visiting the temple and its surroundings.
During the winter, you will likely see snow-covered mountains surrounding the area. It truly is a nice escape from Yerevan.

Day Trip to Dilijan
Often referred to as Armenian Switzerland, Dilijan is a resort and park area that is surrounded by tree-covered mountains and in winter… these mountains become unspeakably beautiful with heaps of white snow covering them.
The scenery is dramatic and mesmerizing, especially when the snow is fresh.
It is possible to stay overnight in Dilijan. But it is also possible to go to Dilijan as a day trip from Yerevan… and if you do either, you will have a chance to pass by Lake Sevan which is also extremely gorgeous during the winter months.
Once in Dilijan, you will be surprised to find extremely charming cobblestone walkways, both luxury and budget hotels and guesthouses, and many delicious restaurants.
Be sure to stop by our favorite cafe in Dilijan, Cafe #2.

Winter Events and More
Attend the Pomegranate Blessing Ceremony in Echmiadzin
A really interesting and unique event held close to Yerevan takes place in my home town of Echmiadzin.
Twenty kilometers from Yerevan, Armenia's holy city has an event known as the Pomegranate Blessing Ceremony that takes place on New Year's Eve.
Pomegranate is one of the national symbols of Armenia and the area this takes place in is a UNESCO World Heritage Site… all the more reason to venture out to Echmiadzin and check it out.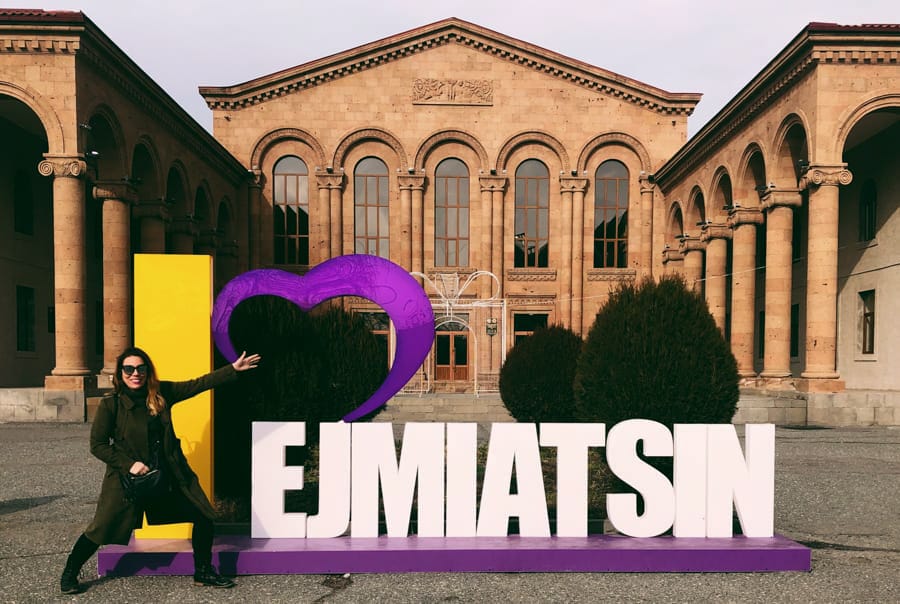 Go to the Yerevan Christmas Market
Northern Avenue is one of the most well-known pedestrian avenues in Yerevan and in winter, it is decorated with gorgeous lights and small shopping cabins from the top of it to the bottom of it.
Northern Avenue is one of the most beloved places by both locals and tourists alike. These stalls sell food, coffee, souvenirs, and more.
The Yerevan Christmas Markets may not compare to the ones in Europe, but they are special in their own way as it is chilled and there will be a lot of concerts happening during this time of year.
This is a can't-miss if you're in Yerevan during Christmas or the time leading up to Christmas.

Celebrate New Year's Eve in Yerevan
If you are flexible with your dates of traveling to Armenia, try to come during New Year's. On New Year's Even, I can assure you that you will have an amazing and unforgettable time.
All of Yerevan is a party, including Republic Square where there are concerts and neon lights everywhere. The Christmas tree will be lit up and fireworks will take place as a new year emerges upon us.
Armenian hospitality may get the best of you, however, and you may end up at a stranger's house partying, eating, and drinking until the wee hours of the morning with their friends and them.
Many bars, pubs, and clubs are working 24/7 during this time and it is fun to hop around and see Yerevan take in another year.
Cultural Things to Do in Yerevan in Winter
Go to the Yerevan Opera Theatre
One of the finest pieces of architecture in Yerevan is the Yerevan Opera Theatre. Not only is it an opera house, but it is also one of the most popular meeting points in the Armenian capital city.
The Armenian Opera House has been welcoming guests from all over the world and it is the perfect place to escape from the winter temperatures if you like opera and going to cultural events in a city.

Check out the History Museum of Armenia
Armenia has an unbelievably rich history and one of the best ways to get familiar with its history is by visiting the History Museum of Armenia that is situated at Republic Square in Yerevan.
It is a very spacious building that is located next to the singing fountains in summer and the Christmas tree and other decorations during the Yerevan winter.
The museum spans multiple floors and gives a really detailed experience of Armenia's turbulent and extraordinary history.
Yerevan in winter can scare people away… but places like the History Museum of Armenia are perfect excuses to still travel to this country in the Caucasus and enjoy it from the inside of a museum.
Yerevan Restaurants, Cafes, and Bars
Naturally, one of the best things to do in a city during the winter is to eat, drink, or enjoy a hot coffee. Fortunately, Yerevan delivers on all fronts and you can do all in the city!
These are some of my favorite places to go in Yerevan during winter and I hope you have the chance to add some of them to your Yerevan itinerary.
Eat Ghapama at Yerevan Pandok
One of the most popular dishes to eat during winter in Armenia is ghapama. Armenian cuisine is a mixture of many flavors, all rich, and with a variety of herbs and spices thrown in.
Ghapama is best enjoyed at one of the most popular establishments in Yerevan called Yerevan Pandok. They specialize in Armenian and Caucasian cuisine.
Ghapama is a dish that is a pumpkin with rice, dried fruits (like raisins), and butter cooked inside of it. It is so symbolic of Armenia during the colder months and I highly recommend you try this when you're around.
Try to reserve a table at Yerevan Pandok a day before as they are often packed due to their popularity.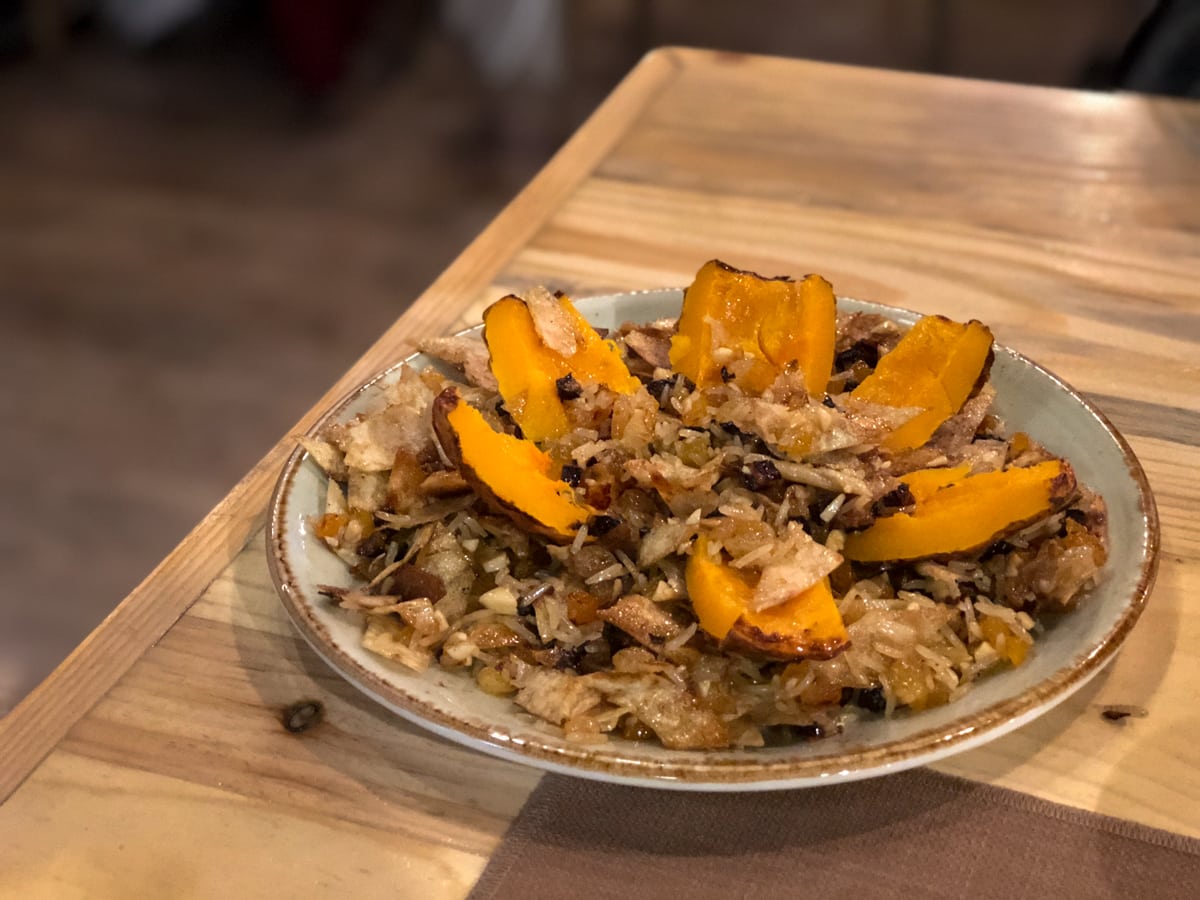 If you're unable to get into Yerevan Pandok, try to head to Lavash, where you can enjoy a ghapama even as a solo diner. Check out our Yerevan restaurants guide for other alternatives.
Have Wine on Saryan Street
One of the best places to visit in Yerevan is Saryan Street, or Yerevan's 'wine street'. On Saryan, you will find bar after bar serving up some delicious Armenian wine.
During the warmer months, it is home to Yerevan Wine Days, a wine street festival celebrating the drink and its history in Armenia. During the winter, it is best to head inside and enjoy a glass in a cozy place.
One place we really like on Saryan Street is InVino, a cozy wine bar that has a lot of varieties of wine as well as cheese. You can also get a delicious glass at the conscious restaurant Gouroo.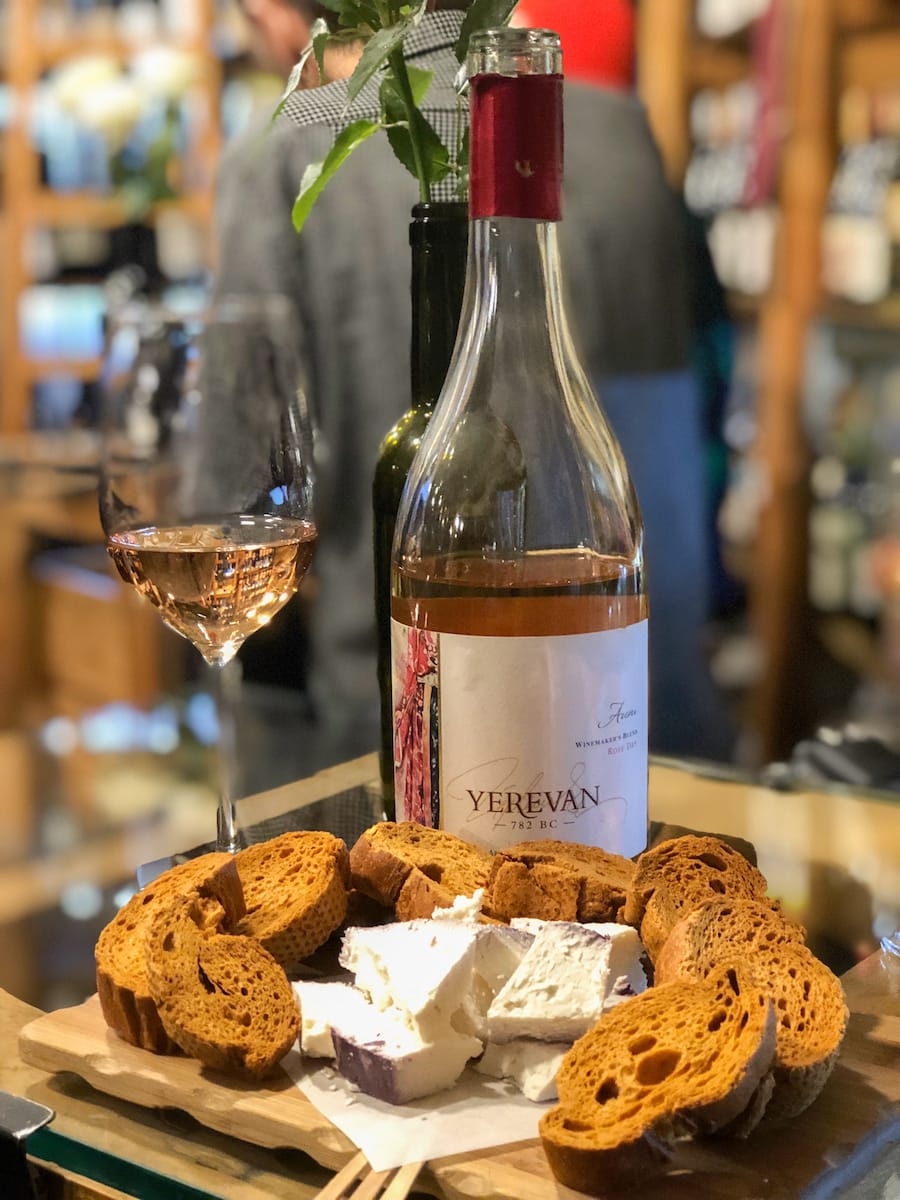 Have an Ararat Cognac Cocktail at Epicure
Many people may not know this, but Armenia is extremely well-known as being a cognac producing country and our cognac was so popular that Stalin and Churchill both used to enjoy the beverage because of its high quality.
Lately, it has become pretty trendy to use this famous drink to make delicious cocktails in Yerevan.
One of my favorite places to enjoy an Ararat cocktail is at Epicure, a chilled-out cafe in Yerevan where I also enjoy eating and having a coffee.
Their skilled bartenders will amaze you with the different tastes and flavors they can infuse with cognac… and trust me, your night will become a whole lot more interesting.

Have a Wintry Craft Beer at Dargett Brewpub
One of the most popular places in Yerevan for beer lovers is Dargett Brewpub. The bar is located on Aram Street and really close to Saryan Street (if you're enjoying some wine beforehand).
Dargett has started to sell beer in Yerevan at several establishments but there is truly nothing better than getting a pint at their main bar.
They have many different options and you can always find a dark, wintry beer or ale on the menu.
Have Dinner by the Fireplace at Kond House
One of the coolest establishments in all of Yerevan is Kond House. The restaurant doubles as a fun space, guest house, and much, much more.
During the winter months, they serve an ever-changing menu and have a really cozy fireplace inside of it. I love going to Kond House because the business is in Kond neighborhood (an older part of Yerevan) and inside of a really old building that has been renovated and made hip.
If you're looking somewhere to eat in Yerevan in winter… or even somewhere to grab a cocktail or beer, definitely don't overlook Kond House.

Sip on a Warm Coffee at a Cafe
There is really nothing better to start your winter day off than with a steaming cup of fresh, hot coffee.
Traditional Armenian coffee is available pretty much everywhere from sidewalk cafes to older, small and family-run establishments.
If you're looking for something that is not Armenian coffee, check out my favorite place that I discovered with Megan at the end of last year called The Coffee 23.5.
It is located on Saryan Street and they roast coffee in-house. They sere a variety of drinks and have some stools to sit on.
They import beans from all across the world and you can even affordably take a bag home with you. We use their coffee in our office, actually.
There are many great cafes in Yerevan worthy of being on this list… find the one that you connect with most and enjoy!
Heading to Yerevan in winter is a great idea… heading there any time of the year is. It also makes a great add on if you are in Tbilisi in winter and looking for an alternative location for a few days.
Where to Stay in Yerevan
Yerevan has a variety of great options for places to stay but we definitely recommend staying in the city center or within a short walking distance of it.
These are our recommended hotels and places to stay in Yerevan. We have stayed at or been inside of them all.
The Alexander (Splurge): This is Yerevan and Armenia's premier hotel. The top-quality option is situated in the heart of Yerevan and is luxury at its finest.
You can stay there or even enjoy a drink in its bar or cigar lounge if you already have a place to stay. Nevertheless, this is an epic place to stay in Yerevan. Click here for rates and availability.
Daniel Boutique Hotel (Mid-range): This boutique hotel in Yerevan has exceptional ratings and rightfully so- it is hospitable and boasts a fantastic location.
You will get to experience Armenian hospitality and a clean, modern place to stay in the capital of Armenia. Click here for rates and availability.
Grand Hostel Yerevan (Budget): This is one of the nicest hostels to stay at in the Caucasus and the location is near the city center and the hospitality is fantastic.
The rooms are spotless, spacious, and they have a variety of rooms from dorms to privates. This is an unbeatable place in Yerevan. Click here for rates and availability.
We hope this guide will encourage you to book the ticket to Yerevan in December or whenever you may be potentially heading there and to see all the great things there are to do in Yerevan and its surrounding area despite colder temperatures.