If you come and hang out at my apartment, you will be quick to realize that I have a coffee table full of Soviet architecture books and a bookshelf filled with other types of reads that pertain to the same era. These are my favorite books about Soviet architecture that you can order for yourself and put on your own coffee table… or wherever you wish to have them.
Soviet Architecture Books for Your Coffee Table
I have long been fascinated and captivated by the obscure and wonderful architecture of the Soviet Union and what remains in the CIS countries today. The architecture if often falsely branded as dull and grey, when in reality, the buildings are seemingly out of this world with exuberant facades and experimental shapes.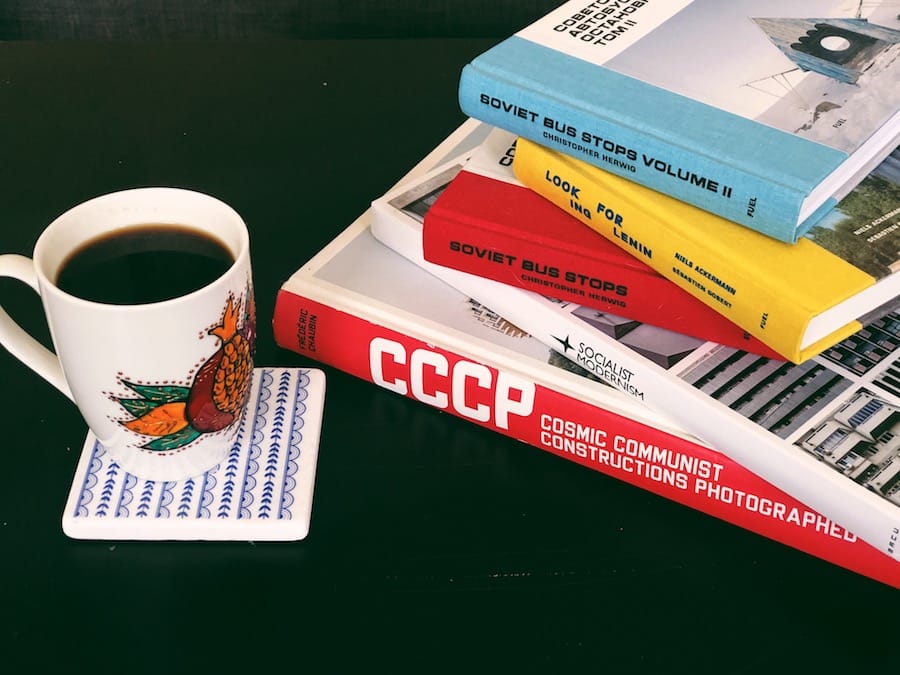 The buildings' architects frequently took inspiration from unconventional sources, such as outer space or even a wedding cake. The more extravagant buildings tend to be those that serve the public, such as government buildings or places used for entertaining the masses, such as Soviet circus buildings.
Many of the buildings were also made with a lot of colors and donned giant mosaics highlighting Soviet heroes or even vibrant propaganda murals to try to keep the Soviet way of life at the forefront of citizens' minds.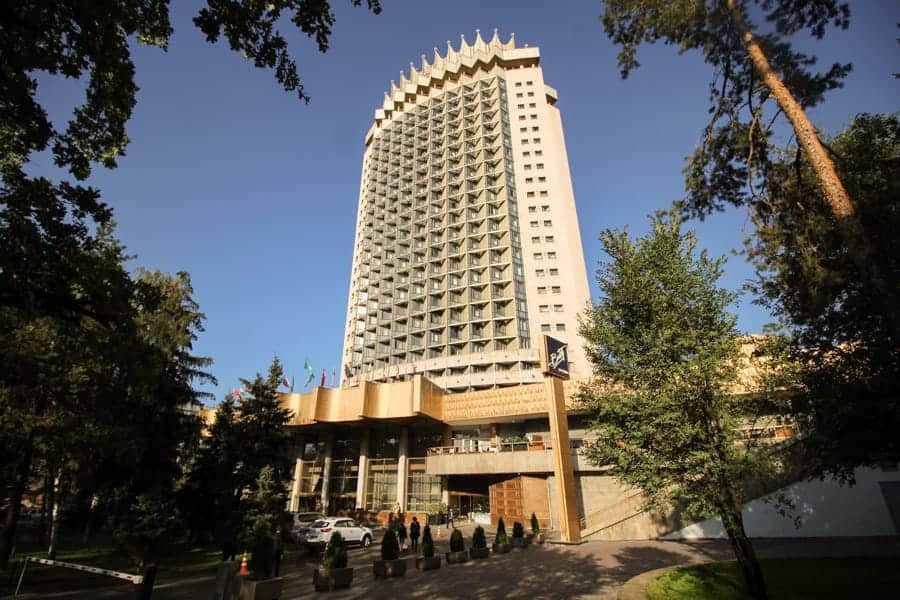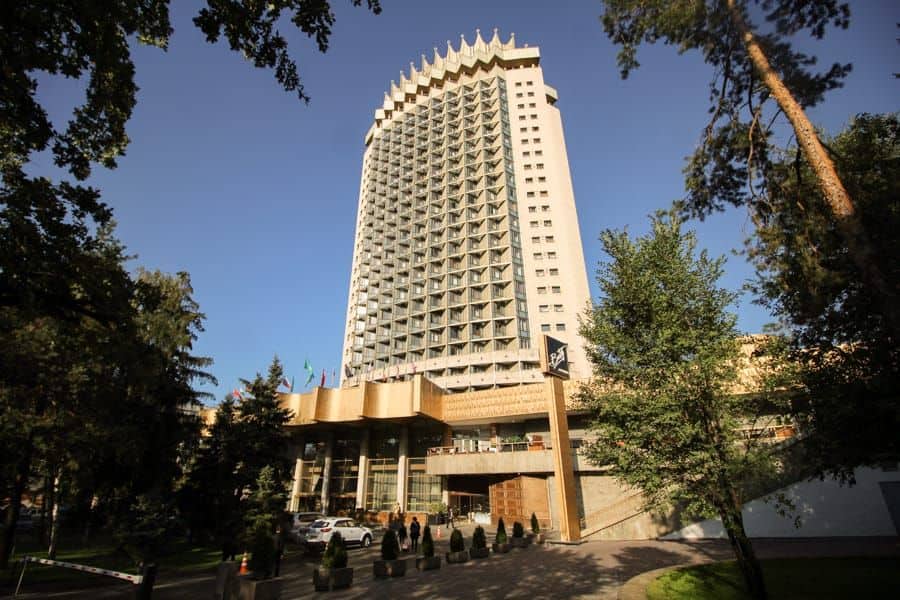 Another thing that really fascinated me was the uniformity that the Soviet Union became synonymous with was also really ever-present in the architecture itself. Each city or larger town contained a circus, Palace of Weddings, Palace of Pioneers… along with various others. The buildings looked different from city to city but still had this unique charm that made them fit in their respective city.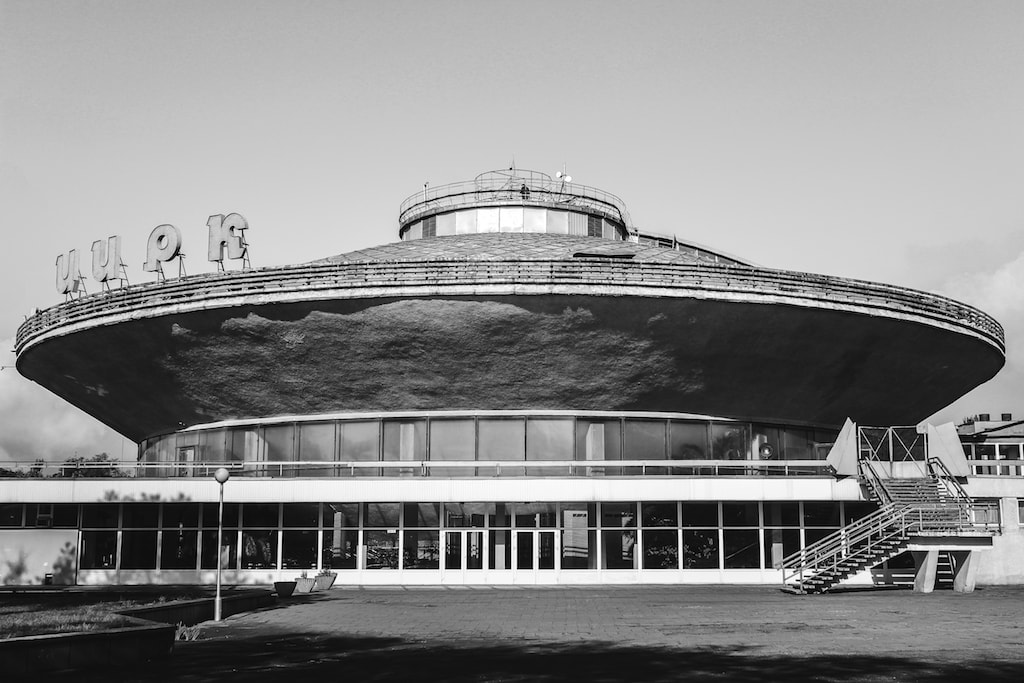 Because the architects were only designing one or two buildings in the city, they were often out of work and that is where the government stepped in and put them to work designing bus stops, metro stations, and more. BEST IDEA EVER… as some of these books indicate.
Unfortunately, many of these buildings are located in places where they are being torn down or underappreciated. Some no longer serve a purpose and some are just relics that people want to forget.
Thankfully, photographers have been traveling around the former Soviet Republics capturing these magnificent buildings before they become extinct. Many of these photographs have been compiled into the Soviet architecture books you will see below… all of which I own.

Cosmic Communist Constructions Photographed (Frédéric Chaubins)
I bought this book when I lived in Norway and it is still my favorite (even though I spent significantly more to purchase it than you would have to spend today!)
Cosmic Communist Constructions Photographed is probably the one book that every fan of Soviet architecture should own. Frédéric Chaubins' incredible collection of photographs documents the building of the final 20 years of the Soviet Union, an era in which the buildings got more and more extravagant. The book covers five different building categories from across 14 Republics.
The categories range from science and technology buildings to those used for sports and youth activities… literally, everything is covered. The photographs have really managed to capture the grandiosity and impressiveness of these buildings that were probably built before their time.
As you flip through the photos, I am pretty certain you will pick your favorites and Google more information about them after. Guaranteed.
Soviet Bus Stops Volumes One & Two (Herwig & Hatherley)
If you travel around the former Soviet Republics by car or marshrutka, you will inevitably see some of these bus stops and they will blow your mind. For me, it is exciting because it misleads you. You're waiting at one of these beautiful, artistic bus stops and then a crowded marshrutka pulls up and you're like, "Shit, that journey climaxed at the bus stop."
Nevertheless, you can view some of these gorgeous works of art in Christopher Herwig's Soviet Bus Stops Vol 1 and Soviet Bus Stops Vol 2 books. I actually donated a bit of money to make the first book happen back when I lived in Norway. Owen Hatherley actually authored the second one which is pretty cool as he does a lot of work on some of my favorite websites.
The books provide a quick insight, paired with a photograph, of some of the most impressive and obscure bus stops throughout the CIS states. The first volume tends to focus more on an overview of the eclectic bus stops while the second one focuses a bit more on Russia, Ukraine, and Georgia.
These books make for an amazing gift for Soviet architecture lovers or even those with an appreciation for obscure art in unassuming places.
Soviet Asia: Soviet Modernist Architecture in Central Asia
Soviet Asia: Soviet Modernist Architecture in Central Asia is by Damon Murray (Editor), Stephen Sorrell (Editor), Roberto Conte (Photographer), and Stefano Perego (Photographer).
Central Asia is a treasure chest of ostentatious buildings that were built from the 1950s to the end of the USSR. Unlike buildings from the Caucasus and other European republics, the ones in Central Asia drew inspiration from Islamic design and nomadic culture and they have a completely different feel compared to the others.
Unfortunately, many of them are in devastating shape now and there are not many people trying to save them or bring the fascinating architecture to the public's eye to gain an appreciation for the stuff. My friend Dennis Keen who runs Walking Almaty and Monumental Almaty is doing a great job at this… but it is still something that not many people are fighting for.
Anyway, Italian photographers Roberto Conte and Stefano Perego have spent time traveling across Central Asia photographing these neglected buildings that are being left in a decrepit state and this book showcases their photos and provides an outstanding view of Central Asian modernist architecture as a whole. This is a fantastic book about Soviet architecture, in my opinion.
Eastern Blocks: Concrete Landscapes of the Former Eastern Bloc
Eastern Blocks: Concrete Landscapes of the Former Eastern Bloc is by independent publisher Zupagrafika.
WW2 left much of Europe devastated and destroyed large swathes of cities throughout the western and eastern halves of the continent. After the end of the violence of WW2, Europe entered into a Cold War where two separate ideologies went head to head. As communism gripped the eastern half of Europe, the republics went about repairing the cities that once stood, utilizing cheap and affordable housing methods that eventually resulted in gigantic housing complexes.
On the exterior, many could argue that these housing estates are an eyesore due to the excessive amount of concrete, however, if you take a closer look, you can see the subtle beauty of these buildings. This book takes you through the whole Eastern Bloc and not only the USSR. It provides a great overview of the buildings and the architects that designed them. The photos have taken a decade to collect and organize into this book that shows you an often overlooked aspect of modernist architecture.
Brutal Bloc Postcards: Soviet Era Postcards from the Eastern Bloc (Damon Murray)
Today, the buildings of the former Soviet Union are looked at as being dilapidated and an eyesore that has no place in modern society's desire to have sleek buildings made of glass and steel. However, during the time of the USSR, the buildings that were designed were considered to be future symbols of the Communist dream with values of the party often imprinted on them.
In order to show off the architectural achievements of the Soviet Union, the authorities commissioned postcards depicting buildings in the best possible light. Brutal Block Postcards: Soviet Era Postcards from the Eastern Bloc author Damon Murray has curated a collection of these now slightly humorous and personality-filled postcards. They are matched with quotes from prominent figures from the USSR and it provides additional context to the images displayed.
Soviet Metro Stations (Hatherley & Herwig)
The author and photographer of Soviet Bus Stops Vol. 1 and 2 is back with a new book (literally just came out September 24, 2019!) looking at the ornate and wonderful metro stations of the Soviet Union. The metro stations were flamboyantly designed and utilized as an extra propaganda tool with socialist symbols and artwork adorned on the walls (you can see some in my Kharkiv Metro post).
Christopher Herwig's new book Soviet Metro Stations takes an in-depth look at these sometimes ostentatious metro stations that, for years, were rarely photographed because station guards would quickly put a stop to any photography. Luckily, the photographer was able to keep his snaps or gather permission and curate this amazing collection of photographs showcasing the beauty of these metro stations along with the history of how these stations came into existence.
While there are only six books listed here, there are other books I recommend, but unfortunately, they are not as easy to purchase as most are limited editions. If you're looking for a great gift for architects or art lovers, these Soviet architecture books are extremely interesting and make for the perfect place on a coffee table.