There are city cards available for many places around the world but perhaps none are as fantastic as the Oslo Pass, an Oslo city card that gives you access to heaps of museums, cultural landmarks, and restaurants for free, or at a discounted rate.
Are you planning your trip to Oslo last minute?
If youʻre booking your trip to Oslo last minute, we have you covered. Below are some of the top tours, hotels, and more!
🇳🇴 Top Experiences and Tours in Oslo:
🛌 Top Hotels in Oslo:
🚗 Looking to travel around Norway independently? Click here to check Norway rental car rates!
This is my review of the Oslo city pass, easily the best investment to make before your trip to Norway's capital city!
Oslo Pass: Is it Worth it?
I have long known that Oslo had a city pass but I never once thought to use it because Oslo was 'home'… and even when I wasn't residing in the city, I never saw the city from a traveler's perspective.
I had my routine and it didn't include sightseeing but instead visiting the cafes and shops I missed from my four years living in Norway.
To be fair, I never even looked to see what the Oslo Pass included. I assumed it was like other cities and offered a few free museums in Oslo and a lot of restaurant discounts to places that were still insanely expensive because the prices in Norway are not a joke.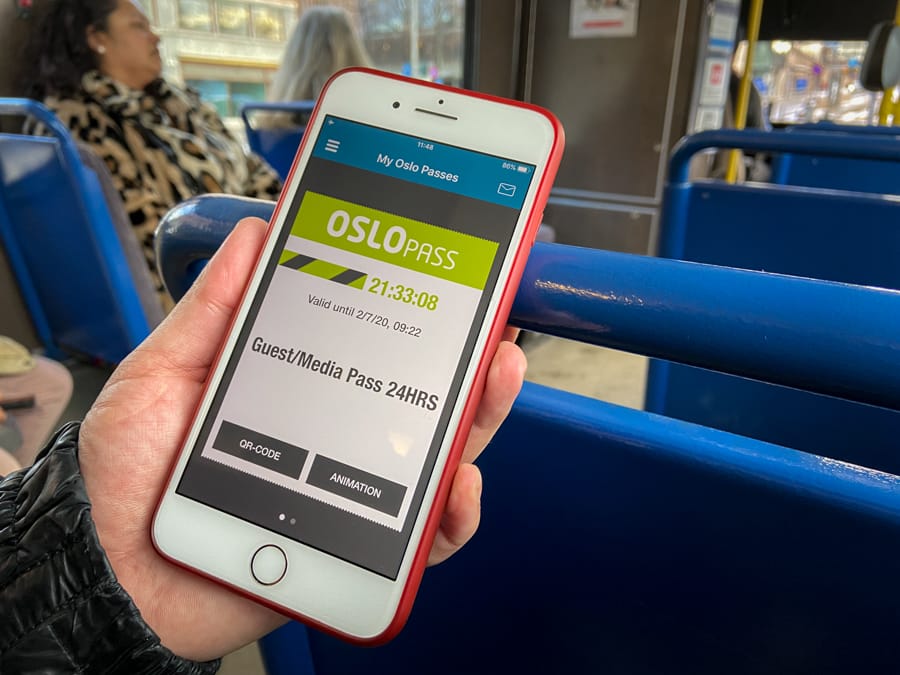 So, when I returned to Oslo to finally write some new content on the city, I decided to see what the Oslo Pass actually included.
Maybe this was my chance to finally make it to the museums on Bygdøy? I shamefully neglected to visit museums in Oslo when I lived here.
I was absolutely blown away when I went to the website and saw how robust the offerings on the Oslo tourist pass actually were. The Oslo Pass includes everything from winter parks to restaurants to saunas to those famed Bygdøy Museums (that I ignored for years).
READ MORE: How to CHEAPLY get from Oslo Airport to the City Center
Having just come from Gothenburg where I had a Gothenburg Pass, I was stunned. The Gothenburg Pass was great but it was definitely a better value during the summer, in my opinion.
The Oslo Pass was sensational no matter what time of the year you were heading there.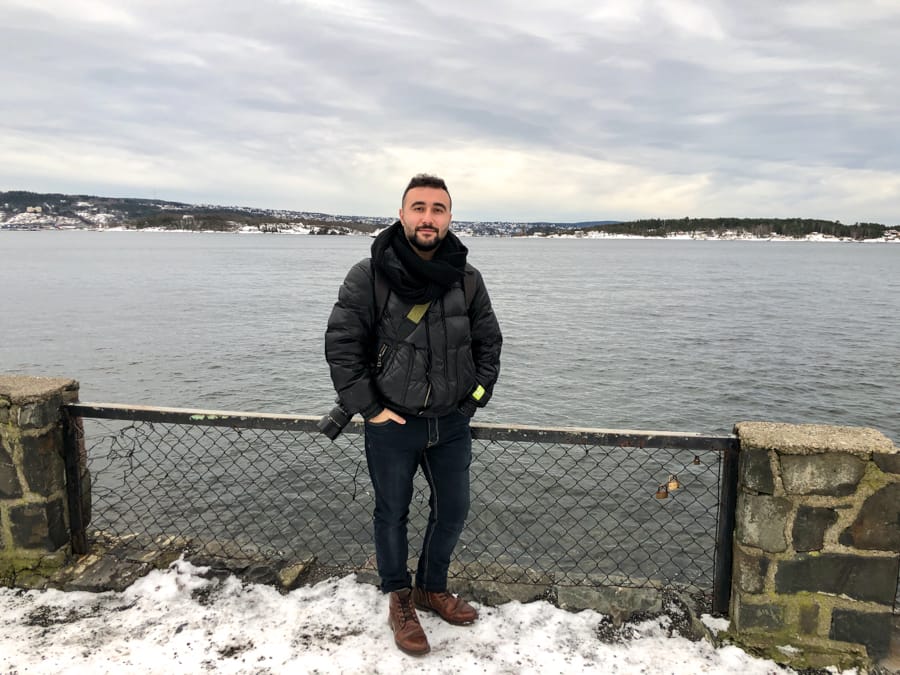 This guide will give you information about the Oslo Pass, where to buy it, how to use it, and what is included. It will also give my conclusion about whether or not I think it is worth the investment (spoiler: I DO!)
If you have any additional questions, please feel free to reach out.
What is the Oslo Pass?
The Oslo Pass is a city card that gives heaps of discounts and freebies to travelers coming to the Norwegian capital at museums, landmarks, cultural sights, restaurants, and more.
It also includes transportation costs which are an astronomical saving for many people, especially during unfavorable weather.
Oslo has some of the best museums in Europe and the variety is vast, satisfying all travelers and interests.
It also has some unique places, like the Oslo Winter Park, a place where you can ski and participate in winter activities within the city limits (and reachable by public transportation).
Or SALT, a cultural center right across from the Opera House where you can enjoy the sauna to the beats of a live DJ.
The city is no stranger to being cool but it can be a bit pricy for those traveling from other countries (like every single other country on the planet, basically).
The Oslo Pass aims to provide affordability and access to some of Oslo's best sights.
What's Included in the Oslo Pass?
So, what does the Oslo Pass include?
There are several amazing offerings with the Oslo Pass. Some are free. Some are discounted. Here are some of the top Oslo landmarks and museums that are FREE with the Oslo Pass.
1. Free Oslo Pass Museums and Sights
Akershus Fortress (Akershus Festning)
Astrup Fearnley Museum of Modern Art
Bygdøy Museums (Fram Museum, Holocaust Center, Norwegian Museum of Cultural History, Norwegian Maritime Museum, Kon-Tiki Museum, etc.)
Holmenkollen Ski Museum & Tower
Nobel Peace Center
Munch Museum
Historical Museum
Intercultural Museum
Oslo Natural History Museum
Vigeland's Museum
Frognerbadet (swimming pool open in summer)
There are many other free museums and sights included in the Oslo Card Pass, but these are some of the most popular.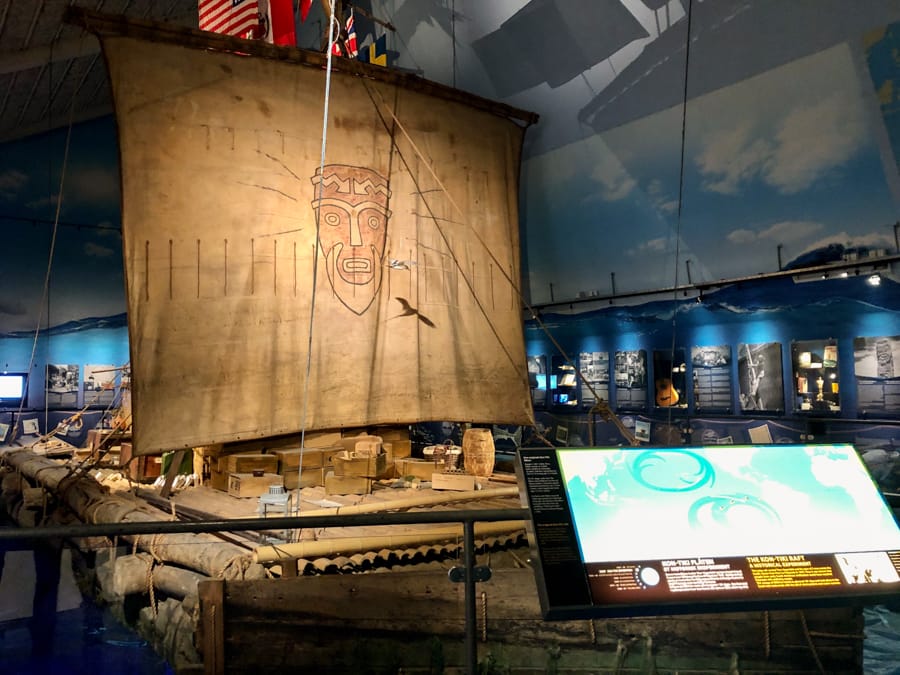 2. Free Transportation
With the Oslo Pass, you also get free transportation around Oslo. This, in itself, is worth purchasing the Oslo Pass. Trust me!
Each Oslo Pass holder will be entitled to a free ticket within zones 1 and 2 for the duration of their Oslo City Pass.
You can download the Ruter app to plan your journeys across the city and just have your QR code ready on your Oslo Pass app in order to get your ticket covered for those respective journeys.
The Oslo transportation system consists of buses, t-bane (subway), trikk (trams), and ferries.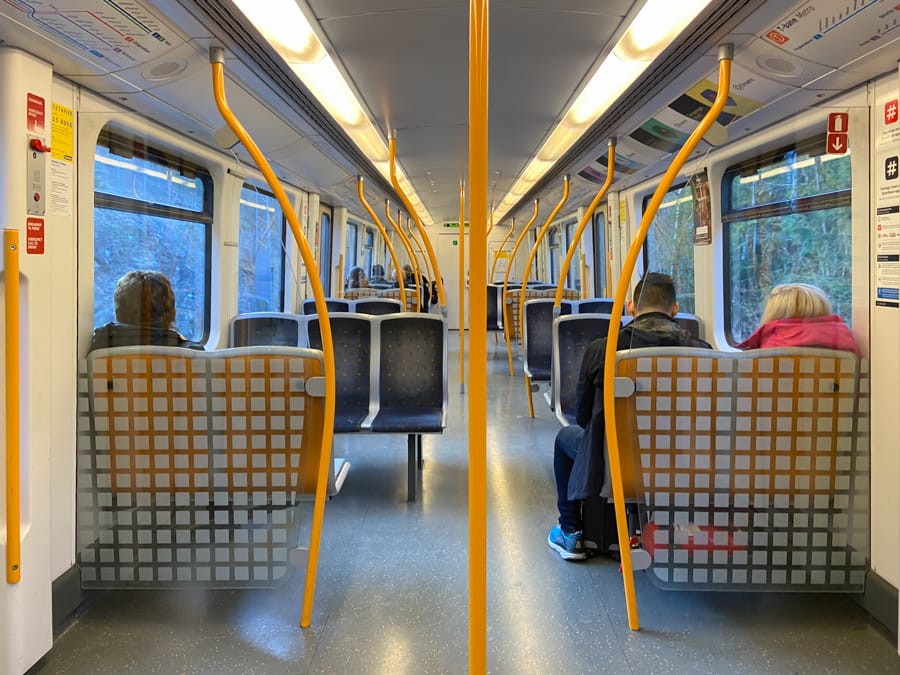 Does the Oslo Pass Include the Airport Train?
Unfortunately, no. The Oslo Pass does NOT include transportation to and from the airport. It is out of zones 1 and 2. However, we know the secret to getting from Oslo Airport to the city center cheaply.
It may not be included in the Oslo Pass, but it won't set you back too much!
3. Free Oslo Tours
In addition to being able to independently see several museums and sights with the Oslo Pass, you can also take tours in the city for free.
Aram and I took a tour with Oslo City Walks and it was 100% free with our Oslo Pass, which was pretty awesome.
The following 2-hour tours are included with the Oslo Pass at no extra charge:
Saturdays
Oslo City Walk (May-September)
Oslo City Highlights (Year Round)
Sundays
Historic River Walk (Year-Round and includes a stop at Mathallen)
Mondays
Oslo: City of Contrasts (Year Round)
These tours will not be the most in-depth tours you can take in Oslo but they will give you a great impression of the city and if you're here merely over the weekend, the Oslo City Highlights + Historic River Walk complement each other extremely well and are great ways to see the city.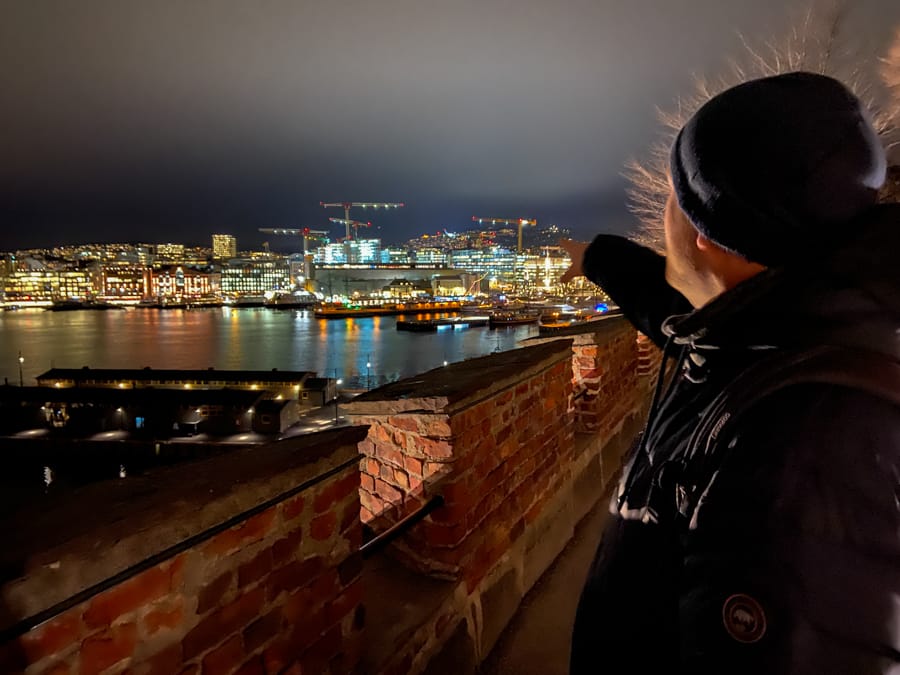 4. Best Oslo Pass Discounts
The Oslo Pass also offers heaps of discounts at restaurants, sights, and places throughout the city. Here are some of our top picks of Oslo Pass advantages and discounts:
Norwegian Restaurants
Den Glade Gris (20% discount on food)
Rorbua (20% discount on food)
Kaffistova (20% discount on food)
The Salmon (20% discount on their signature dish)
Activities
Sauna at the Well (20% discount on the entrance price)
Oslo Winter Park (15% discount on ski rental)
TusenFryd Amusement Park (20% discount on admission ticket)
Mad Goats Paddling (15% discount on Akerselva tours, Oslofjord tours, SUP courses, and intro sea kayaking courses)
Discounted Tickets & Admission
Norway Shop (10% discount on the Arctic Circle collection)
The Norwegian National Opera & Ballet (20% discount on guided tours and on most products in the gift shop
If you're curious to see the other offerings on the Oslo Pass, click here for more.
How Many Days is the Oslo Pass Valid For?
You can purchase the Oslo Pass for three different durations: 24 hours, 48 hours, or 72 hours. Whether you opt for the Oslo day pass, 2-day Oslo Pass, or 3-day Oslo Pass… really just depends on how long you're going to be visiting the city.
If you're here for a long weekend, we suggest purchasing for the entire weekend as it will, if nothing else, cover your transportation and allow you access to some awesome museums.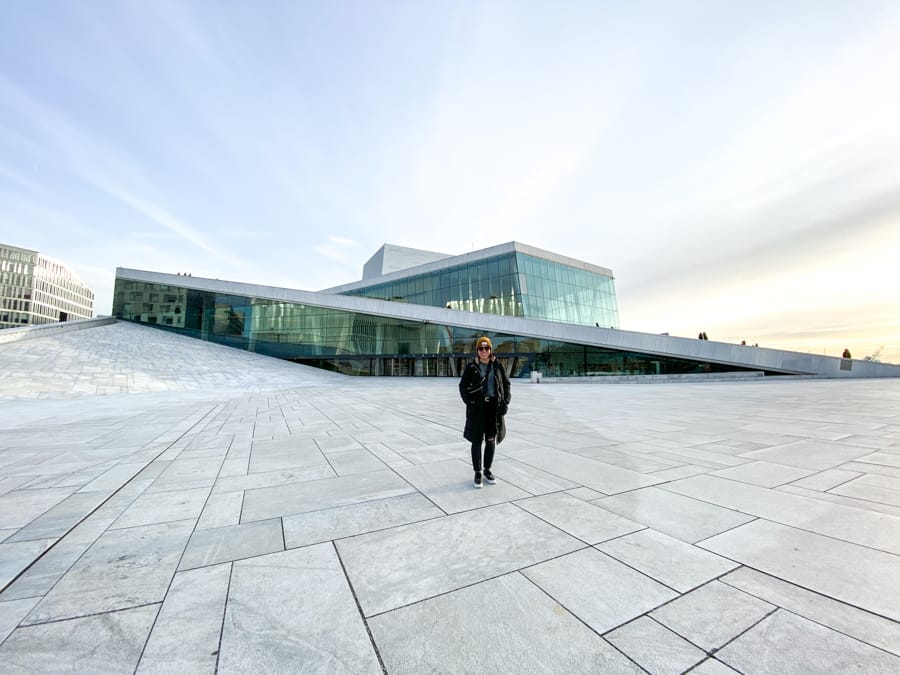 How Much Is the Oslo Pass?
The Oslo Pass price depends on the number of days you purchase it for. The following rates are for the Oslo Pass in 2023. All the prices are in NOK.
| | | | |
| --- | --- | --- | --- |
| Oslo Pass Price (NOK) | 24h | 48h | 72h |
| Adult | 495 | 720 | 895 |
| Child | 265 | 360 | 450 |
| Senior | 395 | 570 | 720 |
Where to Buy the Oslo Pass
There are a few places within Oslo where you can get your hands on an Oslo Pass. The ways to buy an Oslo Pass are listed below:
Oslo Pass App
One of the best things about the Oslo Pass is that there is an app for it. You don't have to carry around a pesky piece of paper (which ultimately becomes waste) or a card indicating that you have an Oslo Pass.
The app will have a QR code that you will scan wherever you use the card and it will also give you the details on how much time you have left on the current pass.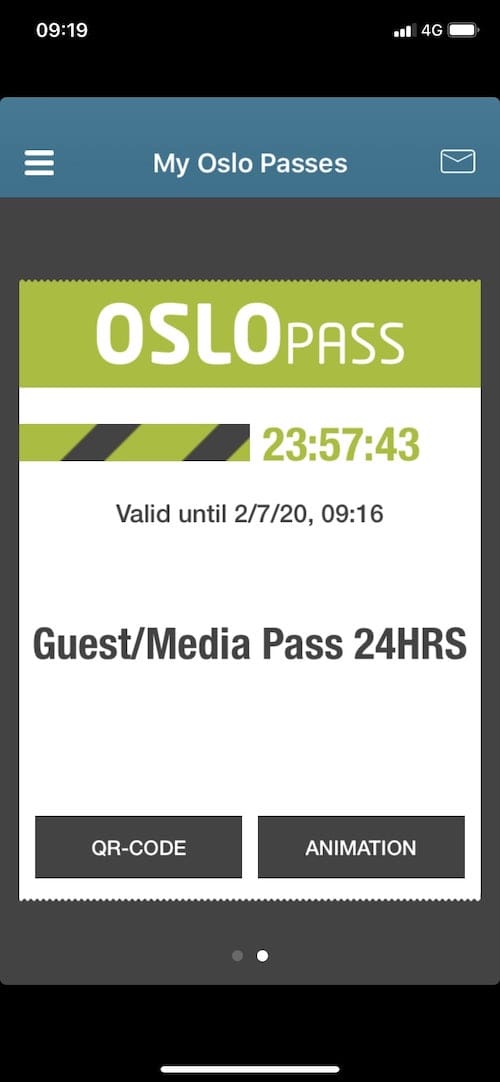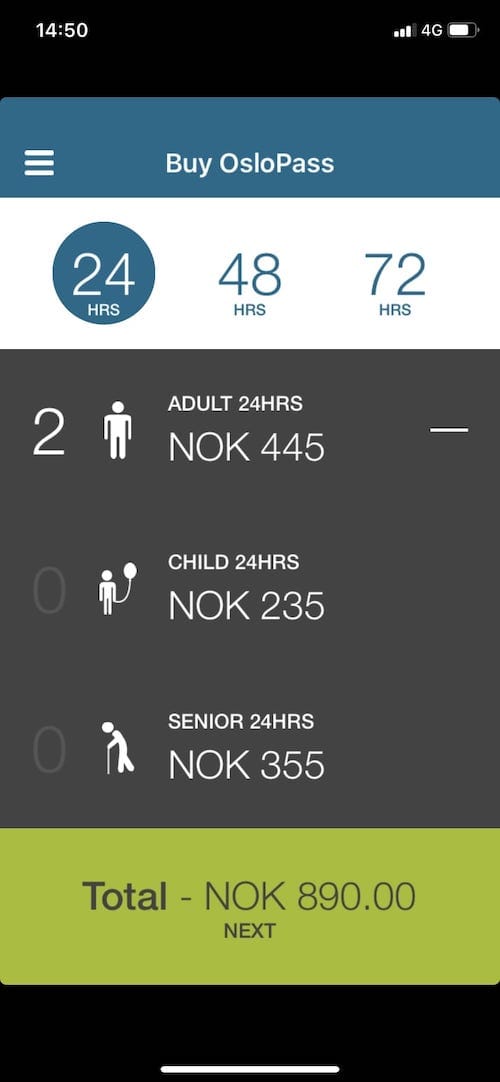 In addition, you can purchase more than one Oslo City Card on your app so they can all be hosted in one single place and not across multiple smartphones.
You can also purchase your Oslo Passes before your trip and it is extremely easy to just copy the code given as you are ready to use.
Visit Oslo App
One app I would recommend downloading after you arrive in Norway (with or without the City Pass!) is the Visit Oslo app. This app is brilliant and gives you all the details you need to have a successful trip sightseeing in the Scandinavian city.
It is a great companion to the Oslo Pass app because it gives actual information about where you can use the Oslo Pass. This is an essential download for those visiting Oslo.
The app is in English, German, or Norwegian.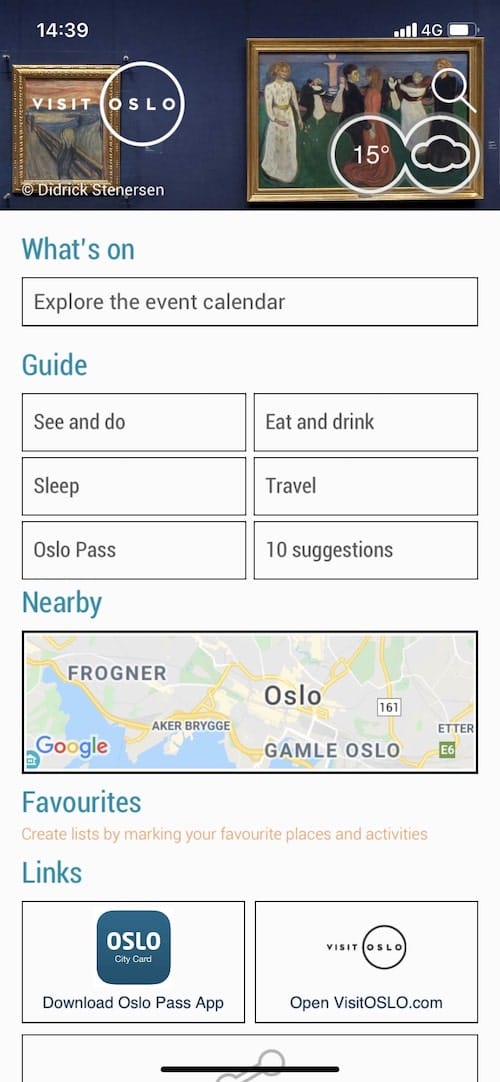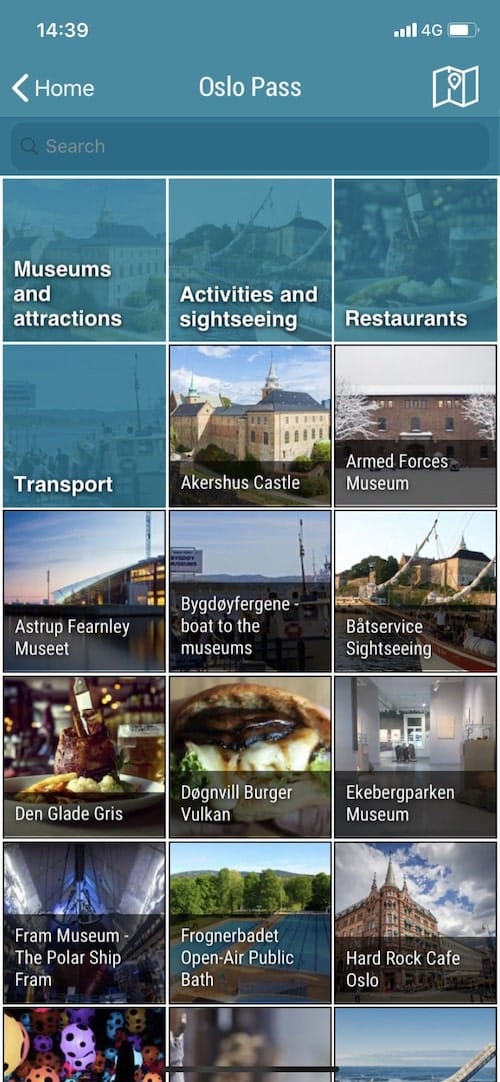 Pre-Order the Oslo Pass
You can buy the Oslo Pass within the Oslo Pass app, but you can also purchase it easily from the internet where you will receive a voucher that you take into the Oslo Visitors' Center in Østbanehallen upon arrival and get your code.
In my opinion, this is the best way to get familiar with the Oslo Pass as the visitors' center has tons of travel guides that will help you understand Oslo and easily navigate the city and what it has to offer.
Buy the Oslo Pass in Oslo
Alternatively, you can purchase the pass in person. Many hotels and sales points throughout the city sell the Oslo Pass and you can get your hands on one there.
The best place to purchase one, in my opinion, is the Oslo Visitors' Center at the Østbanehallen part of the Oslo Central Station. But, I'd still recommend just pre-ordering online to make everything simpler in the end.

Oslo Pass FAQ
There are many frequently asked questions by those looking to purchase the Oslo Pass and those who already have. Here are some quick answers to the popular questions surrounding the Oslo City Card:
1. Can I buy the Oslo Pass at the airport? No, you can not purchase it at the airport but if you take the Oslo Airport train to the city center, you can purchase it at the visitor's center in the central station (Østbanehallen).
It doesn't matter if you can purchase from the airport, anyway, as the next question will give a reason why.
I recommend purchasing the Oslo Pass online anyway.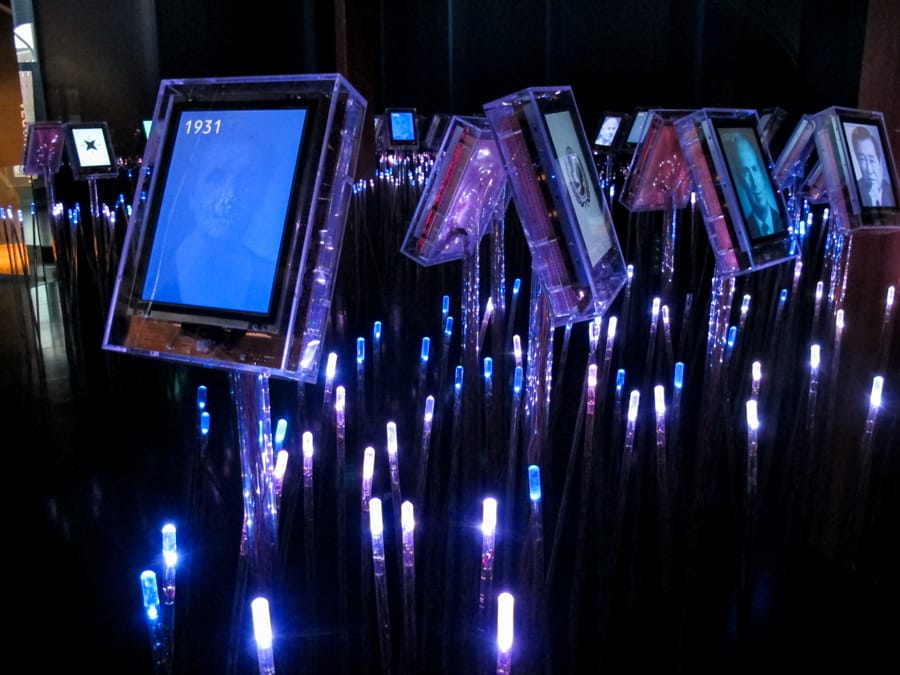 2. Does the Oslo Pass include transportation to the airport? No, it does not. The Oslo Pass includes transportation in Zones 1 and 2. Oslo Airport is in Zone 4.
3. Is there a senior discount for the Oslo Pass? Yes. Seniors receive a discount depending on the number of days purchased. The prices are 355 NOK, 520 NOK, and 655 NOK for 24 hours, 48 hours, and 72 hours, respectively.
Senior discounts apply to those that are 67 years old and up. This discount only applies when purchased in person.
READ MORE: 22 Cozy and Festive Things to Do in Oslo in Winter
4. Is there a student discount for the Oslo Pass? Yes. Students receive a 20% discount if purchasing in person and they are under 30 years of age and present a valid school ID. This is not valid for high school students.
5. Is there an Oslo Pass discount for children? Yes. There is a youth discount for Oslo Pass holders that are 17 and younger. The prices are 235 NOK, 325 NOK, and 410 NOK for 24 hours, 48 hours, and 72 hours, respectively.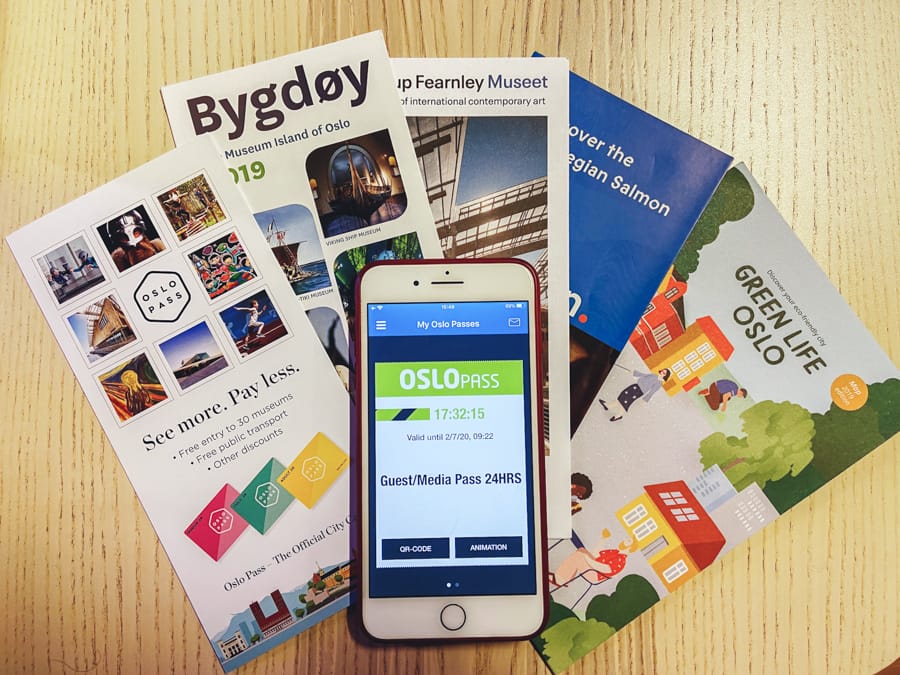 6. Can you use the Oslo Pass multiple times a day at one attraction? No. You can only use the Oslo Pass once a day at any individual sight or attraction.
7. Are Oslo hop-on, hop-off buses included in the Oslo Pass? No. They are not included in the Oslo Pass, but you can prebook your ticket here and get to enjoy them anyway!
8. Is the Oslo Pass refundable if I don't use it? Nope. Better use it. It's good- trust me! Also, don't delete the app if you have an active Oslo Pass because you can't get it back at that point!
Is the Oslo Pass Worth It?
In our opinion, we fully believe that buying an Oslo Pass will only enhance your trip to Oslo. The fact that it includes more than just museums speaks for itself. The included transportation also does!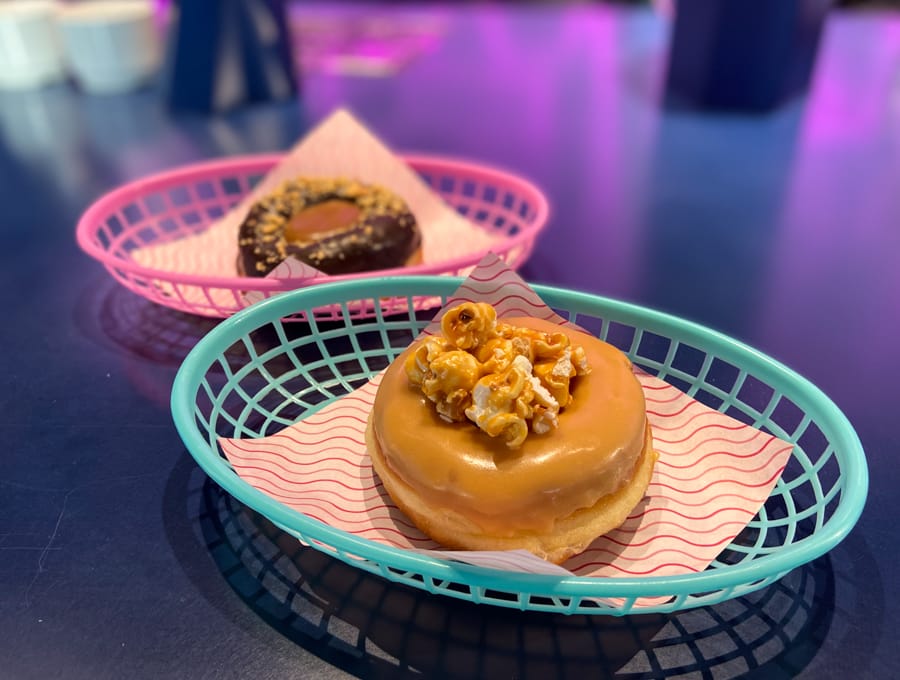 Another thing that makes the Oslo Pass a good purchase is that it has activities that are suitable for year-round purchase. I have used passes elsewhere and they definitely were a better buy in certain seasons.
Oslo's is not like that. It is a good investment for your Oslo trip at any time of the year!
Best Oslo Tours
If you're going to Oslo for a few days and want to take an organized tour for part of your journey- the city offers some great ones! Trust me, Aram took a few of them to test them out himself!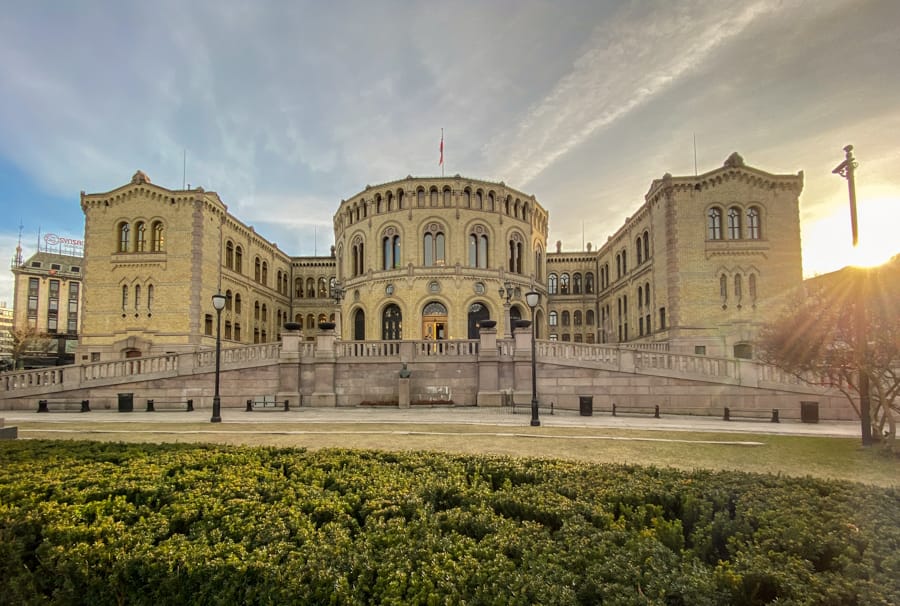 One useful thing to point out is that Oslo is pretty affordable if you book a tour. At least compared to many other cities. Here are our top recommendations for tours in Oslo:
Where to Stay in Oslo
Oslo is home to some fantastic hotels and many are suitable for whatever your budget happens to be. These are our top picks for hotels in Oslo and the price range they fit into.
We definitely think purchasing an Oslo Pass is a great option for your trip to Oslo, especially if you're interested in the cultural side of the city and its fantastic museums! If you have any questions, feel free to reach out!
More Oslo Travel Guides